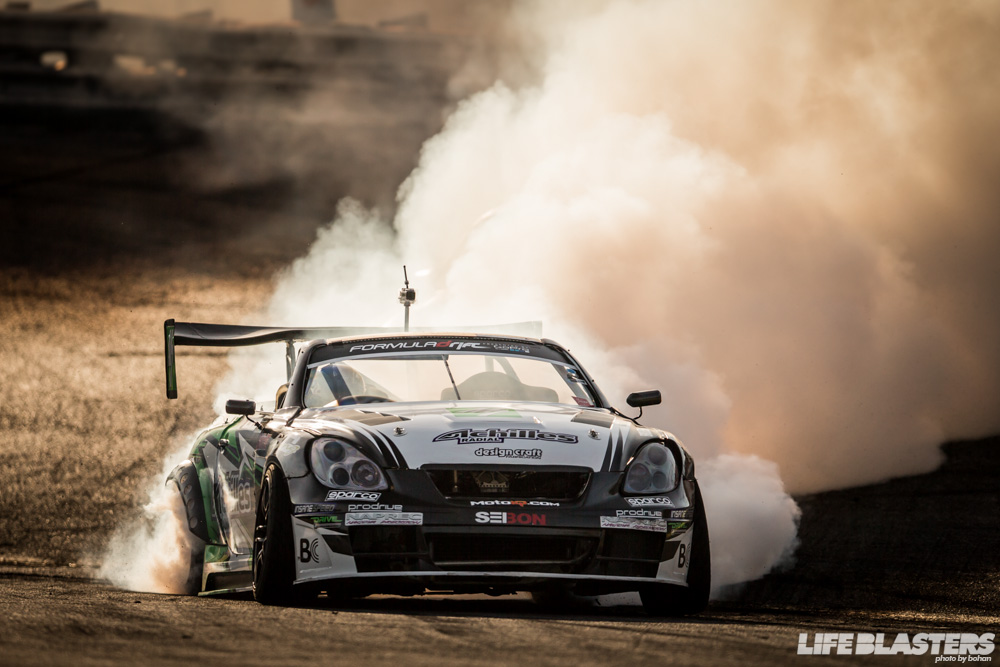 This round of Formula D seemed pretty normal compared to the first three rounds this season. There weren't too many strange Top 32 battles this time, but there was still some weird stuff going on. Disappointment in qualifying, career firsts, and controversial judging calls all reared their heads at this round, but in the end does any of it matter?  Look who's still on top.


Ryan Kado zeroed out on his first qualifying run, but laid down a near perfect 96-point chuckfest of a second run that earned him 17th place. Kado has done fairly well at Wall before and being the top qualifier would have been the icing on the cake if the old qualifying format was still in place.


In the Top 32, Kado squared off with 16th qualifier Danny George and lost. That's too bad for the Kid but it's actually George's first victory in his FD career.


In his first-ever Top 16 battle, George met Justin Pawlak and fell prey to the teal and blue. This was JTP's first Top 16 win this season, and he sure went a long ways past that.


What is it with Tyler McQuarrie getting the win based on weird calls at this track? Last year he went into the wall on the bank and came out beating Chelsea DeNofa, and this year he got way too shallow following Jeff Jones into the first infield turn and going into a half spin. He thought he lost for sure but came away with the win because Jones bumped the bank a couple of times, which is out of bounds. It's another case of the "degree of zero" idea, where anyone watching the battle can pick a winner, but the technicality of it makes it a wash.


Vaughn Gittin, Jr., runs pretty low tire pressure like a drag car. His pressure was maybe a bit too low in the Top 32 though, and his left rear debeaded. Luckily for him, Ken Gushi spun out and the run was a wash. They went One More Time and Gushi spun again, pushing Gittin closer to his second championship.


Unfortunately for the 2010 champ, he met Daigo Saito in the Top 16, went a little too nuts, and spun on his lead run. Also worth noting: this is the first round in a while that didn't spark a flood of Mustang monster truck memes.


Conrad "the King of One More Times" Grunewald went OMT with Miro Ovcharik in the Top 32 and Chelsea DeNofa in the Top 16. He beat Ovcharik fair and square but got a bye run against DeNofa after DeNofa's car melted a wiring harness.


In the Great 8 he then went on to face JTP in a rematch of the final battle here two years ago in which Grunewald earned his first victory. It wasn't in the cards this time though. A choppy lead run spelled his doom but it was still his best finish thus far in the season and it seems that he's finally got the bugs worked out of his new chassis.


Finally, Fredric Aasbo knocked Daijiro Yoshihara out in the Top 32, and subsequently knocked him three places down in the standings. That's a rough draw for Dai, who started the season with a perfect win in Long Beach but followed it up with a Top 32 and Top 16 loss. His win gave him enough points to still be sitting in 9th overall but with a 141 point deficit it'll be nearly impossible for him to take the championship without the other top drivers making huge mistakes.


So who came out on top? It was Daigo Saito, after JTP spun out in the final battle. Three podiums in a row is a lot to keep up with, but it's difficult momentum for him to maintain too.


The top four drivers didn't change positions in the standings, but the gaps sure changed. 4th place Chris Forsberg edged close to third place Michael Essa, who couldn't back up his Palm Beach win. Forsberg finished third at Wall, minus one door.


Essa and 2nd place Vaughn Gittin, Jr., both got knocked out in the Top 16 so their spread stayed put, but with points leader Daigo Saito claiming another win, he more than quadrupled the size of his gap over Gittin. Gittin still has a chance at a second championship and Essa has a chance at his first, but they'll have to depend on other drivers taking Saito out early in the next rounds in order to make those dreams a reality. And if no one can stop Saito he could end up with the first back-to-back championships since Tanner Foust did it in 07/08.


Maybe with a challenge like that, Foust would consider coming back to the series. Who knows?



.:Bohan
Photos by Ayala & Bohan

email: bohan@lifeblasters.com
instagram: @andrew_bohan, @joe_ayala, @lifeblasters