Cities and towns all over the world have car shows, it's the norm. People love to show off their pride and joys to anyone who enjoys cars. One show that is known around the world as one of the best weekly get togethers there is Cars and Coffee in Irvine, California.



Held every Saturday at Mazda's US Headquarters, turnout is usually a crazy mix of European, JDM, American muscle, and just about anything else that has wheels.

The Porsche Carrera 6 at the top was quite the surprise when I arrived on the first day. This post is actually a combination of two weeks worth of shows, hoping to get the maximum amount of cars in. On any given week, Porsche has the largest turnout with every iteration of the 911 they've made.

After the first generation 911's, the 997's seem to be the bulk of the 911 turnout. A good backing of 356's helped the strong turnout of the Porsche marque.

Of course, everyone has seen the basic the 911's of all generations, so it goes without saying that the modified variant is very popular.

I've noticed a 917 show up online at Cars and Coffee a few times here and there, and I was hoping one of these two days would yield one. Sadly, these doors in a Volkswagen Bus were as close as I got. Whether they were from the real deal, or just reproductions, they looked perfect in the back of the bus.


The German onslaught didn't just stop with Porsche. BMW's are also a welcomed addition any given week. Specifically one with the big bold M on the rear. E30 M3 on BBS Mesh? No argument here.

Or maybe a slammed E30 on Borbet A's is more your style.

The new M5's picked right up from where the old one left off. Over the two weeks, there were multiple M5's with the same style wheels. The MS5.2 by MORR seem to be quickly becoming the new must-have wheel for the F10.

While the new M5's, M3's, M4's and such are great, BMW needs to bring back the shark nose front end. With the big emphasis on retro designing in the automotive world today, I think people are ready for the return of the shark nose.

Mixed in with the now almost rather bland SLS, there was one black sheep from the AMG garage. This SLS Black Edition is as close as you can get to driving the SLS AMG GT3 on the street. It just shows how you never know what might show up on any given Saturday.

For an even bigger range of cars, here's a Bugatti Type 51 Pur Sang. It may be a replica, but it's a replica hand built in Argentina.

Zagato has gotten their hands on and made a mark with a just about every European brand someway or another. This Lancia Appia GTE Zagato is the first time I've ever seen or even heard of this car. The fact that only 136 were built might relieve me of any wrong doing. Being a Lancia fan, I now love this car.

The Lancia wasn't the only Zagato out Saturday morning. Two Alfa Junior Zagatos came out, bringing the Zagato number up to three. It might be quite an awkward looking car in profile, but the front on the other hand is quite promising.

What would a show be without a Citroen DS? Easily one of the best looking ugly cars ever made. Not to mention ahead of its time and ground breaking. The older I get, the more I crave one of these in my garage.

Then there's Ferrari. I haven't lost touch with Ferraris, but their popularity as a show car almost makes them common, even in Michigan. Not to say I'd ever pass the opportunity to drive one, but when at shows they almost become just another car. Although I will say the 360 Challenge Stradale is always a welcomed sight.

I wish I could have found out more about this bike, but all I have are these photos. The bike was fully covered in race livery accompanied with Dakar 2008 number plates. The 2008 Dakar Rally was cancelled due to terrorist threats, so this is either a faithful replica, or a very upset possible entry who still clings to the chance at racing in the greatest race in the world. Either way, if I ever buy a motorcycle, I want it to look just like this.

The final European entry is this simple Lotus Esprit. While it may not be the most popular Lotus, it instantly brings flashbacks to my childhood. Growing up playing Need For Speed, the first sight of this Esprit made me remember my days racing for hours on our old Windows 95 desktop.

Then there are the Japanese. There's nothing to hate about Japanese cars from the '70s. This Datsun 710 was a pretty cool example of classic Japanese sports cars.

Along with cars, bikes also have a decent turnout week in and week out. This Hayabusa set up for speed trials seems like a perfect bike for daily driving with an extended swingarm, short exhaust and nitrous. After a while you stop getting surprised by what shows up here.

Like a patinaed Toyota Stout. Like the DS, the more I'm exposed to these older Japanese pick ups, the more I want one.

And this may be the cleanest Corolla I'll ever see outside of a museum. Everything on this car was in perfect condition and it's as clean as could be. The Hayashi wheels pull this car together perfectly.

I was pretty hyped when I saw these Kanjo Racer looking Civics. Seeing old Civics that aren't rusty is a rare sight back in Michigan, but seeing two awesome replicas of the old Japanese street racers is too awesome.

I think this hatch was the better of the two. A fully stripped but clean interior, the massive logo painted on the tire sidewall, clean exterior and of course, the window net. And now I want a Civic.

The first Saturday held a true JDM treat. This Z20 Soarer caught my attention from across the parking lot. Again, back in Michigan anything from the land of rising sun is rare, especially when it's not a particularly popular model.

My JDM fanboy meter when off the charts when I came across this Hakosuka the following week. Whether it was a true GTR or just a replica, it was still an old Skyline. The Z next to it has been making its way around the internet in this video.

Then there are the Americans. Never to be outdone in size or power, we always manage to make something different from the rest of the world. Or at least we used to. I'm pretty sure the '59 Cadillac is a perfect example of the former. Just a mere 18 feet from front to back, this monster is one of the most iconic cars in American history. And just how do you make it better? Well lower it of course.

I find it hard to believe or understand when people say they don't like hot rods. They're truly the icon car of American automotive history. They may not be the fastest cars anymore, but the rumble of flat head V8, louvers and exposed tires screams America. And I love it.

If hot rods aren't your thing, maybe you fancy a '56 Chevy?

While the cars from the '30s never really struck a chord with me, I am starting to warm up to them.

And then there's the muscle. Simple in thought really, big horsepower, RWD, two doors and a cool name. Camaro SS, Boss 302, GTO, Javelin, Charger, one of America's golden eras of cars. And car manufacturers seem to know this based on the ever growing muscle car battles that have been raging these past few years.

El Toro High School always shows up in their chopped and blown V8 Chevy Van. Out of my four trips, I think this van has been there each time.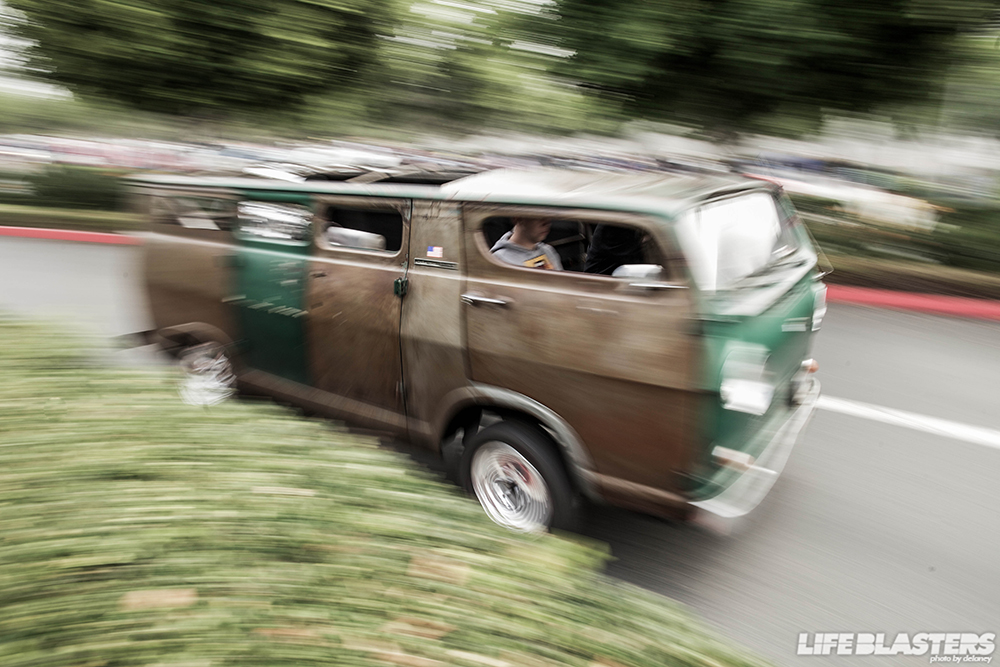 Even though it has the massive engine, it's super quiet and you it barely even hear it coming. Although I'm sure that's thanks to the engine in the rear facing out the back window.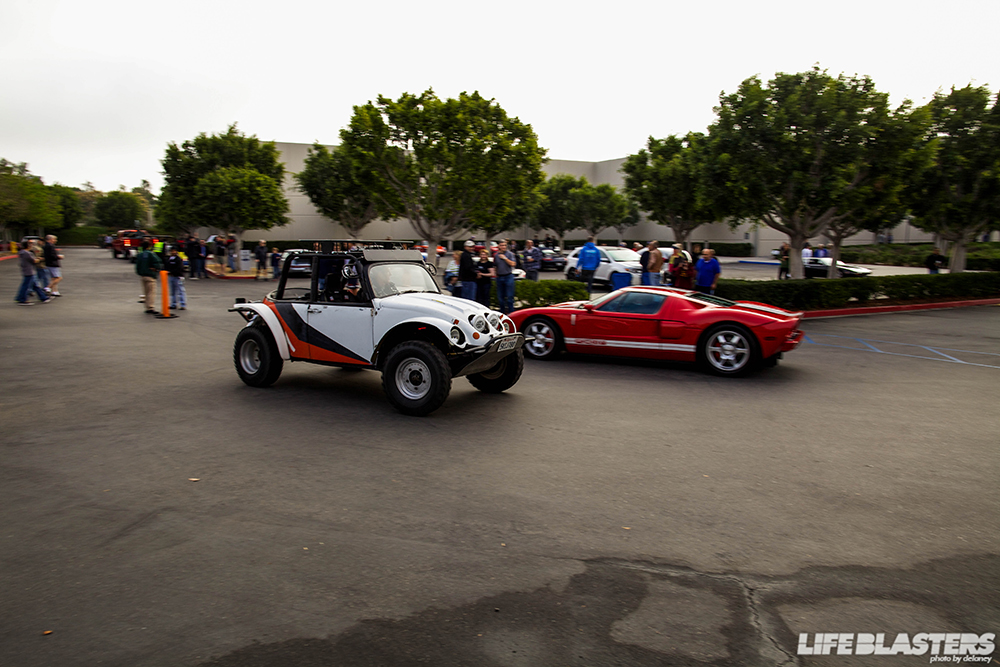 One of the coolest parts of Cars and Coffee is the variety and and seemingly endless stream of cars. From about 6:30 AM until the the end at 10AM, any car you could dream up pulls in while others leave.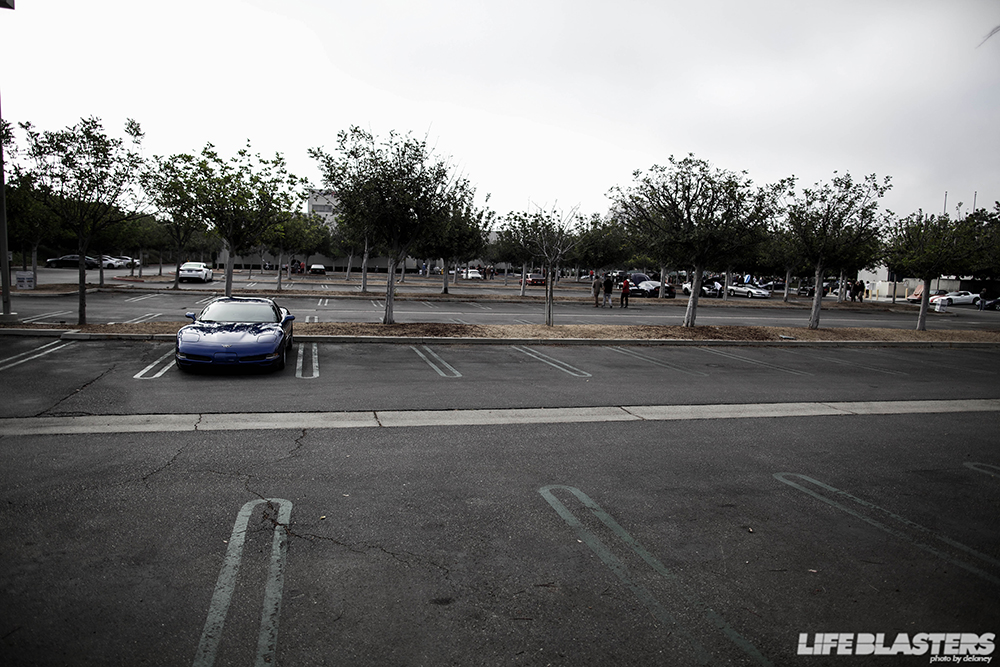 But once 10 AM rolls around, the parking lot clears out pretty quickly and the show closes down. The crowds gather around the exits as the parade of cars roll out. There are multiple reasons to want to live in Southern California, and Cars and Coffee is probably at the top of my list. I can never wrap my head around the quality of cars that show up week after week. I highly suggest trying to get to Cars and Coffee if you ever find yourself around Irvine on a Saturday. It only lasts a couple hours but there's almost no way it can be a let down.
Delaney
instagram: @lifeblasters, @ericdelaney