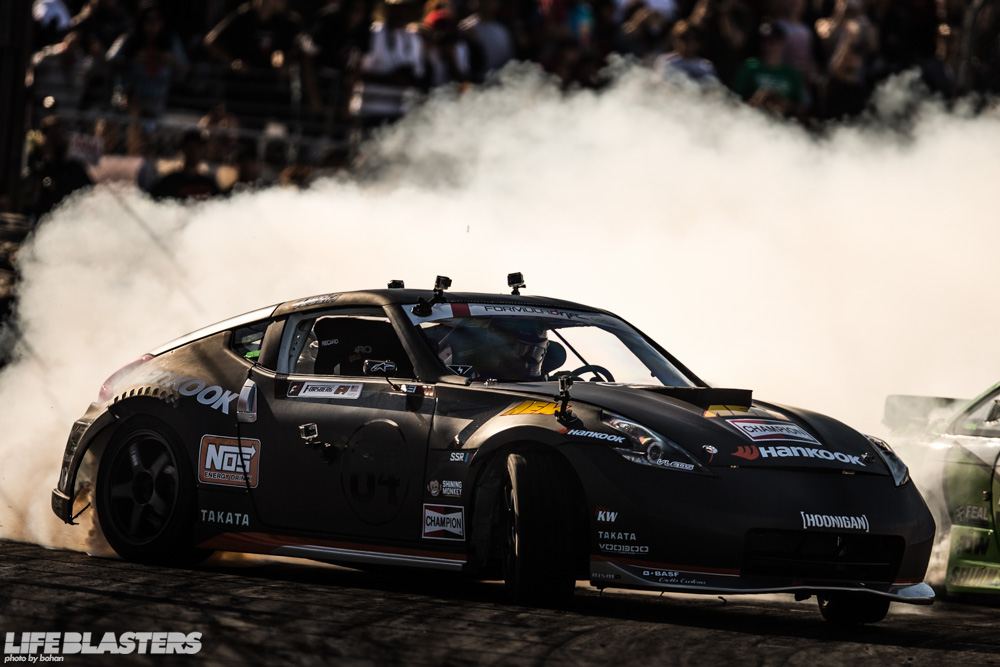 Thirty-one. Including this year's Formula D Long Beach, that's how many rounds I've been to now. It's not even half of all the rounds there have been, and I still feel like a newbie around all the people who have been there longer than I have. I have been around more than most people though, and that makes me an old timer to the new crowd.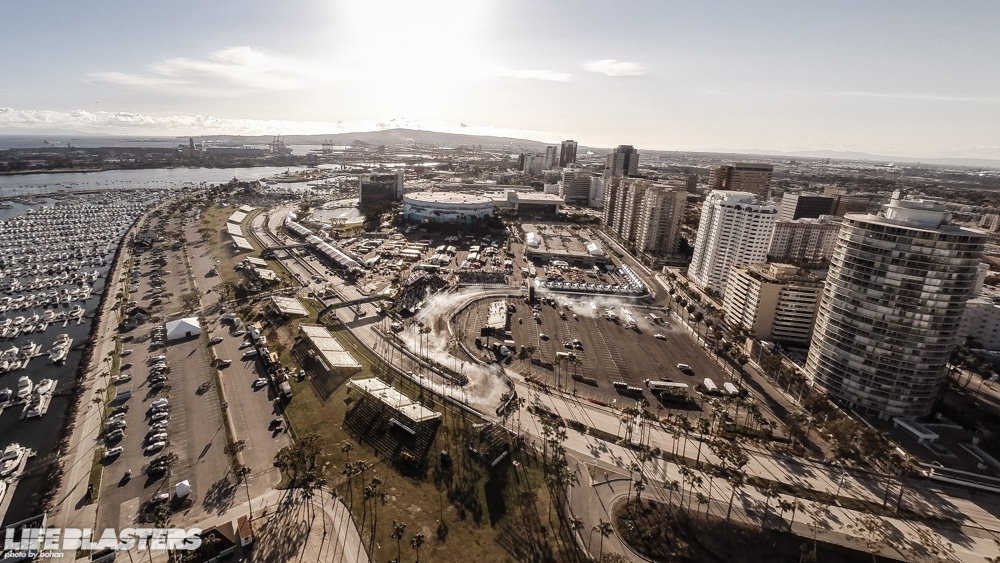 A lot has changed since the first round I went to, almost eight years ago. Back then, Circuit City was the title sponsor for the series and the Round of 32 was solo runs with scores, just like qualifying. There was no ProAm, no Live Stream, and no way I wanted to miss a minute of the show.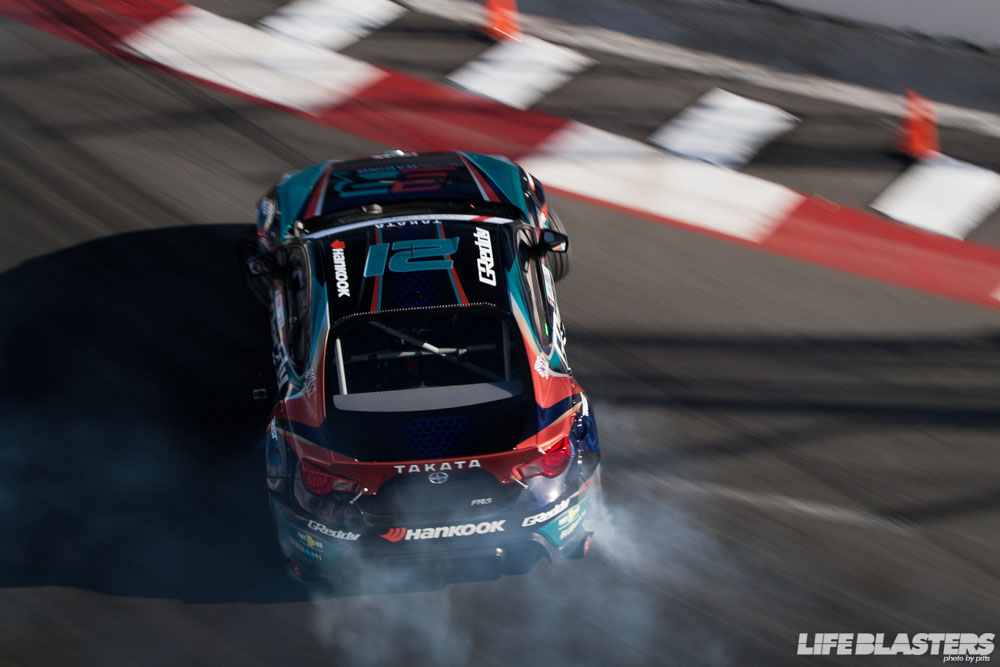 Drivers and sponsors and even tracks have come and gone, and there are only a handful left that were with the series from the beginning. I've been around for more rule changes than I can count and though some may have seemed devastating at the time, the drivers, the fans, and the series have always survived.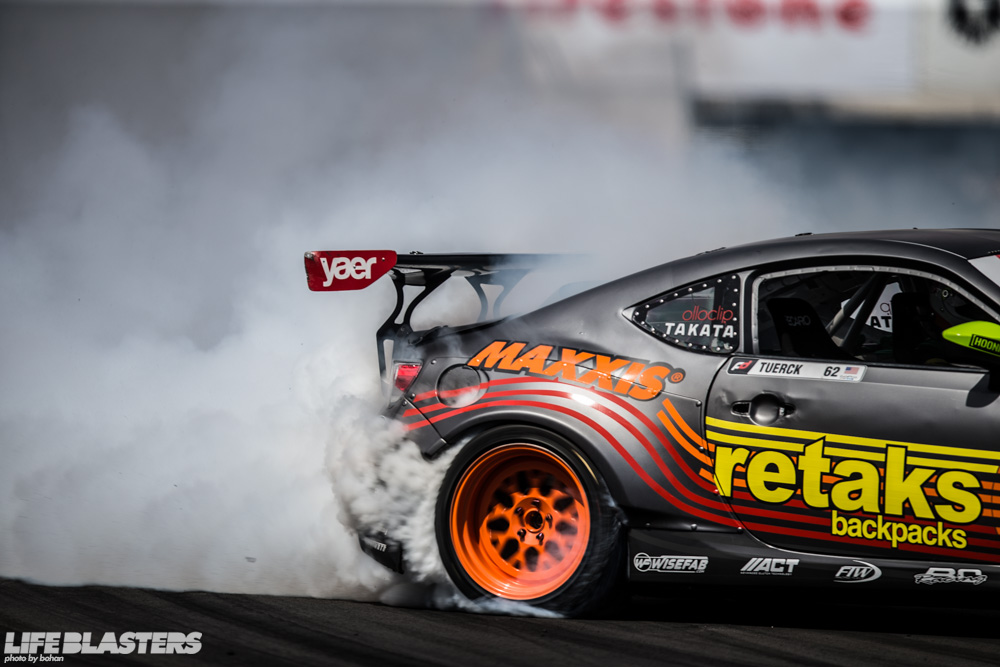 So now when big changes happen, I'm not worried. 2013 might now be known as "the year with the weird qualifying format" since that change has been reversed. This year's change is the loss of the Consolation Round, which made the Top 4 the only double-elimination round in the bracket. I  always thought it made sense to have the Consolation, since the prize was a spot on the podium and worth having to fight for. Formula D's rationale for eliminating it was that other similar series don't have one and having one fewer battle would make the show more appealing for time-restricted TV shows. The downside I see is that the winner of the second Top 4 battle moves immediately to the Final Battle without a chance to rest or do a tire change during the Consolation. But as with all the other big changes I've been through, I'm sure this one will become part of the status quo.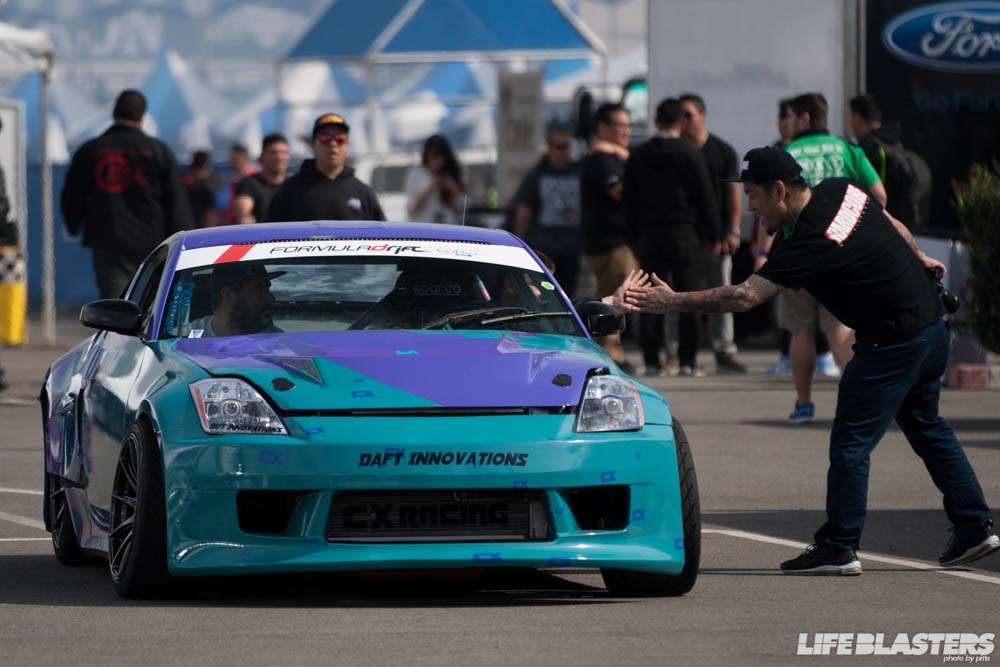 Last season was a celebration of 10 years of Formula Drift. As we head into decade #2, the bigger picture is starting to emerge. Where was Formula 1 in its 11th season? What about NASCAR? A lot of fans and amateur drivers complain that it's getting too hard for a rookie to build a drift car in his garage and go compete on a national level. I say: "Try that approach in NASCAR and see how far you get." What many people don't realize is that even many of the top tier drivers in Formula D are privateers. Sure, they have a lot of support from big sponsors, but they own their own cars and run their own programs.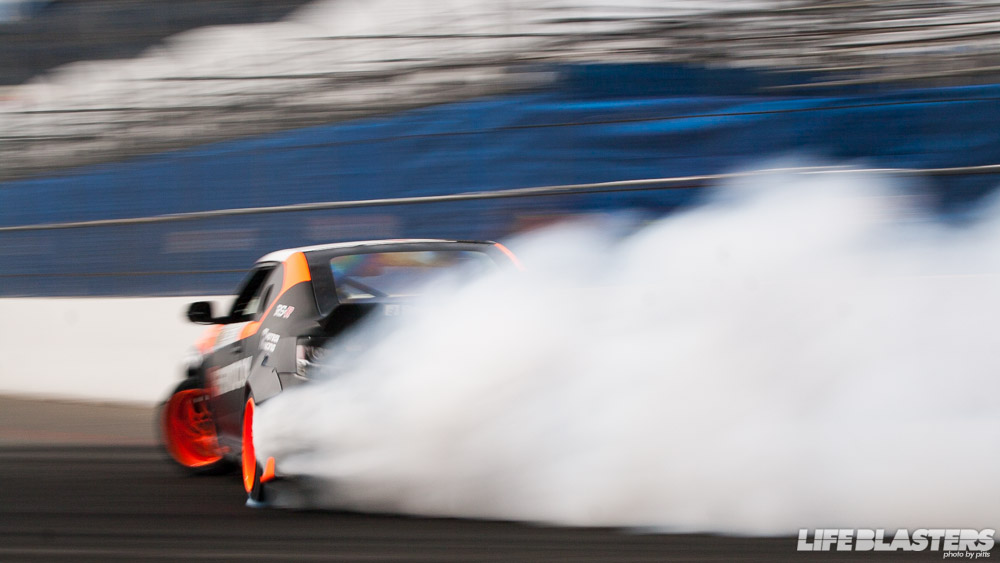 Falken and Bridges Racing stand out as true teams with hired drivers. As the competition continues to get tougher, it's not going to get any easier for rookie privateers, and the top tier guys may eventually retire from driving and hire drivers to continue their legacy, as Stephan Papadakis did by hiring Tanner Foust and then Fredric Aasbø. Rookies almost always struggle with budget restraints, which often translate into underdeveloped vehicles, inefficient travel, and shortages of tires. When Formula D gets to the point where rookies are getting hired by teams, maybe that's when it'll finally be seen as a legitimate motorsport by the rest of the traditional racing community.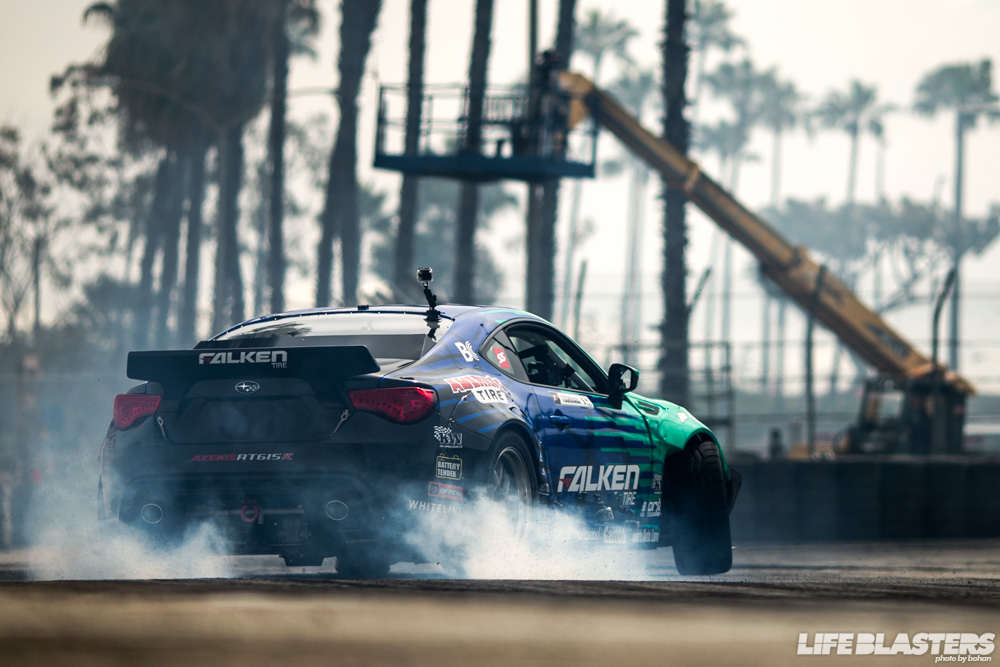 Back to 2014. A lot of cars got new liveries this year, and with the addition of not just the rookies but new cars for veterans, the field was visibly quite a bit different. Dai Yoshihara's Subaru BRZ was probably the most-hyped car during the offseason, with the livery reveal coming just five days before its on-track debut.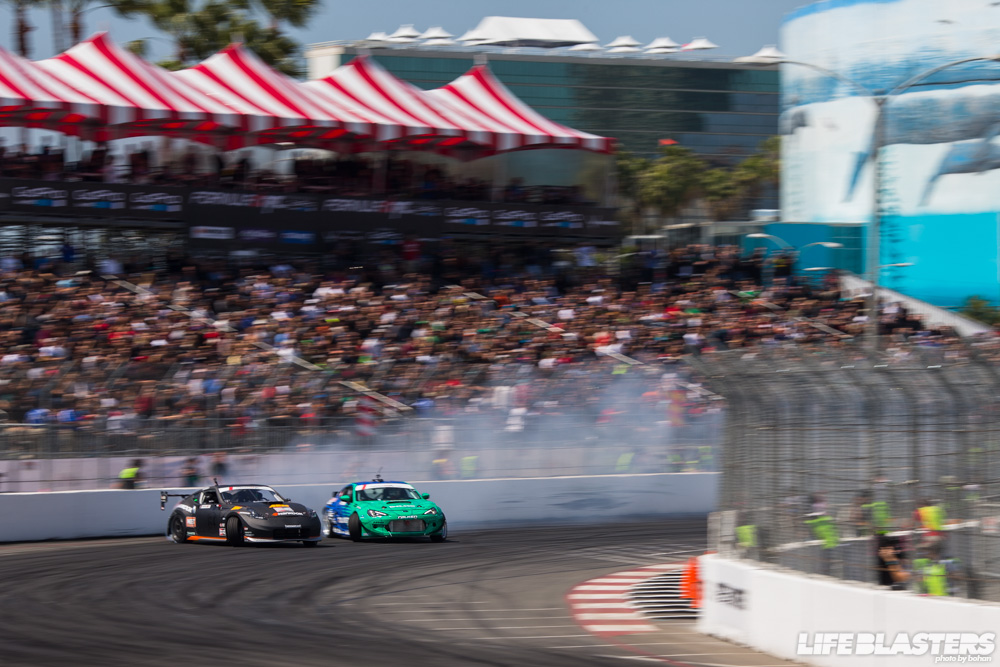 Unfortunately Dai (who had a perfect event at Long Beach last year) didn't qualify well and faced Chris Forsberg (who also had an updated livery) in the Round of 32, who, as you know by now, won the whole event. We'll have a closer look at the new liveries in an upcoming article.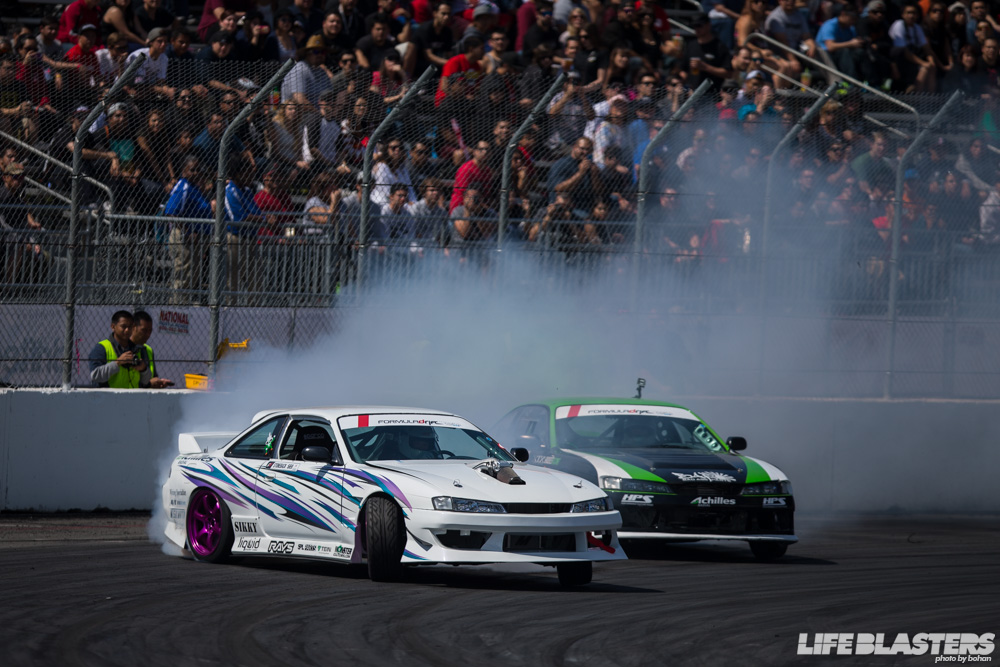 The rookies this year seemed to be a bit more promising than in 2013, when no rookies qualified at Long Beach. In fact, this was the best group of new pros at Long Beach since 2011, when Walker Wilkerson made Top 16. Wilkerson is still the last new pro to have won a battle at Long Beach. This year, three rookies qualified: Alec Hohnadell from Florida, Geoff Stoneback from Pennsylvania, and Jeremy Richter from Oregon.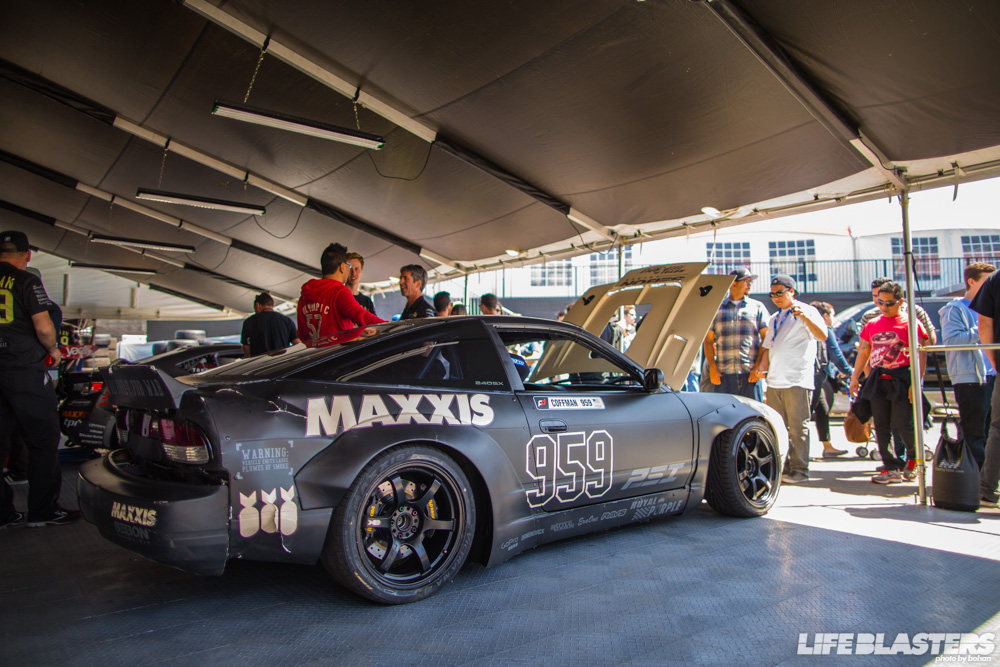 Tyler Wolfson (California) and Matt Coffman (Oregon) were early favorites for Rookie of the Year contention, but both had trouble making clean passes when it counted. D1 driver Kuniaki Takahashi entered Formula D as a rookie, piloting Pat Mordaunt's former Apex'i Lexus SC, but also failed to qualify.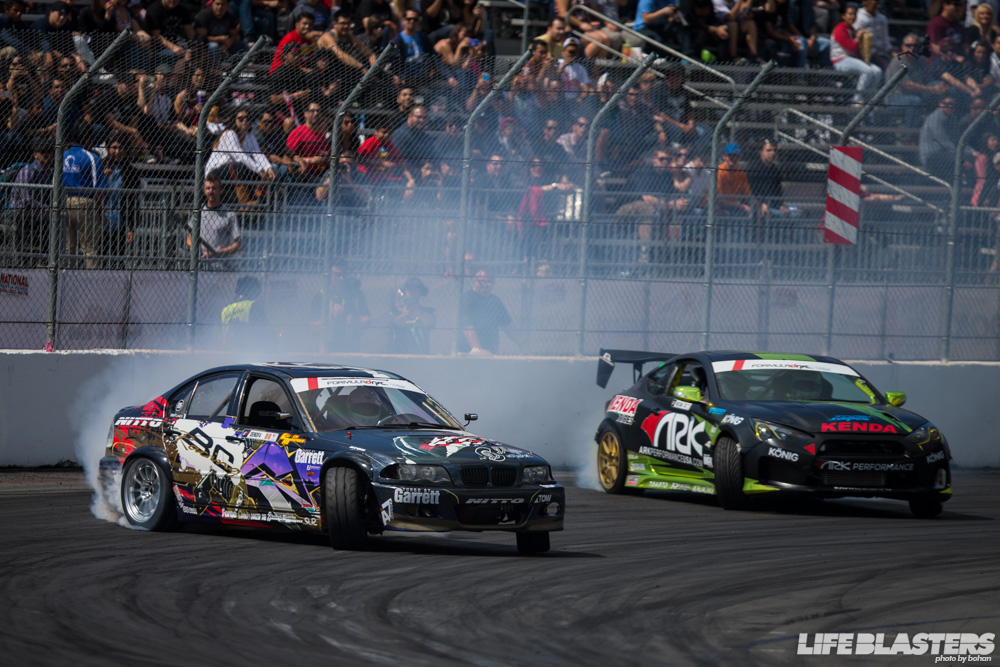 The Round of 32 went more or less as expected. 2013 Rookie of the Year Mats Baribeau got a bye run due to Pat Mordaunt's engine failure in morning practice. Mordaunt's new teammate Dennis Mertzanis, who qualified 25th, upset 8th qualifier Chelsea Denofa, ending Denofa's hopes of repeating his 2013 Long Beach performance.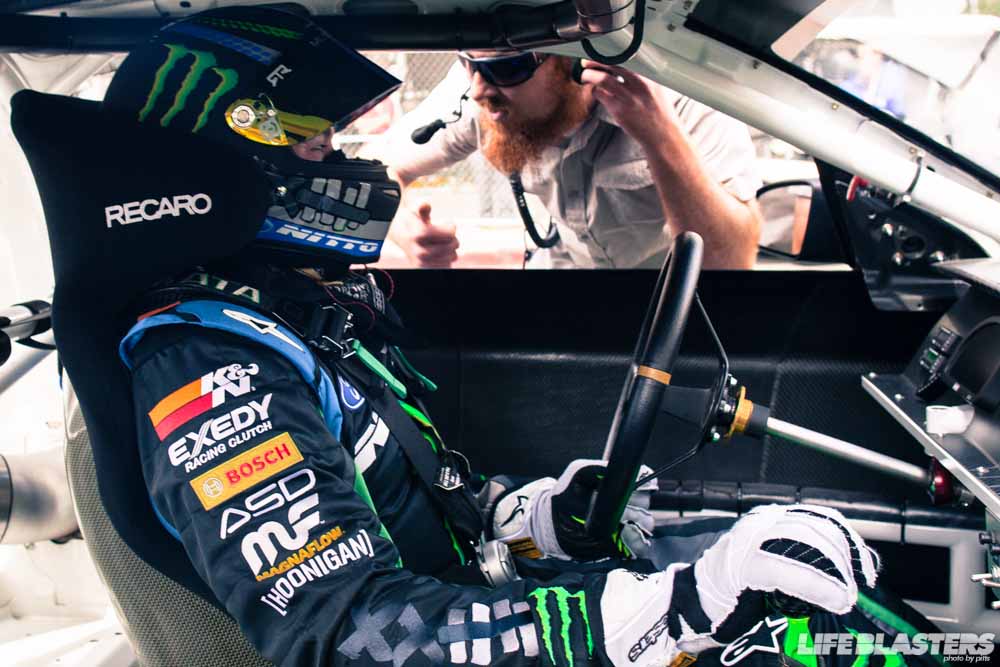 The Top 16 had a few more upsets, with 15th qualifier Darren McNamara taking out #2 Vaughn Gittin, Jr, who was the second of 2013's Long Beach podium finishers who wouldn't be returning to the stage. 14th qualifier Odi Bakchis also moved past #3 Tyler McQuarrie.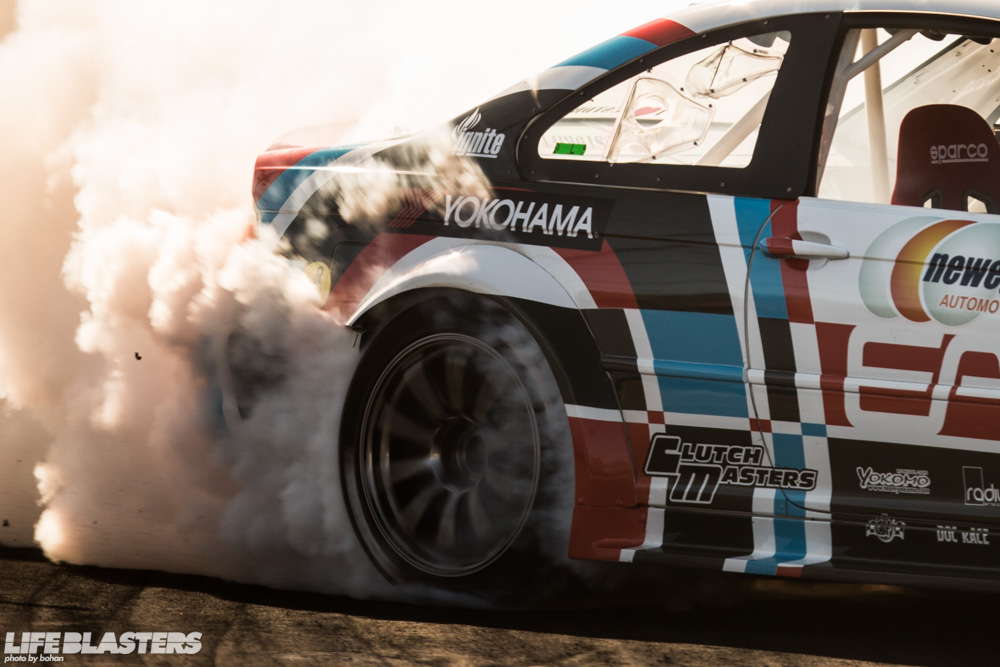 It only took one Top 8 battle to determine one of the podium finishers. As soon as Michael Essa beat Forest Wang, he had guaranteed himself at least third place. This is because of the loss of the Consolation Round. Now the higher qualified of the two Top 4 losers gets third place. Since he was the number one qualifier, even if he lost his Top 4 battle the other Top 4 loser couldn't possibly be higher qualified. That's really early in the competition to know one of the podium finishers! Chris Forsberg shut down DMac's day, but as the #2 Qualifier he could only get on the podium by either he or Essa winning their Top 4 battles.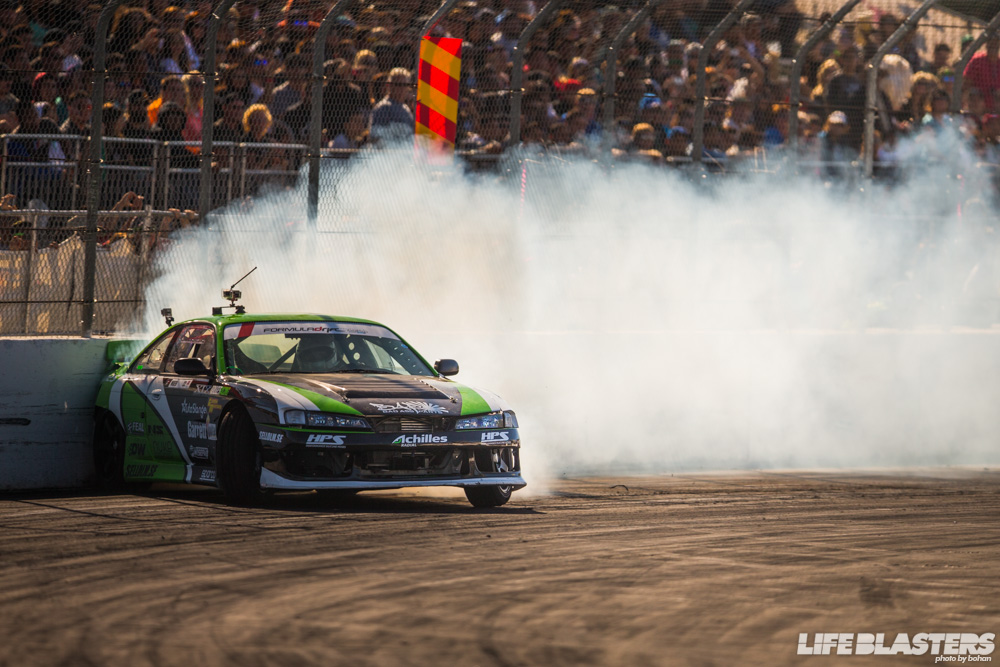 And just like that, Essa's winning streak was broken by Kenny Moen the Giant Slayer. Moen has long been seen as a middle-of-the-road driver but always had a knack for taking out big opponents. He qualified 4th in a newly built S14, then got through Geoff Stoneback and Kyle Mohan (in a severely disfigured RX-8) but no one expected him to beat Fredric Aasbø in the Top 8.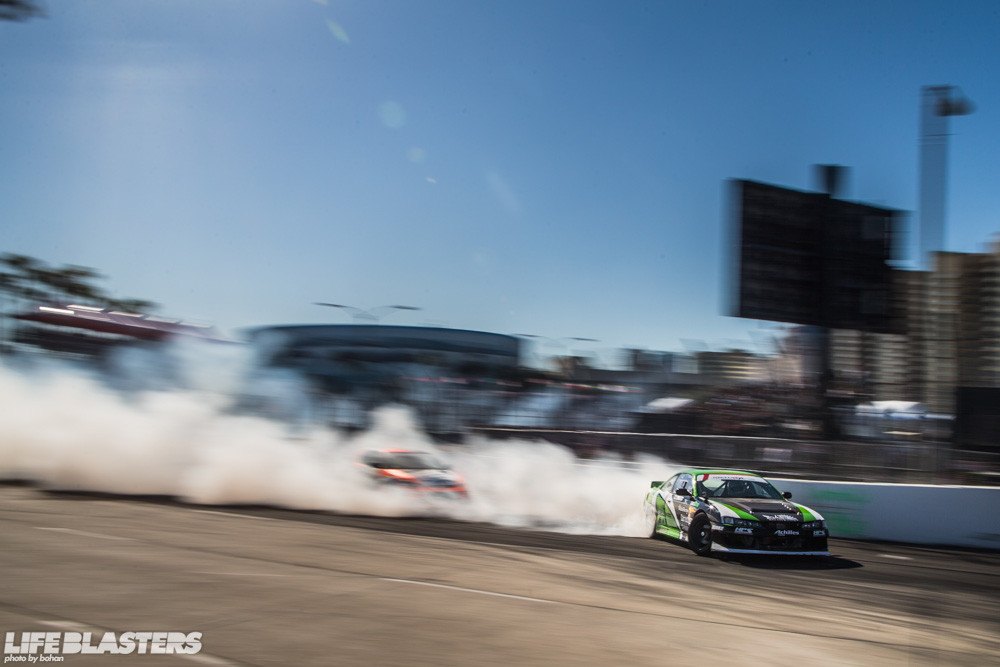 However, Aasbø's car had issues after his tangle with Conrad Grunewald in the Top 16 which may or may not have contributed to the outcome. And then Moen then lined up with Essa, who most certainly did not have a broken car. This would tell us if it was luck or not.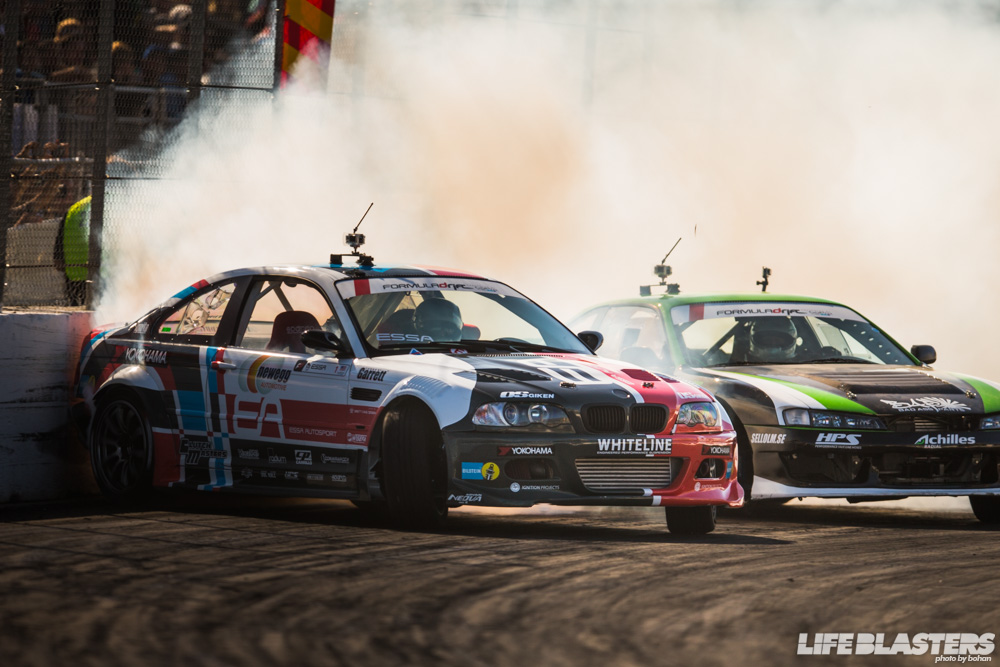 Essa led first and pulled an early gap, but Moen reeled him in by the time they got to Turn 11. When Moen led, he pulled a huge gap, forcing Essa to run shallow as he tried to keep up. Moen maintained the gap and moved on to claim the first lead run in the Final Battle.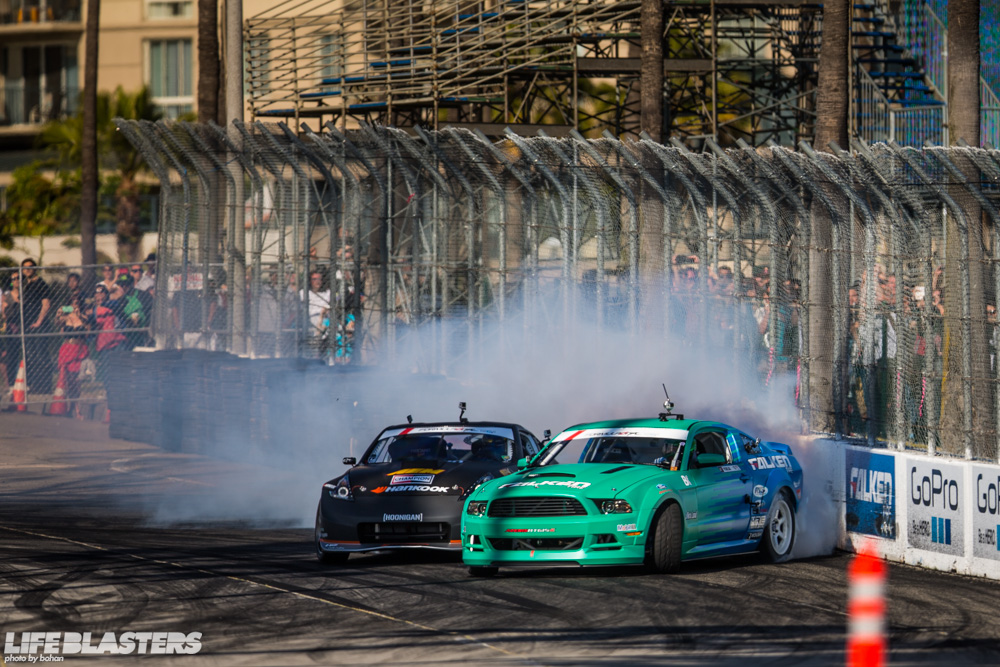 On the other side of the bracket, Chris Forsberg went door-to-door like a salesman against JTP. Pawlak couldn't return the favor and was instantly relegated to fourth place. Then it was Forsberg who had to scramble to get his tires changed for the Final Battle against Moen. Moen hadn't been on the podium before so he was already in uncharted territory. He'd just taken out the 2013 champ, but would he be able to give the 2009 champ and 2013 runner up the same treatment?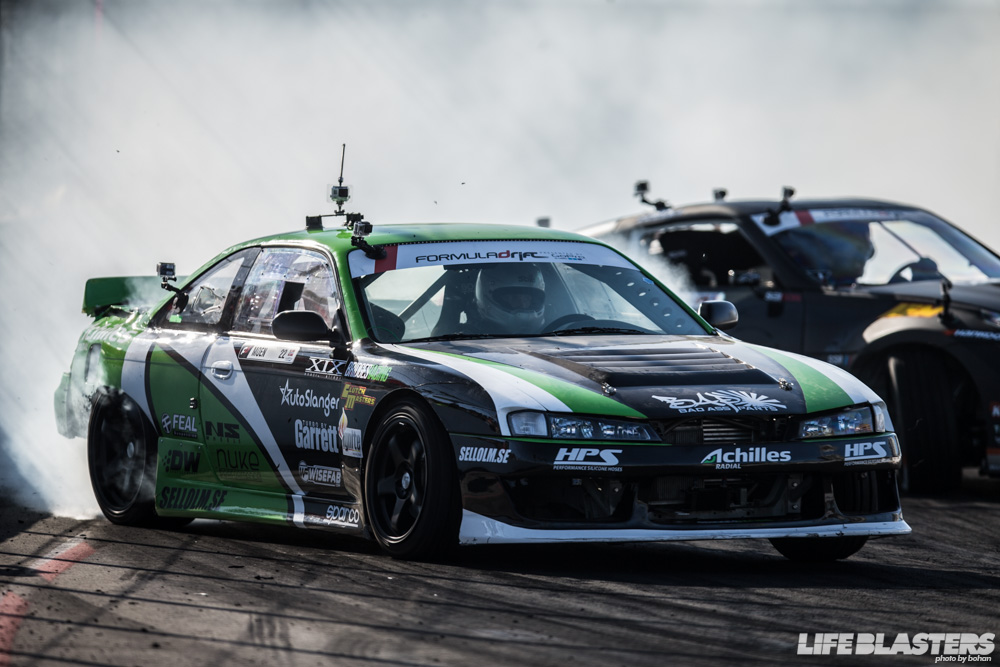 As Moen led Forsberg through Turn 10 he straightened his front wheels and drove almost completely straight for a full second.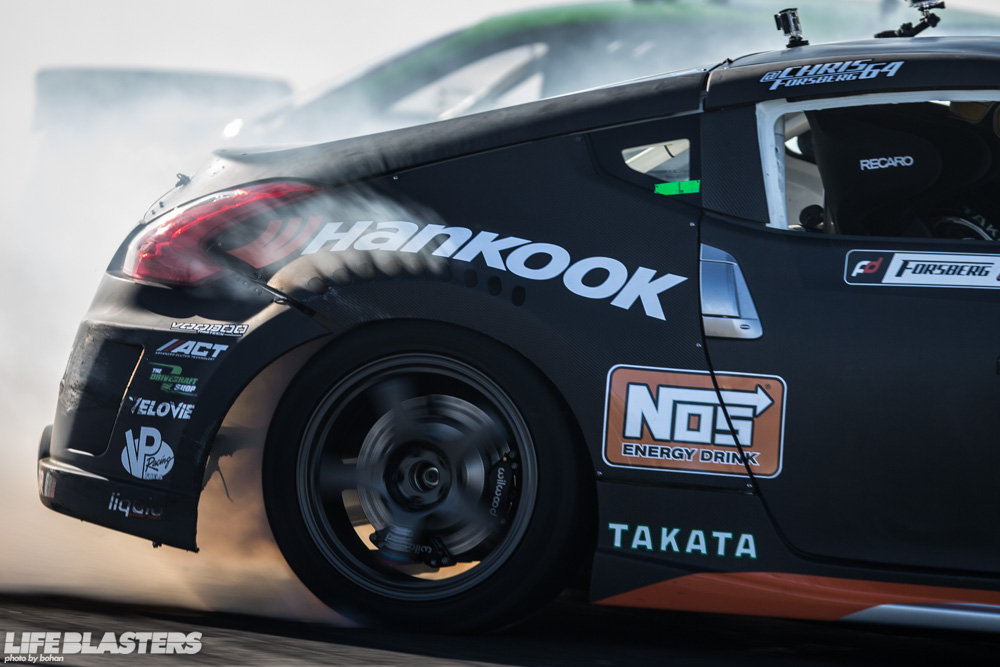 That was all it took to seal deal as Forsberg had flawless runs against him.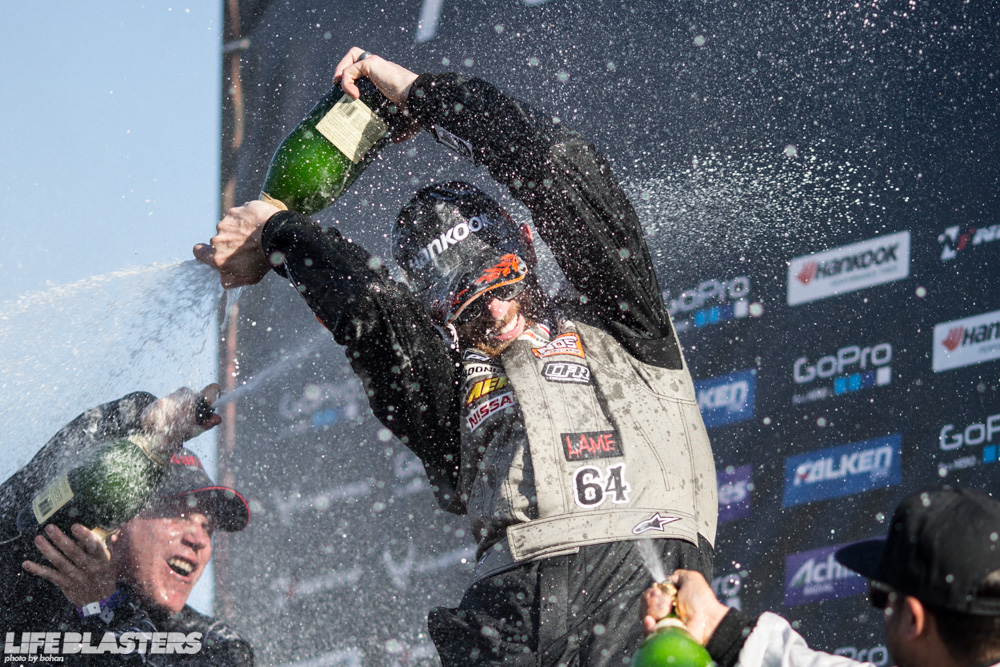 Forsberg and Essa on the podium: could the stage be set for a continuation of their 2013 rivalry? If history is any indication, literally anything could happen. Yoshihara's perfect event at Long Beach last year led him nowhere, while Essa had never even podiumed until Round 3 and then went on to win the Championship. Your guess is as good as mine!



.:Bohan

Photos by Bohan & Pitts
email: bohan@lifeblasters.com, pitts@lifeblasters.com
instagram: @andrew_bohan, @blasterforce1