I'm sure you're thinking, why am I looking at some broken race cars? And, why is gingivitis spelled wrong?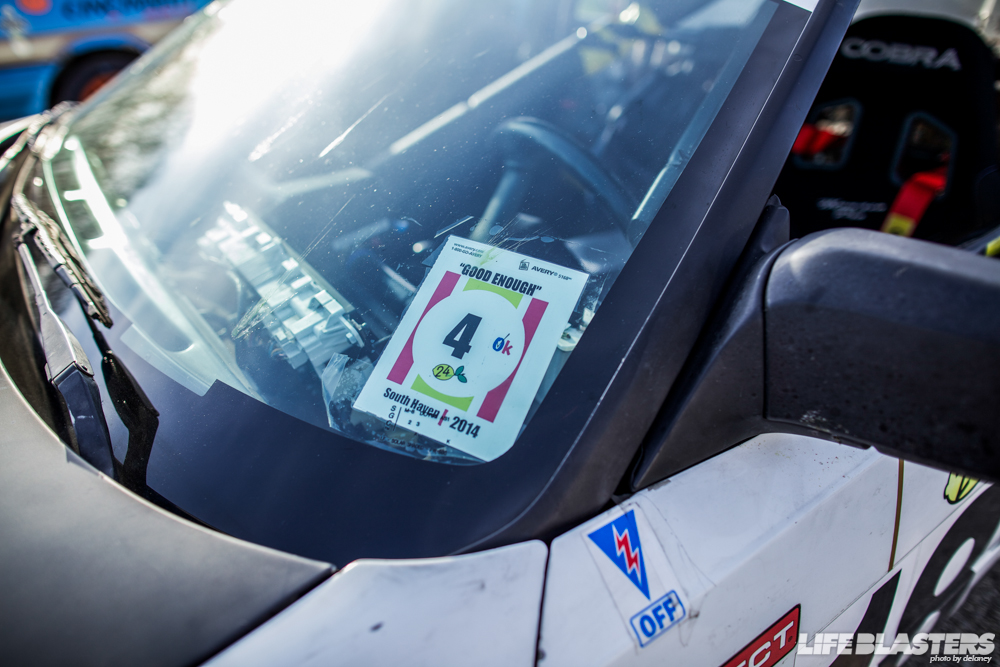 Welcome to the 24 Hours of LeMons, a racing series that consists of car that cost up to $500, not including safety equipment. Yes, $500 cars racing for 24 hours on tracks all across the nation. It may sound ridiculous, and it may look even more ridiculous, but it ranked as one of the most fun events I've ever been to. As for the Gingivitis selling, the race took place at the Gingerman Raceway in South Haven, Michigan. LeMons runs off puns.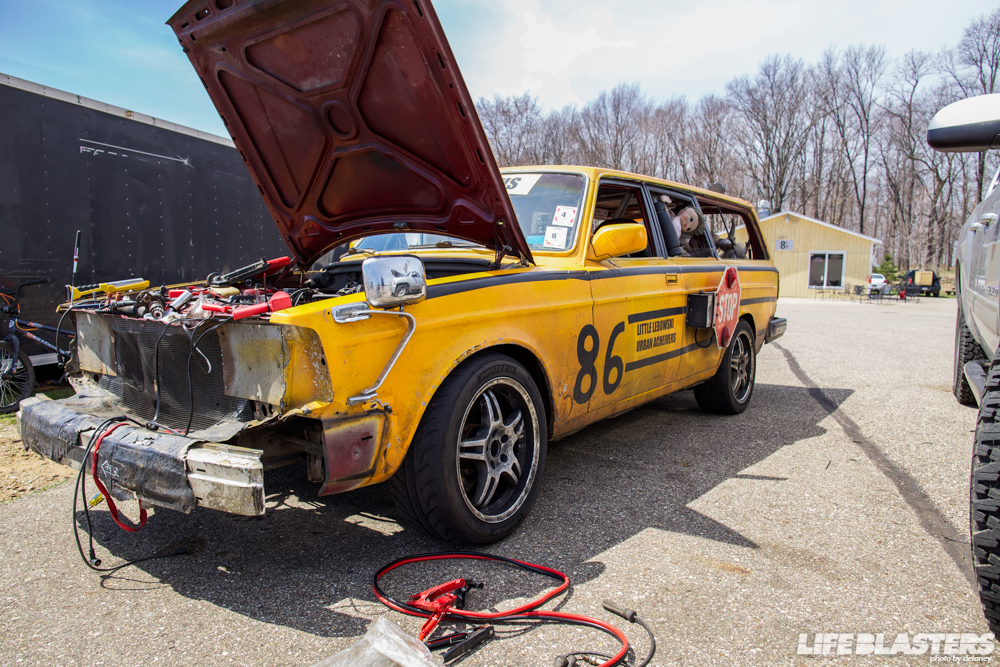 It's pretty surprising sometimes what cars show up. Knowing the $500 limit, when you see an Alfa or Porsche it makes you wonder where these people find these cars, and how they get them for so cheap and still in a drivable condition. But the best part is the sense of humor that really drives the LeMons spirit. Like the second photo, the car is "Good Enough" to race. That's the kind of humor you can expect from LeMons.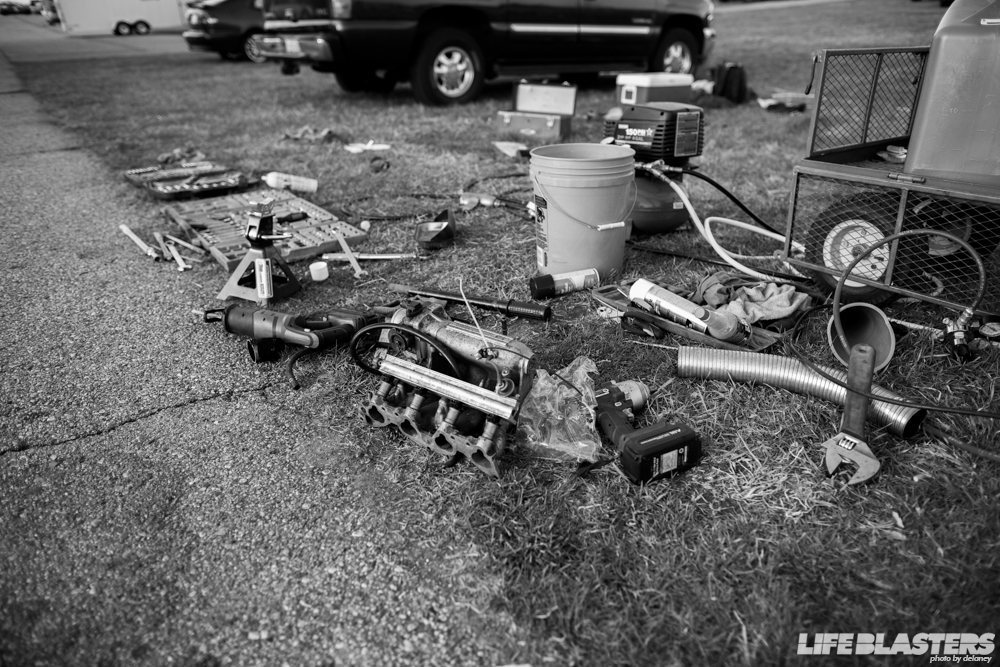 It may just seem like a joke race that people just show up to mess around with, but it's actually the other way around. Teams will come out with multiple engines, and trailers with enough parts to almost build a new car. And because of the money limit, things will break. The pitstops can range anywhere from a couple minutes for gas, to a few hours to swap and engine or rebuild some running gear.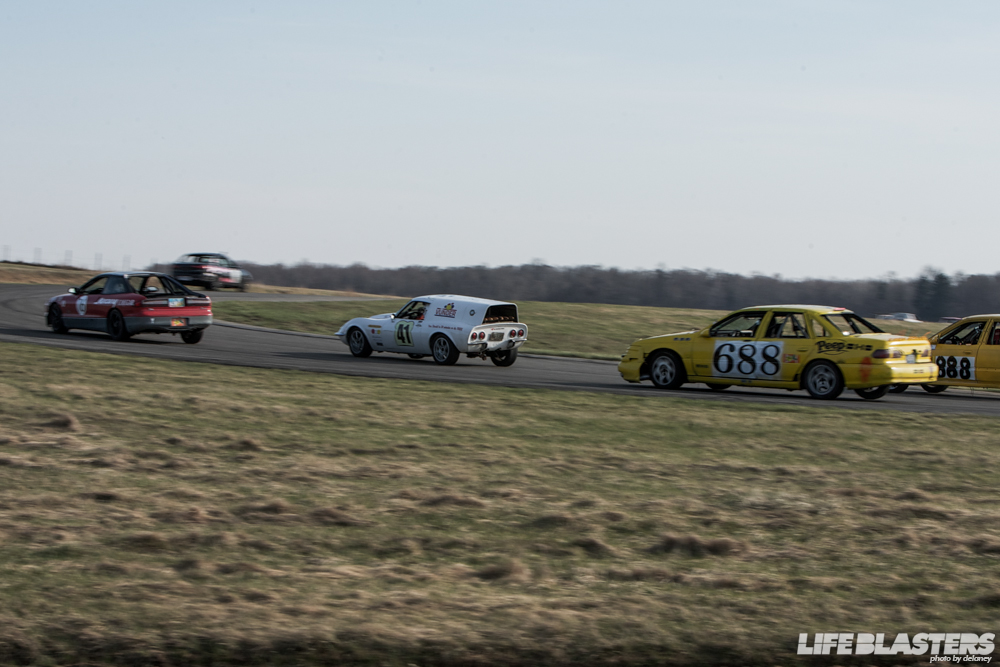 But the racing, again, is actually pretty competitive with some pretty good battles. LeMons was designed so that amateurs and professionals could race together and not be outclassed. I mean, where else would you see a Taurus SHO racing a Honda Civic behind an Opel GT "Breadvan" replica with a Ford Probe painted up like Dan Gurney's Cougar from the '60s?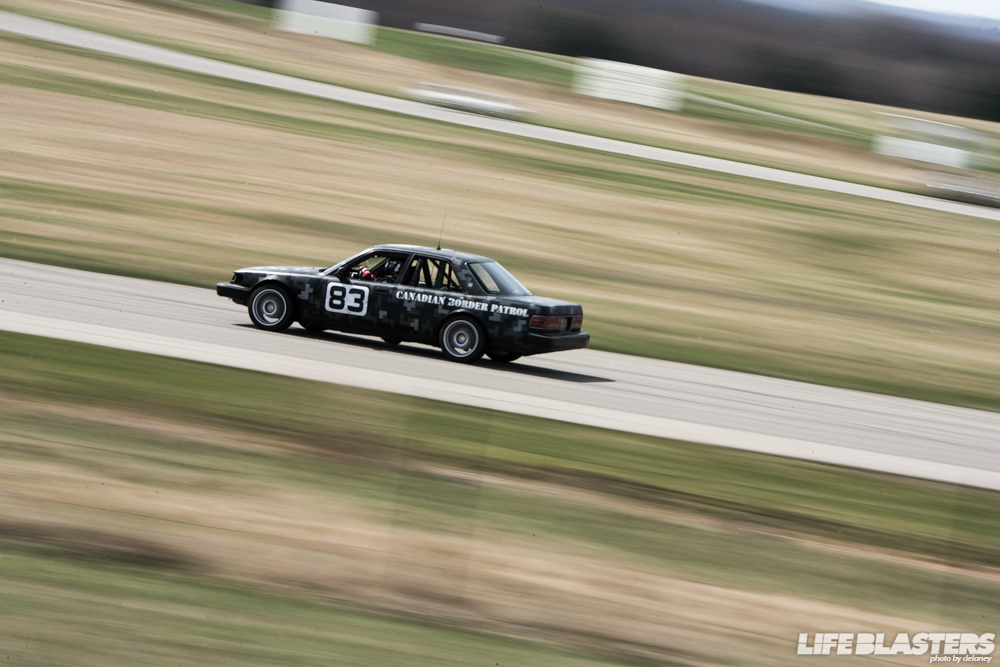 Or a Toyota Cressida with a V8 that doesn't drift. This car was easily one of my favorites because of the V8. Almost every straightaway you could hear the driver floor it, and the automatic transmission responding by putting the car in a lower gear causing the V8 to just howl. By the end of day one they were in the pits with their hood up. Most likely caused by their heavy right foot.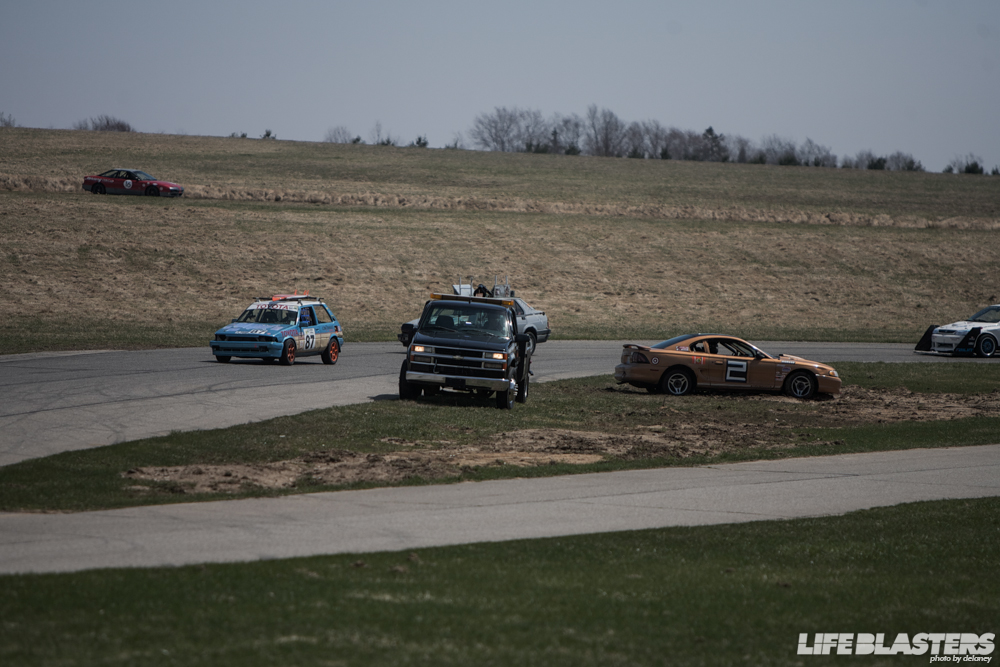 You could draw a parallel with the 24 Hours of Nurburgring here too. When a car would spin, there would just be a local yellow while the recovery truck would go out to get it.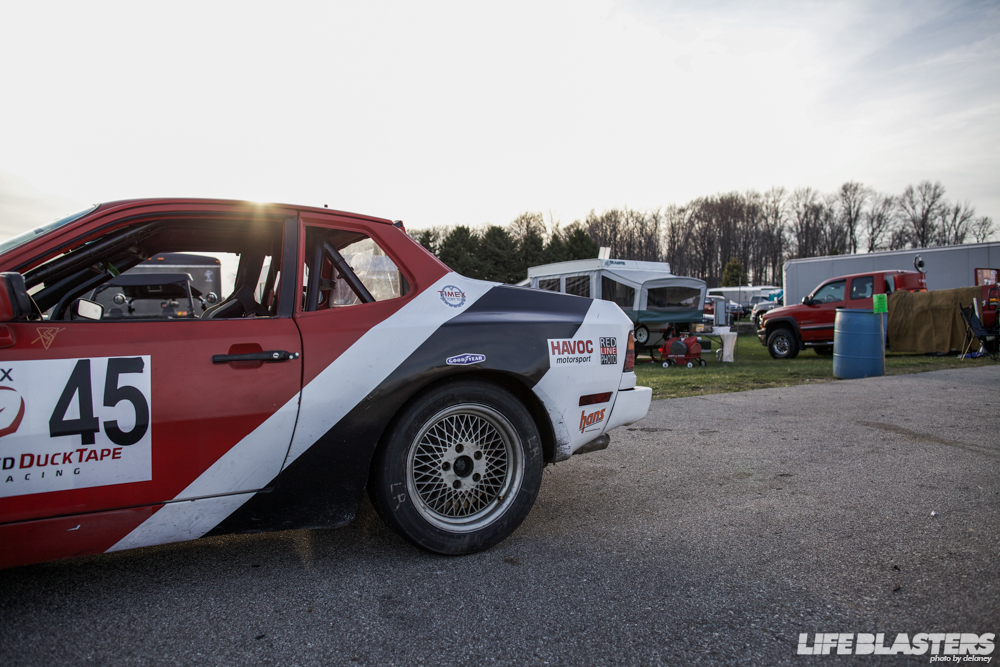 You could also see some of the finest German automobiles in attendance too. I would love to know where they could find a Porsche 944 for around $500. If Craigslist is any indication, I bet a lot of these cars were bought with blown head gaskets.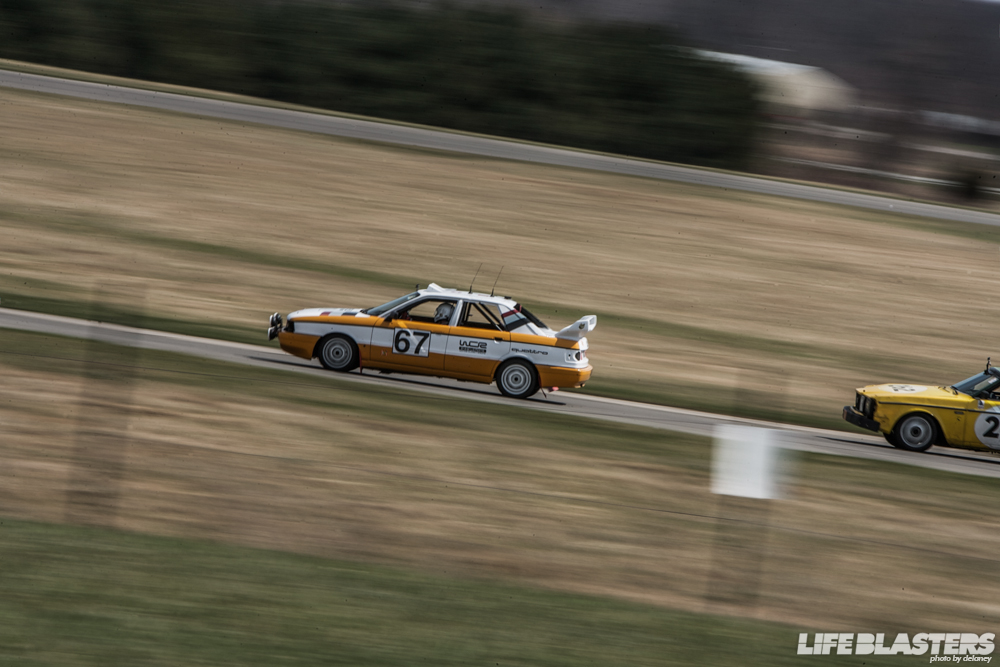 You could also see a Group B Audi out there racing too. This was one of the first cars I saw when I got to the track, and loved it all day. The WCR stands for Water Closet Racing, and the wing was there for a Doge joke. Such downforce. Wow. And behind it was a Bertone Volvo all the way from California.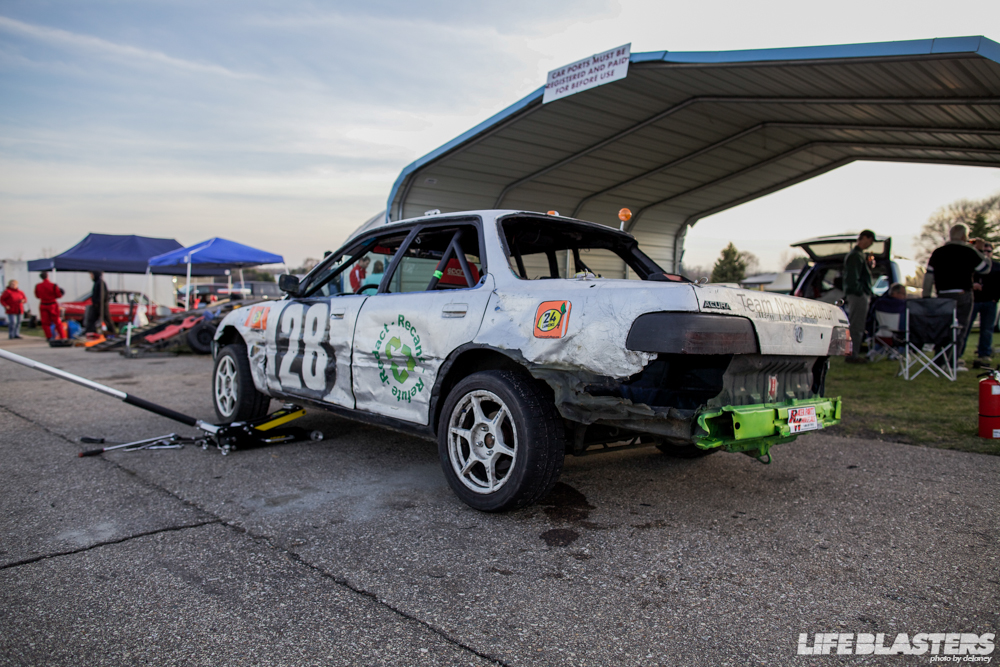 If you're familiar with LeMons and you're surprised by the decent looking cars, well here's your typical LeMons car. I have no idea how this Legend even runs, or was even allowed to run. This is what makes LeMons so oddly enjoyable to watch.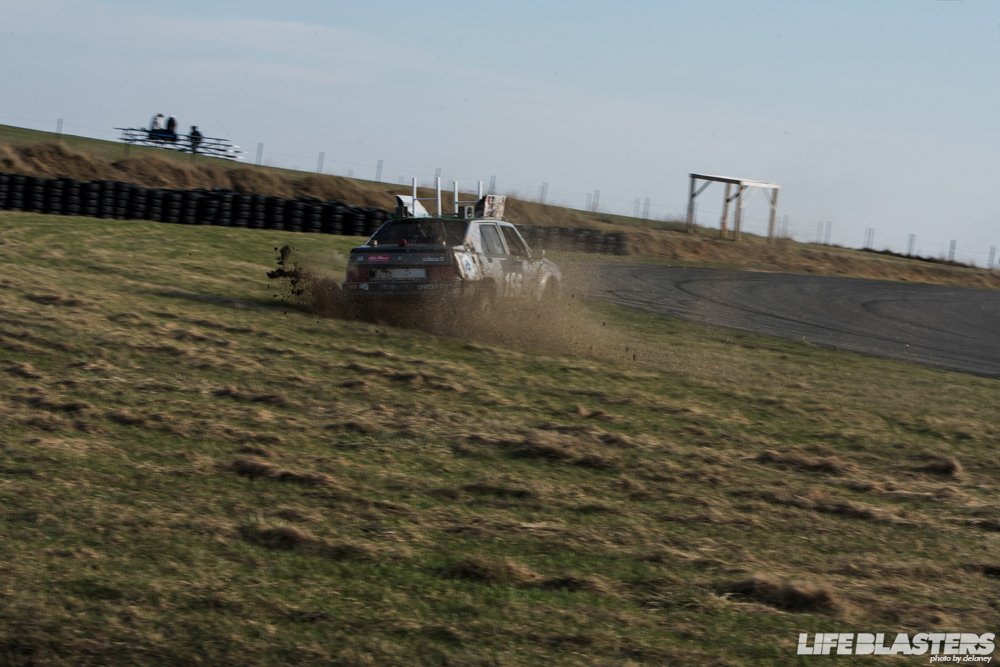 And even though it's mostly amateur racers, there actually wasn't that many offs. The NFL Women's Apparel Alyssa Milano Alfa Milano came in a little hot and had a quick run through the grass. No harm, no foul.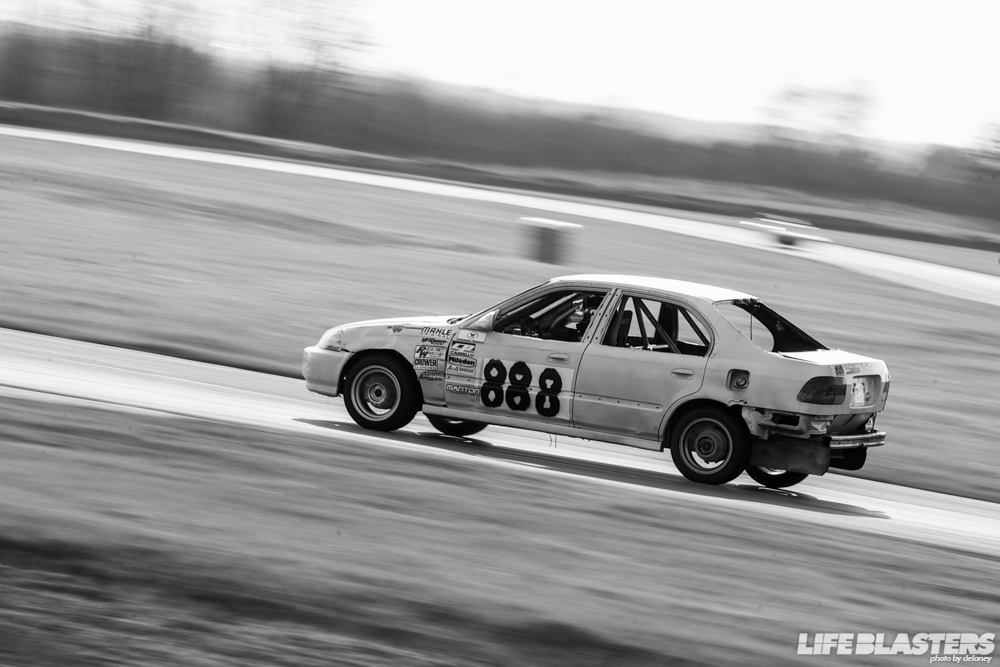 Here's your normal LeMons entry. A Honda Civic with no trim, no windows and no rear bumper.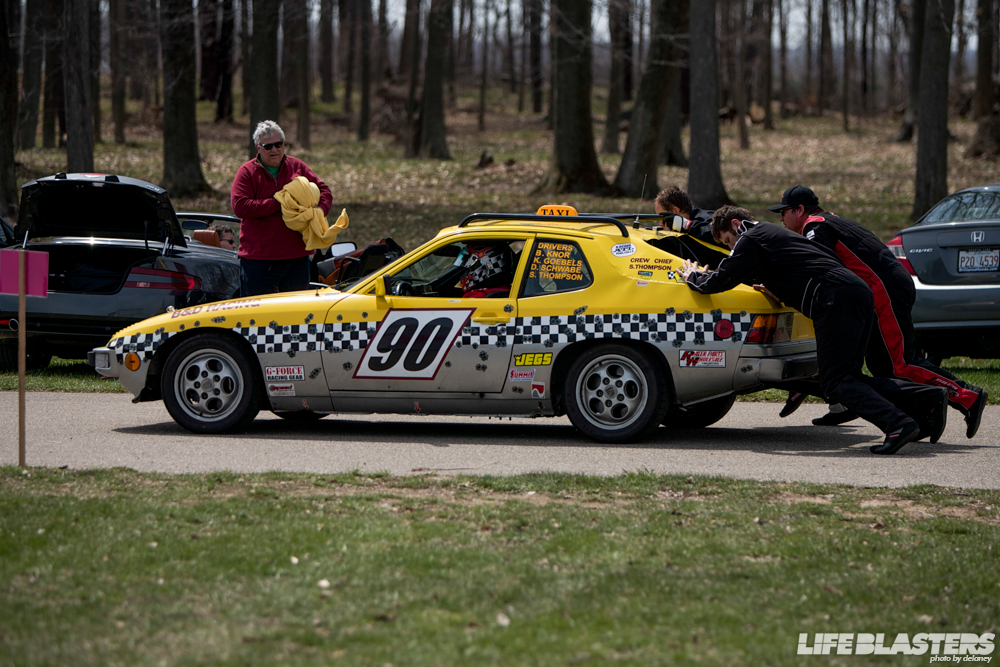 You could really just make a story out of the oddities and hilarious things you can see. Like a Porsche 924 with a 944 engine needing a push start while a guy next to his Aston Martin watches. You really can't make this stuff up, it's perfect.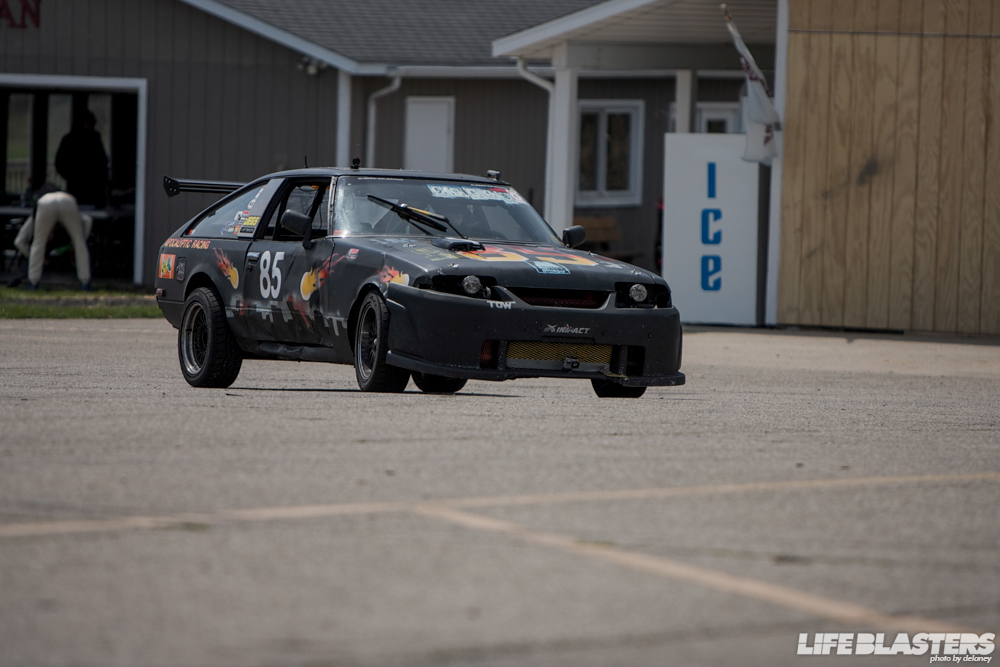 Or this Mark I Supra with a front bumper off a who knows what. It's things like this that makes you wonder how they can find a Mark I Supra for $500.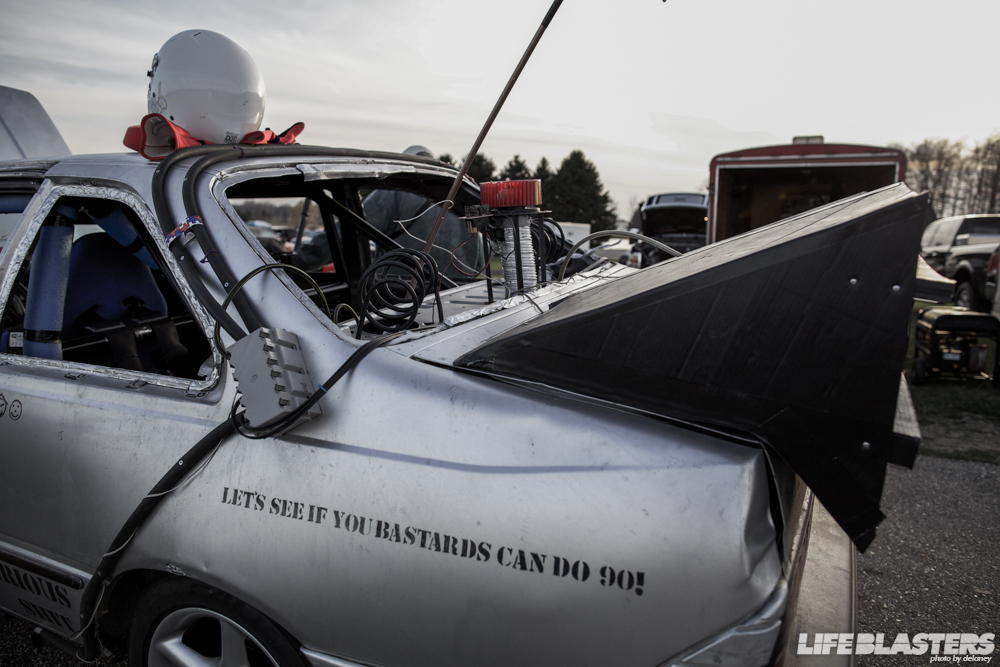 Others decided to really go all out. A Ford Tempo DeLorean ready for time travel. Not only did they copy the flux capacitor and the rest of the machinery, in a way, they even painted the rear taillights to copy the look of a DeLorean. For being a joke type of series, there's a lot of detail that goes into the cars.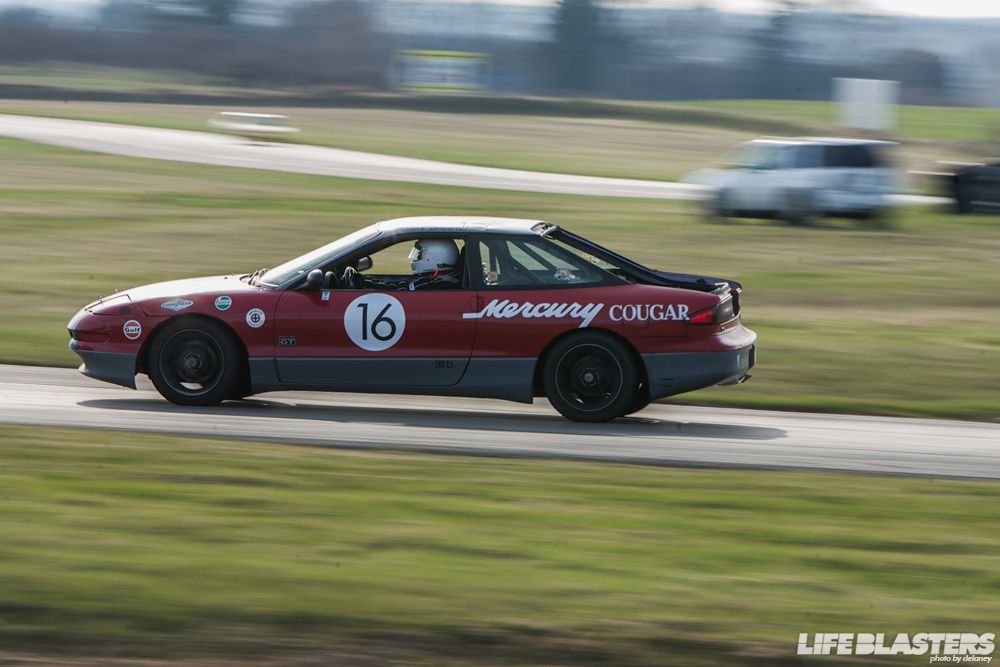 Here's another shot of the Gurney Cougar. It's actually a pretty good copy of the original car, which is a common theme in LeMons.

Along with the crazy over the top liveries, some people like to remake old schemes from cars before. Not only was this Probe painted up right on the sides, they even went as fas as to paint the grills on the front of the car to further replicate the Cougar look.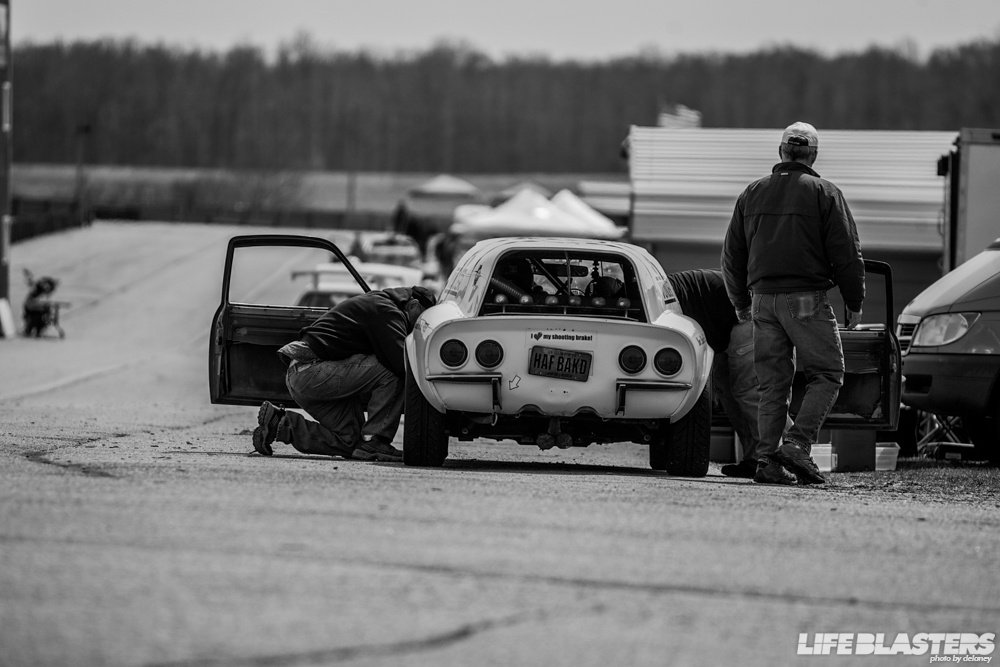 Then there was the Opel. It wasn't running at first, and we first encountered it in the pits. An Opel GT with some sheet metal bolted on to replicate the famous Ferrari 250GT Drogo, or Breadvan. But instead of going for the Ferrari red, they opted for a more humorous approach.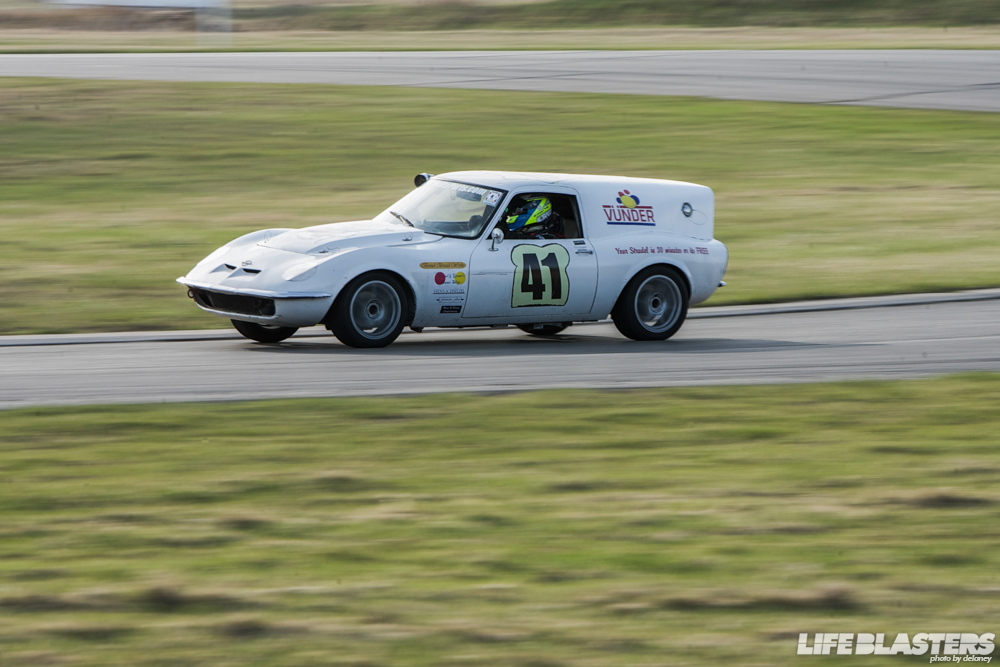 The Vunder Bread Opel GT was probably the best looking car in the field. The smooth lines and well done rear section actually made it look like it could of been a one-off car from back in its day. I would actually like to get an Opel GT just replicate this look and make it a daily. And the rear end wasn't there for just looks, it also carried some bread. As it should.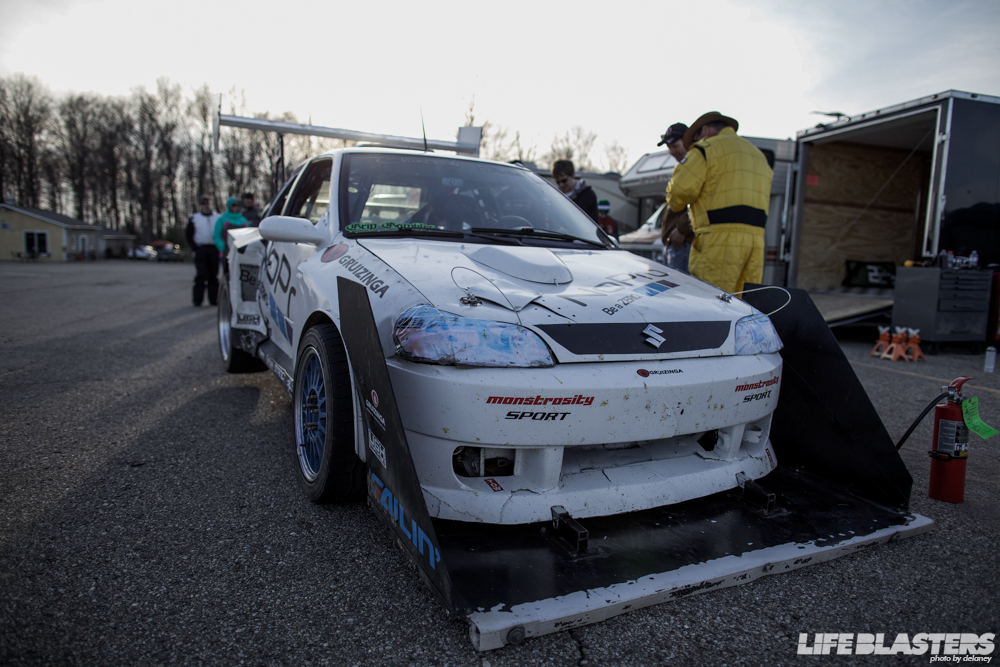 There was one car that easily took the attention away from everyone else. The NoPro Suzuki was the best replica of any car racing. The detail they went to in copying Tajima's Pikes Peak car was staggering.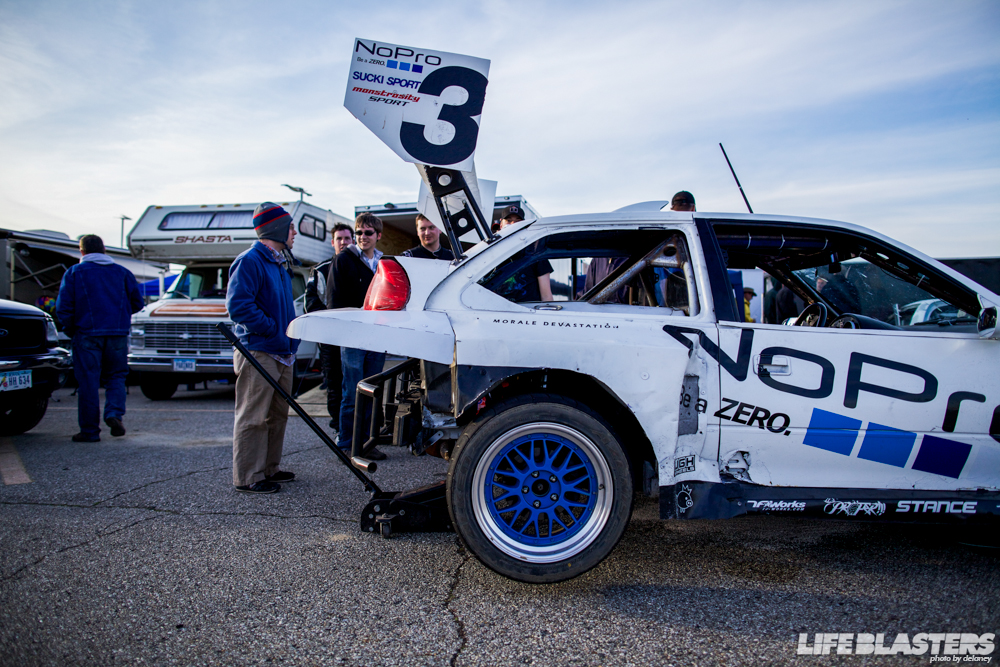 With the rear taillights mounted high up under the wing and the rear end cut out like the real car, it was amazing. And even more amazing is the fact that it's powered by a Taurus SHO motor mounted in the rear. It's amazing the lengths people go to in this series. It's all about having fun in the end though, and this car looks like a lot of fun. Even Tajima's sponsors are copied, albeit changed around a little.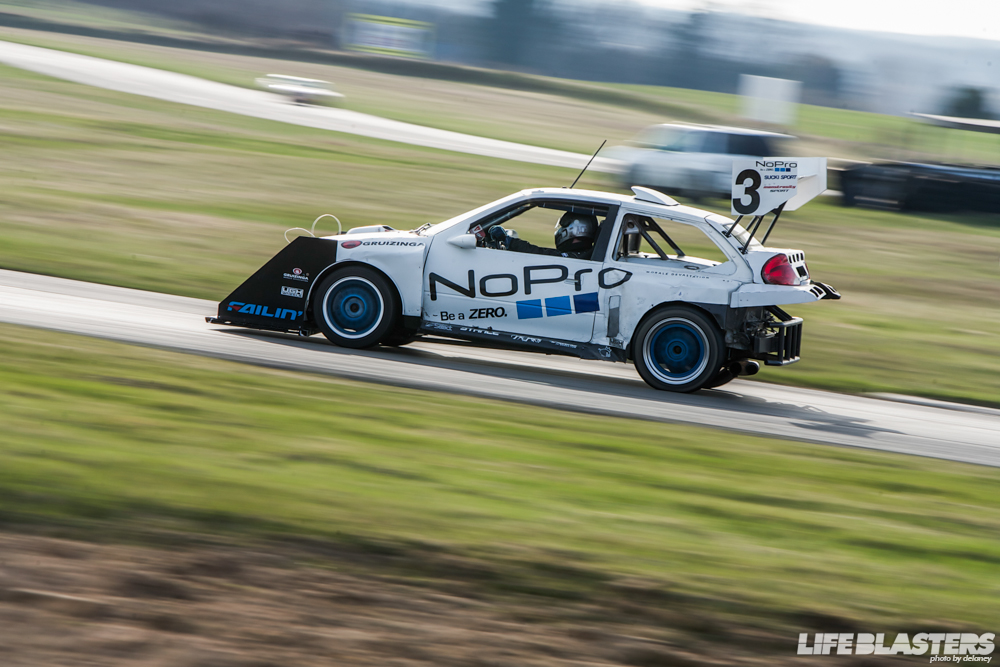 They looked strong and were flying all day, but didn't manage to win overall. They did, however, win their class by an impressive 16 laps.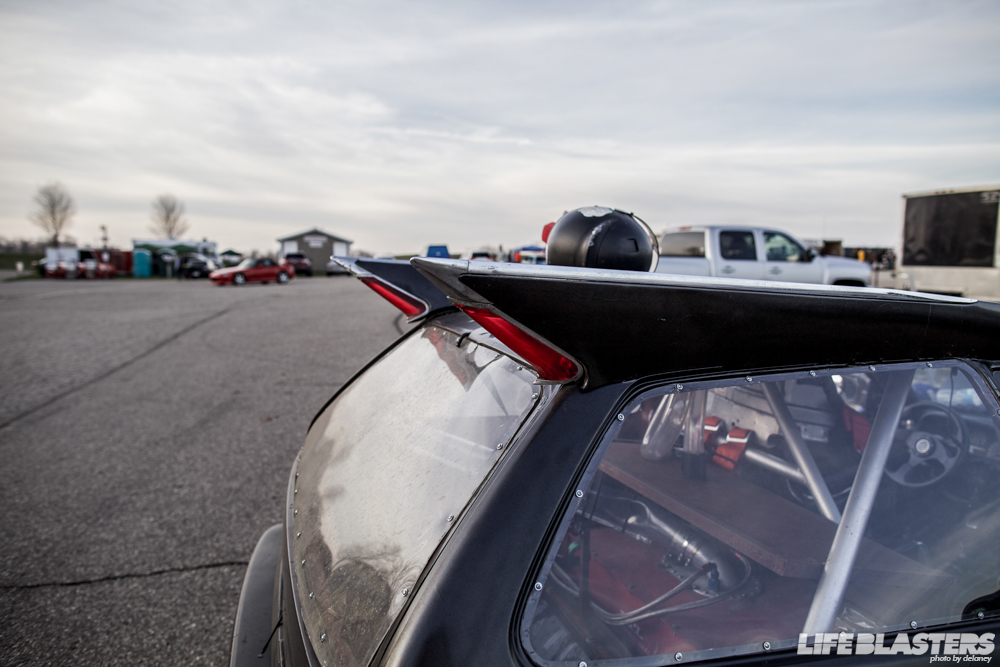 Now is the time where I say I didn't make it back to the second day of racing. Being held over Easter weekend, we decided it was worth getting over their for at least one day. And it wasn't a full 24 hours. Due to the Gingerman's sound restrictions, the race ended Saturday at 7pm, then started again Sunday at noon and raced until 5. It may not of been a true 24 hour race here, but the fact that so many people still came out to race shows LeMons is still going strong.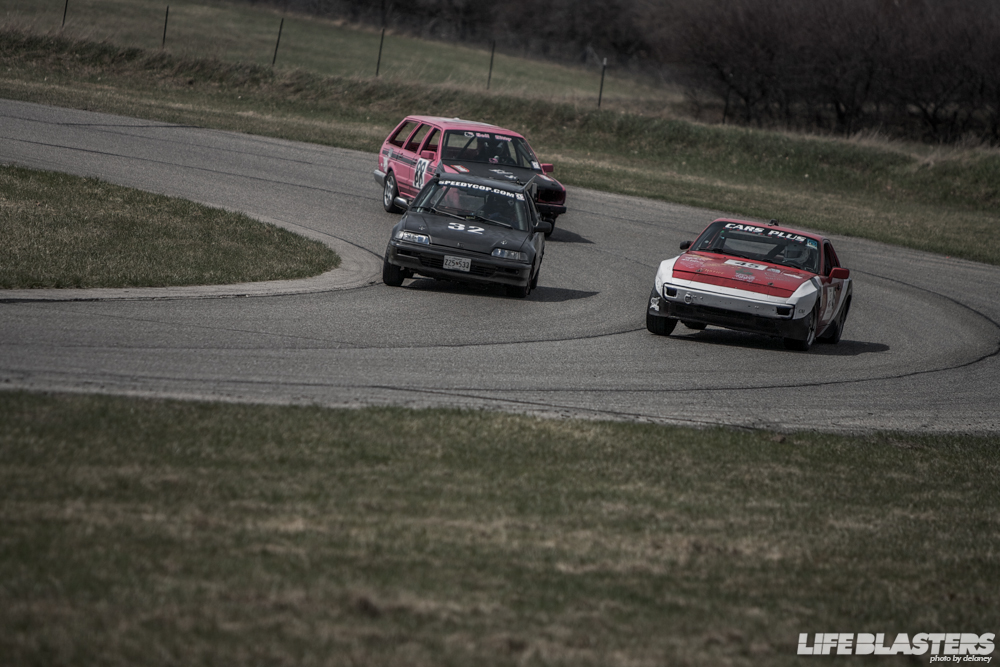 As for the Civic above with the Cadillac style taillights on the roof, they got the overall win. Team Speedycop has been racing in LeMons races since 2009, but finally got their first win. Just like the real LeMans, it's all about finishing, no matter how crazy or outrageous your car is.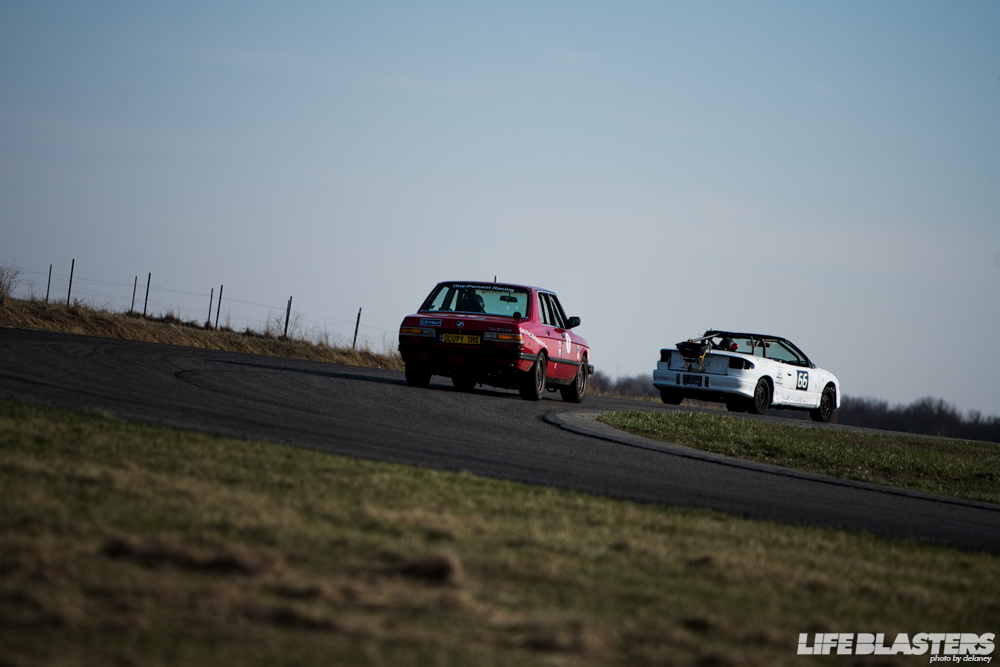 I'll end with two other funny teams battling it out. Team One Percent Racing and the 2014 Polar Vortex racing off to keep their LeMons fun going. I recommend checking out the LeMons website to find a race near you. They criss cross the country stopping at some pretty good tracks too. It'll be a riot no matter where you are. And be sure to look at the cars closely, you never know what pun or joke could be hiding on or in a car. Or even what ridiculous paint job or structures will be attached to some of the cars. LeMons is an event that every racing enthusiast needs to experience.



Delaney
instagram: @lifeblasters, @ericdelaney