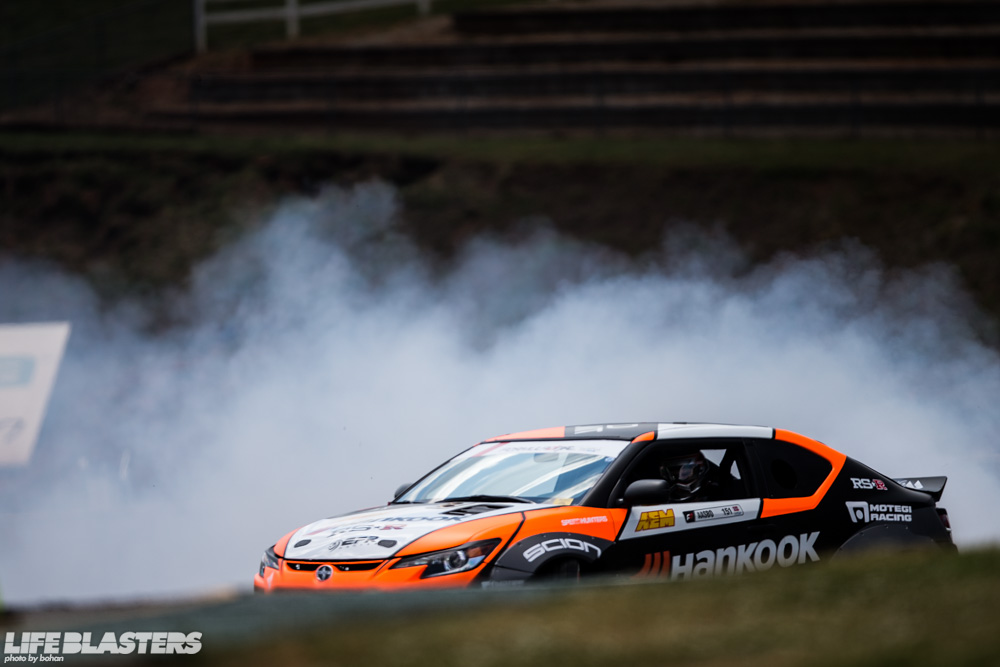 As we head into the middle of Formula Drift's 11th season and away from the the fanfare of the series completing its first decade, things are getting back to normal.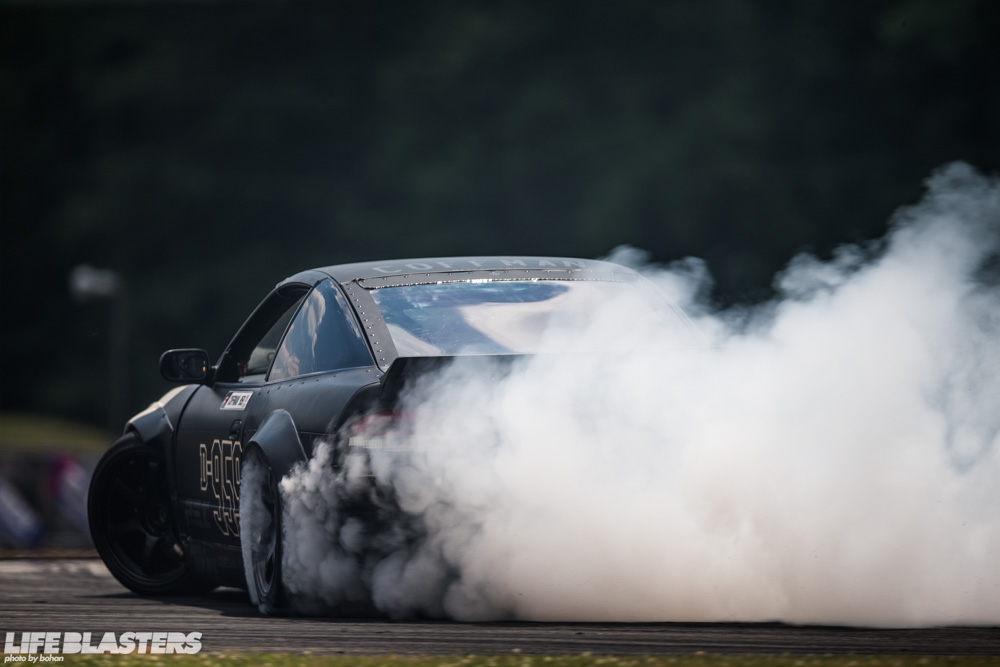 Road Atlanta has consistently been one of our favorite rounds of the season because of both the landscape and the fans, but in a world where it seems like tracks are banning drifting every other week, I suppose we should feel lucky the management at Road Atlanta even allows drifting at all. And not just that, but that the track has embraced the sport so strongly since the beginning. Formula D visits the track only once a year, but Road Atlanta is home to Drift Atlanta and is also a stop on the StreetWise Drift calendar. That's pretty impressive considering the track also hosts such prestigious races as Petit Le Mans.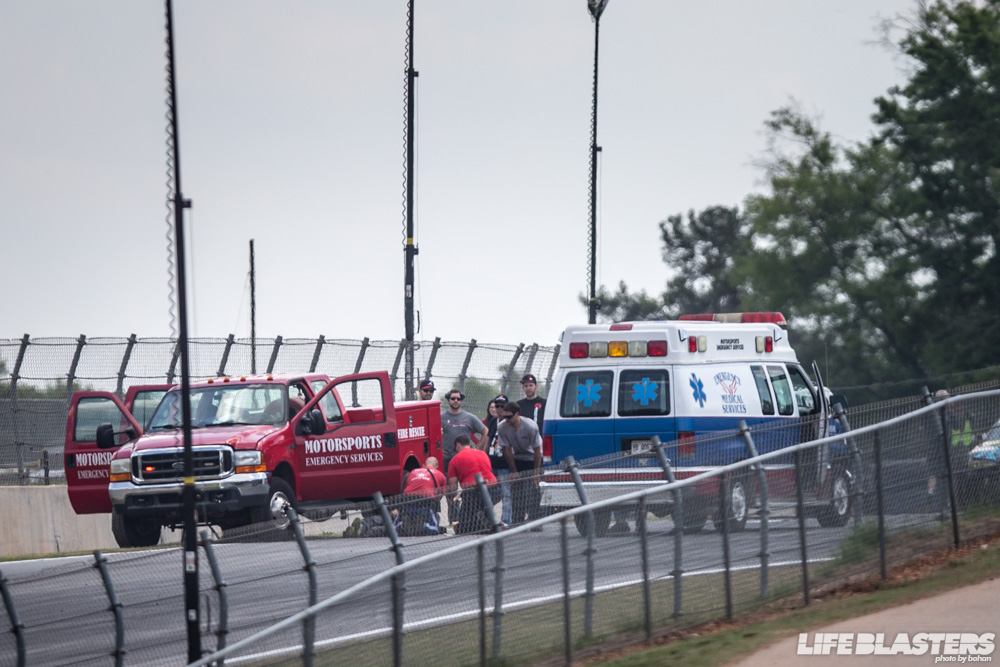 We were barely into Thursday's practice session when suddenly the cars stopped and I saw emergency lights at the start line. I got many conflicting reports of what happened but the gist of it is that a photographer was laying on the ground in front of a Fire Rescue truck and got ran over by one wheel when the truck needed to respond to an incident. Some reports made it sound like there was no chance he would survive, but I also heard he only needed stitches and had actually returned to the track by Saturday. Either way it's a bad deal and hopefully a wake up call for all the media personnel who shoot trackside.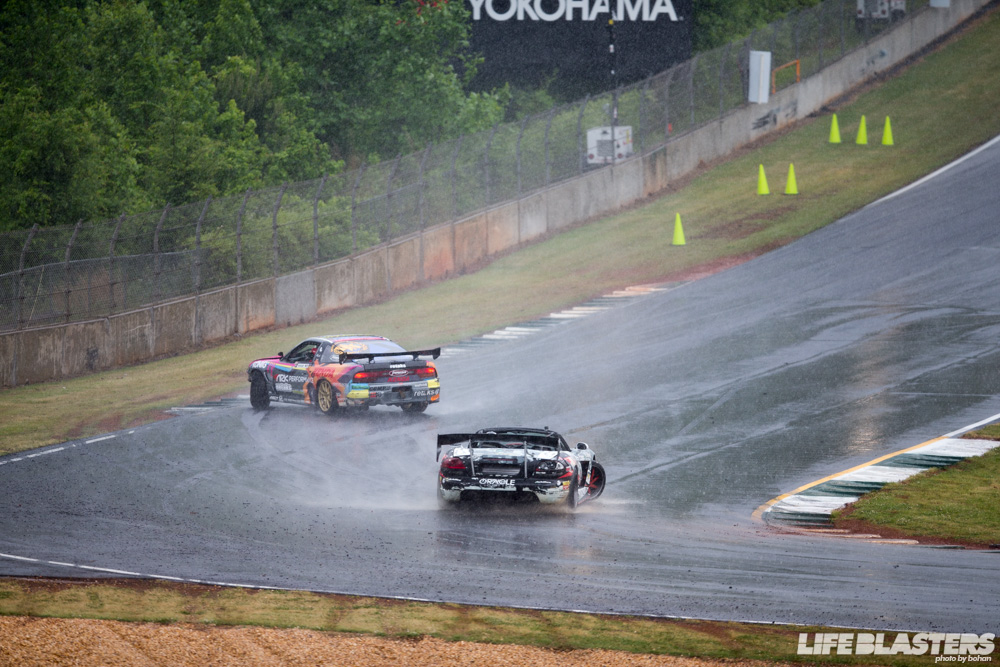 Friday's forecast called for thunder, lightning, and rain. I only saw one flash of lightning, but there was more than enough rain for everybody. In fact, I think it's the most rain I've ever shot motorsports in.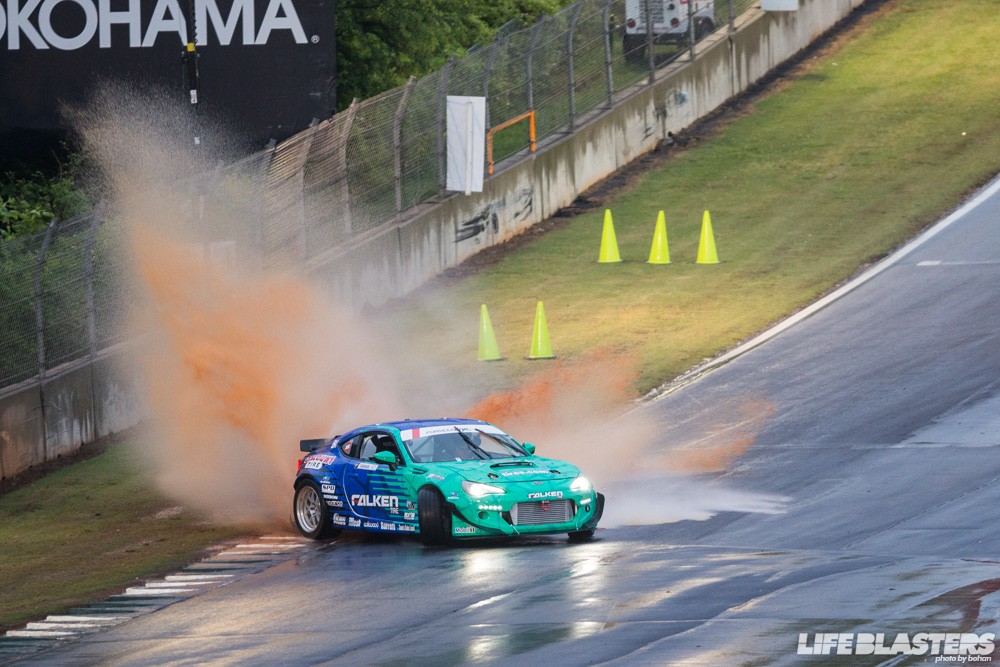 The drivers probably weren't too happy about the rain, but it sure makes for cool photos. Light rain is no good, as it prevents tire smoke but doesn't get kicked up, so it doesn't look cool at all. If it's going to rain, it needs to be a lot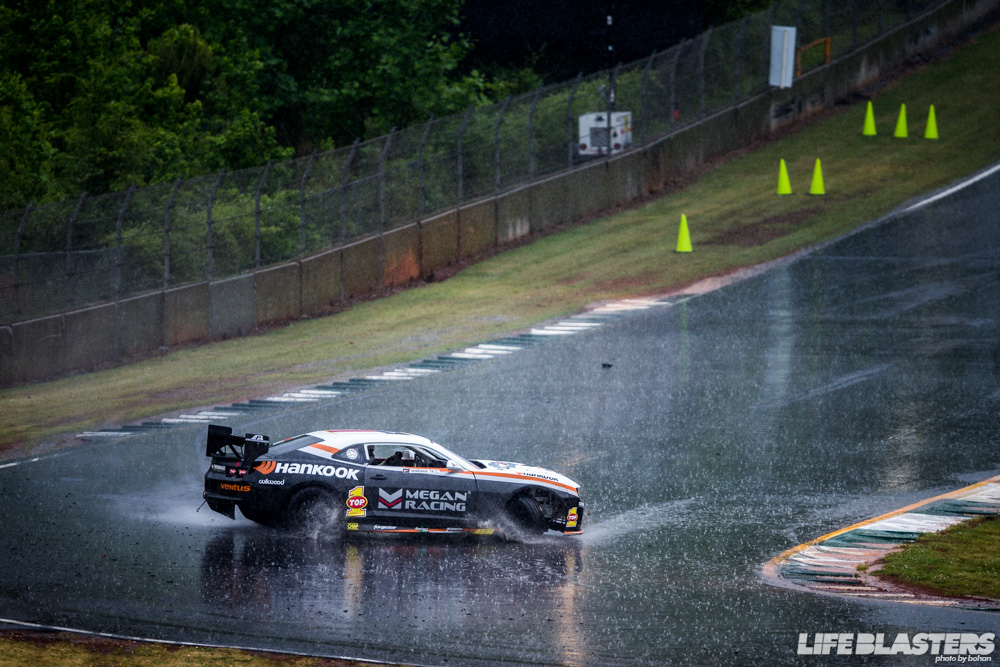 For qualifying, the FD staff decided to give every driver a test run before their judged run, so they could assess the conditions. This turned out to be really helpful, as a lot of drivers made massive mistakes on their test runs, followed by clean judged runs. Many drivers even did 360s on the initiation, à la Matt Powers.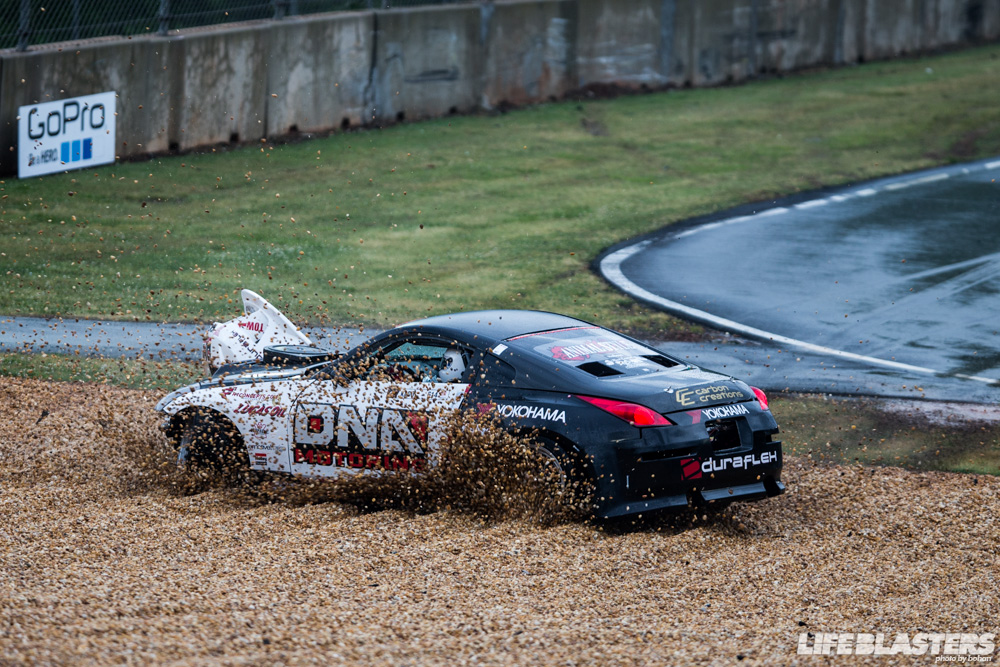 With the extra runs and high probability of going off course, the first qualifying runs ran longer than the allotted time for the whole session. Even though it was much dryer by the beginning of the second runs, the FD staff was still allowing test runs, so the qualifying session ran all the way through the time reserved for night practice.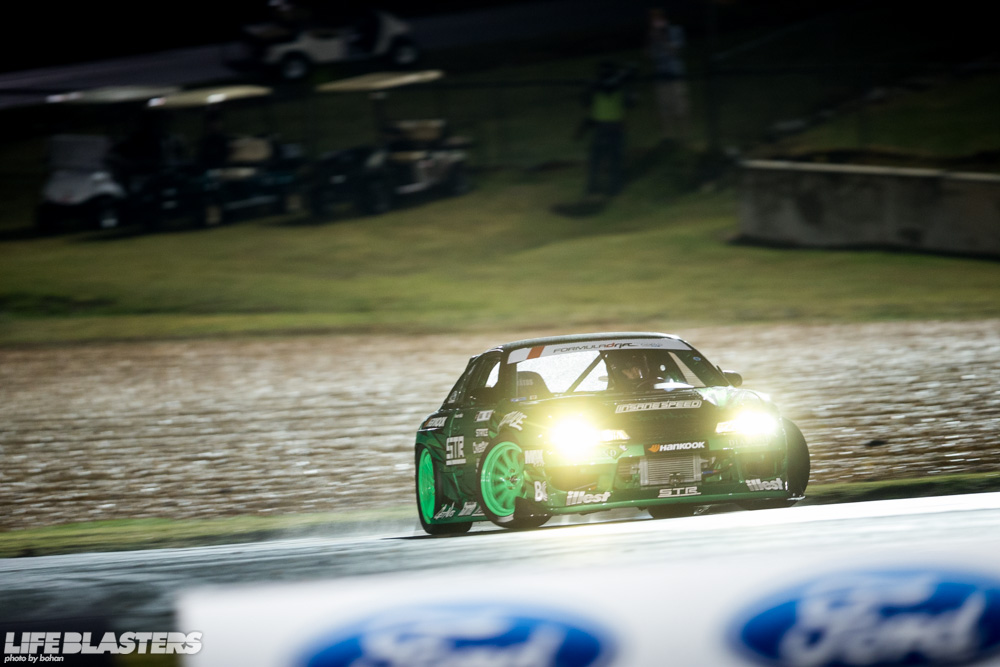 At the end of the night, Ryan Tuerck, Vaughn Gittin, Jr., and Tyler McQuarrie took the 4th, 3rd, and 2nd qualifying spots and their own quadrants of the bracket, with Forest Wang showing off his rain prowess and nabbing that number one spot and the first quadrant.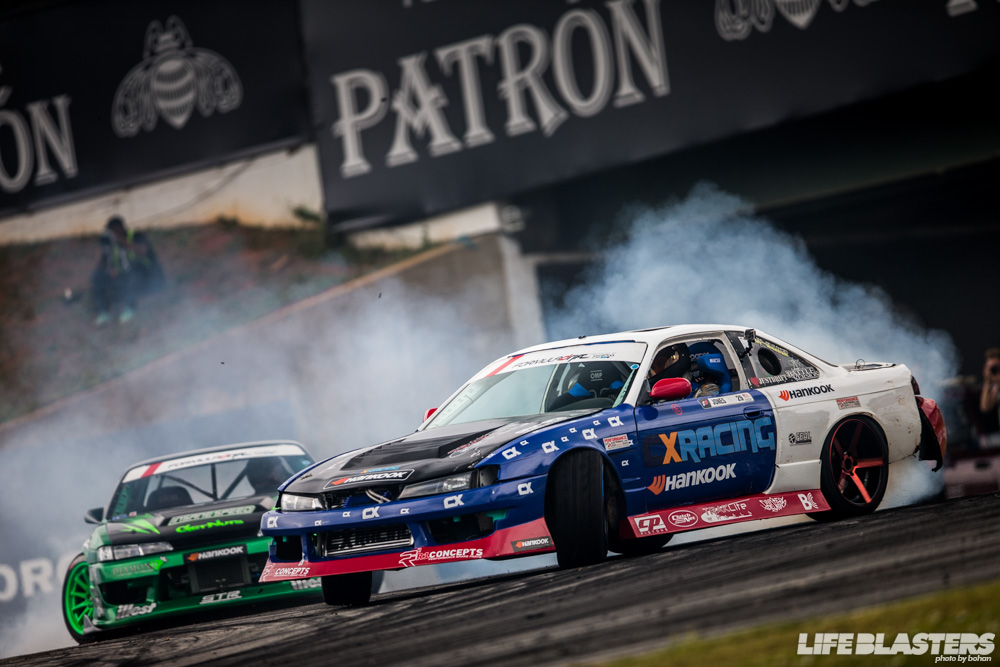 On Saturday morning it was time to get serious. The drivers put in their last few practice runs and then it was time. Forrest Wang lined up with Jeff Jones and was the first driver to win a tandem battle in the second decade of pro drifting at Road Atlanta.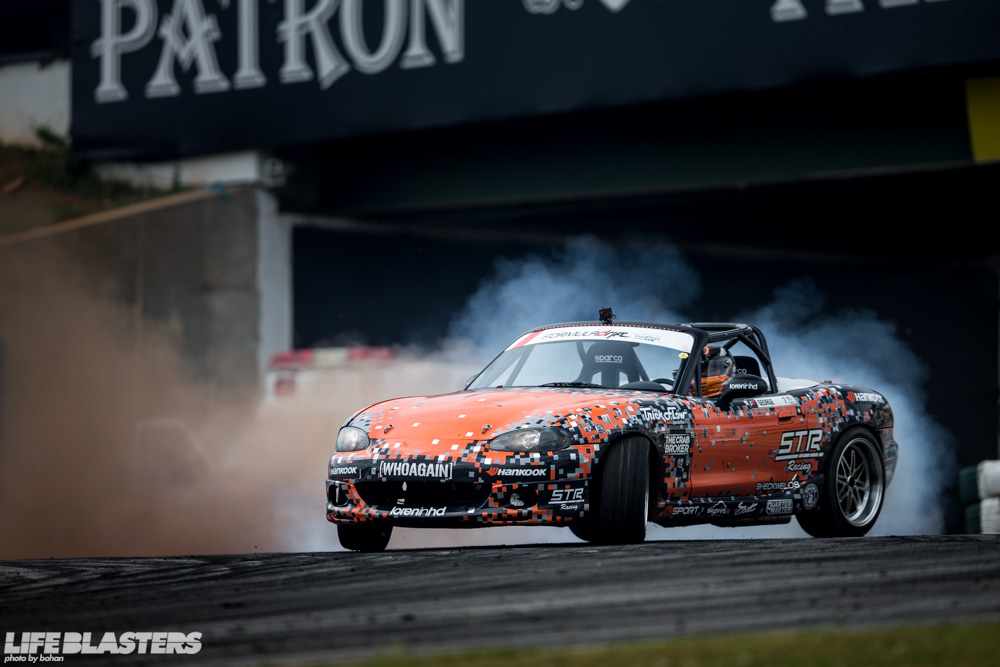 Danny George faced Daigo Saito and looked like he might win, but then lost.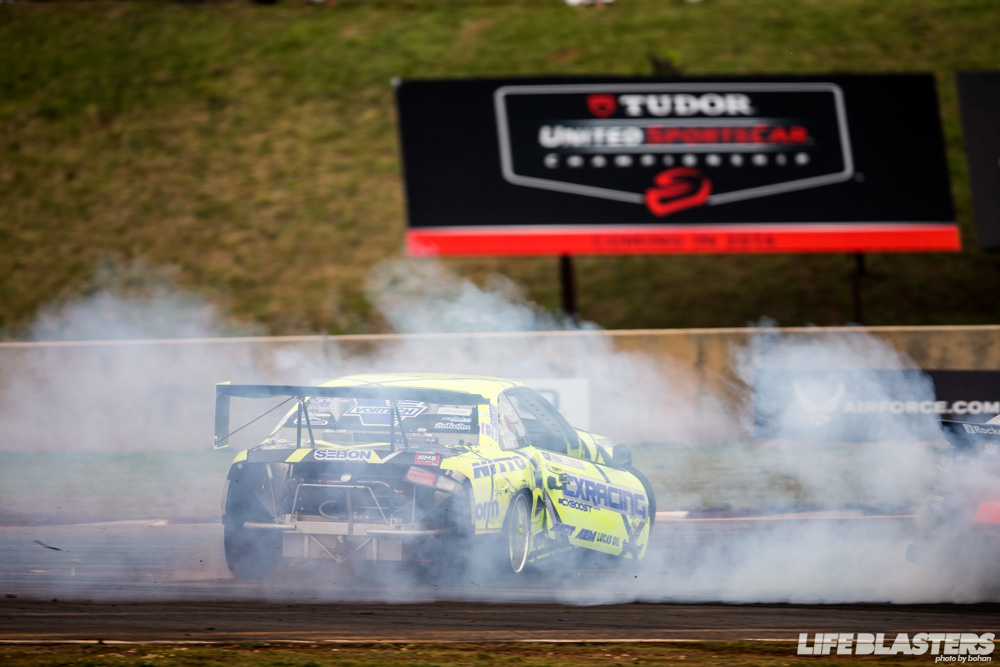 Matt Field tried some funny business and got nailed by the Hammer.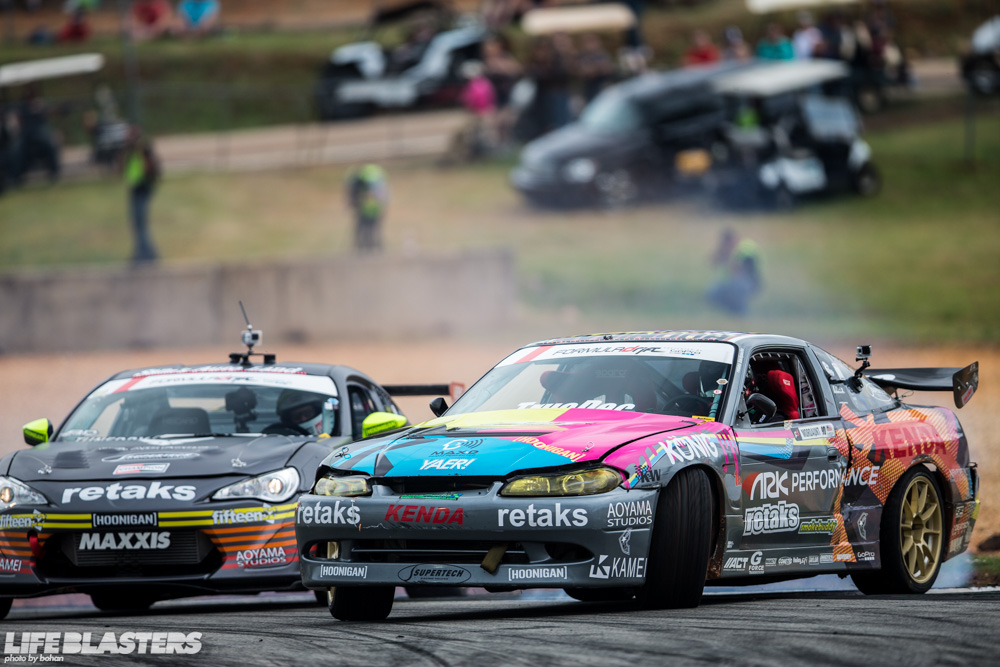 Pat Mordaunt was using the Retaks S13 that Tuerck was using before switching to the FR-S, and beat Tuerck and the FR-S with it. That's gotta hurt.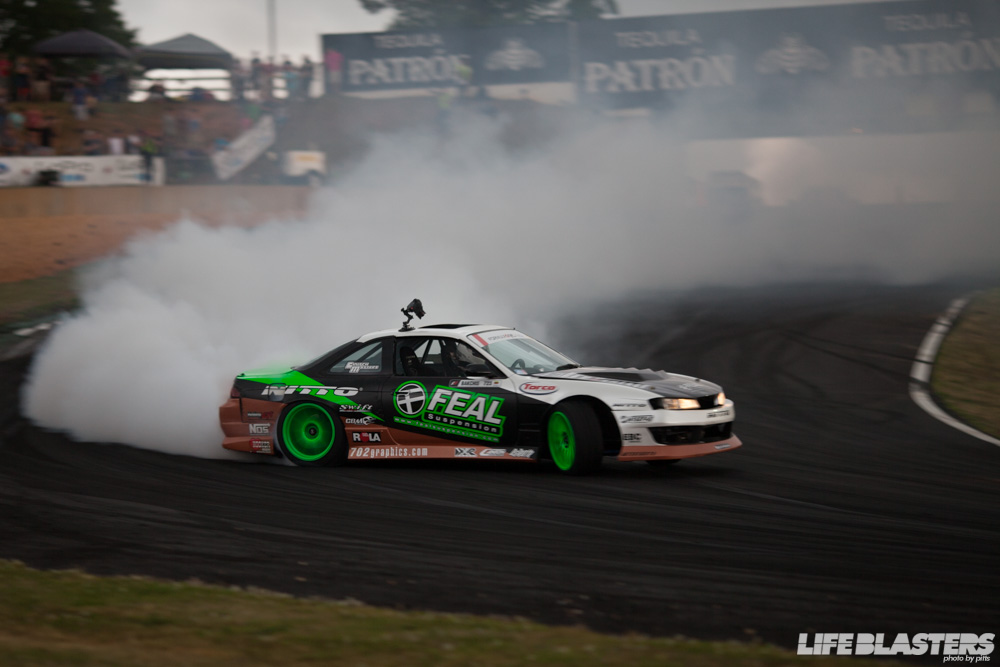 In a replay of their battle at SuperDrift, Odi Bakchis and Mike Essa duked it out, but this time Bakchis came out on top. Whoa, that's not good for the defending champ.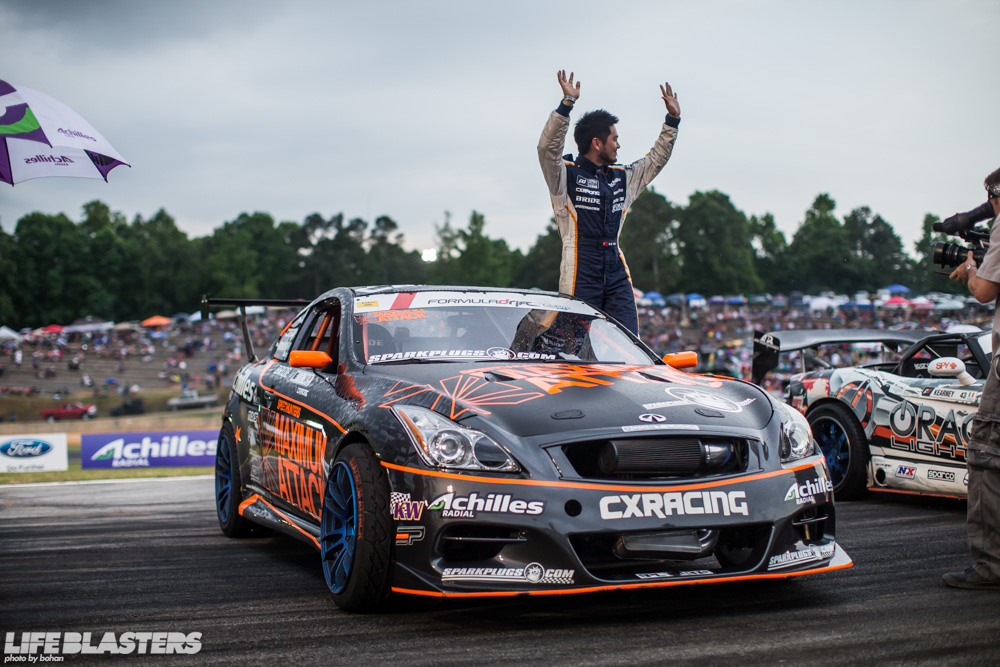 During the Top 16 driver introductions, the rain came back, though not as hard as on Friday.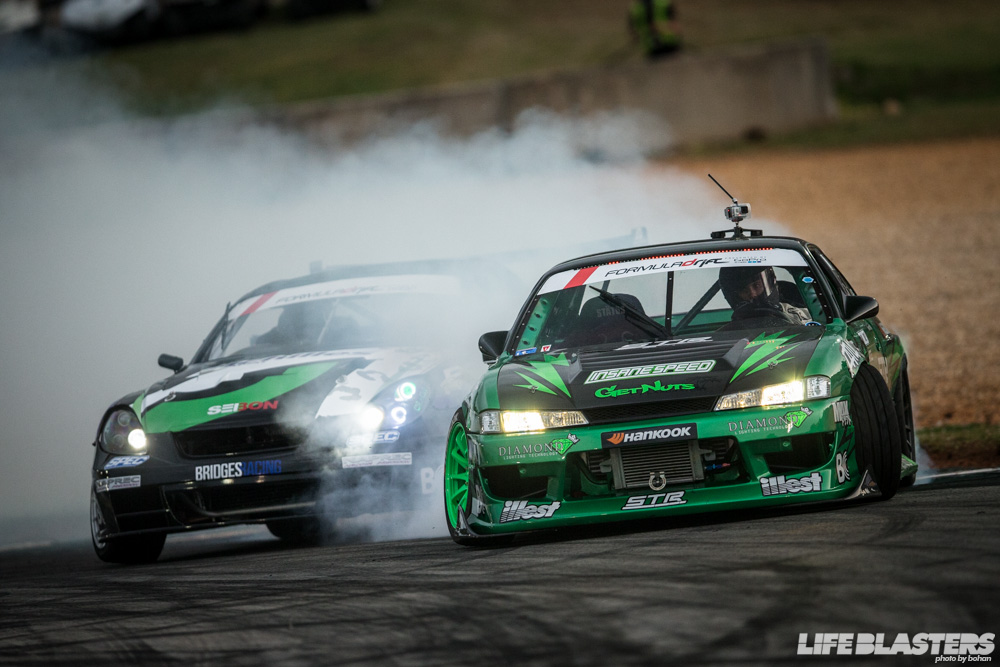 Wang and Saito paired off in a repeat of their battle here last year, with the Ninja claiming victory once again.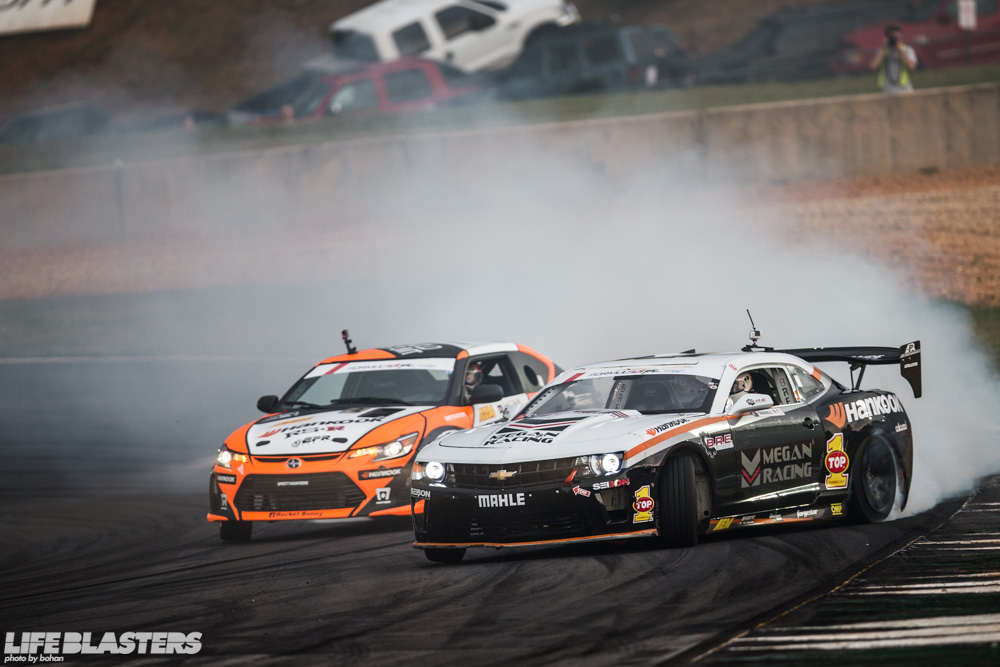 Aasbø smashed Conrad Grunewald next, but just barely.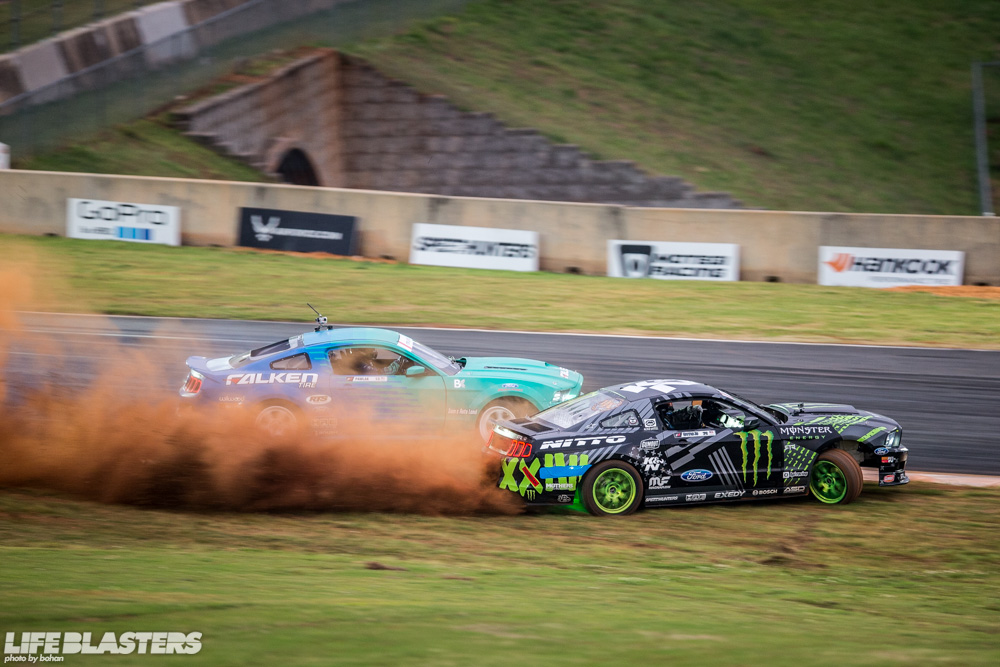 It took two one more times to decide the Gittin-JTP battle.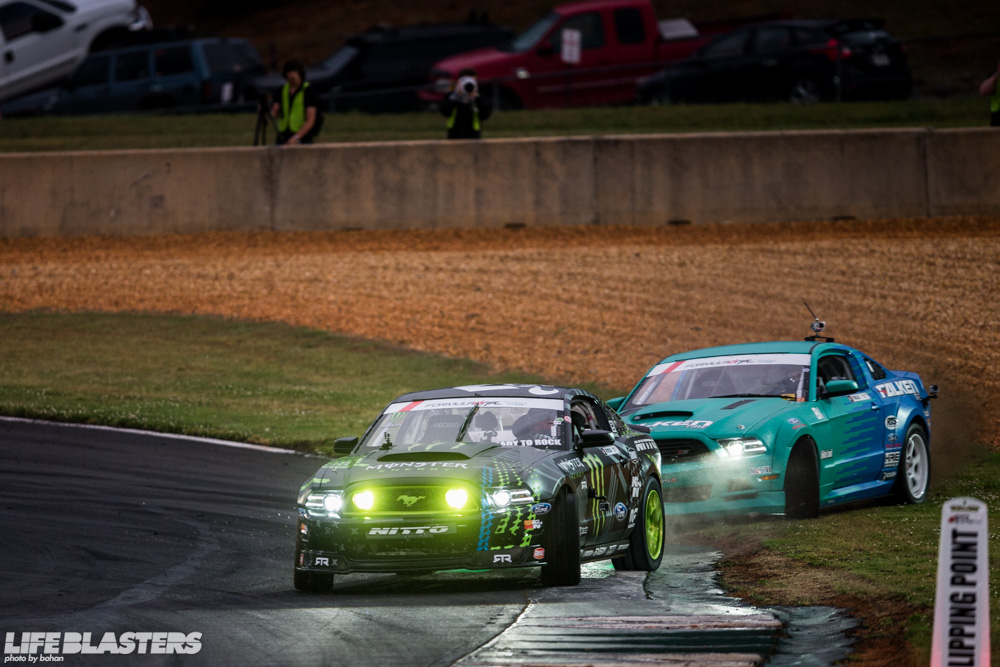 Not because they were both so awesome, but because they kept making mistakes while (what looked like) trying to kill each other.
The battle took so long it went from day to night before they were finished. It was truly epic.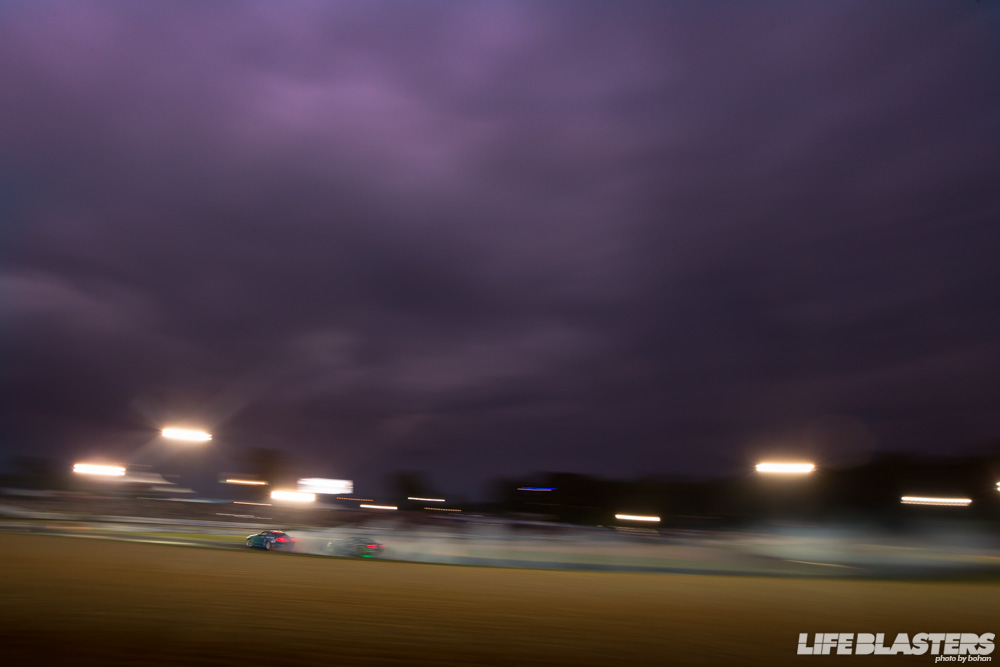 What is it with Gittin, Atlanta, and monster trucking?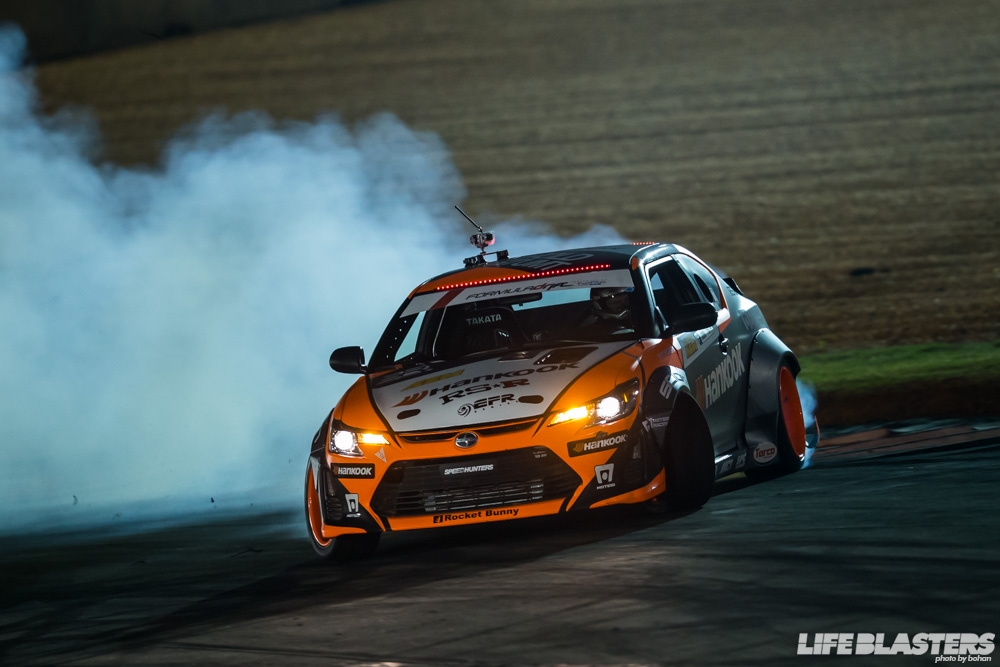 I never heard the specifics, but apparently Saito blew his engine as he was battling Wang and couldn't make it to the Top 8. Aasbø got a bye run into the Top 4, but as the 8th qualifier he couldn't be sure yet if he'd be on the podium.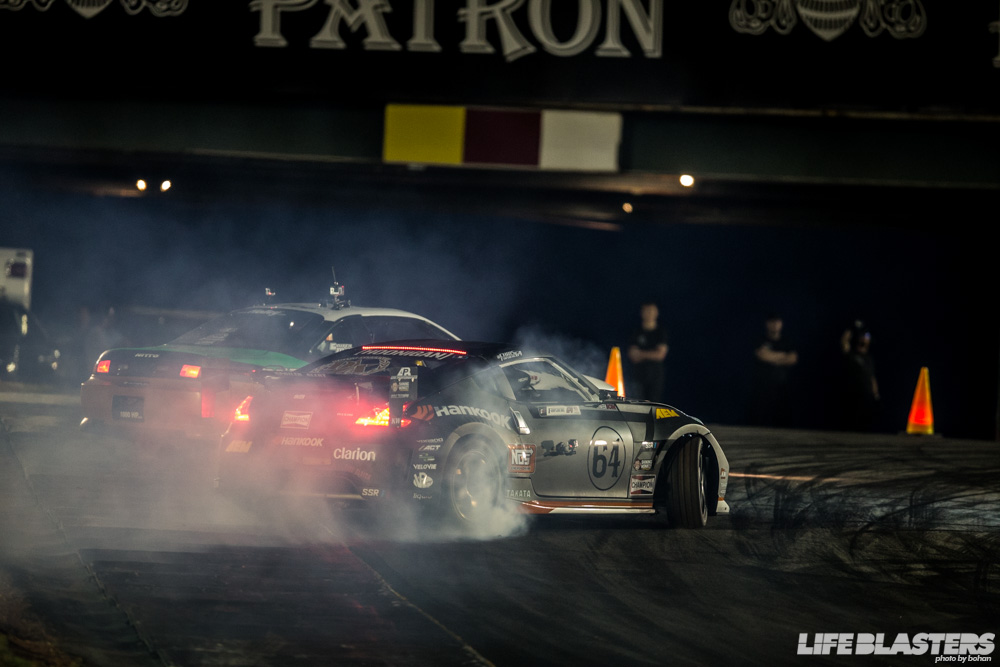 Chris Forsberg had been quietly plugging along in the second quadrant, this time taking out Bakchis. Forsberg had qualified 5th, so only Gittin was left ahead of him for automatic third place consideration.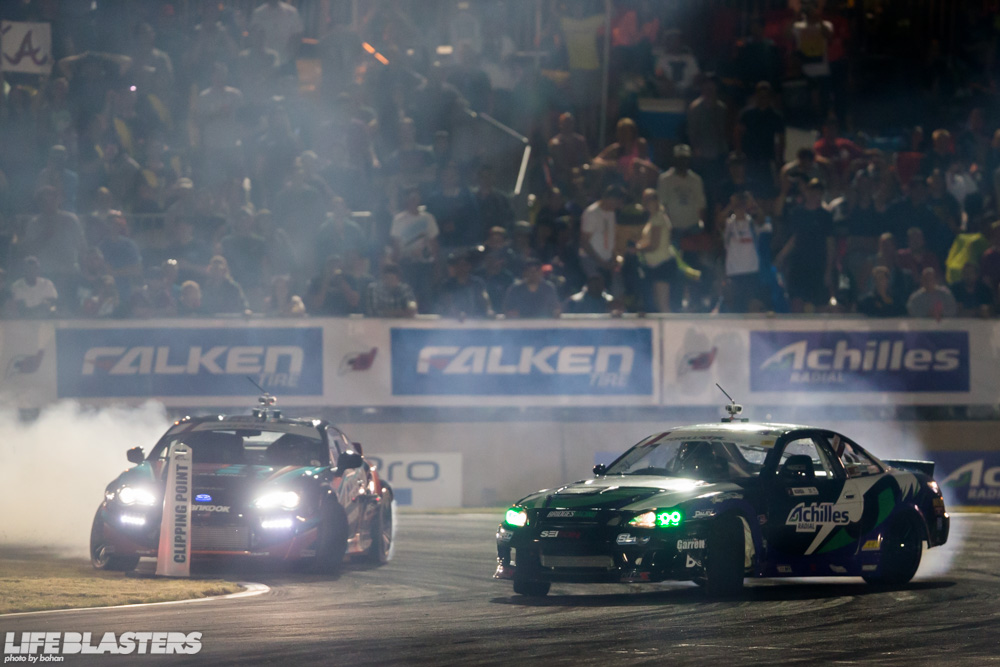 Nishida defeated Ken Gushi, who had earlier gotten a bye run past Ryan Kado and sailed past Dean Kearney.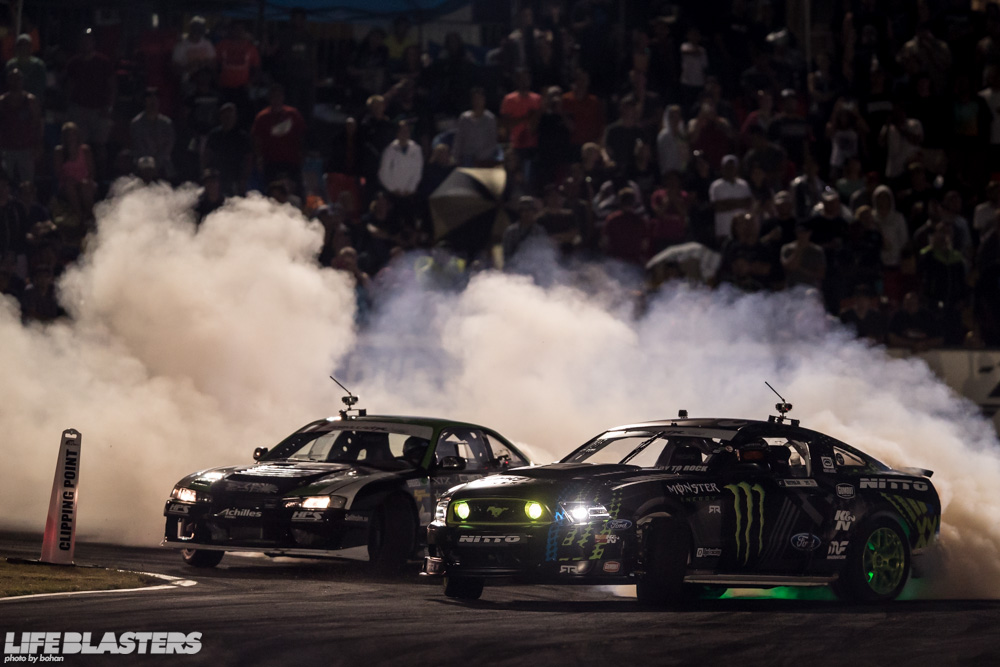 And finally Gittin stopped Kenny Moen from getting out of the Top 8. With Gittin the highest qualified Top 8 winner, he was guaranteed a podium finish.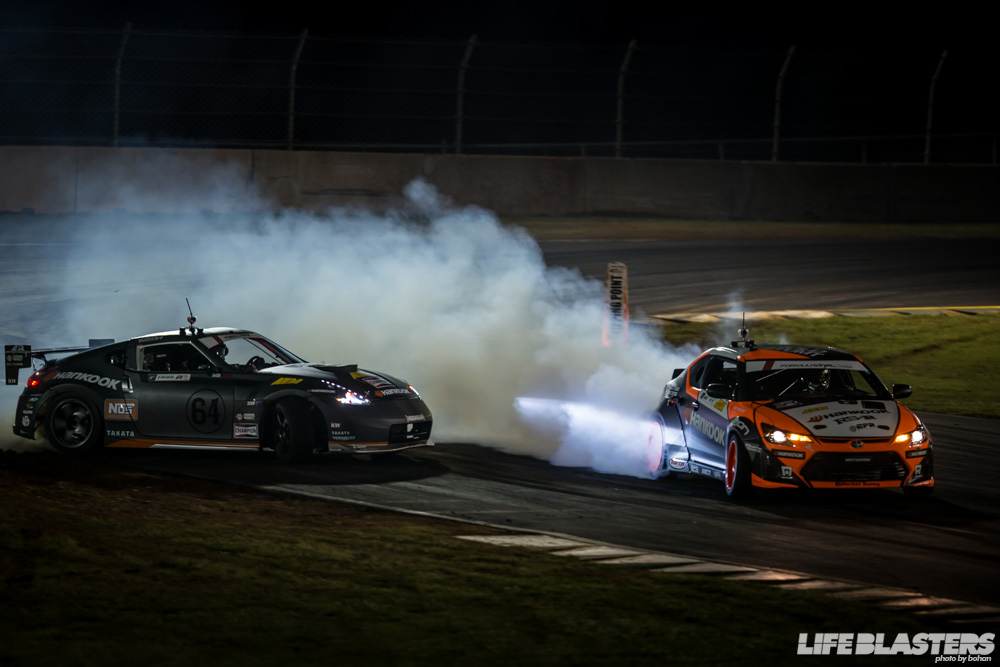 Aasbø and Forsberg lined up for the first battle of the Top 4. Hankook would be happy either driver winning. Forsberg led first, going just wide enough at the first turn for Aasbø to slip by him on the inside. The crowd went absolutely wild. After some deliberation, the judges concluded that it was a clean and legal pass, putting Forsberg at a serious disadvantage.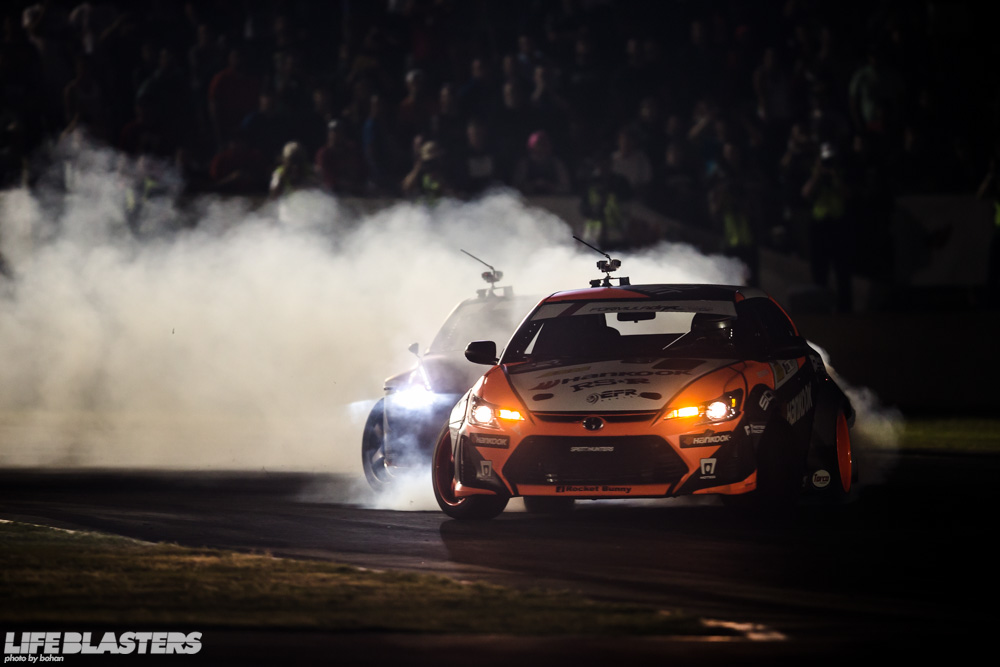 It was all or nothing at this point for the 2009 champ, and he drove like he'd never driven before. It was an amazing run on its own, but not enough to make up for the pass, so Aasbø moved on to the final battle. Forsberg's hopes of a podium finish depended on the winner of the next battle.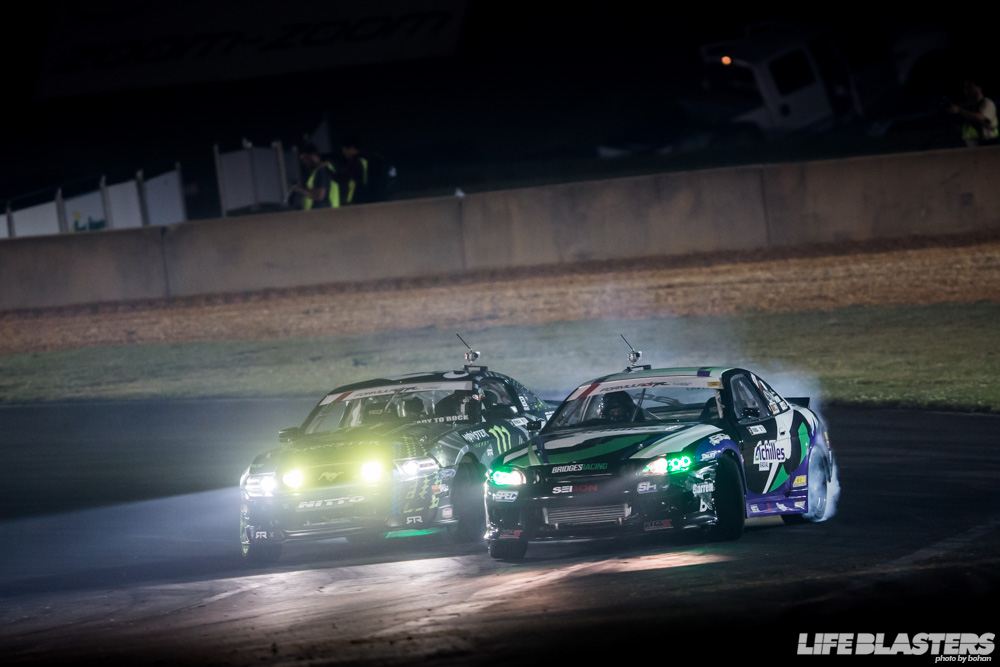 If Nishida won, Gittin would be third and Forsberg would be in the trailer getting out of his driving suit. If Gittin won, Forsberg would be spraying champagne.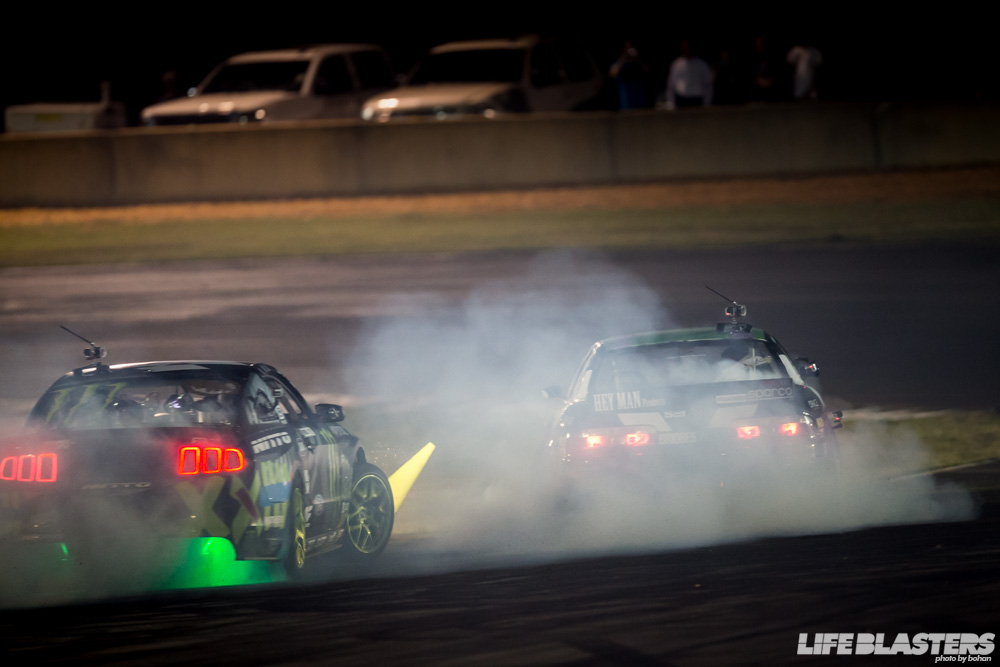 Gittin pulled it off and lined up next to his opponent, and what a juxtaposition. Gittin, the 2010 champ, the quintessential American drifter, who had begun his professional career ten years ago at this very track, was poised to battle against Aasbø the interloper, the foreign driver and champion in his home country of Norway, the 2010 rookie of the year in only his fifth year driving in the US but already loved by so many fans.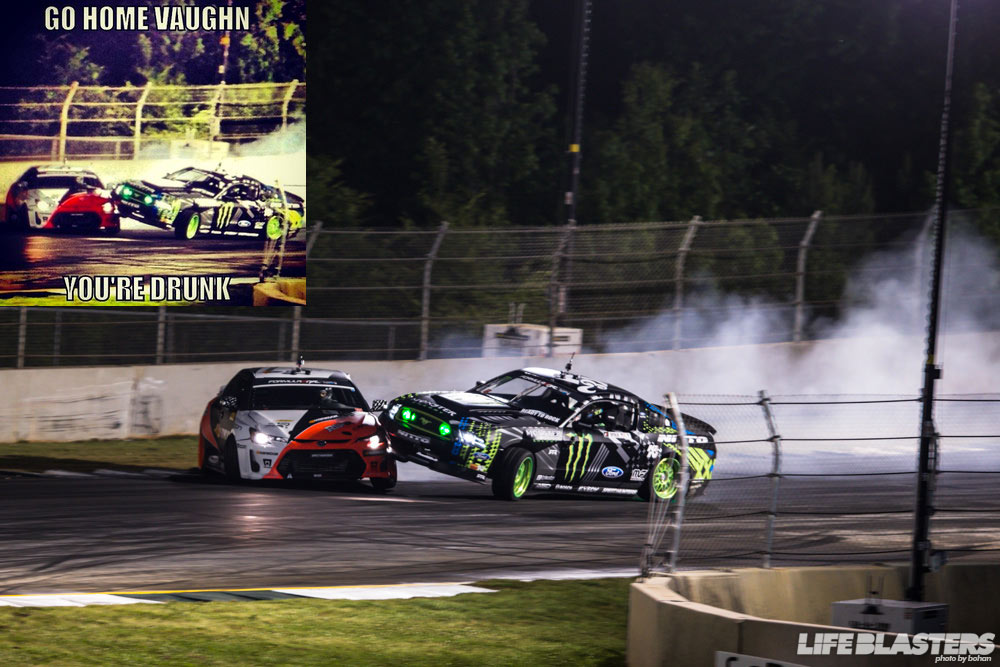 It was also the same matchup that produced one of the most used memes from the 2013 season.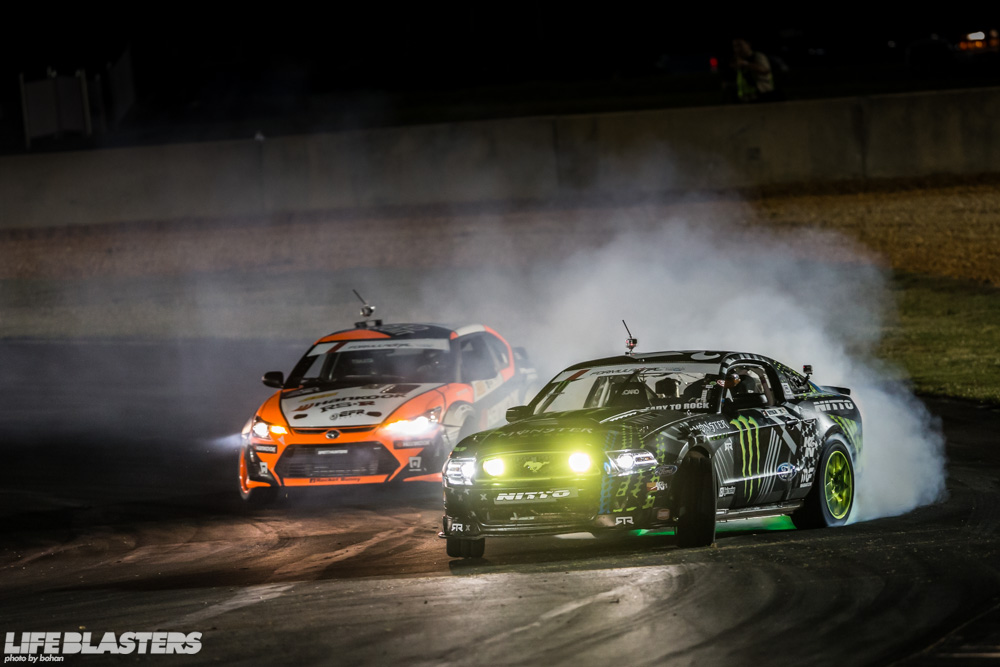 Off they went, and as expected it was intense. Gittin led first and Aasbø swung wide behind him on the first turn. Gittin held stumpt and the Hammer had a hard time keeping up throughout the run.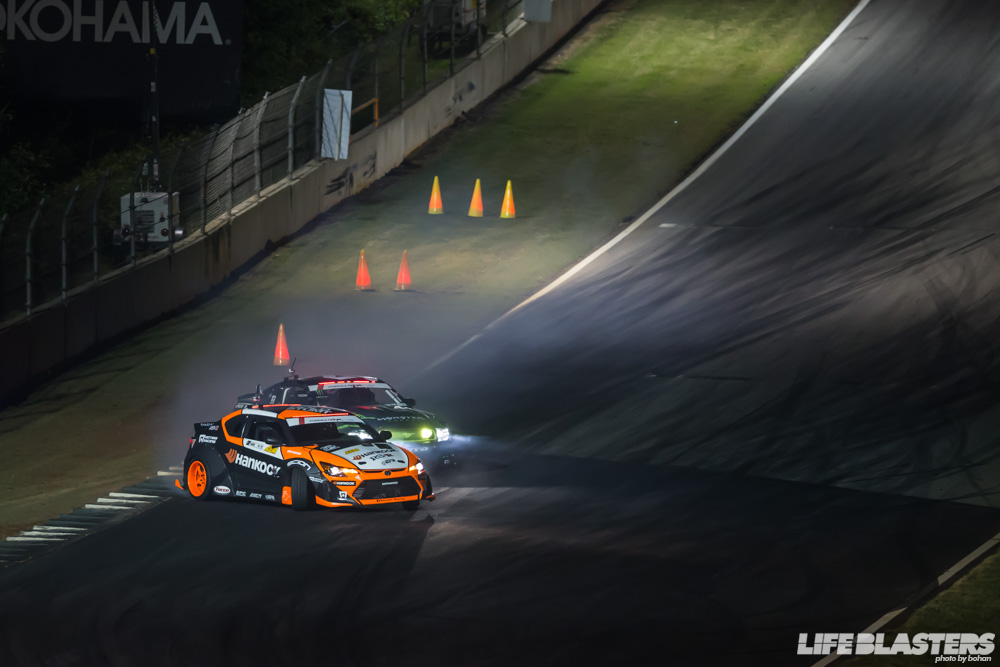 When Aasbø led, he ran a textbook perfect line, while Gittin over-rotated and slowed too much, allowing the tC to run away and open a gap. Gittin eventually reduced the gap, but it wasn't enough for either driver to win. You know what that means! Unanimous One more time!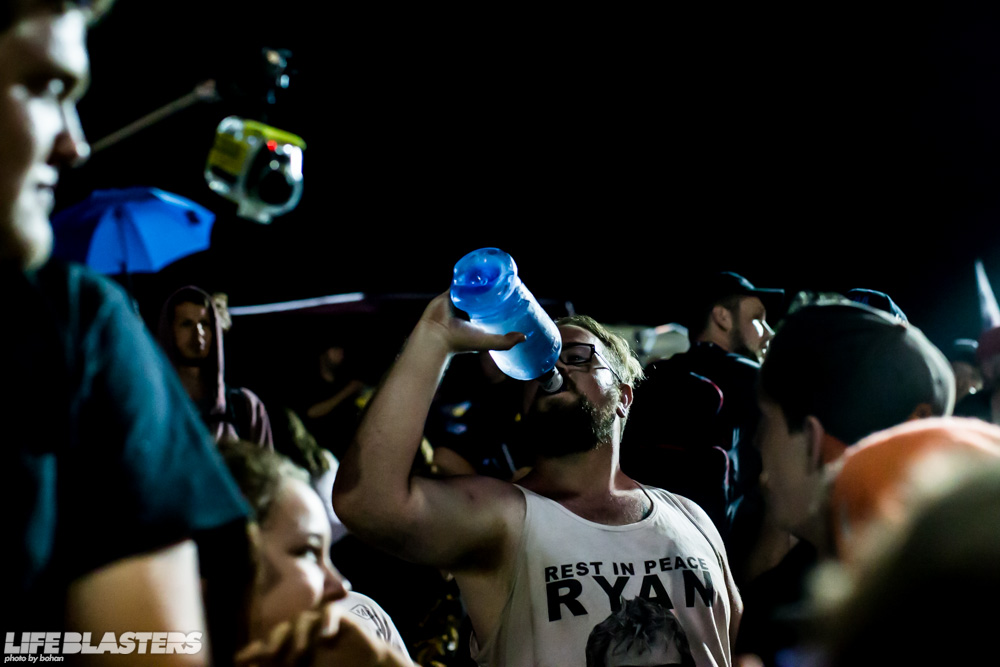 Gittin took over the lead spot and used his V8 to pull away after the initiation, but Aasbø's turbo 4 wasn't no punk, and he caught up by the top of the Horseshoe. The Mustang pulled away again on the way back down and held it till the end.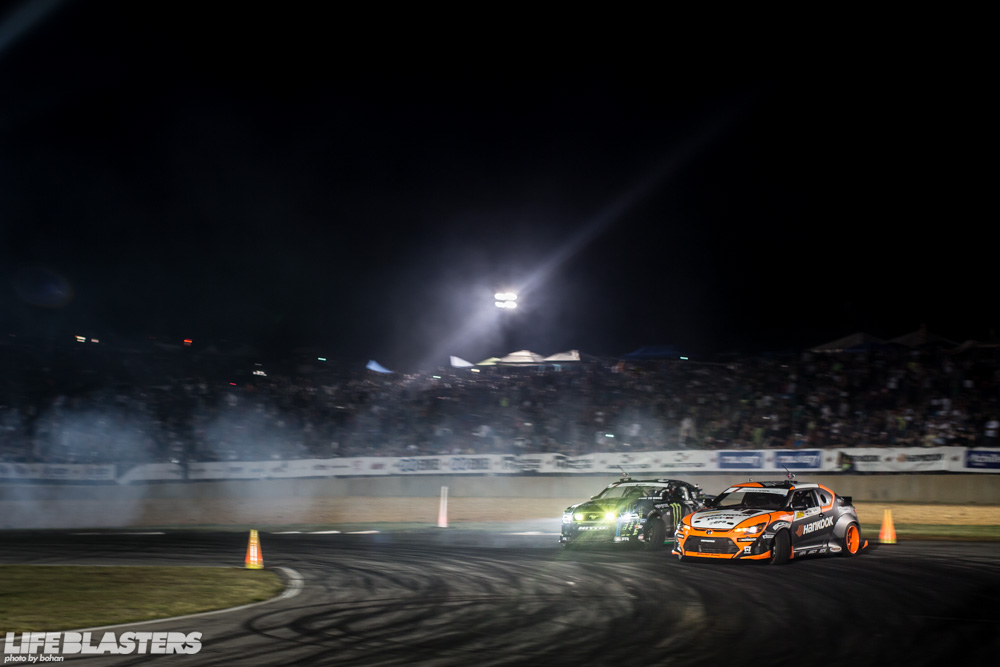 Aasbø had one last chance to pull off his first ever win in the US, and he was definitely on point. Gittin wasn't about to make the same mistake as last time, and matched the tC's speed and angle perfectly through the first turn, allowing him to maintain close proximity throughout the run.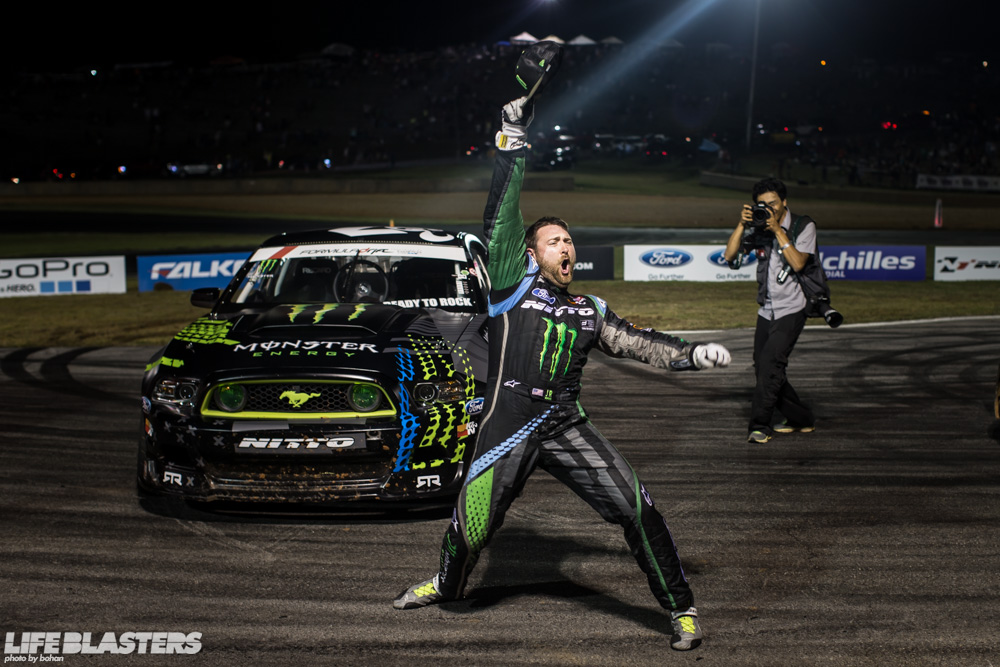 It was enough, and Gittin put another feather in his cap. Will this be his year for a second championship?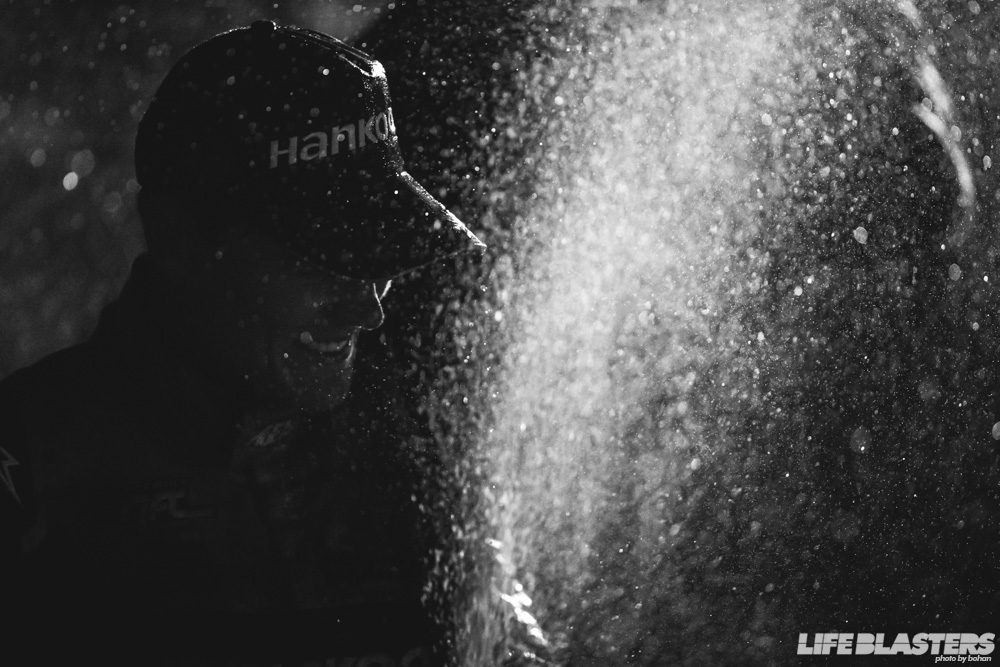 It was Aasbø's first time getting second place. Gittin is no stranger to winning events, and neither is Forsberg, who joined them on the podium.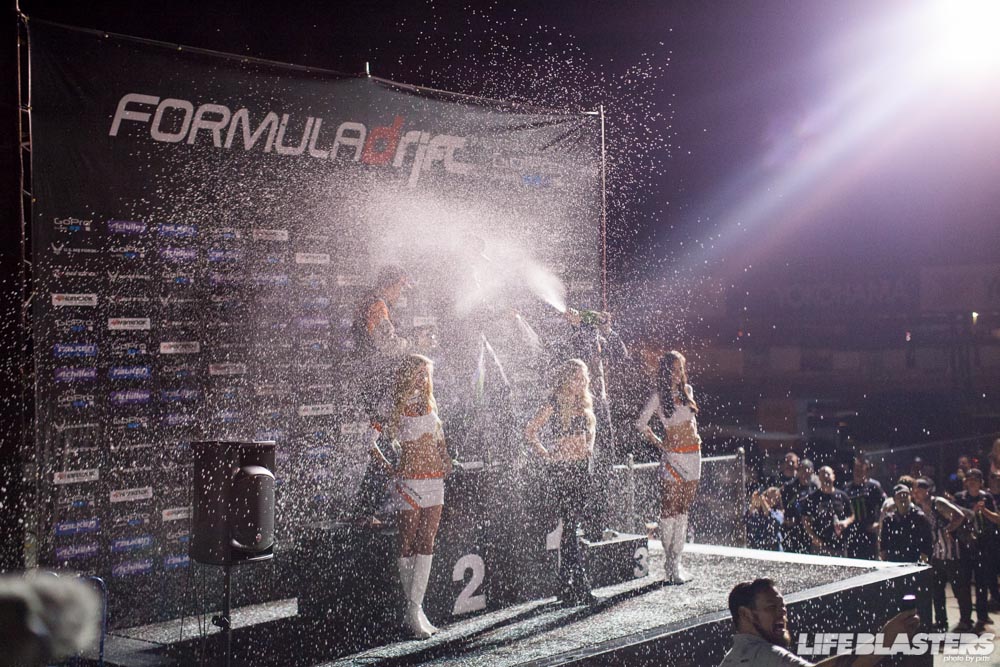 Forsberg maintains his lead in the championship, while Gittin climbed to second and Aasbø climbed into third. Mike Essa fell down to 8th after his Top 32 loss to Bakchis.
Next up is Homestead-Miami, a new track to the series, though we've been going to Palm Beach the last three years so at least the climate won't be anything new. It's still early in the season and though anything could happen it already looks like Daigo Saito is out of the championship running and Mike Essa has some catching up to do. Forsberg, Gittin, and Aasbø certainly have it in them to carry a heated rivalry to end of the season. Kenny Moen is only a point and a half behind Aasbø though, so those three will definitely need to watch out!
.:Bohan
Photos by Bohan, Pitts, and Kado
email: bohan@lifeblasters.com, pitts@lifeblasters.com
instagram: @lifeblasters, @andrew_bohan, @blasterforce1, @bkado36