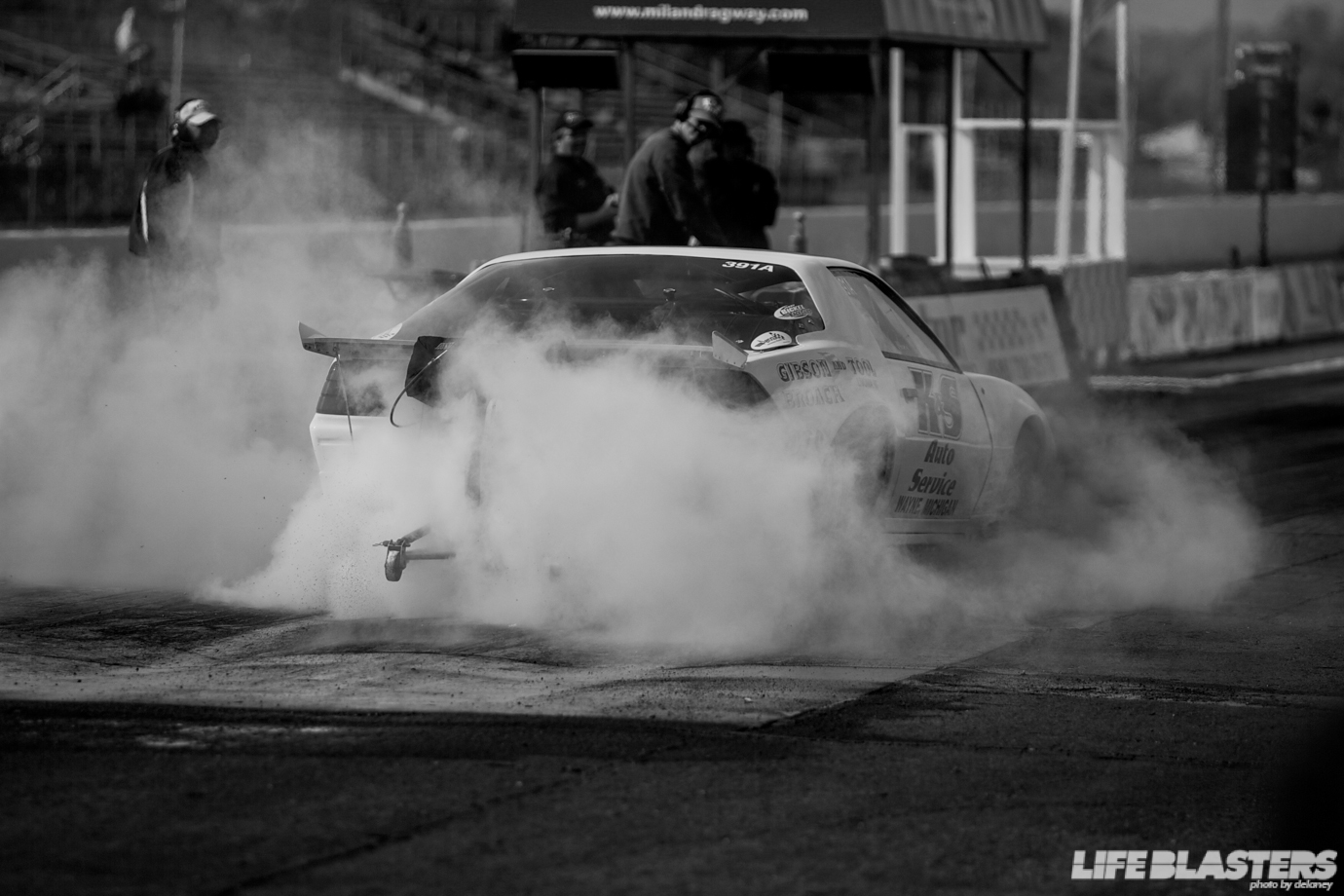 Drag racing is one of those motorsports were you either love it, or hate it. Modern day drag racing doesn't have the same feel as the cars from the '50s, '60s, and '70s, but luckily at the Detroit Dragway Reunion, that's exactly what it was. The classic cars that spawned what we now know as drag racing.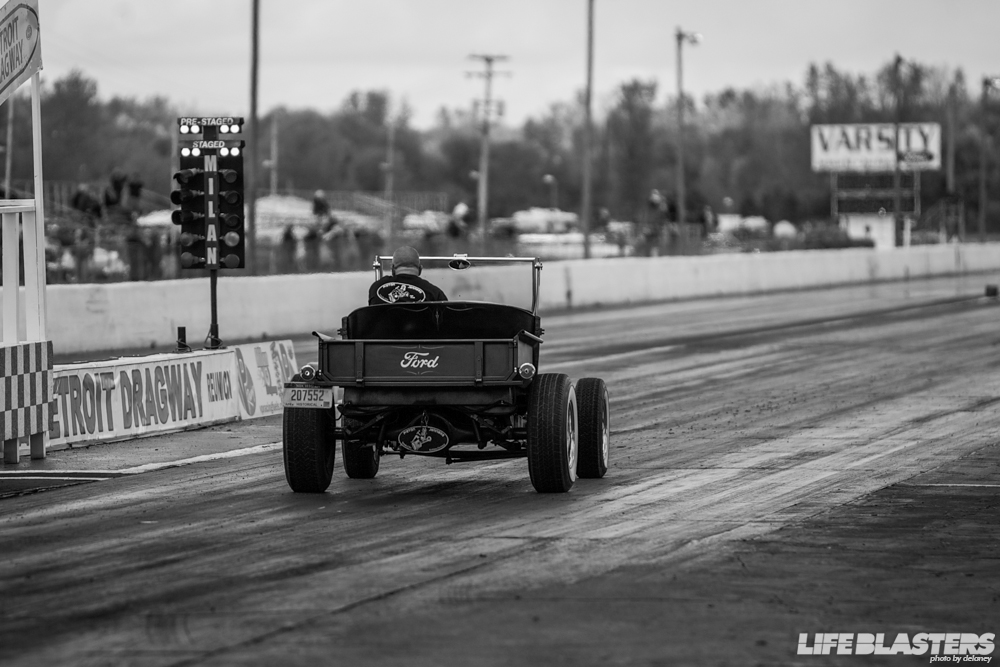 Detroit Dragway is among the most famous drag strips in drag racing lore. Opened in 1959 it hosted the US Nationals and countless other events during the heyday of drag racing. Sadly, like many race tracks of the past, renovations were too much and the track went downhill, and in 1998 it was closed down.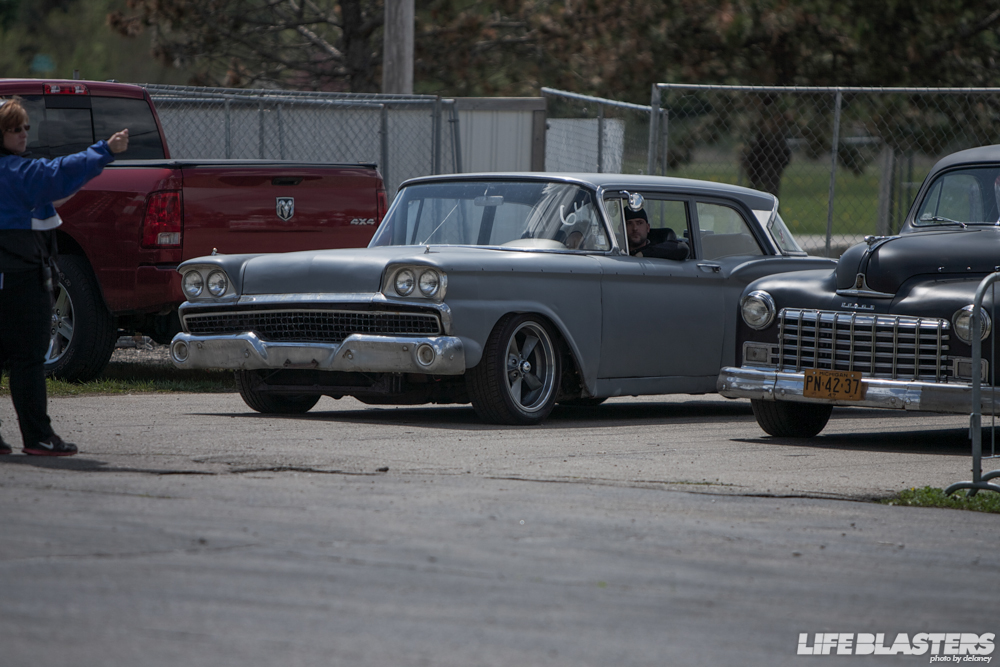 That's where Milan Dragway comes in. 40 minutes to the west, Milan has became one of the premier drag strips in Michigan. The Detroit Dragway Reunion's sole purpose is to have a throwback to when drag racing was king, and every manufacturer wanted to win. Along with the main event, there was a car show on the other side of the course. When I arrived, the car show attendees were getting ready to run their cars.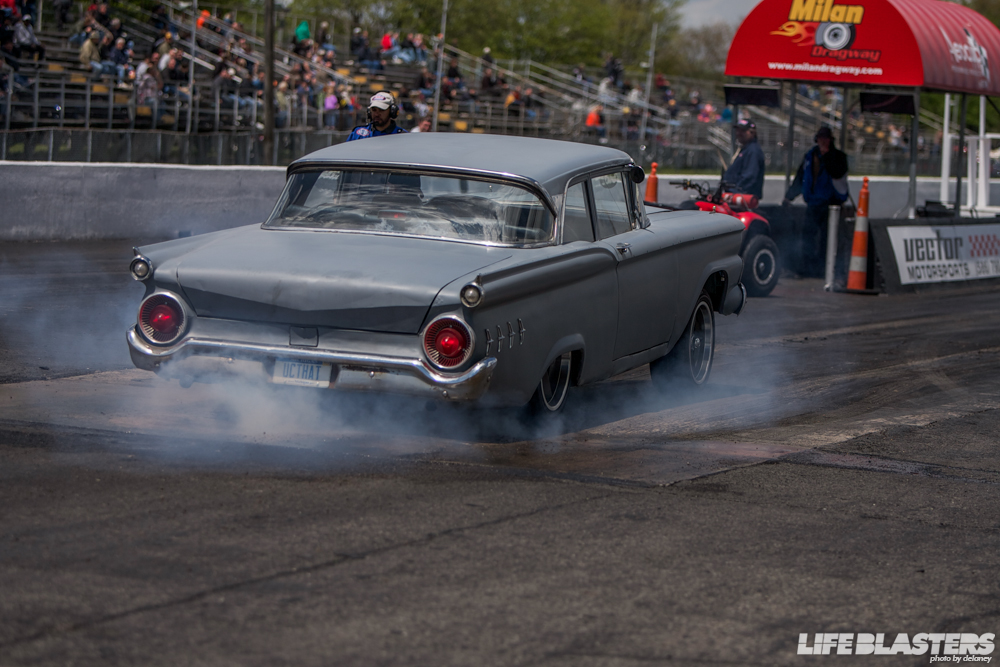 This '58 Ford came out with the proper gasser stance with help of his air suspension. The best part was that the cars weren't full drag cars, so the drivers were allowed to run the strip with no helmets. After going to so many rally events, it's weird seeing people going flat out with no safety gear at all.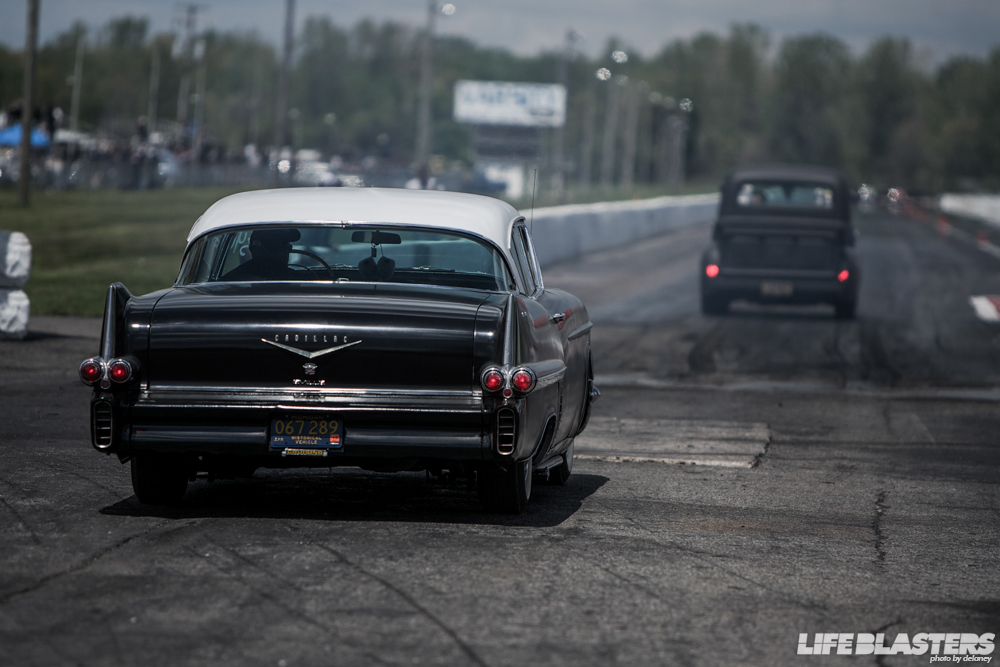 Granted, some people weren't too much in harm's way. This Cadillac barely even got above highway speed in his pass. You have to love the massive rear window, and even bigger steering wheel, and the head poking out of the bench seat. The NHTSA must hate seeing these cars out and about these days. It's from a time when safety was just an after thought, but man these cars look good.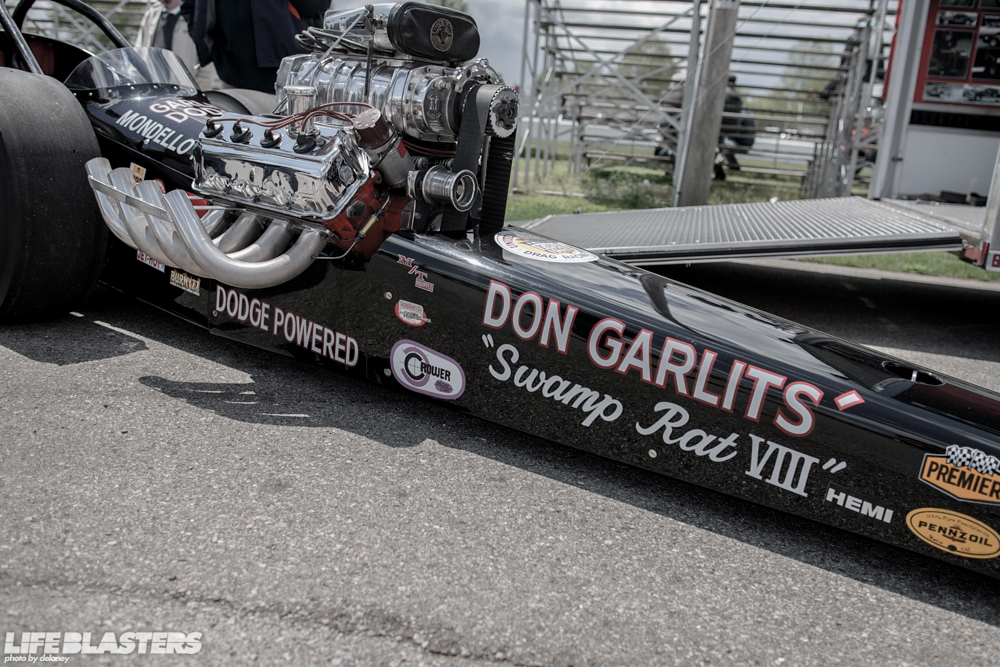 Big Daddy Don Garlits was out with Swamp Rat VIII. Sadly I didn't get to see the car run, and I don't think it ran all day. But Garlits was out almost the entire day signing autographs. If you're not a drag racing fan, Garlits is known as the father of drag racing. He's also an innovator. He was one of the first racers to promote full body fire resistant gear and he worked to perfect the rear engine drag car.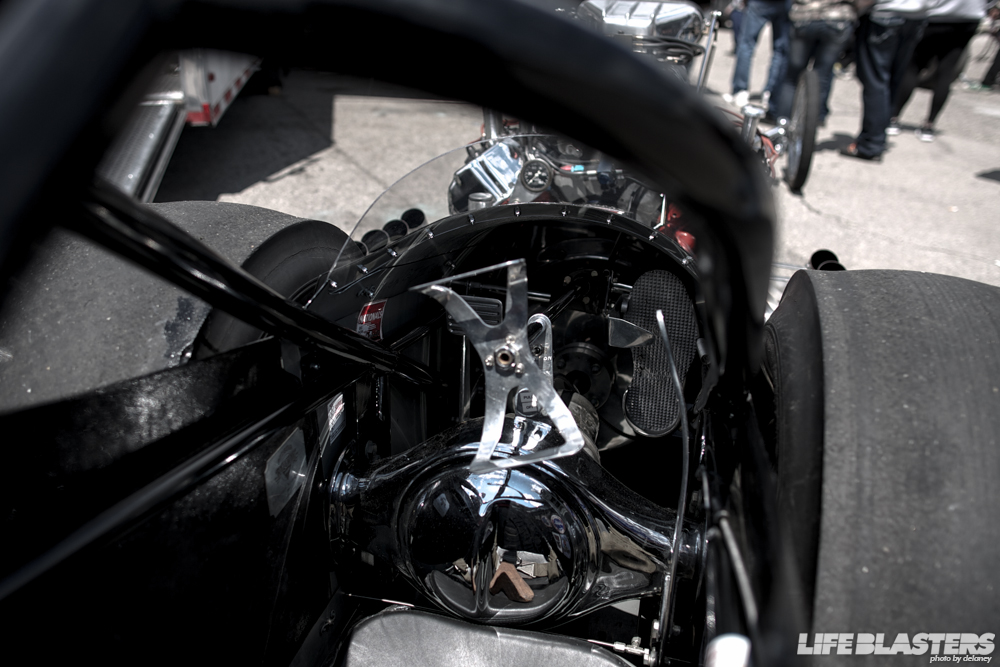 It's not too hard to see why he wanted to make the rear engine drag car the norm. Not only did the driver sit with a two to three thousand horsepower engine a few feet from their face, but they also had to wrap their legs around the differential. It seems like absolutely no thought was put into safety back then. These guys were just crazy.

Along with Swamp Rat, the original Color Me Gone Challenger was on display too. Roger Lindamood, the driver of Color Me Gone, was also on hand to sign autographs. As with Garlits, Lindamood didn't race this day. Sadly he had lost a leg in an industrial accident so that might have made it difficult. Garlits is 82 and still races every now and then, and just recently ran an electric drag car in Florida to the tune of 184mph. Lindawood is 87, and if it wasn't for his leg, he too would still be racing. It's drivers like that, that make racing what it is.

Even though the Color Me Gone funny car didn't run, it didn't mean we were totally out of luck. The new Drag Pack Challenger donned the famous livery and made a pass during the exhibition runs.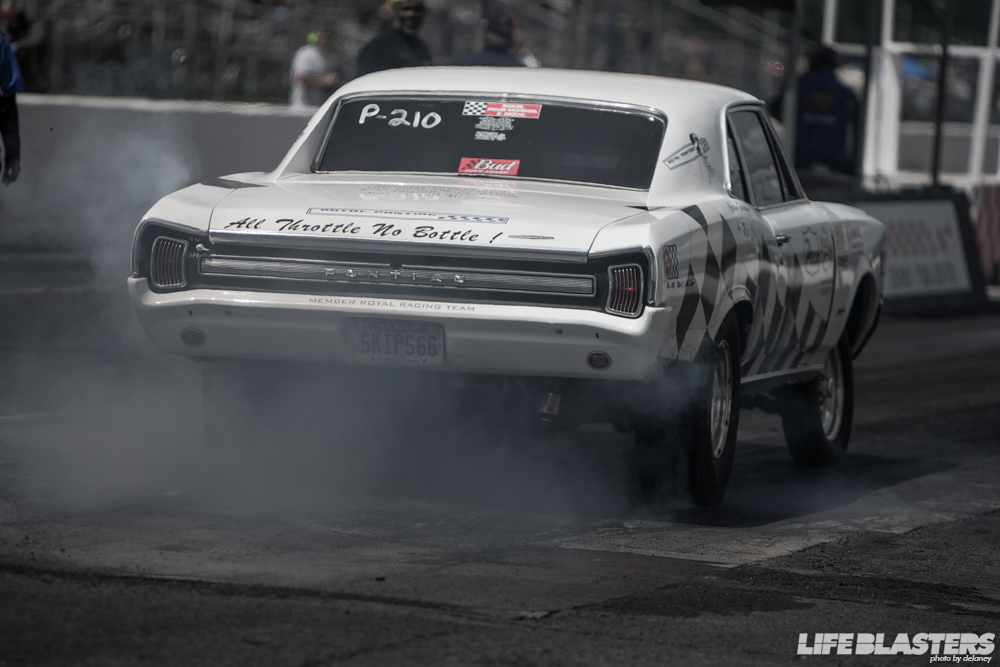 Most of the event was made up of the usual local drag cars in various classes like Pro Street and Pro Stock. Something that seems so unique to drag racing are the paint jobs. They almost seem over the top and everything has an American feel to it. It's hard to explain, but the stickers and sayings are just so typical of a drag car. "All throttle, no bottle" for example is one of those battles you see in every form of racing.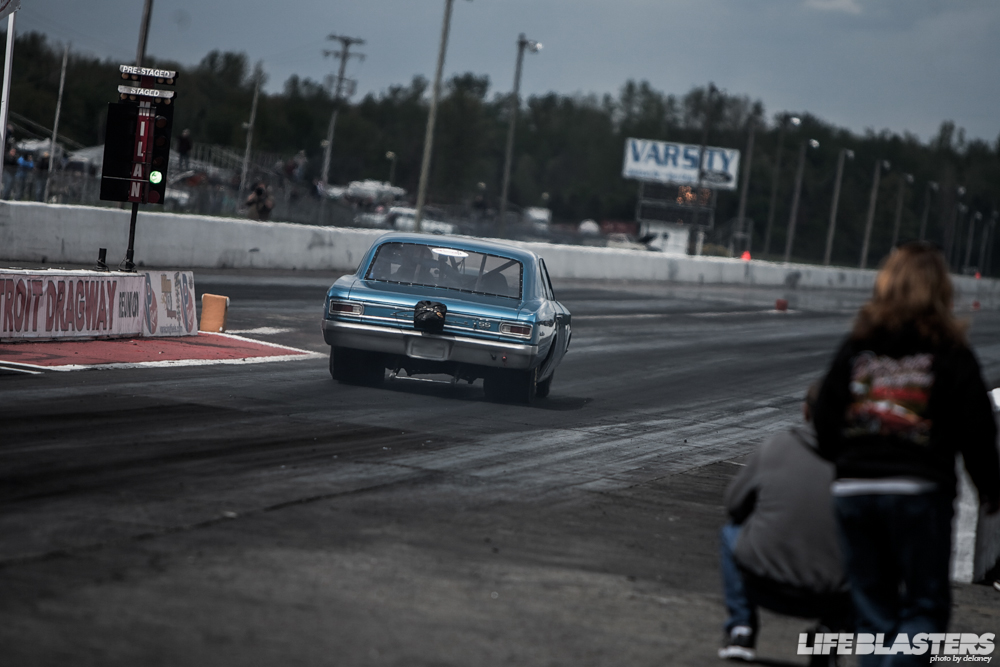 While drag racing may not be the type of crowd to care about how low someone's car is, they do have their own ideas of good stance. This Chevelle pulls off the drag stance perfect. Long and wide, but low and planted. There's just something about it that just looks perfect. The massive slicks taking up half of the rear end don't hurt either.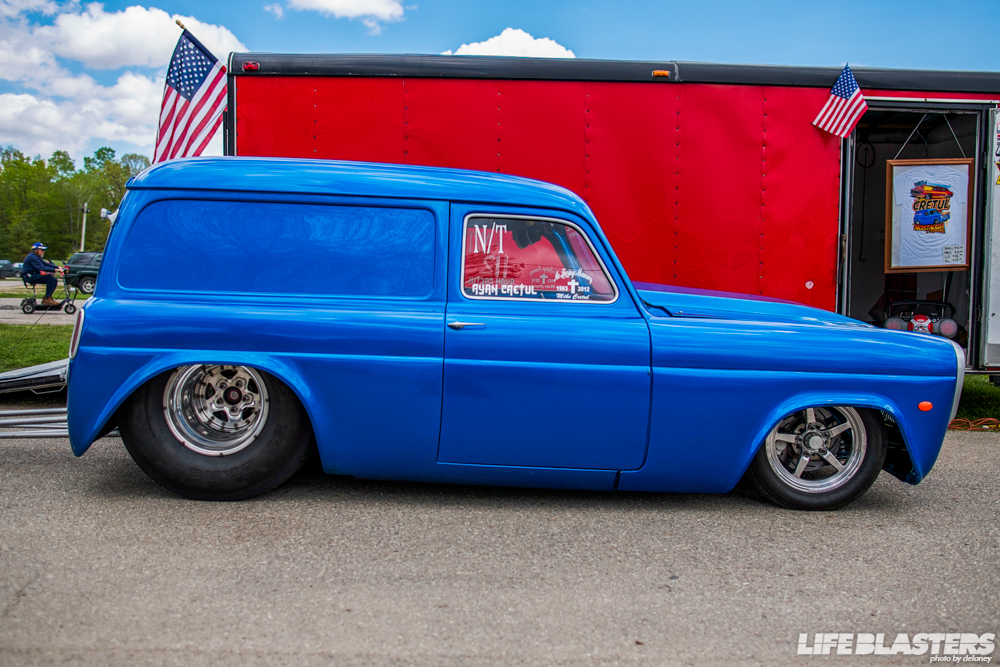 One of the best parts of drag racing is the fact that almost anything can be built into a drag car. Or, fiberglass molds can be made to look like any car. All you need is a big motor, strong rear end and some big tires in the rear. Get a roll cage and slightly insane driver and you're ready to go.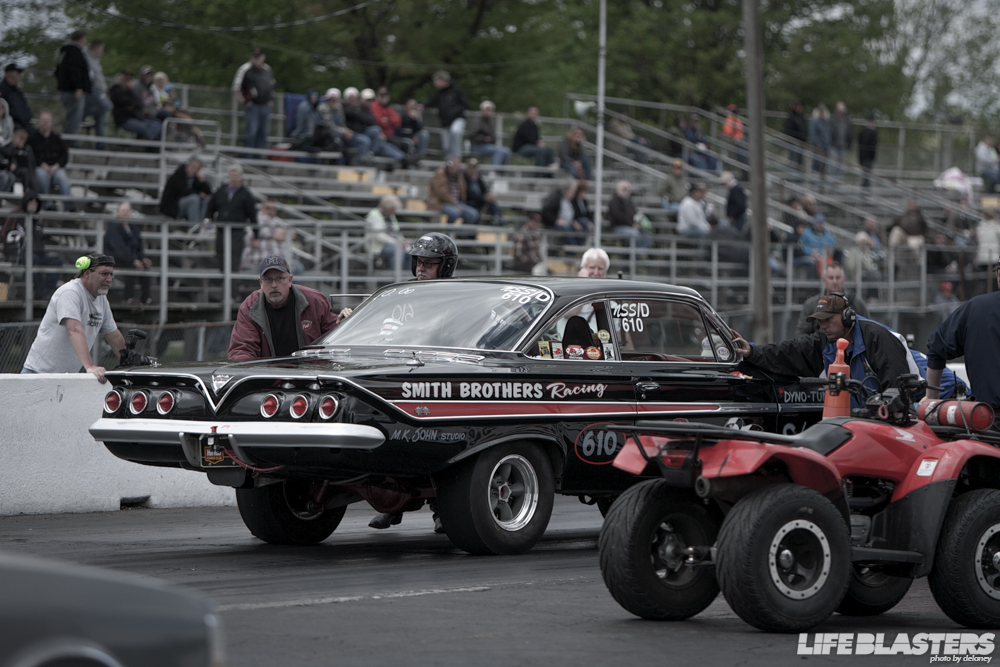 A reliable motor is probably for the best, much like any motorsport. Some of these cars have the engines way past their limit and every pass is based off luck. Then throw in the fact that some of these cars are built in garages with whatever parts are available and you'll never know what could happen. Luckily for this Impala it was just a case of not enough gas and too much clutch and it stalled out. But he got it fired up again and made a pass the next round.

After every pass a guy was there to wet the pad just before staging to help get the tires loose and ready for the all important burnout. the drivers want to get the tires warm and sticky to get the best possible launch off the line. No one on the sidelines cares much about that, as we just want to see the burnout and smell the smoke.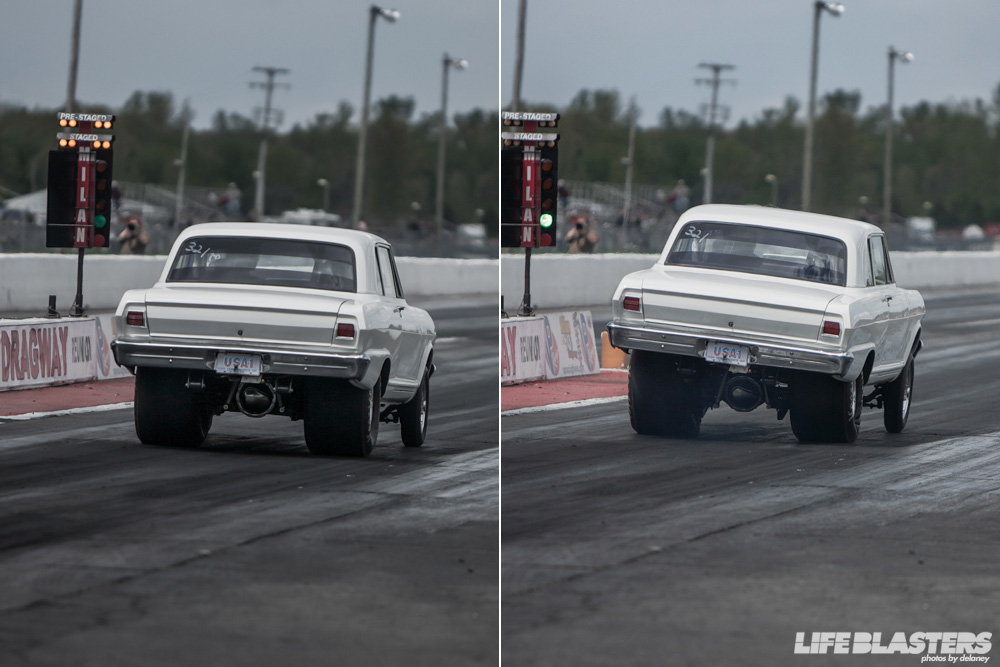 Aside from the noise of the open header V8s, there's another effect of drag racing that is amazing to experience. Torque is one of those things you know about, but maybe you only feel it when you pin the throttle in your car and it turns a certain way. Or at a traffic light and you see the semi in front of you twist a little bit. Well here it is clear as day. When the light goes green and the driver goes full throttle, the body twists and the tires deform when the immense power is transferred to the rear end and the massive tires are digging into the blacktop trying to get all the power to the road to launch down the track as fast as possible. Drag racing may not be the funnest thing to watch on TV, but once you experience this amazing transfer of power in person, there's no going back.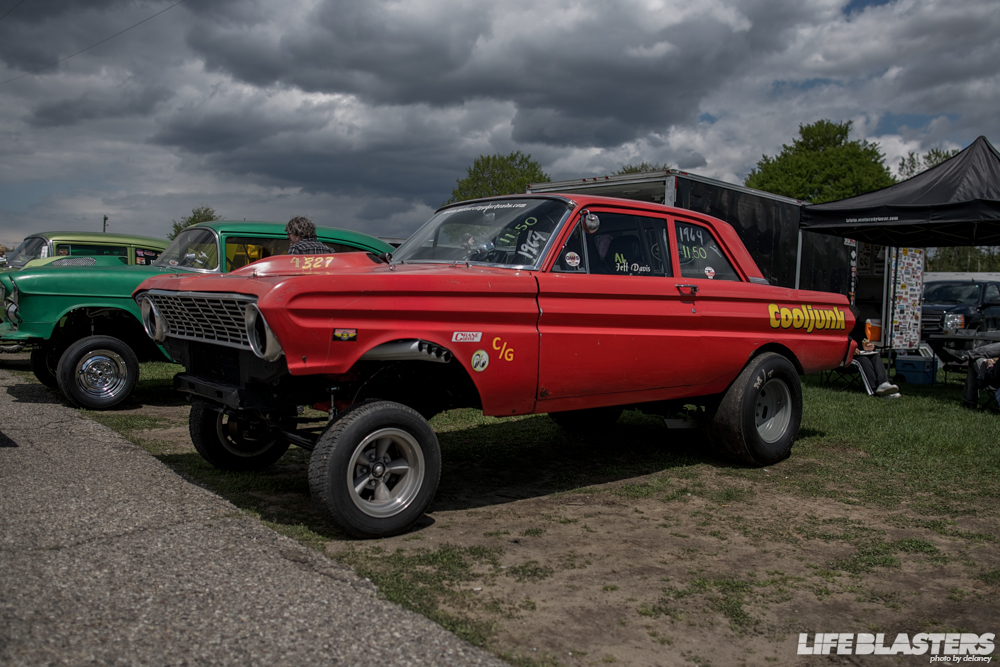 I wanted to get to the Reunion just to see drag racing again after a year off. But the biggest draw were the gassers. I'll admit that I'm pretty addicted to all cars — rally, drift, and touring cars. But there's something about the gasser that puts them in a league of their own in my mind.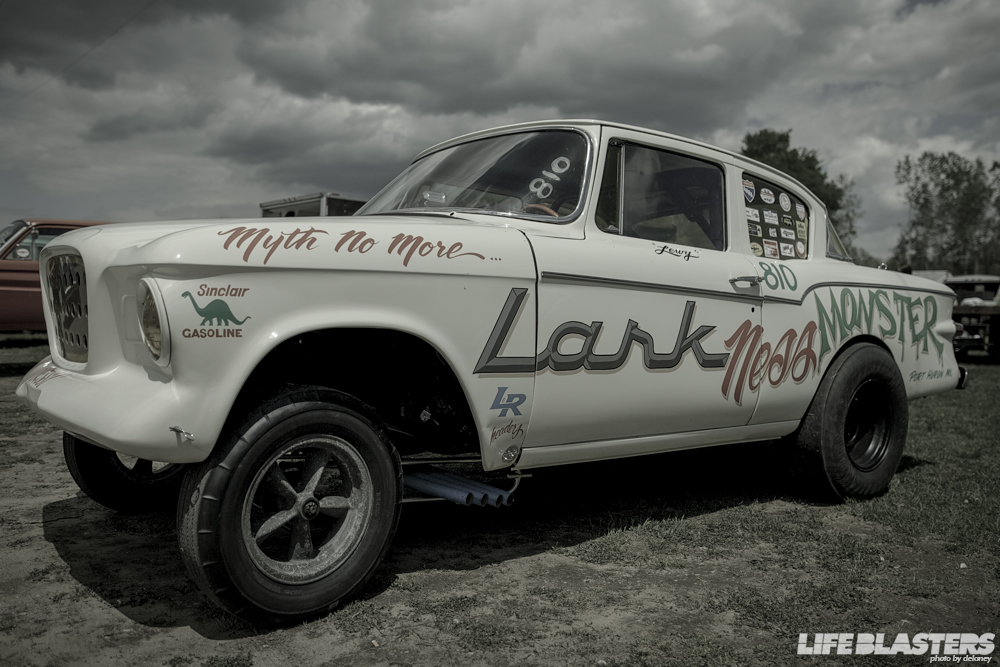 I think it's the unusual stance with the nose high in the air and tiny little wheels out from that really sets it off. There's nothing about it that looks functional. Everyone knows that race cars should be low, and that the windscreen shouldn't be facing upwards towards the sky. But gassers are a whole different breed of race car. Their stance is due to better weight distribution during acceleration. Even though it looks as if they'll just pull the front wheels off the ground and slow you down. But somehow they work.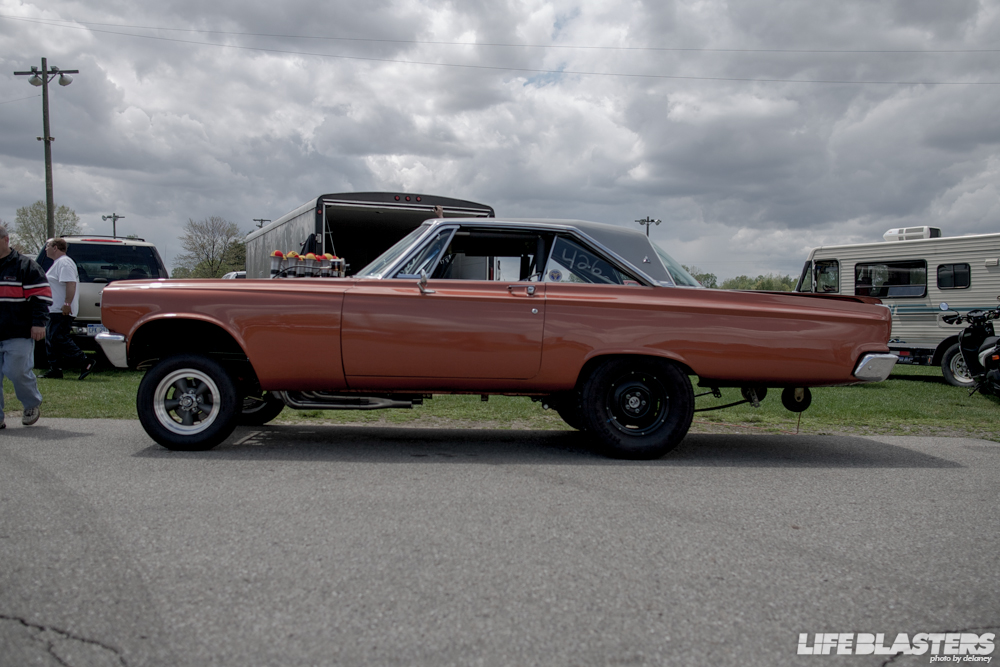 Then there's my true favorite style. The altered wheel base. These take gassers to whole different level by taking the rear wheels and moving them in towards the front and sometimes moving the front wheels right up to the front bumper. Creating a completely unique look that is really unmatched in any other form of racing. I fully understand if I'm in the minority when I say gassers and altered wheel base cars are among the best looking race cars ever.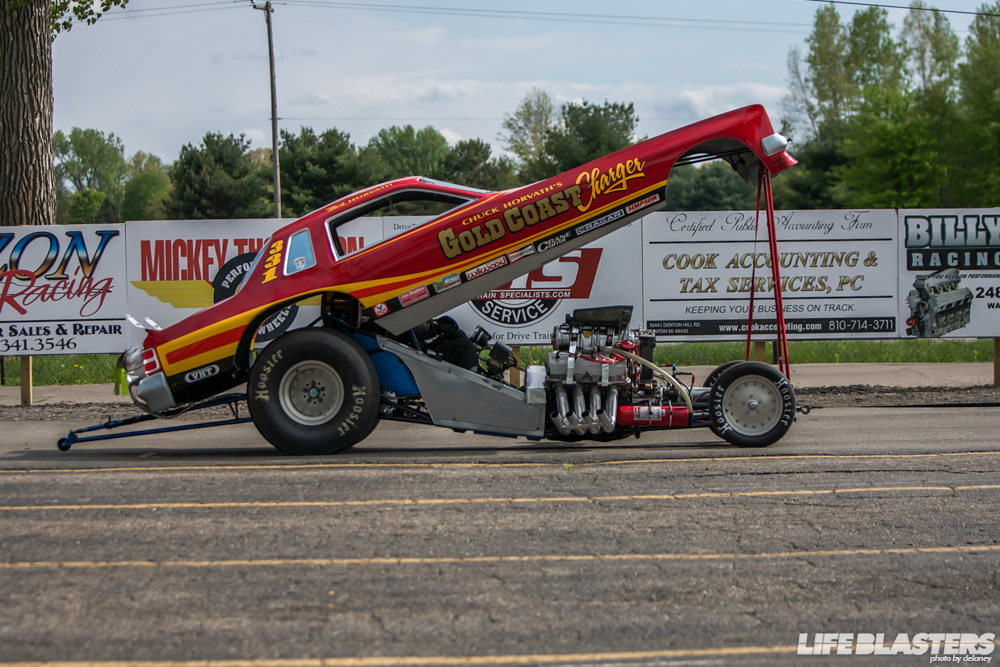 Along with the gassers, there was another group of cars that really drew in the crowd. And those were the nitromethane funny cars. There were only a few on hand that ran, but these cars are the most insane race cars that I can imagine.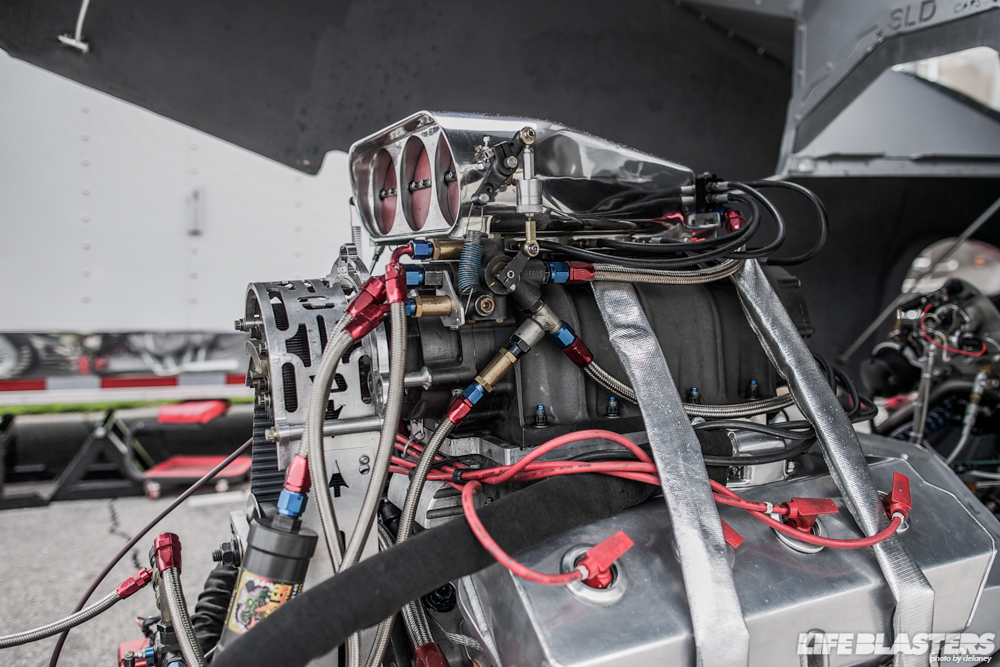 A massive alcohol powered supercharged 426 sits under the 1977 Cordoba body and creates the loudest noise I've ever experienced.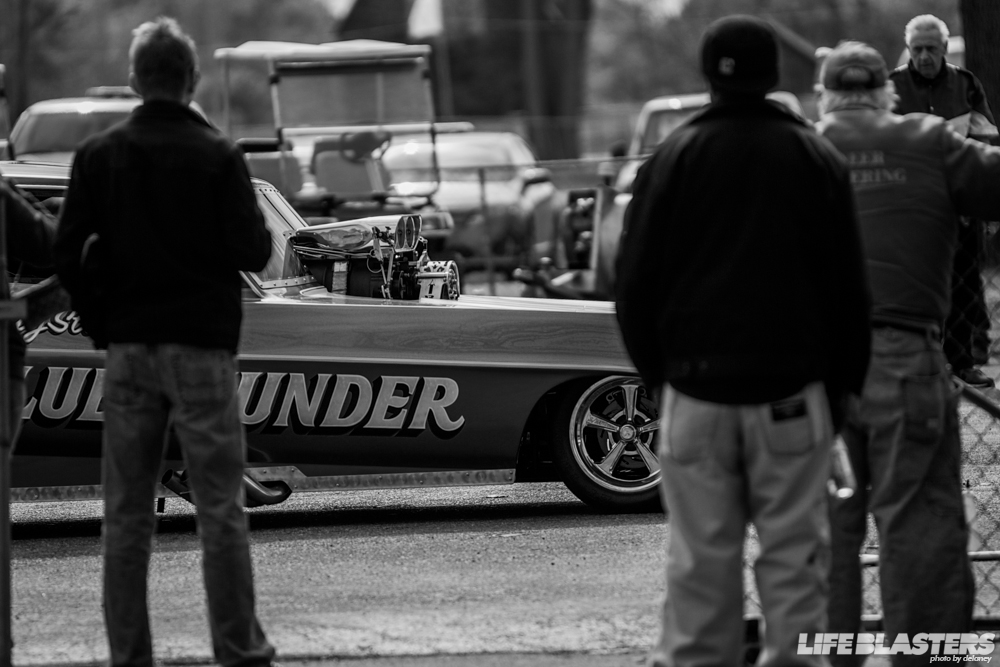 I'll be the first to admit that loud noises and I aren't the best of friends. So when the funny cars were up there may have been a few times where I had a flinch here or there. I'm amazed at the people who could stand right next to the staging lane when they would burn out.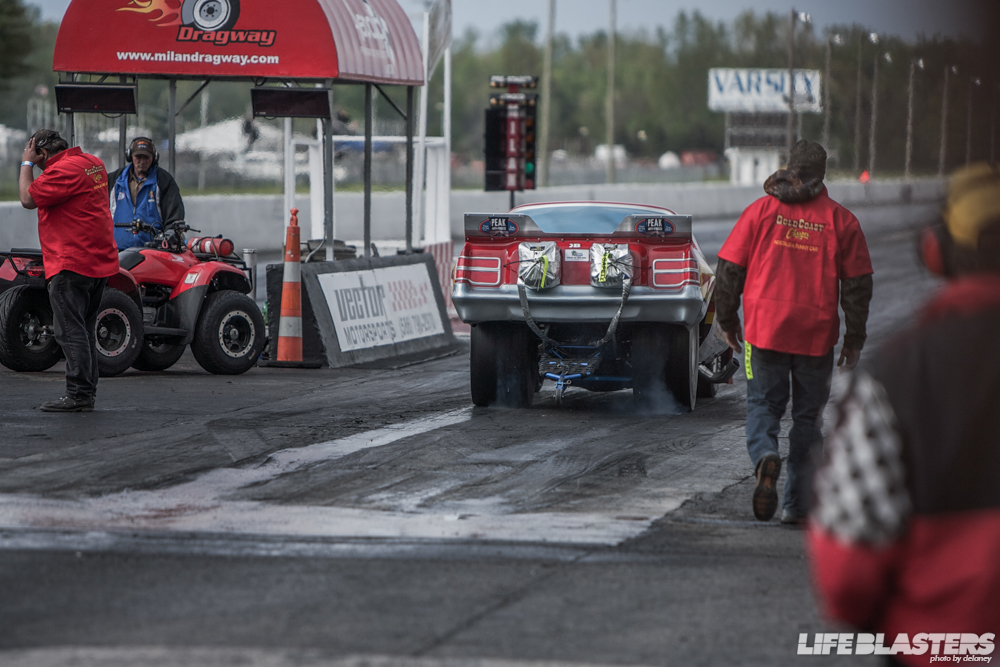 Unlike all the other cars that would brake torque right there in the lane, these cars would take off halfway down the 1/4 mile in one massive burnout. Then they slowly back up to the staging lights and get ready to make their pass.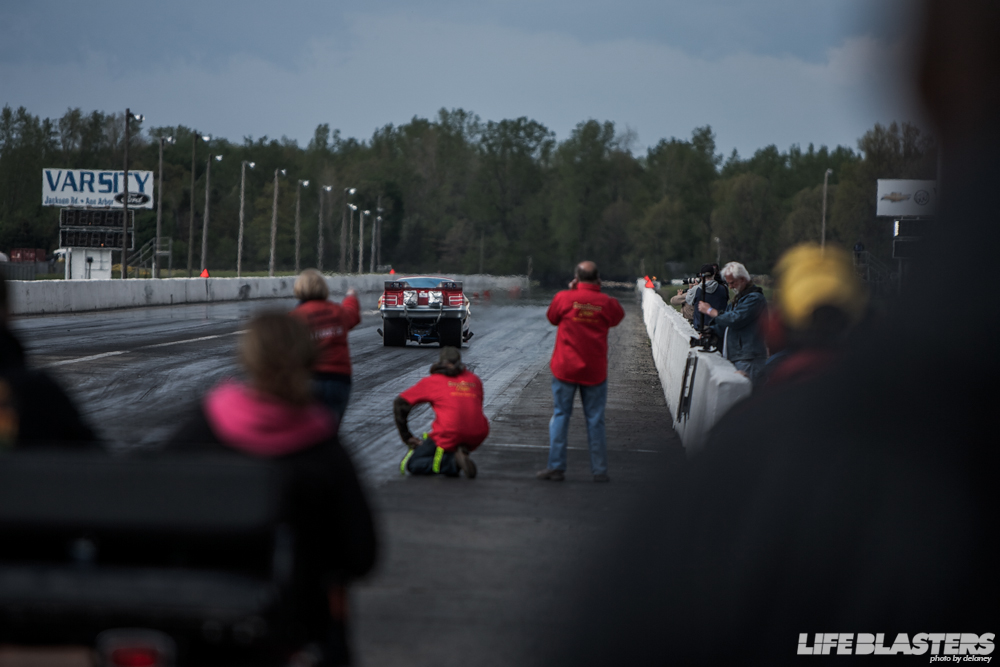 The noise from these cars is something I just cannot describe. There's loud noise, then there's funny car noise. It's bone shaking, ear splitting noise that you can fully feel. It only lasts for a few brief seconds before the car disappears down the track, but those few seconds are unlike any other feeling from any other motorsport.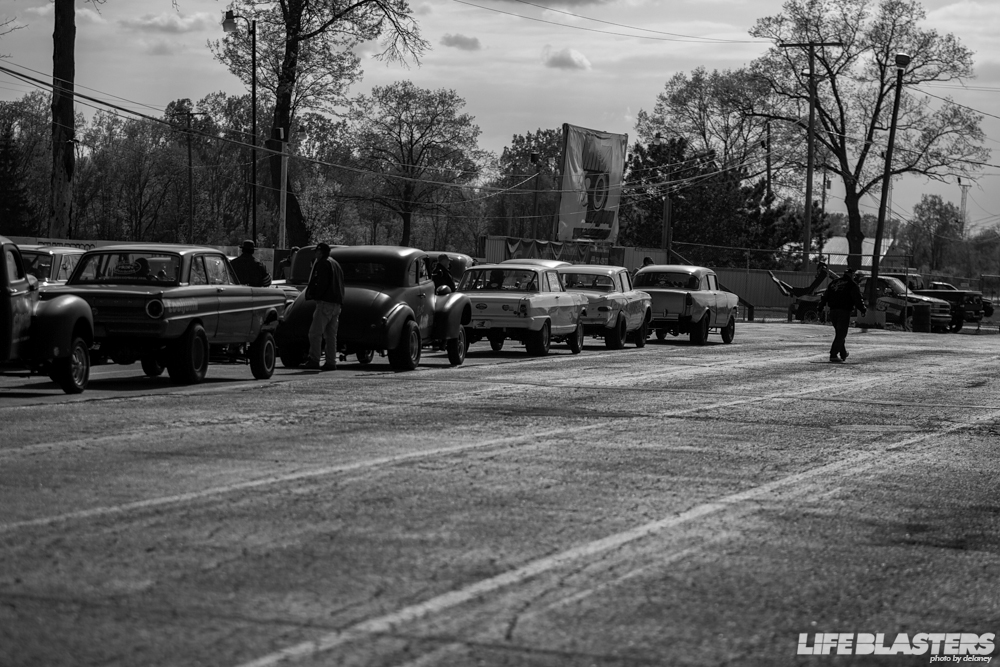 Once the funny cars were done it was time for the gassers. Seeing the line was like something out of a dream of mine. I always like to imagine what it must of been like back in the '60s down a country road on a Saturday night when people would come out and race their home built gasser or drag cars.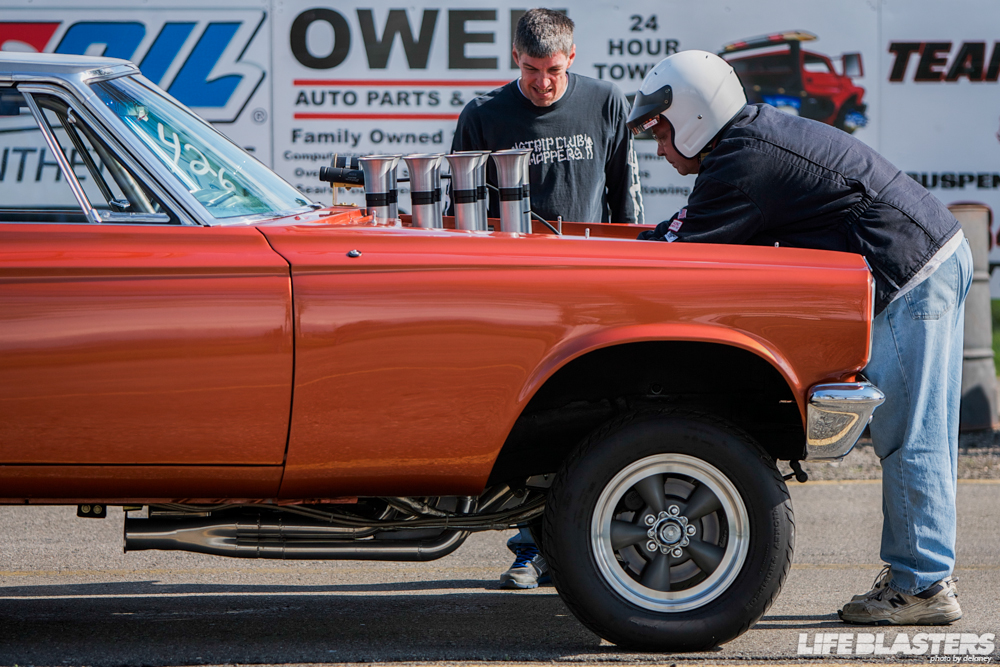 The calliope stacks, open headers right under the car, and torque thrust wheels with the massive wheel gap is just perfect gasser stance.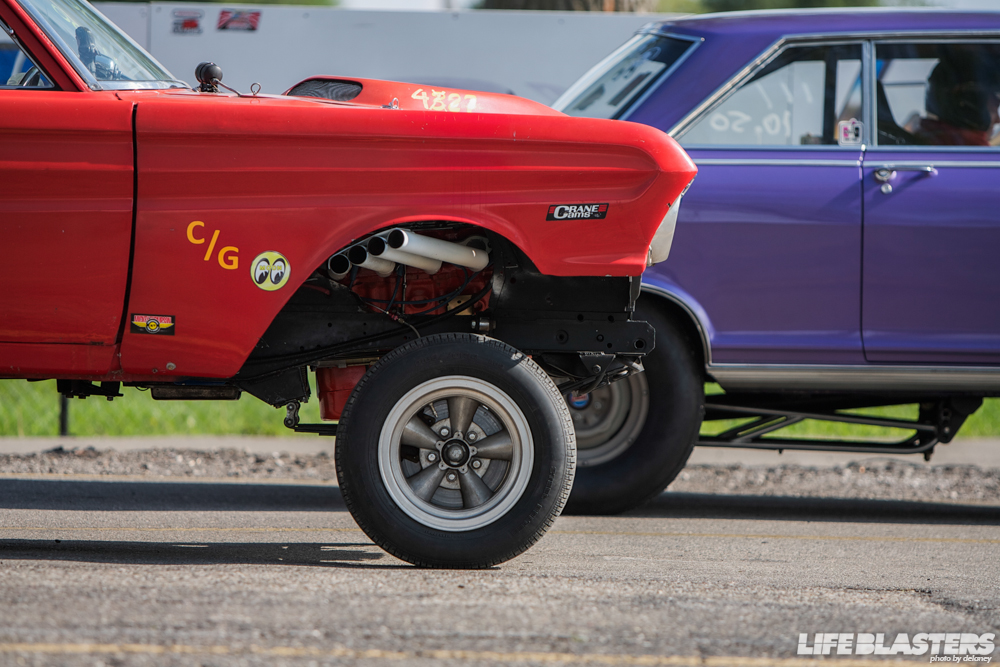 Or maybe just some headers right out of the engine filling the space between the wheel and the fender. It works either way.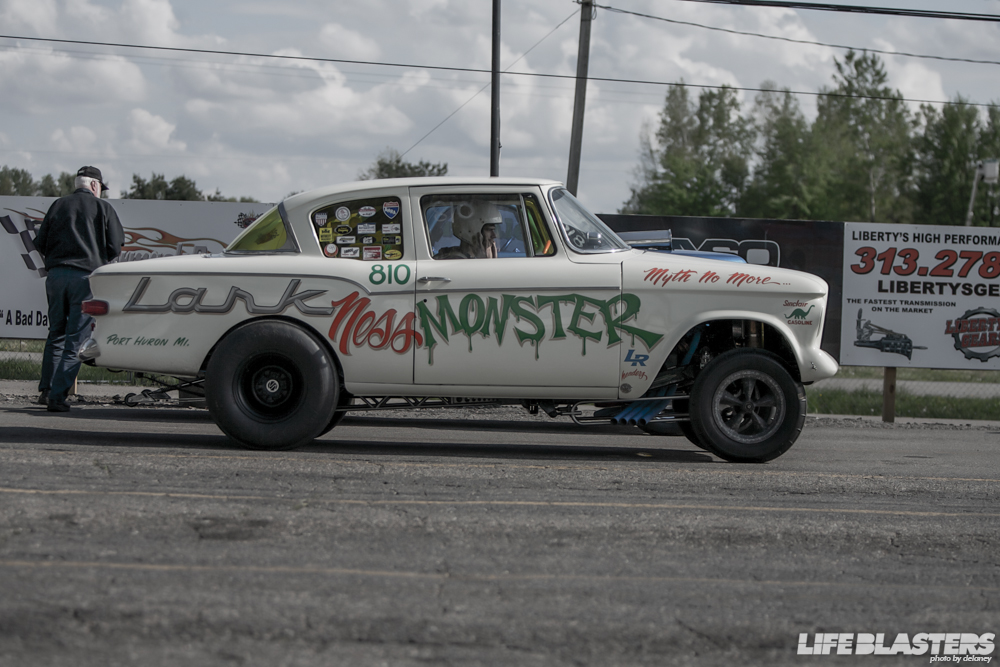 This Studebaker Lark however always caught my attention no matter where it was. Clean paint, perfect stance, front wheel pushed way out with the massive rear tires filling up the rear wheel well would just break my attention away from anything. It was then when I started thinking that most gassers are American cars. I started thinking about some old Japanese cars in gasser stance. Maybe a 240z gasser? Maybe even a Hakosuka?

While some gassers are designed for better weight transition, others are good for wheel standing. This '56 Chevy put on a good show for the fans.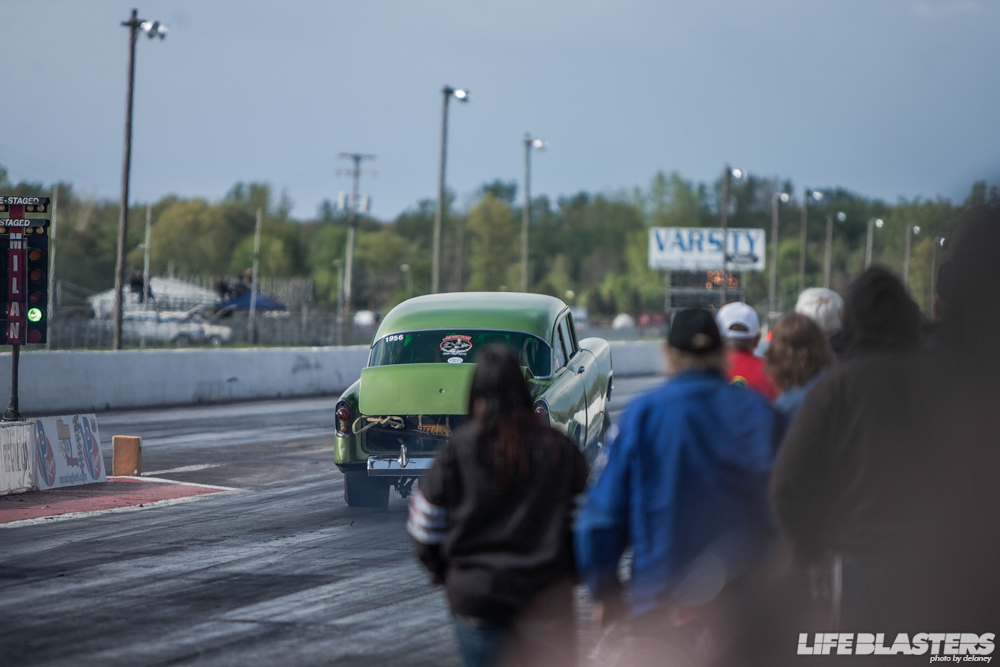 It's funny to watch this because I'm so use to rally and their safety measures to keep the trunk closed while racing. Here though, it just seems that anything goes. As soon as the front wheels slammed back down to the ground, the trunk flew open and a few pieces from the trunk fell on the track.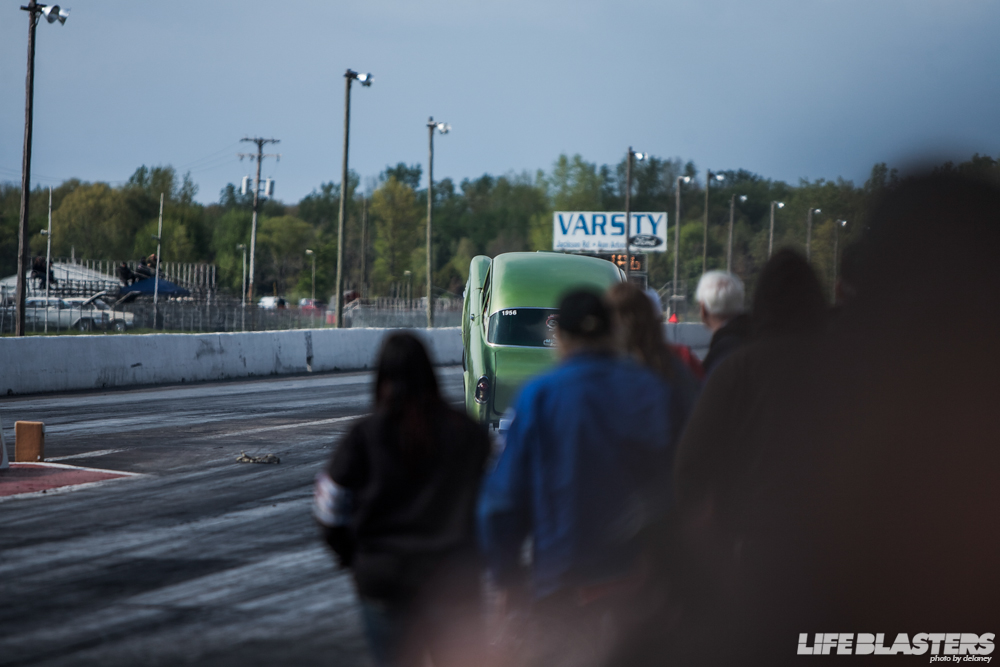 He wasn't done yet. The car bounced back in the air and made a little jog to the left. It's not often you see a '56 Chevy doing a wheelie and get to see the side while going down a straight line. This a one of those few times where the "never lift" motto can be broken.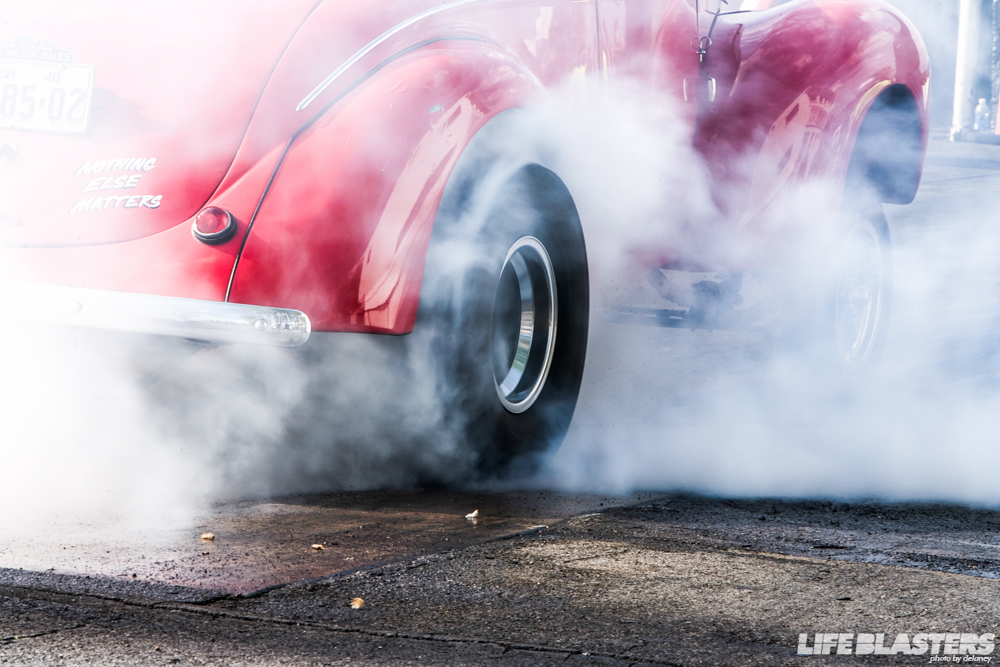 I'd say it'd be a close a battle between drifting and drag racing for the title of Smokiest Event. Drifting smokes for a longer distance, but some of these cars can make quite a smoke show.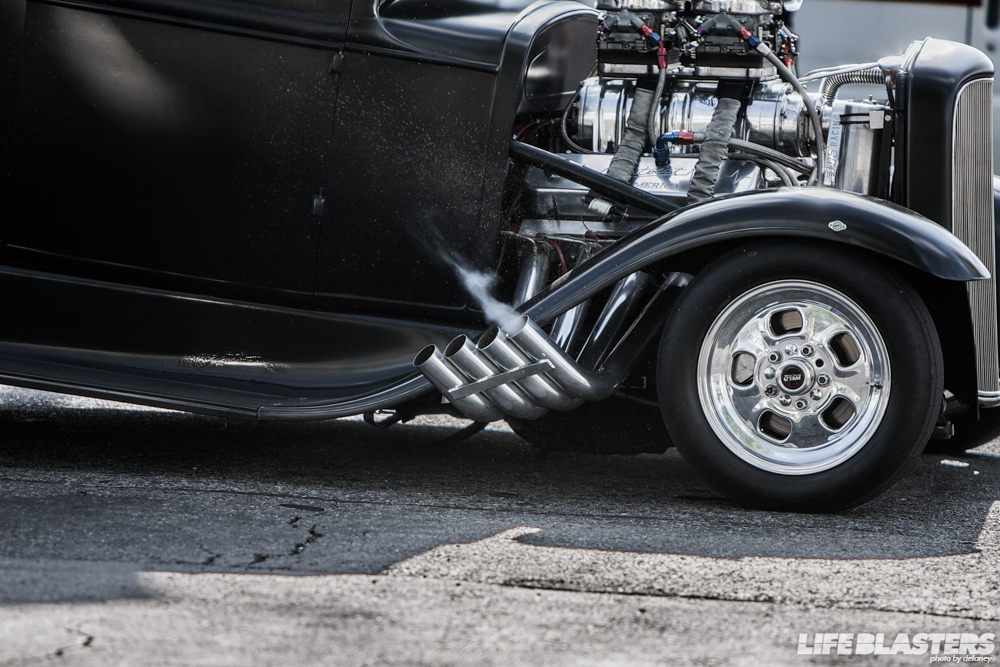 After the gassers a couple Model A looking cars came out with massive blown engines. I can't tell if the drops flying are just water being thrown up from the deep idle, or unburnt gas flying out of the exhaust. The flame makes me think it's the latter. I'm still in awe at how some of these people can push these motors way beyond their limit and still make them work.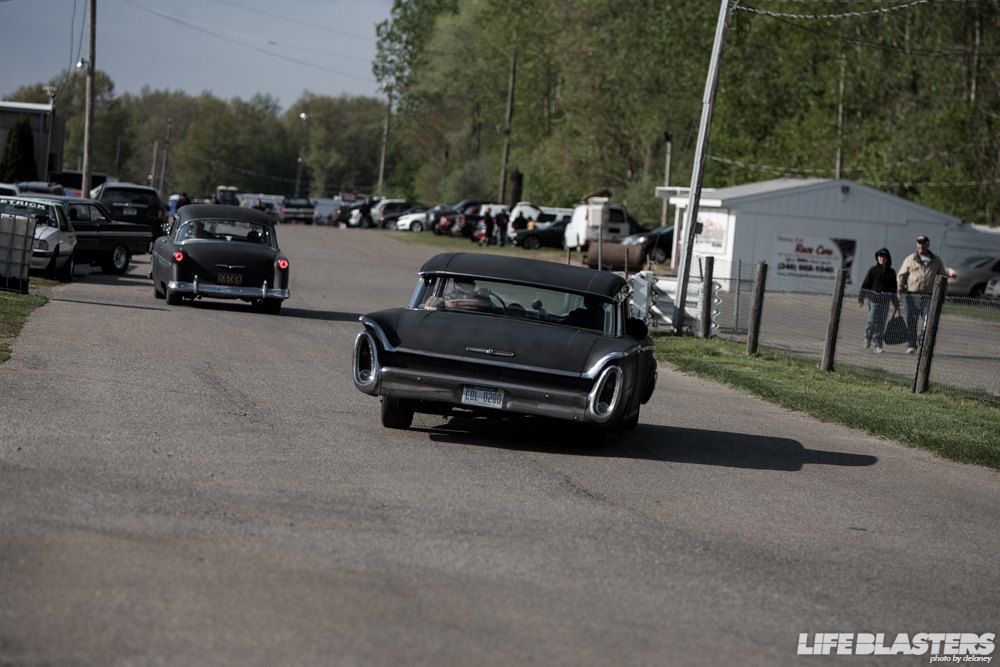 After a day of ear piercing V8s and enough smoke to make up for the next year, it was time to head out. There was still plenty of racing left, but I had my fill. A couple customs were heading out too, just making the whole reunion feeling even stronger.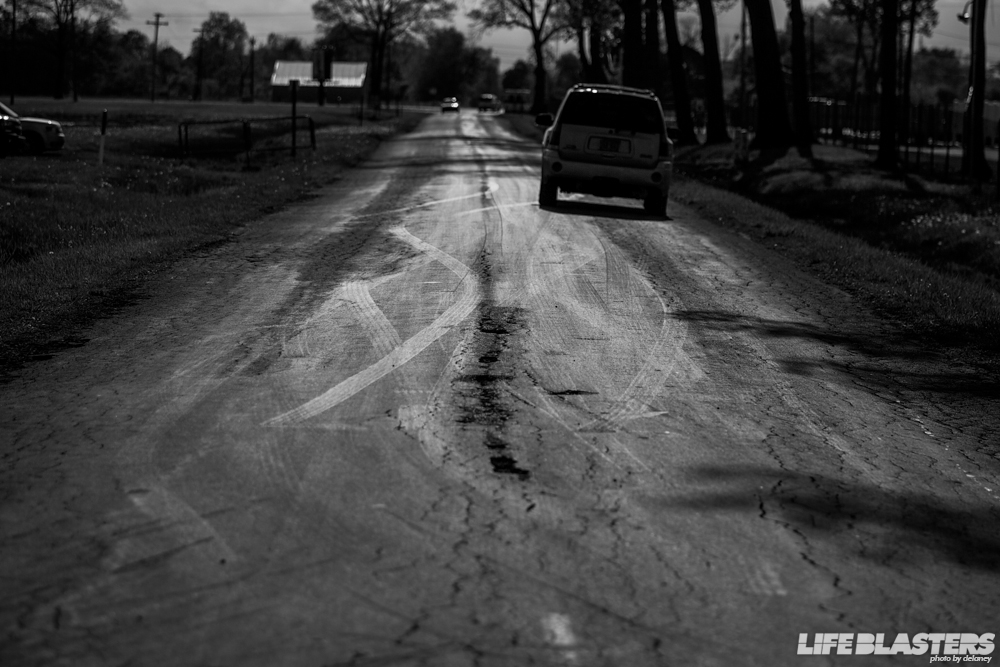 The road outside the entry gate was covered in rubber. When the track is closed, little Snell Road becomes its own little dragway. I can't wait for more events this year.  After a year off of drag racing, it was good to get back at the strip and hear the cammed V8s chugging away waiting for their 10 second or less time in the spotlight. I think everybody needs some drag racing in their life, either just to watch or race. The noise, smell and feeling is unlike anything else and can easily becomes addictive.

Just to finish off, what's a drag racing story without a duel wheelie shot?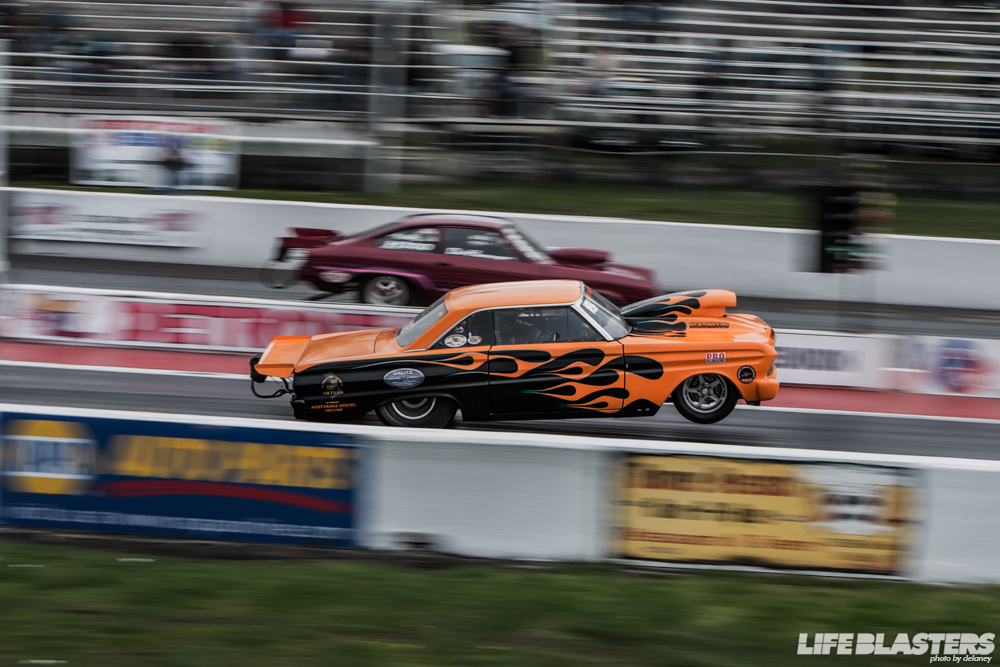 Or a Pro Stock going hard? With the words "Agent Orange Infected 1967/1968," you know this car means business.



Delaney

instagram: @lifeblasters, @ericdelaney