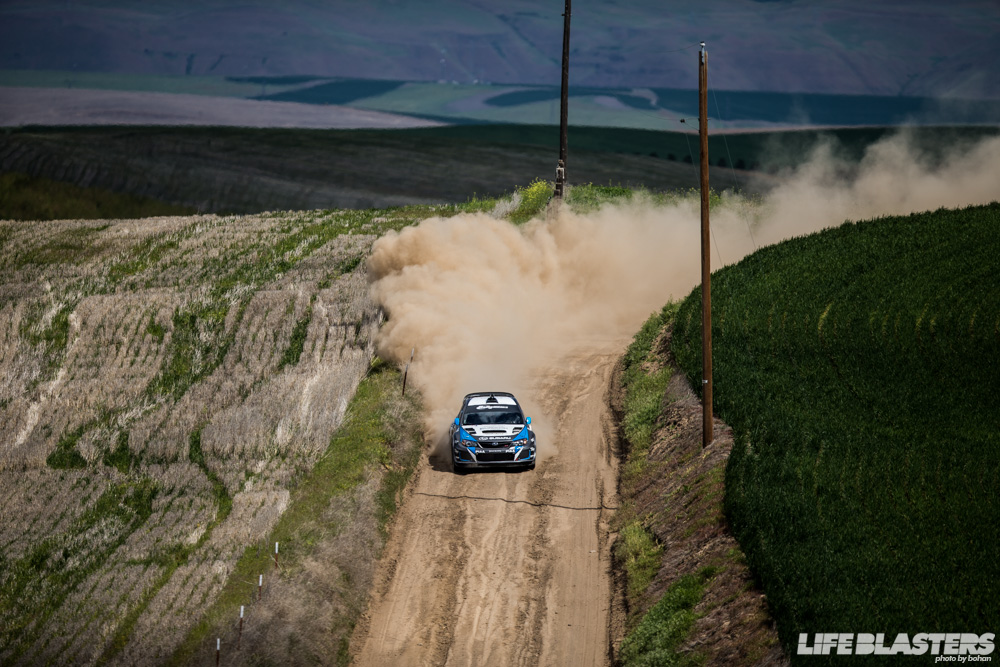 The Oregon Trail Rally will probably always hold a special place in our hearts, as it was the very first rally LB ever covered. Since then we've seen it all, from the frigid snow-covered landscape in Michigan to the deep forests of Maine to the sweltering heat and dust of Nevada. Oregon had always been a dusty one too, but not too hot, and certainly not cold. It was downright pleasant compared to most. But this year it rained.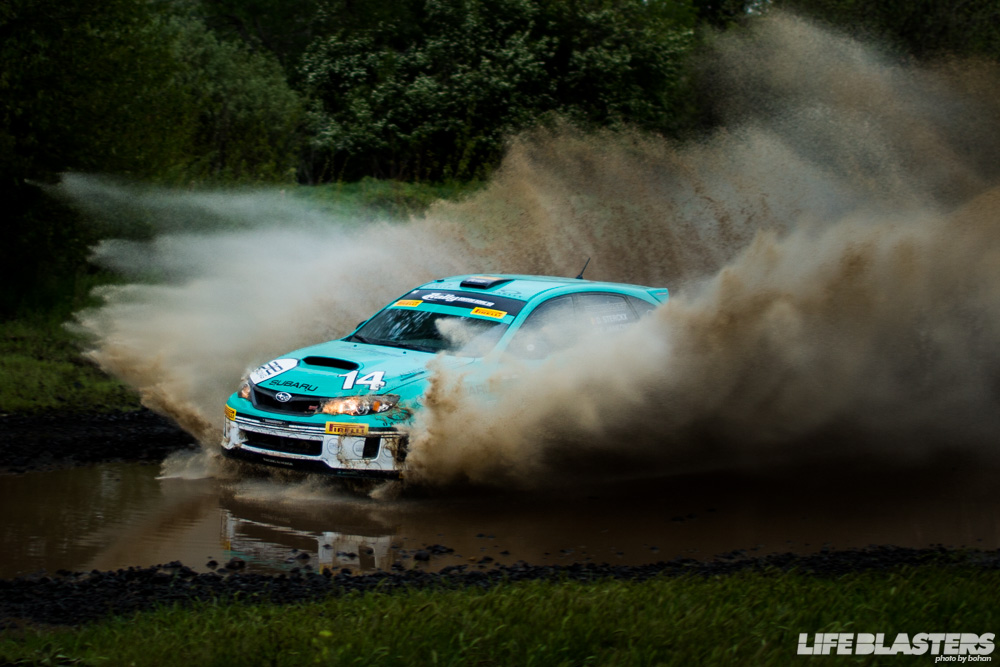 Call me a masochist, but I love shooting motorsports in the rain, as you might have already gathered from my most recentFormula D Atlanta article. Rally and drifting have a lot in common visually: cars sliding sideways with a puffy trail following them wherever they go. And just like with drifting, a little bit of rain eliminates the puffy trail but a lot of rain introduces big muddy splashes.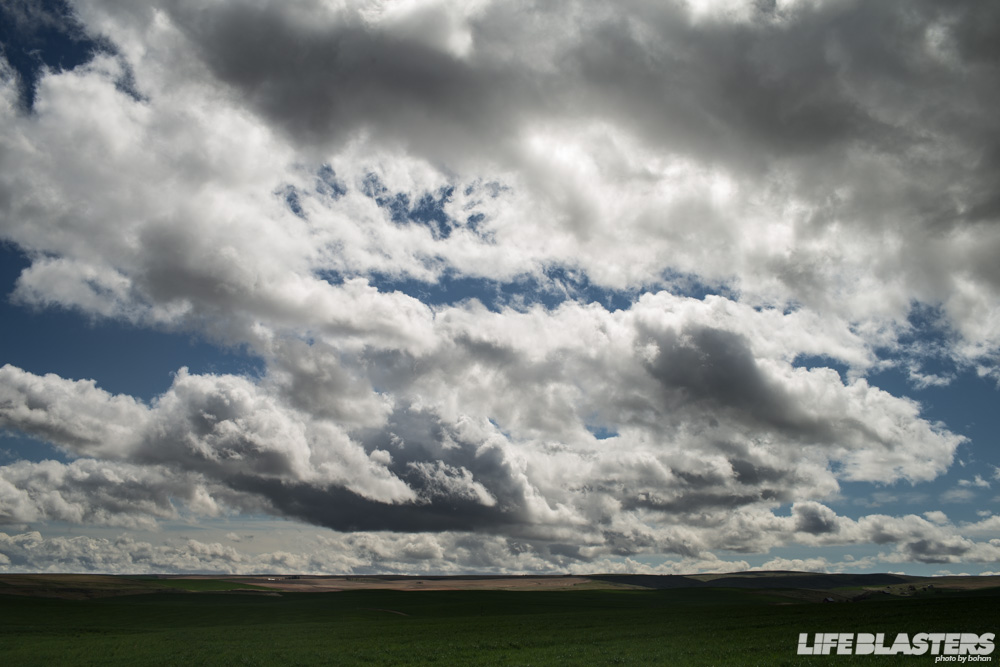 I landed in Portland late Friday night, after the stages at PIR were already over.  Clouds obscured the mountaintops east of town so Alex and I sought out shooting locations where background wasn't as important. Has anyone noticed that since the Oregon Trail started in Missouri, it makes way too much sense that the previous round of Rally America was in Missouri? If the teams hauled their cars straight here, they pretty much followed the entire route of the actual Oregon Trail.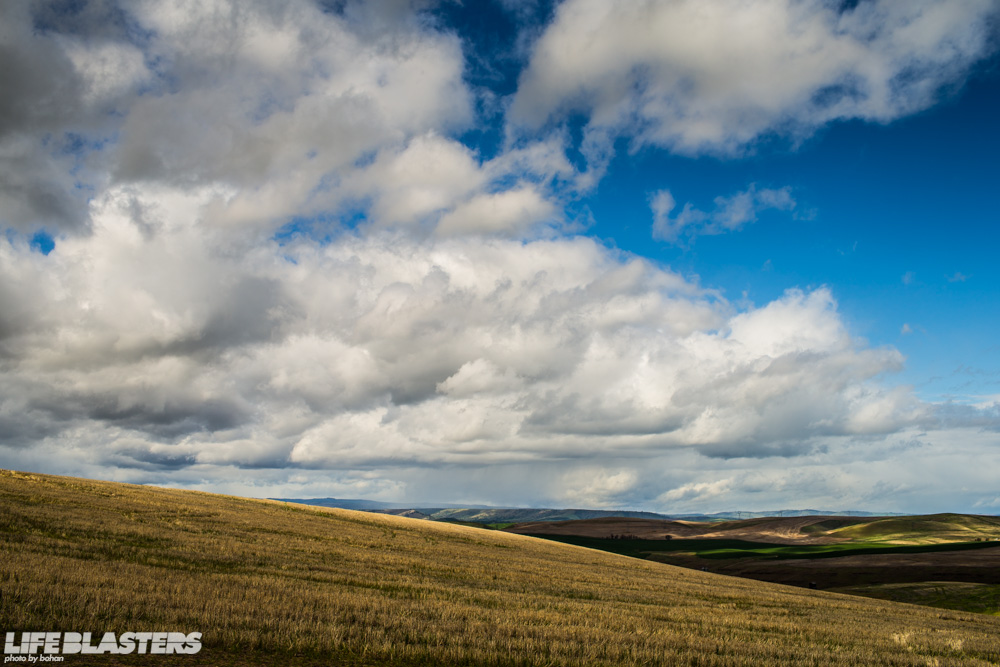 We found the pack jamming through long, wide open roads that made up Stage 6 in the rolling hills outside of Dufur.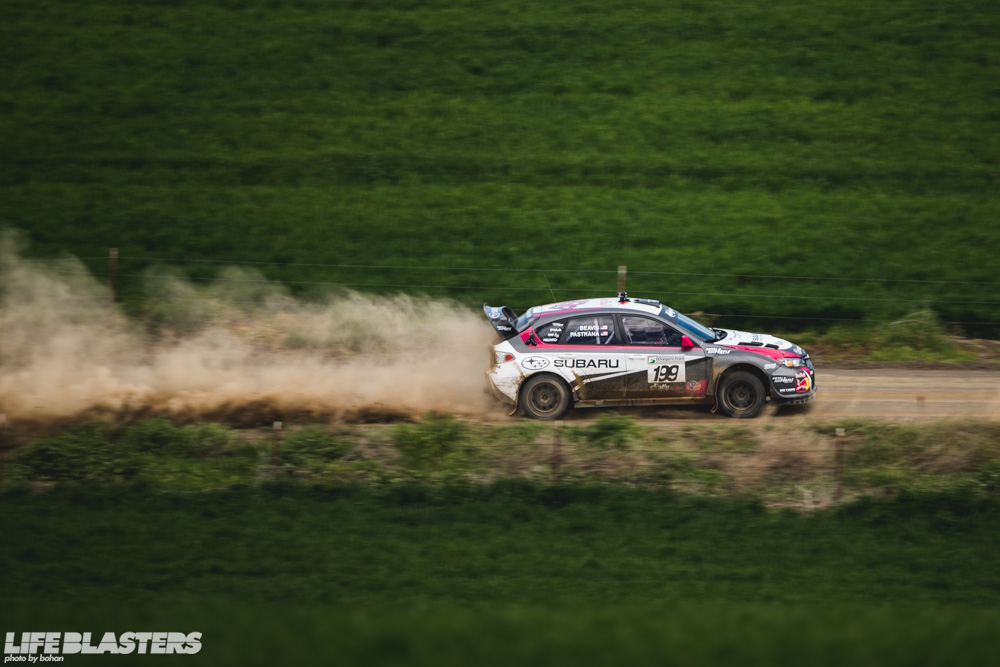 This was my first time seeing Travis Pastrana in action, but Ken Block was in Argentina for WRC. When am I going to get to see all the best guys at once?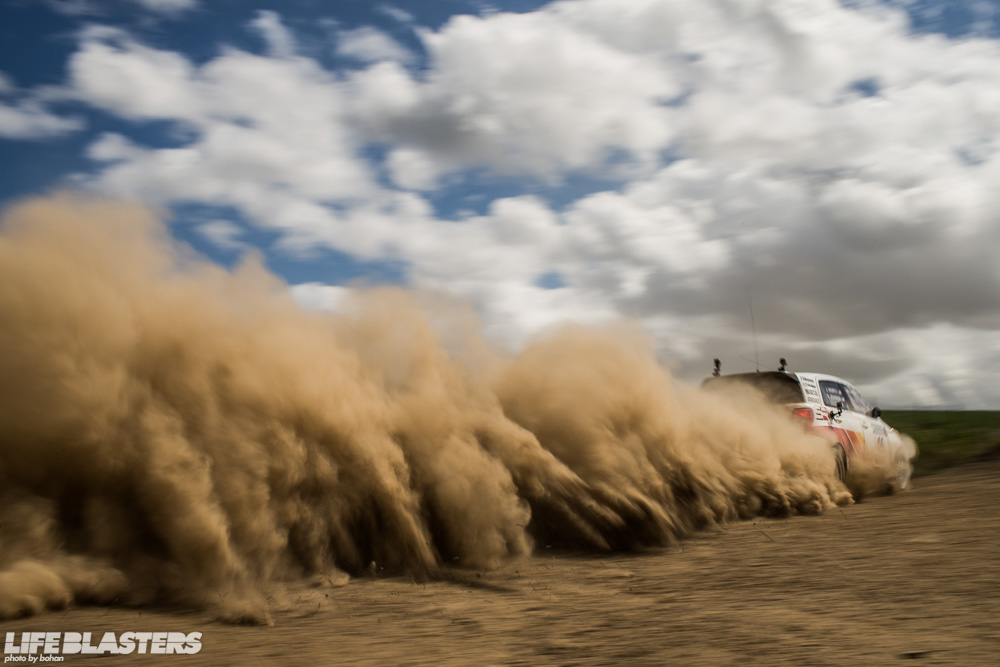 Matthew Johnson was getting comfortable piloting the Rally xD, but unfortunately he did not finish the rally.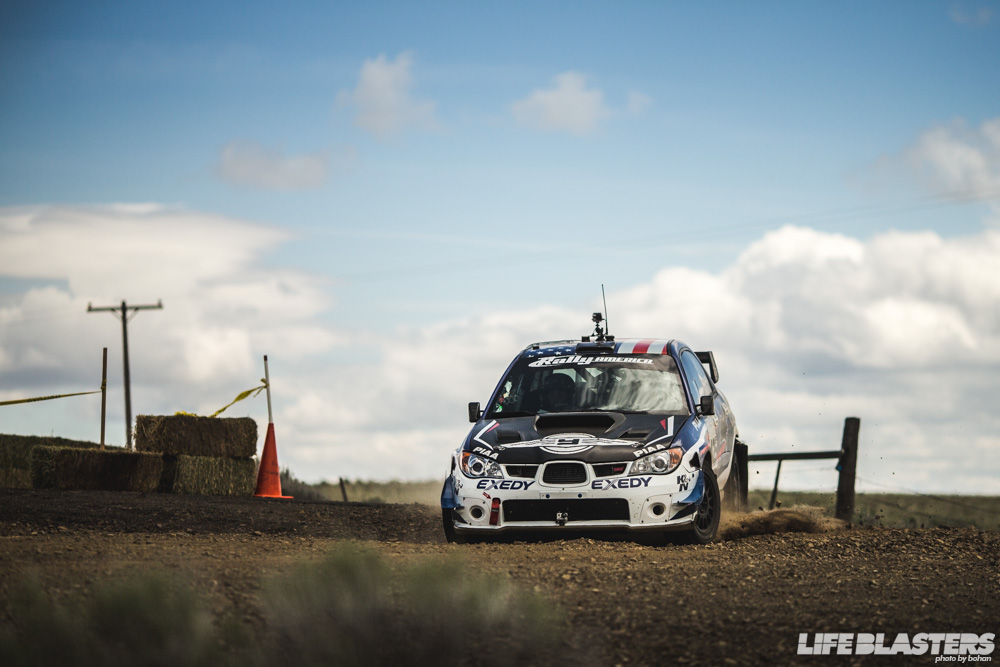 After wrapping up at 6 we headed out to the spectator area on Stage 8, where the cars have to navigate a haybale chicane as they transition off a short tarmac section and back into the gravel.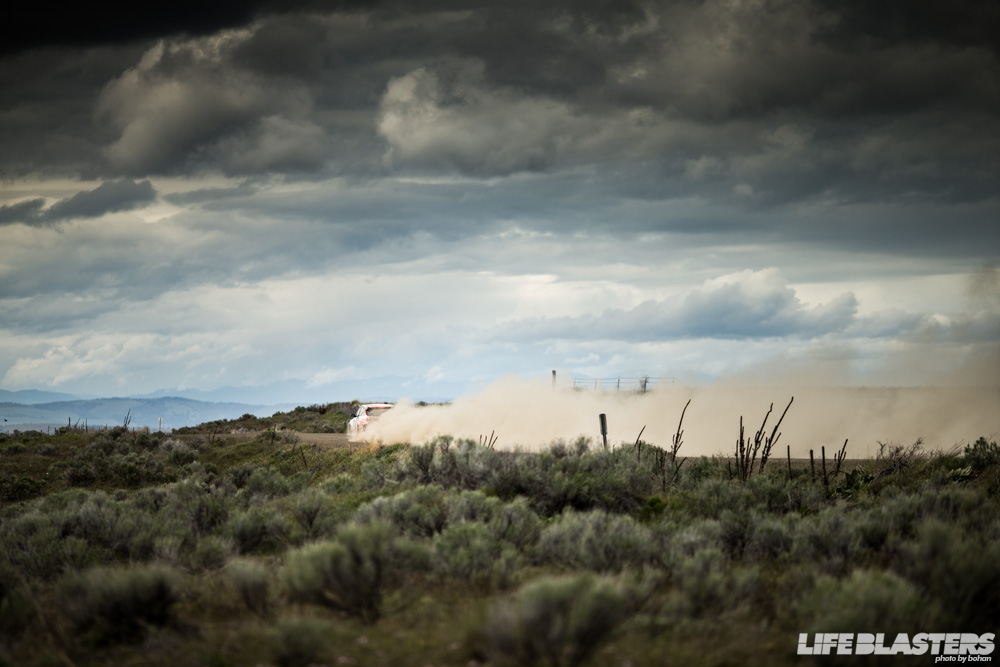 But then after Dillon Van Way went by there was silence. We learned that earlier on the stage Nick Roberts and Rhianon Gelsomino's car had caught on fire. Luckily they escaped before the car burned to the ground. Roberts was mostly unharmed but Gelsomino had burns on her face and hands.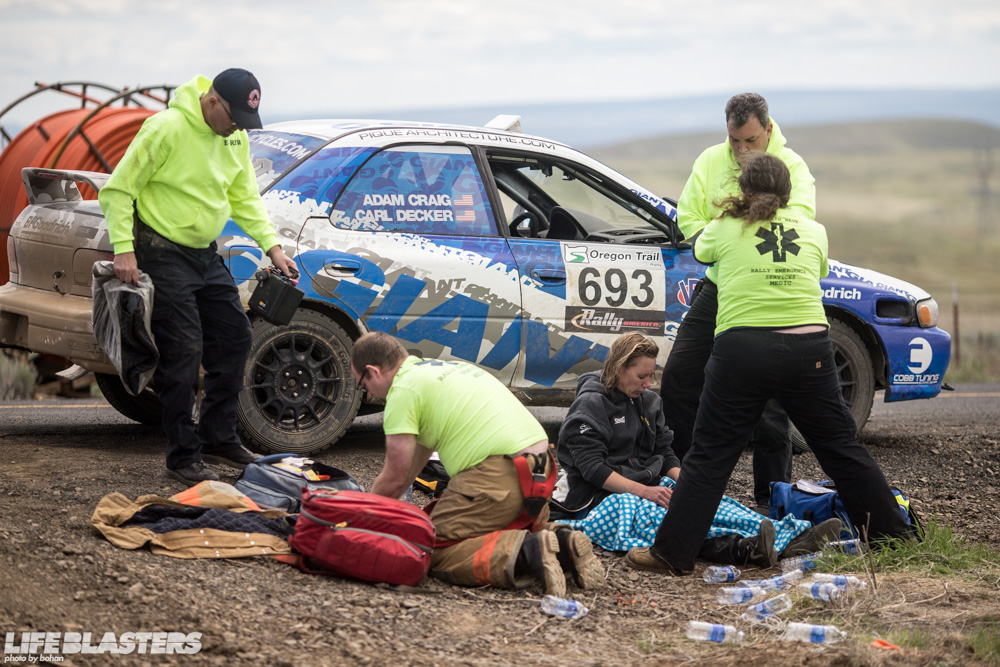 Carl Decker was the next driver in line and the first car on the scene. Co-driver Adam Craig jumped out so Gelsomino could have his seat, and Decker drove her through the stage to the medic station where we just happened to be. The medics took care of her burns until an ambulance could get there. Gelsomino is a tough lady and was in good spirits during the whole ordeal and someone got a message relayed to her husband Alex (who was of course in Argentina with Block). While it is an unfortunate event to say the least, I'm happy all the right people were in place, as it could have turned out much worse.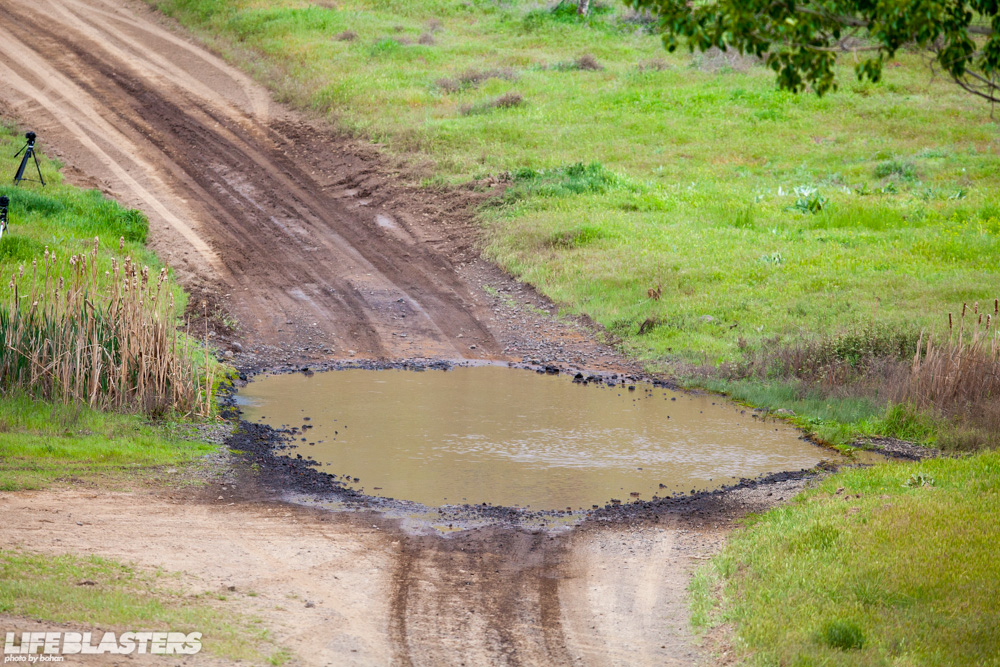 The stage was cancelled because of the fire, so we regrouped and then headed out to the water crossing on Stage 10. Recent rains had filled the puddle up quite nicely and it was finally starting to rain again so it was looking like there were going to be some good splashes.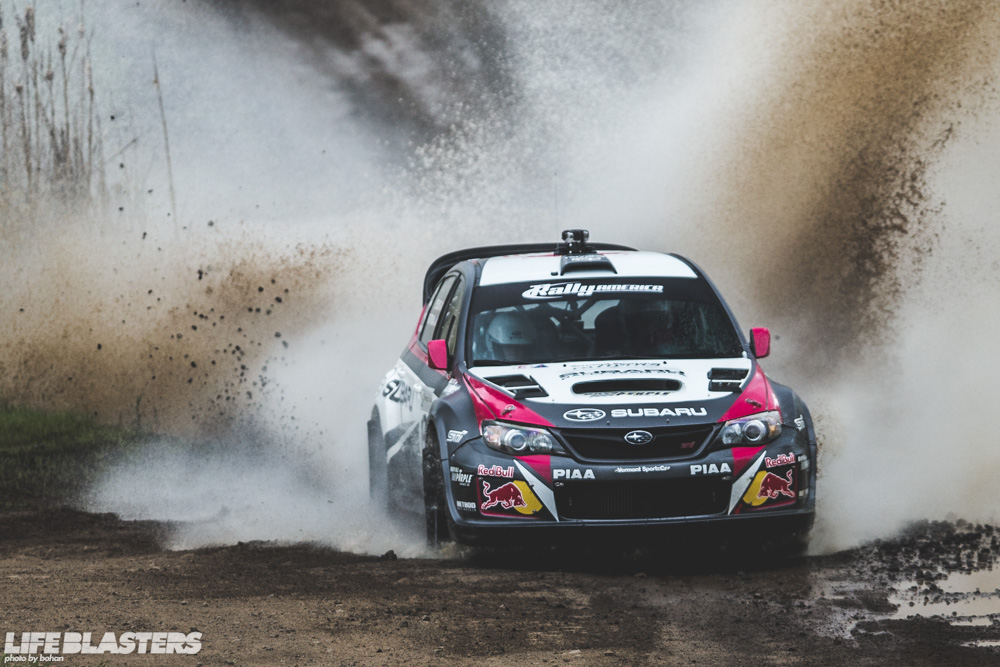 Pastrana did not disappoint.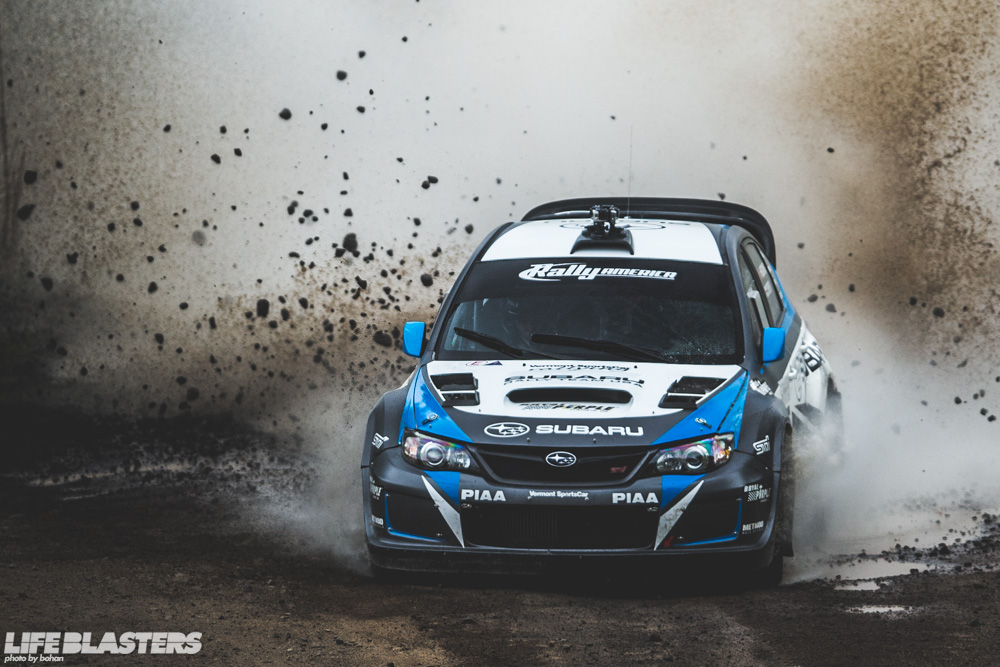 David Higgins kicked up a lot more rocks though. These weren't little bits of gravel either, but big 1-kilo chunks that could do serious damage.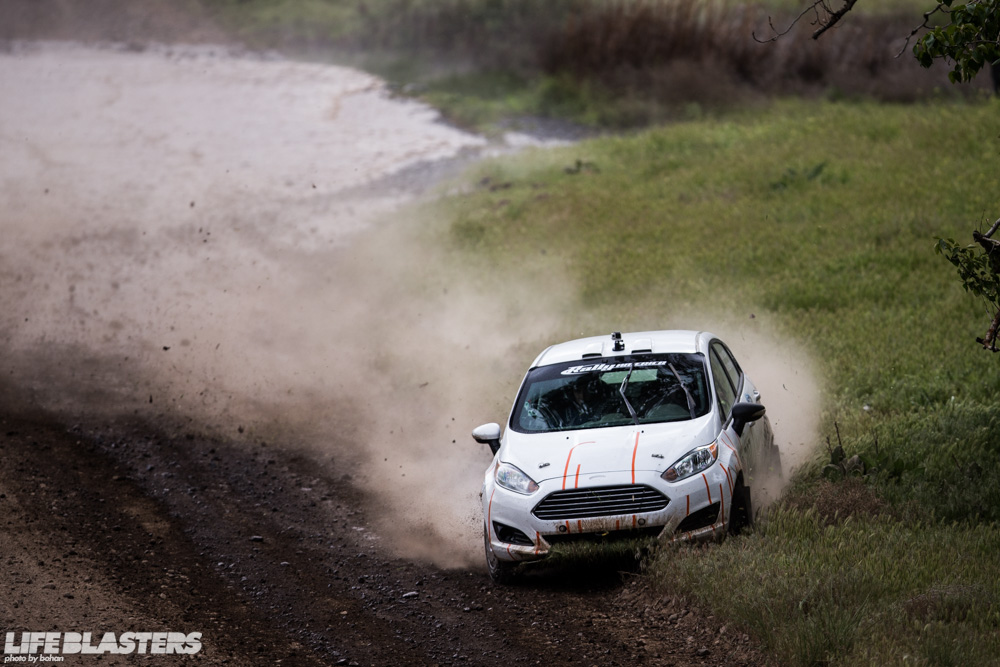 The water crossing does take a certain technique to do efficiently. Luckily the photographers who were closer to the creek were on their toes when Will Hudson came by.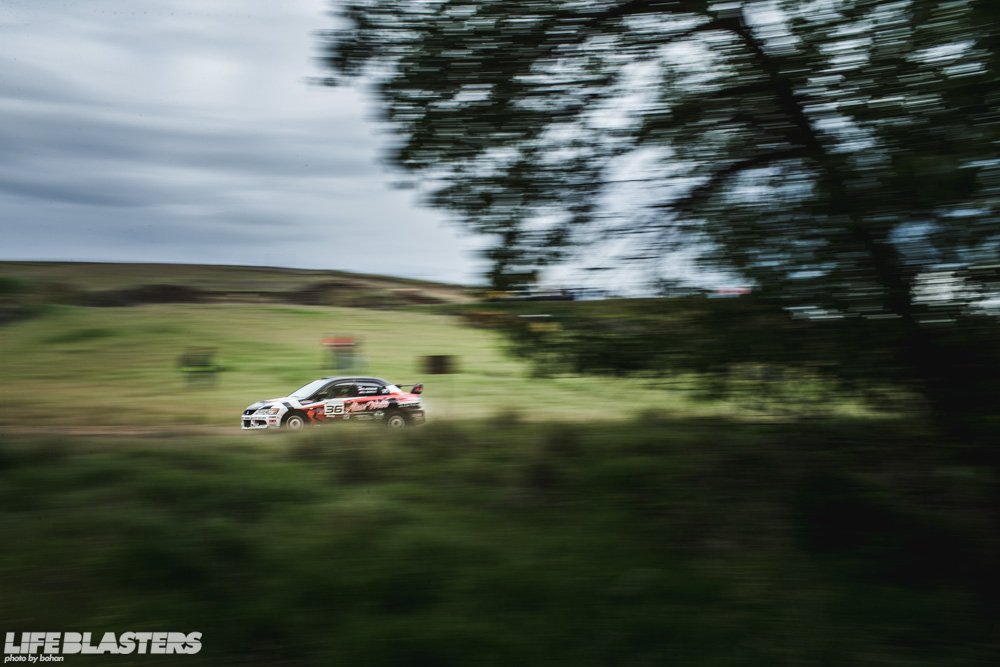 Of course, not every shot at the splash has to be of  the splash.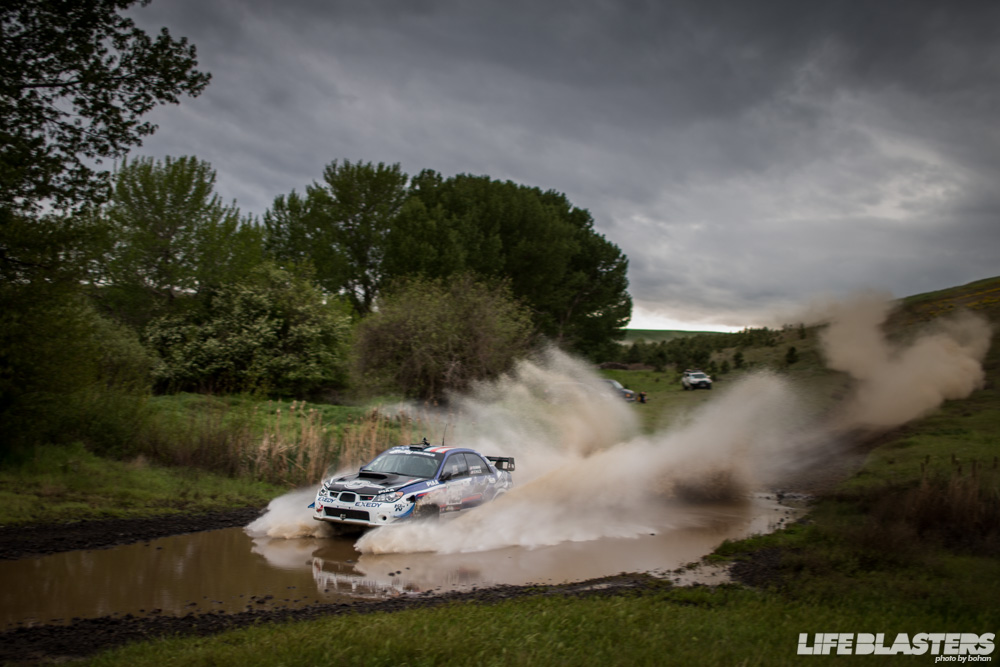 Stage 11 was the same road and our plan was to follow the sweep cars out and go to a different part of the road. But the gap between finish and the next start was too short and the marshals wouldn't let anyone leave, so we had got to watch the splash again.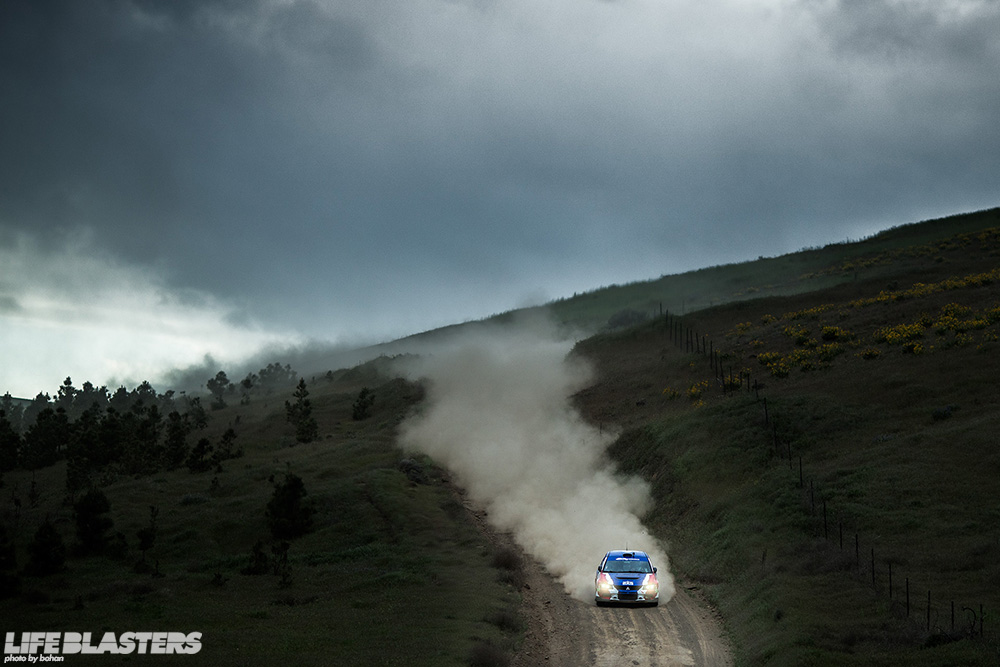 The clouds were getting gloomier, though they weren't dropping much rain.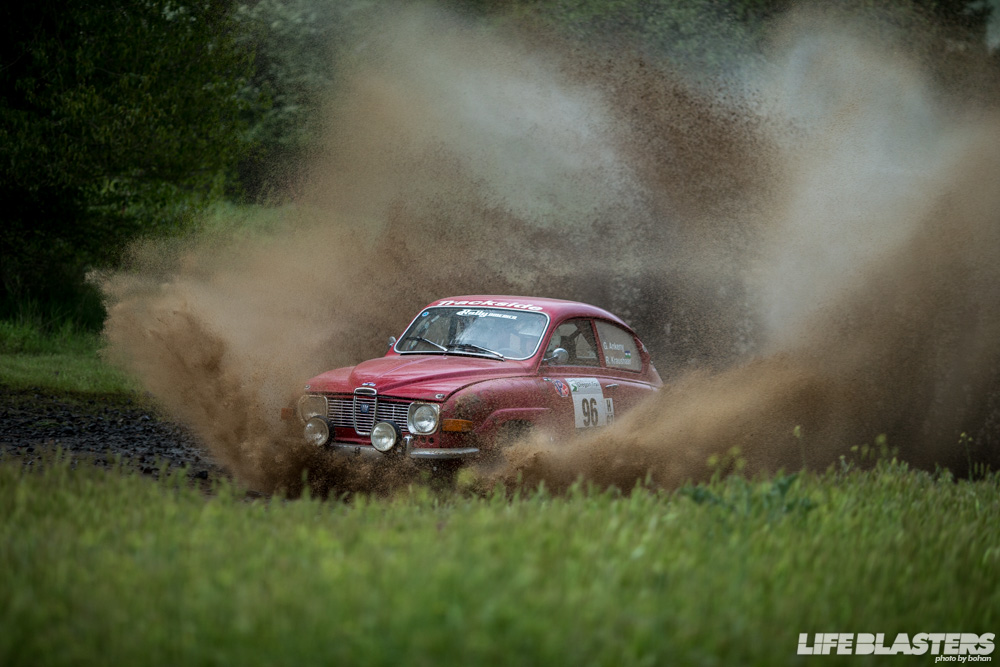 You can never have a Northwest rally story without Garth Ankeny and his red Saab 96. Erik Carlsson drove a 96 to many rally victories in the 60s, solidifying the car's legendary status in rally history, so it's awesome that Ankeny has one and always runs it.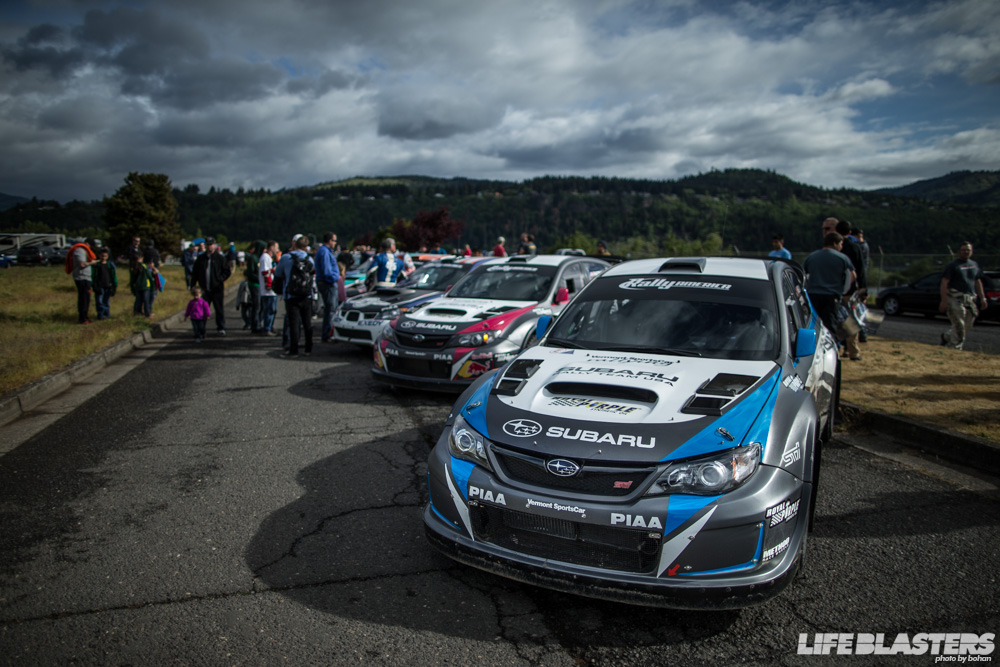 Day Three of the rally promised more rain, but like Day Two it started off with spotty harmless clouds.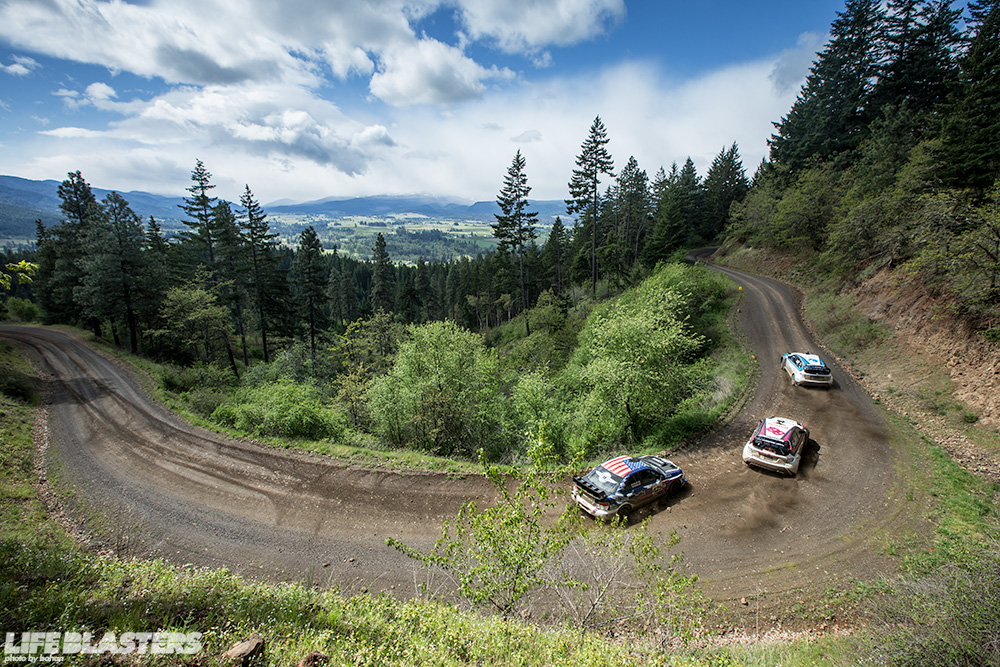 It was just enough clouds to obscure the view of Mt. Hood from an otherwise outstanding vantage point on Stage 14. The first three cars out were also the three on the podium, and in the same order.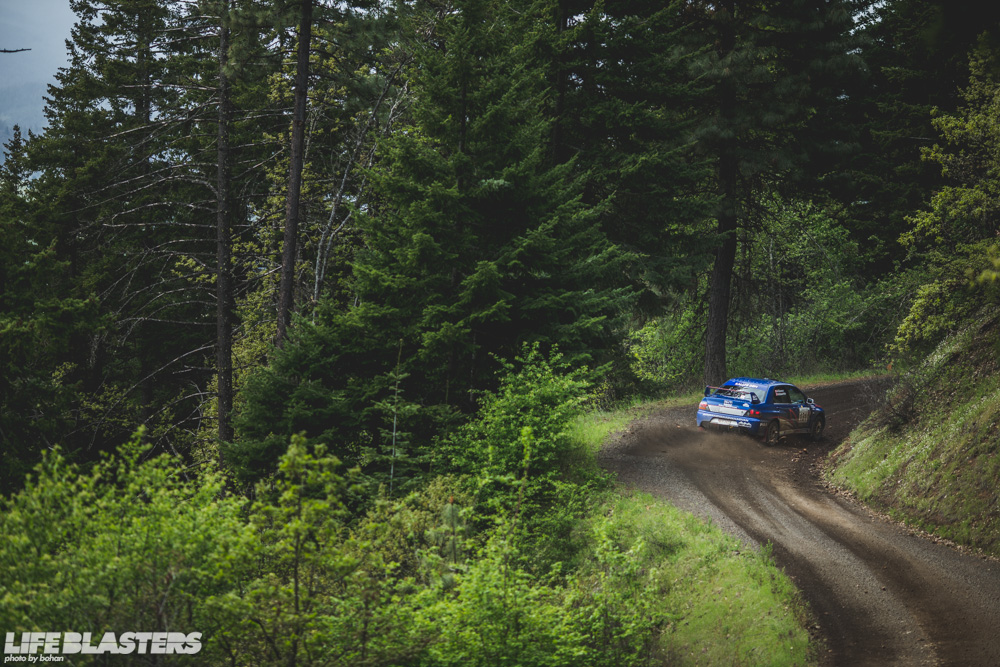 And that marked the end of the rally for me, as I had a plane to catch!
The Susquehannock Trail Performance Rally is next weekend. Don't miss it!
.:Bohan
email: bohan@lifeblasters.com
instagram: @lifeblasters, @andrew_bohan