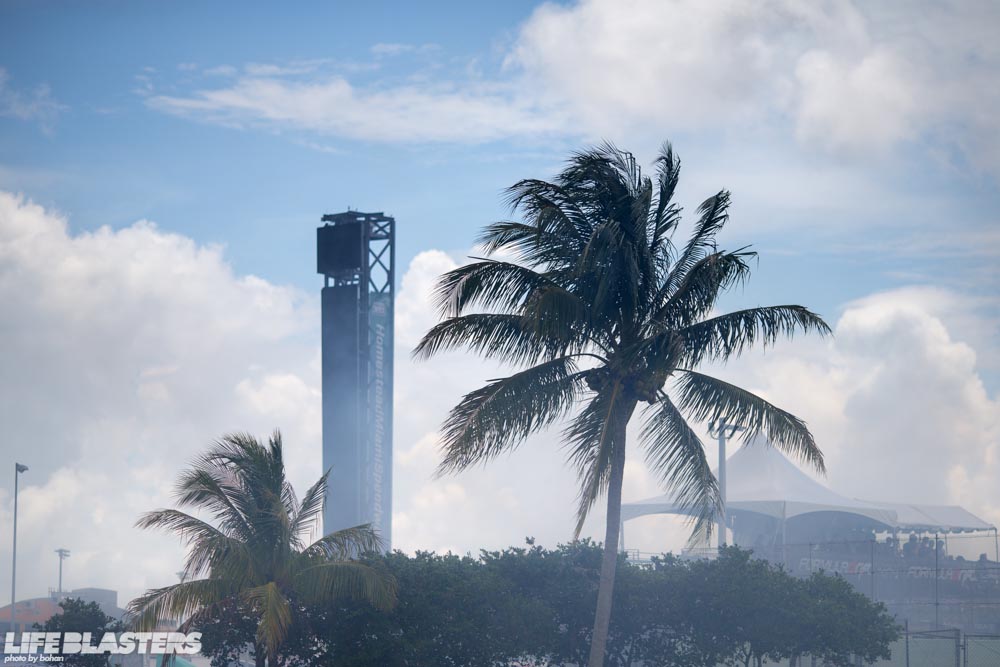 Formula D Miami. It has a nice ring to it, doesn't it? When I got the news last year that Formula D wouldn't be returning to Palm Beach International Raceway, I was a little happy and a little sad. The course was short and most of the pit spaces weren't even on pavement, but there were alligators, so that was cool. As a big NASCAR track, Miami Homestead Speedway wasn't likely to have gators, even with the two infield ponds. But Miami has a hill on the infield road course, and and air-conditioned media center, so I was sold. Sign me up.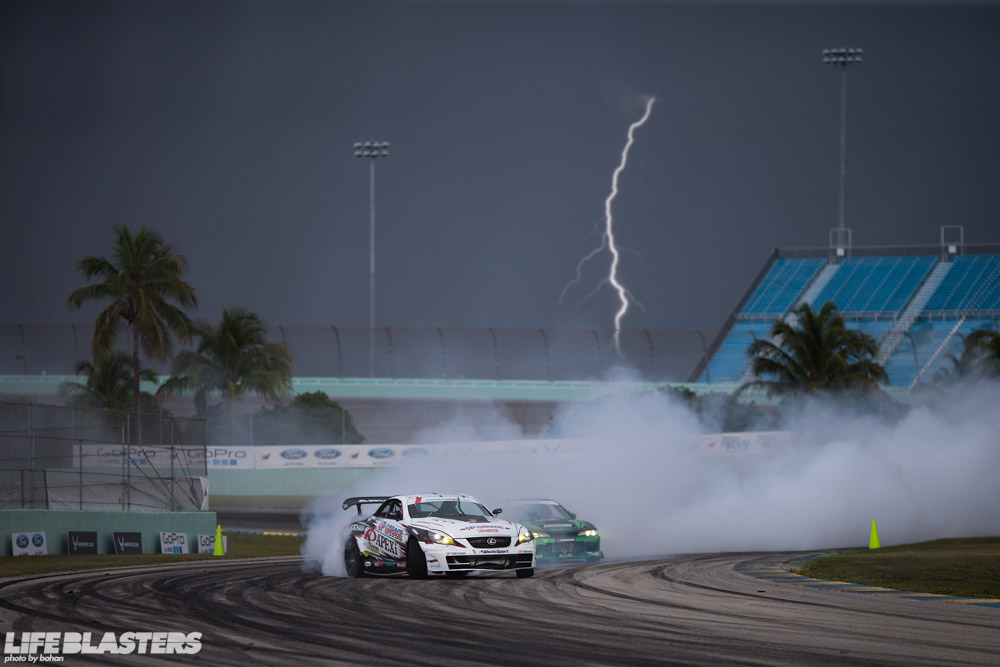 As with any new track, no one had any idea where anything was. When we showed up it took us a few tries to find out how to even get to the paddock! Soon enough we got the layout down and got to work. With Pro2 debuting this weekend, Thursday was a pretty short day. But it had lightning, so that kind of makes up for it.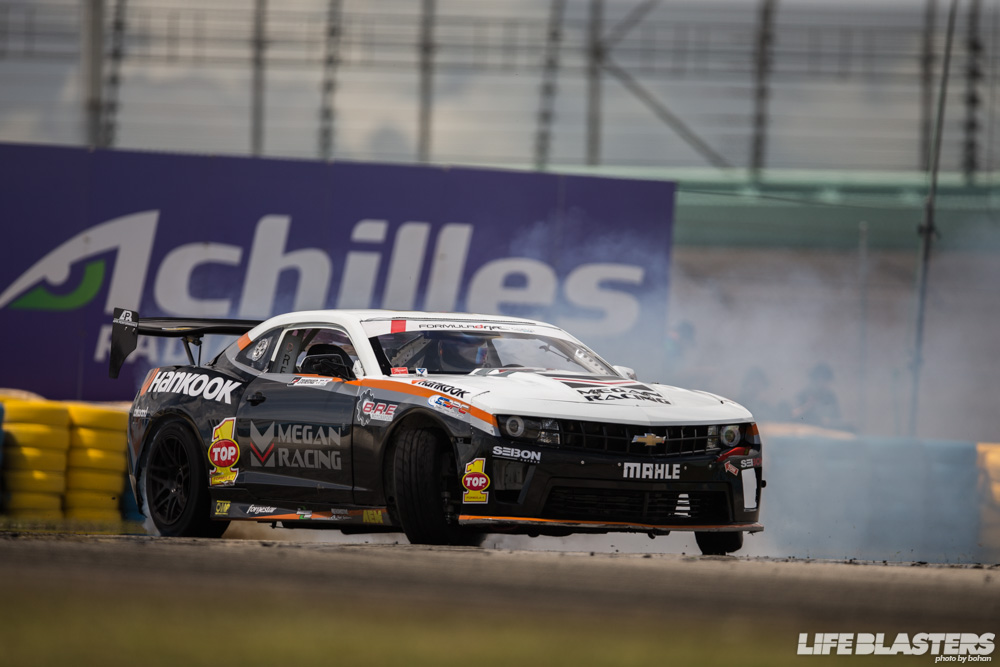 Friday is when we'd find out what the drivers were made of. None of the drivers had any experience at Miami, but neither did the judges. There's always some static between the two groups, as some drivers will undoubtedly think the judges are asking for awkward or impossible lines. As we saw at Texas last season, sometimes adjustments to the course need to be made. Couple that with the fact that the judges couldn't even see the beginning of the course (including the all-important initiation) and it's easy to understand why some drivers were more than a little upset. Of course the judges did have the Livestream recordings at their disposal, so all was not lost.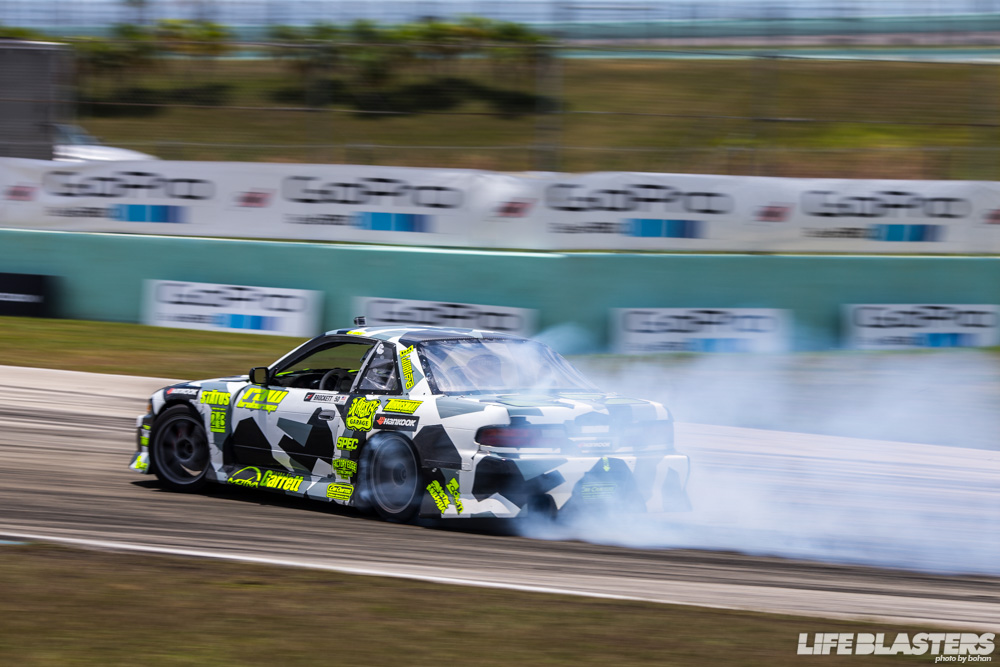 Since it wasn't raining during qualifying like in Atlanta, the format was business as usual, but it felt ultra-mega fast. In Atlanta it went at less than half the usual pace and at Long Beach there were way more cars, so Miami had the quickest qualifying session thus far in the season.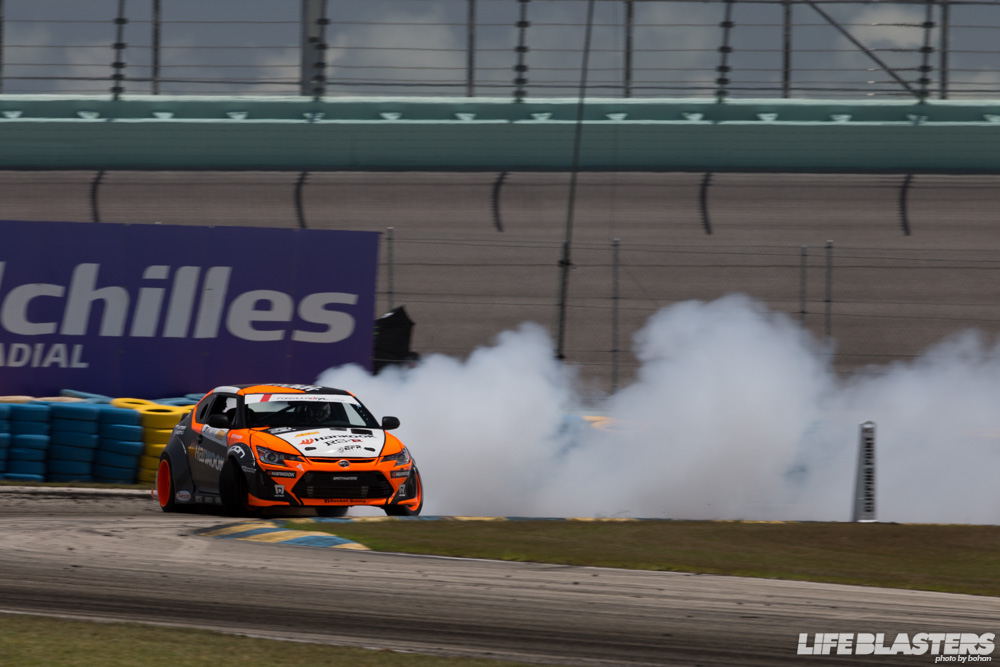 While things were going smoothly on the track, in the Papadakis Racing pit, it was quite the opposite. Fredric Aasbø had blown his engine toward the end of practice, but Papadakis and his crew rival Falken in their preparedness and efficiency. After borrowing Conrad Grunewald's engine hoist, they swapped the tC's engine as the clock ticked down to Aasbø's slot in qualifying. As the time approached it was clear they weren't quite going to make it, so Papadakis called a Competition Time Out to buy a few more minutes. They got the car back together and on the line right at the beginning of the second runs and Aasbø made an 80-point pass. Talk about cutting it close but having massive success doing so.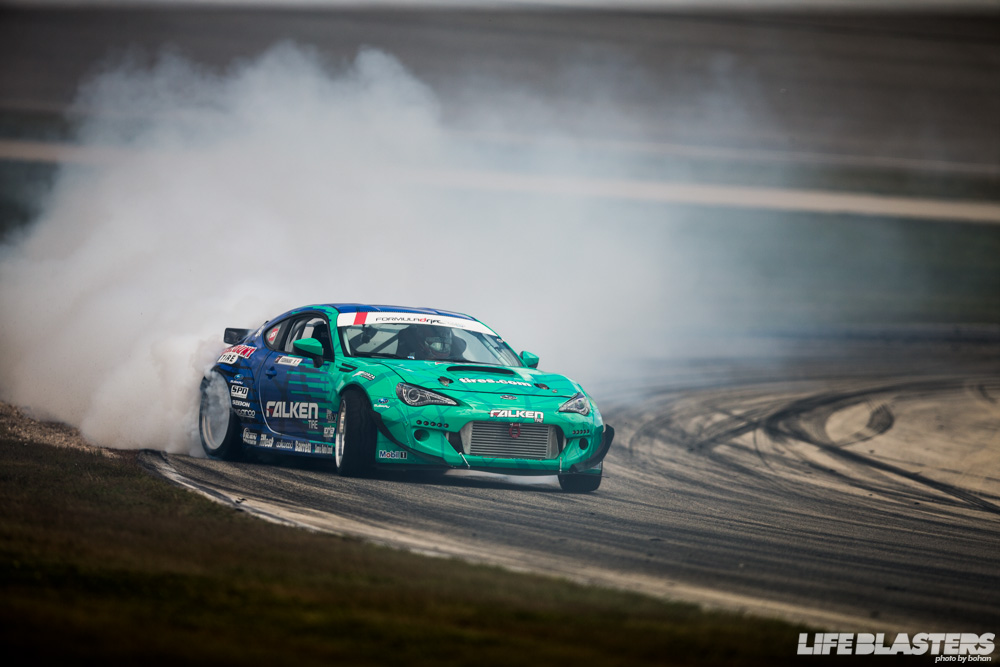 Conspicuously missing from the 32 drivers who made the cut were two former champions: Dai Yoshihara and Daigo Saito. Saito dropped down to 22nd in the standings, while Yoshihara is all the way down in 31st and in danger of losing his license if he and his Falken crew can't get his new BR-Z figured out fast.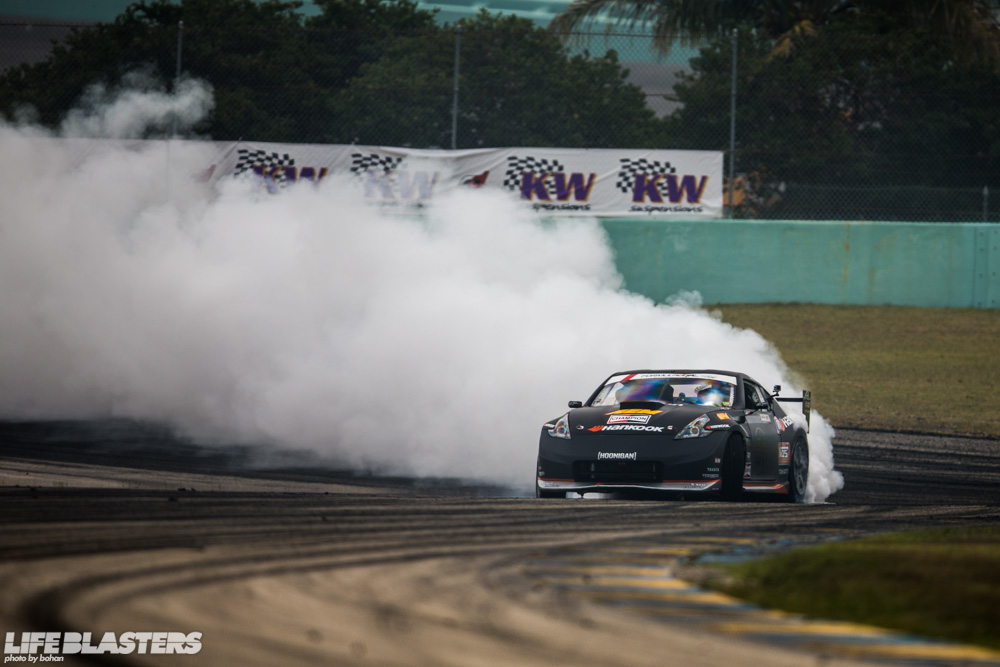 Vaughn Gittin, Jr. snagged the highest score of 88 in the first runs, and no one was topping it in the second runs. With only Chris Forsberg and himself left to go, he gave it all he had to make sure he stayed in front of the current points leader. He bettered his previous score by one point. Forsberg responded with his own 89-point run. I don't think I'd ever seen a tie for first before. This year, ties in qualifying are broken by whichever driver had a higher style score, so I thought it would be Forsberg for sure. It turned out they had also tied style scores, so it went to Forsberg as he was the higher ranked driver. Amazing.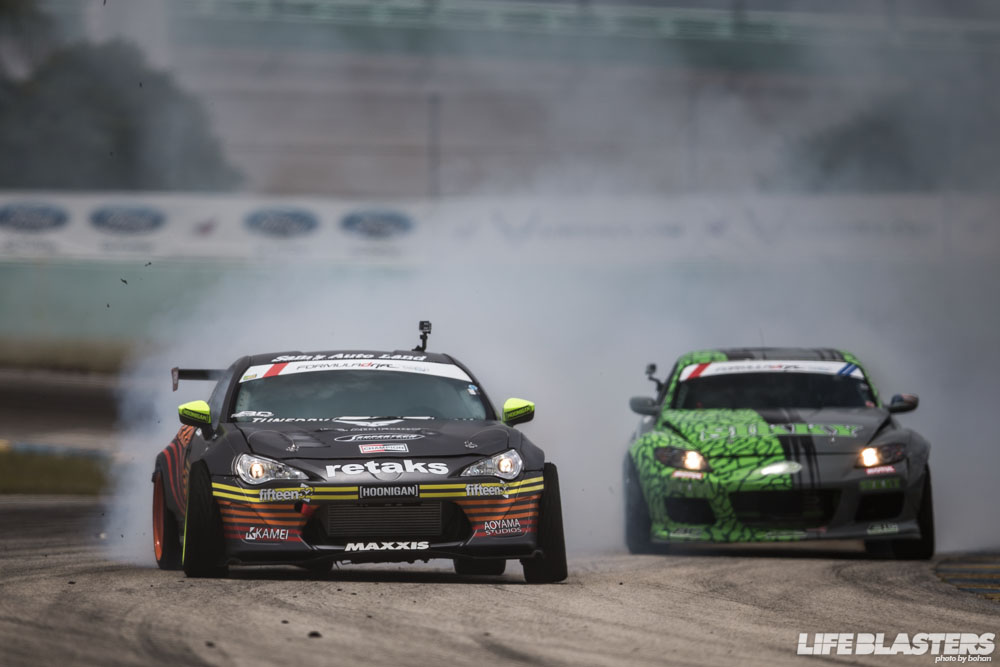 On Saturday, 32nd qualifier Tony Angelo was having car trouble and couldn't make it to the line in Top 32, denying Forsberg the honor of having the first-ever pro tandem battle at Miami Homestead Speedway. The honor instead went to Ryan Tuerck and Rapper Dan Savage, with Tuerck taking the first-ever win at this track.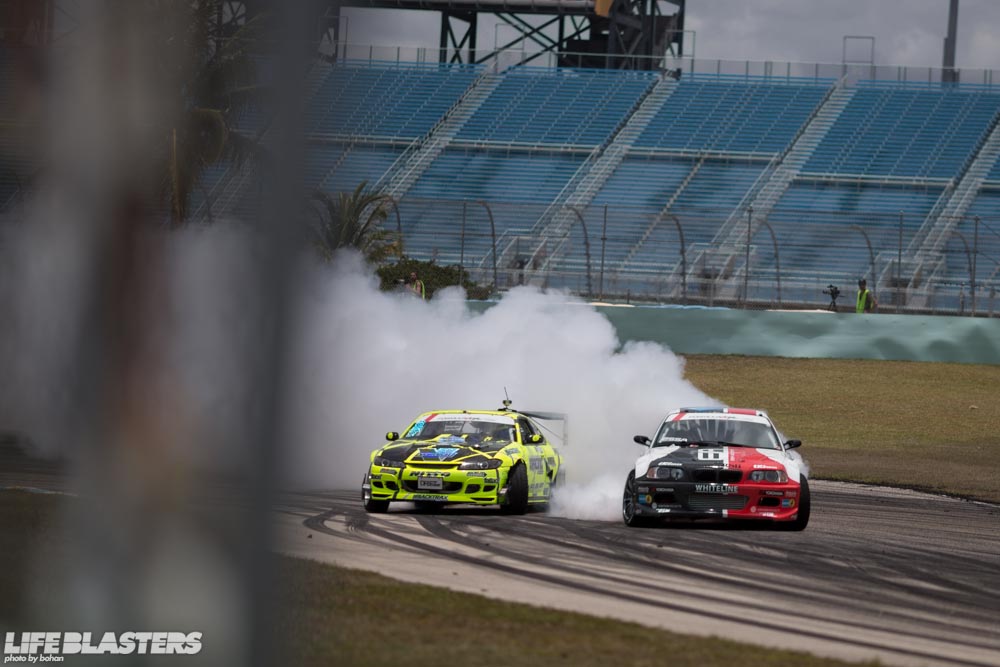 Matt Field is out for blood after a shaky start to his season. After missing Long Beach and barely qualifying in Atlanta, he stepped it up and qualified 13th in Miami only to line up against 20th qualifier and defending champion Mike Essa. It actually wasn't that interesting of a battle. Field completely smoked Essa on the first run and stuck to him like glue on the second. Essa is now in 10th place overall, 154 points behind the lead.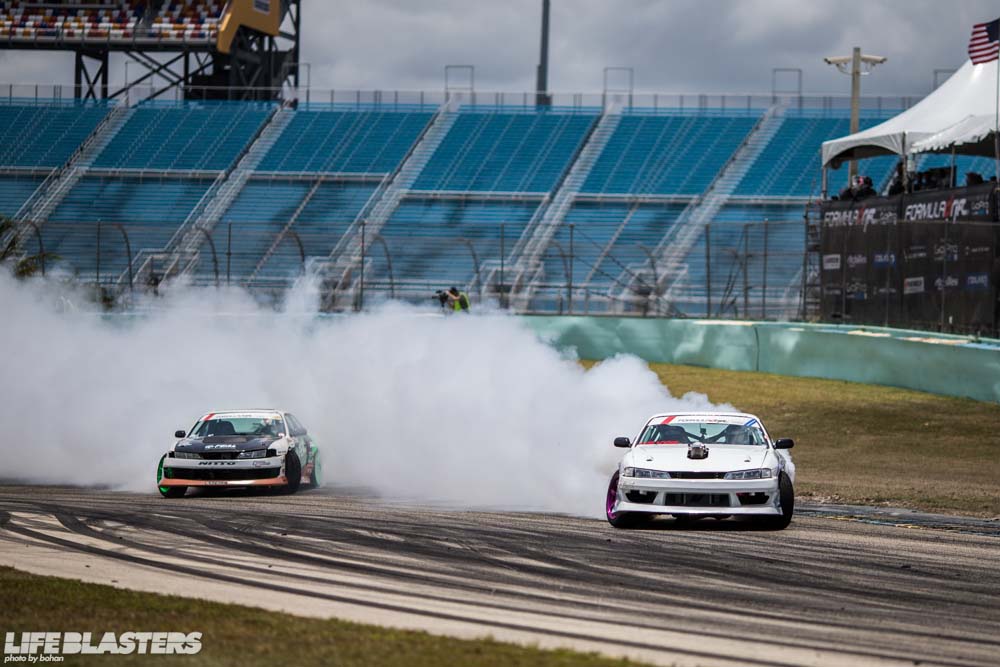 Who else is known for giving Essa a run for his money lately? Odi Bakchis, that's who. And who destroyed Odi Bakchis in Top 32? Geoff Stoneback, that's who. Fresh from Friday's Pro 2 victory, Stoneback was wowing the crowd, the judges, announcer Jarod DeAnda, and even FD President Jim Liaw, who called him "The Future." Gittin was looking for another podium finish after his win in Atlanta, and he started off by taking out Danny George. I think Danny George needs to make his car faster.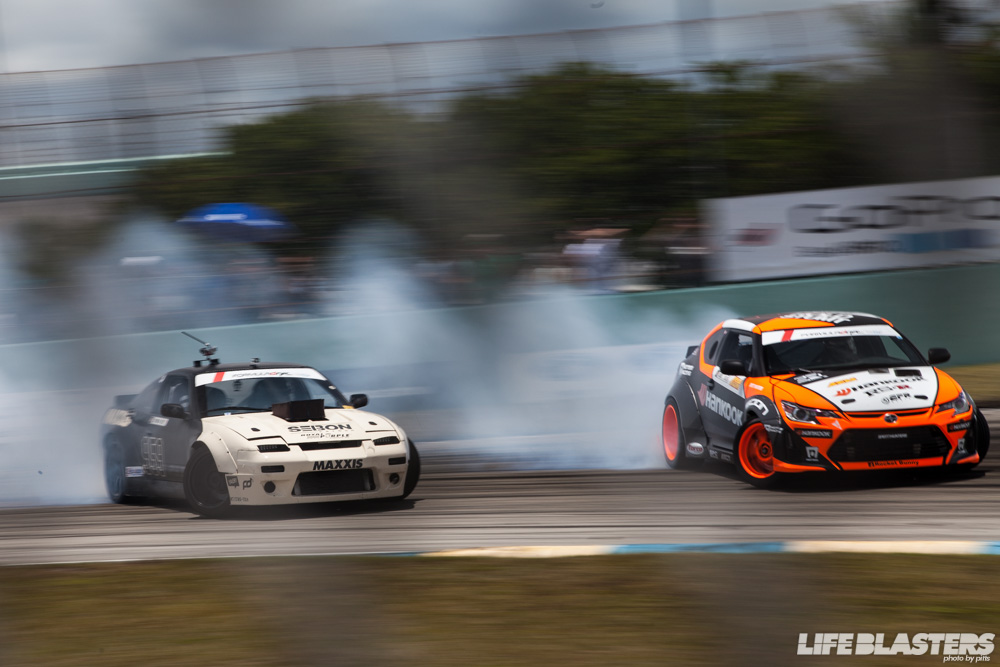 Aasbø's engine was holding together as he too looked for another podium finish. First he gave rookie Matt Coffman a taste of defeat, but Coffman still had a good weekend as it was the first time he'd qualified.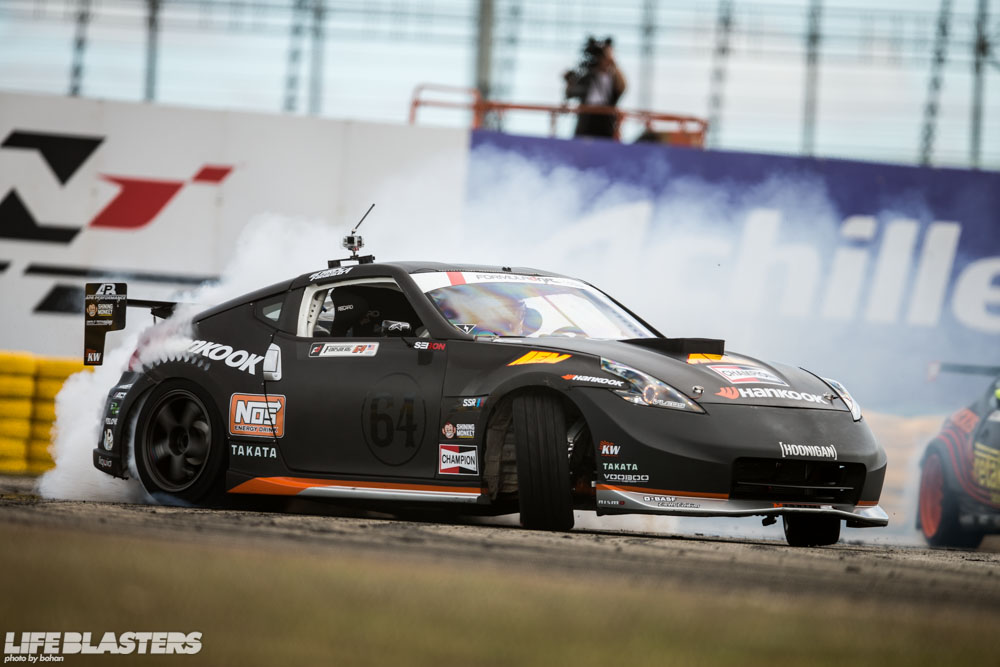 In Top 16, Forsberg had his first battle of the day, against Drift Alliance Teammate Ryan Tuerck. Tuerck got Tuerck'd and didn't get to be the first driver to win two battles in a row.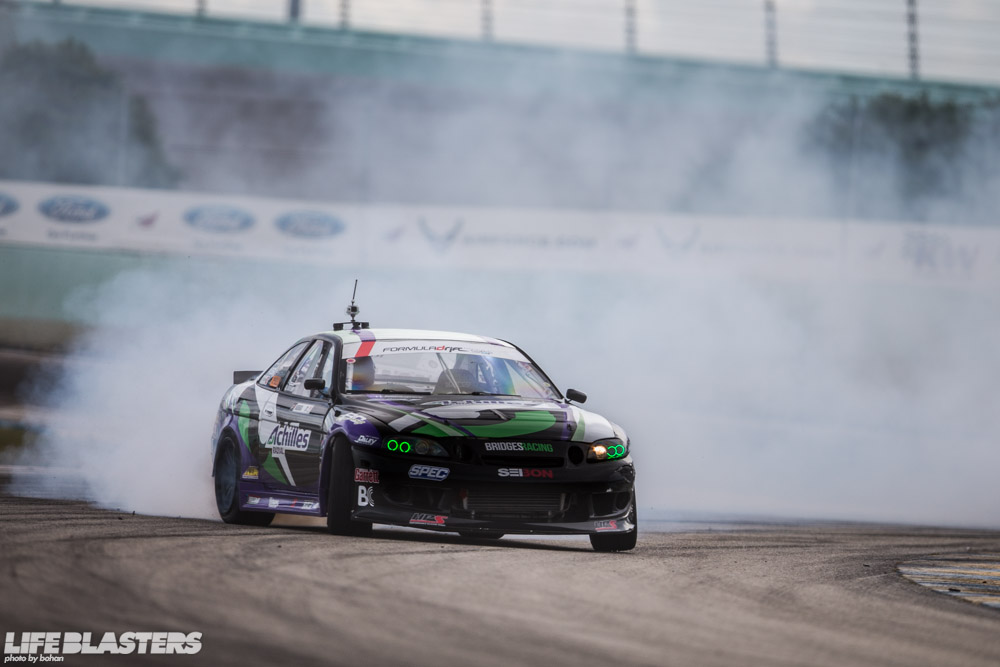 That honor went to Robbie Nishida, as he moved past Ken Gushi in Top 32 and then Justin Pawlak in Top 16.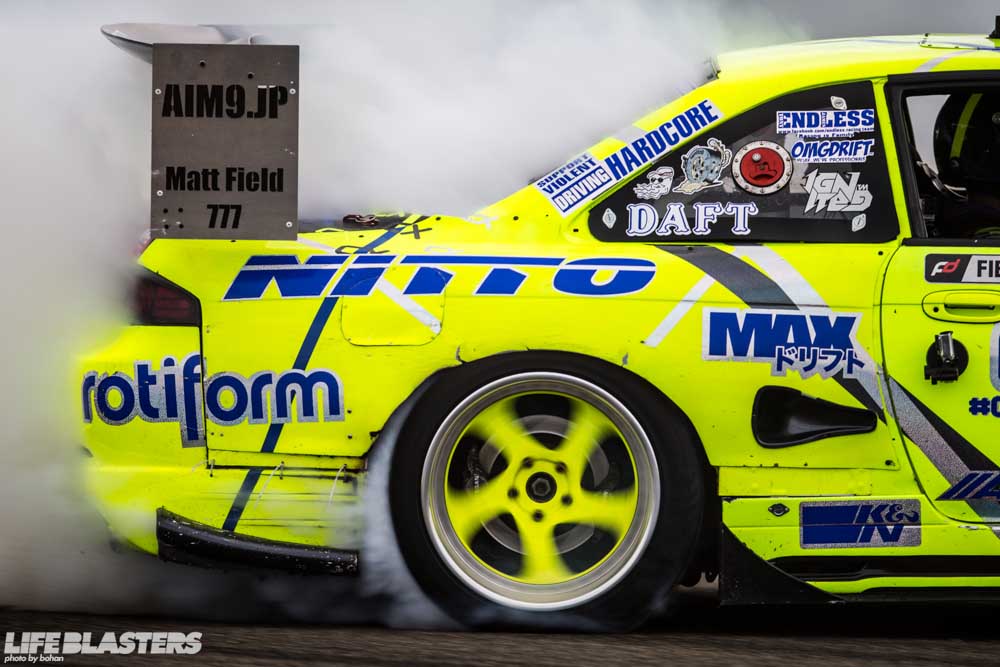 Field next faced Dean Kearney, who had beaten Conrad Grunewald in a One More Time battle in Top 32. Kearney's luck would run out this time, as Field's aggressive style was too much for the Irishman.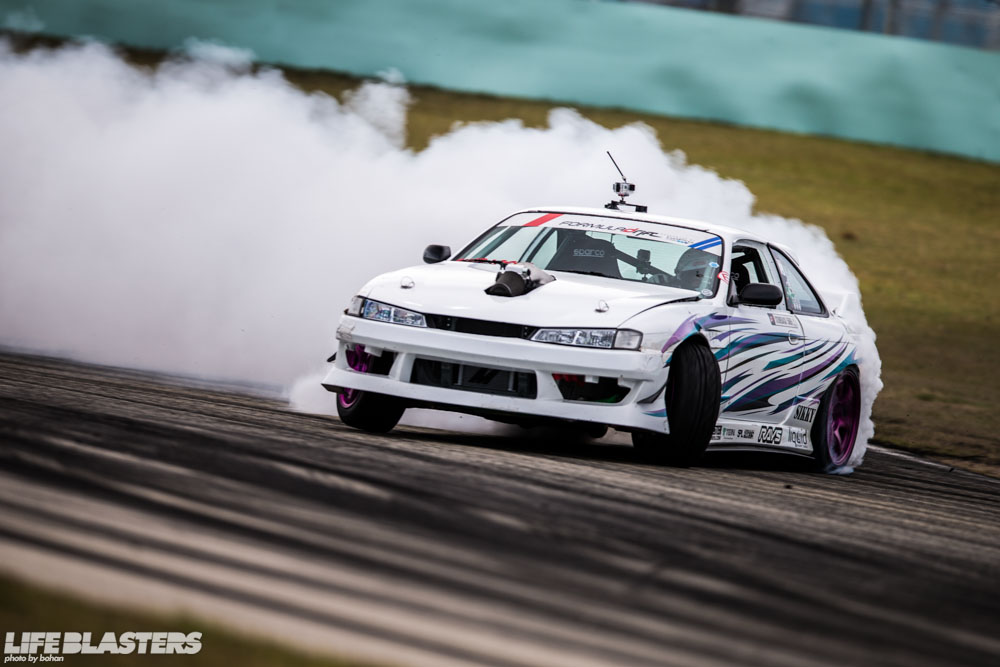 Stoneback was on a rampage and took out Forrest Wang next, firmly placing himself in the Rookie of the Year lead.
In the most talked about battle of the day, Tyler McQuarrie and Chelsea DeNofa's cars got more battered than boxers in a prize fight. It wasn't a necessarily clean run to begin with, but DeNofa came in extra hot behind McQuarrie after the first transition, slamming his BMW sideways into the Camaro, touching wheels, and flying a few feet up in the air, scattering fiberglass and headlights all over the track. McQuarrie needed to do some repairs and since DeNofa was at fault he had all the time he needed. Eventually the two drivers took off on their second runs, but McQuarrie seemed to have steering issues, costing him the win and sending the battle to a One More Time.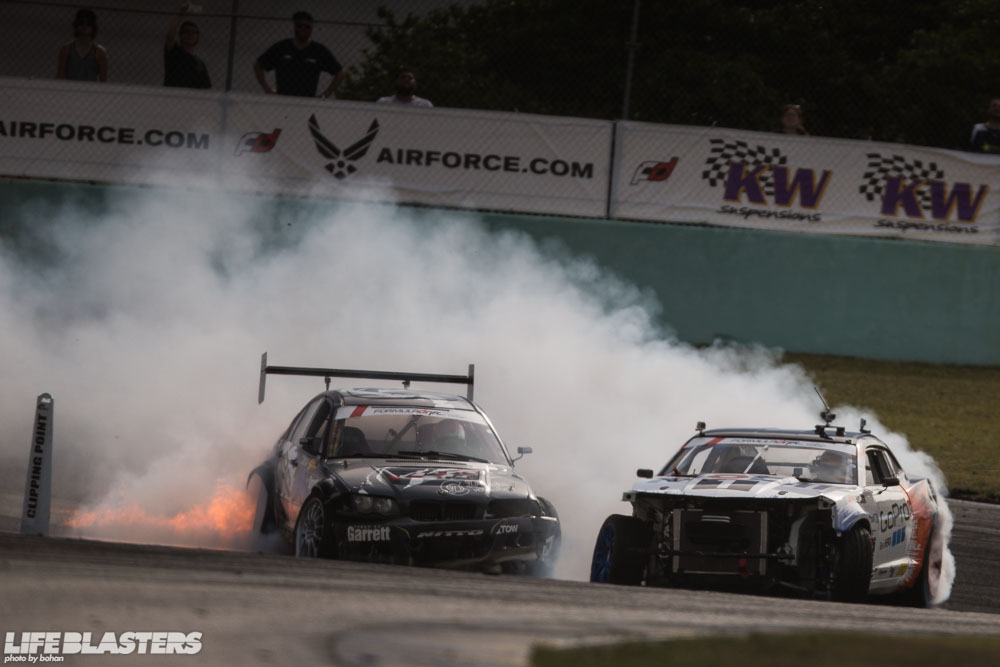 As McQuarrie again took the lead, DeNofa hit him again, though with less consequence than the first time. After the transition, DeNofa skated his car over the rumble strip, which started a fire at the rear of the car. Luckily there were fire extinguishers nearby and the fire was put out before in engulfed the car. As DeNofa was unable to continue, McQuarrie took the win.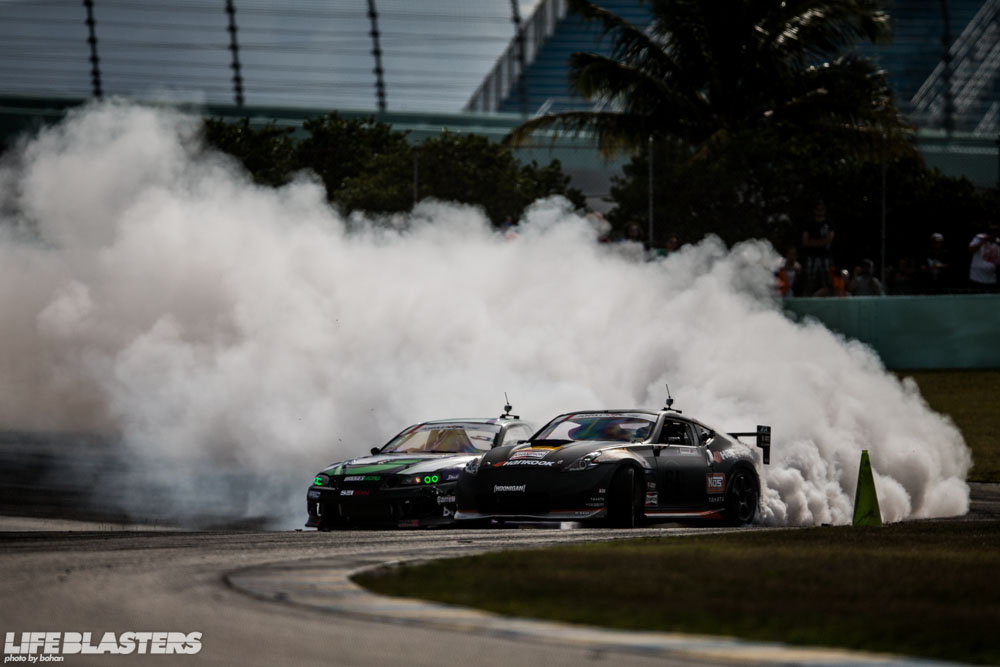 In the Great 8, Forsberg continued his run to the title by taking out Nishida, and Field stopped Stoneback's amazing winning streak, though the rookie did take it to a One More Time. Forsberg's win guaranteed his podium finish, his third for the season.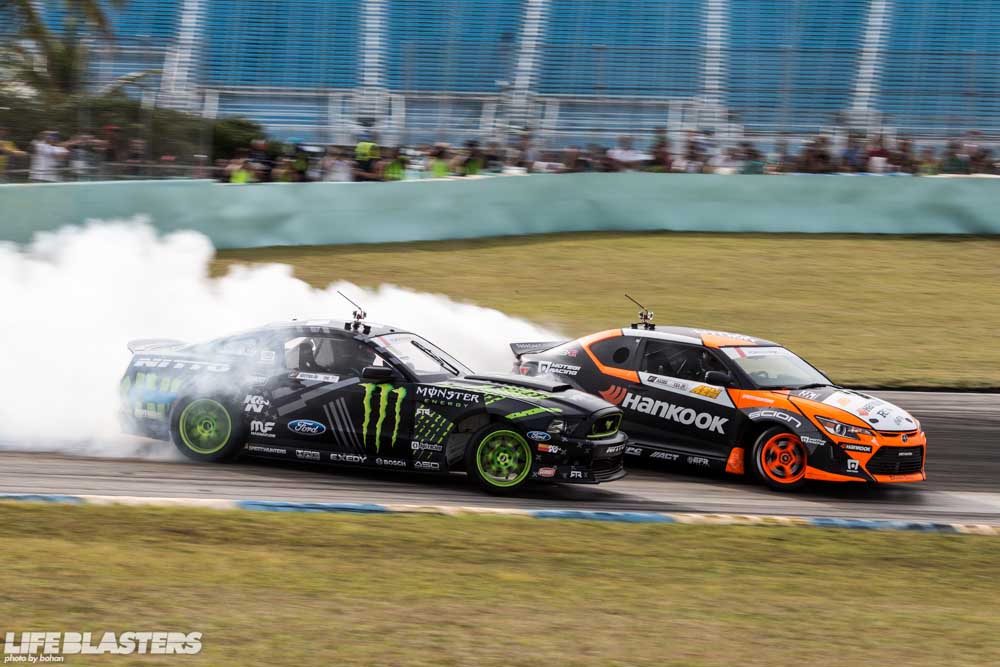 Gittin and Aasbø had a rematch of Atlanta's Final Battle, with the 2010 champ again beating out the 2010 Rookie of the Year.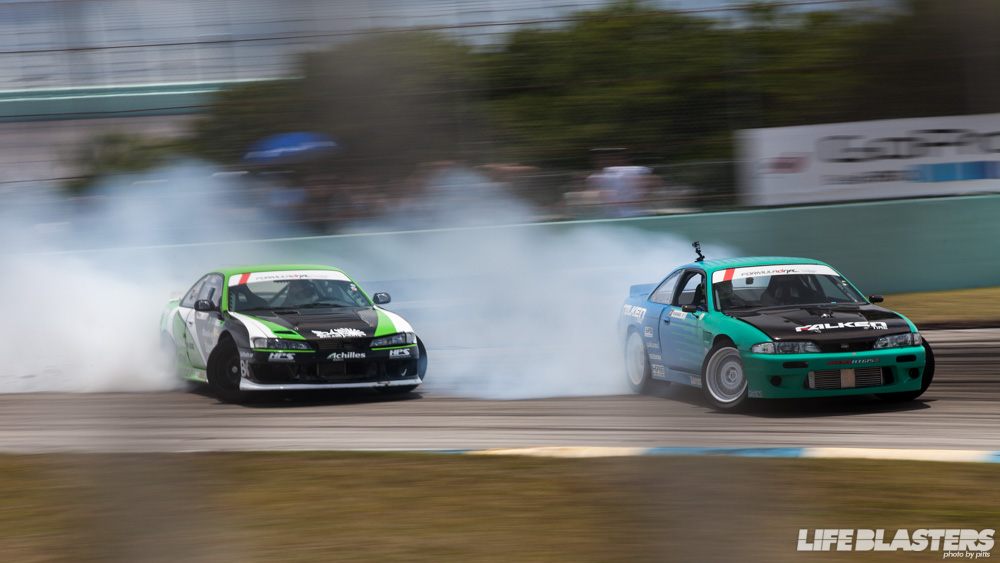 Kenny Moen was at it again, this time beating Darren McNamara in Top 32 and Dave Briggs before taking out the McQuarrie and his battle-damaged Camaro. That set the Final Four: 1st qualifier Chris Forsberg, 2nd Qualifier Vaughn Gittin, Jr., 3rd qualifier Kenny Moen, and 7th qualifier Matt Field. Field stuck so close to Forsberg that he was slightly ahead of the 370Z for part of the course, which actually counted against him.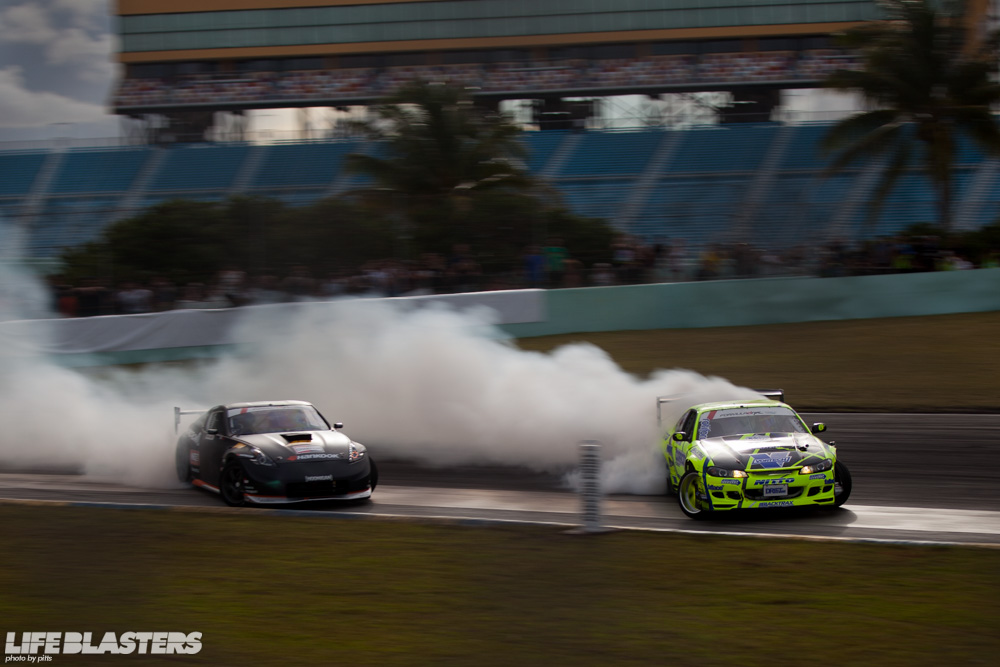 Forsberg appeared to be having engine troubles as he lagged behind on his own chase run, but secured the win and pushed Field out of reach of the podium. Kenny Moen had solid runs against Gittin but just couldn't hang with the Mustang's speed. Moen ended the day in third place since he was qualified higher than Field.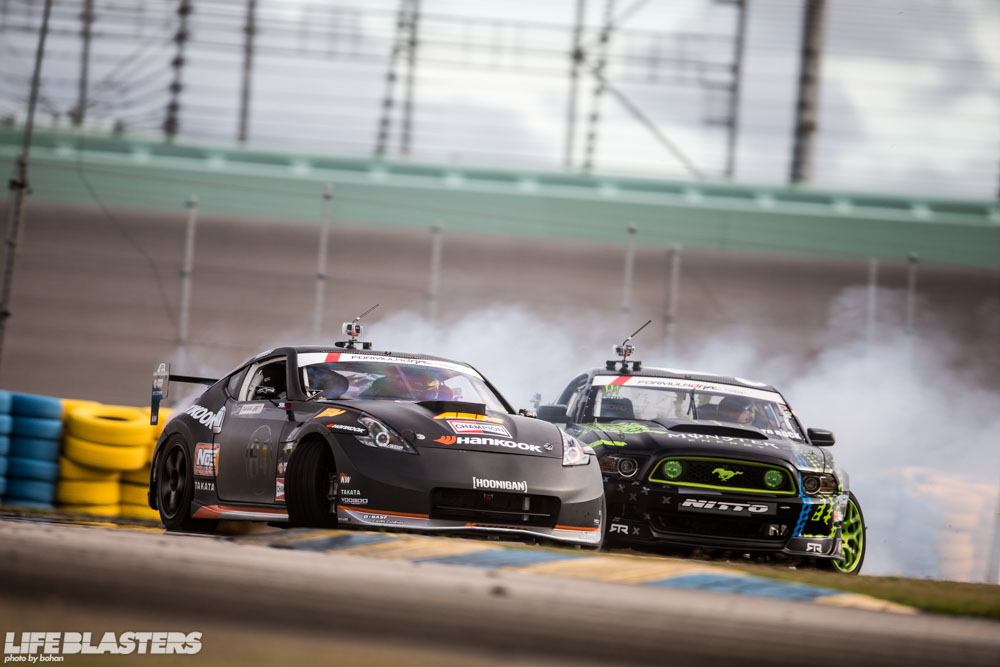 Forsberg was still having engine issues, so Gittin had no trouble keeping up with him in the Final Battle. Gittin ran a shallow line anyway, which made his follow run a little choppy as he kept getting choked up by the slower Forsberg. When Forsberg followed he was nowhere to be found, and Gittin sailed to the top of the podium for the second round in a row.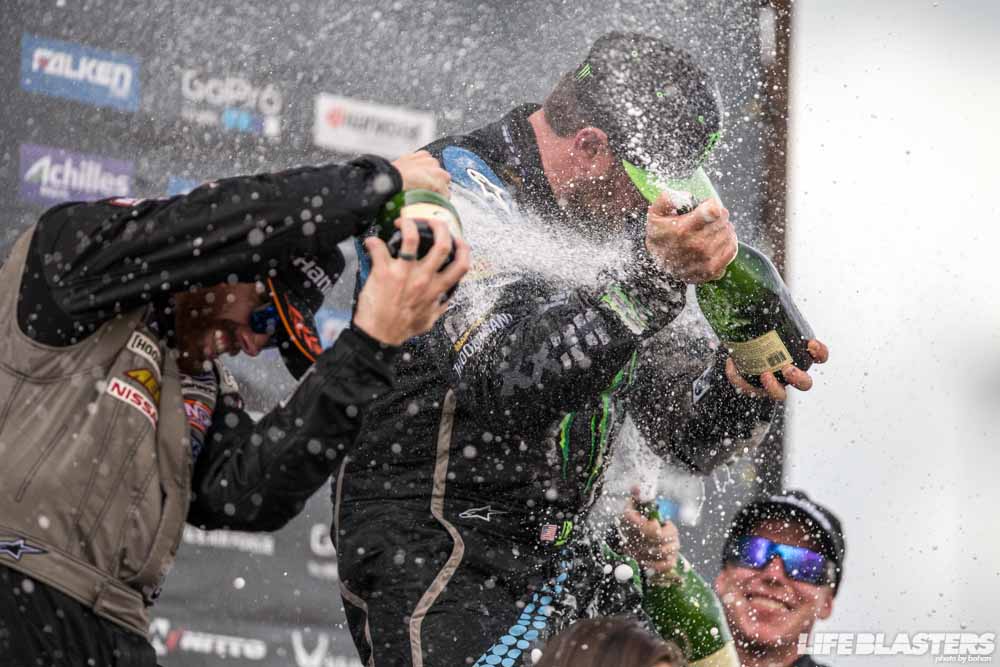 Gittin's back to back wins weren't enough to get him into the overall lead though, as Forsberg has been on the podium three for three this season. Gittin is only 10 points back though, so this is shaping up to be a pretty intense battle for the championship. Moen is a staggering 57.5 points back from the lead so he'll need to be consistently on the podium if he wants to claim Norway's first FD championship title. That is, unless Aasbø can do it first.



Round 4 at Wall Speedway in New Jersey is next. Gittin won there in 2012 and Daigo Saito got it last season. Who will it be this time?

.:Bohan

Photos by Bohan and Pitts

email: bohan@lifeblasters.com, pitts@lifeblasters.com
instagram: @lifeblasters, @andrew_bohan, @blasterforce1