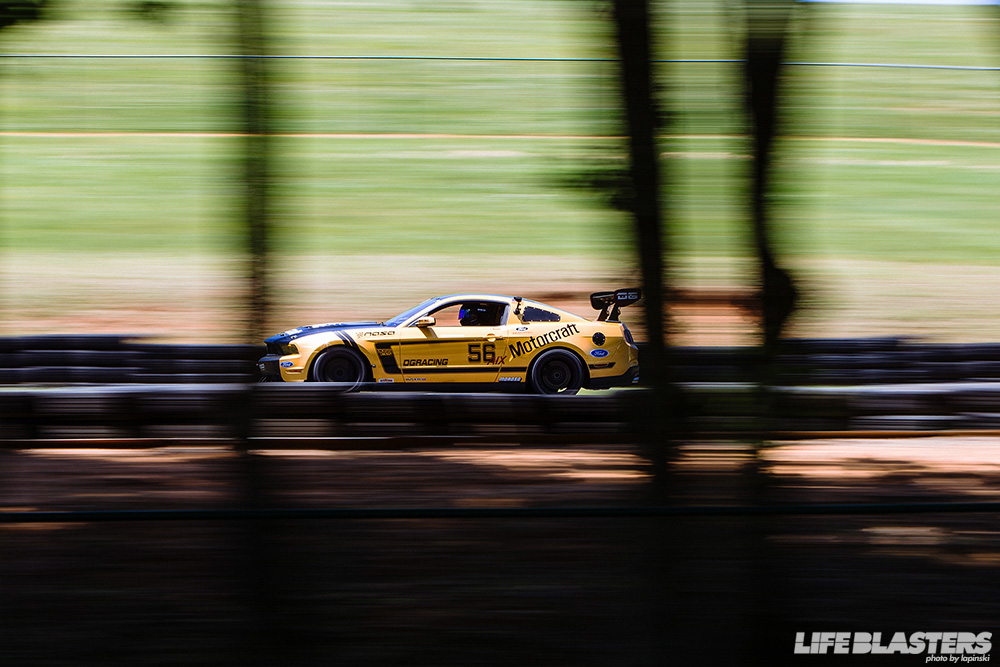 Having good friends in North Carolina, I make it a point to visit them once or twice a year. When you add the opportunity to go to Virginia International Raceway it is an obvious bonus. The coming five days offered three days of the SVT Superfest and two day of NASCAR open-testing; having five days to shoot meant that I had flexibility to practice shooting without the pressures of only having 2-4 hours to cover the event was a relief, allowing me the chance to practice and hone my photography skills.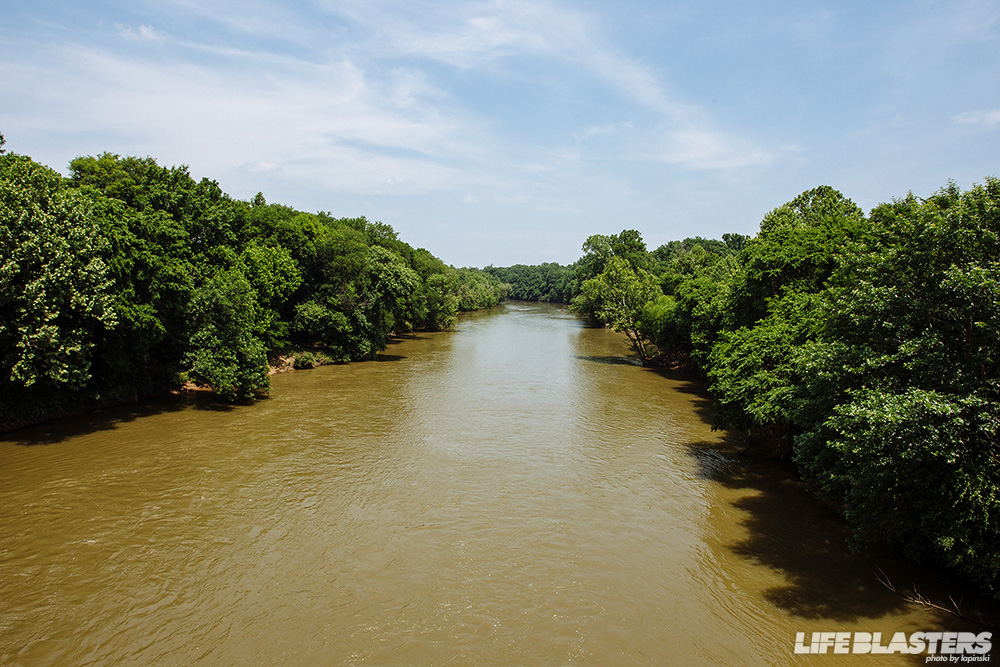 About an hour and a half drive from my friend's house you arrive in Danville, Virginia. Once you make the turn off of the highway you snake through a twisty two lane road, head over the Dan River, briefly dipping back into North Carolina, and within five minutes you are at the track.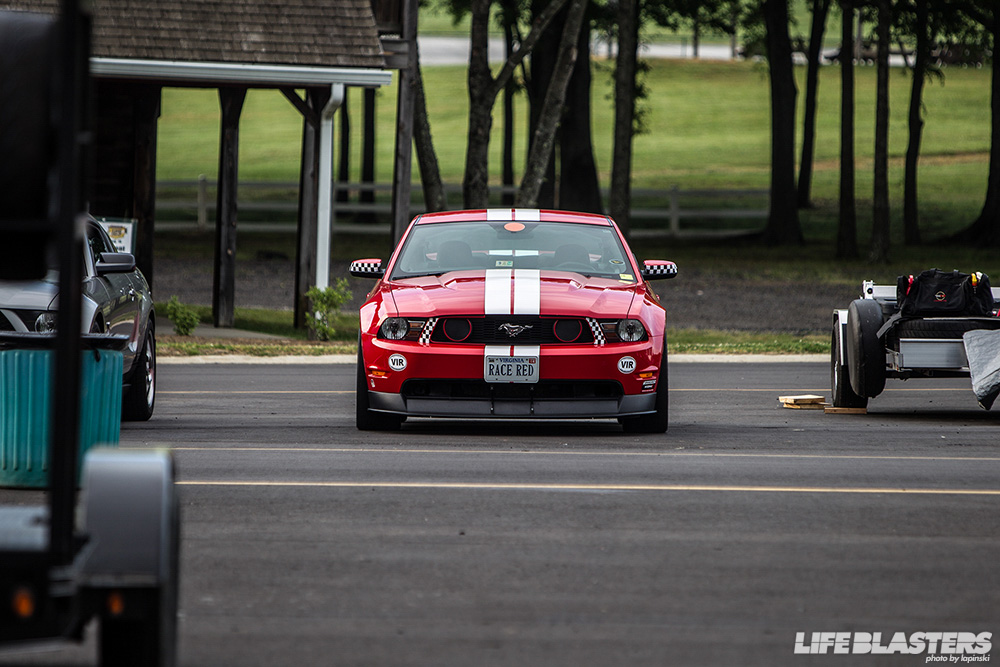 With Friday morning consisting of mostly tech inspections and the drivers meeting it was the perfect time to walk around the freshly paved paddock and check out the cars; being a SVT weekend I was expecting a lot of Mustangs, of which there were plenty, but it was what I was about to see that caught my attention.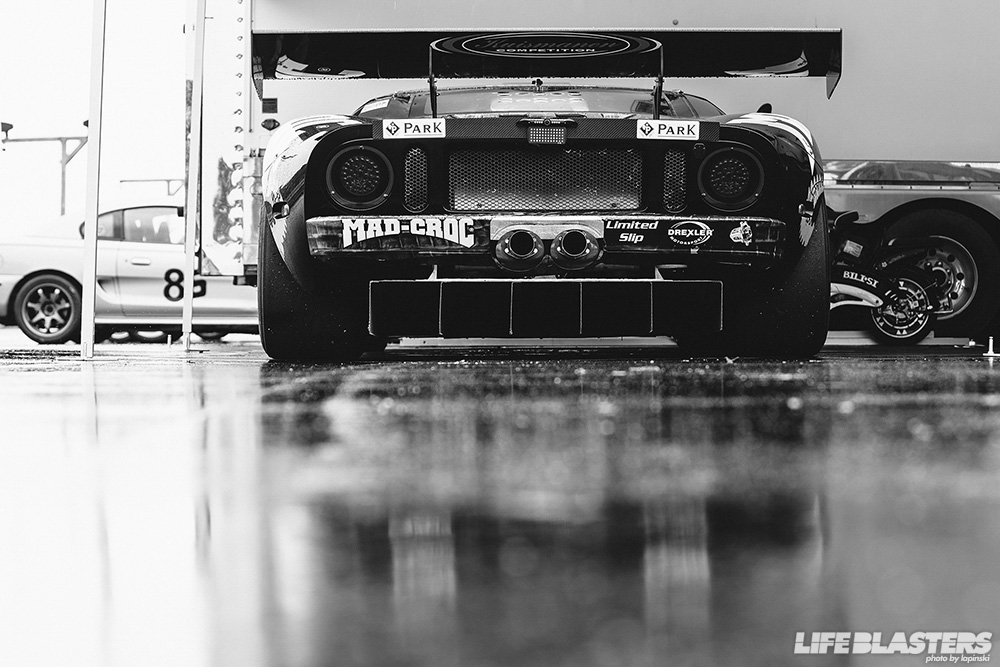 Walking around the pits the bigger trailers are usually the ones that grab your eye; well at least that is the case for me. Noticing a set up that is close to what Chris Forsberg is using for Formula Drift I headed over and was greeted by the Mad-Croc Ford GT. Freshly imported from Belgium, this former FIA GT3 race care was ready for its new owner to take it out for the first time.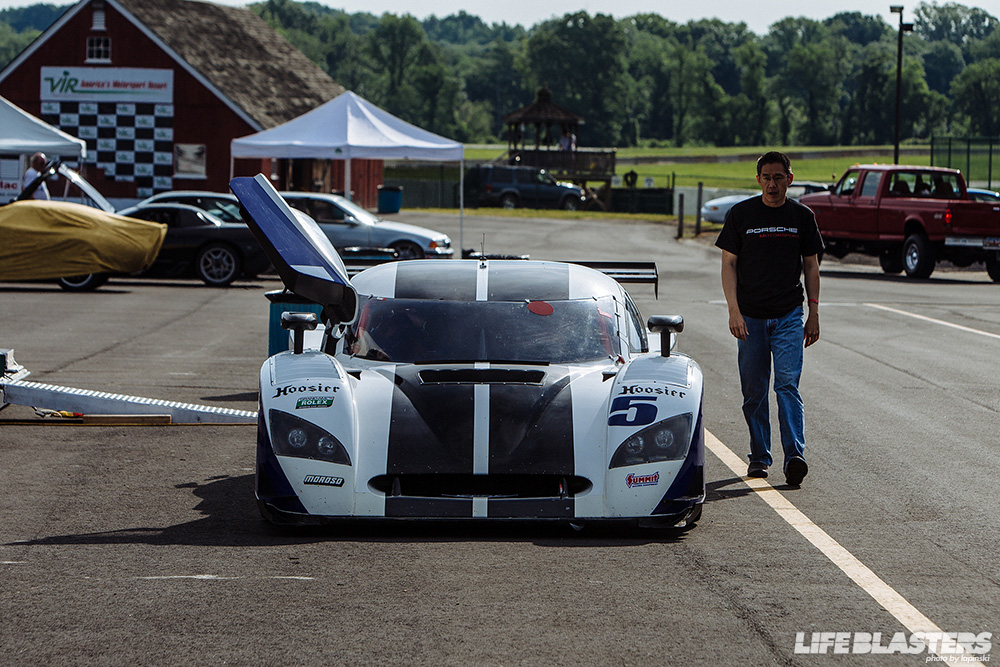 Lurking around the pits were also a few other rides that are sure to make any automotive enthusiast excited like this older Daytona Prototype from the former Grand Am Rolex series.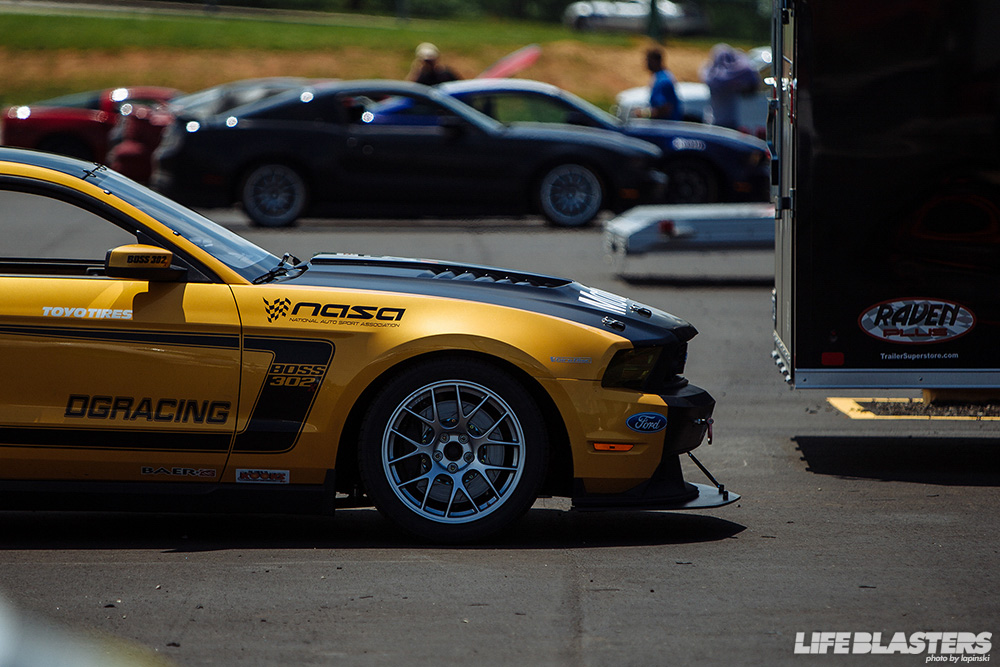 Or this race ready Boss 302s Mustang.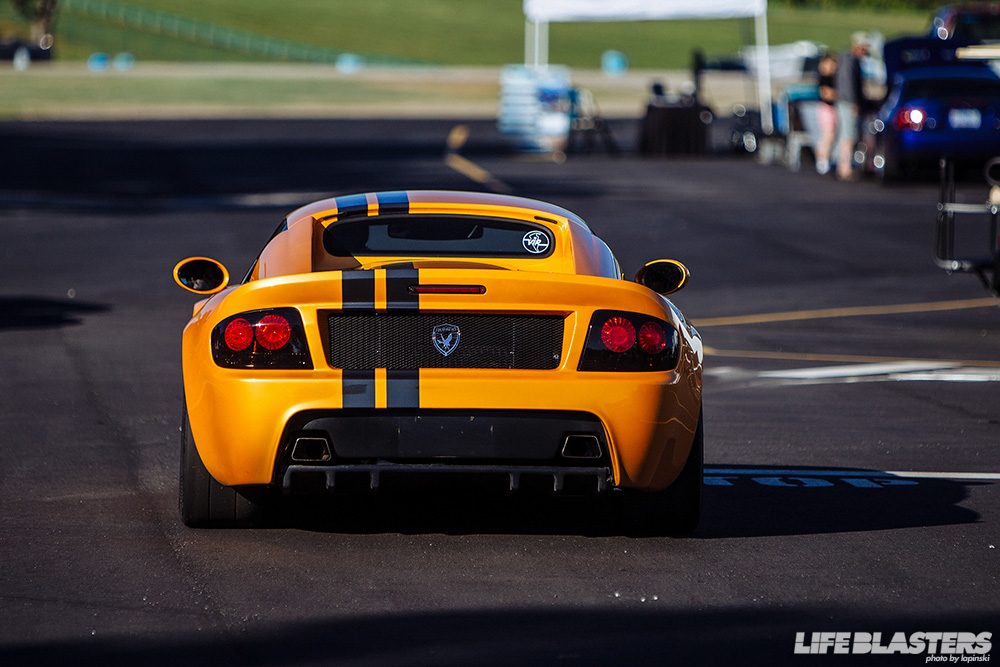 But my personal favorite was a car you don't see every day (at least I don't), the very unique Rossion Q1. It utilizes a mid-mounted, transverse, twin turbocharged V6 Ford Duratec engine, pumping out 450bhp and weighing in at only 2,480 lbs (1,125kg), Reaching 0-60 in just 3.1 seconds. At this point I know what you're thinking you can only hit a certain level of excitement looking at cars in the pits, I agree.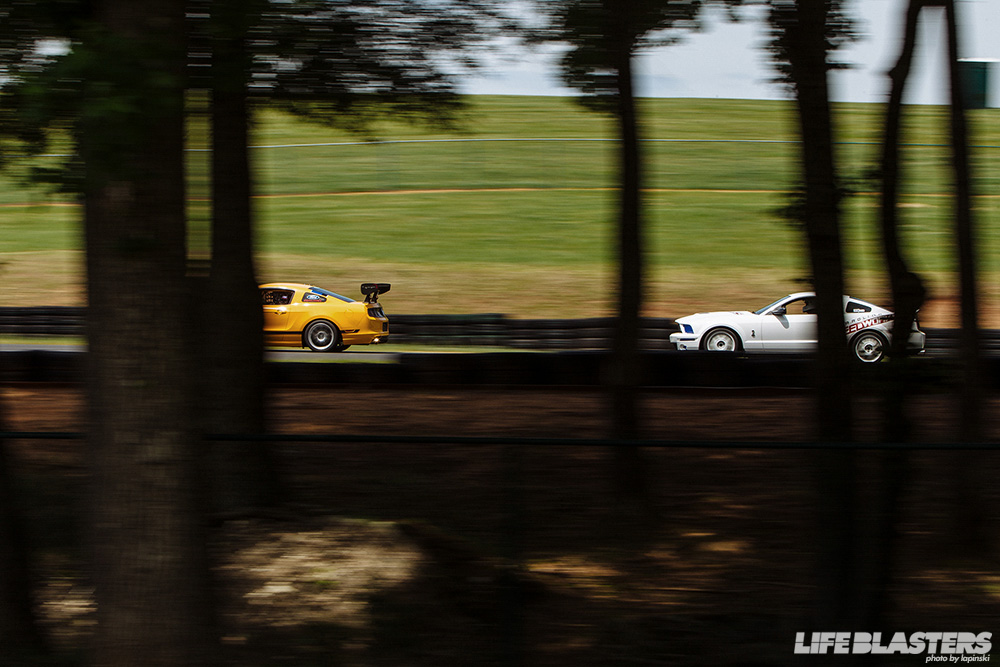 Off in the distance the whine of a supercharger can be heard; the whine that you come to expect from a GT500 or any SVT Mustang for that matter. Street cars and track cars, they were on track and screaming.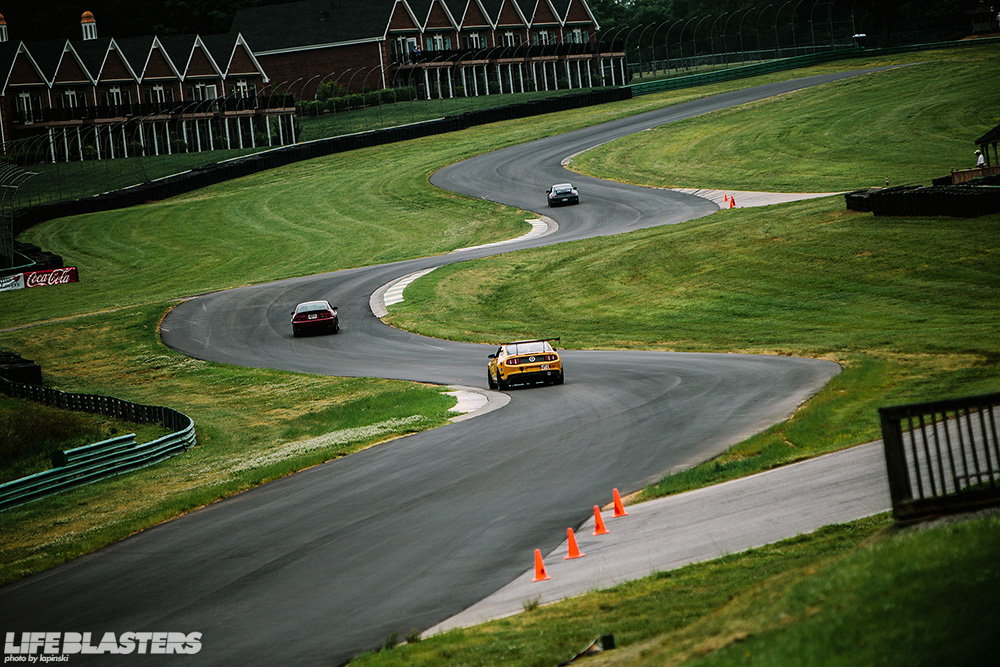 VIR is a demanding course, regardless of driver skill level. I was blown away by how daunting places like the Esses seemed from a spectators point of view; I can only imagine how the driver feels as the approach this section of the track. Paying close attention to every detail is key to not flying off track.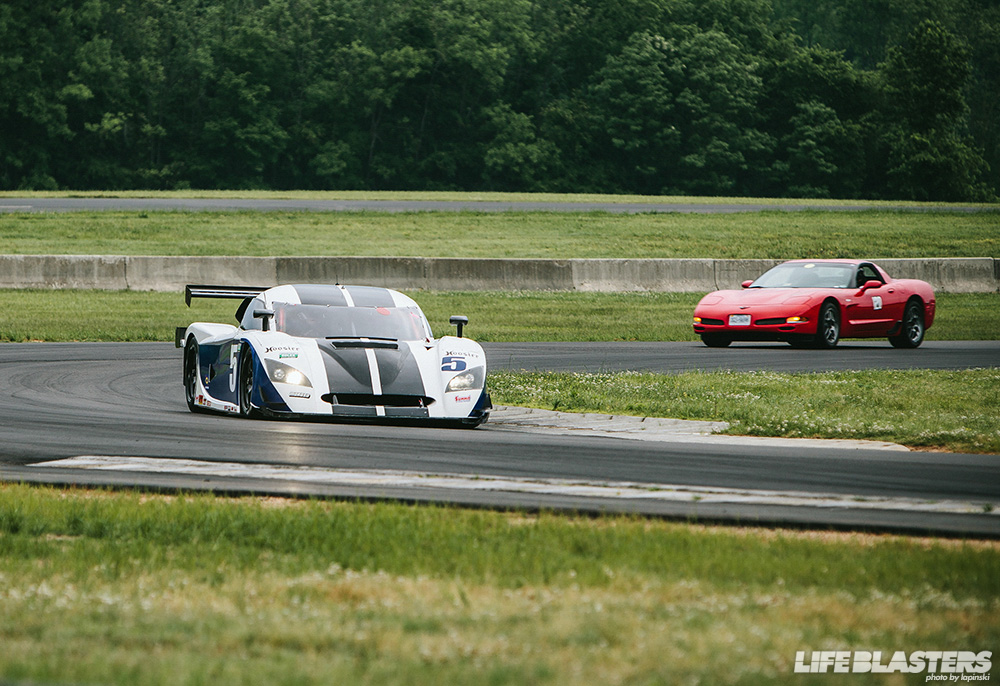 Seeing a mix of race and street cars on track at the same time is enjoyable to watch, it is quite remarkable to watch the different levels of performance between the cars.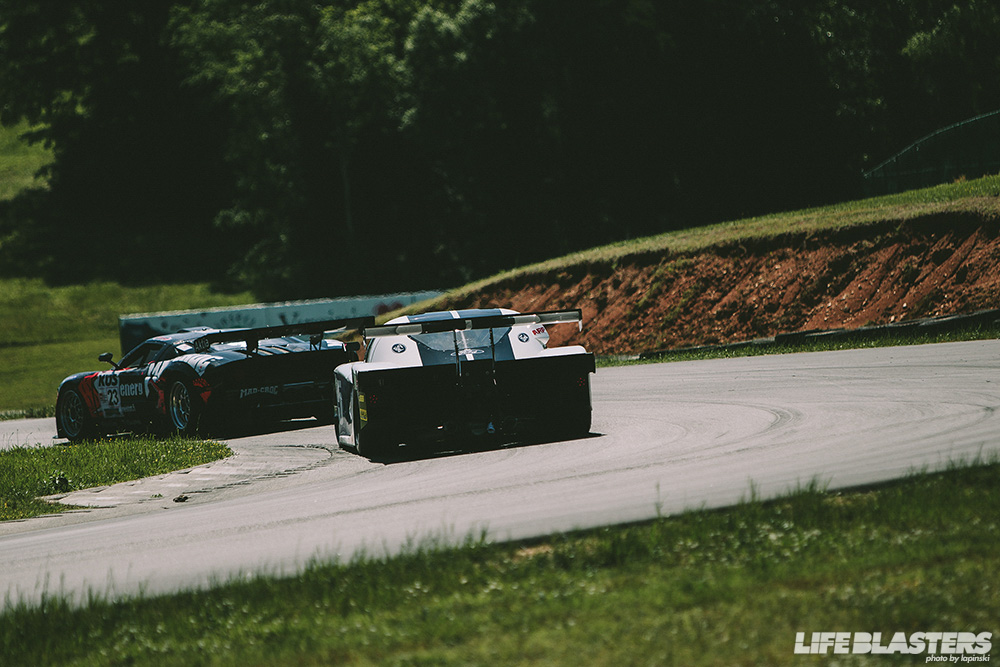 While this was an event for drivers to come out, have a blast, and learn skills to improve driving, it was refreshing when a couple of the track cars treated it like a race. Advantage Mad-Croc Ford GT but it went back and forth for most of time they were out on track.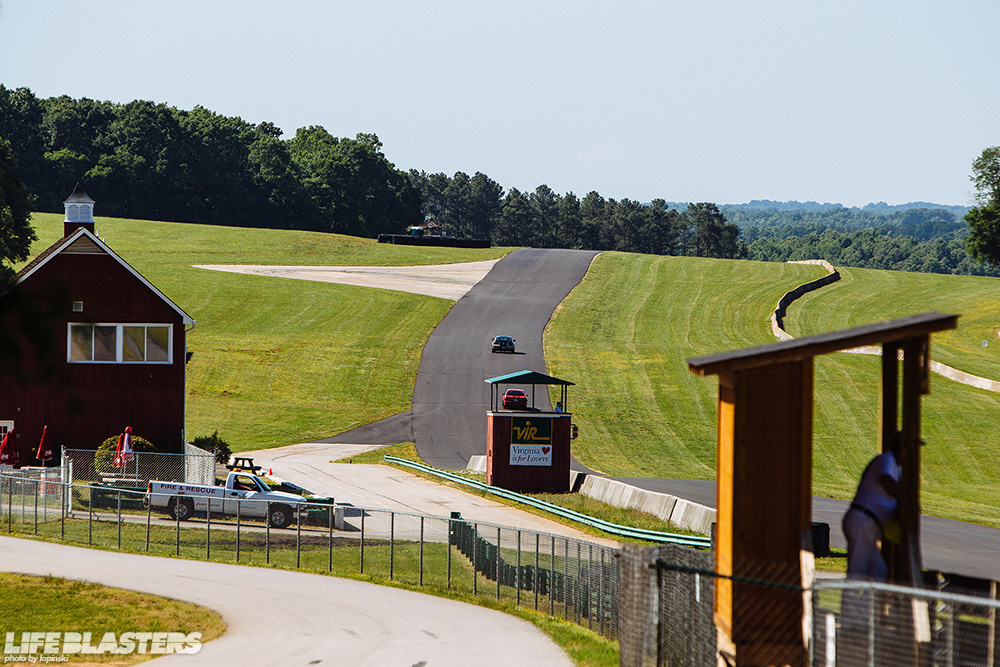 I continued to venture around the track throughout the weekend; the elevation change at the back straight is very impressive. Going down a hill and right back up one after the former "Oak Tree Corner" which was directly behind me to the right; there is something awesome about seeing a car barrel down and up that hill over the blind crest.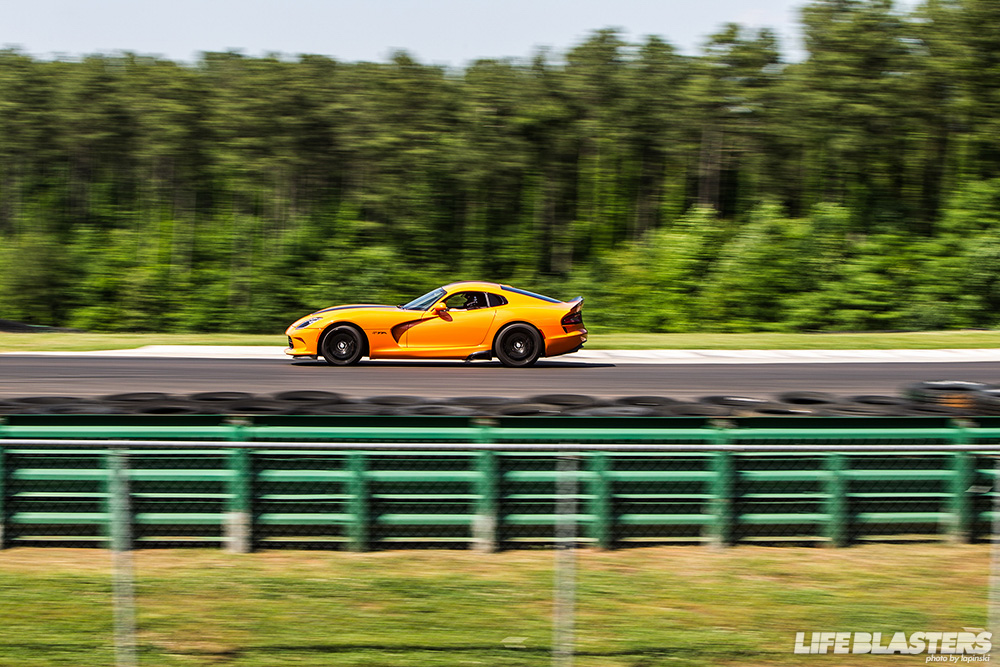 I was lucky enough to come here last year for the same event when the Oak Tree was still standing. To me the corner has lost its luster, and people have now dubbed it the "No Oak Tree Corner" but that didn't stop this 2014 Viper SRT Time Attack Edition from ripping around it. This car was quite impressive; for a car of its size it was much more nimble than any other Viper have ever seen. This edition was limited to 99 cars.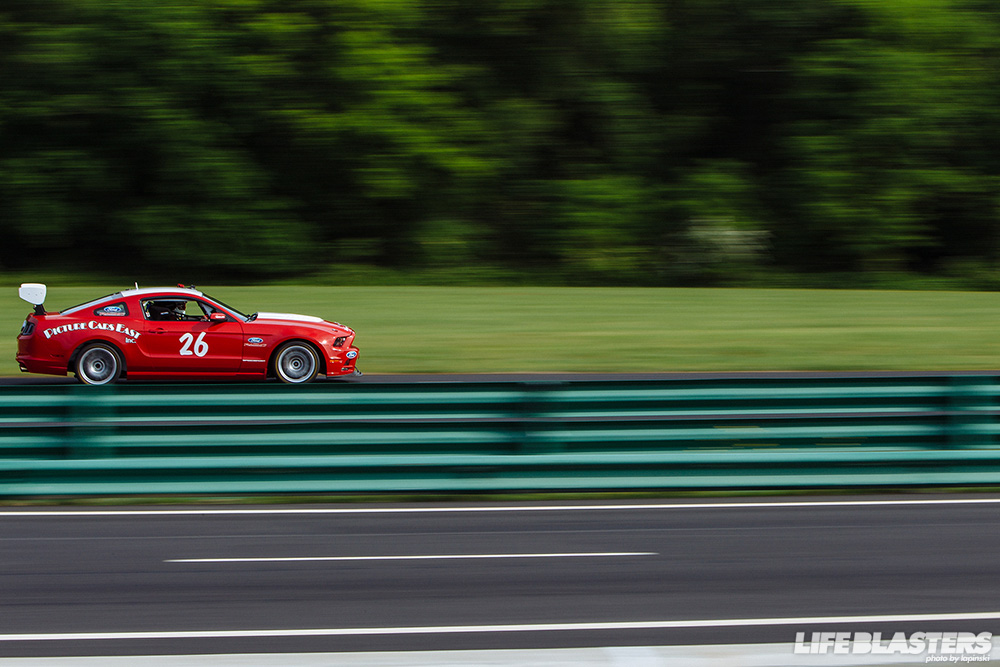 The temperatures were on the rise every afternoon, reaching the high 80s, and since I wasn't ready for the heat due to the long Minnesota winter, shade sounded like a good option. After watching cars blaze down the front straight at 140 mph it was shade I found.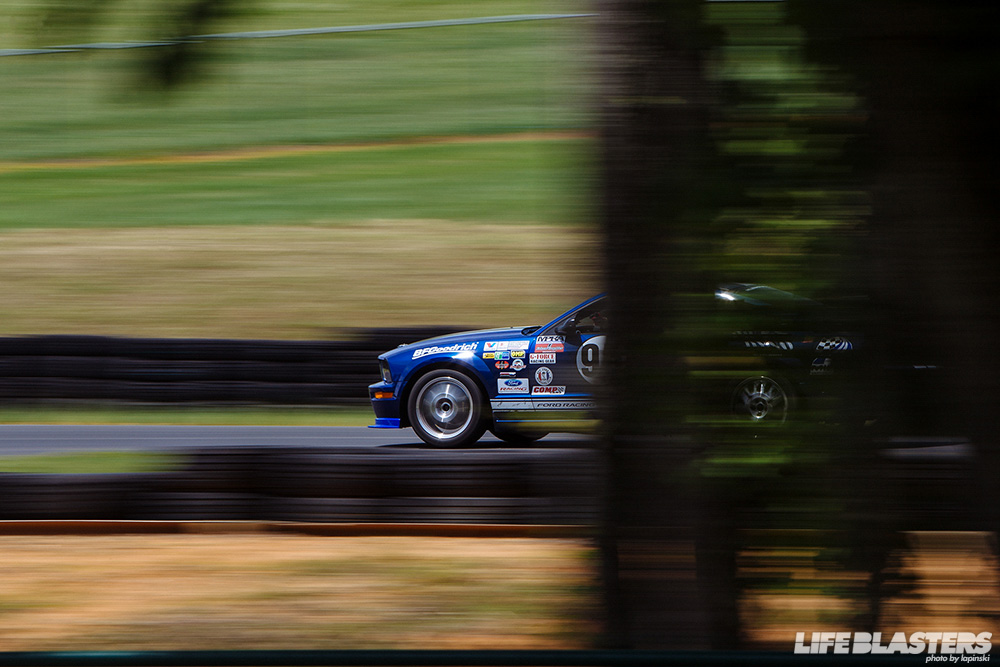 I found the shade and it became my favorite spot to shoot from; it provided a great opportunity to shoot at slower shutter speeds, producing pretty cool results.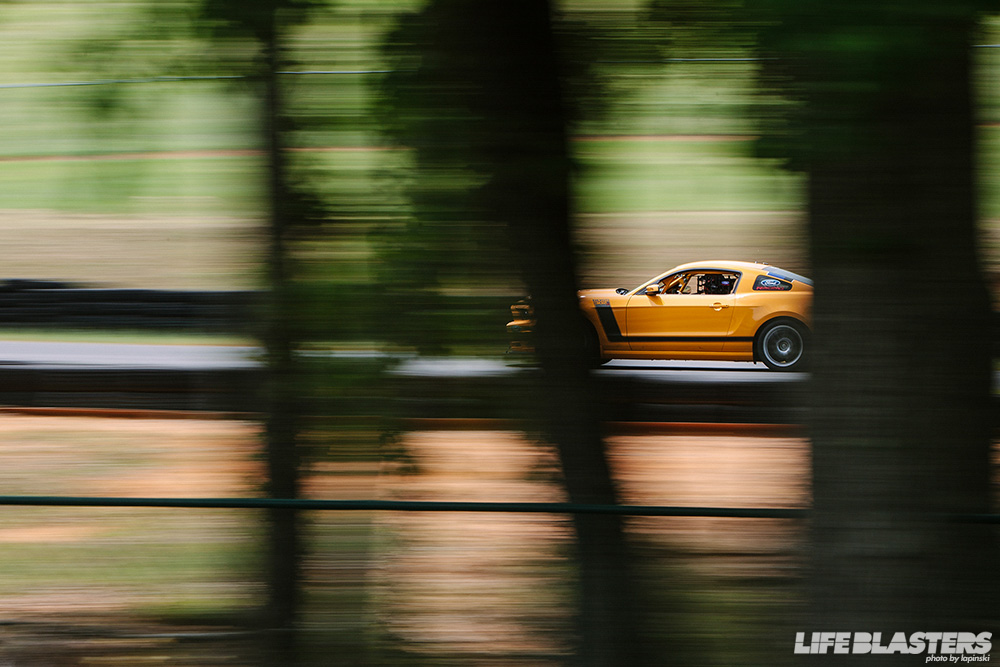 Listening to a V8 roaring through the trees was quite relaxing.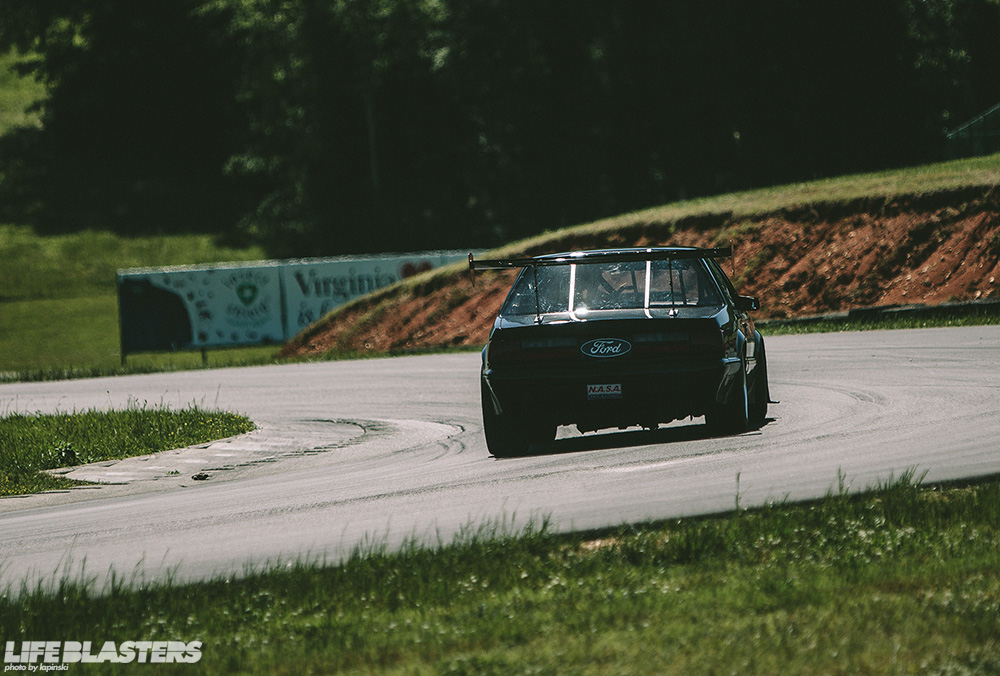 The weekend was quickly coming to an end. Fewer and fewer cars going out in their run groups as the daylight lessened…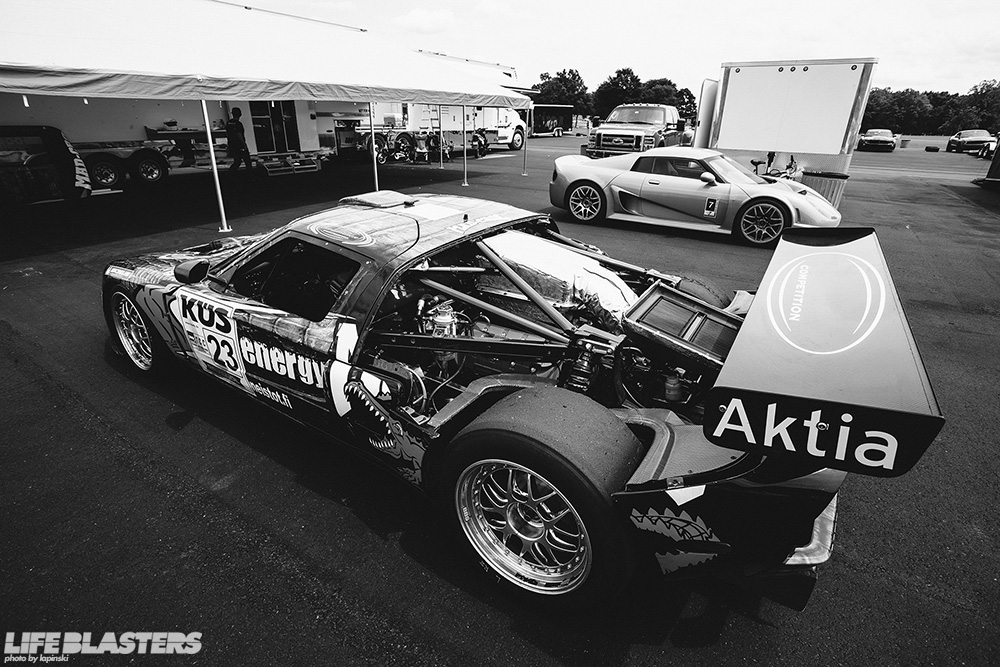 Drivers began to pack up….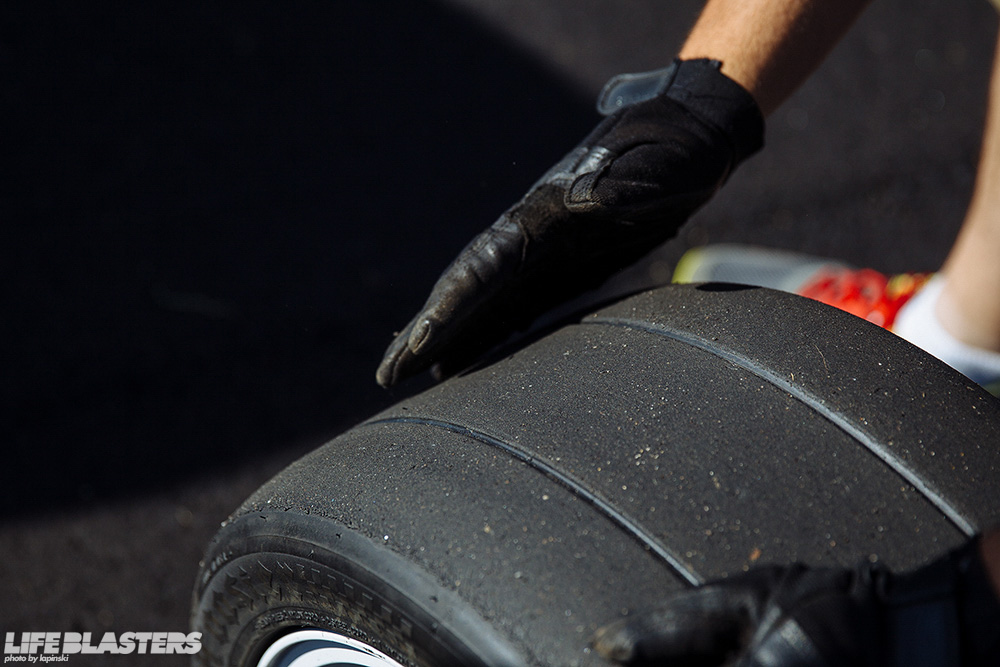 …Slicks were replaced by street tires and just like the weekend was finished.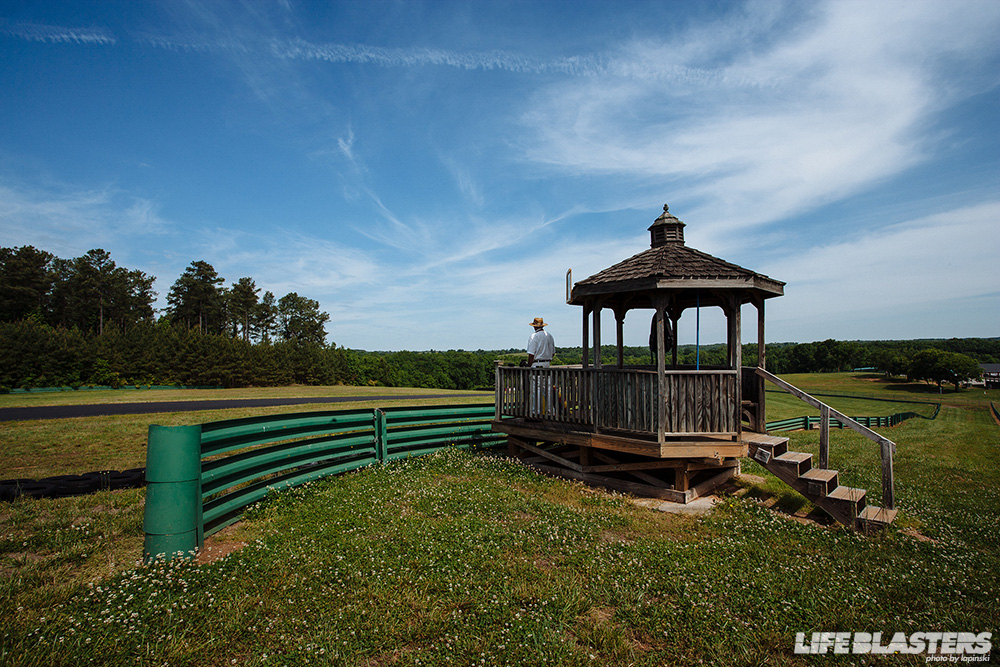 Part of the excitement of going to a racetrack is taking in the scenery.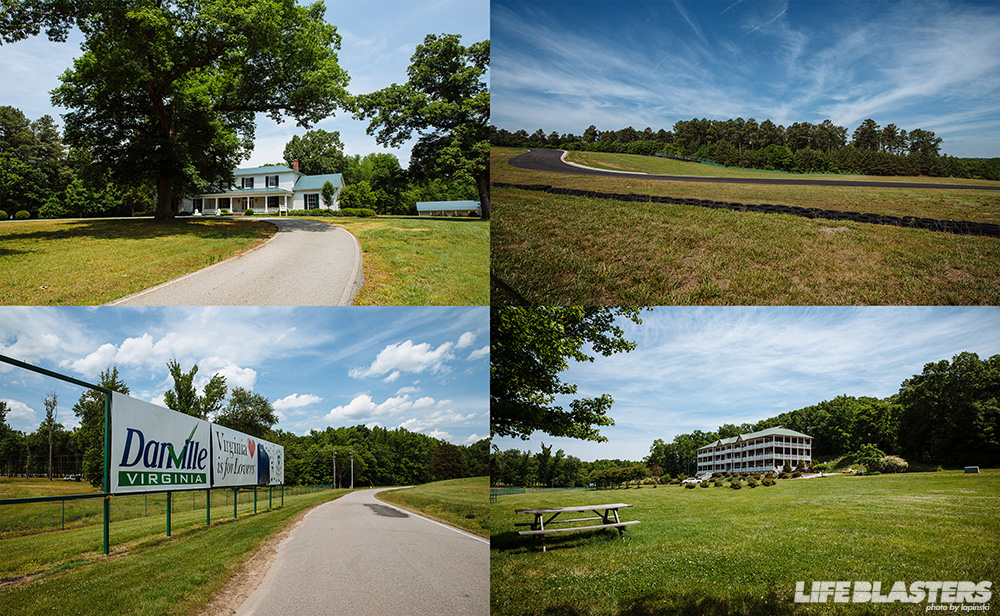 It has the feel of a resort and it is only fitting that it is known as America's Motorsport Resort; places like the Oak Tree Tavern really set the mood and any person who enjoys racing would find themselves at home here. It's really quite peaceful, but that was soon about to change.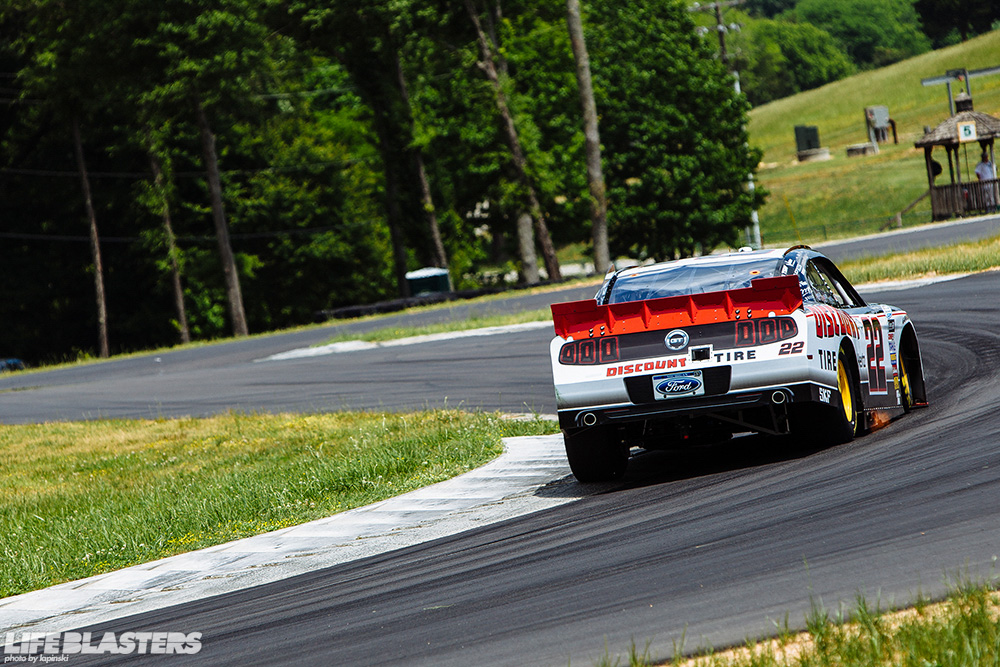 Come Tuesday morning all that serene peace and quiet was gone; Nascar Sprint Cup and Nationwide had begun their road course testing. Brad Keselowski was the first driver I witnessed on the track, testing his Discount Tire Nationwide car.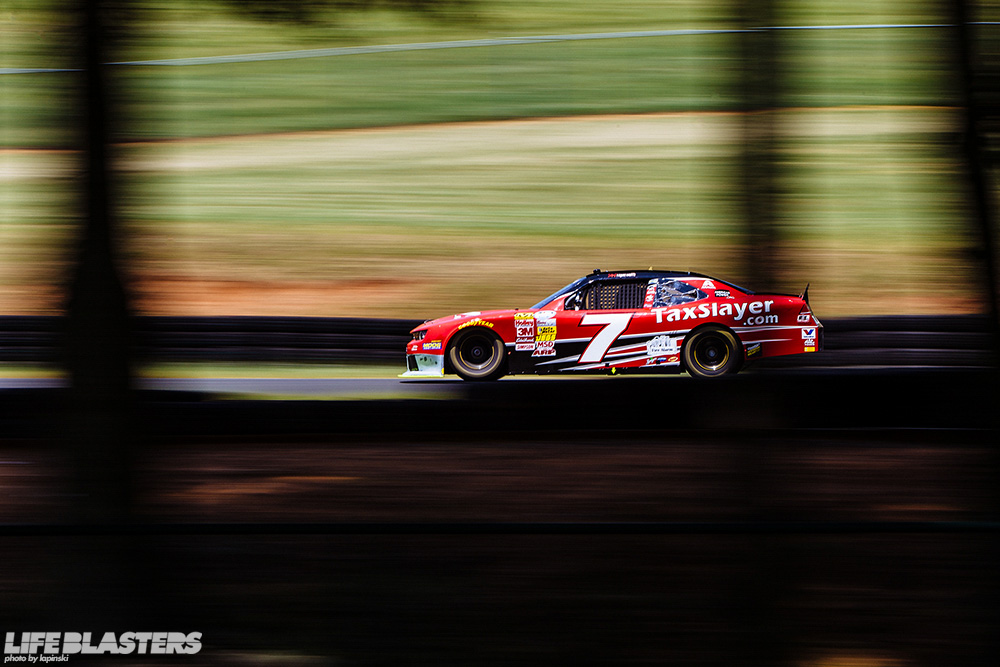 Regan Smith was also out testing, there were quite a few more Nationwide cars out testing than Sprint Cup cars; with Nationwide roaring into Road America in a few short weeks any opportunity to dial in the cars before making the trek to Wisconsin.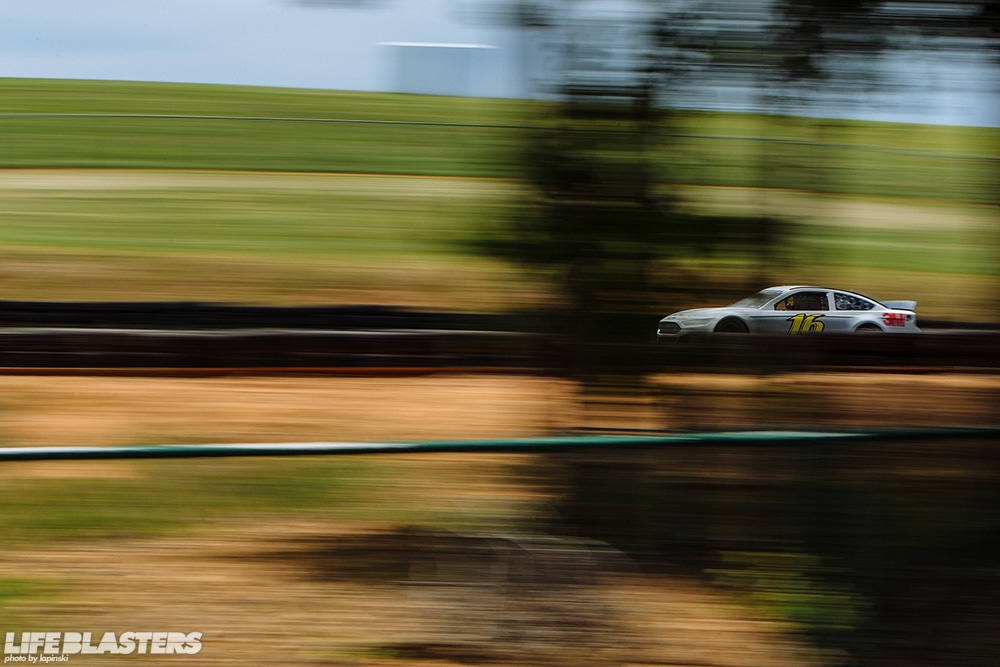 This was my first Nascar experience. I always tell myself that I am going to give it a chance but about four or five races in I lose interest; the moment I saw Greg Biffle rocket past me I was sold.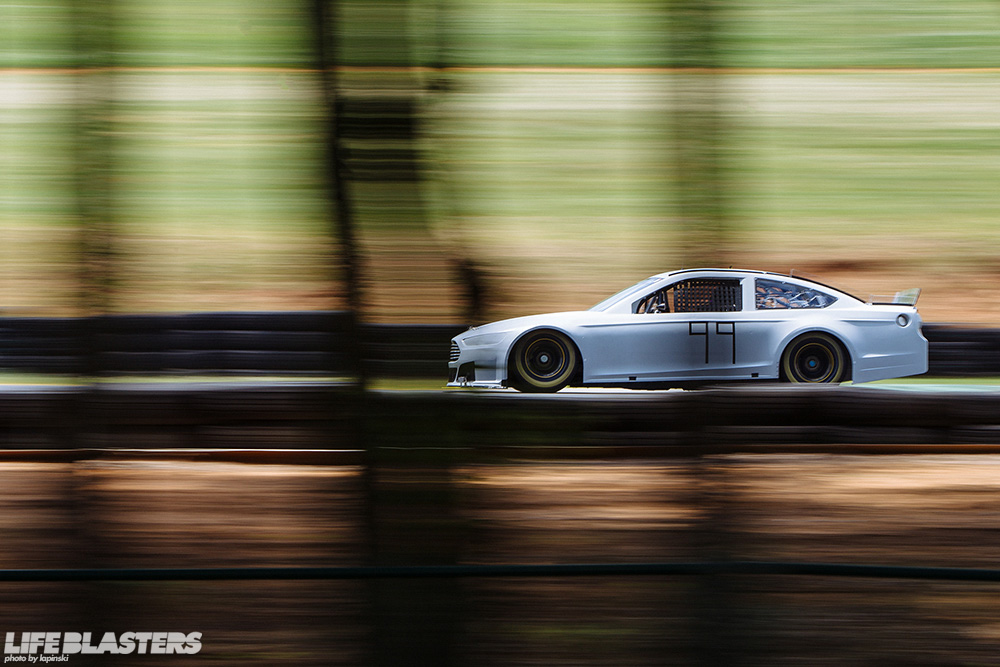 Then Carl Edwards came by and I realized just how loud these cars are and the speed in which they fly by you is exhilarating. It is possible that it could be seeing them off a circle track was playing a role in my excitement level but at this point I didn't care.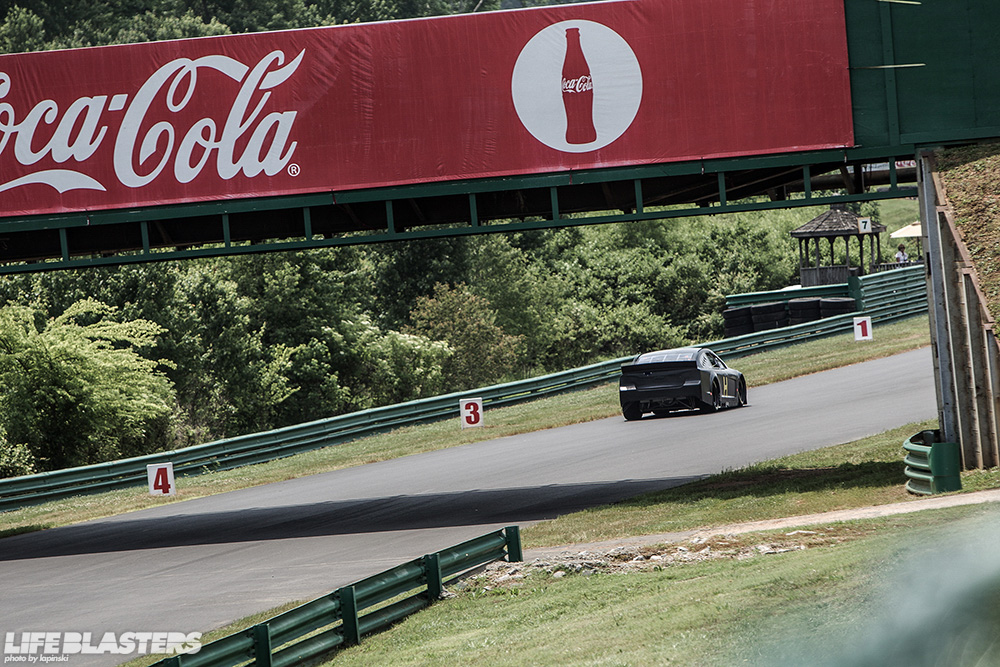 The cars were running the North Course…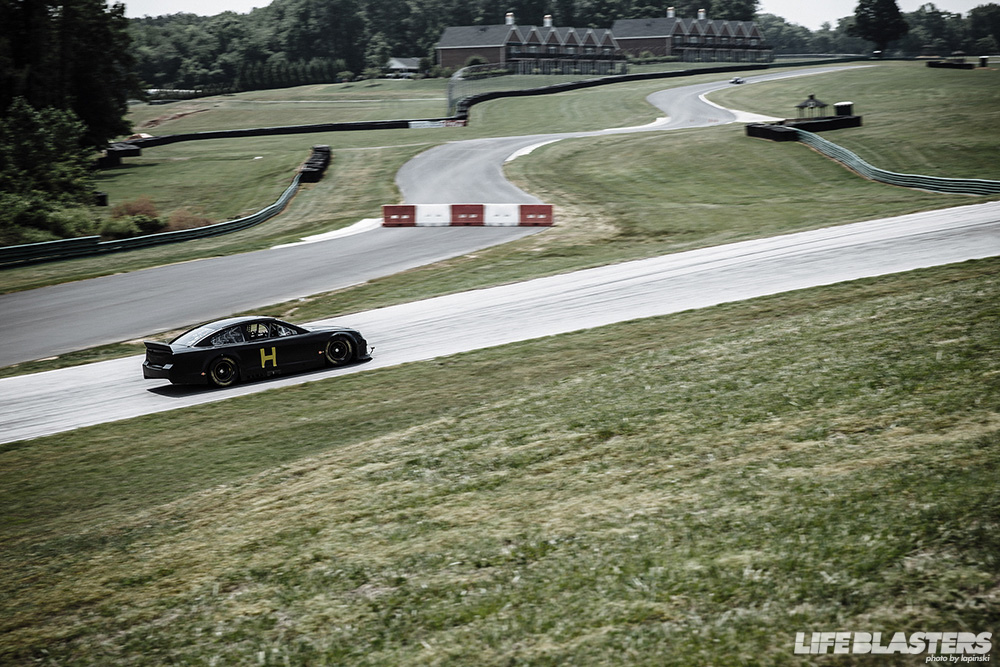 …so the second they pass under the bridge they make an immediate right hand turn an head head up the hill towards the Roller Coaster.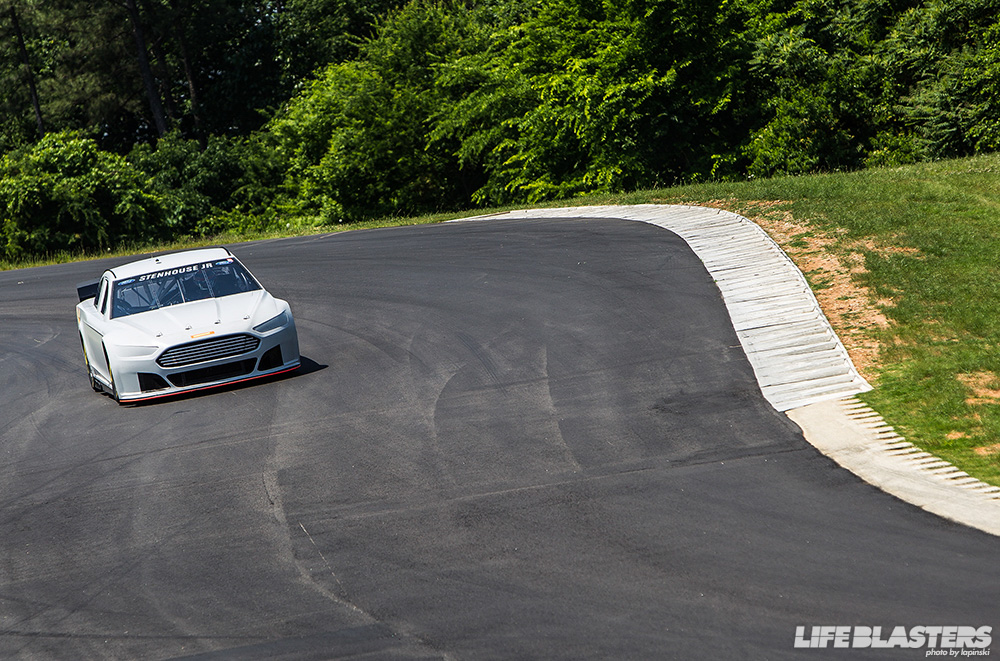 The Roller Coaster is all downhill, and Ricky Stenhouse didn't lift once heading down it. Watching the drivers throw the cars through these corners was rad.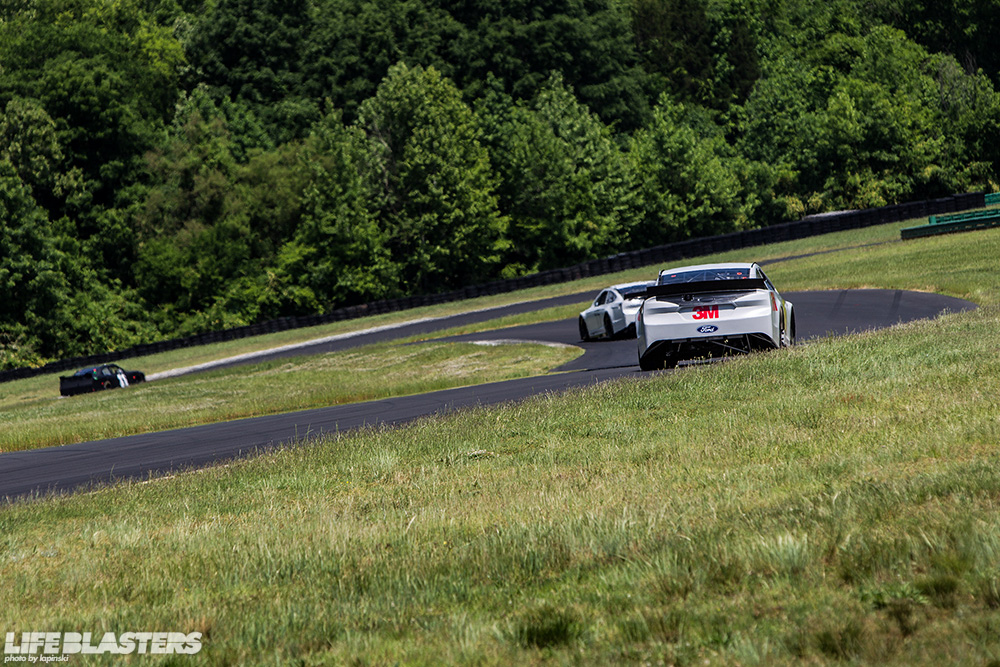 The cars continued down the hill towards the front straight gaining as much momentum as possible.
Being this was testing, cars were not decked out in their race liveries but instead were equipped with sensors, like the ones on either end of Carl Edwards front splitter.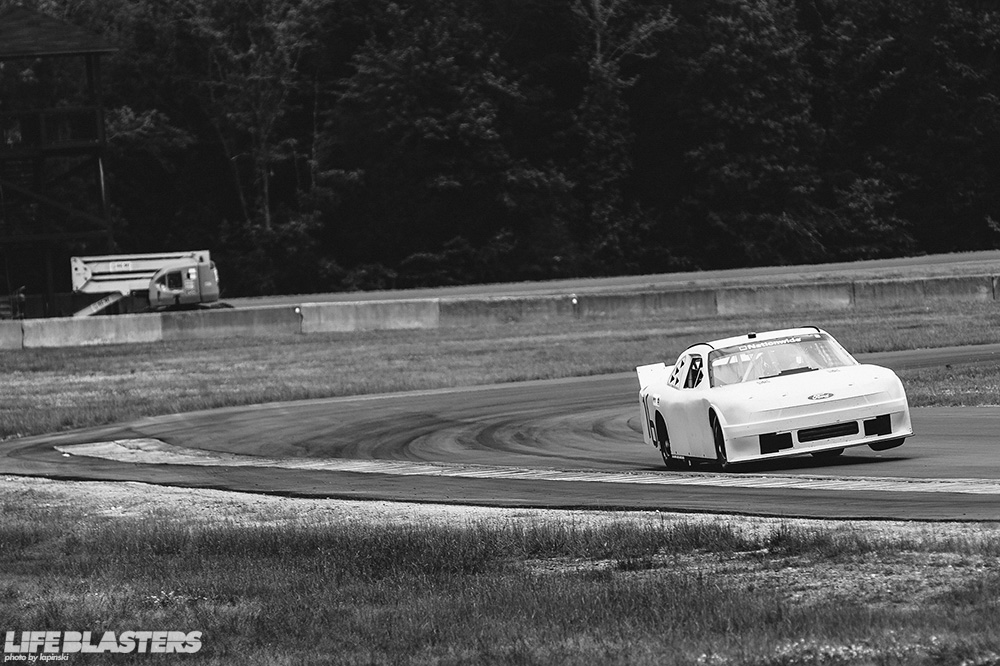 Ahhh the three wheel, it is something I could never get sick of watching.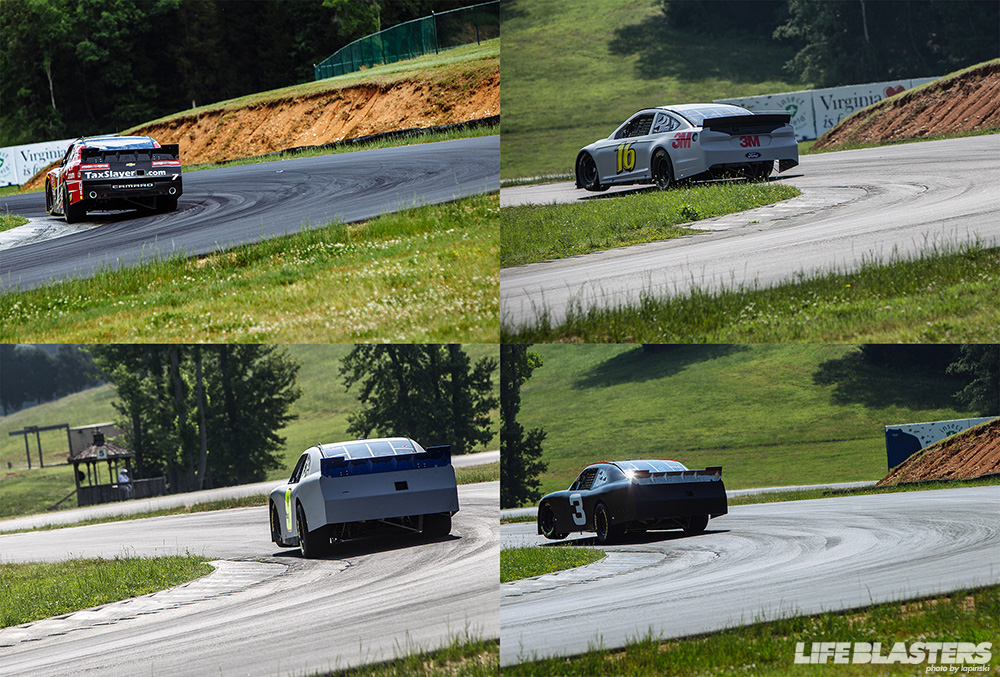 I mean who doesn't find it awesome?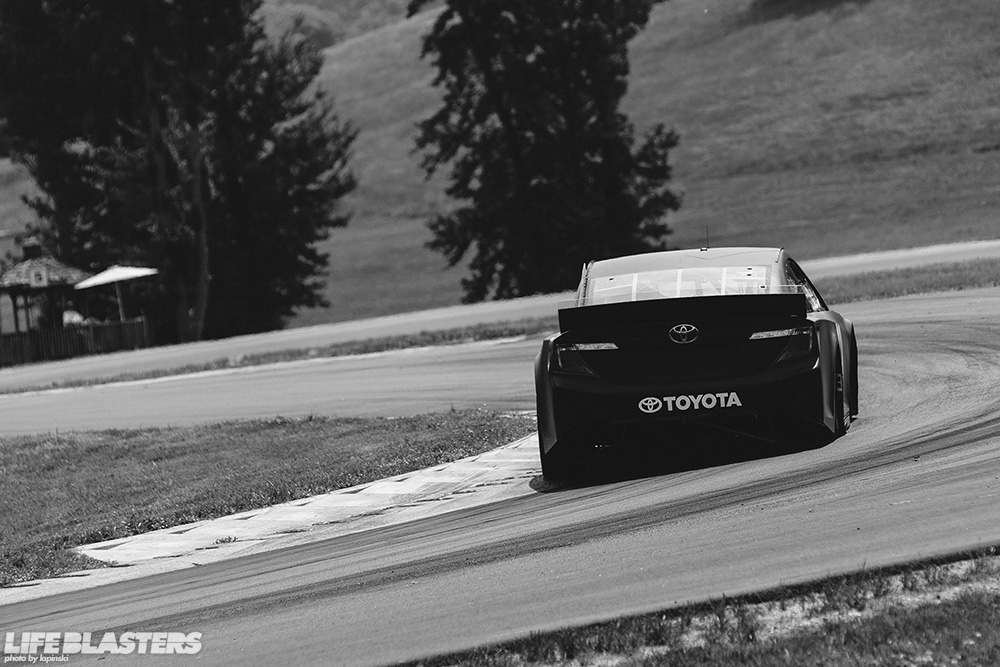 The Sprint cars were a bit smaller than the Nationwide cars, but even with smaller size they leaned into a corner just as much as the Nationwide cars, using the entire curb to pull the car into to corner.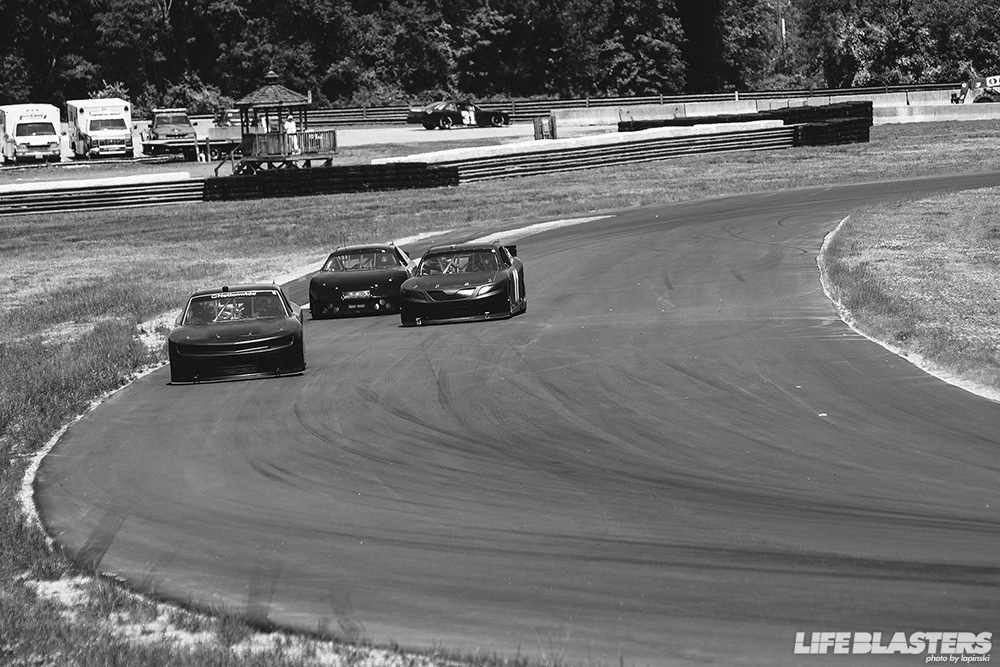 While the teams seemed to space the cars out as best they could to prevent traffic, watching them bunch up into a turn gave everyone a glimpse what it is like watching the race at a road course.
As the day grew on more and more big name drivers came out. Just two days after running the Indy 500 and the Coca Cola 600 on the same day Kurt Busch was back at it; just another day at the office.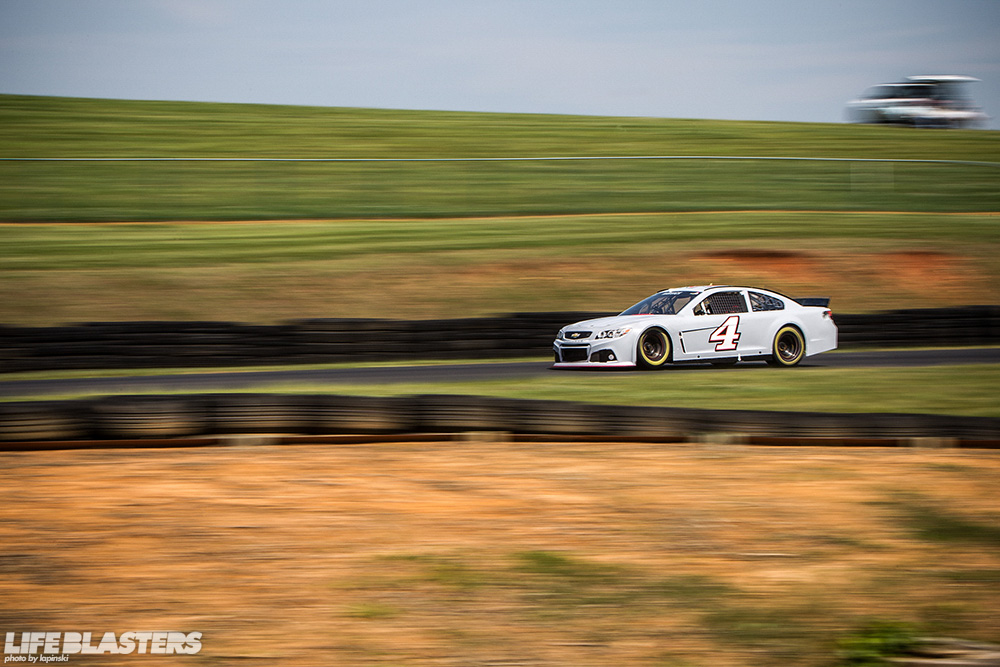 He was followed by Kevin Harvick ripping by…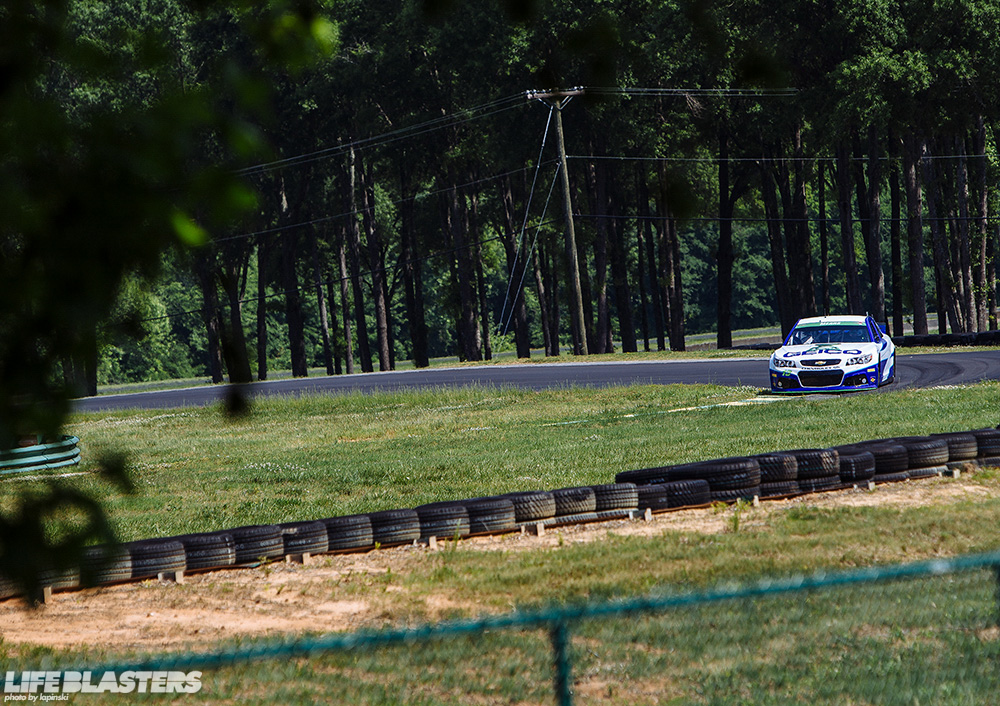 …then around the corner came Casey Mears, which about wrapped my Tuesday.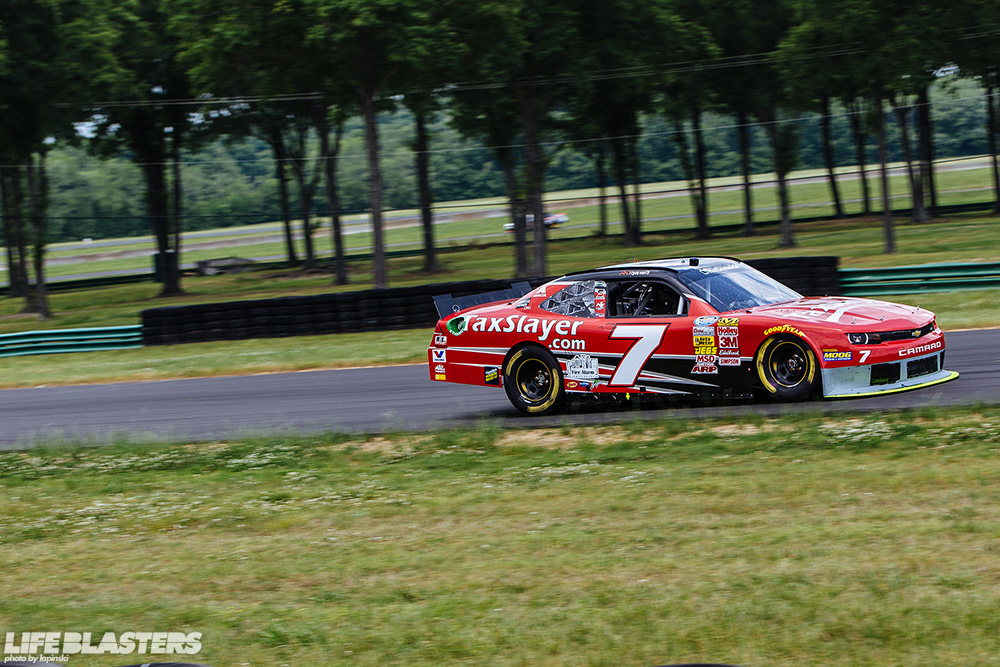 Wednesday picked up right where Tuesday had left off, just with far less teams.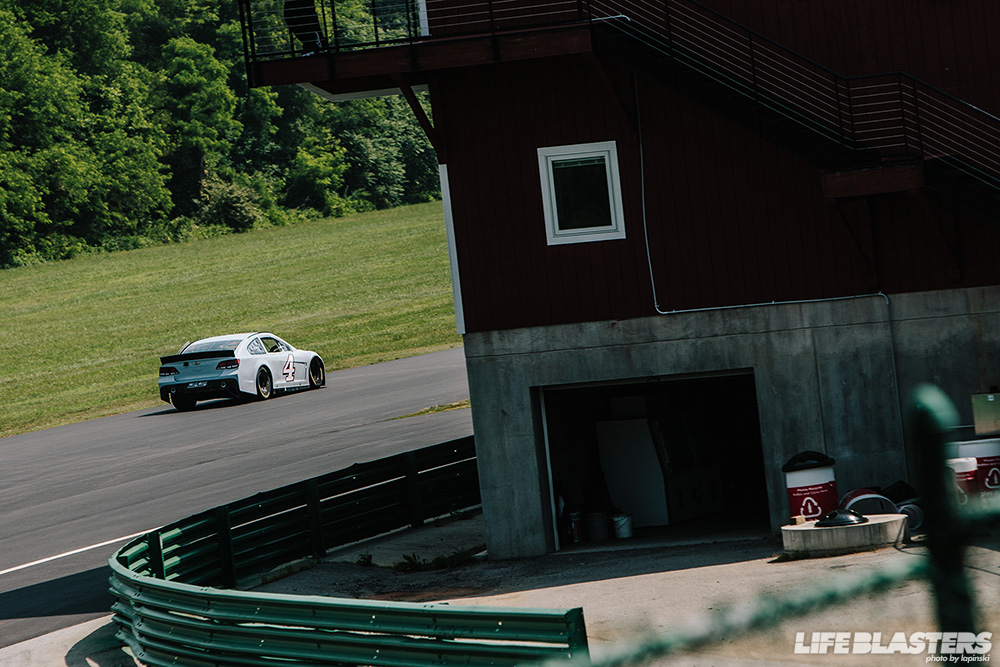 Kevin Harvick was out bright and early before the heat and humidity set in.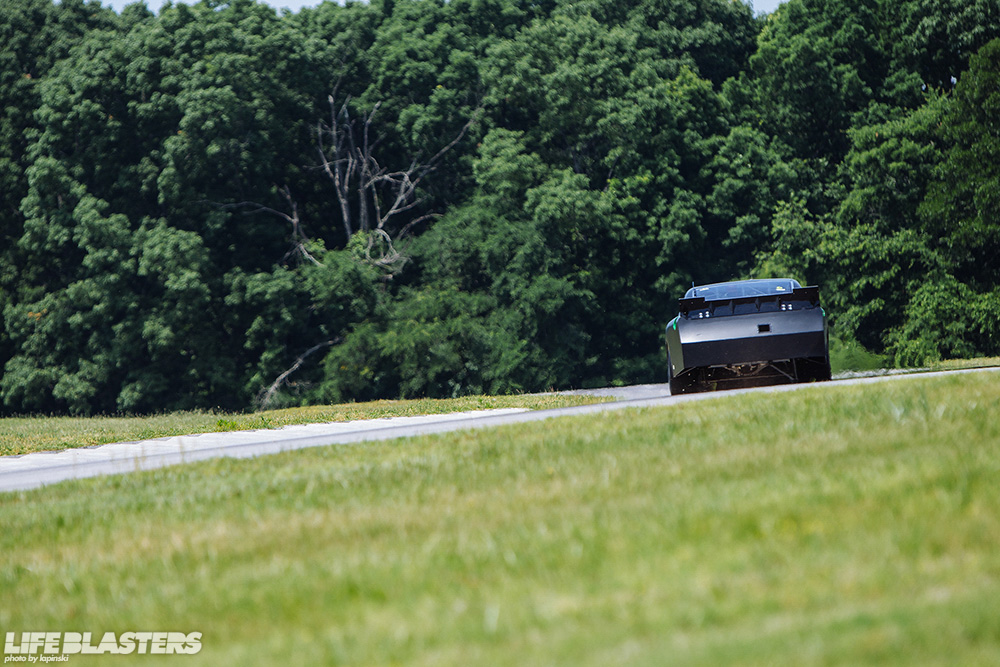 Nationwide cars were few and far between as well, making me glad I didn't wait until Wednesday to come.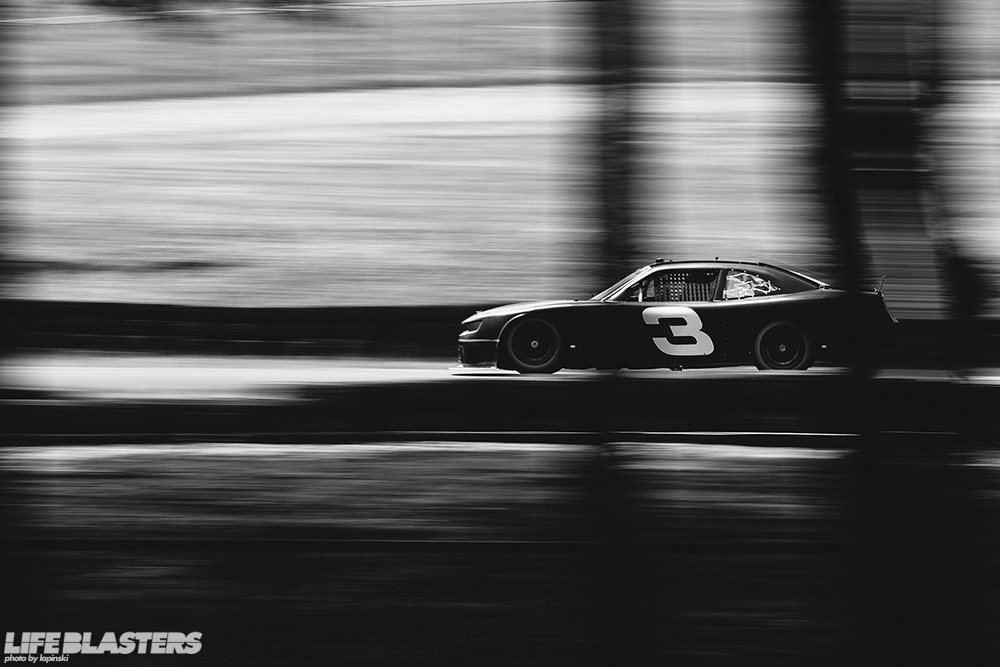 So I retreated to shade of my favorite trees and watched Ty Dillon rush by, carrying on the iconic #3 made famous by Dale Earnhardt, Sr.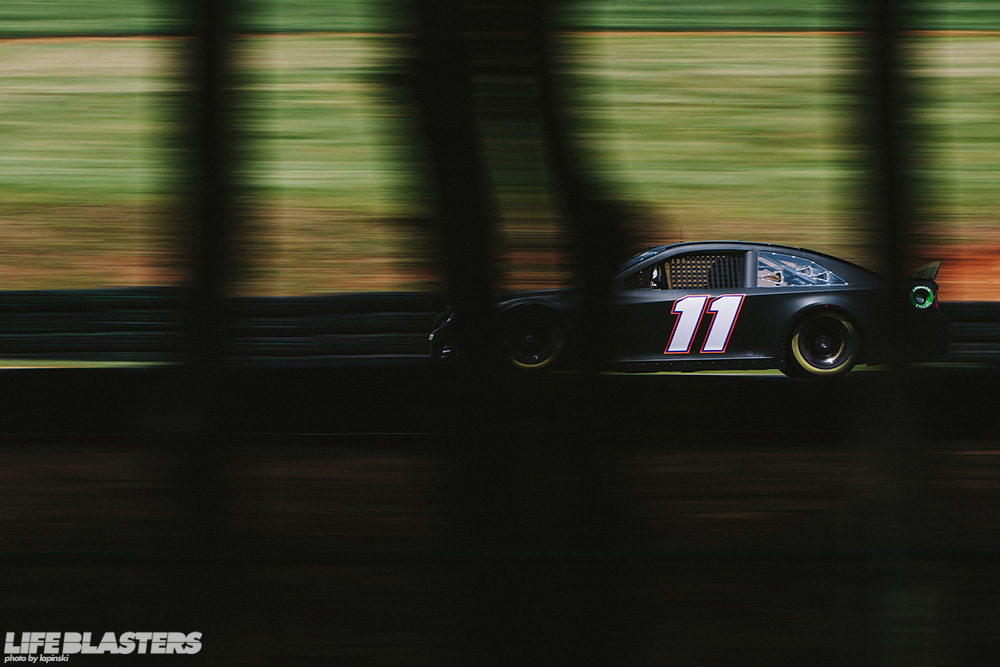 Denny Hamlin also was out and about in the morning. With the teams spending less and less time on the track I figured I would pack up.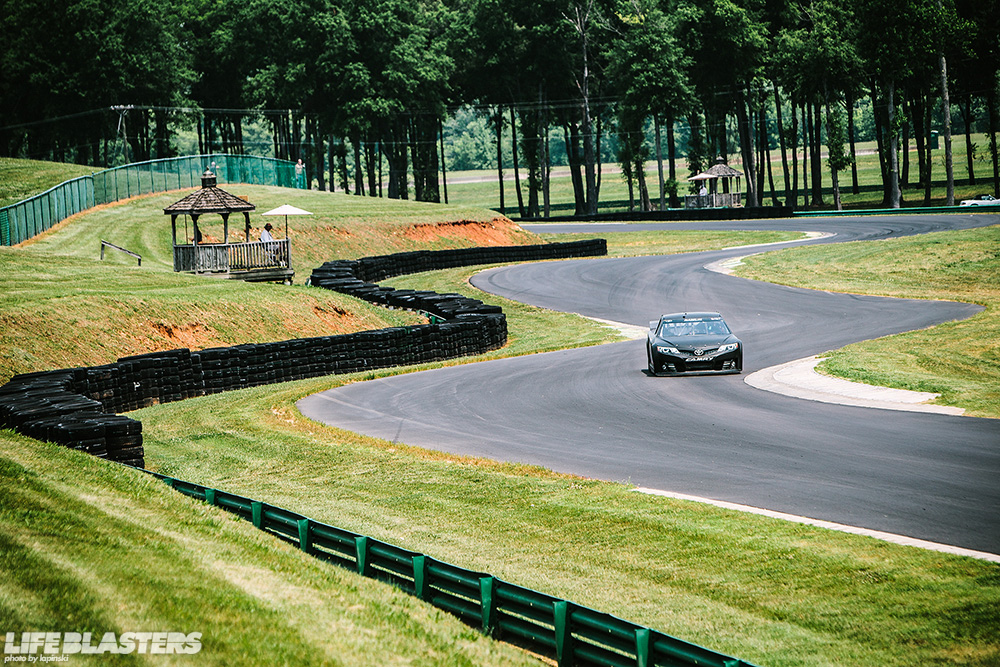 As I headed out Hamlin ripped by one last time, the sound off his 850hp V8 echoing through the trees…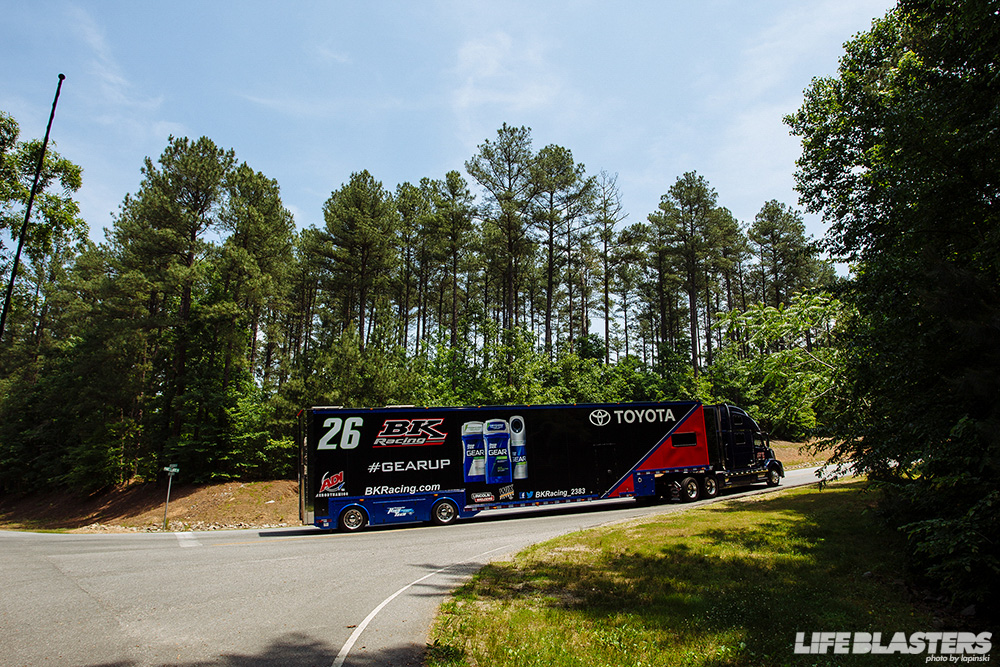 …I figured he was the right guy to follow out.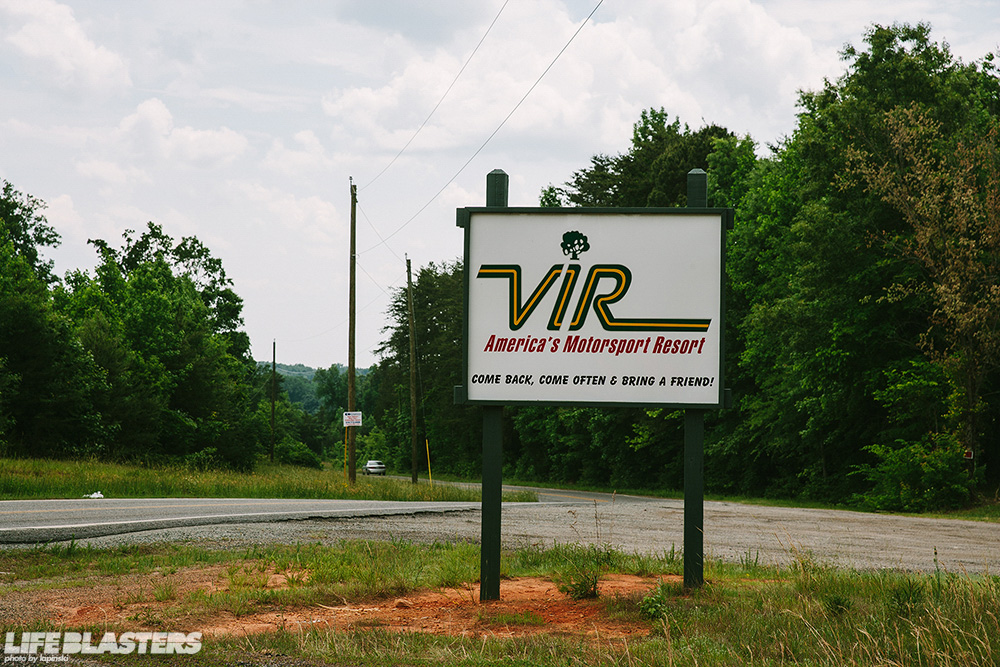 VIR is a place where any motorsports enthusiast will right at home. Like any race track I have visited it is hard to leave and these five days went by at the snap of a finger. So if you are in the area check it out, you will not be disappointed; if you leave VIR disappointed I suggest you learn to have fun.
Peter Lapinski
instagram: @lifeblasters, @peter_laps