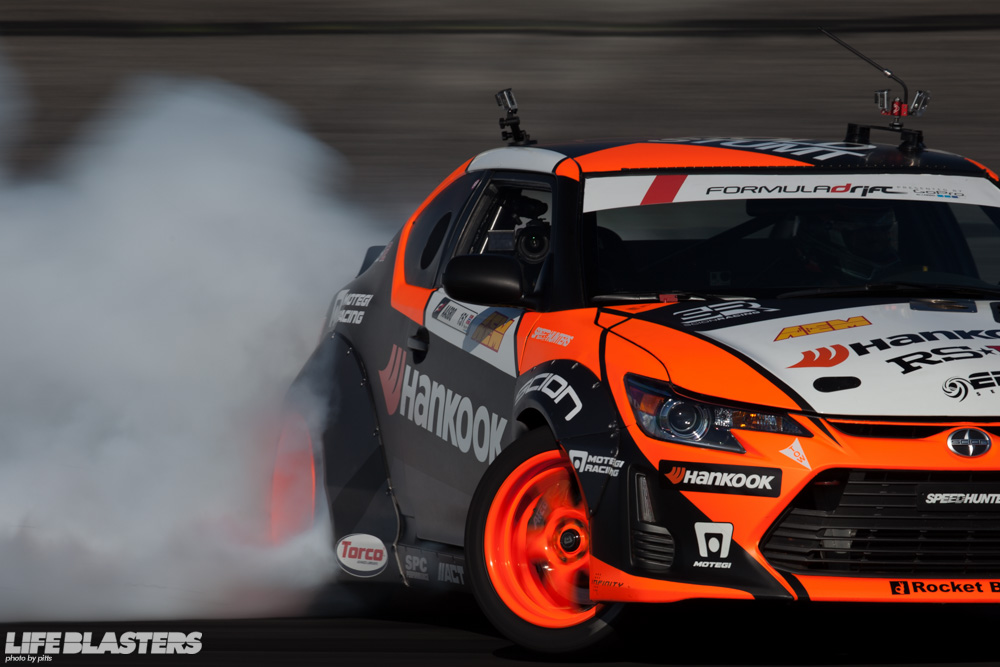 At the halfway point of the 2014 Formula D season, things are getting interesting. Chris Forsberg managed to get on the podium for an unprecedented fourth time in as many rounds, Fredric Aasbø got his first event win, Odi Bakchis earned his first career podium finish, and Vaughn Gittin, Jr. was about as far from the podium as one could get.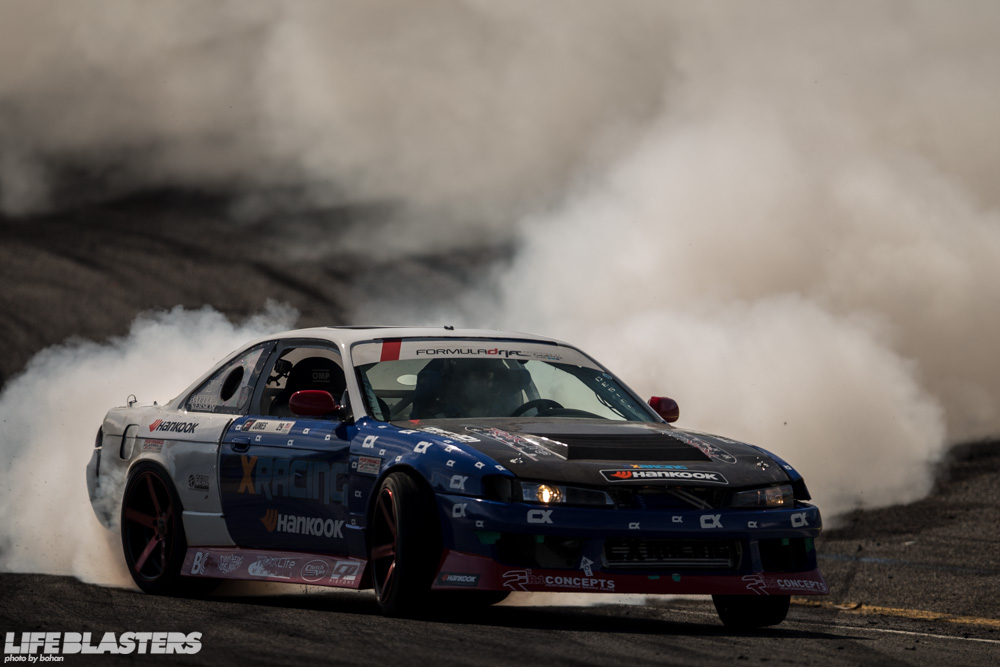 Wall Speedway is one of the tracks that's been on the Formula D schedule the longest. It also has some of the best magic hour light. The light alone always makes Wall a good round, but a lot of people have been saying this was the best round ever. I was agreeing with that sentiment before Top 4 had even ended. There were so many good battles that I lost count. Some had championship ramifications and others didn't, but every single one of them was exciting.
The event started out with rain. It wasn't light enough to be called a drizzle, but not heavy enough to cancel practice. Large puddles developed in the inner oval and they caused enough problems to make the session pretty much only useful for making sure the cars actually ran well. Learning the course in conditions that don't match qualifying or competition day is kind of useless.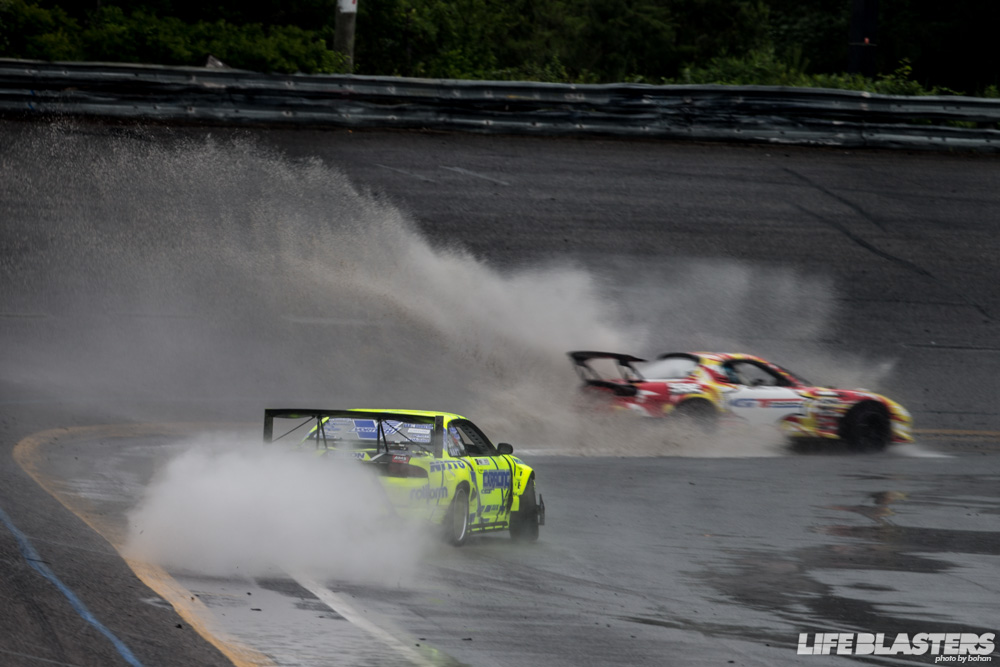 Still, it was a good show for those of us who were there to watch it. Who doesn't love a good roostertail?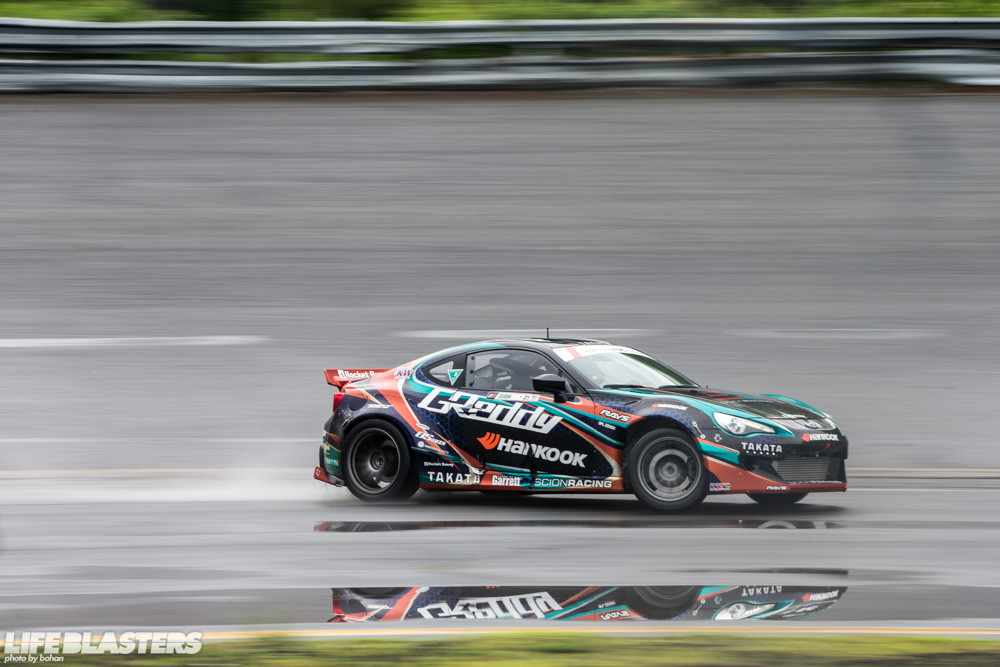 When it stopped raining, the track maintenance guys came out and pushed the water out of the puddles, making things considerably less exciting.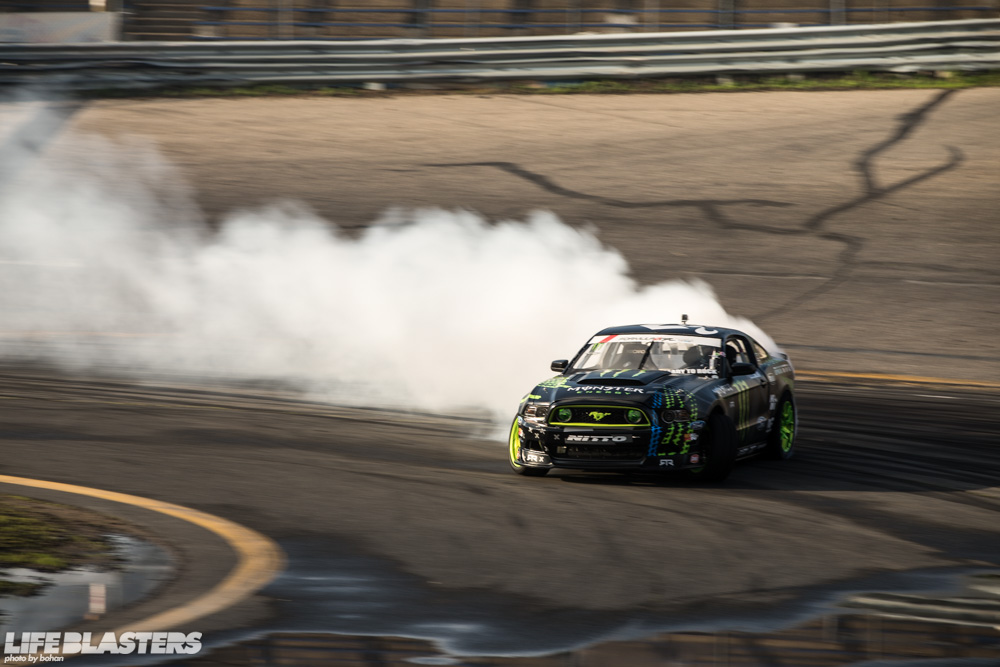 The clouds eventually thinned out enough to let some sunlight through. The water started to evaporate and the cars started making tire smoke. Some teams decided it was finally time to get some practice runs in.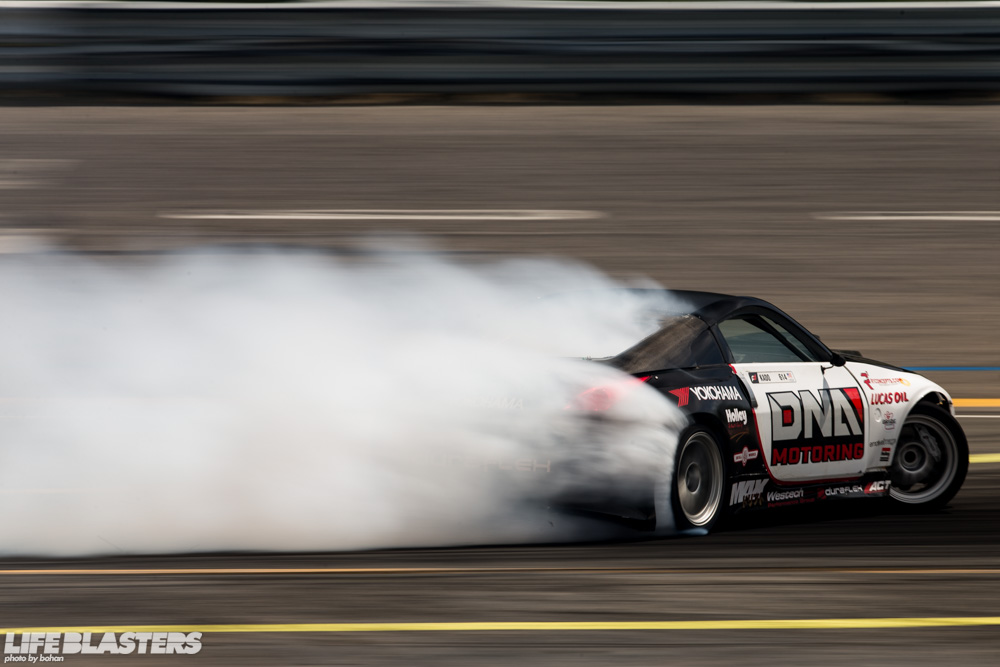 On Friday morning, many drivers scrambled to get their laps in before qualifying started.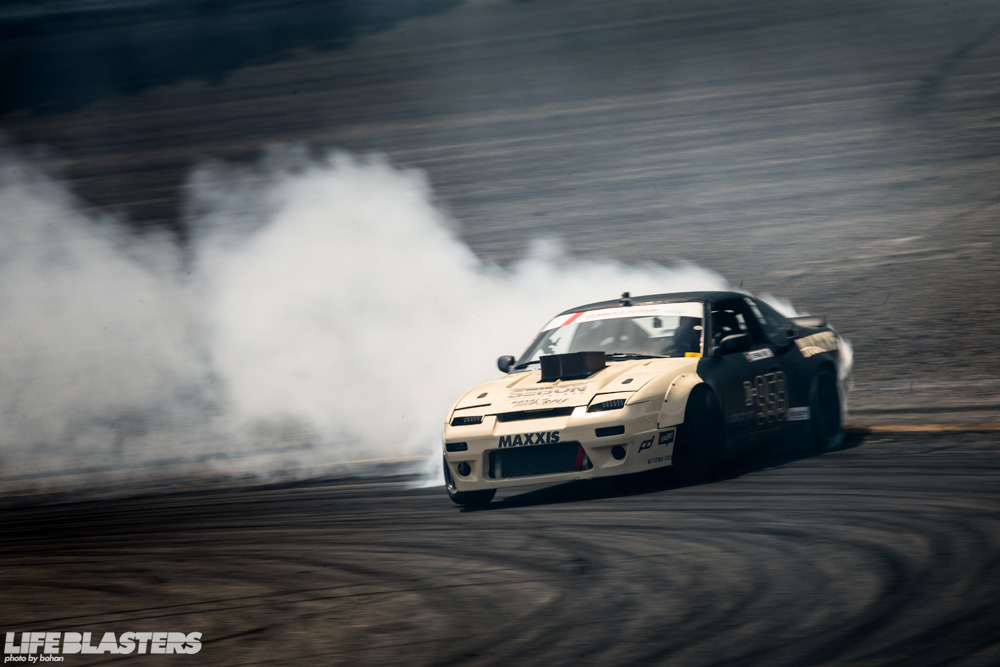 For some it was too little too late. Not a single rookie qualified.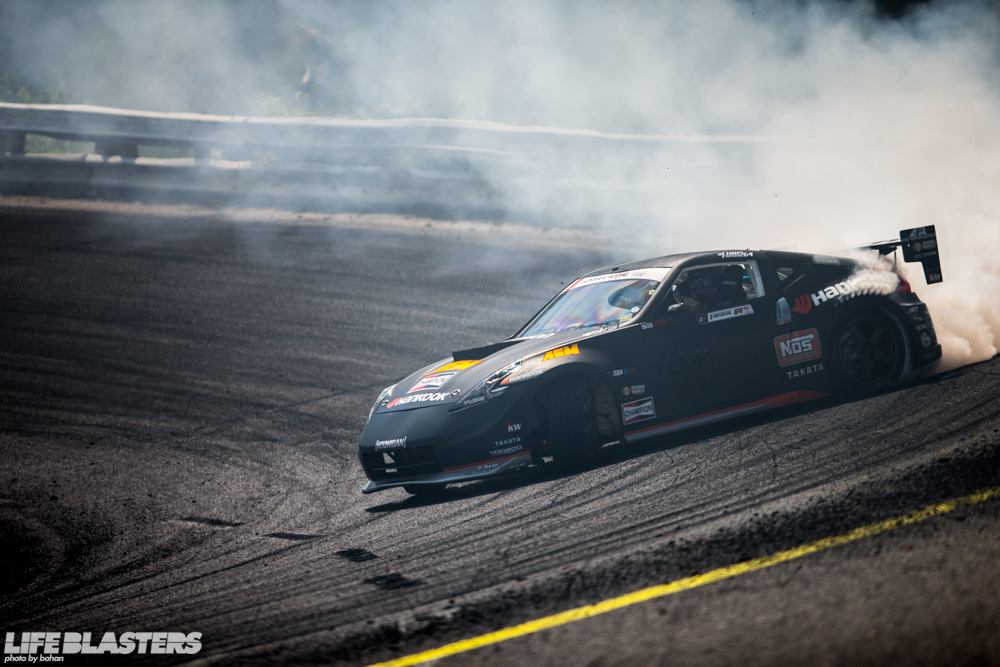 Chris Forsberg pulled off the highest qualifying run of the day, leading many people to believe we were witnessing his second championship-winning season in progress.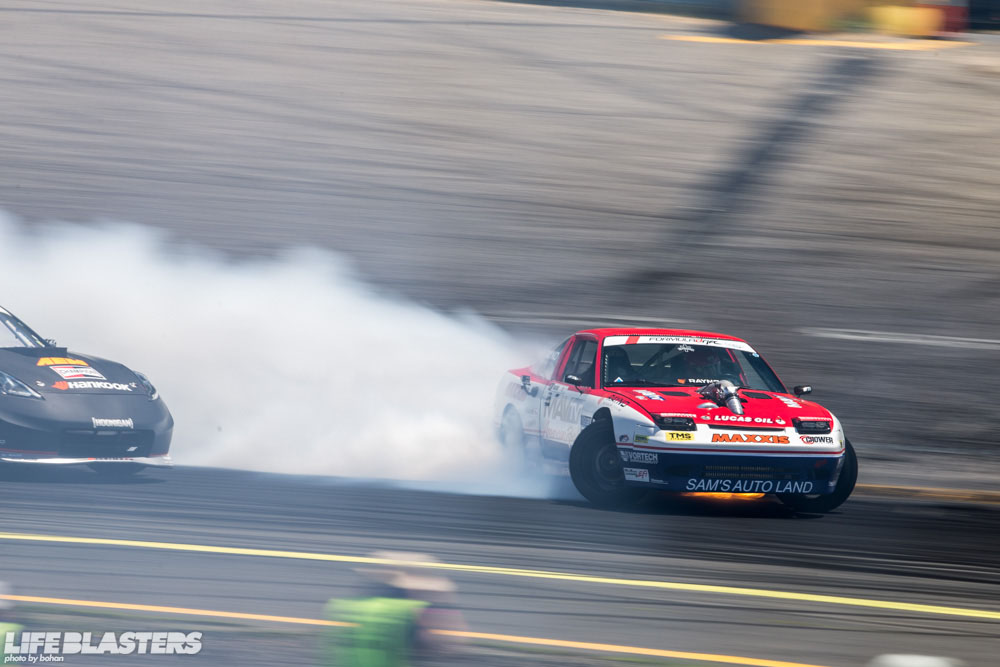 On Saturday every driver had their game face on. It was do or die. As top qualifier Forsberg lined up for the Top 32 first, with Joon Maeng right beside him. Maeng understeered off the course while following and his S13 caught on fire while leading, which moved Forsberg on to the Top 16.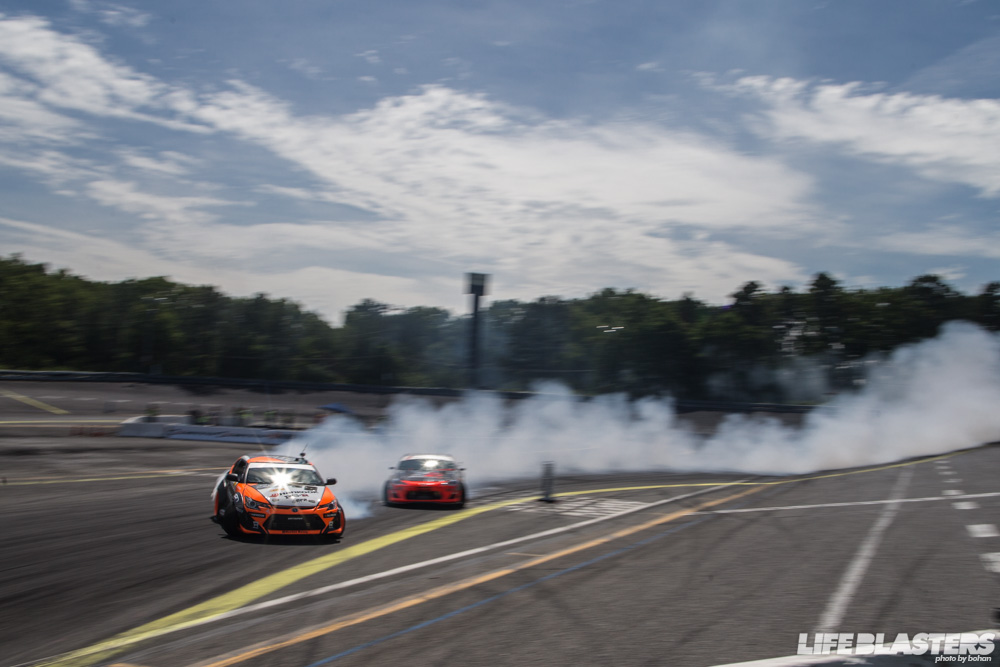 Fredric Aasbø faced off against Scion Racing teammate Tony Angelo, but Angelo spun on both runs, giving Aasbø an easy victory.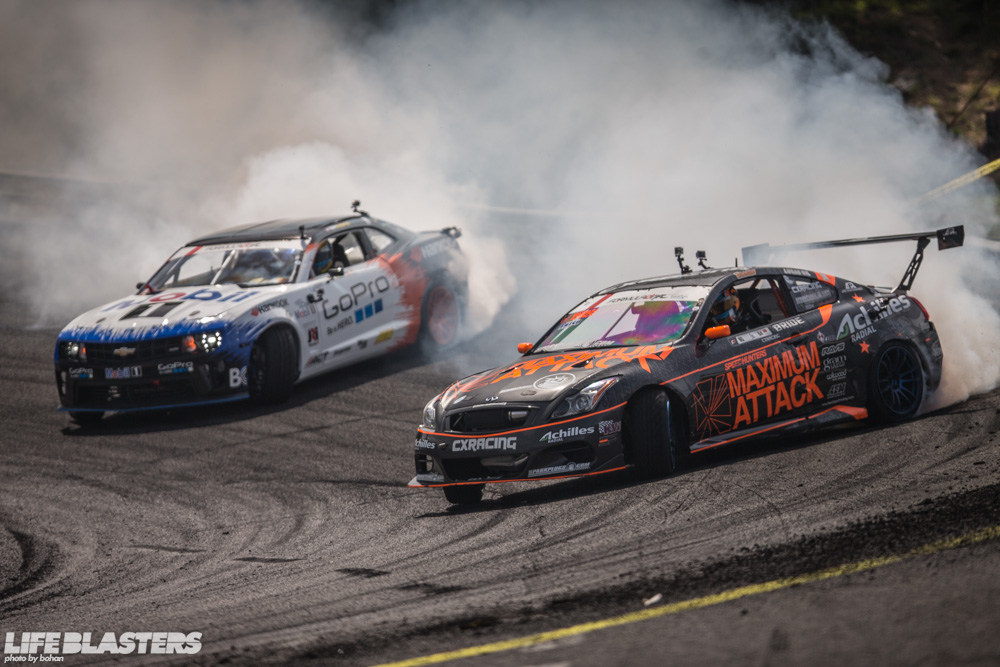 Charles Ng struggled behind Tyler McQuarrie, but then in a huge upset he left the Camaro in the dust on his lead run.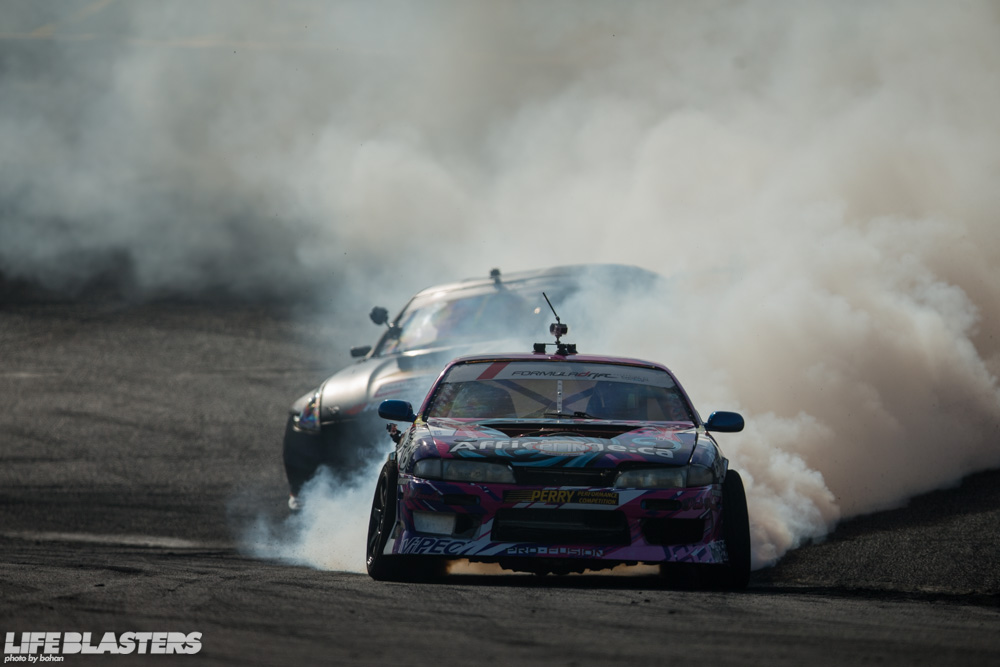 After the Top 16 opening ceremonies, Marc Landreville took his turn at trying to stop Forsberg's momentum. The Canadian driver followed as close as any big-name driver, but had some big corrections and killed a clipping point on his lead run, allowing Forsberg to glide into the Top 8.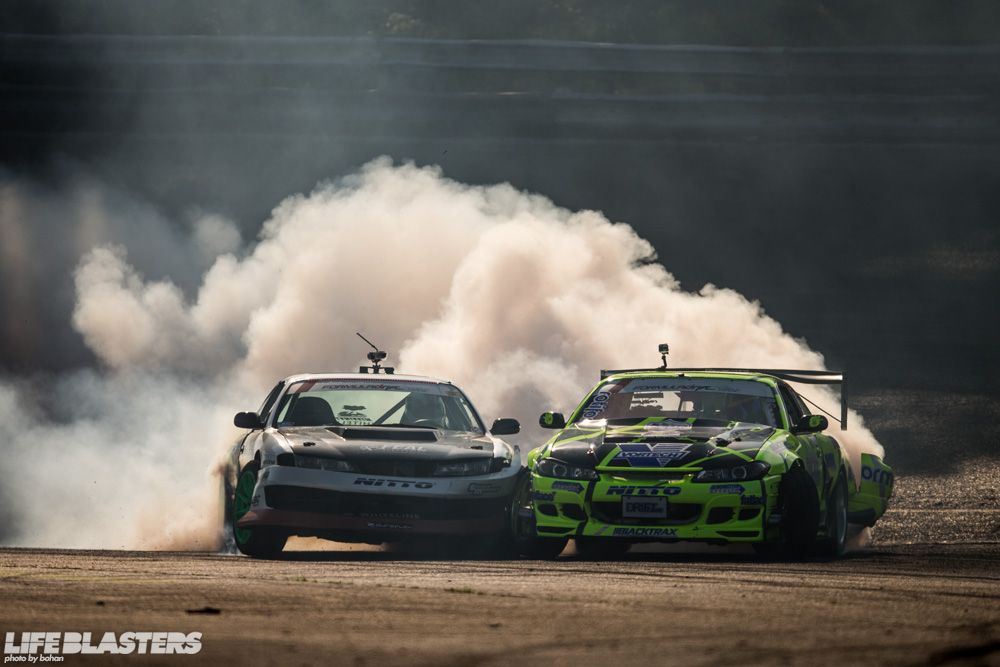 Matt Field was hungry for more points after his 4th place finish in Miami, but Bakchis would have none of it. Bakchis pulled a gap before the initiation but Field caught up and nipped at his heels. When they switched positions, Field ran high and fast, but Bakchis was relentless in his chase, getting close enough to take off Field's rear bumper. "Call the cops," announcer Jarod DeAnda said, "Odi's killing it."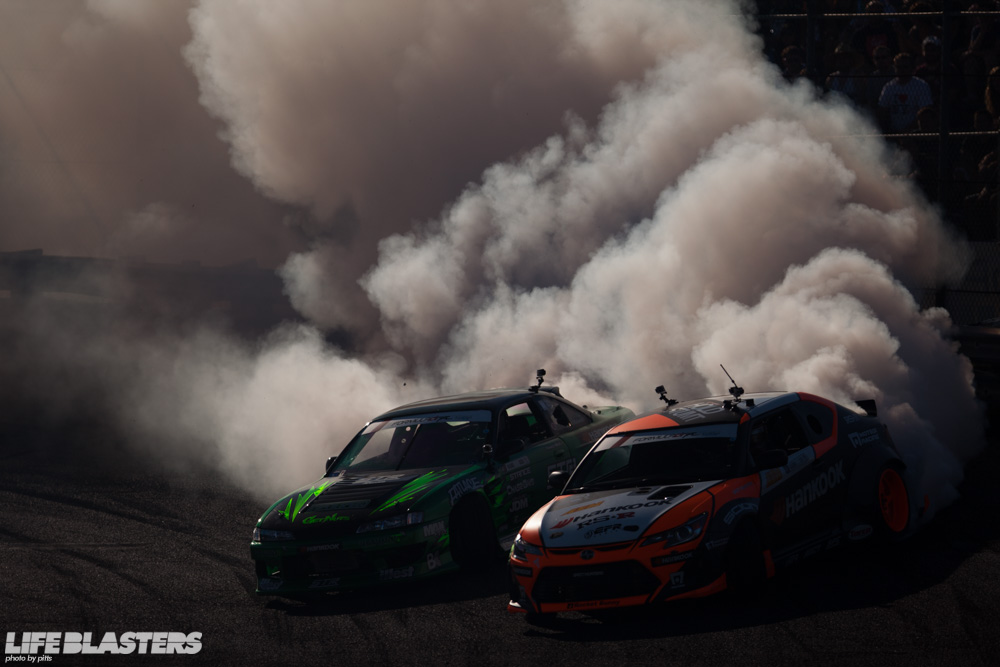 Aasbø next lined up with the Green Fourteen of Forrest Wang. The Hawaiian driver was holding his own until he took out the second inner clipping point and then almost collided with the tC when Aasbø scrubbed a ton of speed at the end of the course. When Aasbø gave chase, he mimicked Wang's angle while staying inches away from the S14 throughout the entire course, getting the win.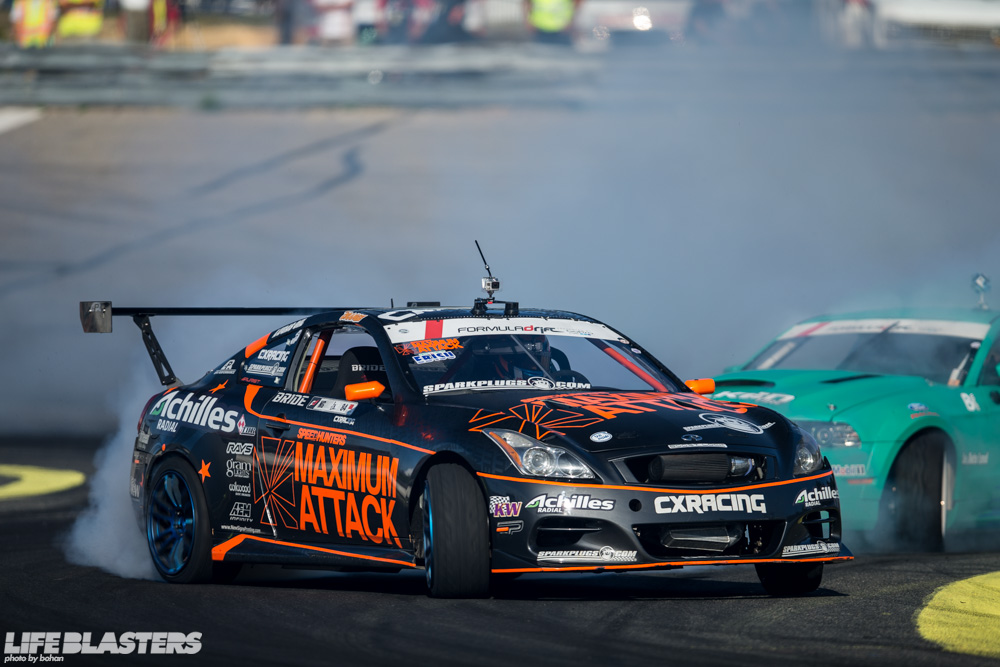 Justin Pawlak has usually had success at Wall, but Charles Ng gave an amazingly Daigo-like chase run. It was Daigo-like not just because of the close, surging proximity, but it was also shallow in places. JTP tried the same thing, but got flustered when coming off the bank and straightened out, and then straightened out again at the second inner clipping point. Ng nabbed his first Top 8 this season.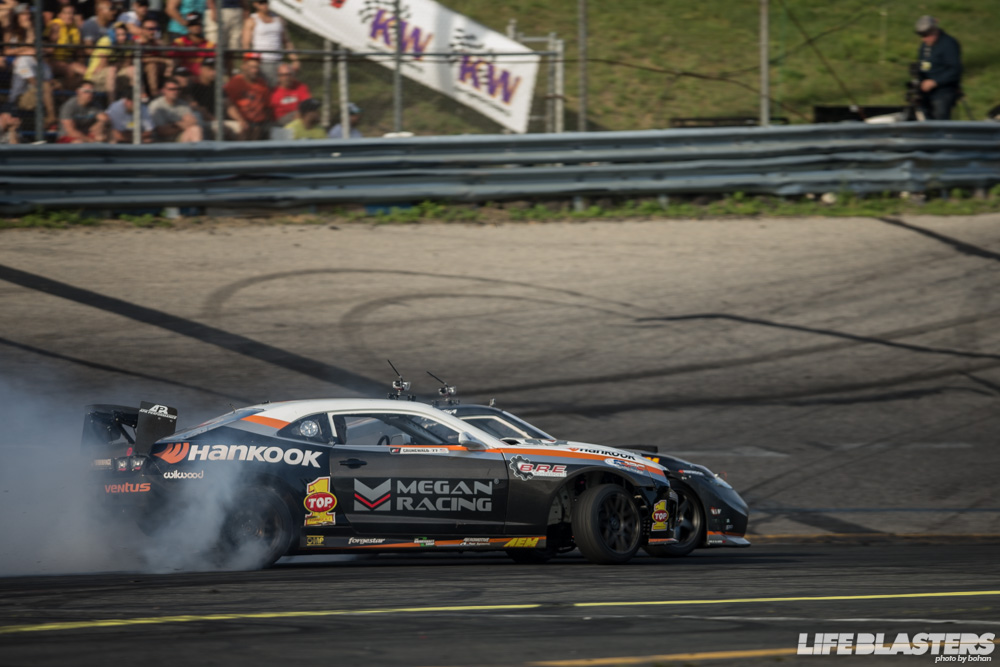 Conrad Grunewald turned up the heat after beating Kenny Moen in an OMT battle, and gave Forsberg a run for his money. Forsberg had another stellar lead run and Grunewald stuck to the 370Z throughout the course, though swinging wide of the second inner clip. Grunewald then laid down a textbook perfect lead run of his own while Forsberg ran a clean, but conservative, follow. Andy Yen and Ryan Lanteigne called for a One More Time.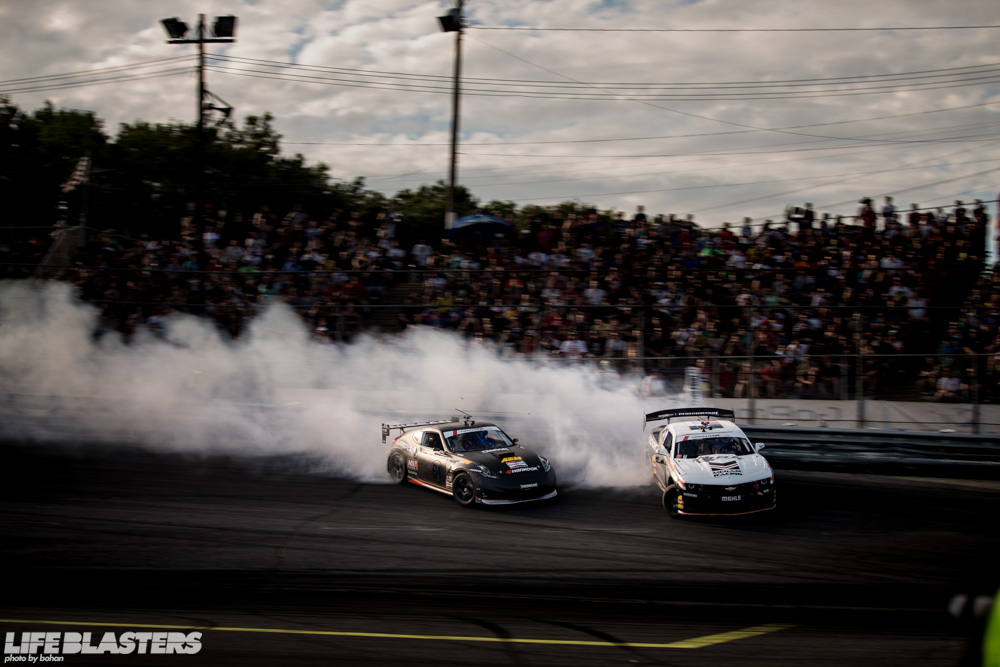 After freshening up fuel and tires, they went at it again. Grunewald's chase was even better than the first time around, but he tapped the Z and spun on the second turn. Forsberg mirrored Grunewald's fantastic lead run and took the win.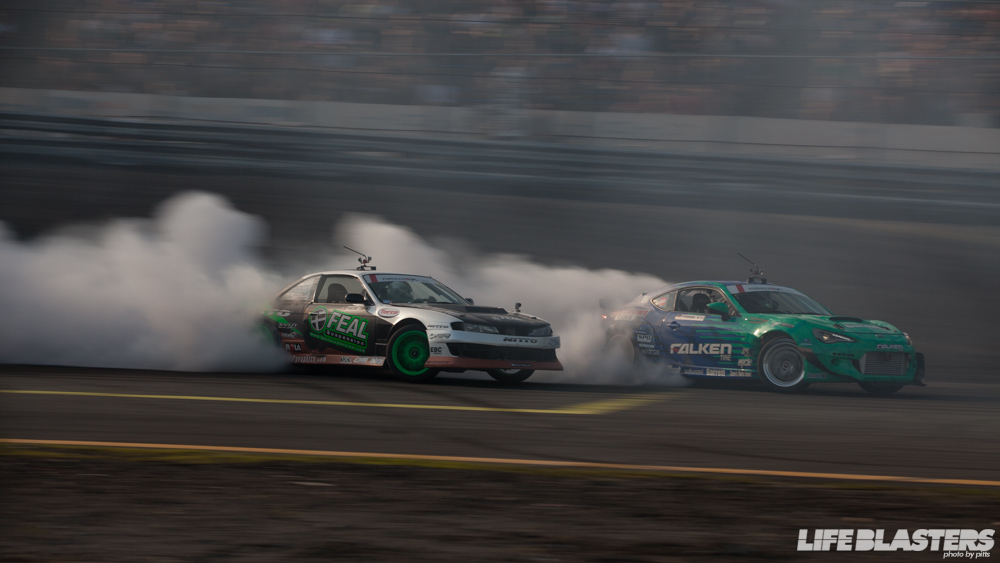 Bakchis wasn't as solid as his previous battle when he chased Daijiro Yoshihara around the track, but Yoshihara dove in too hard on the last turn on his own chase run, tapping the S14 and spinning both cars out. At this point, Forsberg, the #1 qualifier, was guaranteed to get on the podium. Since Bakchis was #5 and the rest of the Top 8 drivers had qualified lower, he was also guaranteed his first career podium finish. He'd just have to fight to determine which step he'd get on.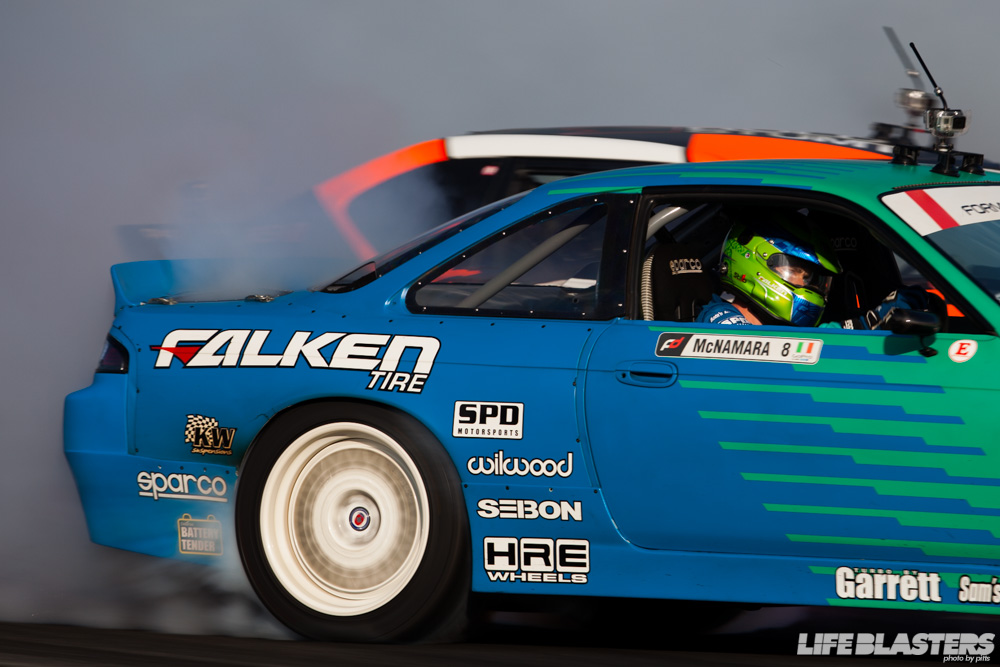 Aasbø ran the bank high and fast and Darren McNamara gave a low, shallow chase. When they traded places, it was Aasbø who ran low on the bank. Aasbø quickly readjusted and wowed the judges with his speed and precision the rest of the run.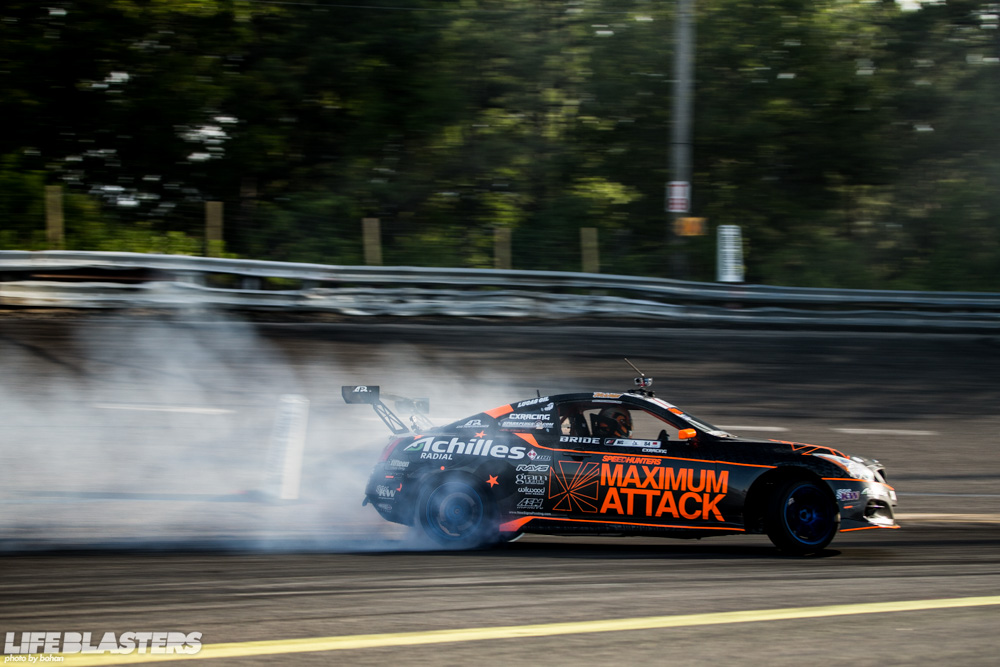 In the last battle of the Top 8, Charles Ng led Dean Kearney into spinning out in the second turn. After a time out, the two drivers went out for their second runs, with Ng taking it easy and Kearney giving it everything he had. It wasn't enough and Ng earned his first Final 4 appearance.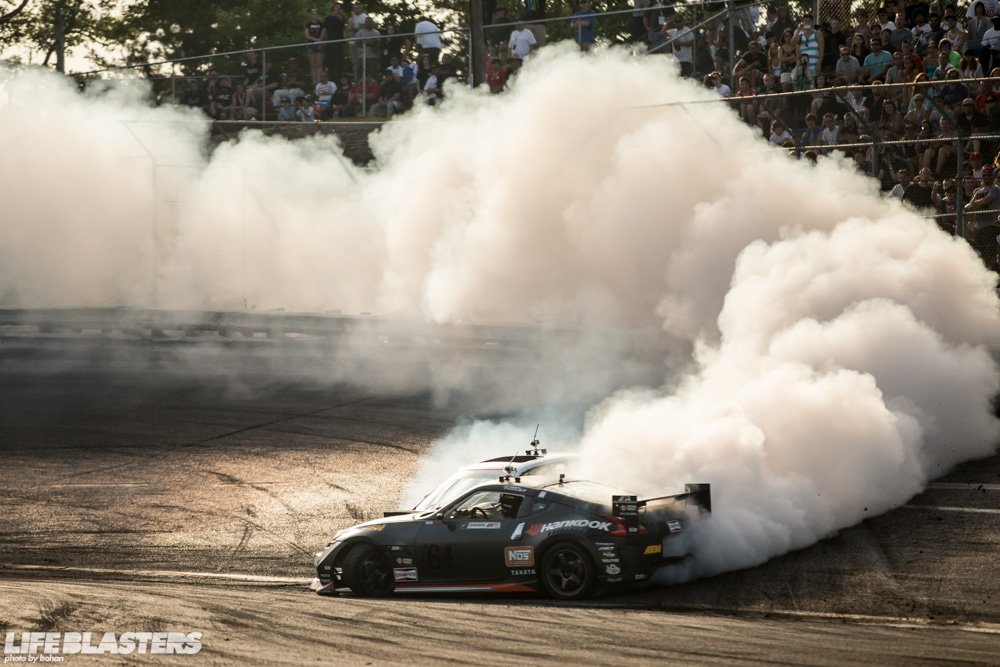 Forsberg and Bakchis kicked off the Final 4 with a bang, as Bakchis pushed a little too hard on the bank, making contact with Darth Chris, and causing both cars to slide backwards into the infield. When Bakchis led, he pulled a huge gap on the bank. Forsberg reeled him in and moved on to the Final Battle.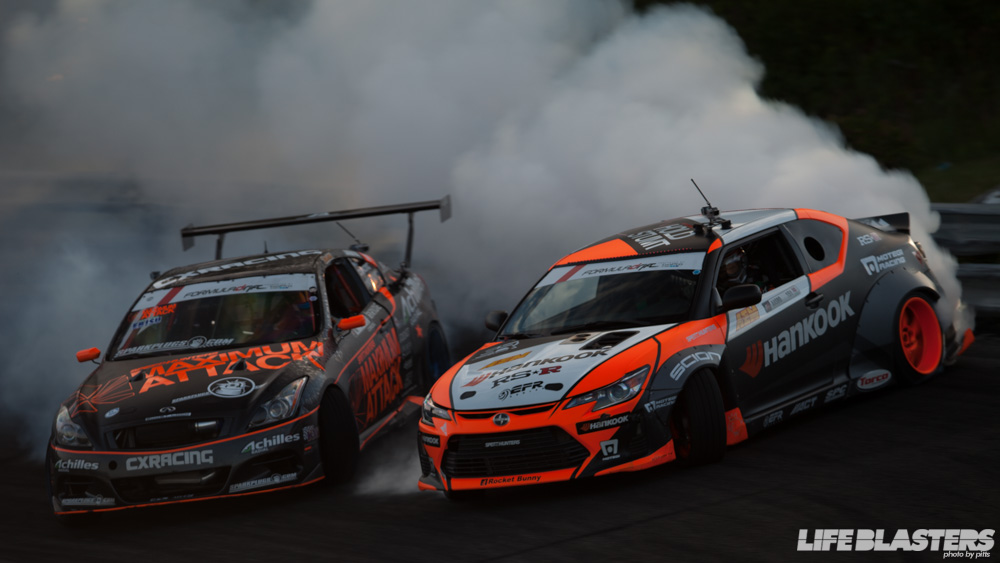 Aasbø wansn't guaranteed a podium finish at this point, so the pressure was on for him to perform. Ng had beaten Aasbø before but both drivers were on fire. While following, Ng straightened up after the second inner clip, giving the advantage to Aasbø. When Ng led, he ran lower on the bank and knocked over the first inner clip, sending Aasbø to face Forsberg in the Final Battle.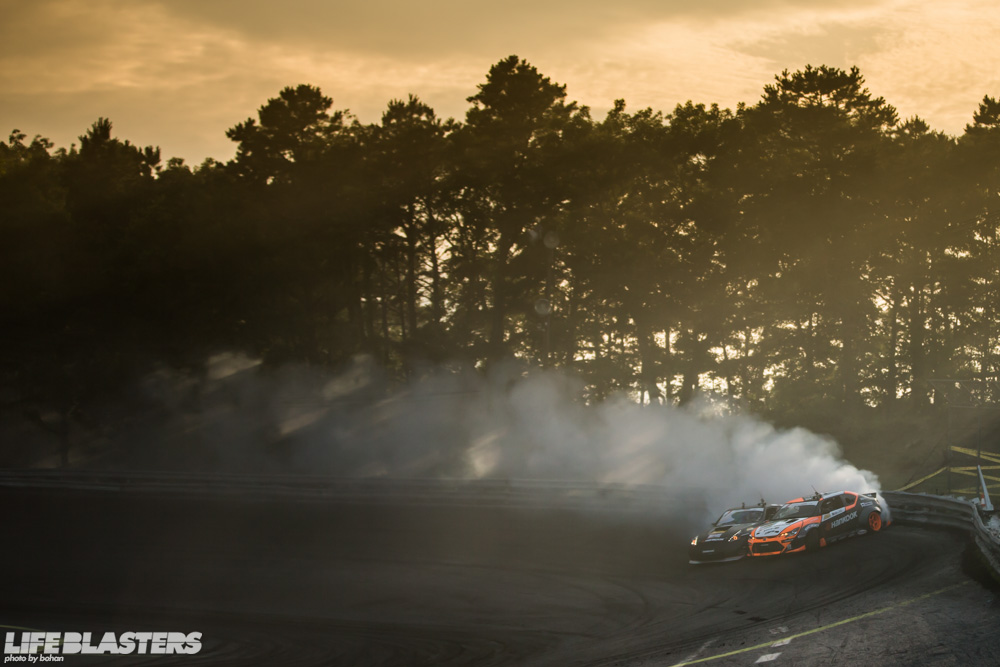 It was a rematch of the Final Battle in Atlanta. Forsberg ran yet another flawless lead run, but Aasbø stuck to him through the entire run. They lined back up and launched for the second run. Aasbø initiated high and rode the rail all the way around the bank as Forsberg followed suit. They both had absolutely flawless runs past the first clipping point, through the second turn, past the second clipping point, and into the final turn where Forsberg bumped into Aasbø and straightened the Scion out.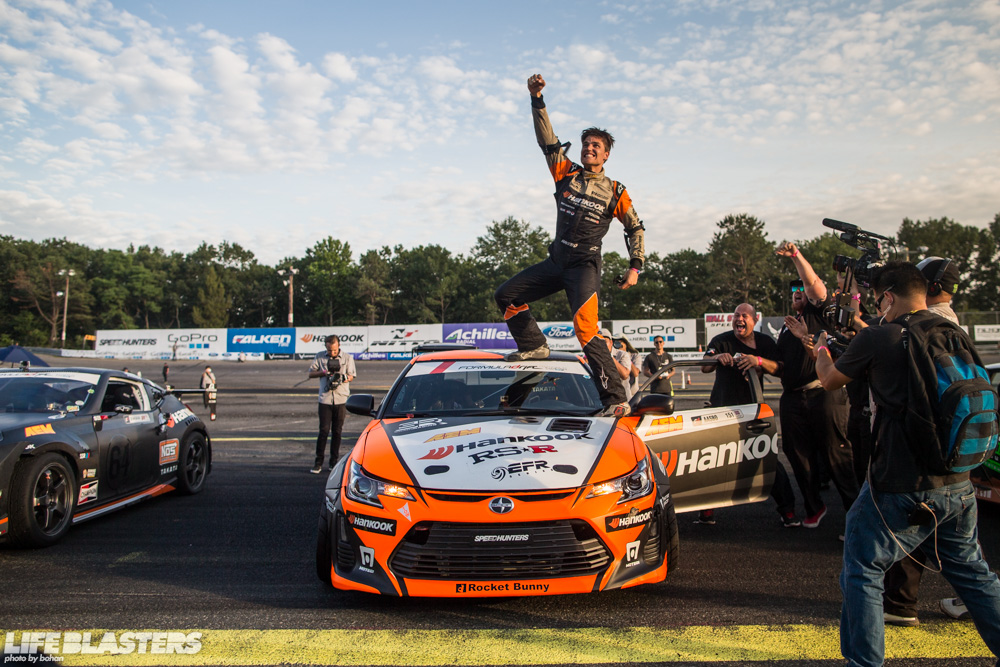 That one small error from Forsberg was enough to cost him the battle and give Fredric Aasbø his first event win.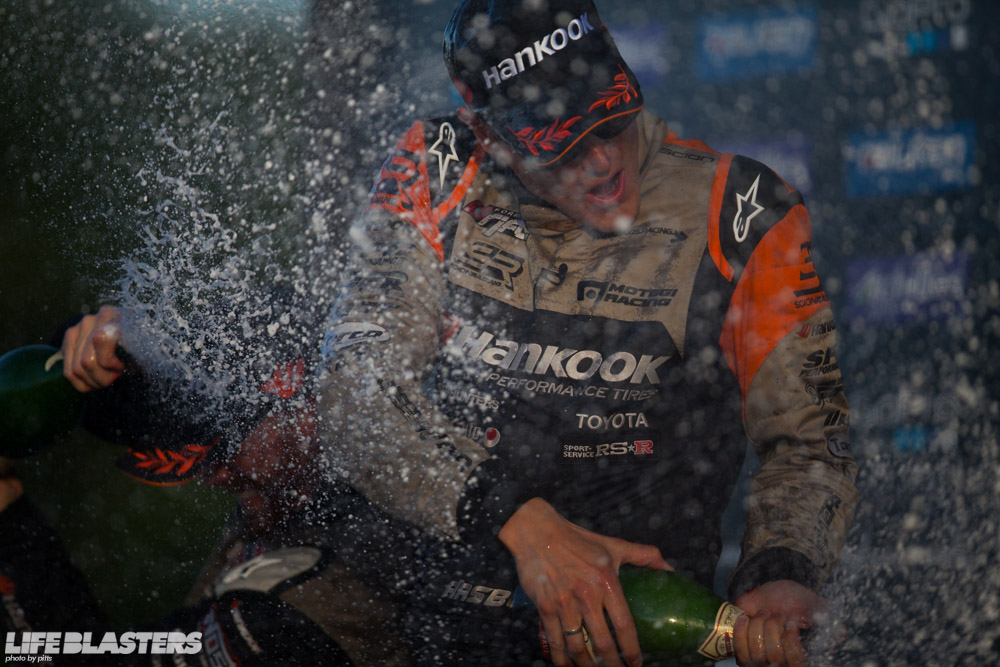 Aasbø's win moves him into second overall in the standings, while Forsberg's second place finish was enough to keep him in the lead. Gittin and Moen slipped back to 3rd and 4th respectively.
Formula D is hitting Monroe, Washington, next, but not before an exhibition round at Fuji Speedway!
.:Bohan
Photos by Bohan and Pitts
email: bohan@lifeblasters.com, pitts@lifeblasters.com
instagram: @andrew_bohan, @blasterforce1, @lifeblasters