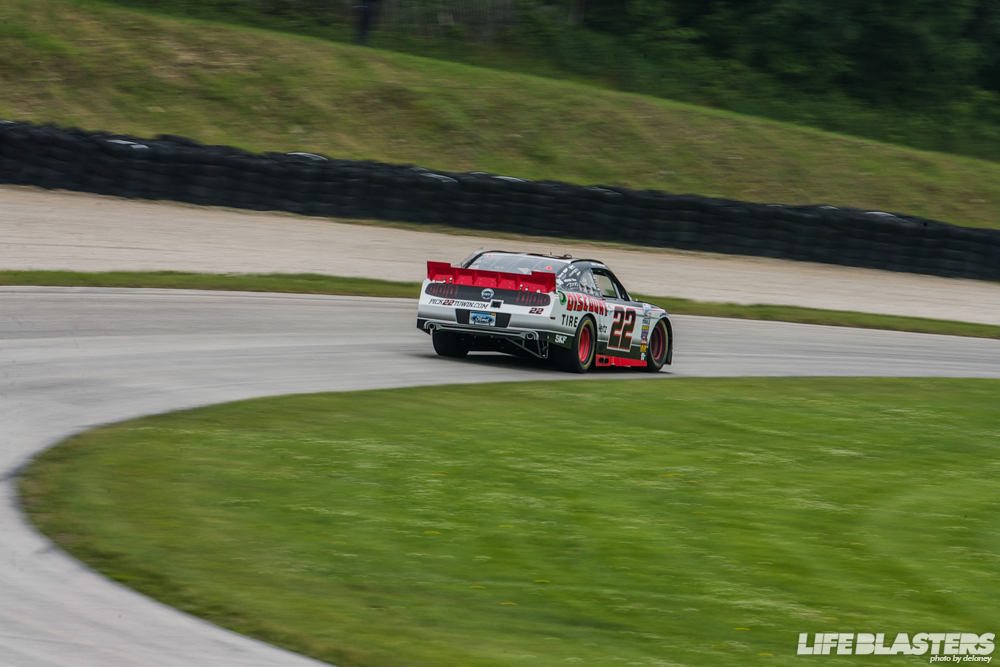 I've been to big event weekends, but this weekend at Road America was crazy. NASCAR Nationwide, Pirelli World Challenge, and Trans Am. It was a weekend of constant racing, with some rain thrown in. After seeing Pirelli World Challenge at Belle Isle, it was like a whole new world at Road America. Its big, open, and park like feeling makes it one of the nicest tracks in North America.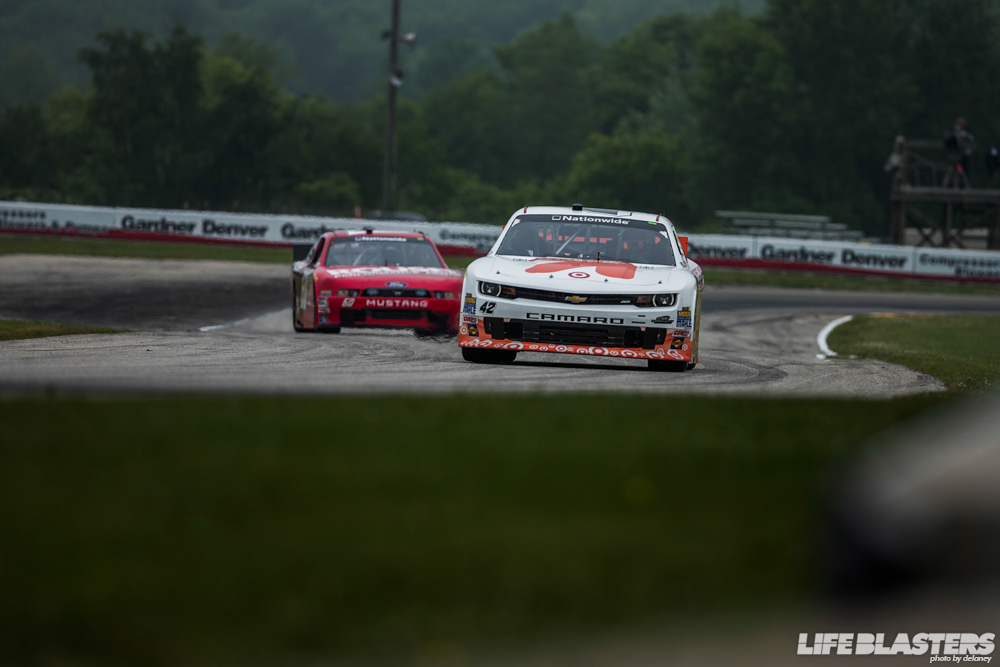 When I arrived on Friday morning, the Nationwide series drivers were out on their practice laps. World Challenge was meant to qualify earlier in the morning, but due to thick fog and rain, their qualifying was canceled and starting position was based of points order. Rain would play a factor all weekend, and I couldn't even imagine how cool it would be on Saturday.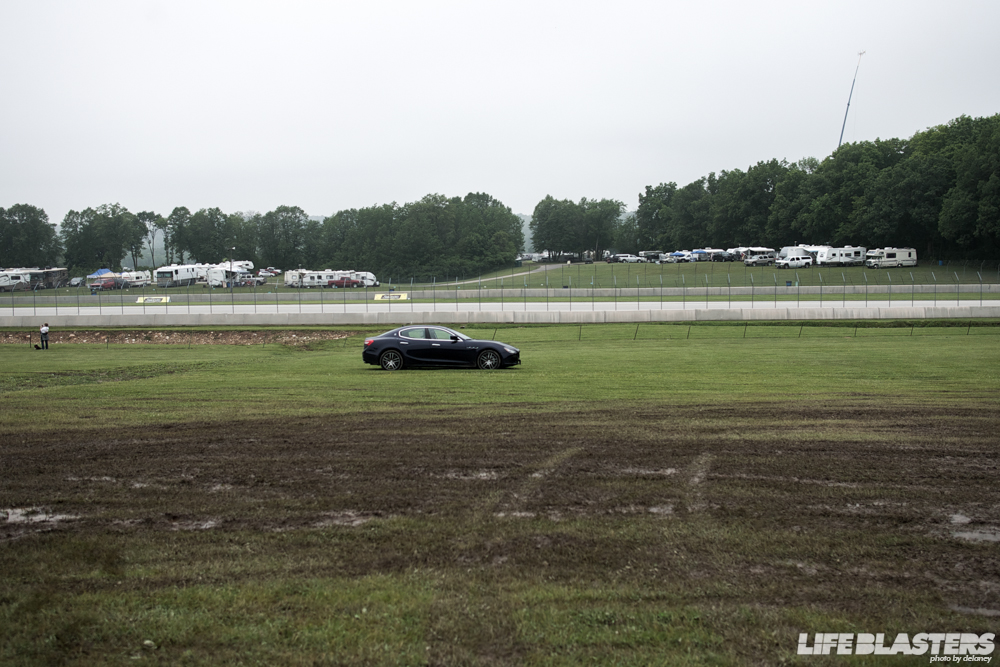 With all the rain the night before, most of the track was mud, and trying to walk around in tennis shoes all weekend made for an interesting time. We came across this Maserati Ghibli oddly parked out by itself. One of the World Challenge crew guys yelled down to us and said it was stuck. Hey, at least he's using his Maserati right I guess.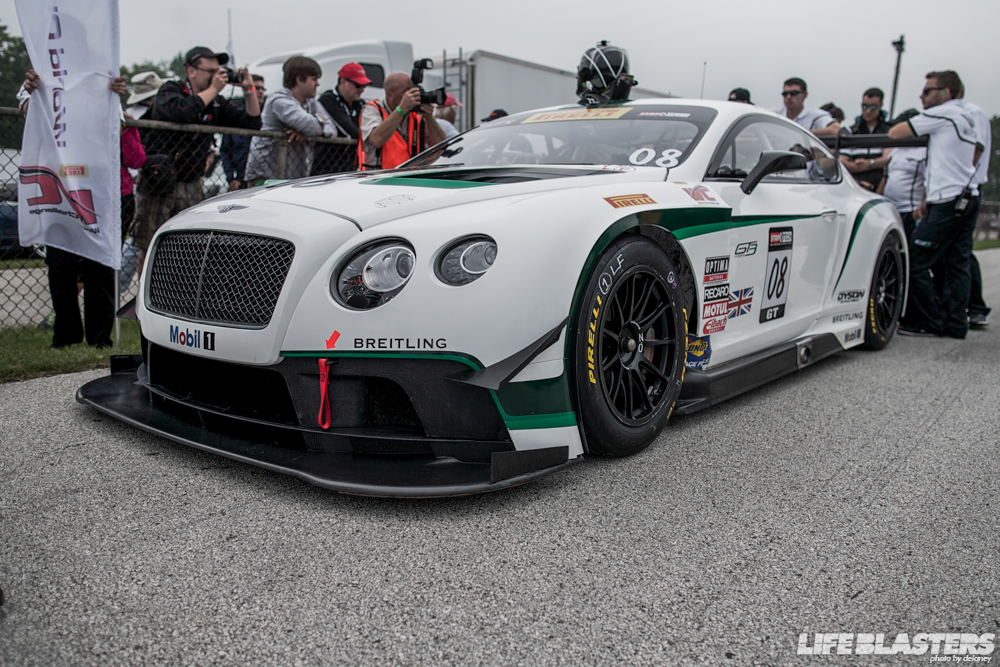 The big talk of the weekend was the fact that Dyson Racing would be debuting the Bentley Continental GT3 car from Europe. With everywhere this car was, a massive crowd of people would be around it. But can you blame them?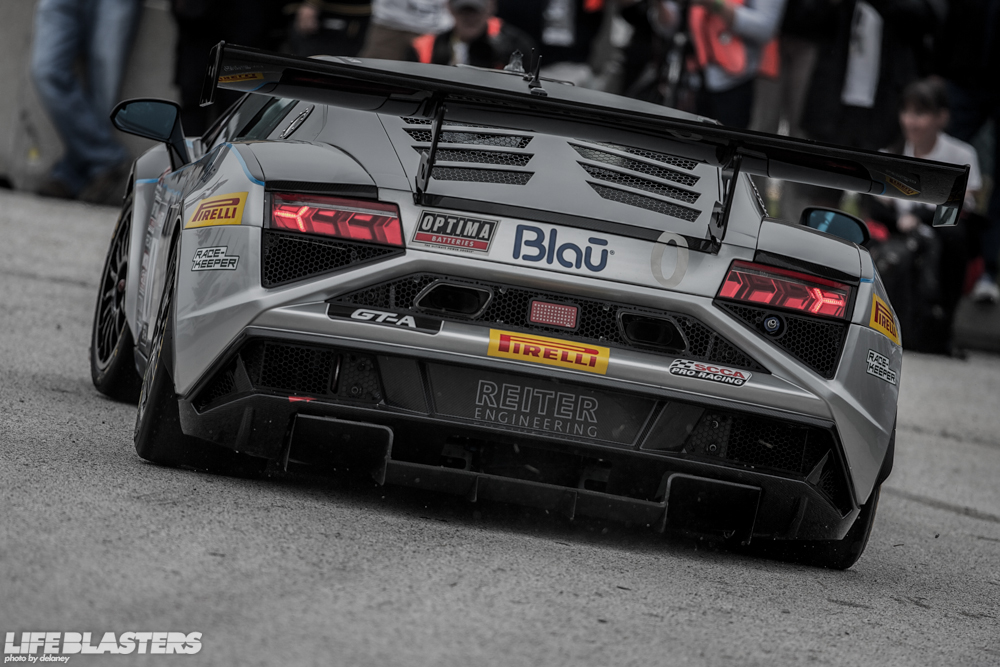 The Pirelli World Challenge is an awesome series, Lamborghinis, Bentleys, Ferraris, Audis, McLarens and Porsches. That's a line up hard to beat anywhere in the world, and they're here racing in America. There was one Lamborghini at Belle Isle a few weeks ago, but I don't remember it ever running.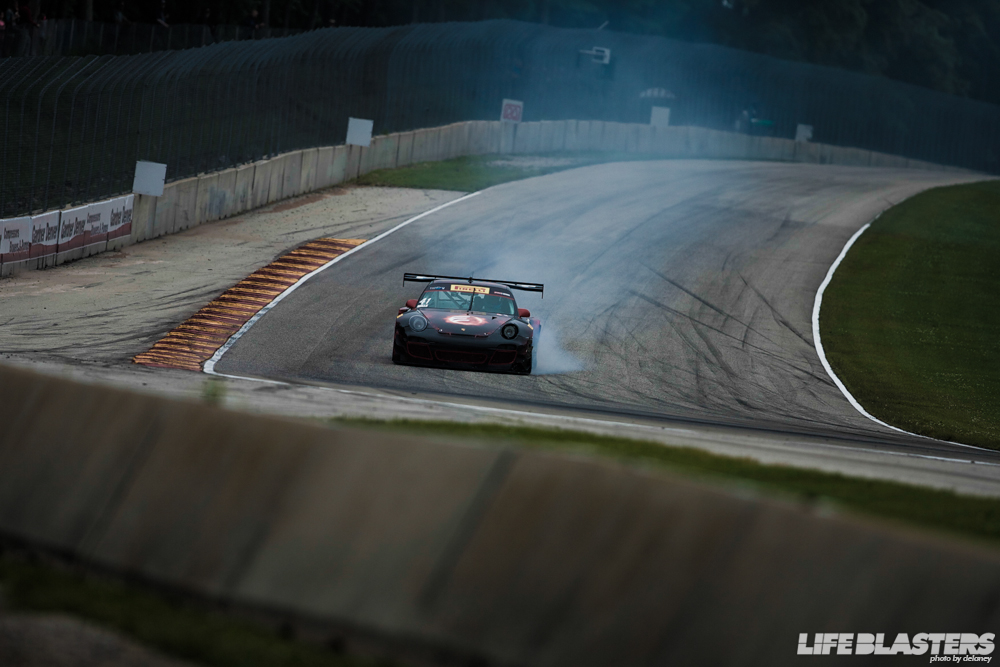 The World Challenge cars are awesome and they're brutal. On the first lap at Turn 5, one of the Effort Porsches and the Lamborghini from above both had front end damage. They may have nice cars, but doesn't mean they don't push them to, and beyond, their limits.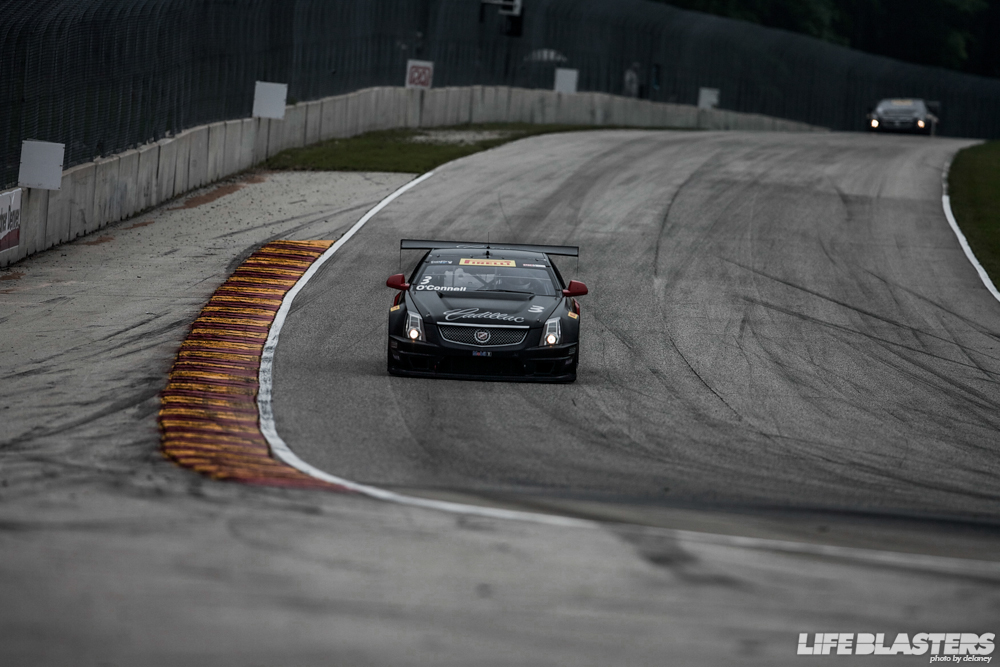 Cadillac has been strong all year against the European manufacturers. O'Connell broke out on the second lap with a massive lead over his teammate.  But there was some confusion at the standing start; apparently O'Connell jumped and was given a drive through penalty.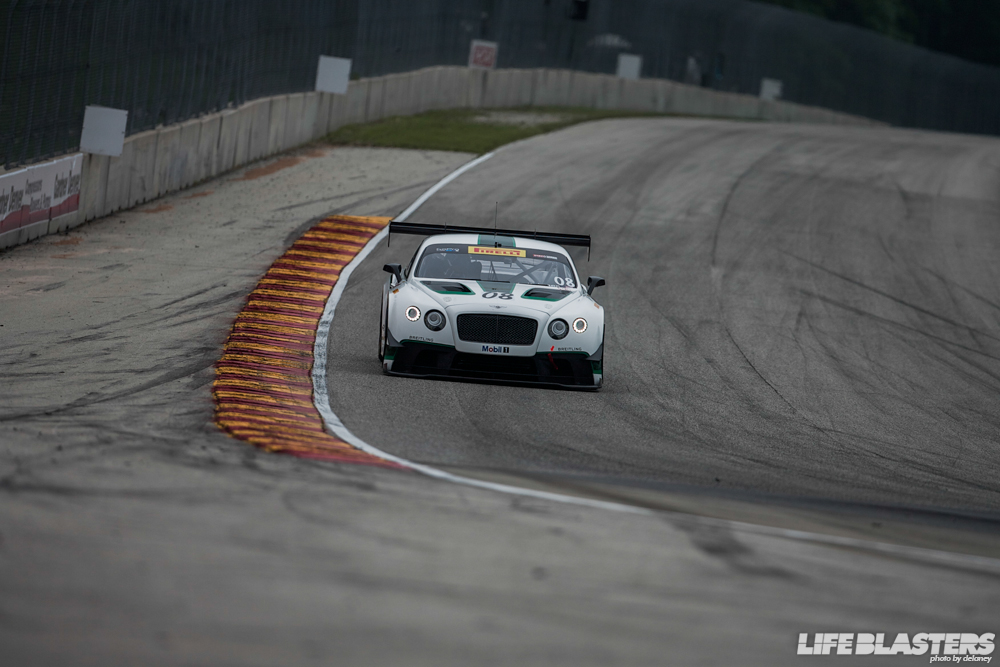 The Bentleys aren't set up for the the World Challenge standing starts, so they lagged back a little at the beginning. But they looked good doing it, so not to worry.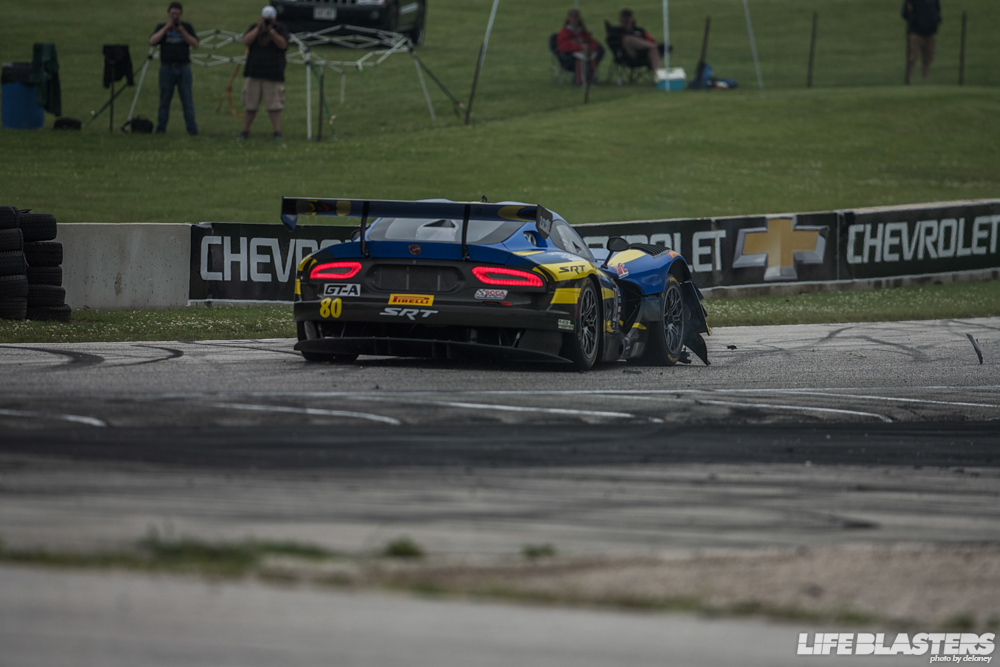 Only a couple laps in, Dan Knox and his Viper lost the rear end and ended up losing his front end to another car. High class cars and high carnage, what a series.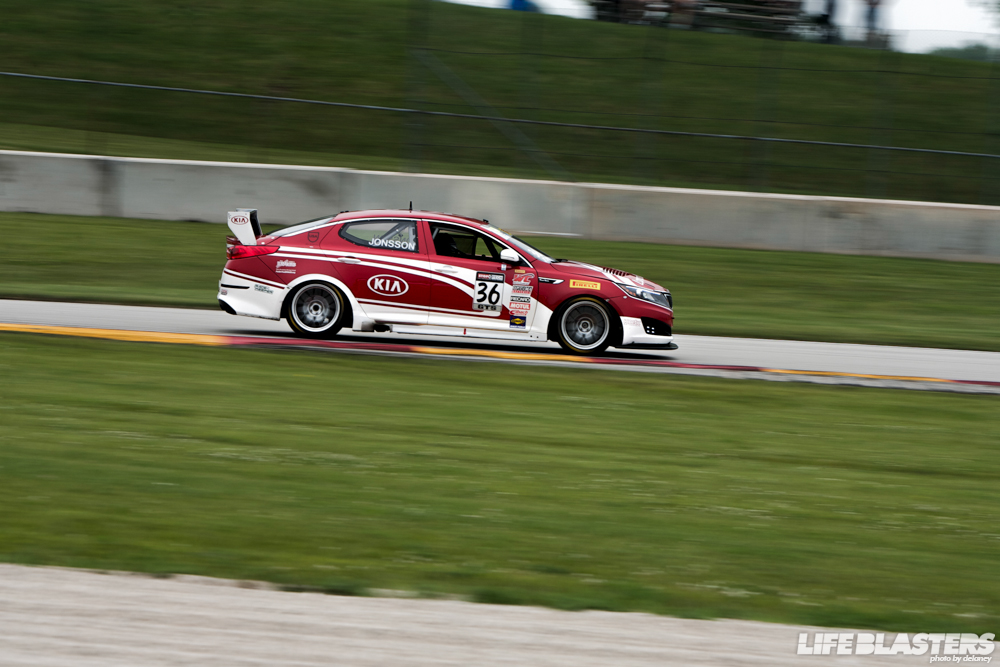 In the GTS class the Kias were killing the rest of the field. I had a friend with Roush there and he said the Kia's boost was set so high that they were impossible to beat. I could believe it because the gaps they were pulling were incredible. But it's pretty cool see some big 4-door Kias racing Mustangs and Camaros.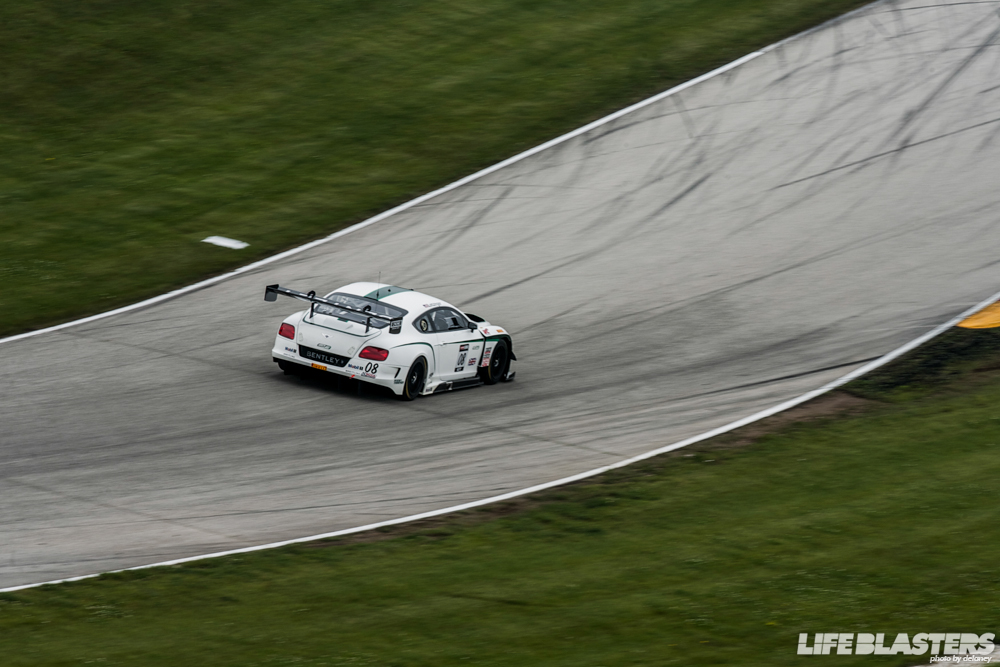 The Bentley held on for a sixth place finish after starting 19th due to no qualifying. It didn't quite have the pace as the Cadillacs and Audis, but for its first race, it held on pretty well.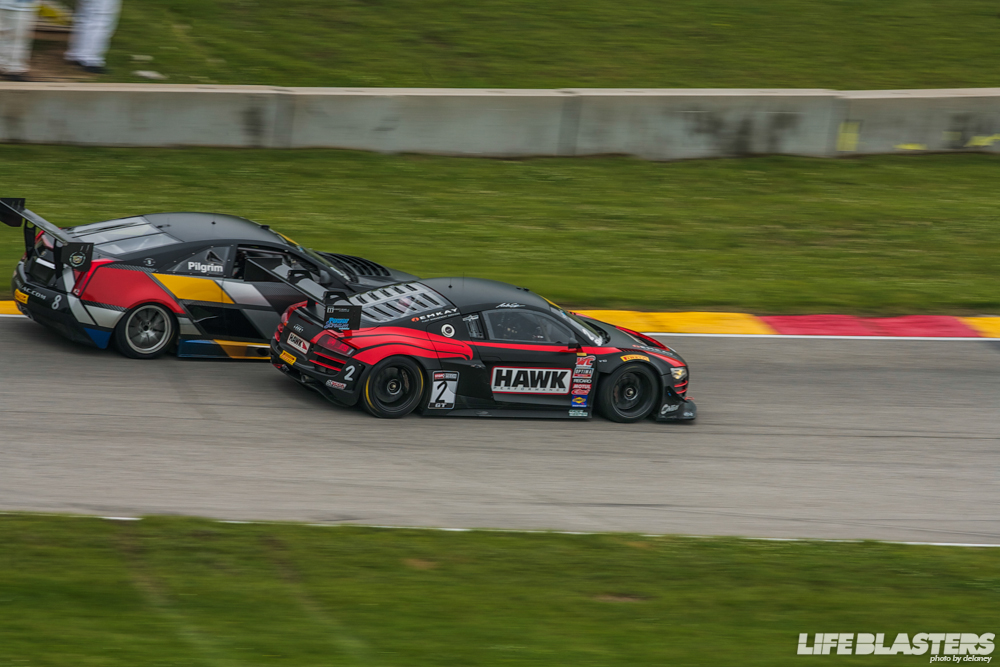 The Cadillacs have dominated the series with O'Connell leading the drivers standings and Cadillac leading the manufacture standings. The announcers were talking about the Audi R8s and how they're great on long runs and would give the Caddilacs a run for their money. Mike Skeen managed to get past Andy Pilgrim near the end of the race.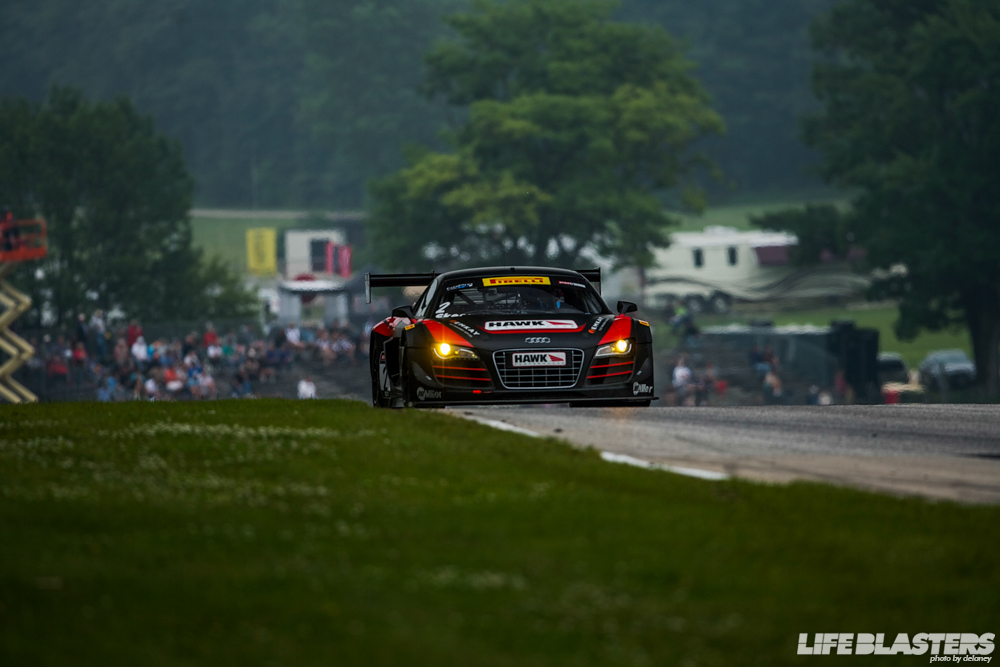 And Skeen would be able to maintain the lead for the rest of the race and take home the win for the first of two races at Road America. The K-Pax Mclaren held on for second place and the remaining Effort Porsche came home third.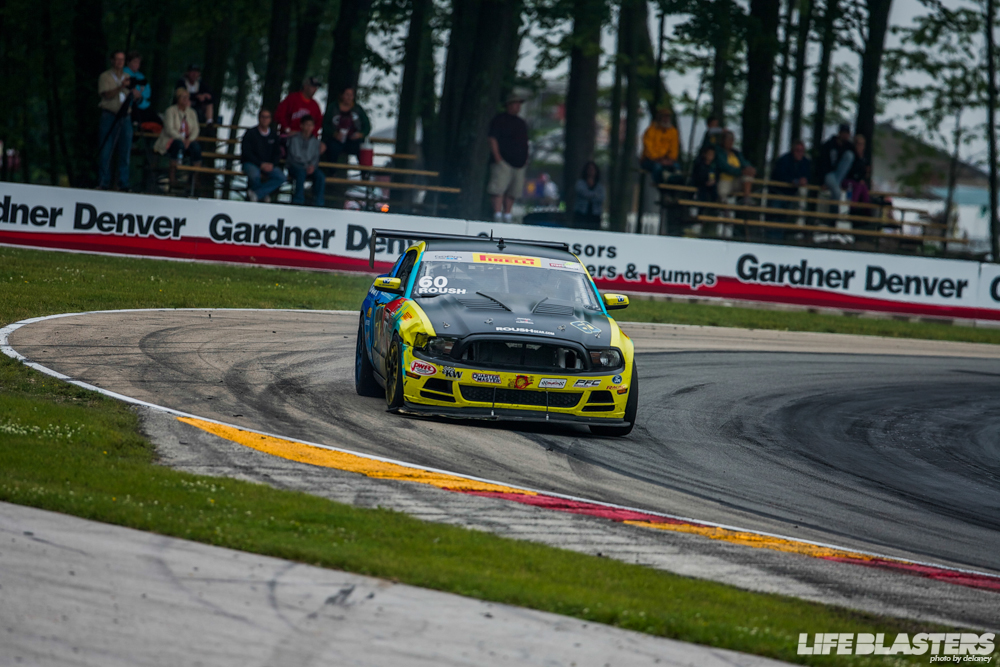 Jack Roush, Jr., was having a great race up until he started having transmission issues. I was next to my friend from Roush at the end of the race and he said Jack was having to hold the car in gear himself and was creeping around the track just trying to get it home. After looking through some in-car telemetry, his transmission temperature peaked at 522 degrees. The Roush team and a few other teams had the rest of the day to get their cars ready for the second race the next morning.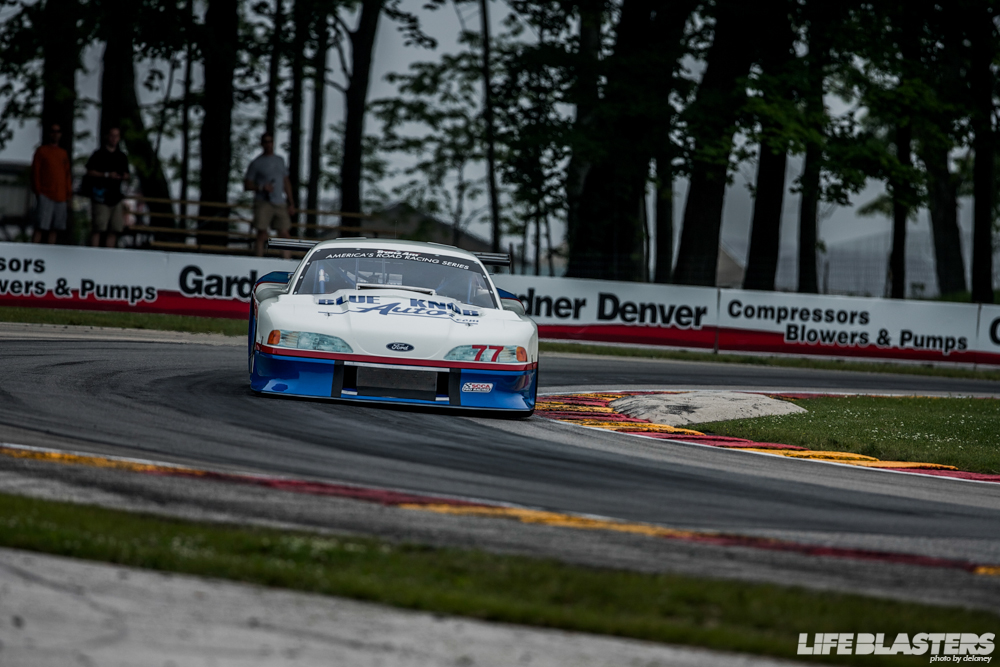 After the World Challenge race, the Trans Am series had their practice session. This Mustang was one of my favorite cars all weekend. It was cool seeing a Mustang from the '90s out there still racing.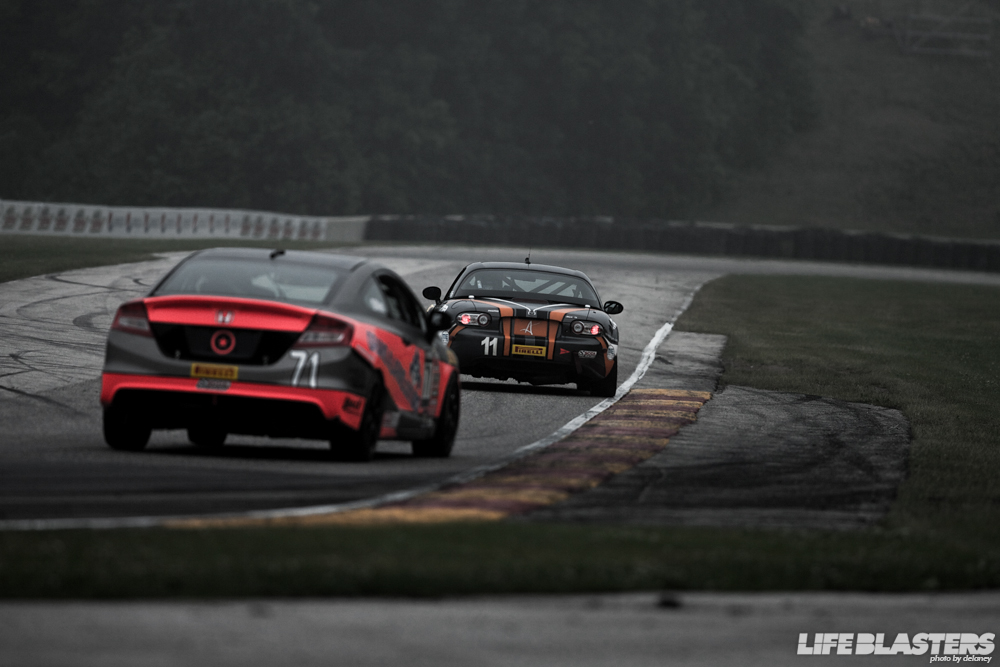 After Trans Am, the Pirelli World Challenge TC/TCA/TCB series ran. By this time any of the fans for the main World Challenge had left, leaving not too many people left to watch these guys race.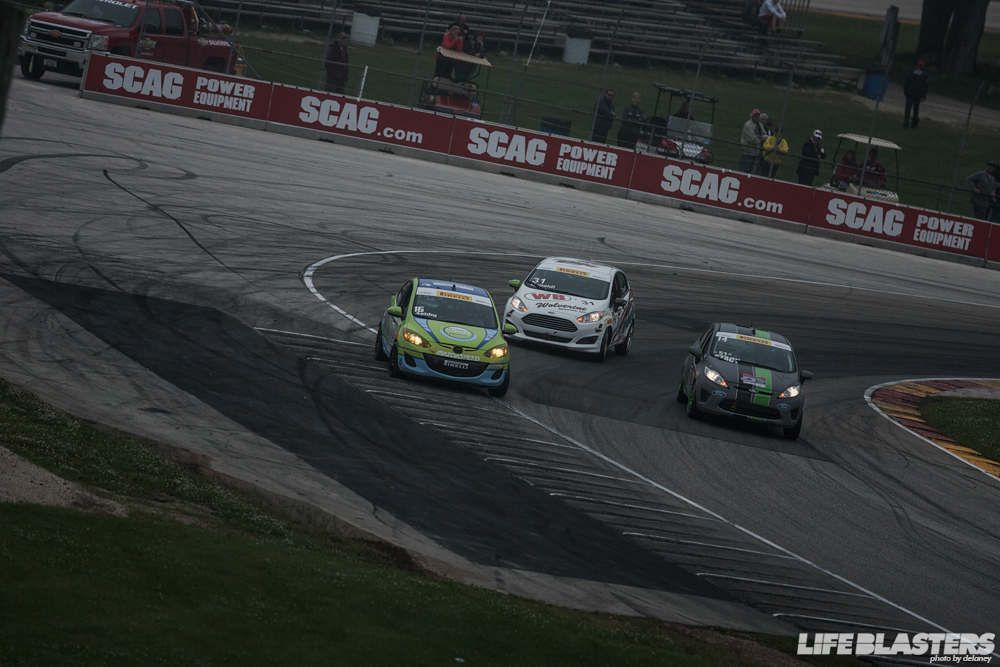 I was originally going to head out too, but after a few laps it turned out that this series was awesome. The cars were relatively slow, but because of that they could just chuck them into the corners and still be able to stay on track. It was fun to watch the little cars just bounce around off each other like nothing happened. If you're ever at a race with these guys, stay and watch, it's awesome.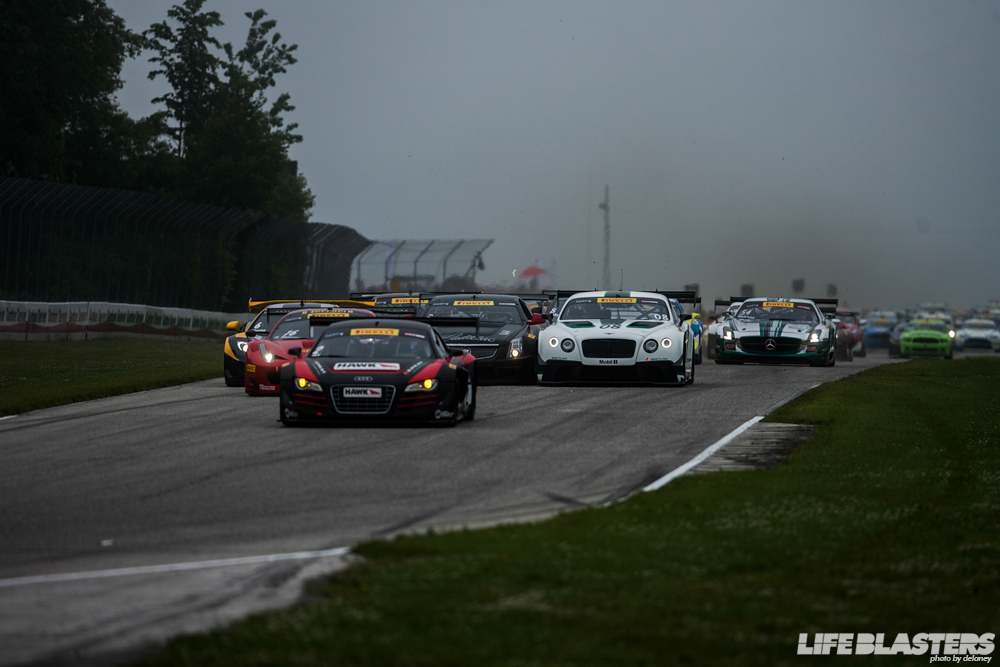 The next day it was race two for the World Challenge Series. Going into Turn 1 seems like a no brainer, but with a track like Road America you really need to pick your route. Seeing a three wide battle between a Bentley, a Cadillac, and a McLaren going three wide into a corner is pretty epic. How they all made it through unscathed was beyond me. But it was awesome.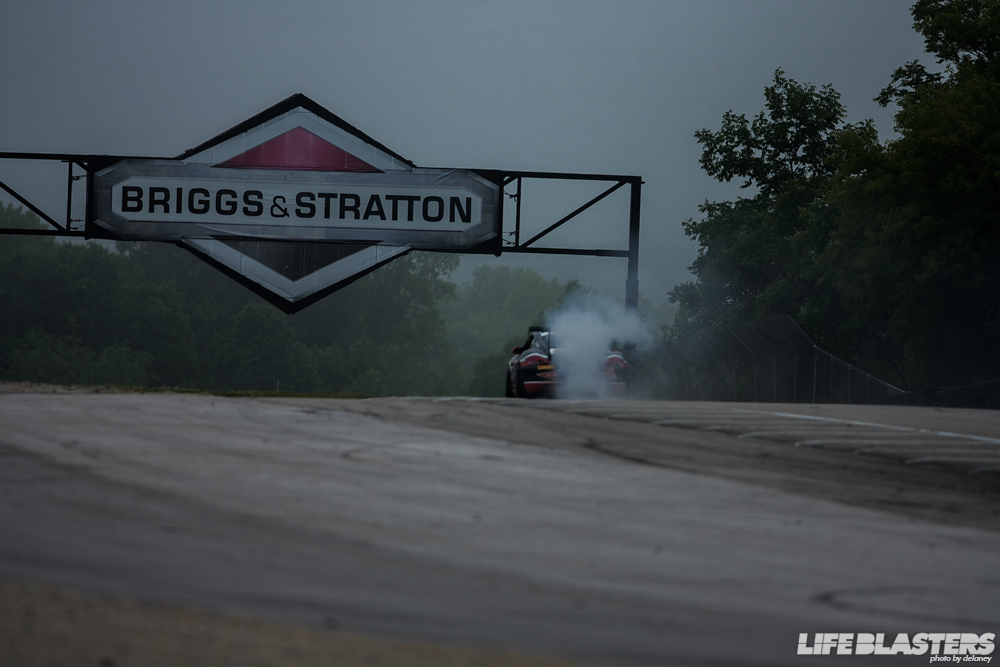 But like yesterday this race wasn't without drama. One of the GTS Caymans blew its motor after Turn 1, leaving a trail of oil.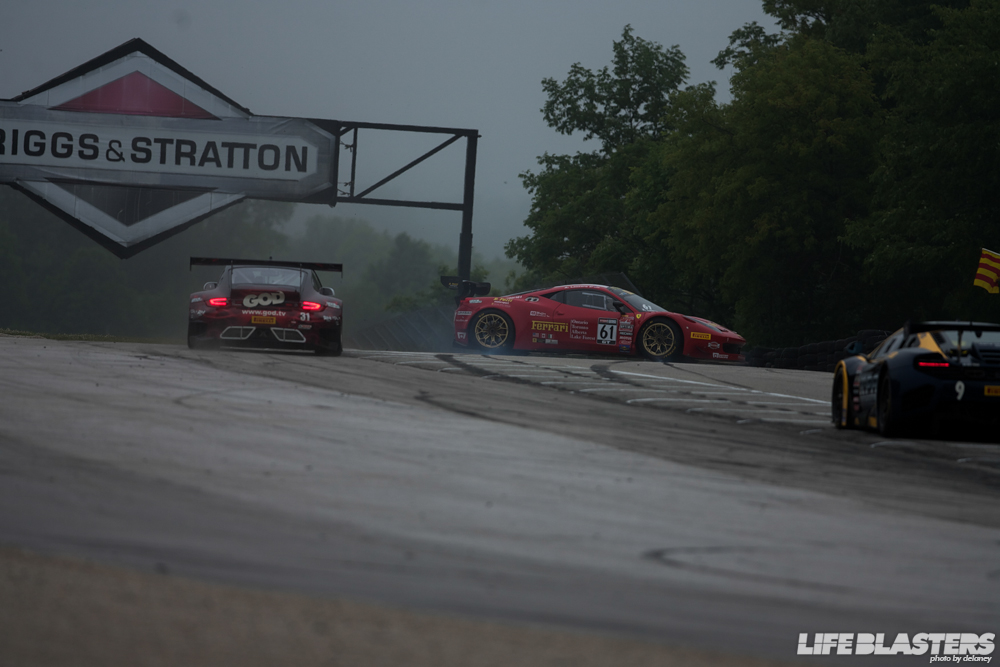 I guess no one was there to see it, because by the time the GT class got there, a 458 caught it and spun near the front of the field. The first few cars were able to avoid him, but as he rolled back across the track he wasn't as lucky.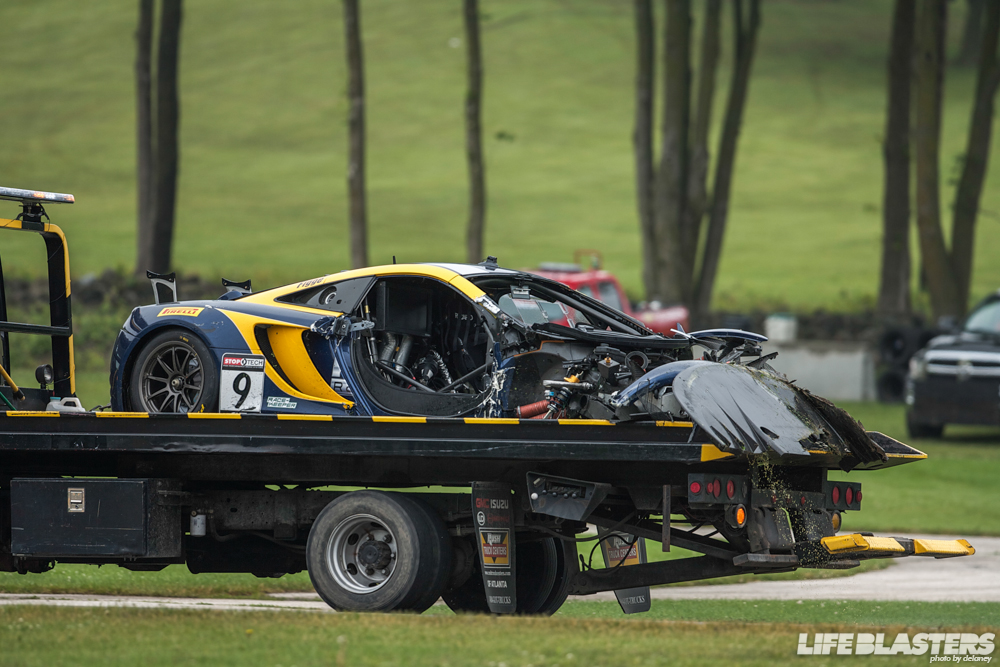 Just on the other side of the crest I heard a huge crash. There was smoke coming up over the crest just a few moments after the crash. I'm not sure if it was from a small fire, or just cars going off to avoid the debris. Luckily, both drivers were okay after what looked like a hard hit, especially for the McLaren. The downside was, between the oil from the Porsche and the coolant from the McLaren you can see here, the race had a lengthly yellow cutting the race length down.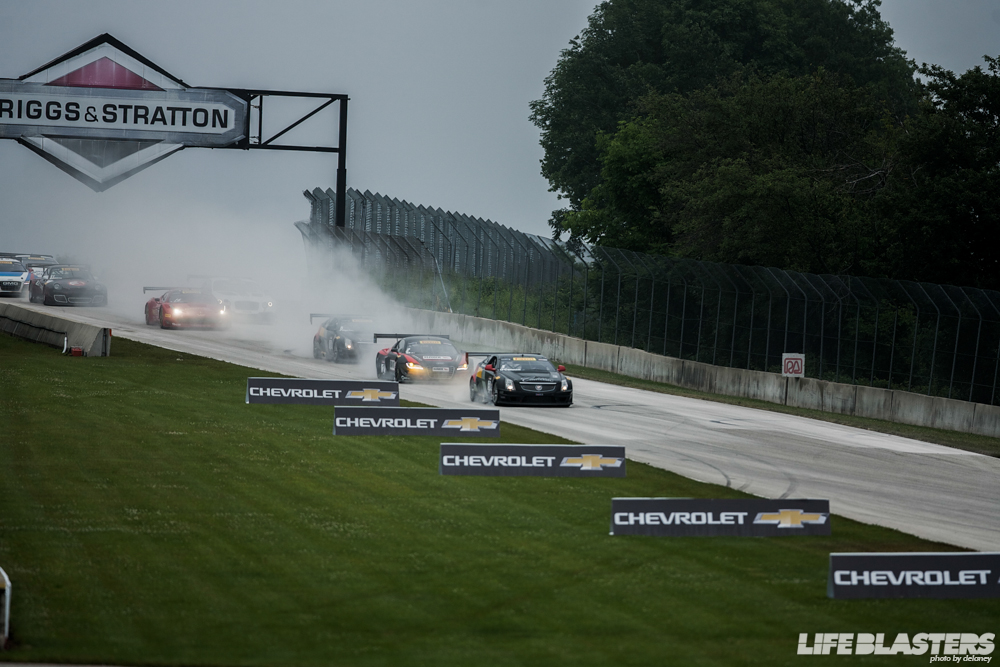 Once the green flag was waved, there were only a handful of minutes left, leaving a sprint race for the drivers. The Stay Dry being kicked up by the cars gave the feeling that we might not of seen the end of the yellow flag.

Everyone made it through fine and Mike Skeen managed to get his Audi in the lead again and would hold on to sweep the weekend. Cadillac learned their lesson from the day before, and managed to get second and third behind Skeen. The Bentley had another good showing and came home in fourth, showing the potential for the Bentley is very high.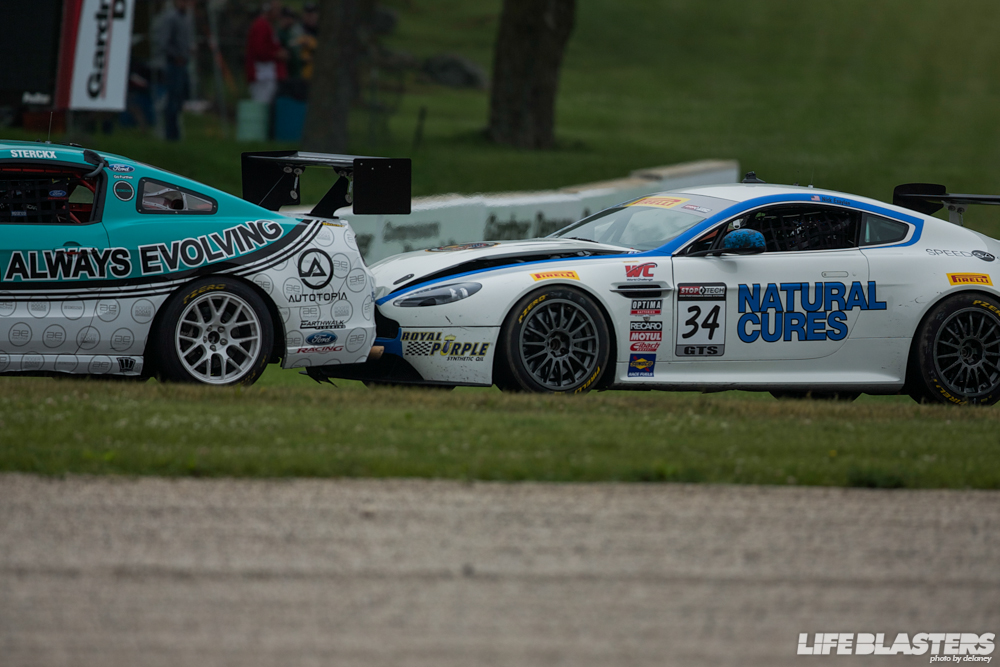 The GTS guys were getting into the NASCAR spirit and were using a little bump drafting coming off Turn 3. I think we need more Mustang/Aston bump drafting in the world.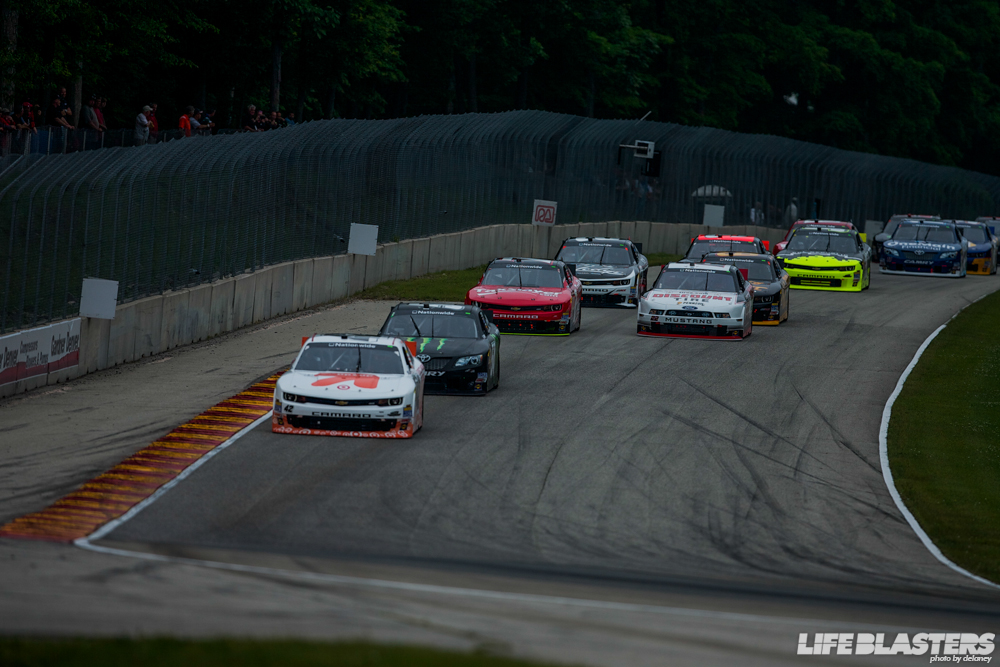 Then it was time for the Gardner Denver 200. It looked like it was a seamless transition here from the World Challenge to this, but that is far from the truth. NASCAR had approved Goodyear on brining rain tires to the race. During the pre race warm up, there was some rain in Turns 1 and 3. They couldn't put on rain tires because the rest of the 3.5 miles were dry and would chew up the tires. They couldn't let them run with the slicks because the first few corners were too wet. So we waited, and waited and waited. It was roughly an hour until the corners were dried out and they were able to run.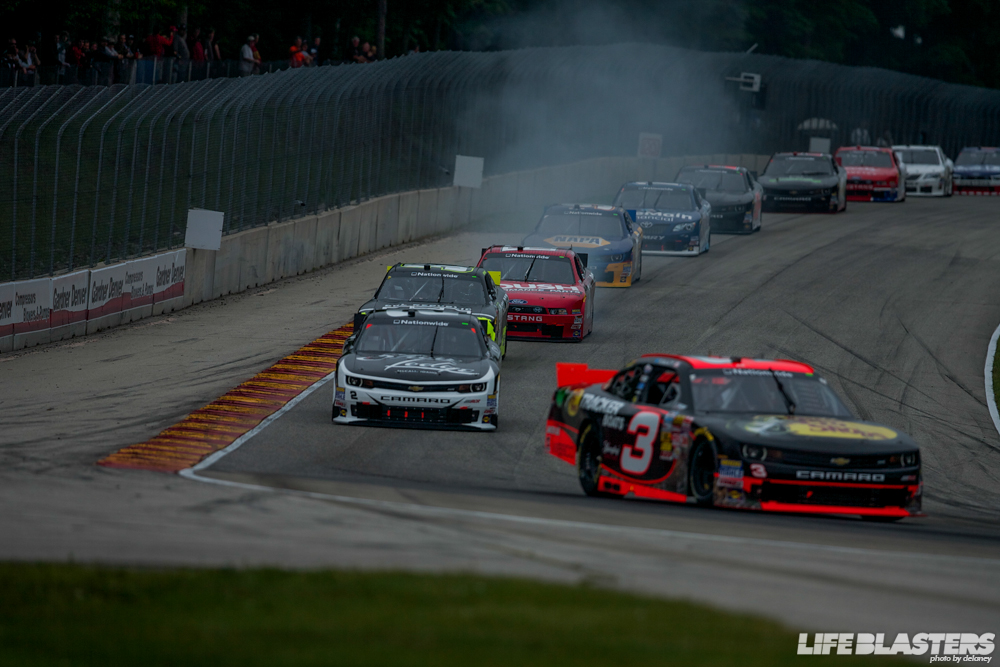 38 cars came barreling down the straight and down the hill into Turn 5. There were a decent amount of rookies which made it really interesting with cars coming in too hot and locking up. There were a few off, but nothing too bad.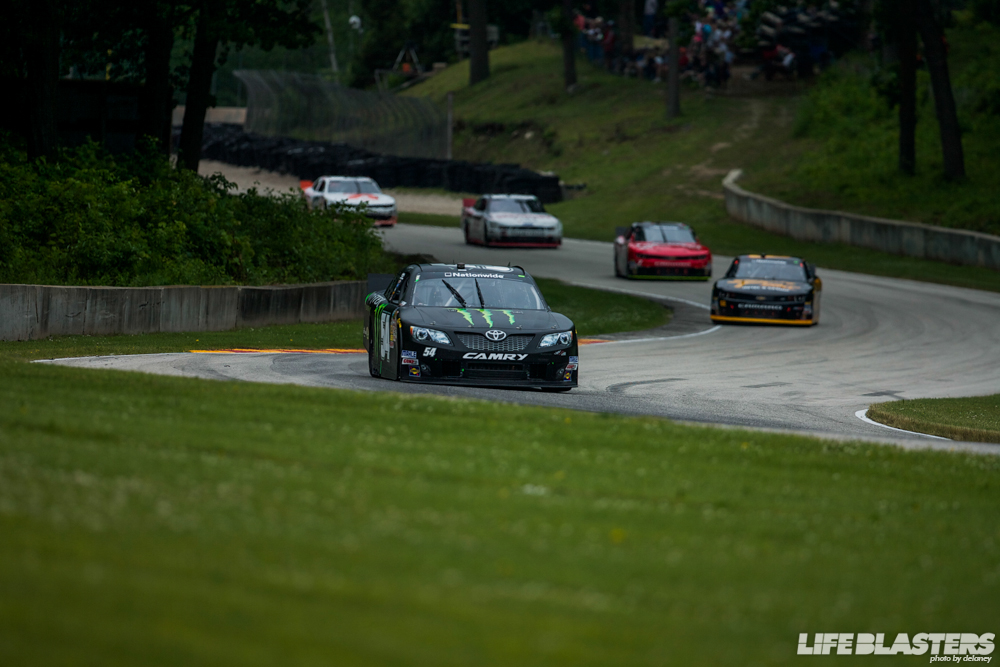 You may have noticed the wipers on the cars. We weren't out of the clear yet. They radar would show up on the Jumbotron every now and then showing another threat of rain making its way to the track. I was all for it.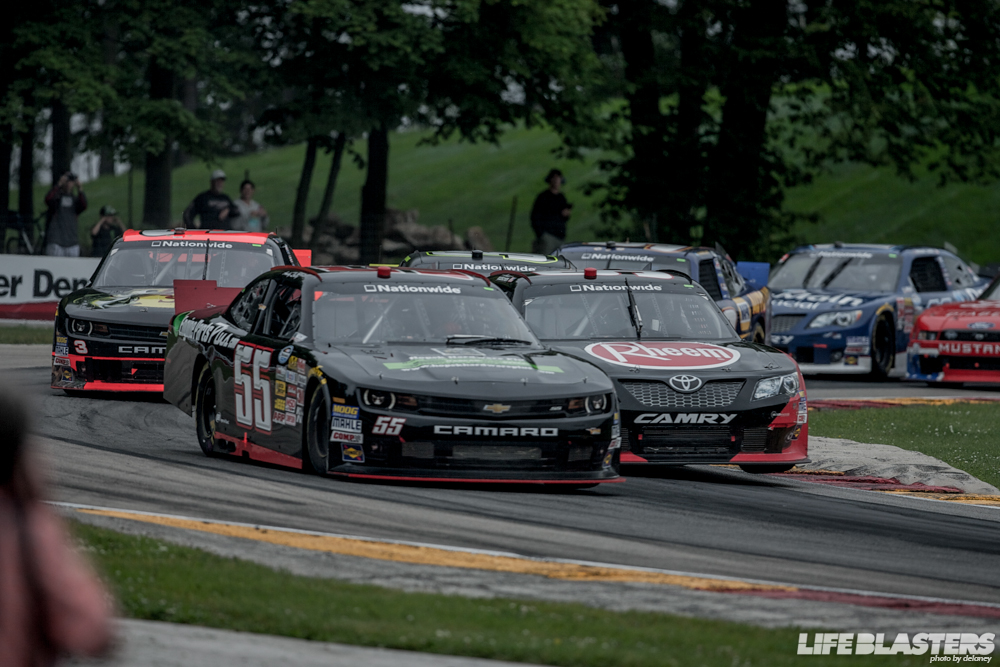 A few cautions would bunch up the field and cause more mayhem in some of the tighter corners. I've always loved NASCAR, but being able to see them on a road course again is just amazing. The noise they made and power they have is just unreal, and seeing them all bunched up on an amazing road course like Road America is like a dream.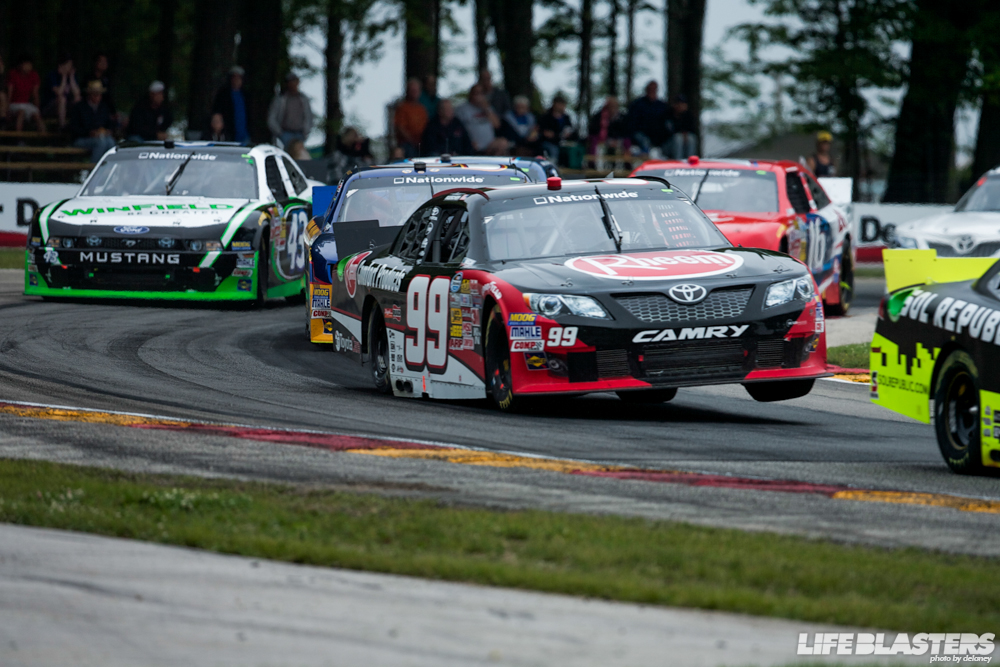 I'll never get tired of the three wheeling the cars do coming off the corners. Some did it more than others, it's pretty amazing when you look at and realize how some suspension settings can really change a car's handling.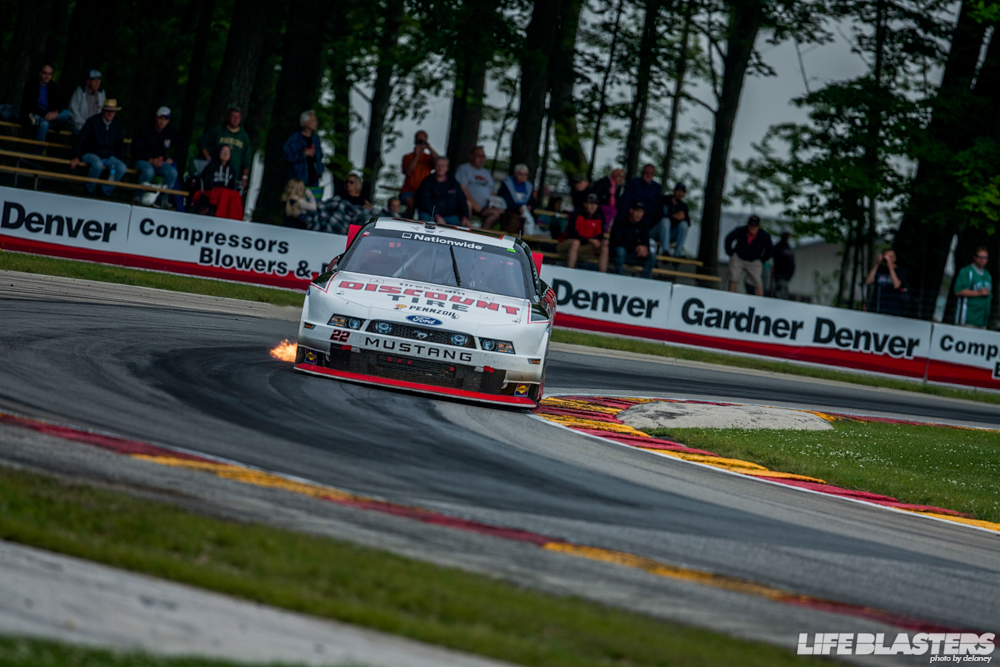 Alex Tagliani, which I'm sure most people will know from open wheel, grabbed the pole during the earlier qualifying season. There was a battle for almost the first half of the race between he and Sam Hornish, Jr. Alex was trying to continue the dominance of the number 22 car on road course after it won all three road course races last year.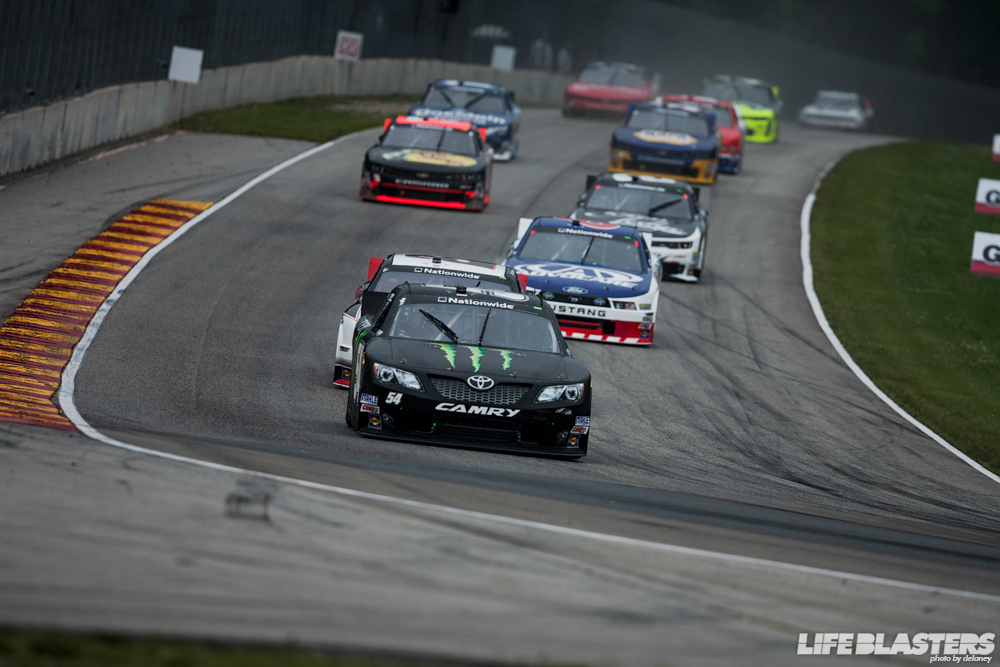 But then my hopes were answered. A yellow flag was thrown and all teams were told they had to put on rain tires. The rain bank on the radar made its way to the track in the second half of the race and was going to make it very interesting.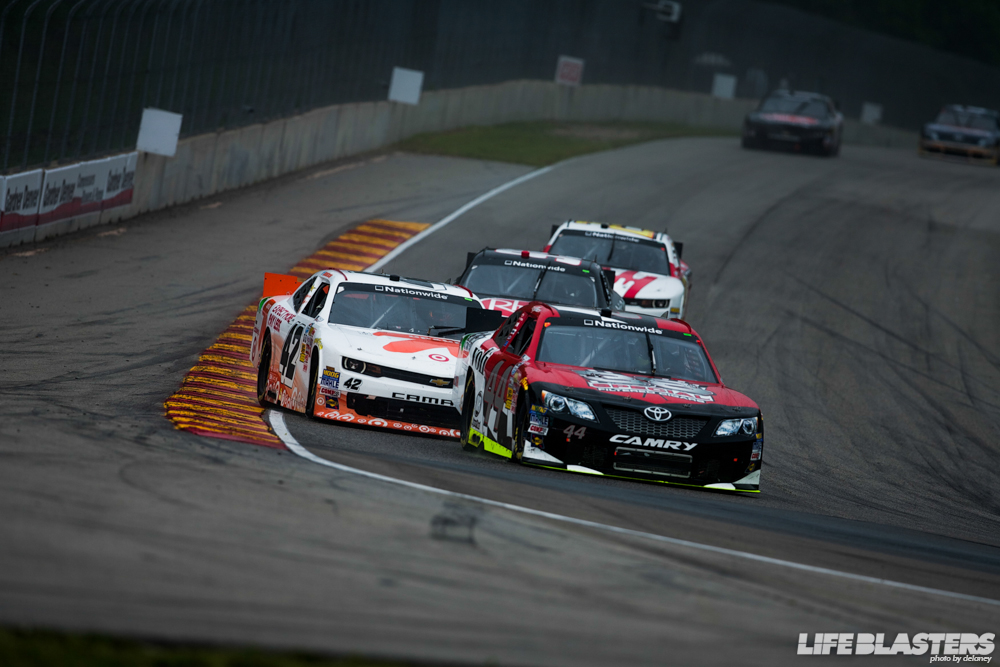 There were a lot of rookies in the field, more rookies for road courses, and even more rookies for racing in the rain. It was going to be a interesting race with a lot of first timers on rain tires on a four-mile course.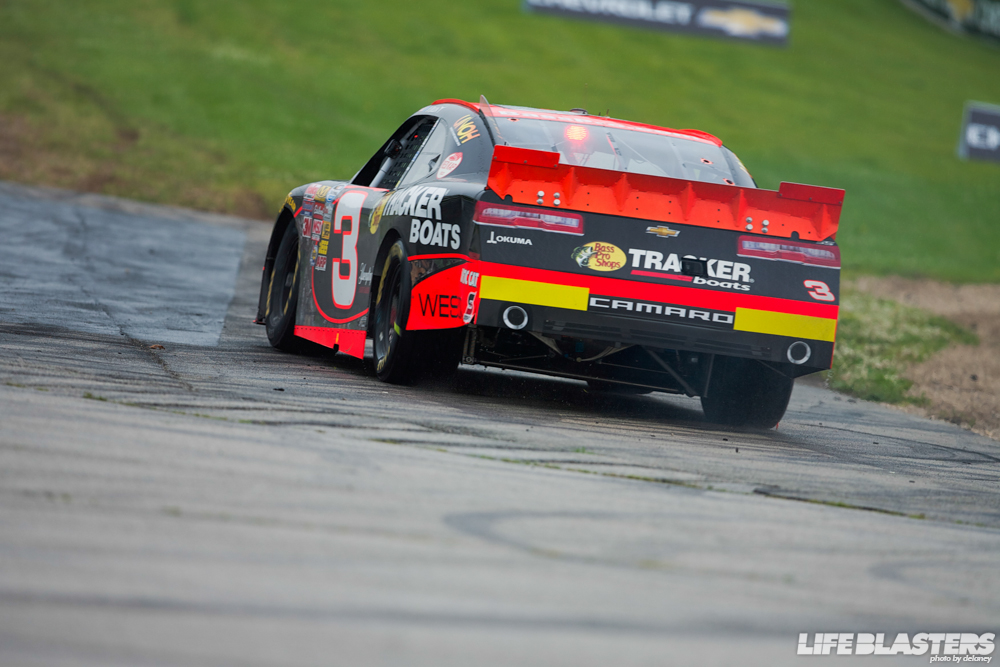 Tagliani showed his road racing prowess and left the field behind. Sam Hornish also showed his skill while gapping the rest of the field himself. The rain put me in an interesting spot too. I could walk around and try to get all the action, or I could just hang out in one corner and see what unfolded. Trying to hike around Road America takes about two laps from a decent corner to another, so I just stood it out at Turn 5. There wasn't too much drama, aside from one or two cars over shooting the corner every lap.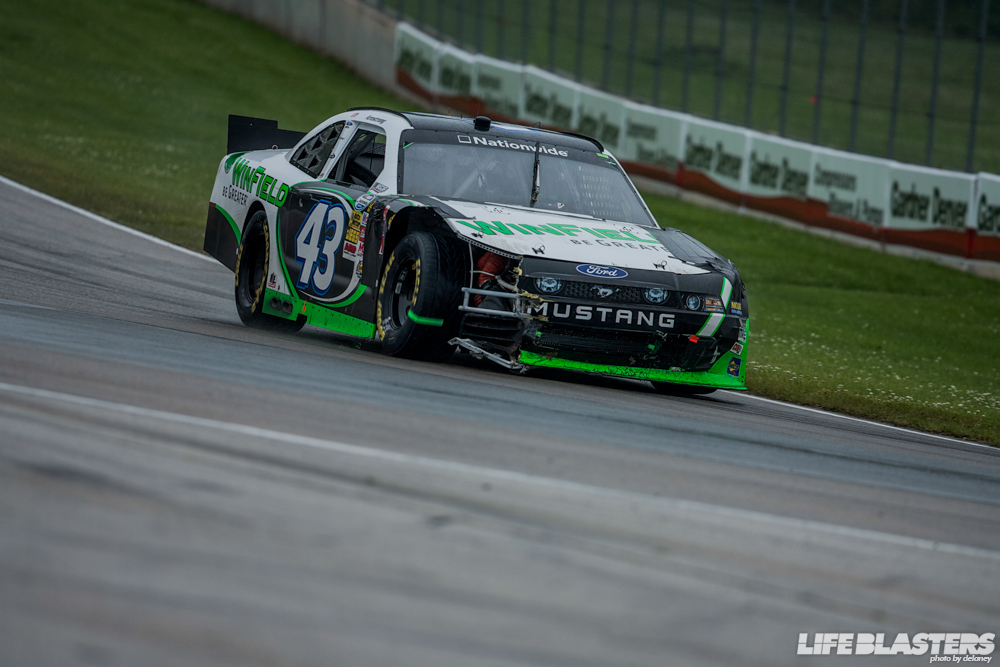 It really became a battle to just finish. Cars were going off almost at every corner; every lap it seemed that one car was with less body panels than the lap before. But everyone pushed on and continued racing.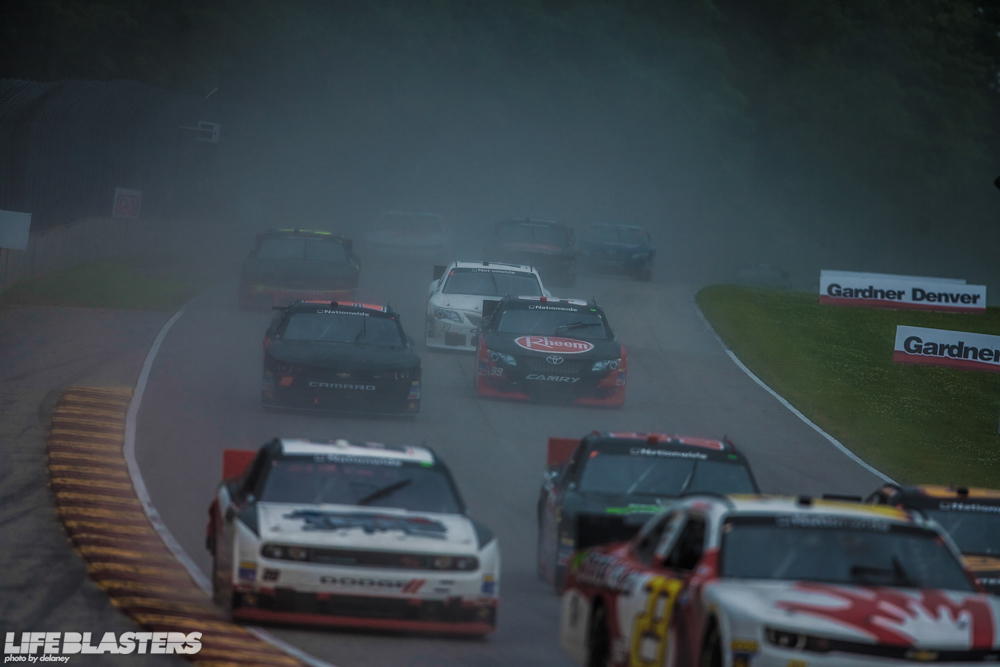 Then my dream came true. For a lap or two the rain really came down soaking the track and causing some pretty big rooster tails. Many of the cars had windscreen wipers, but not all of them worked, and some cars didn't have wipers at all. How they made it through the five or so laps with the heavy rain is beyond me.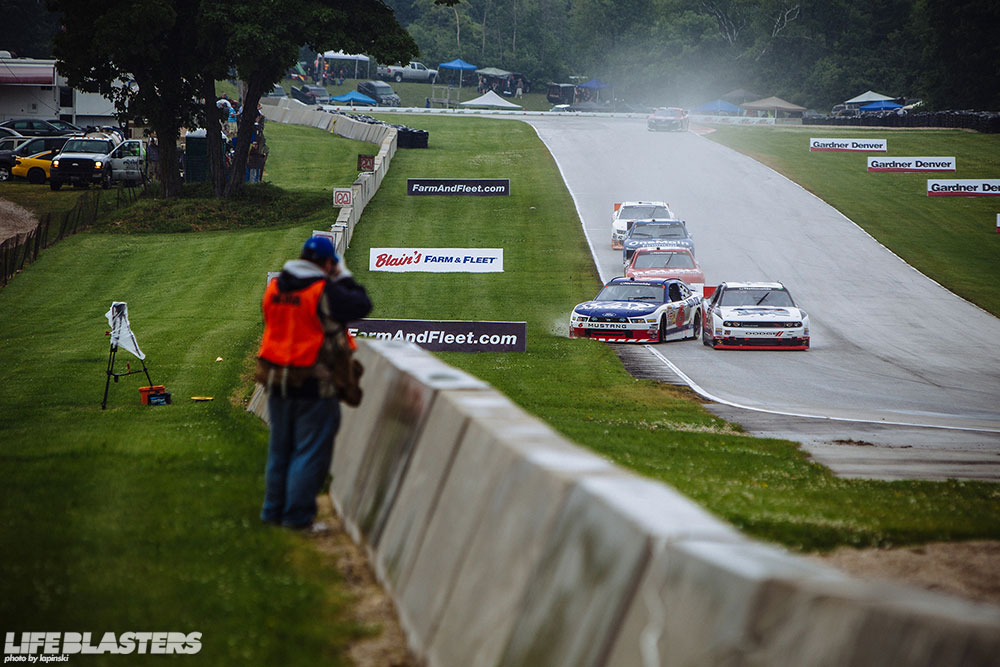 Luckily, Peter was at another corner and caught Trevor Bayne spinning out. Trevor came into the corner too hot and tried to avoid the car in front and dropped his tires into the grass.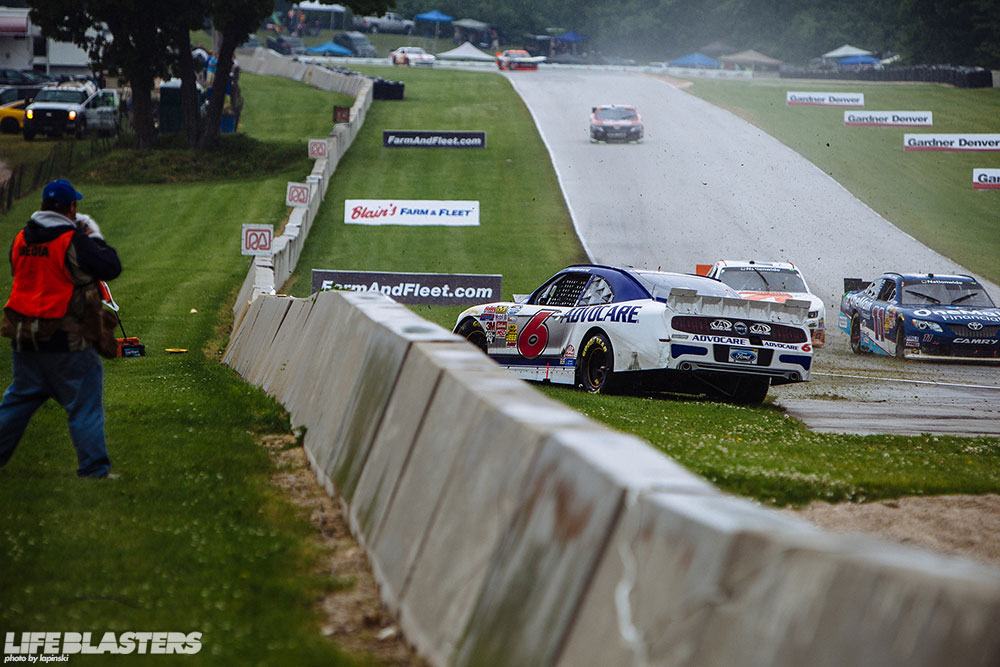 Like with any race track, the grass was like ice because of the rain and Trevor was just along for the ride.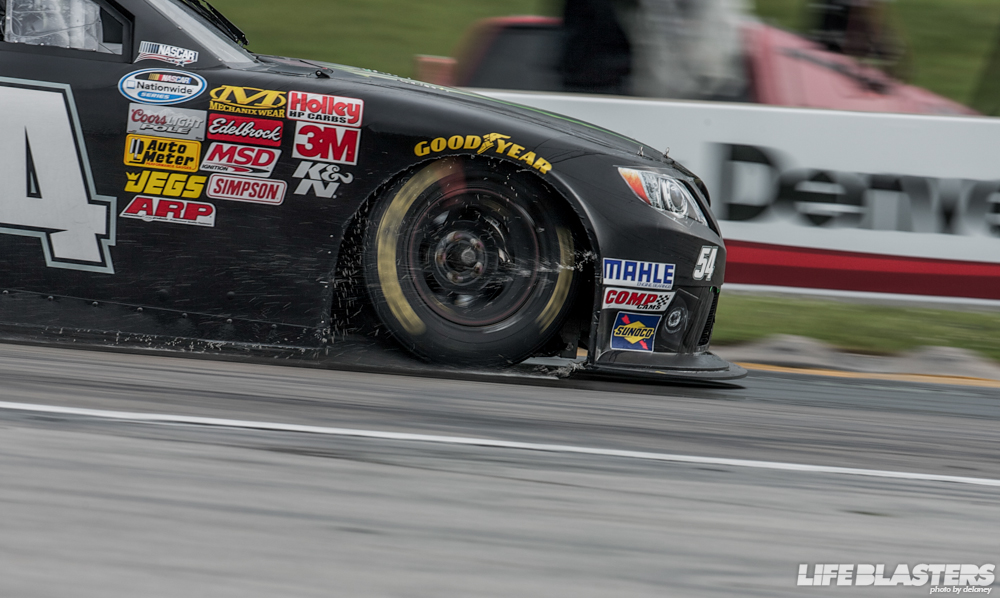 I was nerding out seeing the cars in rain. This was only the third time in Nationwide history that rain tires had been used, and to a lifelong NASCAR fan it was more than a dream come true to witness it.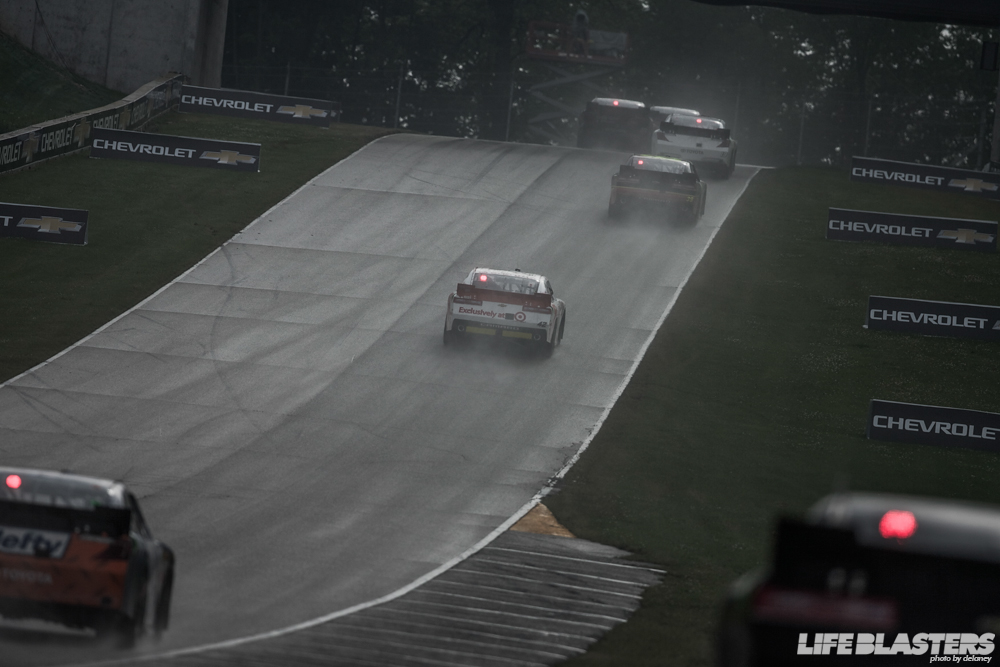 Along with the rain tires and windscreen wipers, the cars were also equipped with rain lights because of the rooster tails. I just could't believe my luck that I was at a NASCAR road course race in the rain! The cars took Turn 5 at about half speed if even that, but a few of the drivers just barely touched the throttle and their car would pitch sideways. 800 horsepower on a wet track does not someone play very well.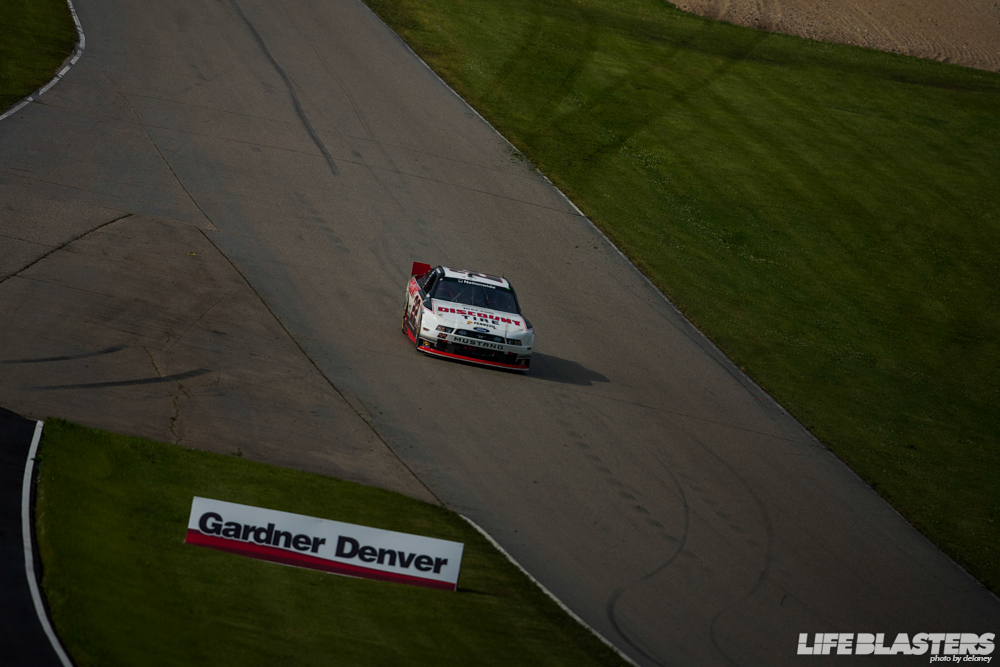 As fast as the rain came, it left again with sun taking over. This threw a whole new wrench in the plans of the teams. Some teams stayed out on rain tires while others opted to take on slicks, all this with five laps remaining. Tagliani was still way out front and decided to stay on the rain tires and try to win. A lot of the teams decided they didn't need gas either because of the few yellow flag laps during the beginning of the rain. It would be a dicey gamble.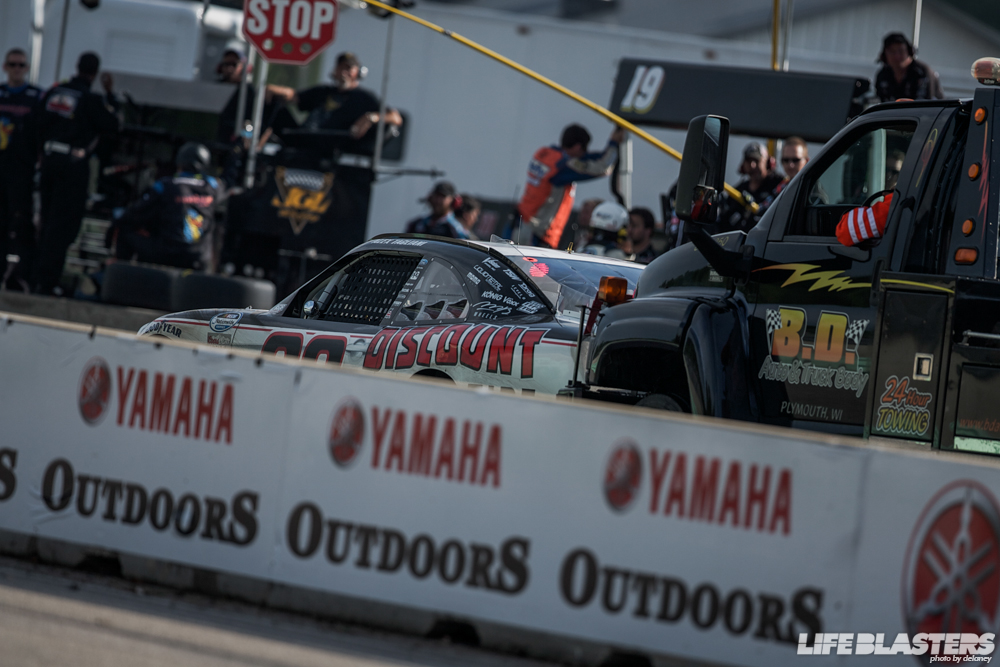 Then there was a yellow, Taliani ran out of gas and stalled on track while trying to get back to the line. I can only imagine it was because he pushed so hard during the rain laps when everyone else took a slower approach. His caution came out late in the race and called for over time. A green white checker. Tagliani also racked up a decent amount of penalties that put him back in 23rd at the green flag.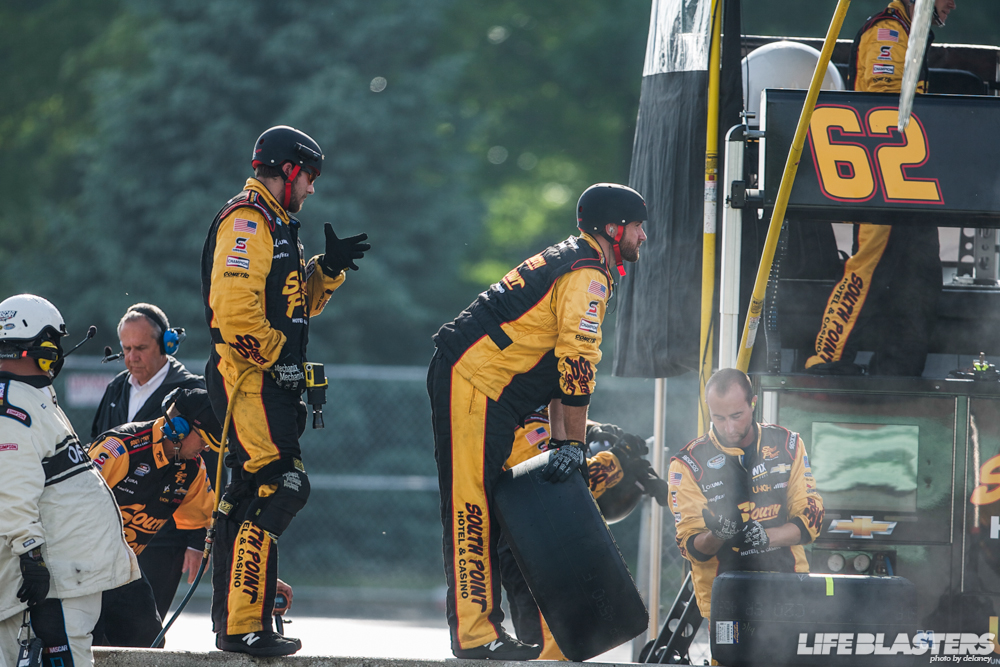 The caution then forced all the teams to make last minute decisions on whether to pit or stay out. Brendan Gaughan was quietly hanging out near the front of the pack all race. He used to be an instructor at Road America, and the announcers were saying that he always liked to point out that he taught Andy Lally his way around the track. Brendan's team was ready on the wall, but they decided to risk it and run the last two laps on the rains.

Series points leader Regan Smith came in for a switch from wet to dries to help pad his lead. He'd end up finishing 13th, not the best, but any points at a road course are good points.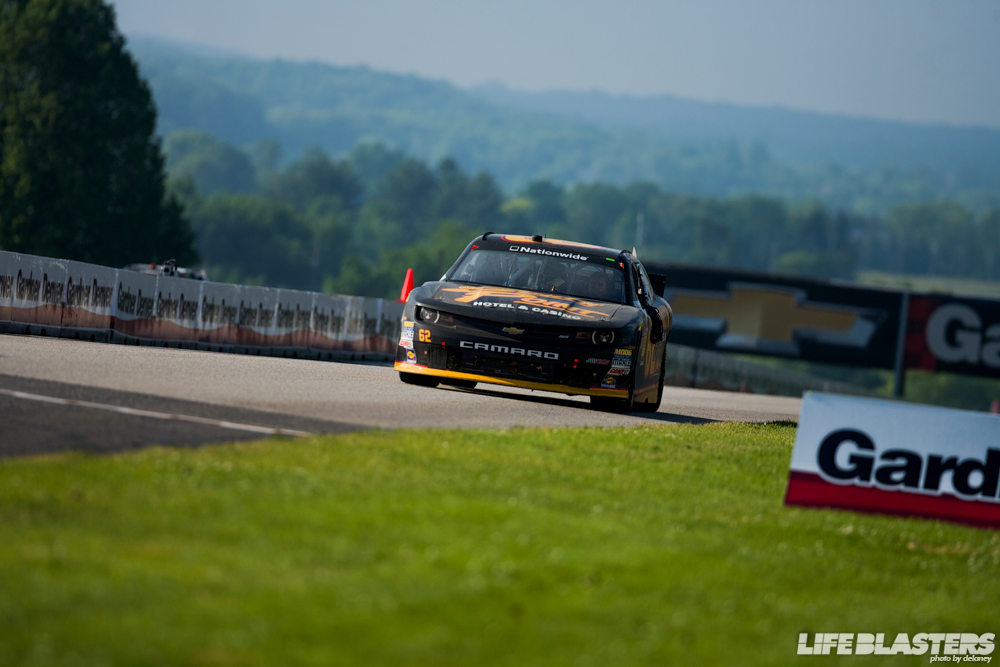 Sam Hornish had a rough start and dropped behind, leaving Brendan Gaughan alone for his first Nationwide win in 98 starts.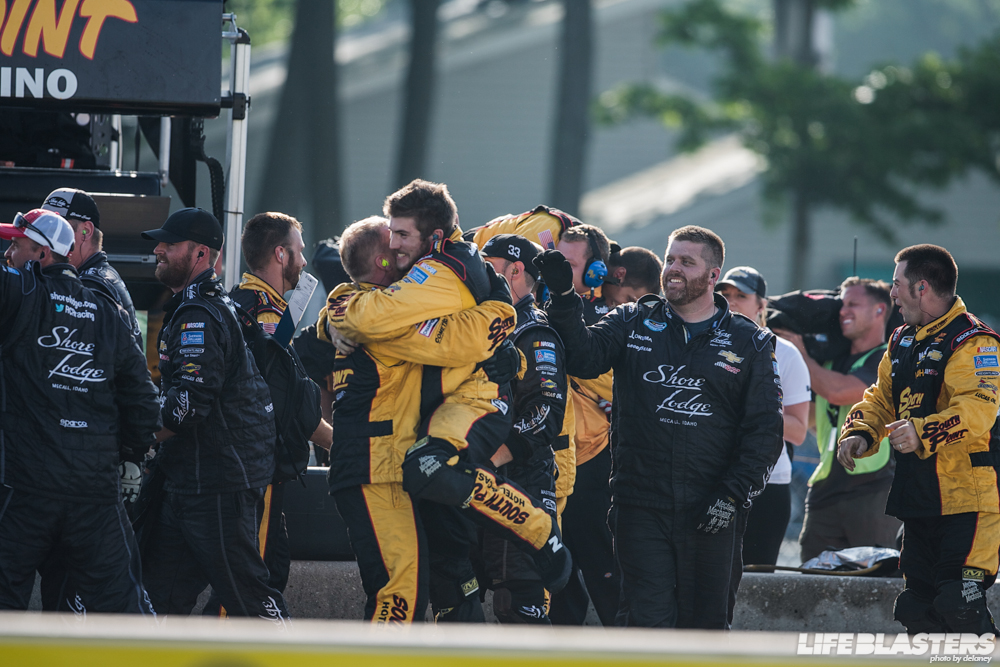 His crew was located right across the track from us, and based on their reactions during the last two laps, we could tell when Brendan got passed, then when he passed back. Seeing the crew's reaction to his win was pure joy and excitement.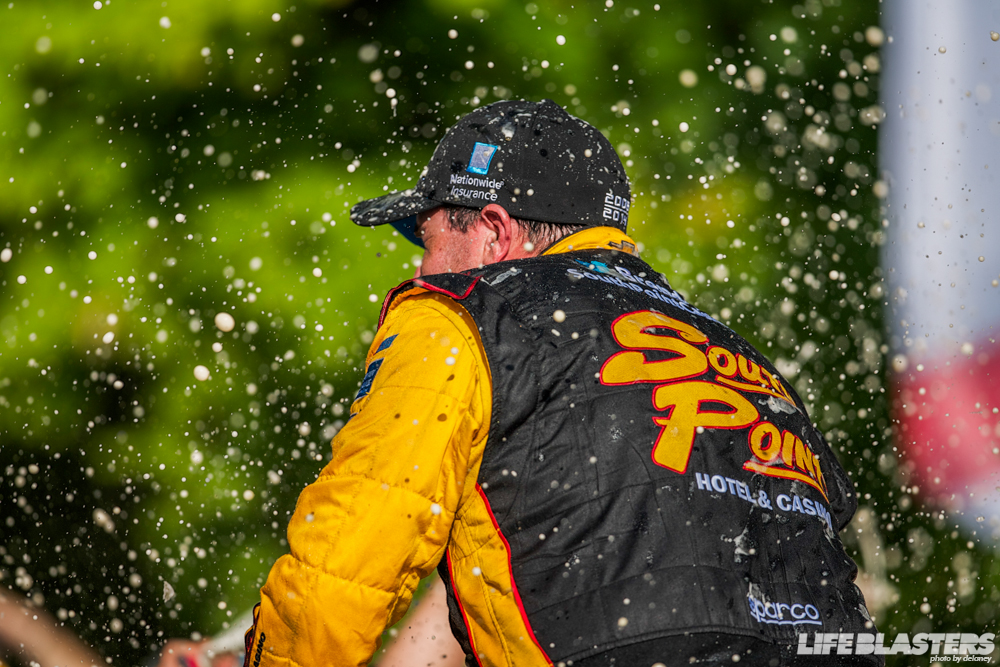 Brendan's reaction was even more joy. Seeing someone win their first race in a series is a cool experience, and I remember Brendan from the old NASCAR games from the early 2000s so I was happy to see him finally win.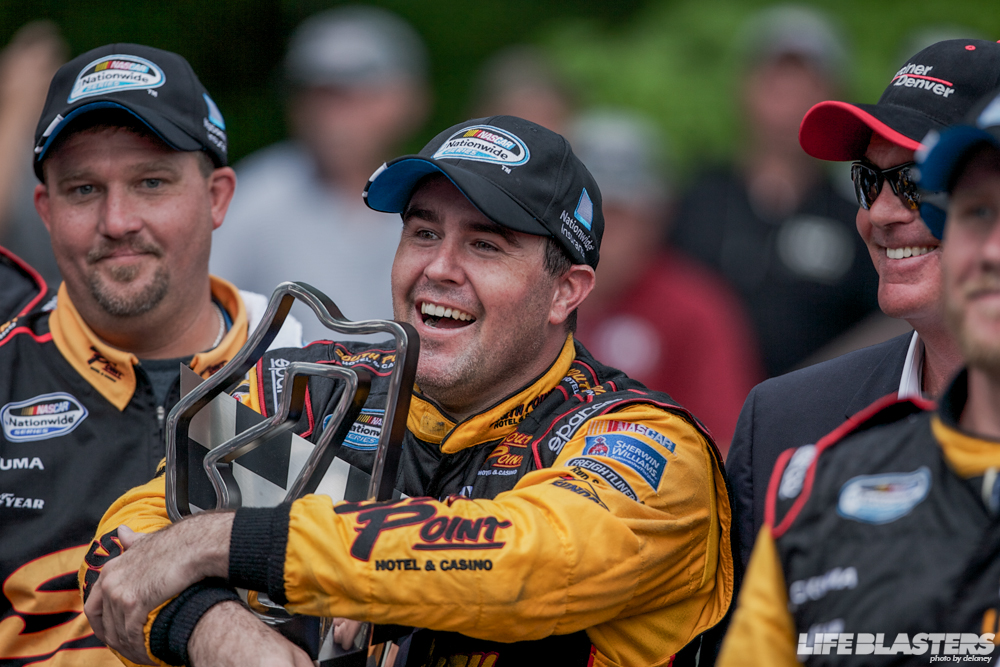 The look on his face after everything really sunk in was a face of just pure happiness and relief. He also got a pretty cool trophy that was made by a local metal worker. Not a bad track and trophy for a maiden win.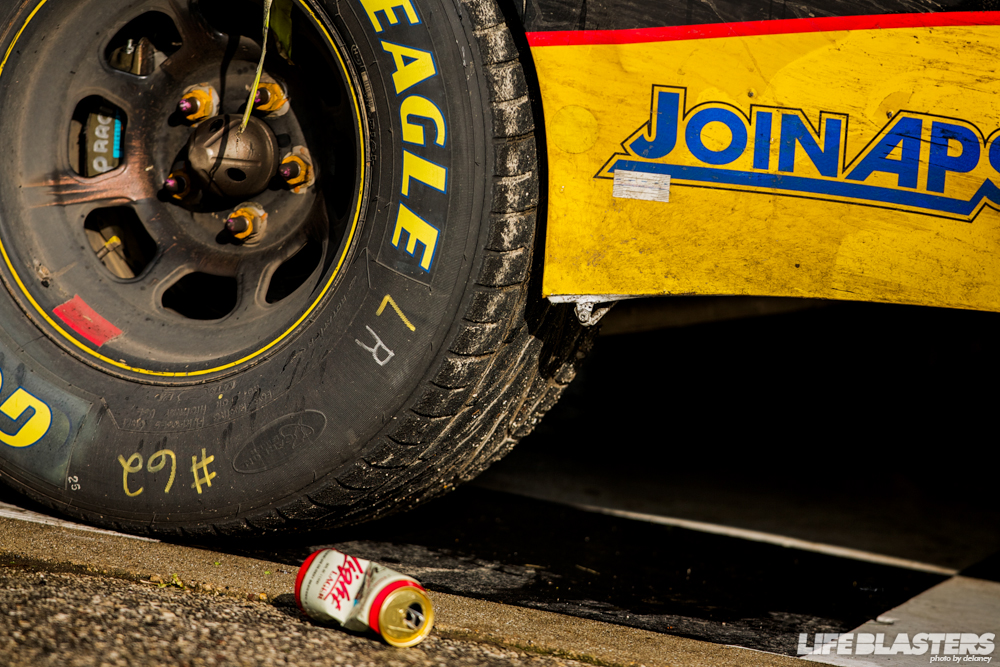 It was also pretty amazing that he was able to win with his rain tires still on. I can only imagine that last couple laps he was trying to find every bit of wet pavement there was left over. Tagliani had switched to slick tires and managed to fight his way up from 23rd to 2nd in two laps. If there happened to be one more lap, Tagliani could have taken the win, but this weekend was Brendan's.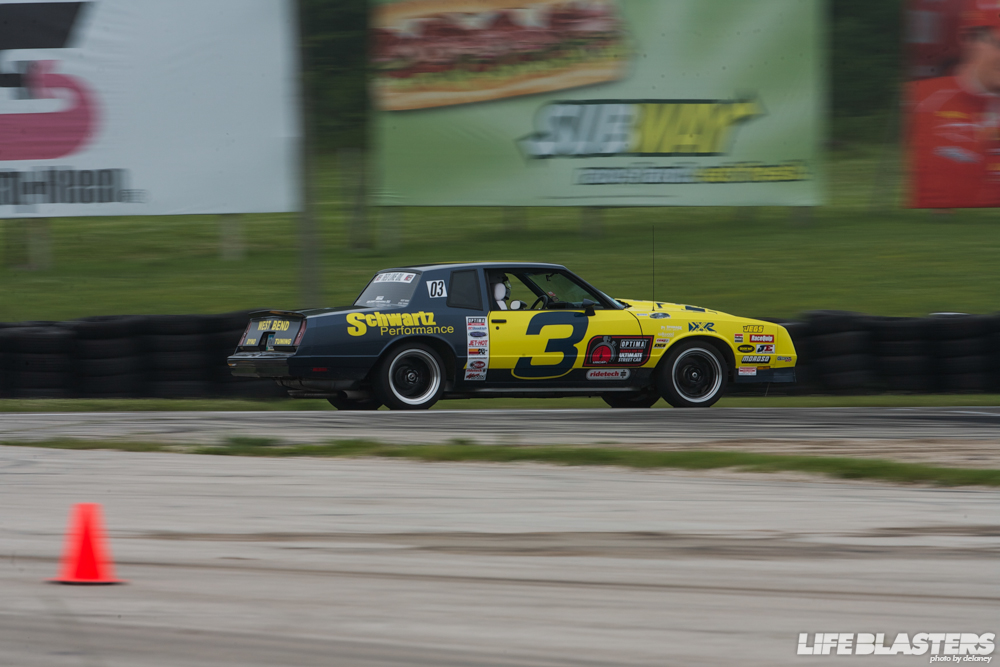 The main race weekend was over.  But Sunday the track was taken over by Optima for the Ultimate Streetcar battle. We really only found out about it because of the appearance of the Rocket Bunny RX-7 we saw Saturday morning.

I always remember seeing the Ultimate Streetcar in magazines and TV shows, but I had no idea it would be as big as it was. The cars were put through a multitude of tests, like slalom, time attack, and autocross. While the RX-7 was awesome because of the Rocket Bunny debut, this Camaro took the top spot for me. It was just pure function and built for these competitions. It was probably as close as you could get to an original Trans Am racer from the '70s.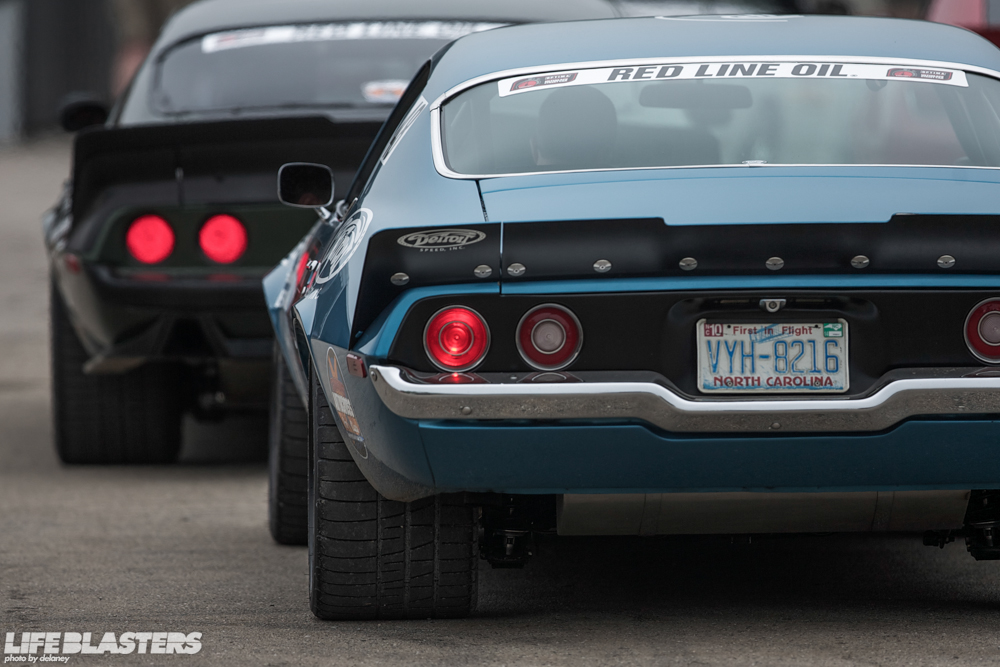 The early second generation Camaro was the best generation. The round taillights, the RS with the split bumper. Sign me up.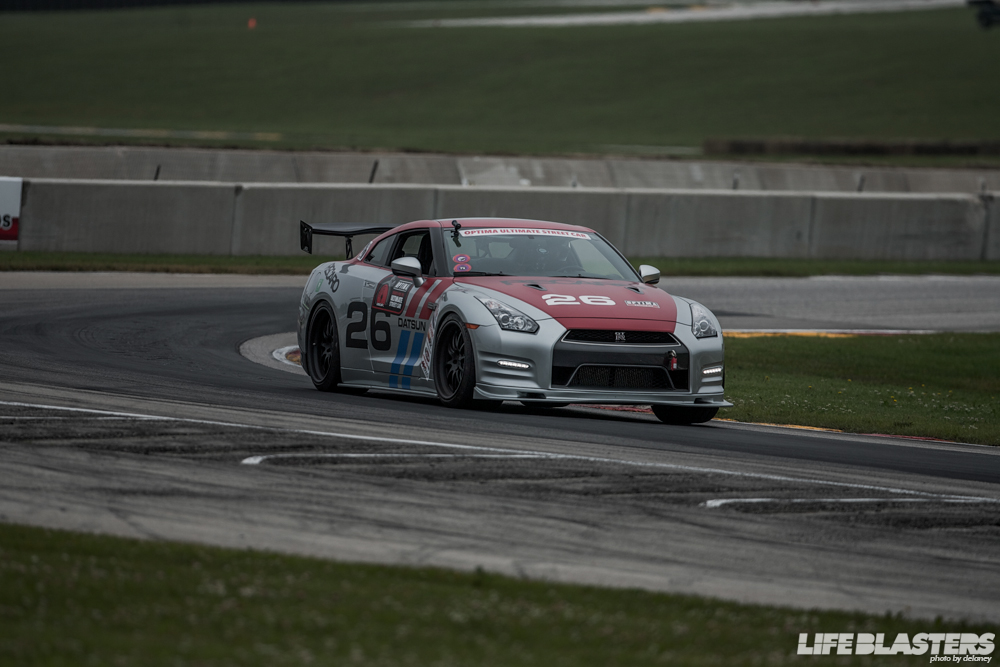 You can't have an Ultimate Streetcar battle without a couple GTRs. This one had an homage to its Datsun roots. GTRs look good with a BRE-like livery.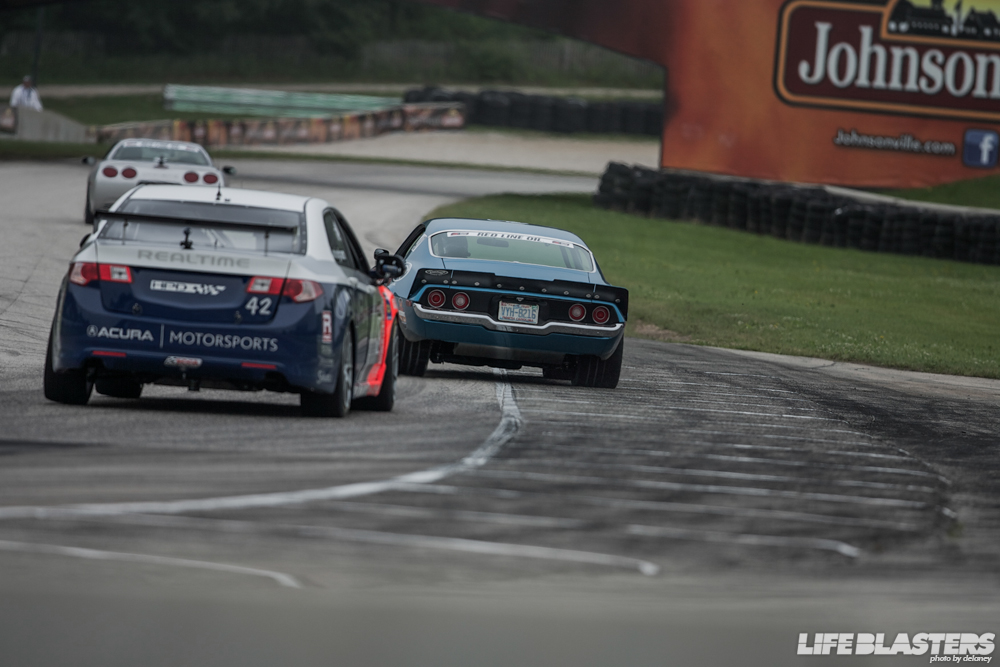 The Realtime Acura was used as a camera car to record all the action on track. I'm sure it was pretty cool racing around Road America with a real touring car behind you.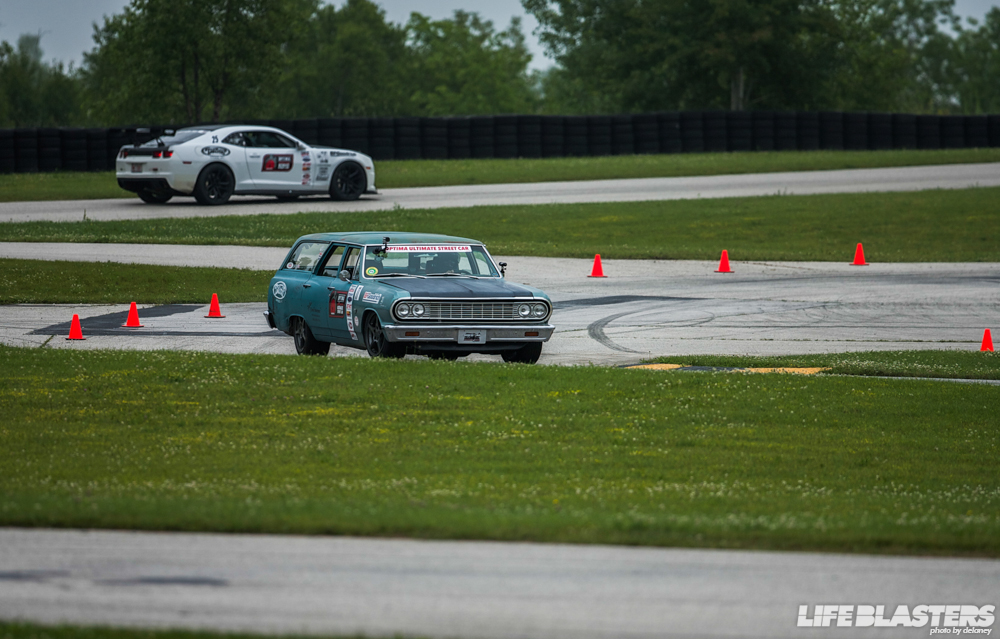 Anything could be entered as an Ultimate Streetcar contender. An awesome way to end an awesome weekend. The Bentley making its US debut, the RX-7 Rocket Bunny US debut, Nationwide using rain tires for only their third time, and a ton of good racing. Road America is easily one of the best tracks in North America for racing and spectating, and combined with this weekend of racing, it may be on the the best racing weekends I've ever seen.
Delaney
Photos By Lapinski and Delaney
Email: delaney@lifebalsters.com
Instagram: @lifeblasters, @ericdelaney, @peter_laps