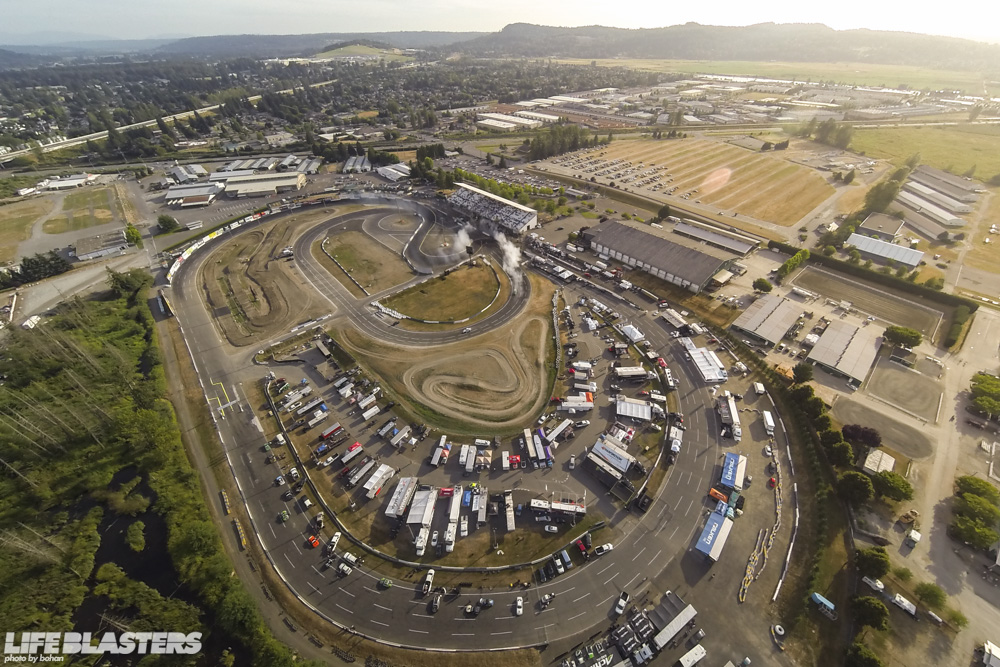 Formula D Seattle was a round of upsets. Some major, some minor. Some affected the championship. No one thought the weekend would play out the way it did.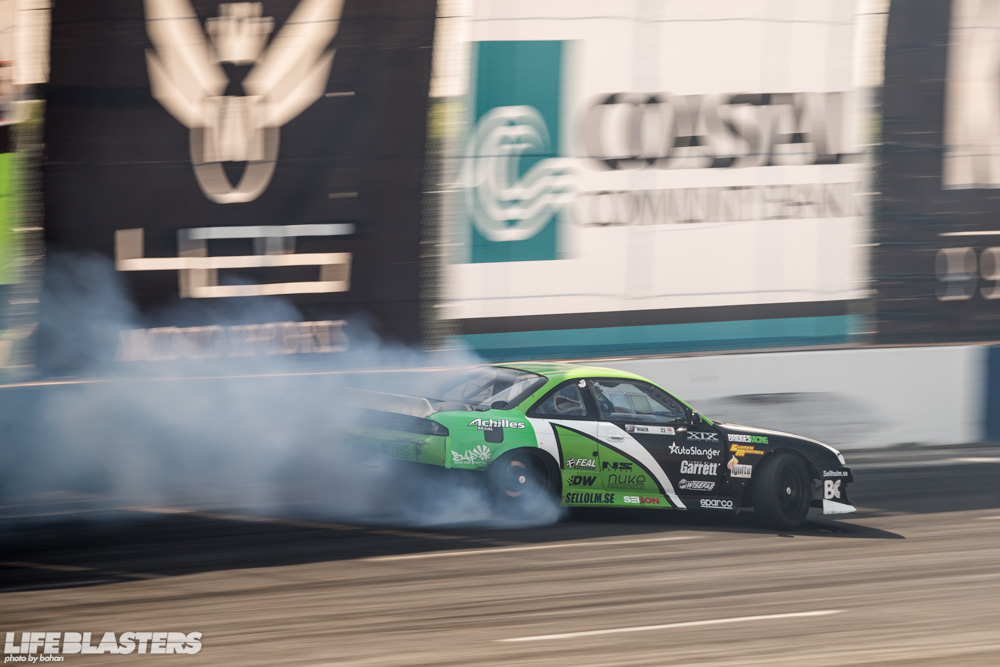 Kenny Moen, who is in contention for the championship, scored his lowest qualifying position of the season, coming in at 25th.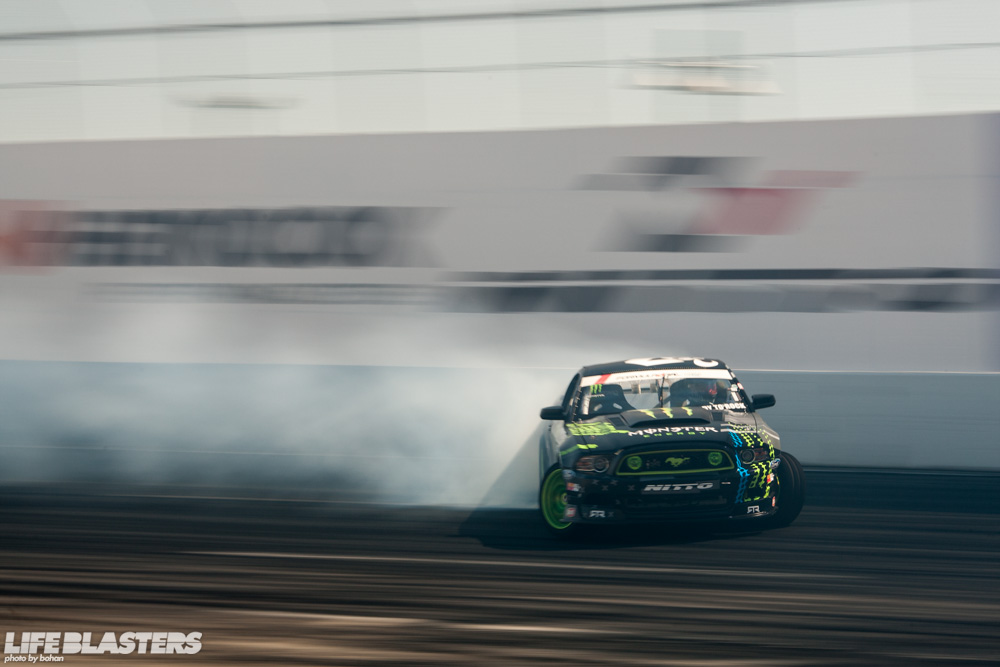 …And that put him up against 8th qualifier Vaughn Gittin, Jr. in the Top 32, who also has his sights set on the championship.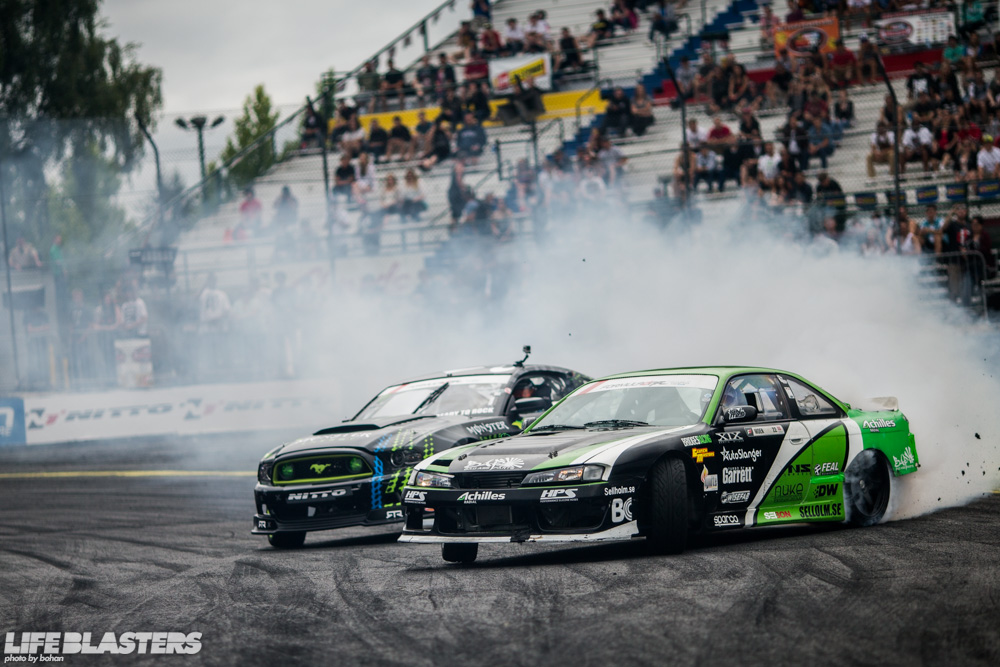 Either the way the battle went, it would be bad, really bad, for the loser. These two faced each other in the Final Four in Miami two rounds ago and in the Great Eight in Atlanta. Gittin came out on top and went on to win the event both times. I'm sure he was expecting a similar result this time.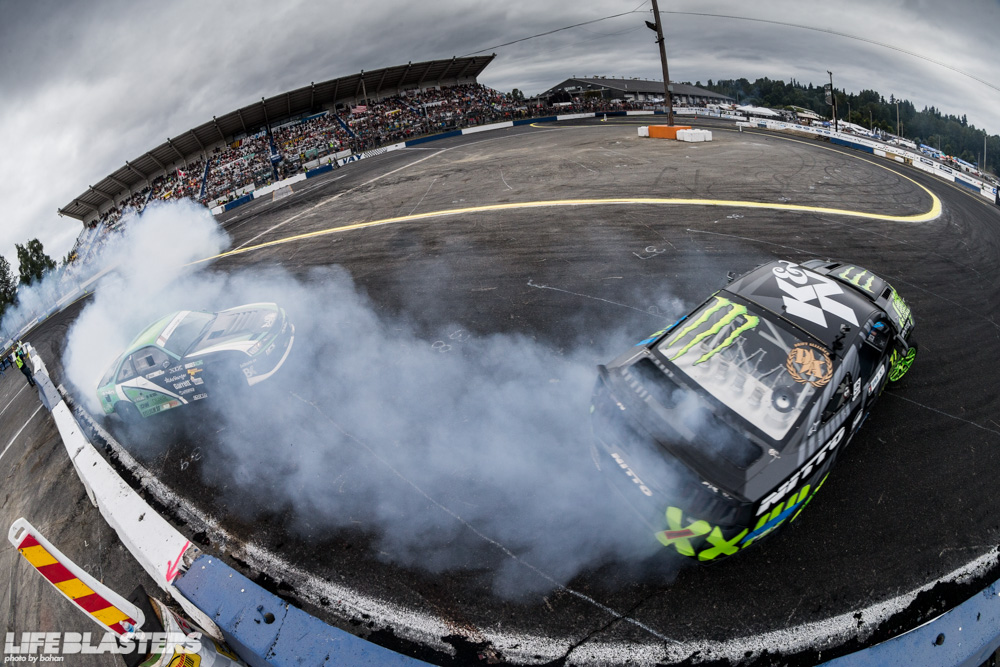 But that's not what happened. The 2010 champion reportedly missed a shift on his lead run while Moen held it together each time. It's not the performance you'd expect from a former champion who had won two rounds this season and it gave Kenny Moen a huge opportunity to open a points gap.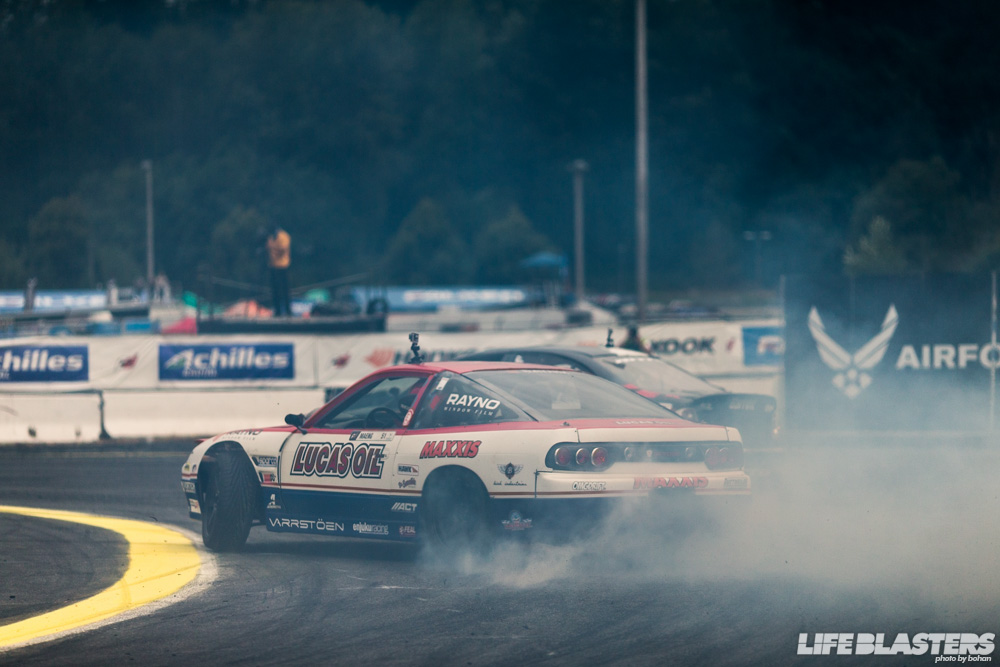 But that's not what happened either. Chelsea DeNofa had a mechanical breakdown against Joon Maeng, sending Maeng to face Moen in the Top 16.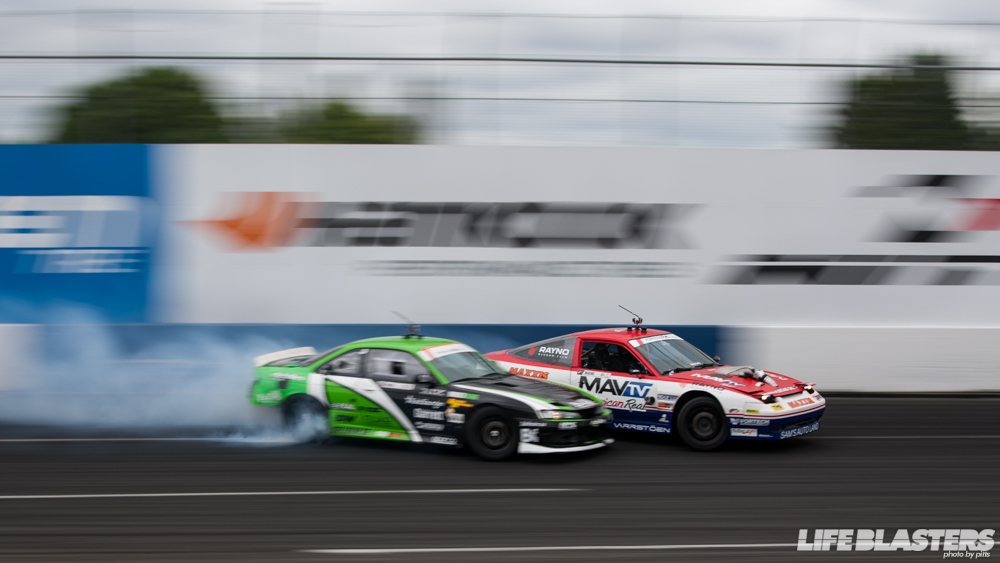 Moen had the advantage after his lead run against Maeng, but then got a little too aggressive as he chased him around the bank, punting the S13 right off the course. Moen's opportunity to get really far ahead of Gittin disappeared as Joon Maeng skimmed the wall in front of the media box.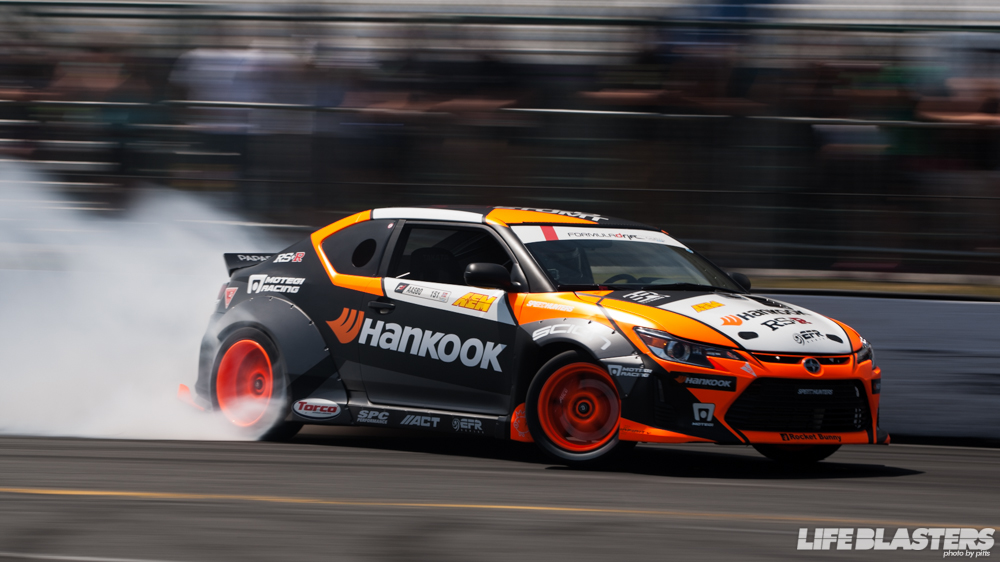 Gittin and Moen going out of the competition early left the door wide open for Chris Forsberg and Fredric Aasbø to run away from the pack. Forsberg still held a 59 point lead over 2nd place Aasbø, but the way things were going at Evergreen Speedway everyone needed to stay on their toes.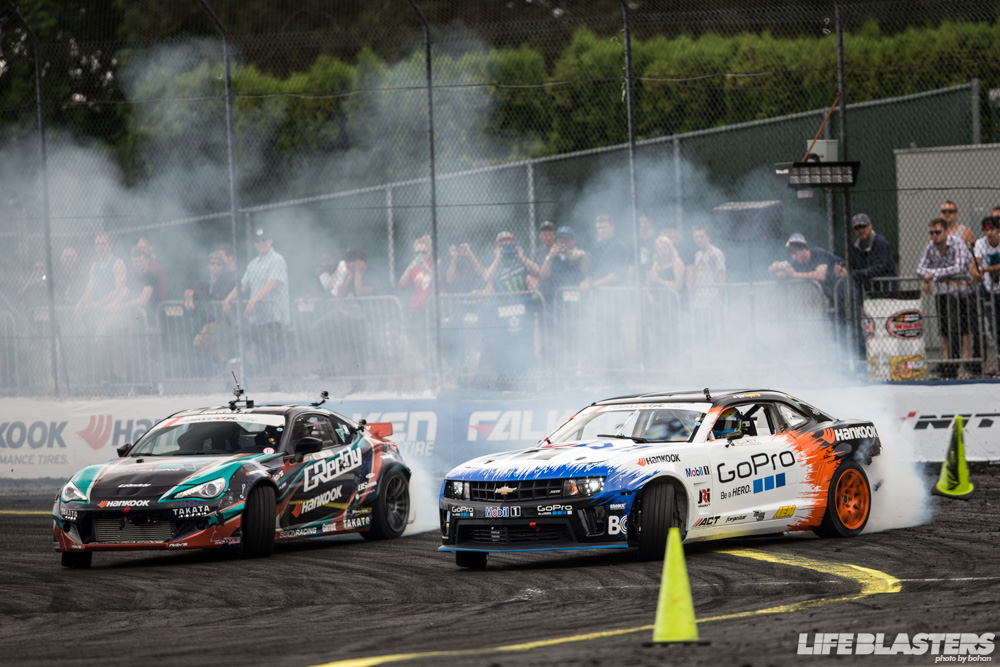 Tyler McQuarrie made an uncharacteristic mistake in the Top 32, dropping two wheels out of the course and allowing Ken Gushi to move on.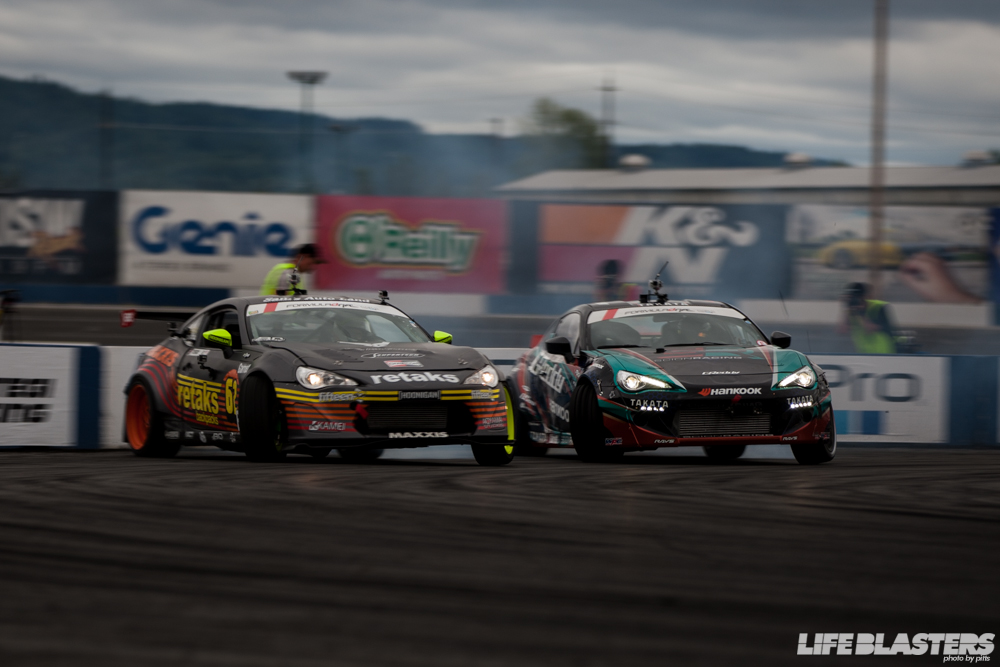 Gushi then took Ryan Tuerck to a One More Time in the Top 16 before finally Tuercking him.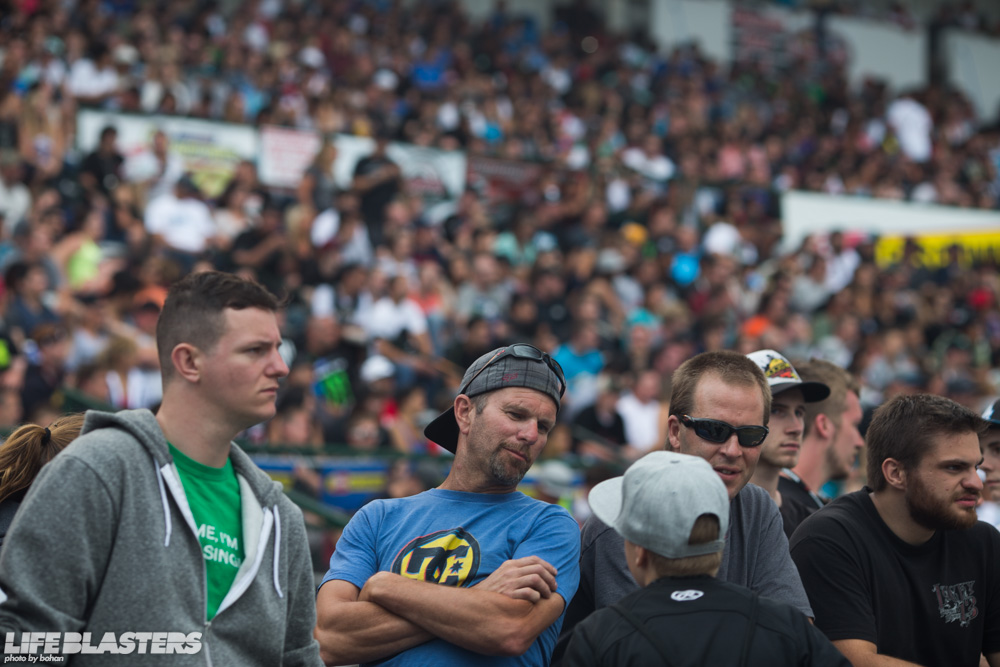 By this point nearly everyone was wondering what the heck was going on. New Jersey had been a straightforward, awesome event. It was upside-down bizarro world at Evergreen. 25 beating 8, 24 beating 9, 21 beating 12, and so on. Maybe the weather had something to do with it. Seattle is the northernmost round on the calendar, even 850km further north than Wall Speedway. The ocean current comes from Alaska, as opposed to the current off the East Coast, which comes from Mexico. It was warm, as it is July after all, but not hot and muggy. It was cloudy, but they were pleasant clouds. There was no lightning, no monsoons. The Irishmen probably felt right at home.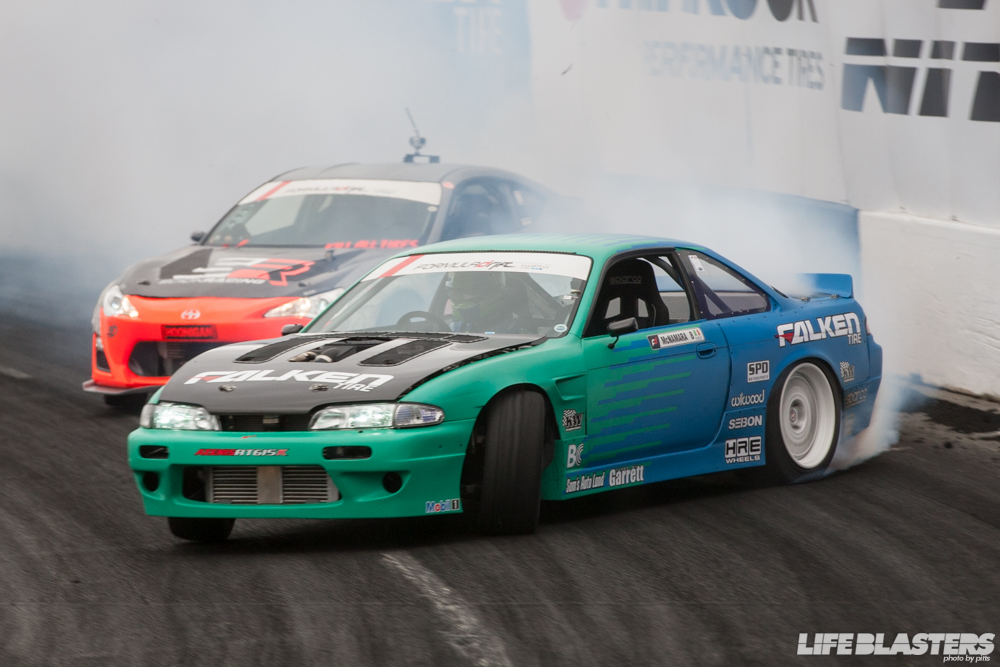 Joon Maeng's luck was no match for the Irish luck of Darren McNamara. D-Mac had qualified first and then breezed past Tony Angelo in the Top 32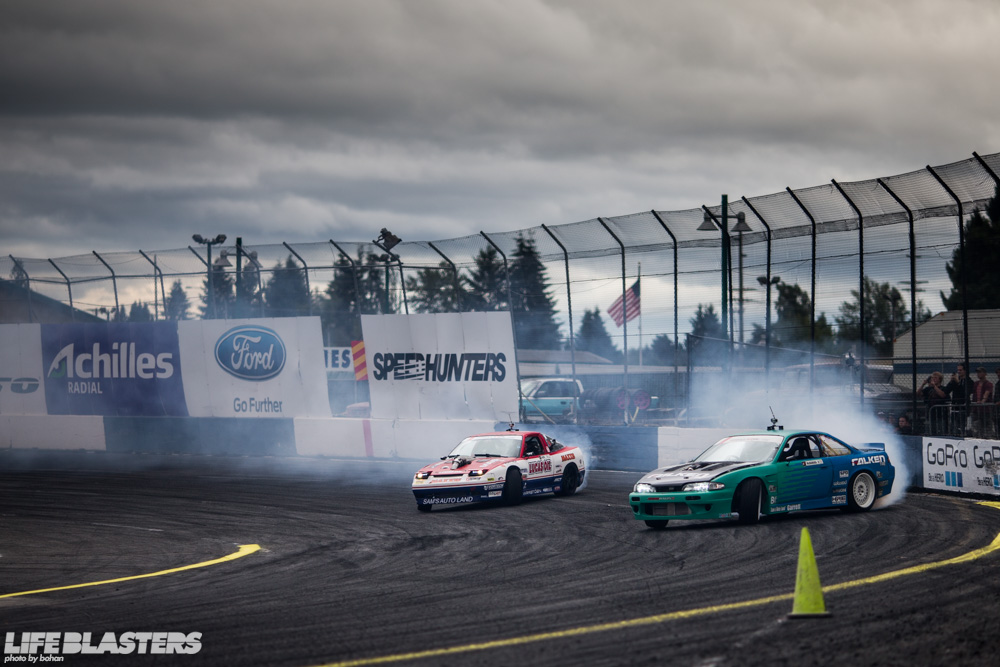 …and squeezed past Daijiro Yoshihara in the Top 16. Maeng found himself in the Great 8 for the first time in a long time and D-Mac made sure his day ended there.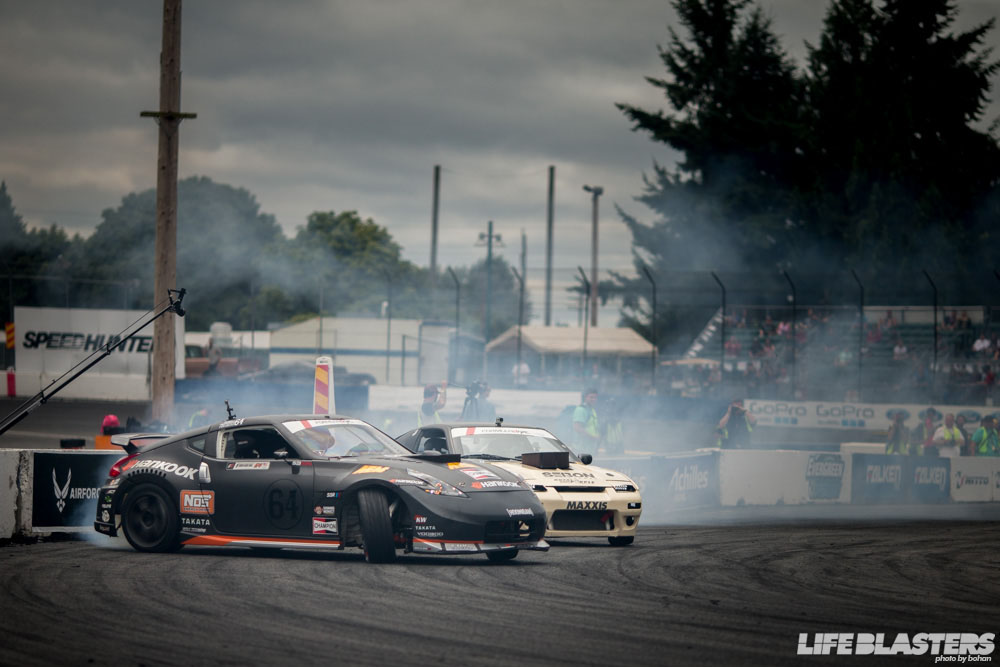 Meanwhile, Chris Forsberg was working on his podium streak. He had already nabbed an unprecedented four podium finishes in as many rounds, and was positioned to make it five. He put away rookie Matt Coffman first.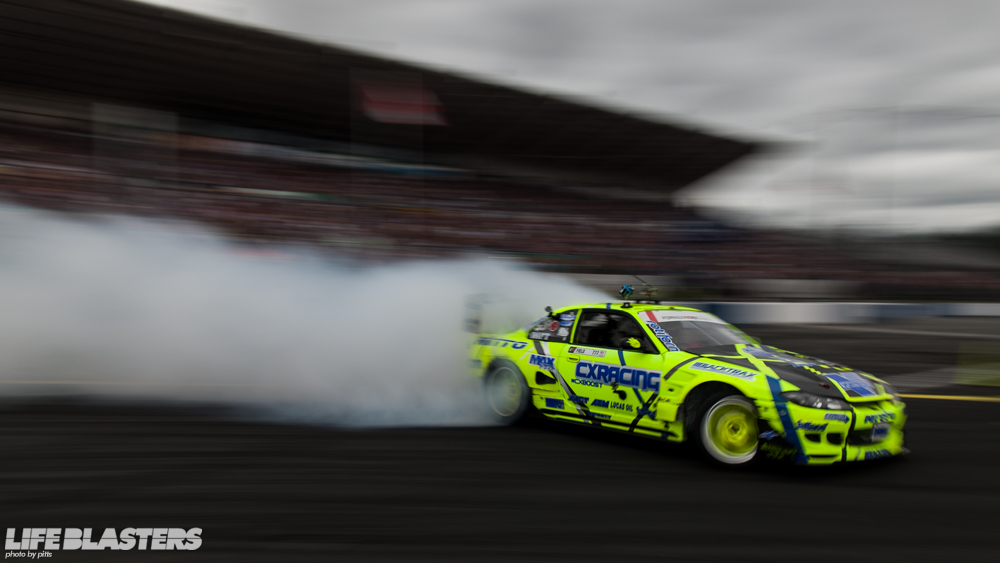 Matt Field was still trying to build momentum after his disastrous weekend at Long Beach, but Forsberg wasn't going to let it be easy.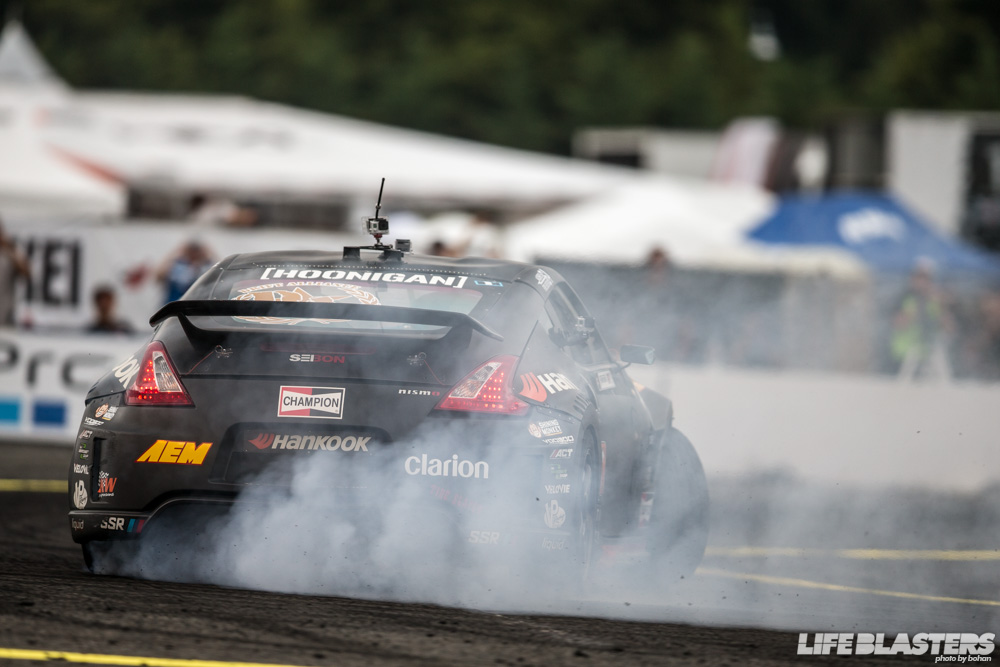 Forsberg took care of Gushi too, or rather he was just there when Gushi took care of himself.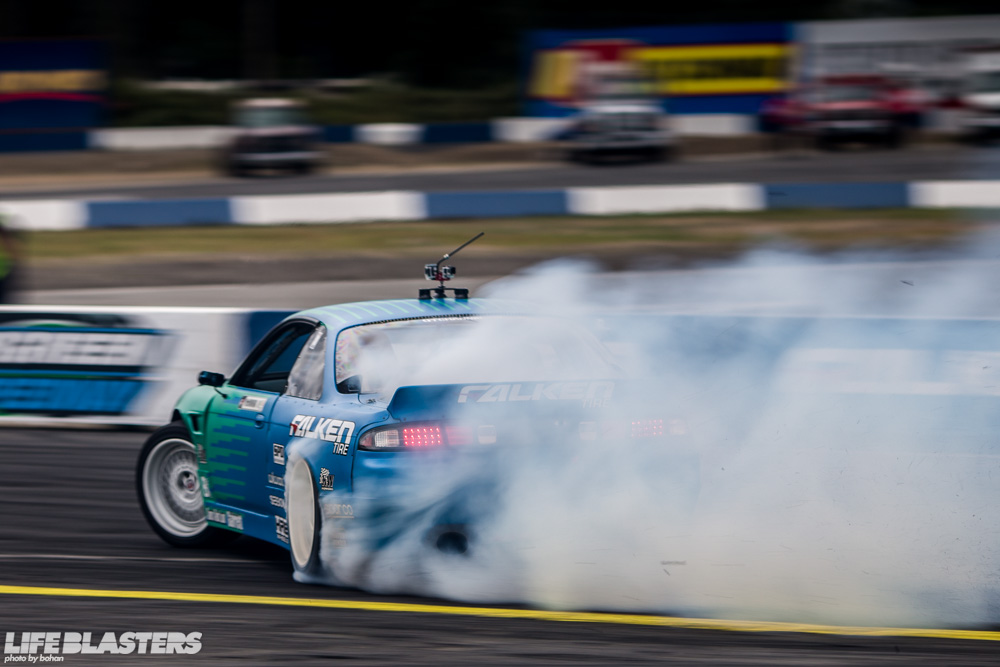 That put him up against D-Mac in the Final Four. D-Mac had qualified first and guaranteed himself a podium finish already. Forsberg was 4th and needed to see who else made it into the Final Four before he'd know for sure where he'd end up.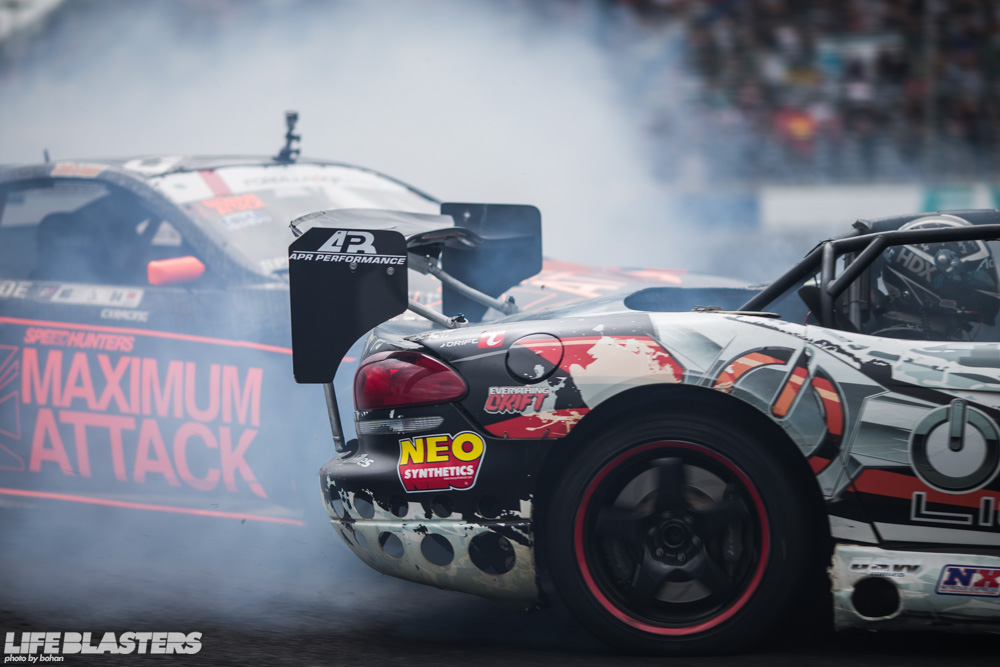 On the other side of the bracket, Dean Kearney was activating his own Irish luck by getting past his Achilles teammates. Charles Ng went first in the Top 32, followed by Robbie Nishida in the Top 16.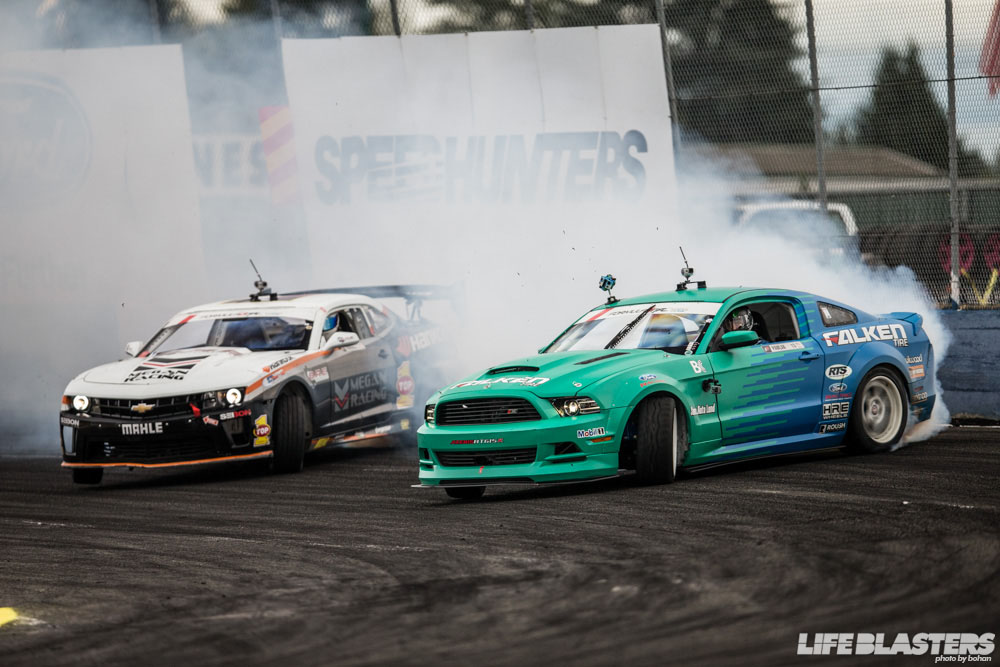 Justin Pawlak was still looking for redemption, as Karl Osaki and Conrad Grunewald fell in his wake, only to spin on both runs against Kearney.
The Viper driver had qualified 18th and was no threat to Forsberg's podium streak.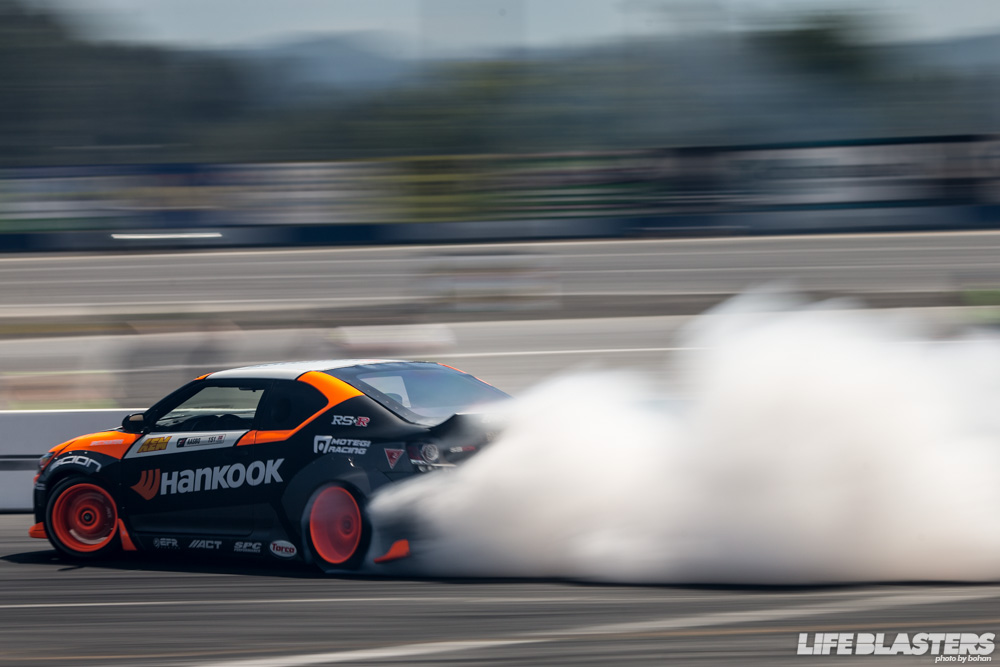 Finally, Fredric Aasbø was hungry for a repeat of Round 4. After his win there, he went mechanical at the inaugural Formula D Japan event at Fuji Speedway and finished second in the Gatebil World Powerslide competition at Rudskogen Motorsenter. With virtually no break from driving since New Jersey, he was ready for battle.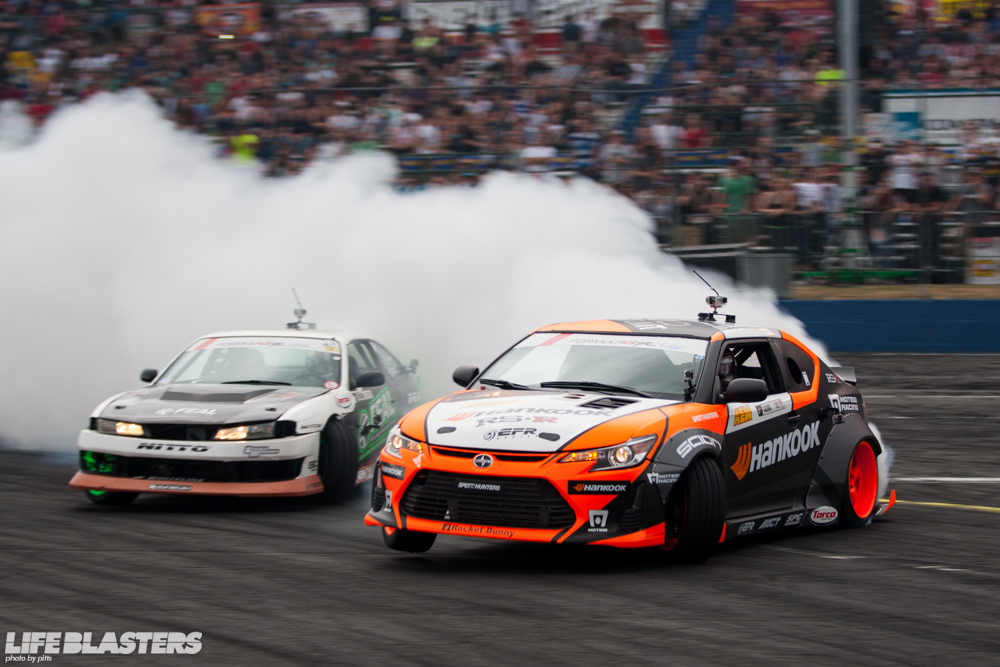 He smashed Nate Hamilton first and then took care of Kyle Mohan. Third qualifier Odi Bakchis was making his own run at a repeat, but couldn't get past the Norwegian Hammer. Since Aasbø was the 6th qualifier, Forsberg would be on the podium for the 5th round in a row. He now just had to battle to find out which step he'd land on.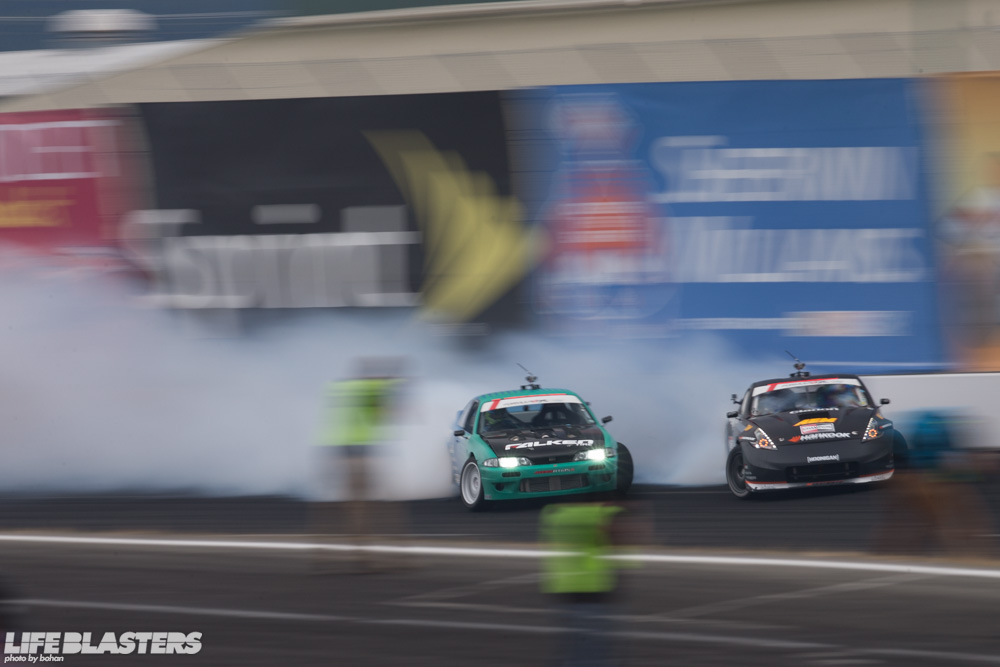 I don't even know what happened. Forsberg was perfect but D-Mac was perfecter. I don't even care if perfecter isn't a word. That's what D-Mac did to move on to the Final Battle. Forsberg would finish in 3rd place.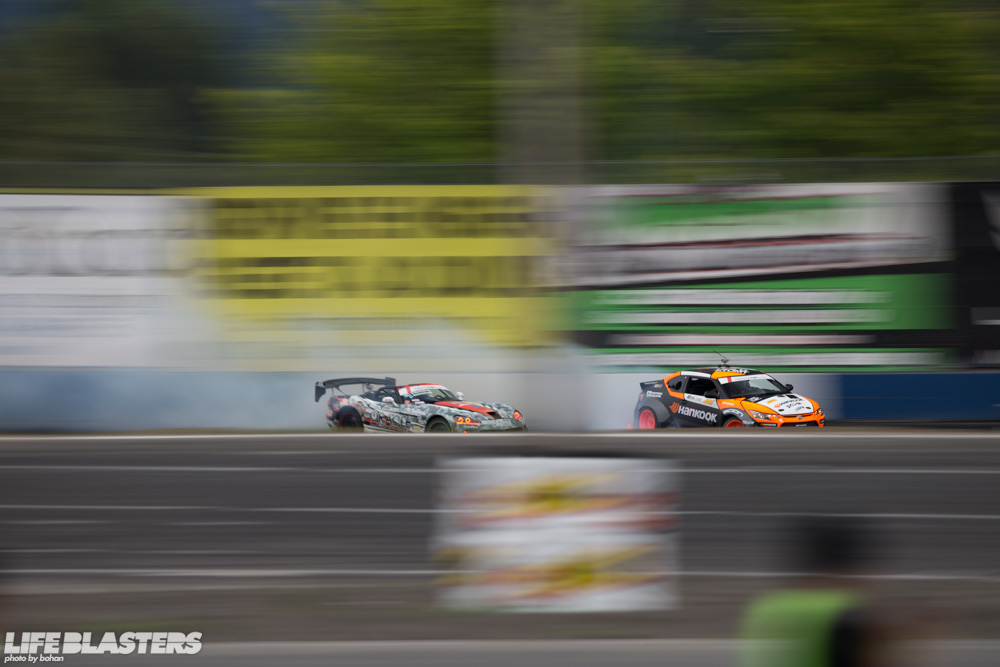 I didn't think Dean Kearney would stand a chance against Aasbø, no matter how much luck he had. But I was wrong. Aasbø had a mechanical failure, something unheard of on a Papadakis car. His crew got it sorted for the second run, but without a major mistake from Kearney that was the end of his weekend.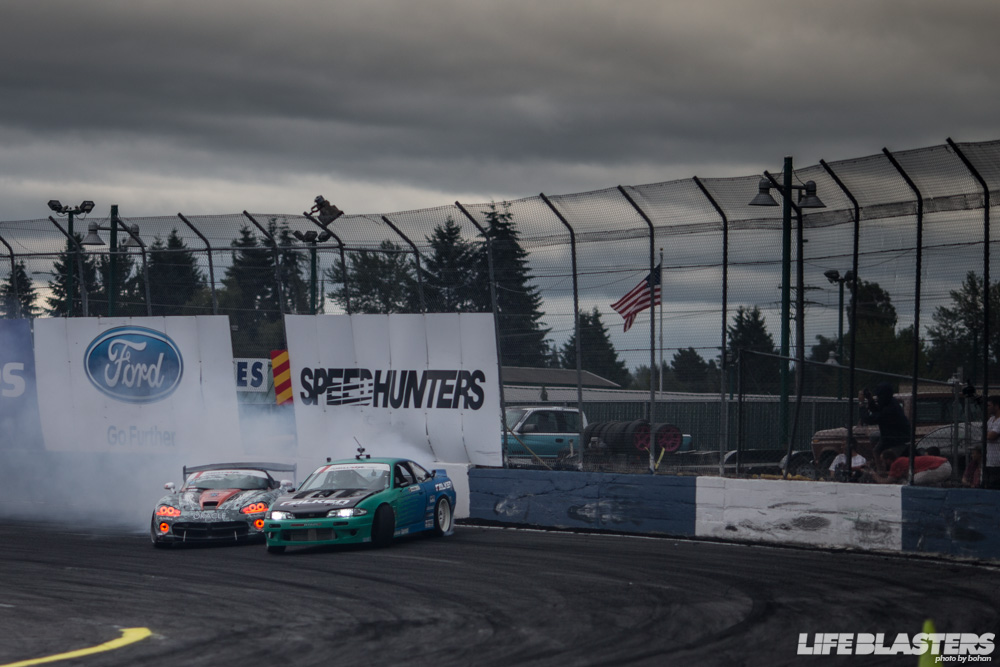 It was an all-Irish final battle and Dean Kearney had never even been on the podium before. D-Mac led first and Kearney followed as close as he ever had. I couldn't see a clear advantage. It would come down to the final run of the day. Maybe. Maybe it would go One More Time. Maybe someone's luck was about to run out.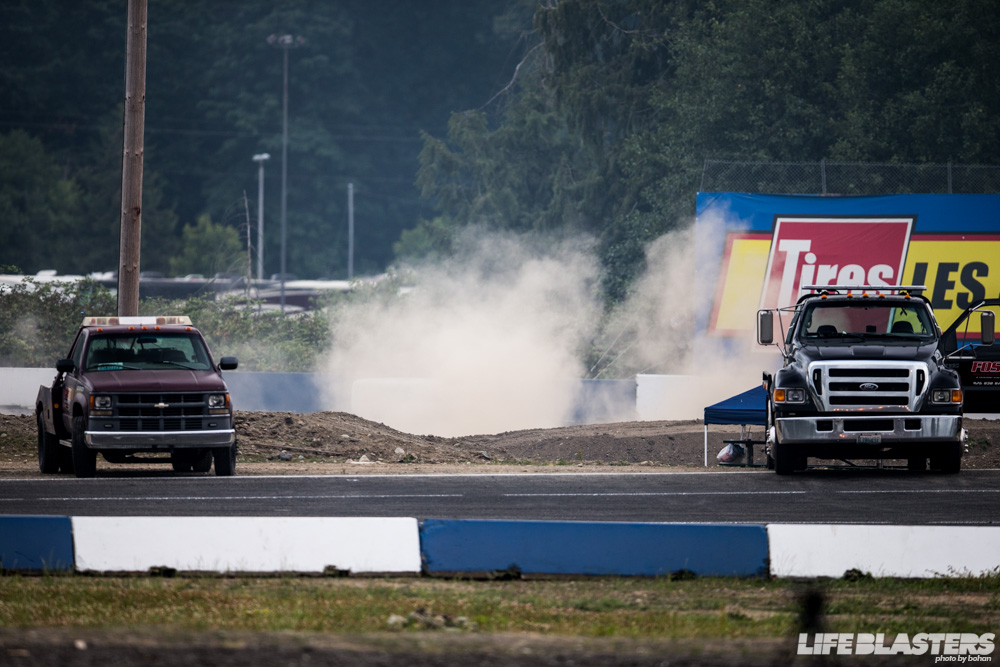 Kearney jetted through the start-line chicane as D-Mac raced up to the initiation zone parallel to his countryman. Kearney veered right to find his preferred line, making contact with D-Mac's S14 and sending it into the infield dirt. A half hour of deliberations followed. Who was at fault? Was this the end of the competition? What should happen?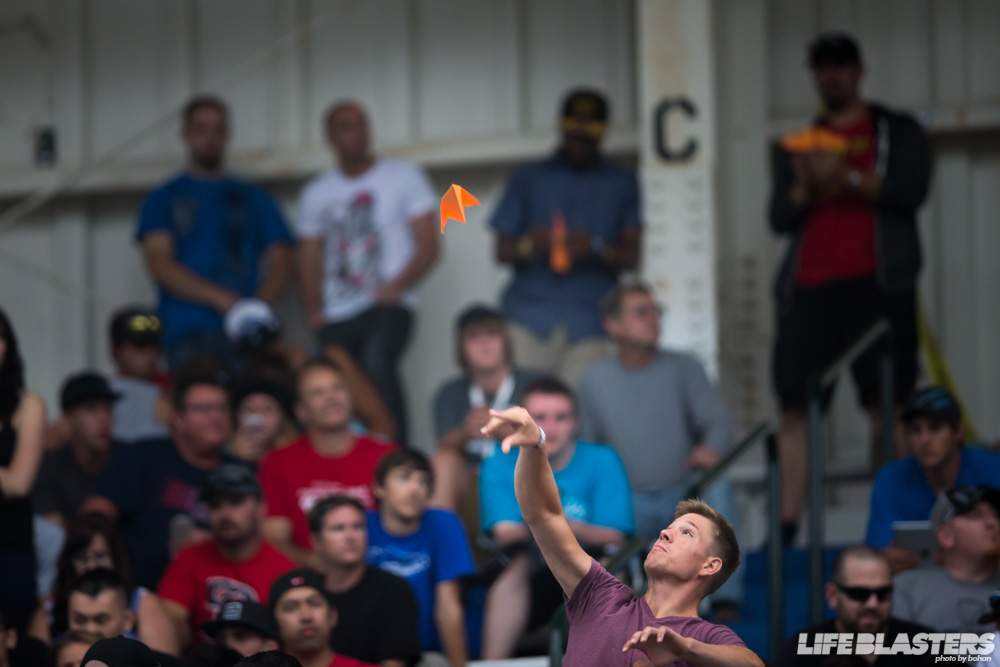 While nothing entertaining was going on, Danny George had orange paper distributed to the crowd, which resulted in hundreds of orange paper airplanes littering the stands.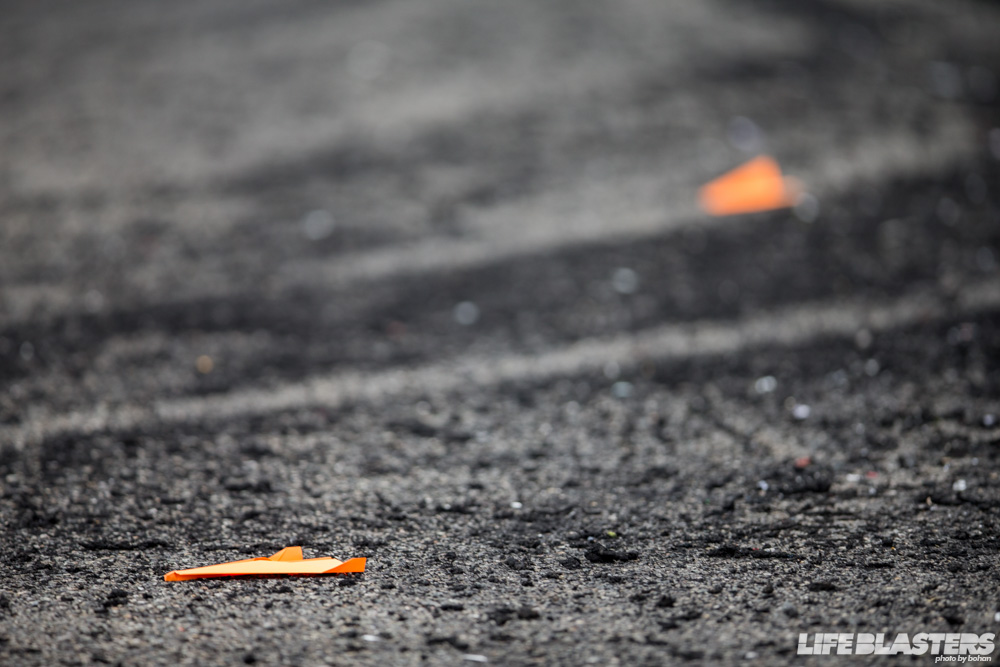 The crowd went wild whenever any airplanes made it onto the track.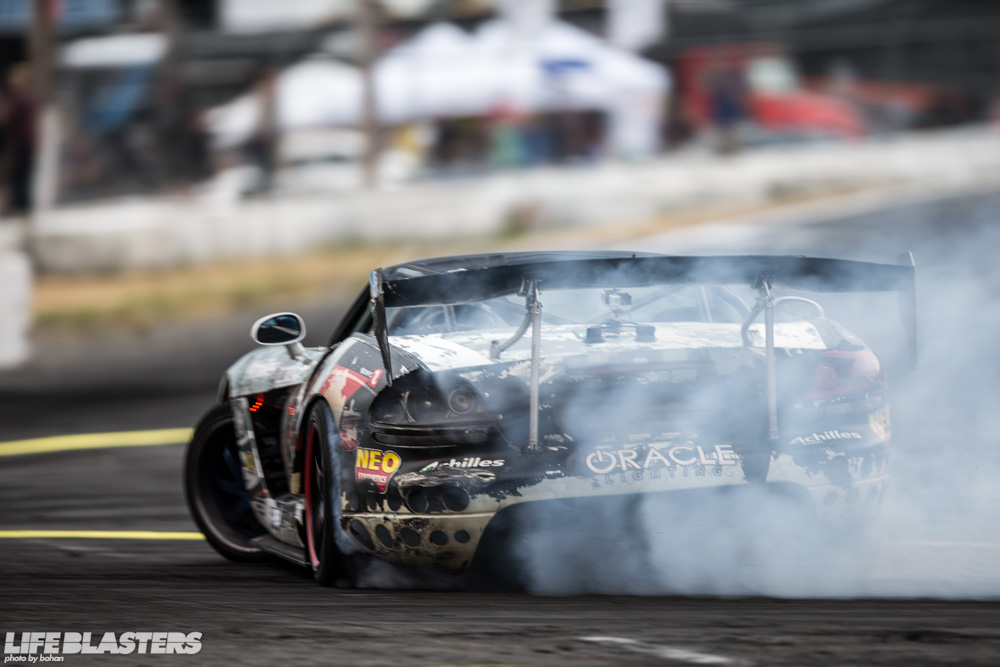 The judges reviewed Kearney's previous battles. He did the same maneuver every time. Sometimes his opponent was further to the right and there was no issue. Sometimes his opponent had to swerve to avoid contact. The judges ruled that even though it was Kearney's maneuver that caused the contact, it was D-Mac who was at fault for being in the way. The chase car should be behind the lead car. Not necessarily in line directly behind it, but certainly not directly next to it. So did that mean Kearney would win the event?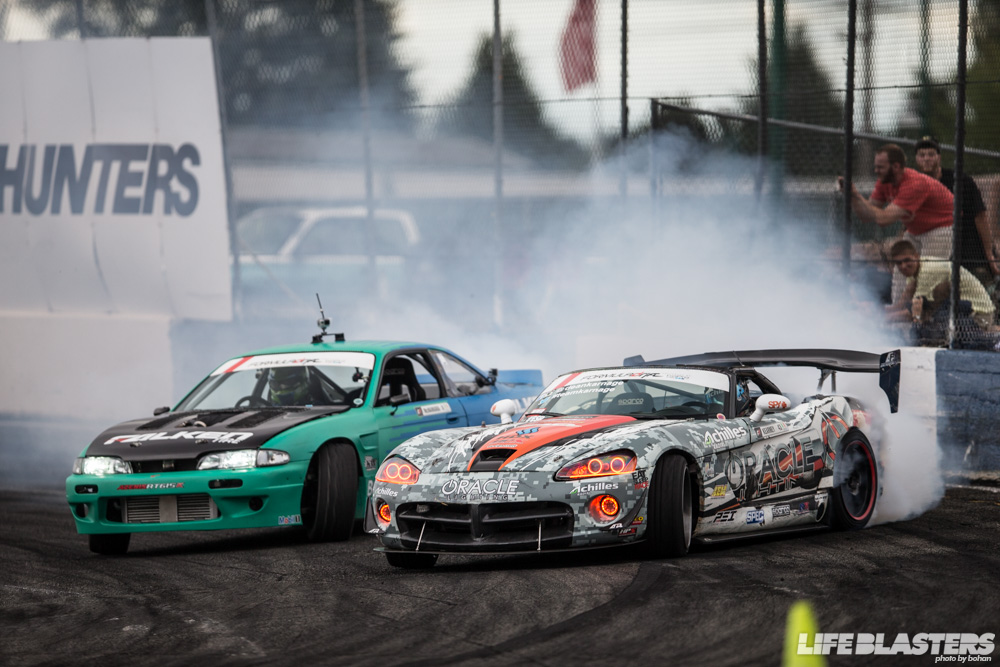 Not so fast. Since neither car had initiated drift at the time of contact, the judges ruled the run a scratch and the two drivers would line up to go again. There was some confusion on the grid though, as D-Mac thought it was a One More Time and lined up on the left. After some clarification, everyone was in position and they were sent off for the second run again.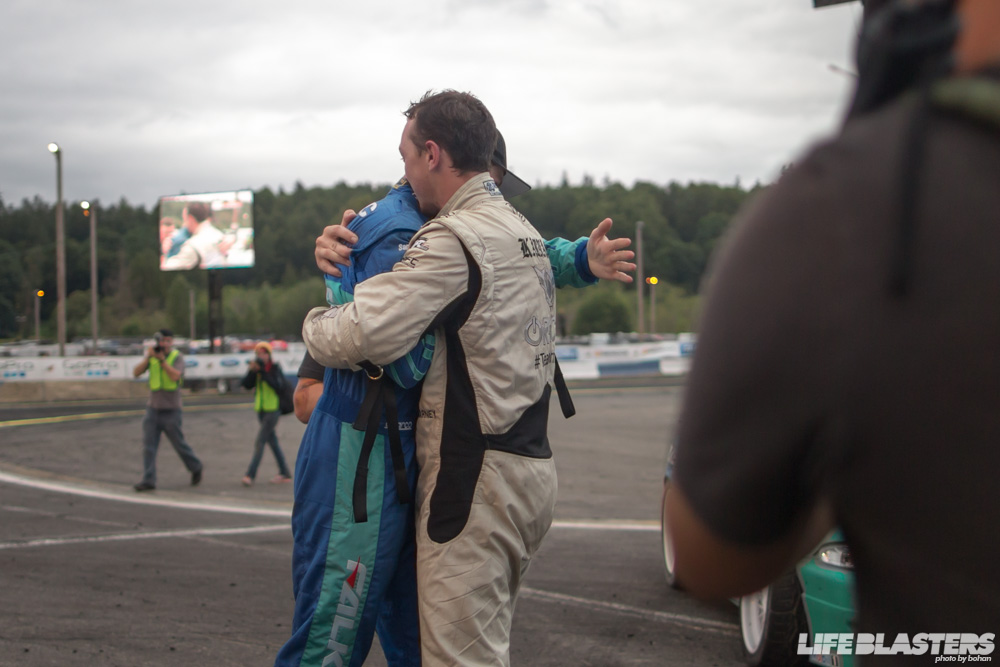 Again I couldn't pick a clear winner, but the judges picked Darren McNamara.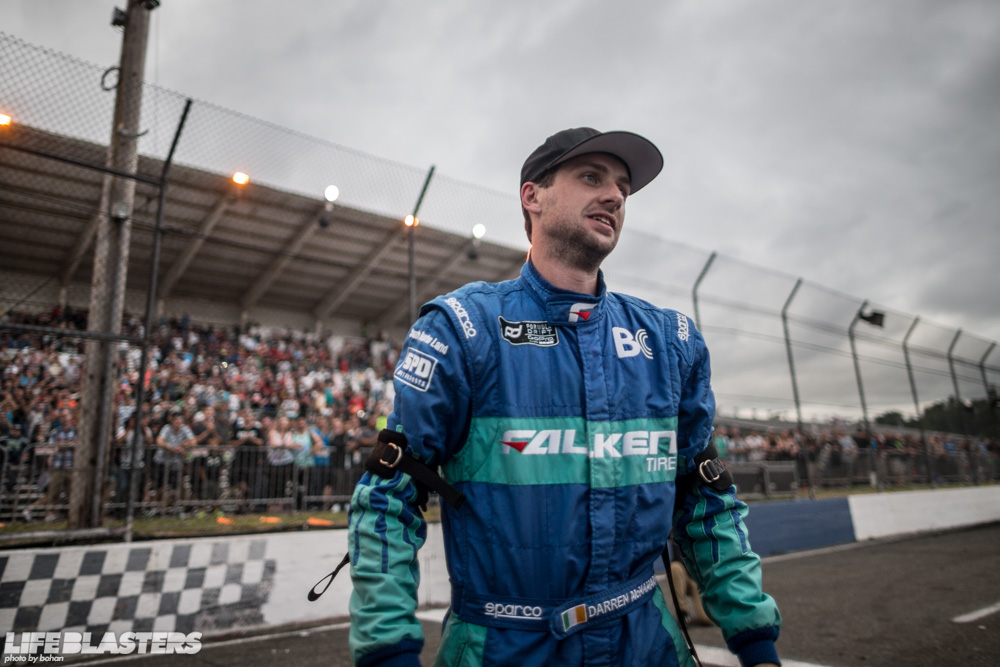 D-Mac is also the newest member of the Perfect Event Club, joining such drivers as Yoshihara, Gittin, and Tanner Foust.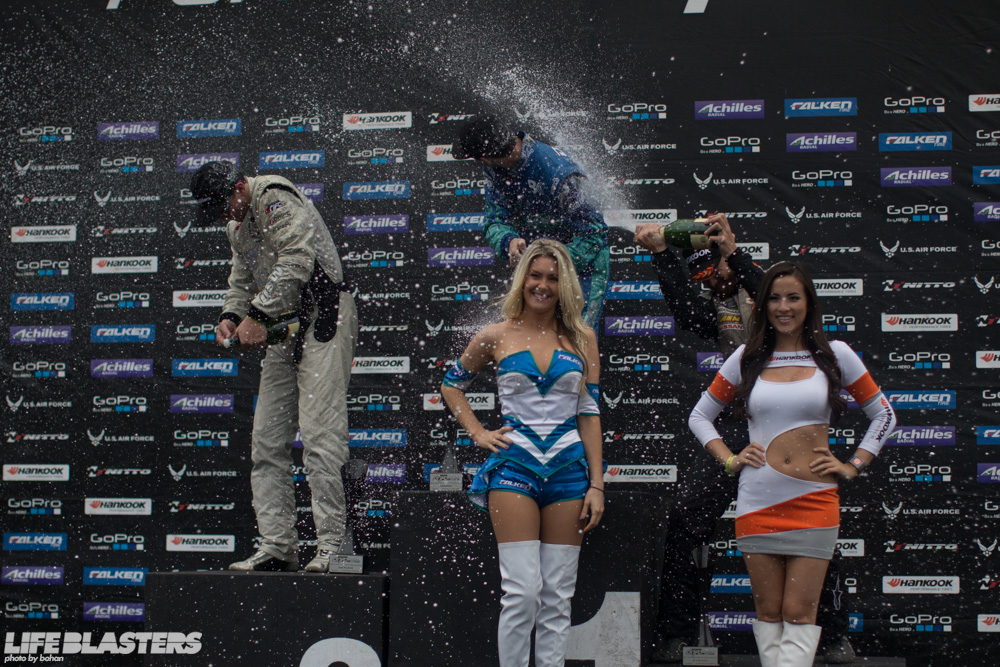 Because 3rd and 4th place are worth the same number of points this year, and because 4th through 8th qualifying position are worth the same number of points, Forsberg and Aasbø tied for this event. That means the 59-point gap between first and second has been maintained. Even with Gittin's loss to Moen, they're still in 3rd and 4th respectively, 33 points apart.
Texas is next!
.:Bohan

Photos by Bohan and Pitts

email: bohan@lifeblasters.com, pitts@lifeblasters.com
instagram: @lifeblasters, @andrew_bohan, @blasterforce1