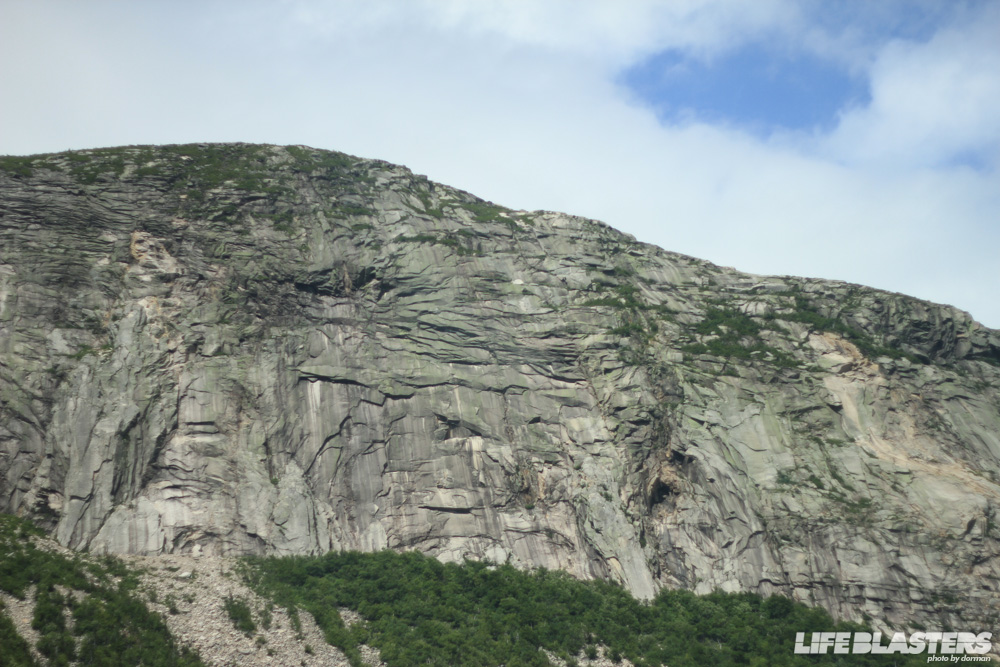 My trip to the Grand Prix Trois-Rivieres began through the entire state of New Hampshire. Going Northbound on I-93 thru Franconia Notch State Park between Cannon Mountain and Mount Lafayette is one of the most amazing stretches of a road in the United States.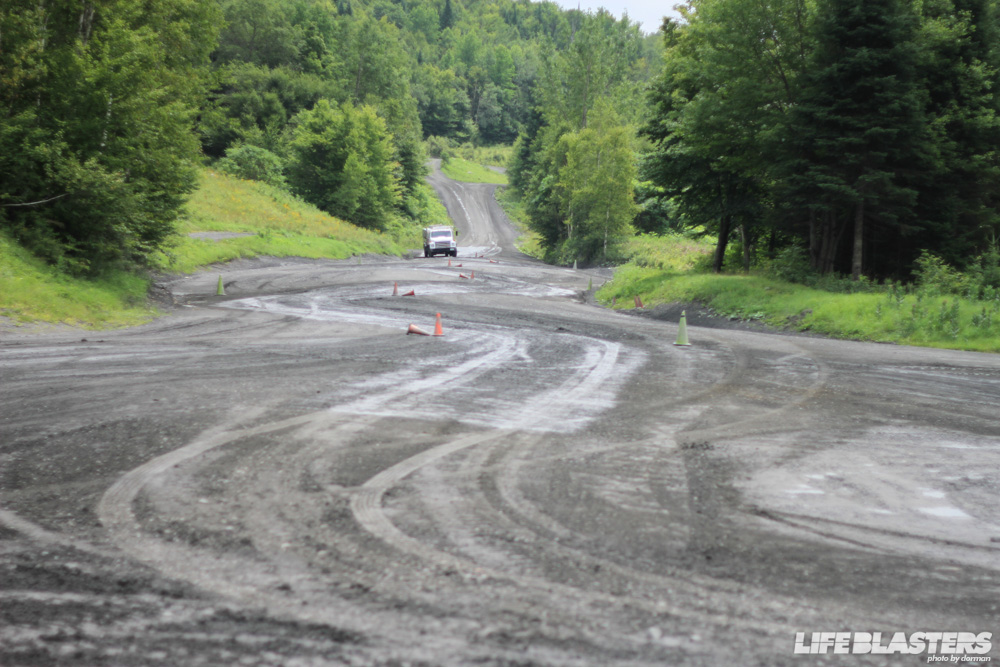 Being only 15 minutes away on I-93, I could not pass a visit where the rally champions are born (and some now work) – the Team O'Neil Rally School & Car Control Center. Lucky enough, we got the boss himself give us a VIP tour over the entire property.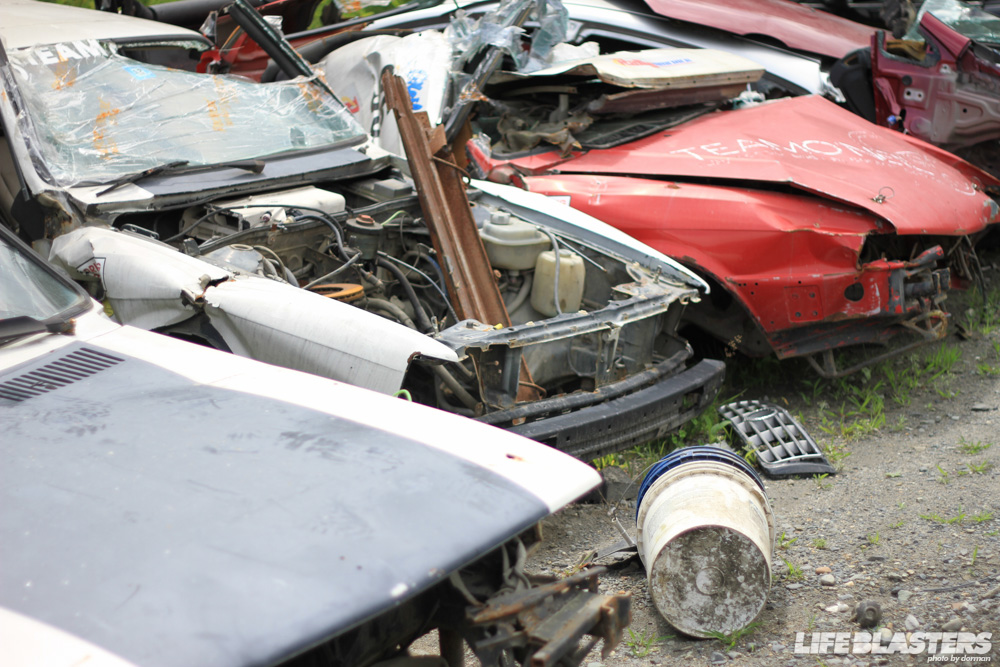 And what a tour that was. One of the stops was where the school's cars end their lives. Audis, VW, Fords… some still used occasionally for parts.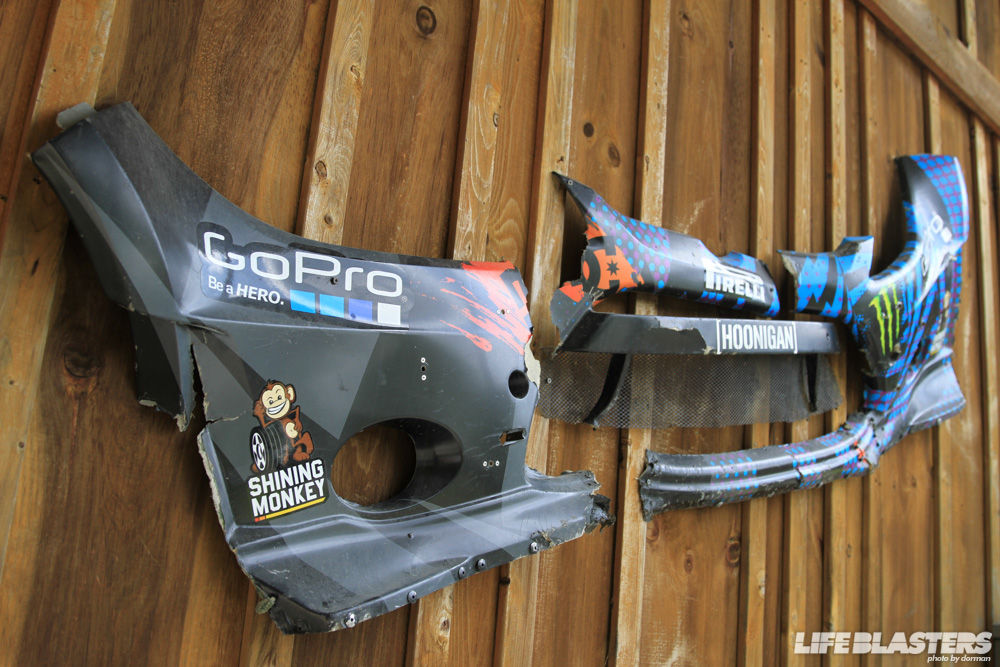 Previous visitors leave some of their trophies there. This one is so special, no one can't talk about it at the school. Rumor is, this dude is some kind of tire-slaying hooligan.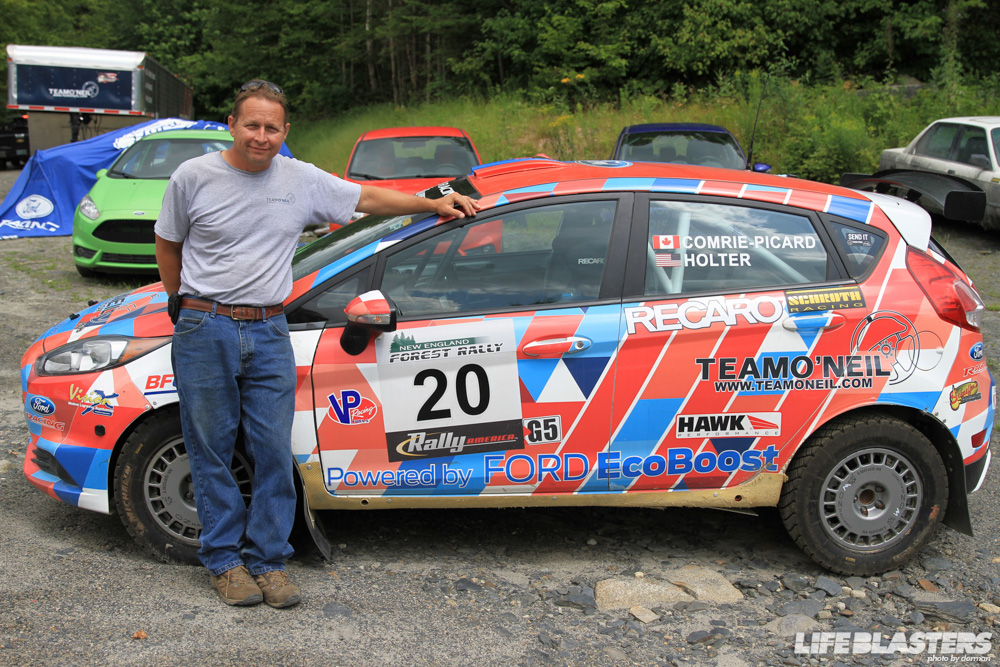 Ah yes, the boss himself, Mr Tim O'Neil. 1989 Production class and 1992 Production GT class Champion himself, he proudly stands next to the 2014 Rally America Two-Wheel Drive Championship car driven by Andrew Comrie-Picard and Ole Holter, but built and maintained by Team O'Neil.

No one really knows how many cars are at the school at the moment, but best guesses shoot around 135. Some brand new Ford Fiesta ST's are still shinny and awaiting their dirt chewing life to begin.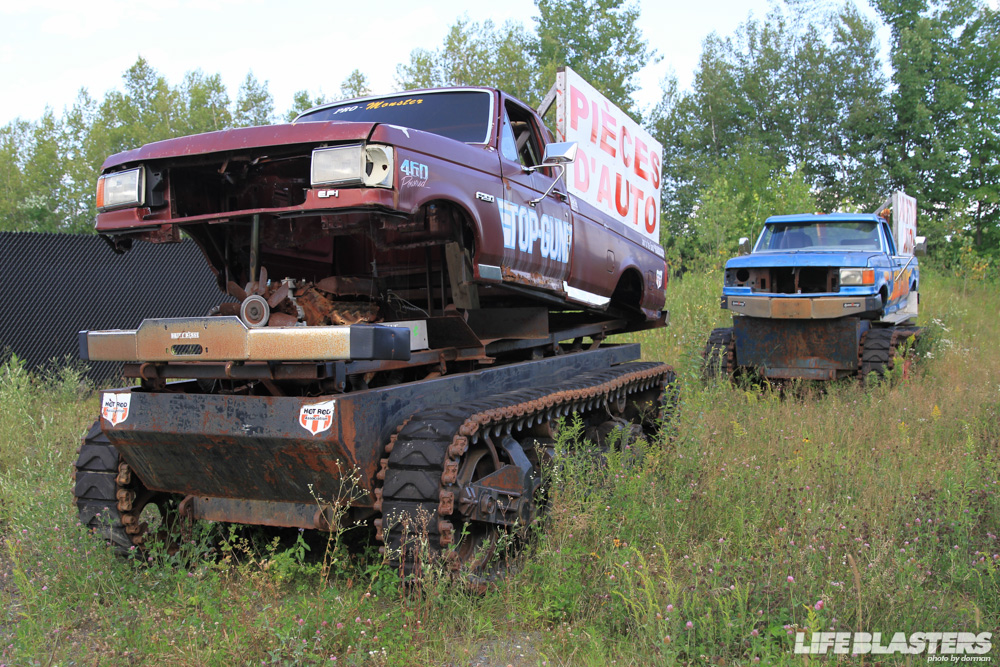 Back on the road to Trois-Rivieres (I tried hard to learn how to pronounce it, failed). Just about 40 minutes some of the destination, we saw this…. I'll let your imagination decide what to call this.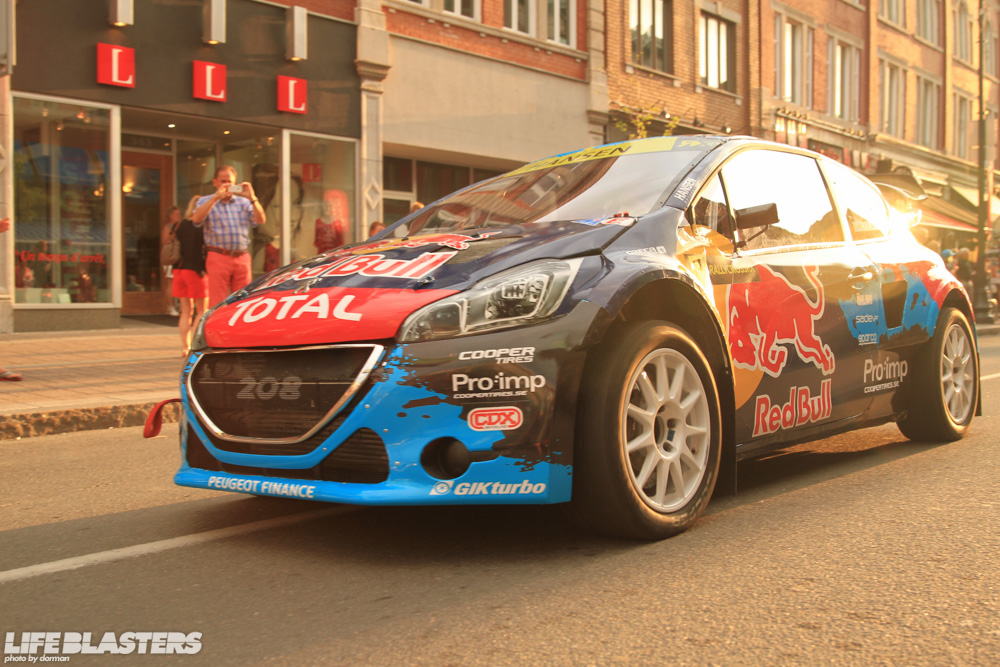 After "only" an hour (or more) of standing in line to receive media credentials and trying to figure out what they saying to us in French, we finally saw rallycross cars. Event began with the parade of the Super Cars class vehicles through downtown Trois-Rivieres to the water front, the edge of the St. Lawrence River.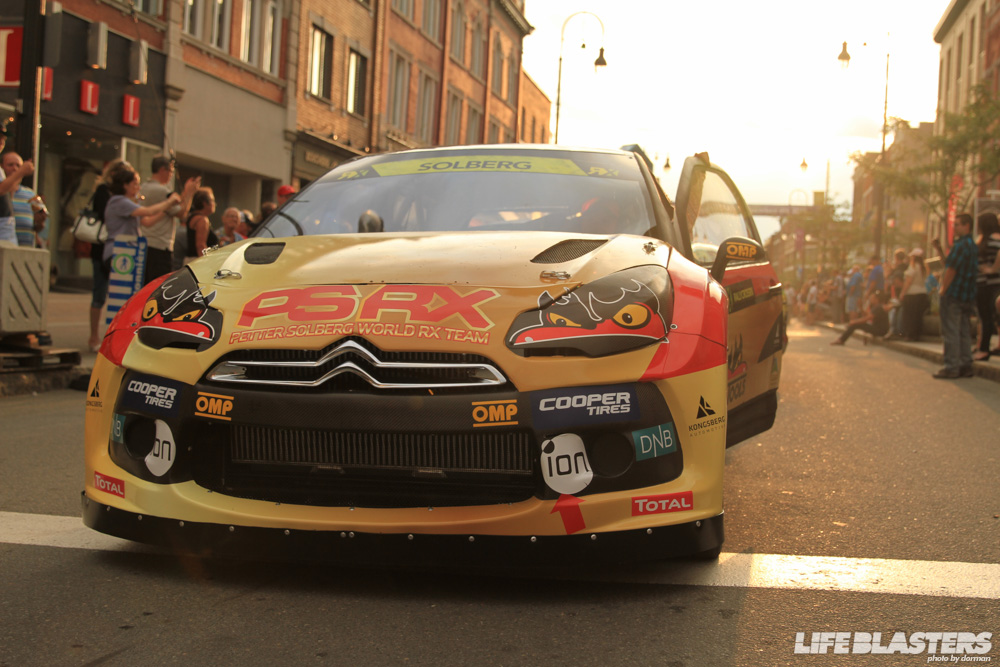 Petter Solberg had almost as much of the crowd cheering for him as the Canadian drivers. "Mr Hollywood" was happy to sign autographs and receive kisses from Canadian ladies.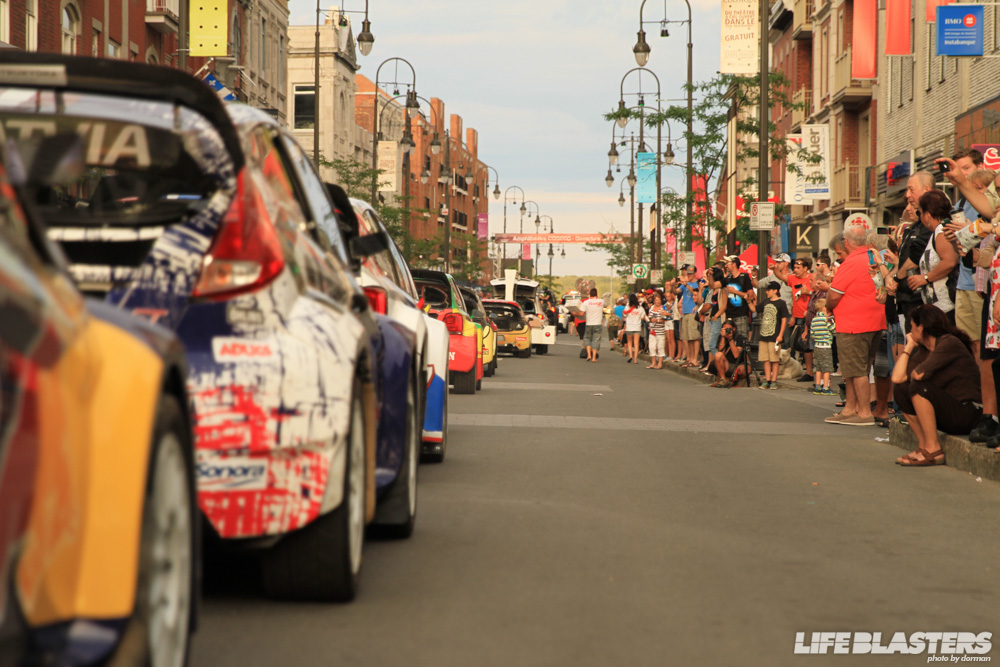 I was positively surprised by the amount of fans that came out to this pre-event parade of cars in the middle of the week. Drivers loved it and this is really how racing events should begin. Fans being able to meet their drivers, stand close to their cars.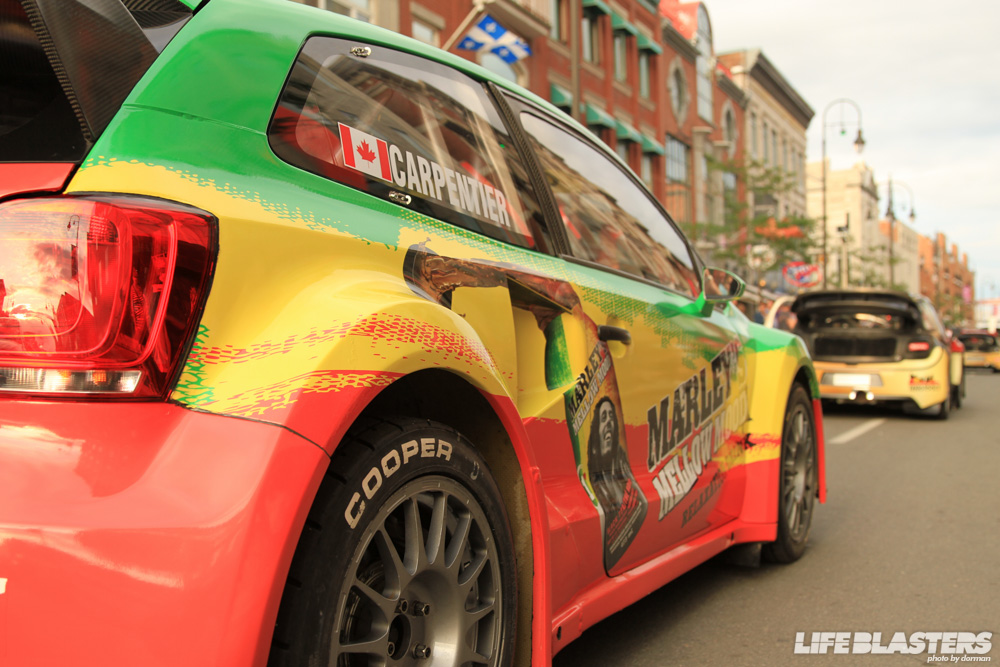 Speaking of Canadians, Patrick Carpentier drove one of four Marklund Motorsport VW Polo R's. Carpentier retired professional racing in 2011 and is a NASCAR analyst for RDS (Canadian version of ESPN). He's definitely a crowd favorite.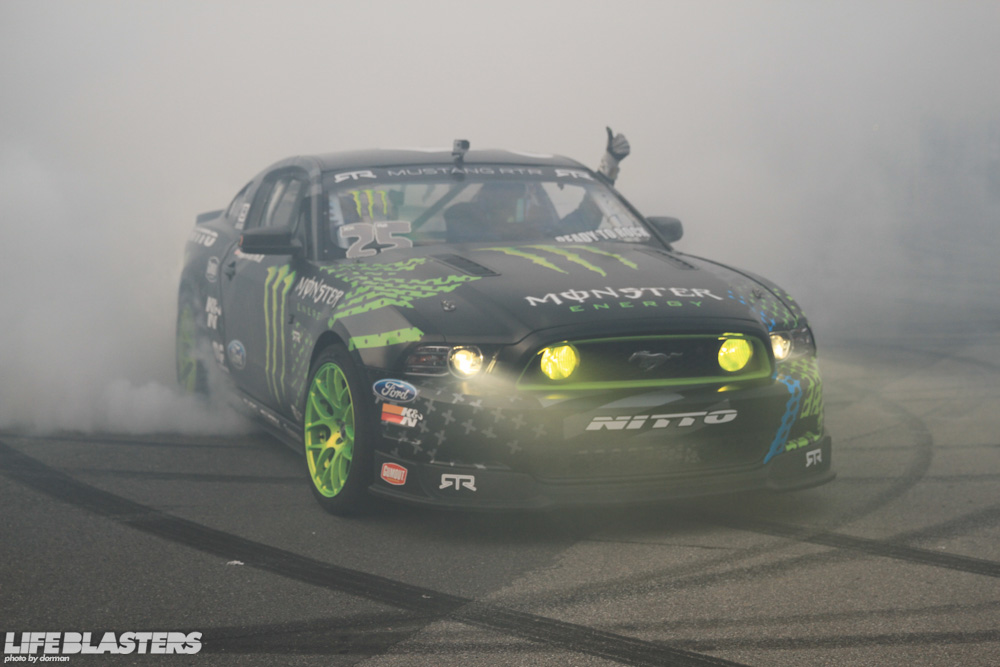 Vaughn Gittin, Jr. showed up and gave fans a smoke show on the edge of the river. Great car control from Gittin, who also debuted in Canadian NASCAR on Sunday. He finished 14th.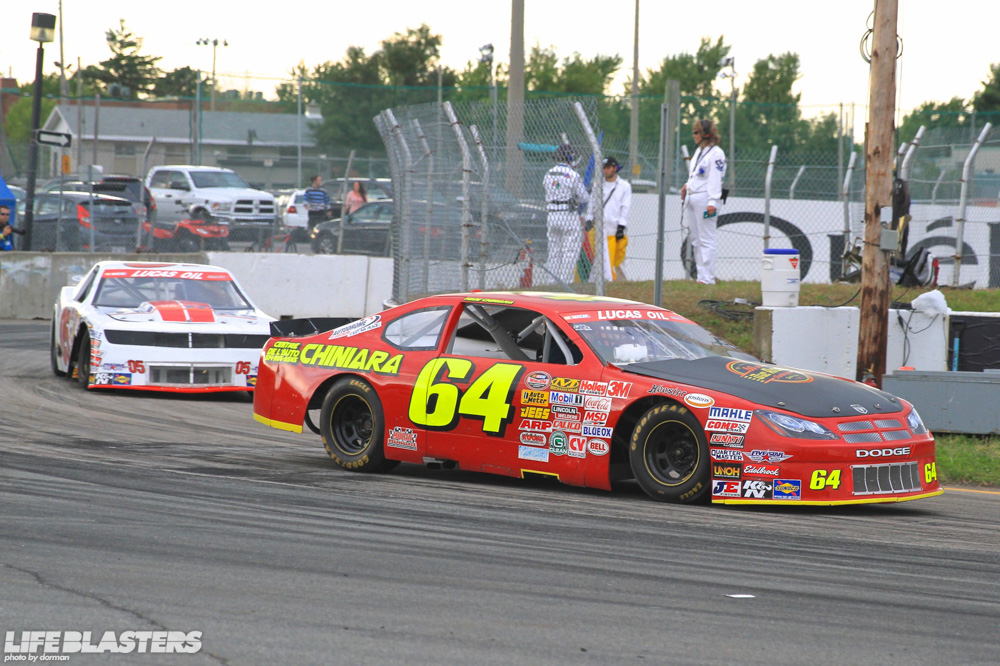 Thursday practices, qualification, and races for other series took up the entire day.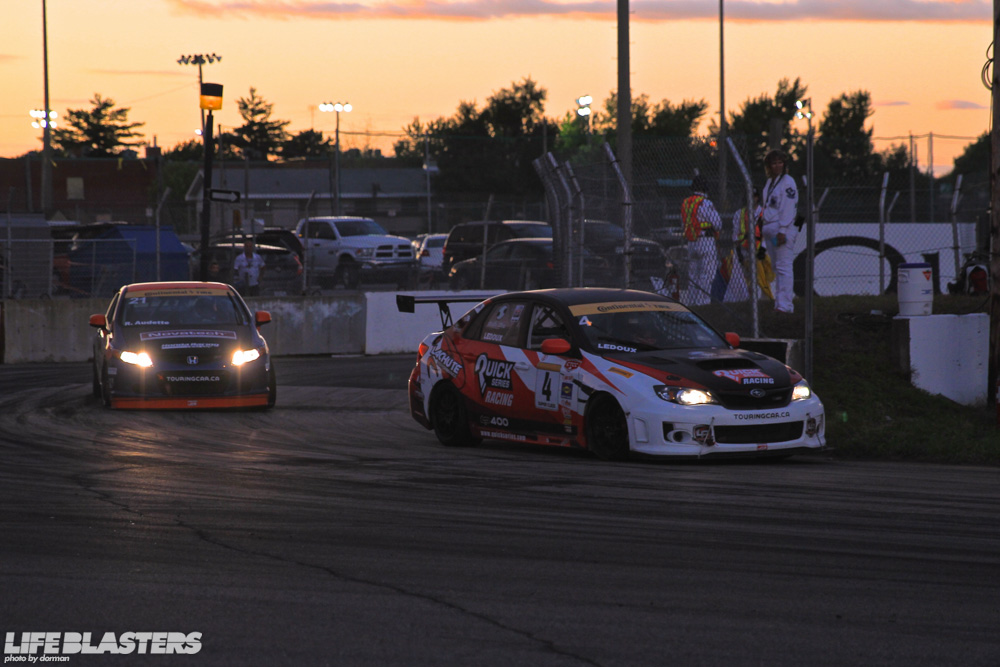 Due to delays and track personnel not able to convert the track into rallycross mode, Thursday practices for rallycross got canceled. Pictured Canadian Touring Car Championship race ended in the dark.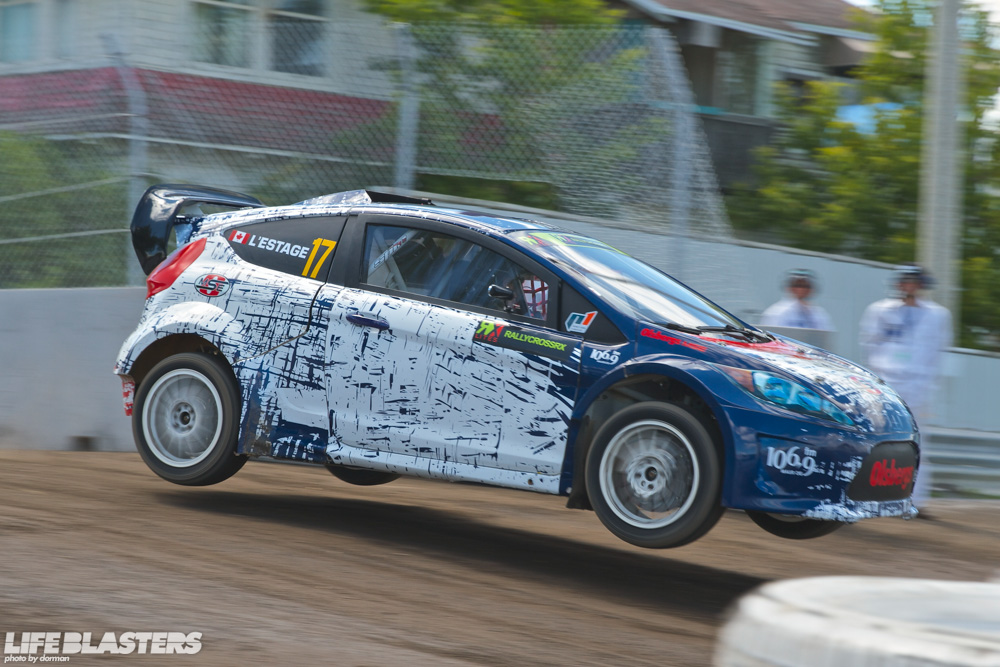 The last addition to RX Lites class, a day before the competition, was multiple North American rally champion Antoine L'Estage. He stepped into the seat of Mitchell DeJong who was reported sick and did not show up in Canada. The very first time L'Estage got the drive the 301HP, non-turbo 4WD Fiesta was during practice on Friday morning. He had a lot to learn in just few hours.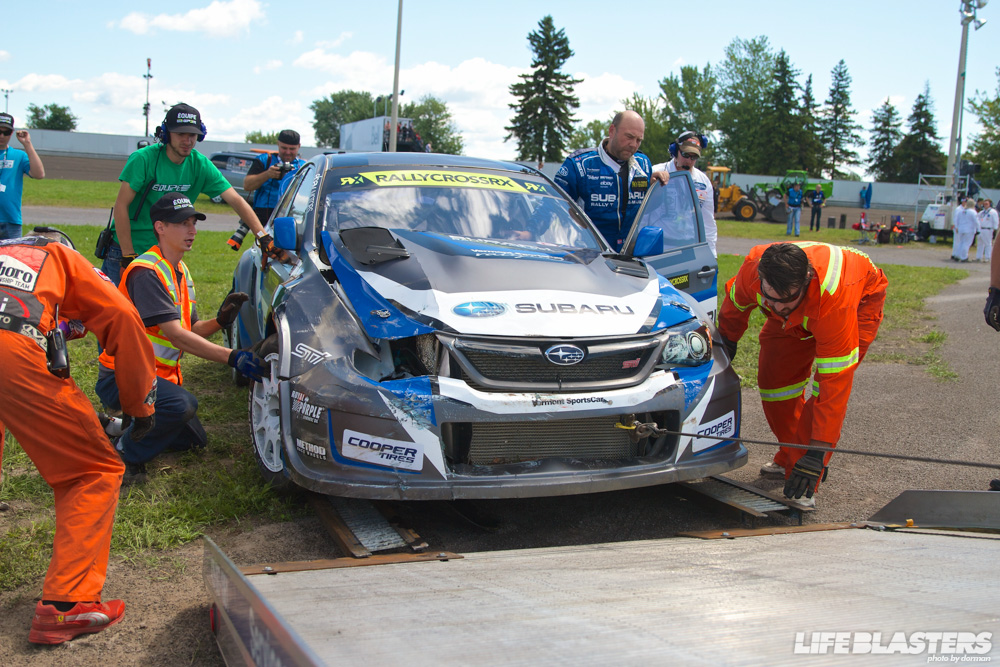 Last time norwegian Sverre Isachsen drove against some of these drivers was when he became European Champion, but Isachsen found trouble first in Canada. After landing the jump into the hippodrome, his steering broke and he crashed into a tire barrier. He continued to advance into the semi-final, but was eliminated there.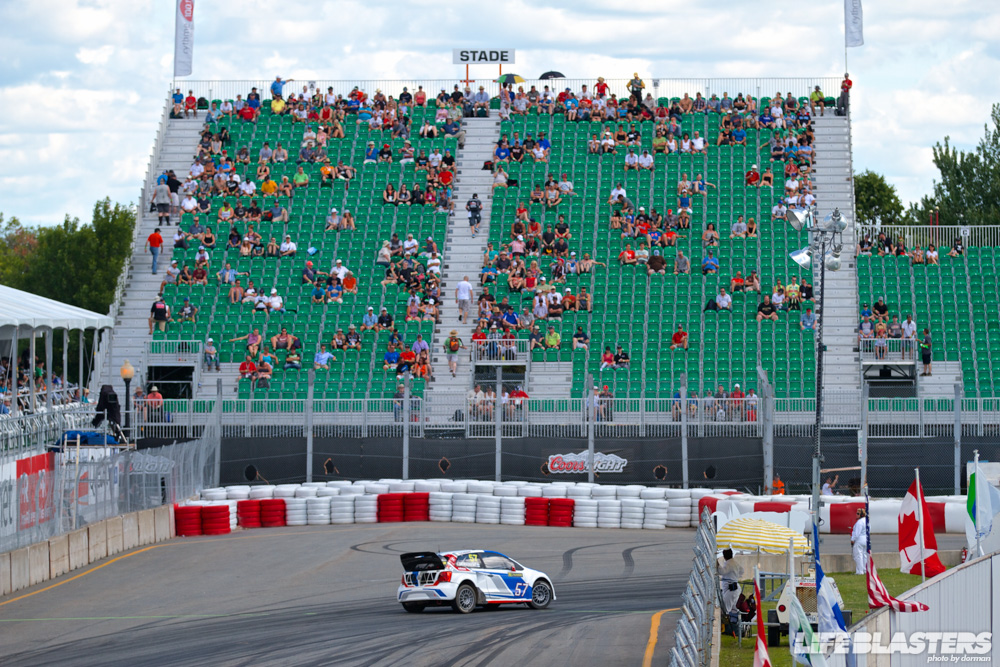 Friday at noon the stands looked empty, but by the time 2013 Global Rallycross Champion Topi Heikkinen drove in the final, there were no empty seats.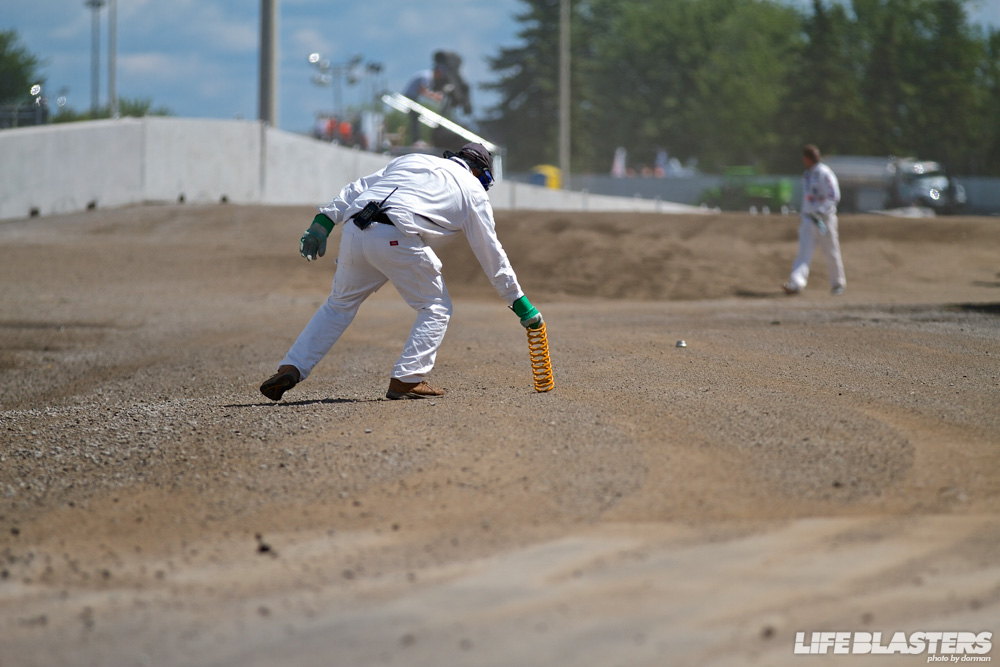 The temporary dirt section was quickly getting rutted and rough. Andreas "Baby Blue" Bakkerud found out about it the hard way when his rear suspension collapsed one of the springs came out. Later in the day his team mate Reinis Nitiss from Latvia got three punctures in four heat races. Petter Solberg also came off the track in practice with rear suspension collapsed.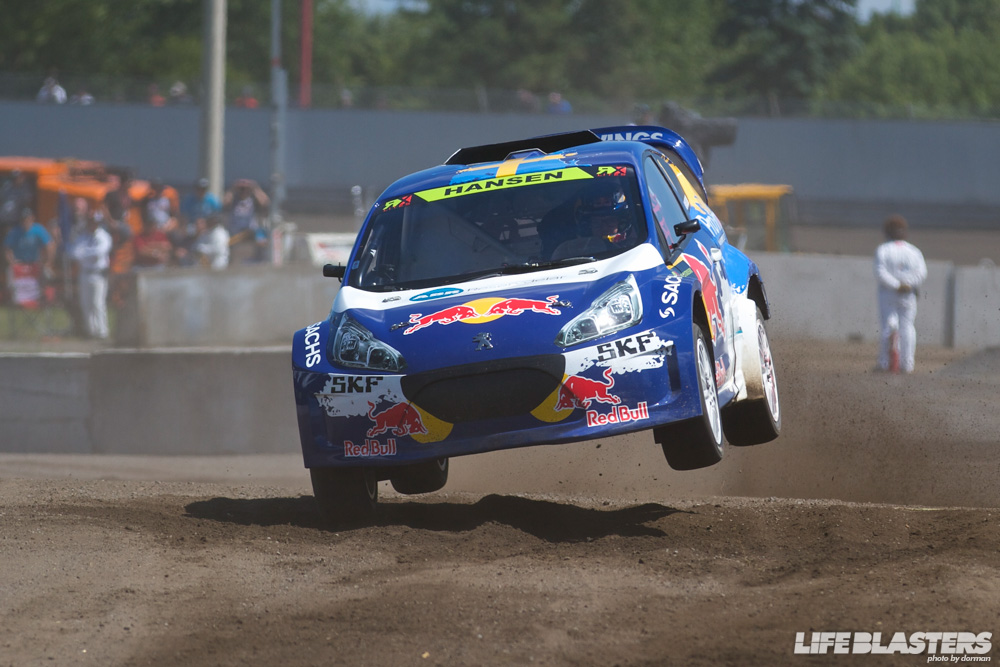 There are two big families in Rallycross in Europe: the Erikssons and the Hansens. Both fathers run very fast Super Car team, Ford and Peugeot respectively. Kevin Hansen competes in RX Lites class and drove very well last weekend. Crash in Heat 4 and broken car in semi final did not allow him to take part in the fight for the podium.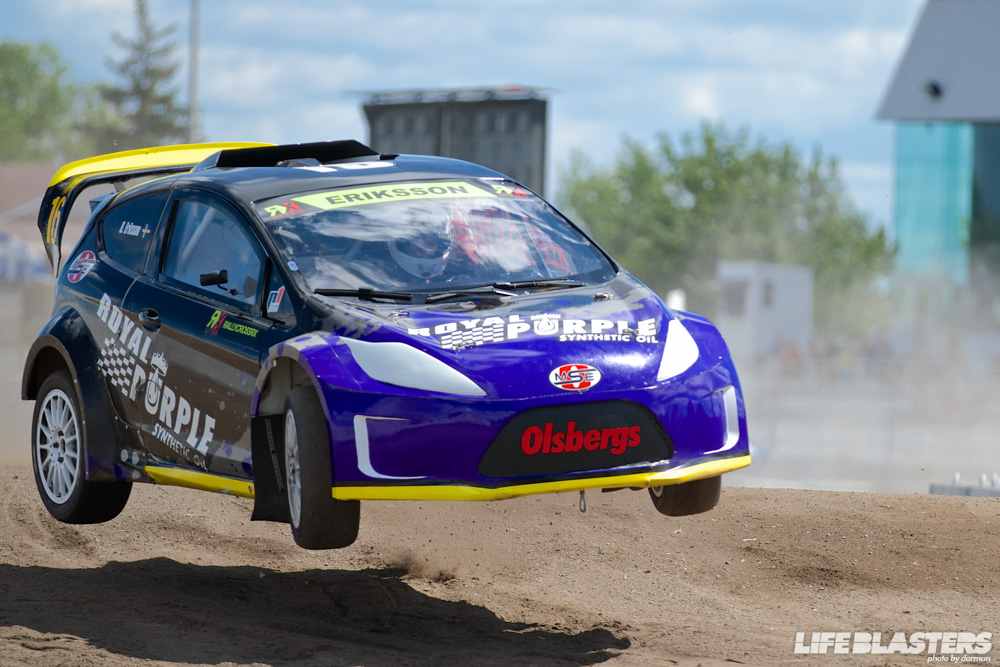 This is Oliver Eriksson, who drove the best out of all Lites drivers, beating his brother and RX Lites championship leader Kevin Eriksson in many heats in his World Championship debut. Oliver lost a wheel in the Lites final and did not finish the race. His brother Kevin was second.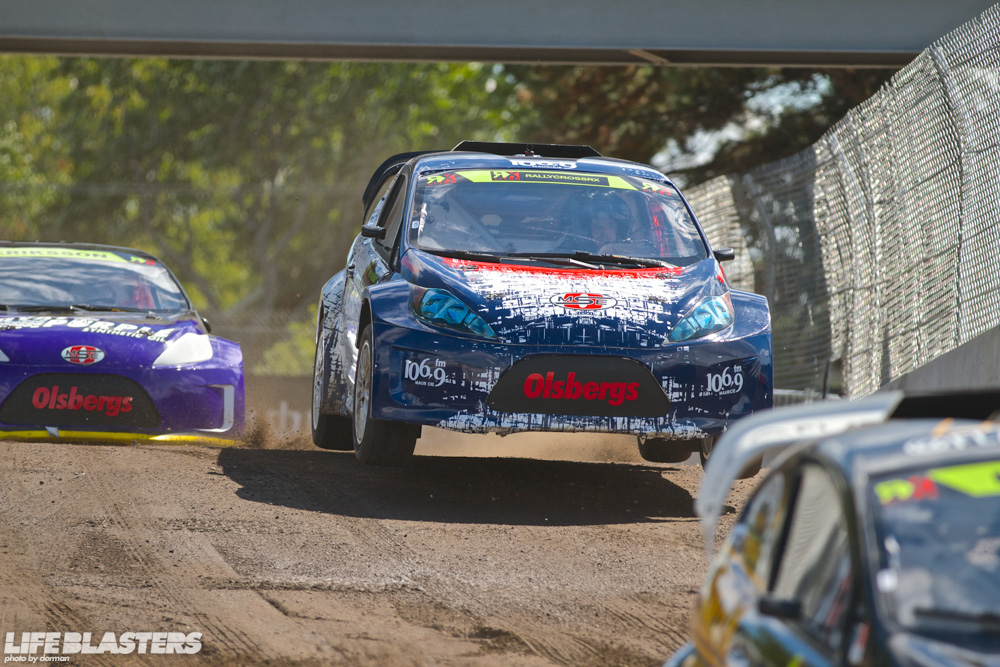 Antoine did not have a great day either. After struggling with traffic and car set up, L'Estage broke his left rear wheel driving out of the joker lap. Even though he was able to win his last heat race, he did not advance from the semi final.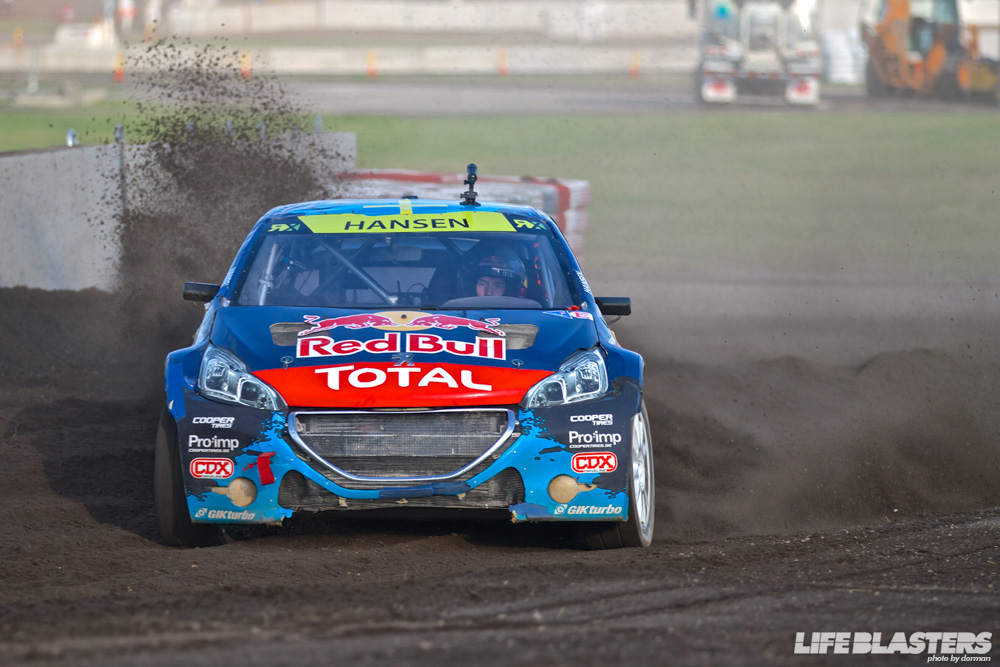 Timmy Hansen in his Peugeot 208 Super Car was DQed from the semi final after making a pass with all four wheels outside of the track. He still sits 7th in the points championship.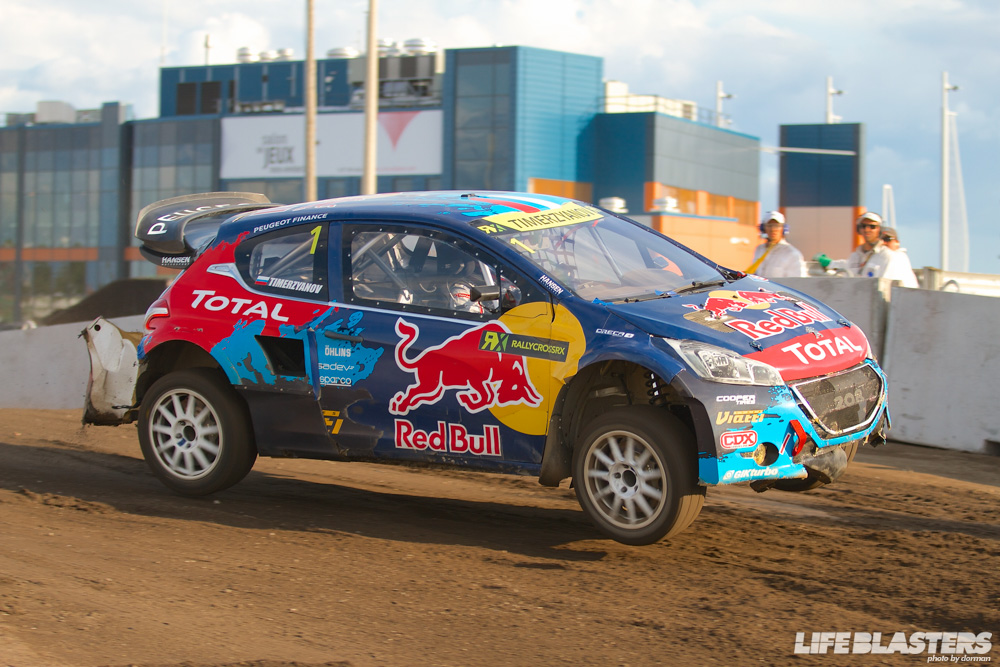 His team mate, Timur Timerzyanov, did advance to the final even after going big almost at every jump and constantly ripping bumpers off. Timur went all the way to the lowest spot on the podium.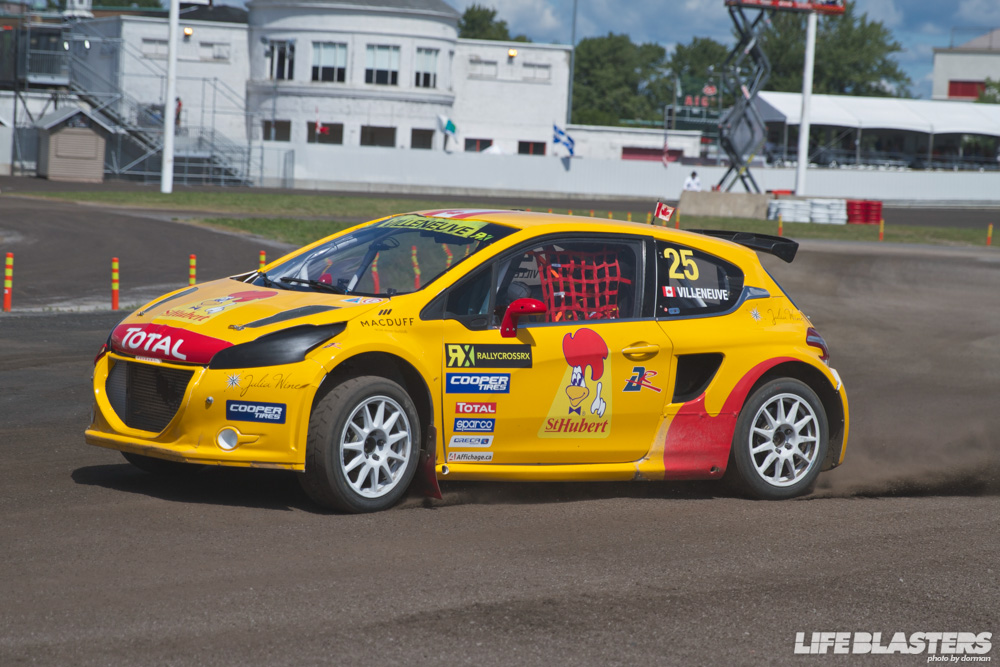 1997 Formula 1 champion and second Canadian driver in the line up  Jacques Villenueve did not have much luck during round 7 of the World Rallycross Championship. He suffered problems with a fuel tank in his Peugeot 208 and retired from the event before heat 3.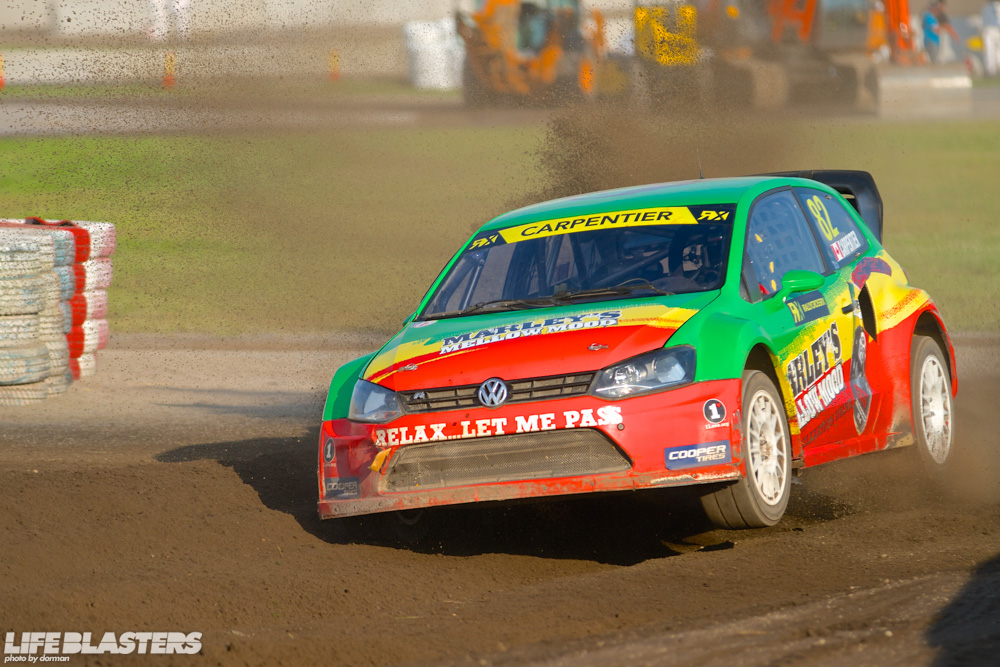 Carpentier on the other hand surprised a lot of other drivers. He ran into some troubles in the final after getting 3rd position on Turn 1 of the first lap. He finished 6th.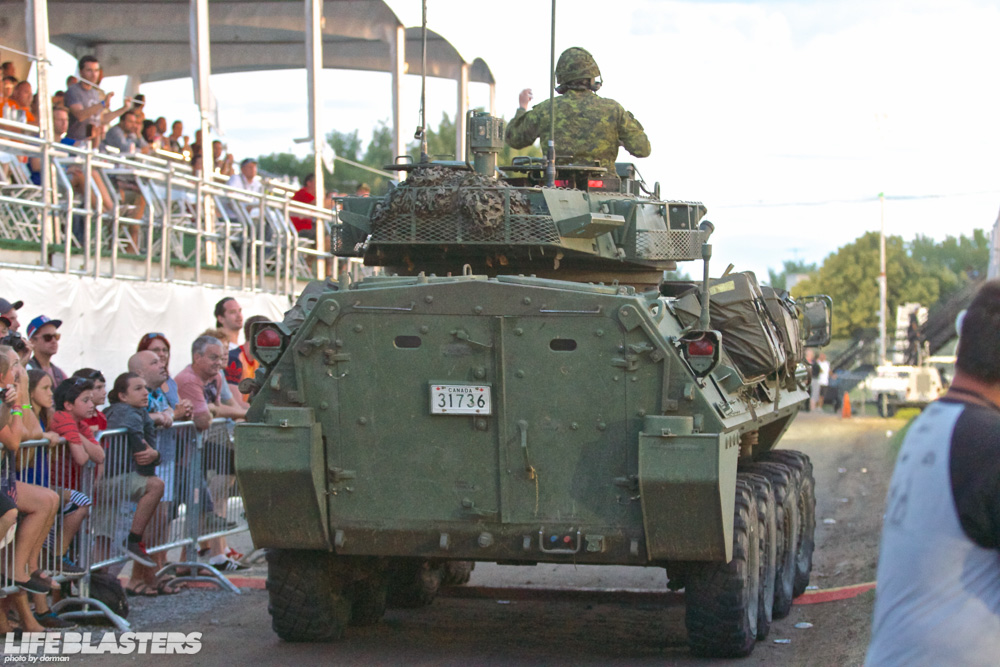 No, it is not a picture from Ukraine. Canadian armed forces were showing off their equipment to the fans at Trois-Rivieres.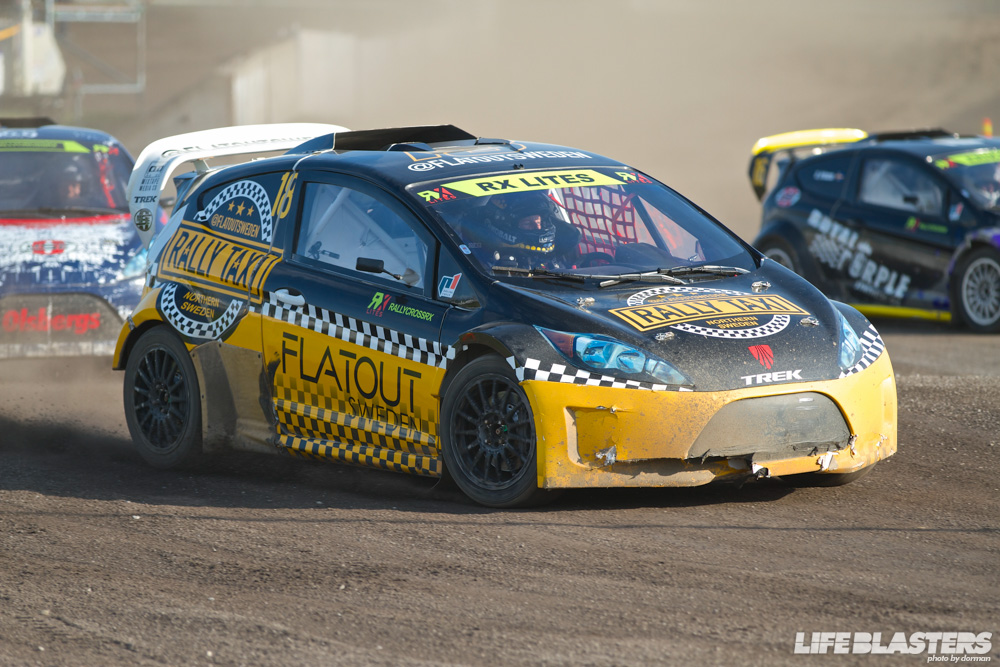 GRC Super Car regular Patrik Sandell took a win in RX Lites class, barely getting a spot in a final after puncture in a semi.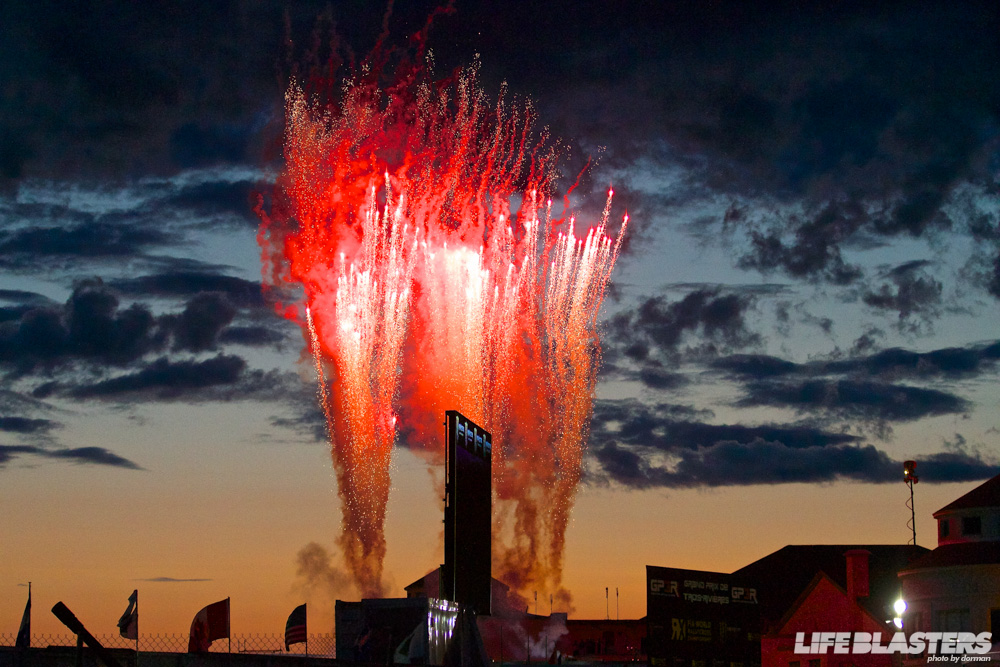 Petter Solberg showed a class drive throughout the entire day. He won three heats, his semi final, and the final, taking almost the full amount of championship points available.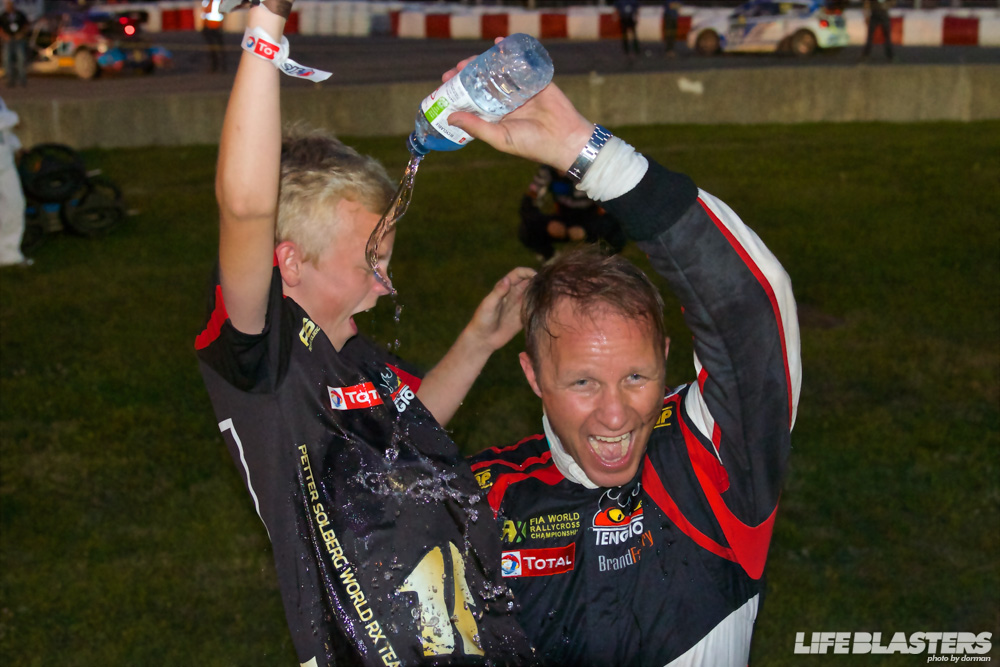 There was no end to celebrations at the finish. Oliver Solberg got a splash of cold water while while hugging his dad after his second win in Rallycross this season.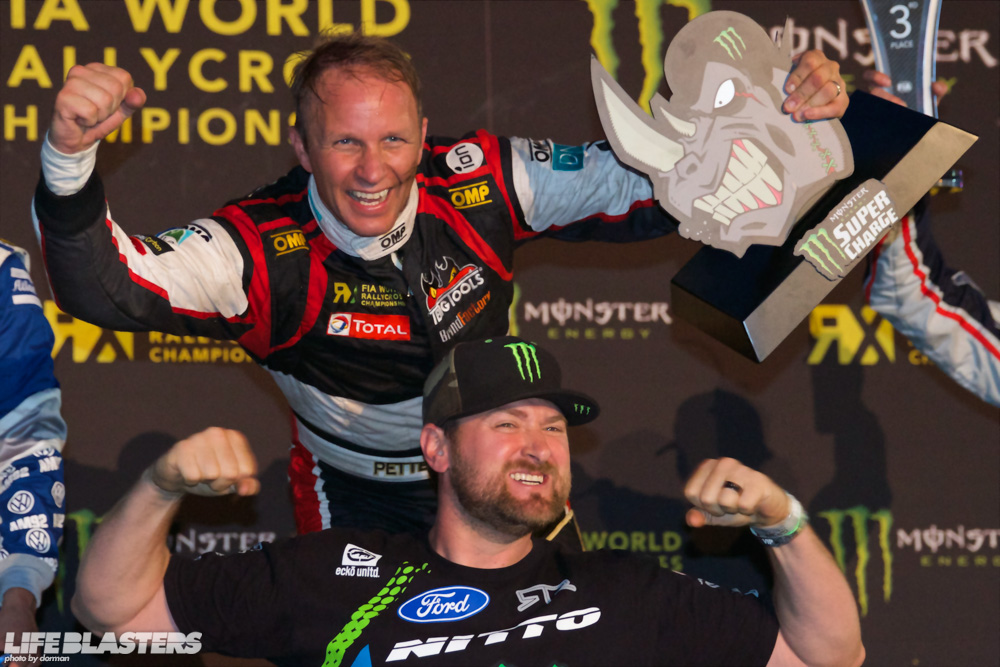 Vaugh Gittinn, Jr. presented Solberg with the Super Charge award given to the driver who wins the start line drag race to the first corner. Solberg responded by Gittining.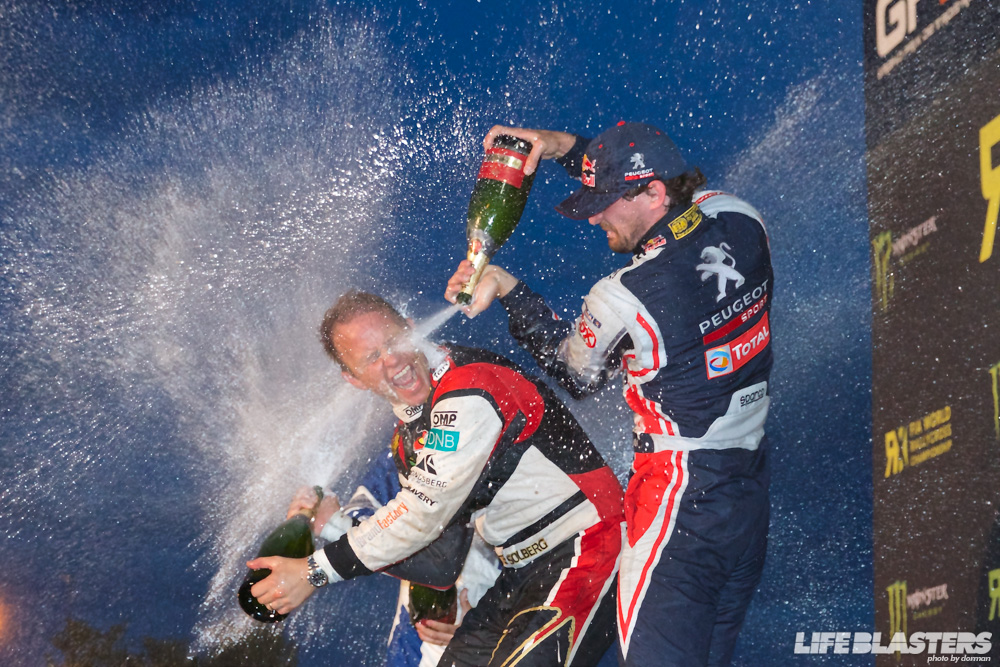 Current European Rallycross Timur Timerzyanov sprays Solberg on the podium. Great to see these guys fight for positions all day and at the end be close friends, but who would not want to be a friend with a guy like Petter Solberg. A true icon.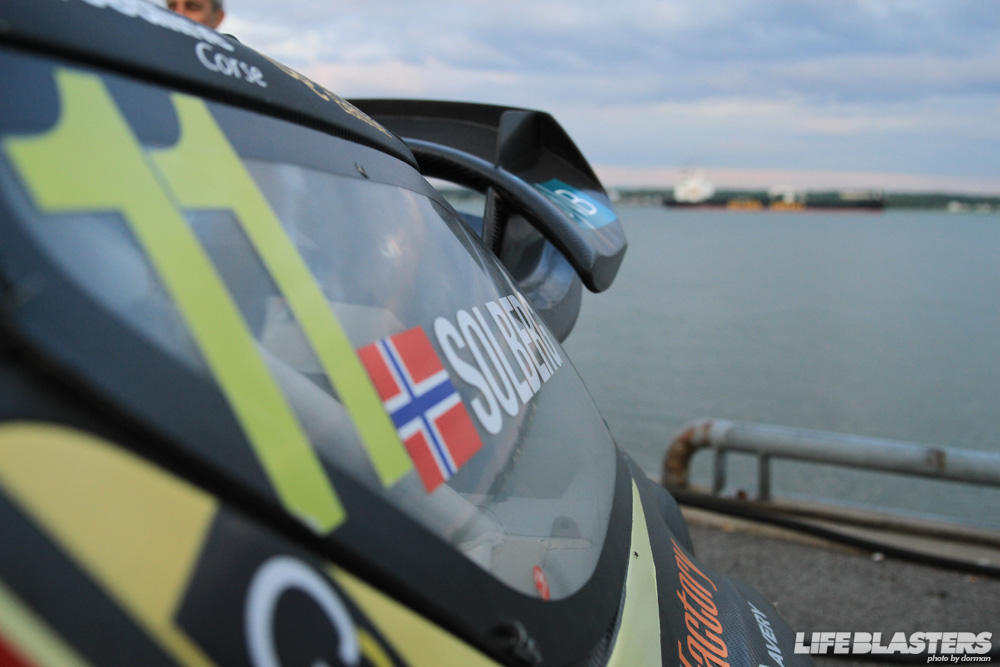 Overall it was a good couple of days in Canada. I highly recommend spectating one of those events in the near future. It's a great sport as a alternative to rally. You don't have to run around to the stages stages and see your favorite car for only 10 seconds. The track in Canada probably needs some work if this event comes back there. Oh and most important…learn French if you are going there,
Na zdrowie!
-Grzegorz Dorman