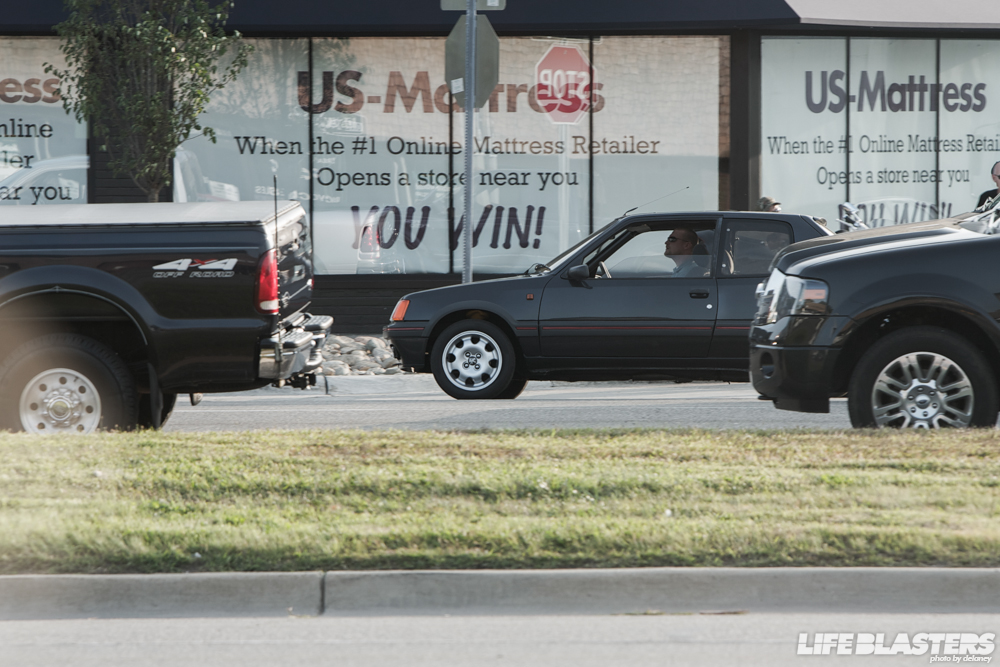 There's a lot of car shows and races around the world. Many of them are attended by hundreds of thousands of people, but there's only one Woodward Dream Cruise.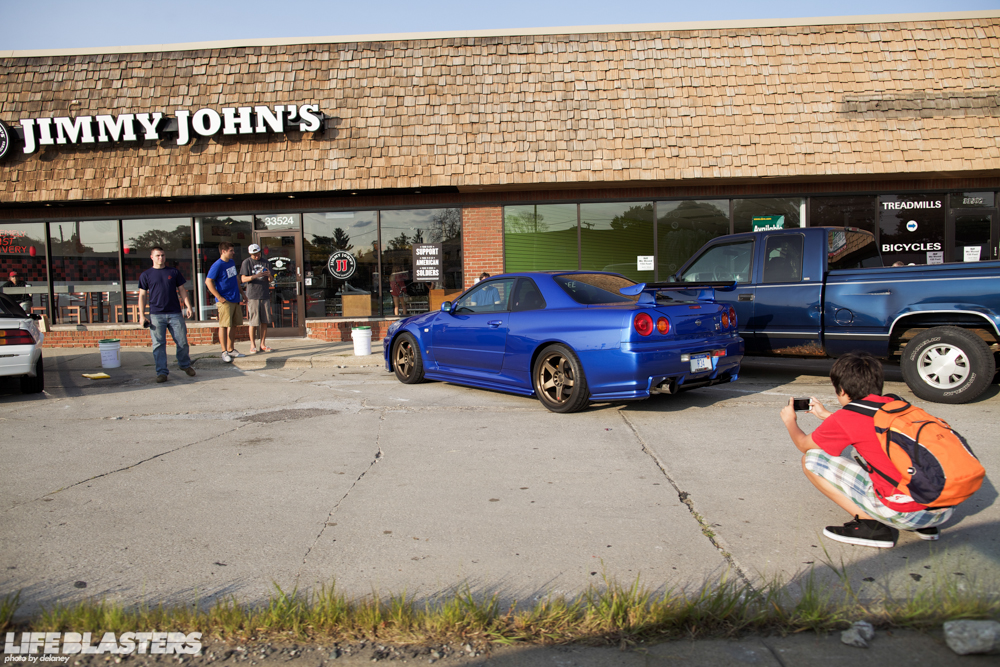 What is the Woodward Dream Cruise? It's an event in Detroit that is held every year midway through August on Woodward Avenue. It started back in 1995 when a local man and some volunteers wanted to raise money for a local soccer field, and to bring back the old days of cruising from the '50s and '60s. Their original expectations were maybe a few thousand people would come out to watch and cruise. That year, 250,000 people came out.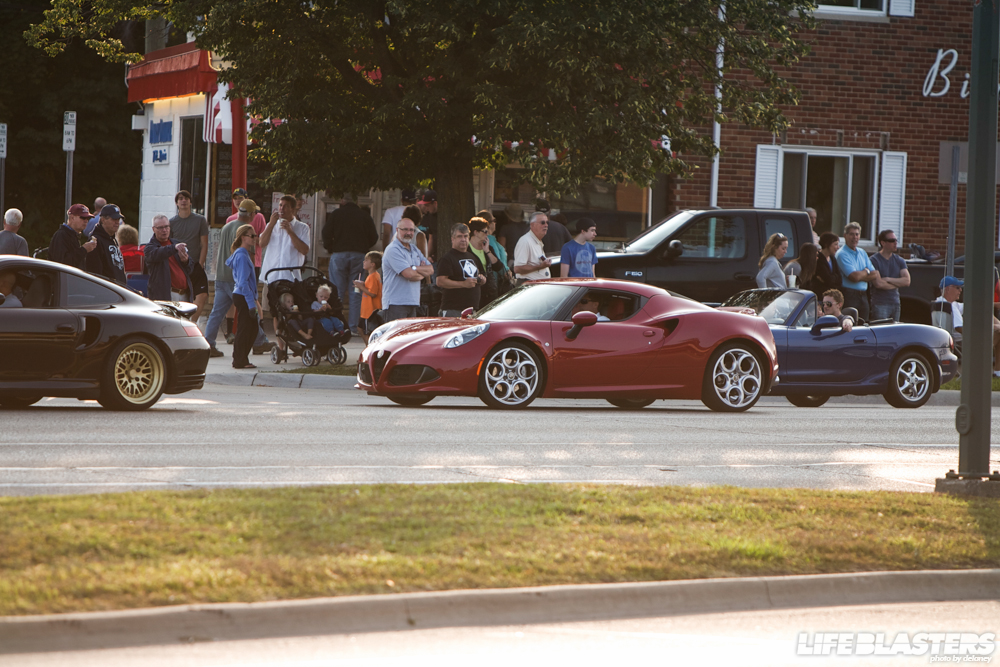 Today it's turned into the biggest car show in the world. In just 20 years, the crowd has swelled from 250,000 to over one million. And the cars? It's impossible to really keep track, but the numbers are usually around 40,000.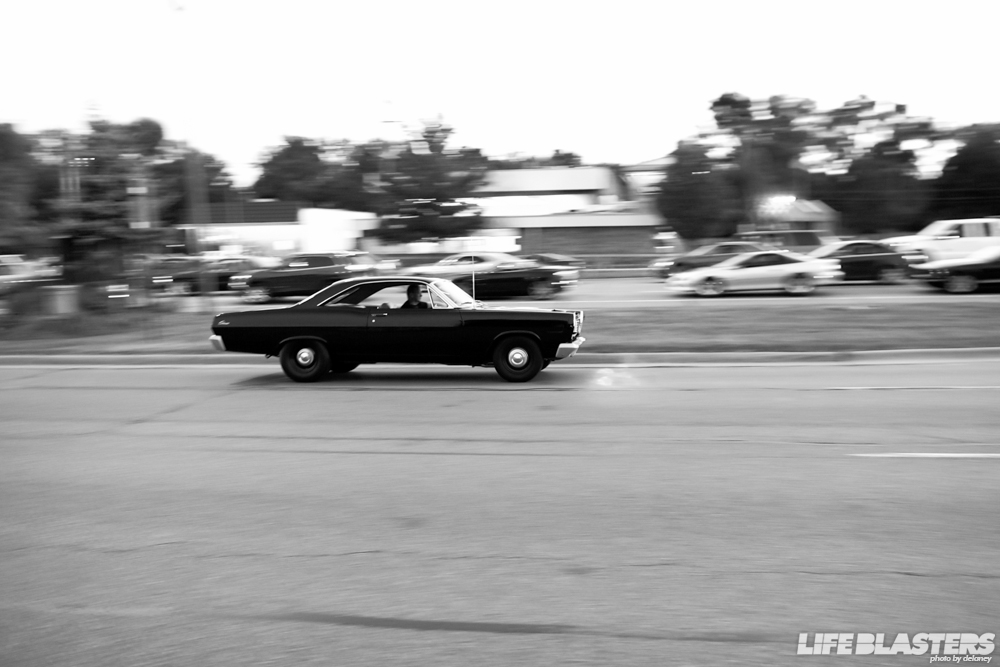 While the actual Dream Cruise is only held one Saturday mid August, people start cruising as soon as spring rolls around. Every Friday and Saturday night during the summer, Woodward is filled with cars out cruising.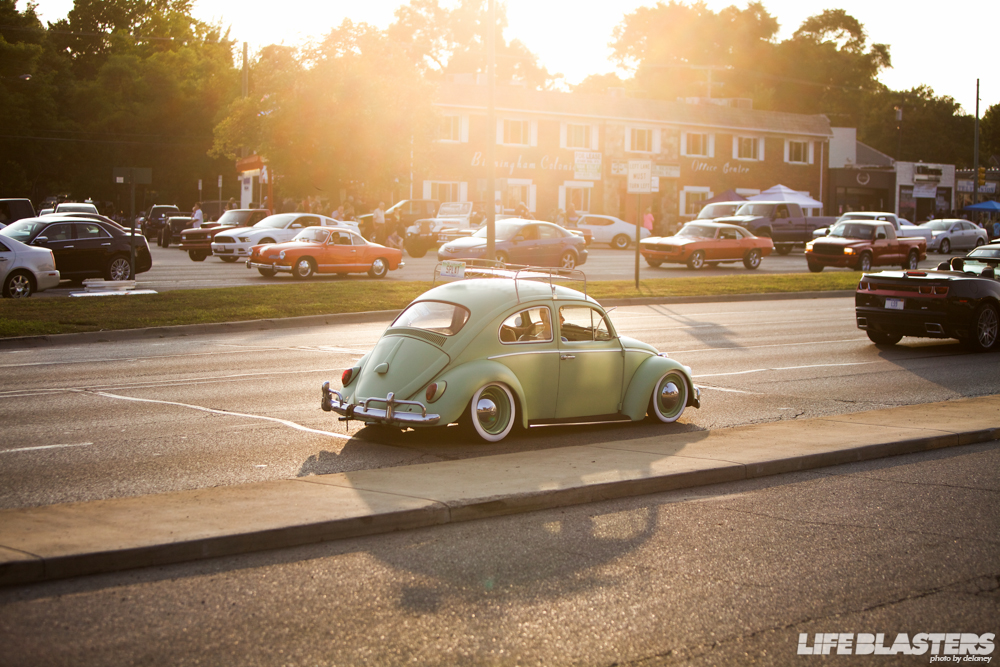 The Friday night before the main event is almost more exciting then the main event itself. Thousands of cars come out to enjoy the pre cruise fun. Every parking lot and side street is filled with cars and spectators who just enjoy seeing the cars.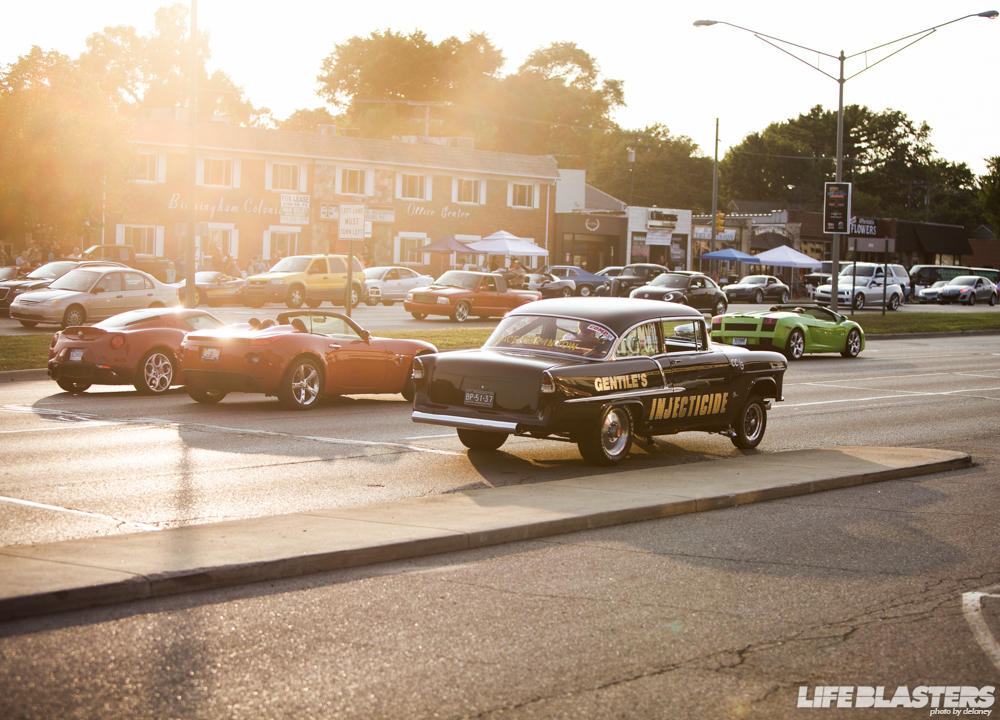 I think one of the best things about the Woodward Dream Cruise is the variety. While a large portion of the cruisers are American cars, there's still a huge turn out from Asia and Europe. How can you not love a '55 Chevy gasser, Alfa Romeo 4C, and a Lamborghini Gallardo combo?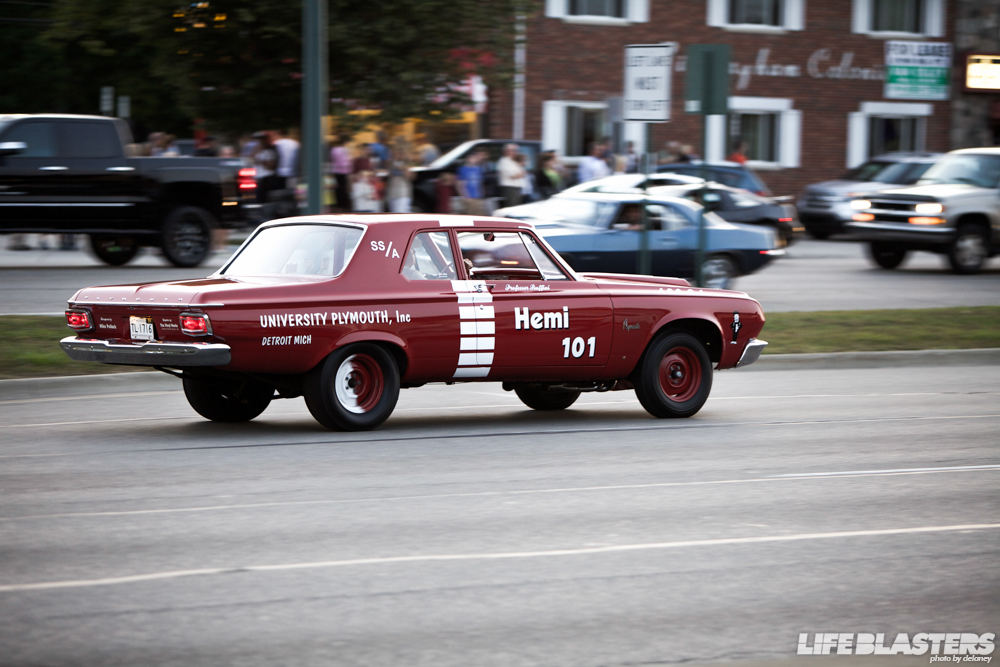 A lot of people call the Dream Cruise a moving Pebble Beach. While there might not be 38 million dollar Ferraris cruising around, what you will see is the cars that were tearing up American drag strips the same time Ferraris were racing at Le Mans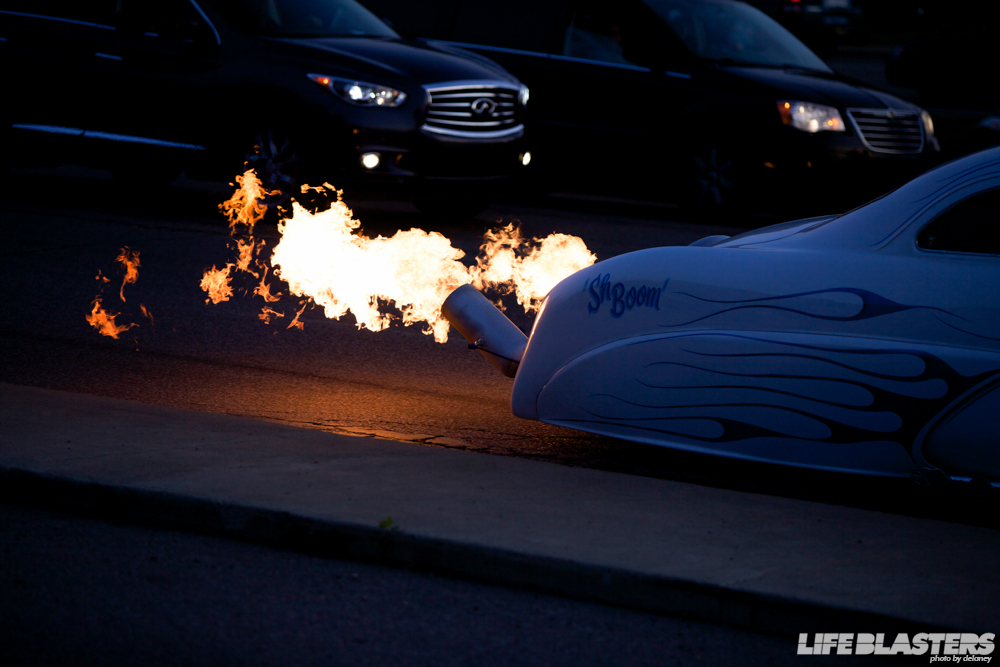 One of the most famous cars in Michigan is "Shboom," Who rarely passes up an opportunity to put on a little flame show.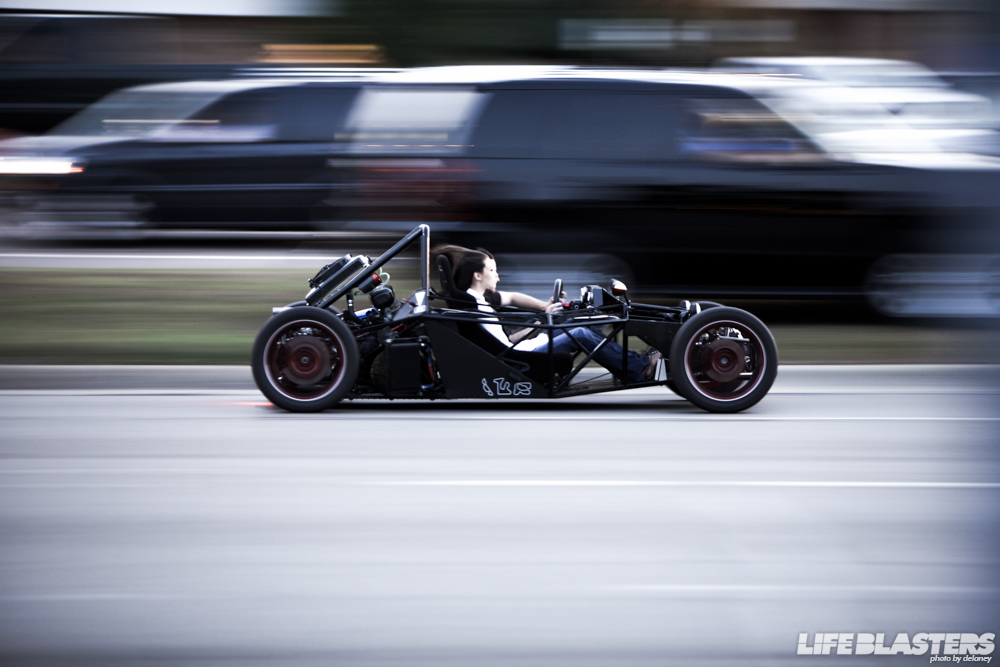 If an Ariel Atom isn't hardcore enough for you, just make your own tube framed car. This is another car that shows up on Woodward all year.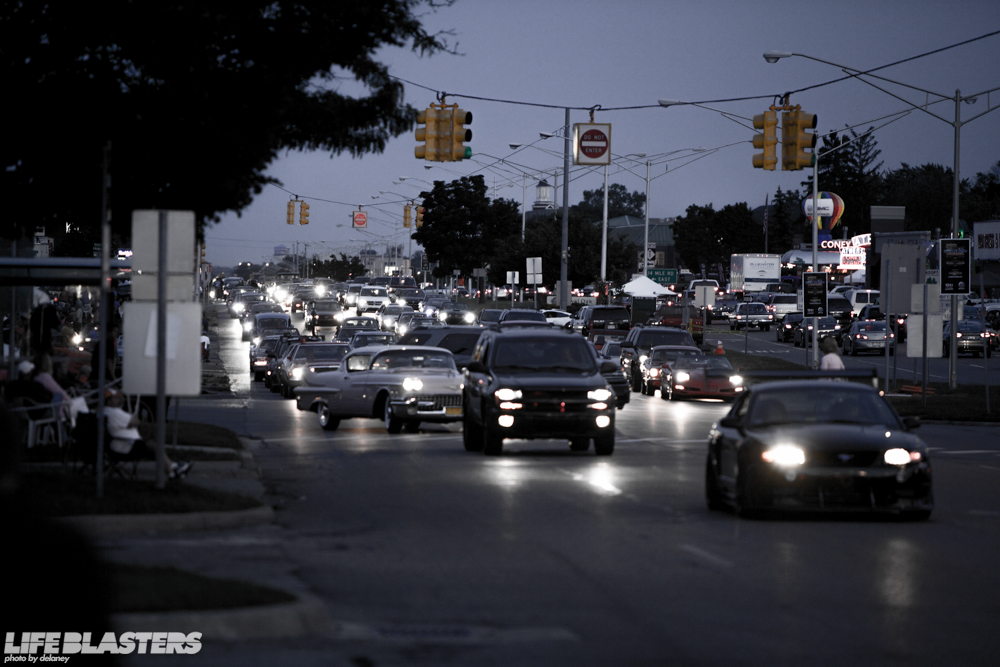 It was getting close to 9pm and there was no end in sight for the cars. I'm pretty sure if the police didn't shut down the road, there would be people cruising all night long.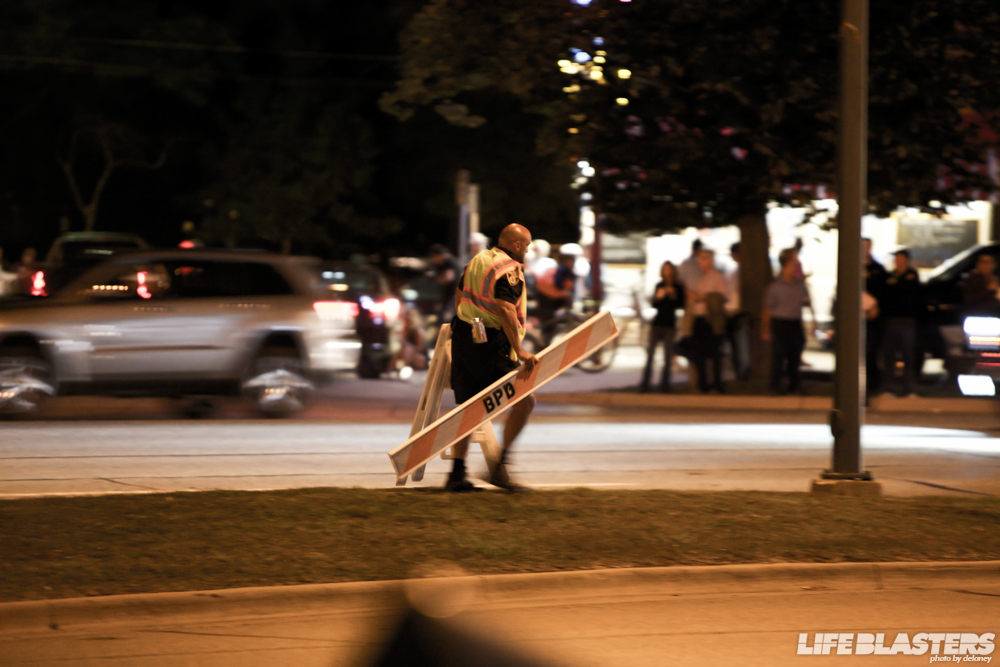 But come 10pm, the police started shutting down parts of Woodward. They probably could have found a better way of doing it besides shutting down all eight lanes both ways and forcing everyone onto a four lane cross road.

While some people just took side streets back to Woodward, I called it a night and went home to get ready for the next day.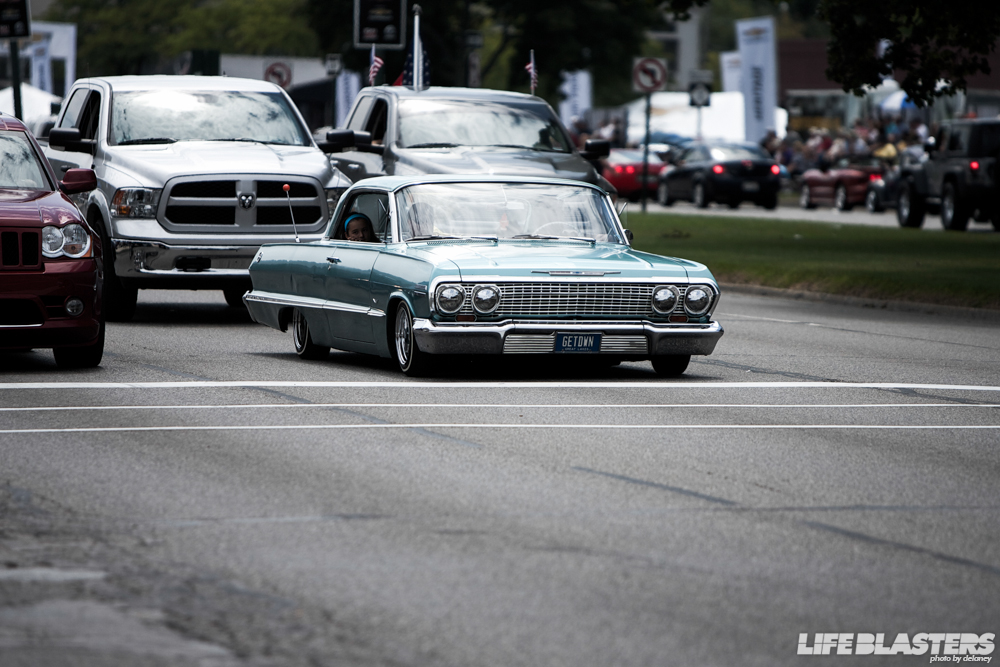 The Woodward Dream Cruise is one of those events, if not the only event, where it's impossible to see every car that participates. The main cruise route covers 15 miles one way up or down Woodward. Contained in those 15 miles are thousands of cars both parked and cruising. It's really about chance on what cars you'll see and where.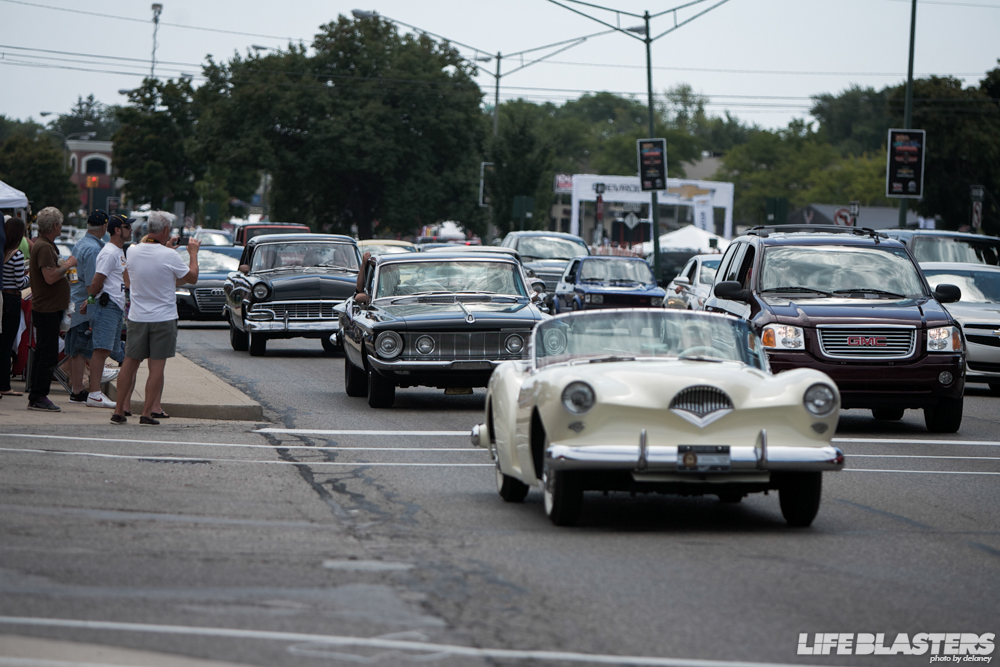 Most of the cruise may be fairly common American muscle cars, but that doesn't mean there's not a few rarities thrown in. Like this Kaiser Darrin, only 435 were made, and this one is concours ready, but it's out cruising Woodward to celebrate all that is the car. While the Darrin was nice, I was more interested in the Plymouth Belvedere Max Wedge.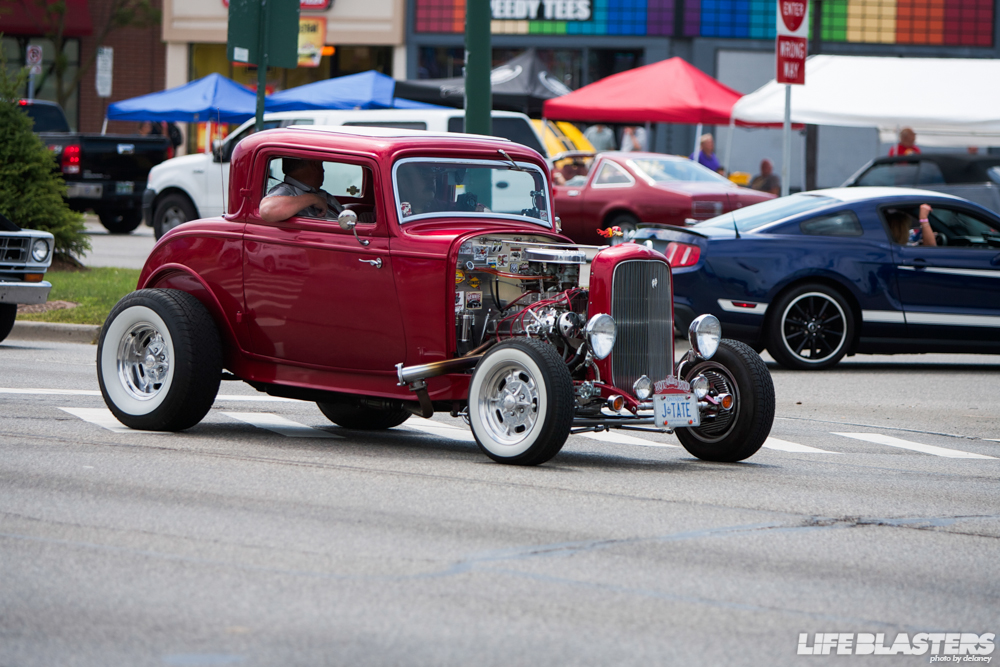 No car show or cruise would be complete without some '34 Fords. This Ontario rod is a perfect example. The white walls, suicide doors, perfect paint and cut off headers. You have to love the variety of what can be done to a car.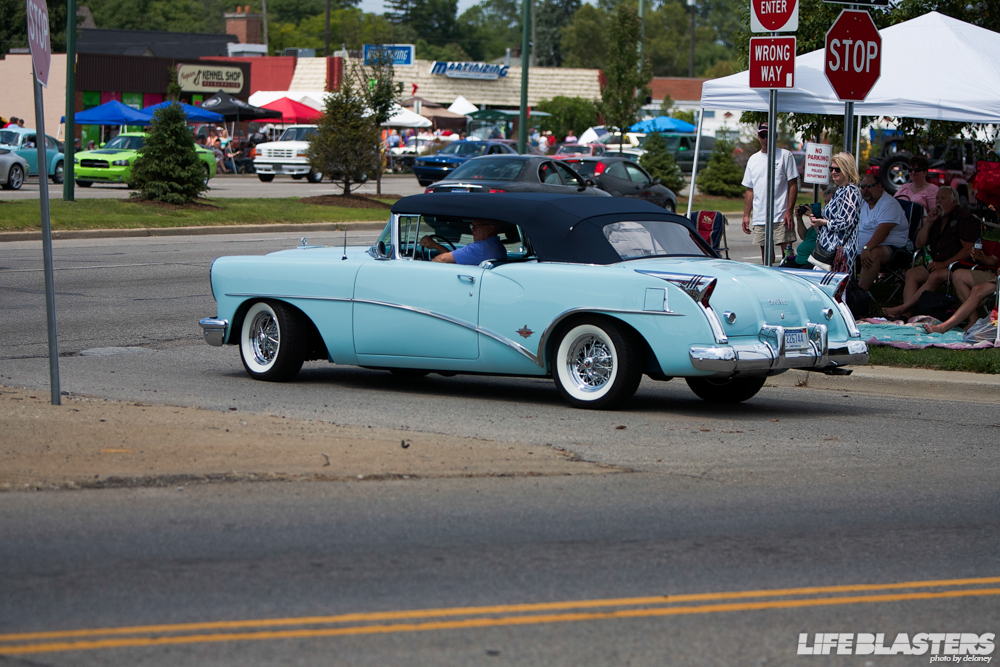 This 1954 Buick Skylark made me think it was a concept. The taillights and the way the rear wheel well extends further than necessary, it just has the feel of a concept car from the era.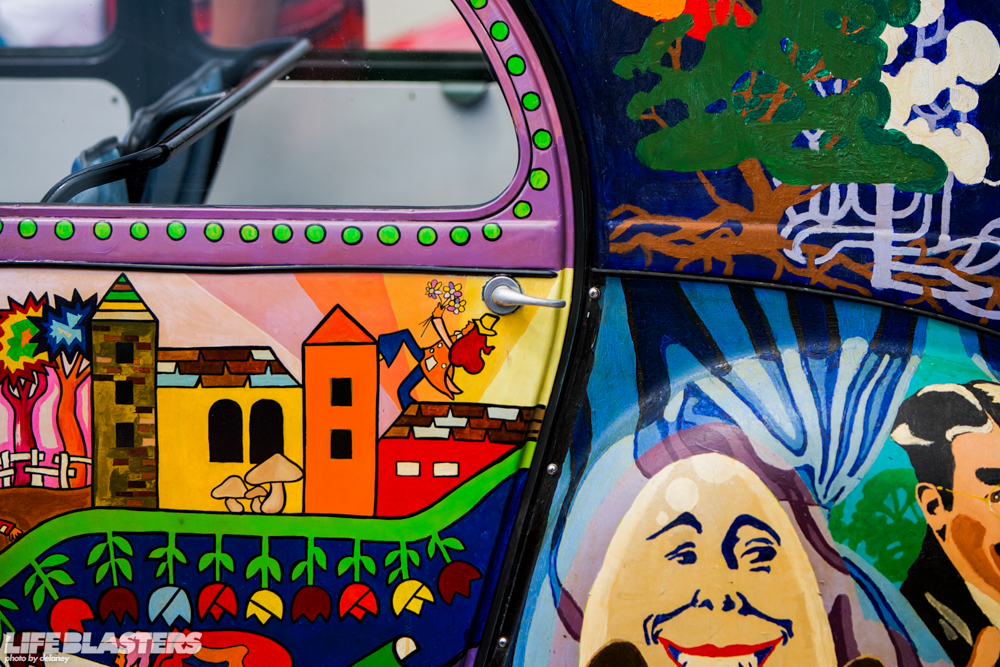 There's no car that better fits a paint job like this than a Citroen 2CV. There were a few "art cars" cruising, like a car covered in computer parts, but this 2CV was pretty tastefully done.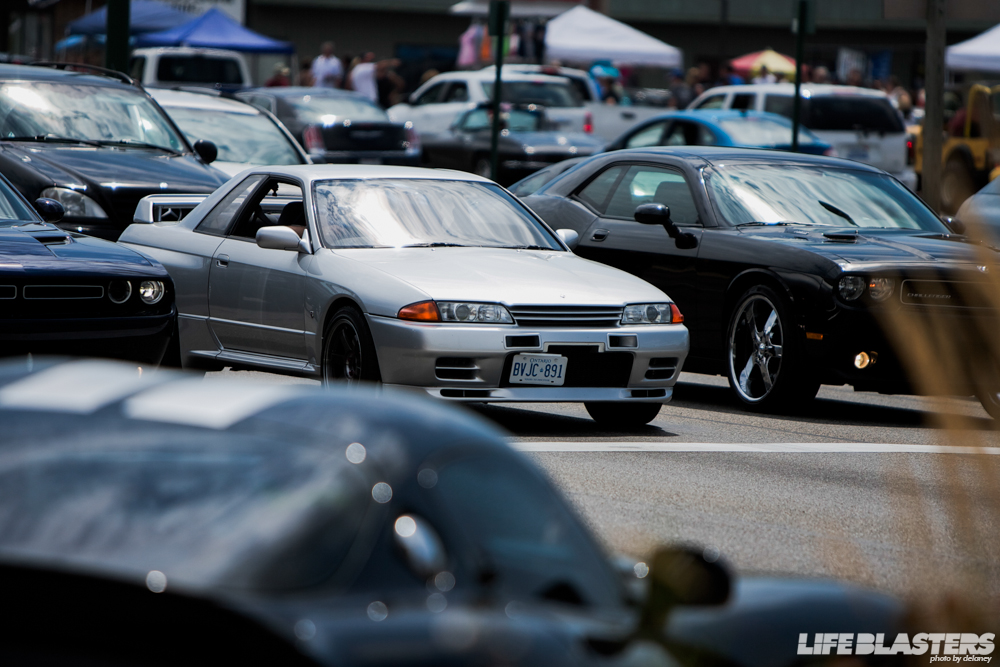 Detroit is right on the Canadian border so it's not too rare to see some Skylines cruising Woodward. Woodward goes right down to the heart of Detroit, so it's not too hard to cross the bridge from Windsor, hit Woodward and cruise right up.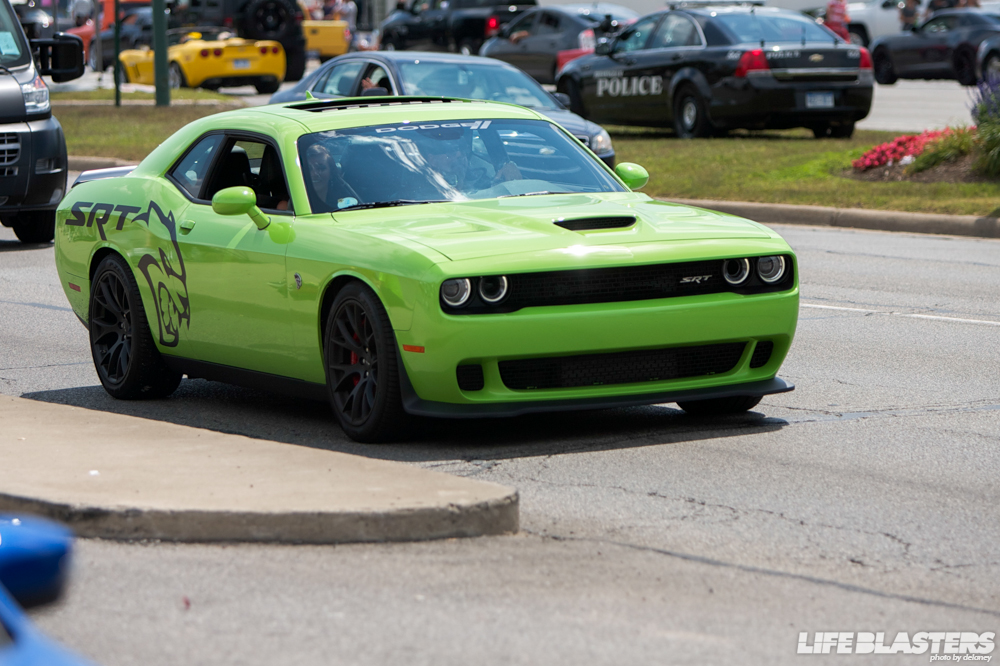 Celebrities also like to join in the Dream Cruise. Richard Rawlings from Gas Monkey Garage was out with SRT to show off the new SRT Challenger Hellcat. The new 707 horsepower beast has just been released. The SRT Hellcat Charger was debuted on Friday night on Woodward, which is their 707 horsepower 204 mph super sedan. A perfect throw back to the Detroit muscle of the '60s.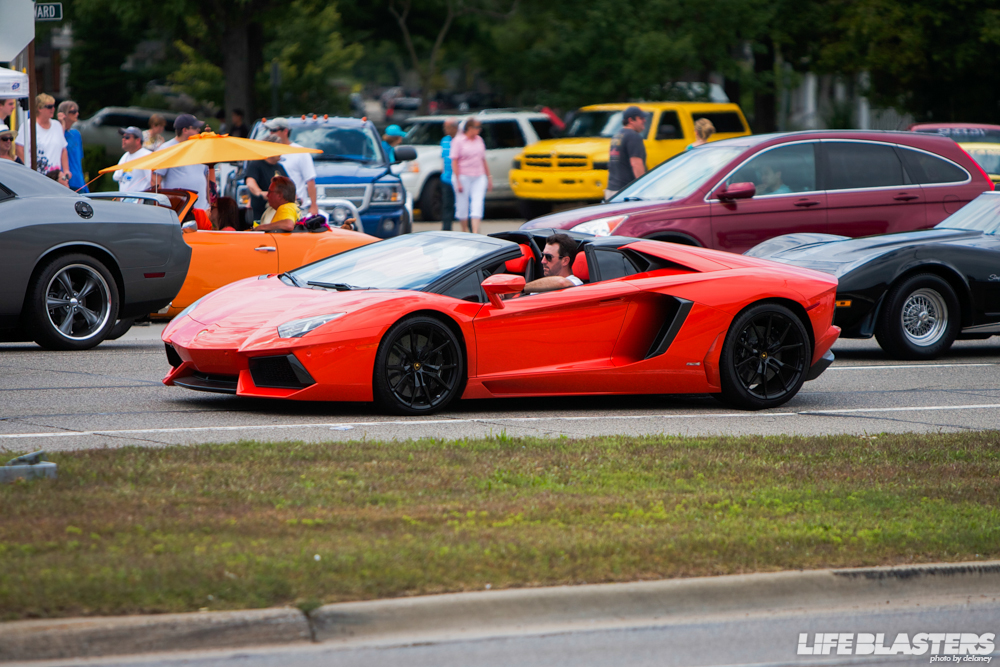 Detroit Tigers pitcher Justin Verlander was out cruising a bit in his Aventador. Verlander has a pretty decent collection of cars, it's cool to see that he's not above doing a little bit of cruising with everyone else.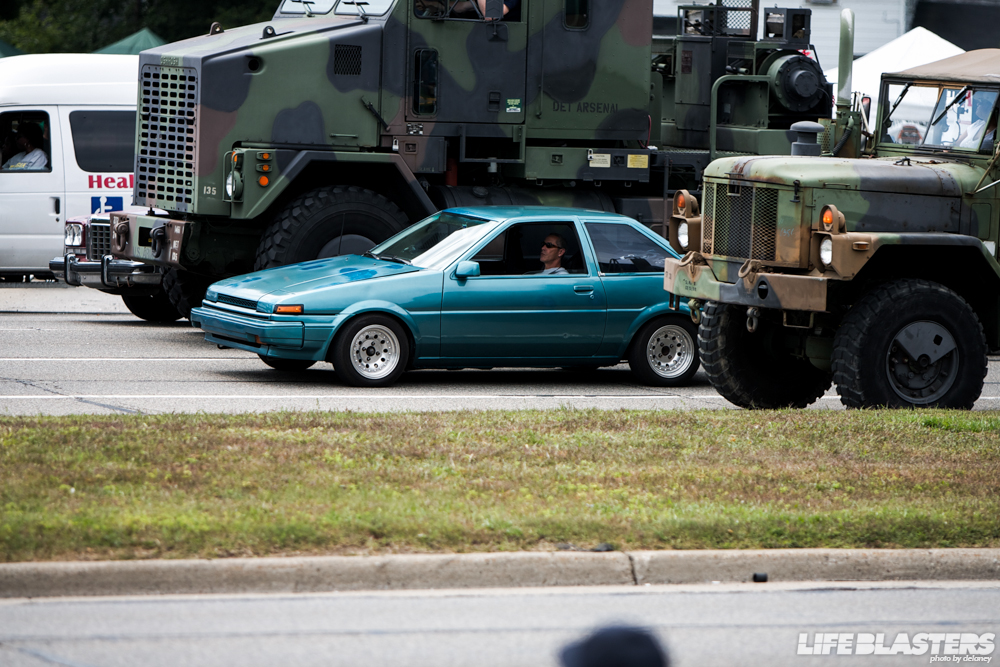 The 86 is a classic no matter where you are, and seeing one that is still in good condition is almost rare now. There's no question on their size, but put a couple military vehicles on each side and it's a little comical.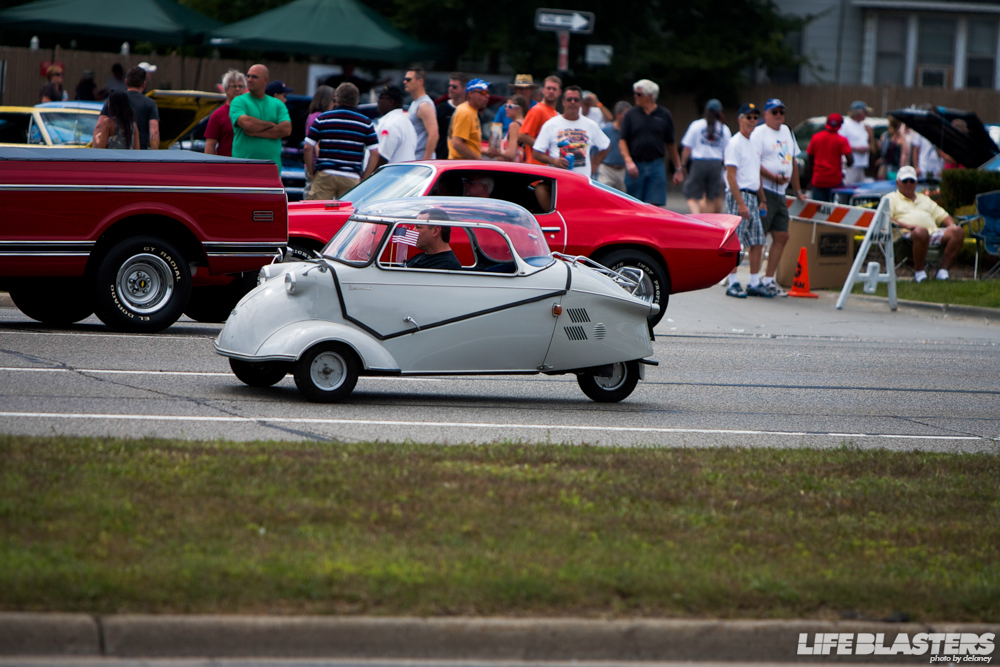 But for small, this Messerschmitt will take the cake. These cars are in museums all over the world, but to see one out driving is a bit of a treat. You never really know what will show up in the traffic.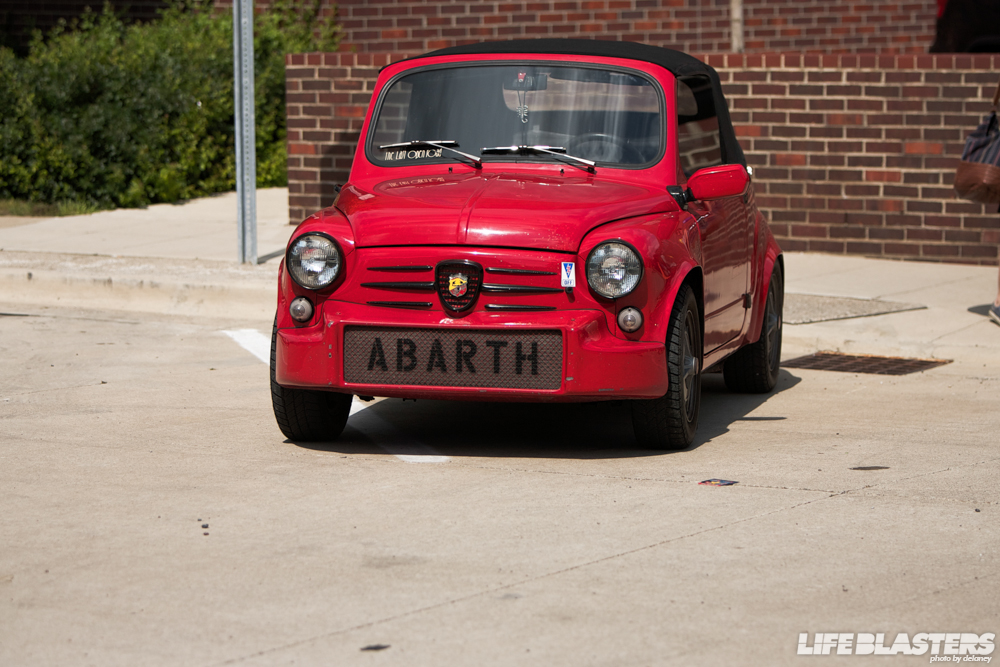 Or, you can just start cruising yourself, if you're patient. In the thick of it, it took us about half an hour to go about two miles. One 15 mile trip took us about two hours, but the traffic we were in made it worth it.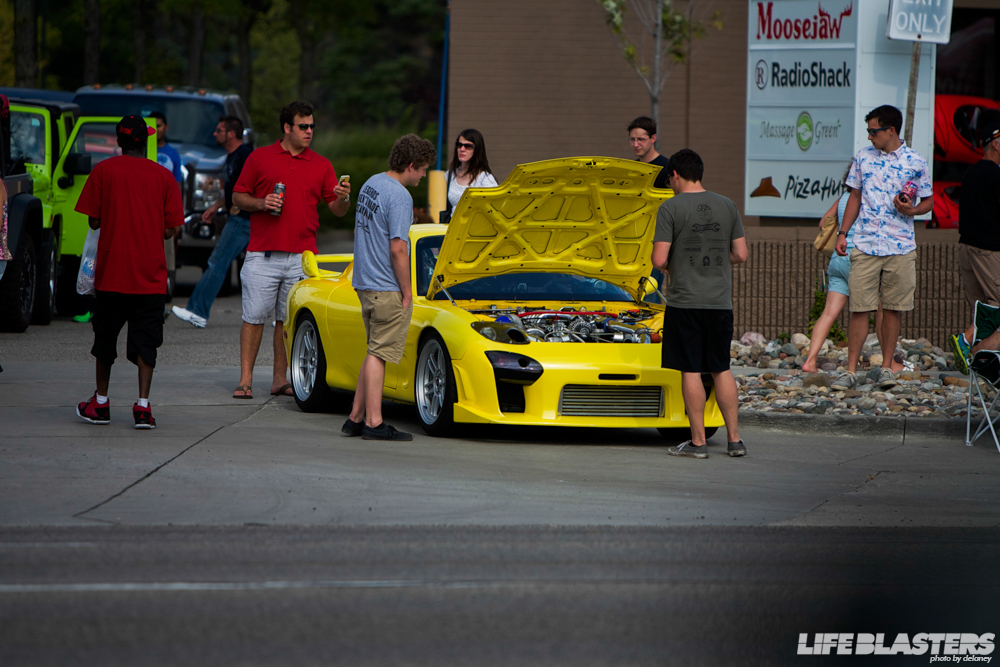 I always see this RX-7, but I never get to see it up close. But what I do know, it's a dual rotary with a massive turbo, 5″ turbo inlet, 3″ intercooler piping and nitrous. It's a pretty regular car on Woodward during the summer, and every time commands full attention.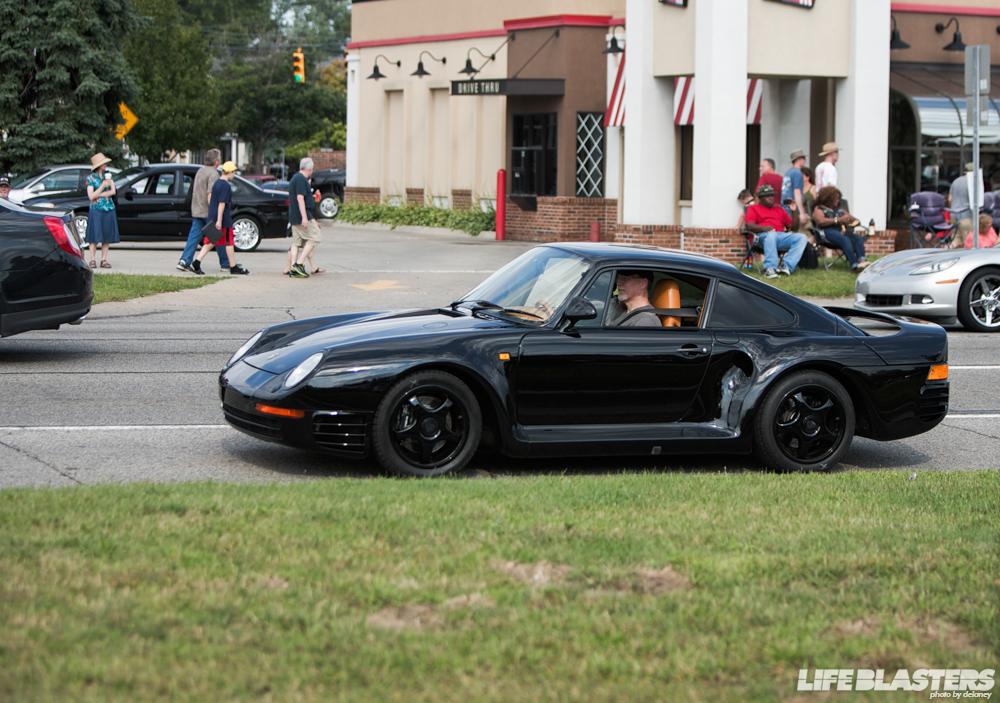 The best car all day was this 959. This car is the best example of how random the Woodward Dream Cruise is, I looked over to the opposite lane and saw it in the turn lane. I never saw it before or since. No one I talked to who were at the event saw it either. I have no idea where it came from, but the fact it was out there was good enough for me.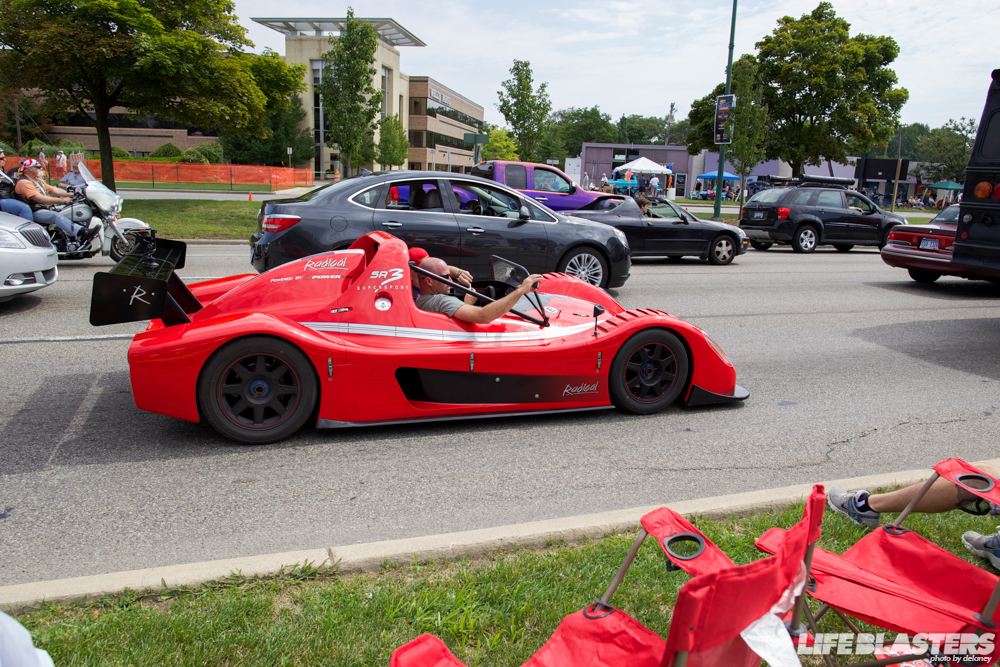 This Radical SR3 also was a pretty cool car to see out. No where near as rear as the 959, but a fully track ready street car is something the world needs more of.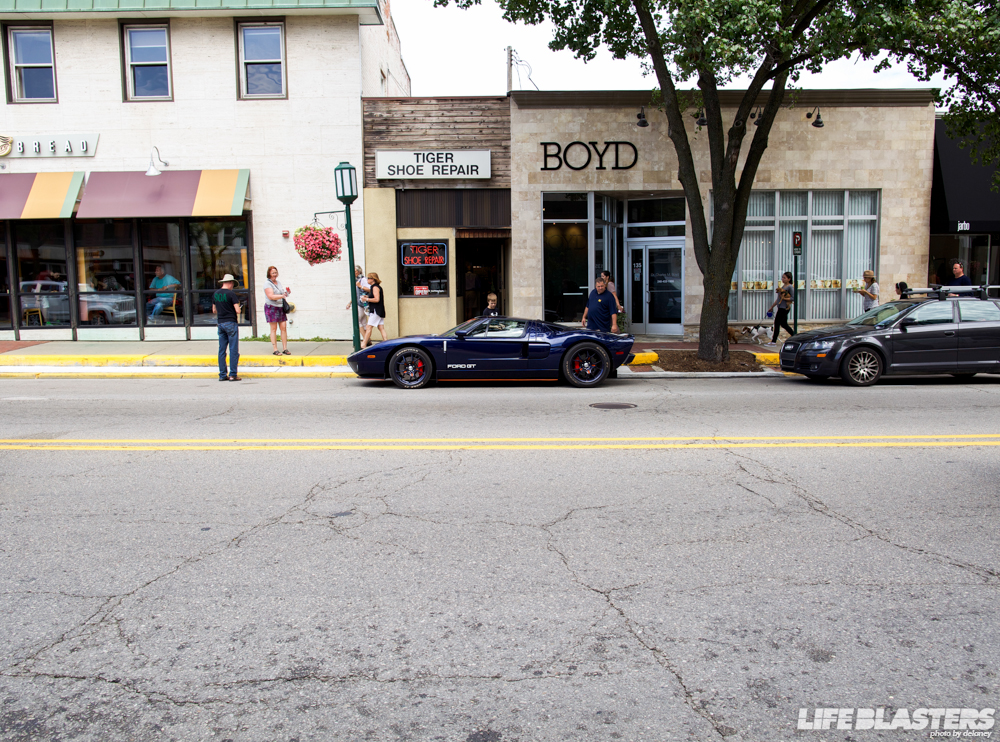 Birmingham is like the Carmel or Beverly Hills of Michigan. Seeing this Ford GT just parked on the side of the street looked like something you'd see in Carmel during Car Week, which was happening at the same time as this.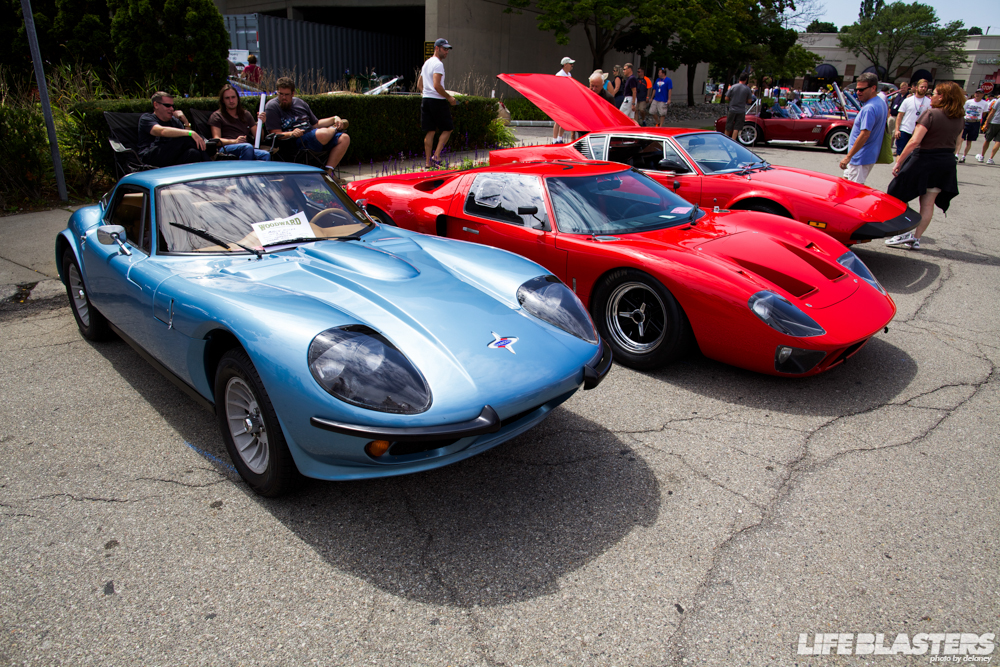 Most of the cars were American like I said, but the British (and Italian) found a little spot to park up together. The Marcos is one of those cars that I find ugly, but I really want one.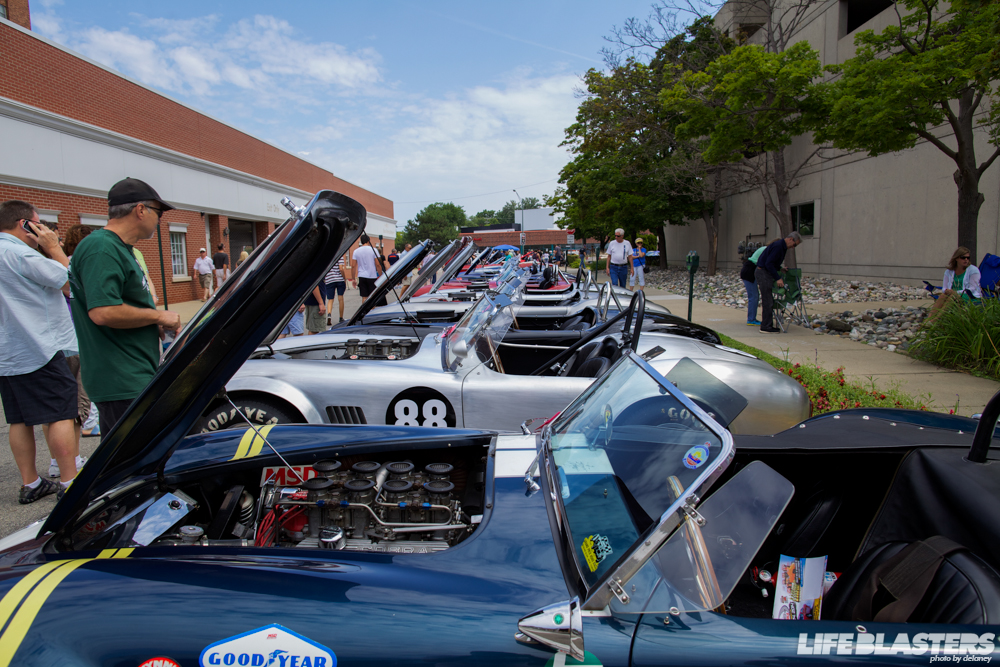 Almost anyone I talk to about the Dream Cruise brings up the row of Cobras. While maybe one or two are real, seeing about 15 of them is a bit awesome.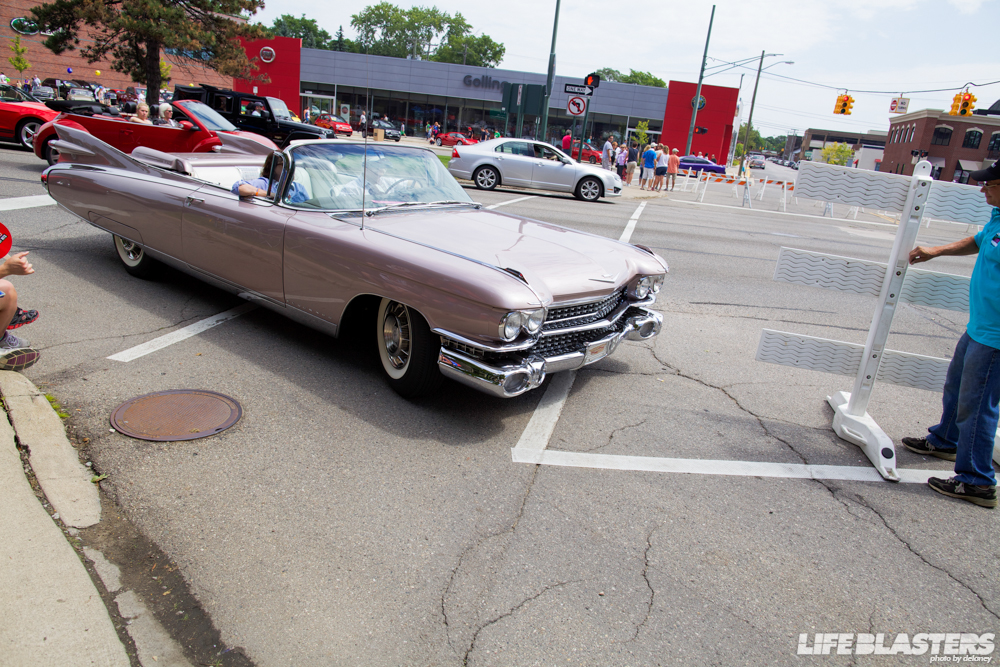 The accessibility for spectators is very open too. There's not really any organization, so there are not really any rules for people to follow, aside from the police. But people just sit right on the curb to watch all the cars roll by. With the pace of the cars, there were conversations popping up all over from curb to car.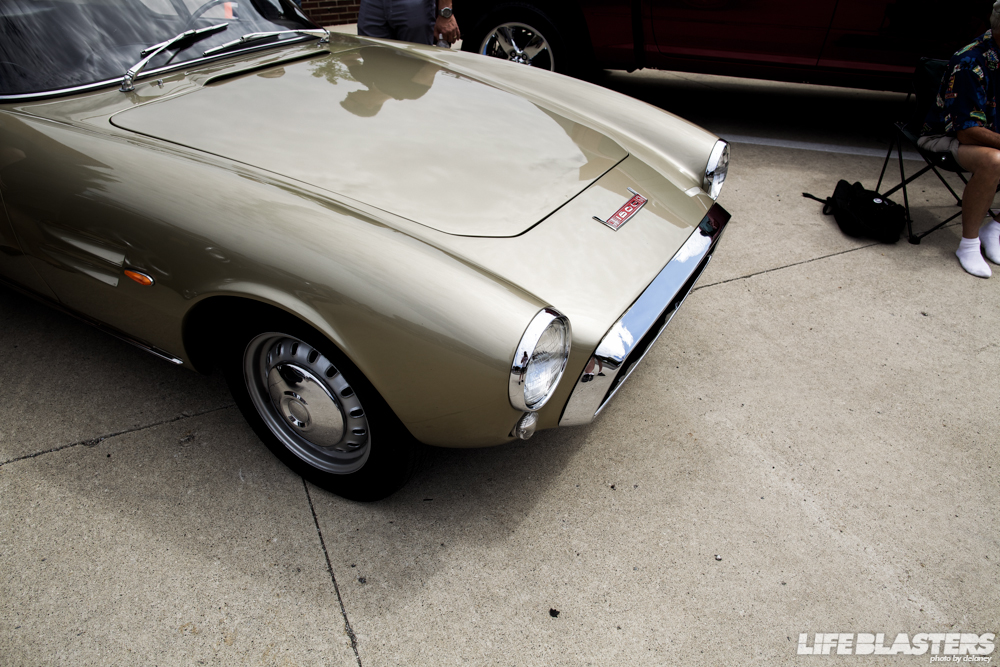 This Ghia 1500GT is one of those cars that is probably kept in a garage all the time and is kept in top condition. But with an event as big as the Woodward Dream Cruise, it's probably impossible to not want to bring the car out.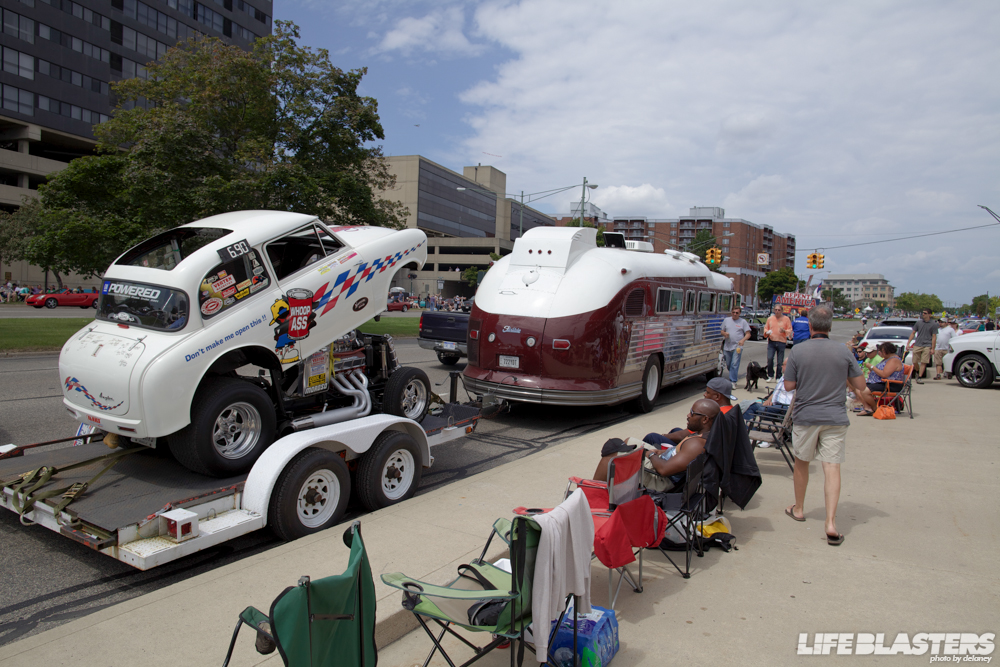 Or if your car isn't street legal, just strap it on a trailer and tow it around. And if you tow vehicle happens to be an awesome old RV, it's a double win.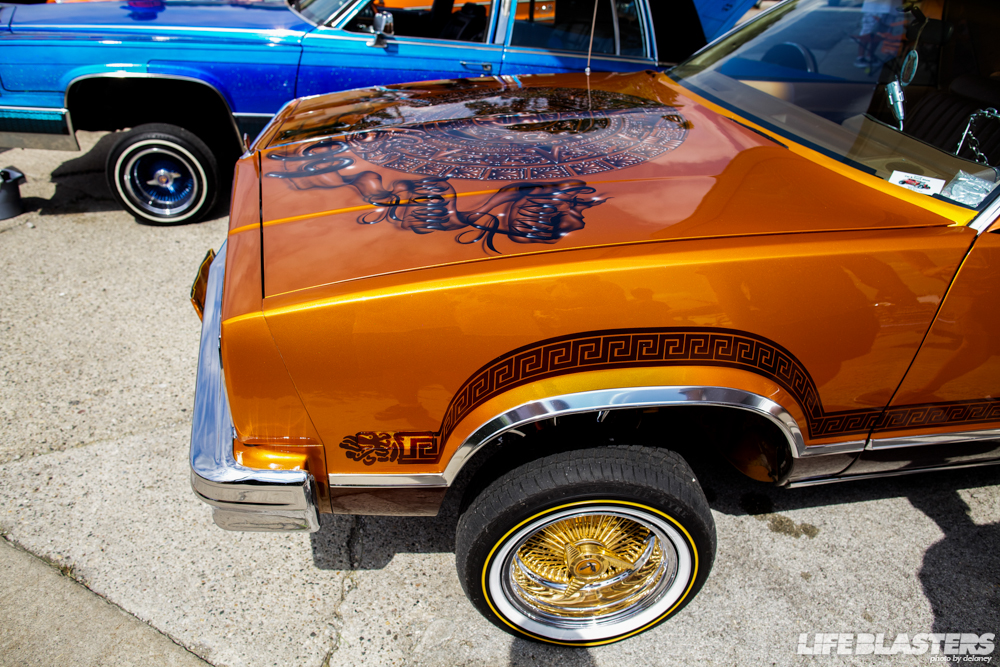 The lowrider scene in Detroit is actually pretty big. Idris Elba had a TV show called "King of Speed," where he came to Detroit to see the lowrider and street racing scene. The amount of lowriders out on Woodward during the Dream Cruise seemed more than usual. It seemed that people never got tired of seeing the hydraulics in action.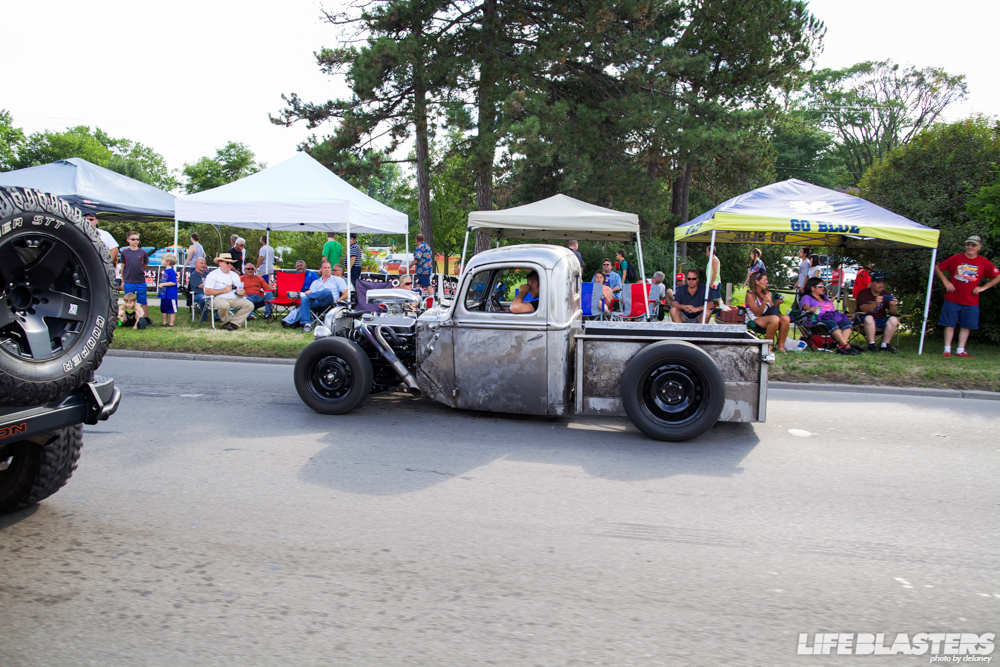 This rat rod/hot rod was out cruising around us for awhile. It must be killer on the left foot sitting in traffic for a few hours working the clutch on some of these cars.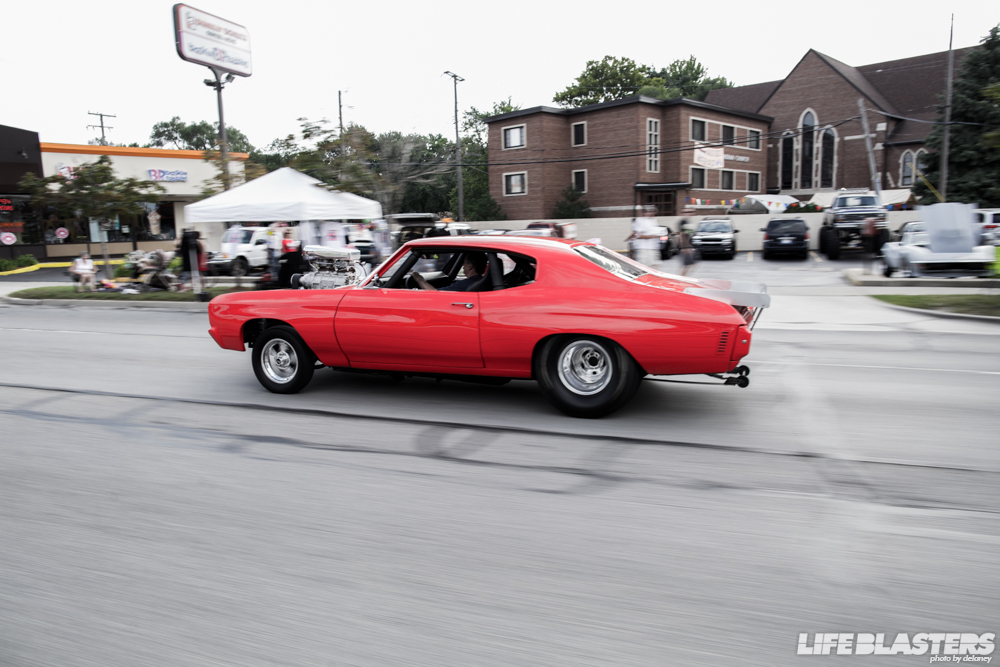 Then there are the guys with the drag cars. We were next to this guy at a light, and as soon as the light turned green, he gave it just a little gas and almost lifted the front tires off the ground. And of course, smiles from everyone in the area.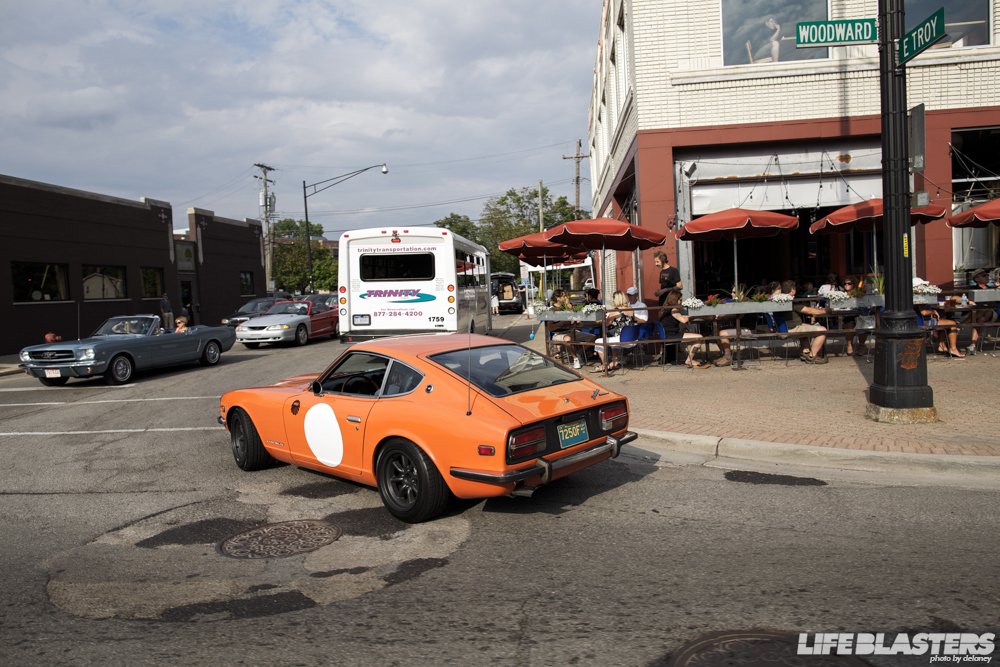 One of the last cars cars we saw was this pristine 240Z. I haven't seen a 240 this clean since Cars and Coffee Irvine. The meat ball on the side gives the car a perfect look for circuit racing and the meaty tires bring it all together. I think the Woodward Dream Cruise is something that everyone needs to experience at least once. 40,000 cars driving and parked is something that is just too hard to explain, and the noises of massive turbos, superchargers, V8s and the ever present burnout fills the air all day. Or, if you're ever in Michigan during the summer, make a trip up Woodward Ave. on a Friday or Saturday night and who knows what you'll see.
Delaney
Email: delaney@lifebalsters.com
Instagram: @lifeblasters, @ericdelaney