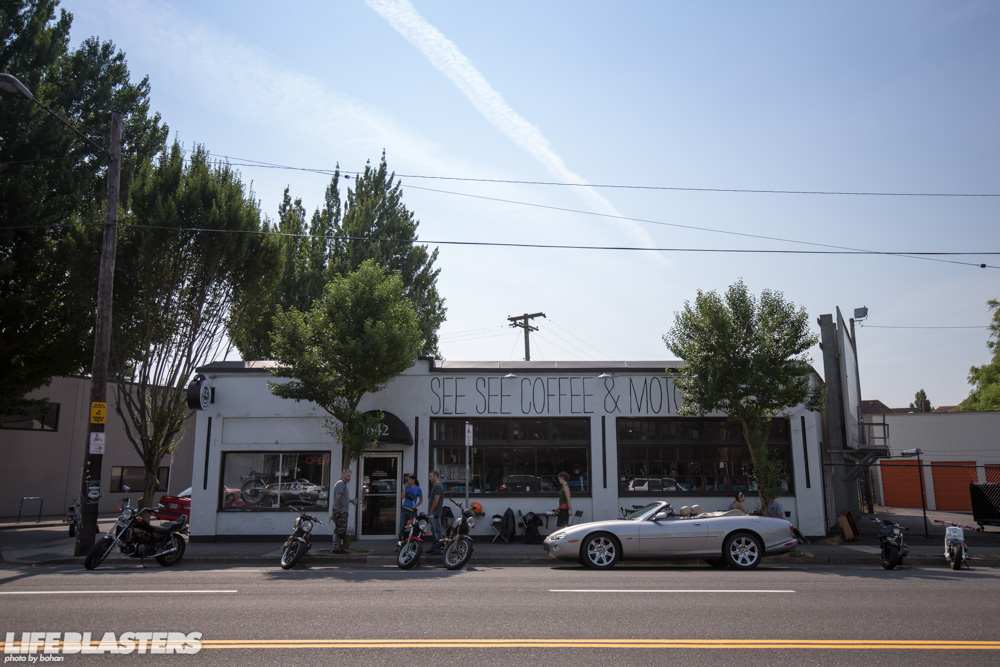 As I mentioned in my bit on The Modern Man a few months ago, Portland has a very unique and cohesive art aesthetic. Thor Drake and George Kassapakis wrapped their passion for motorcycles and love of coffee seamlessly into Portland's art vibe and artisanal craftsman culture and came away with something special: See See Motor Coffee Co.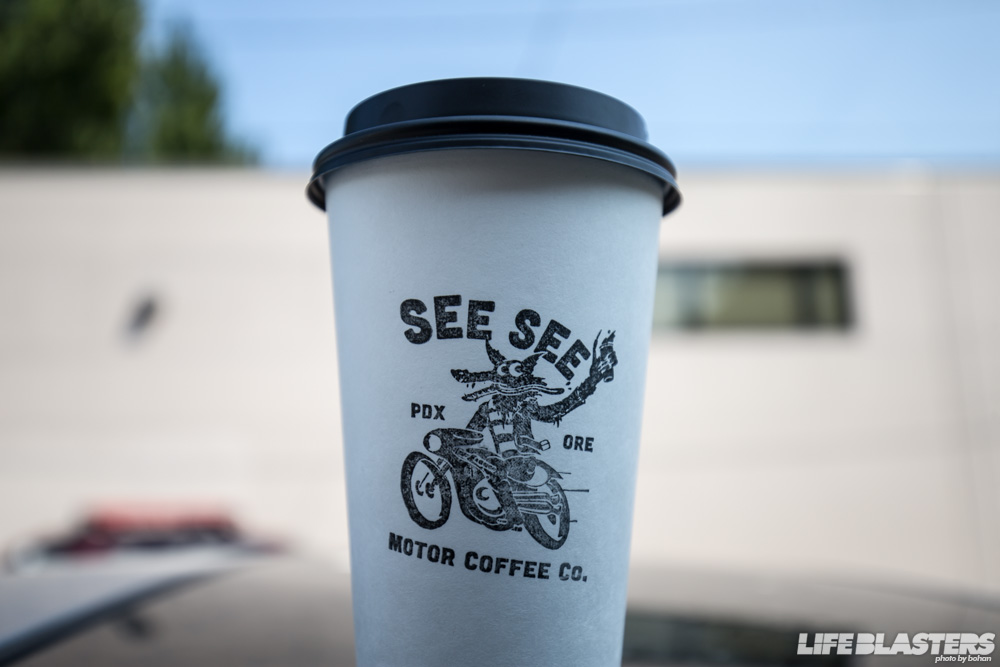 I had a day and a half in Portland last week so I made it a point to visit See See and check the place out so Joe and I headed over on Saturday morning. I bought a caramel vanilla latte and soaked in the atmosphere of the place. It's certainly exactly what I expected.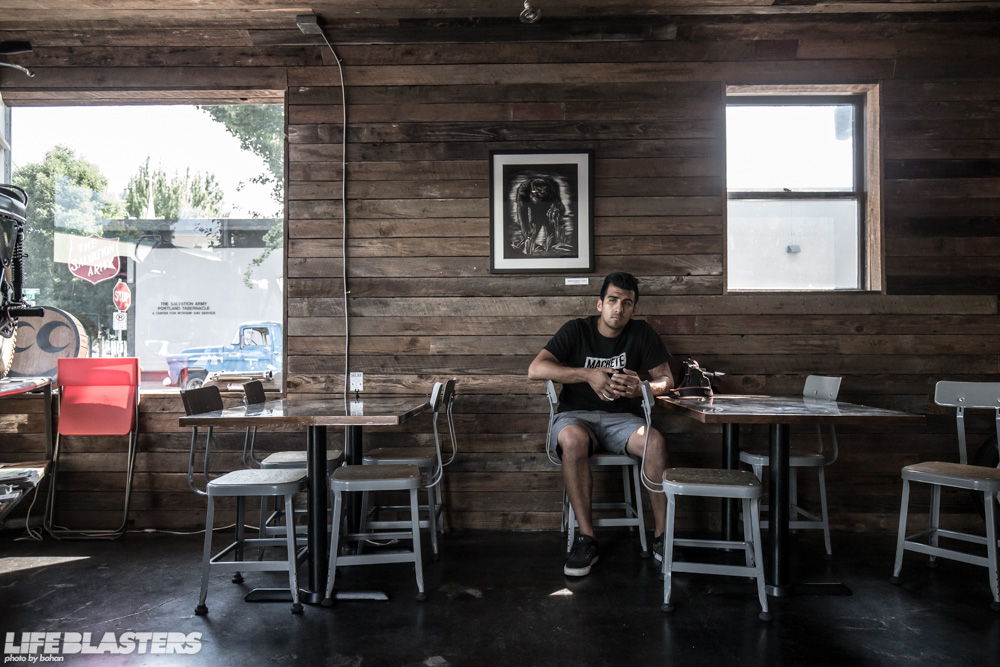 While I gave myself a tour, Joe waited in the foyer seating area.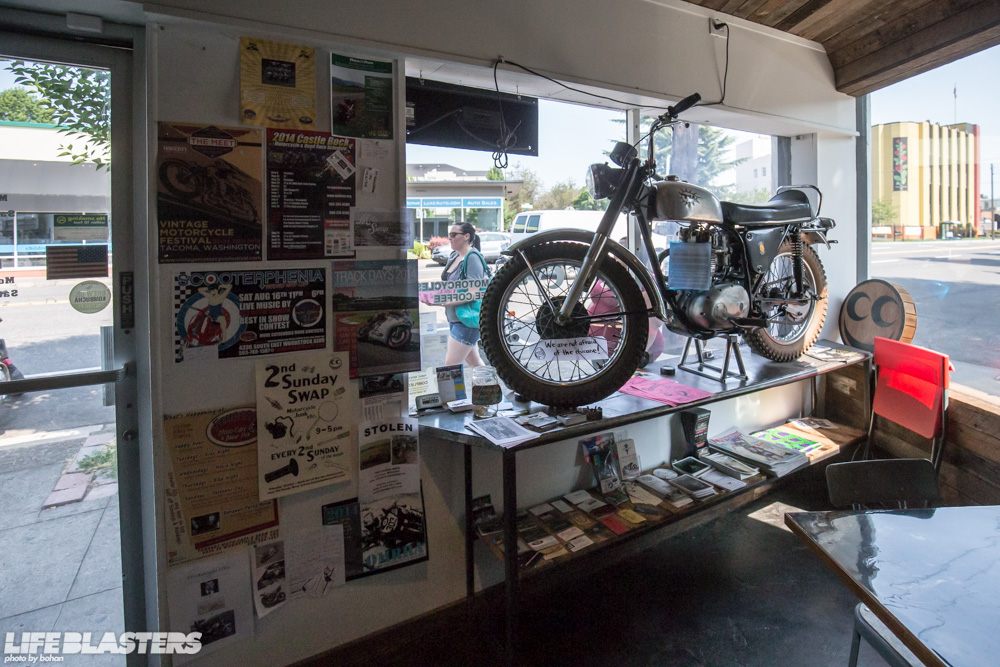 At least there's no shortage of things to look at in there.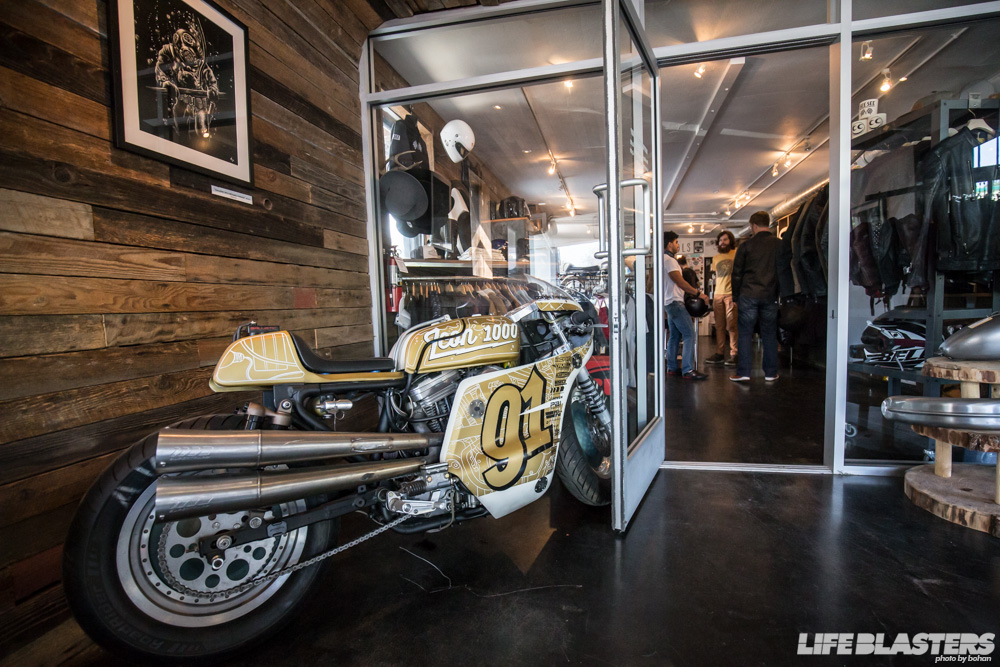 I think I've seen this bike somewhere before…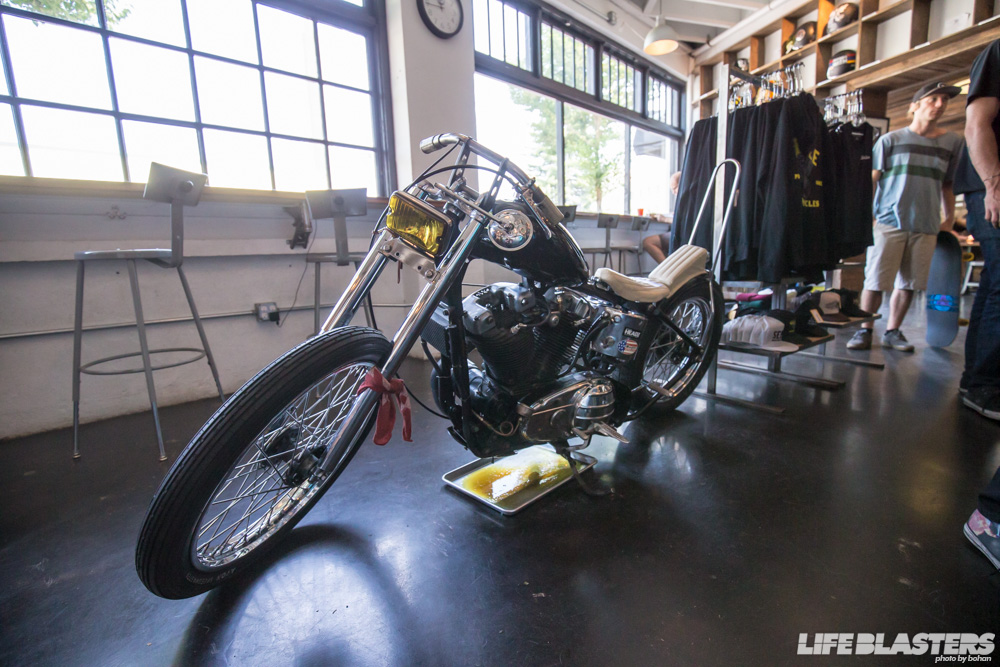 It's a biker bar, no doubt, but instead of shady characters drinking cheap beer with only Harleys out front, See See is a coffee shop frequented by all sorts of bikers. Most are on the younger side and ride everything Japanese, Italian, British, and American. On any given day you could spot a vintage Honda, a Ducati motard, a Harley chopper, and a modern Triumph sport bike parked next to each other out front.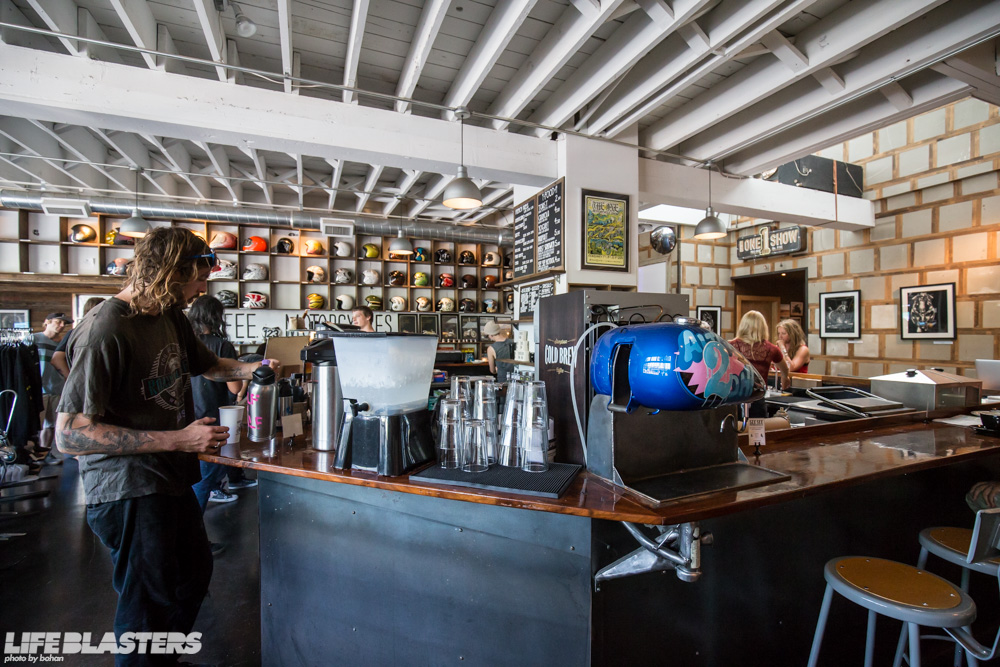 On the inside you'll find people who want coffee or a quick bite to eat. Some average joes, some hipsters, some hardcore bikers.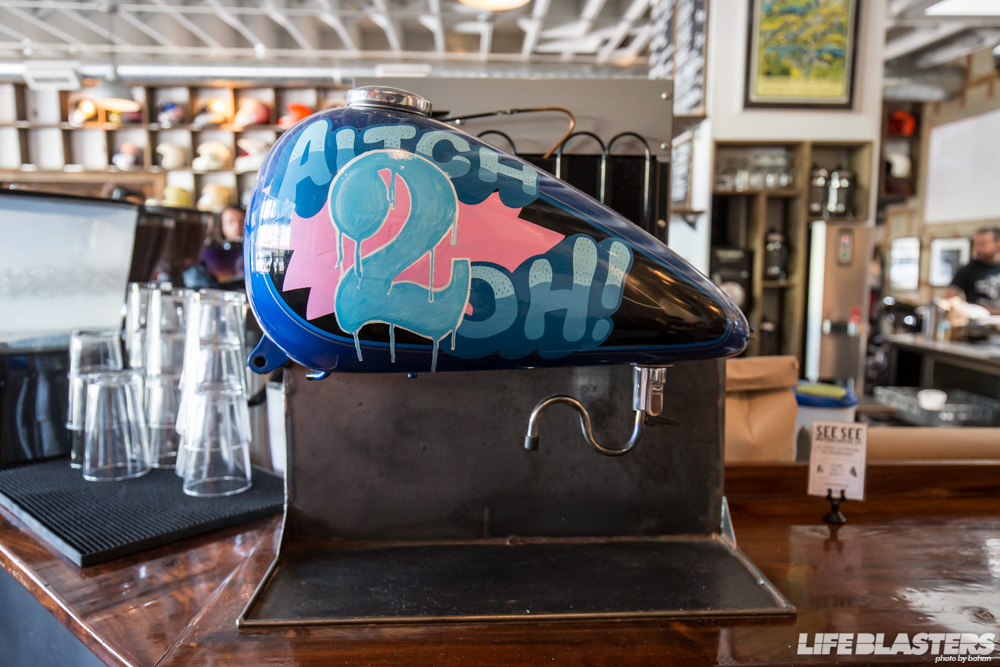 Nico Sclaterm AKA Ornamental Coninfer makes art that can be seen all over in the Portland bike scene, including at See See. Some of his painted gas tanks are on display. This one is a water dispenser.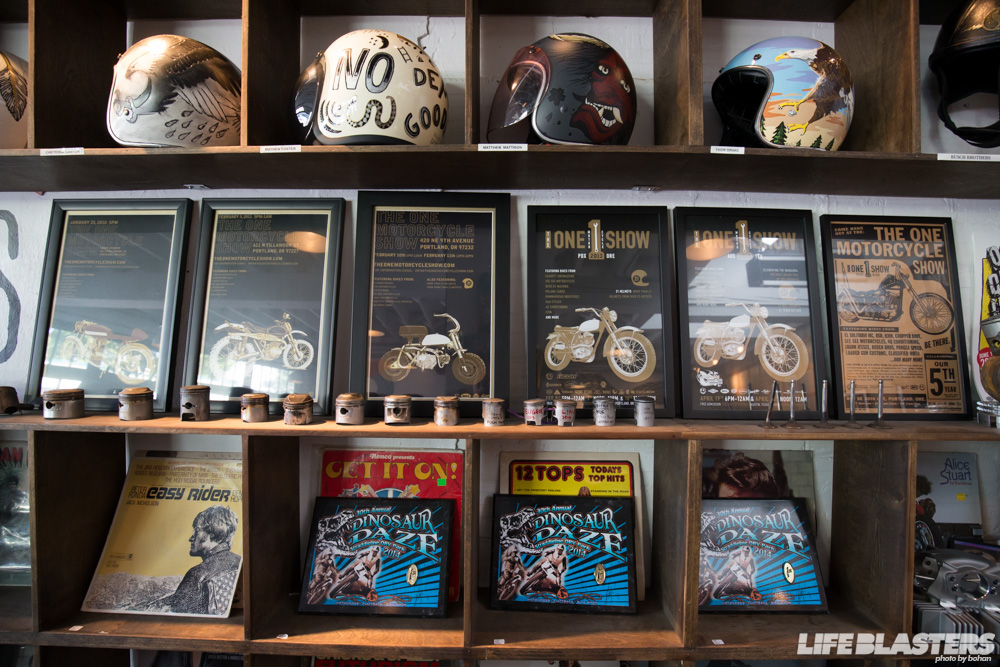 The wall display is a prime example of Portland's tendency toward repetition and symmetry in design.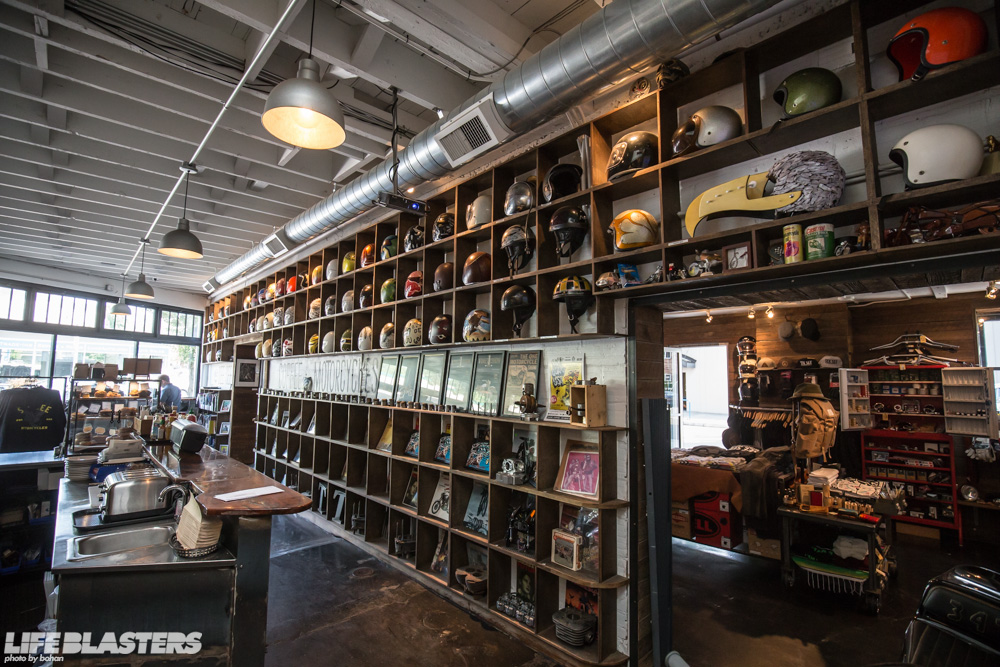 It's all very neat and organized even though it contains hundreds of awesome bike-related items. Custom helmets are up above, with records, bike parts, framed photos, and other knick knacks down below.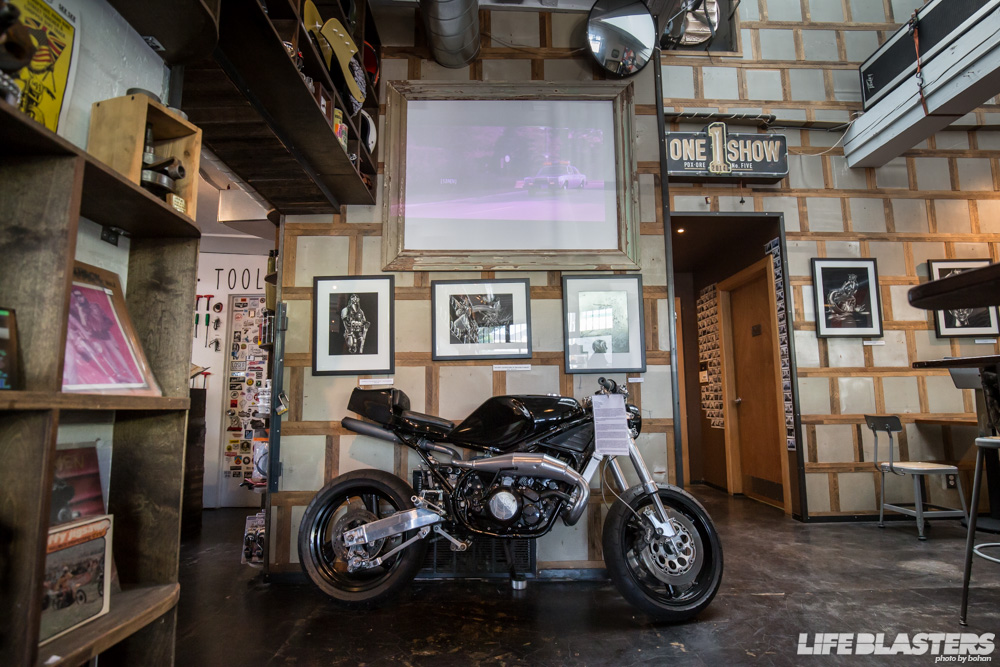 The motorcycles on display get changed every so often. It's always something cool though.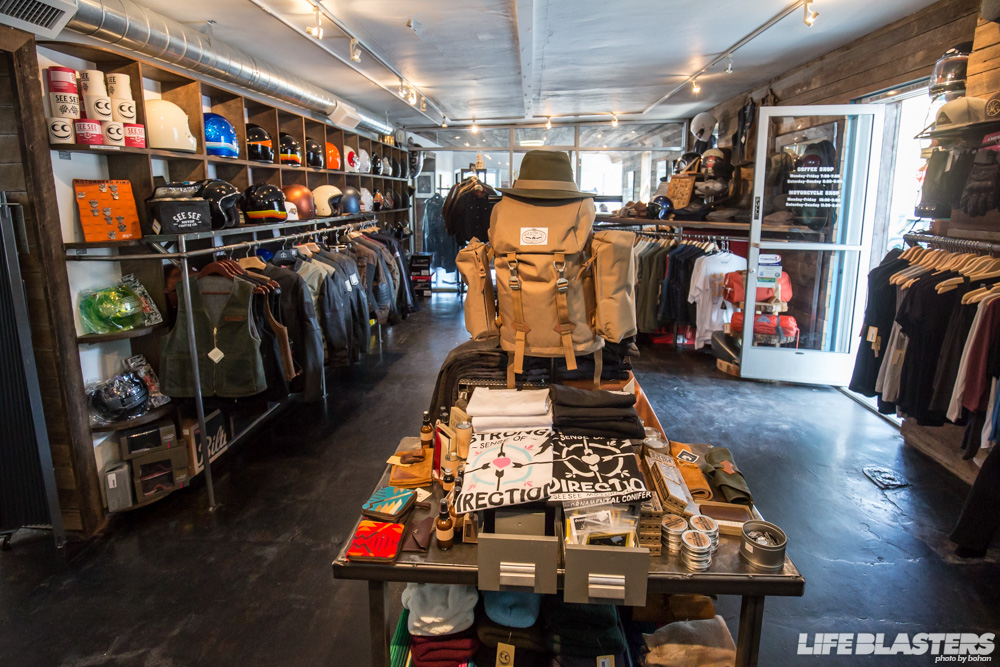 Next to the coffee shop is a parts and gear store. They sell t-shirts, jackets, gloves, helmets, and small parts like grips, air filters, and their own brand of mini switches. I got a pair of mini switches for my own CB650 I'm fixing up. In addition to their own brand, the store has a lot of stuff from Icon and Poler, both Portland-based companies.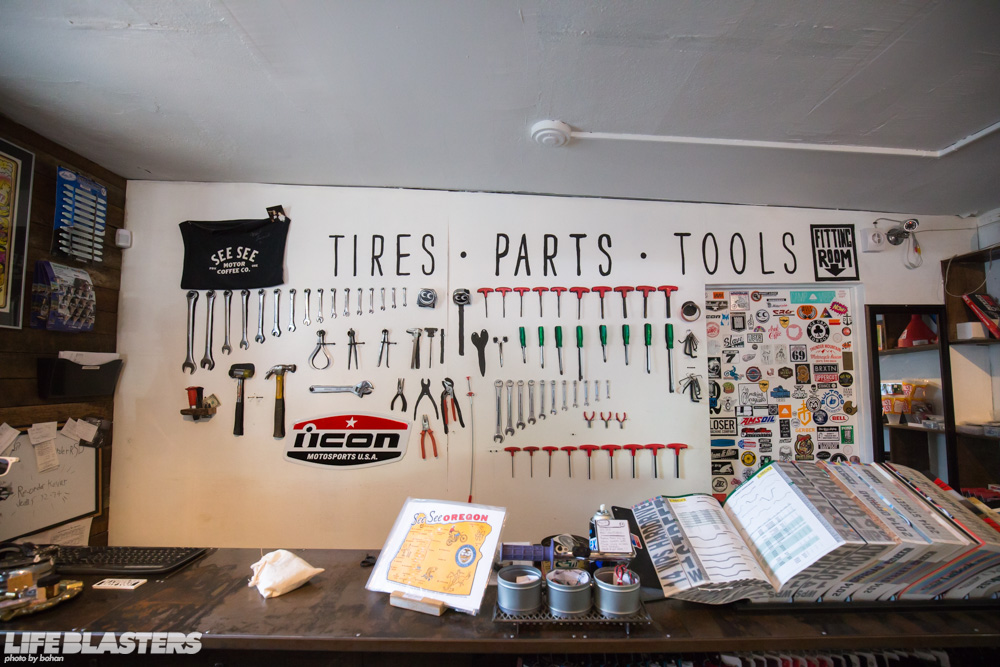 For some bike-specific parts you might have to dig through a catalog or ask somebody. Where the hell is the guy? Probably helping customers find what they need, that's where.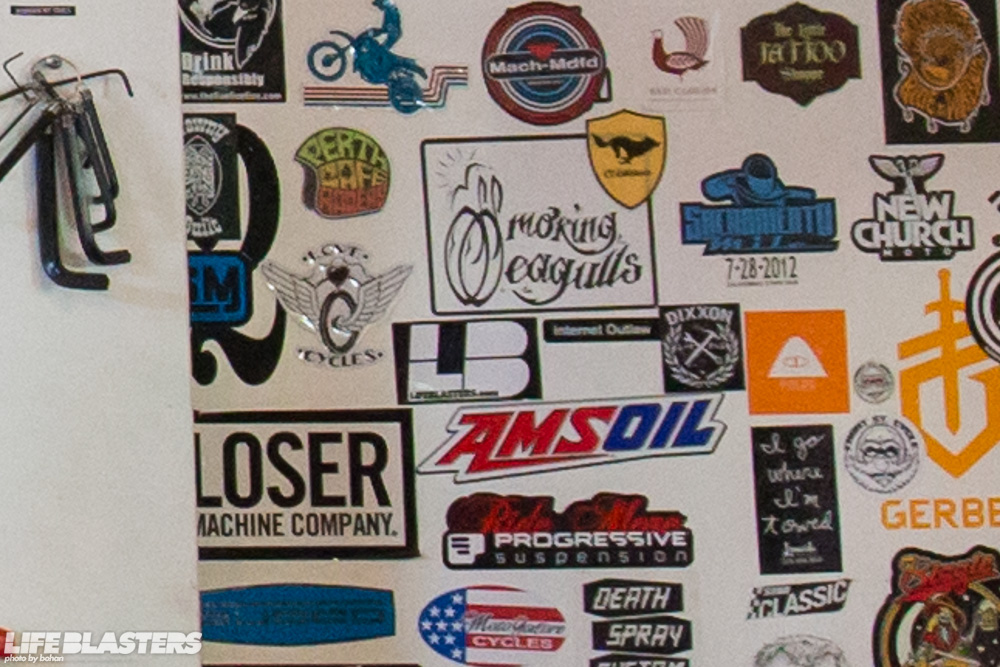 Look closely at the previous photo again. There's already a Life Blasters sticker on the door to the fitting room! That's from when Geoff visited the shop last month on his way home from Formula D Seattle. Thor himself put the sticker there, but Thor wasn't at the shop this time. He was out at Portland International Raceway peddling his wares during the motorcycle races. Joe and I briefly considered going out there to check it out but we were on a tight schedule already.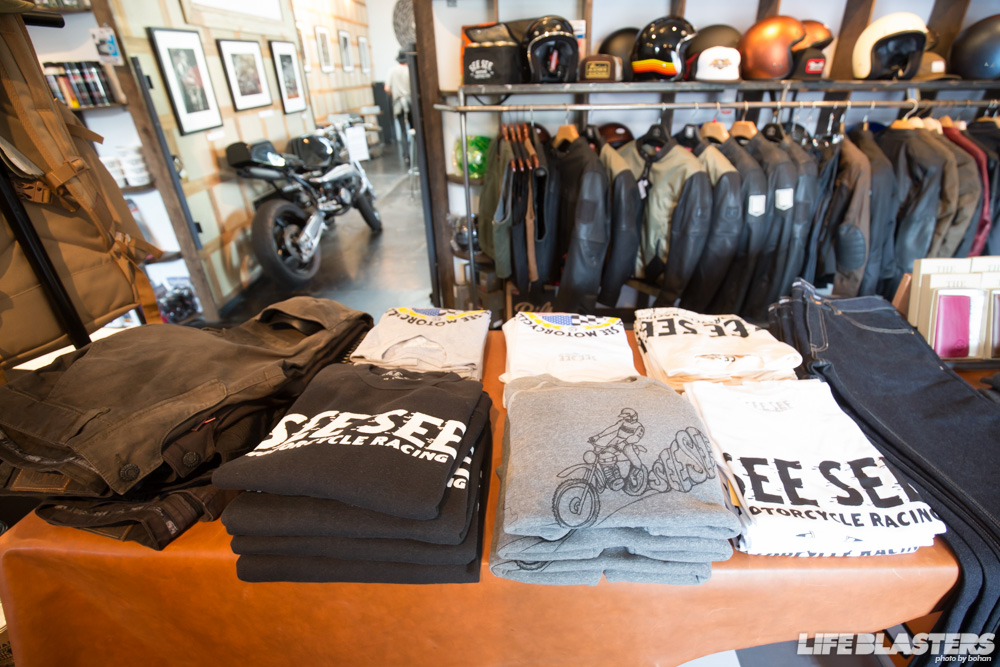 See See has its own line of shirts with cool vintagy designs.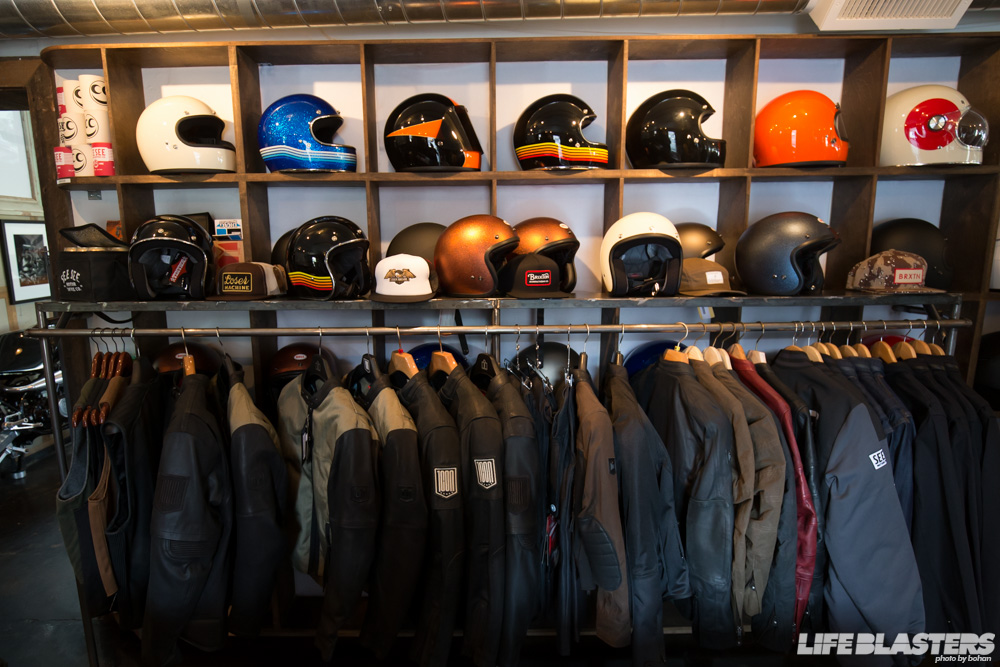 They sell vintage-inspired helmets and jackets as well. I wonder if Ryan Tuerck has seen the black ones with the red-orange-yellow stripes.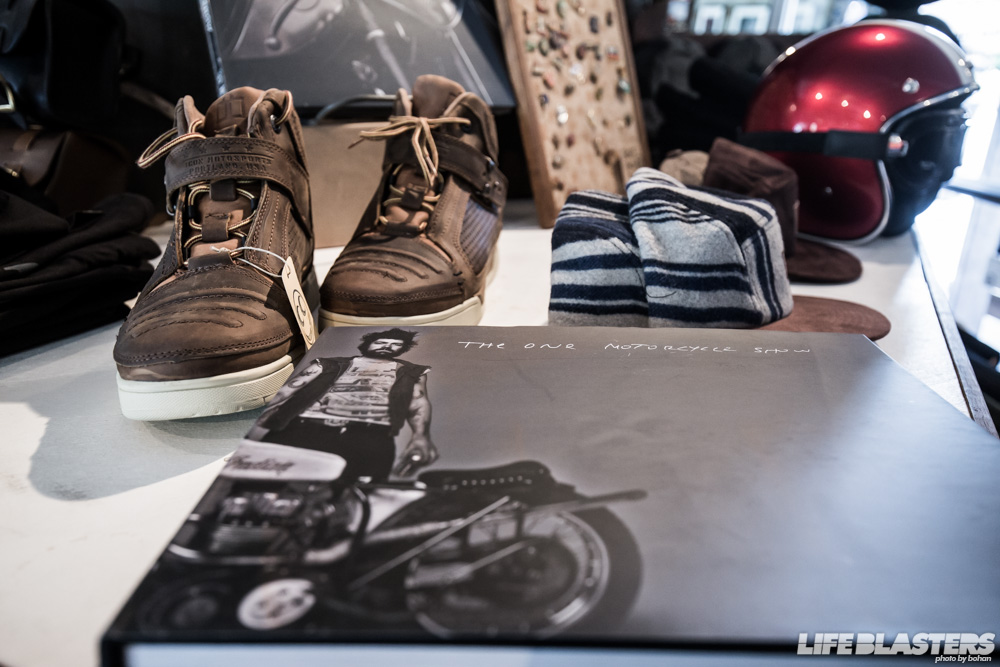 Much of the store's awesomeness is in the details. With an unassuming cover, this volume of The One Show book doesn't even come close to how awesome the show (which Thor puts on) and the bikes in it really are. Geoff and Joe attended the show earlier this year.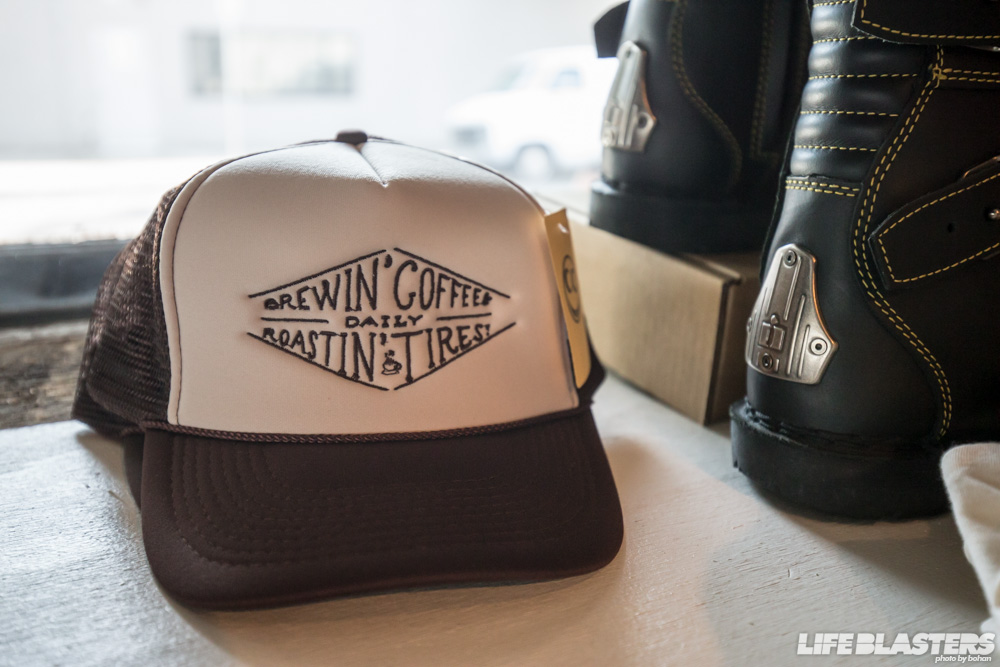 Not every piece of See See apparel has their logo plastered on it, and that's they way we like it.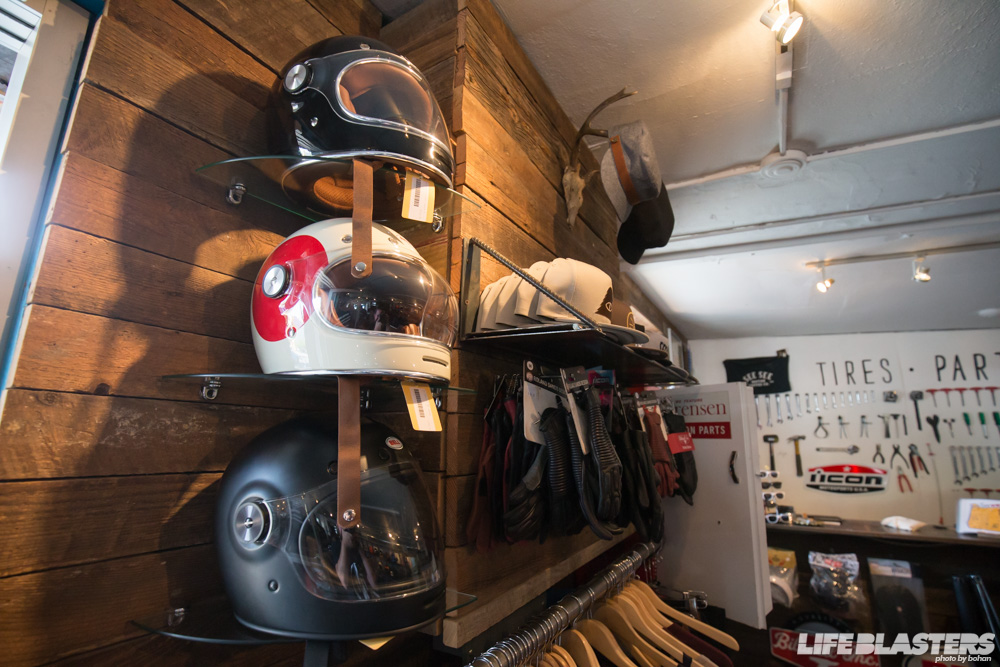 Helmets…helmets everywhere. I must admit, the bubble visor Rising Sun helmet is pretty cool.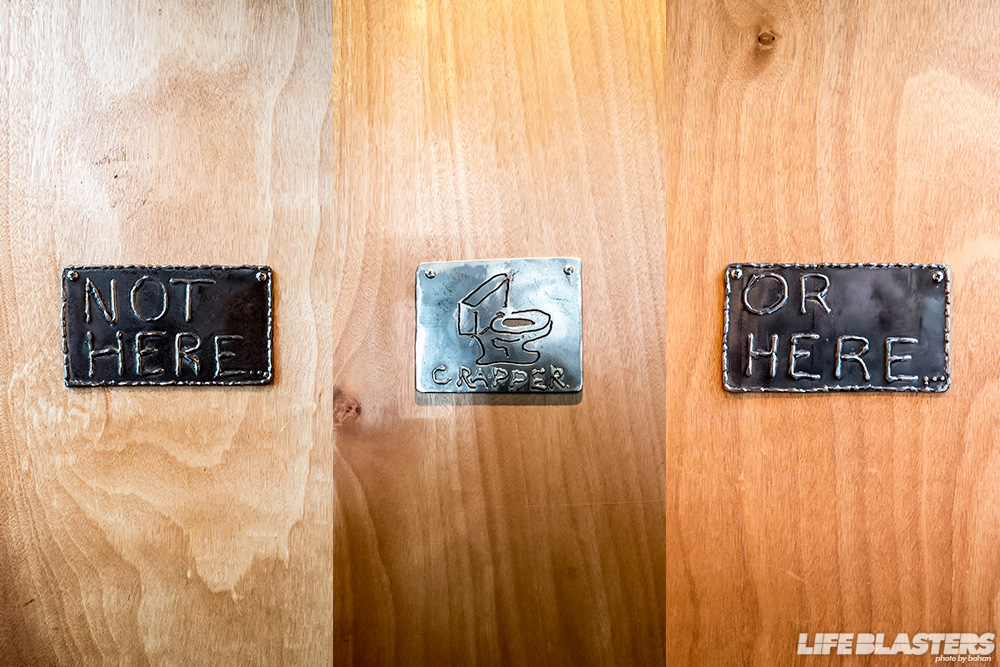 As Joe and I were poking around, Sean, the guy who works the counter in the store, came to see if we needed any help. He was excited when I told him I was going to do a story on the place and offered to show me around. Through the coffee shop there are three doors. One, the Crapper, is for customers. The other two are not. He first led me through the Not Here door.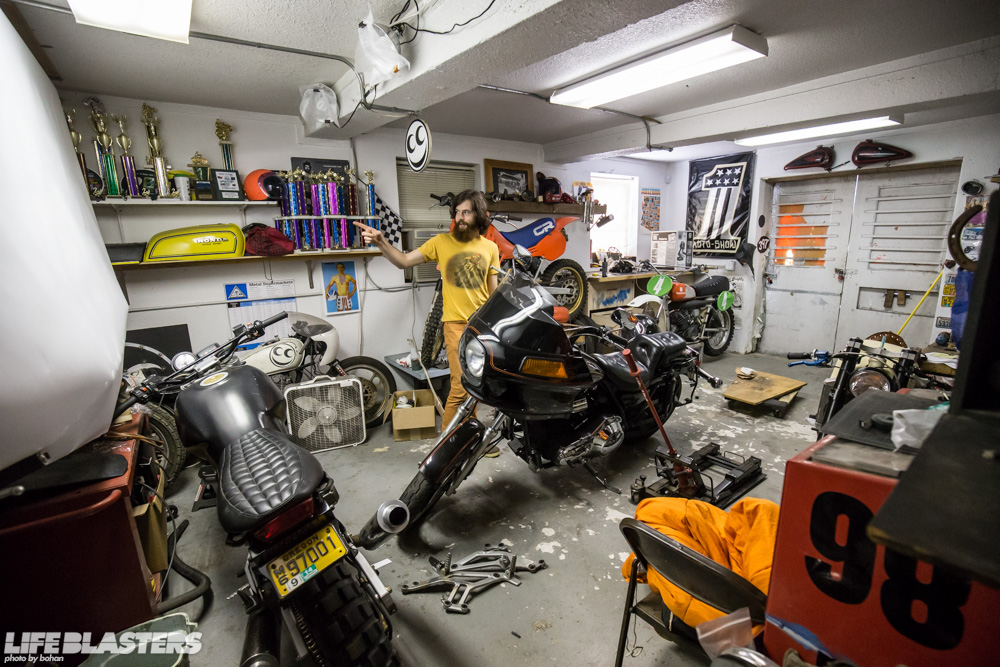 Not Here is where bike building happens. Just like out front, there are many different kinds of bikes back here. Where else have you seen a Ducati, a Harley, a vintage Yamaha, and a Husqvarna dirtbike being worked on together?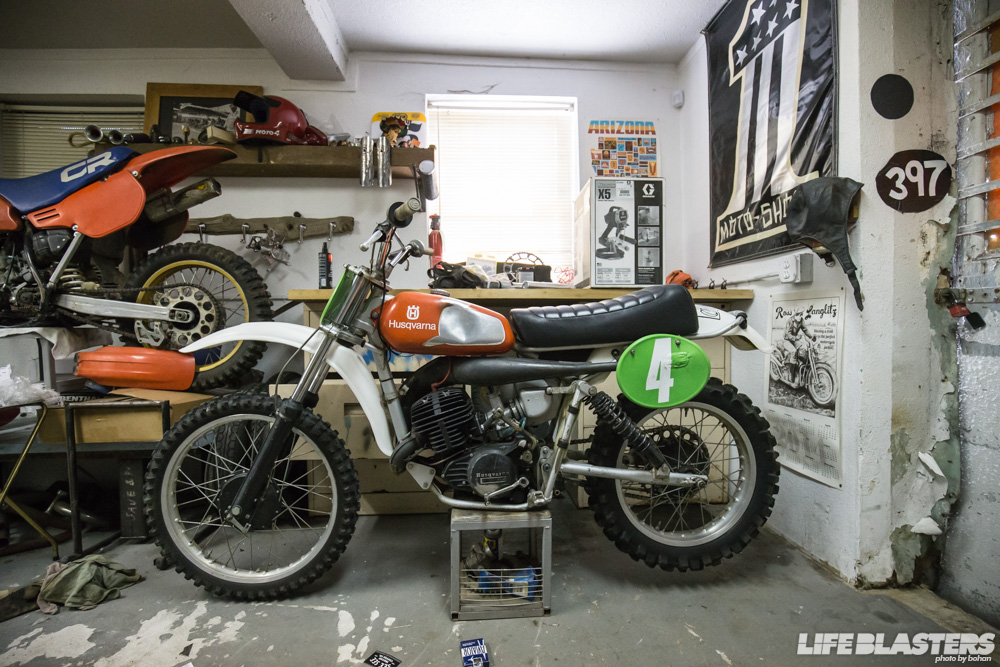 Sean pointed out this Husky 250 is the same model Steve McQueen rode. That reminded me of an article I'd just read by Jason Cormier on Odd-Bike.com about authenticity, where he berates some motorcycle-related business for, among other things, using Steve McQueen's awesomeness to sell their products or services. That's not the case here. I couldn't find any mention of McQueen out where the public sits. No one would know this bike was special unless they just knew, or unless someone told them. Good job, See See, you pass Cormier's test. Or maybe I ruined it by mentioning it at all.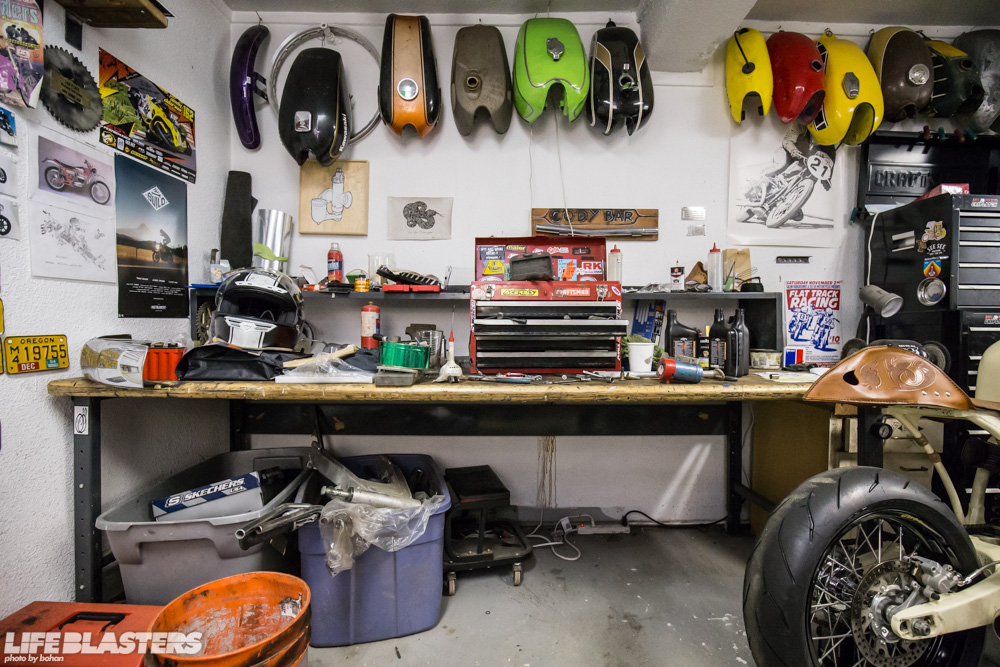 No need to scour eBay for a tank, just ask See See. Maybe they have what you need. I'll take the green one.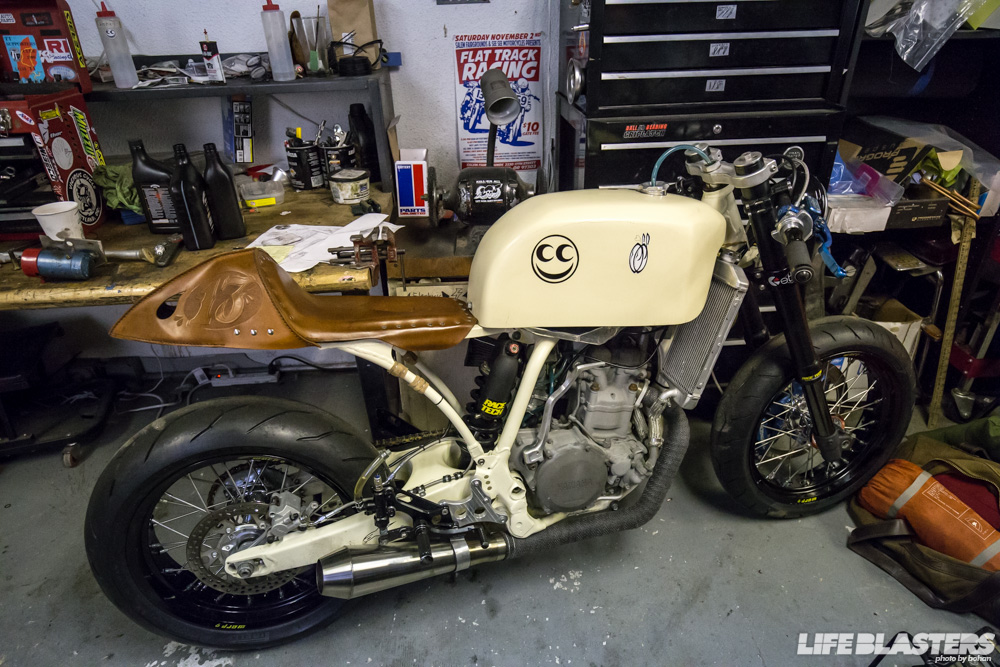 I don't see full leather café tails very often, or ever. That's pretty cool.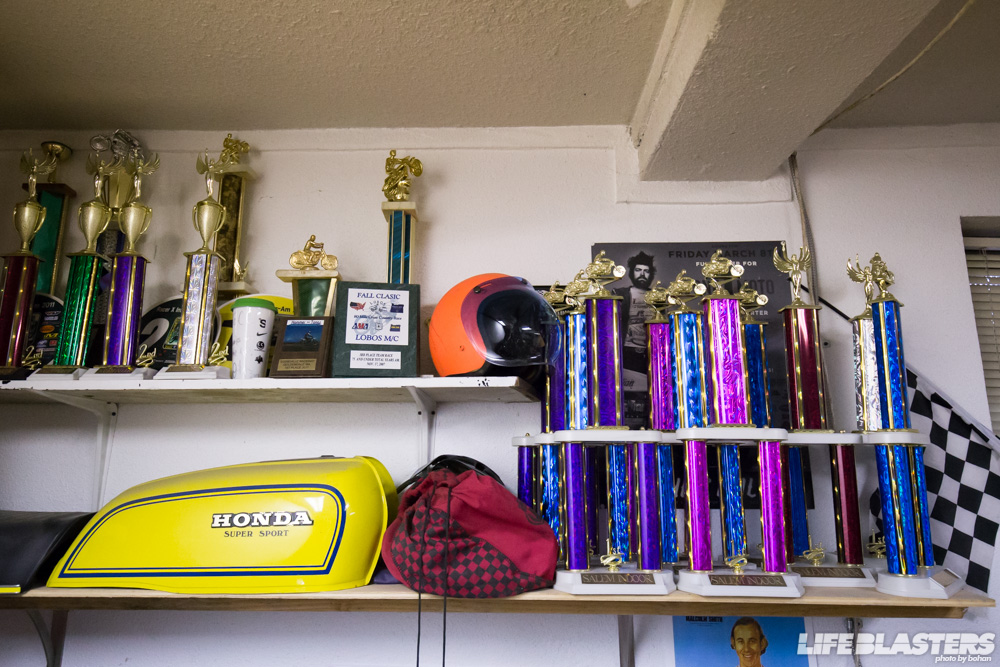 There's a fair collection of trophies here too. It should be noted they're in the back, not out in the coffee shop. Thor and George don't seem to be much for bragging.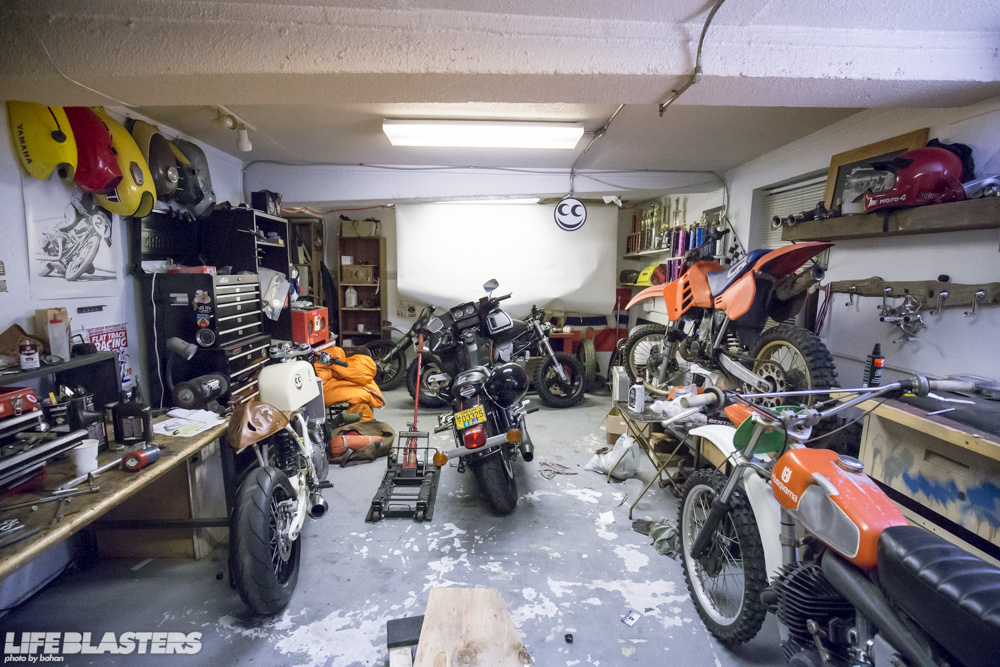 Yeah, I wouldn't mind having a spot like this to work on my bike. Not one bit.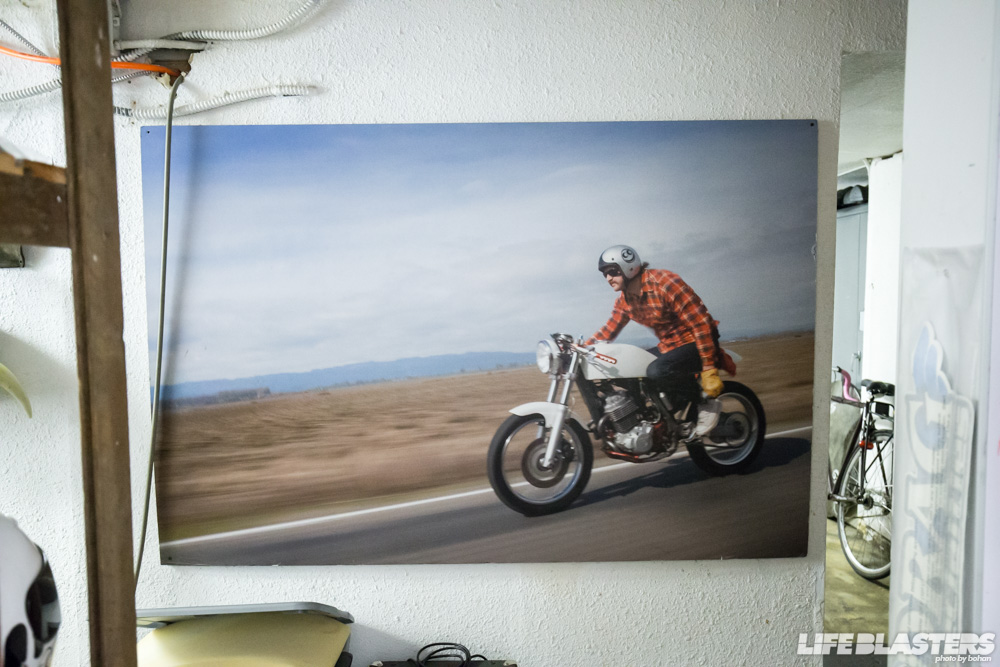 Every inch of the walls is covered in something cool.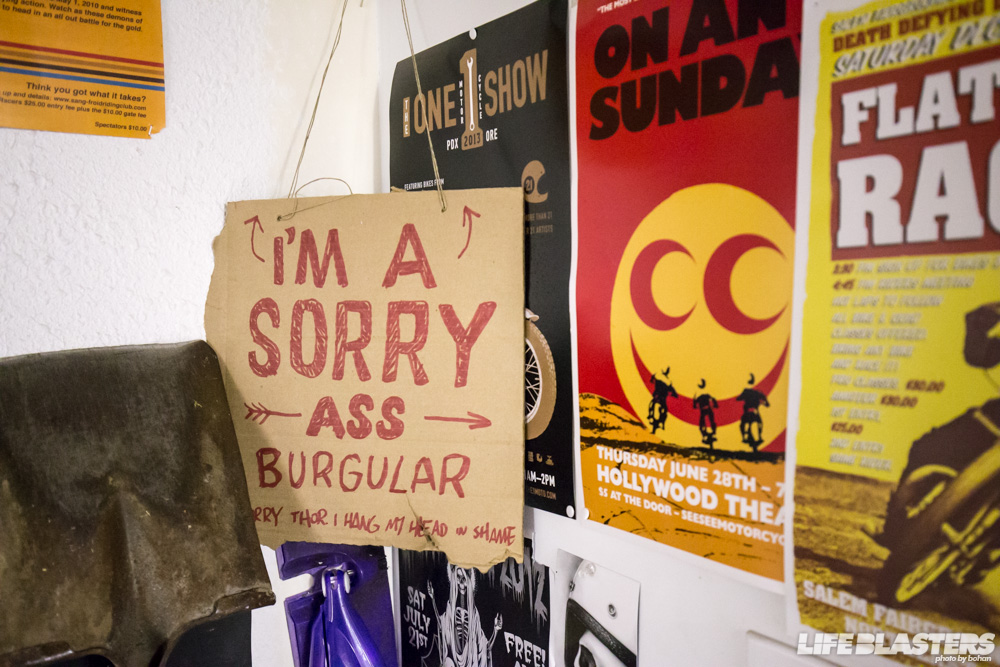 Most people don't get to see most of this stuff.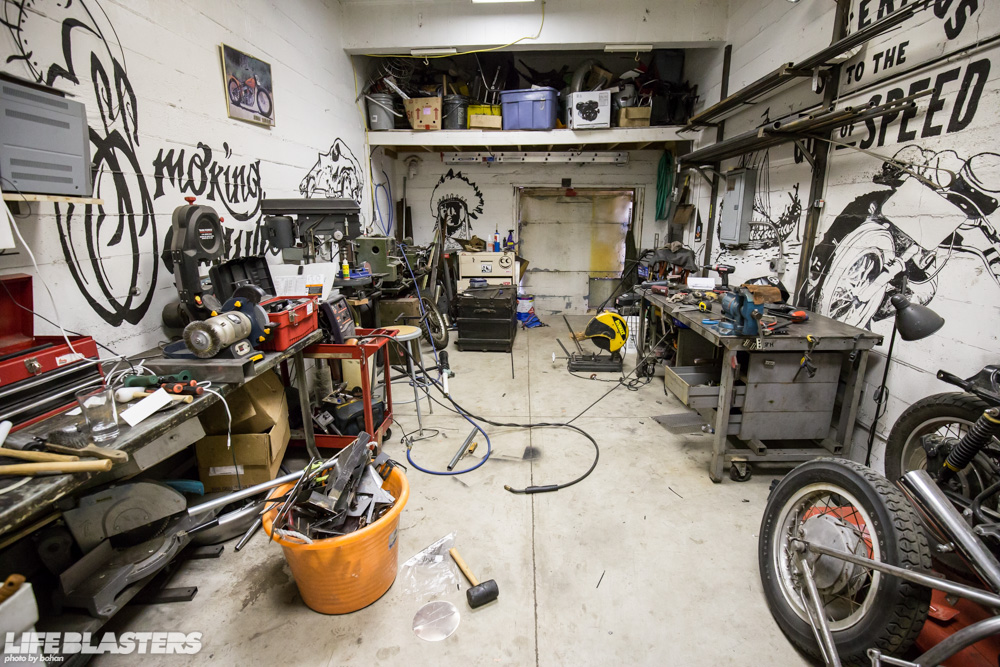 Sean had to go back to work the counter some more, but when I came out of Not Here, he was there to show me what was behind the Or Here door. "This is the actual shop," he said.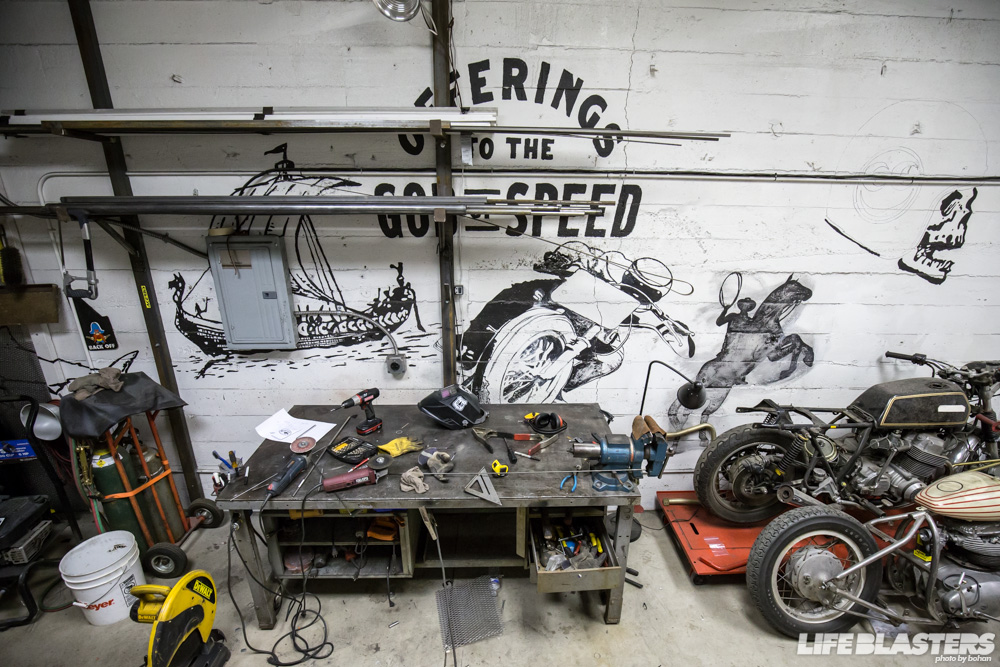 And so it was. This is where the fabrication tools lived. I guess Not Here is more for maintenance and easy stuff.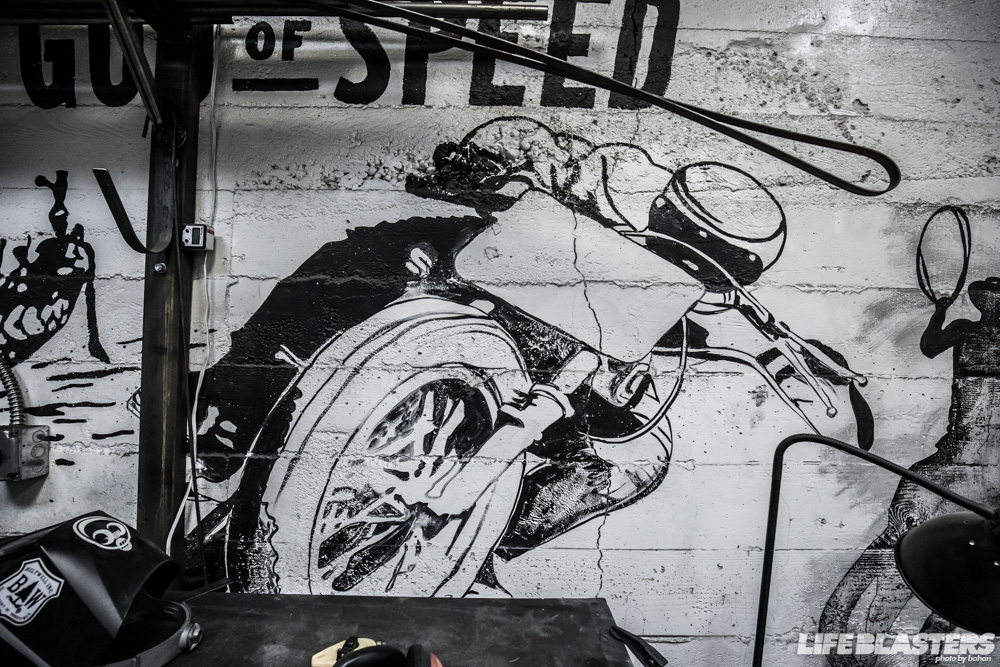 There's also cool wall art everywhere.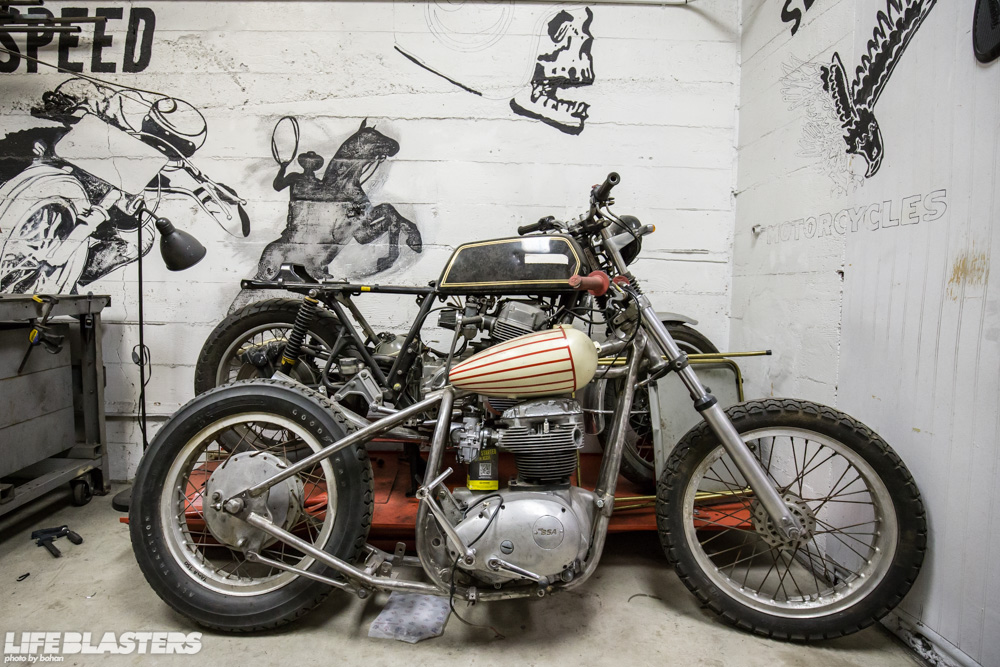 And a few old bikes shoved in the corner for later.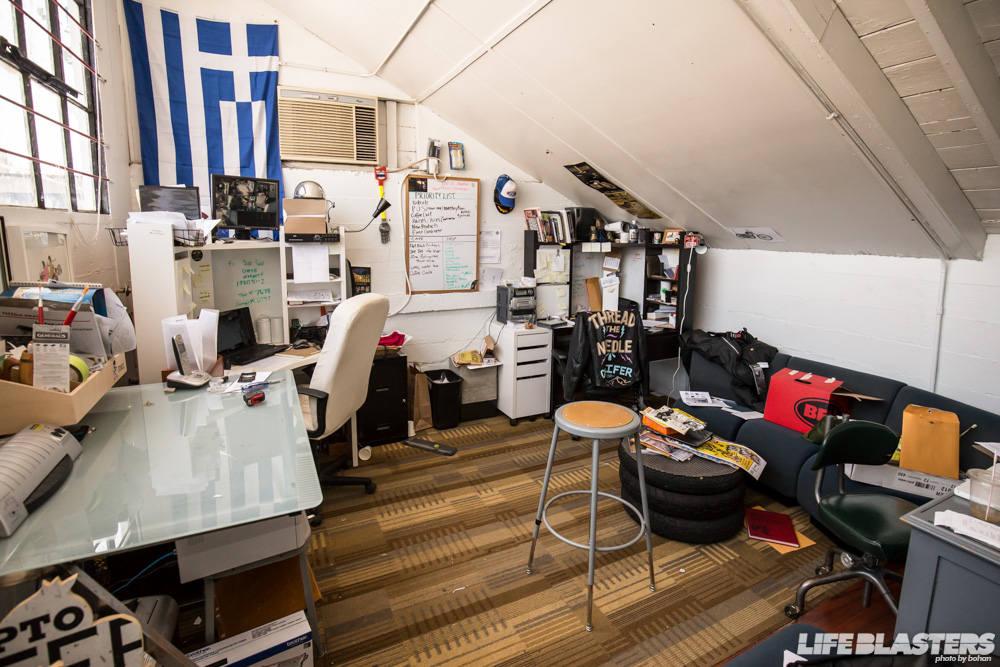 Lastly, Sean took me upstairs to see the office and then ran back down again to man the store. I'm pretty sure the Greek flag is George's.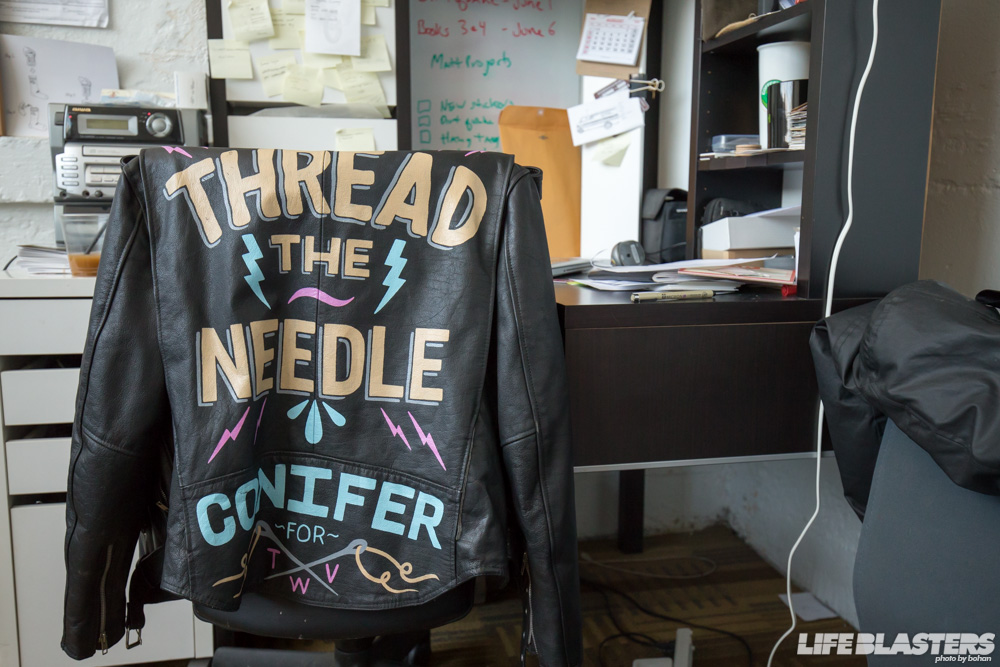 I also found another example of Conifer's art. I think I've seen this jacket before too.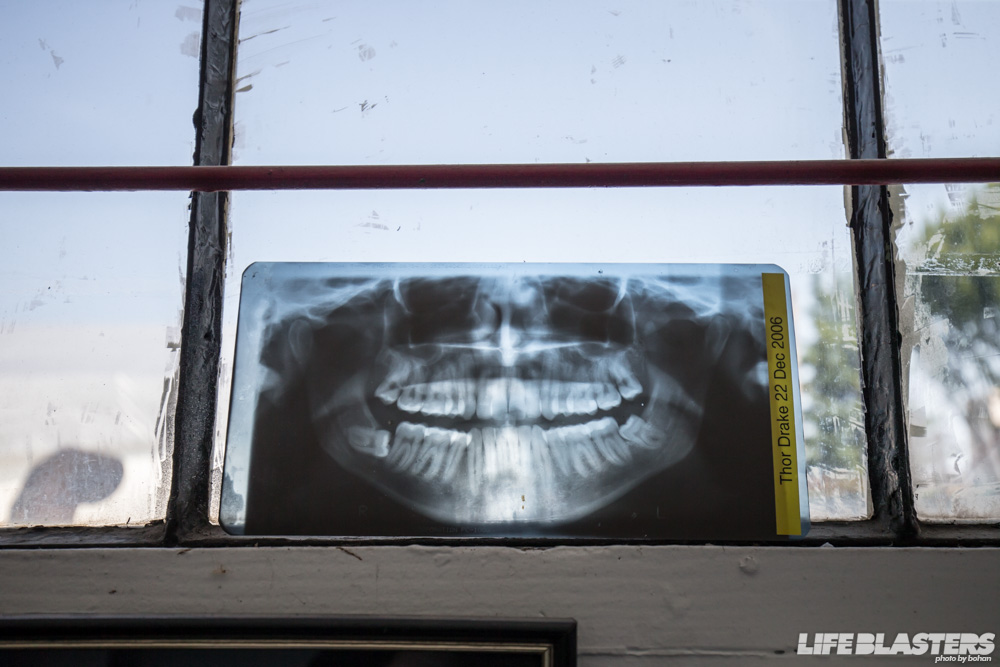 Thor didn't have a Norwegian flag hanging up, but he did have his dental X-ray. I hope he got his wisdom teeth out since this was taken.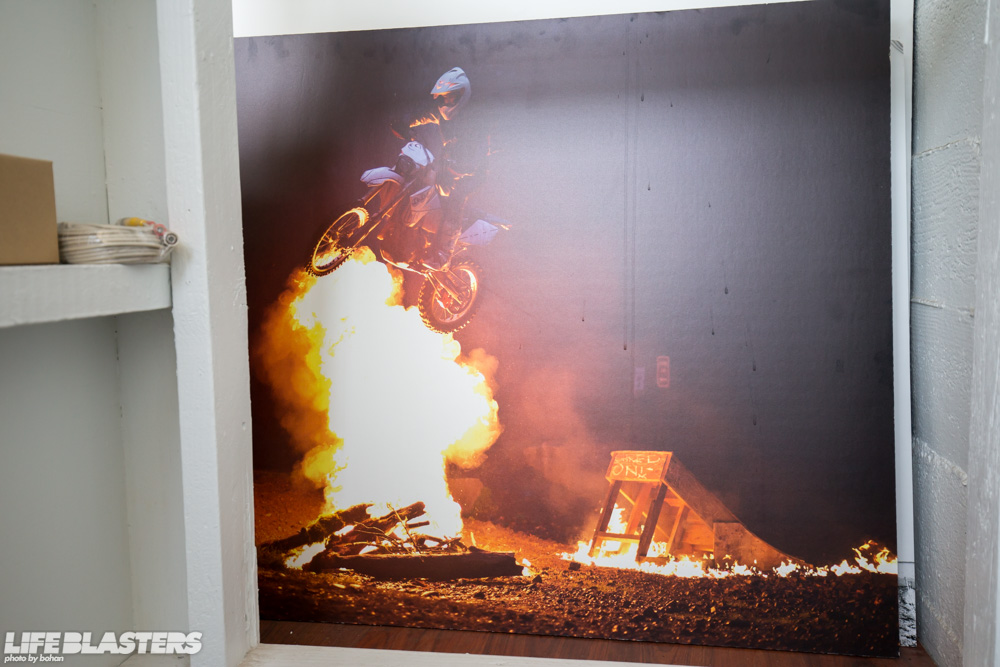 Heading back down the stairs I found this big print. I know I've seen this one before. It's one of the main slider photos on See See's website.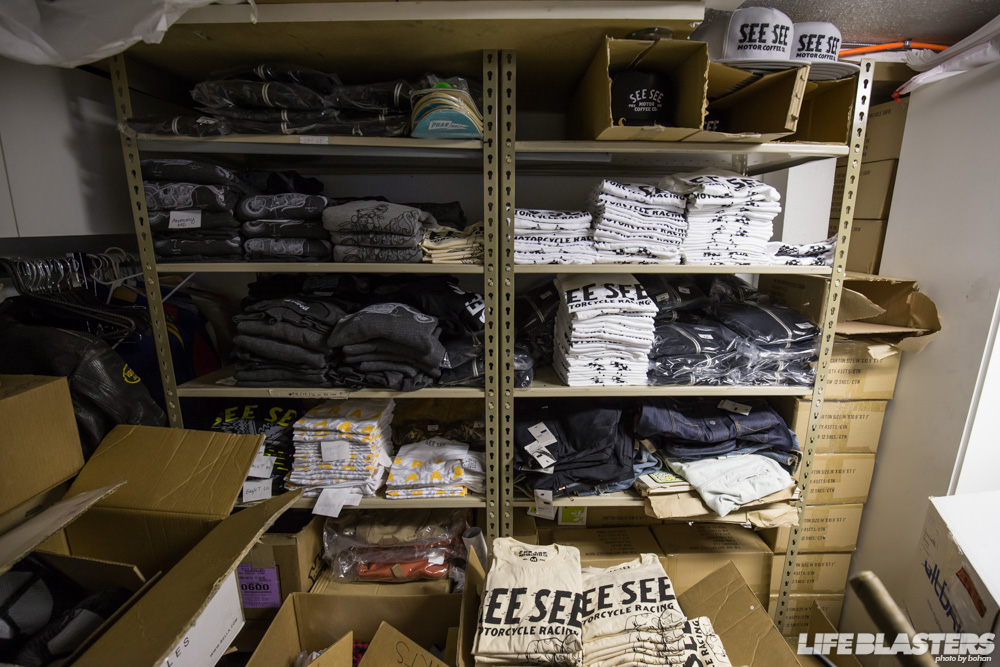 Back here is where they keep the inventory. I could have run out the back door with all the shirts, but Sean trusted me not to!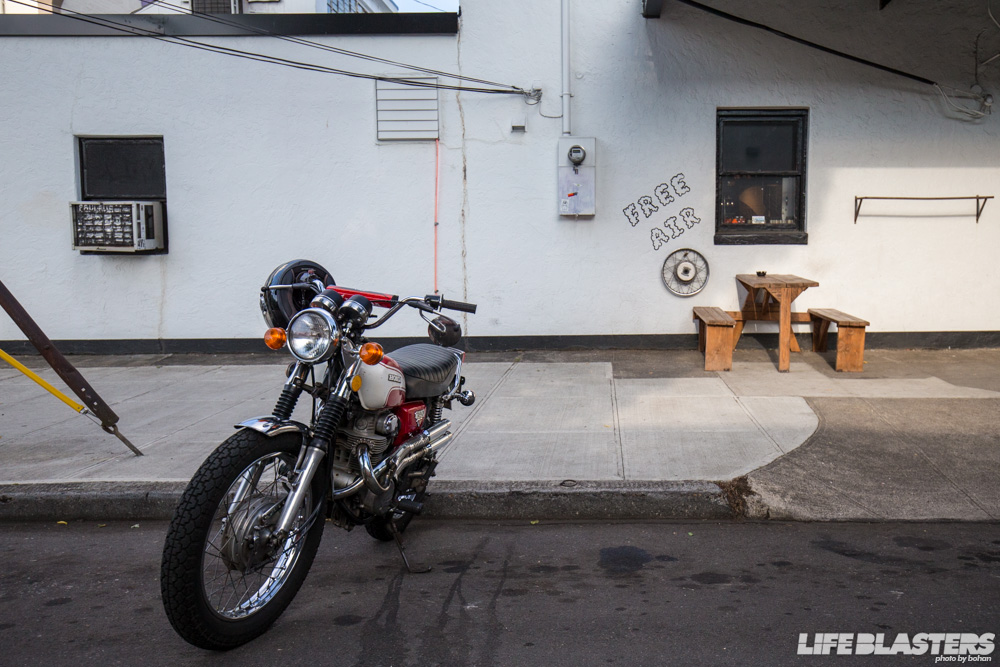 And with that, it was time to go. Joe and I bought some shirts, we said good bye to Sean, and we took off. Hopefully next time we go we'll be on bikes.
.:Bohan

email: bohan@lifeblasters.com
instagram: @lifeblasters, @andrew_bohan