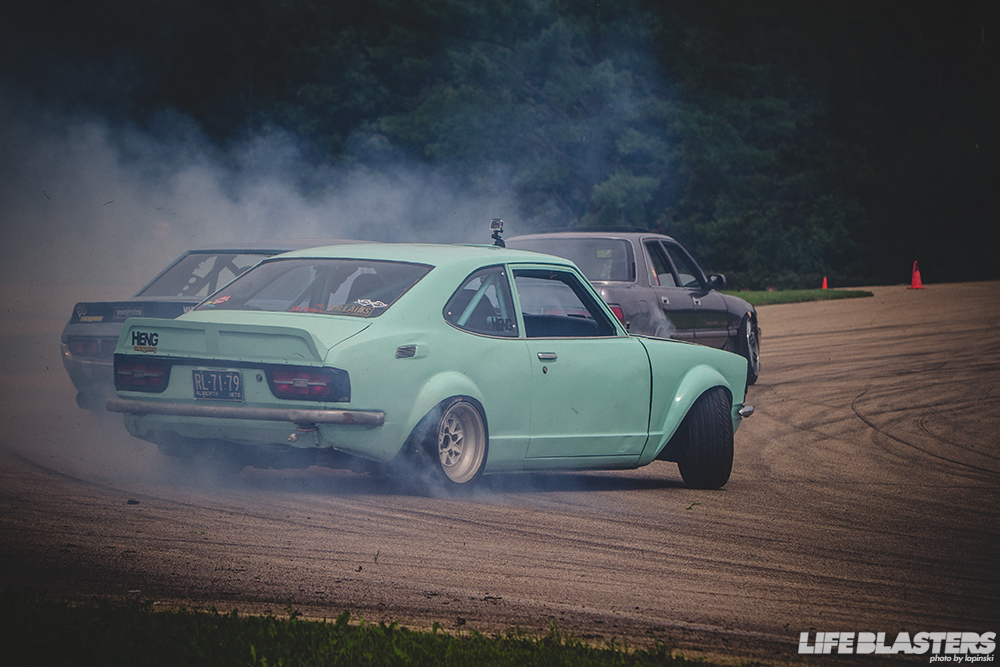 Final Bout. An event that drift fans and drivers all over North America have been waiting for. An attempt at the largest grassroots drift event in America. Teams from Boston, Washington, California, Canada and a ton from Chicago all descended on a small town in Wisconsin to take part in making history.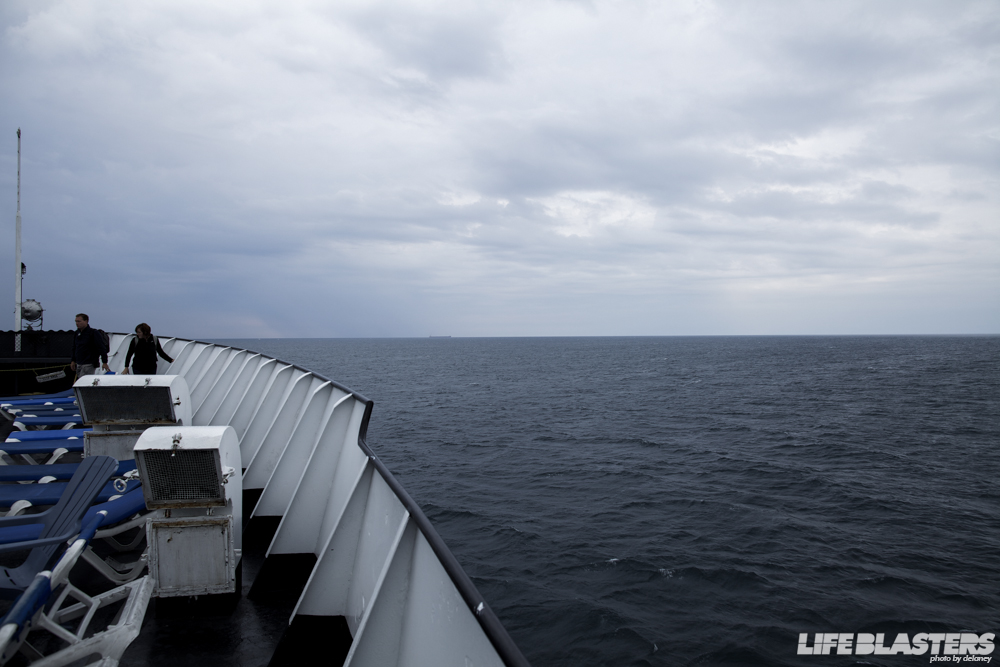 For me, the trip started Thursday before the event back in Michigan. In true Life Blaster form, I took a less-traveled path to Wisconsin. We rode a ferry across Lake Michigan to Wisconsin to experience a different form of traveling. Little did I know how much water would have to do with the entire weekend; in hindsight it seemed fitting to start off on a boat.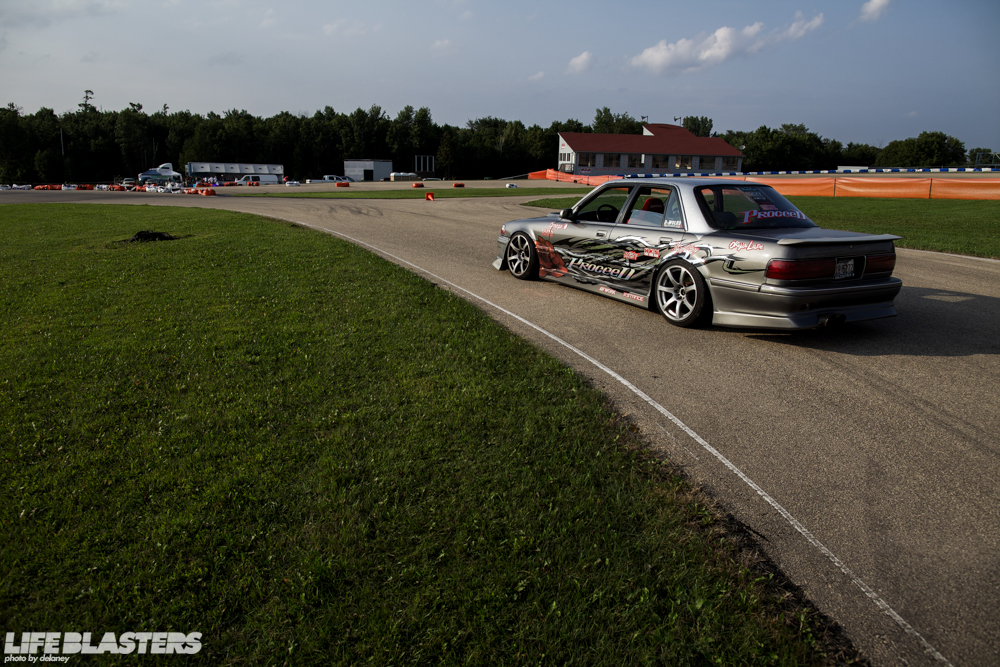 Peter was coming over from Minnesota to cover the event too. When I got to my hotel Friday night, he told me some teams were already there unpacking and other teams are still showing up. I was able to get my first look at the course and its awesome elevation changes.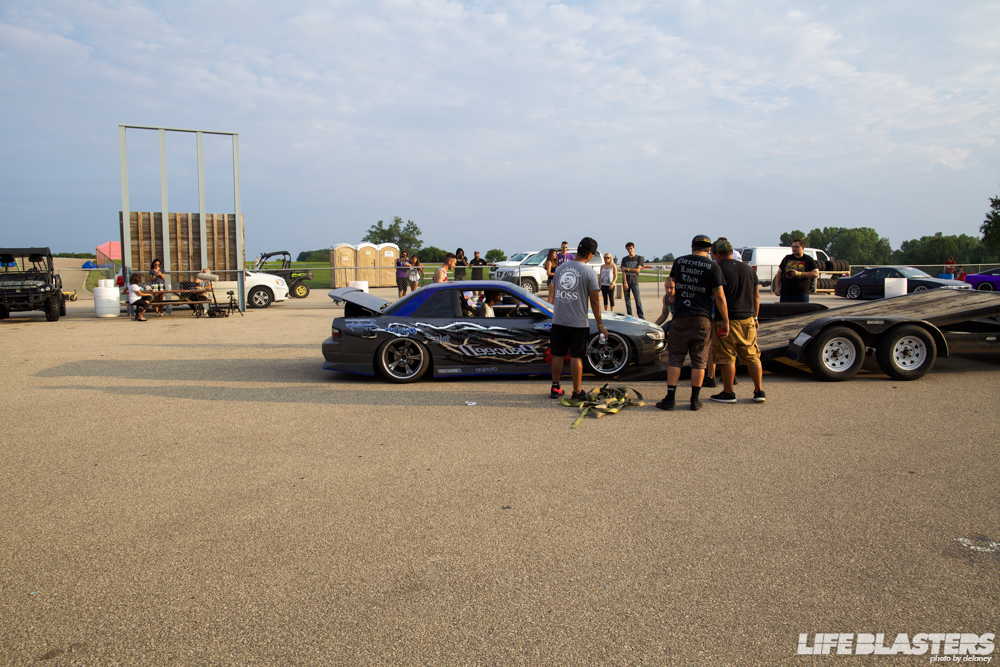 Team Proceed is a local team from down in Chicago that has some of the most recognizable cars in the Midwest. Simba Nyemba showed up with his S13, and in usual low car style it took a crowd to get his car off the trailer damage-free.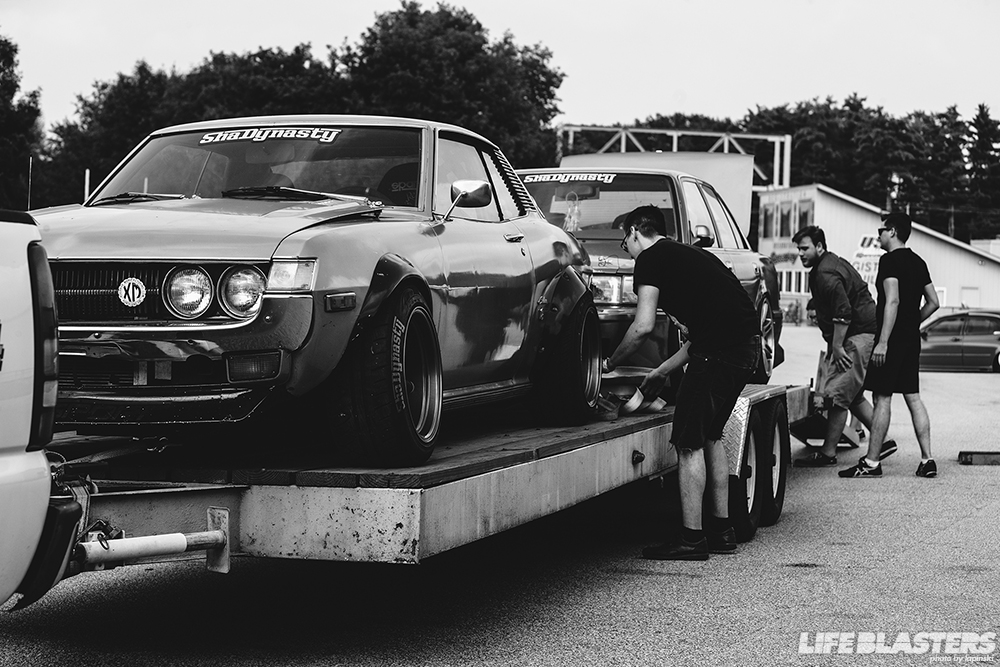 Tandem of Die, Oregon's only representative, pulled out of the event, but LB's own Animal Style from California were still in. They were in Chicago getting some work done until the early hours of the night, but another West Coast team quickly caught everyone's eye. ShaDynasty of Washington came in with their '71 Celica, '72 Corolla, and a Cressida. With most of the cars being S Chassis and four door Toyotas, seeing two classic Japanese cars show up with full intention of competing meant I couldn't wait for Saturday.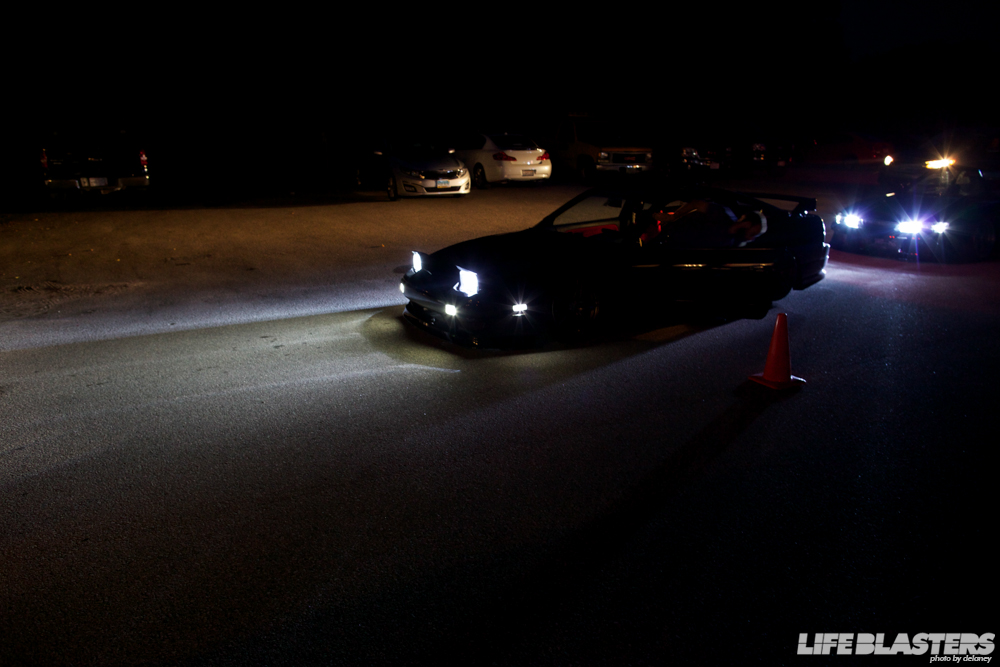 As day turned to night and with thunderstorms on the horizon, I decided to head back to the hotel. Only about half of the teams had arrived before I left, so throughout the night the cars continued to show up.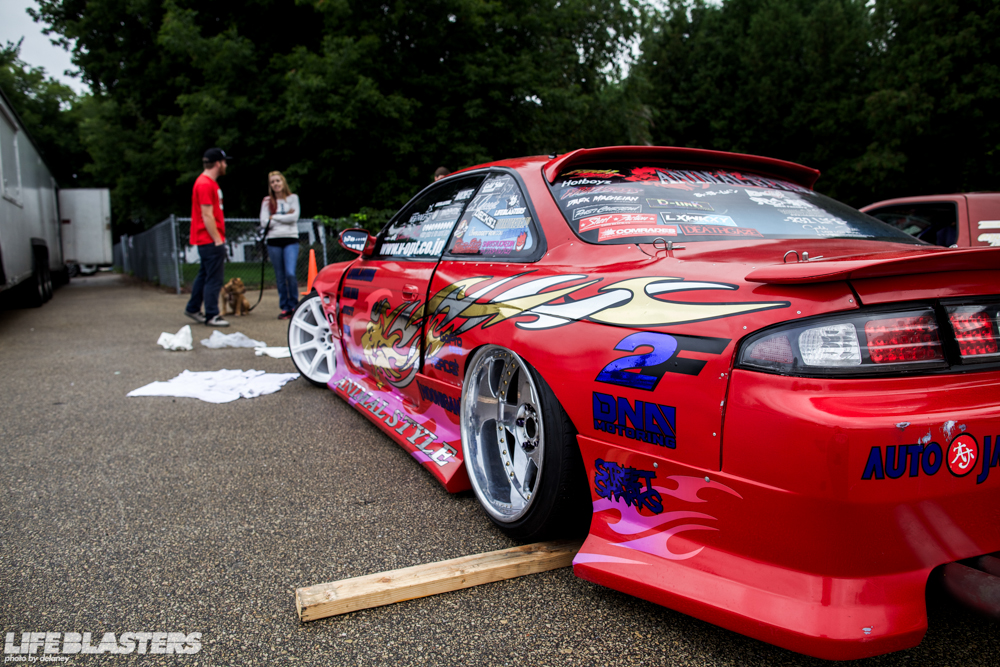 The next morning Animal Style had arrived and were getting everything ready for the day. Hert was having some radiator problems, which is why they were in Chicago, so there were some worries about if the FC would last the day.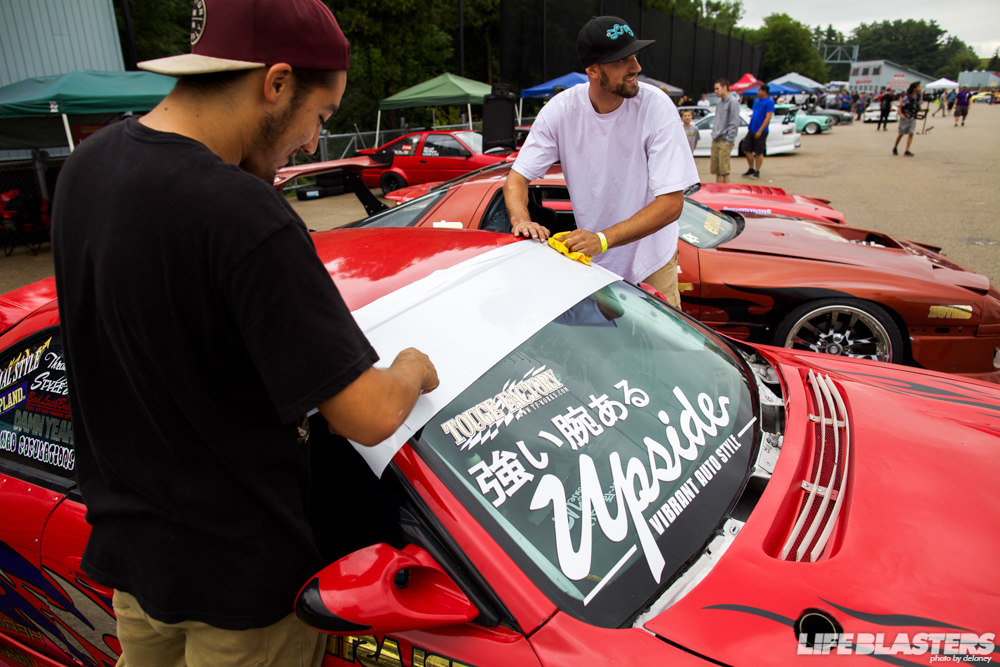 Julian and Ryan were pretty much ready, aside from some last minute vinyl they needed to apply. The rest of the weekend there were always a few people in front of their cars checking them out.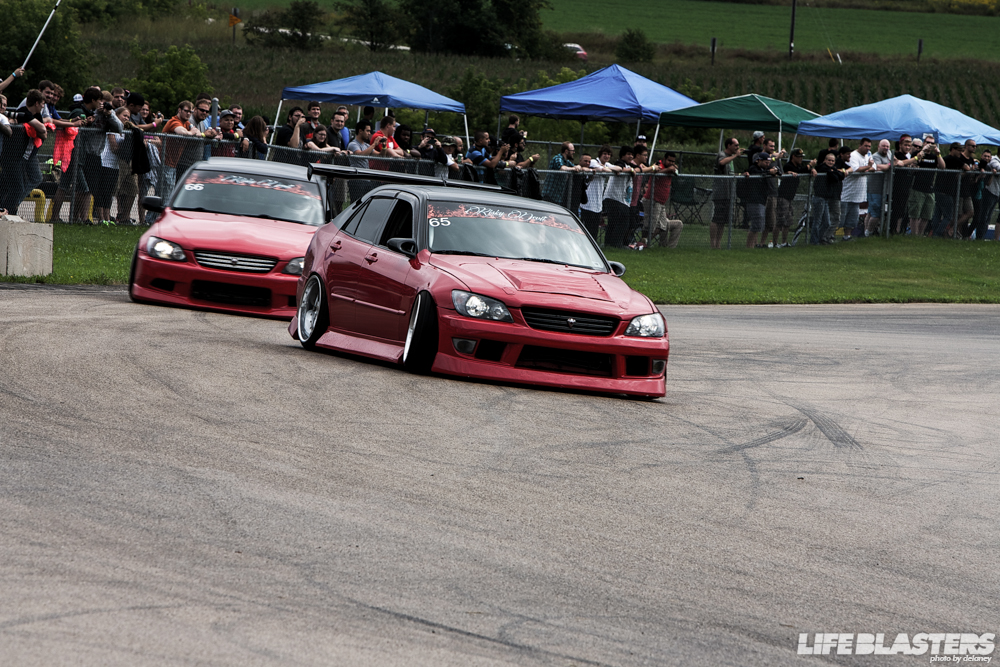 The plan was to have a 45 minute warm up for the home teams to get everything set and ready, and for the away teams to either finish any work or watch the home teams and get a feel for the lines.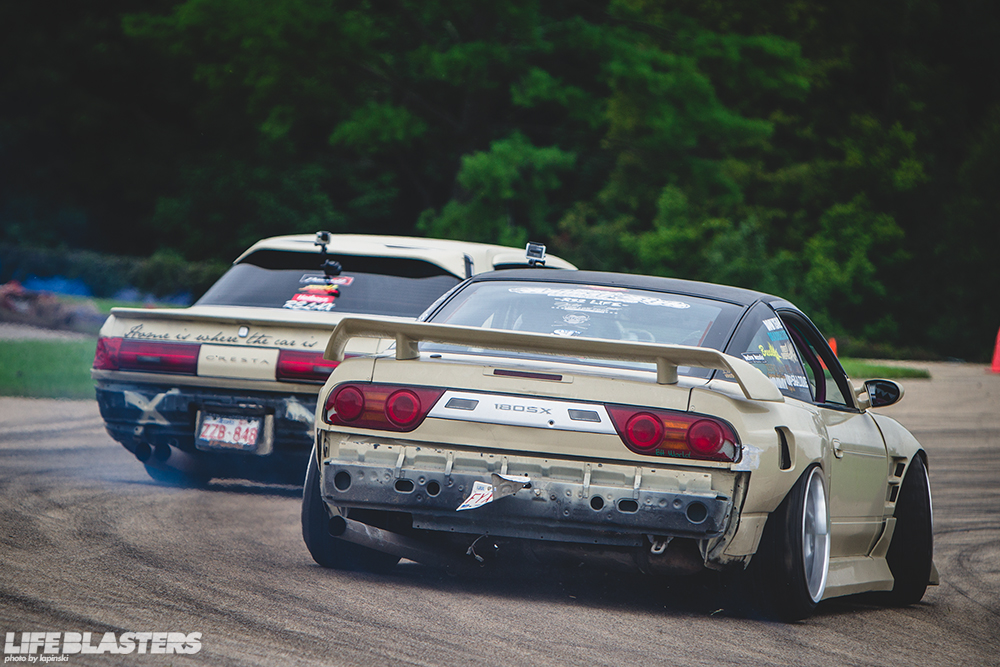 The away teams would then have a two hour warm up time to get their bearings set and get a good feel of the twisty, hilly course. ClubFR, the organizers of Final Bout, wanted to make a DVD of the event to document what could be one of the greatest grassroots drift events in the country. So with so many of the teams arriving late Friday, they couldn't get all the team interviews in and the time table started to get very tight.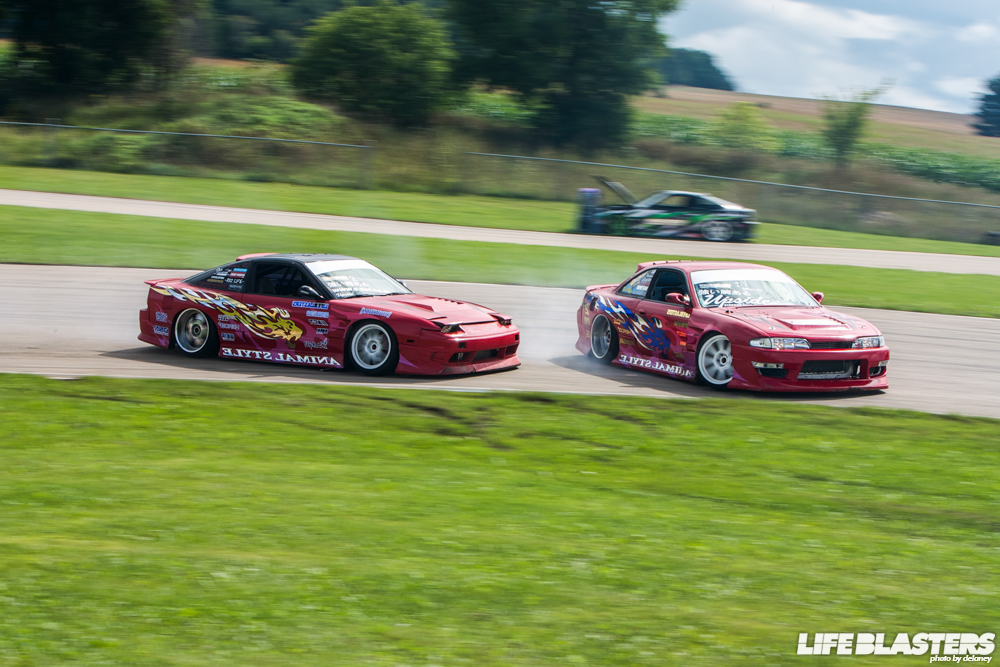 Animal Style made a few passes, with Hert out of the frame with some problems. But Julian and Ryan were going hard right off the bat.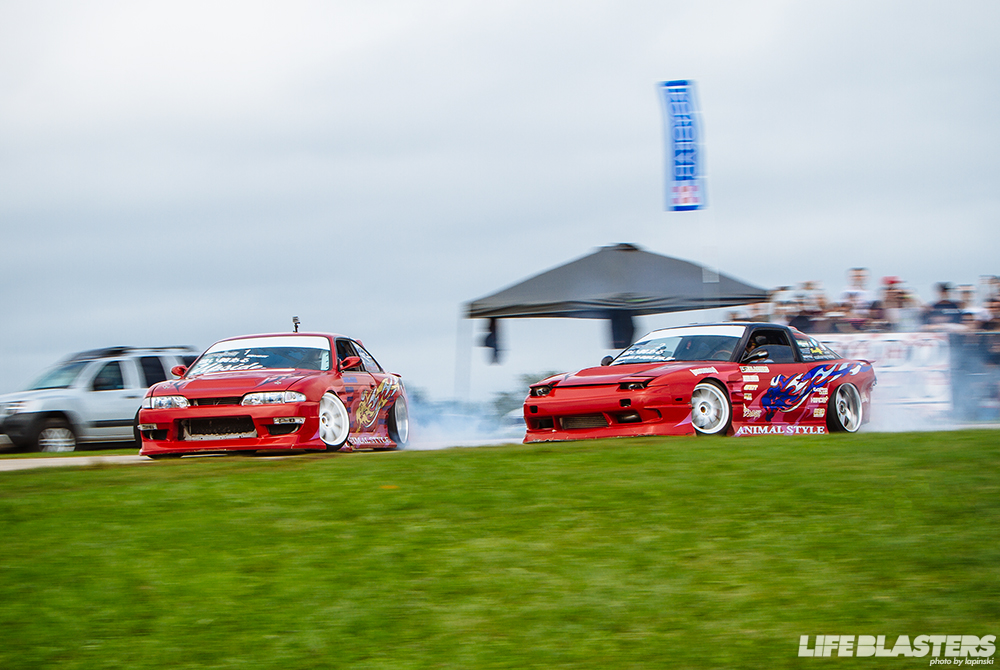 It took them no time to get used to the course and get right on each other's doors. They were looking good for the finals.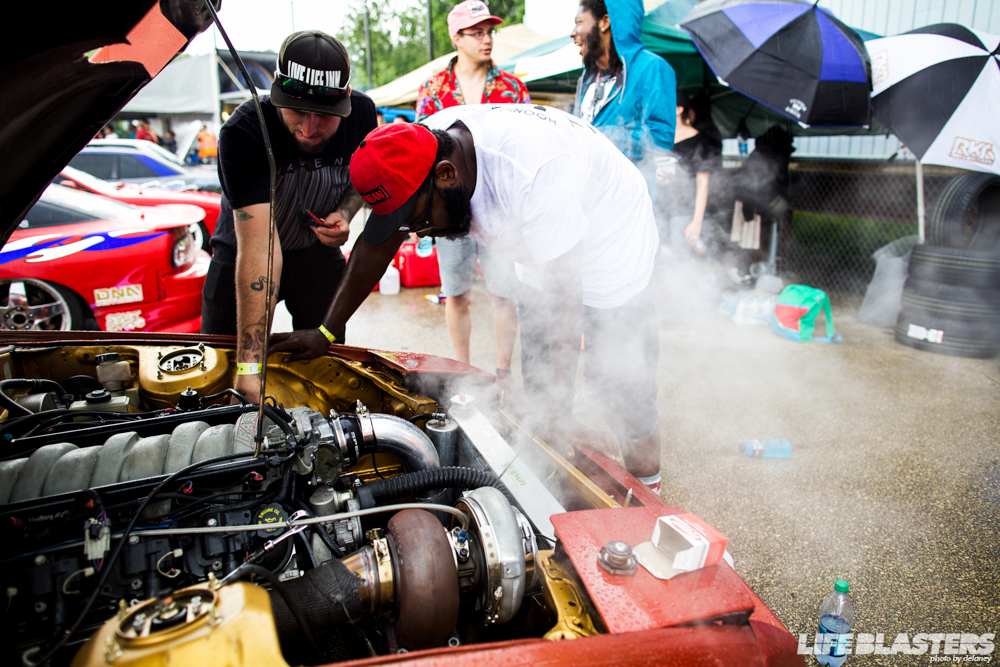 Hert however had other problems. His radiator cap came off at one point, so he had to refill it, which made this awesome steam out of his engine bay. He was also having alternator problems that he was trying to figure out. It wouldn't keep a charge, he was having problems getting the motor running.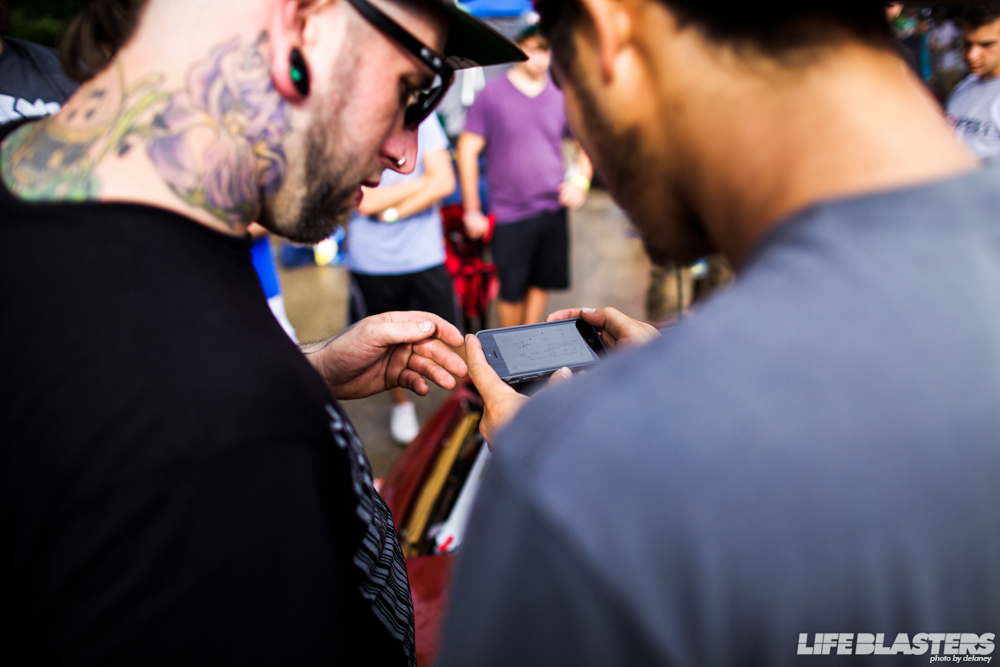 But in true grassroots form, the front of his car was soon the meeting point of competitors and spectators alike trying to help him out. One guy worked for GM, so he had access to various wiring diagrams of alternators to figure out how Hert's should be.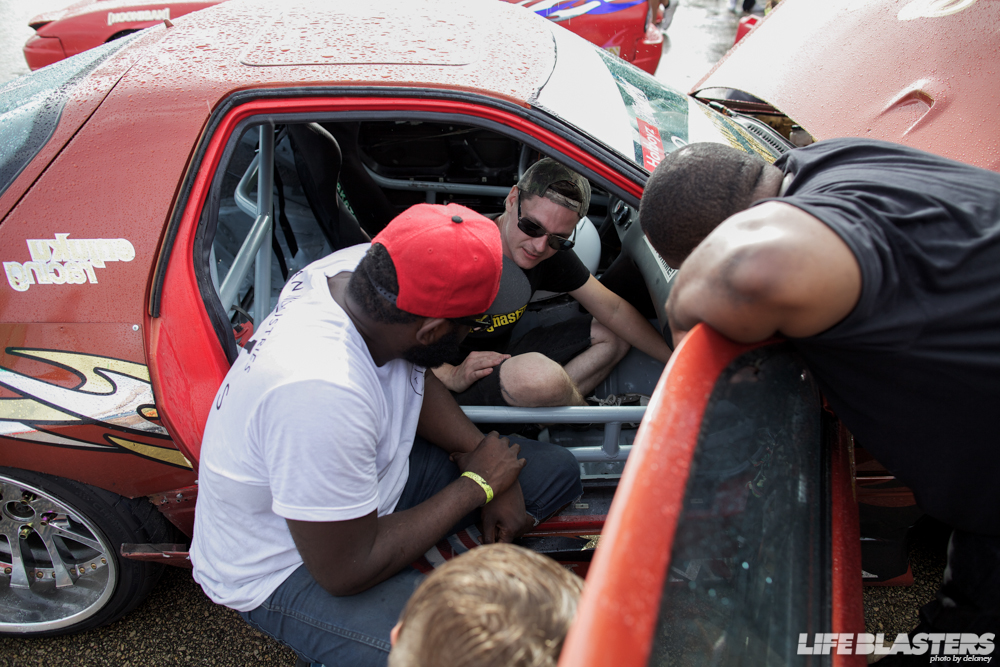 Even Mark Panic from ShaDynasty was under his dash going through the electronics to help him get running again. It just goes to show that even people competing against each other will be there to help out.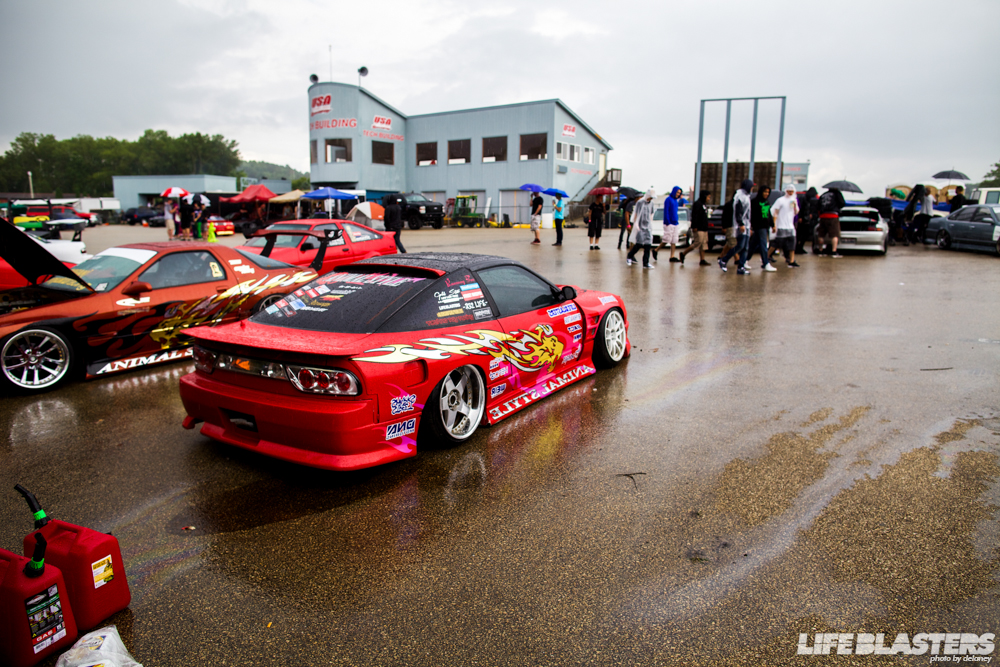 During the whole day, rain would come and go. Sprinkles, heavy rain, nothing, heavy rain, sprinkles, nothing and so on. Between the DVD preparations and practice still going on, the hours ticked by time was running out.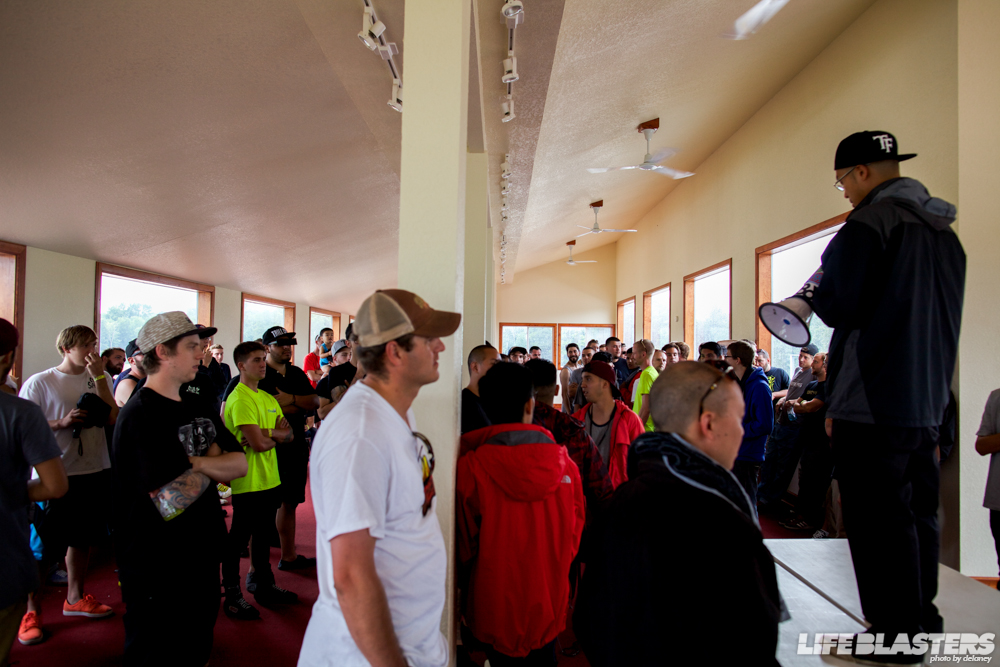 The plan was for the main competition to be on Saturday and for Sunday to be a free day. But with the rain coming down, ClubFR posed the question of if the competition should be moved to Sunday. The room was split. Animal Style others were for running the event in the rain since they had to get on the road mid-day Sunday, but didn't want to miss the competition. Others didn't feel comfortable running in the rain. The final verdict was that the event would run Sunday morning, with the solo competition eliminated. It would just be team runs with a final four to find the winner.

The rest of the day was either free runs, team interviews, or time to work on cars. It quickly went from test runs to massive tandem trains led by Animal Style. The main event hadn't even taken place yet, and it was already an awesome weekend.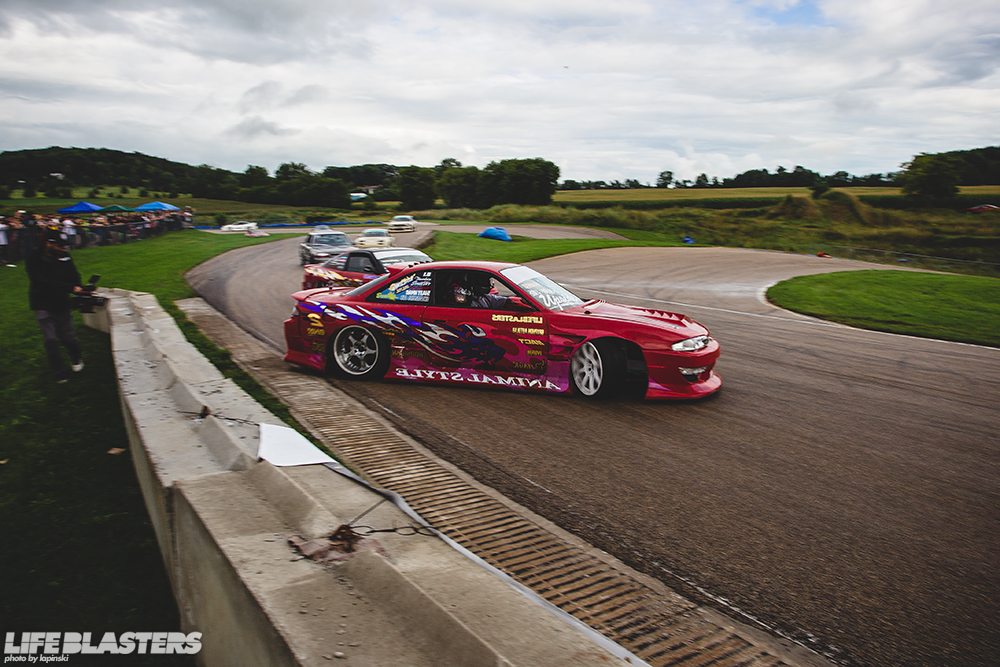 Julian would chuck his car into the downhill section every time and Ryan would be right there with him.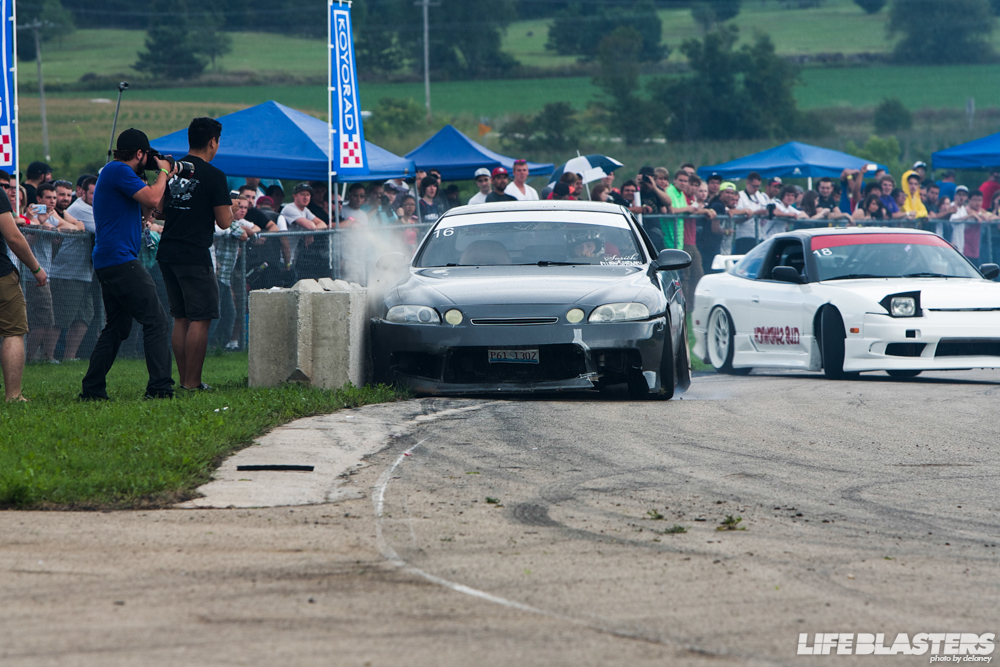 If drivers weren't running in the trains, they were trying to run the wall. The wall was added just for this event, so of course everyone had to see how close they could get to it. Club Sandwich took 'running the wall' literally and smacked the wall. But no harm no foul, and everyone loved it.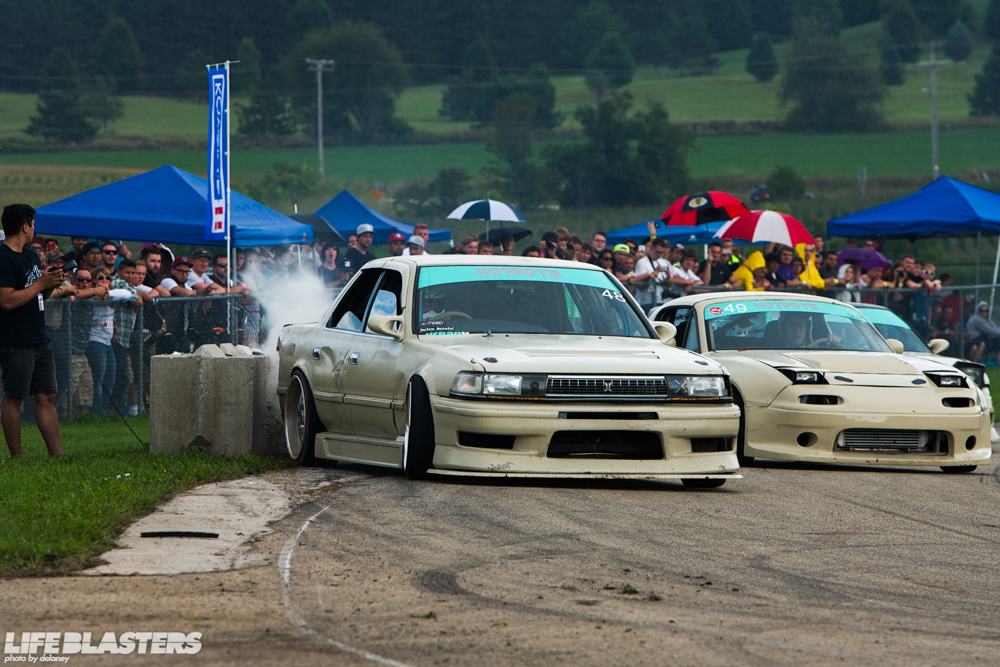 Jack from the Hotboyz seemed to have it down perfectly, tapping the wall every couple of runs. Between that and the trains, it truly felt like I was at Ebisu at times. People on Instagram and Facebook were wondering how Wisconsin had become greater than Japan. Final Bout seemed like a success.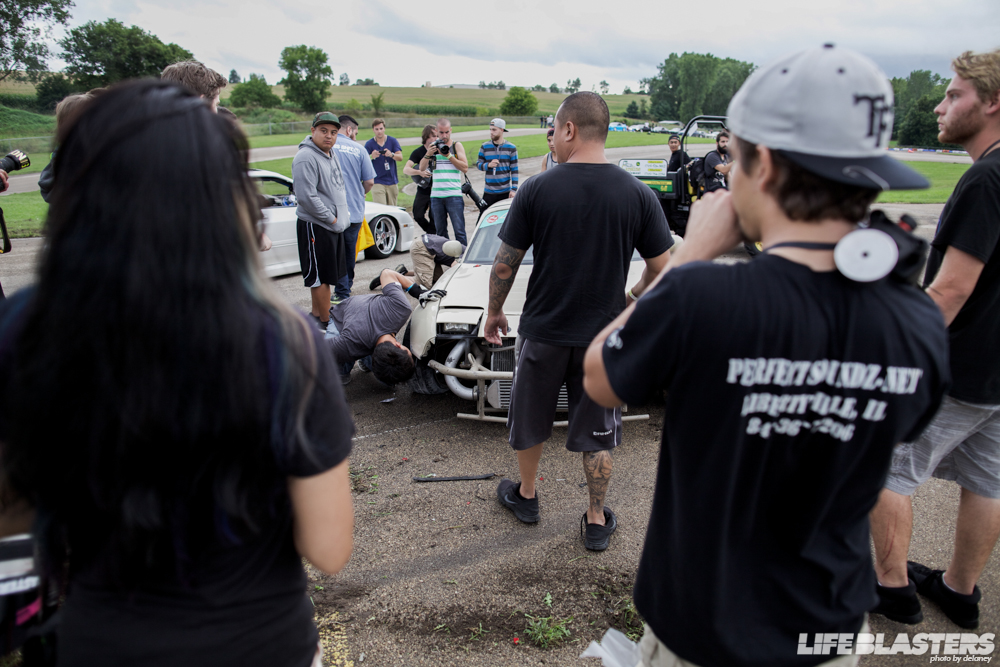 As I was packing up, I heard the unmistakable sound of metal and concrete. Jordan Hall from the Hotboyz had bit of an incident, putting his Miata into the wall.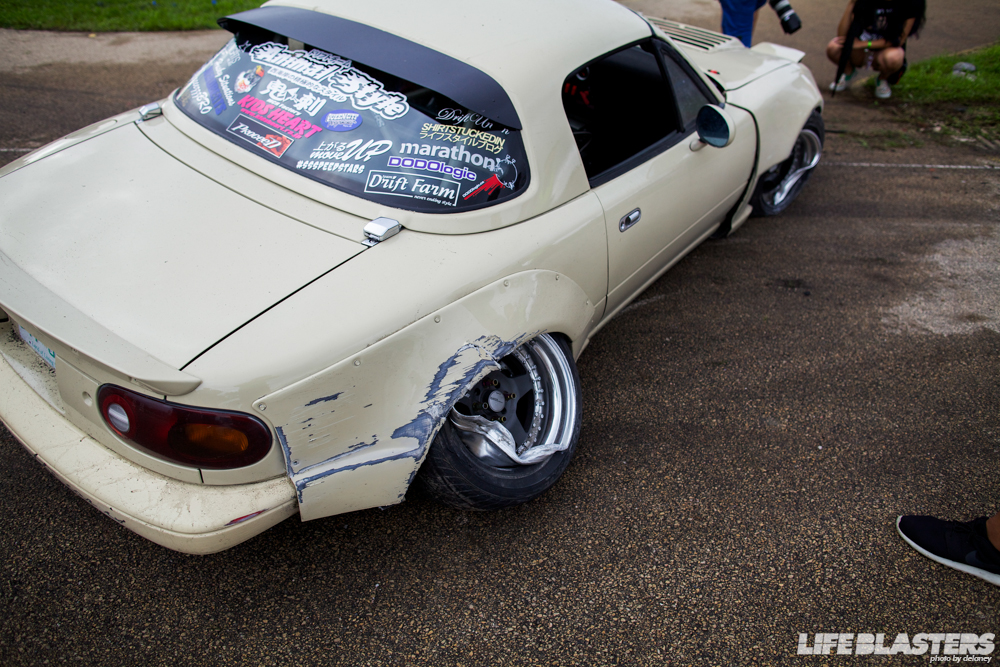 It was safe to say that his car would not be ready for the finals the next day.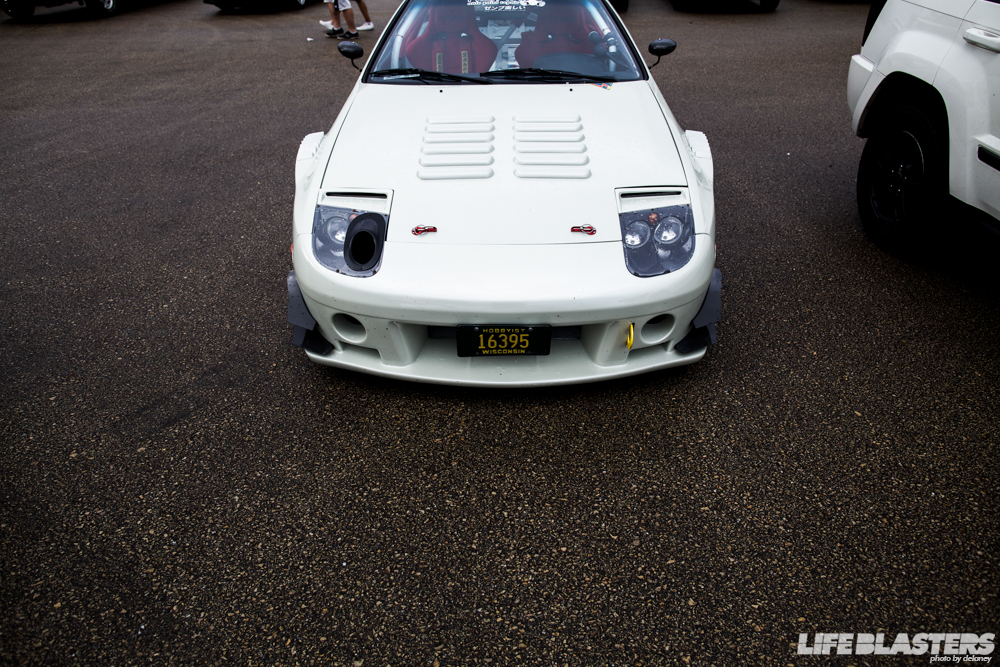 On the way out, this incredibly clean RX-7 stopped me in my tracks. This car was showing up on Instagram all weekend and it's not too hard to see why.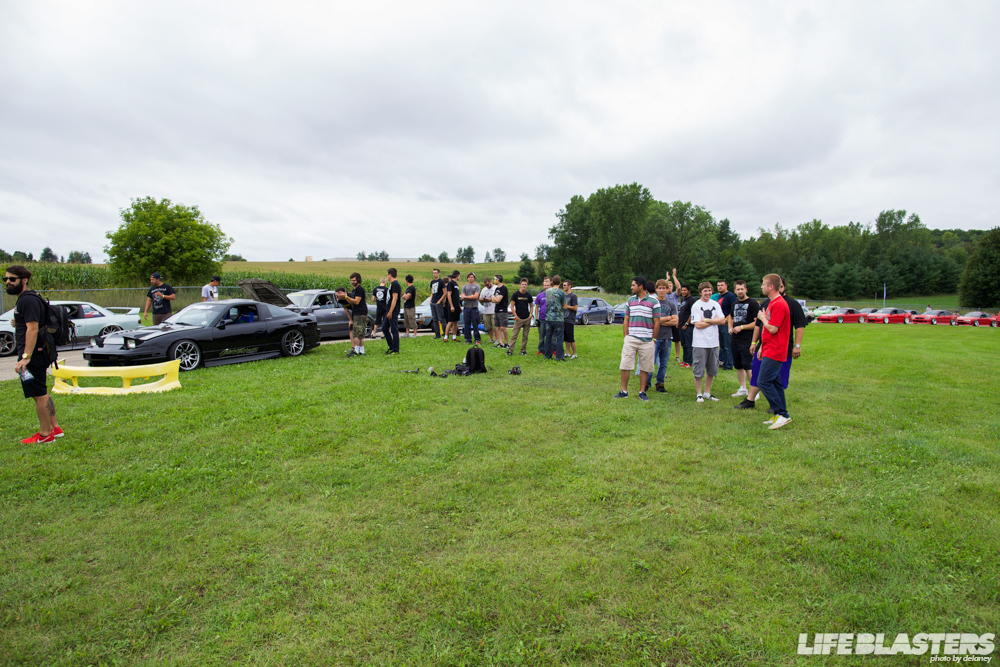 Sunday morning it was time for the finals. There was not going to be any practice; the teams would simply line up and go. Everyone else would stand at the start and watch. Each team had two runs back-to-back, then they were done. So everything hinged on how well their runs went.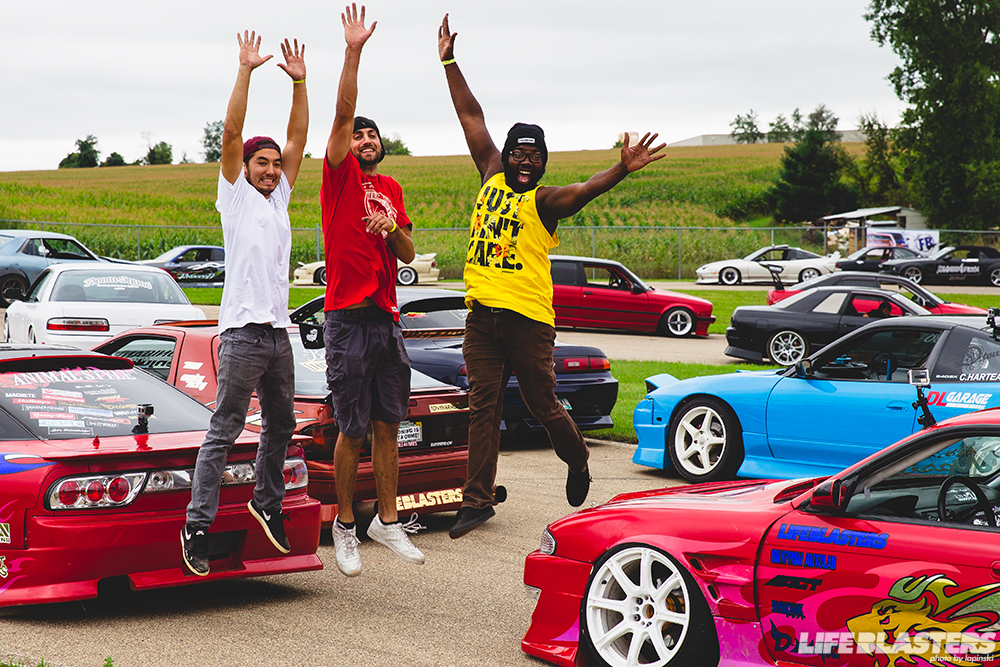 While everyone else watched, Hert, Julian, and Ryan had some fun with the camera.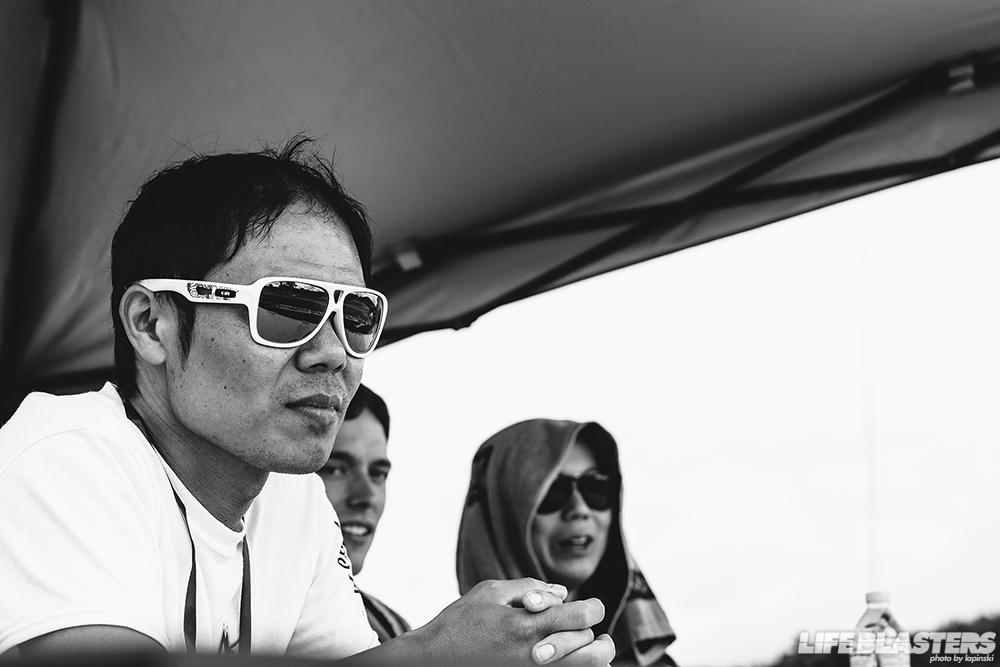 The judges were having an awesome time making jokes most the day and loving it when someone would tap the wall. The judge that got the most attention was none other than Toshiki Yoshioka. ClubFR really wanted to make this event as awesome as possible. And aside from some weather interference and usual first event glitches, I think they and everyone who participated had an awesome time and it will only get better.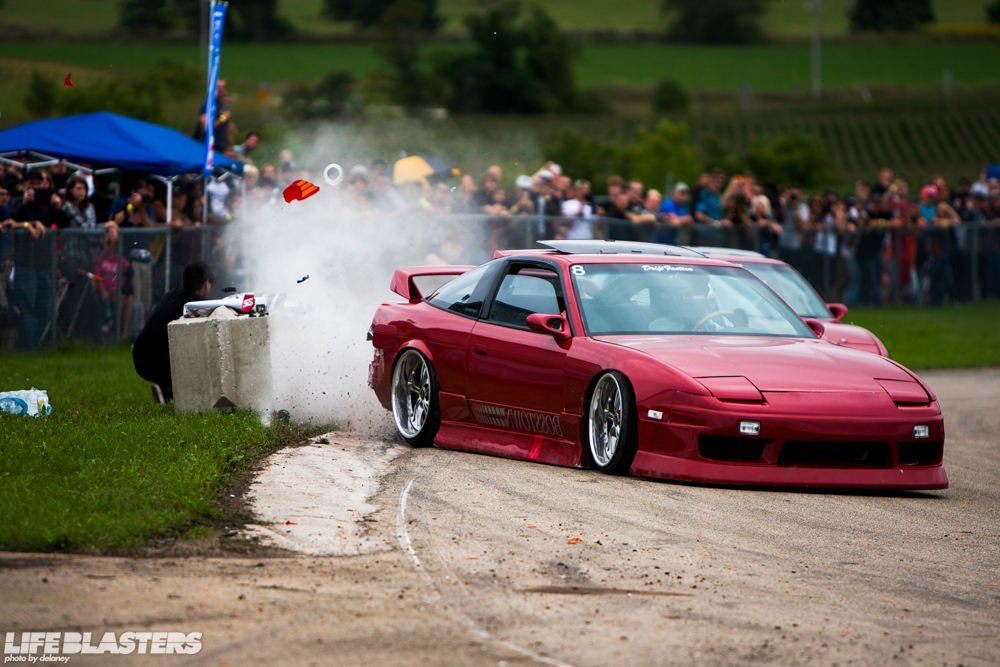 The judged course included a right-hander into a straight that led into a downhill left-hander that transitioned into an uphill right-hander. While the judges loved the proximity of the cars and the speed and flow, what they really liked was the use of the wall. It wasn't a guaranteed advance into the finals, but the judges sure did love it.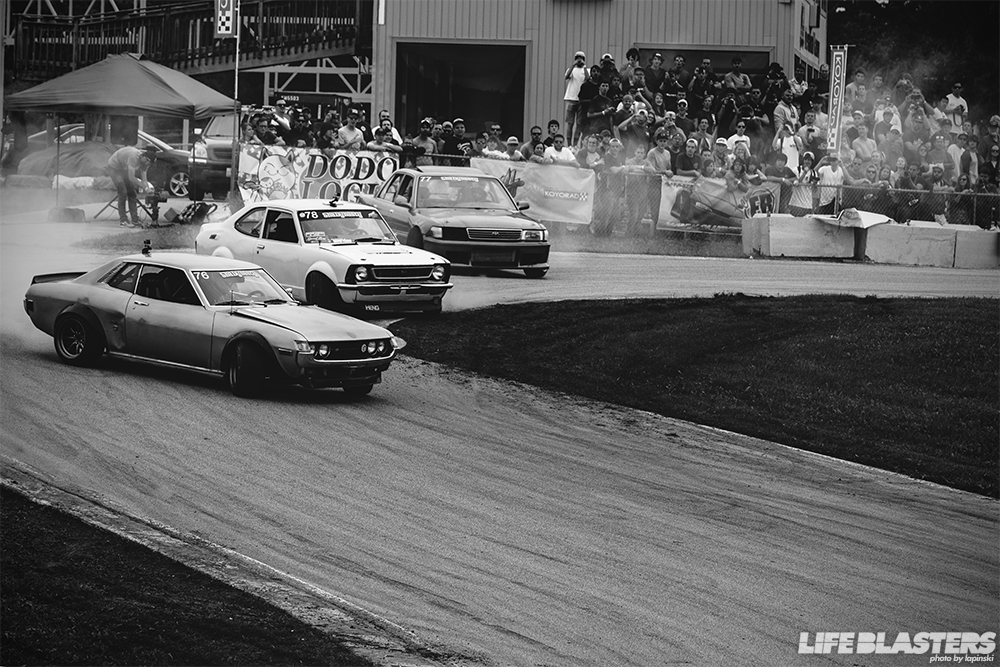 ShaDynasty had perfect runs almost every time. The Cressida ran around 500 HP, while the Celica and Corolla were around 200 each. But even with the difference in power, they managed to find a way to make it work.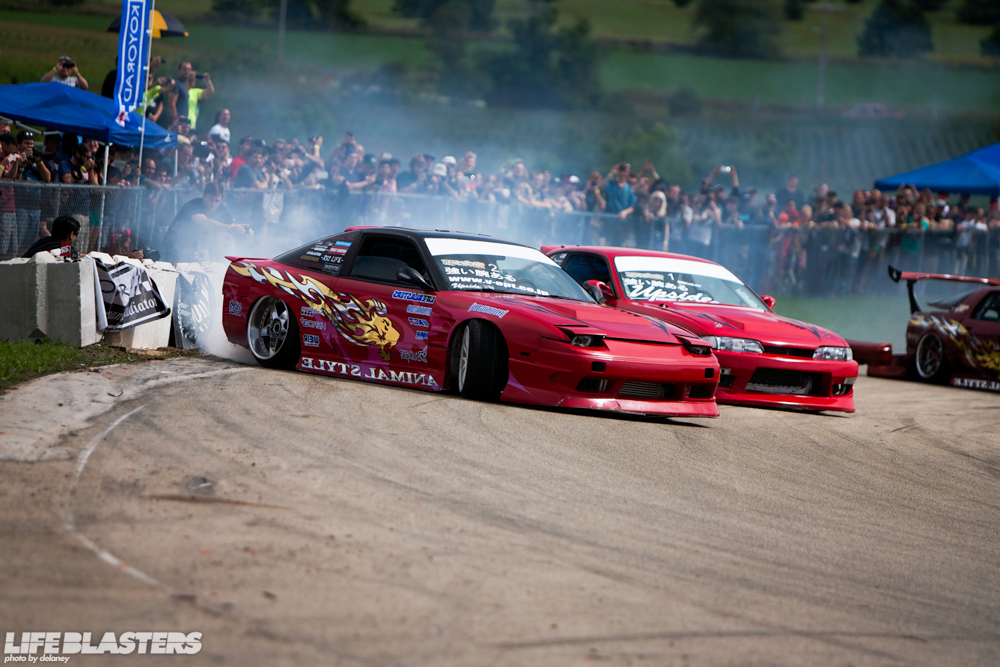 The last team to run was Animal Style. Peter and I might have been a little biased, but it sure seemed like their two runs were awesome.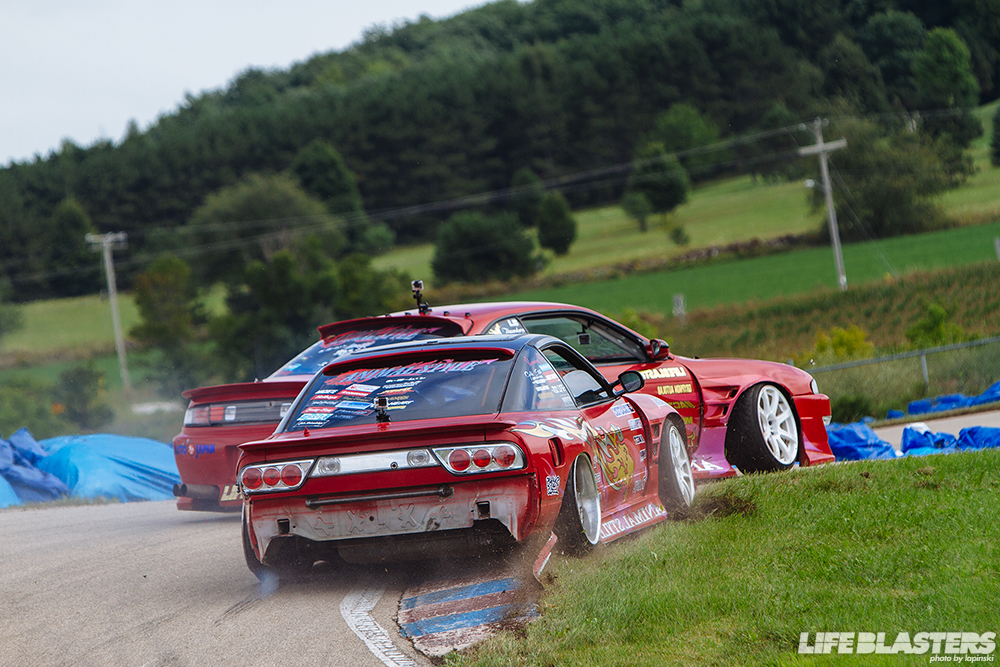 This was about the time Ryan undercut Julian and left some rubber on his door. And broke his glass too. Unfortunately they didn't move onto the finals, but did they ever put on a good show.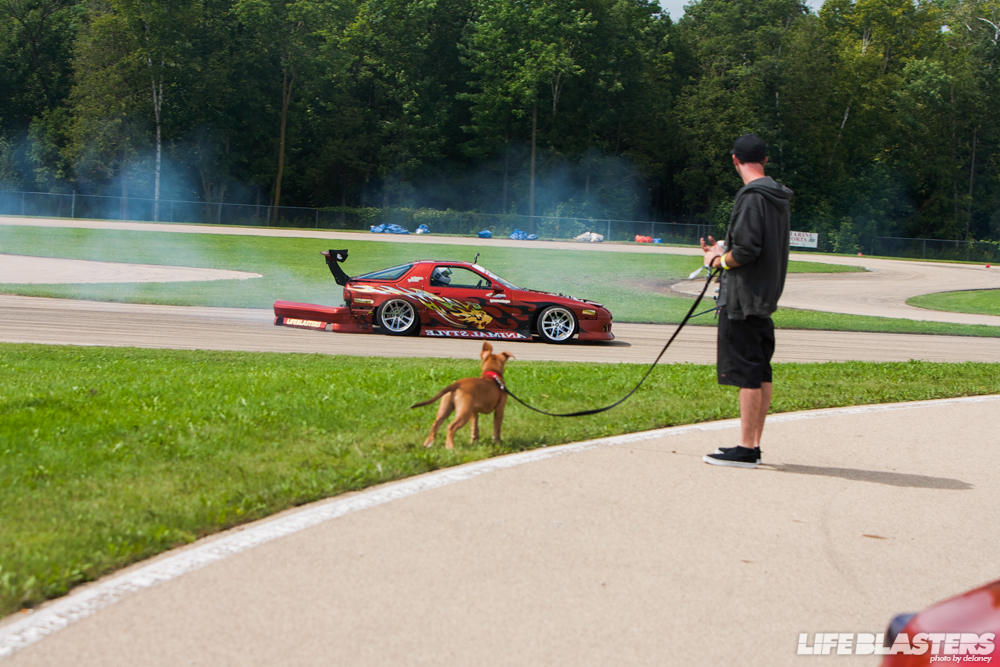 Ryan led one and Julian led one with Hert following in back both runs. Hert brought his dog Don-Pierre, and even though he slept most of the weekend, he came out during the competition. And he honestly stopped and watched Hert come by on the first run. Either he knew it was Hert, or it was the dragging bumper that caught his attention.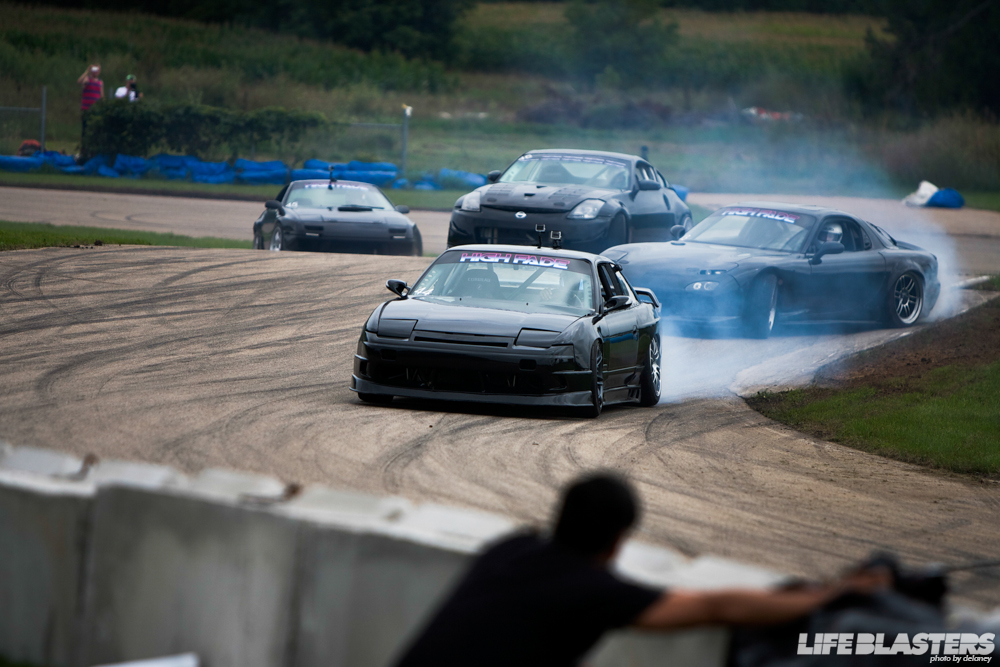 The final four came down to High Fade, ShaDynasty, Hotboyz, and Risky Devil. Each team had one run to win the first ever Final Bout.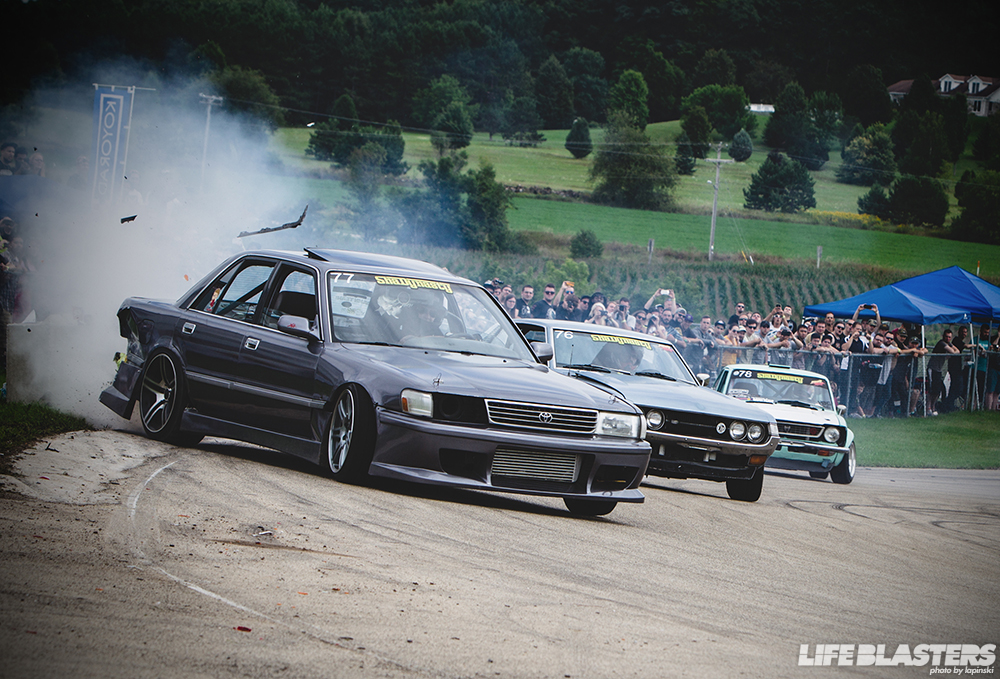 ShaDyansty had the Cressida lead, and he was there to win, no matter how much damage his rear right quarter panel took.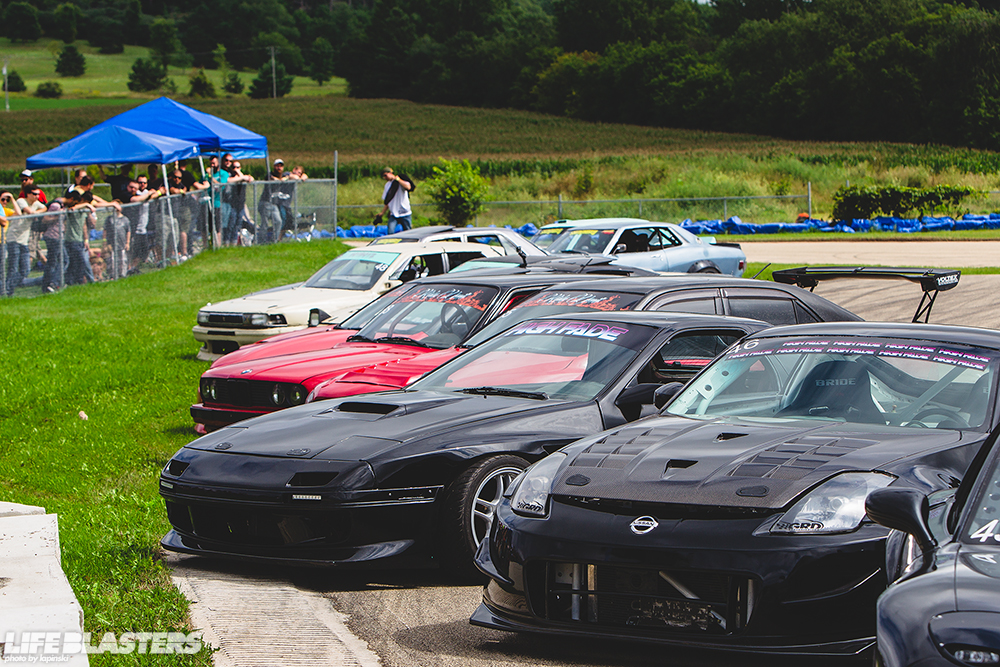 The judges called for a one more time for ShaDynasty, Hotboyz and Risky Devil. Then it was time for everyone to line up and winners to be announced. Hotboyz were awarded fourth and Risky Devil took third.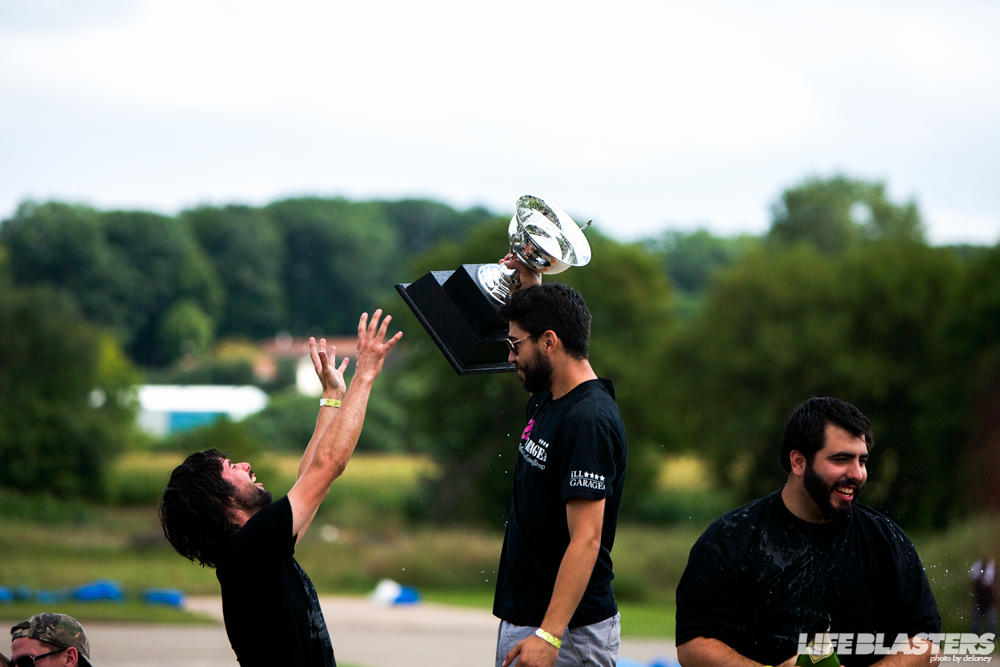 Then it was announced ShaDynasty took second, so the first ever winners of Final Bout were High Fade. I didn't really notice them too much over the weekend because they were so smooth and clean every run. It was also a little funny that a grassroots drift event was won by a team with all V8s.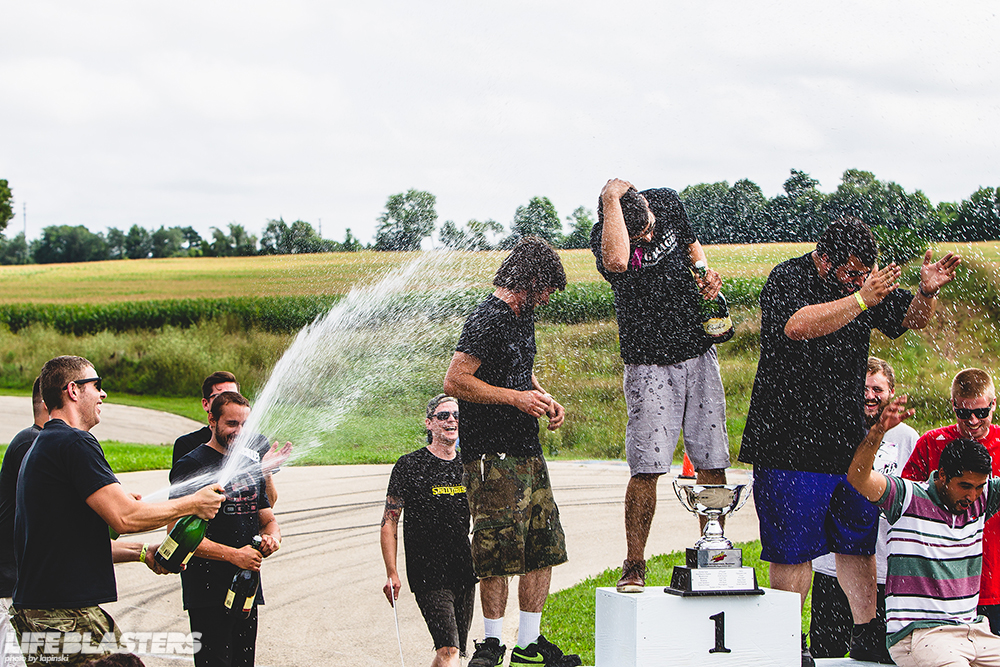 But what can you say? All in all Final Bout lived up to the hype and was a success. Getting teams from all over North America to a little race track in Wisconsin for a weekend of drifting couldn't have gone better for a first event. Be ready for next year's event, as it seems that it will only get bigger and better as time goes on.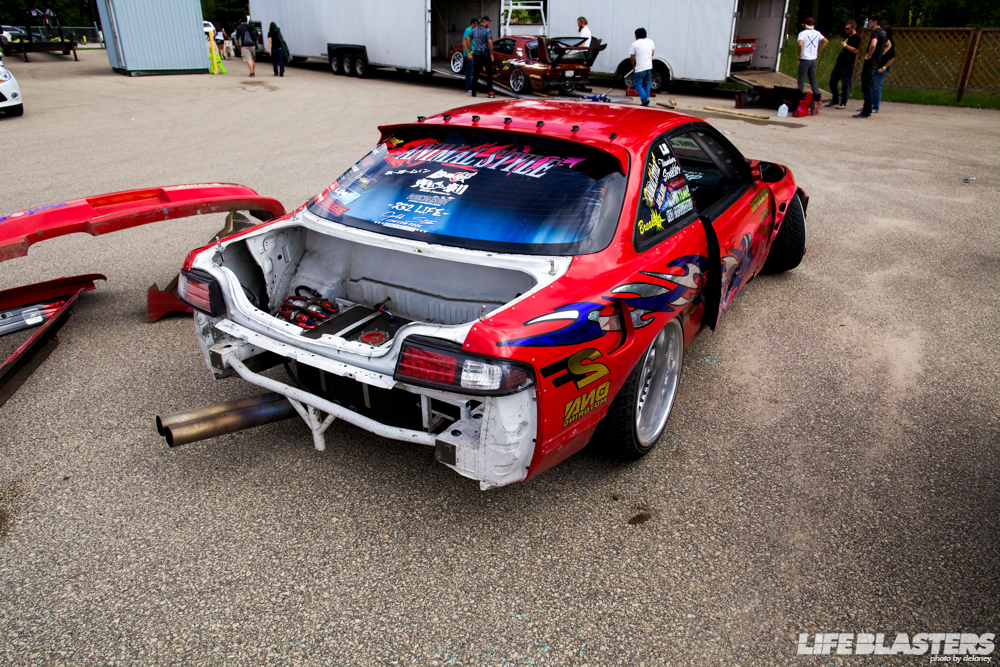 While the awards were going on, Animal Style was off packing up and getting ready for their cross country trip home.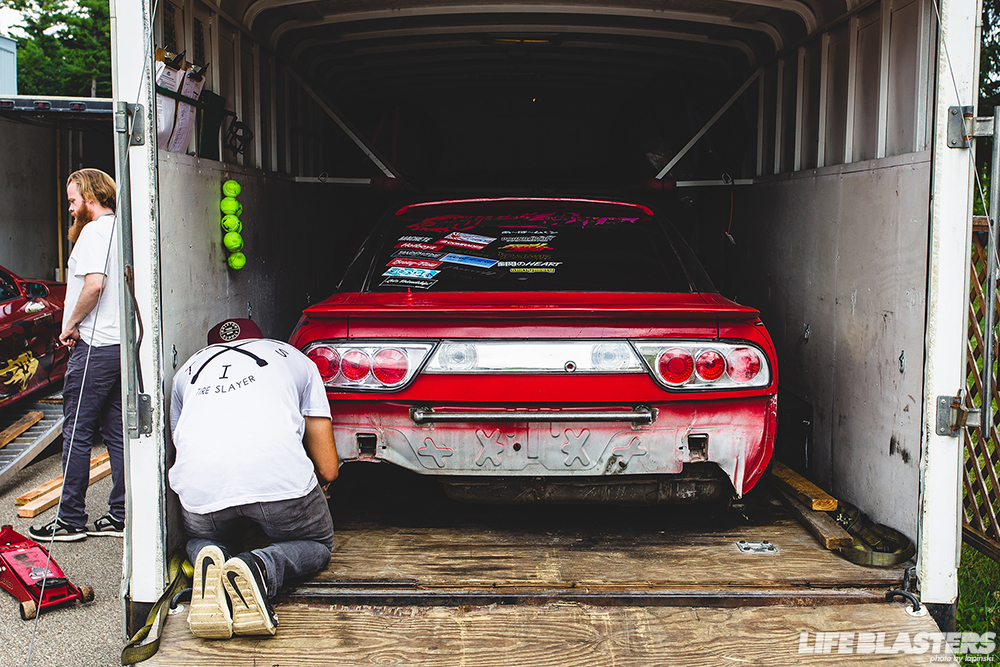 They may not have won, but they had a blast and put on a good show. After seeing photos of them on the West Coast, it was cool to finally see them in person, and they did not disappoint. I can only hope that next year they will return, along with Tandem of Die.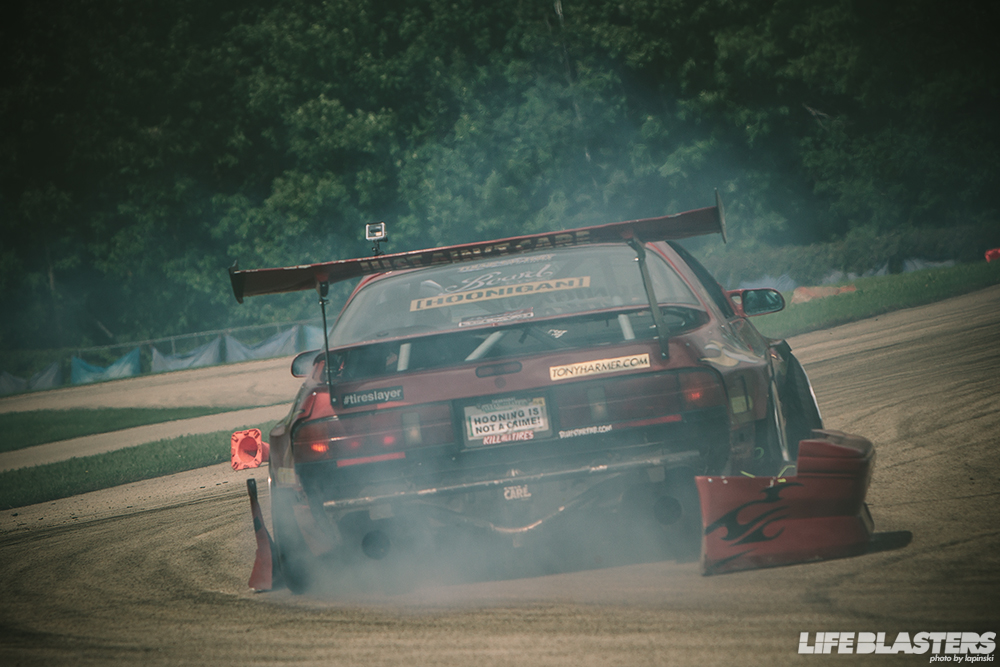 When ClubFR first revealed the trophy, they said that every year the winning team will be added, meaning that this isn't just a one-time show. Between the fans and the teams that showed up, I don't see it disappearing anytime soon. As long as there are still some grassroots teams in North America, they will be around to compete. I can only imagine what could happen if this ever grows to an international event with teams from all over the world.
-Delaney
Photos By Lapinski and Delaney
Email: delaney@lifebalsters.com
Instagram: @lifeblasters, @ericdelaney, @peter_laps