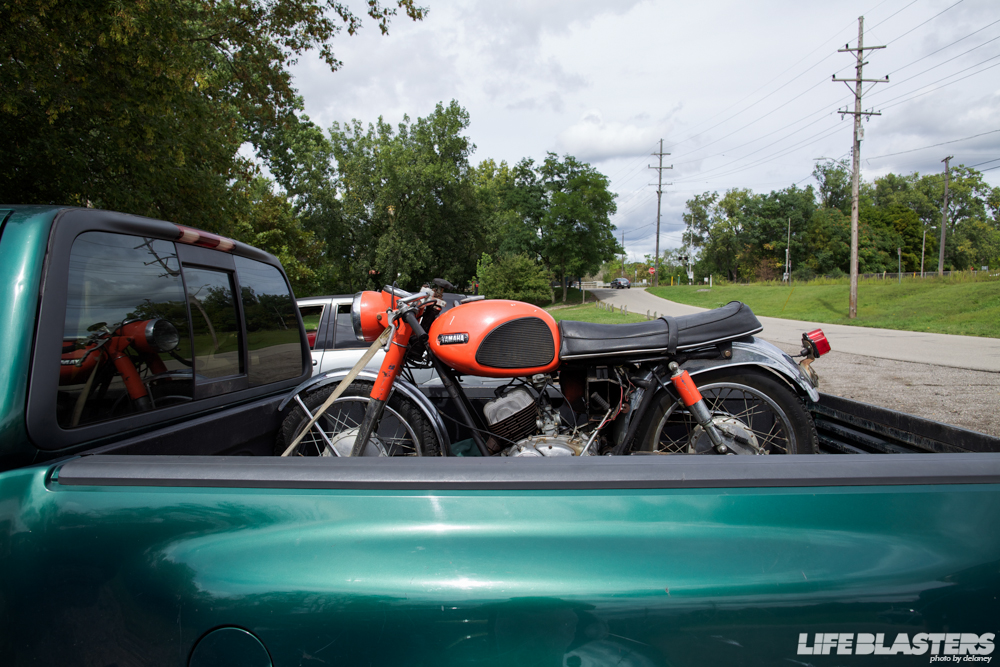 It's amazing what word of mouth can do. While my dad and I were at our regular first Saturday of the month car show in Ypsilanti, we happened to start talking with a woman who said there also was a Ton Up show going on in town today. So of course, we knew we had to go check that show out too.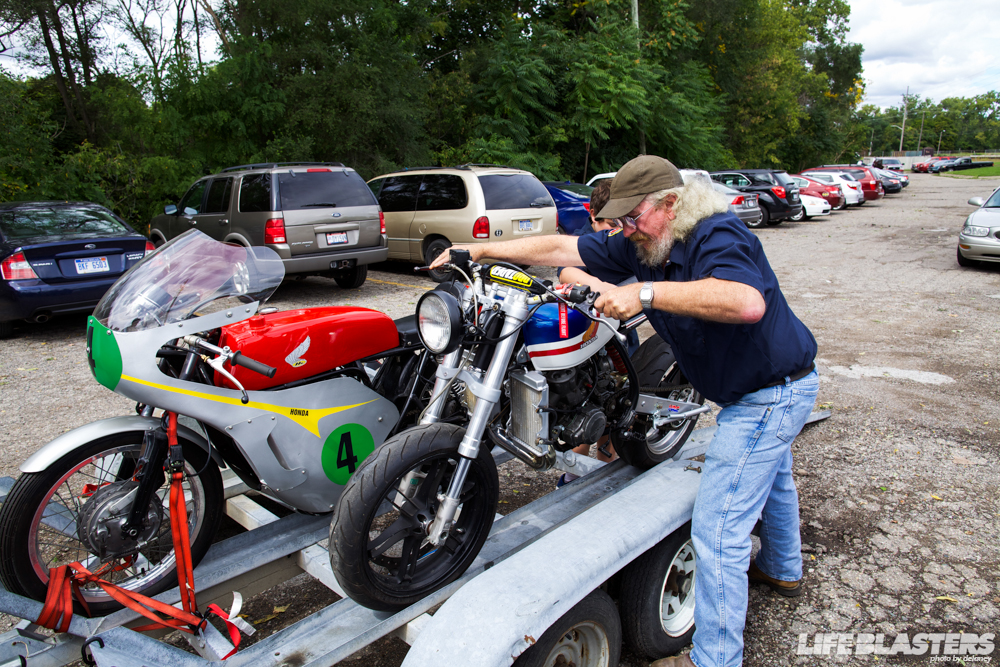 Why is it called Ton Up? Hitting or doing the ton means going 100mph on a motorcycle, and is usually tied to Cafe Racers from the '50s and '60s (when going that fast was still a big deal). We headed over before the event even started, and came across these guys from Checkered Past Cycles. They were unloading three bikes, the one here won best mini Cafe Racer last year simply because the organizers didn't know where to place it.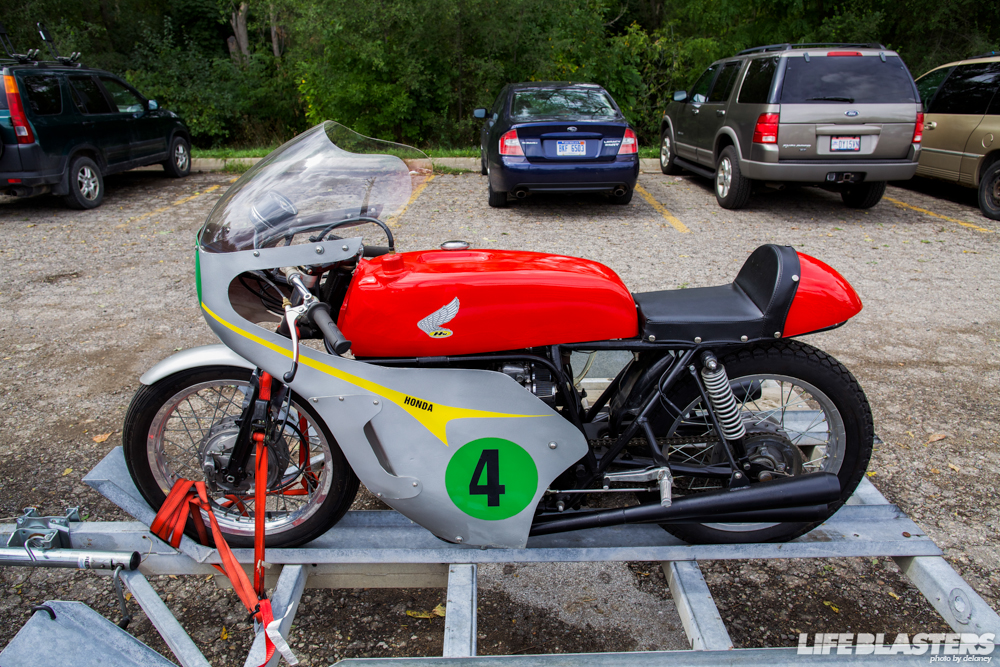 But the coolest bike they had was this Honda. It started as a '76 Honda CB400F, but has been reworked to look like a Honda RC173.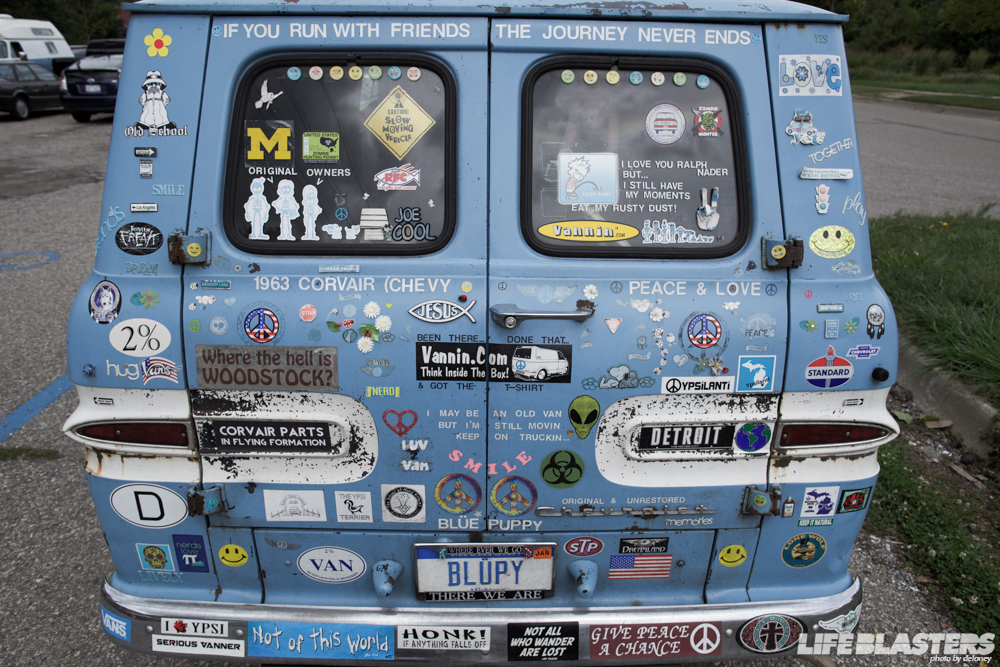 The show was held in Ypsilanti (pronounced Ip-see-lantee,) which is probably one of the more colorful towns in Michigan. I know Portland has the "Keep Portland Weird" tagline, but Ypsi could very well use it too. There's always something just a little odd going on in the Depot Town area of Ypsi. But it's a cool town, and my college is there, so I'm used to it.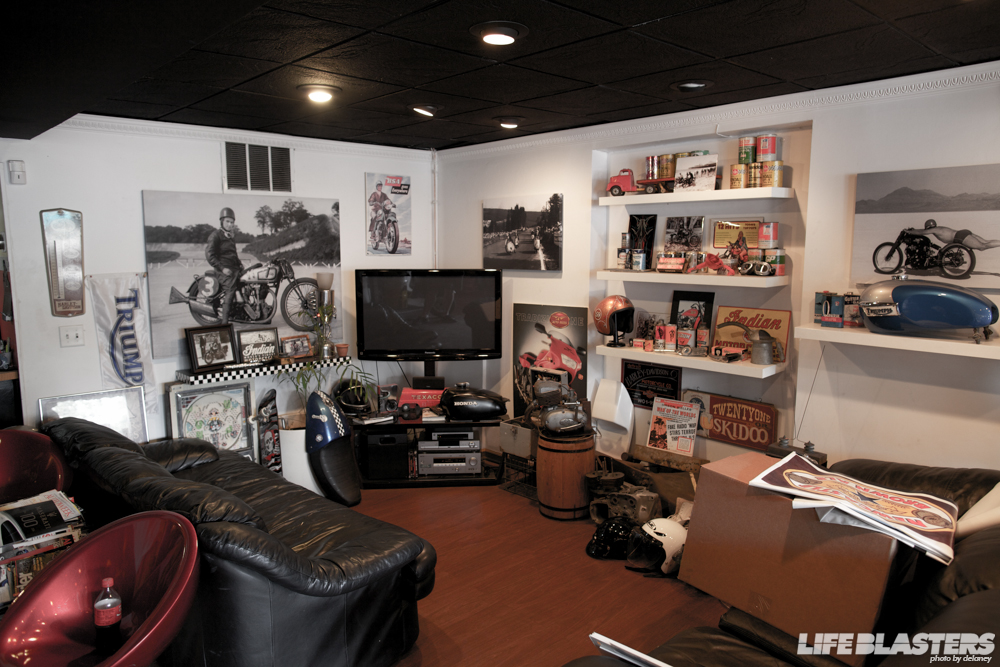 When I read Bohan's Breakfast at See See's story, Cafe Racer instantly popped into my head. Located in Depot Town, it's a small coffee shop that sells motorcycle toys, parts, and safety equipment, as well as builds bikes in the shop out back.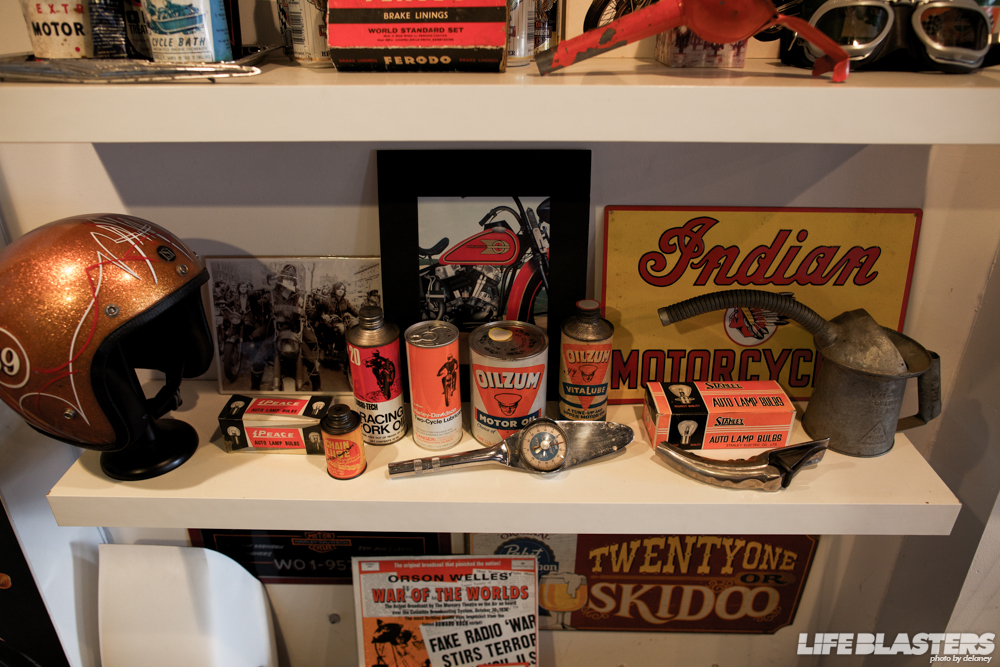 While it's nowhere near the size of See See, it has the same feel and is only there for people who like Cafe Racers and motorcycles. I hadn't visited Cafe Racer in a few years, but it seems that they're doing pretty well. They were packed all during the show too. I'll probably have to make a trip down to check up on how they're doing and what projects they have in store.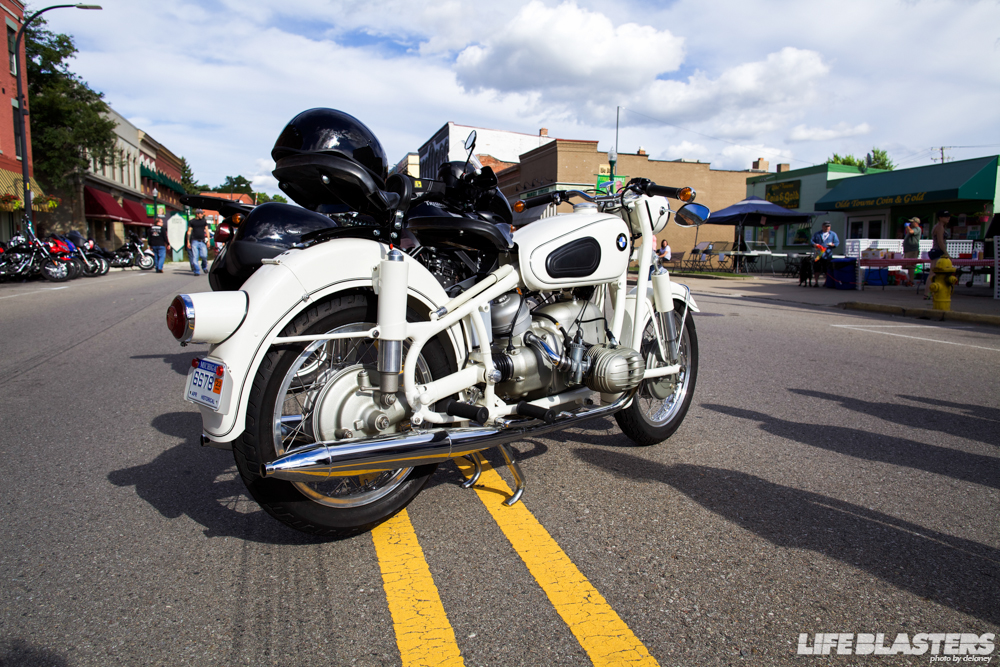 Outside of the judging area, there was an area for spectators to park their bikes, pretty much making it a two way show. Right when we crossed onto Main Street this perfect BMW was right in front of me. I've never really been too much into bikes, but the older I get the more interested I get. While I'd love a Cafe Racer, these BMWs just fascinate me to no end.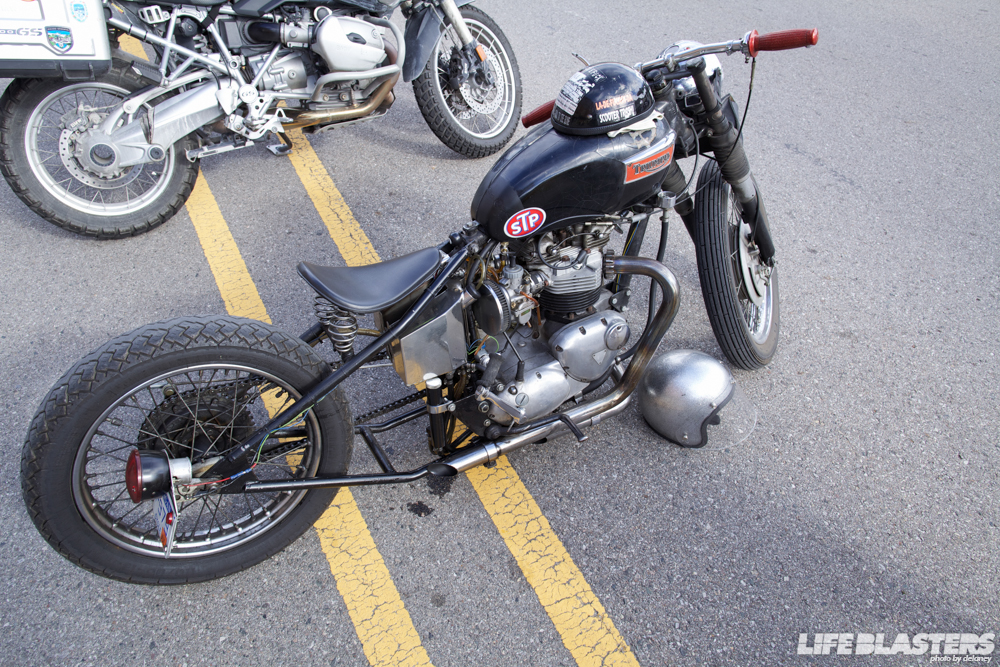 Right down the way was this insane Triumph. One thing I really like about motorcycles is the level of customization one can do. Not that you can't make an insane car, motorcycles just have a wider range of possibilities, and you don't need much room.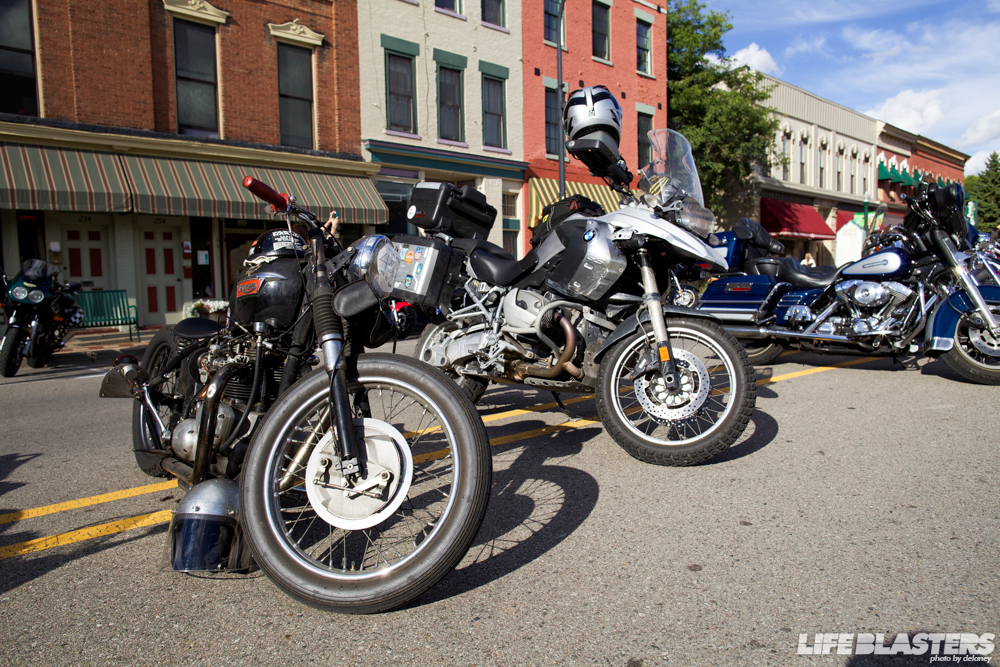 The Triumph was next to what is probably the third most popular motorcycle type in Michigan, the adventure bike, or as I call them, the Dakar style bikes. While there are more Harley Davidsons than you can shake a stick at, and sport bikes blasting up and down every road, there are always some adventure bikes out and about. I've often thought about getting one and shooting Sno*Drift with it, just to avoid the mile-long hikes to the stages.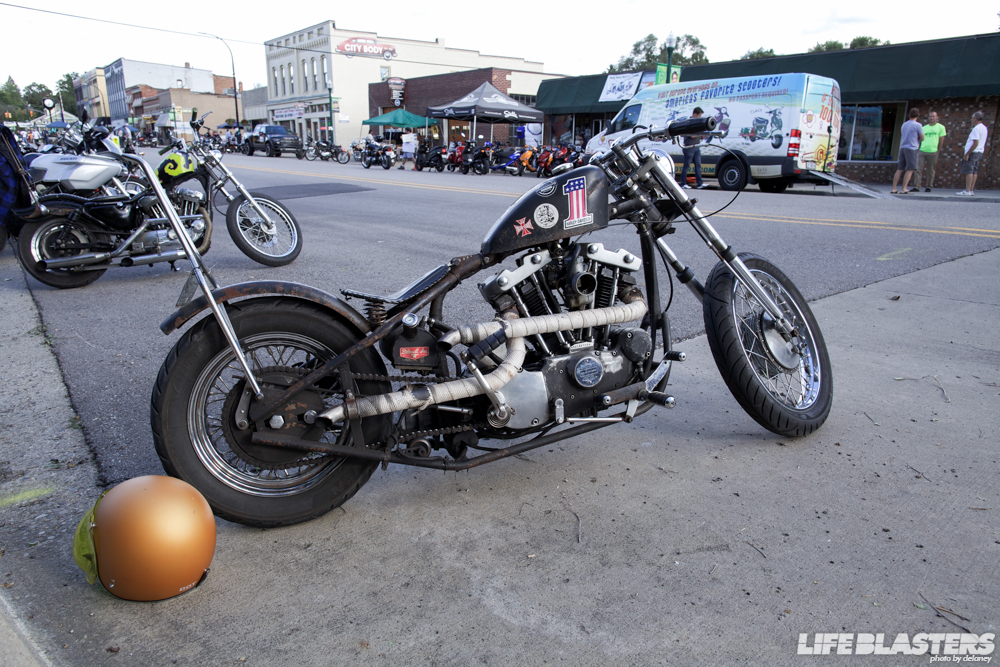 Speaking of Harleys, this one was quite different from what I'm used to. No big fairings or big chrome exhausts. A bit of a Cafe Racer mixed with a cruiser with the addition of the big sissy bar in the rear. I'm usually not really a Harley fan, but this is something I could deal with.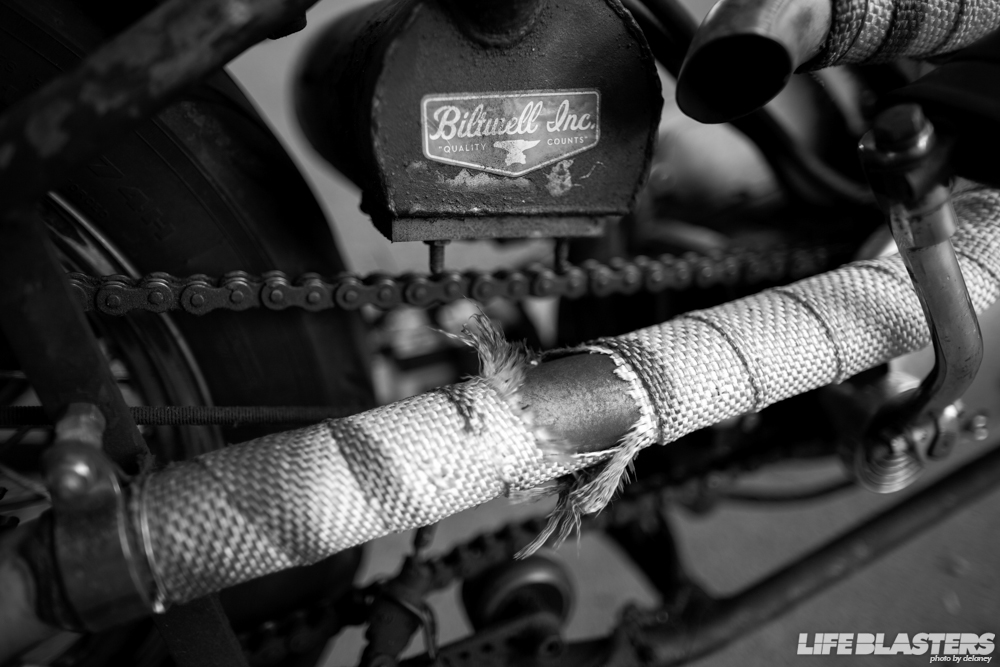 One of the coolest things about motorcycles is the details. Since everything is exposed, there's something everywhere you look on a bike.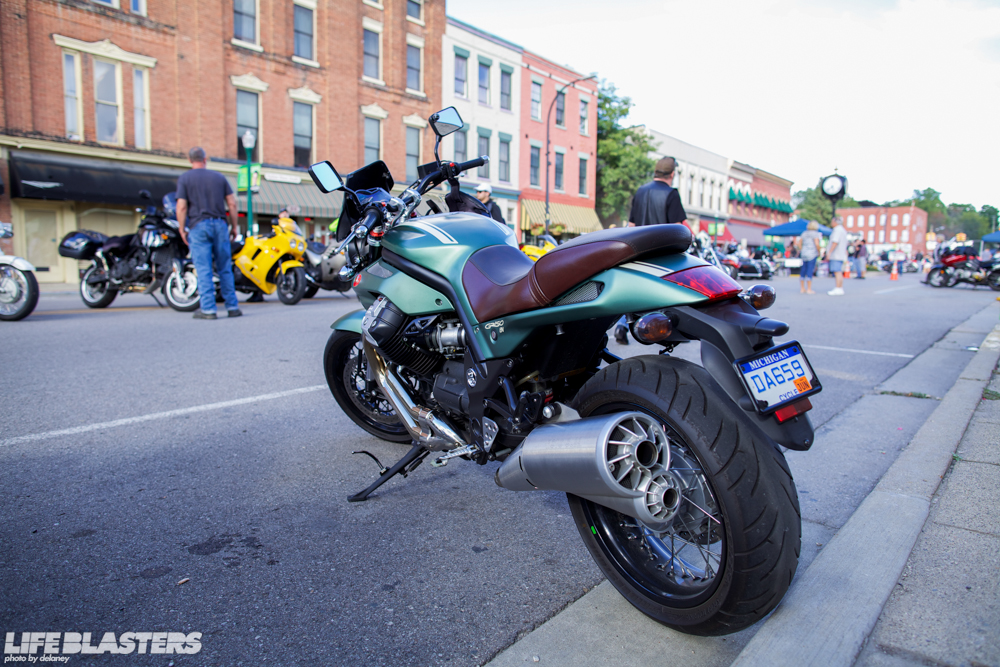 This Moto Guzzi Griso looked more like a Jaguar with the deep green paint and the leather seat.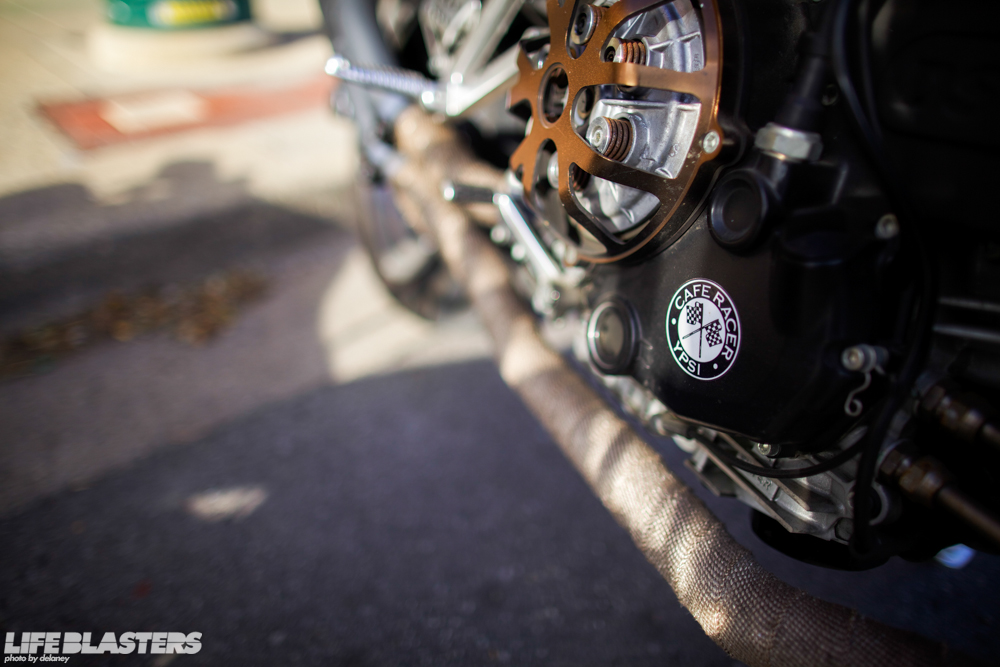 Almost every bike had a Cafe Racer sticker somewhere on it. I can't think of any other motorcycle cafes/bike building shops in Michigan, so this is probably a common stop for riders all over the state. The logo may look a little familiar; seeing it now so much pretty much guarantees my stopping again at Ace Cafe when I get to London later this year.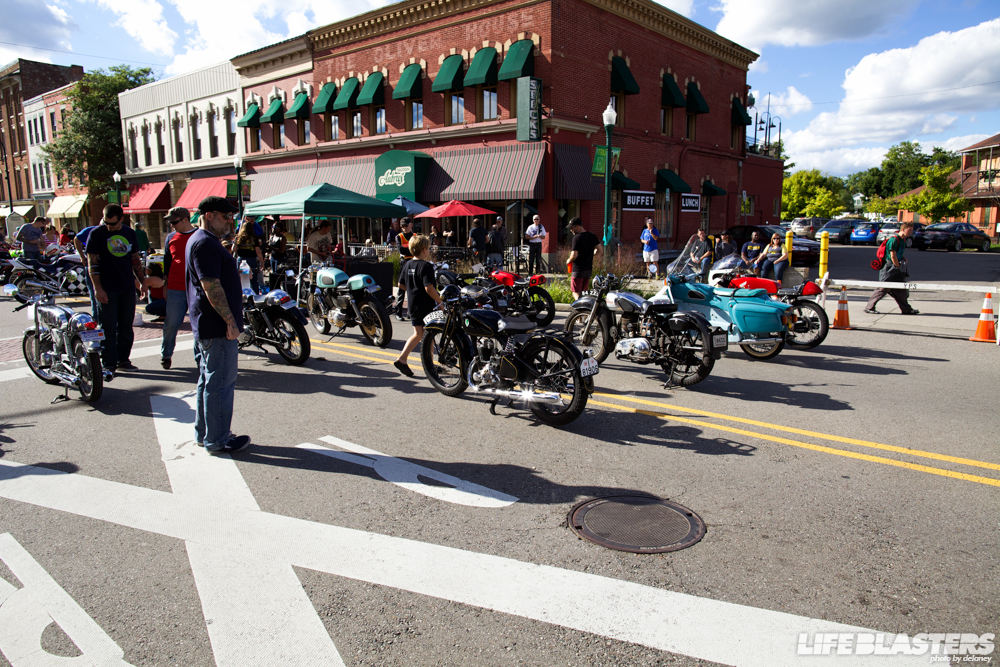 Now for the actual show. It was no where near as big as the Bearded Lady show Peter went to in Minneapolis, but it brought out a pretty good collection of bikes. Almost right after we got back to the show, they were announcing the awards.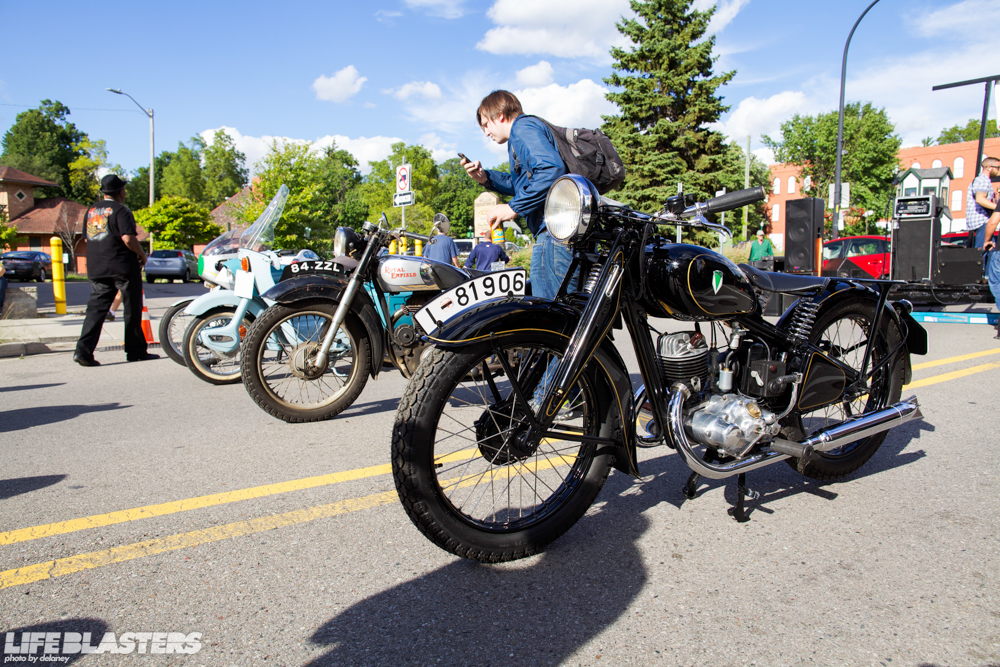 This '35 DKW SB200 caught my eye when we first walked into the show area, and not too long after, it was announced the winner of the People's Choice award. There's just something about the style of the pre- and just-post-war bikes that sits just right with me. Right next to it is a '47 Royal Enfield G350 which won Best Unrestored.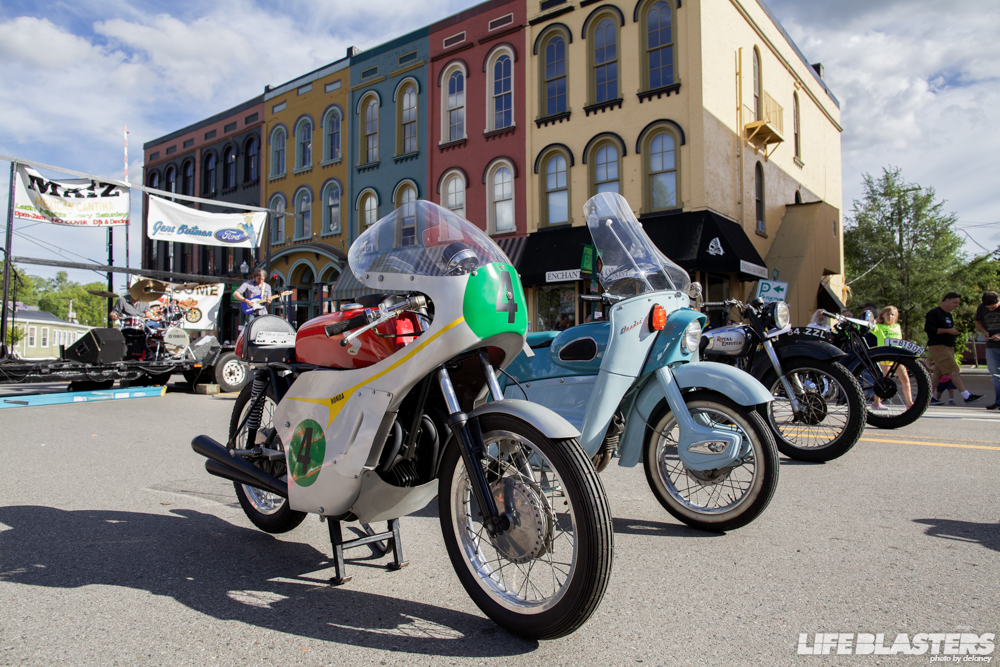 The CB400F from earlier won Best Altered, and next to it is a bike I've never seen or heard of. The '60 Ariel Leader which won Best Half Ton Bike, meaning smaller bike with its 249cc motor.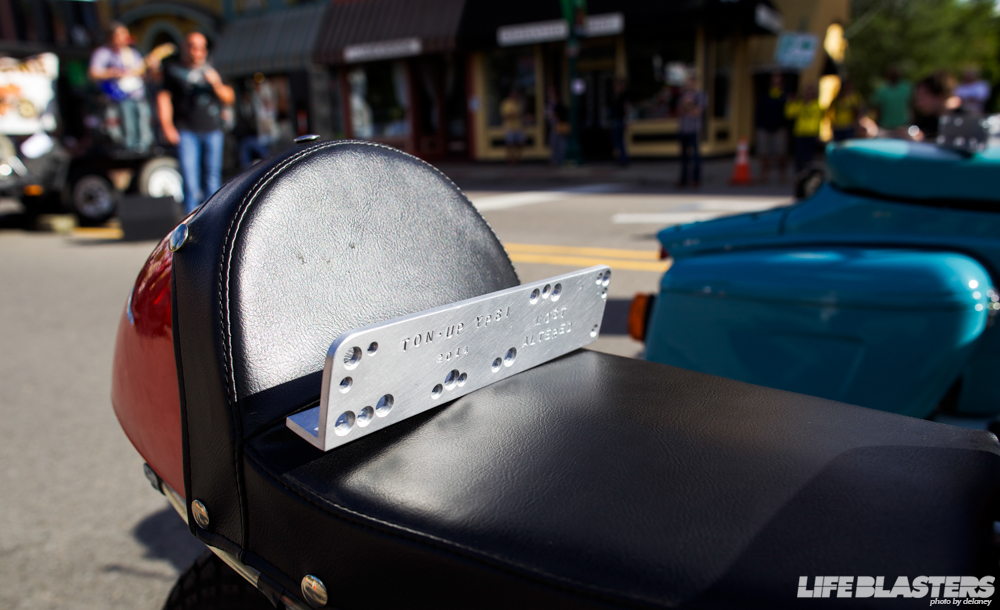 Every winning bike got its own engraved trophy made out of a piece of aluminum, which based off the atmosphere of the show was perfect. You have love to what happens when you run into random people and what they can inform you on. What was going to be just a normal Saturday turned into a day filled with something new that I'm usually not around. And thanks to that, we're already thinking of where to fit a motorcycle project in our garage.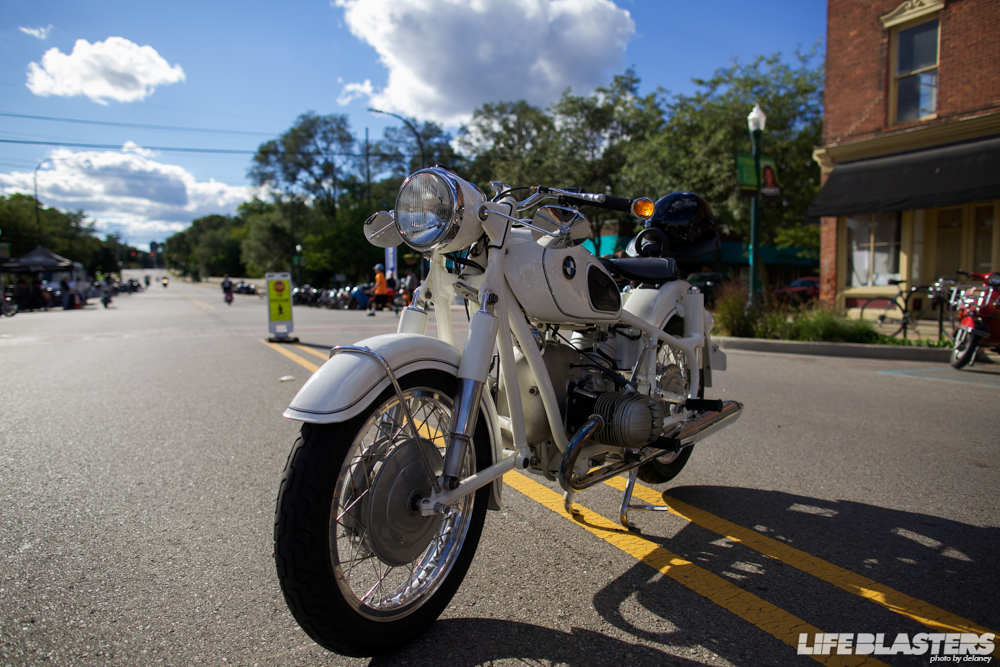 Let us all just take in the beauty of the BMW one last time.
Delaney
Email: delaney@lifebalsters.com
Instagram: @lifeblasters, @ericdelaney