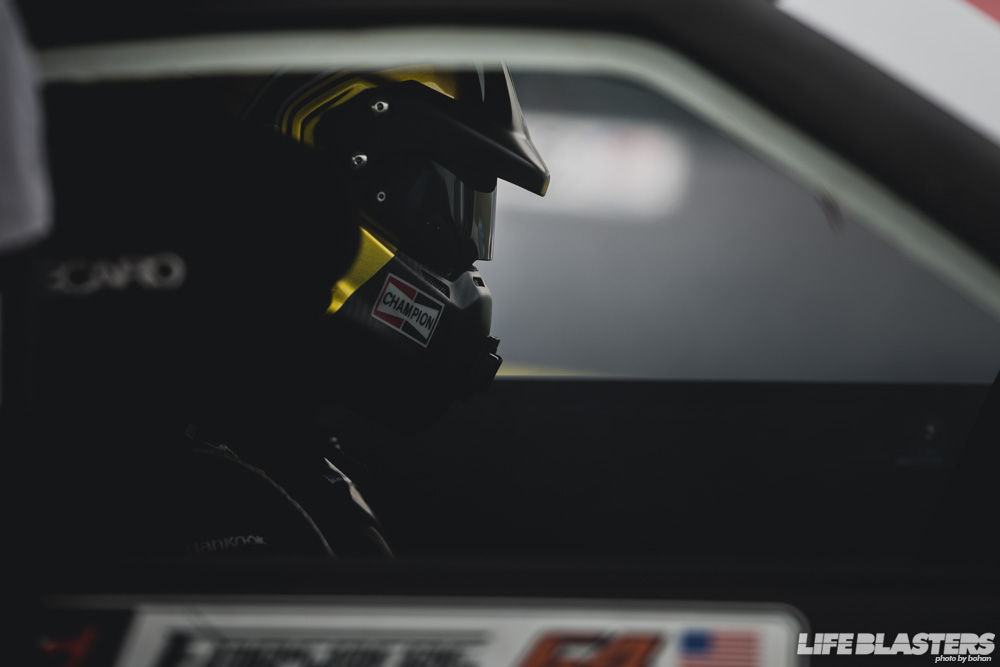 The 2014 Formula D season did the unexpected by, in retrospect, having the most obvious outcome. Before 2013, no one would have picked Mike Essa as the champ. In 2012 no one thought a rookie could take the title. This year, Chris Forsberg had about as perfect of a season as one could hope for, and not many people thought it could stay that perfect all the way to the end. But it did.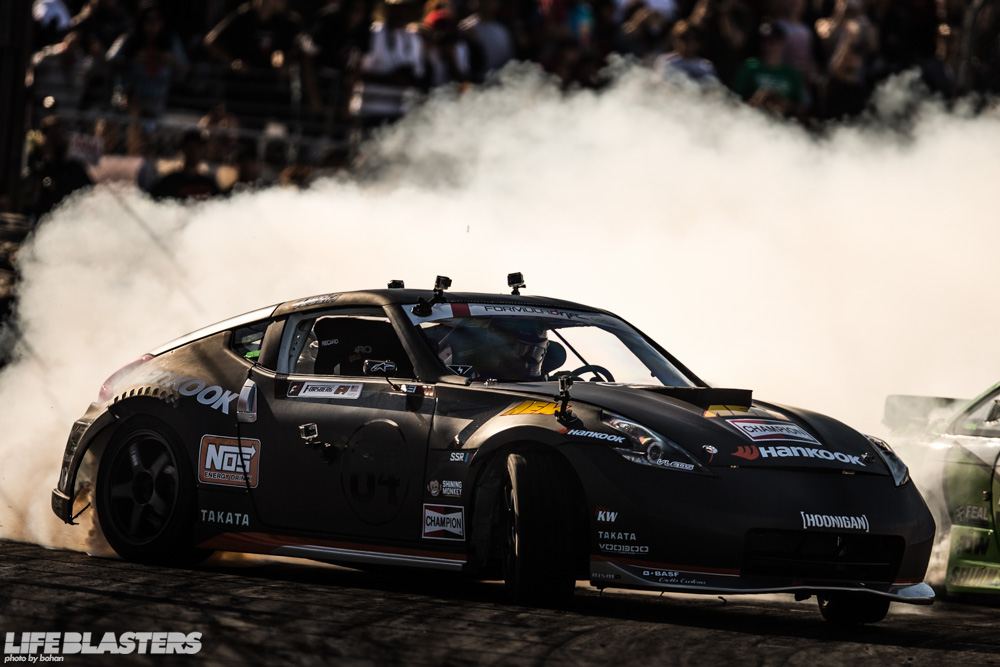 Let's do a brief review. In Long Beach, Forsberg hit the ground running, insanely hungry for the repeat title that he so narrowly missed in 2013. His hunger led him to the top of the podium, though Essa was right beside him.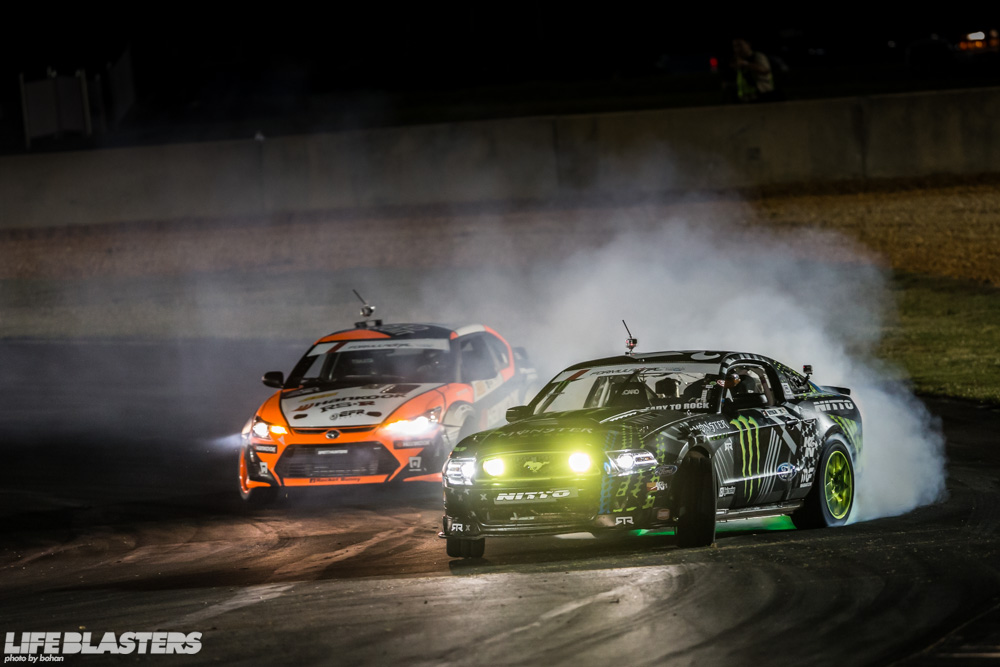 Forsberg finished third at Road Atlanta, while Fredric Aasbø claimed second after losing to Vaughn Gittin, Jr. in the final battle.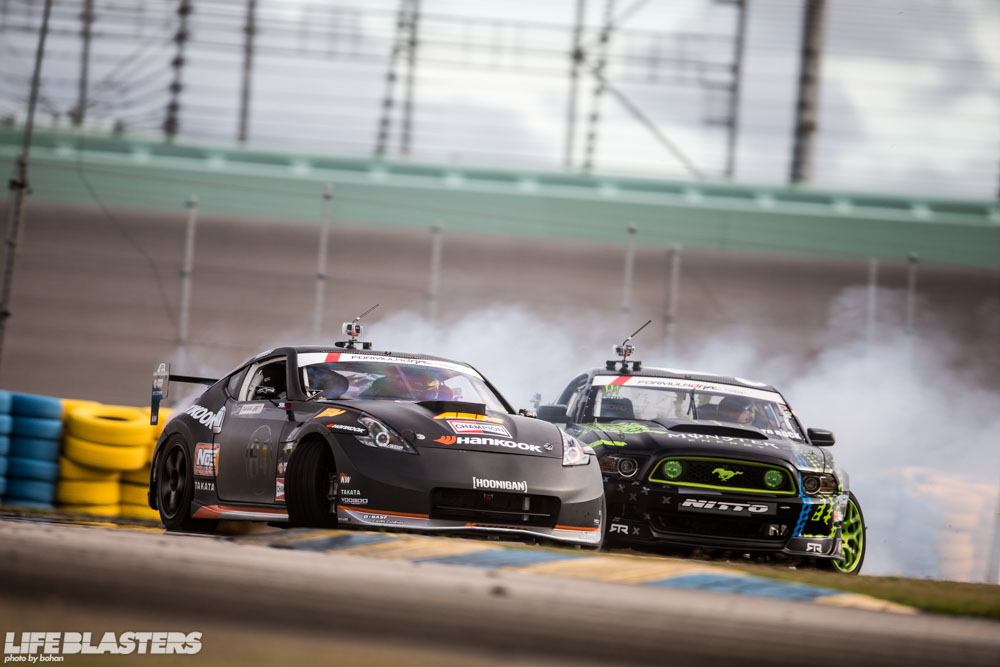 In Miami, Forsberg qualified first but had to settle for second after Gittin proved to be a threat. However, Forsberg was still leading the standings.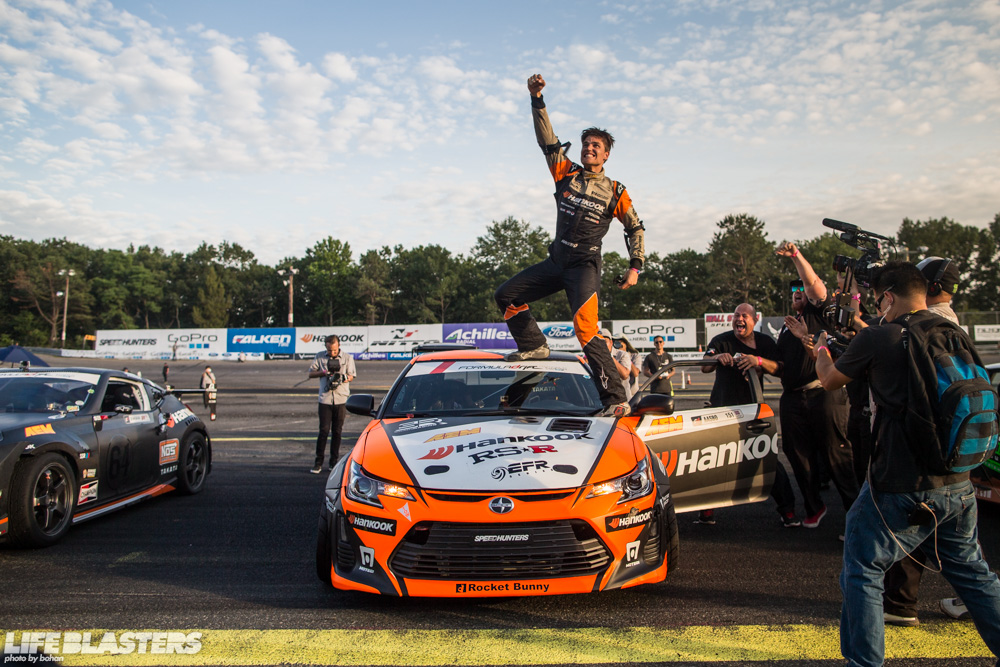 Aasbø solidified his season by beating Forsberg in the final battle and earning his first-ever Formula D win at Wall Speedway, but with Forsberg again qualifying first and Gittin losing early in the day, Forsberg still held the points lead.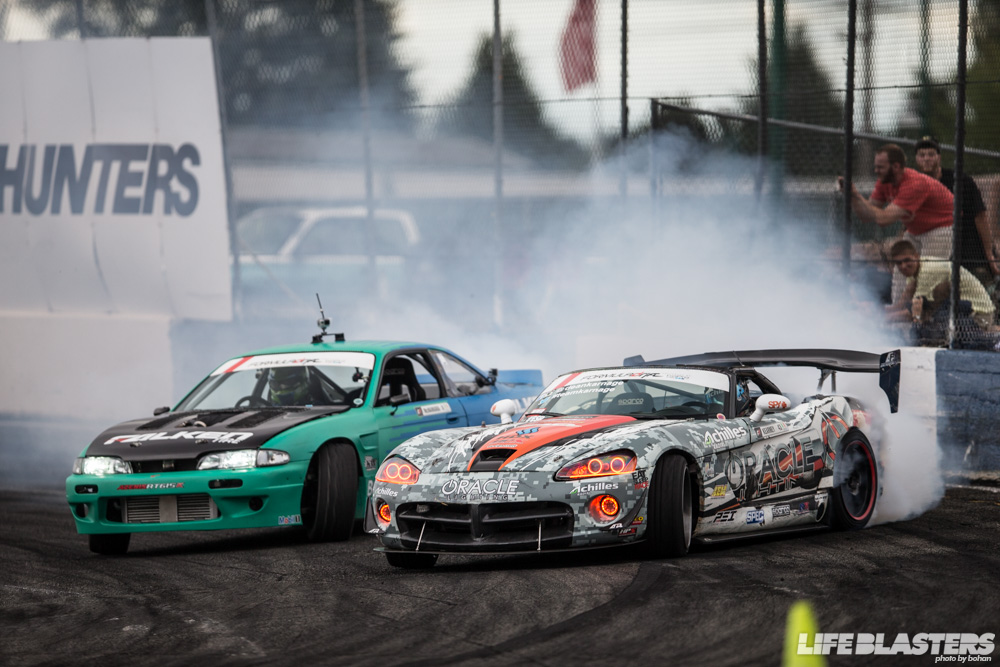 At Evergreen Speedway, Darren McNamara and Dean Kearney made a surprise visit to the the top two steps of the podium, but who was right up there with them? That's right, it was Forsberg, for a record 5-for-5 podium finishes. Aasbø finished fourth and tied Forsberg in points that round, so Forsberg didn't extend his lead at all.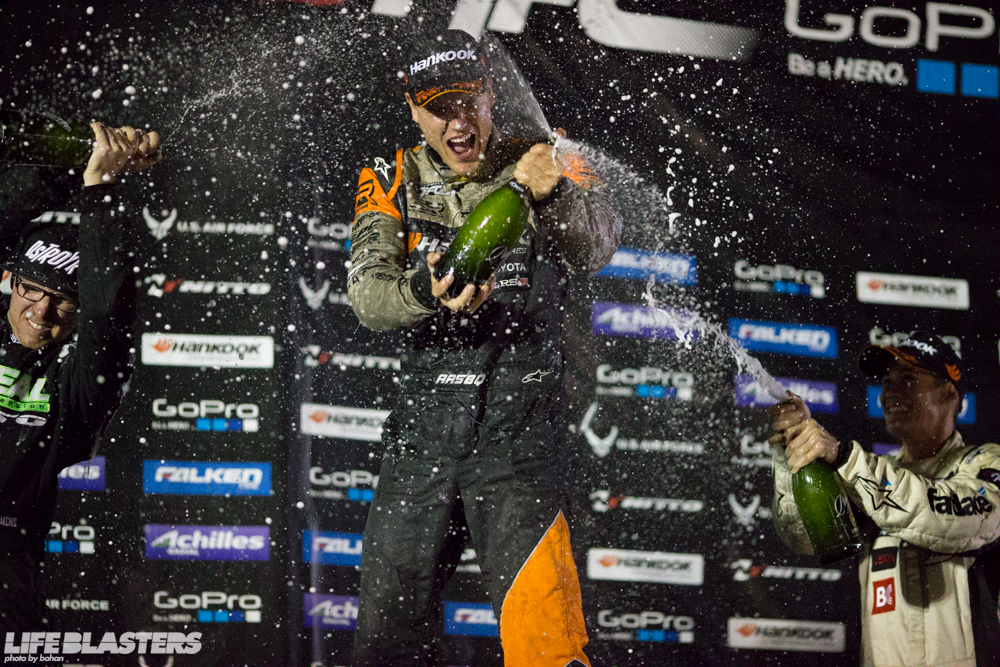 In Texas things started to slip for Forsberg. He finished fourth as Aasbø got his second win of the season, closing the lead to only 26 points.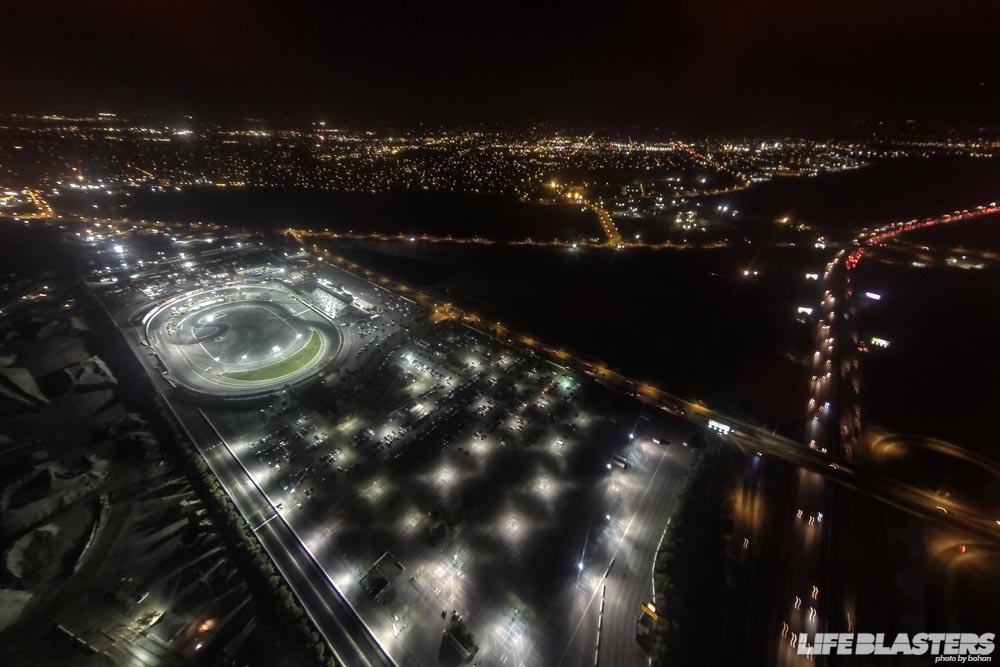 And that brings us to Irwindale. Could Aasbø score 26.5 more points than Forsberg, denying him of his second championship, while claiming his first? The difference between first and second place is 20 points. First and third are 36 points apart. It was well within Aasbø's grasp if they performed similarly to Texas or Evergreen. They both looked strong in practice. There was no doubt about that.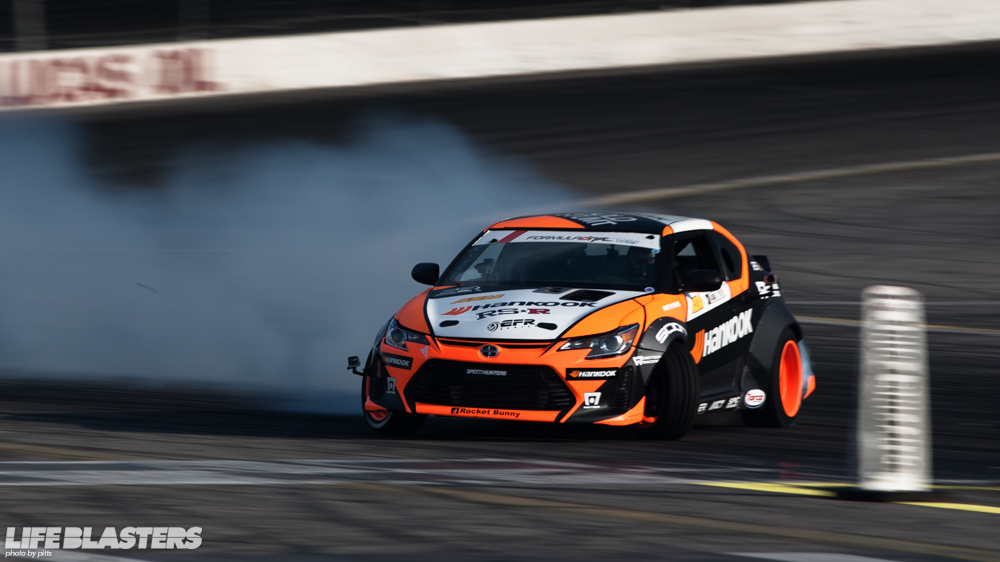 But just before qualifying, the block in the tC cracked. It would be no problem for Papadakis's crew to swap an engine in time. They swapped the engine between qualifying runs in Miami! Aasbø rolled out to the grid with plenty of time to spare, and laid down a 70 point run to land him in 15th.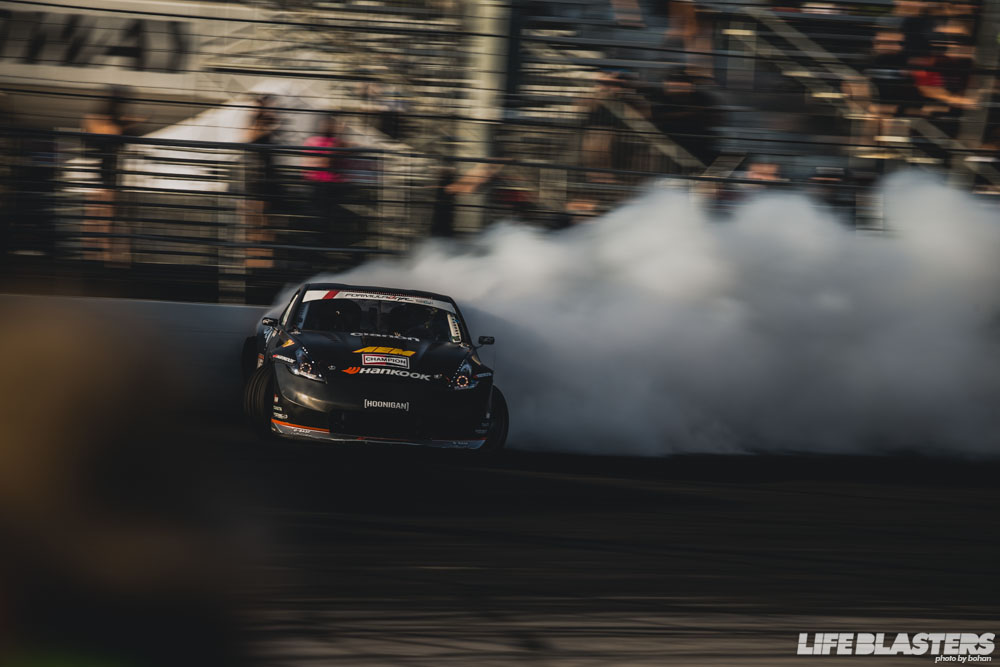 Forsberg answered with an 80 point run, which was enough for 4th, and bumping Aasbø down to 16th.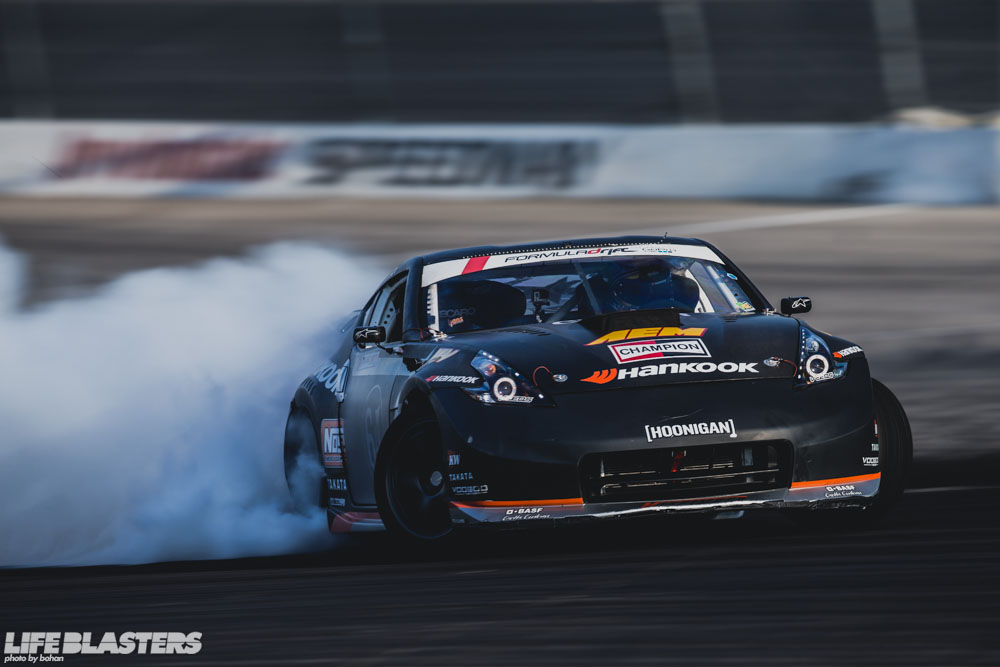 In the second round of qualifying, Aasbø bettered his position while Forsberg did not. They ended up 10th and 6th respectively. 10th is worth 3 points and 6th is worth 4.5, so now Aasbø had to make up 27.5 points.
Their positions in the bracket also meant that they'd meet in the Final Four if neither went out early. If Forsberg lost, he'd have 64 points. Aasbø would have to win the event to win the championship. If Aasbø lost, Forsberg would automatically have it. I tracked down the 2009 champ to see how he felt about going into the Top 16 with his second championship almost in the bag. He said, "Well, nothing's in the bag. Aasbø's still in it, we're feeling great, our car is on point, Aasbø does have to finish above us to earn the championship so we're gonna keep charging and see if we can get all the way to podium to seal it ourselves."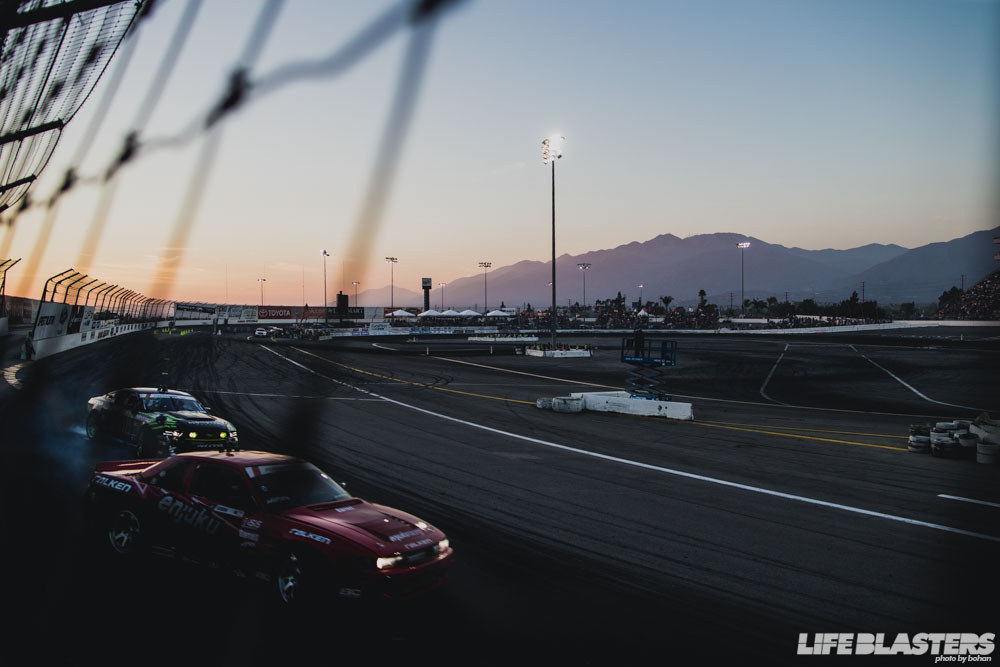 Saturday finally came and the teams prepared for battle. Top 32 went more or less as expected. Wang over Coffman, Bakchis over Jones, Grunewald over Briggs, Saito over Savage. McQuarrie put himself into the wall against Baribeau. Tuerck let Aono get his first win in several years. Gittin beat Goodin, Aasbø beat Landreville, and of course Forsberg got a bye run over Stoneback, who had a broken car.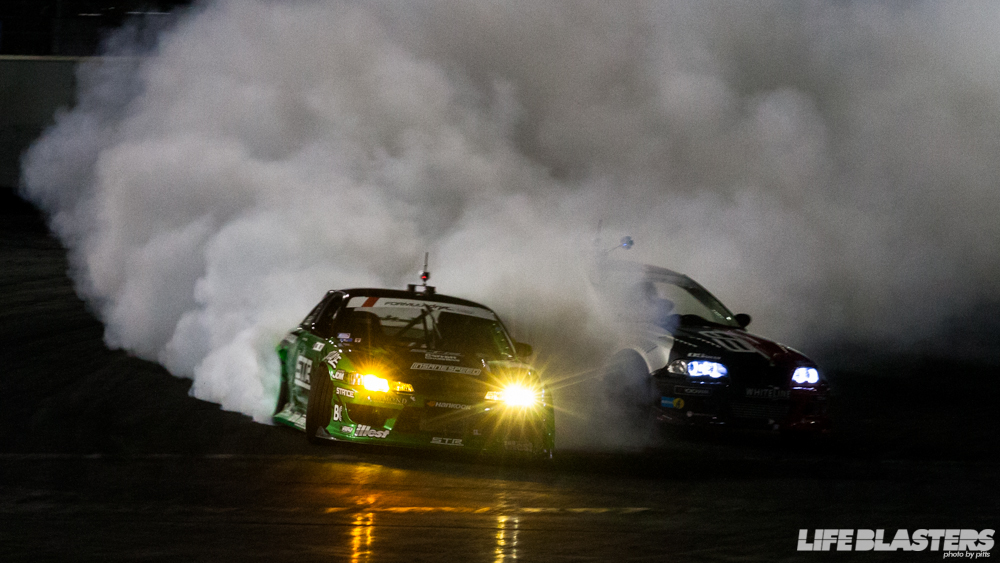 Top 16 was more of the same. Wang took out Essa, Bakchis took himself out against Grunewald, Saito and Nishida beat Mohan and Gushi. Yoshihara beat Kearney, Field beat Aono, Aasbø came out on top against Baribeau, and Forsberg beat Gittin.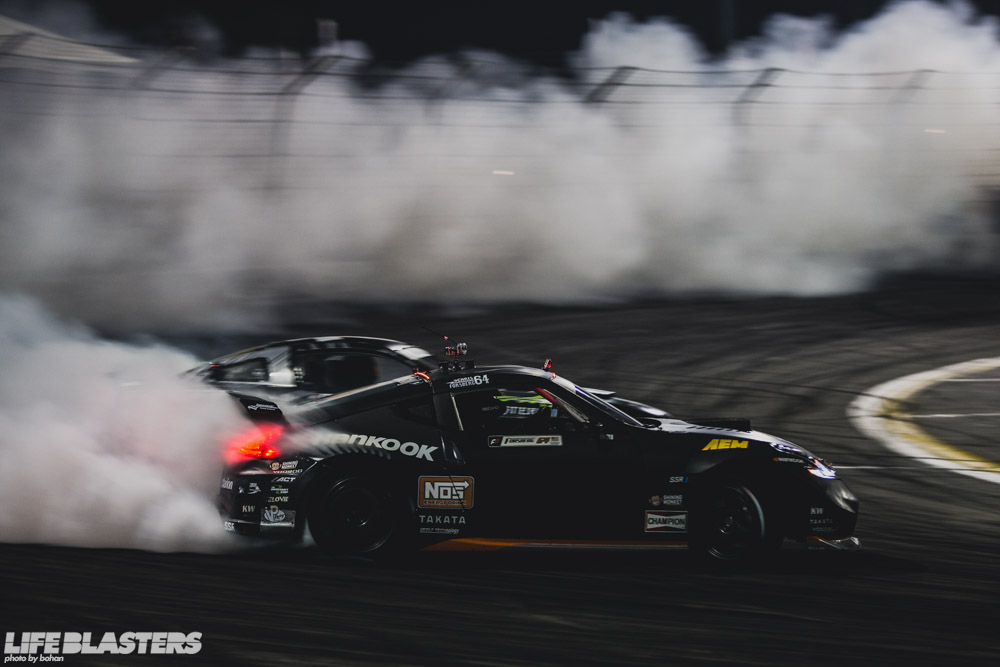 Of course, now the conspiracy theorists are crying foul about this battle. Did Gittin throw his chase run on purpose to give his Drift Alliance brother an easier chance at the title? I guess that's possible, but I didn't hear about any protests à la Forsberg protesting against Luke Pakula's car breaking at the best possible moment in 2013.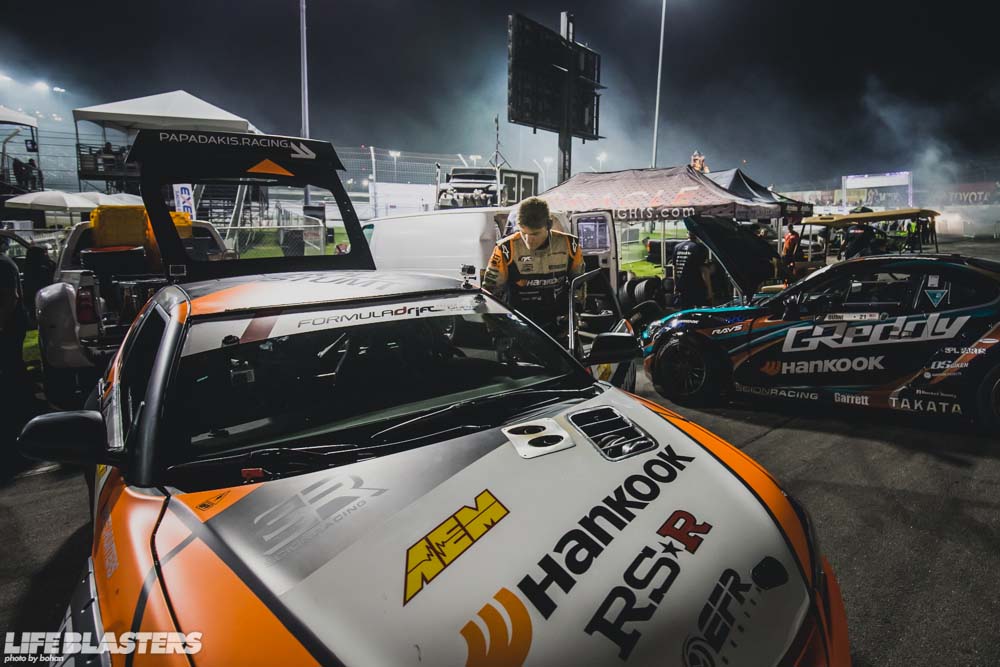 The stage was now set for the Top 8, where things were bound to get really serious. Wang vs Grunewald, Saito vs Nishida, Yoshihara vs Aasbø, and Field vs Forsberg. I asked Aasbø if he was nervous as he was going for his first championship. "Always!" he said, " but it's a good nervous. I love putting myself in the corner and having to jump. That's what I live for."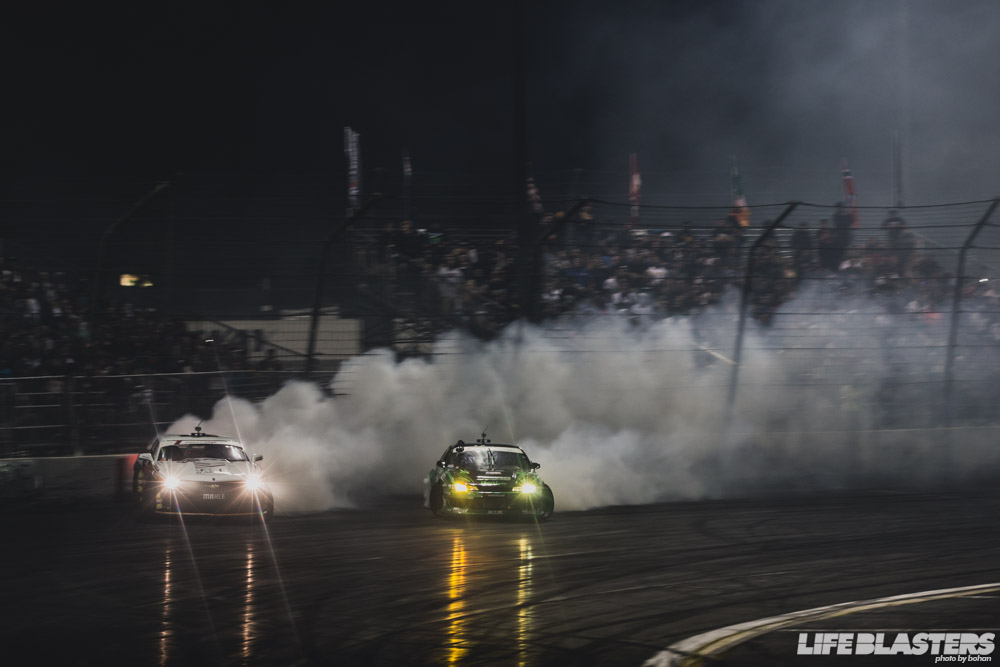 Wang was the number one qualifier and had gotten his first podium last year at this very round. Grunewald had been having a rough season but had experience on the top step. Not this time though. Wang moved on to the Final Four and with his qualifying spot he was guaranteed another podium finish at the House of Drift.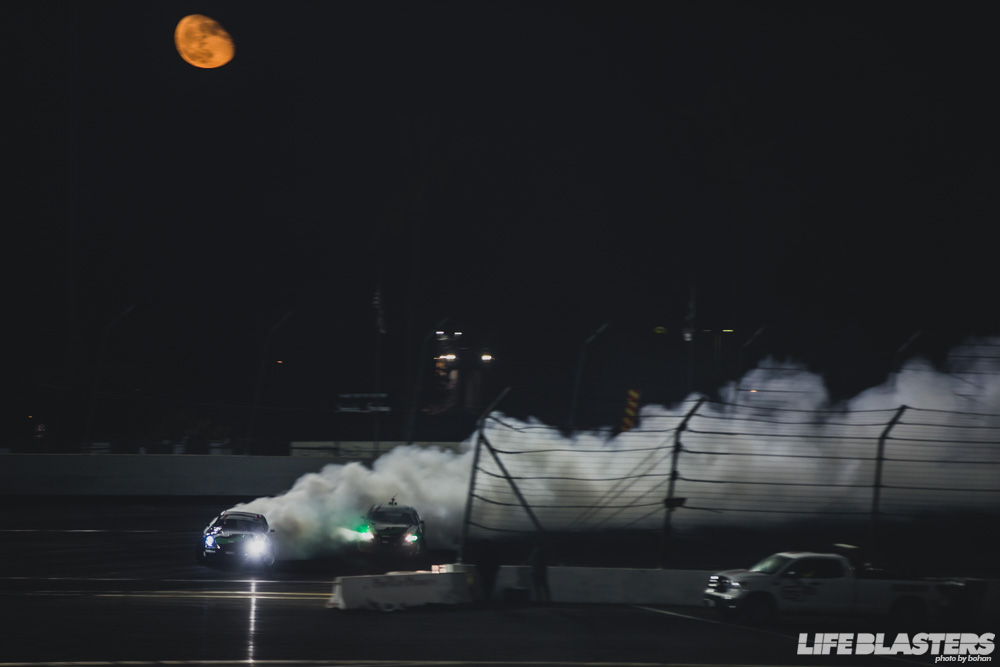 Going into this round, Daigo Saito had never lost a battle at Irwindale. Nishida had, so the odds were not in his favor. The odds came true and Saito moved on to face Wang.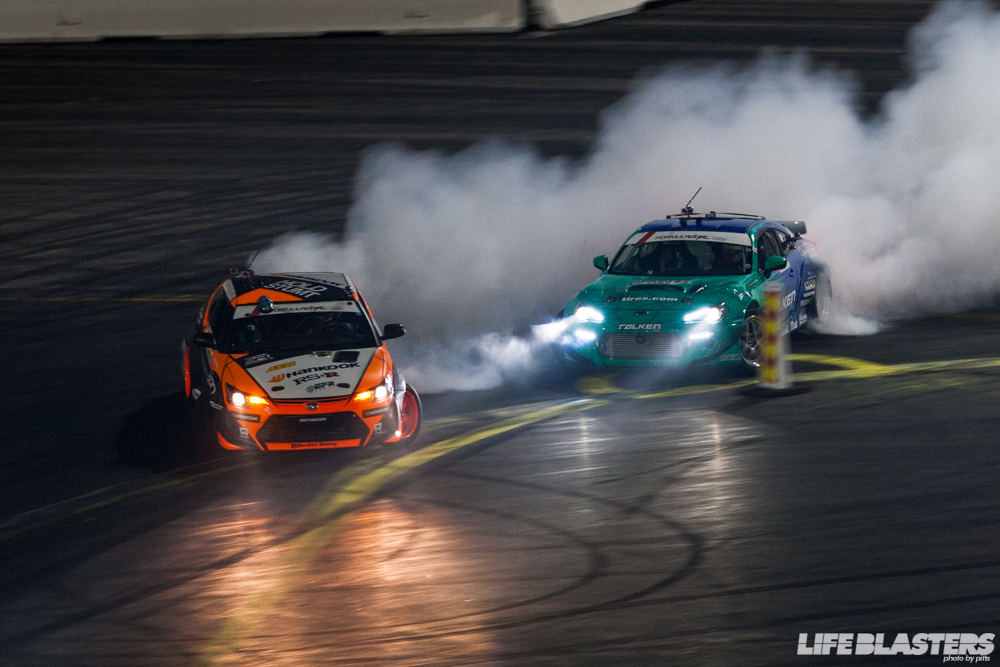 Yoshihara was having his best round yet in his new BRZ, but Aasbø was solid and didn't let the 2011 champ get any further.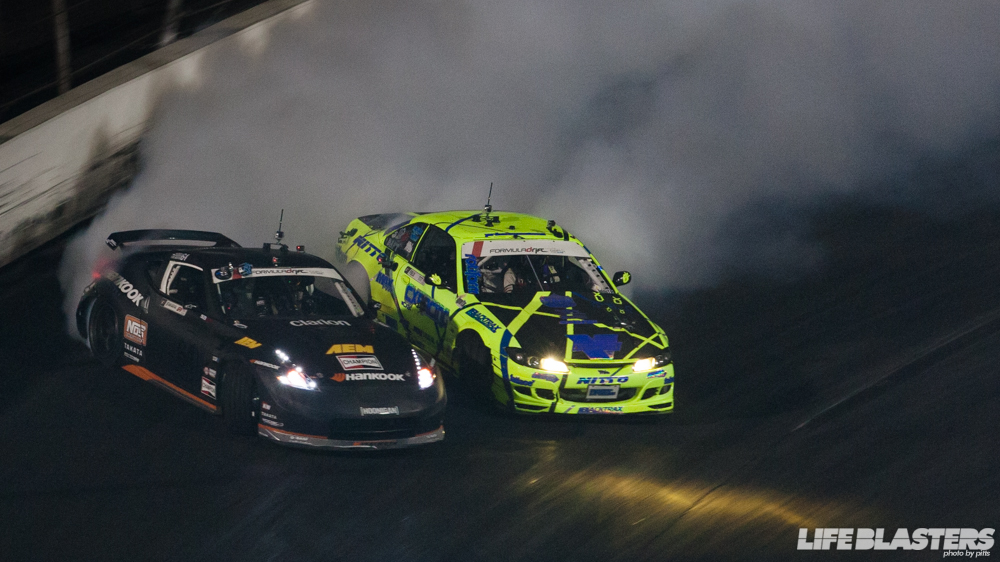 Field had also been having a rough season, but had had success at Irwindale. And then there was Forsberg, nearing the end of one of the most perfect seasons on record. He ended Field's weekend right there and prepared to do battle with the Norwegian Hammer.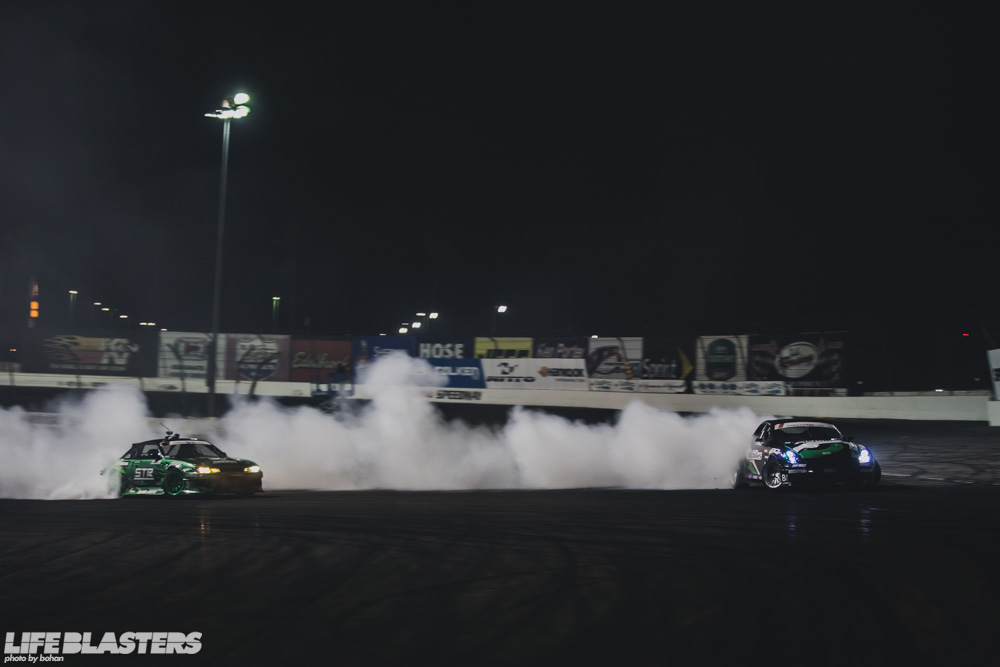 Saito smoked Wang, relegating the Hawaiian driver to 3rd place and securing himself a spot one of the other steps on the podium. That's not bad considering he qualified way down in 29th.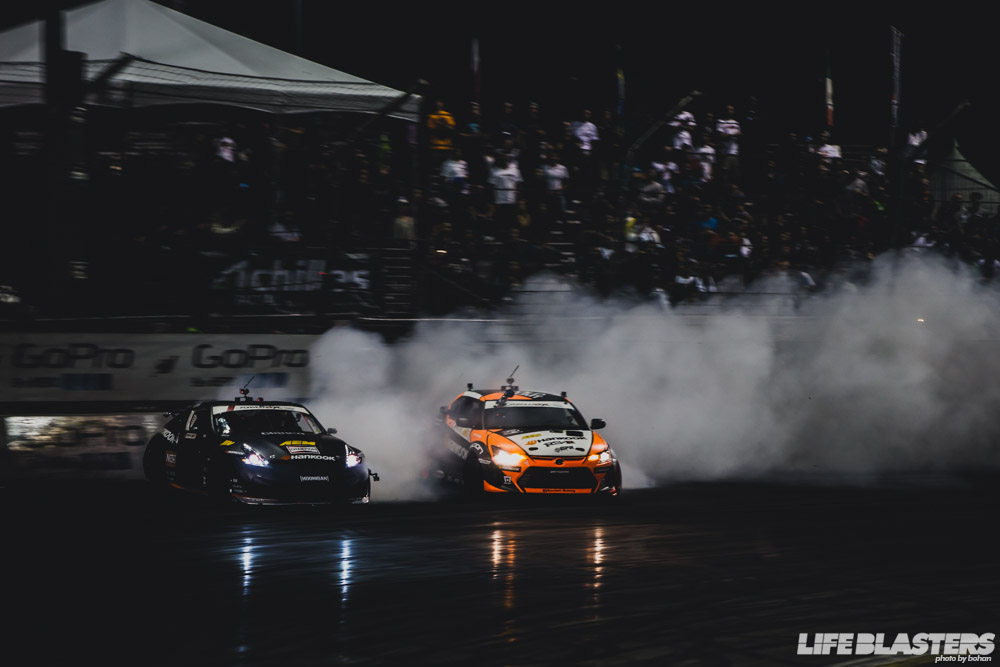 And then then we had the battle everyone came here to see, the battle everyone needed to see. Forsberg and Aasbø had seen battle many times recently, and Aasbø always seemed to get the upper hand.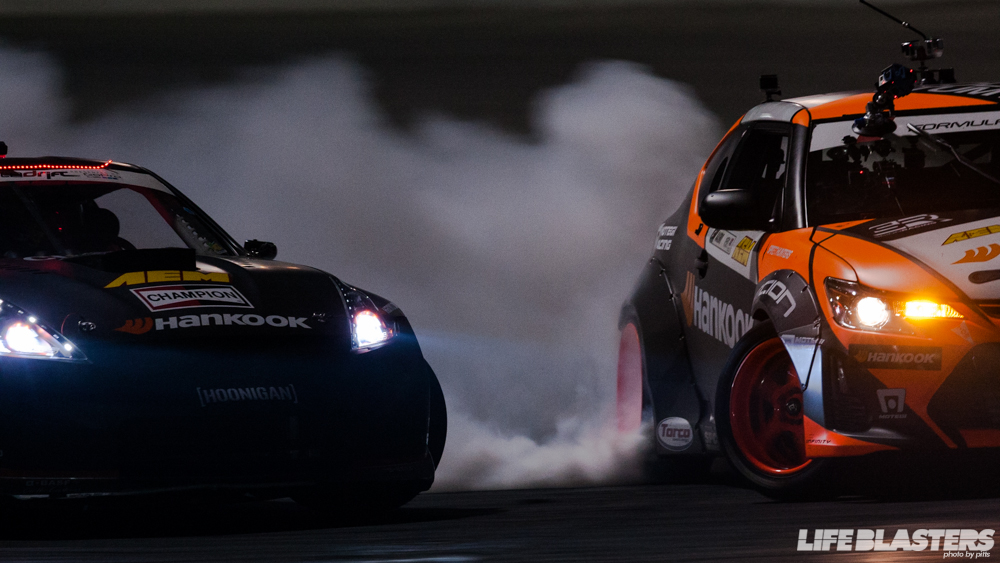 That's how it went down this time too. Aasbø laid down one of the most incredible chase runs of his career, and Forsberg didn't have an answer to it. It was time for Forsberg to go park his car and watch the final battle from the sidelines. "He's our kryptonite," Forsberg said later.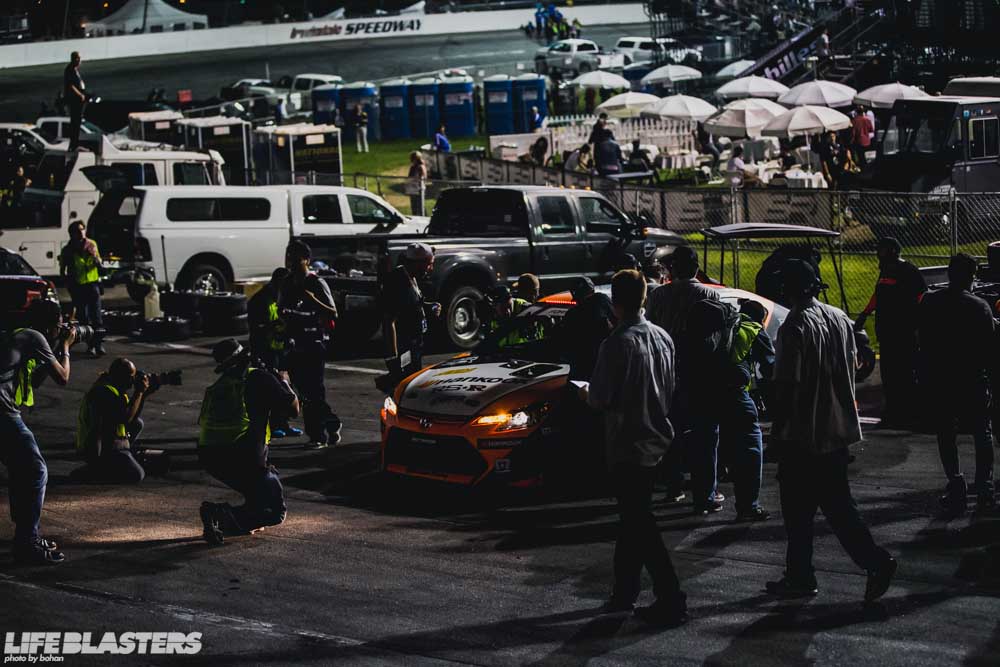 The Papadakis crew got the tC ready for one last battle. It was the most important battle they'd ever been in. It really was do or die. If Aasbø won he'd be the 2014 champion. If he didn't, Forsberg would have his repeat. He only had Saito in the way, and remember that Saito had never lost a battle at Irwindale.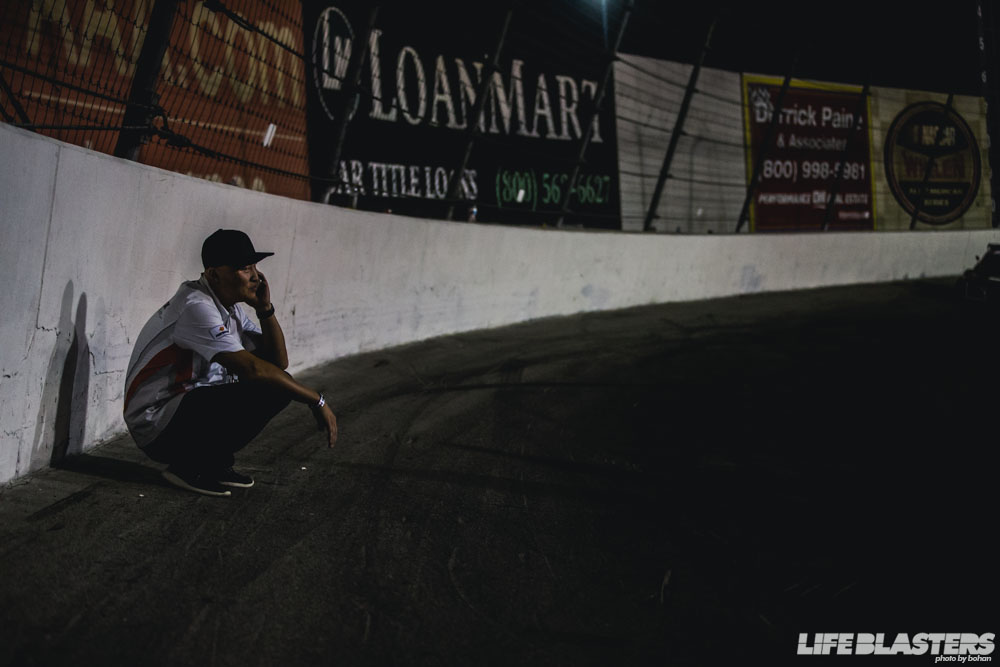 It didn't really matter to Hankook. Since Aasbø and Forsberg were both running their tires, Hankook had the championship either way.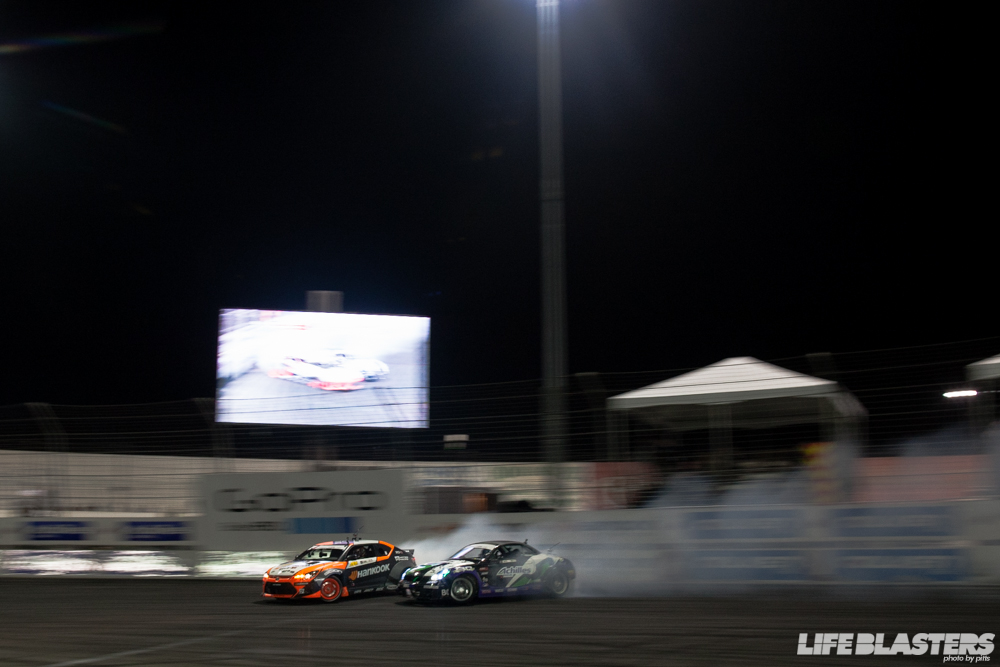 Aasbø led first and the Ninja didn't let the Hammer gain any ground on him. Aasbø was perfect, and Saito was a perfect mirror.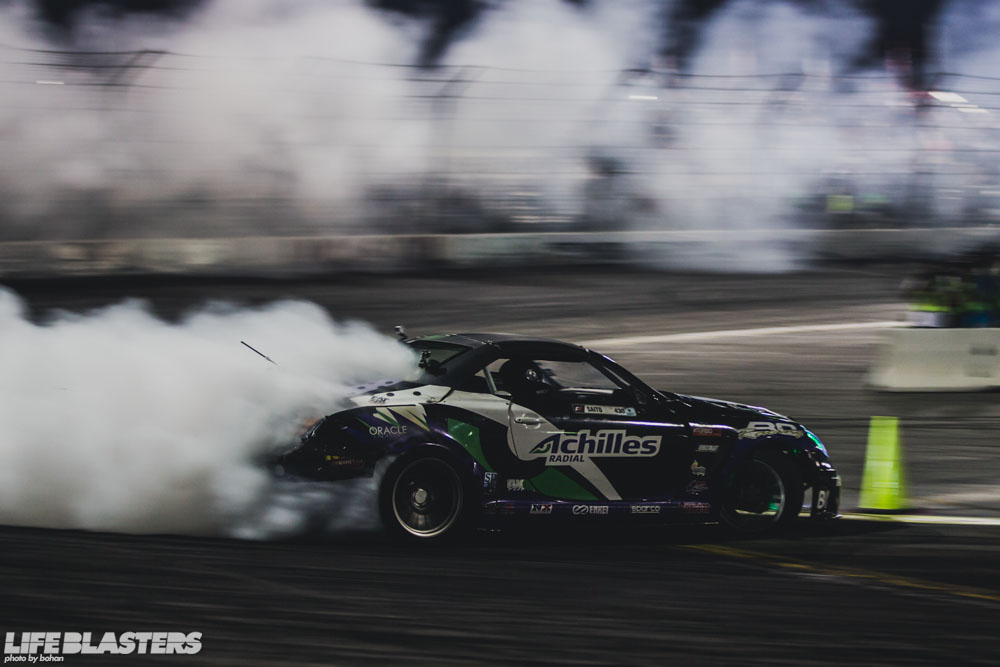 Aasbø apparently used up all of his chase skills against Forsberg, as his chase against Saito was far less than ideal. Things weren't looking good for Aasbø, but Forsberg's team was starting to smile.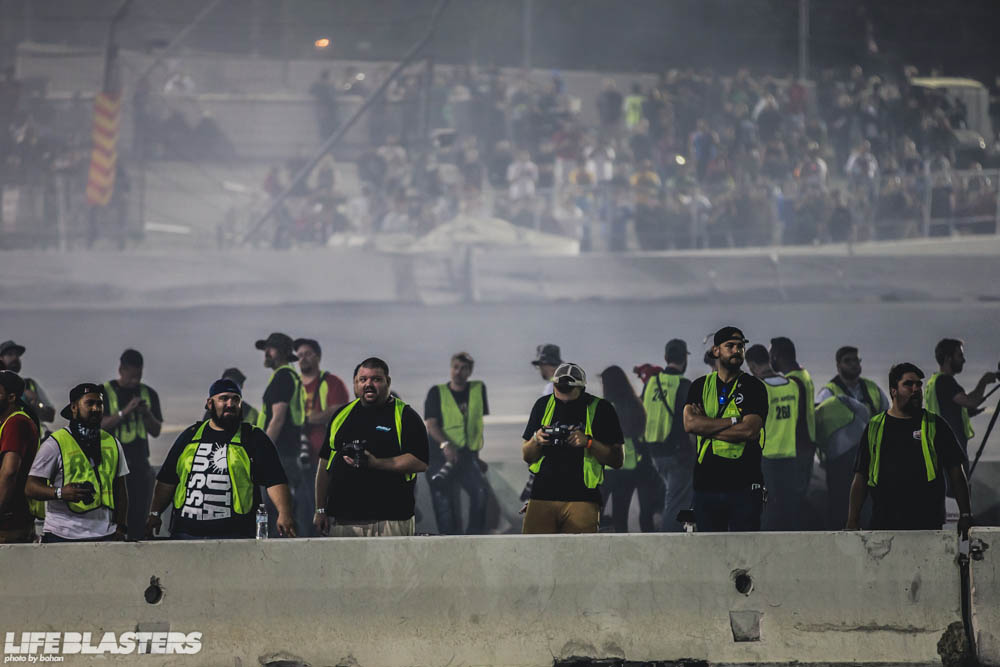 Everyone waited in anticipation of the verdict. Aasbø? Saito? One more time? There was a verdict and the two drivers brought their cars over to the crowd, followed by Wang and Forsberg, for the announcement.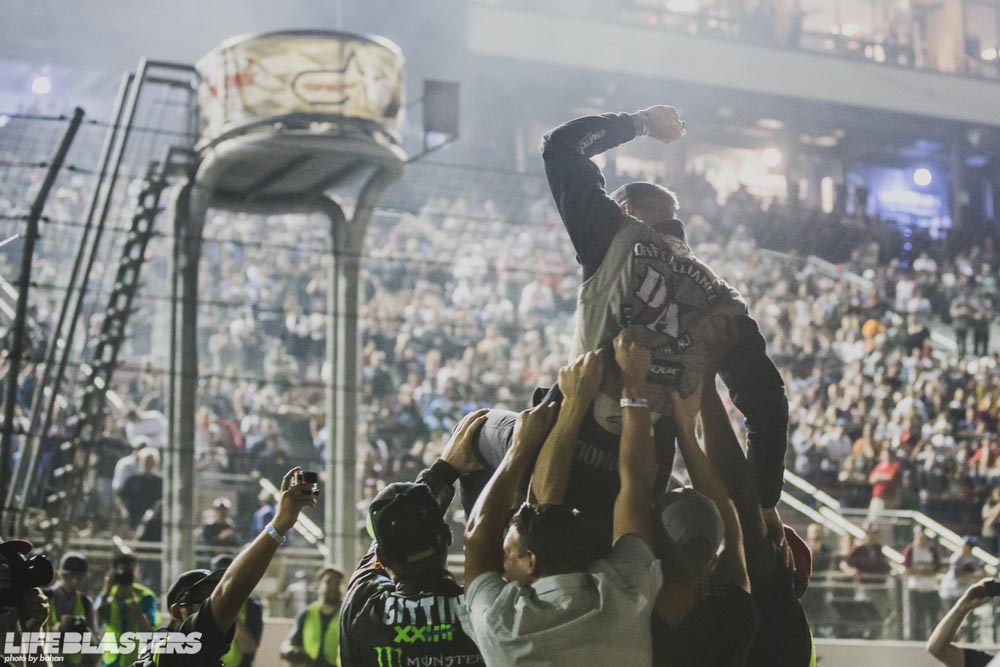 Saito was announced as the winner and all attention immediately went to Forsberg, who, in the nail-biter of the decade, snatched his second Formula D championship. He's the third driver to have accomplished this, the first being Sam Hübinette (04/06) and the second being Tanner Foust (07/08). Foust is still the only driver with back to back championships. No one has three.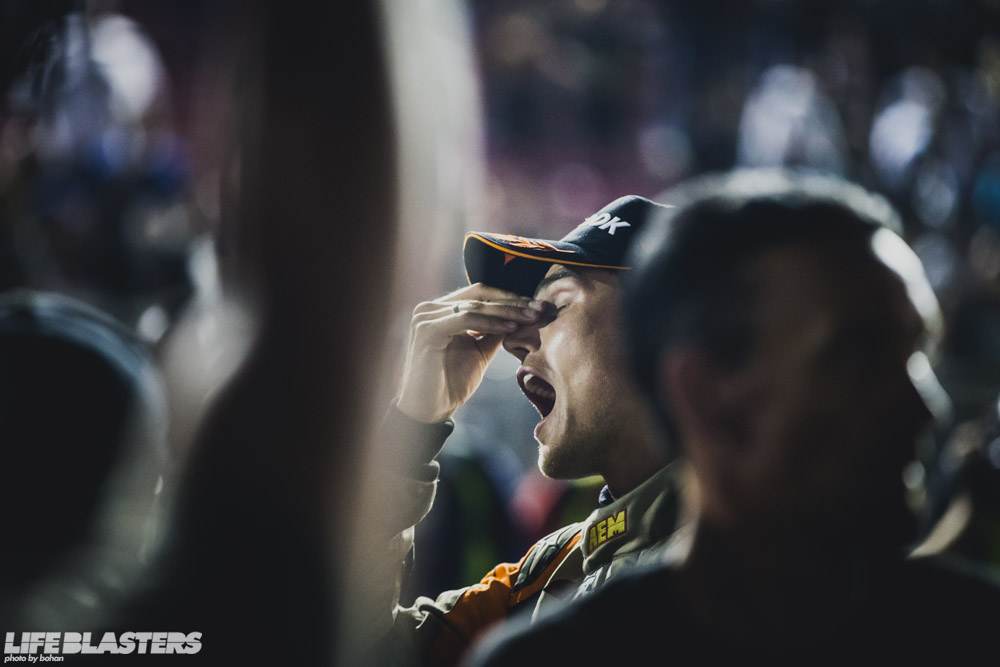 Aasbø was bummed, and rightfully so. It was an incredible effort from an incredible driver and team, stopped short by that driver who now has a 15-0 battle record at the House of Drift.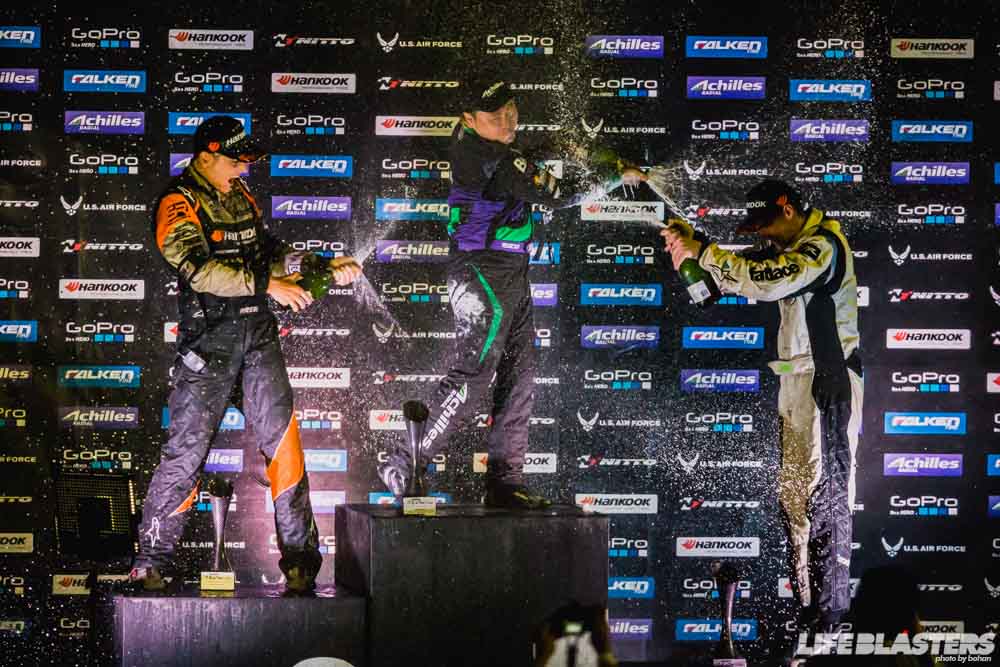 Still, Aasbø has achieved a lot. Second overall, up from fourth last year, 6th in 2012, 12th in 2011, and 13th in 2010, his rookie year. He's only ever improved his finishing position, so what will 2015 bring?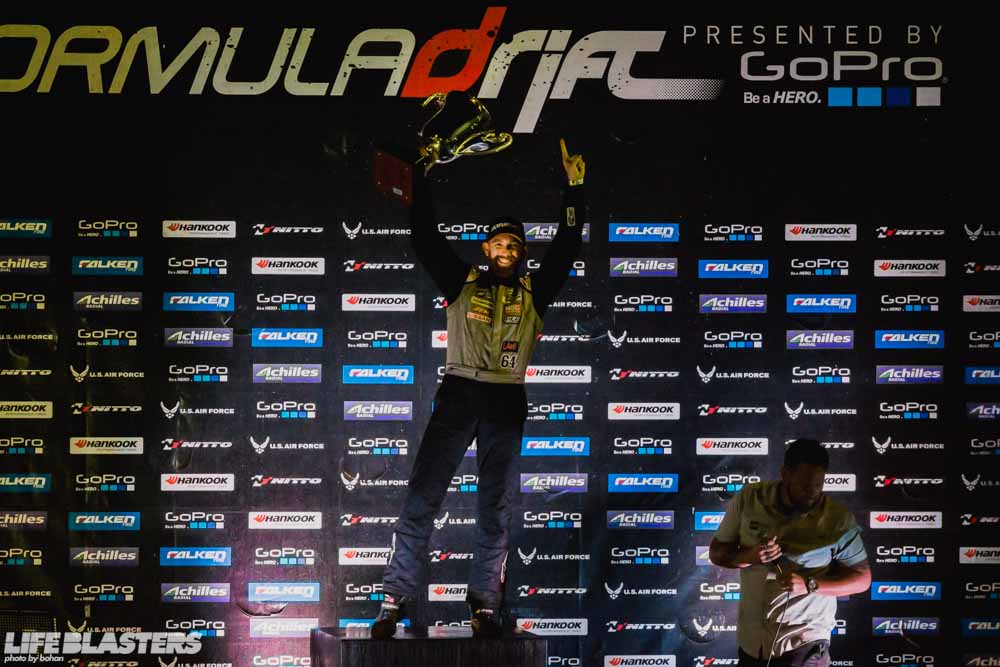 You can bet Forsberg will be back looking for number three.
.:Bohan
Photos by Bohan & Pitts
email: bohan@lifeblasters.com, pitts@lifeblasters.com
instagram: @lifeblasters, @andrew_bohan, @blasterforce1