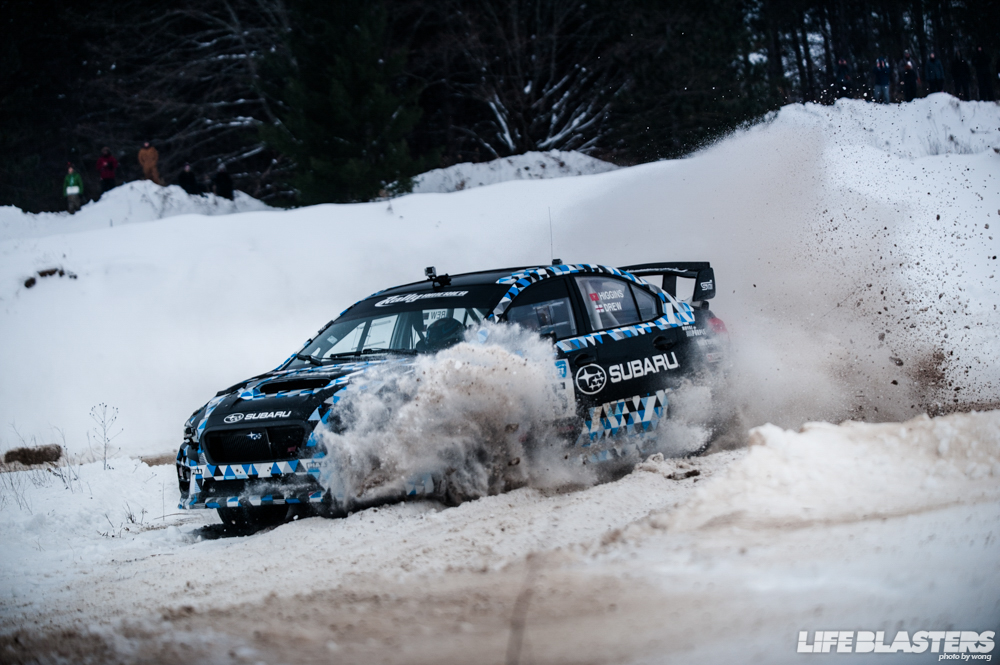 Sno Drift, an event I look forward to every year, traveling up north to stand in the middle of the forest to watch a bunch of cars race by every minute or so. But this year was different. Very different. I'm sure some people have seen articles about the event talking about the possible downfall of Rally America. I don't really want to be another person that rants about this, but it was the elephant in the room all weekend.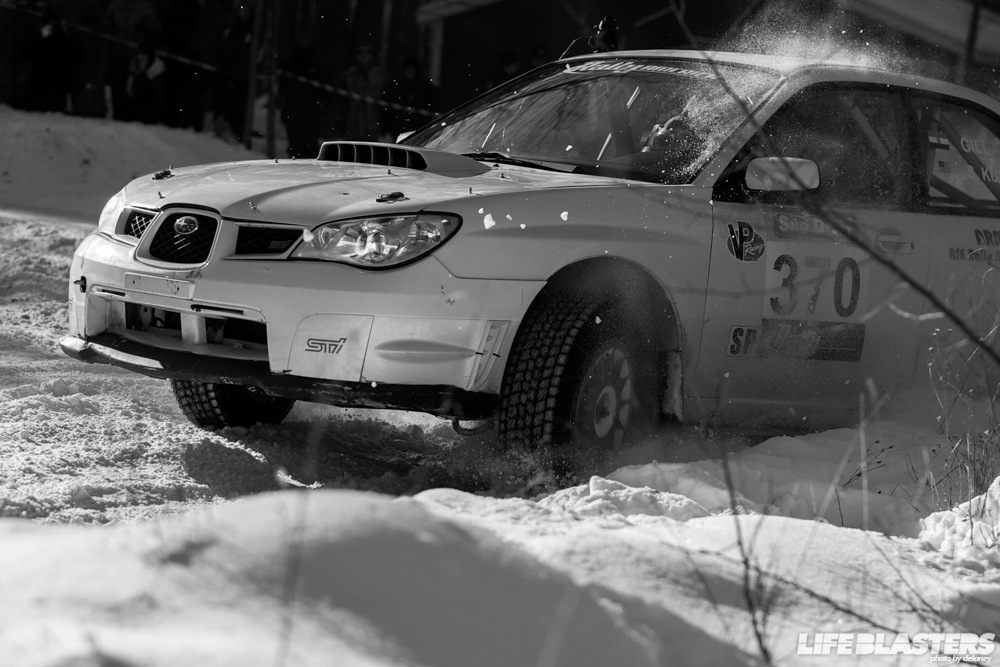 Wong flew to Chicago on on Wednesday and came to my house outside of Detroit for the night, then we left early Thursday for Sno Drift. We got to Atlanta around two in the afternoon, so we decided to recce Friday's stages to try to get a better idea of what was coming. We were pretty hyped that we recced the stages because it gave us the feeling that we were well prepared for the first day of rally.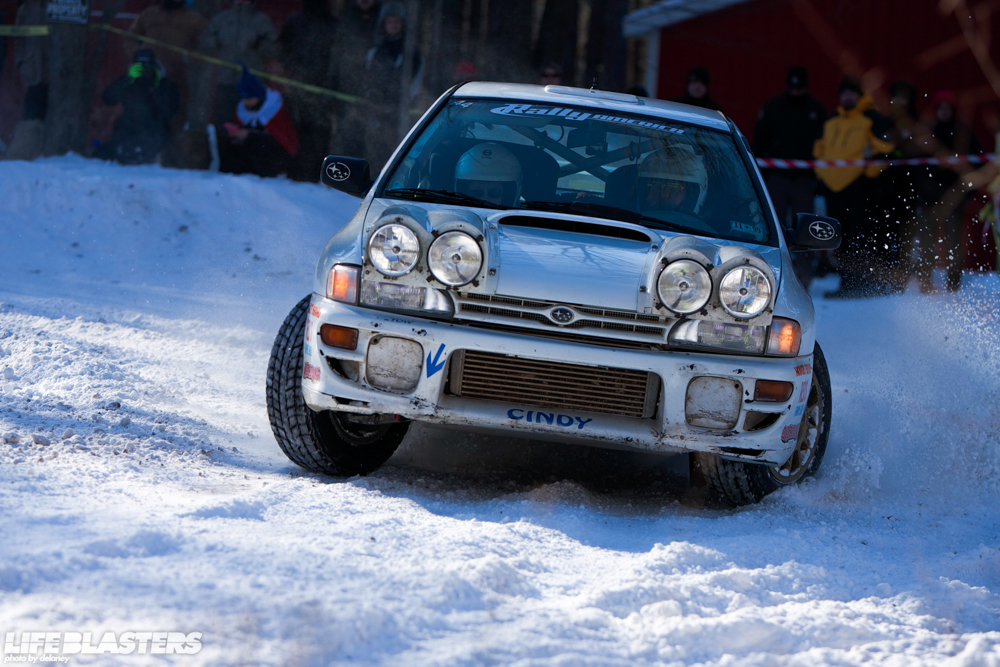 Our excitement quickly faded after our first stage of the day. As usual, the roads were covered in ice under the thin blanket of recent snow. So after the first few cars, everyone was understeering and taking the corners at normal driving pace. The husband and wife team of Henry and Cynthia Krolikowski have been running this same car since I've been going in 2008, which is pretty awesome to see every year.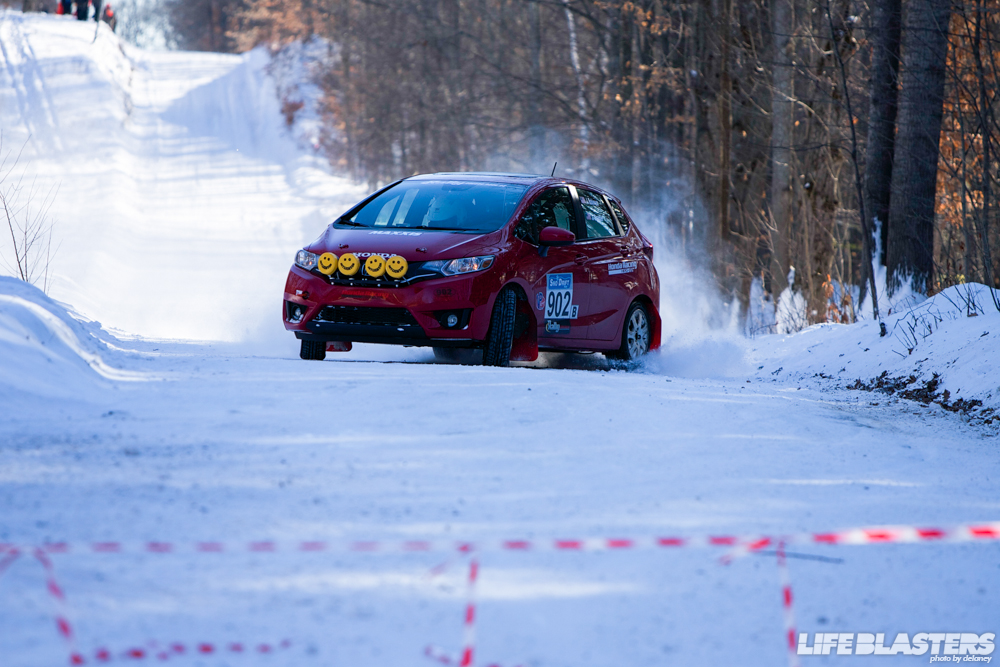 While just about everyone, including Higgins, were taking it easy all weekend, James Robinson in the 2015 Honda Fit was letting it all hang out. He was chucking his Fit into some of the craziest Scandinavian Flicks since Pastrana raced at Sno Drift.

But to the main story of the rally, the open class. In years before it's been Higgins vs L'Estage, or Pastrana vs Block. This year there was just Higgins. FY was racing, but even Yeoman said he wasn't a fan of racing on the snow. And as usual, they went out of the rally on Stage 12 with mechanical issues. By the end of Day One, Higgins had a three minute lead, meaning he had no reason to push.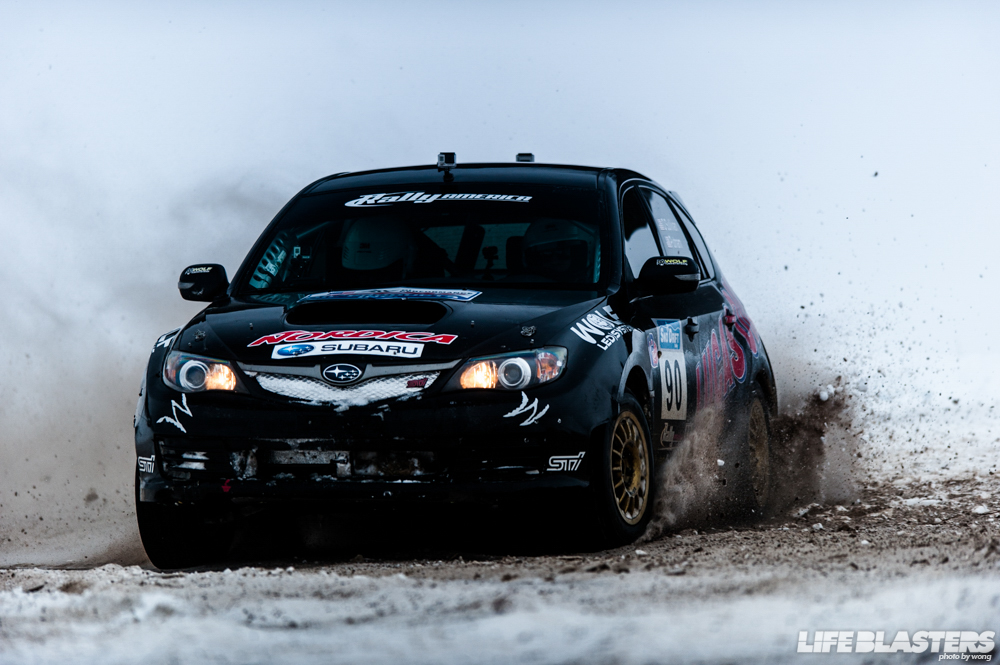 A lot of people feel like Pro Rally in America is dying. Pastrana is only doing a few events, Block is out for the season, L'Estage is racing in the CRC, Crazy Leo trying his hand at WRC, ACP and Team O'Neil weren't there, Scion has left, and even VanWay is gone.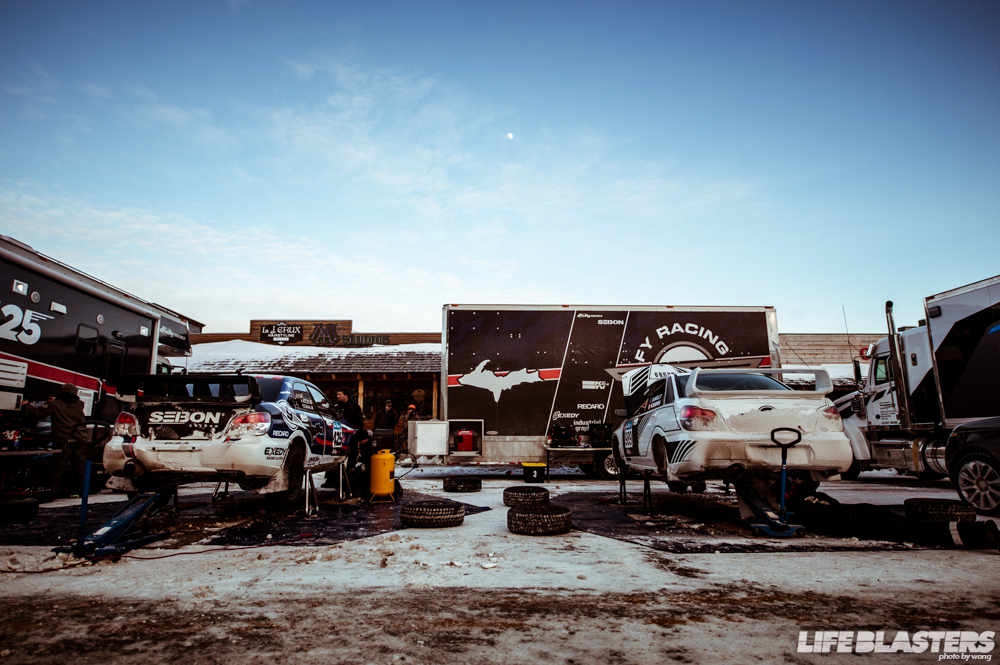 Back in 2009 we had ACP in his Evo, Tanner Foust in a Hyundai Tiburon, Pastrana and Block in their then new STi hatches, and Dave Mirra in the last generation STi. I look back at the cars then, and even the top level cars don't look too over the top like Higgins's car now. When you look at Higgins's car now, it's built ground up for rally; back in '09 the cars just looked more tame. Nowadays there's no way someone can compete with Higgins. FY is trying their hardest, but even though they're fast, they just can't keep the same pace and parts availability as a semi-backed team like Vermont SportsCar.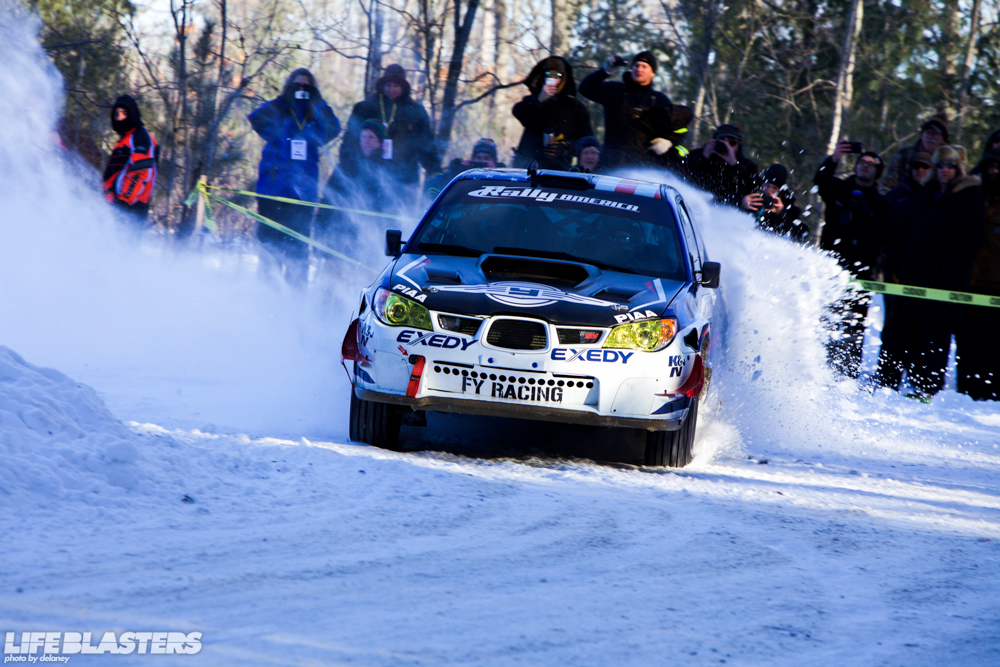 That being said, FY were trying their hardest just to get a decent finish at Sno Drift. Going off their second place overall finish in the championship last year, they just wanted a good start for the season so they could have a better chance of fighting for the win…as long as their usual bad luck does't follow them past Sno Drift.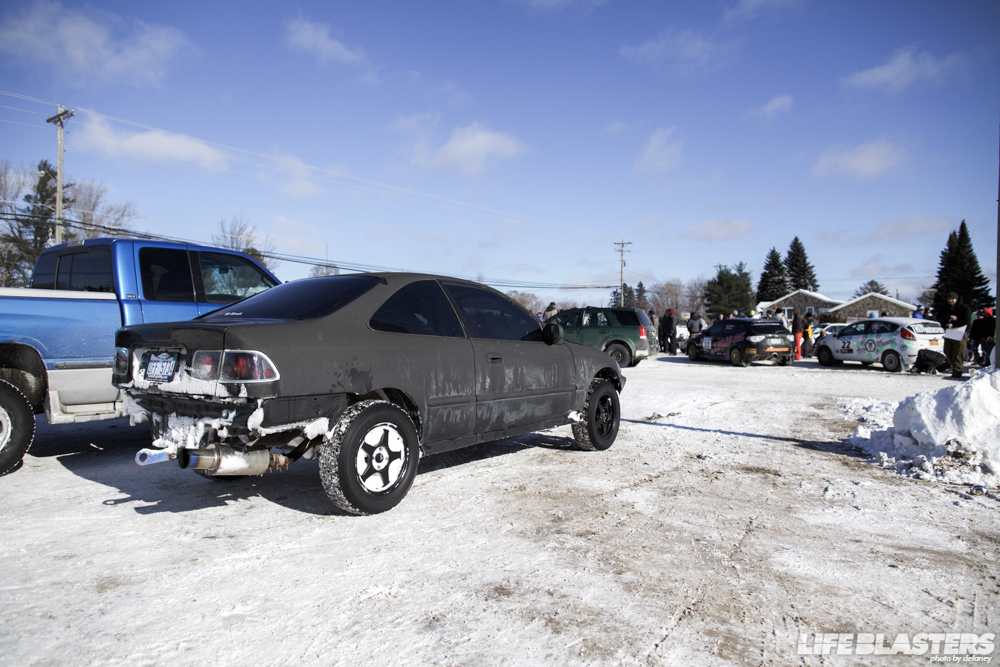 At parc exposé we saw this lifted Civic pull up. After Higgins's car, this was the most popular car at exposé on Friday. After the Lada Niva from a couple years ago, this is the coolest spectator car at any Sno Drift in my books.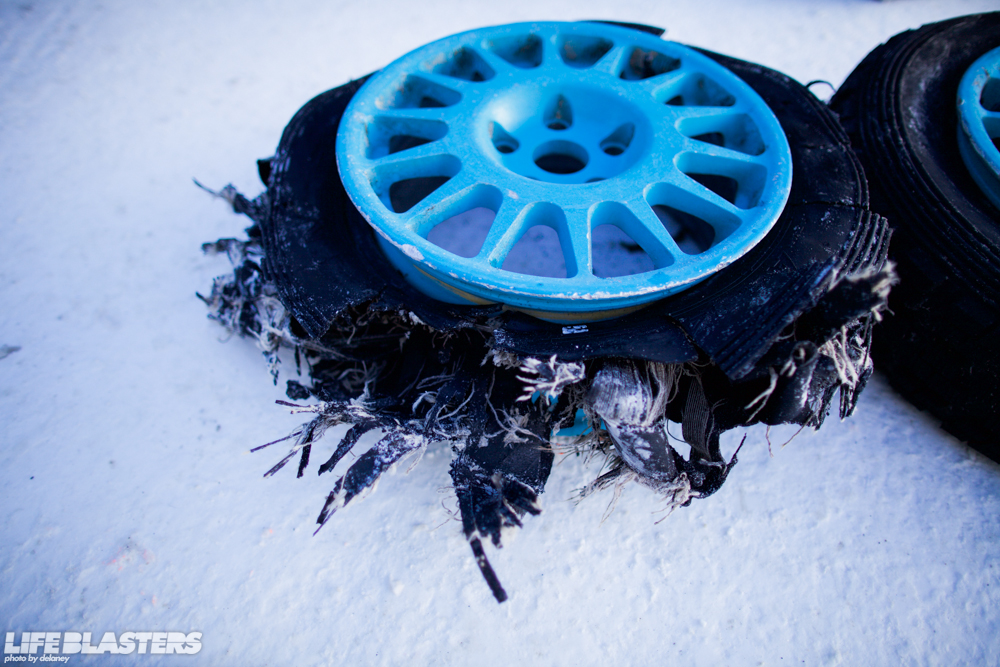 We headed back to service to see that Nick Roberts suffered a pretty heavy puncture.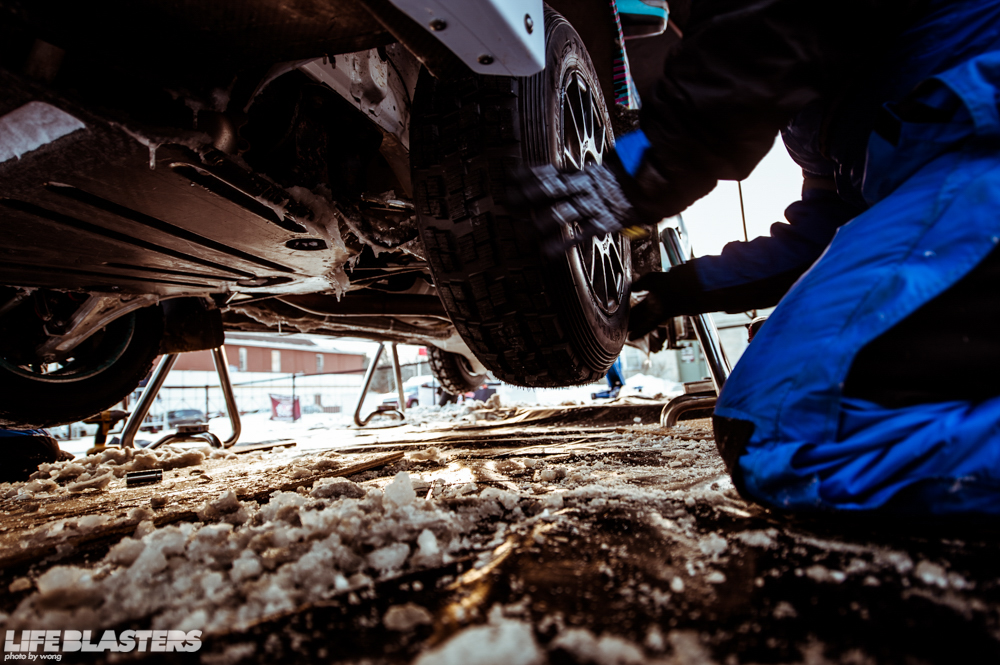 A few cars seemed to have punctures over the weekend, including a Fiesta that had to race with two punctures because they only had one spare.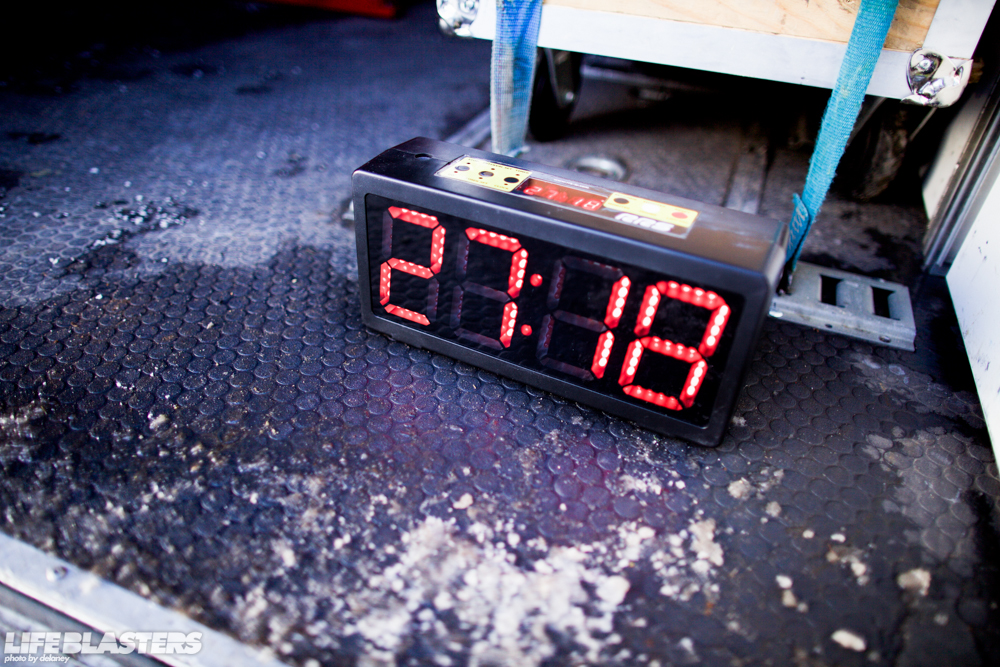 One of the fun parts about being media is we're allowed to wander around the teams' pits and get a closer look at their setups. Nick's team had their service clock set up in their truck to keep themselves on track.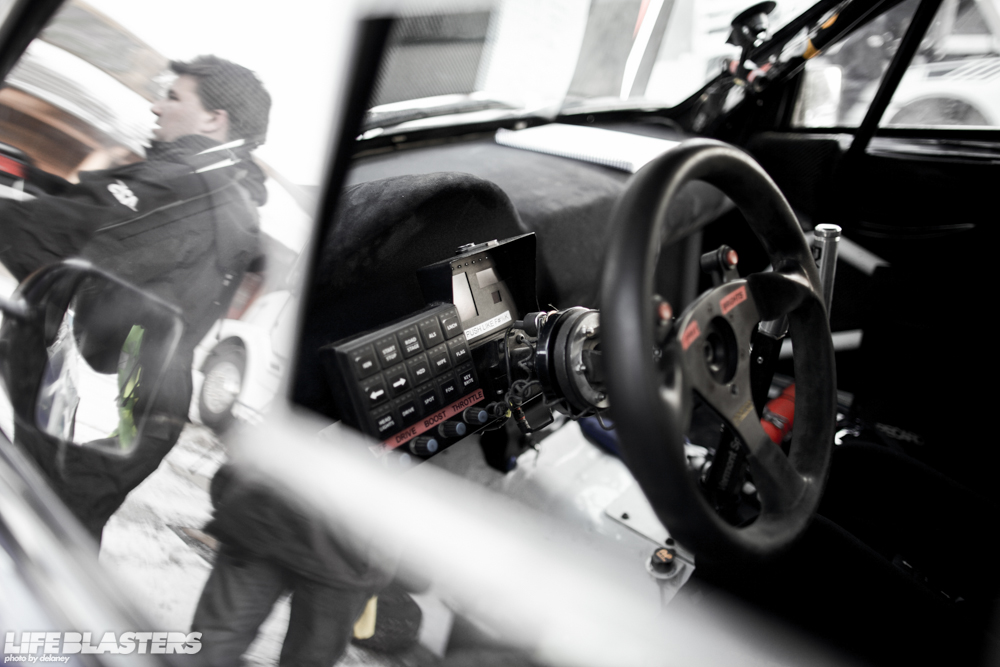 Even though FY does all their work in-house, their car looks like it's full factory-backed.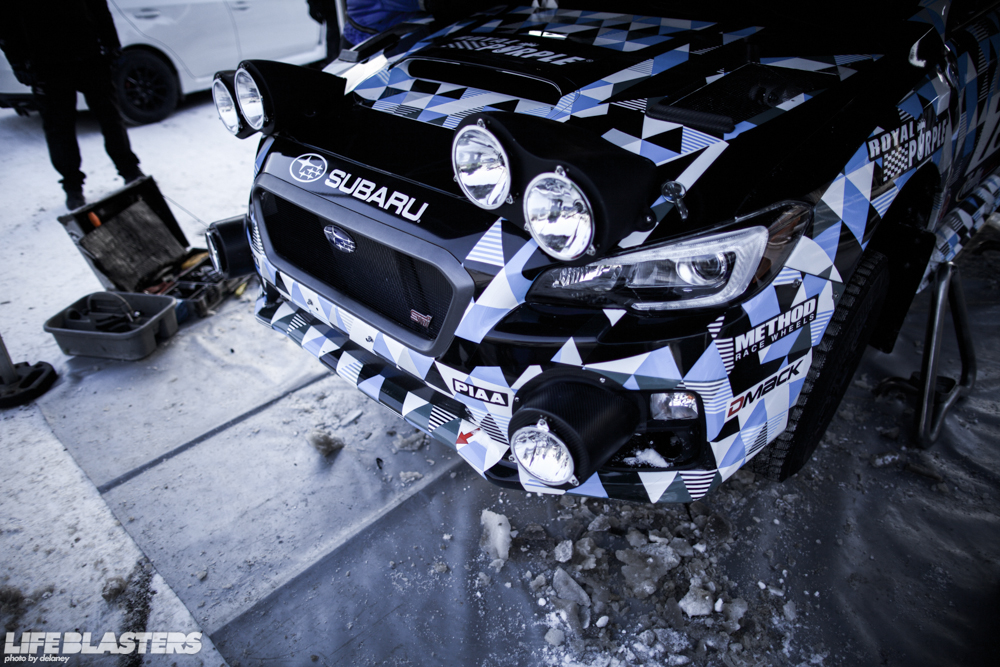 Which leads to Higgins and the Vermont SportsCar STi. The way they run their service stops is like clockwork. Everything is done perfectly and quickly.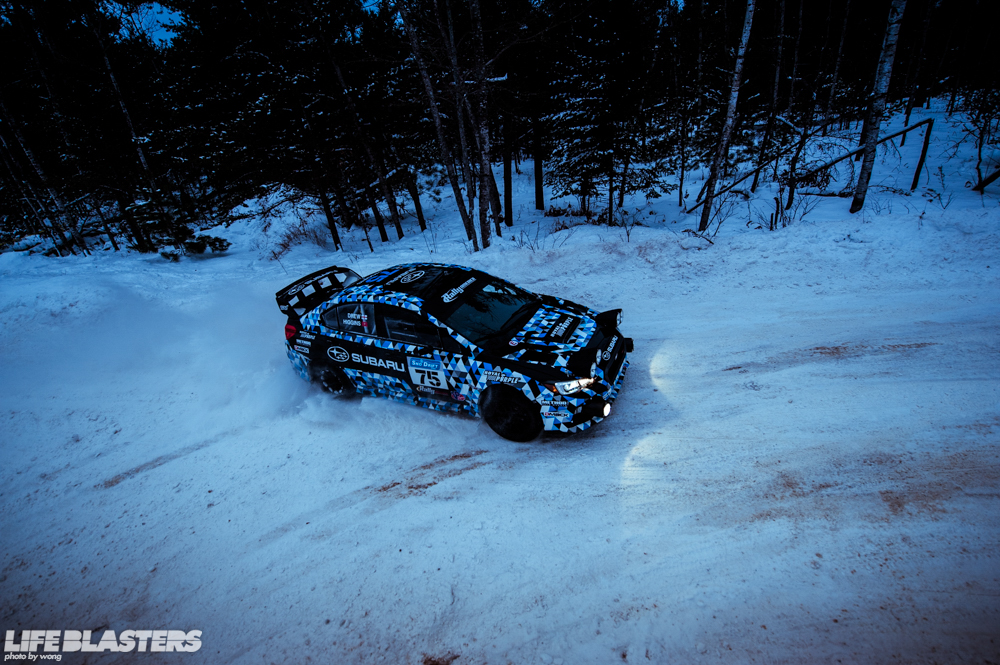 A lot of teams are starting to go to LED light bars, but luckily Vermont SportsCar still runs the old school light pods.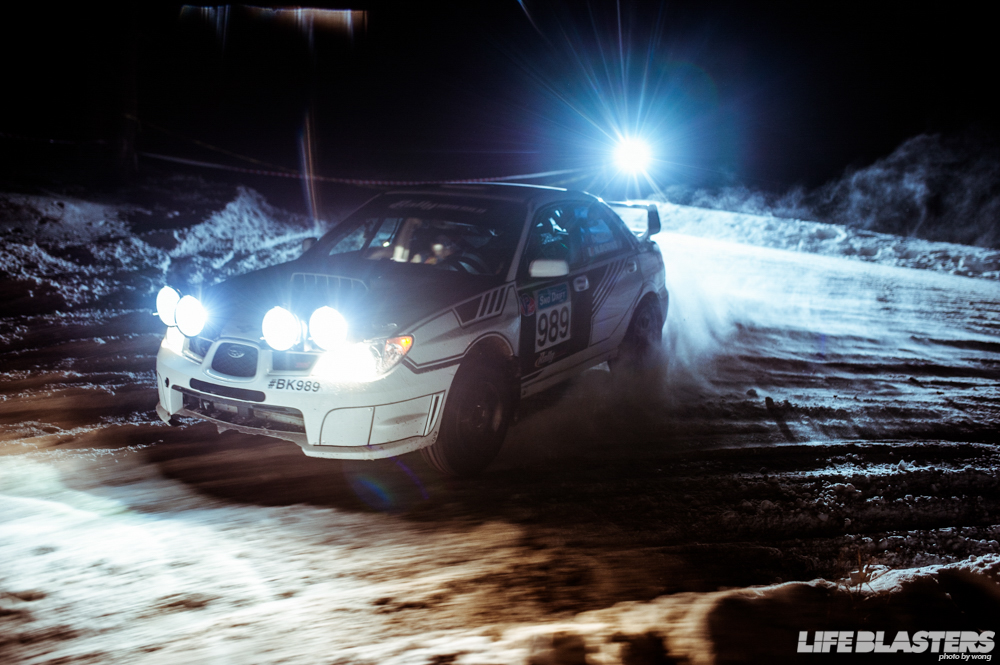 I love watching night stages, but shooting it is totally different. I still haven't gotten a new flash, oops, so I have to rely on other peoples (Alex's) flashes. Luckily for us one of Subaru's videographers was there with a massive LED light on his camera.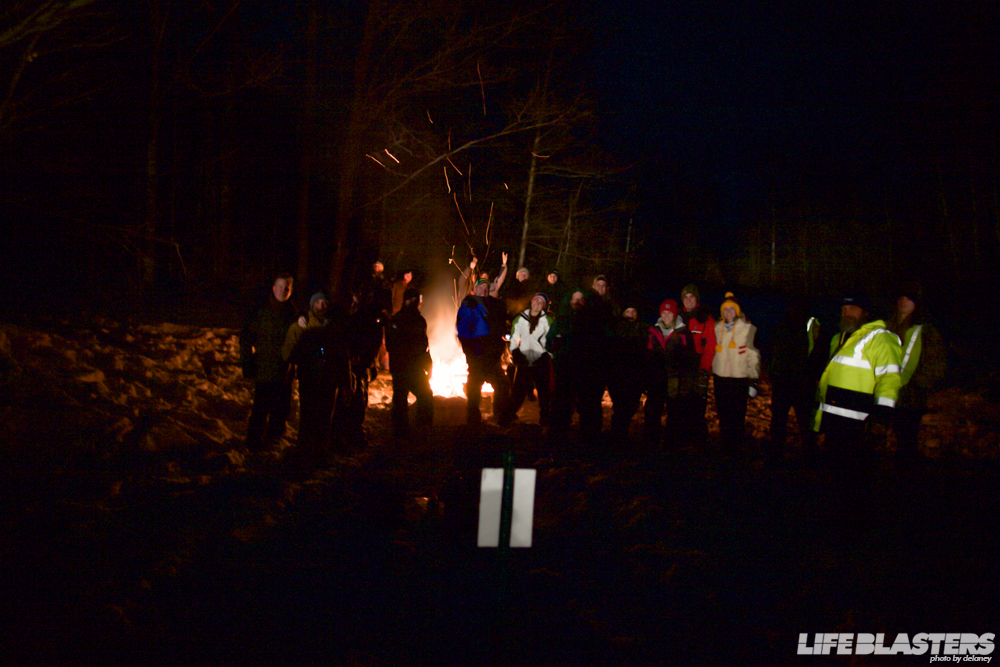 I crossed the street to get a different vantage point, and while I was there I decided to look at the fire. One of the spectators saw me and said I was taking a photo so everybody posed. So here's our Friday rally family!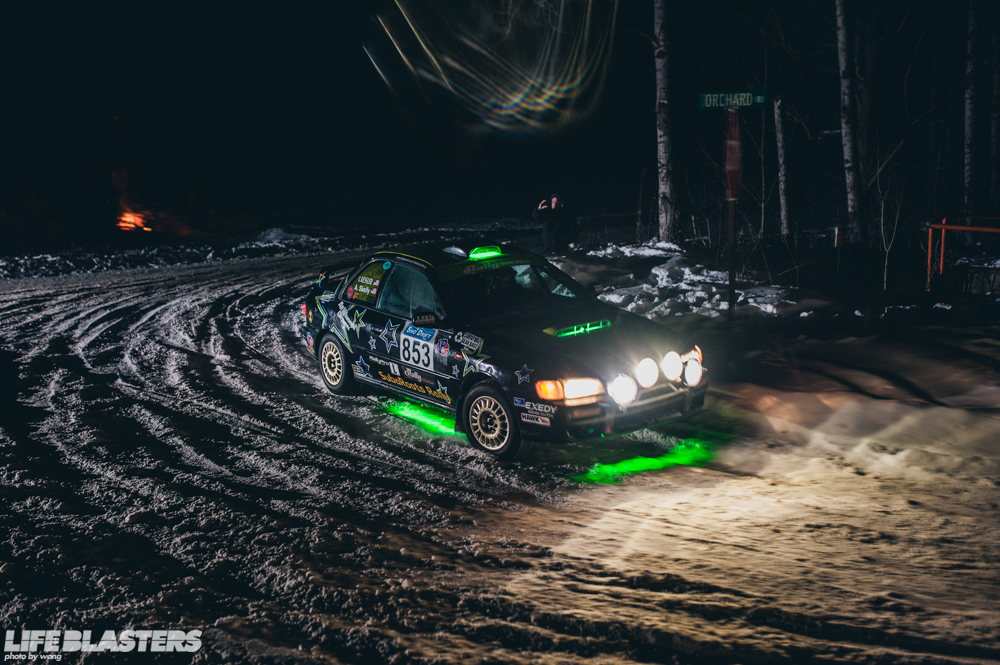 We were most excited for this stage because it went from a two or three wide road into a single wide road by the way of a hairpin. The stage was run twice, but we couldn't fit it in during the day time, so we had to stick with the night stage.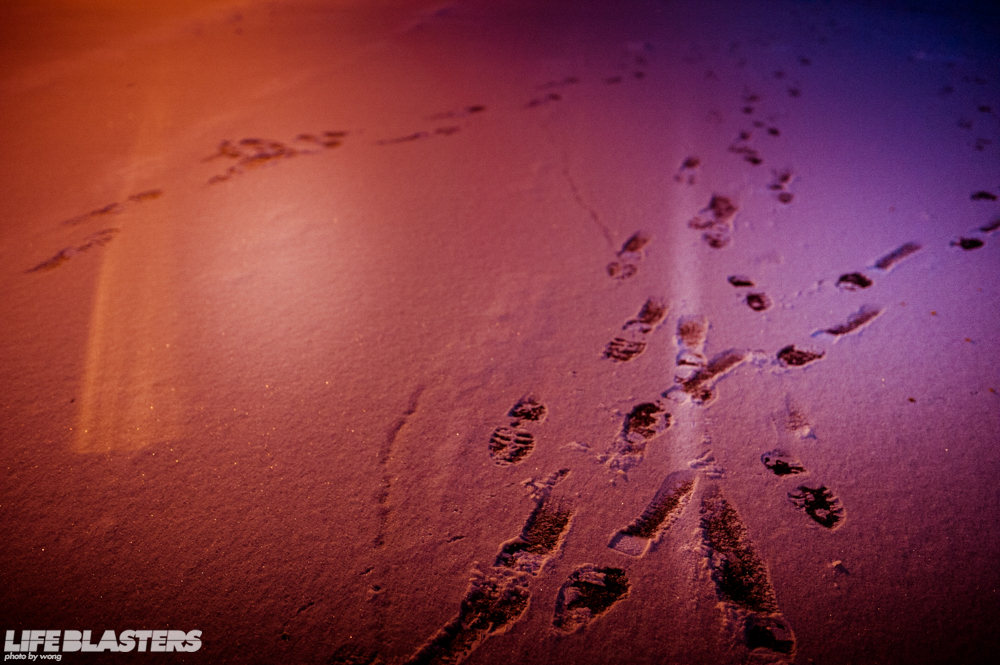 Alex had an eventful Friday night, so he was pretty happy for Friday to end. We didn't recce Saturdays stages, but we mostly followed the same route that we did last year.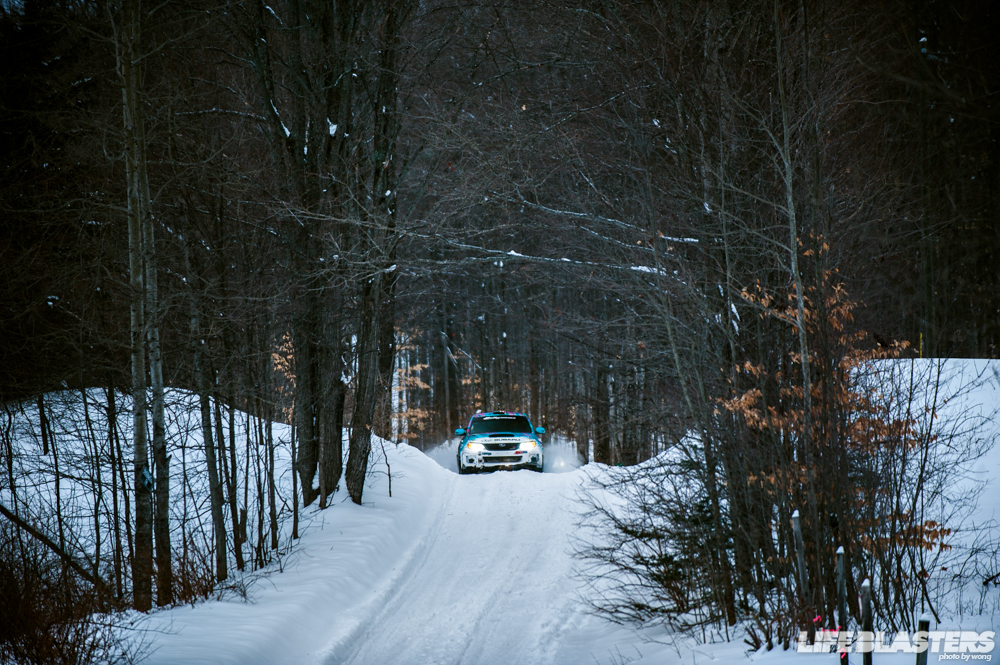 The roads were still pretty icy, so again there was more understeer than oversteer. Higgins had around three minutes over FY so he had no reason to push, but the top SP drivers were still trying to keep up.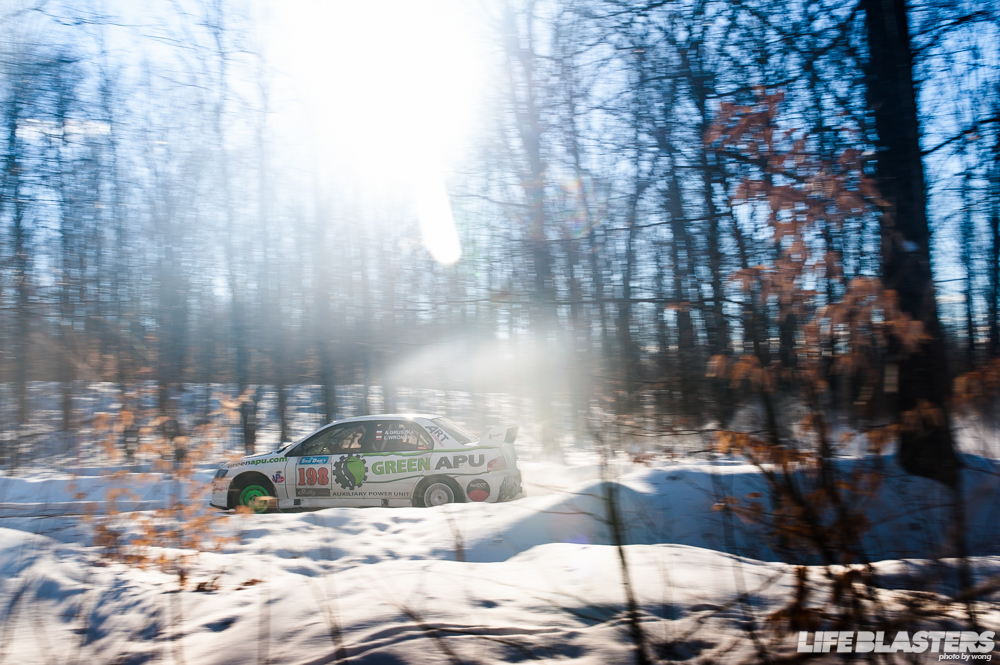 I wasn't racing so I really can't say much, but it seemed like no one was pushing. Every now and then someone would cut a corner, but there just wasn't the exciting action there was in years prior.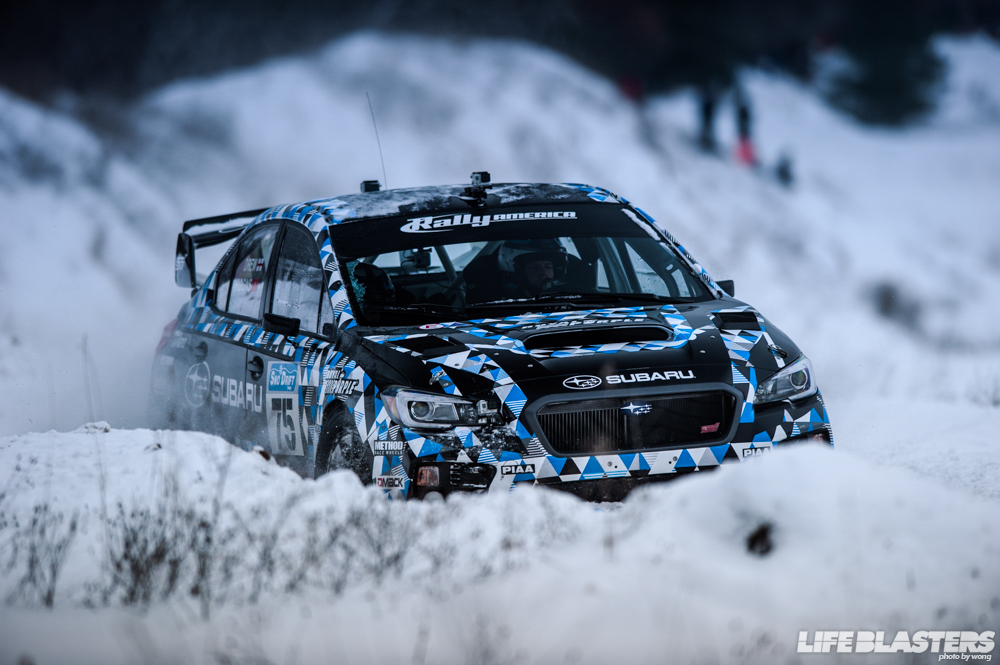 As usual, we headed to the Super Special hoping that there would be some exciting action. We hiked back out to where I shot the jump back in 2013. Alex went to the spot where I shot it and then we waited. There was a bit of dip into a crest, but the speed just wasn't there. So that was one spot wasted.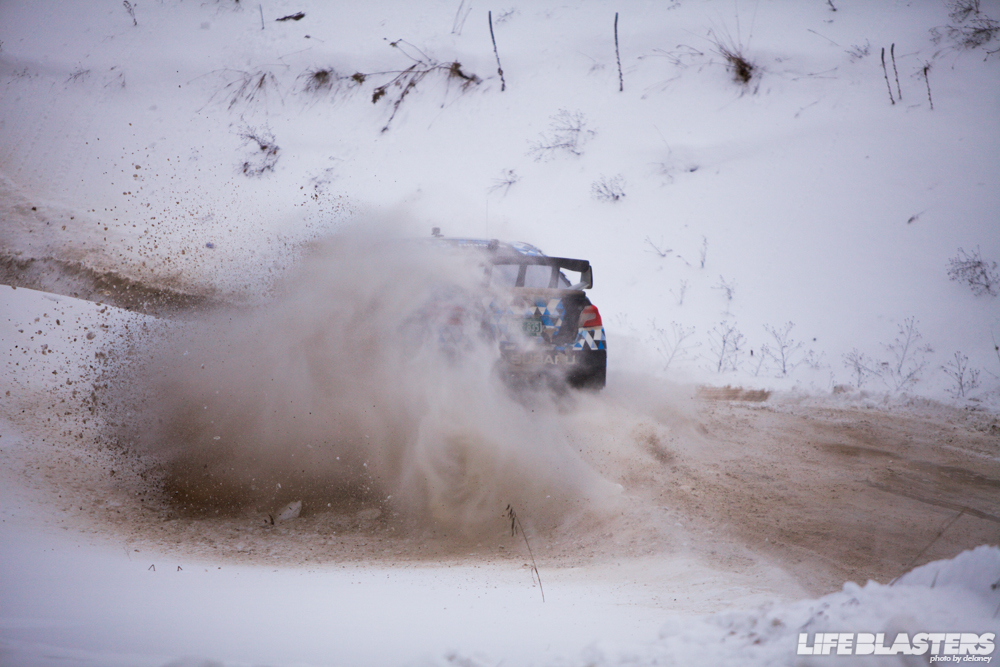 I did the professional thing on the first loop of the Super Special and just gave up and watched since we were too far out to get anywhere good in time. The second time around we moved into the spectator area where there was a bit more to see.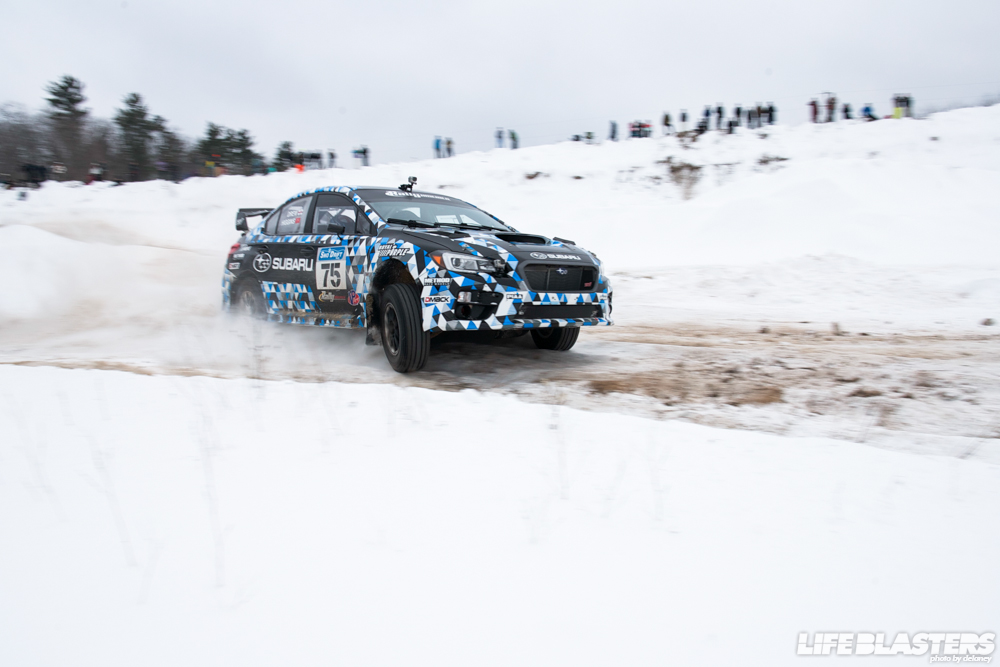 The terrain really showed off the suspension travel of the new STi. I was in the middle of a wide right hander hoping for some good drifts. The corner was just a little too wide so there wasn't really much sliding.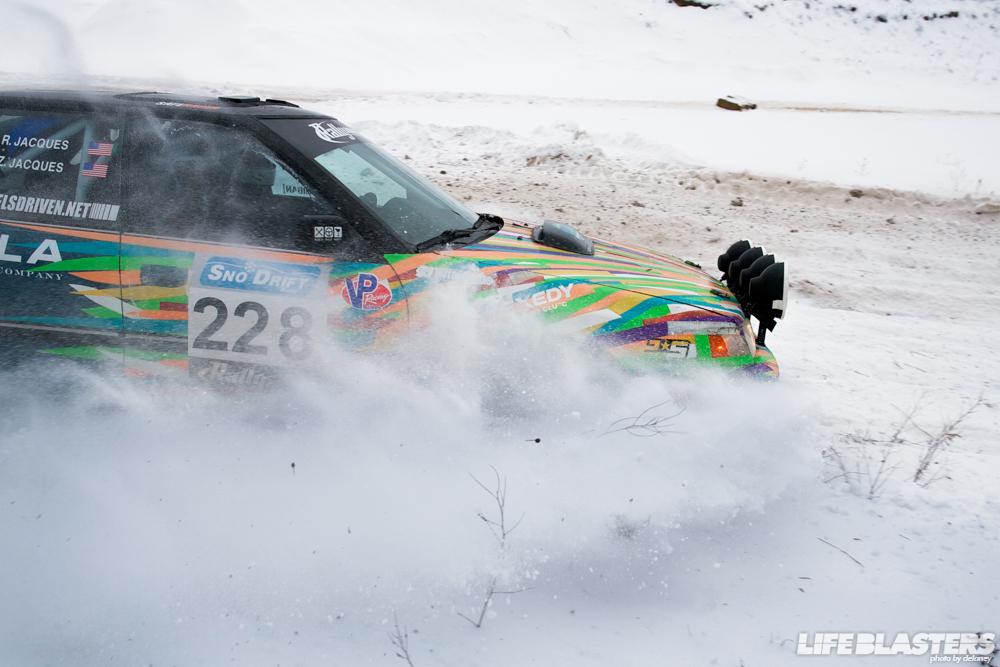 Though some drivers did really cut the corner, throwing up snow. Just about every corner we were at the Subaru Legacy driven by the Jacqueses cut the corner so tight that they were always throwing snow.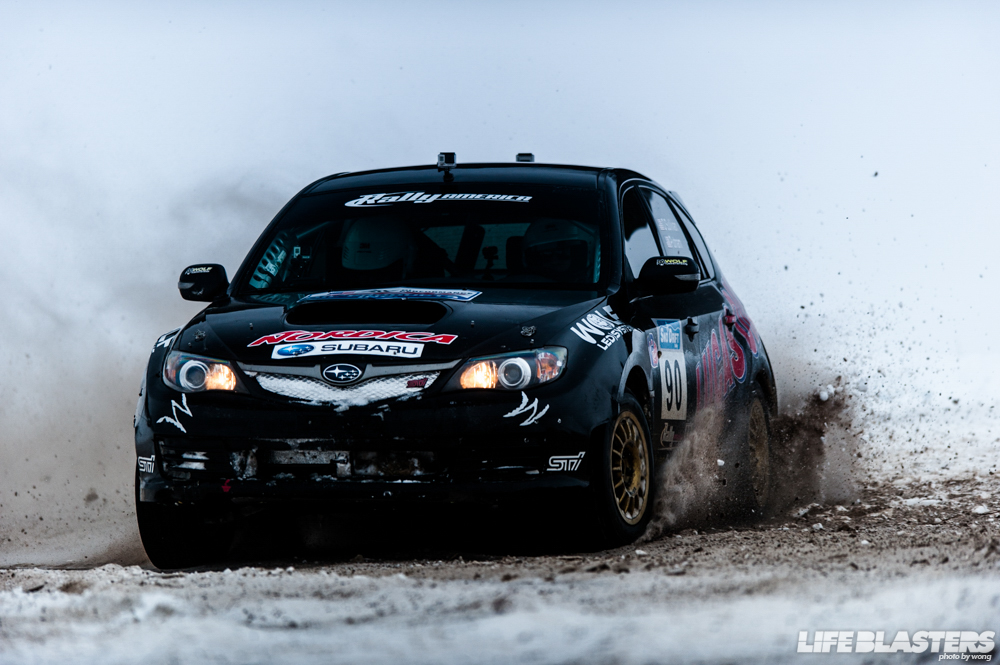 Lauchlin O'Sullivan managed to keep his car together through the end of the rally, which to some people is a good enough result.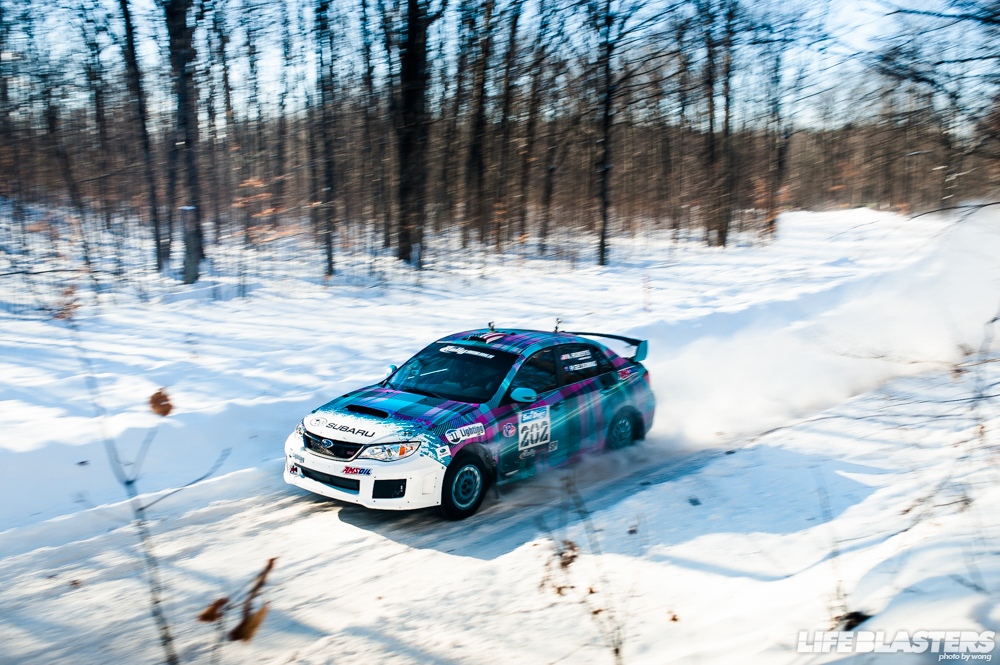 Doing it while chasing the win is another feat entirely. With most of the major Open class competitors missing, Super Production may be the class to watch this season.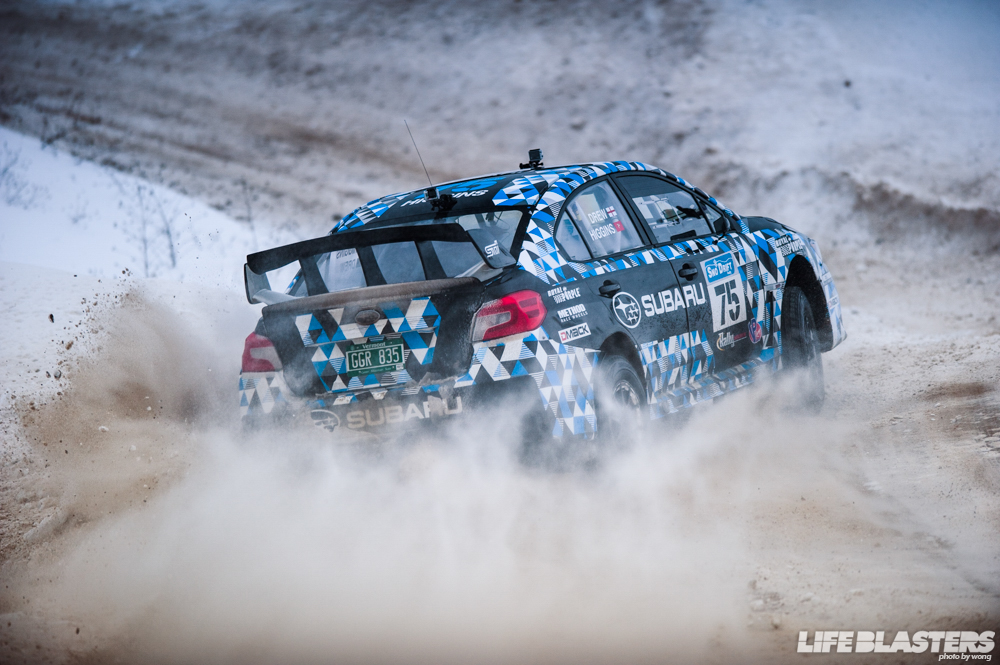 It's lonely at the top.

With FY out Higgins won by nine minutes over the SP winner Nick Roberts with Lauchlin O' Sullivan taking third. All the drivers and co drivers agreed to not spray each other, so us photographers in the front row got the majority of the spray. Who doesn't want to be covered in champagne in 20 degree weather? Luckily we didn't get pulled over that night.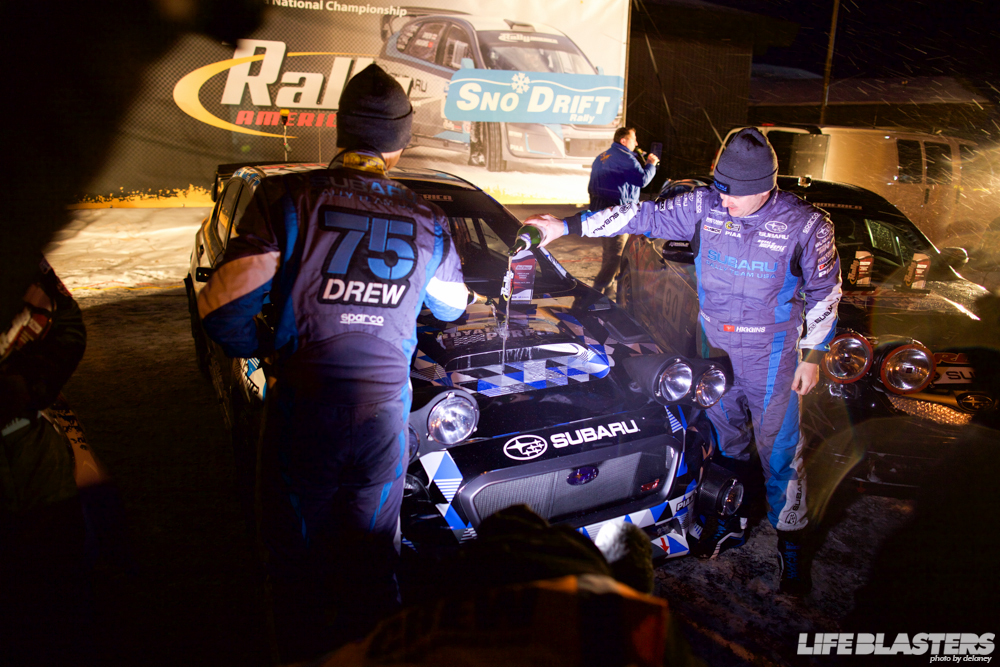 Higgins and Drew christened the new STi after its first win and I'm sure many more will follow.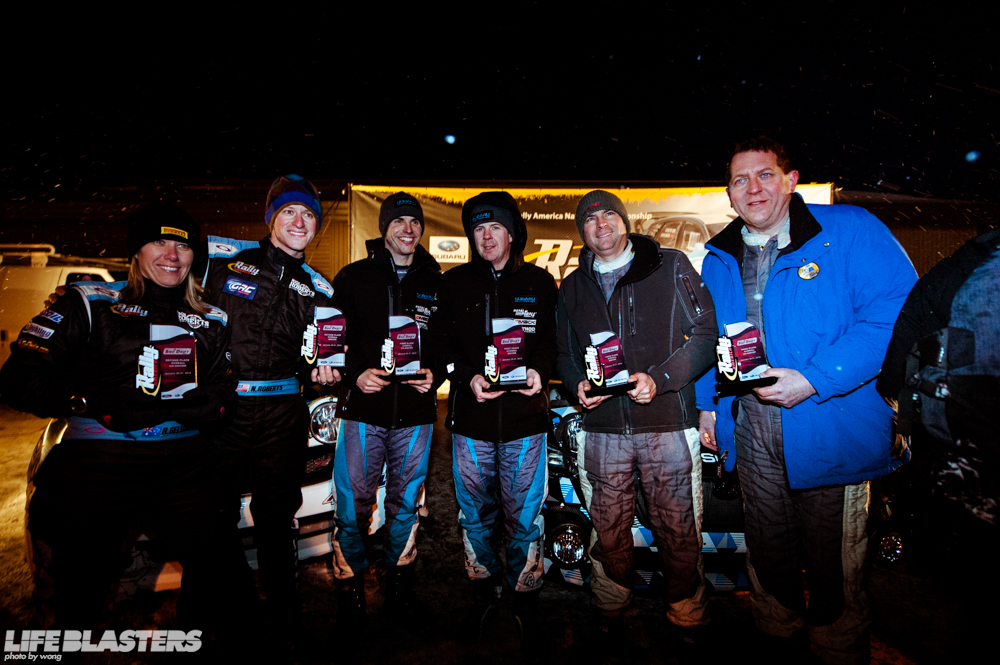 Nick and Rhianon got everyone together for a photo. After the quick photo op, Wong and I turned in our vests and went back to the motel, with a quick stop at Applebee's. Even though this was the least exciting Sno Drift in all six years that I've been going, there's really nothing I can do. I mean, you still have to love the fact that people go out in the middle of the woods for a weekend to watch some cars race around. Hopefully by next Sno Drift we'll have some more Open class competition, but until then I guess there's nothing we can do.
-Delaney
Photos by Delaney and Wong
instagram: @emotiveimage, @ericdelaney