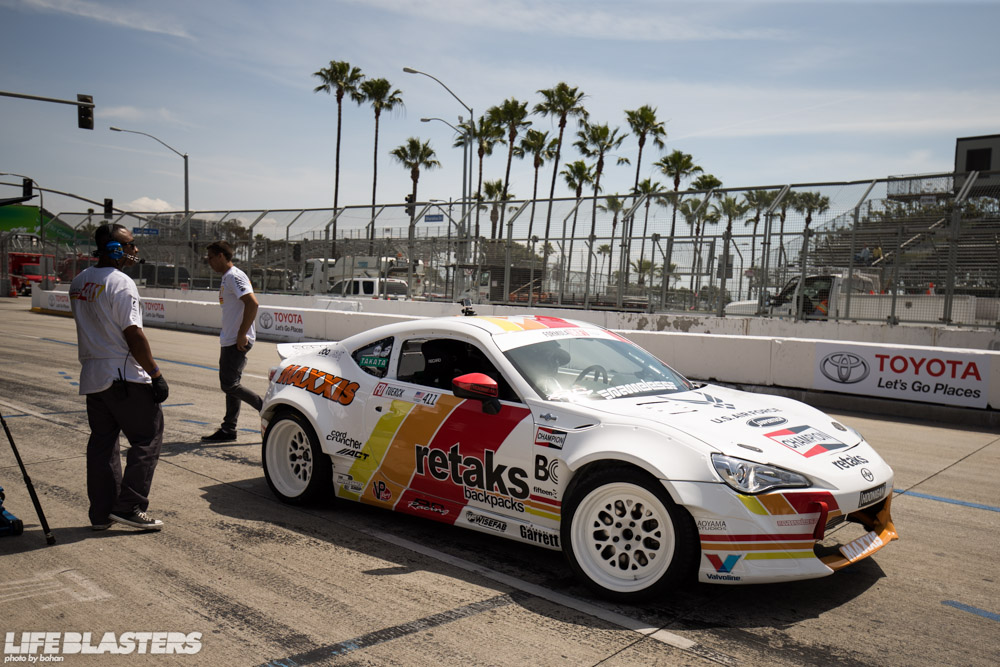 The entire crowd was watching the Jumbotron as the white FR-S's differential was lifted into place and the timer approached zero. Was ten seconds enough? How many nuts and bolts had to be tightened? Too many, I was sure. Would Ryan Tuerck be allowed to have extra time since his crew was so close to finishing? Fredric Aasbø waited patiently at the start line. He was up next regardless of the outcome. If Tuerck's car was ready, they'd be finishing their Top 4 battle. If Tuerck was out of time, it would be Odi Bakchis who would line up next to the Rockstar tC, this time for the Final Battle.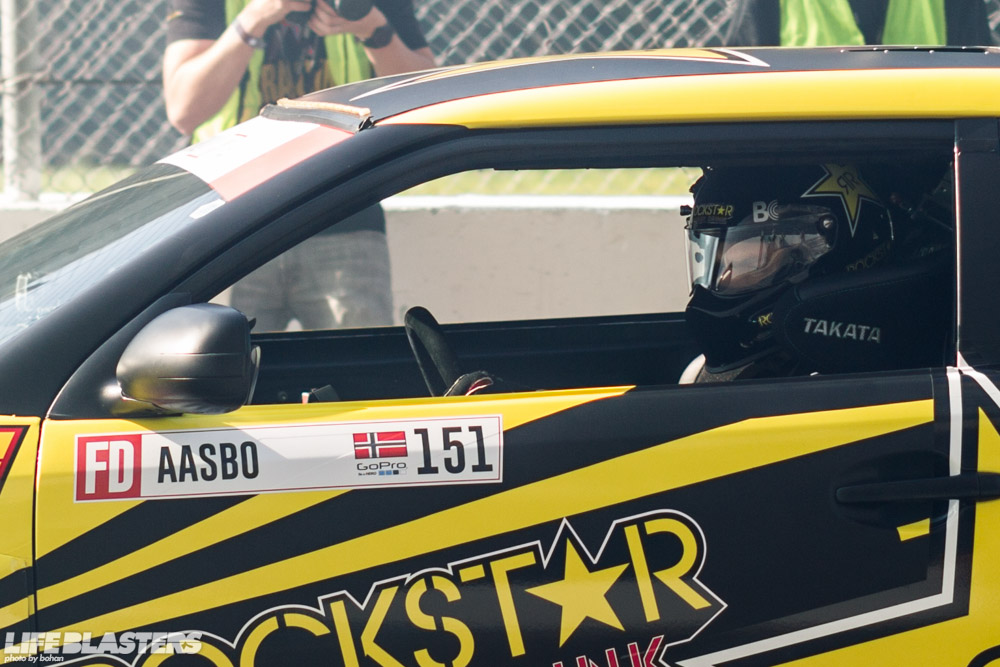 The timer hit zero and reality hit. Ryan Tuerck's day was over, though his qualifying position meant that he has secured third place. The crew gave each other hugs and started packing up. Bakchis moved forward on the grid, eagerly anticipating a rematch of the Final Battle in Texas last season, in which a sure victory slipped away in a single miscalculated instant, giving Aasbø his second win of the 2014 season. This time, Aasbø was missing 2nd gear, a severe disability on a track like Long Beach with its low speed hairpin at the end.
It's lonely at the starting line during the Final Battle. There are no drivers going next, no sounds of anyone else doing donuts or the smell of tire smoke wafting through the air. It's just two drivers, two cars, the starting official, an empty track, and tens of thousands of fans waiting to see who'll get on top of the podium.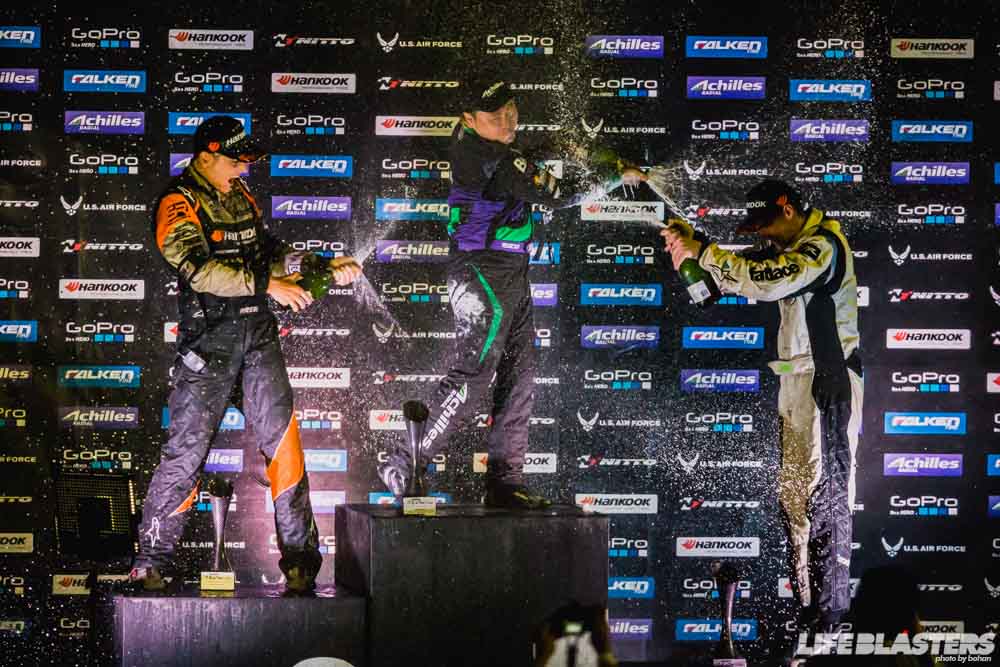 How did we get here? Nobody has any momentum going into Long Beach, as it's been roughly six months since last season's finale at Irwindale, where Daigo Saito won against Fredric Aasbø and Chris Forsberg earned his second championship. Bakchis finished fourth overall last year, though he's now in a new car that had a lot of people doubting if his 2015 season would go anywhere. As defending champion and with a familiar car, Forsberg was expected to be in the mix, but both he and Drift Alliance teammate Vaughn Gittin, Jr., who finished third last season, were conspicuously no where near the podium.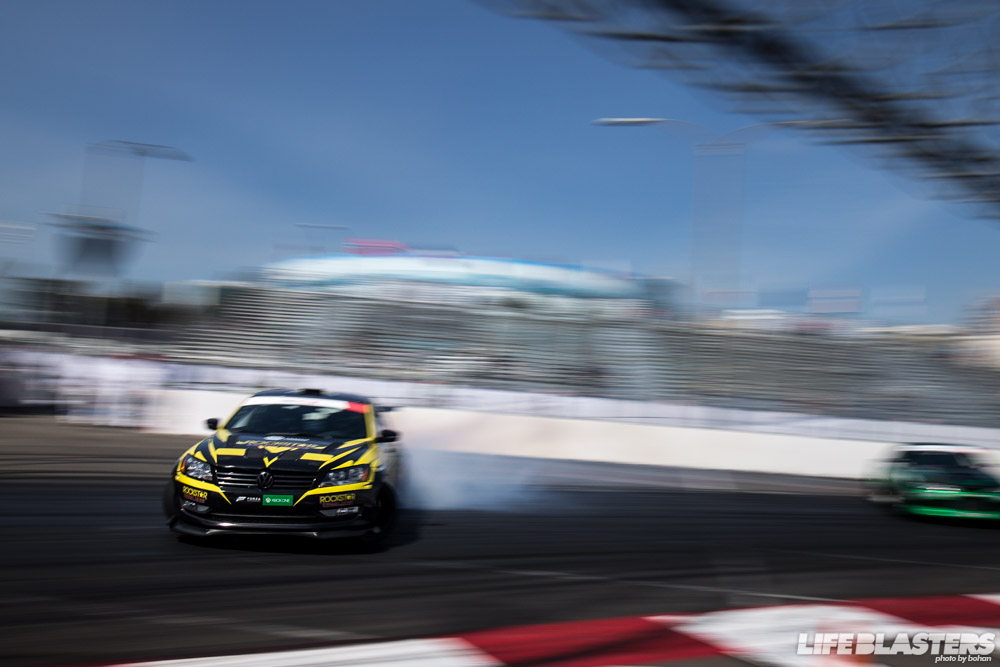 The week leading up to Round 1 was full of anticipation and speculation, and there was big news coming from every direction. Tanner Foust was returning to the series, bringing Rockstar back with him, which allowed Fredric Aasbø to bring on Rockstar as his title sponsor as well. Odi Bakchis took over the ARK Genesis from Dennis Mertzanis, who was only able to pilot the car to a 35th place finish last season. Pat Mordaunt joined Tyler McQuarrie's, as McQuarrie brought his old Falken 350Z out of retirement for the younger driver. Both drivers are back on Falken tires.

Speaking of Falken, one of the most striking visual differences this year is the complete lack of any Falken liveries. Only the trailers in the paddock still have the familiar teal and blue scallops. Dai Yoshihara's BRZ has his personalized three-tone white and blue version of the Falken livery, but it's not the same. Darren McNamara wasn't driving and Justin Pawlak's new Mustang was all black. Pat Mordaunt's livery is the closest in terms of color.
Also worth noting was the absence of Taka Aono. With the Flying 86 missing, there were no more Corollas in Formula D. Taka was perhaps the most well known, but many Corollas have come through the series over the years. Aside from Taka, I've personally watched Darren McNamara, Pat Cyr, John Russakoff, Tommy Suell, Yaz Kondo, Toshiki Yoshioka, Will Parsons, and Keith Wong drifting Corollas in Formula D. Maybe more, but the point is that there have been a lot. Is this the end of an era?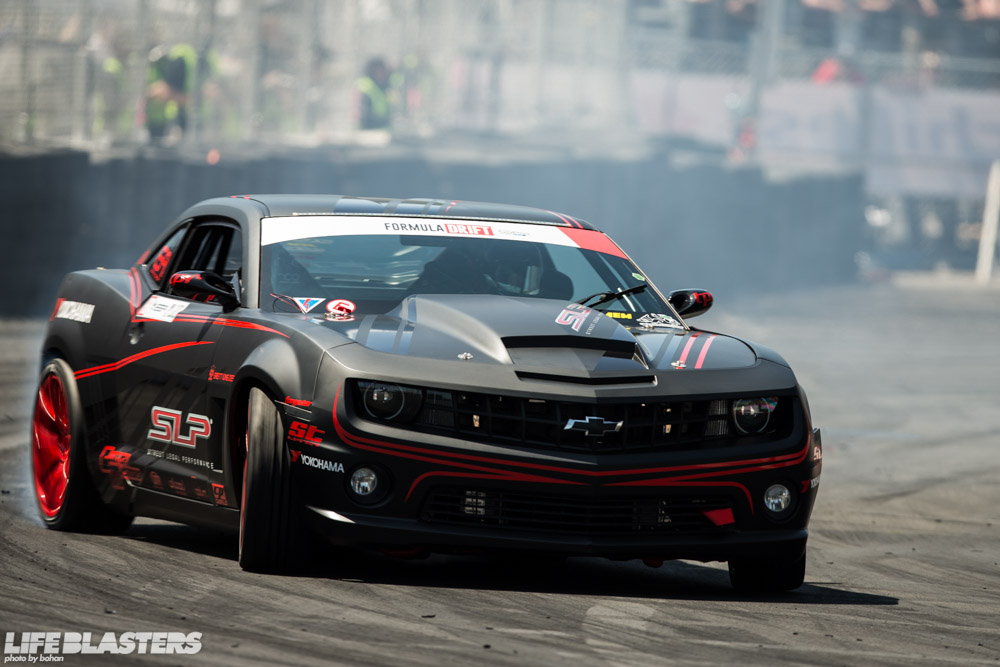 Friday's practice and  qualifying sessions gave us our first insight into how the season would actually shape up. Foust crashed, most of the drivers were predictable, and the first five positions were taken by Forrest Wang, Forsberg, Aasbø, Gittin, and Pawlak, respectively. Foust got his Volkswagen fixed enough to qualify 28th, and Mike Essa's new Camaro brought him to a heartbreaking 33rd, one spot behind Matt Coffman. Qualifying went by quickly, as there is no overlap between Pro and Pro2 drivers this year. The driver count at Long Beach was about 2/3 of what it was last year.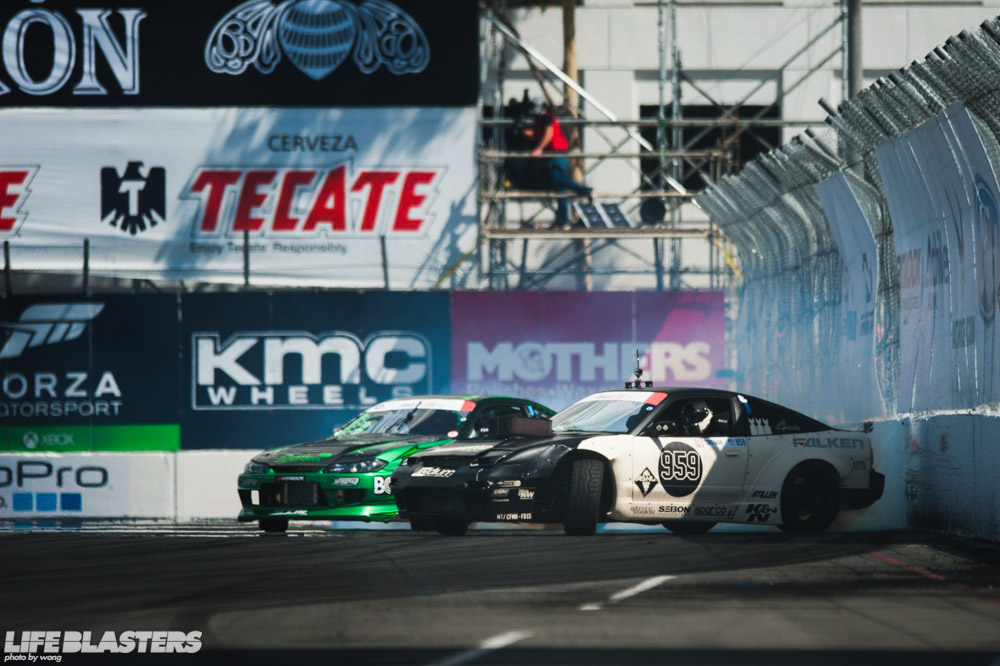 On Saturday, first up was Forrest Wang and Matt Coffman, and the crowd was stunned as Coffman put the smackdown on the #1 qualifier. If Wang had been hoping for a championship season, this was a major reality check.
Daigo Saito's hopes at redemption were slashed too, as he damaged his car bumping into Robbie Nishida and had to forfeit the battle.
Pawlak led Foust into the wall. So much for the return of the king.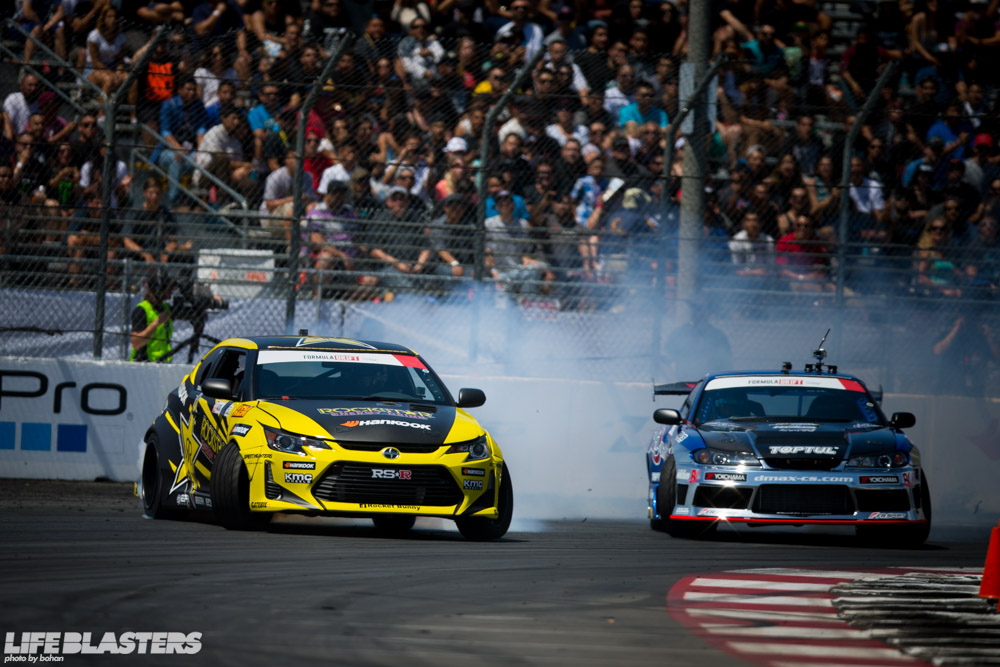 Masashi Yokoi's debut in Formula D didn't go as planned. He might have gotten away with it against a lesser driver, but Fredric Aasbø took the easy win.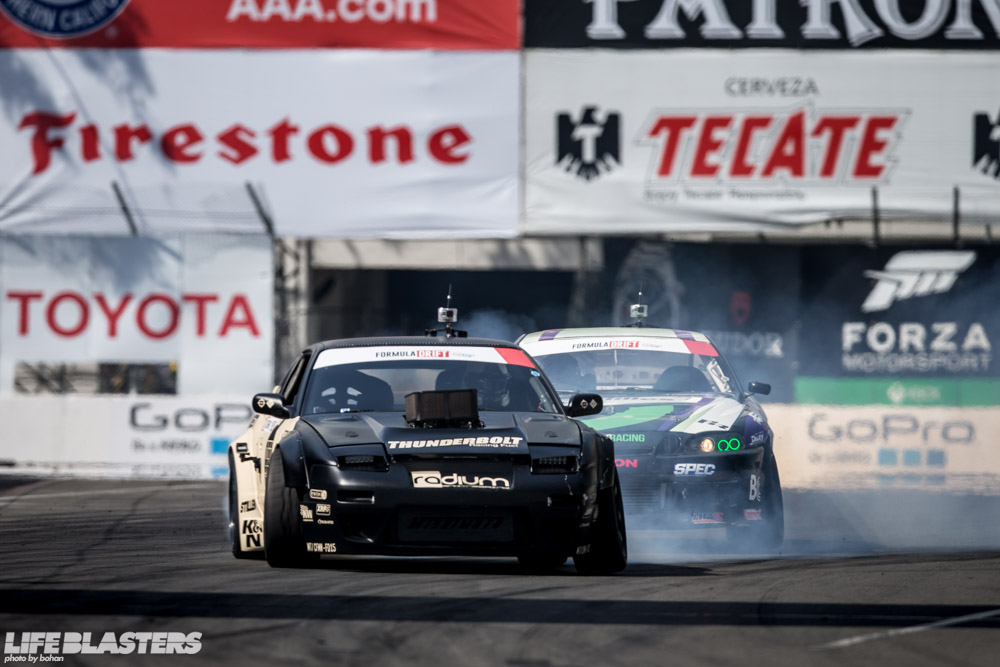 Coffman couldn't keep his winning streak going and Nishida was the first driver to get into the Great Eight.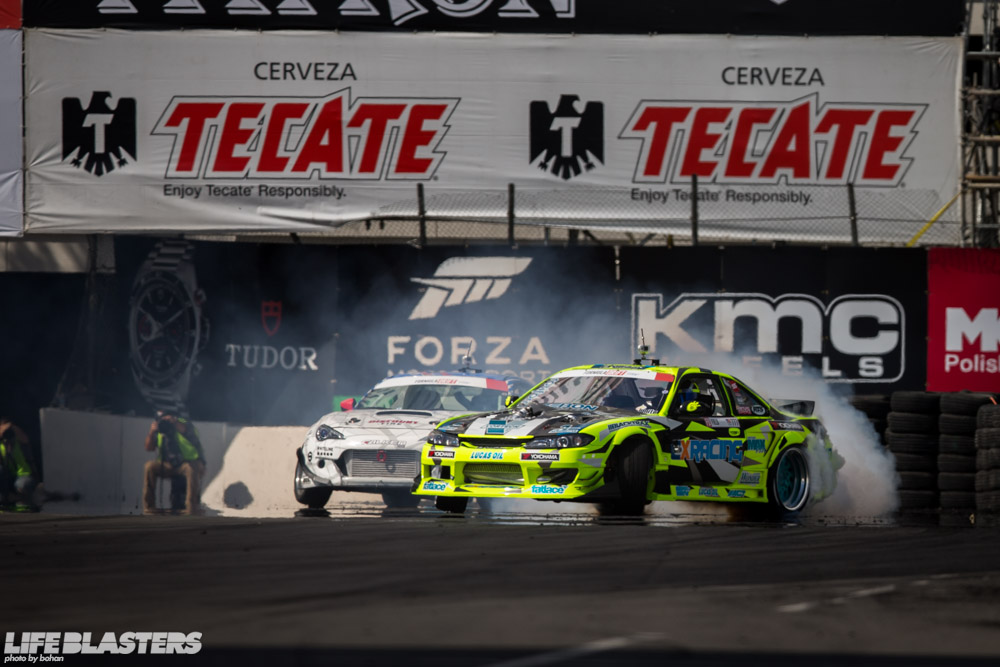 Matt Field stomped all over Dai Yoshihara.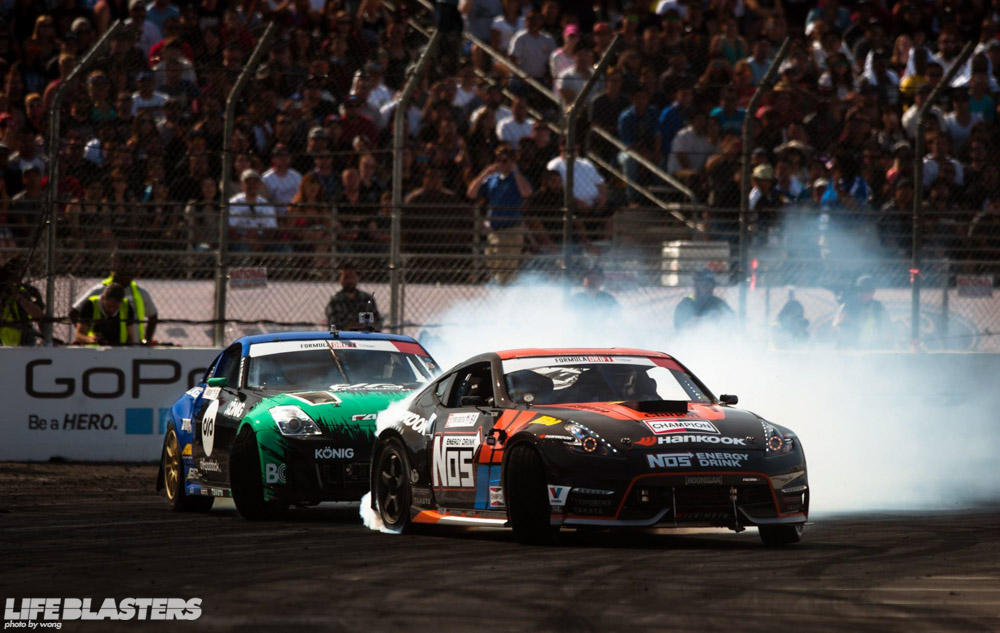 And another one nobody expected: Pat Mordaunt held it together as Chris Forsberg went super shallow on his lead run and drifted right out of the competition. About an hour before this happened, I had told Pat, "Forsberg? No problem, right?" I guess I was right.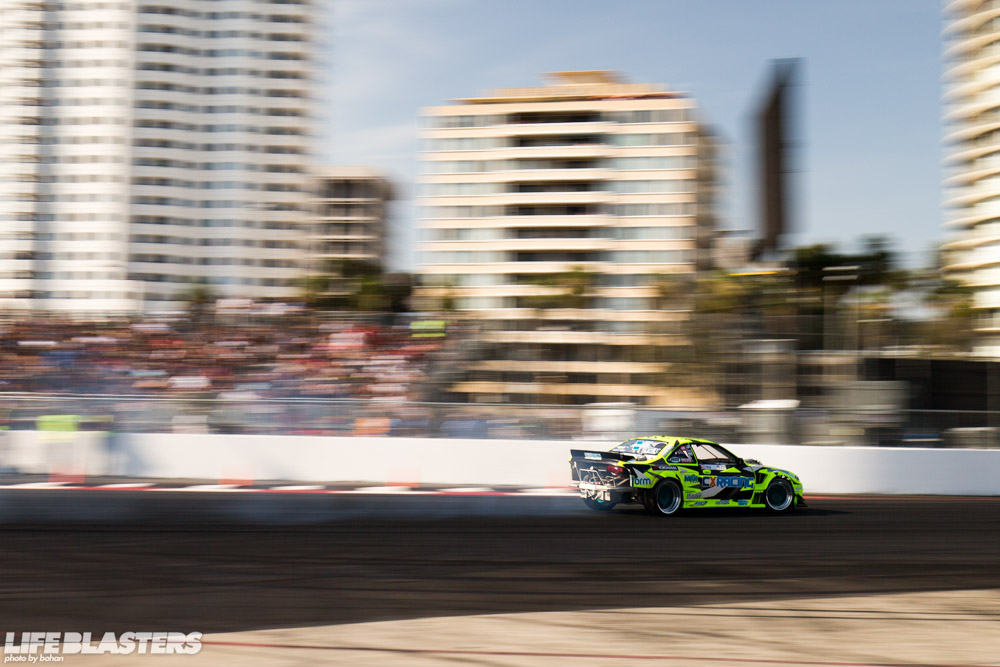 Nishida punted Field into the tires in Turn 9. Field didn't have enough parts to get his car back to 100%, but it was enough to overcome Nishida's blunder and he moved on to the Final Four.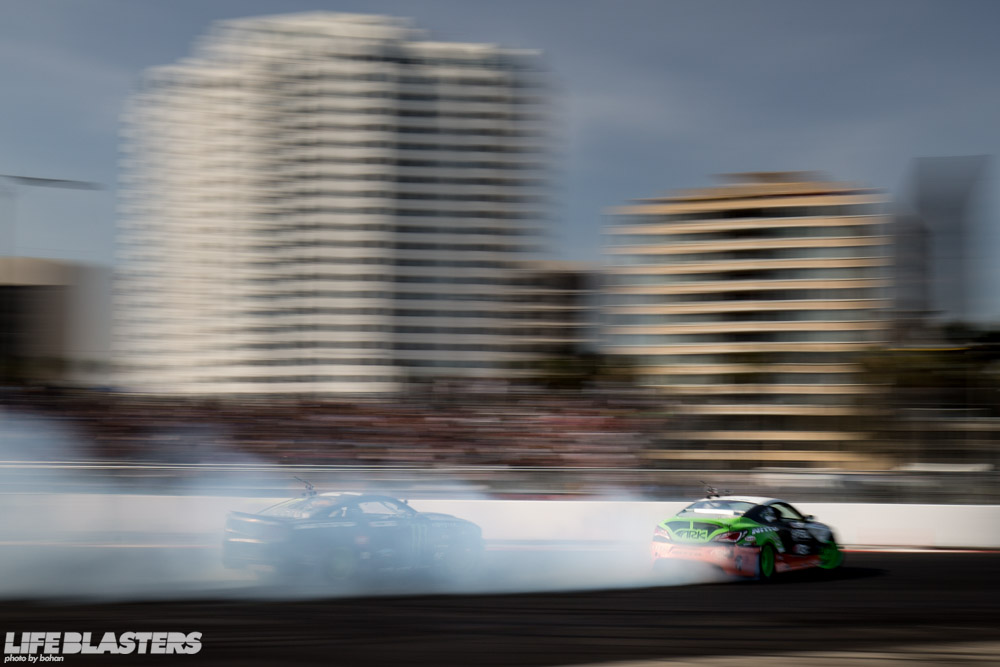 Gittin lost the proximity battle and Bakchis sent him to join his DA teammate Forsberg in defeat.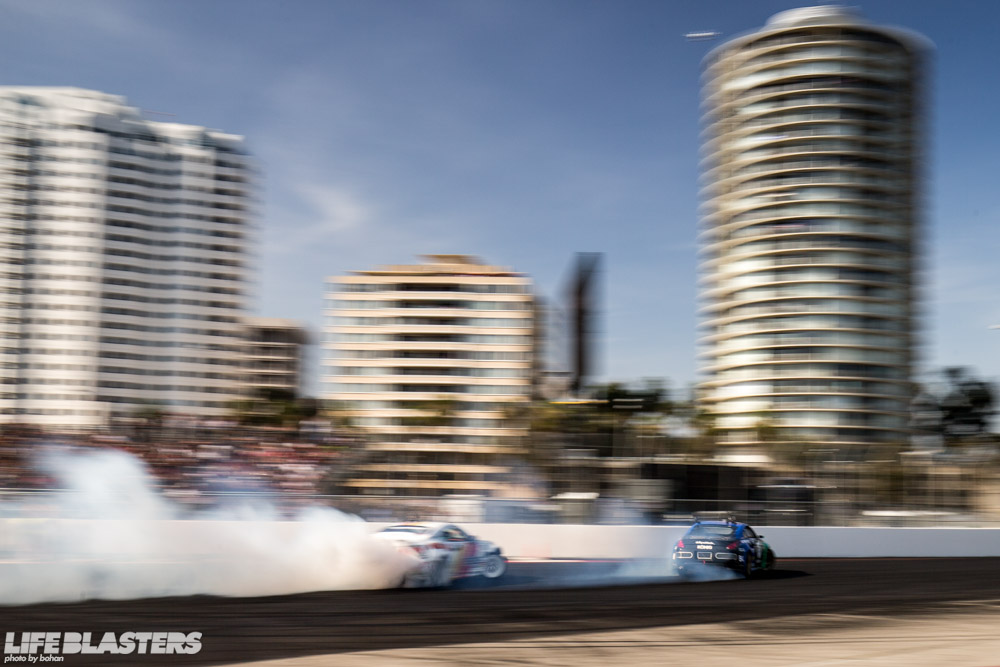 Mordaunt was looking good too until he spun in Turn 11, letting Tuerck get to the second Final Four battle.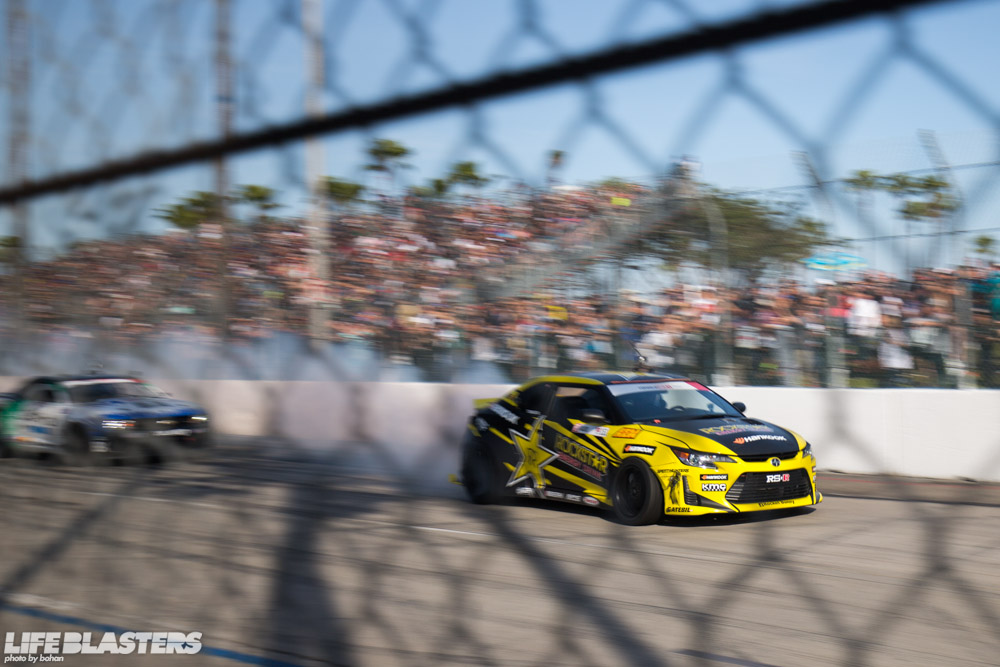 McQuarrie didn't have a solid run and Aasbø was on a mission, running nearly flawlessly again and again.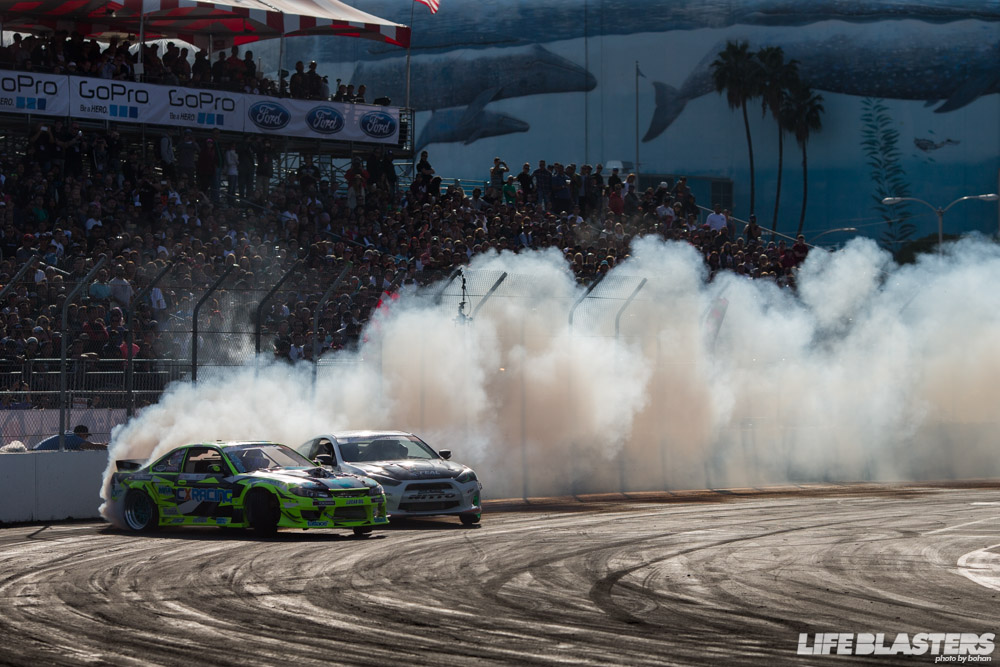 Field's subpar repairs after the Nishida incident were no match for Bakchis. Since Tuerck and Aasbø were qualified higher than either of these drivers, Field would not be landing on the podium.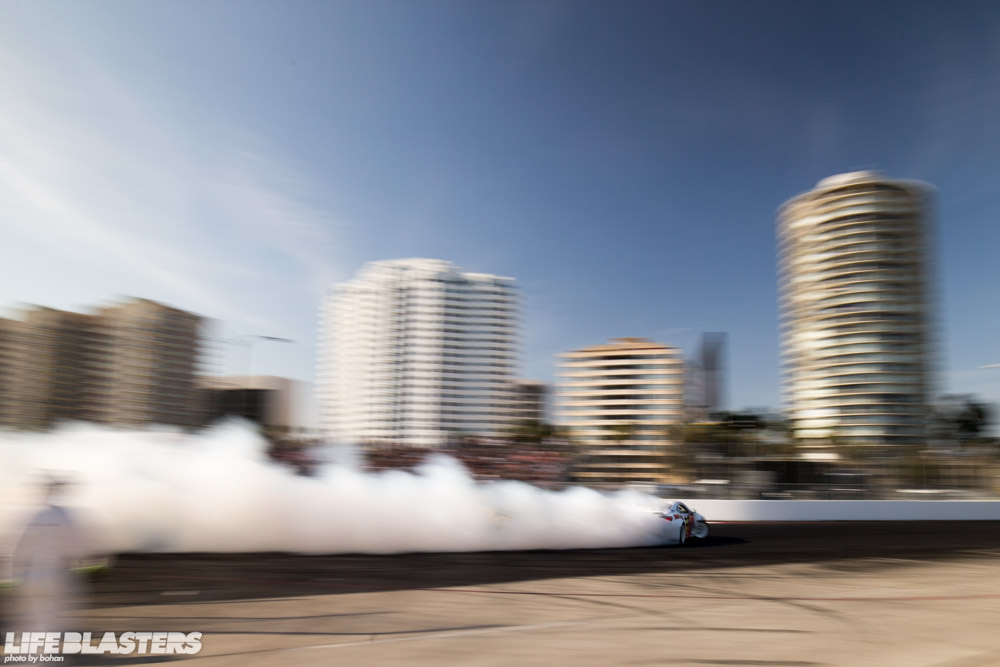 Aasbø lost second gear and couldn't hold drift, but Tuerck's runs were shaky at best and they went One More Time.
And this is where Tuerck's differential broke. There was so much on the line here too. Because of their qualifying positions, whoever lost would be getting third place. This wasn't an all-or-nothing fight. This was an all-or-almost-everything fight. Regardless, Aasbø lined up as the clocked ticked down and finally reached zero.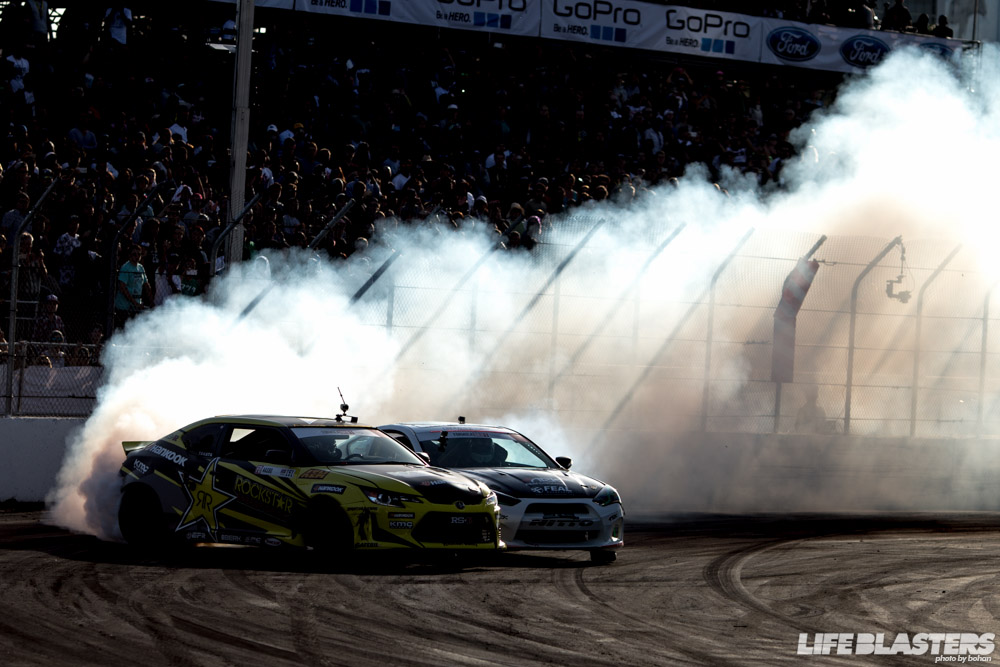 Bakchis lined up against the Norwegian Hammer as the empty grid behind them stood as a sign that this was it. The two drivers launched their cars off the line, barreling toward Turn 9.
Aasbø's lead run was absolutely on point, barely missing the walls as he exited Turn 9 and transitioned into Turn 10, with Bakchis hot on his heels. Bakchis backed off to leave room for the Scion to transition into Turn 11, but when he sped up to regain his proximity, he pushed a little too hard and nosed his Genesis into Aasbø's front wheel, causing them both to lose drift.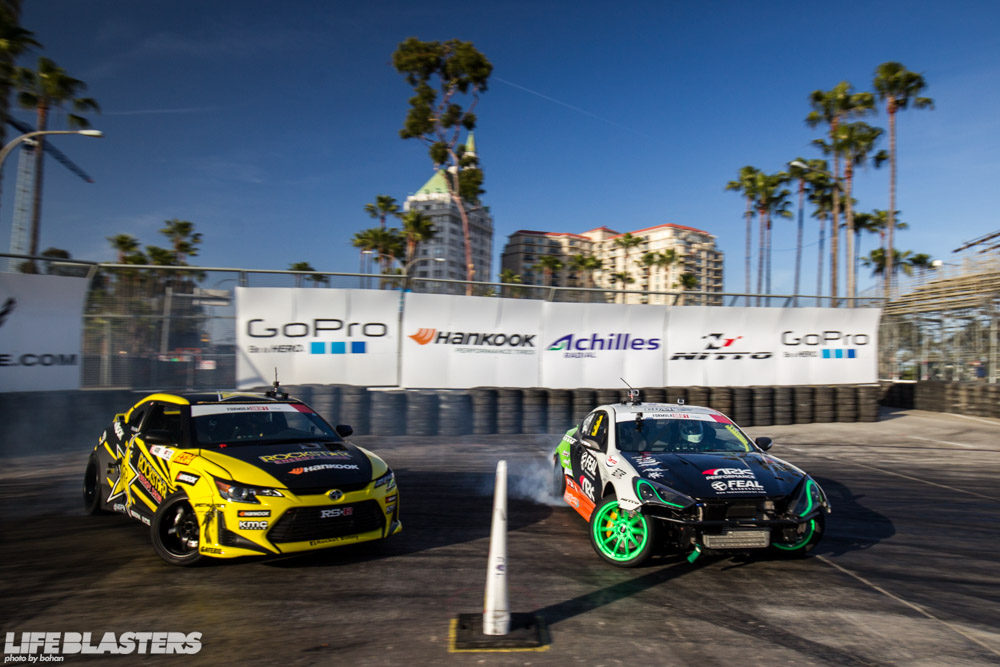 They lined up again, this time with Bakchis taking the lead. He laid down as solid of a run as Aasbø had, though Aasbø lagged a little behind. Just a little, not enough to match the error Bakchis had made on the previous run, and that was the end.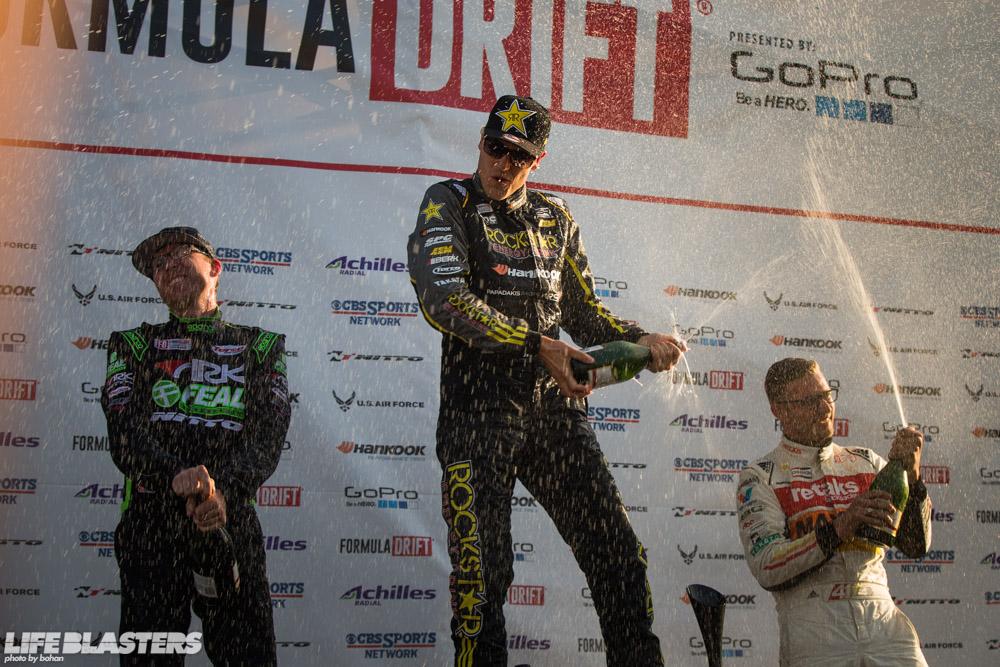 Fredric Aasbø had done it. Four times in eleven seasons, the champion started with a Round 1 victory, and three out of nine Long Beach winners have gone on to win the championship. Will Aasbø be the next to join them?
.:Bohan
Photos by Wong and Bohan
email: bohan@lifeblasters.com
instagram: @andrew_bohan, @emotiveimage, @lifeblasters
More info on FormulaD.com