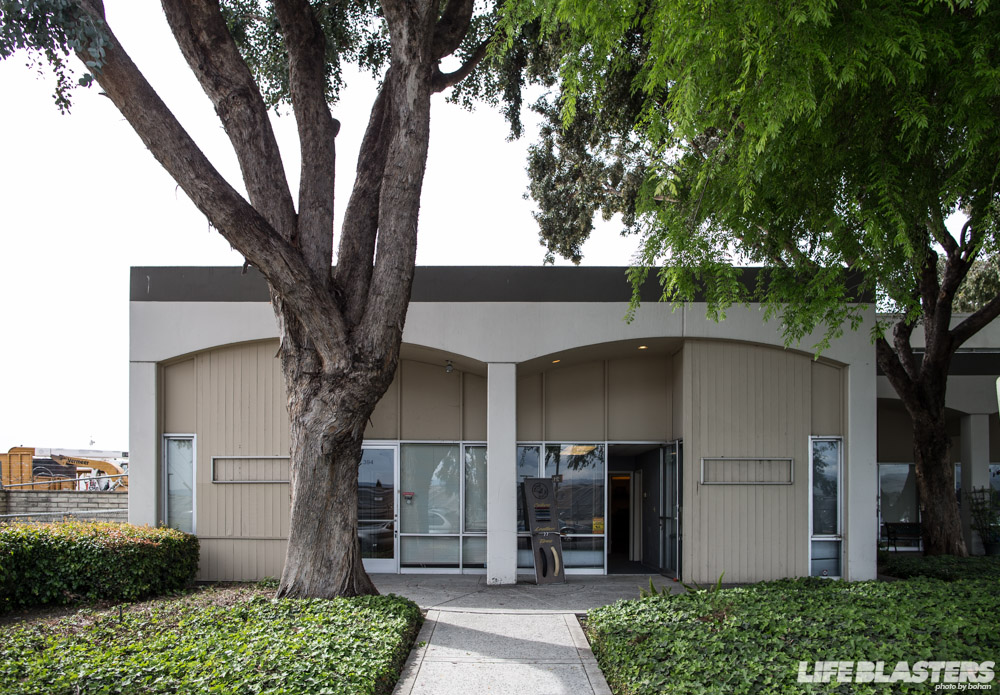 In a plain, unassuming building in a light industrial complex in Santa Clara facing the San Jose airport, there's a manufacturing operation underway that's changing the way people look at electric bicycles.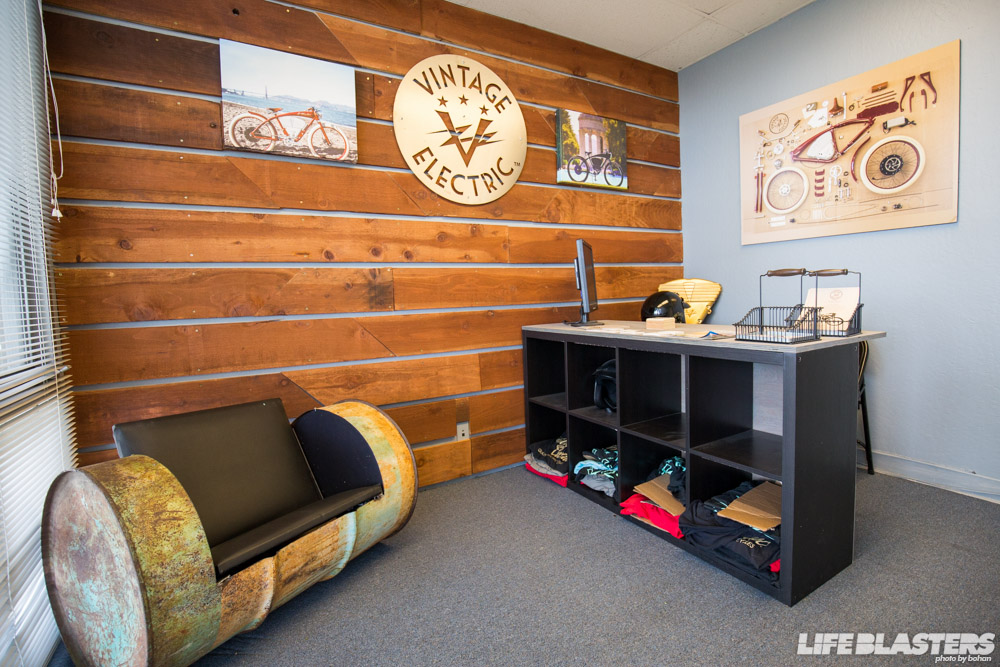 The place is called Vintage Electric Bikes, and they sure go hard on the vintage feel. Vintage Electric isn't exactly on the cutting edge of electric bike technology, but their emphasis on speed and a cohesive style is drawing a lot of attention from across the country.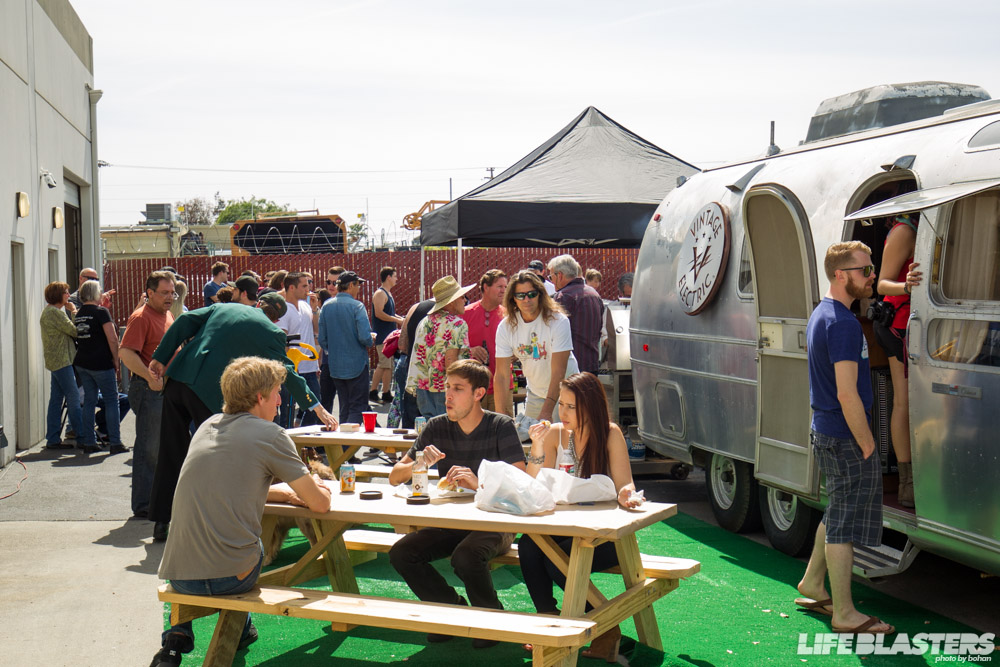 I met founder and lead designer Andrew Davidge at Thunderhill one day, and he invited me to their upcoming open house. I couldn't pass up the opportunity so I made it a point to swing by. There were plenty of people there, mostly family and friends of Davidge and rest of the crew that works at the shop.

After a burger and a beer, I gave myself a look around the shop. Up to this point, the company only had one model of bike, the E-Tracker, and there was a specimen proudly on display. I rode one at Thunderhill, so I can attest to how fun—and fast—they are: up to 20mph in street legal configuration and a whopping 36mph when set up in race mode.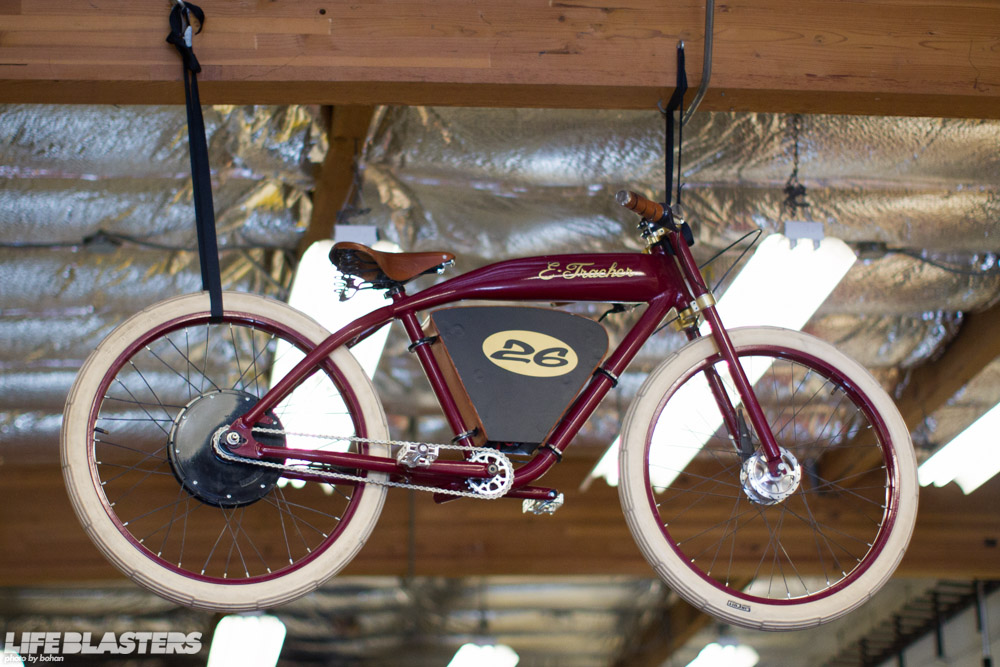 Hanging from the rafters of the shop is E-Tracker #1, the original prototype build by Davidge, his best friend James, and a few other friends three years ago. They used the metal shop at Los Gatos High School to build many of the parts and assembled the whole thing in Davidge's parents' garage. I asked him why he did that. "I really just wanted to build a kick ass bike to get around the pits at track days and kart races," was the perfect answer.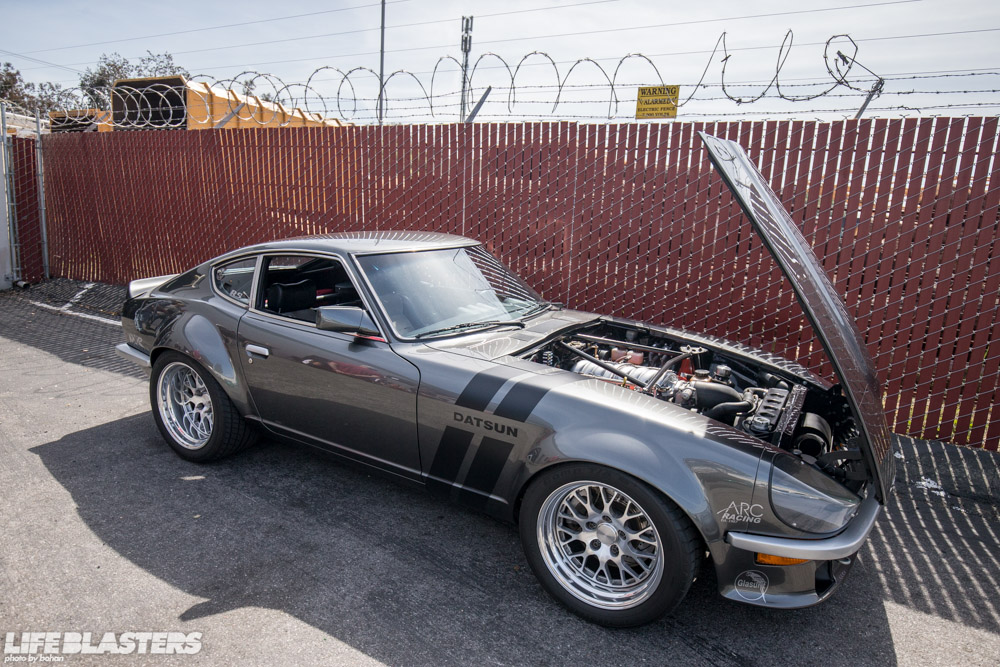 This is why he needed a pit bike and why he was at Thunderhill when I met him. But this LS-powered Z car is for a different story.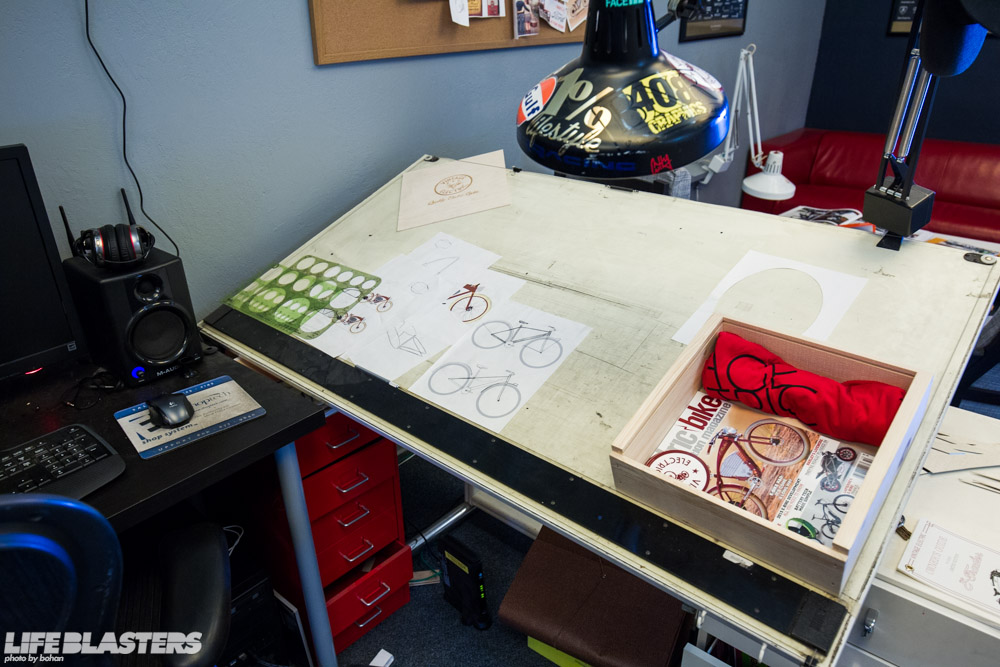 I wandered back inside to finish my self-guided tour. Behind the front office is the more functional back office/design studio.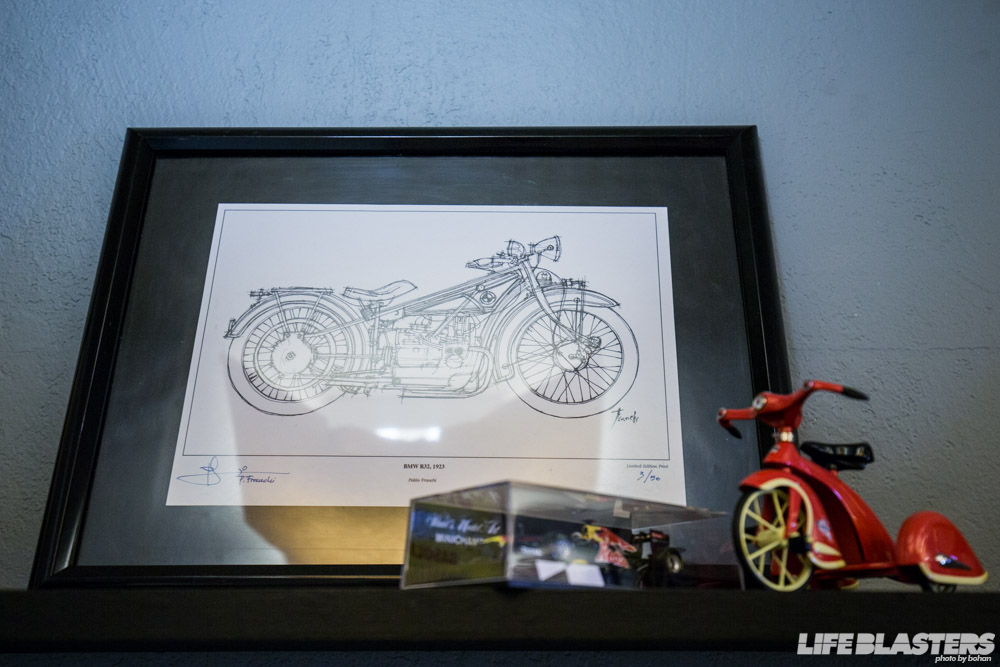 There's definitely plenty to draw on for vintage inspiration.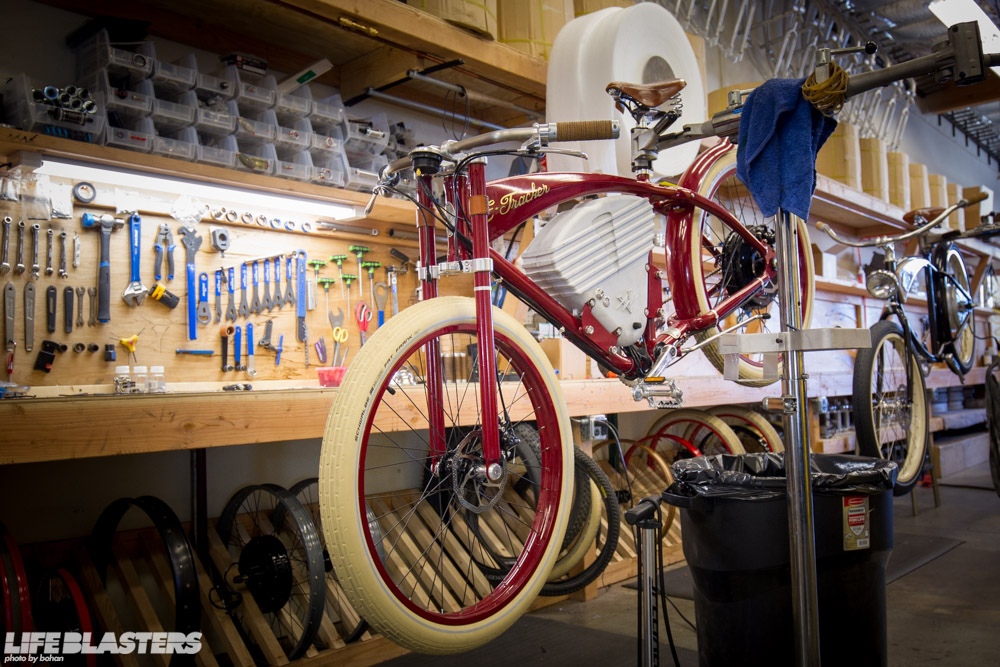 Behind the back office is the workshop, where there were a few bikes on stands, both to display them and to demonstrate how they're assembled.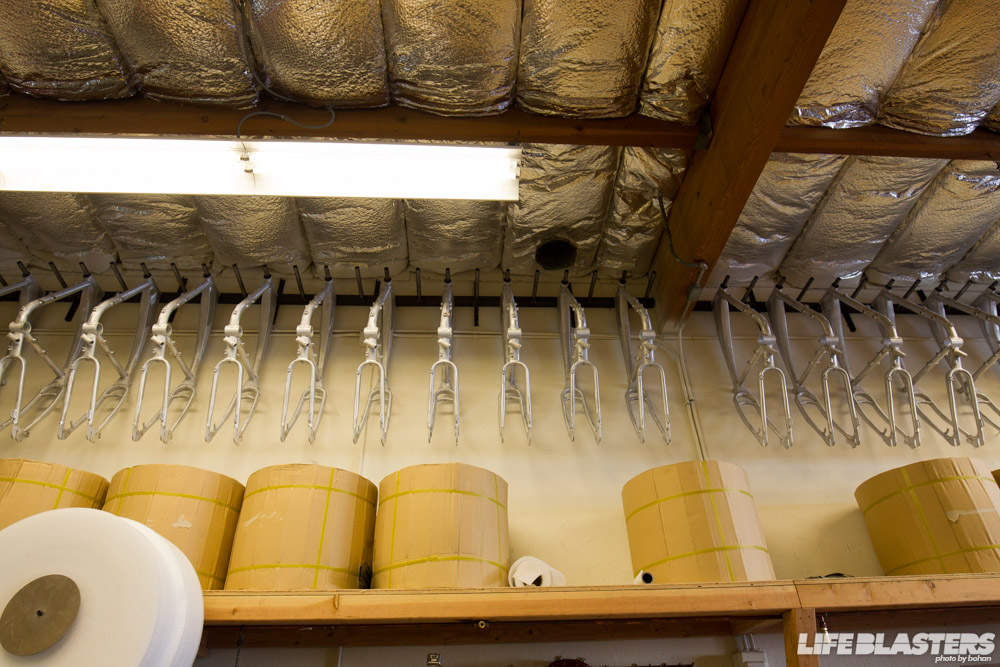 Up on the walls are hydroformed aluminum frames, ready to be sent out to paint as soon as you place an order. The E-tracker comes in four standard colors, or you can choose your own for a little bit extra.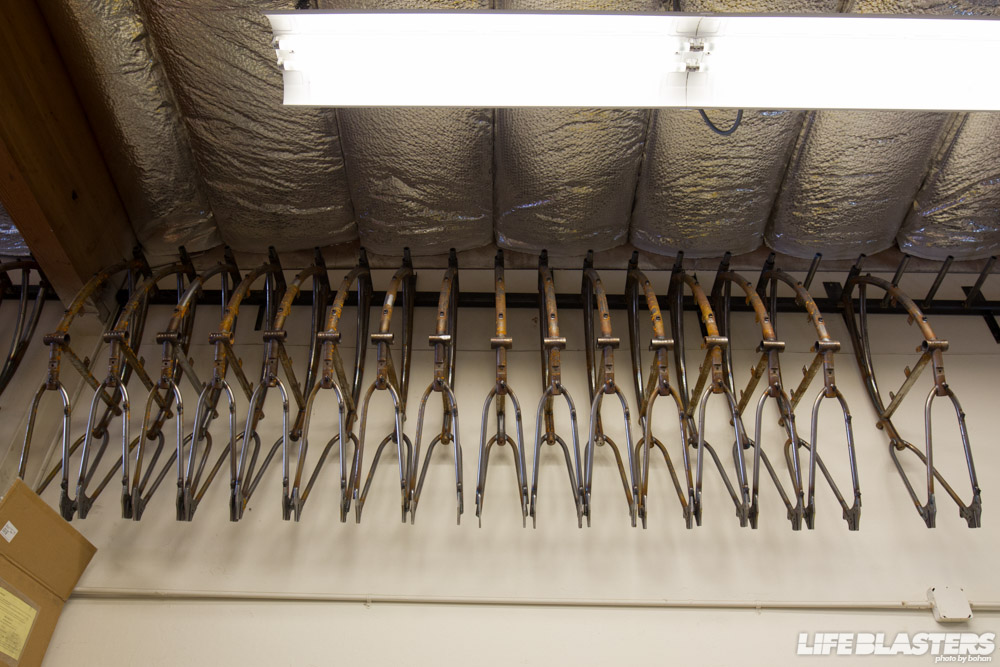 On the opposite wall were chromoly steel frames of a different design.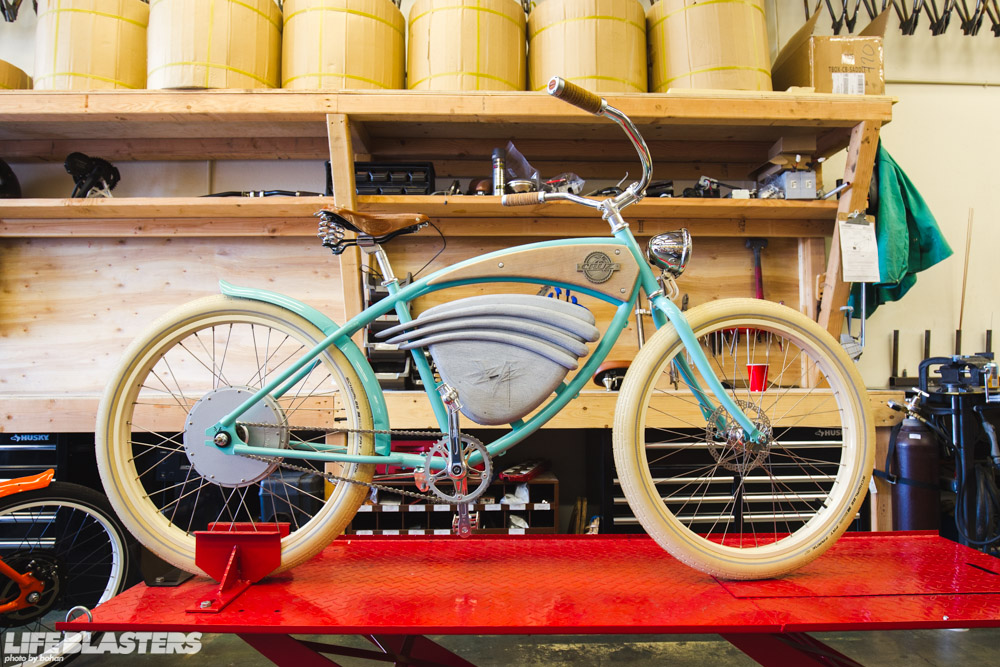 These were for the Cruz, Vintage Electric's new model just released yesterday. Pun intended, the art-deco-inspired Cruz is for cruising as opposed to the more racy E-Tracker. Don't be fooled though, the Cruz is just as fast.

Attention to detail and craftsmanship is top-notch at Vintage Electric. There's no philosophy of planned obsolescence, only durability and longevity. Davidge wants you to be able to pass your E-Tracker or Cruz down to your grandkids.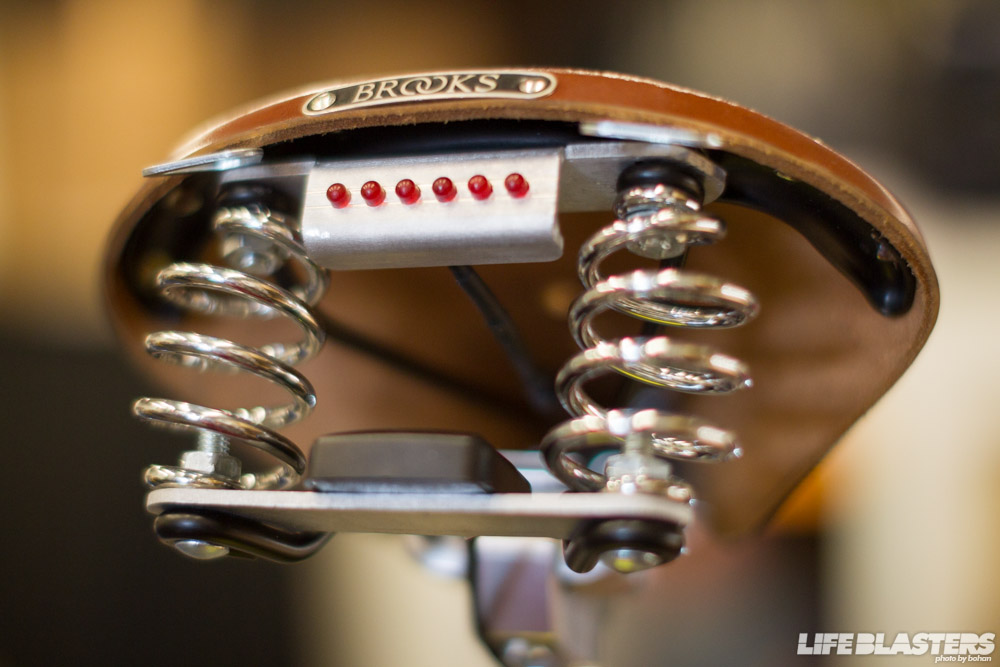 The saddles and grips are all genuine leather pieces from Brooks in England.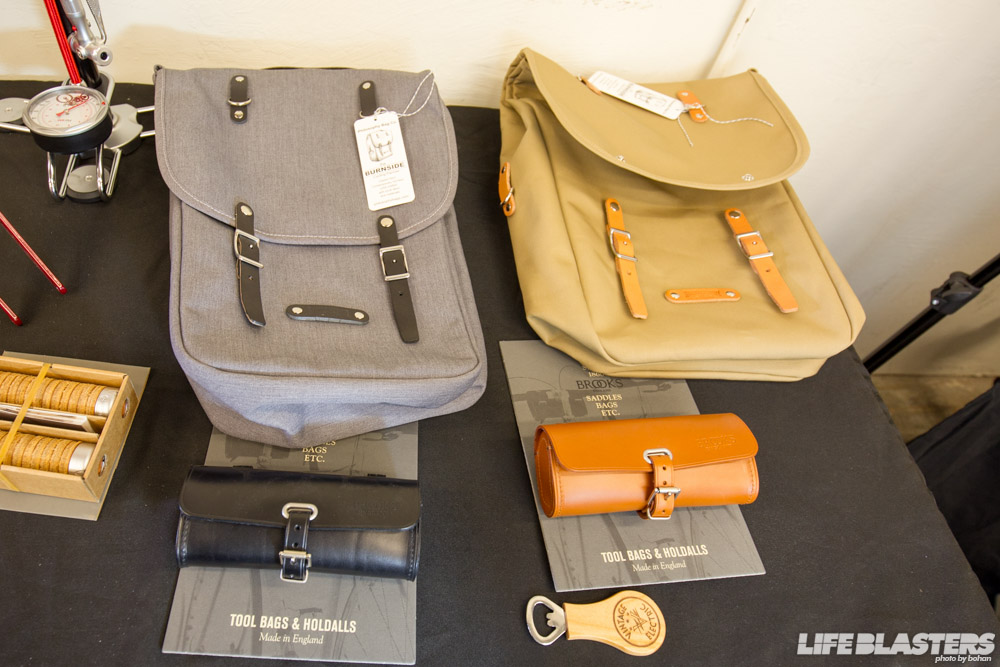 You can also get the optional Brooks tool bags or backpacks made by Portland-area Philosophy Bags.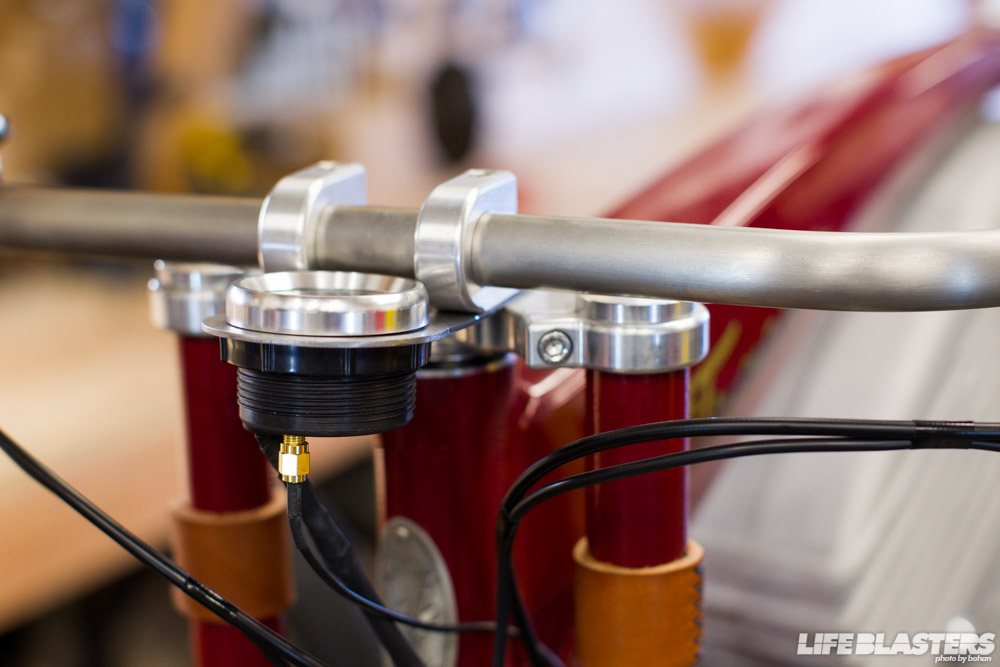 Everything on the bikes is clean and clutter-free.

Vintage Electric uses high quality hardware too, the same stuff you'd find behind the counter at any nice bicycle shop.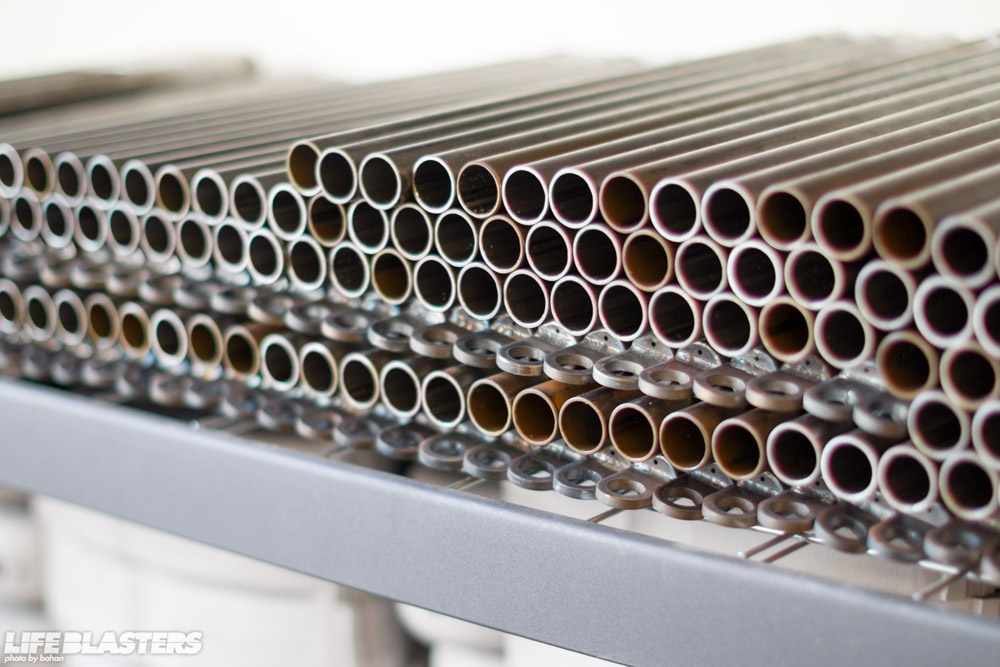 E-tracker fork tubes are lined up, ready to go.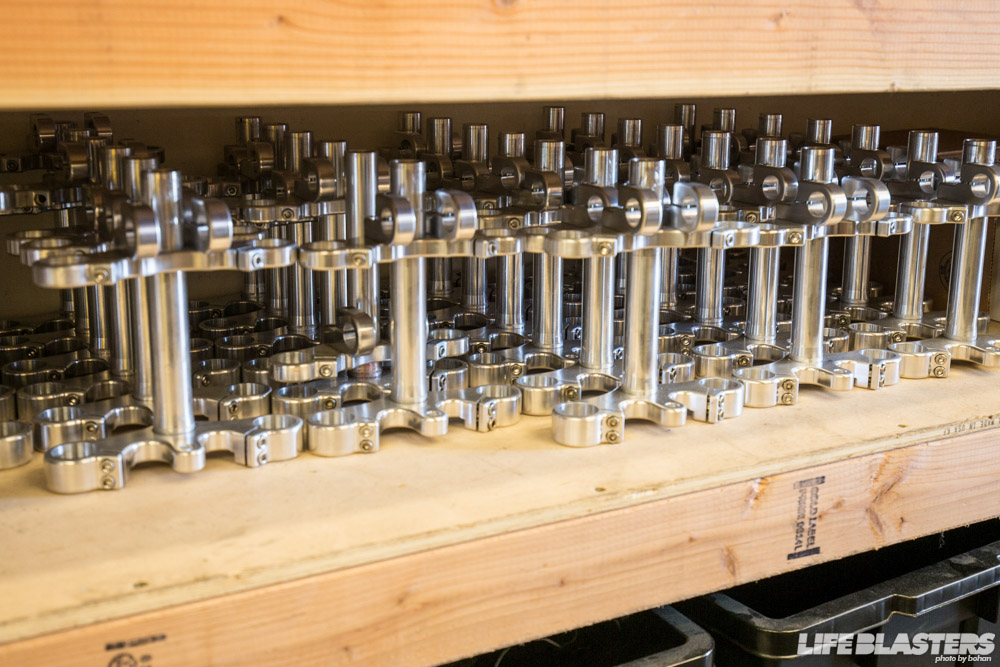 The E-Trackers use motorcycle-style triple clamps, while the Cruz uses a more traditional bicycle fork.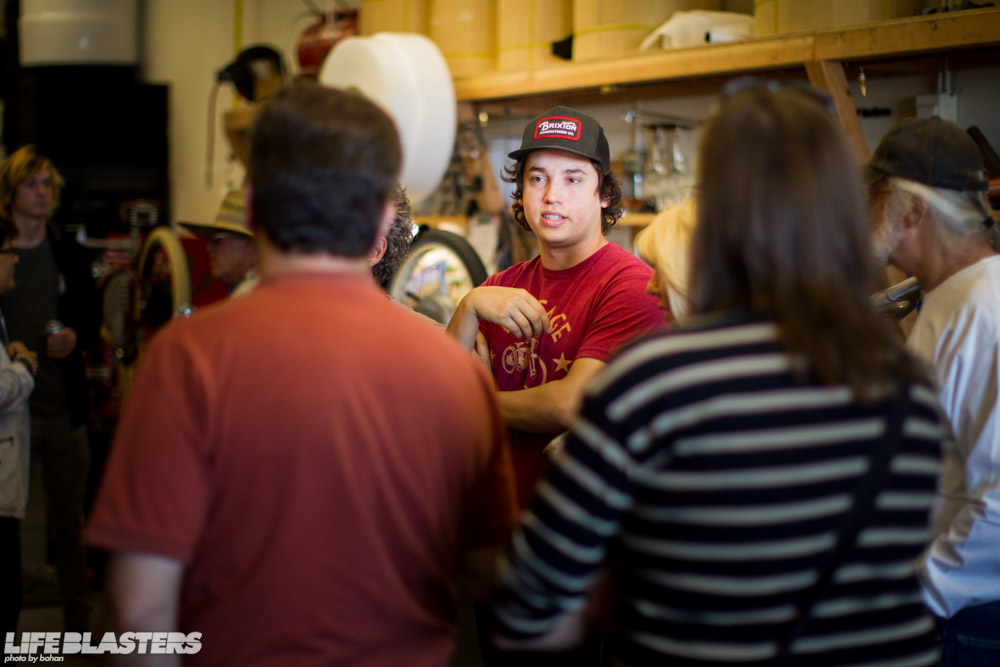 As you can imagine, Davidge spent most of his time explaining features or the manufacturing process to people. I asked him how the original E-tracker turned into a full blown operation with a waiting list for its products. "I really wanted to move down south for automotive design school, but when I saw everyone's reaction and want for the bike I decided designing bikes would be a hell of a lot more fun. So we set up shop. took a loan from my parents and went for it. It was a hell of a lot harder than I thought it was going to be!" His dad is a watercolor painter and his mom designs Google's campuses. Art and technology, coupled with money, sure sounds like a winning combination to me.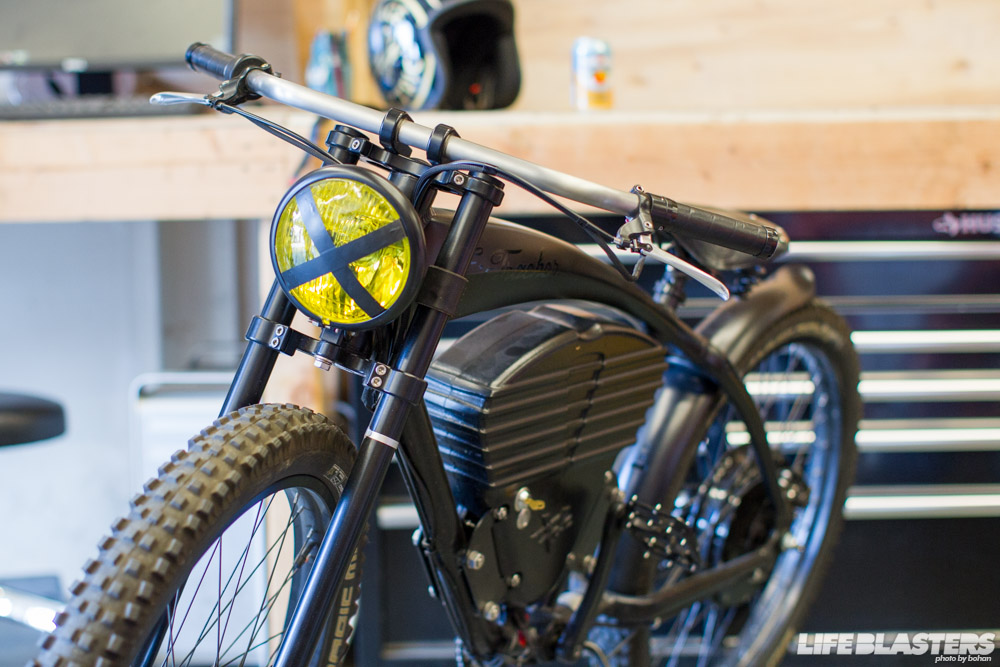 Customization options abound for the E-Tracker. Black is not one of the standard colors, yet here's a black one. It also has a black battery, saddle, and grips, dirt tires, and a yellow headlight. As of this writing, 217 E-Trackers have been sold, with six more donated to various organizations. I even saw a few at Formula D Long Beach earlier this month.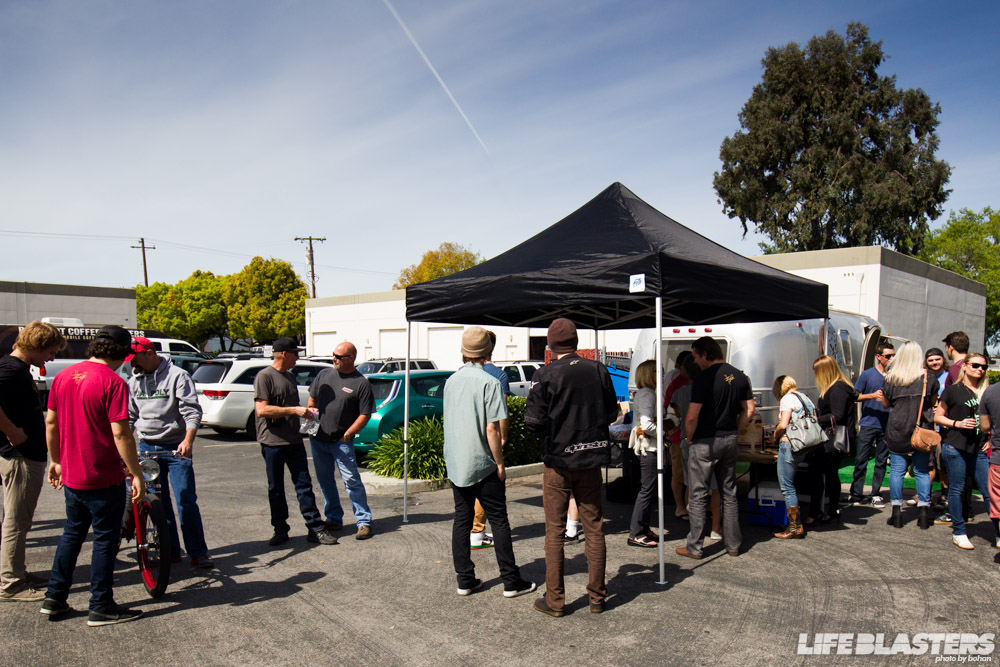 Out back, people were still lined up for burgers and beer. It was a good turnout!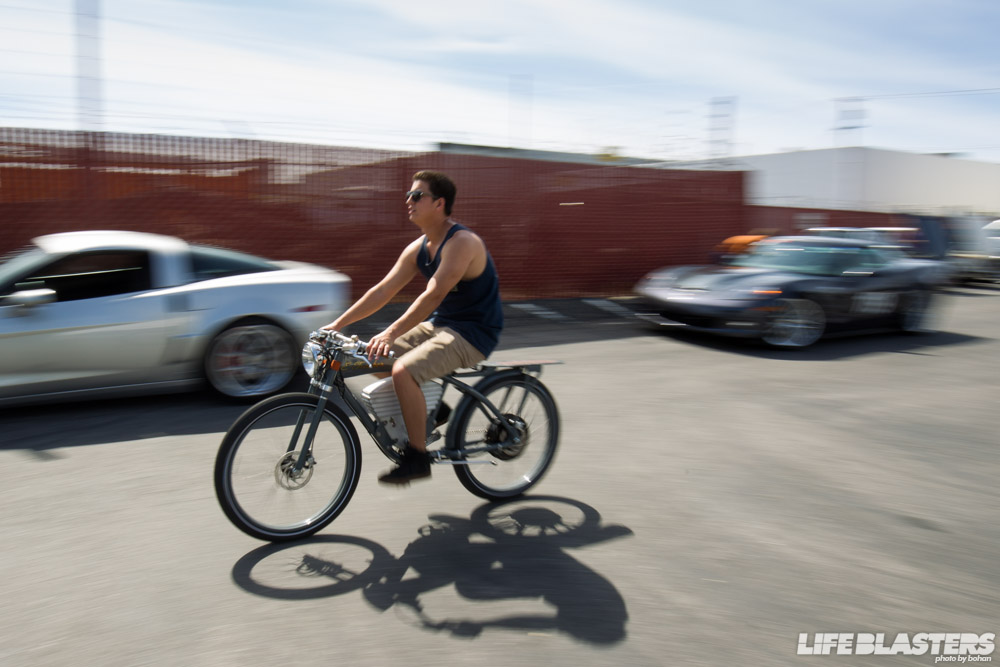 The real treat was getting to test out the E-Trackers. After a quick briefing on how the controls work, anyone who wanted to could take one out for a spin. I'm pretty sure everybody loved them.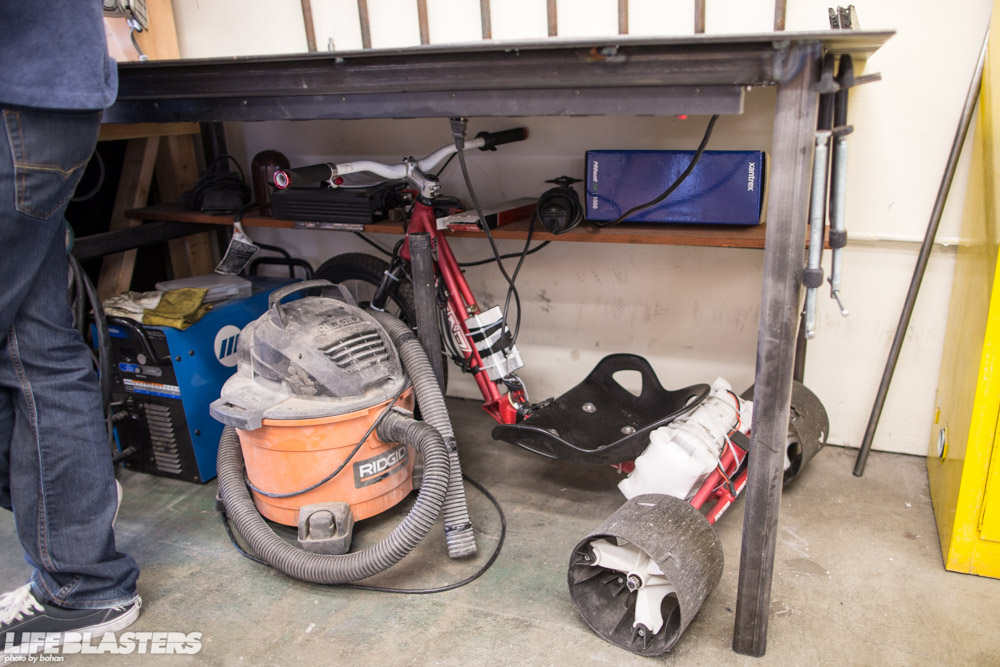 The guys kind of hinted at a future project. It looks fun, but if it goes 36mph it'll probably send you to the hospital.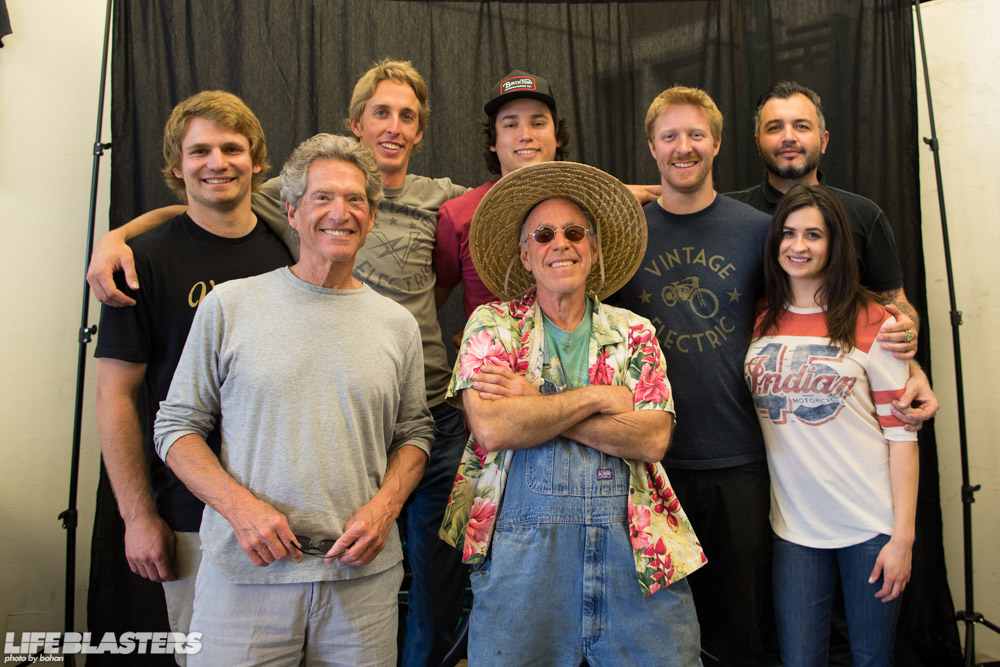 That about wraps it up. I'd like to thank Andrew Davidge and the guys for letting me poke around the shop and I wish them the best of luck!
.:Bohan
Email: bohan@lifeblasters.com
Instagram: @andrew_bohan, @lifeblasters
More info on VintageElectricBikes.com