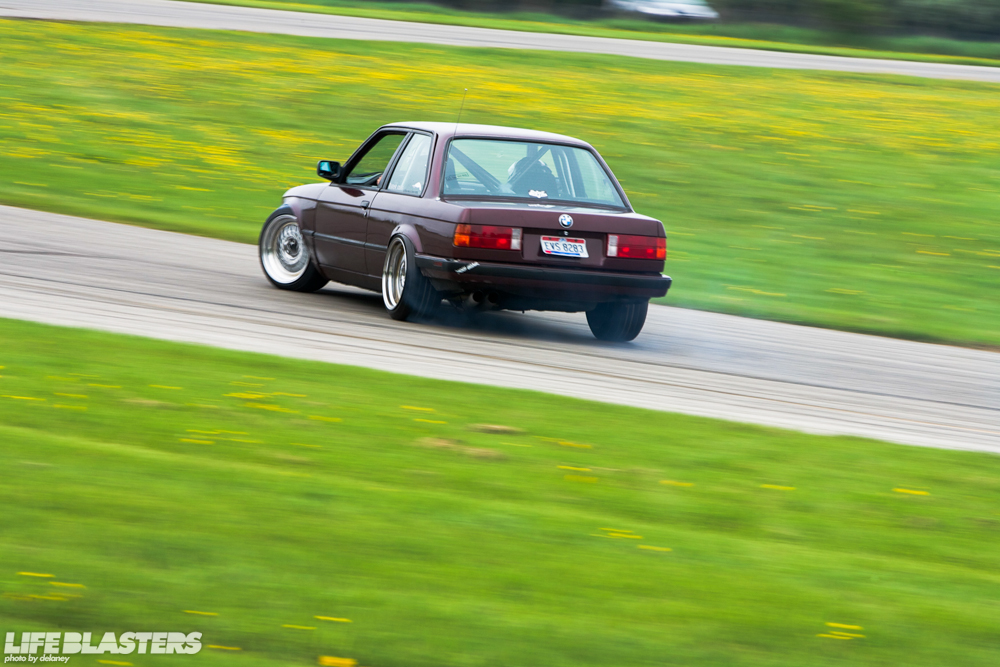 I've grown up with NASCAR, CART and the American Le Mans Series. I wasn't introduced to drifting until the early 2000s, but I had very little personal contact with it. I rarely saw it on TV, and only came across some info in magazines. It wasn't until 2007 that I really started to get into drifting, I even bought a 240SX at that time. But while working on the 240 my interest in drifting went away shortly, not getting back into it in 2012 when I first shot for Life Blasters.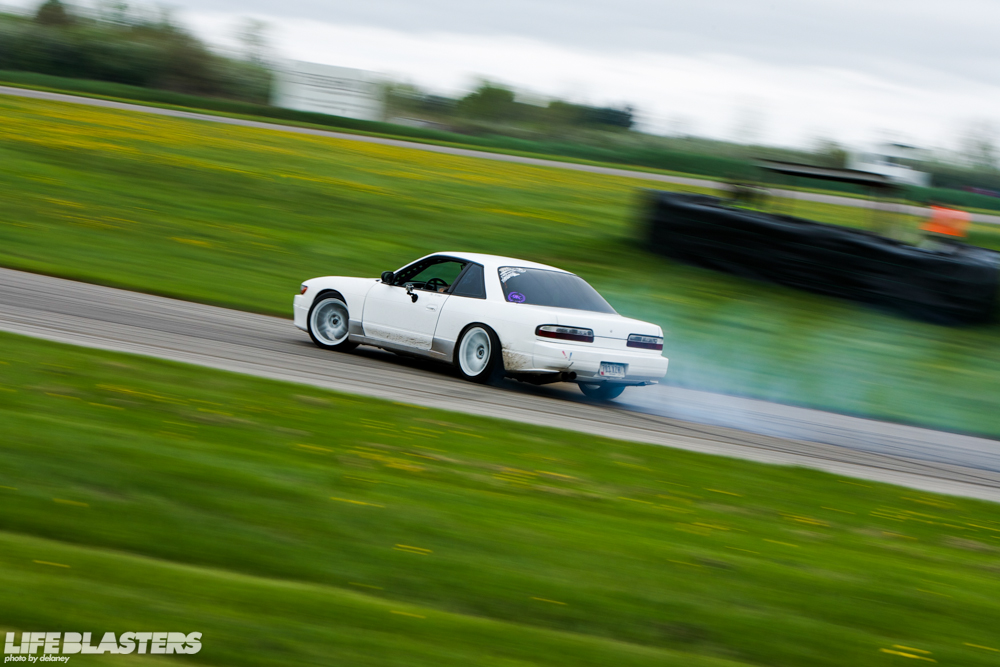 In all honesty, I'm still not the biggest drifting fan, but after going to East Coast Bash and Final Bout, I've developed quite a love for grassroots drifting. The cobbled together cars, the camaraderie, and the low key events make them some of the most fun events I've been to. So after hearing that No Star Bash was coming to Gingerman raceway in South Haven, Michigan, I knew I had to go.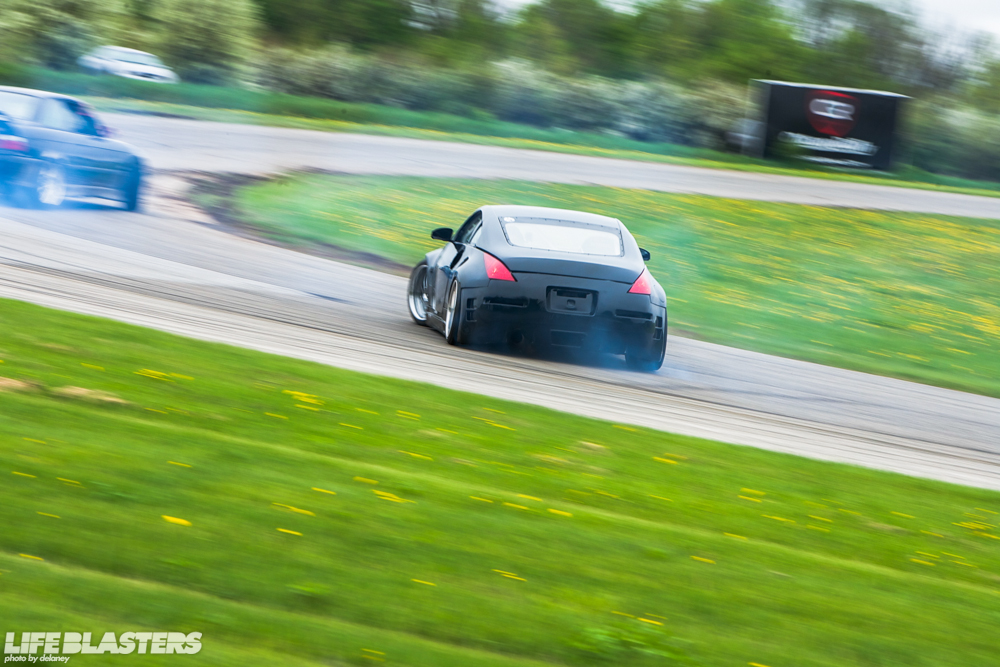 I figured a decent amount of Illinois and Minnesota teams from Final Bout would show up, like Keith Carlos, the lone representative from High Fade, the defending Final Bout champions.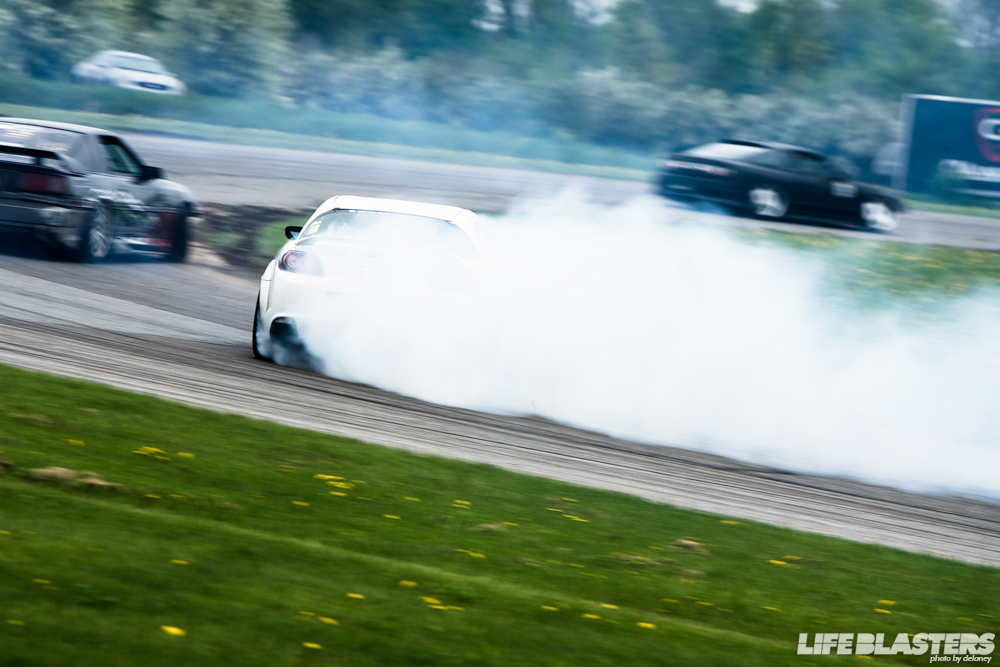 This turbo'd rotary RX8 made the most smoke over the entire weekend, but that's not because the others weren't good enough. Gingerman is about seven miles from Lake Michigan, and all weekend we were covered in thick grey clouds and small rain storms. Keeping the track damp and almost smokeless.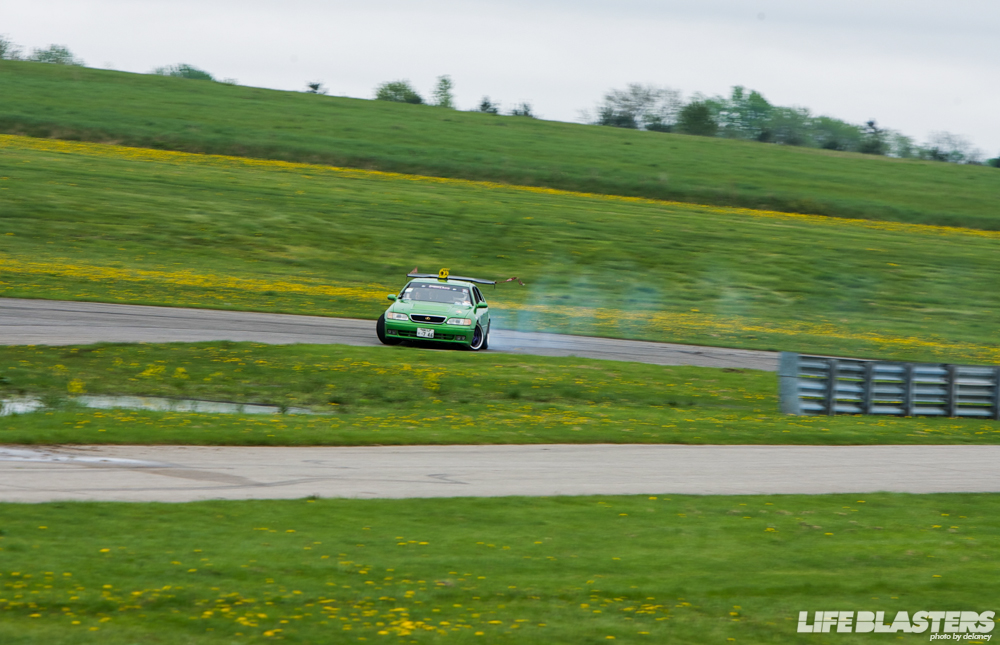 But that didn't stop the 100 drivers from having some fun. This 1JZ Aristo from Team Oneway was acting as the drift taxi for the weekend, giving the event a bit of a Gatebil feel.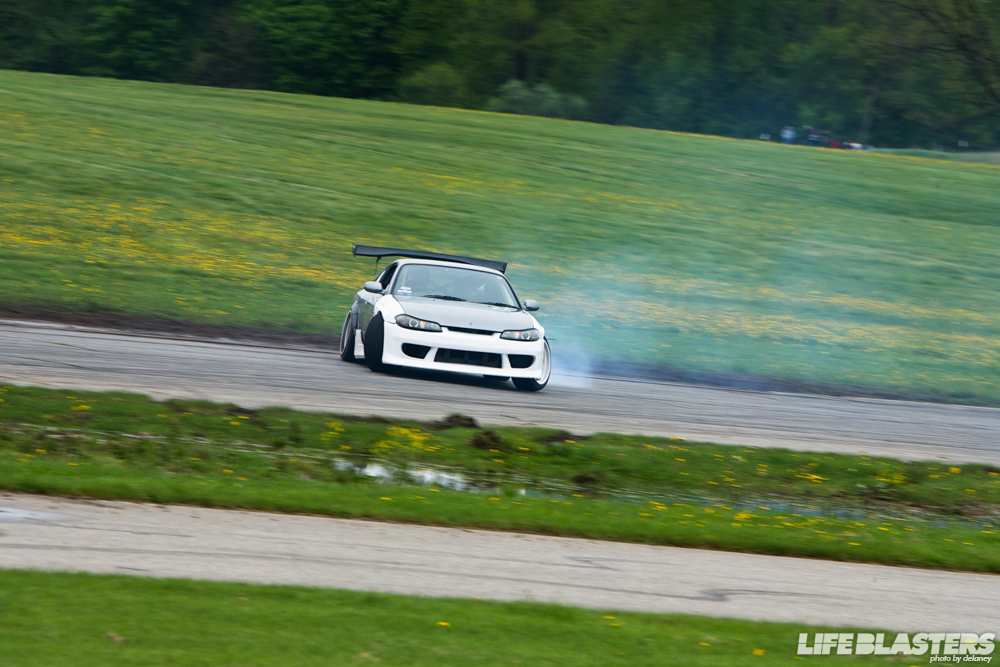 One car that caught my eye as soon as we pulled in was of course this S15. With a solid amount of S Chassis cars on hand, it seemed perfect to have on S15 to complete the spectrum.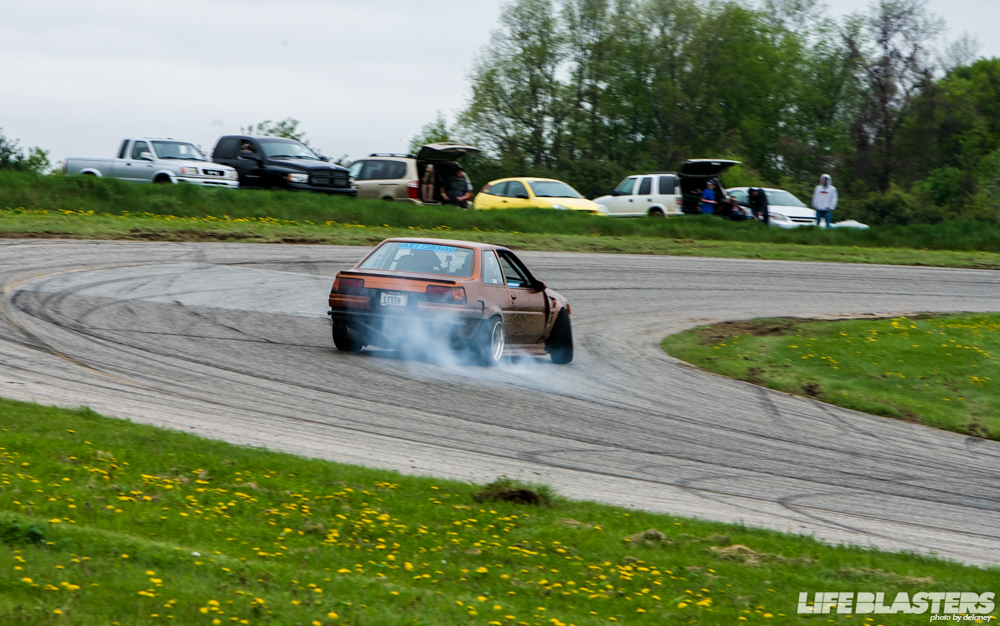 This copper Levin was another car that caught my eyes. I've never been to Japan, and using the saying Japanese is overused, but this Levin really gave me a Japanese feeling.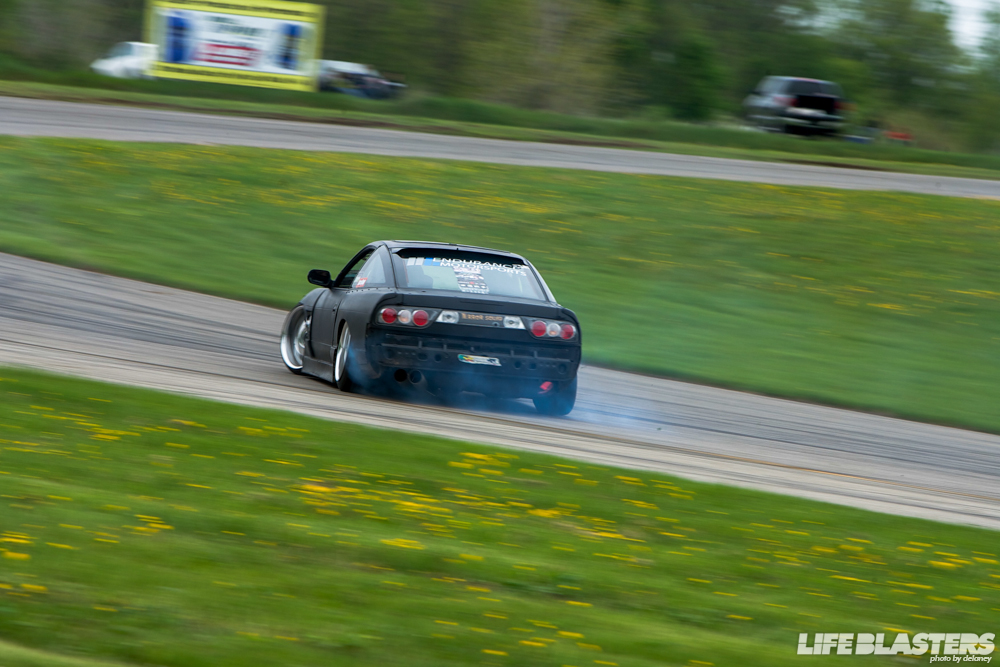 No matter how many different cars there were, you can't deny the 240SX. There's just something about stance and camber that looks right.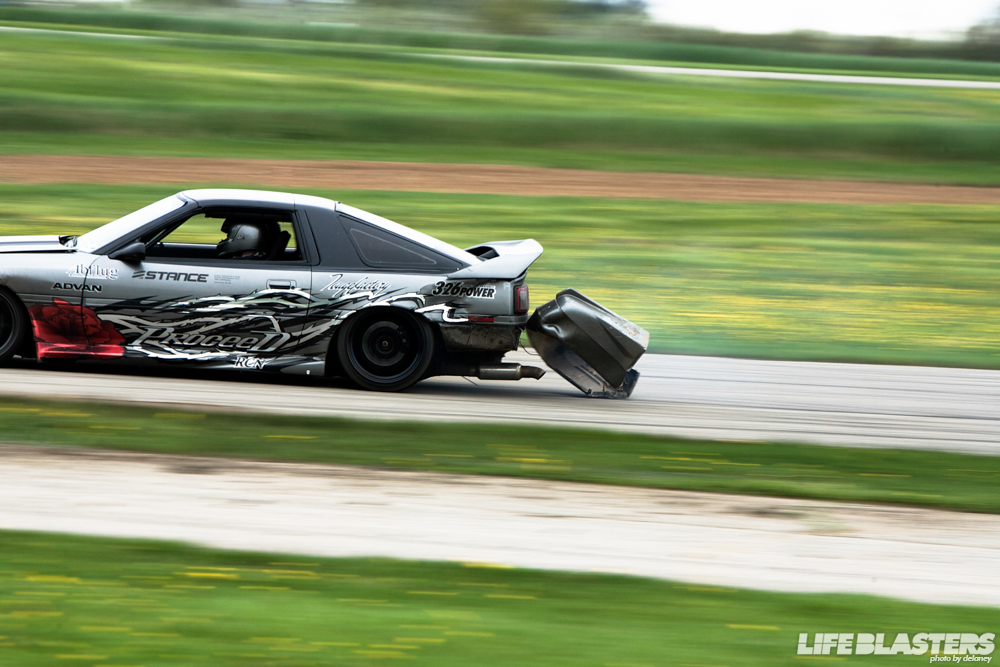 Another car representative from Final Bout was Leigh Roto from Team Proceed. I only saw him on day one, but he was still making his runs.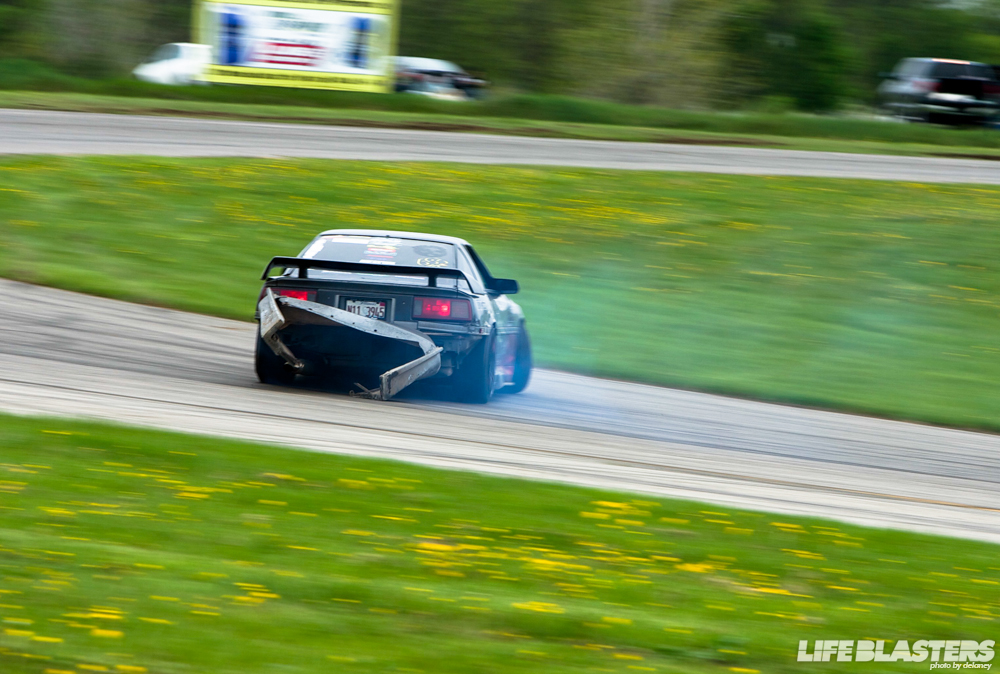 Even doing a few runs with his bumper barely hanging on. That's drifting, right?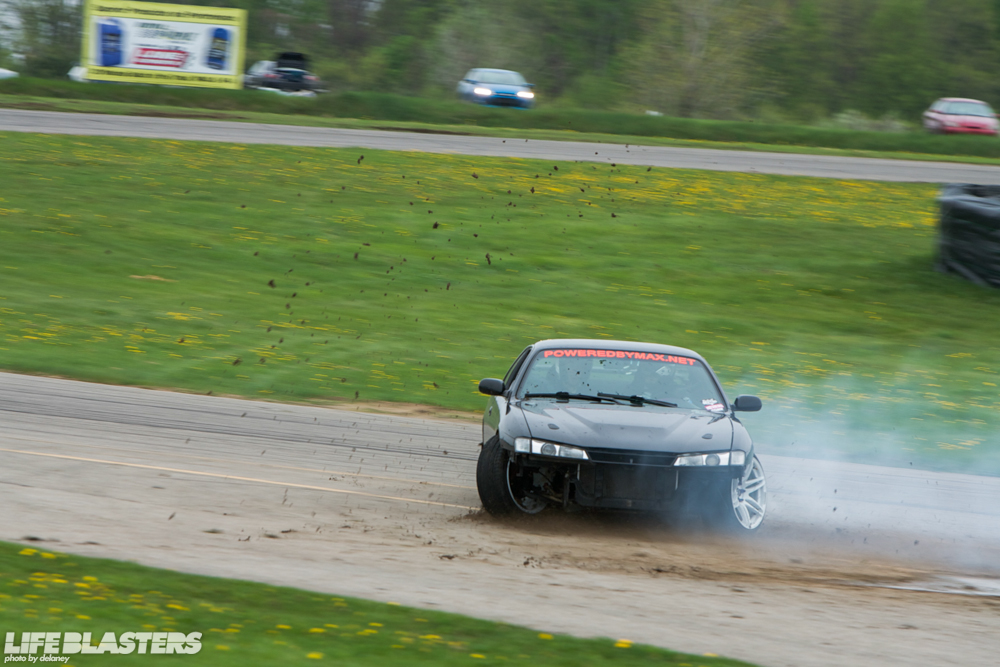 Not being a professional event, there were more than a few spins. Mix that with the on and off rain, and the track wasn't the best. If anything, it added to the whole event, I can't say how many drivers out there were rookies, but you have to learn sometime!

The week before No Star Bash was pretty pleasant and warm, but that weekend Mother Nature decided we needed some rain. The section just after the first turn, between the track and pit road exit was turned into a small lagoon. Luckily most drivers were able to stop their cars just before going off.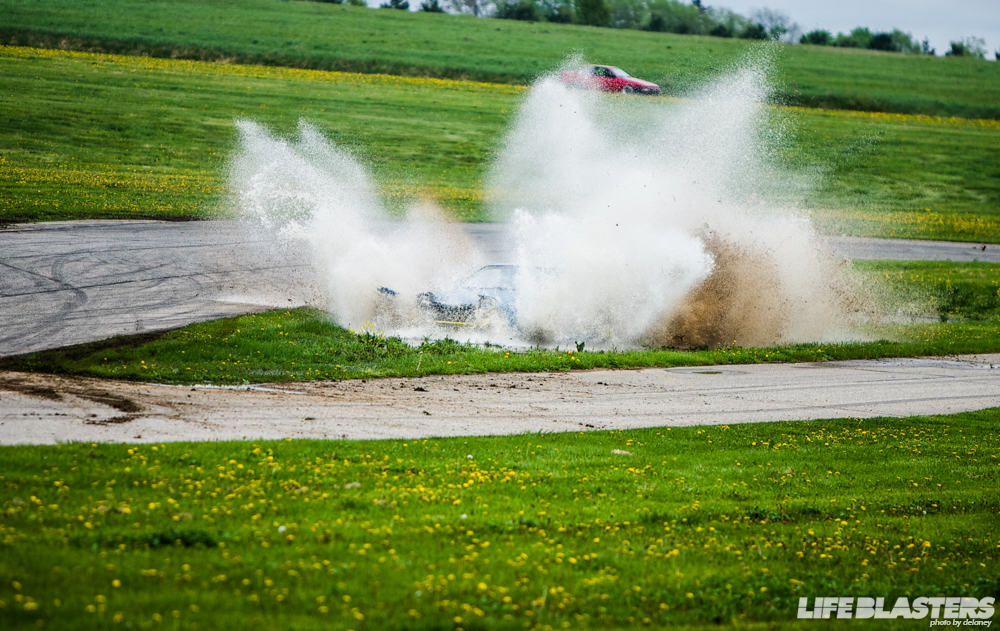 Unfortunately this poor guy in his 240 had just a tad bit too much momentum.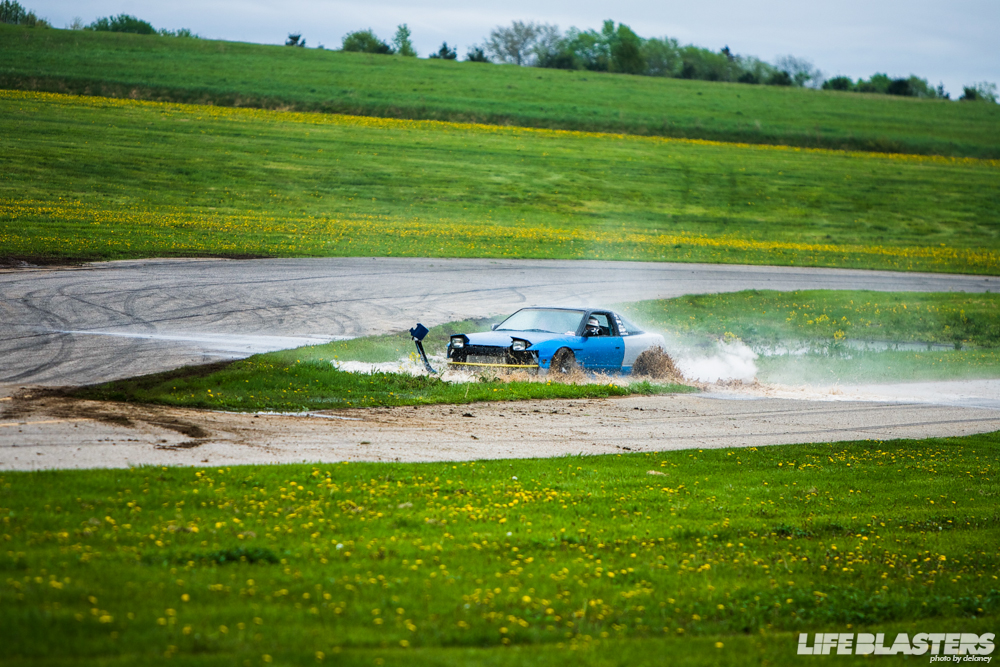 After seeing how deep he was stuck, and the 5pm cut off time coming up quick, we decided to call it quits for today and head home.

But first a trip through the paddock was in order. First up was the S15, how could I not. Most cars were caked in layers of mud after a hard day of driving.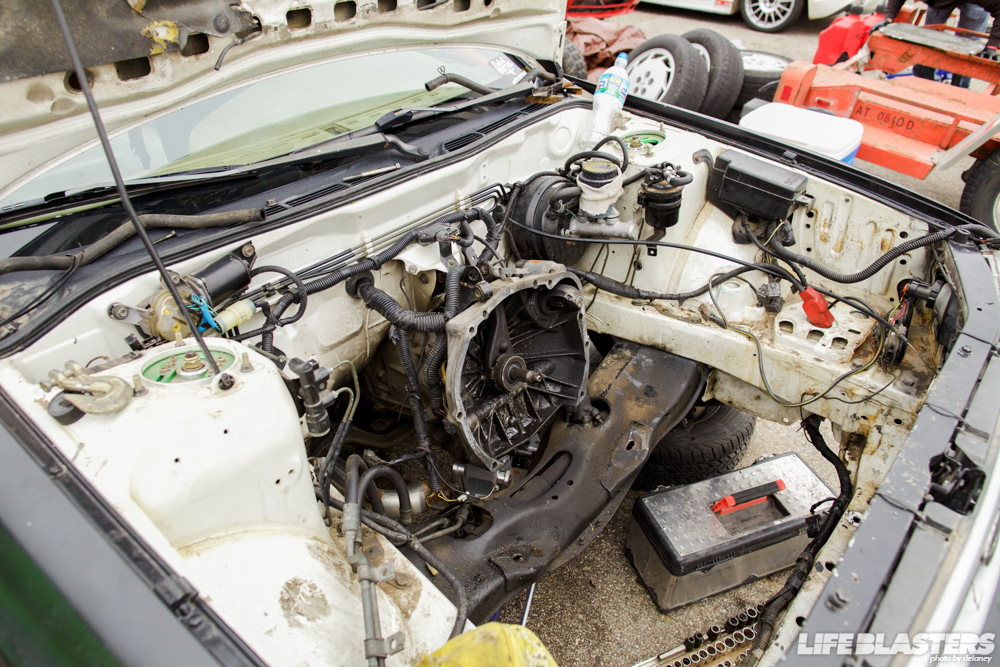 It wouldn't be a grassroots event if there wasn't some sort of major work going on. This Subaru Legacy was sitting in the pits with the engine sitting in front on the ground.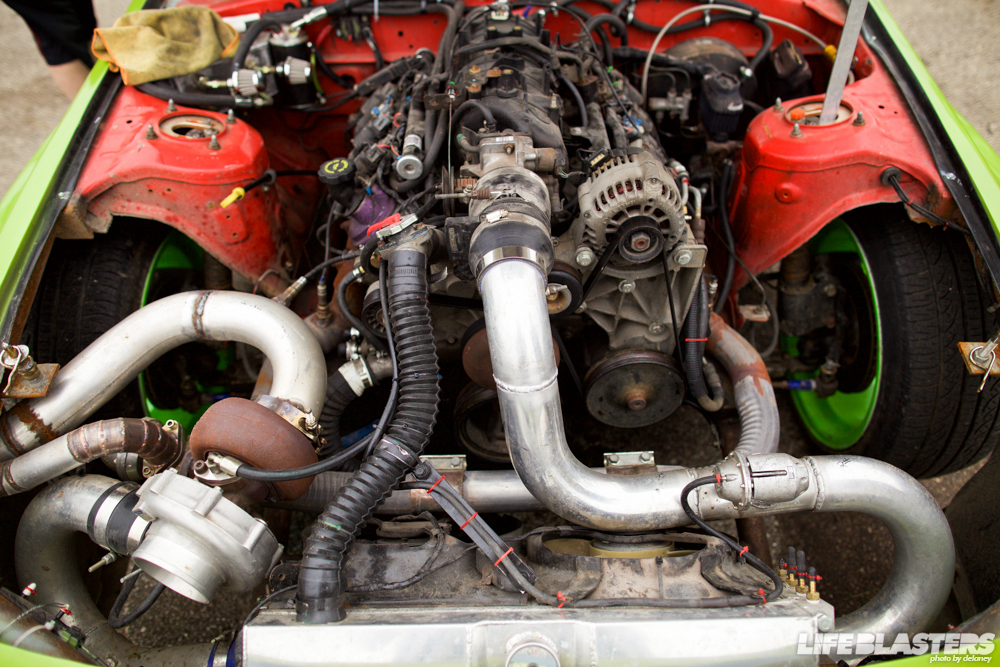 Right next door was this insane FC RX7. Everything about this car I love, the exhaust pipes used to run from the engine to the turbo, the screamer pipe made out of welded together angle pieces, the turbo placed way off to the side and the set back engine. Sadly I never saw this car run, but man it was an awesome piece of grassroots art.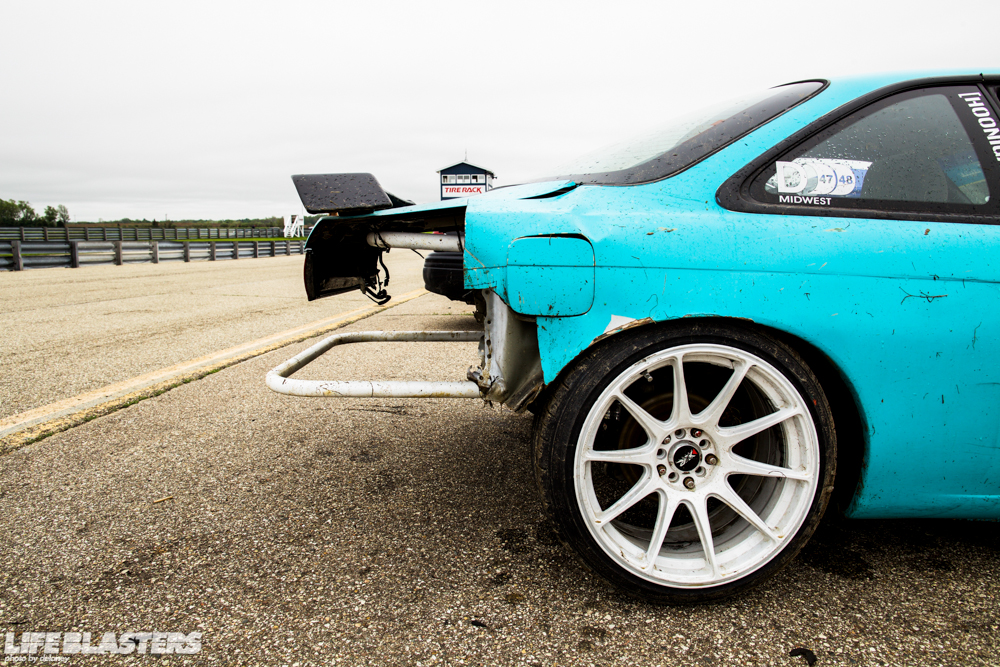 Then there was this. No weight in rear means perfect drift car, right?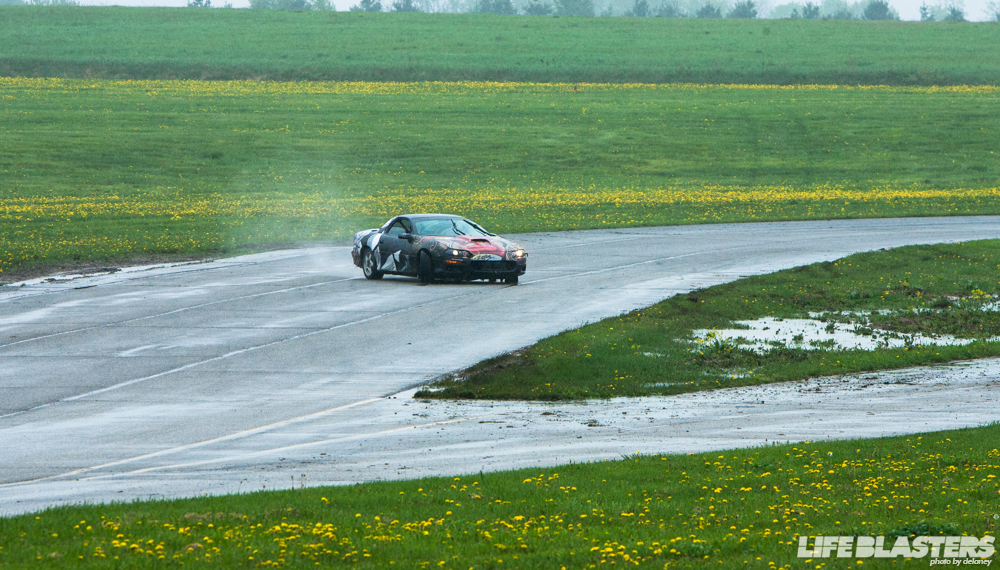 With day one being done, we headed back for day two for a few hours to get a little more action. Little did we know what was about to happen.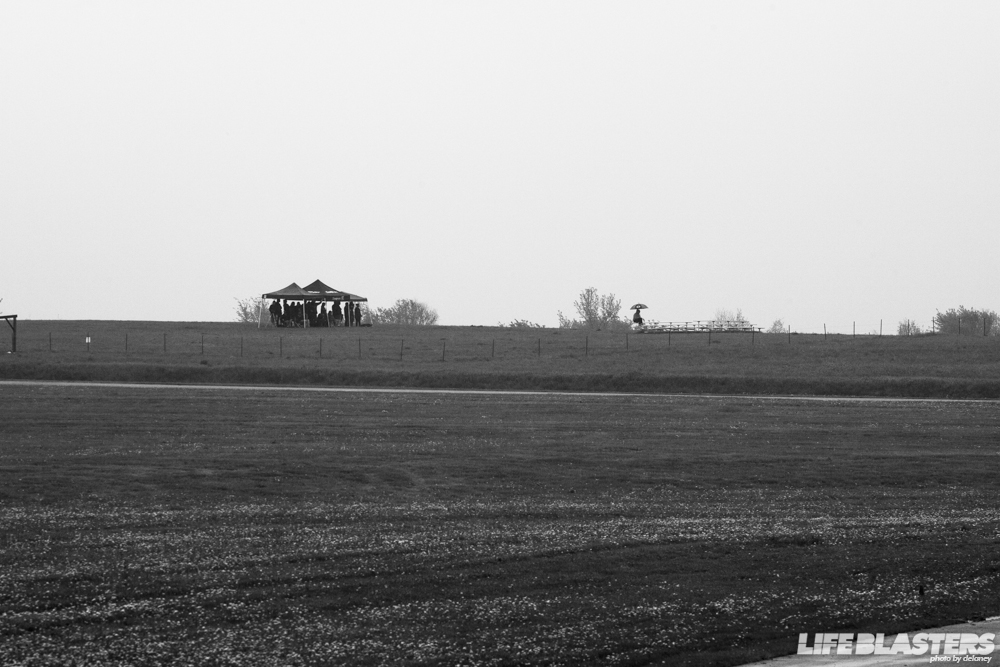 While the crowds weren't huge, they were die-hard fans and friends who wouldn't miss a single event. Even this one, that was plagued with rain all weekend.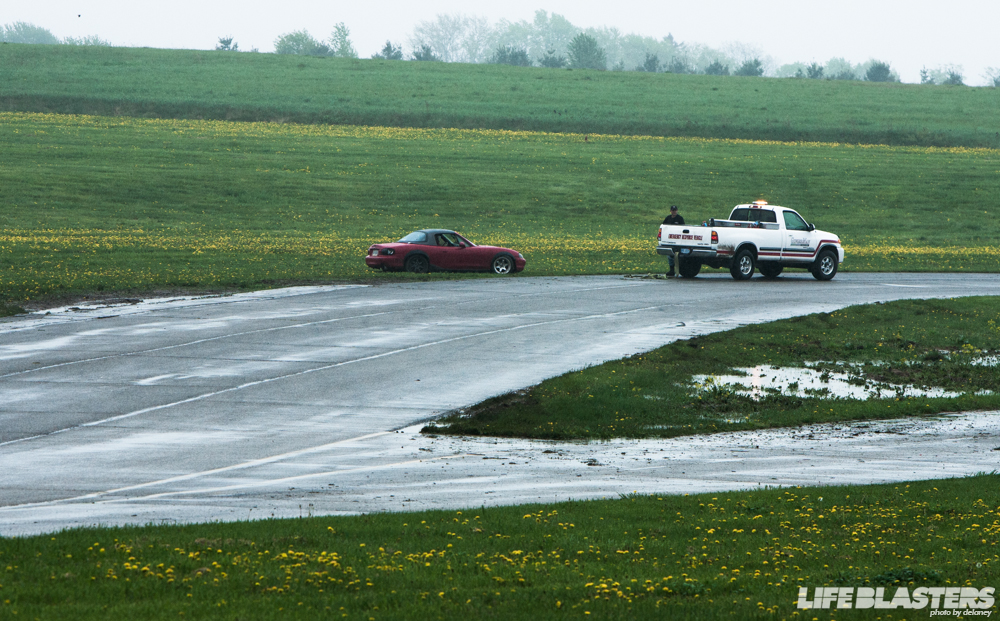 After day one, the ground only became even more saturated. As soon as someone went off and lost momentum, they'd be there for a while.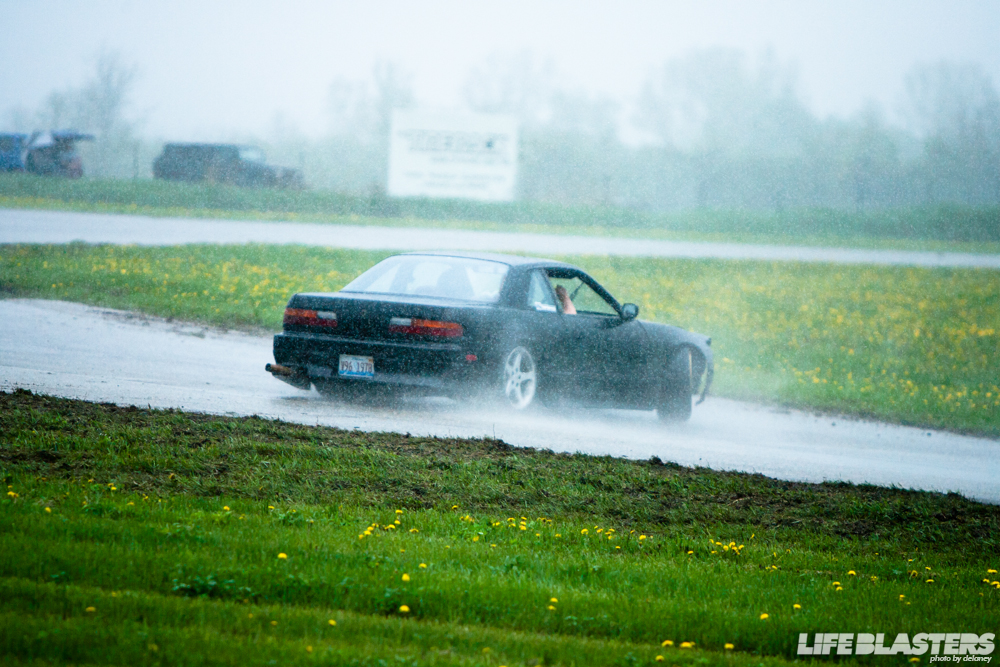 Then all off Lake Michigan decided it needed to be seven miles more inland. Living in Michigan we're no strangers to rain, but this rain was heavy.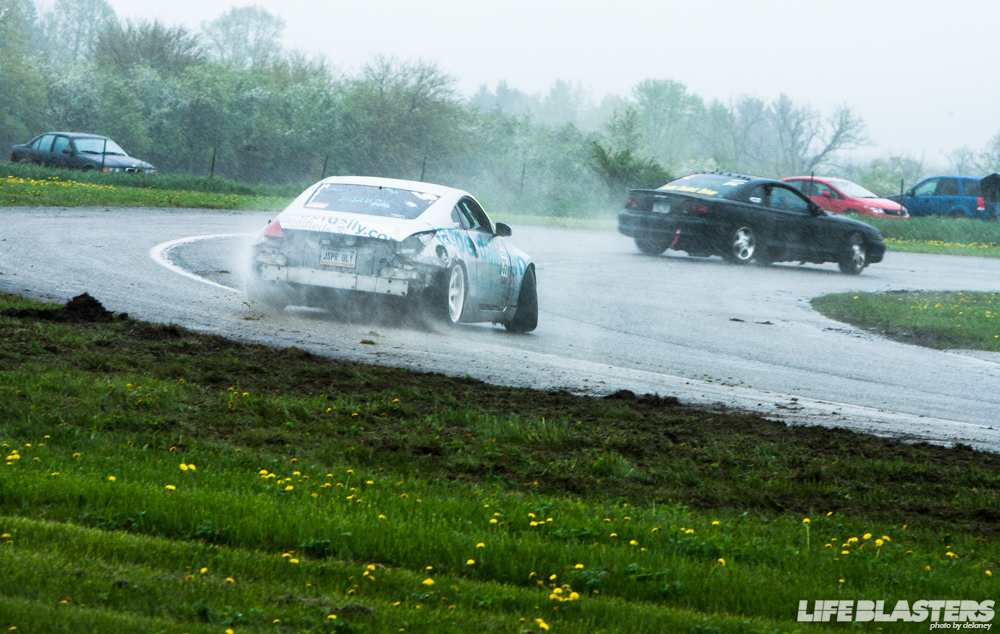 But one look around the track, you'd think it was a nice summer day. None of the spectators flinched, Some sat in their trunks, others had umbrellas and some just stood there. And the action on track seemed to actually speed up.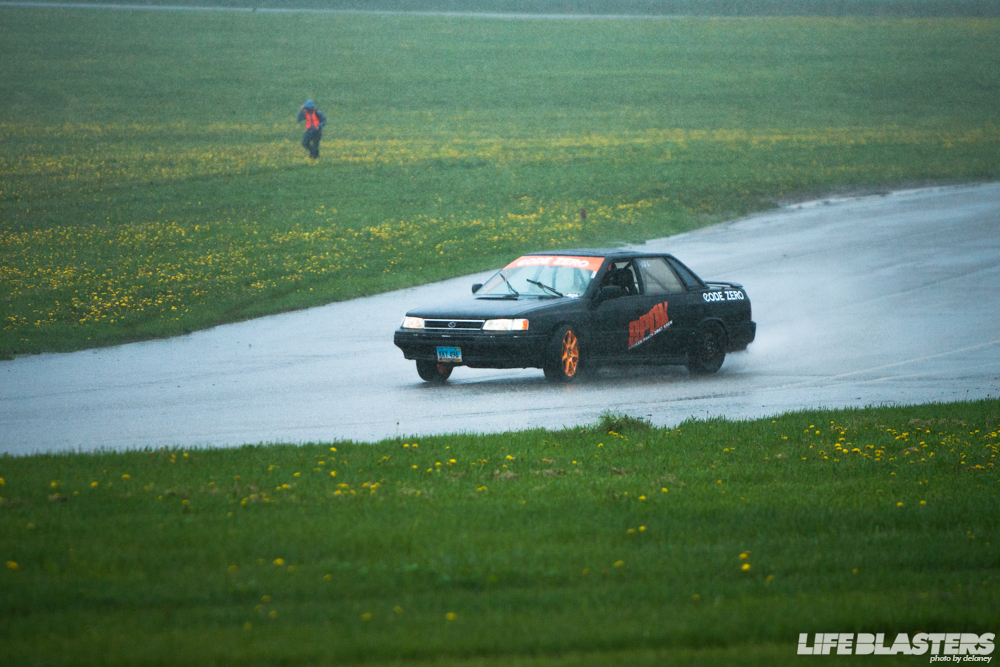 The Subaru from the day before had its engine back and it was out there running hard.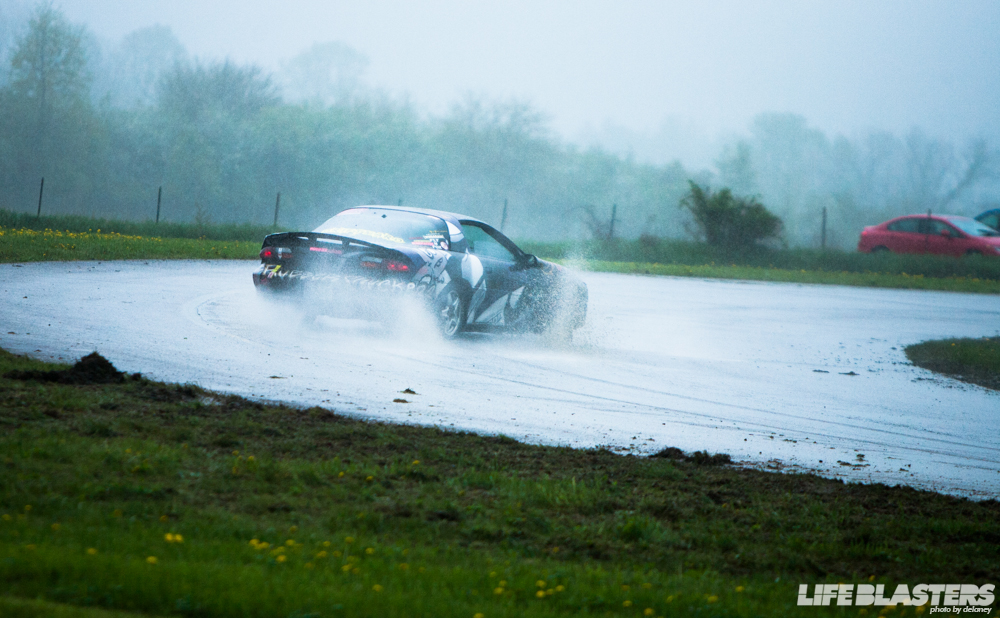 Mixed in with the 240s and Mazdas, there were a few American muscle cars out there sliding too. How often do you see a car drifting with an LSx out of the factory?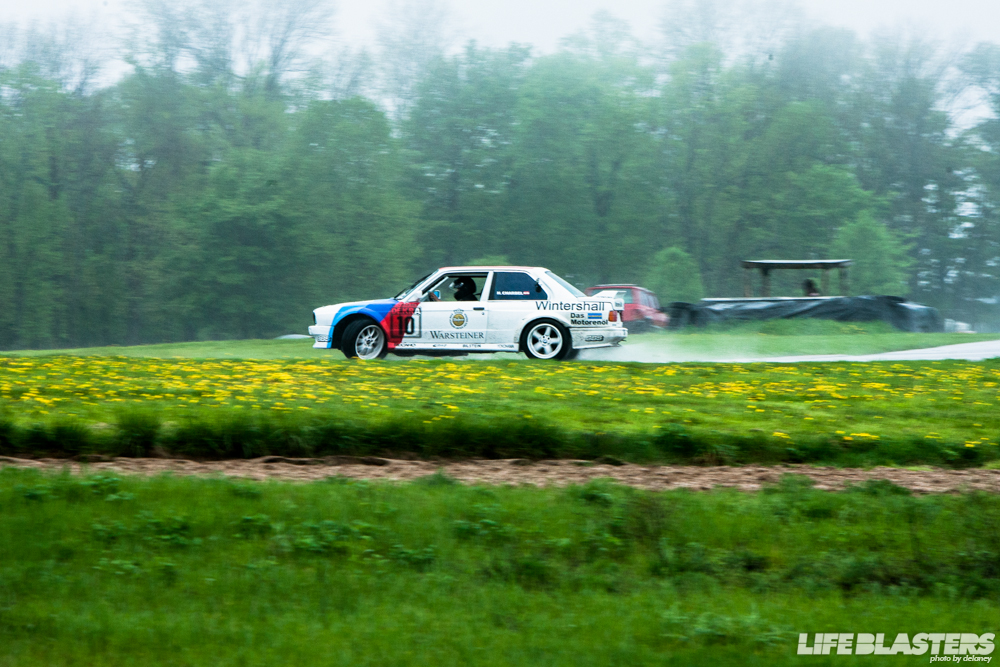 Then my favorite car was this E30. A few weeks ago I saw this car at a car show, but it left soon after I got there. After asking about it online, I heard it was going to be at No Star, so thanks to this car, it's the reason I made it here.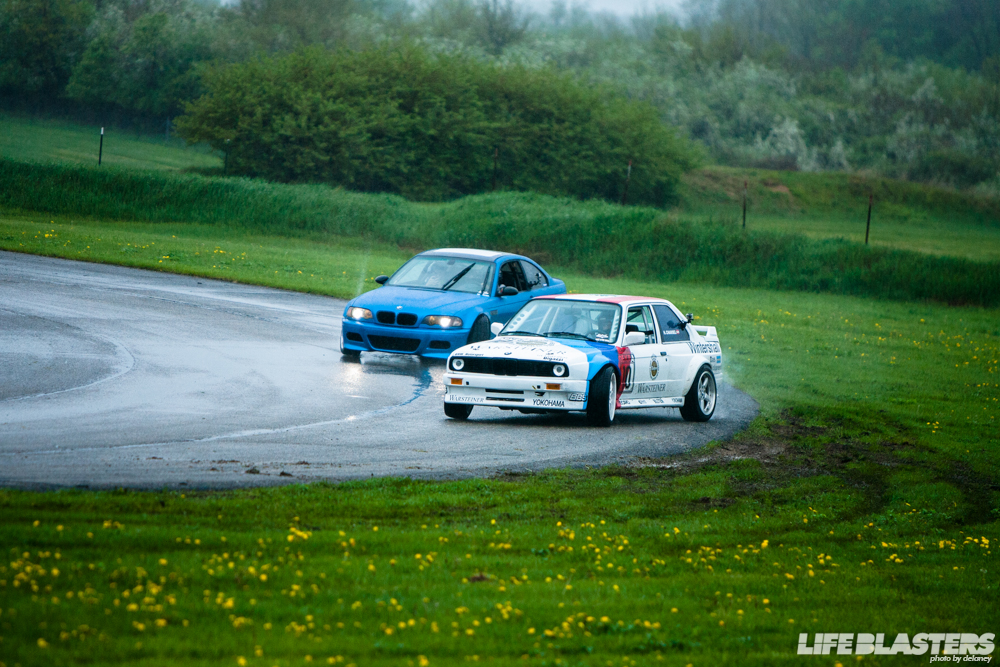 Charbel's E30 has an S54 engine swap and the livery off the classic M3 DTM car. He also has some extra steering angle to help get the big angles, just like the bone stock looking E46. It looked bone stock from the outside, but one turn of the wheel showed off the crazy angle it had.

After the massive rain storm the rain started to slow down and didn't really bother us the rest of the day. But the overcast sky made sure to keep the track wet and filled with puddles.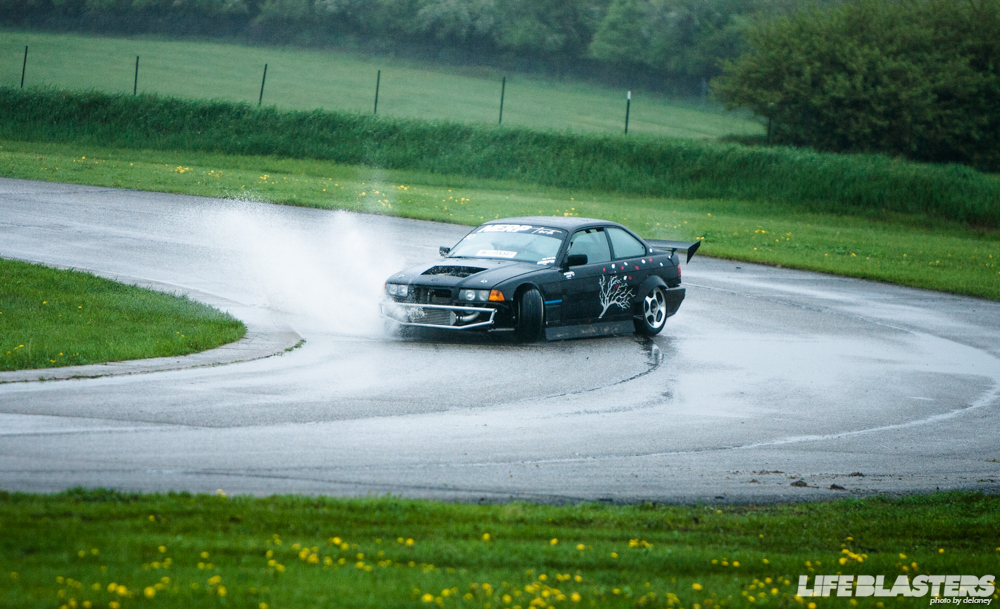 Turn three had a pretty large puddle on the inside that most people avoided, but this BMW from Team Nerp, yet another Final Bout team, didn't seem to have a care in the world.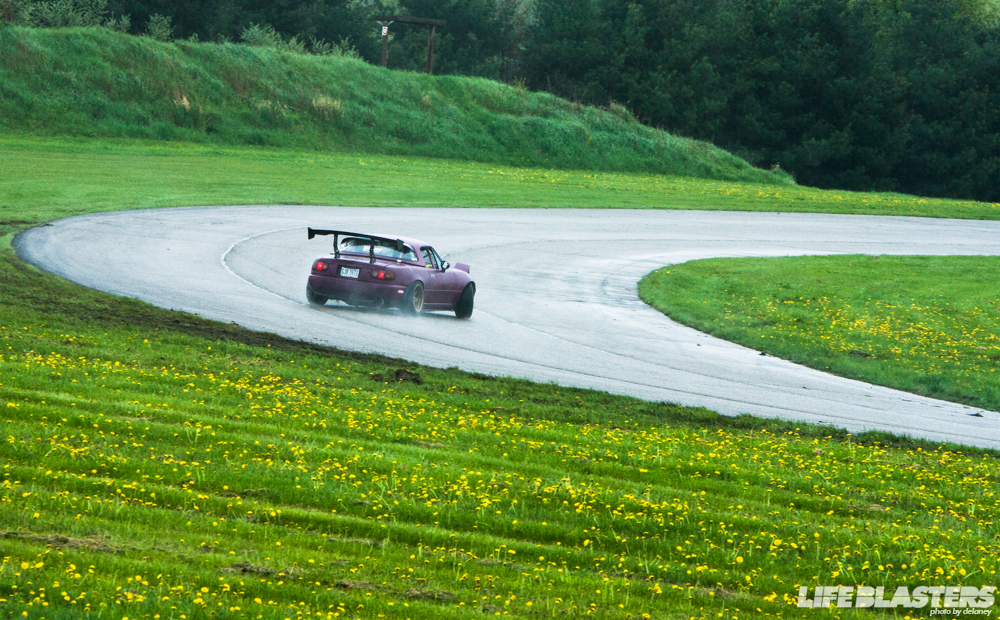 With the end of the event only a few hours away, the pace picked up and cars were being sent out one after the other. It wouldn't be a grassroots event without a Miata on hand now would it?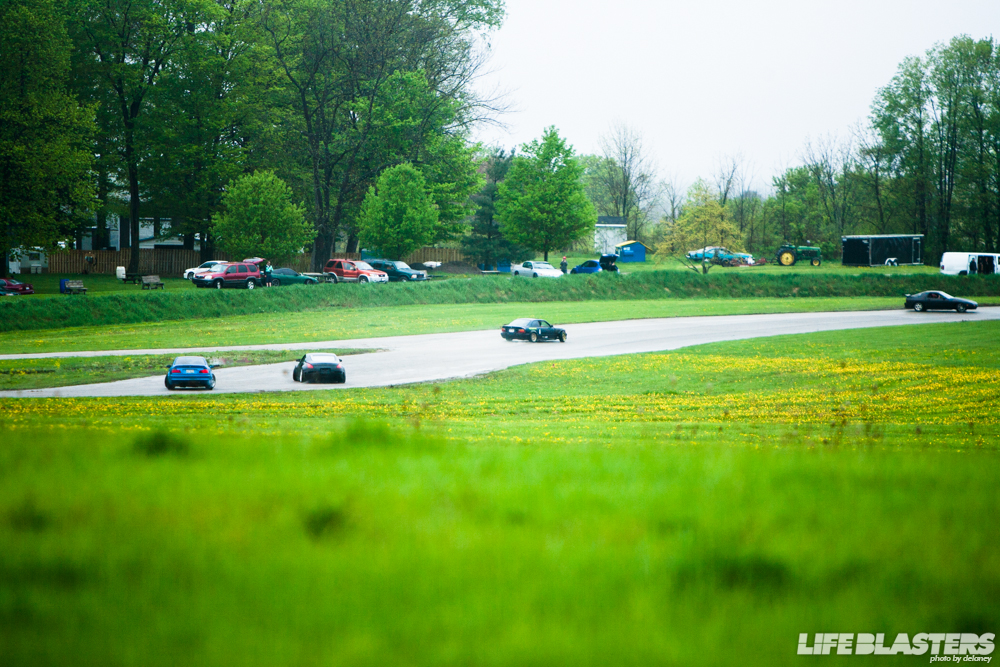 With a two and a half hour drive ahead of us, socks completely soaked and about an hour left of drifting we decided to take one last trip through the paddock for one last look at No Star Bash 2015. Even though most of the cars were still out making their runs.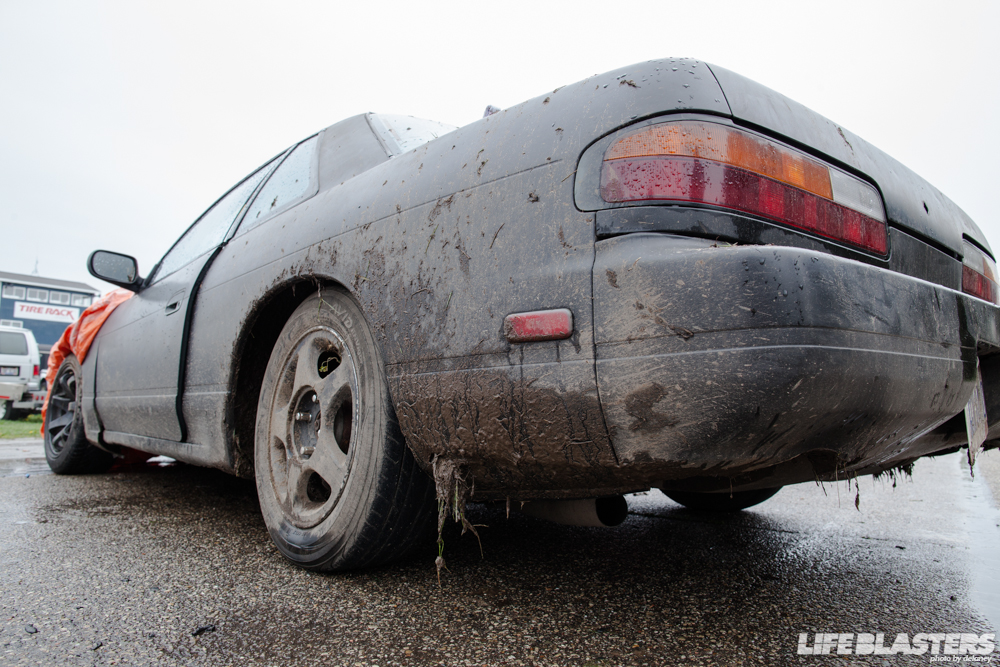 I don't think there was a single car that wasn't caked in mud by the end of the weekend. From whether going off themselves or having mud kicked up at them, every one was leaving the event dirty.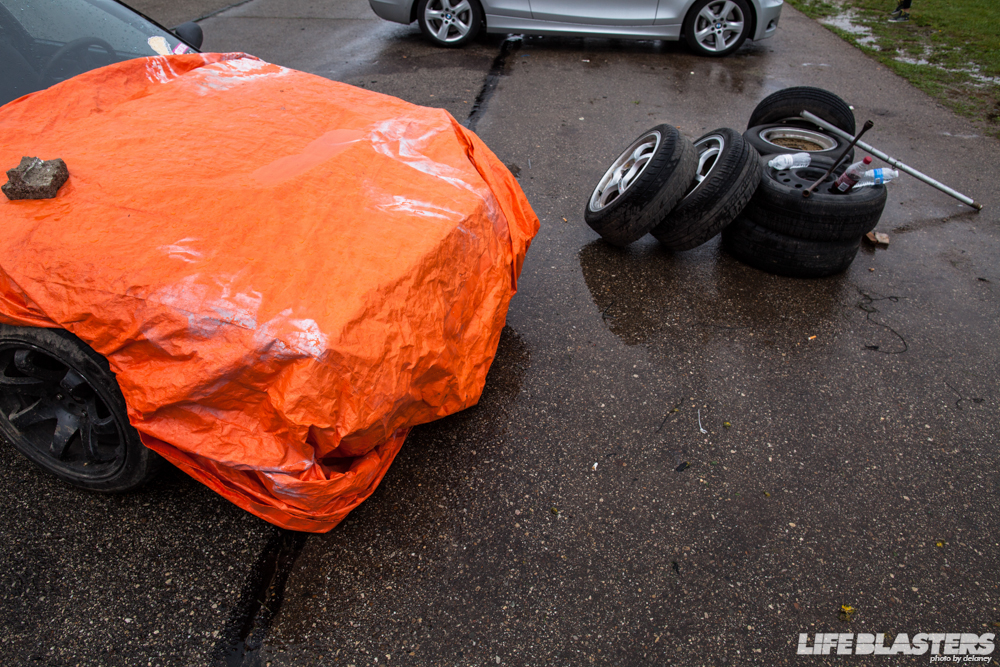 What do you do if it's pouring down rain and your car barely has anything up front? Cover it with a tarp.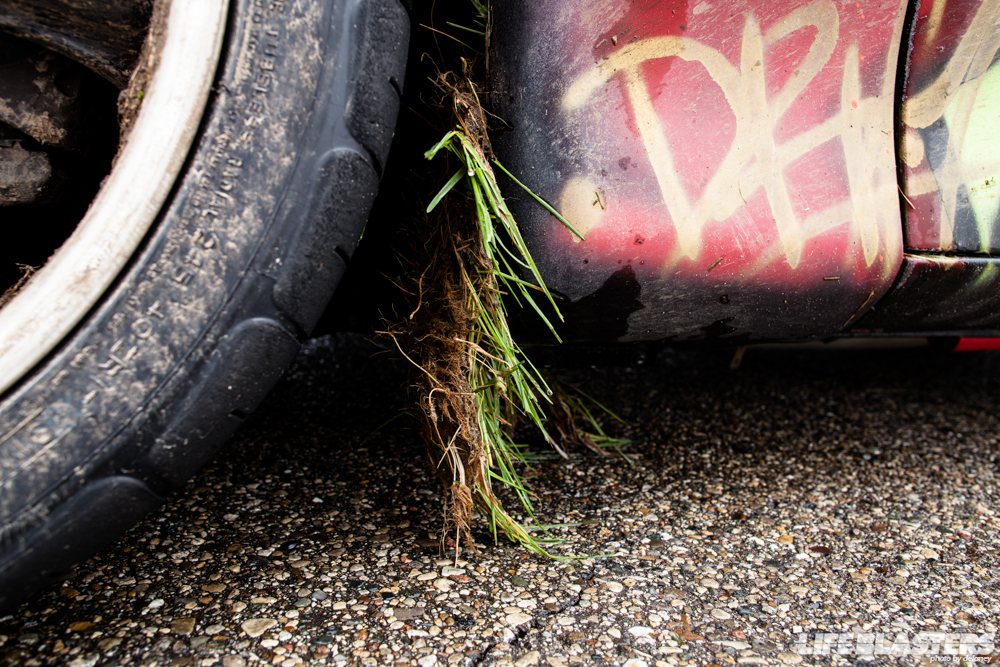 A lot of cars were carrying chunks of Gingerman grass with them too.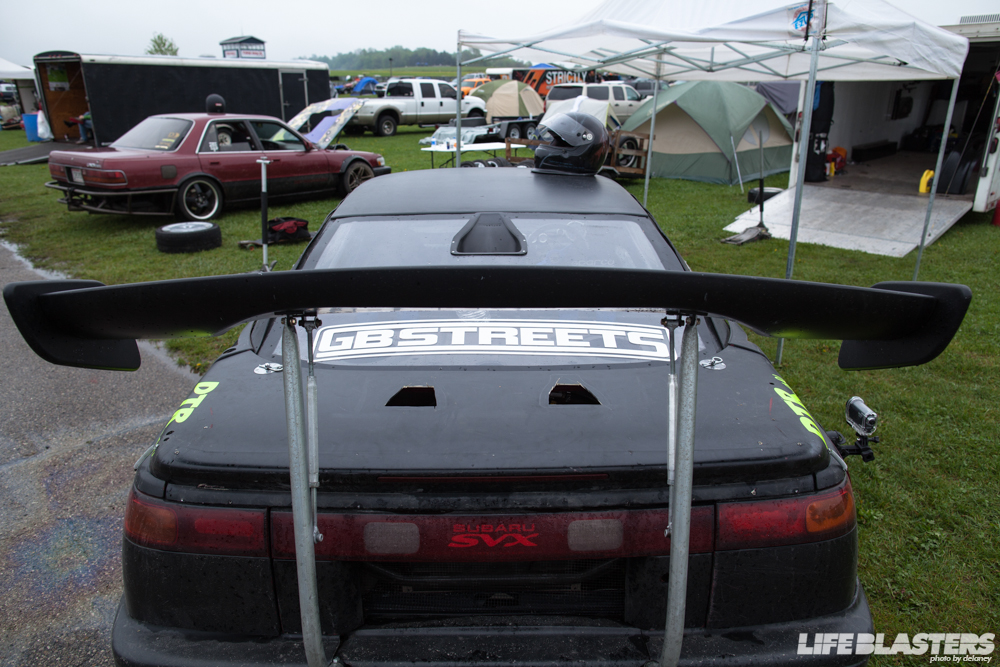 This SVX showed up Saturday night while we were leaving, but I was able to get a good look on Sunday. A massive V8 sat upfront with some air intakes on the roof.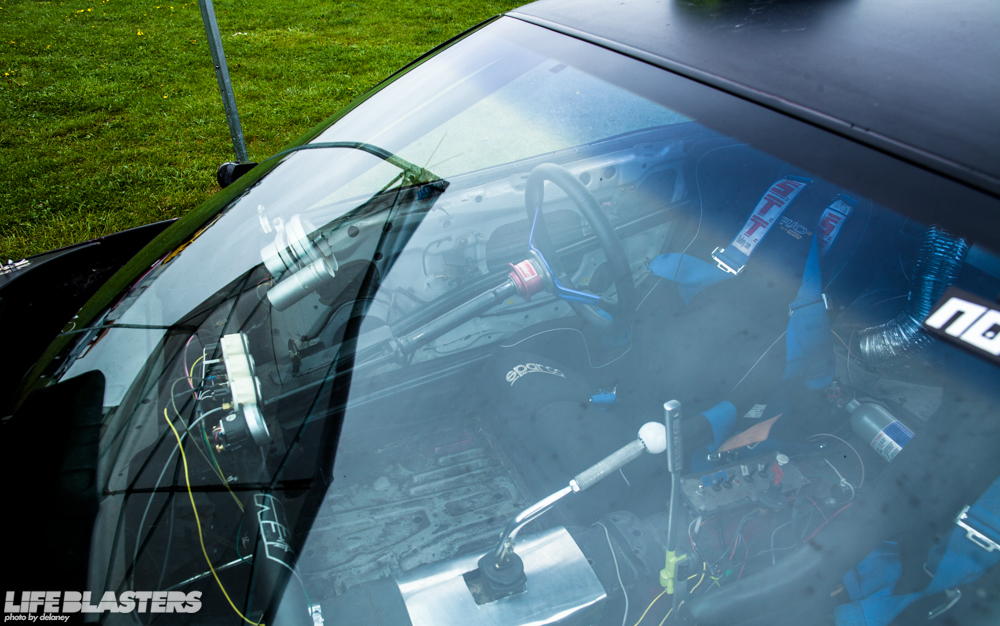 But the interior is what took the cake for me. Just 100% function with nothing unneeded in the way.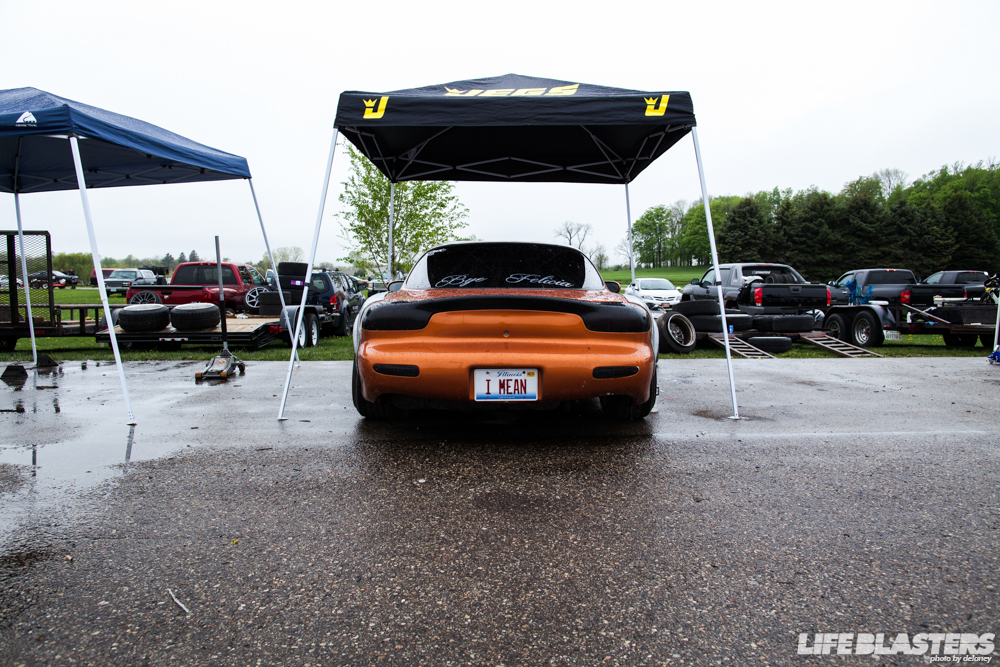 There were cars like this RX7 that I never saw run, this was the first time I even saw this car. It's almost impossible to make an FD look bad, this one running some wide rear fenders just looked so right.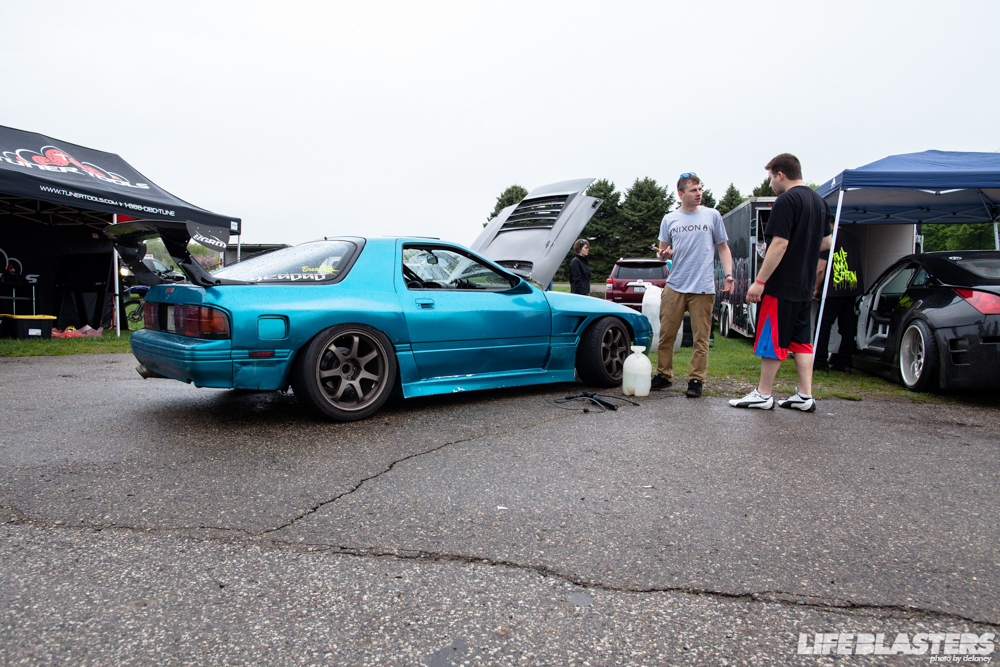 Even though the end of the day was coming quick, no one was packing up. There were no competitions, no battles, just a fun weekend of drifting. Everybody was trying to get every last second of drifting they could get in before the end of the event arrived.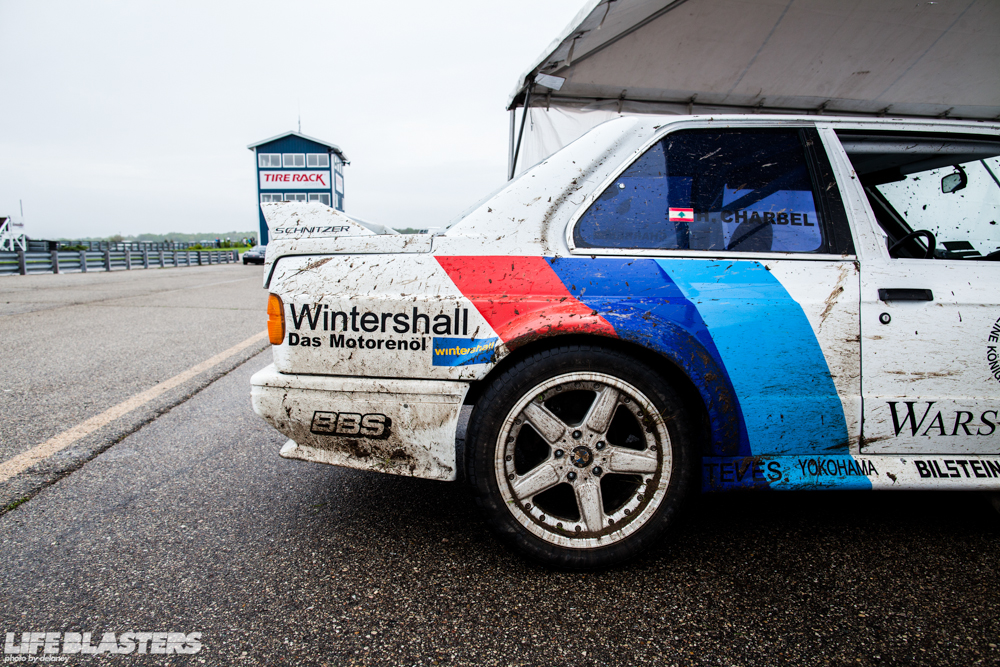 Charbel's E30 was one of the cleanest cars all weekend, but by the end of Sunday it looked like it just finished a DTM race at the Nurburgring. Muddy cars just look so right.

With the trip through the paddock done, we hit the road for our drive home. Even though most cars stayed for the rest of the day, others had a long trip home and hit the road early.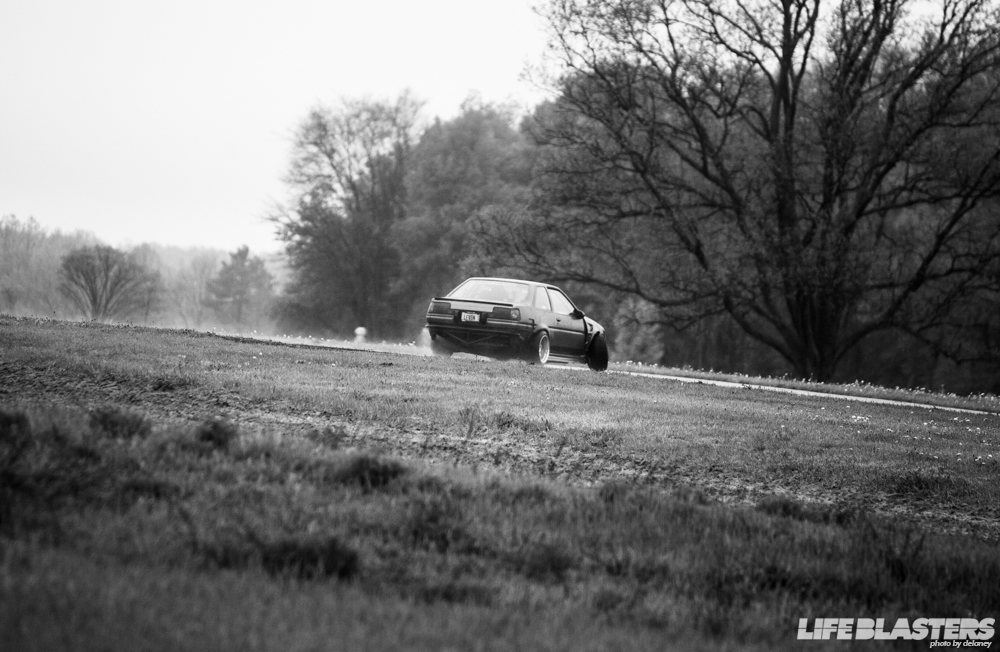 Even with the rain and overcast skies all weekend, no one's mood was damped. It was an all around great time and I'm glad Drift Indy picked Gingerman as this years track for No Star Bash. I don't think I could ever get tired of the grassroots drift scene and hopefully Michigan continues to have events. I still need to get to the Mid West Drift Union Event in Detroit sometime soon too. Now just to wait for Final Bout II!
Delaney
Email: delaney@lifebalsters.com
Instagram: @lifeblasters, @ericdelaney