Back in 2013 fellow Blaster Eric and I made a last minute snap decision and drove from Michigan to Jersey overnight to make East Coast Bash the following morning.  Now I'm back in NY, an official Blaster and back to ECB in just a couple hours.  Now before we get to the opposite side of the fence…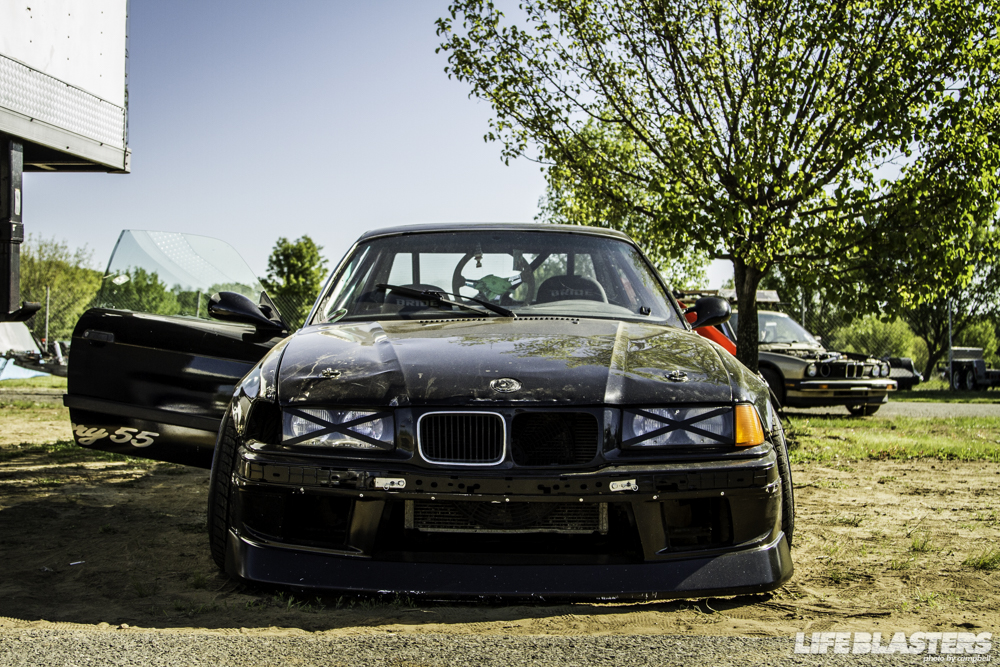 Let's start with arriving at Raceway Park at 9am.  Media needs to meet up for the driver's meeting at 10am, but with spare time you might as well shoot around while teams get their cars and gear ready for the weekend.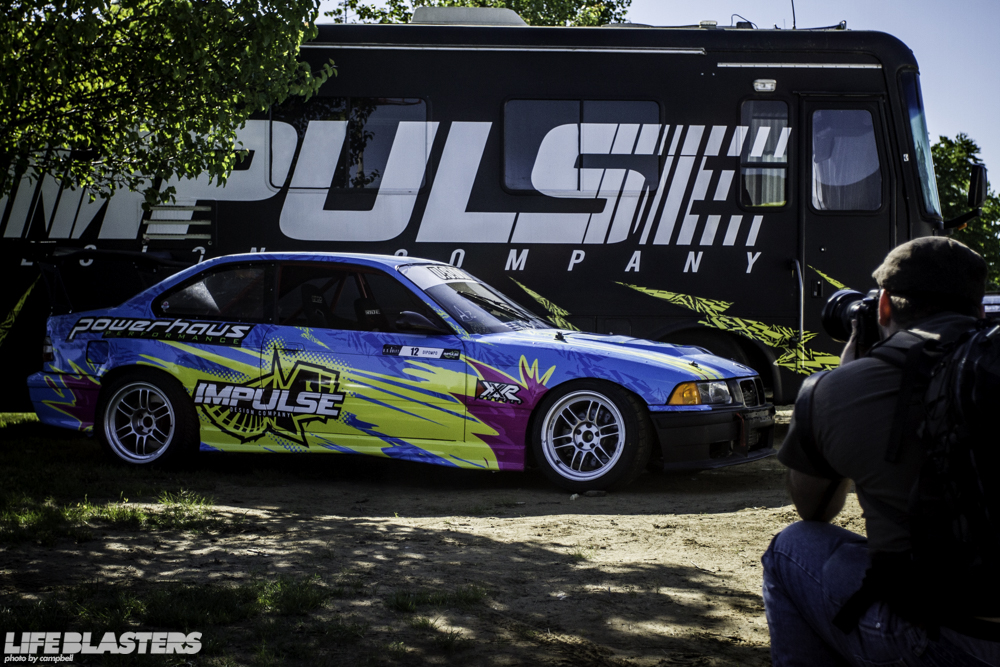 While cruising around, I ended up being spotted by fellow photographer Jordan Apgar, of Build Race Party.  We ended up shooting together for the day and he even showed me a few hot spots on track.  Insider tips are always helpful.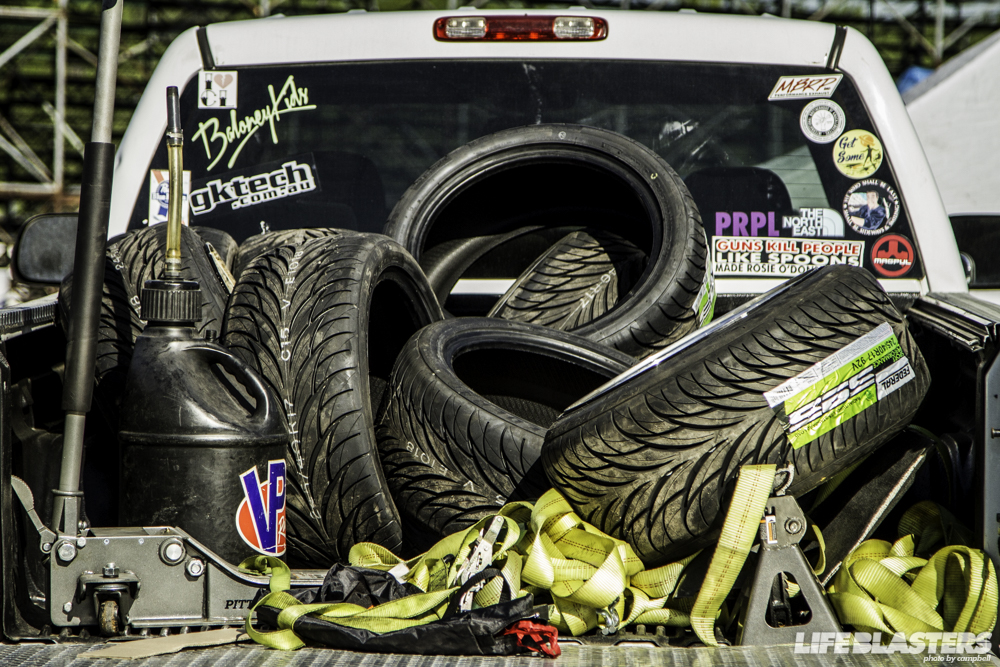 Take one good look at these tires.  They will never look this fresh again.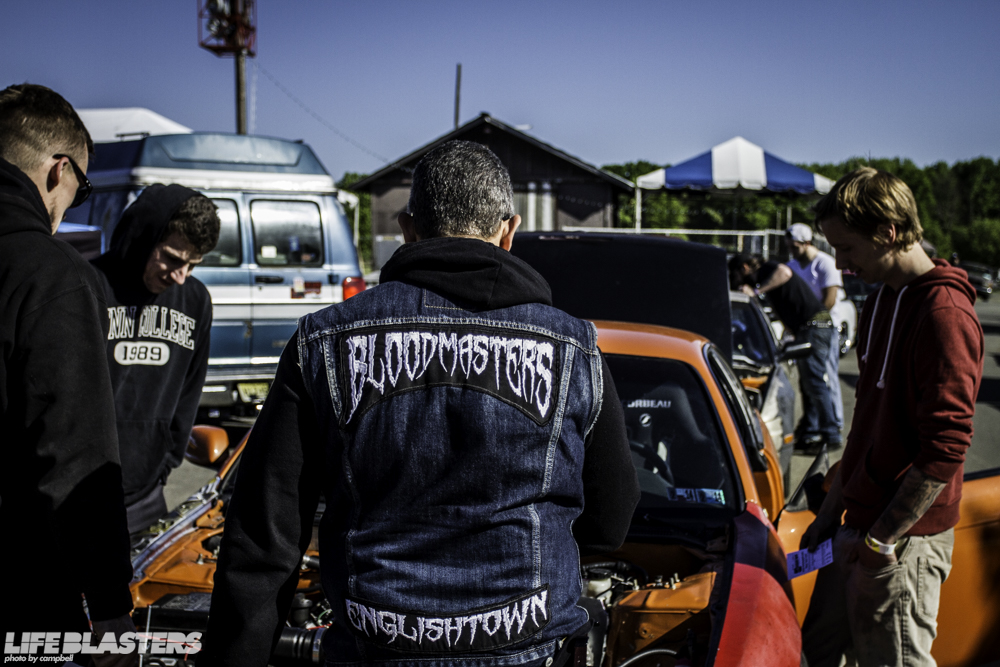 You know you're in the company of badasses when you see these vests floating around.  The baddest of the bad.  These guys really know how to tear it up here on the East Coast.  Run for your life!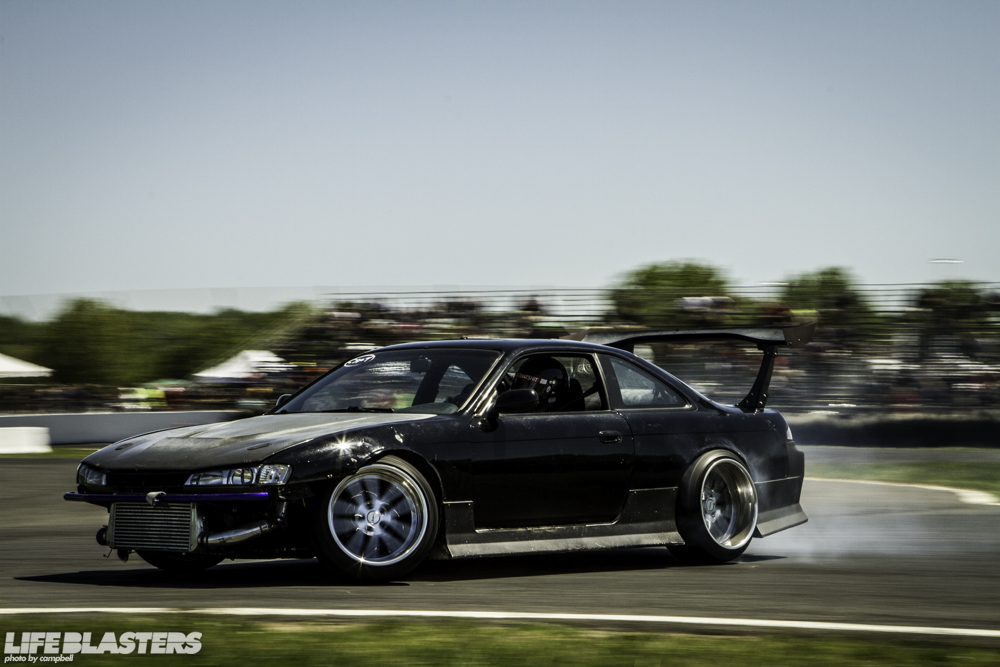 Alright, cutting to the chase.  Group C kicks off the event for us.  One thing to keep in mind about this group, they might not be as crazy and wild as group A, but most of them are just newbies to this track, not to drifting.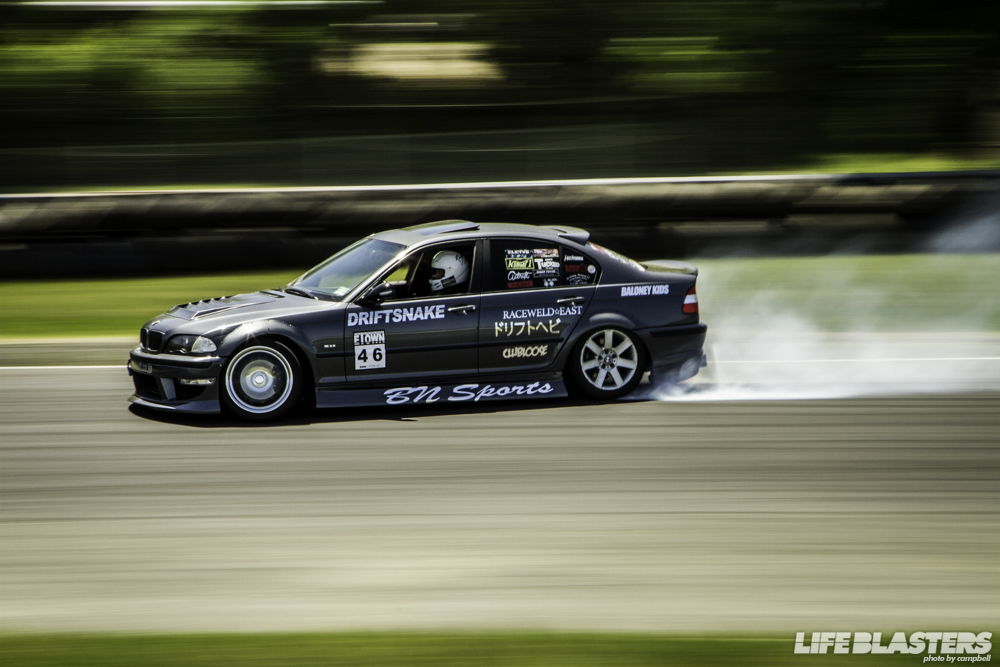 I feel the need to also point out.  It seems like only a few years ago people started to drift BMWs. Now there seems to be a beemer presence almost large enough to compete with the S-Chassis world… Almost.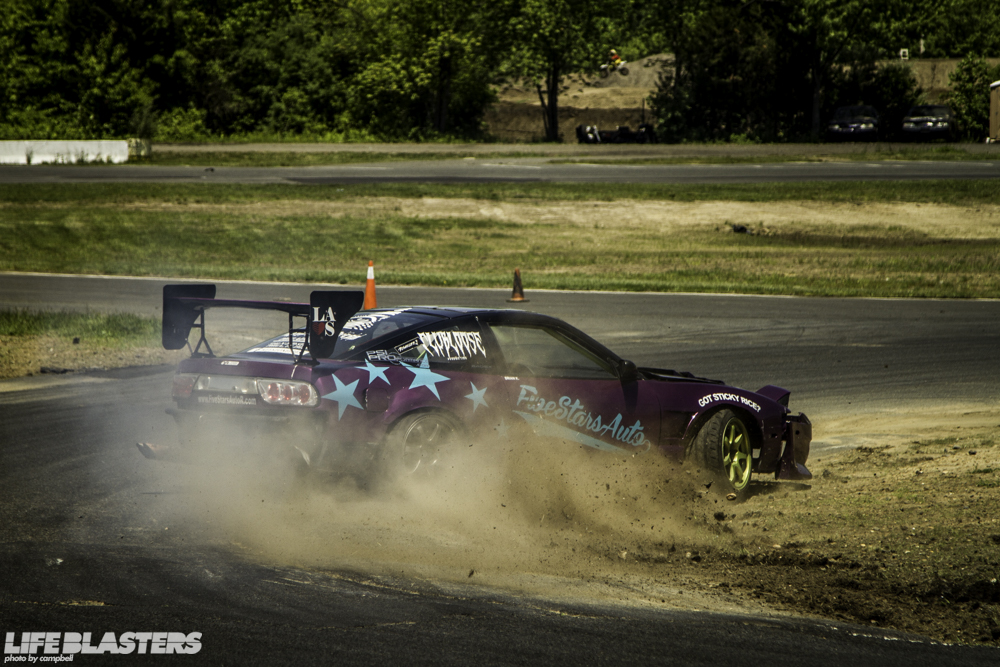 Apex?  It's wherever the hell I want it to be.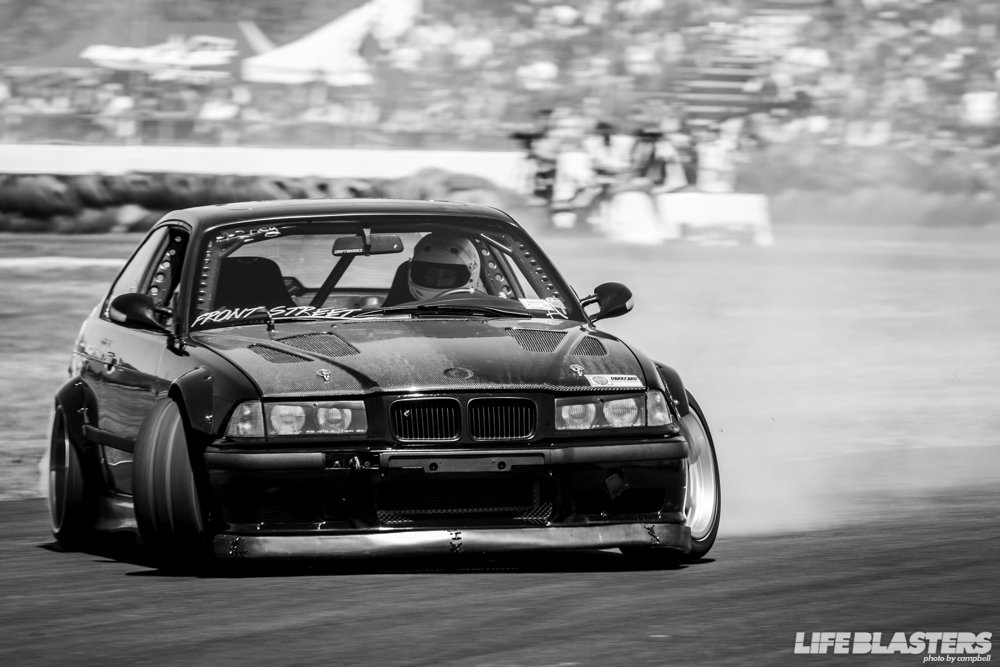 Now if there's anything that needs to be mentioned about Group A, it's this… All hell is about to break loose!  Definitely makes it very challenging for media when the gap between cars is minimal to zero.  And my goodness these guys are FAST.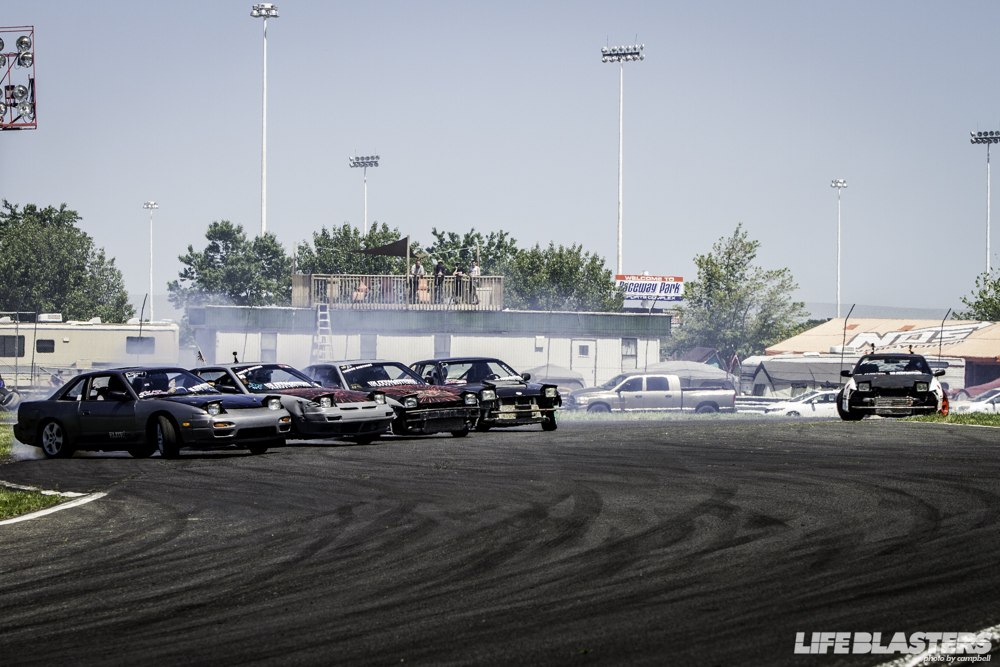 Traditionally tandem drifting is side by side drifting between two competitors.  But East Coast Bash/BloodMasters tandem trains are more of an anything goes, whoever's at the start when we're ready, get closer, I dare you to hit my door, ain't care, free-for-all.  You can really tell these guys are truly having a blast just by their style at a more open event like ECB.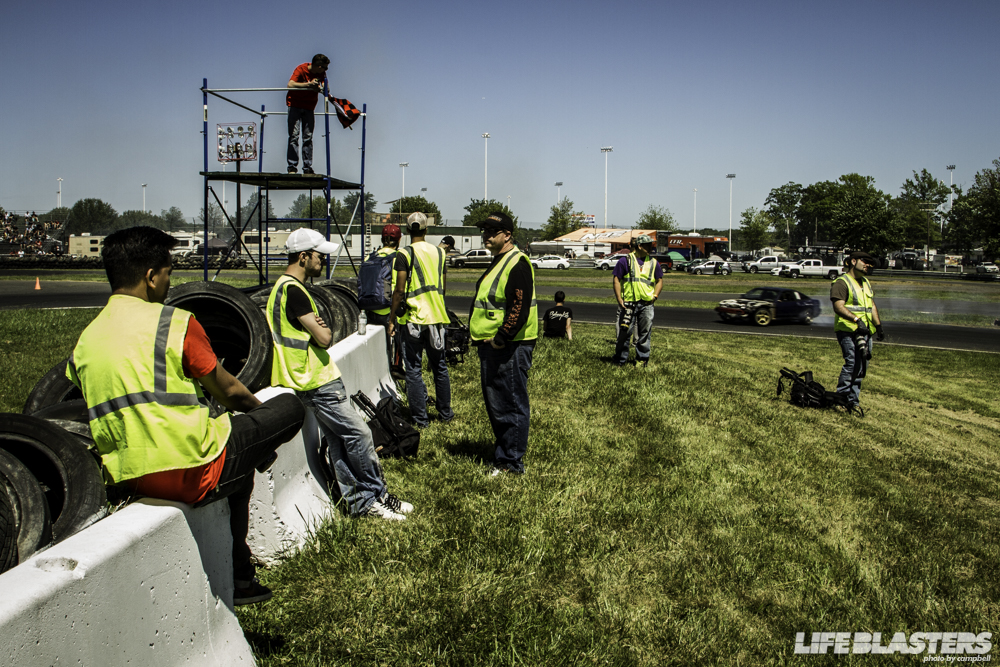 Here's a quick shout out to all of the forgotten media folks, sweating their asses off under the sun for hours on end, doing their best to bring you the action, track side.  The ECB schedule definitely doesn't make it easy for media to do their job.  As soon as a group finishes, the next starts immediately.  And unlike rally, there's no way to plan breaks between stages and service.  Sometimes you get lucky if someone spins out and gets stuck and you can run to the bathroom.  Still worth it though.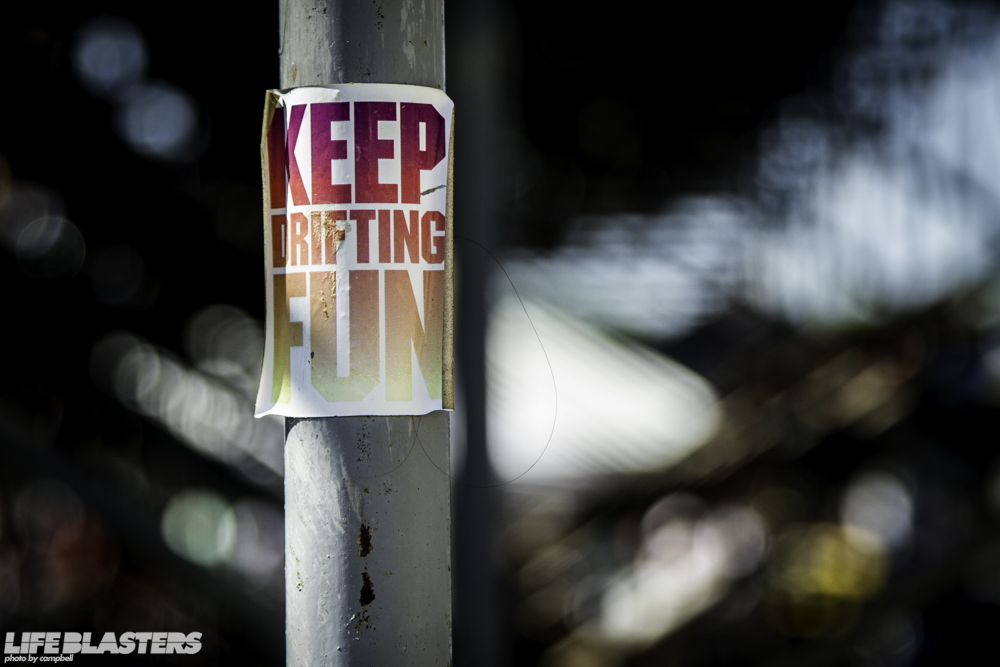 After a few hours on the track it was time for a quick lunch.  Which really meant taking a few photos off track, inhaling a cheese burger and trying to hydrate as much as possible before running back to the track before they start the next group, or you have to wait till they're done before you can get out again.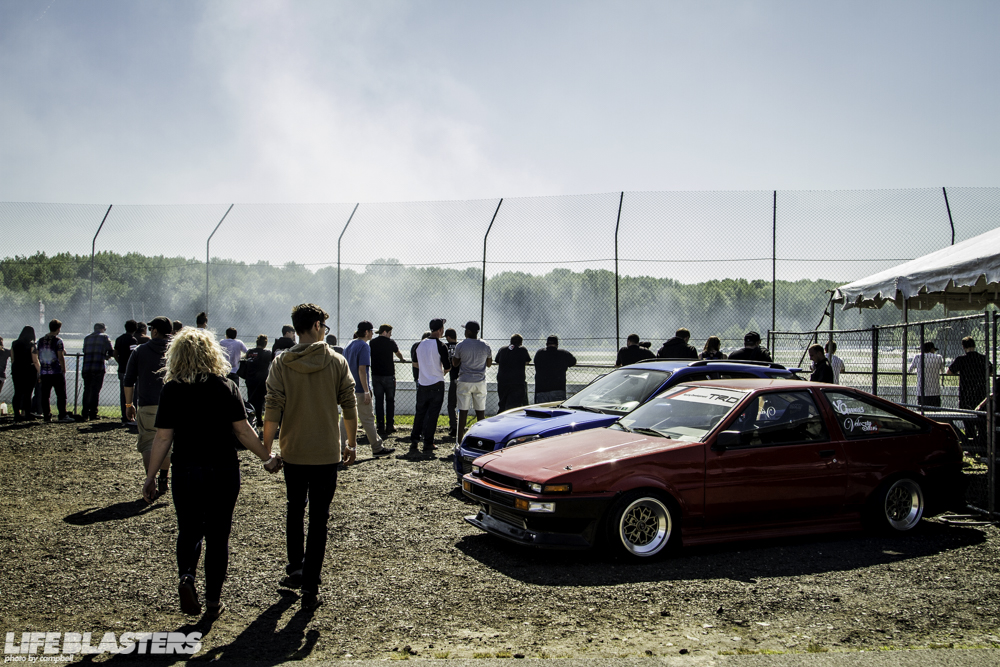 How does the saying go again?  You can look all you want, as long as you don't touch?  Just look at that Hachi though.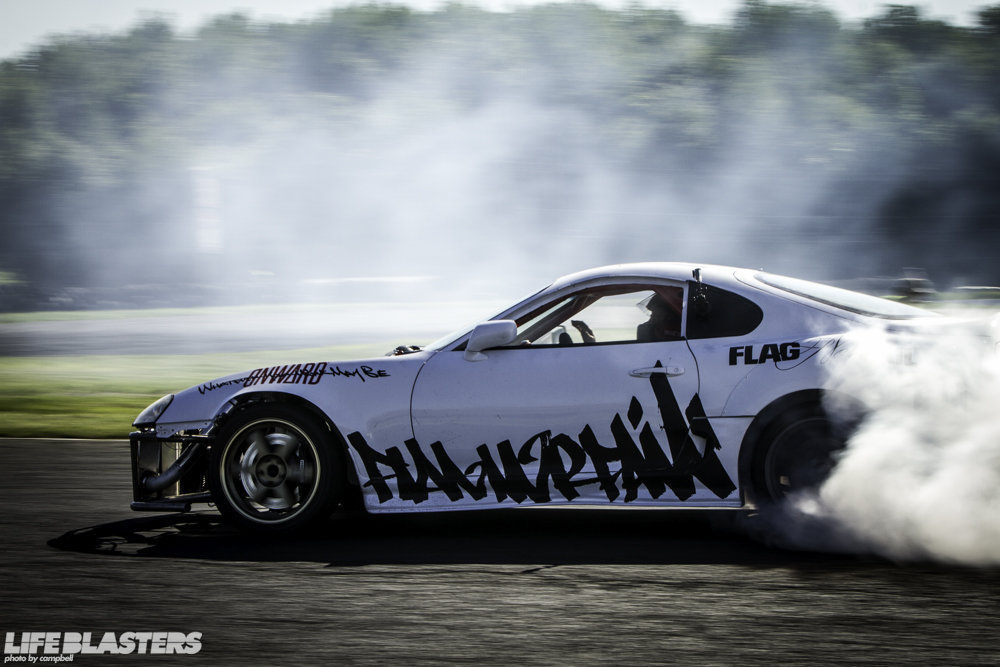 Break's over, back to work.  For those of you who don't know, I am a big fan of old Toyotas and rally.  Unfortunately I've never seen a Supra on a rally stage.  But I did get to see this beautiful specimen destroying tires and my goodness did it sound amazing.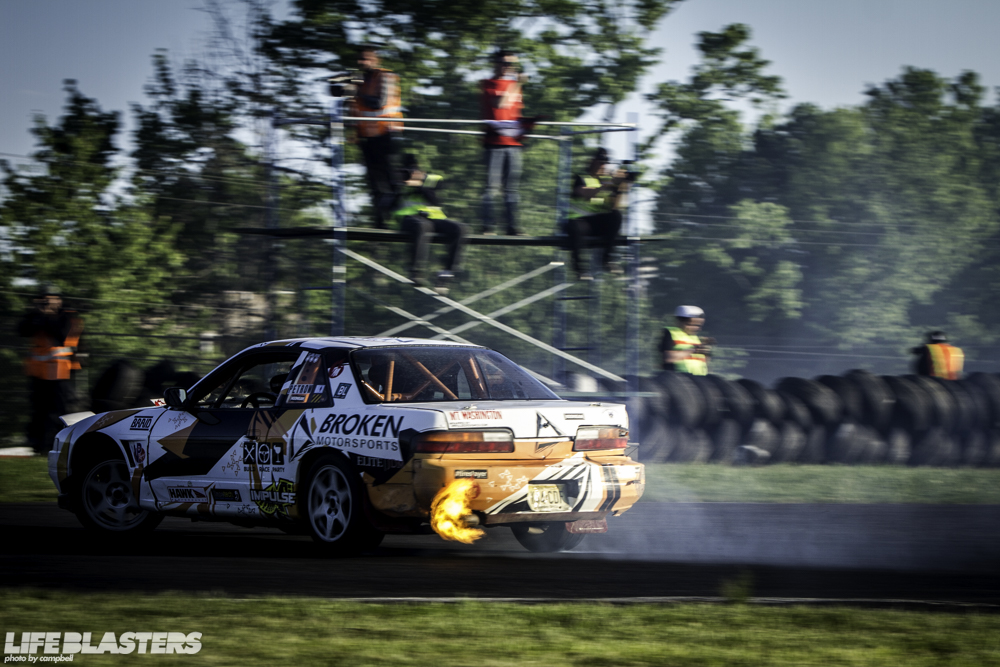 Naturally, you can't go to a drift event, mention rally and not follow up with "So William Petrow showed up in his rally S13."  As it turns out, when Will was making some exhaust repairs on the S13, all he had lying around was a 90 degree section of pipe.  This made for great Hadouken like flames in right turns.
"Every time I was in a right turn, I could SEE the flames!  My first thought was "Well that ain't good, I guess I'll have to retune it later."  – Will Petrow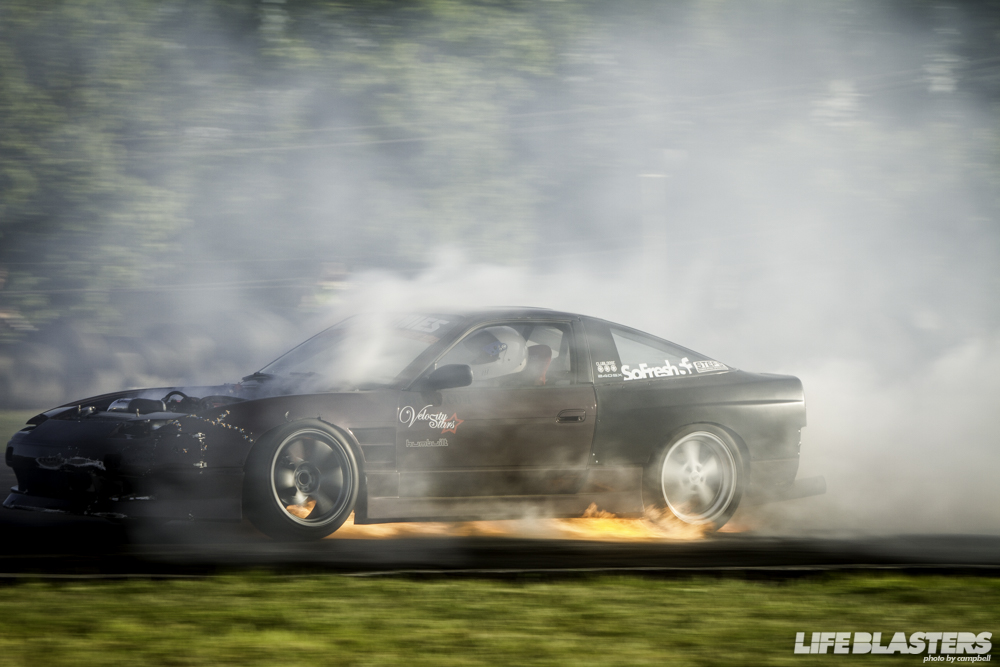 Unfortunately not all fire coming out of a car is a cool thing.  Luckily this driver noticed the flames right away and was able to stop and put it out immediately.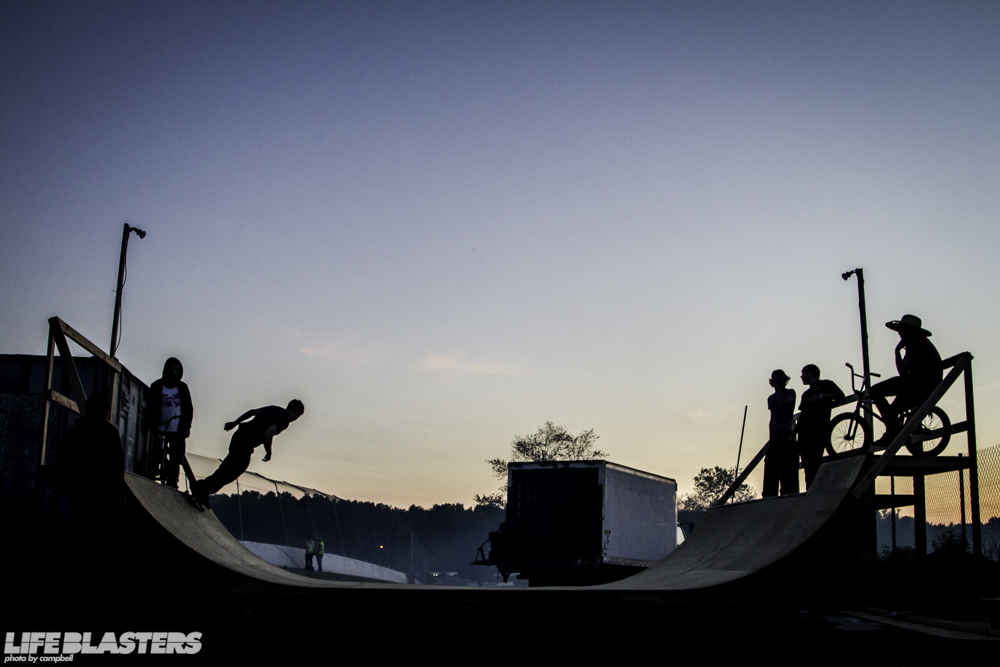 As night falls, the action doesn't.  Even the mini ramp had been running all day long and the sunset isn't stopping anyone anytime soon.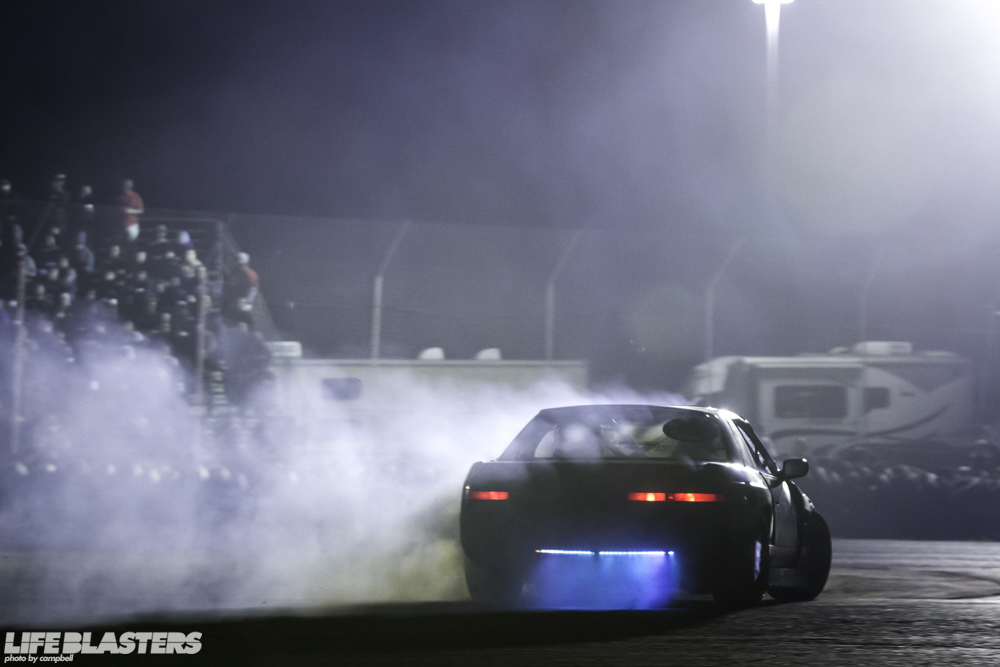 It's been a while since I've seen someone run underglow lighting.  Seeing the multicolor lighting change throughout drifts, in the tire smoke was actually pretty awesome.  Kudos.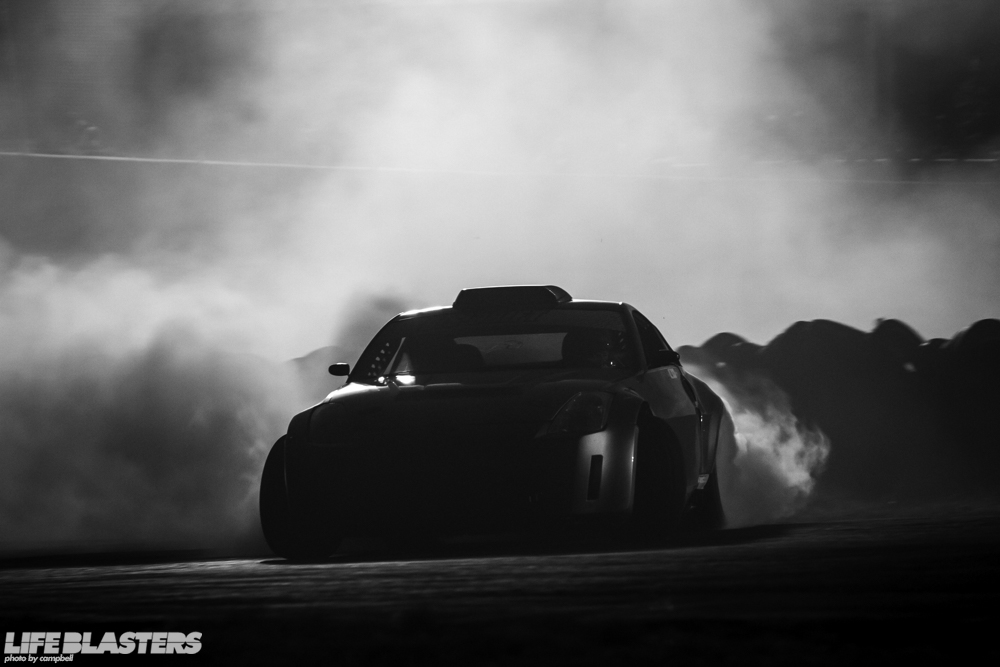 Shooting ECB at night is actually pretty challenging as well.  There are a few stadium lights on the track, but they're mainly on the course closest to the spectator area.  This makes finding a good spot much harder, especially when you're also trying to stand behind barriers with a handful of other photographers and videographers.  Luckily a videographer and myself found a sweet spot that looked like it was too dark, but turned out to be a great vantage point.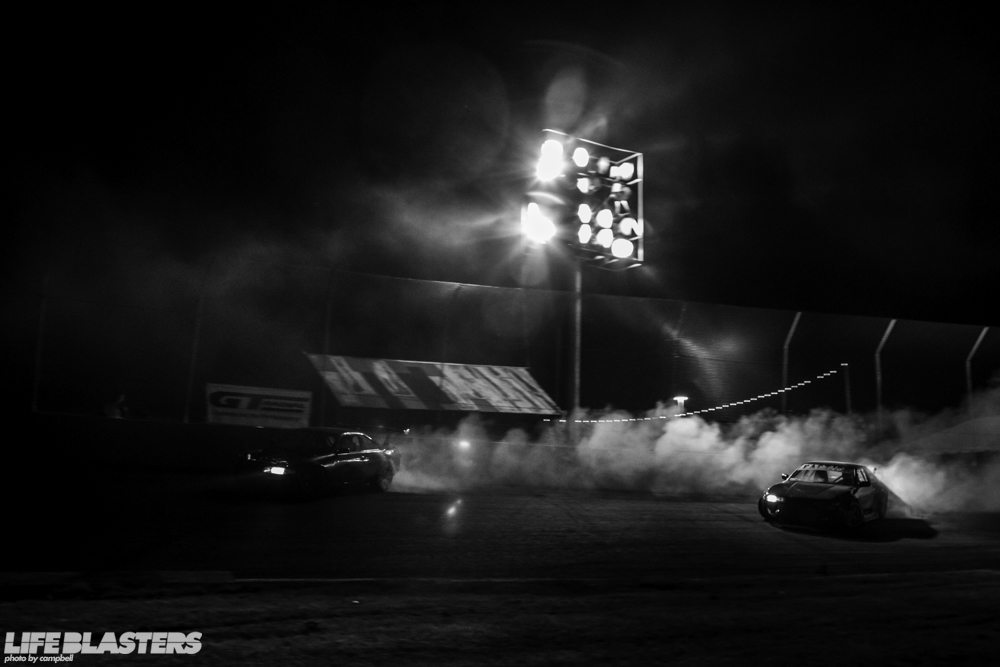 Now I don't mean to sound like I'm complaining about the lighting, it was just part of the challenge.  And if Bohan has taught me anything, it's to always challenge yourself.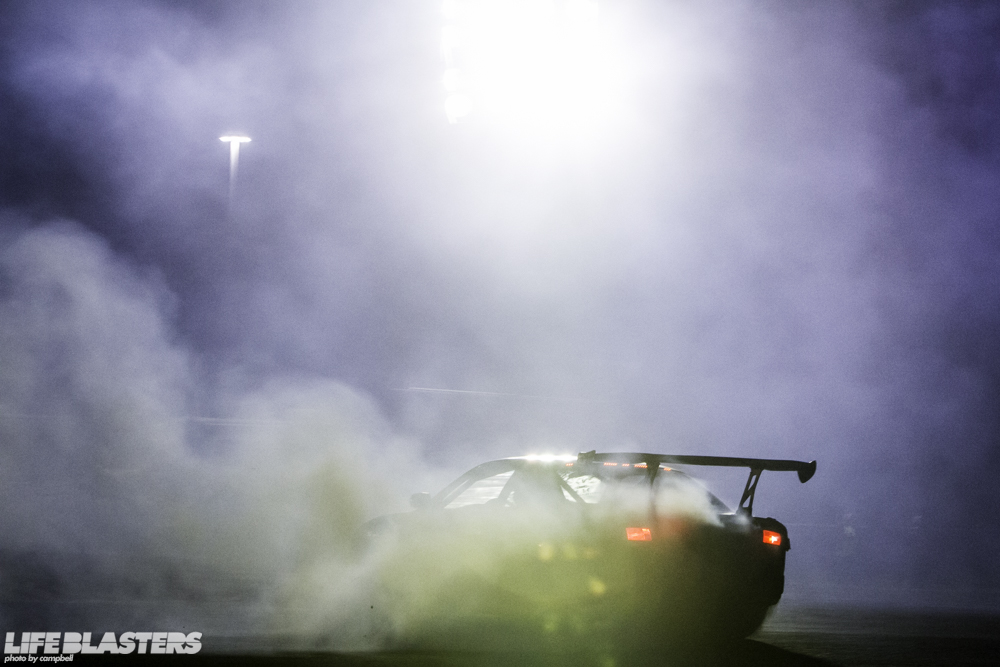 Night drifting ends and everyone breaks out the beers.  "Booze" was actually on the official schedule, so that was my cue to get back to my hotel room and start dumping memory cards and prep for day two.  That meant being up till 2am and getting very little sleep in order to get to the track bright and early.  Next year I'll just bring my hammock and camp in the lot like everyone else.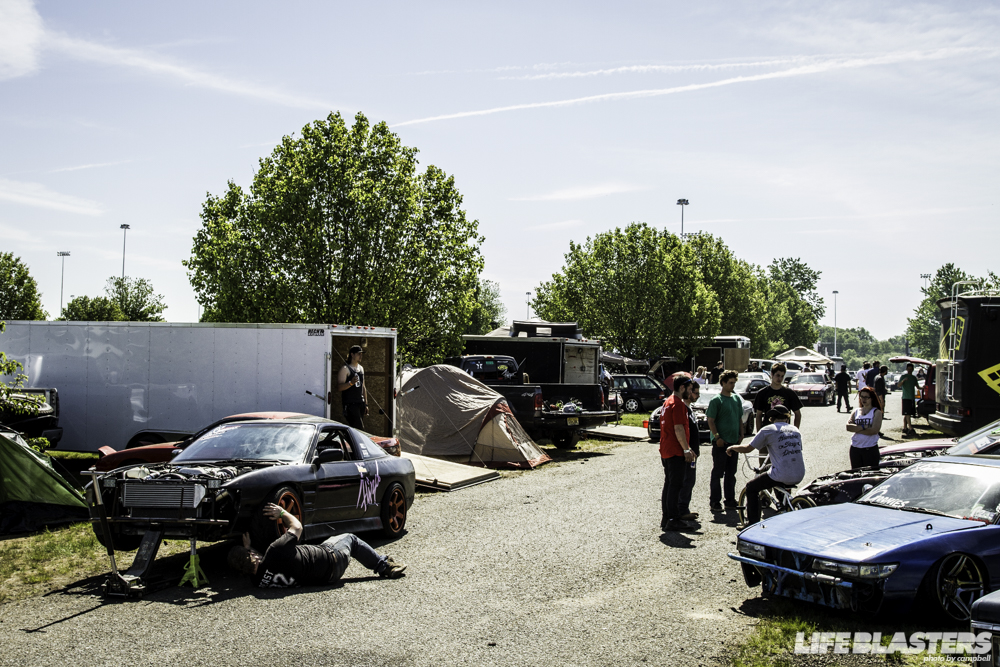 9:30am day two.  Take a cruise through the pits to catch some early morning repairs.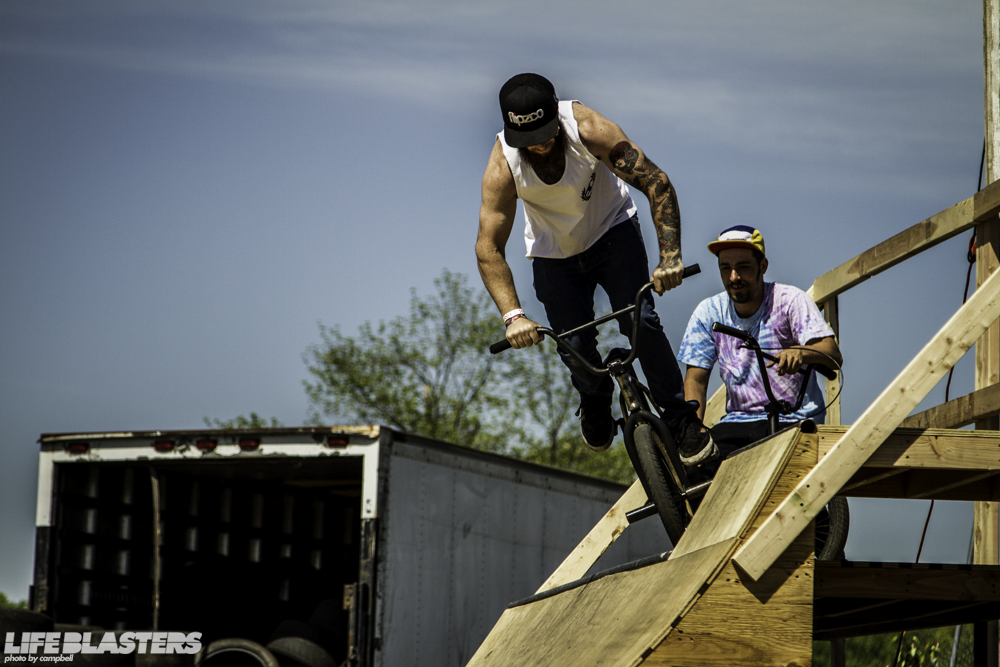 And a stop at the mini ramp for a morning nose manual.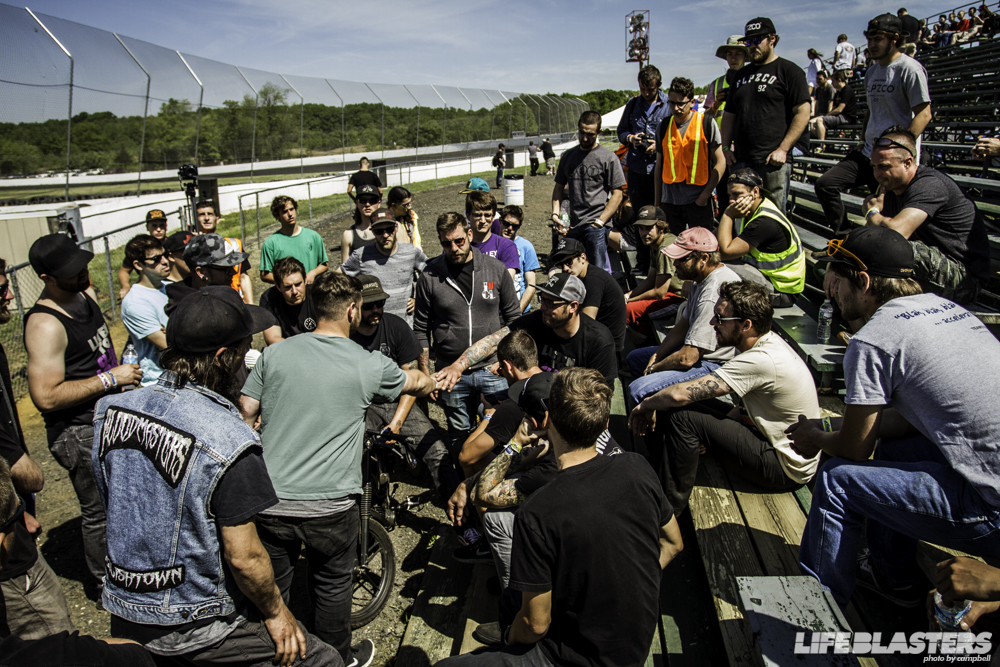 10am and we're just a driver's meeting away from another day of tire shredding.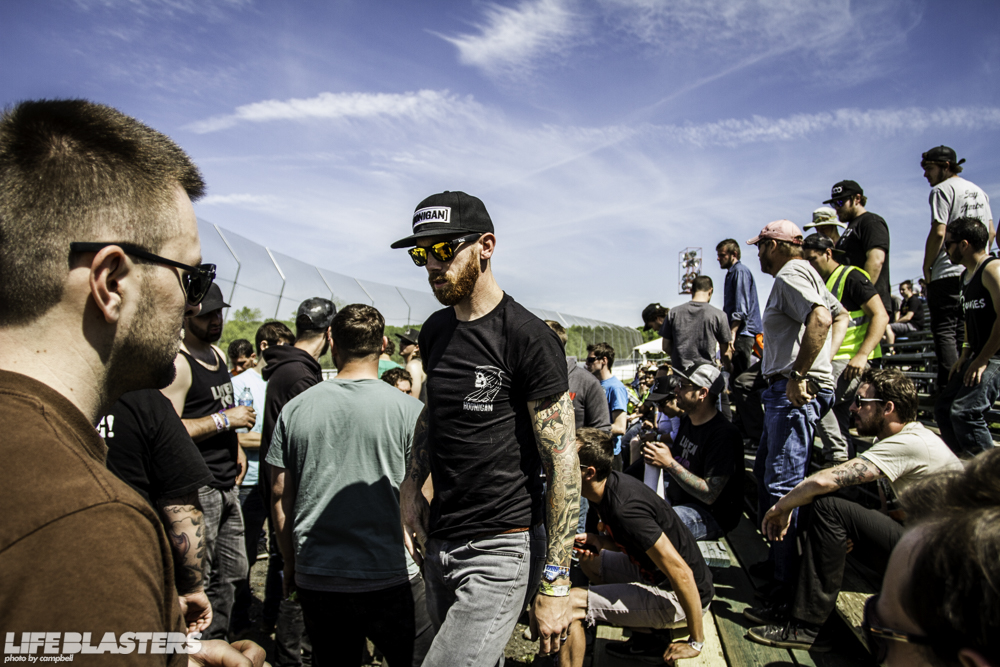 I bet you didn't even realize that Chris Forsberg was sitting right there.  Another reason ECB is a great event.  The pros leave the big name, sponsored cars at home along with the full racing suits and just tear it up the same as you and me.  Jeans and a T-shirt, whatever helmet you can get yours hands on and just go have a blast.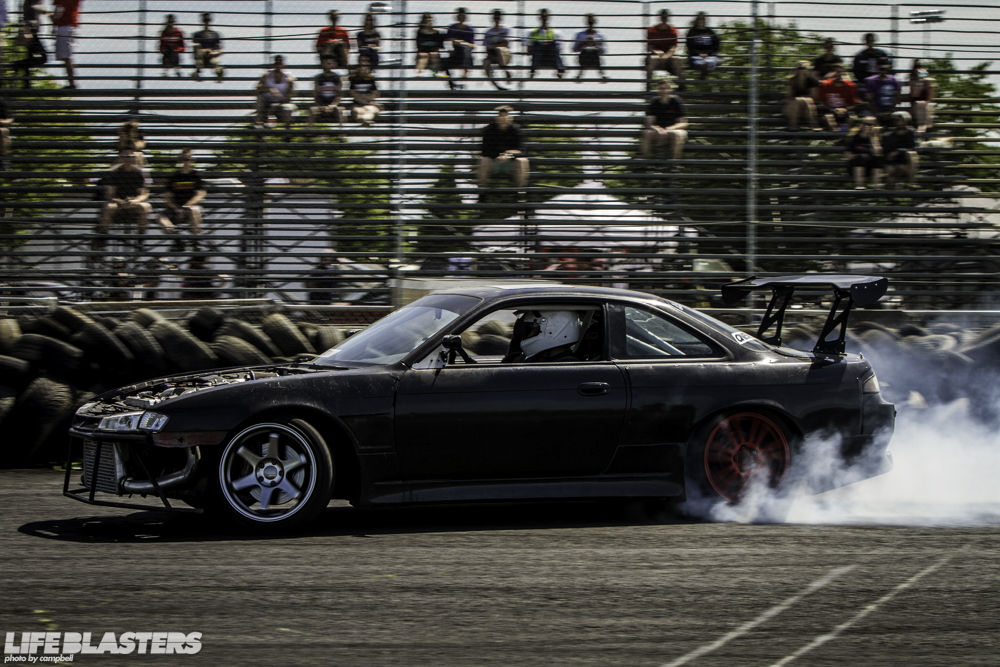 Now back to destroying perfectly good tires.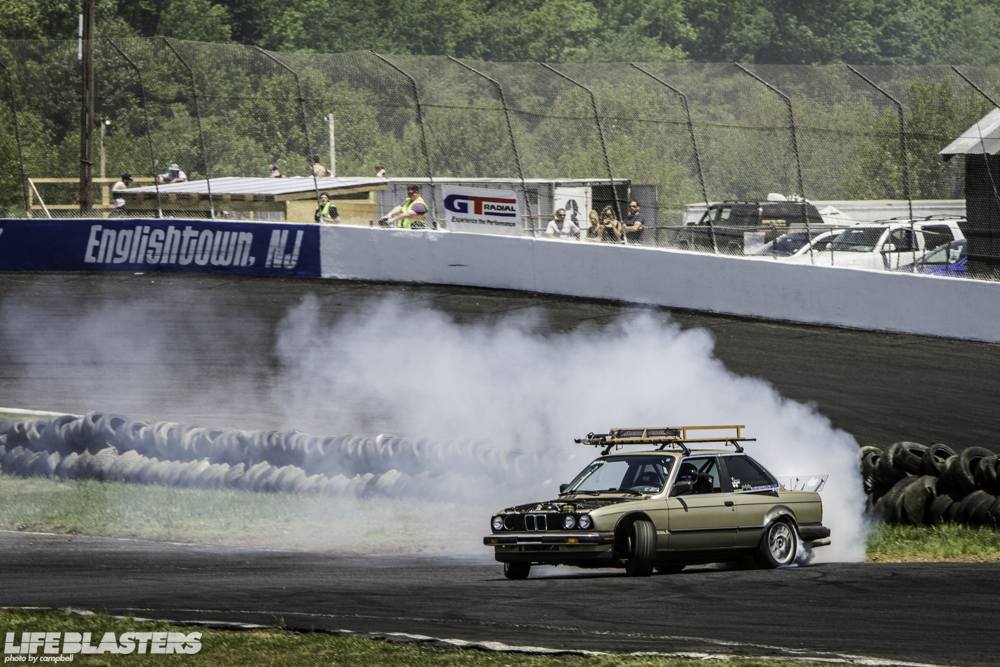 I have to be a little biased at the moment.  I do think it's cool to have a custom, solid wood roof basket.  I do really like E30s.  And this one happens to have an LS1 swapped in.  Say what you will, but it's still a pretty great swap and sounds amazing.  I think I prefer the LS1 in so many other cars other than Corvettes.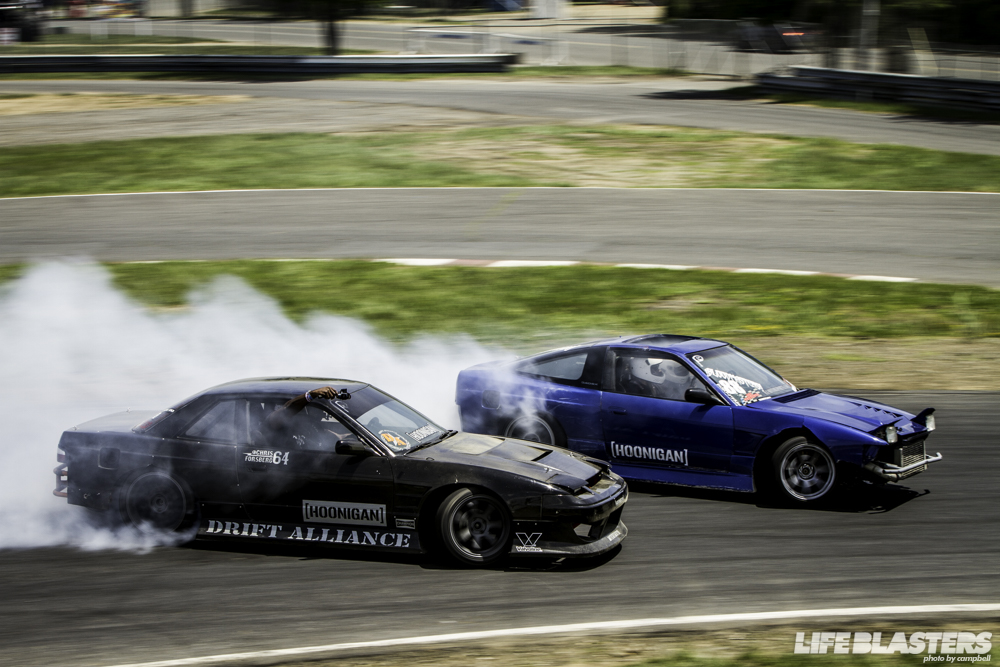 The amount of on board coverage this day in age is pretty amazing thanks to things like the GoPro.  Whether there are a few mounted to a car, or someone's passenger just happens to be holding one out the window while running tandem with a friend, these things are great!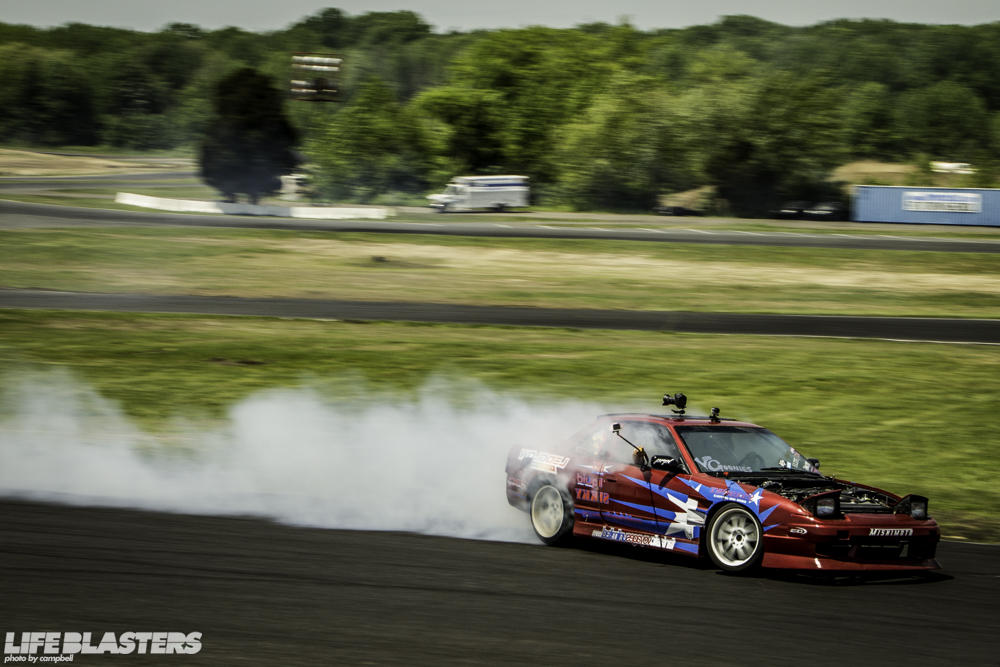 Believe me yet?  I think I've seen enough GoPros for one event.  Time to buy my own.  And a suction cup mount like that one.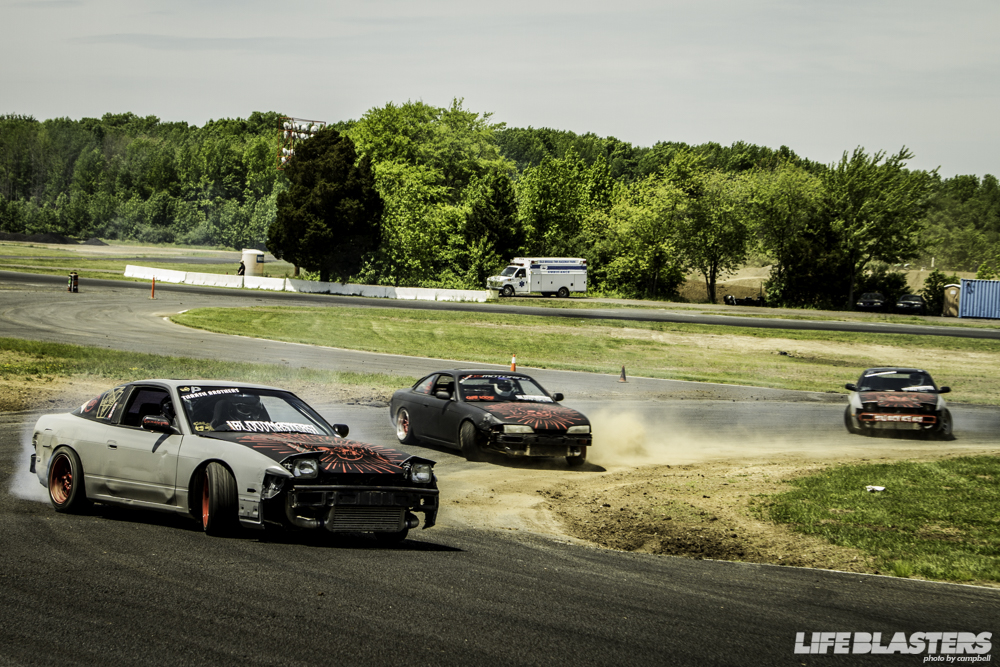 BloodMasters.  Englishtown, NJ "Run For Your Life"  These guys are just non-stop.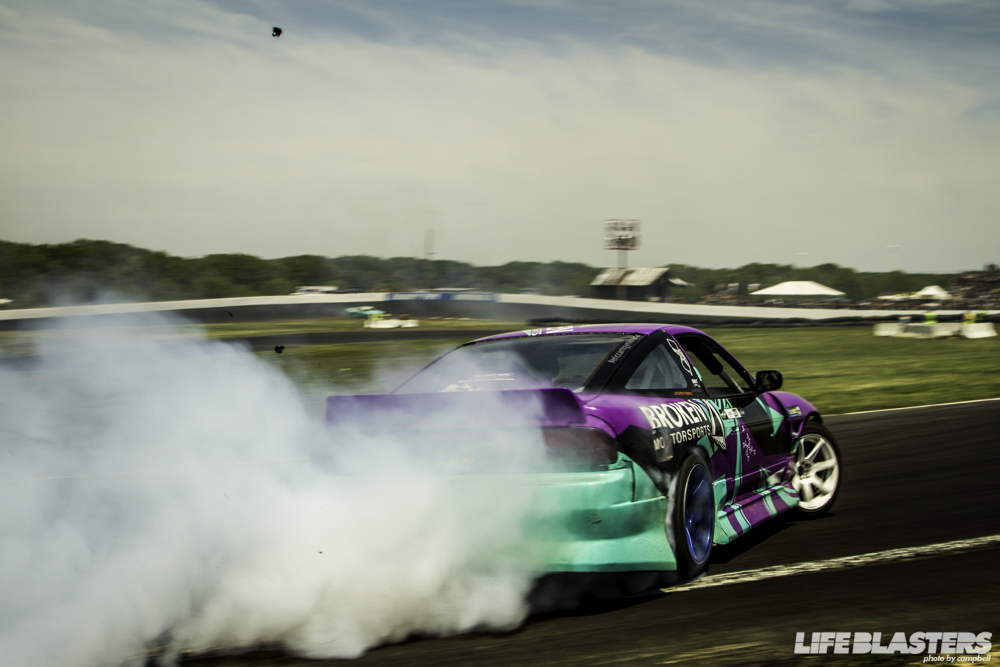 And of course I'd like to say a special thanks to Will Petrow and his Broken Motorsports crew.  Even with two of three cars down throughout day two, they still stuck around to help and hang out.  By the end of my day, I stopped by their staging area to say hey and hang out and was immediately told to have a seat and drink as much I could carry.  If I remember correctly, it was crew member Paco who said, "You guys are the ones busting your asses out there taking photos and video of us breaking shit!  The least we can do is help keep you hydrated!"
Thanks for all the water and green tea guys, it was much appreciated.  Hopefully we'll catch up at the Susquehannock Trail Performance Rally.
-Matt Campbell