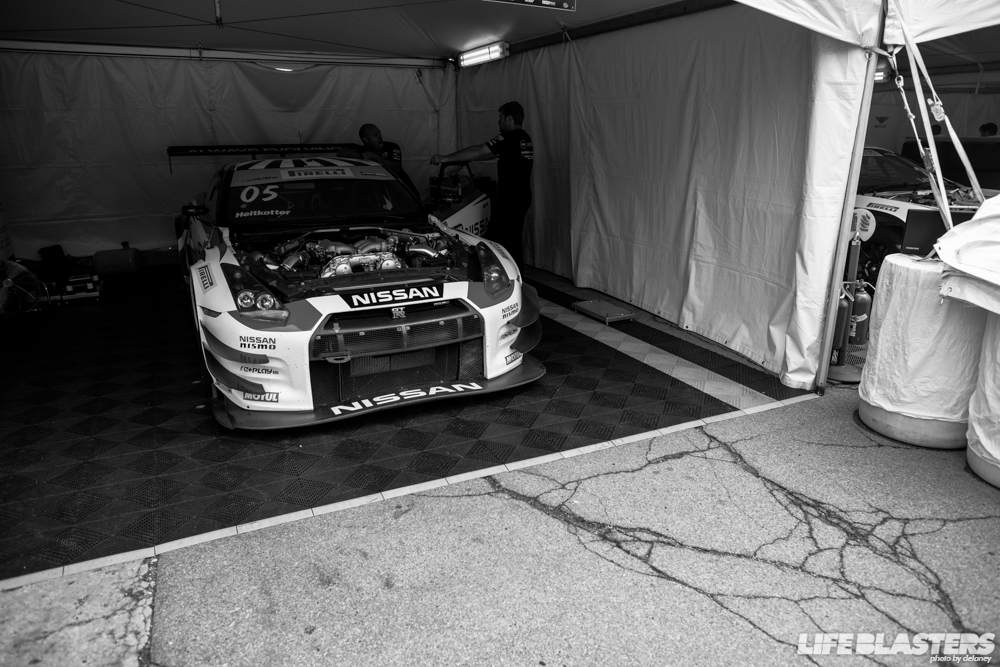 There are 52 weekends in 2015 and about half of those are good enough for racing here in Michigan. Of course there are going to be multiple events on several of those weekends, and for the second year in a row I've been torn between two big events.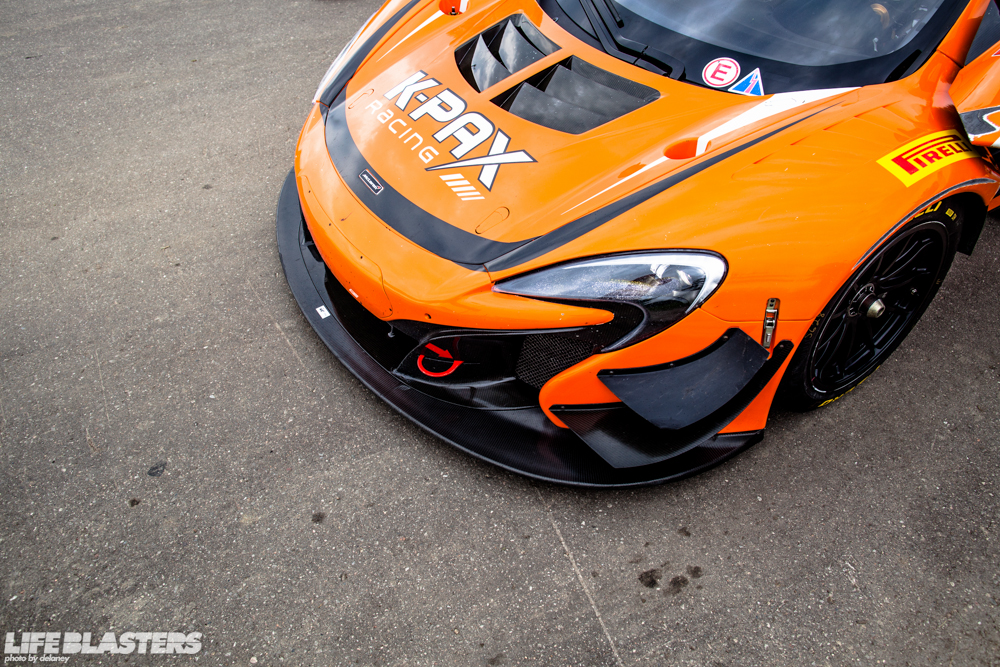 Detroit hosts the Belle Isle Grand Prix with Indy Car, TUDOR, Pirelli World Challenge and Robby Gordon Stadium Super Trucks.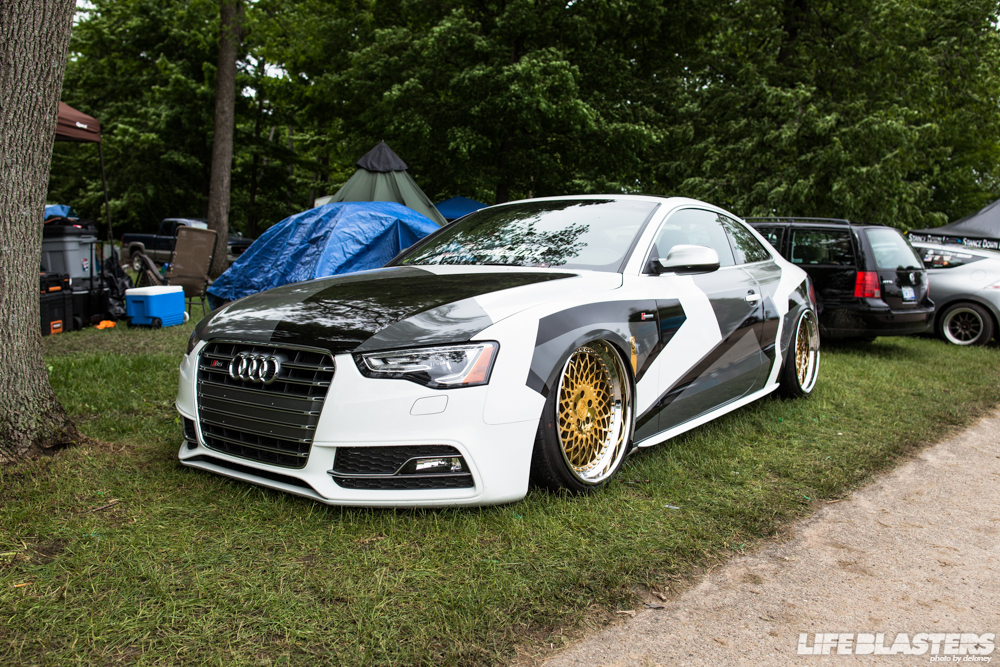 Located on the complete opposite side of the state was Grid Life, a three day music, car show, time attack and drift event held at Gingerman Raceway. I've never been to Grid Life because Belle Isle is closer and it's the type of racing I grew up with.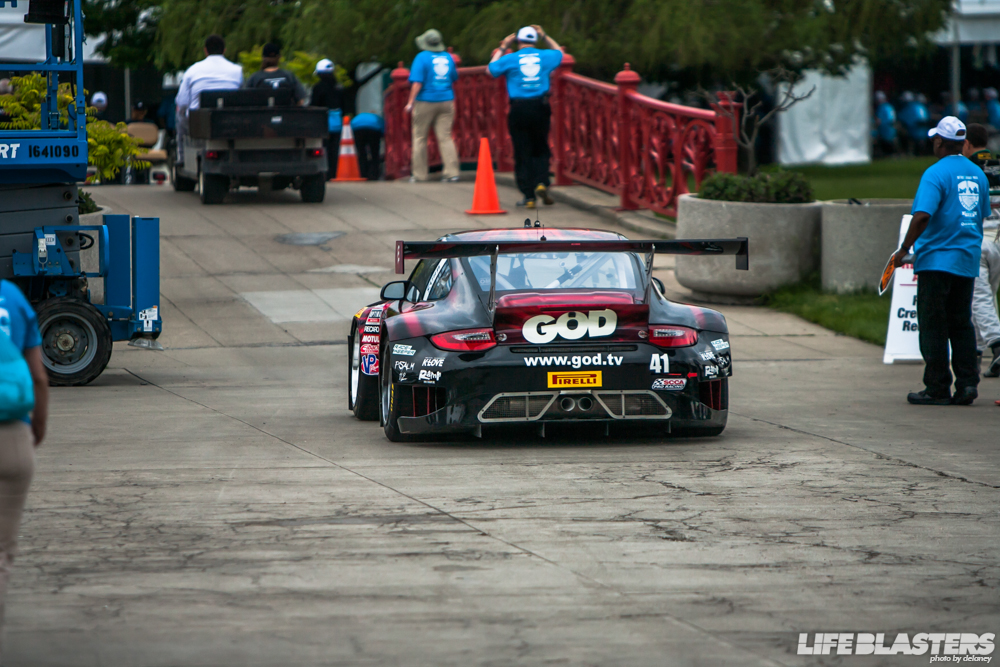 I'm not the biggest fan of the Belle Isle course for a few reasons, but it's hard to pass up racing that's so close to home.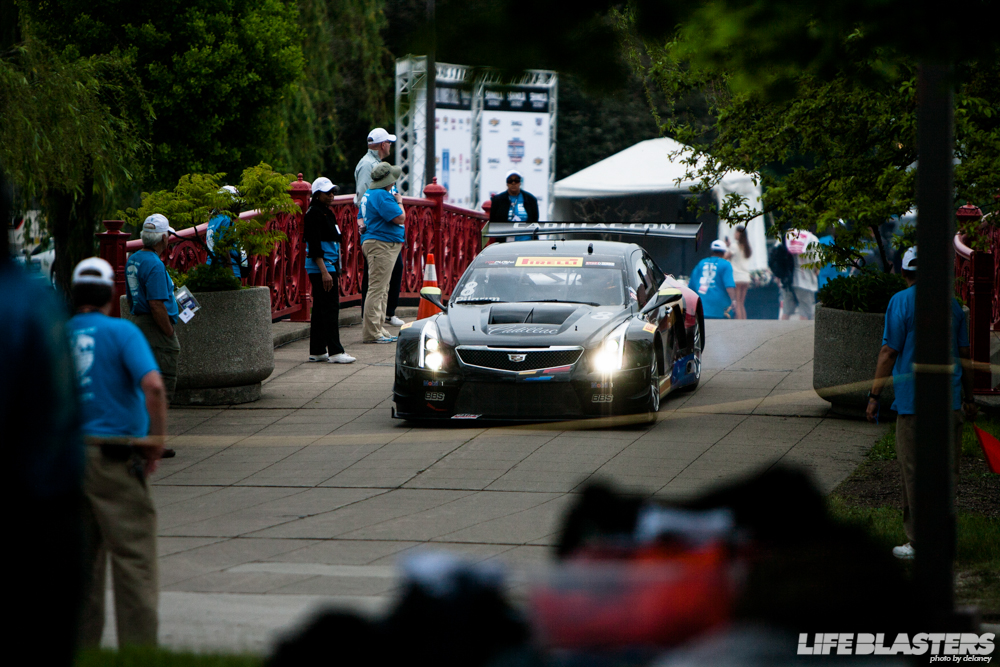 I didn't plan on going to Belle Isle at all, but after Wong flew out here for a few days I decided to head down. One thing cool about the Belle Isle Grand Prix is that Friday is free. Free entrance to the track and paddock gives everyone a chance to come down and see the racing. Even though I don't like the track, the free day is an awesome idea.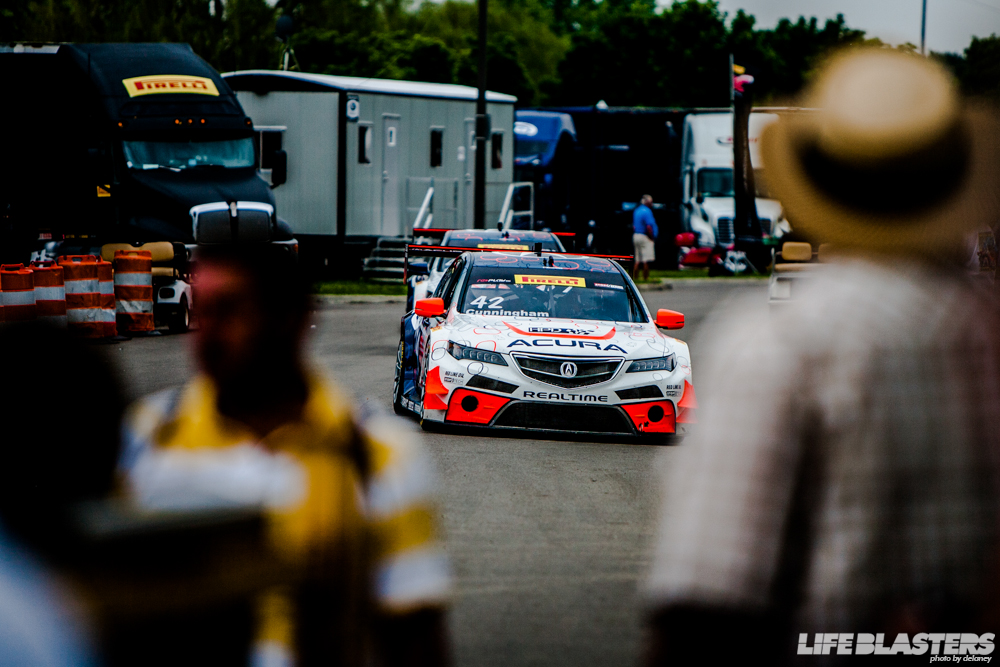 Because Belle Isle is a park, there aren't always roads where the cars are parked, so most of the time the cars are driving on sidewalks to get to and from the track.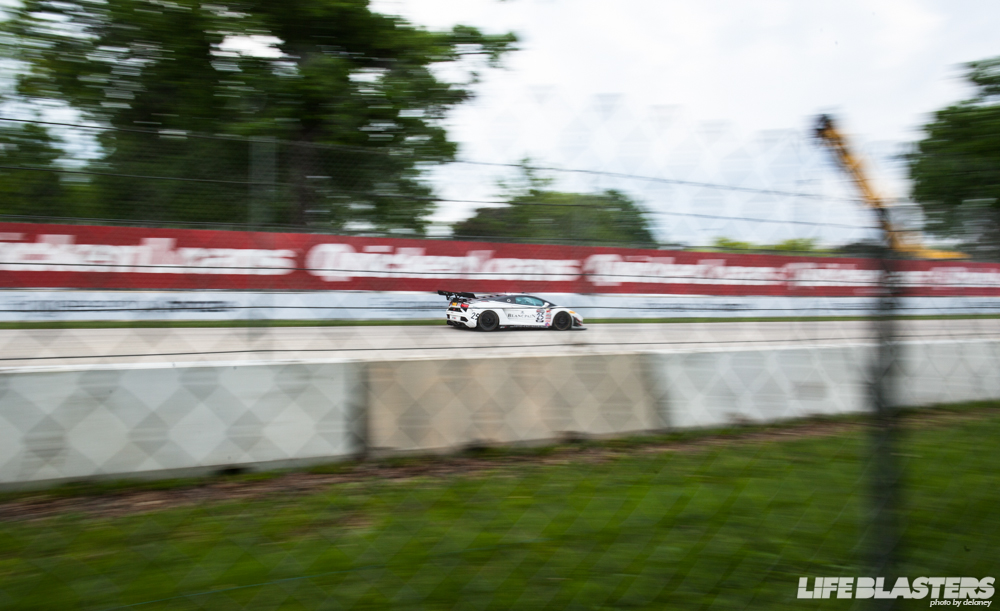 Friday consisted of practice and qualifying for all three series and the first couple of races for the Stadium Super Trucks. On paper the day was filled with on track action, but fate had another plan.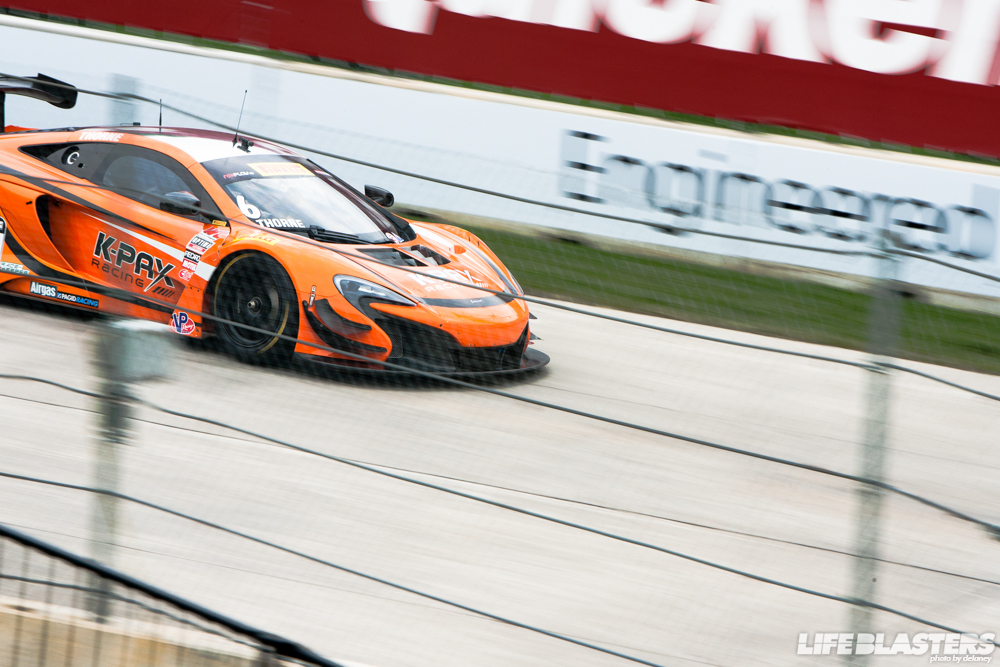 IndyCar was on track when I got there and ended not too long after, but I was only there for Pirelli and TUDOR anyway. I forgot that the KPax team switched from the McLaren MP4/12C to the newer 650S.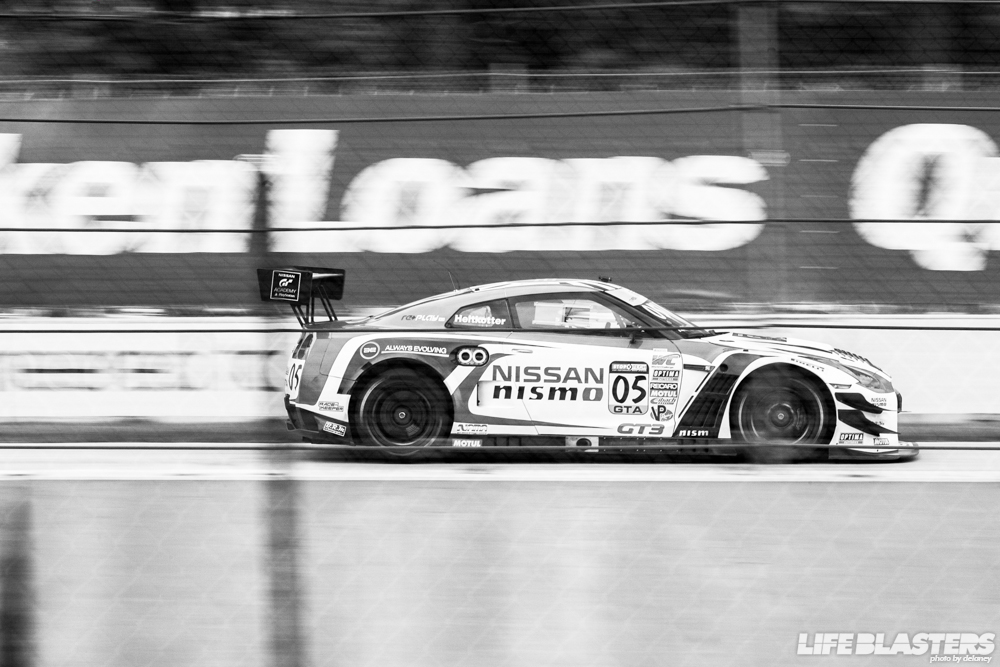 I think this is the first time I've seen the GTR GT3 race too. While the base model GTR looks good, race trim makes it look infinitely better.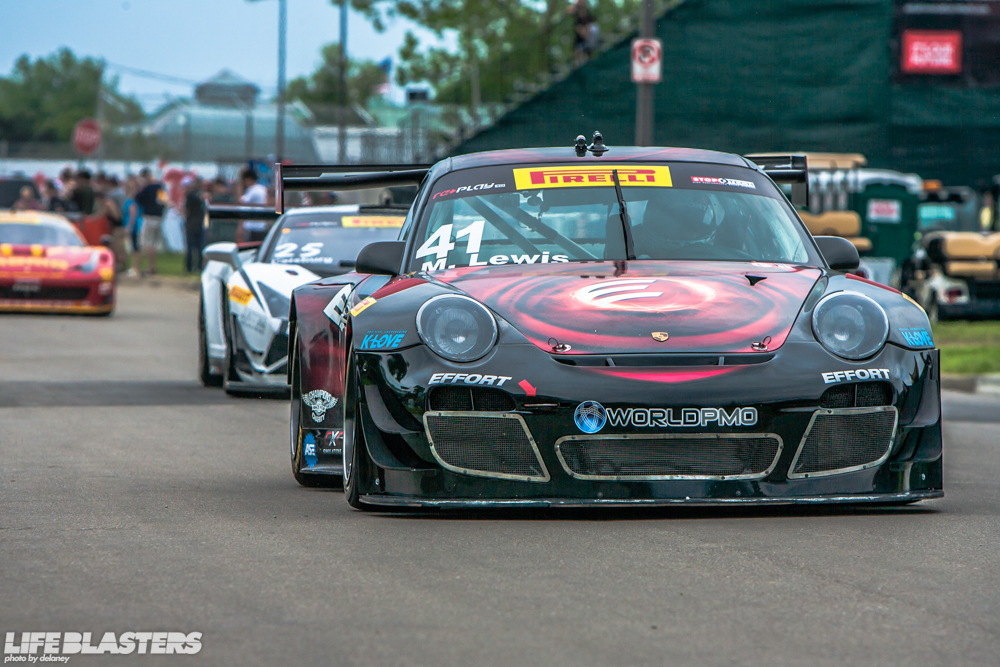 PWC were slated to run a 30 minute practice session, but at about 10 minutes in the red flag flew for a crash, and by the time the track was cleared their time was up. It was kind of lame because I was looking forward to seeing a little more of them on track.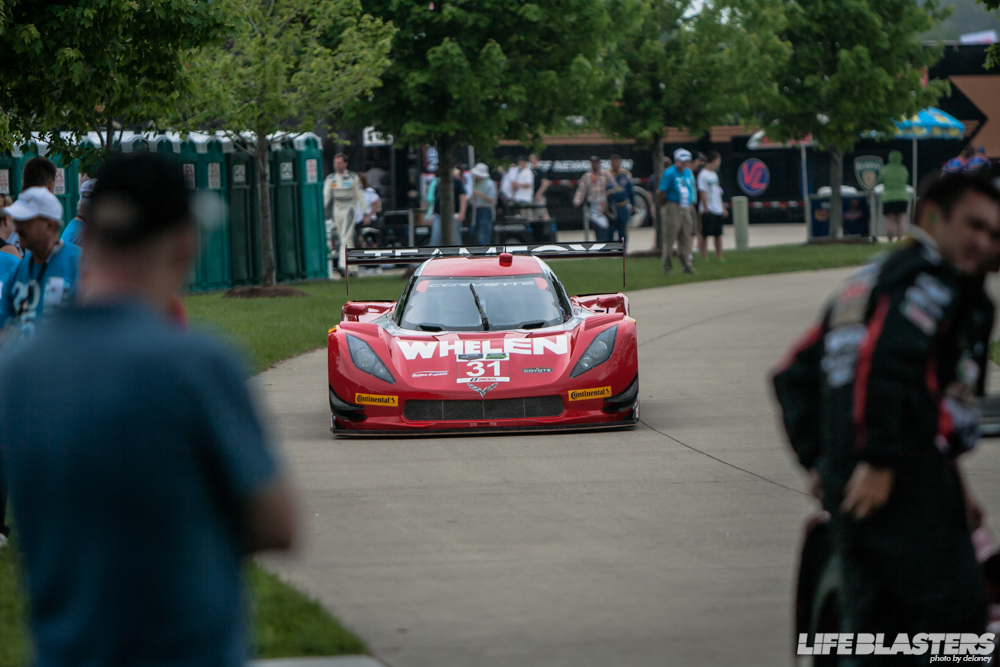 I headed over to the paddock to see that TUDOR was going back out for their second practice. I just love seeing the cars driving on sidewalks to get to the track.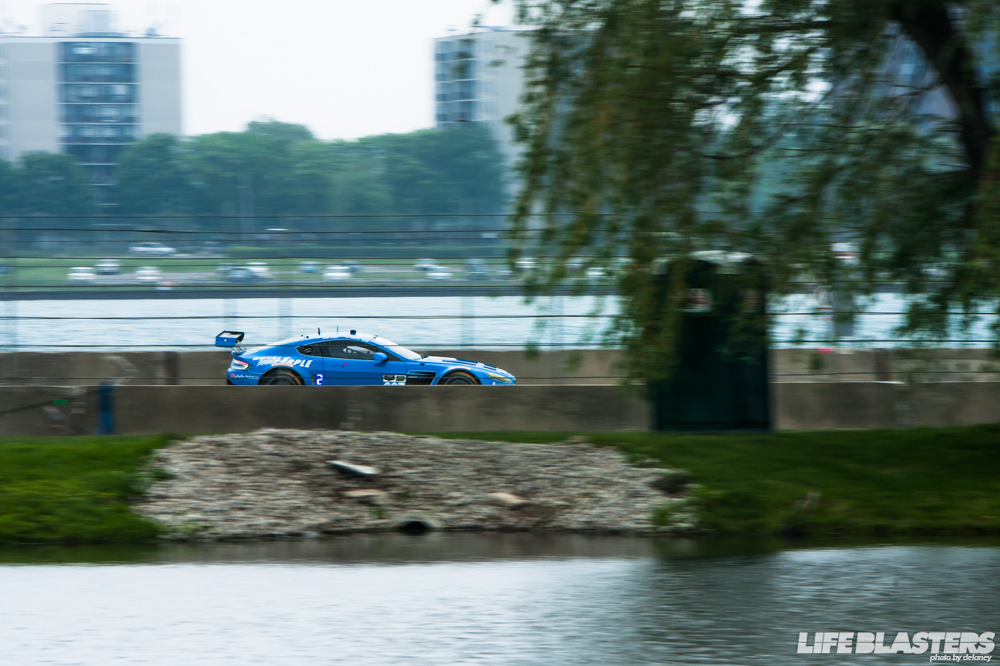 Another cool part about Belle Isle is the fact that it's, well, an island. While that alone is cool, mixing in the fact that it's in Detroit means it's right in between the USA and Canada. Meaning at some points you can take a photo on US soil and have Canada as a back drop.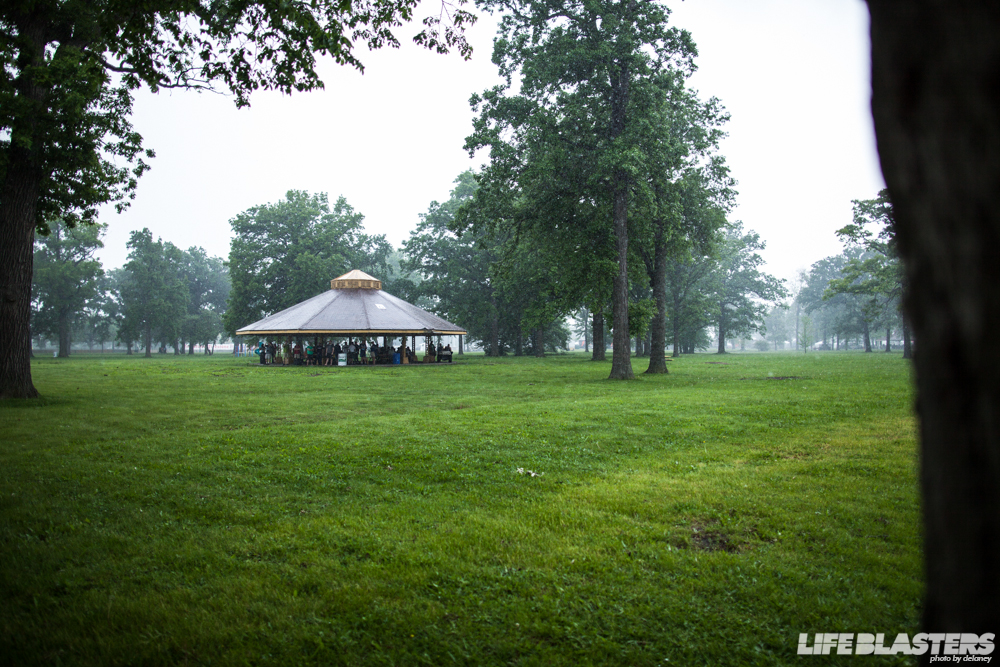 If there's anything to say about Michigan it's that the weather can change faster than you can blink. The day started off fairly nice with the sun out and warm weather. But as TUDOR came out the skies opened up.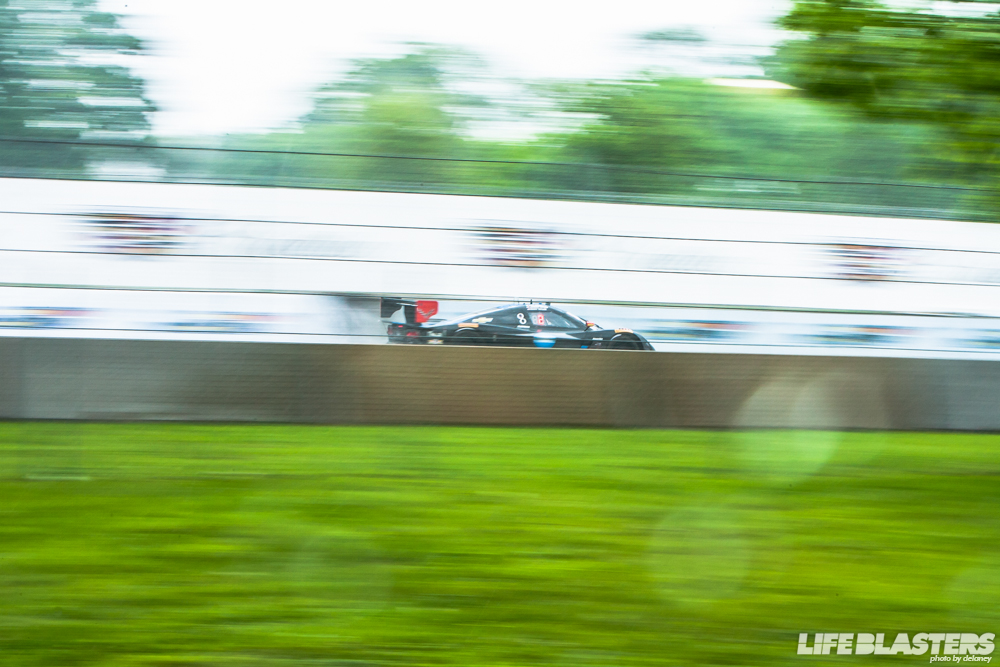 And by opened, I mean really opened. The grand stands quickly emptied as people moved under trees or under the gazebo in the previous photo.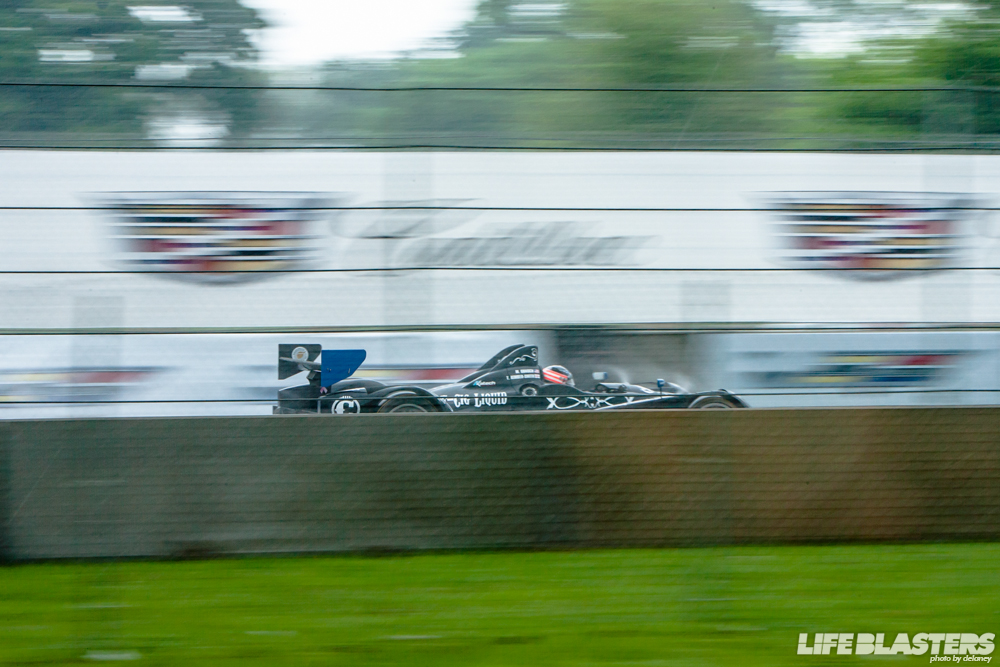 Since Belle Isle is a street course, the entire course is lined by big K rails and fences, so it's pretty tough to get rooster tail shots. But it was cool to see the water coming out of the front wheel cut outs.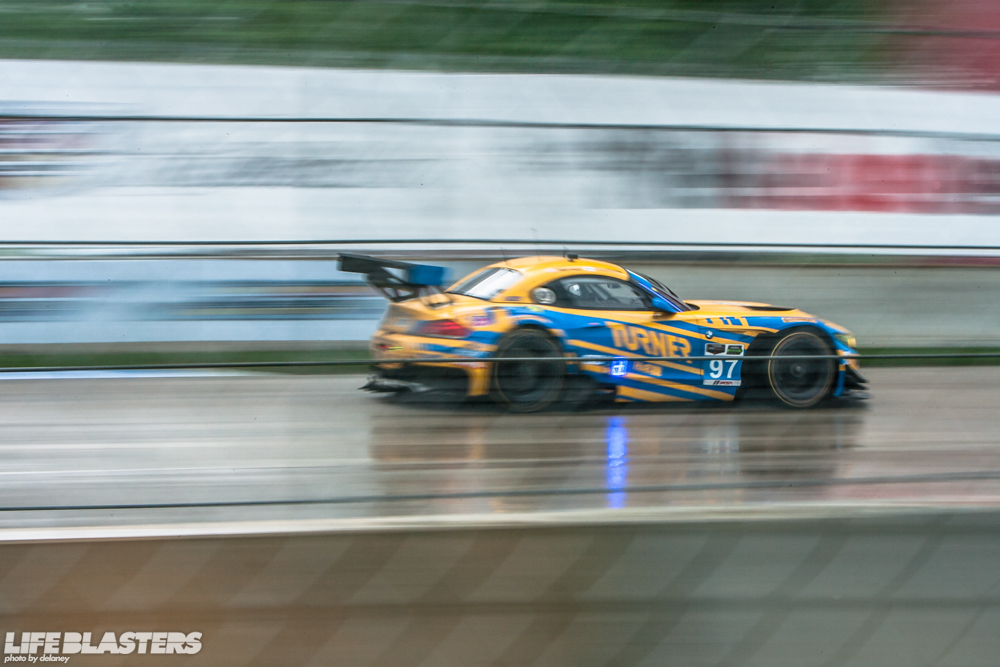 The rain didn't let up and forced a red flag for TUDOR because the track started to puddle up. After about 20 minutes the skies cleared up and the day went on as usual.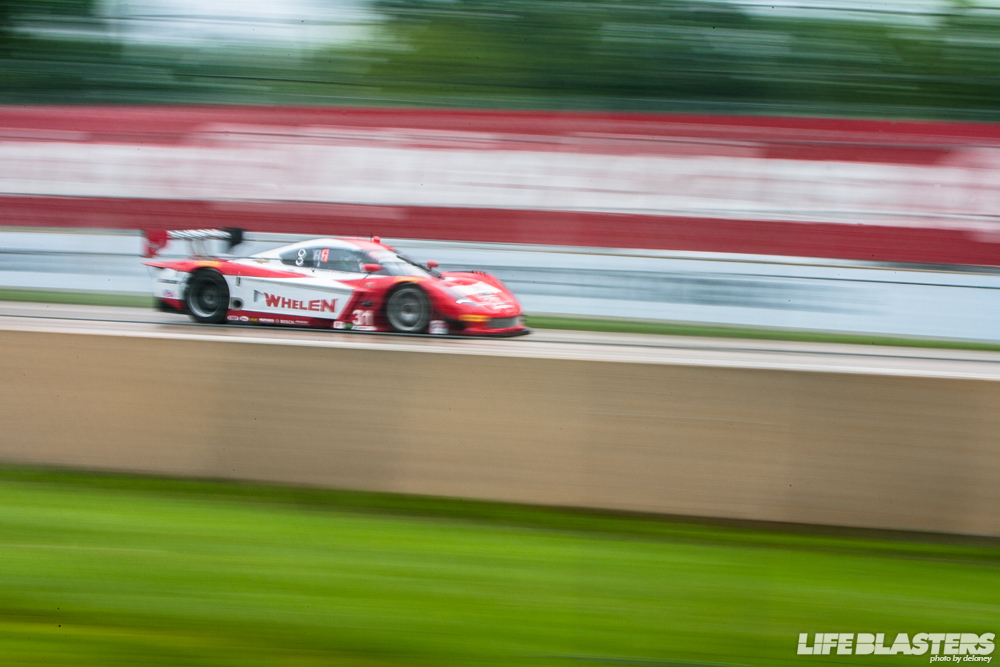 Friday was the only day I was on Belle Isle, but I can tell you that Eric Curran and Dane Cameron took the win in their #31 Action Express Corvette DP.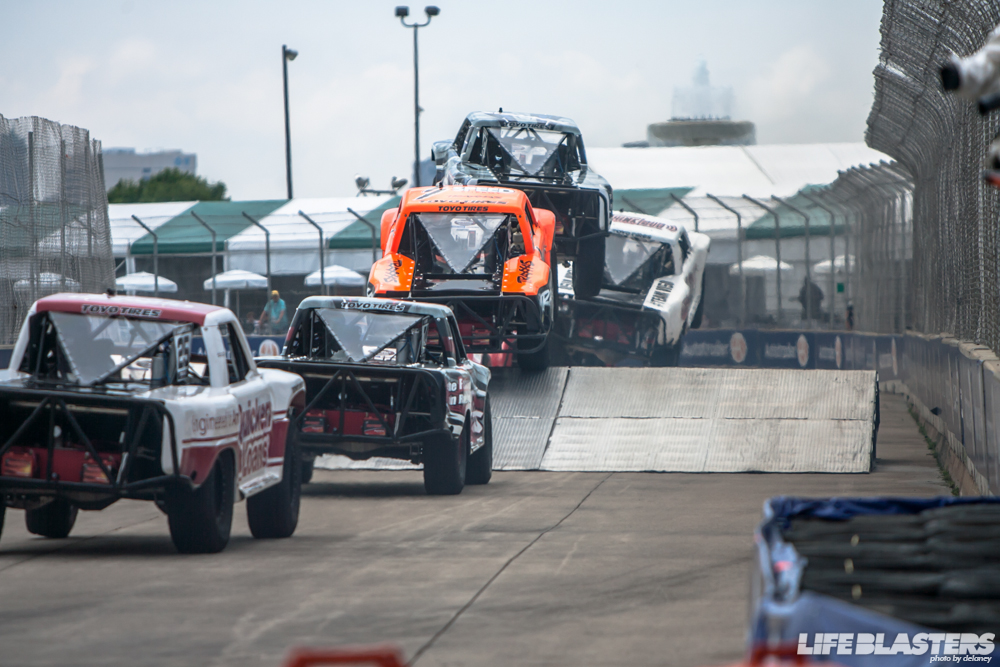 Before I left I had to see the Stadium Super Trucks run. Most people said that this was the best series that raced all weekend, and I really can't argue.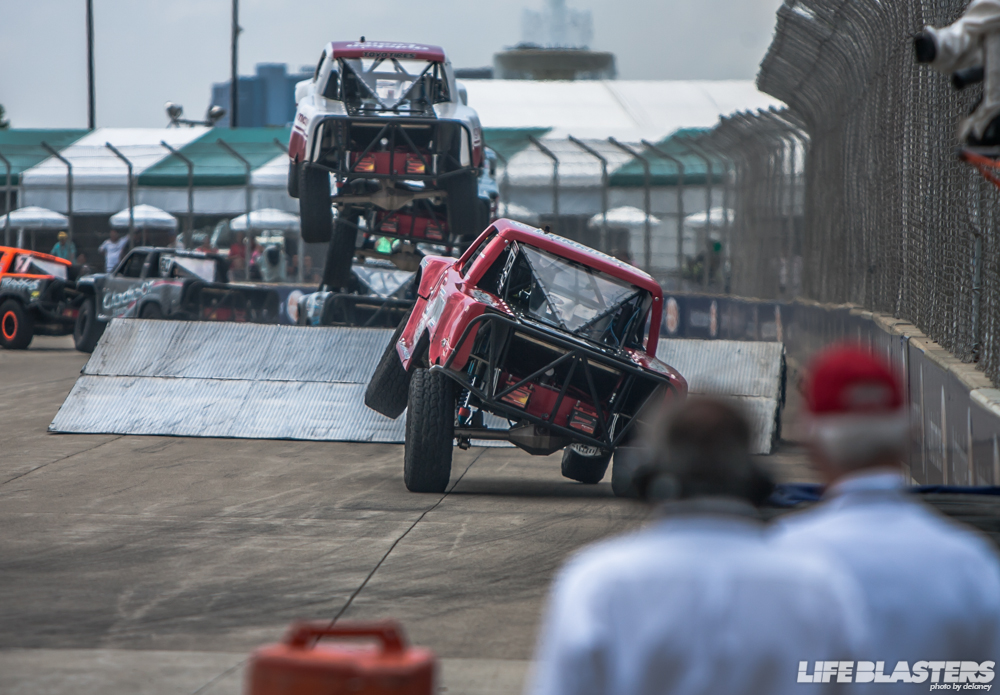 How can you not love the suspension travel of these trucks? They don't even need to jump to get wheels off the ground.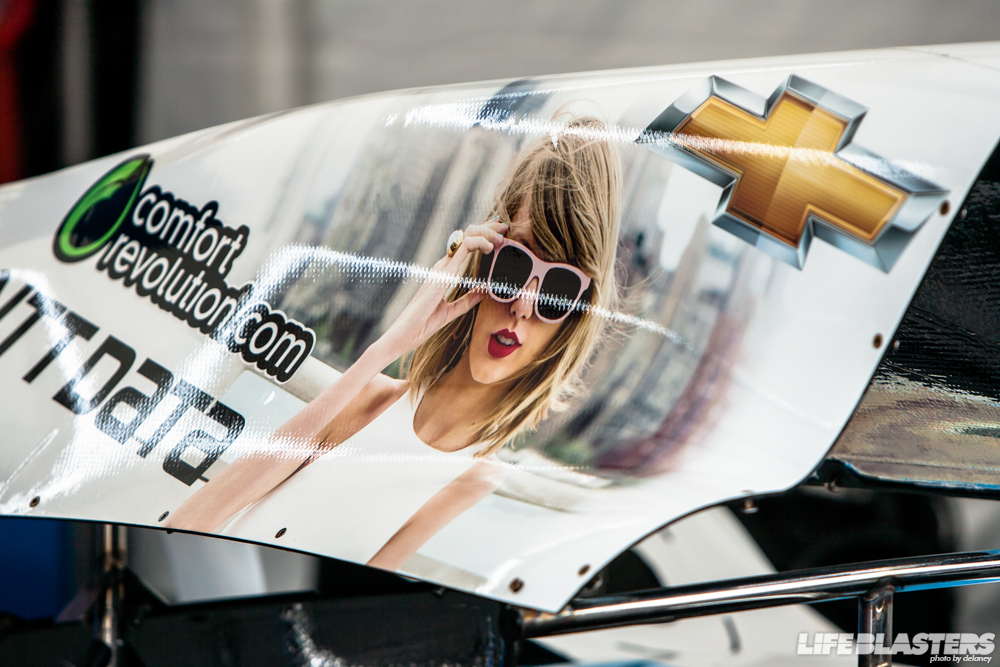 And Tony Kanaan was running a Taylor Swift livery promoting her concert that was in town. It made the weekend infinitely better.

Now this is where the weekend gets a little random. Lingenfelter started their own Cars and Coffee last year, and this weekend was the 2015 season opener, albeit a little late in the season. I wanted to head over to Grid Life, but the 2.2 hour drive just didn't sound interesting. I also didn't want to go back to Belle Isle either. So Saturday was just one car show and a lot of rain. I've always seen this RX7 from a distance, but never up close. And as usual, as soon as I got to the show it was heading out.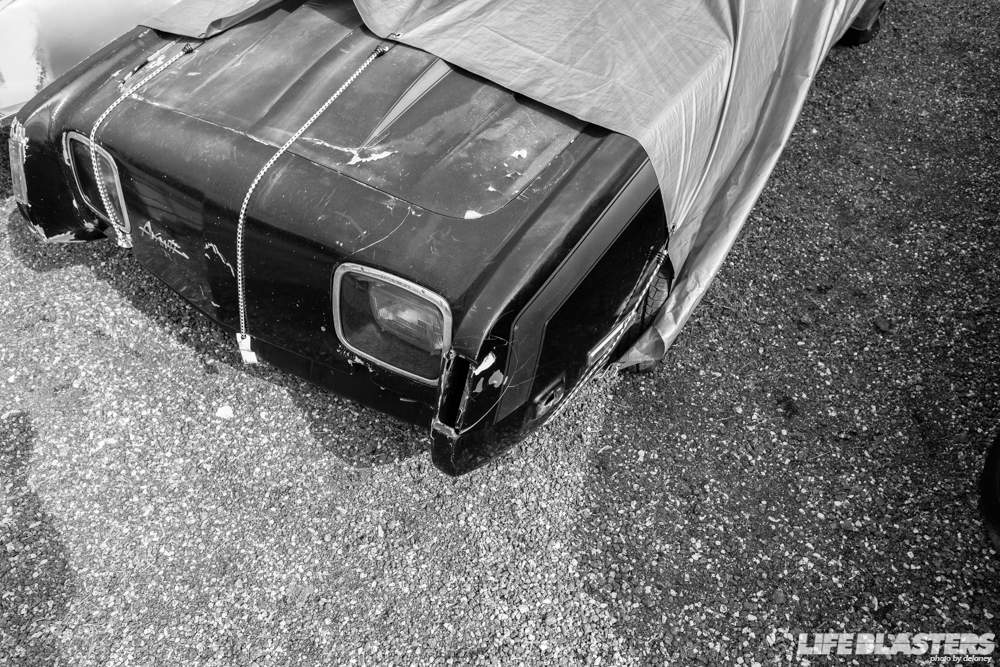 Lingenfelter's Cars and Coffee is hosted at Lingenfelter's engine plant. But across the street is a company that has about 10 Avantis in various conditions. Not too long after we left the show the skies opened up once again. Belle Isle was was nothing but rain for both Saturday and Sunday.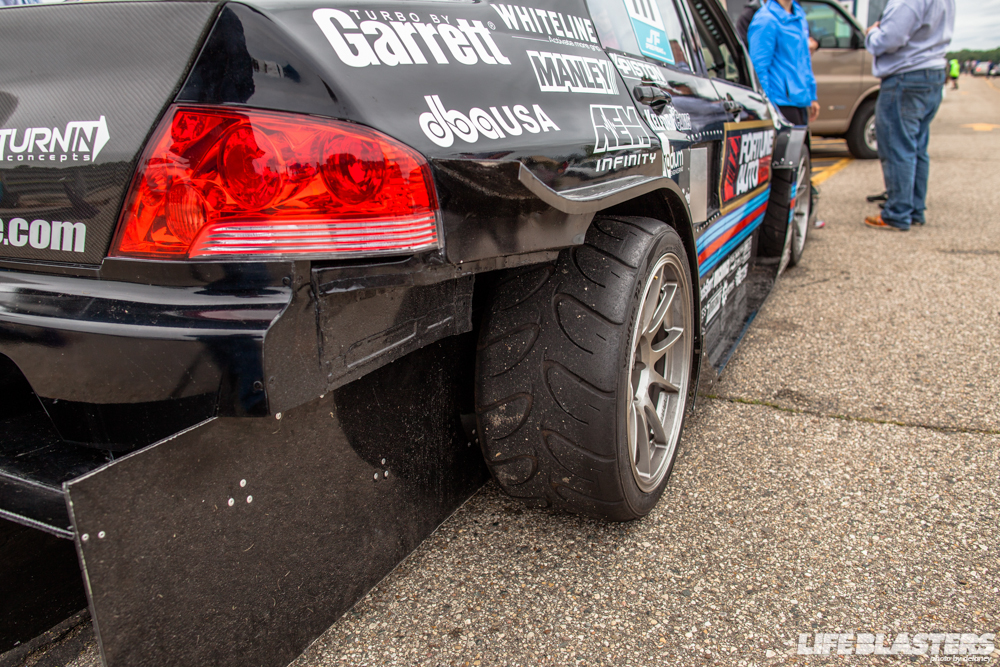 So with nothing to do on Sunday, we decided to make the drive over to Gingerman to see what Grid Life was all about.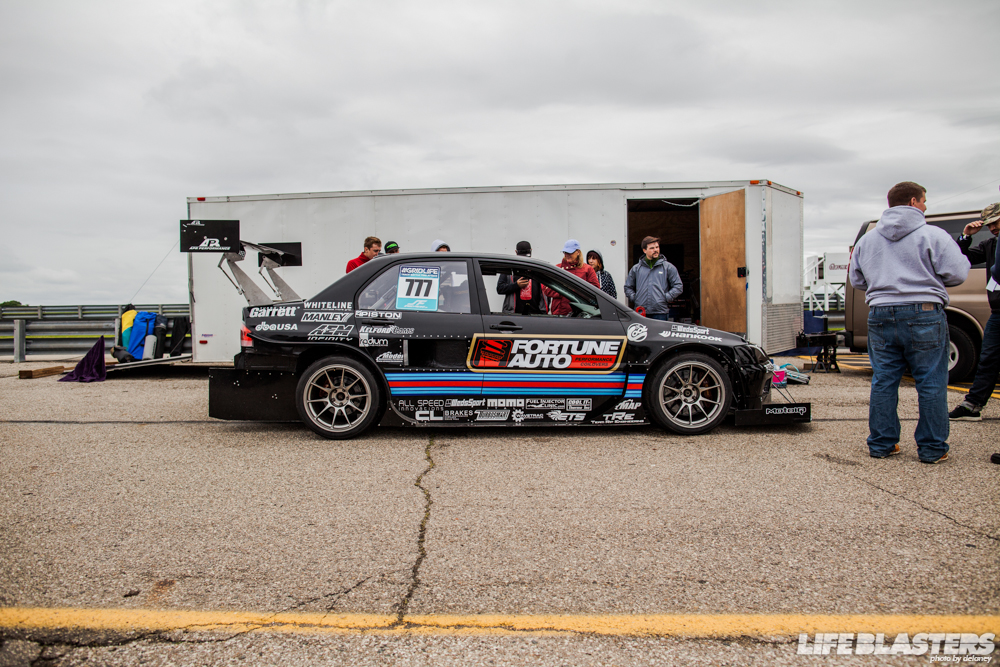 Some people compare it to Gatebil, others compare it to Forza Horizon. Three days of music and racing draws people from all over. It wasn't until later I found out that there was no drifting on Sunday, but there was still time attack. This Evo didn't run when I was there, but it was still awesome to see.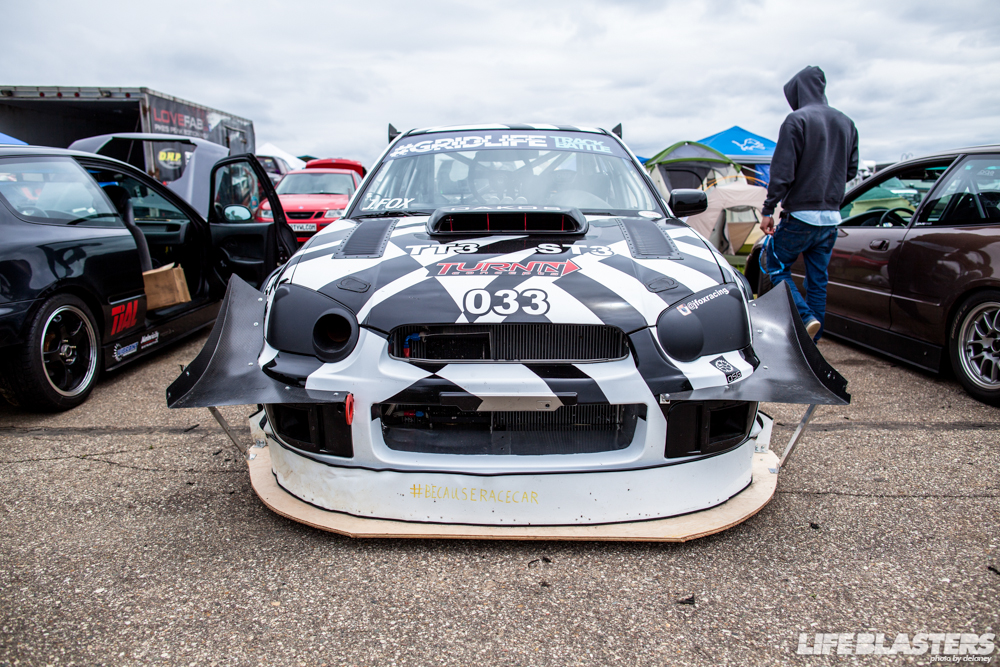 I've seen tons of Subarus in rally, two drifting and a couple stanced ones. But this was the first full out time attack Subaru I've seen.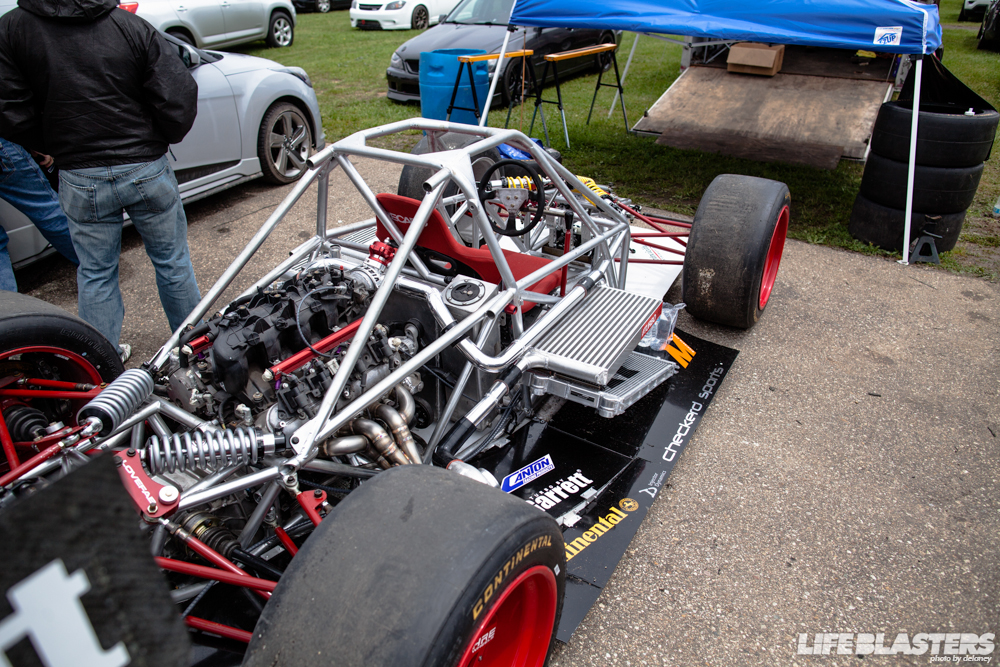 LoveFab is located in Northern Michigan, so they brought down a couple of Honda Civics and their Pikes Peaks car. The Pikes Peak car never ran because it's obviously nowhere near being track ready, but finally getting to see the car for myself was pretty cool.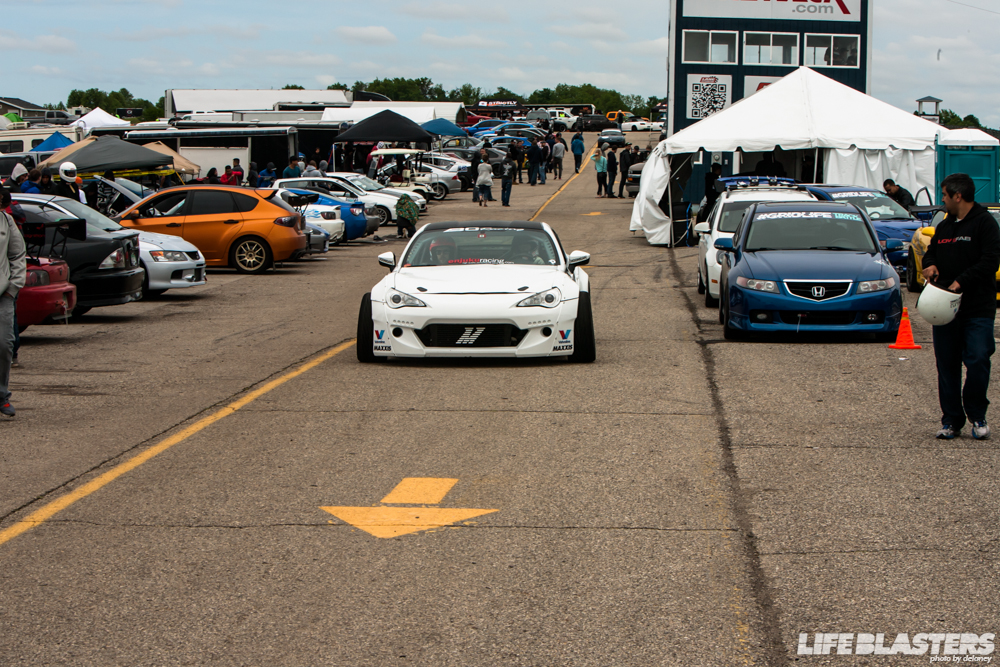 The real draw was Ryan Tuerck bringing his street FR-S out. I've always been a Matt Powers fan, but once he left FD I quickly started to follow Ryan. I've seen a ton about this car on Youtube and other websites, but like the LoveFab it was awesome to see his car in person.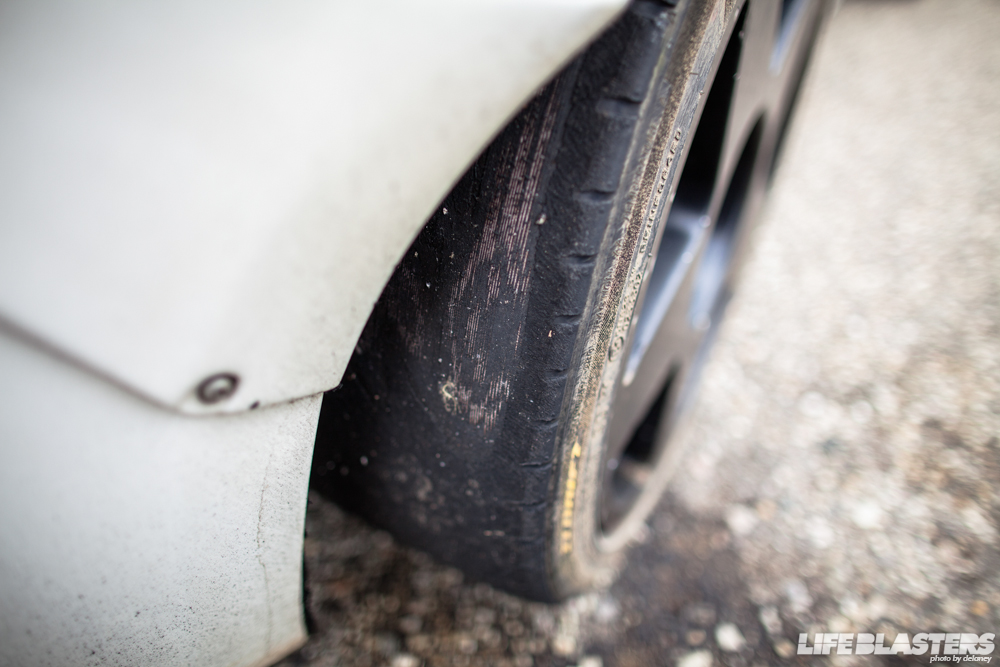 It wasn't until after his run that I found out that there wasn't any drifting on Sunday, but the organizers gave him the OK to do a few runs before he left. But of course, the way the weekend was going I was on the wrong side of the track when he went out. Gingerman's front straight goes right into a sharp left hander. Ryan was making some insane 100+mph entires, evidenced by his tires.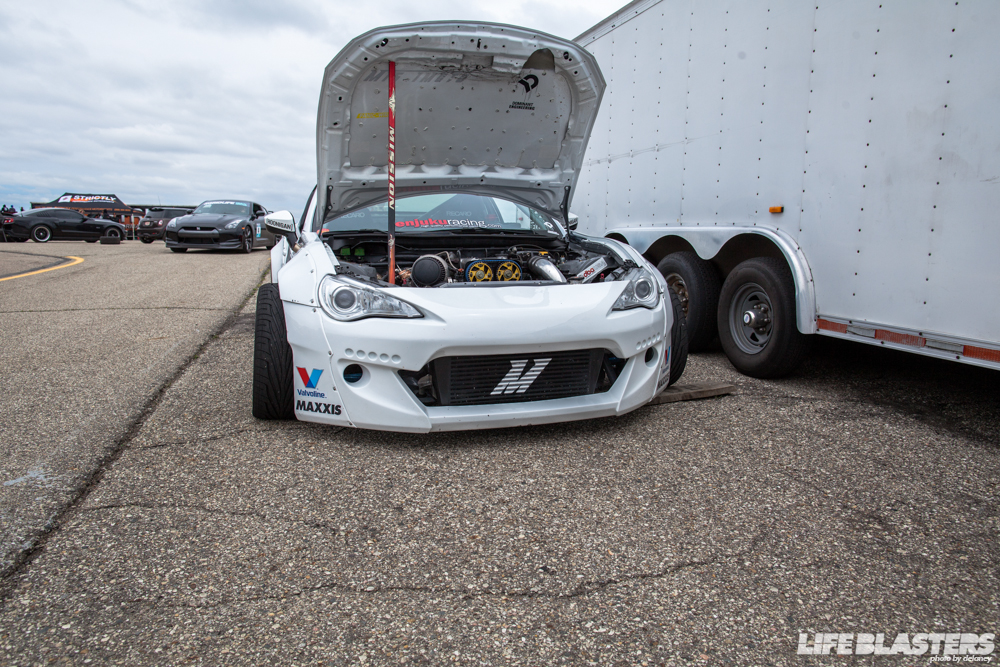 Even though I never managed to get a photo of his runs, just getting to hear his 2JZ at full rev was good enough. Maybe he can talk to some people at Formula D and get them to run at Gingerman next year. Please?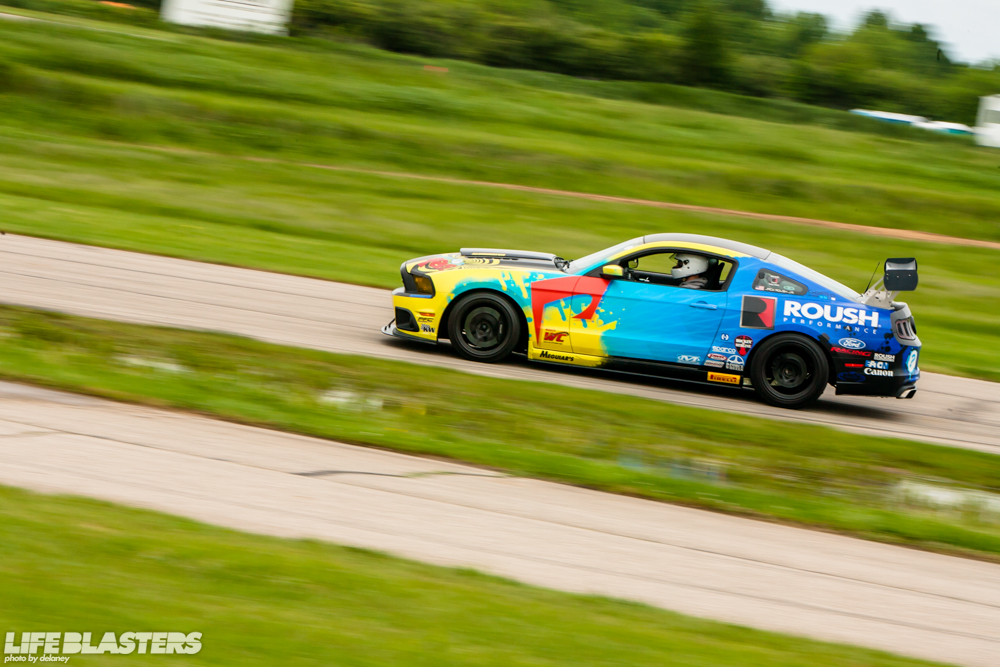 The whole day was slated for time attack and HPDE. Andy Perry from Roush was out in the Roush Mustang based on the PWC car. This is the same guy that pulled Wong, Bohan, and me out of a ditch back at Sno Drift a few years ago.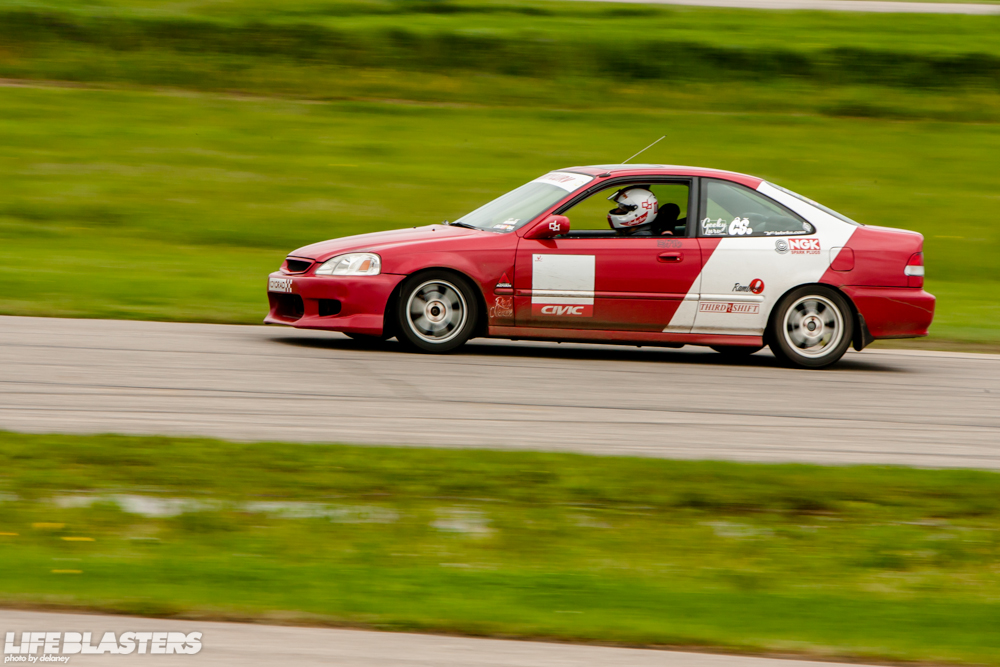 Even though Sunday was dry, the rest of the weekend at Gingerman suffered the same fate as Belle Isle. But the rain didn't keep many people away, and many of them had awesome cars. Out on track was this Kanjo inspired Civic which to me looks spot on aside from a few minor details.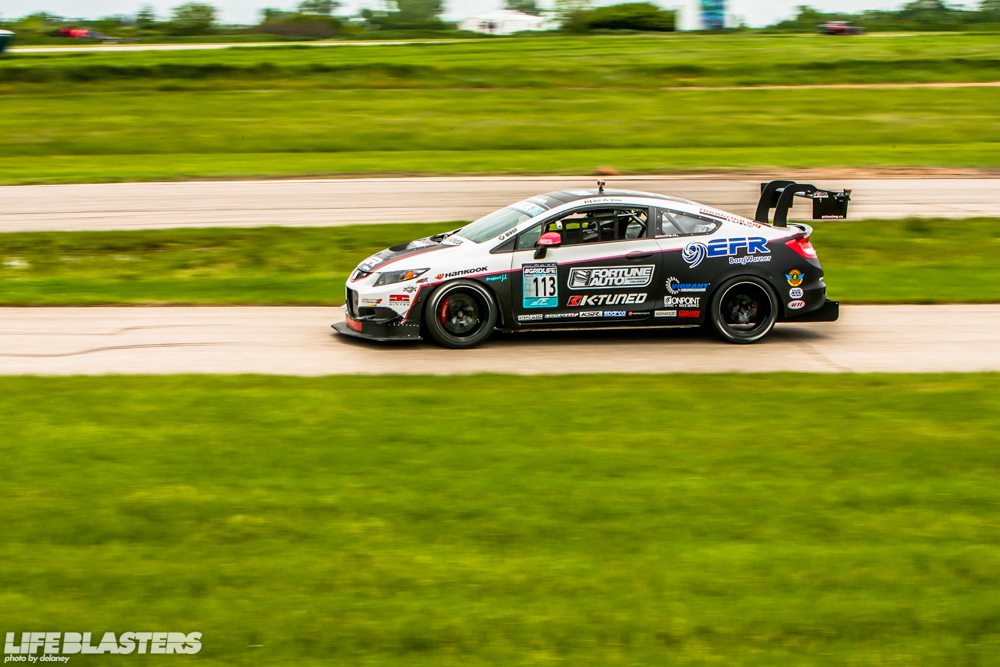 While the HPDE consisted mostly of street cars, the Time Attack series packed some serious machines. This Civic from Fortune Auto just looked awesome. I've never seen any Time Attack type racing before in my life, so finally seeing the massive aero and wings made me instantly hooked.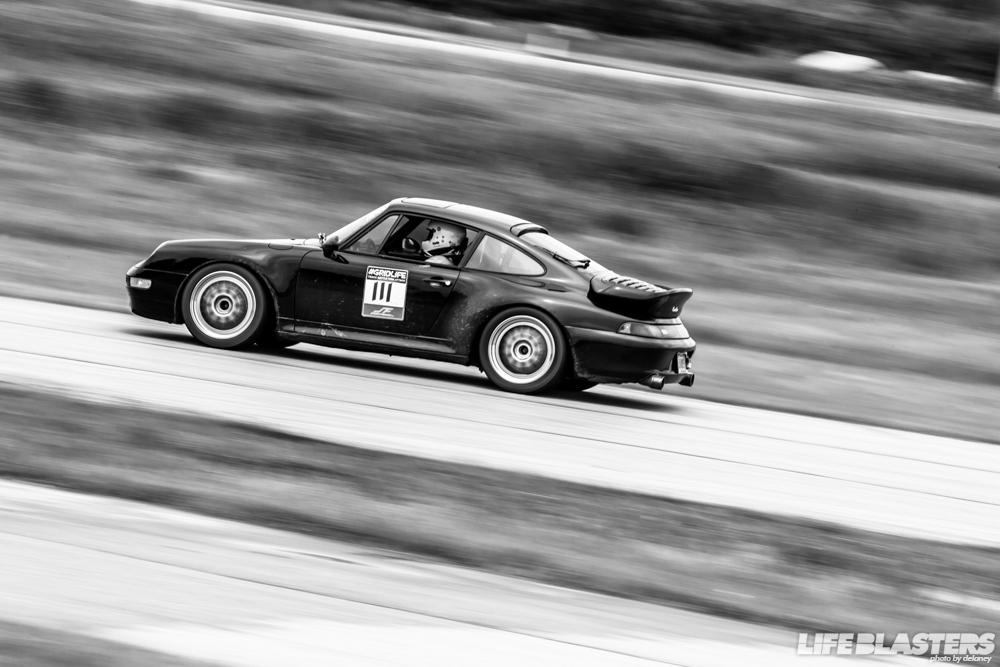 As with any racing series anywhere in the world, there's always a Porsche.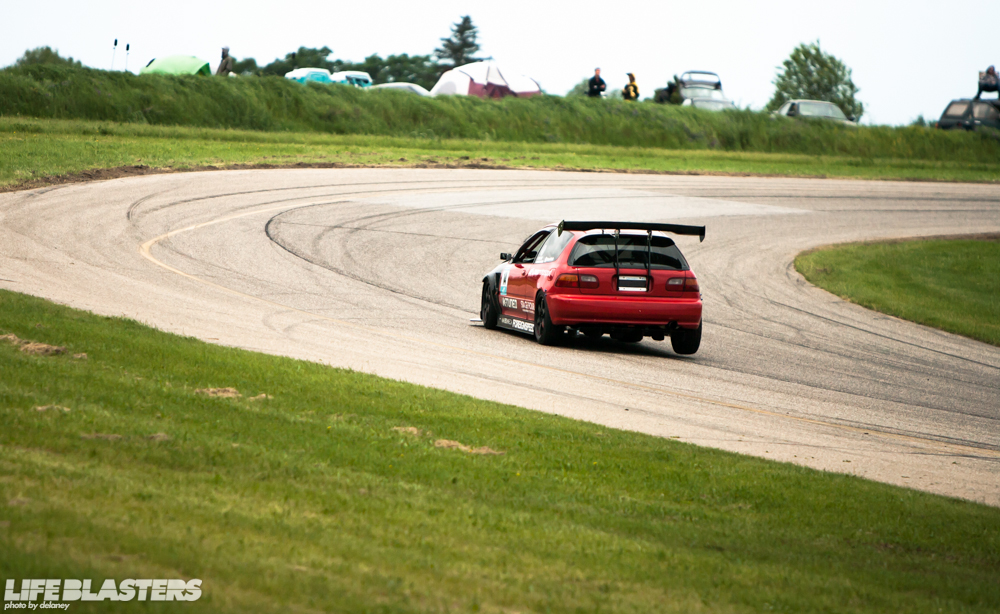 Because of the dry day, the fastest times of the weekend were being put down as the day went on. Like the Stadium Super Trucks, this little Civic was pulling one wheel off the ground.

While one class was out on track, another was lining up. Even though it was the last day and nearing the end, almost everyone was still to the last minute. Each class had around 20 or more cars, meaning the paddock was packed.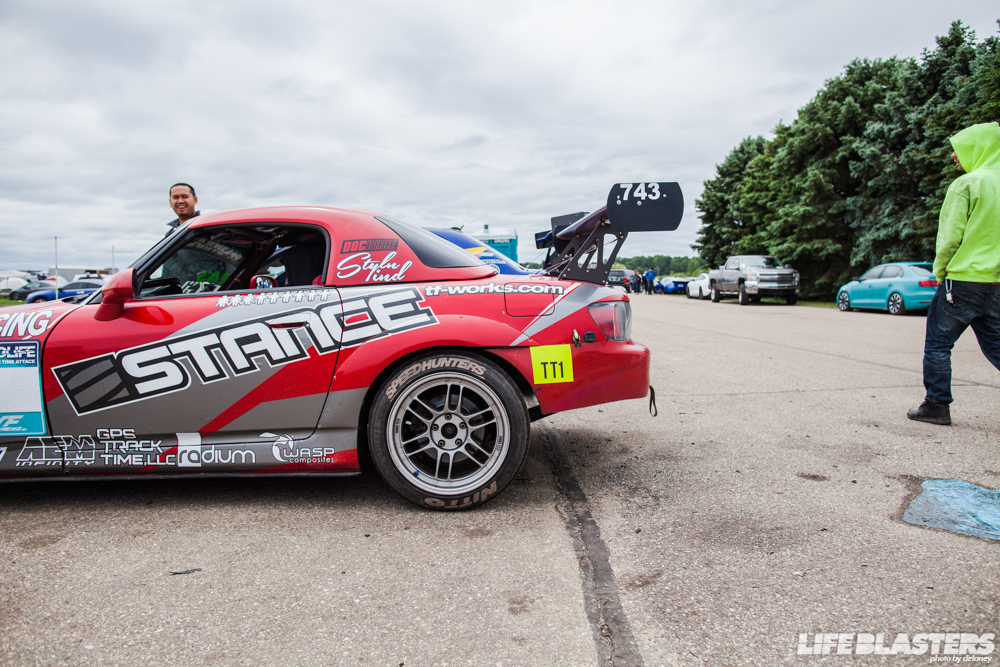 With the action on track, I had to check out the paddock. This S2000 looks perfect with the high rear bumper and tall rear wing. Time attack cars just look so good.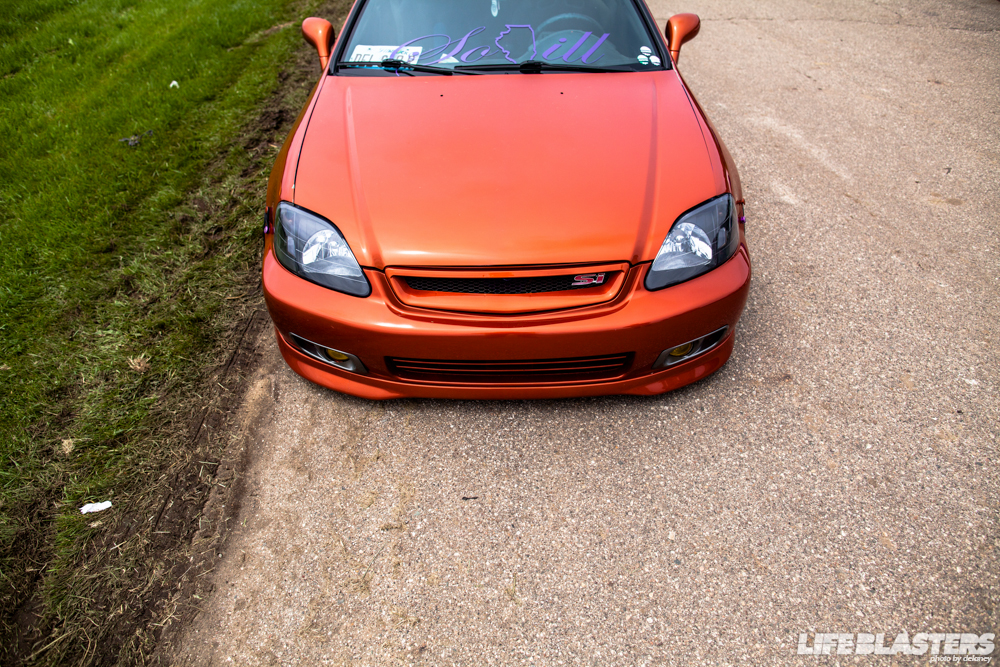 Along with the cars on track, there were tons of cars that were driven in. This Honda was incredibly clean, but packed a bit of a surprise.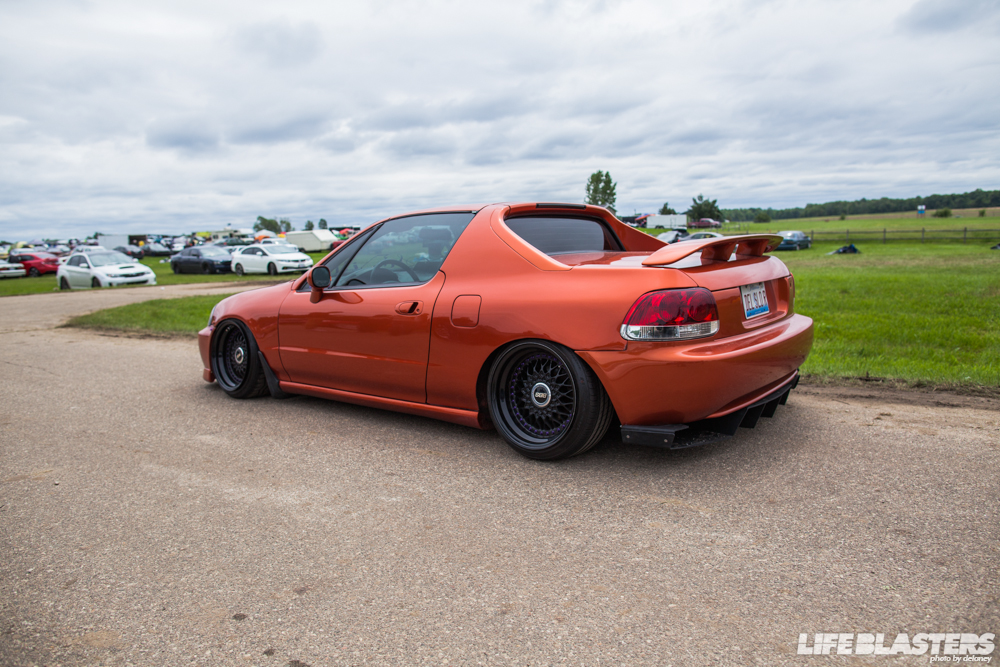 The front was Civic, but the back was Del Sol. This is what makes events like this so awesome for me. I love the race cars, every type of race car, but the cars that show up in the parking lot are what really make it for me. The quality, the diverseness and the creativity is just awesome.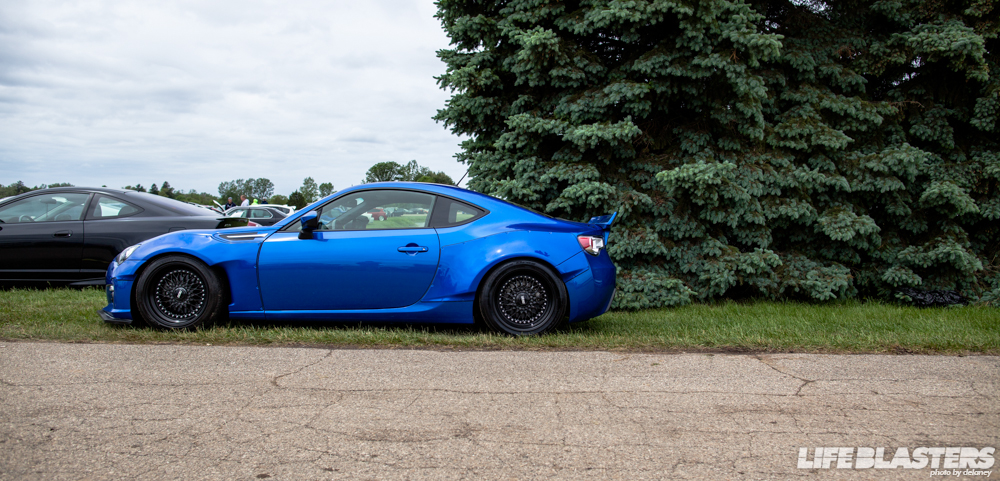 And this BRZ is one of the cleanest cars I've ever seen. The BBS wheels and the Rocket Bunny kit just all flowed so well in the blue. The meaty rear tires also look so proper and right.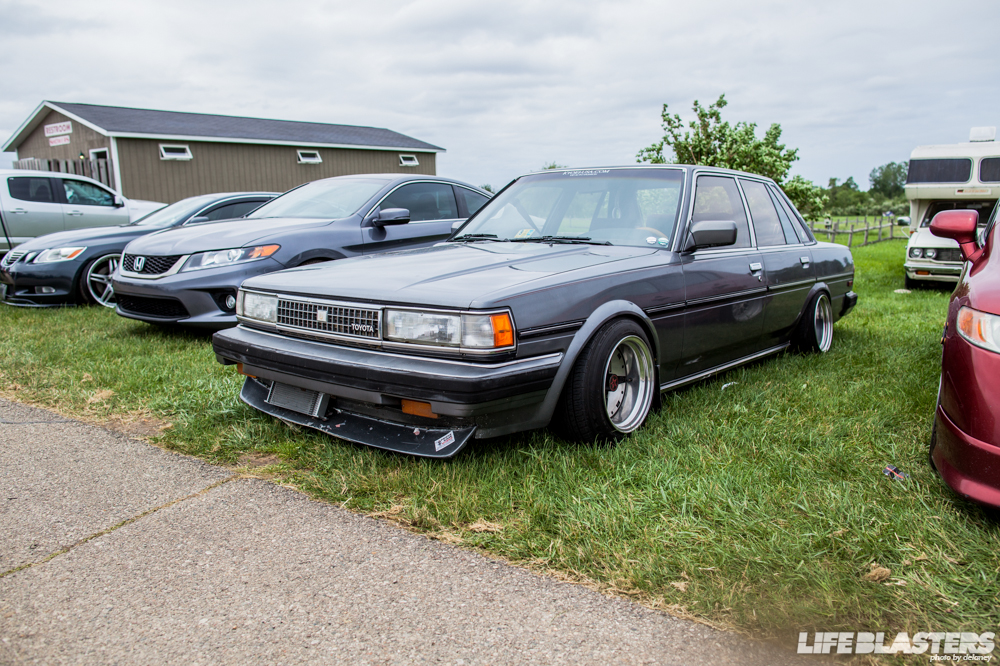 The Cressida was on the opposite side of awesome. While the BRZ was the modern Rocket Bunny Era, this Cressida was an ode to the classic '80s style.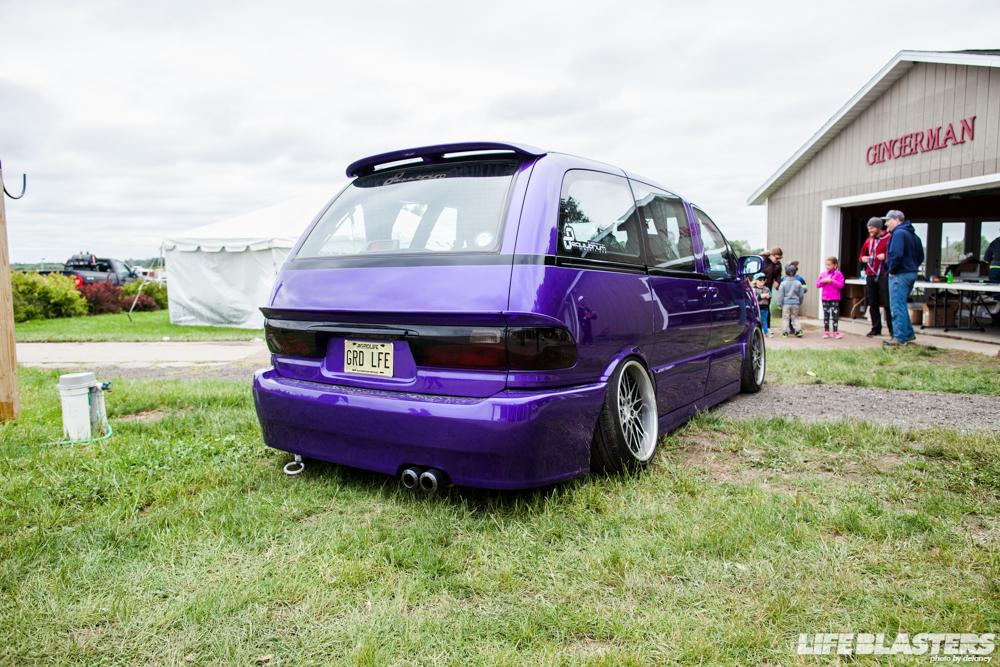 And even more off the normal style was this VIP inspired Previa. Just based off what I saw on this one day, I can't even imagine what I missed on the previous two days.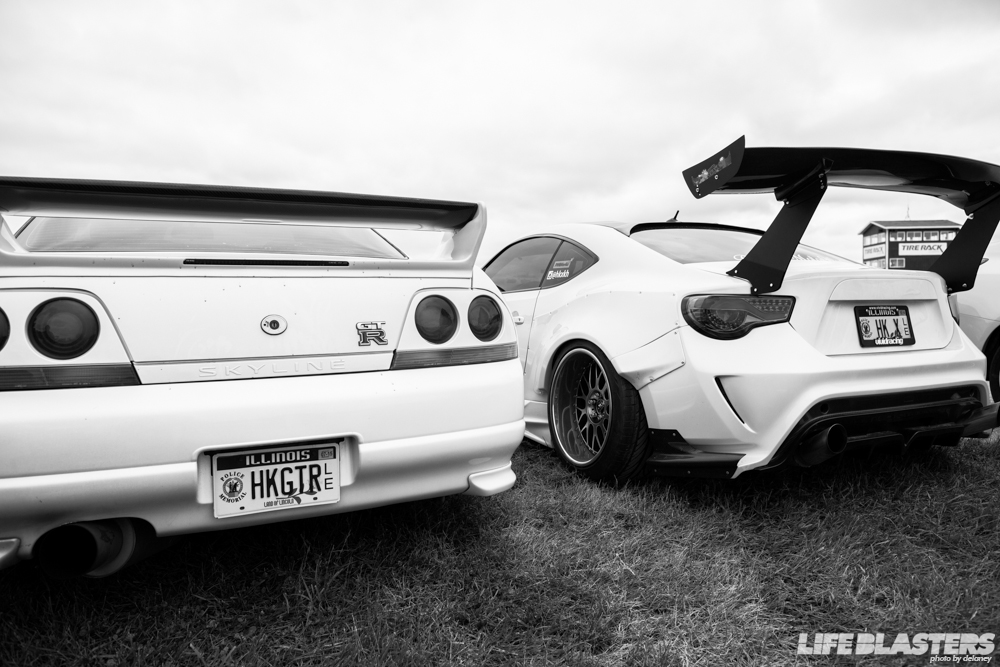 As we were getting to the track an S15 Silvia passed us going the other way, but luckily we filled our diet of RHD goodness with this R33 GTR. While I'd take the R33 no questions, both of these cars are owned by one person. Envy on the highest level right here.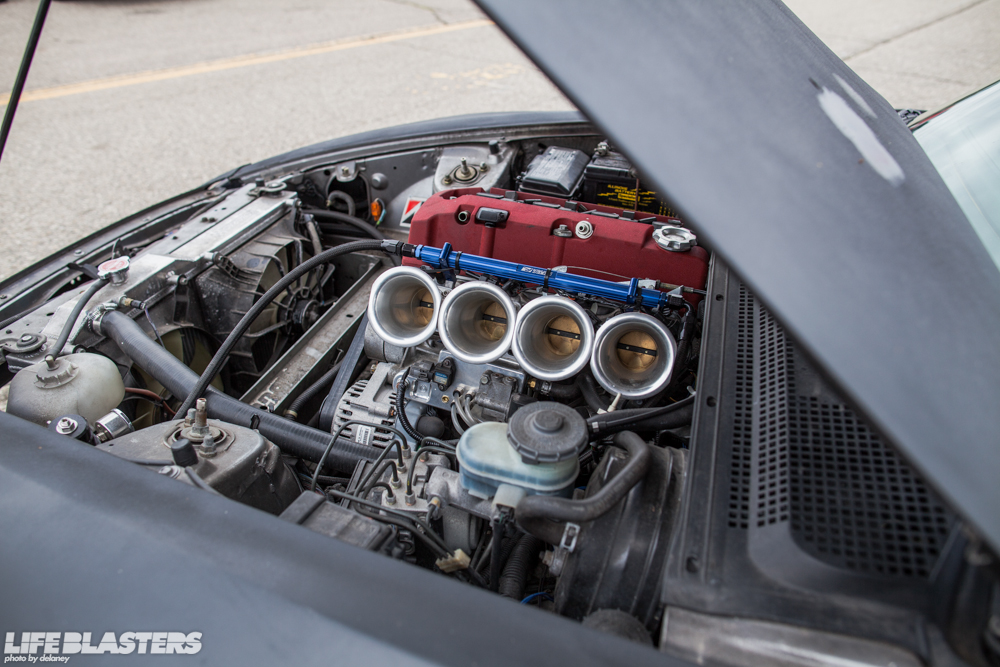 Over in the paddock was another S2000 with some individual throttle bodies. This is definitely an event I need to get back to.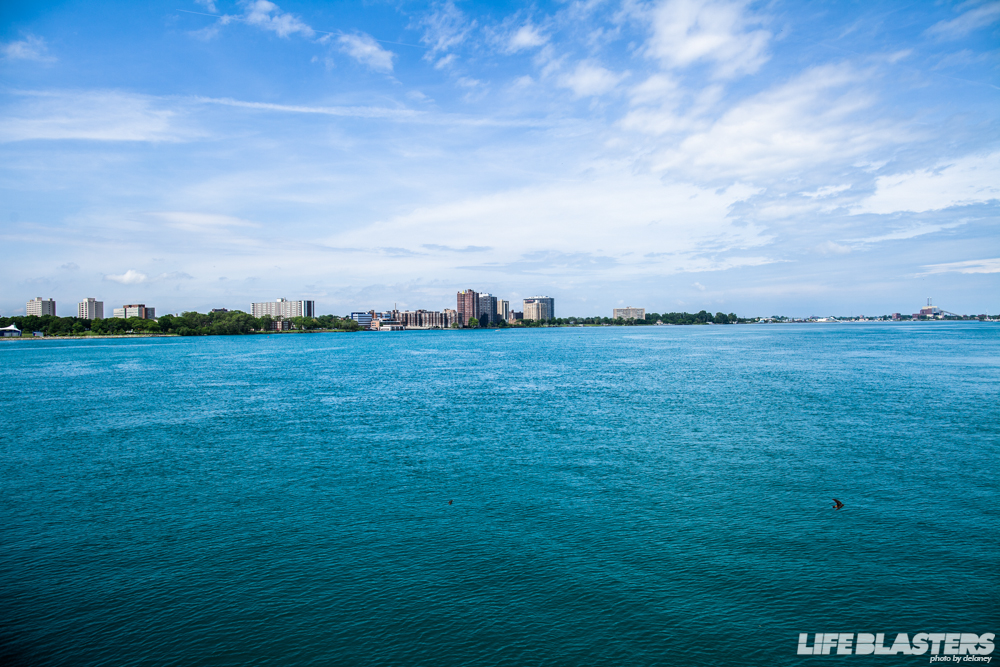 Even though Belle Isle is my front yard, Grid Life just blows it out of the water when it comes to cars and style. I love the sports car racing and PWC is easily my favorite series, but seeing the full out time attack cars and the drifting makes Grid Life a whole different event. Ryan Tuerck seems to be dead set on coming back next year, meaning I will too. I can't wait to see what a full day looks like at Gingerman, and hopefully a dry day. But the free day at Belle Isle is too tempting to miss. So it looks like next year I'll once again be making double visits on the East and West side of the state.
Delaney
Email: delaney@lifebalsters.com
Instagram: @lifeblasters, @ericdelaney