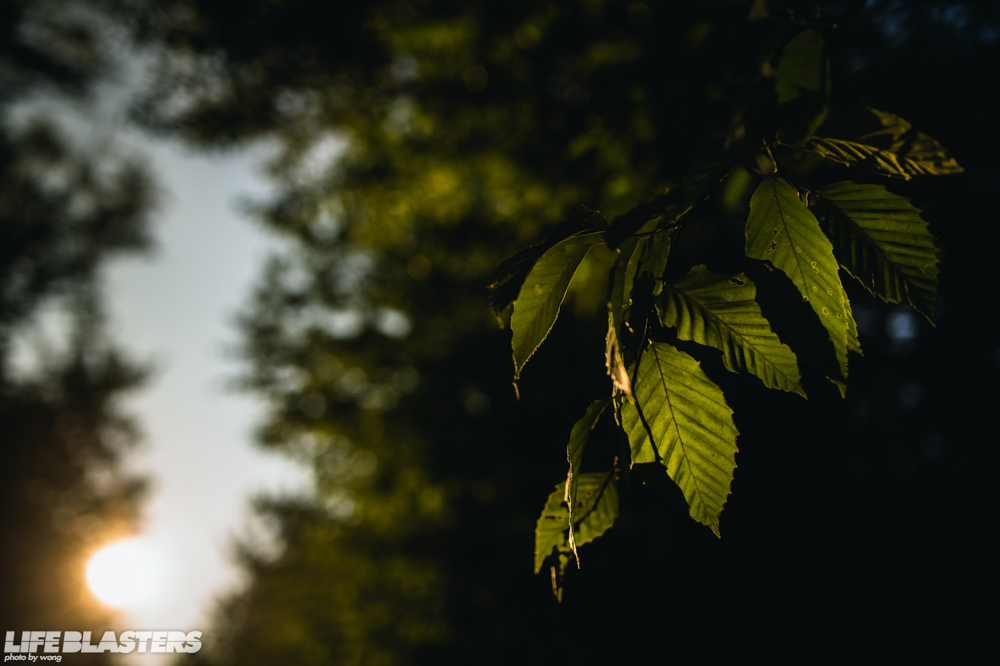 There's really no way to accurately describe the weekend we experienced in Maine for the New England Forest Rally. It was two days of awesome racing and awesome cars. Alex flew out to Chicago and met me outside of Detroit. We then drove through Canada to New Hampshire where we planned on staying the night. Long story short, we got lost in Montreal trying to find Circuit Gilles Villeneuve and made the 14 hour trip into a 16 hour trip.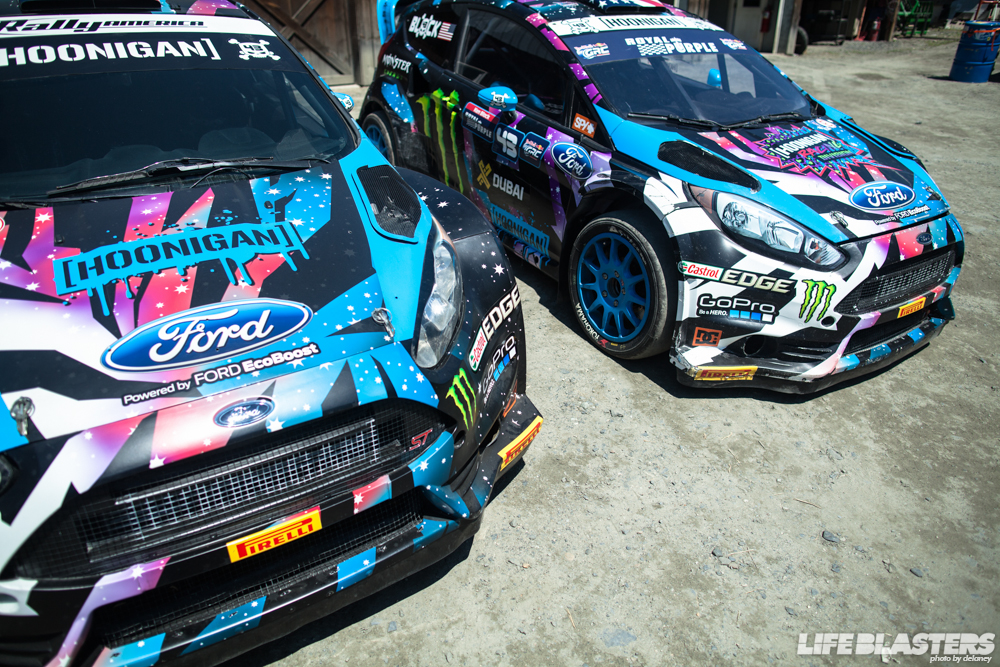 After a nice night's rest we met up with Verena Mei and headed up to the Team O'Neil Rally School. We heard the unmistakable noise of an Open Class car running and when we got to the parking lot we saw it was Ken Block's RA car. A minute later his GRC car came out too. A crew member said this was the first time they've seen both the cars side by side and decided to do a quick comparison. It was one of those things where you think to yourself, "Is this really happening?"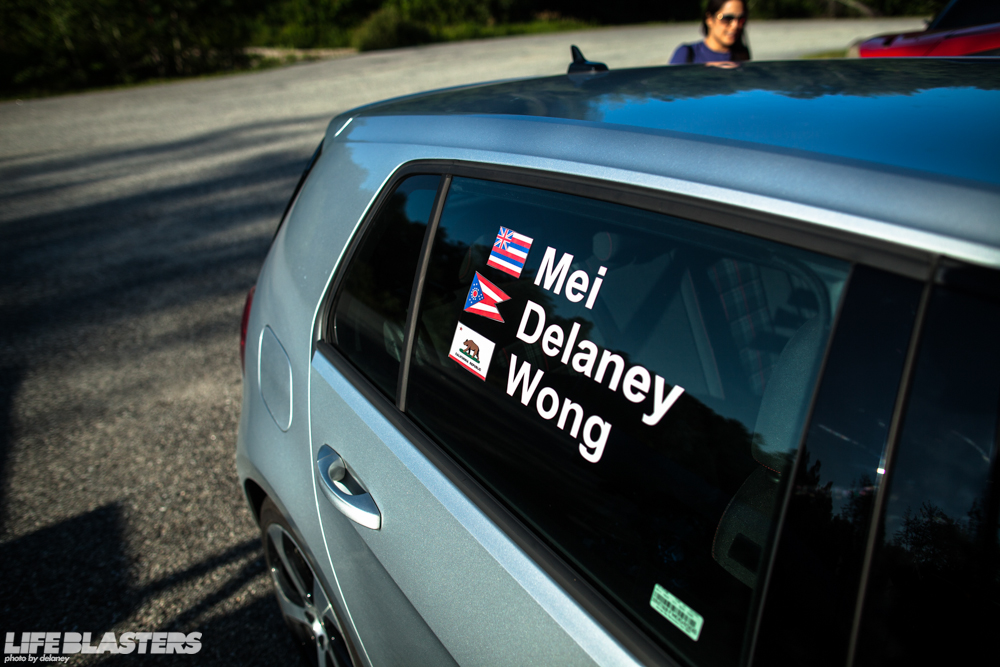 Verena has done some racing in Rally America herself, so it was almost like having a celebrity riding along with us all weekend. And Alex got a little lesson in rally driving too. Plus it gave us a reason to put our names and flags on the car.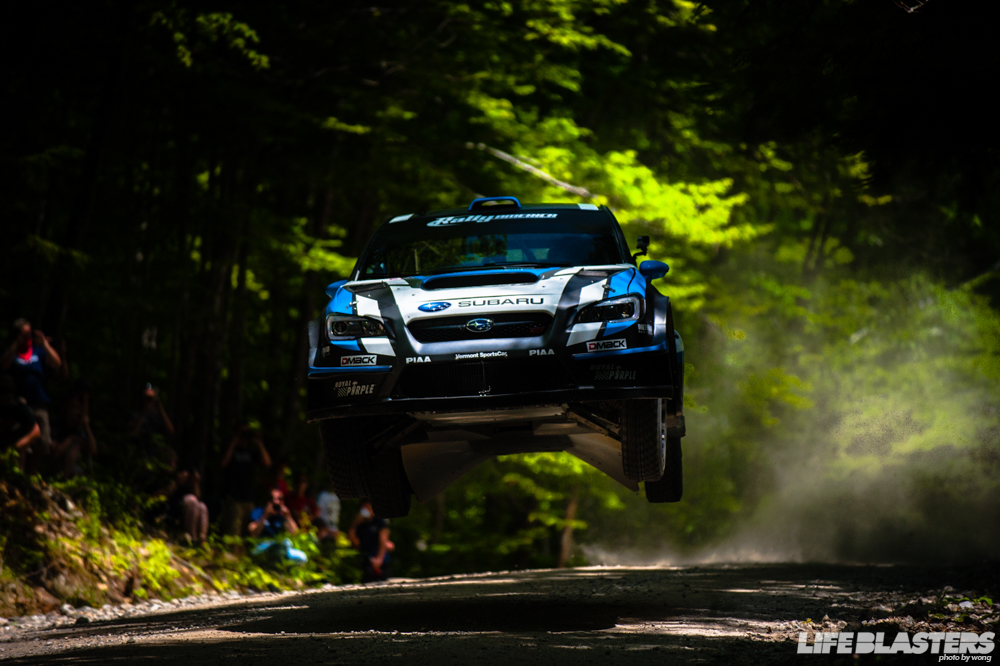 Thursday night we decided to do some recce on a few stages and find some jumps so we'd know where to go later. While we were getting to where the stage ended, we saw some actual rally cars. Teams usually do recce in street cars since competition cars are forbidden, so we really weren't sure what was going on.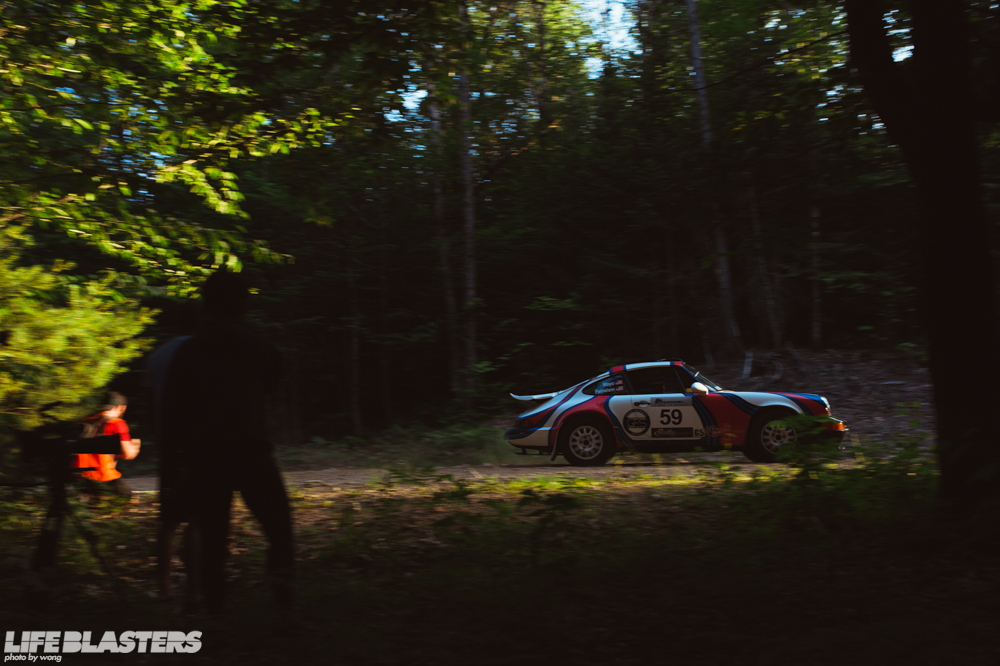 It turns out we stumbled across the shakedown stage for the weekend. With no Super Special this year, we used this as our safe stage, where we could stock up on extra photos. And there was a 1991 Porsche 911 with a throwback livery to the 1978 Safari Rally sponsored by Martini. It was the best car of the weekend.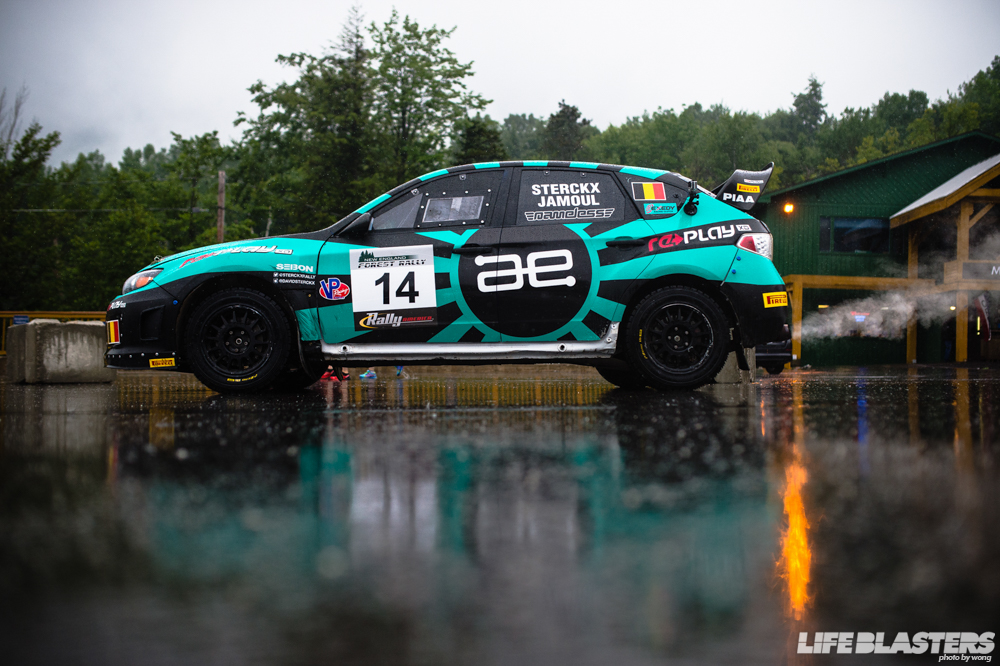 The weekend had an amazing lineup with Higgins, Block and Pastrana competing, but we didn't see them out. Luckily Sterckx and FY Racing came out to do some testing.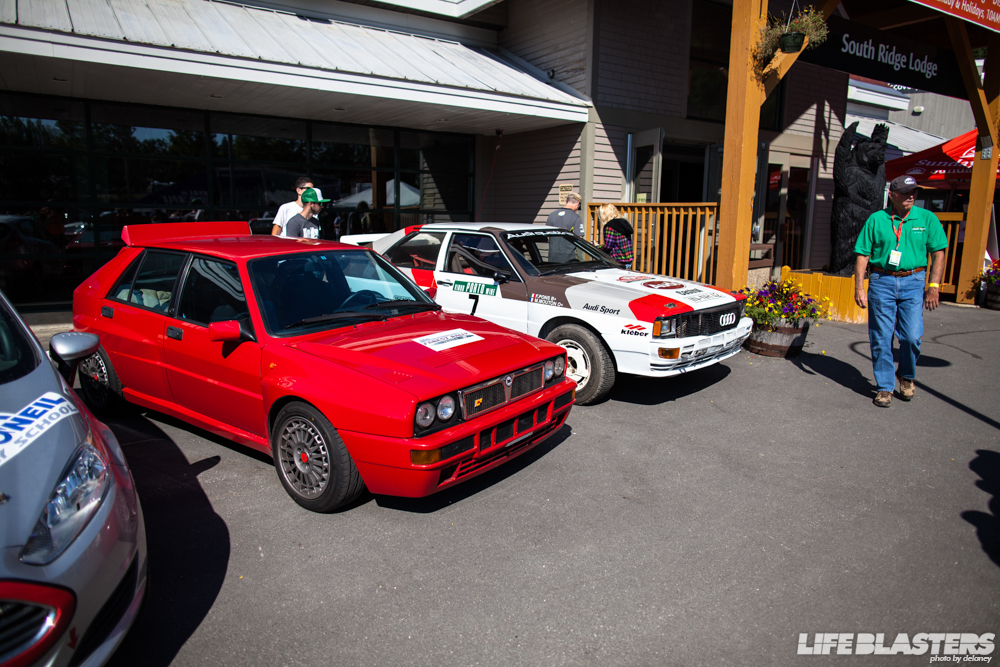 The next morning we headed up to parc expose to check out the massive field. Around 60 cars were on the entry list, meaning it was going to be an awesome weekend of rallying. While the rally cars were cool, I was more interested in these. Seeing a true Lancia Delta in the flesh on US soil was easily the most exciting thing of the weekend. Then add in Michelle Mouton's 1982 Rally Portugal winning car, weekend over.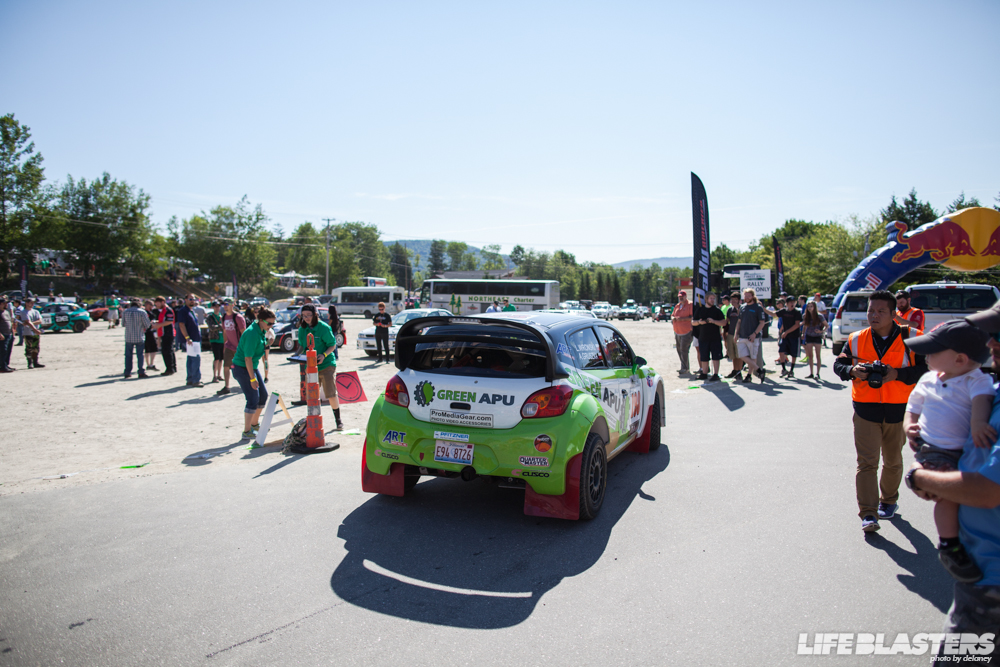 Because of where the stages were located and the areas we chose to shoot, we never actually made it to a service spot this year. And even parc exposé we barely saw. We rolled up to Friday's exposé and hung out for about 15 minutes before we headed to Stage 1. Having Travis and Ken back was awesome, but I was happy to finally see Art Gruszka's Mitsubishi Mirage.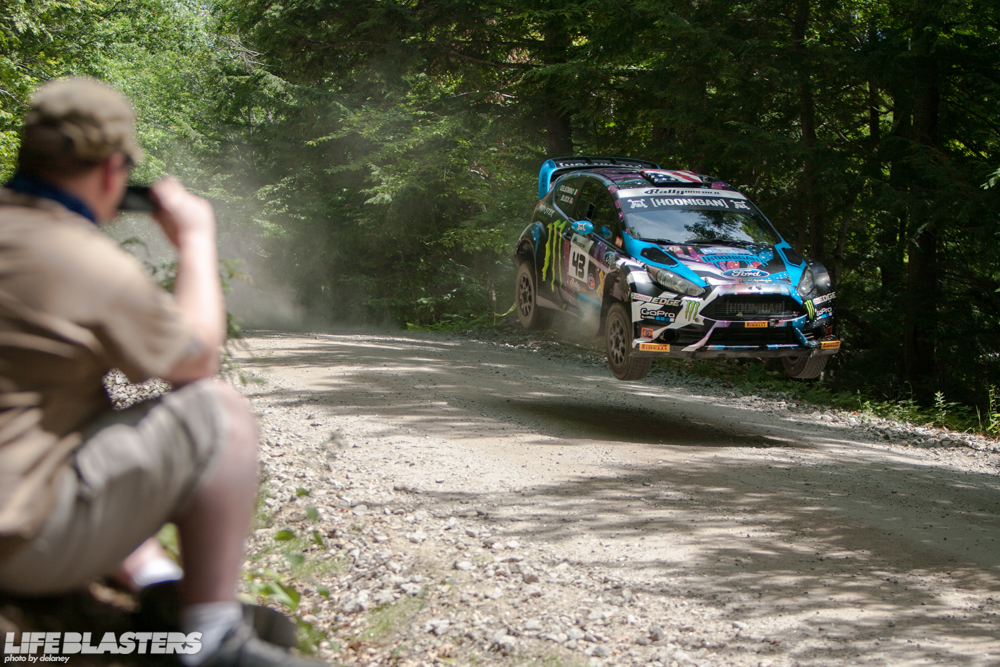 After the quick stop at parc exposé we rushed over to the first stage of the rally, Concord Pond. Concord Pond is probably one of the most famous stages in Rally America because it features two massive jumps. Both jumps are roughly in the middle of stage, but that didn't stop tons of spectators from venturing in. Block nose-dived into the road with the loudest bang I've ever heard in rally, right next to me too. Everybody was showered with dirt and rocks, but in typical rally style, they just laughed it off and sat right back down. These people are crazy.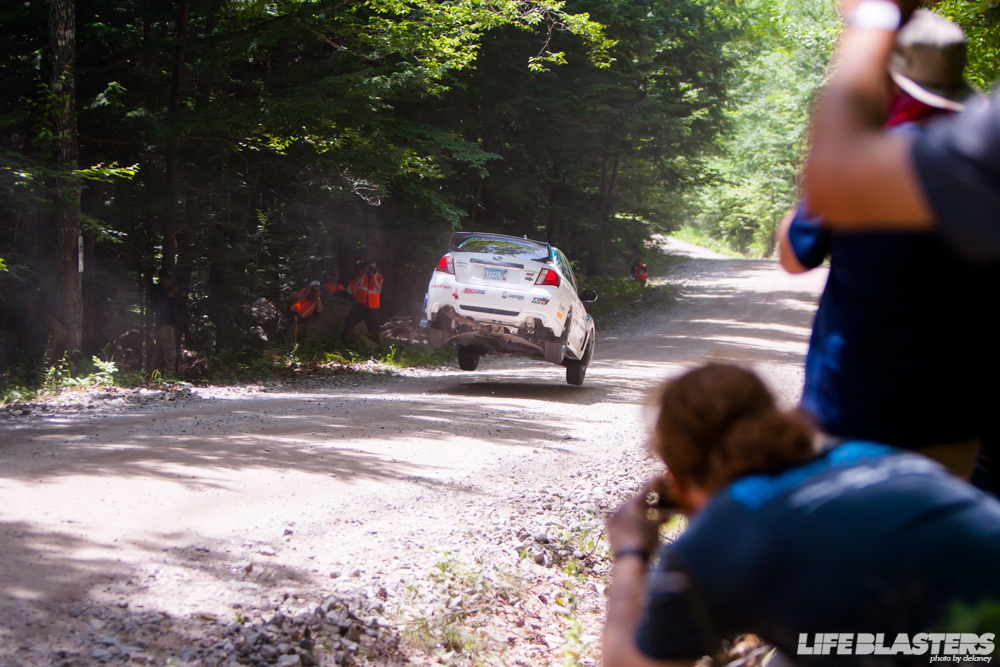 One thing about rally is, it's all a gamble. In both racing and shooting it. While most of the photographers gathered facing the jump, I decided to hike across the street and behind the jump to try a different spot. If you've ever wondered what Nick Roberts's car looked like underneath, now you know. Although on Stage 2 Nick and Rhianon suffered a roll, luckily it was nice lazy roll and caused little damaged.

Tingwu Song debuted his new Evo with some incredible suspension travel. I heard it was either 12 or 13 inches of travel, and with the massive fenders it almost looks like it could compete in Baja.

After getting out of stage one, we headed up to stages two and three which were run back to back in reverse order. FY was once again the guinea pig and sent out first. It looked like it was going to be a good battle for the podium with at least four strong cars all going for it.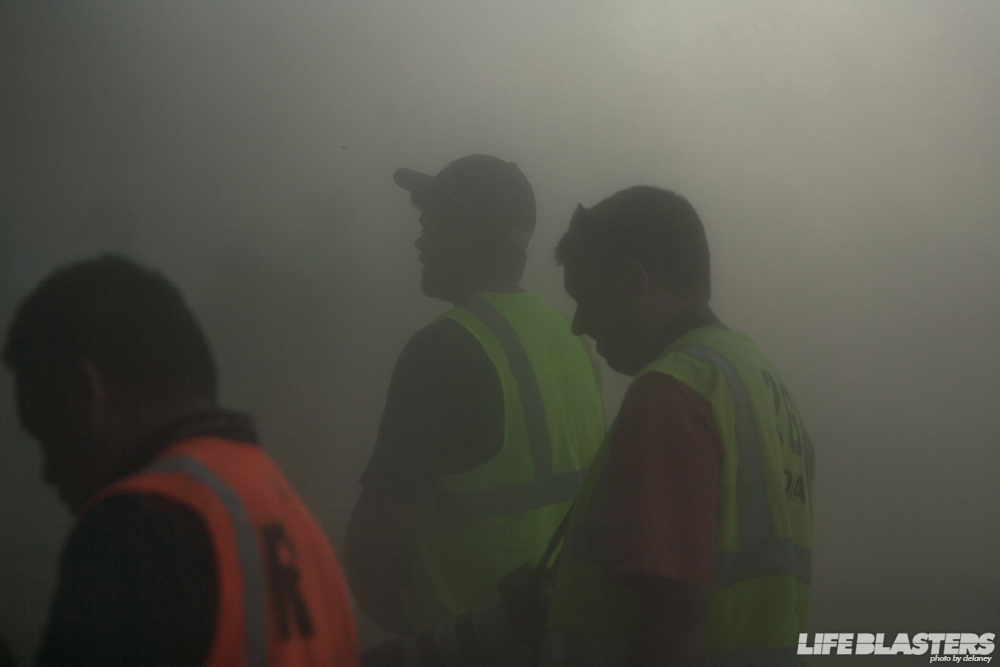 One thing that didn't cross our mind was the dust. Being on the outside of a corner in an area that hasn't gotten much rain, we completely forgot about the dust. After FY it was almost like someone just dumped tons of dust on us. Car after car would block out the sun and everything was covered. Nothing like inhaling a few pounds of dust.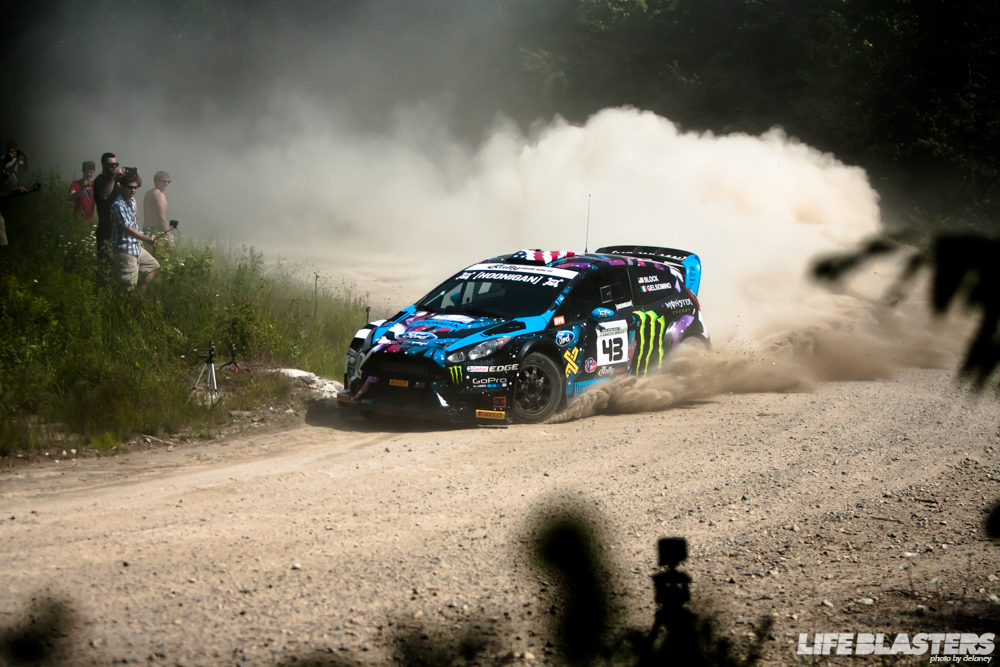 NEFR is known for being a car killer. Big rocks and high speeds means a lot of cars run into a lot of problems. By stage two we already noticed a lot of cars missing, one of them being Pastrana. There were only three stages on day one, and it seemed that stages two and three would have different cars. Some cars we saw on Stage 2 didn't come back for Stage 3, and some cars we didn't see on 2 were in 3.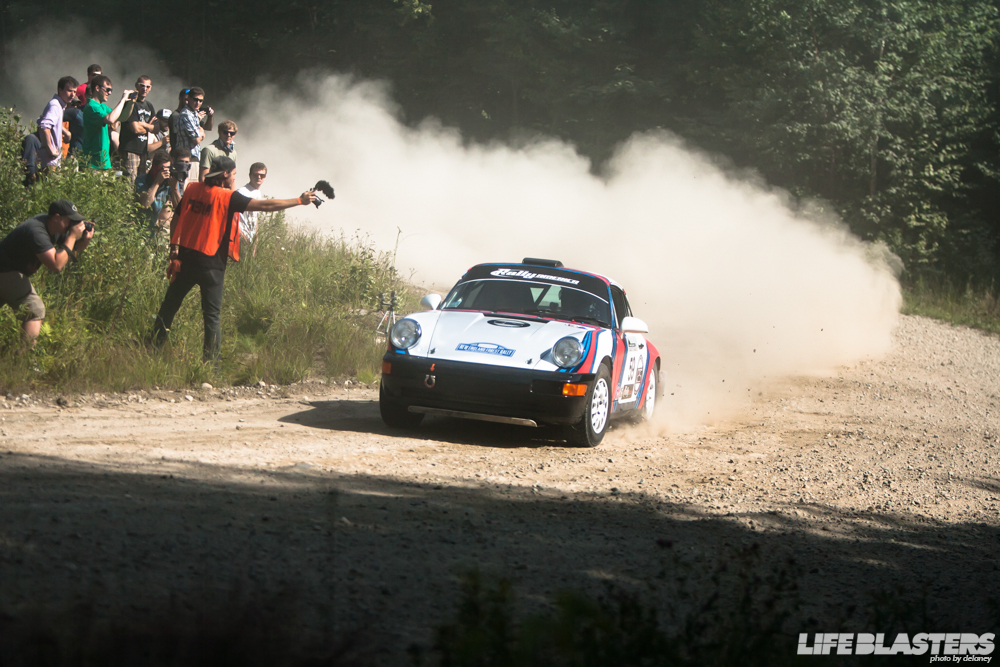 Luckily the Porsche made it. Well, only for Stage 2 that is. While it wasn't one of the top cars, it was by far the best sounding car.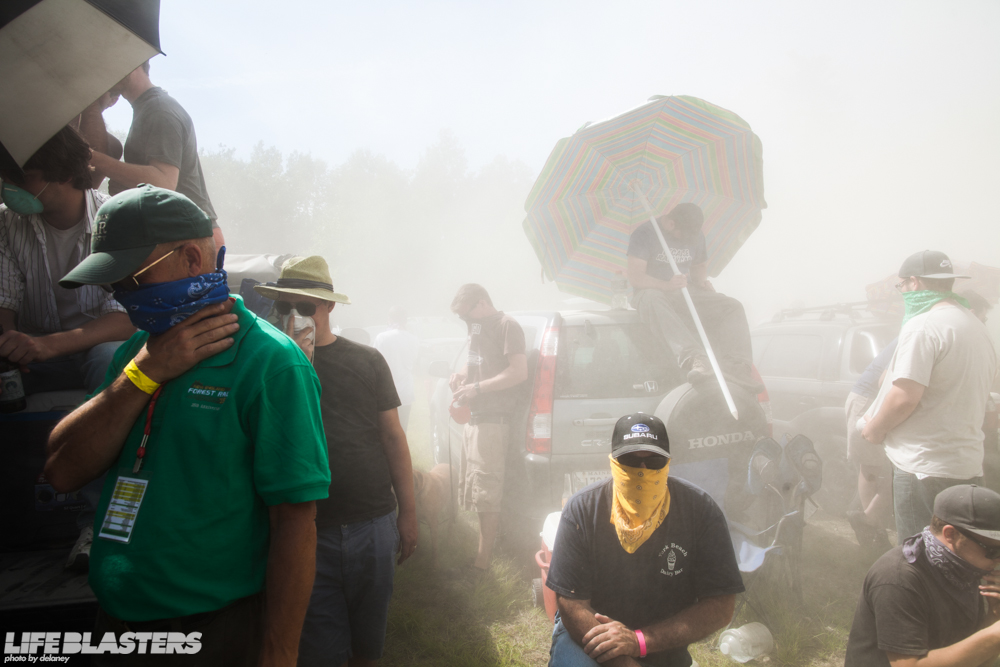 We were shooting from the VIP area of the stage where two busses transported people out to watch to avoid the always interesting rally parking style. While it probably seemed like a good place at first, it quickly became a giant dust bowl. But then again, rally fans are an unusual breed and this was a perfect way to get the full experience.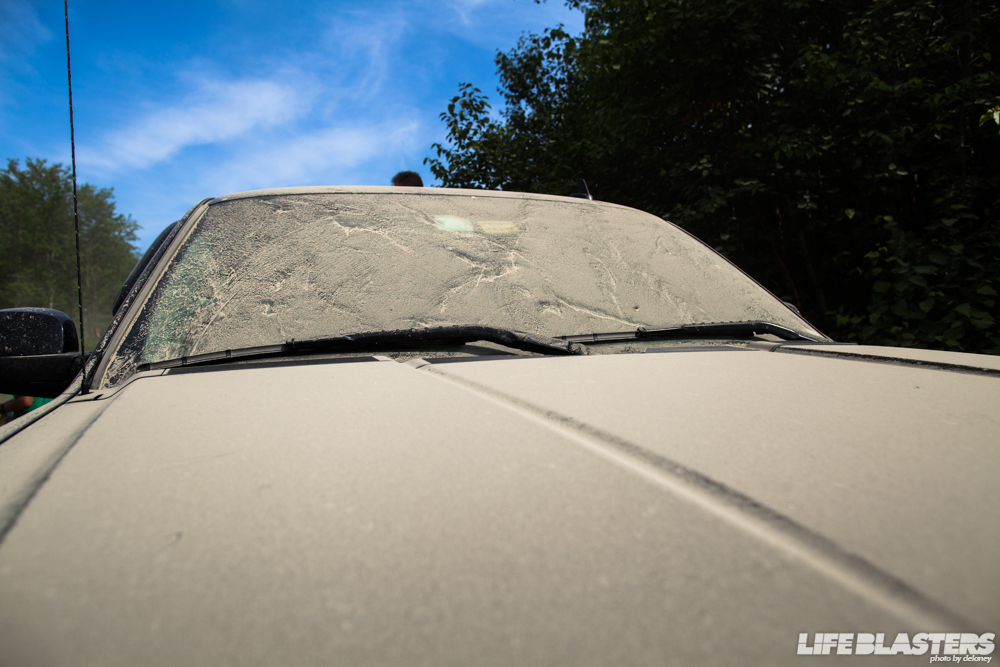 It scares me to think that this what we were breathing for about an hour and a half.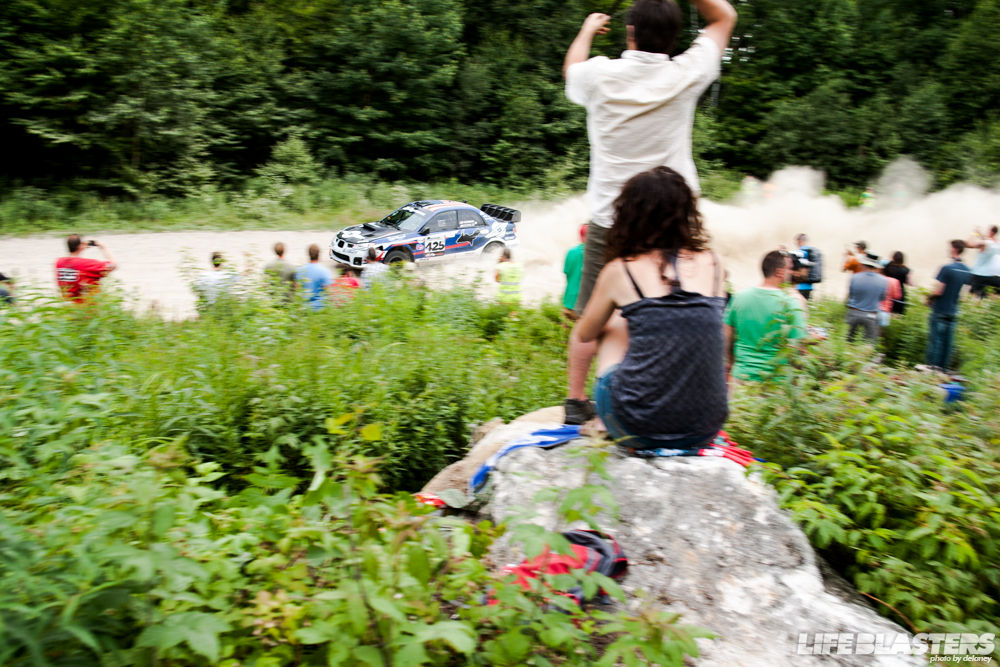 Even though FY was the guinea pig, they were still hanging in there in the top three. If their bad luck streak could hold off, it seemed like they were going to grab a podium spot.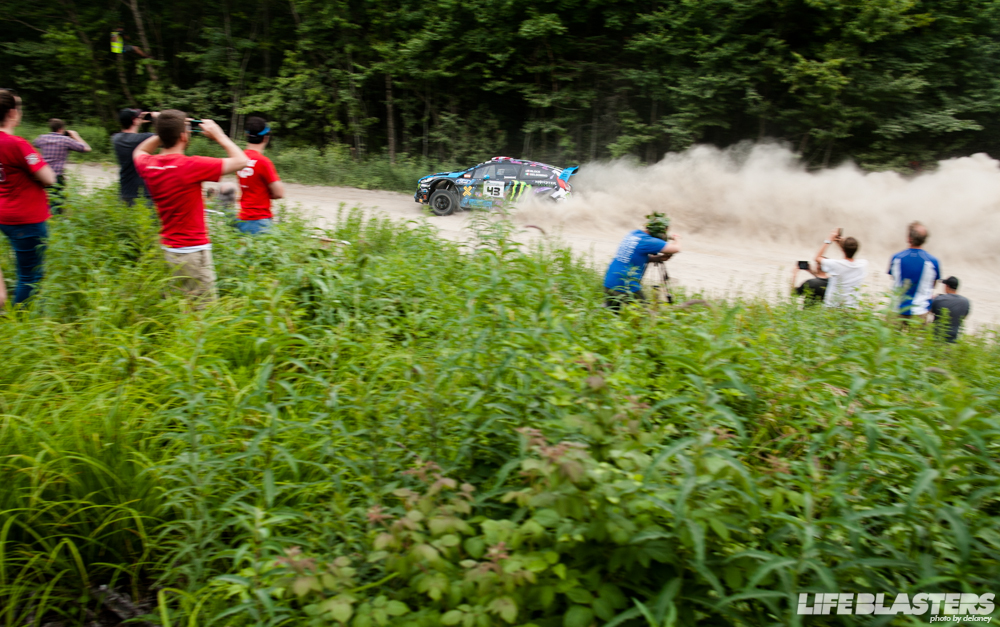 Block was pushing hard like usual, but it seemed that there was no way anyone was going to touch Higgins.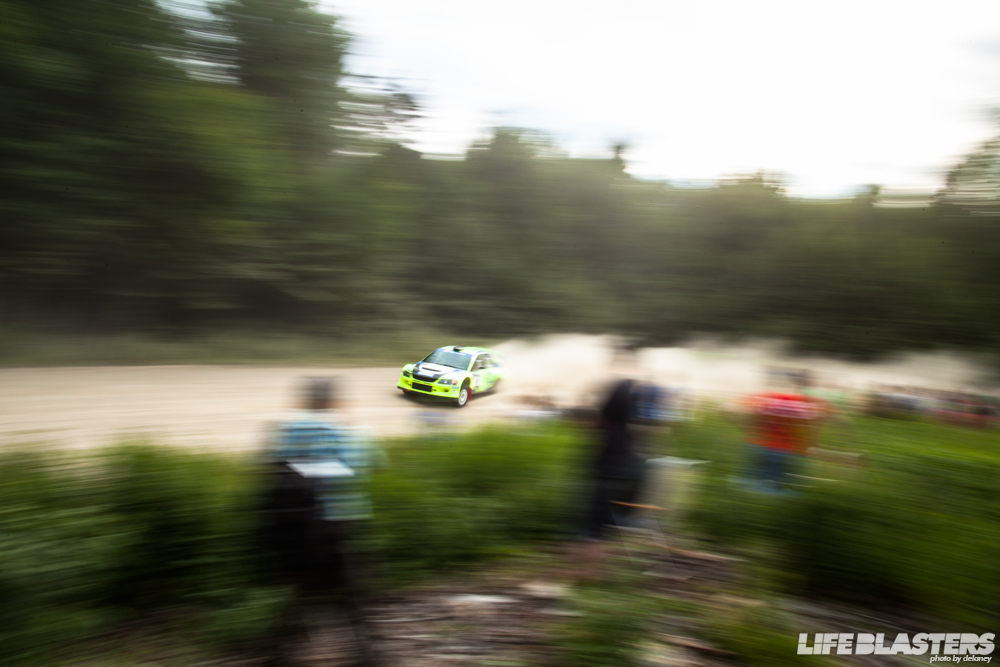 Along with missing all the services, we also got staged locked on every stage we went to this year. Usually we have an escape route to get out after a certain number of cars, but due to the layout of the stages this year we were stuck.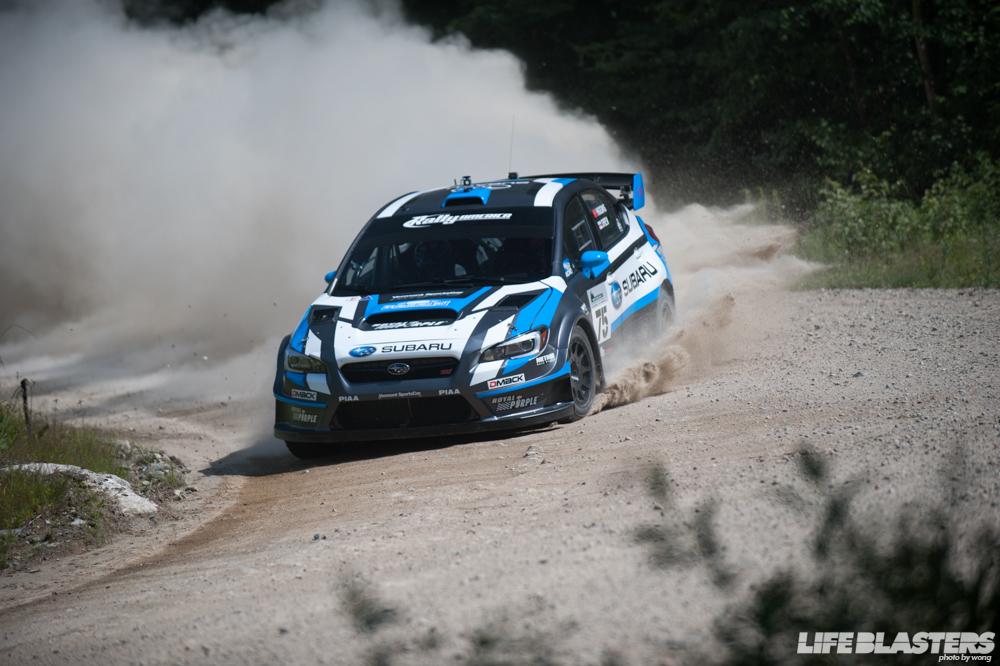 Higgins was as smooth as ever and it seemed like he never put a wheel wrong the whole rally. I'm sure with Block and Pastrana racing, Higgins knew he had to show them who's boss. And that he did.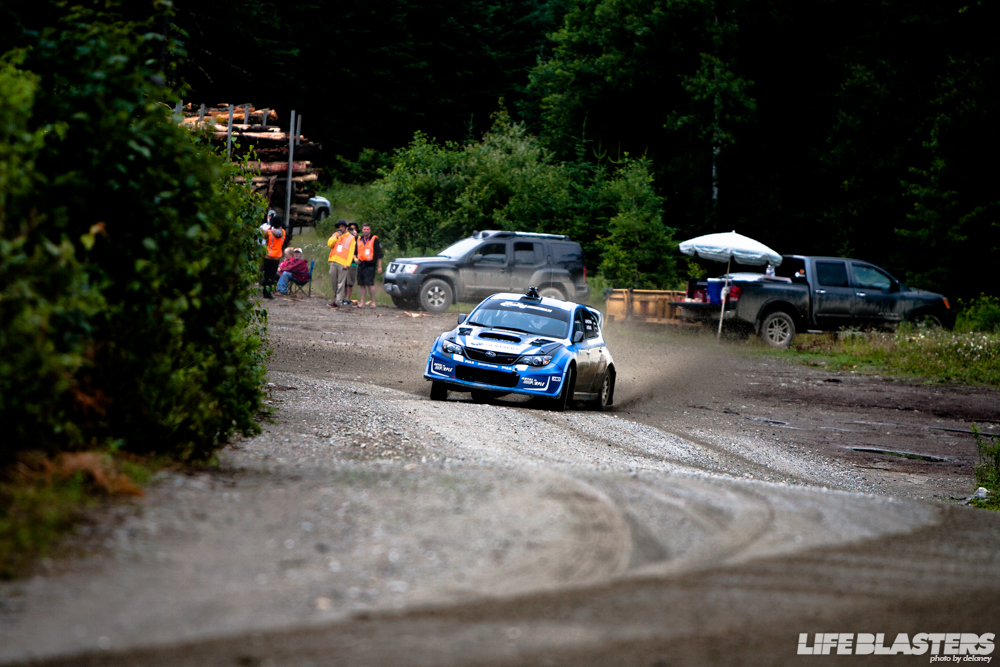 Pastrana had car problems before Stage 2 on Friday, but he was back on Saturday ready to race. He was racing in Higgins's old car, which was kind of boring because there was no cool livery or anything.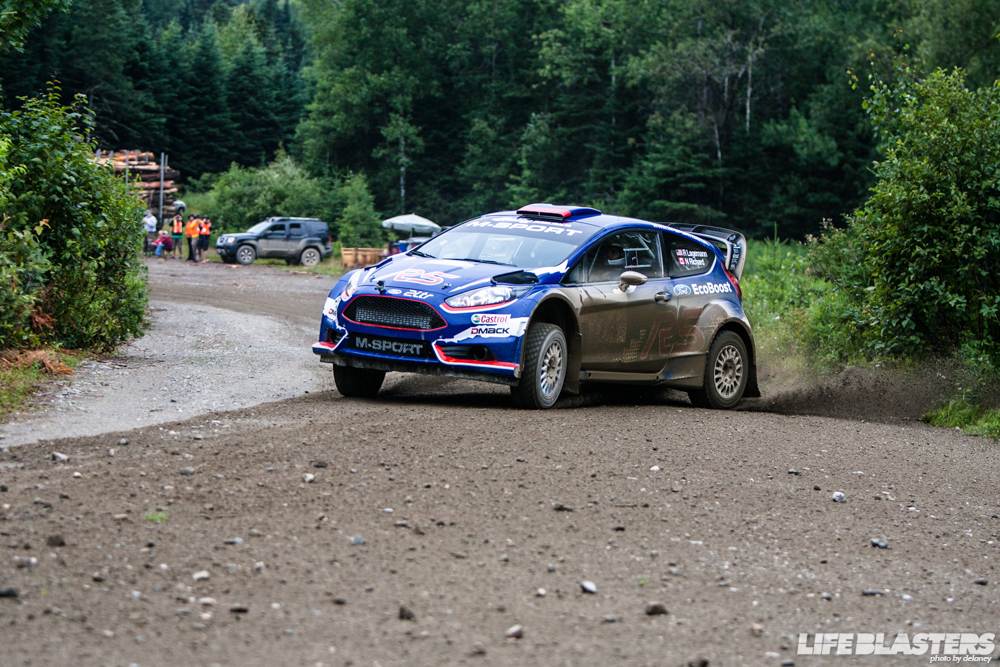 Another story that made NEFR awesome were the M-Sport entires. M-Sport shipped over their R5 Fiesta with Ramana Lagemann behind the wheel. It was no WRC car, but seeing M-Sport bringing over a few cars could be a promising start.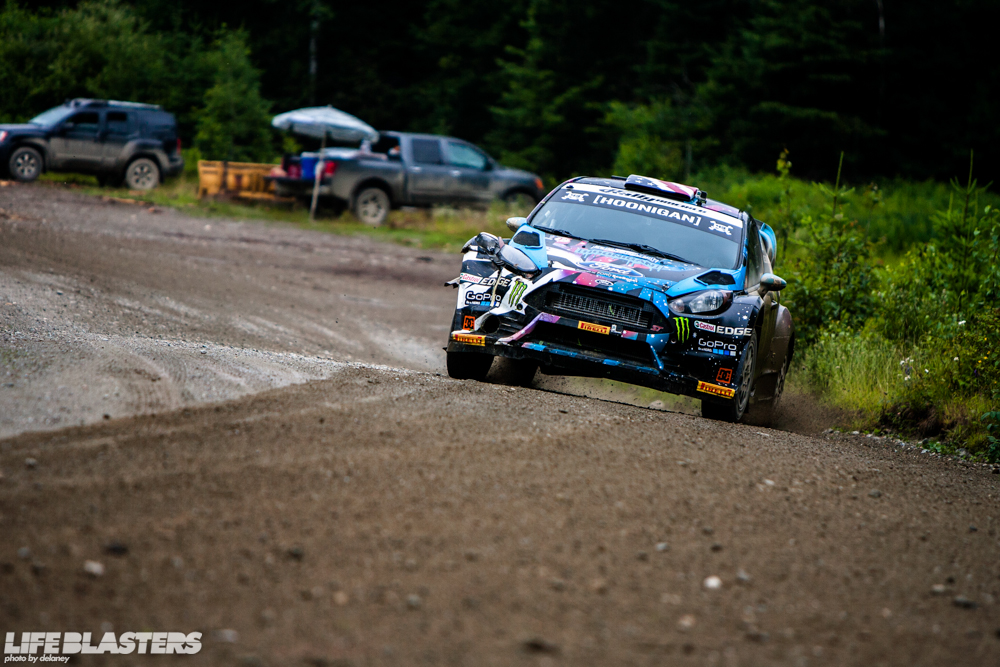 Block came through a little farther back than before, as it turns out, he had a fairly significant off the stage before. He suffered a little bit of damage to the body and broke his throttle pedal.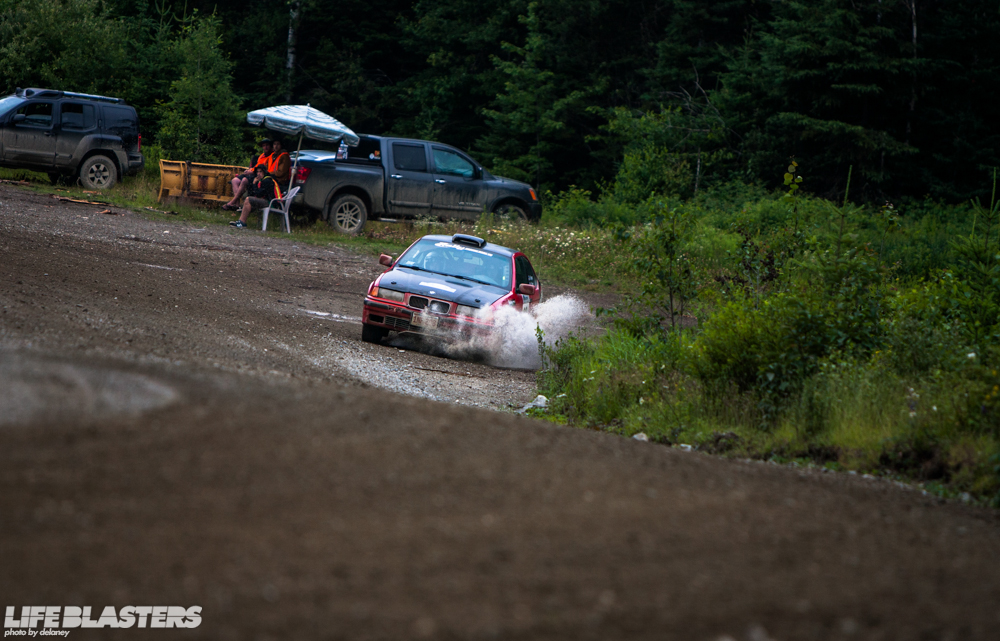 The fun part about being staged locked is seeing all the cars. While the first six or seven are usually quick and clean, the rest can be exciting too. Some cars went just a little too wide and hit the puddle.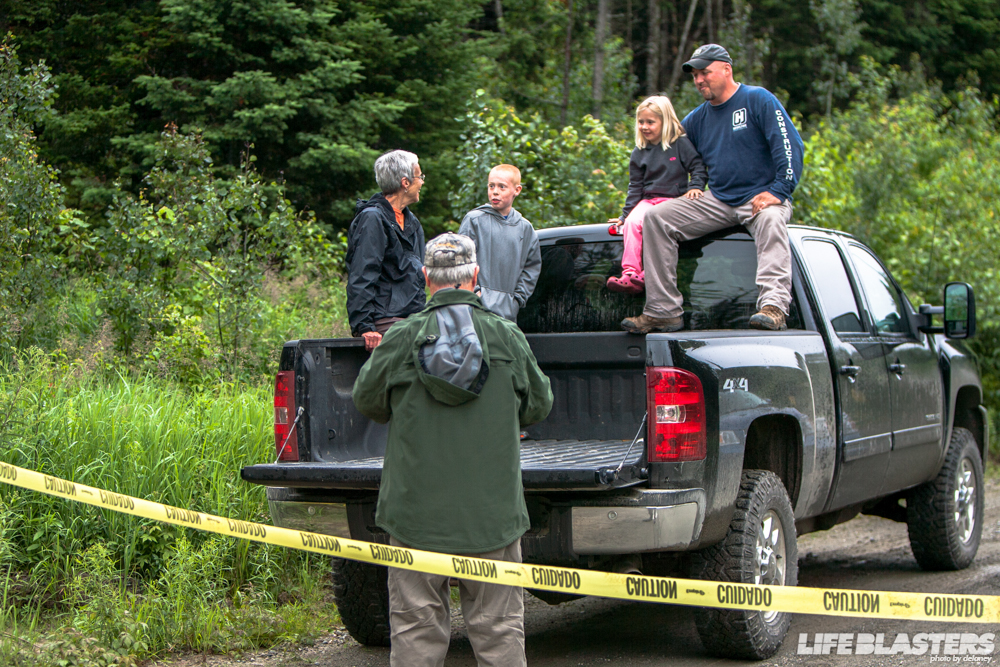 The stage was so far away that it didn't even show up on the map in the spectator book. So it was surprise to the course workers and myself when a family came cruising out out of nowhere. For most of them it was their first experience of rally. I think they're hooked now.

With the stage over we followed the road to set up for the next running of the stage. Midway through the stage in the middle of nowhere we came across a camp with about 30 people. The best part was the banner over the road, something about seeing it was so cool. Verena wanted to get a few photos, and the people were more than happy to pose. They told Alex to do a burnout, so of course he obliged.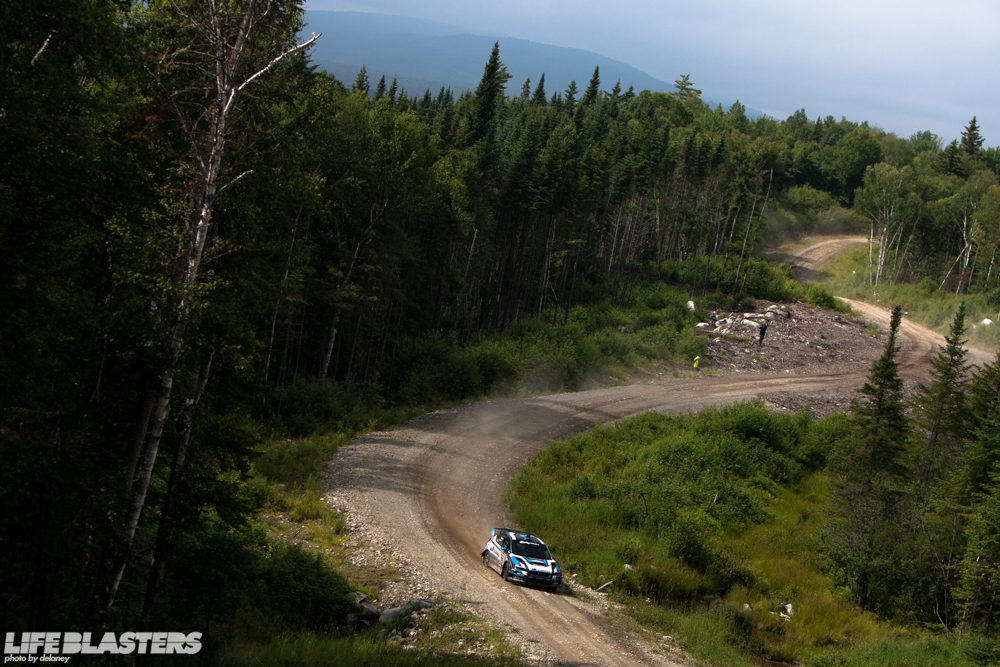 We didn't plan on staying on stage for the second pass, but after one of the Subaru videographers showed us this spot, we knew we had to go.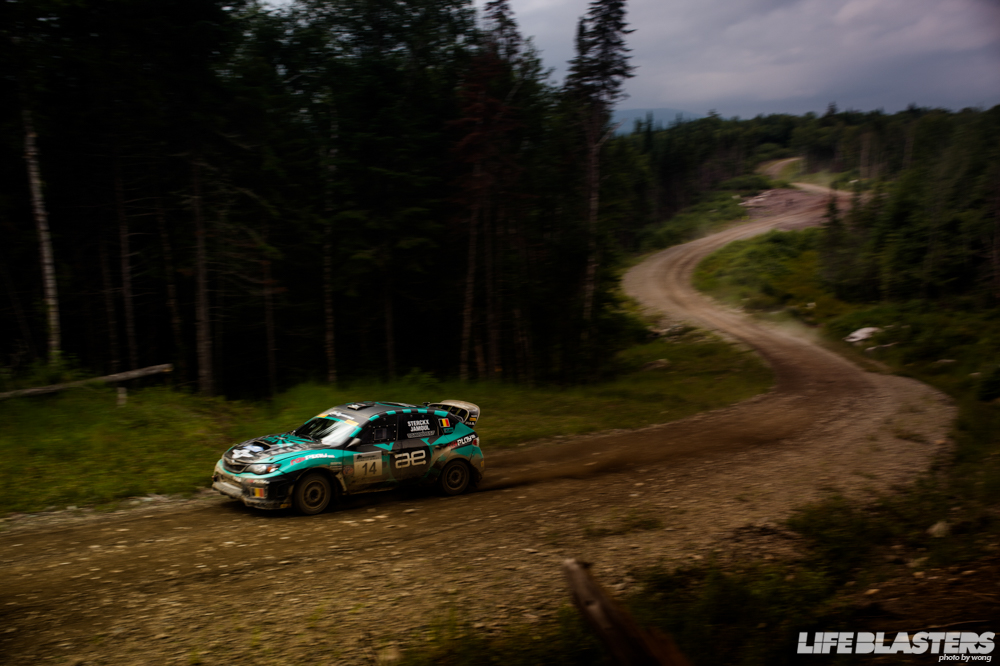 With FY having such a strong day on Friday, we were pretty bummed when we didn't see them near the end. It turns out they had a ball joint fail taking away their second place finish. David Sterckx kept the FY spirit alive though coming home in fifth place.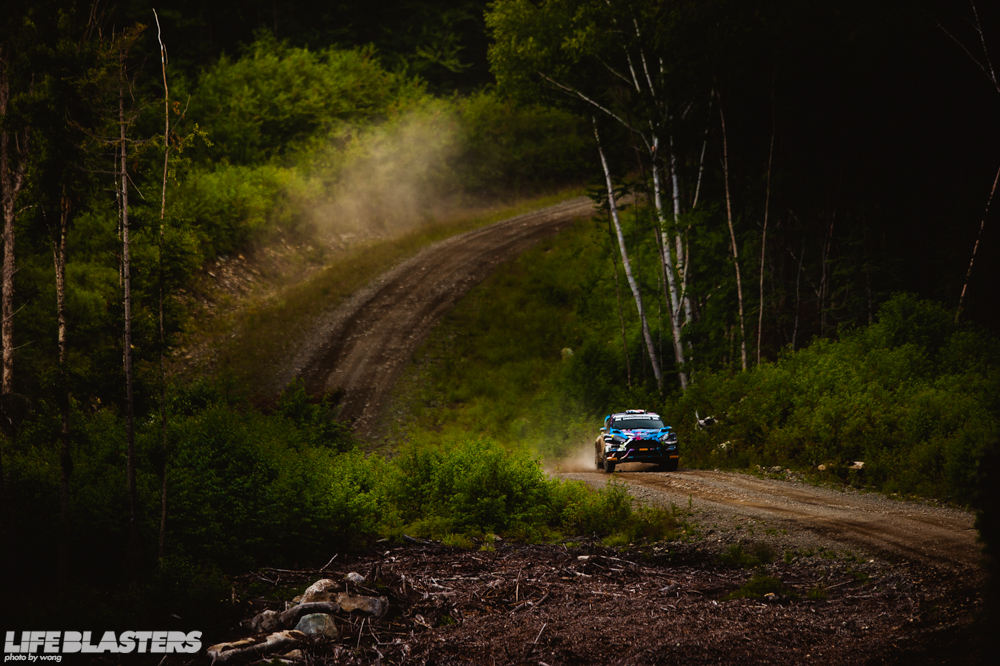 Nick Roberts came back from a roll, only to go out because of a blown turbo on day two. Chris Duplessis brought out the Nameless Performance FR-S only to go out with an engine fire. It was a tough rally that really took its toll on the cars and drivers.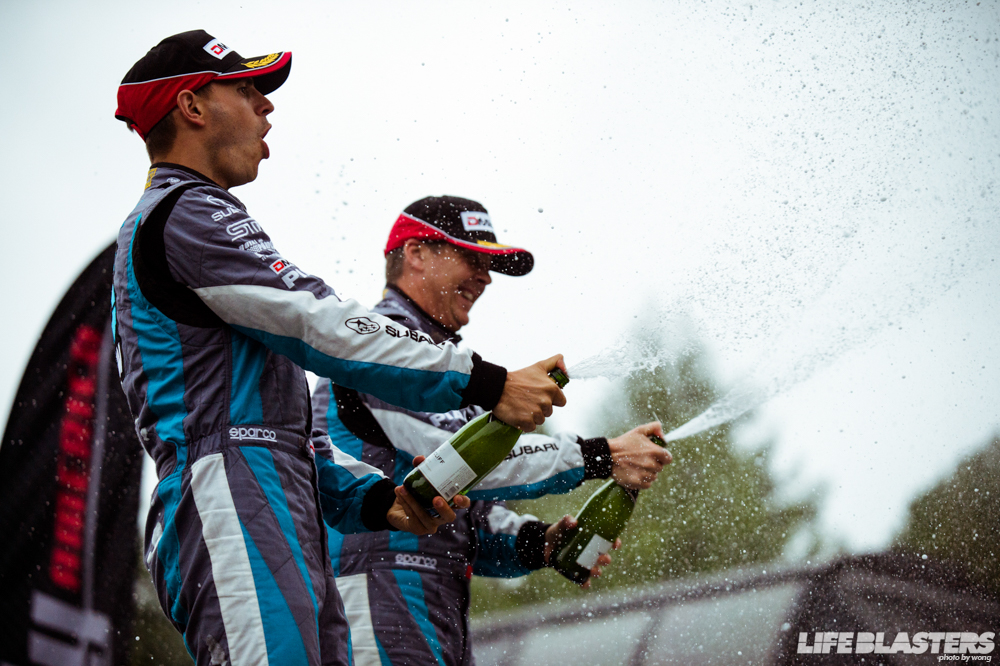 Higgins pretty much took off and controlled the rally from the start. With FY dropping out, Ken moved to second and Pastrana made it into third. FY has had an unlucky year, Pastrana and Block only ran select rallies, and Higgins and Drew grabbed the Rally America Championship.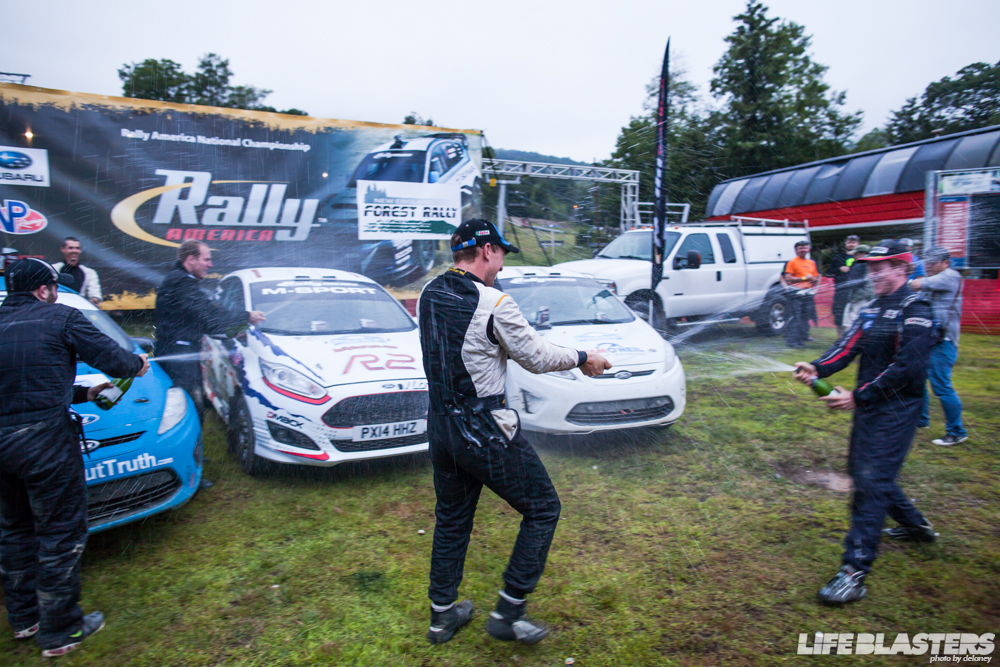 Brenden Reeves manage to overcome some problems on day one and come back and grab the win in 2WD while finishing sixth overall.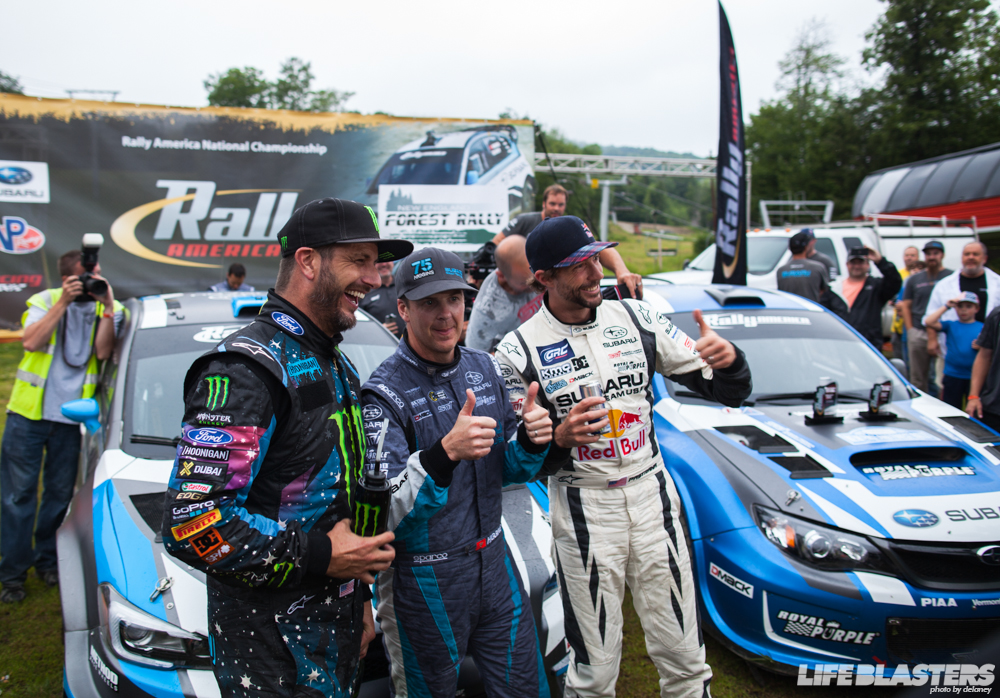 It was awesome to be able to see all three of these guys back and racing together again, all that was missing was L'Estage.
-Delaney
Photos by Delaney and Wong
instagram: @emotiveimage, @ericdelaney