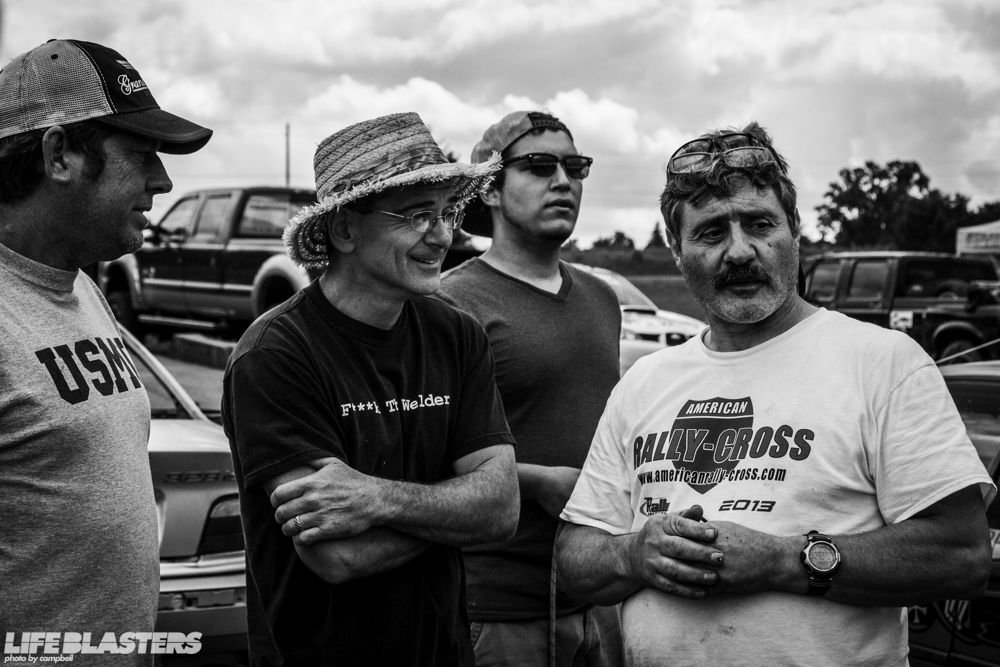 There's nothing like having many photographers and race car drivers as friends.  One day I get a message from follow photographer Ian Pouliot, of Nemesis Photography, asking "Hey!  You want to shoot American Rallycross on July 1st?"  As it turns out, Gary De Masi, usually spotted running his Ford Ranger rally truck, was working with the American Rallycross series and Rolling Wheels Raceway Park to get the event going.  One of the last things he was looking for was a few motorsports photographers to help cover the event.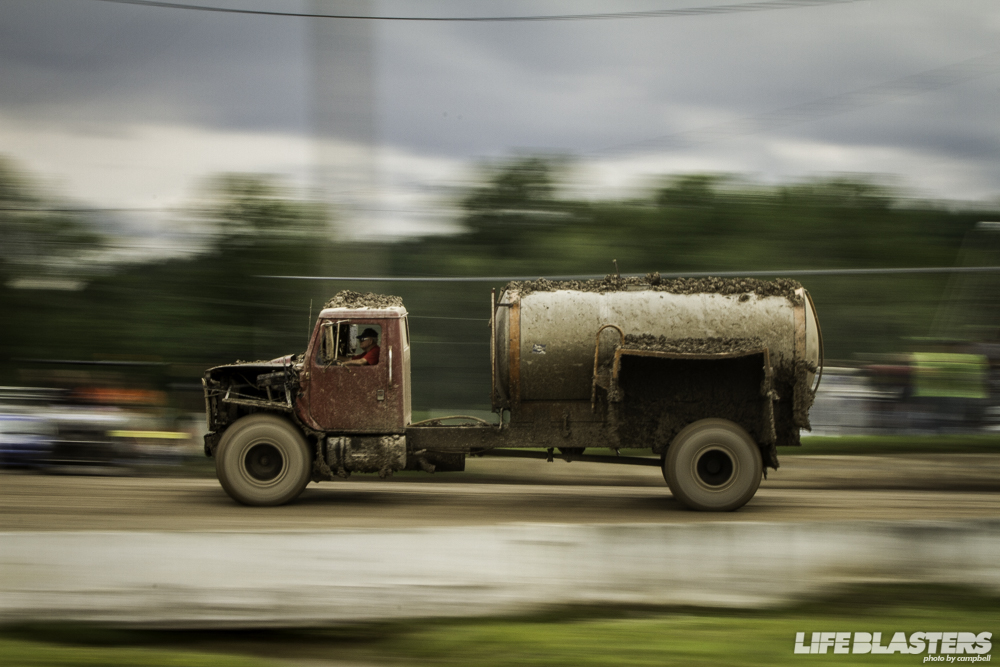 Throughout my five or six hour drive to Elbridge, New York, for the event, the weather was very on and off as far as rain, making the course very muddy.  Not to mention Rolling Wheels Raceway has been using this new synthetic mud/clay to try and keep the dust down for those living in the area.  By the time we got there and started walking the course to scout photo spots, they were running a couple of these Mad Max looking trucks to try and pack down the mud as much as possible.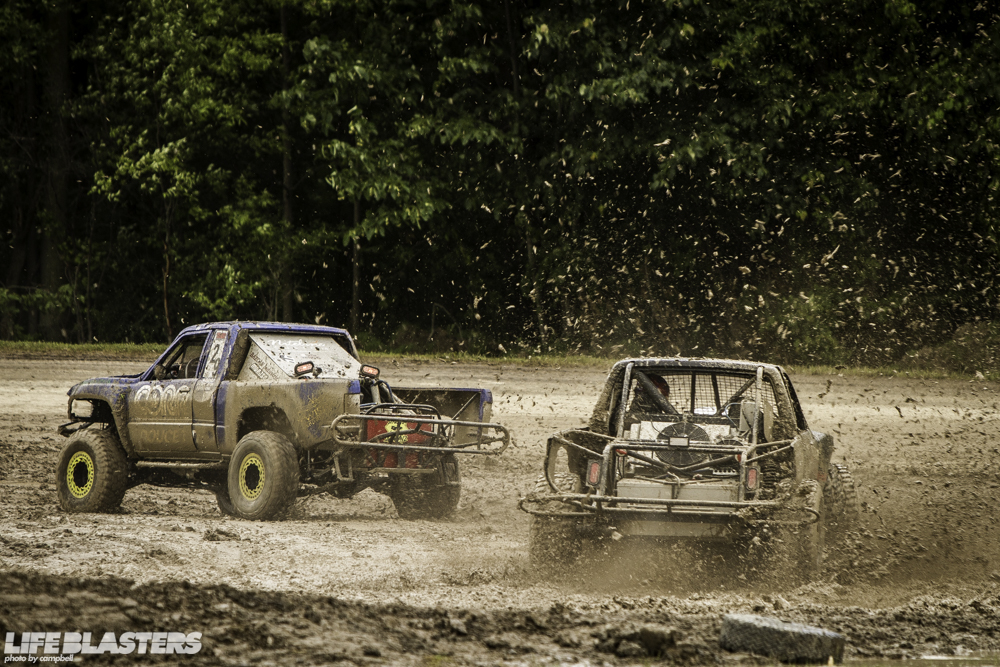 To our surprise, American Rallycross wasn't the only series running the track that night.  The Canadian Off Road Racing series (CORR) as well as a dirt Modified series would also be tearing up the mud between heats.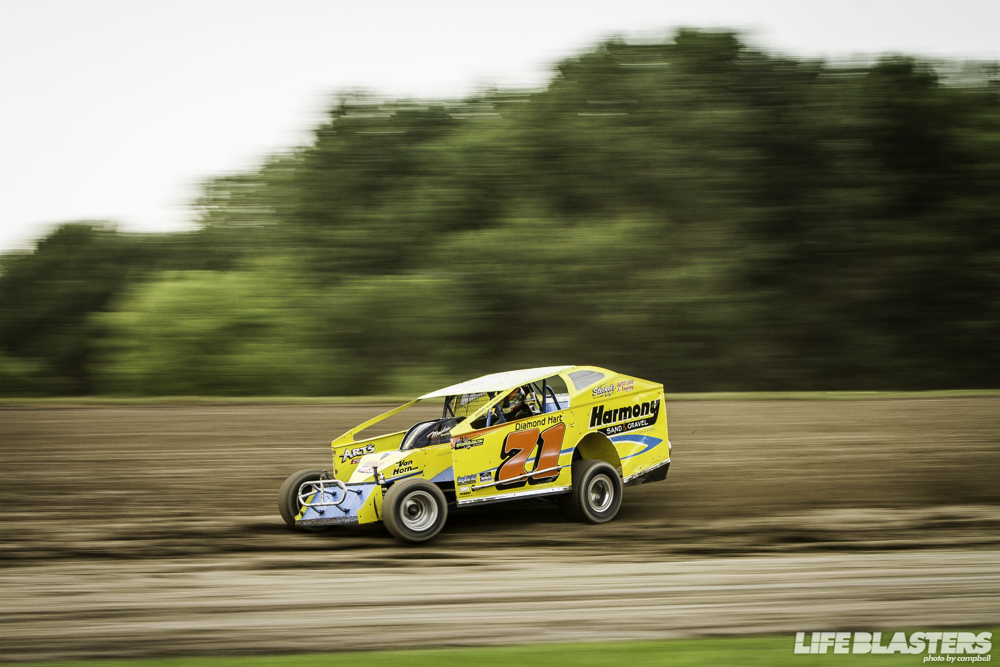 I have to say, I really want a truck after seeing the CORR run, but these dirt modified cars are on a different level.  50 laps, sideways on slick mud, over 300hp and hitting 108mph in these conditions?  Instant fan.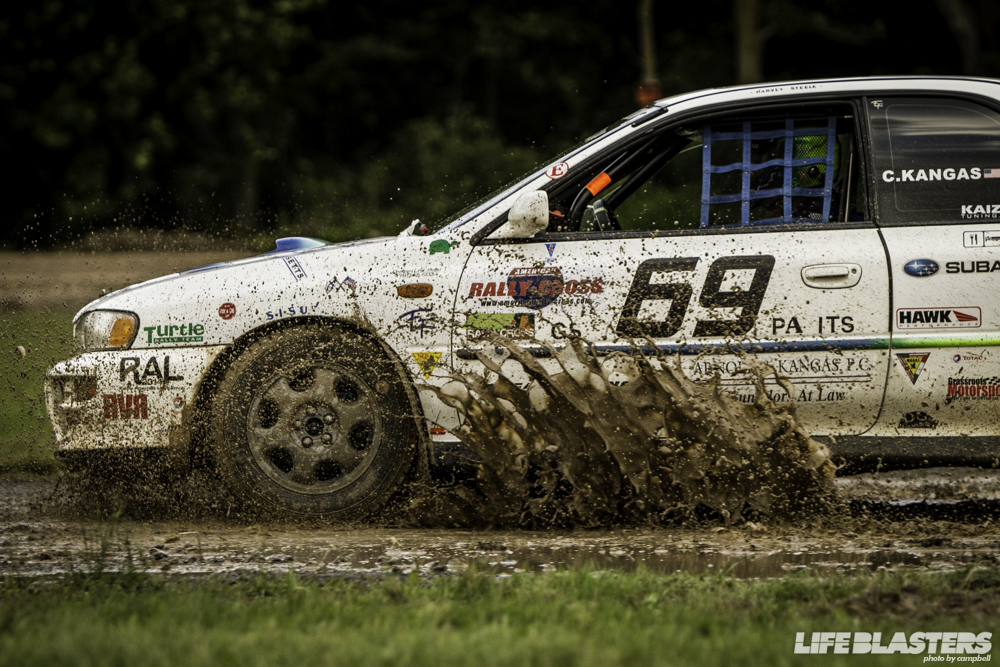 Now that we had some practice/parade laps out of the way, competitors like Clifton Kangas were ready to have at it.  Many drivers running are used to racing SCCA style rallycross and stage rally, so this would be a first as far as running door to door.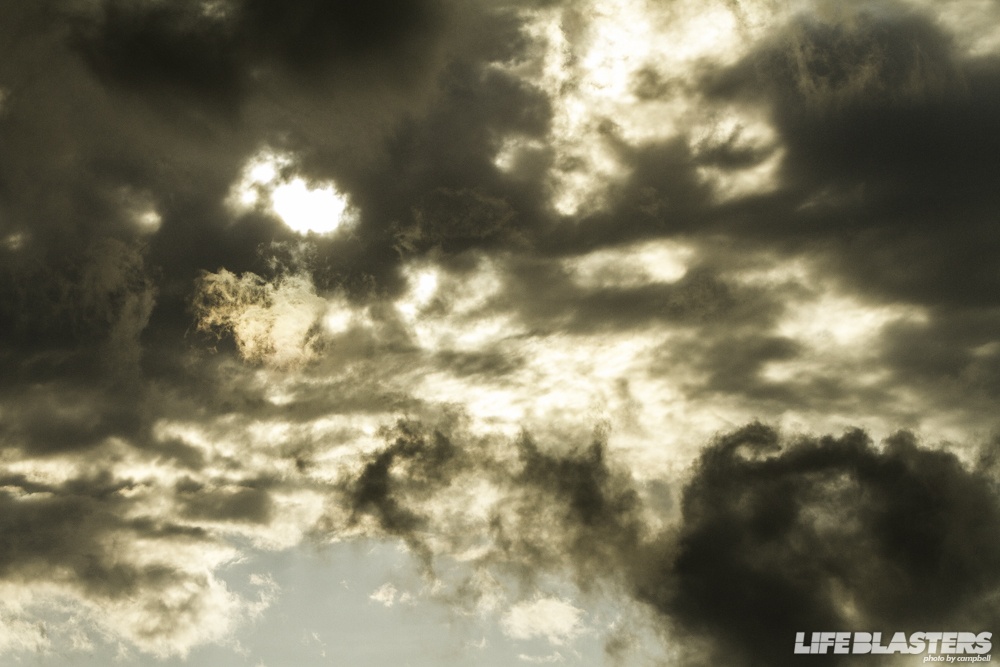 The skies had been looking questionable, but the rain had stopped for now… Let's race!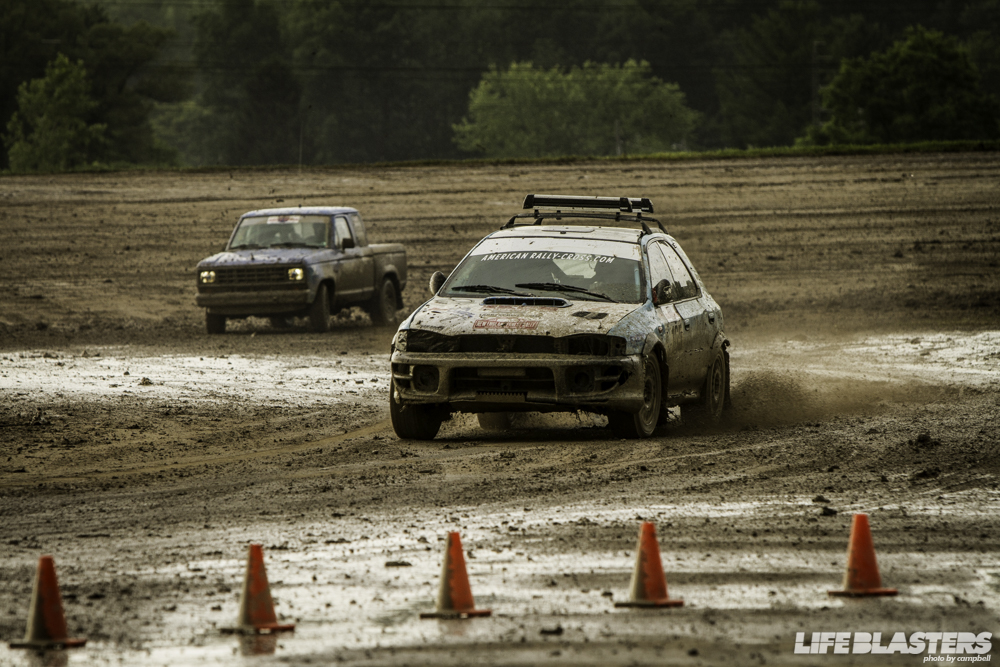 Some of you might recognize the Shark Attack OBSTI stage rally beast of Ryan Wilcox, but this time around you'll find Ryan Symancek behind the wheel.  For those who aren't familiar, Symancek has been documenting his adventures in the motorsports world, mainly rally, over the years.  Like most, this is his first time sharing the course with other drivers simultaneously.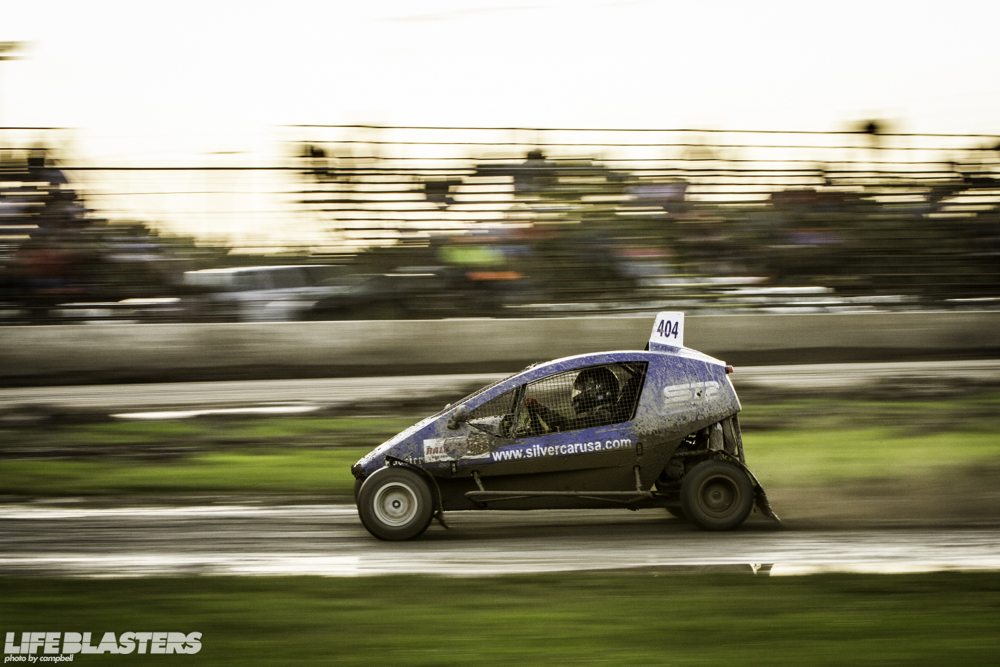 If you've ever wondered what a "Real" rallycross car looks like, this is it.  These Silver Cars are like motorcycles turned into four wheeled pods that just dance over mud.  There was only one Silver Car running, as more of an exhibition, but it definitely made things interesting for those in rally cars when he would buzz by.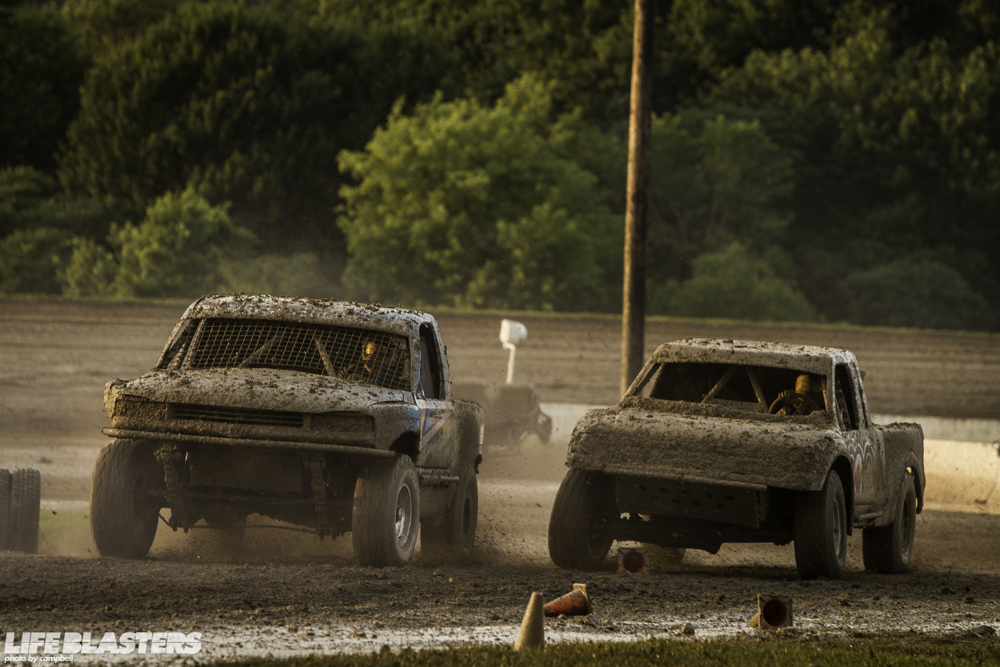 Back to the Canadian Off Road Racers, big grippy, deep tread tires and no windshields really seem to be the best way to run in these conditions.  Their speed and control was very impressive.  Maybe it's time for me to trade in my Forester.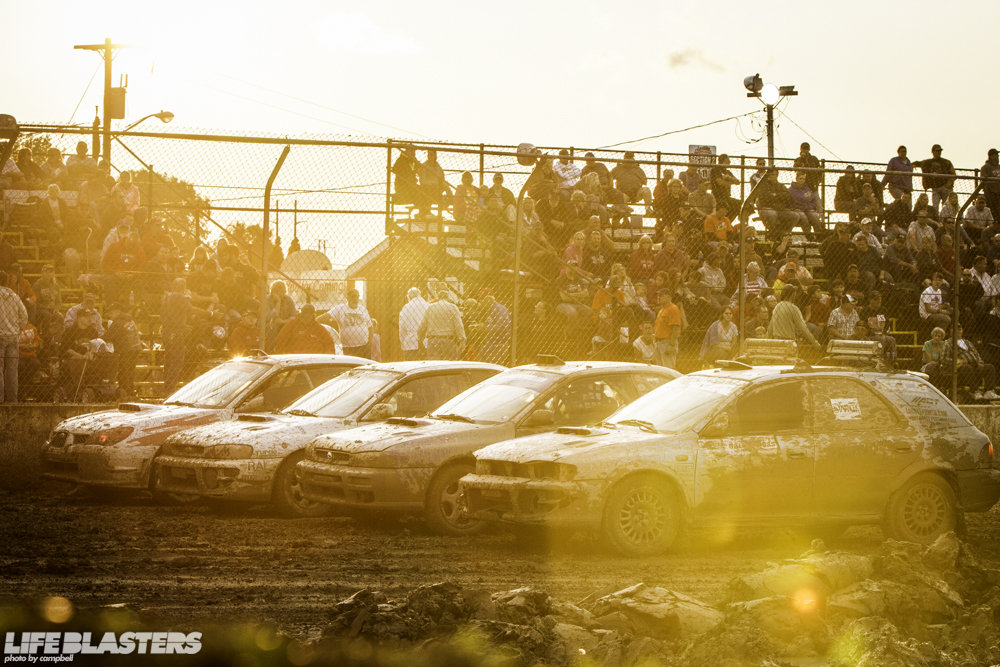 With all three groups tearing up the synthetic mud track, conditions seem to be getting worse with each lap.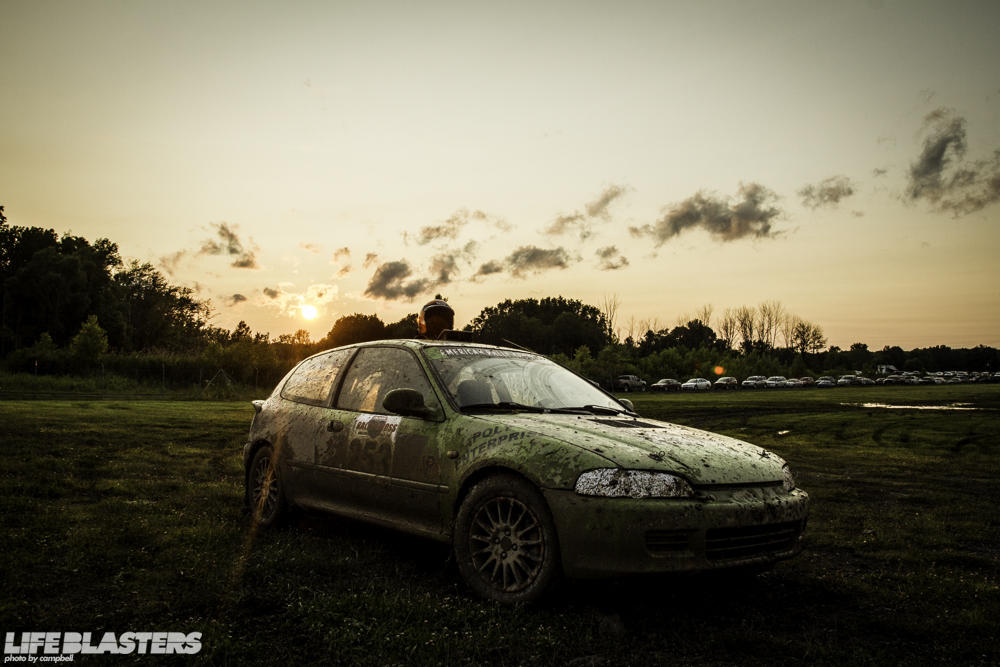 Toward the tail end of the pack, you'll find Matt Peterson in his K20 powered EG Civic.  Peterson is no stranger to fighting against the odds in his green FWD machine.  Having competed in stage rally, he has learned how to adapt quickly and keep calm and cool under pressure.  Hopefully this will pay off against all the AWD guys.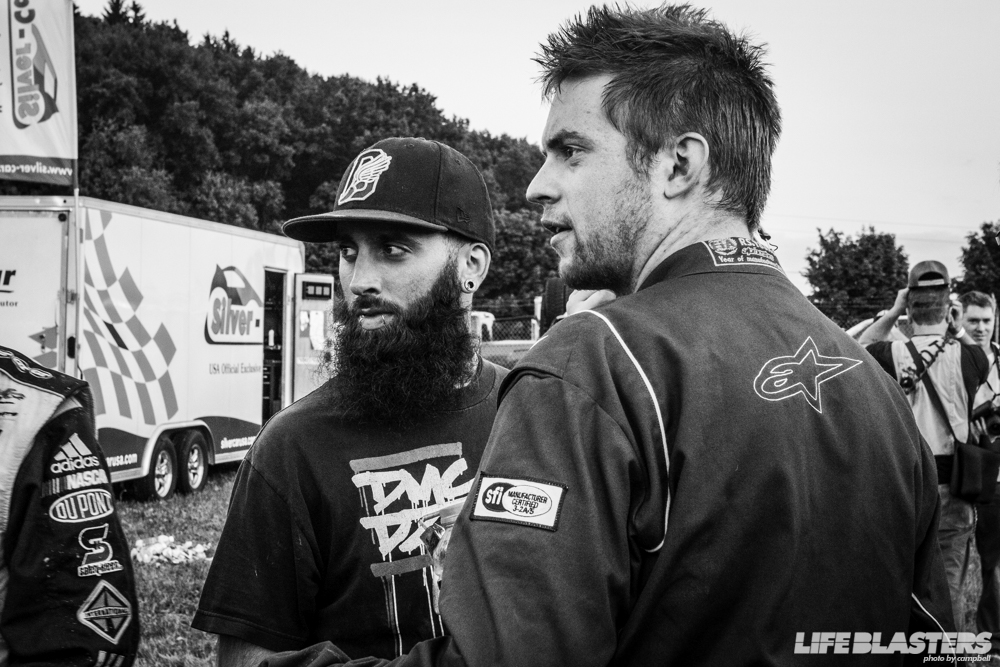 Speaking of adapting, Symencek filled me in on his solution against visibility issues.  He and Wilcox decided to use a tool used in other forms of track racing, like drifting and Global Rally Cross.  With the aid of bluetooth headsets, Wilcox was able to spot for Symencek while track side.  Giving Symencek a heads up whenever it was or wasn't safe to pass another driver, back off or push more aggressively.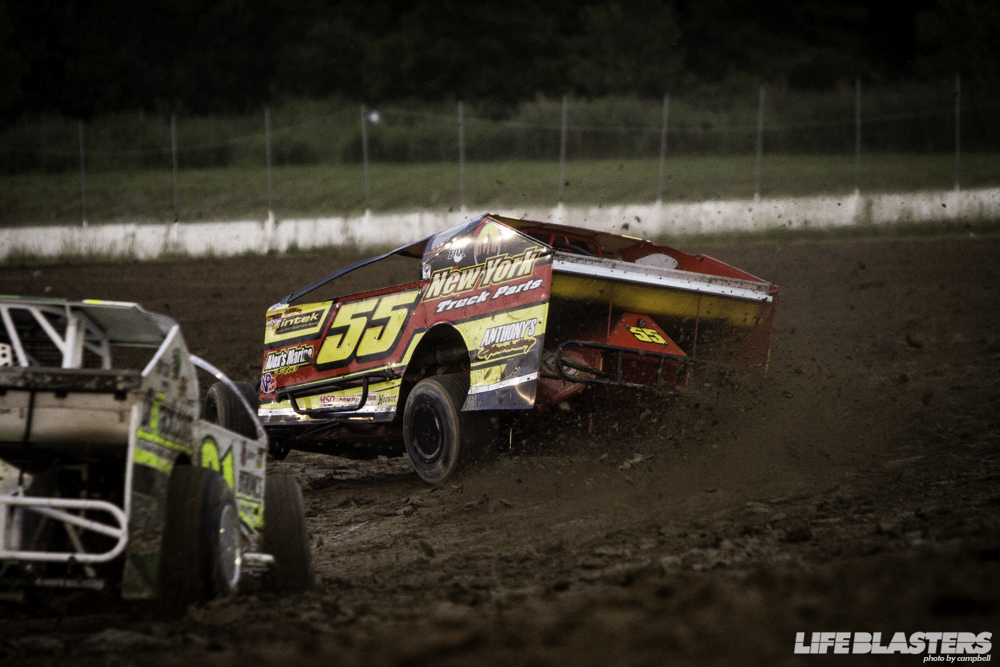 Another round of high powered, light weight dirt modified and we were at our final heat for American Rallycross.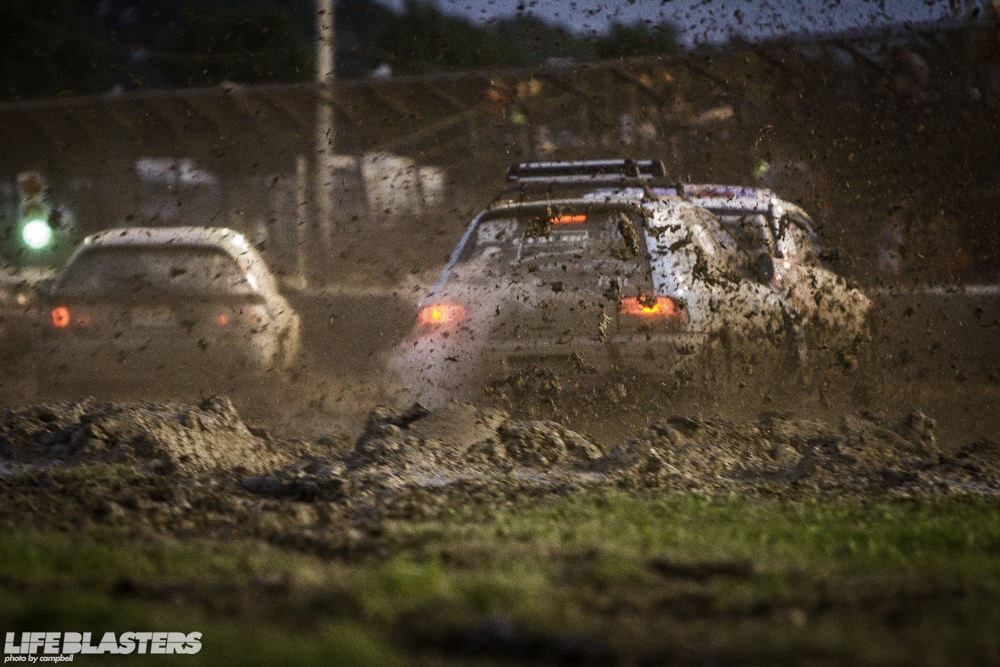 In the final heat, everyone is hungry for that podium position.  With the mud really piling on thick, even with washer fluid and wipers going, it was becoming much more difficult to have a clear view of what was right in front of you.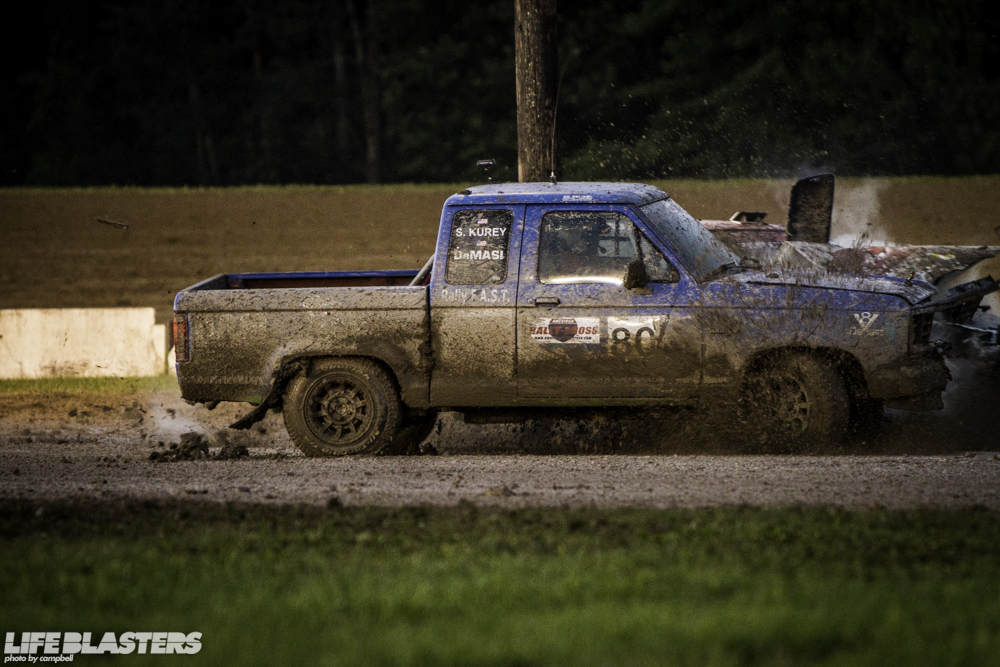 In his push to lead the pack, De Masi ended up losing control of his Ford Ranger, leaving him sideways in the middle of the course right after a turn with no time to move into a safer zone.  With limited options and a slick track, Arek Bialobrzeski's best bet seemed to be to try to squeeze between De Masi and the wall.  Unfortunately he was not successful and ended up making harsh contact with the front end of the Ranger.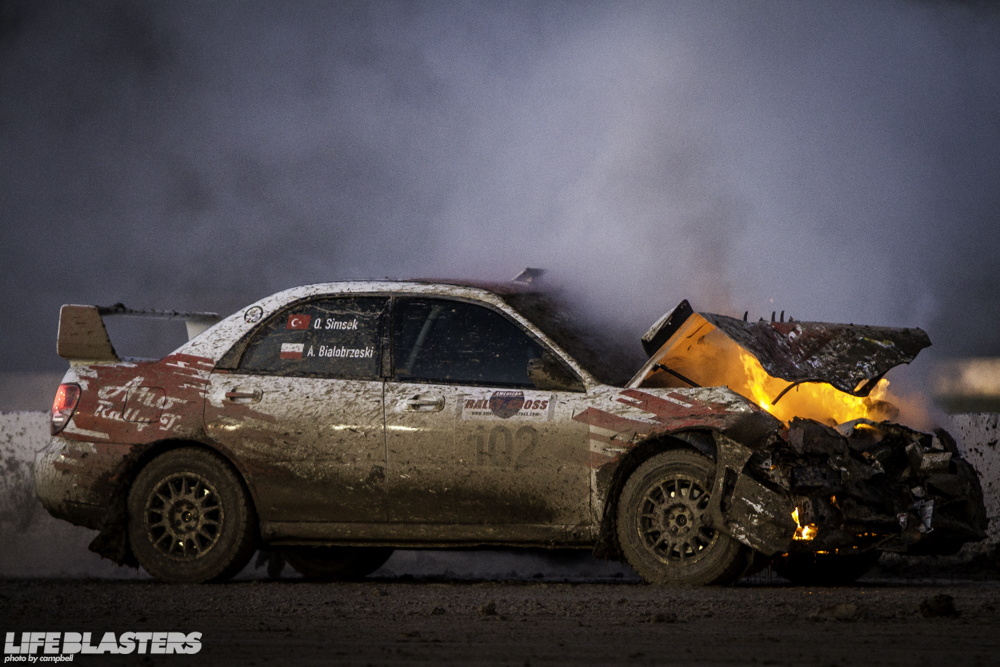 Bialobrzeski came in with such speed, he had basically pushed De Masi out of his way, but only to come to a halt and catch on fire.  Meanwhile…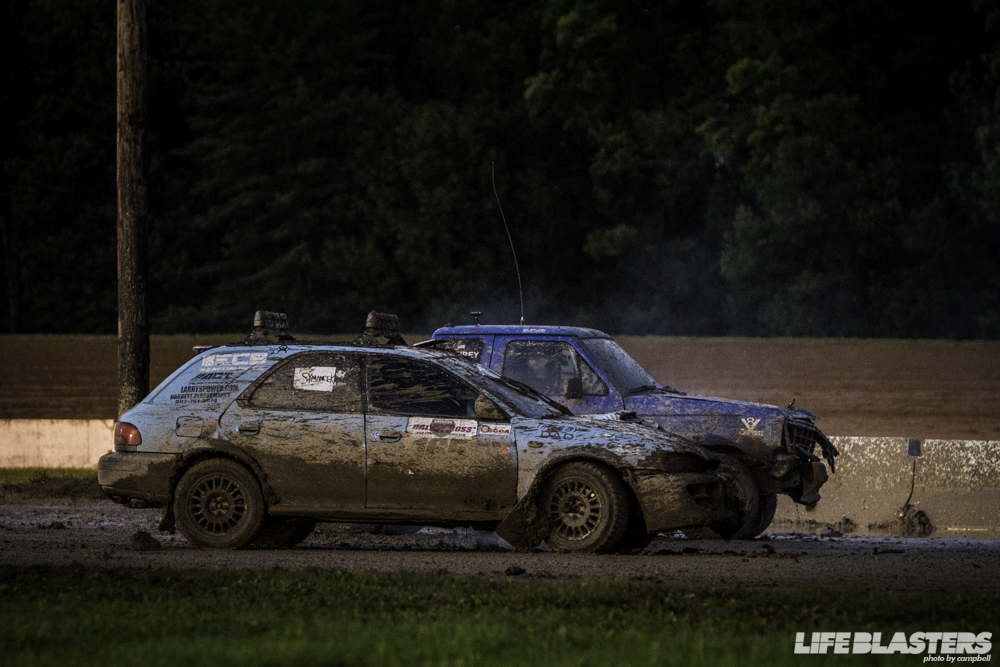 …not only was De Masi's truck pushed out of the way, it was pushed right in the path of Symancek.  Despite being completely blind at this point, Symencek was in line for a spot on the podium before colliding with the Ranger, taking himself out of the race.  Here's a link to Symancek's footage of the final heat.  Ryan Symancek – The Craziest Race I've Entered.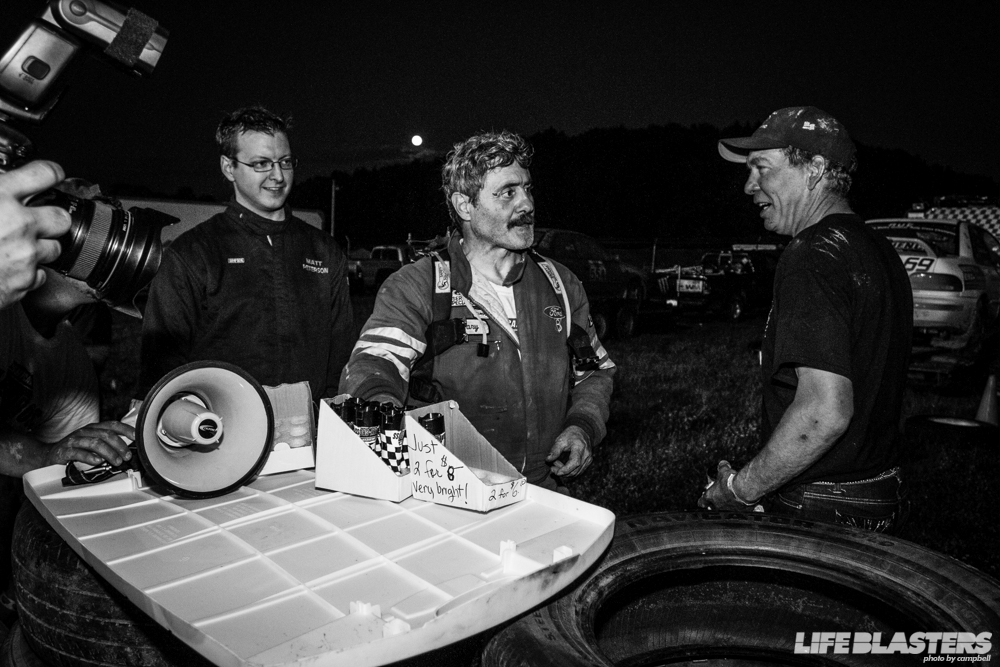 With De Masi, Bialobrzeski and Symencek out, that puts Kangas in 1st and Peterson coming in cool for 2nd place.  And of course, even after being hit twice just moments ago, there was De Masi still at work taking care of our event's winners.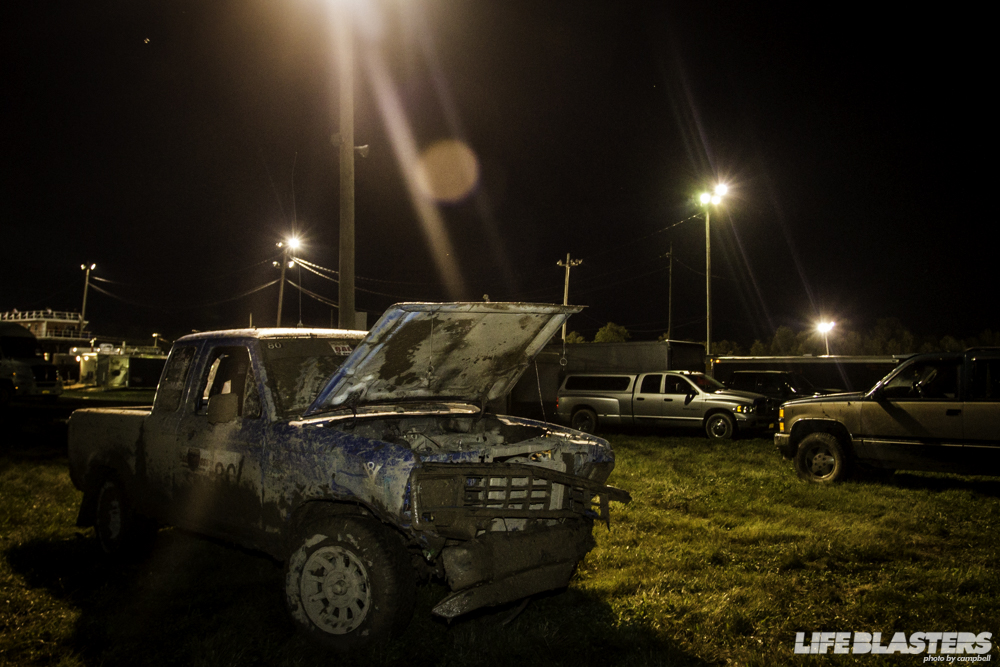 Days later I was talking to Gary about the event; "Yea, my bell was rung a little, but it wasn't the hardest hit I took nor my truck.  There's always the three rolls and fly off the cliff at STPR, and the slide into the bank at ESPR.  I built one tough truck, like me" He seemed in pretty good spirits and has a list of what's going on with the truck.  We should definitely see him and his Ranger out there again.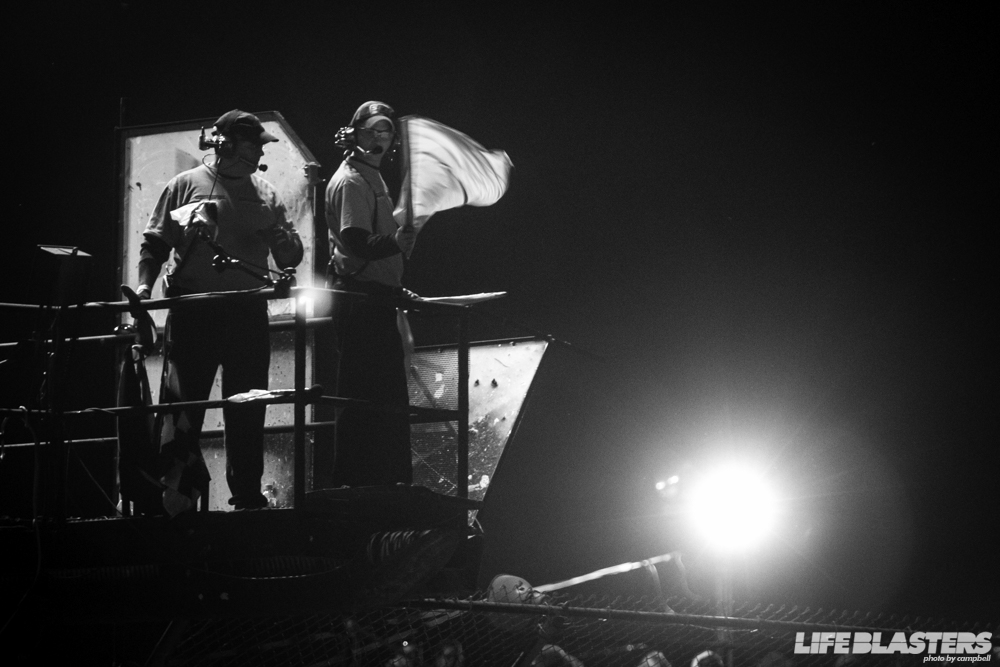 While American Rallycross came to an end for the night, there was still more racing going on.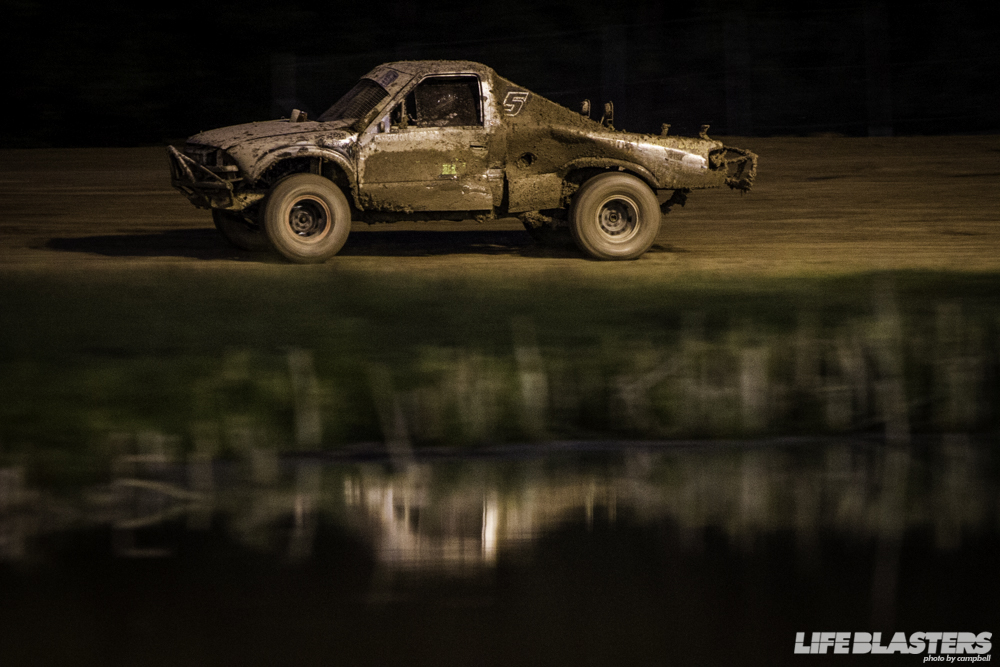 Luckily for the Canadians running, their trip was much quicker than mine to the track.  But I'm very happy I made the drive and had a chance to see these guys run.  I really want that Tacoma I've always dreamed of now.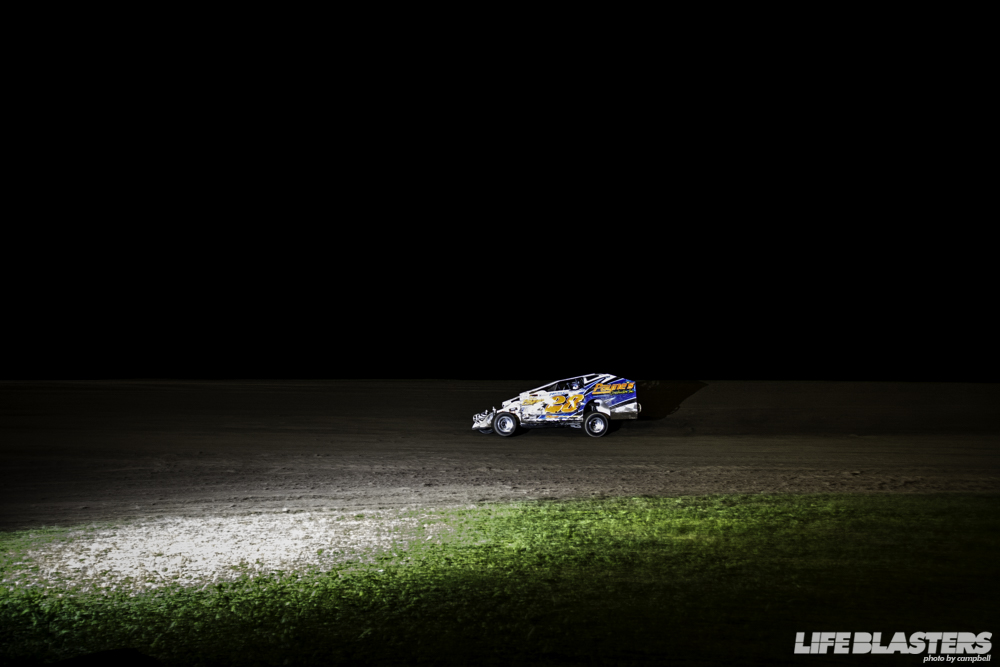 I still can't get over the noise from all those modified cars running together.  Even with ear plugs in, it sounded like I was standing right behind a few loud, redlining muscle cars.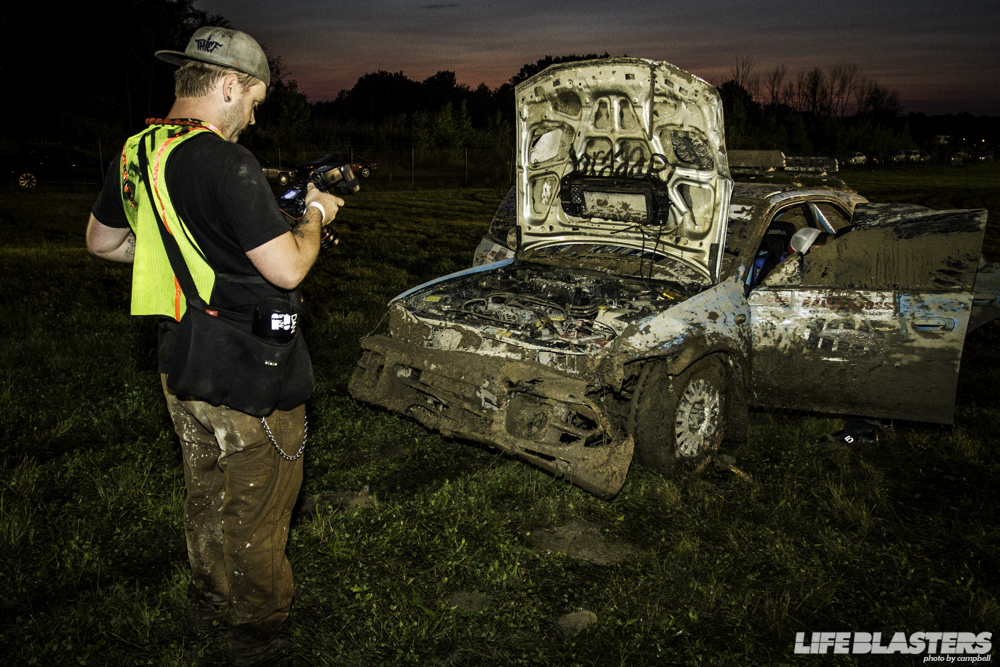 When chatting with Symencek about his take on American Rallycross, he expressed that if the series can promise a 3-5 events per year, then building a budget American Rallycross car would be something much more affordable option for those who can't afford full on stage rally.  "I know full well entering these things that if I toast someone else's car, I may have open up my checkbook for a heavy amount of money. It's part of the game."
He went on to compare the cost of a stage car vs. the minimum requirements for rallycross, "Basically, you don't need all that tubing, and you don't need Ohlin's [suspension] to rallycross around a dirt oval. You'll be fine with AGX…"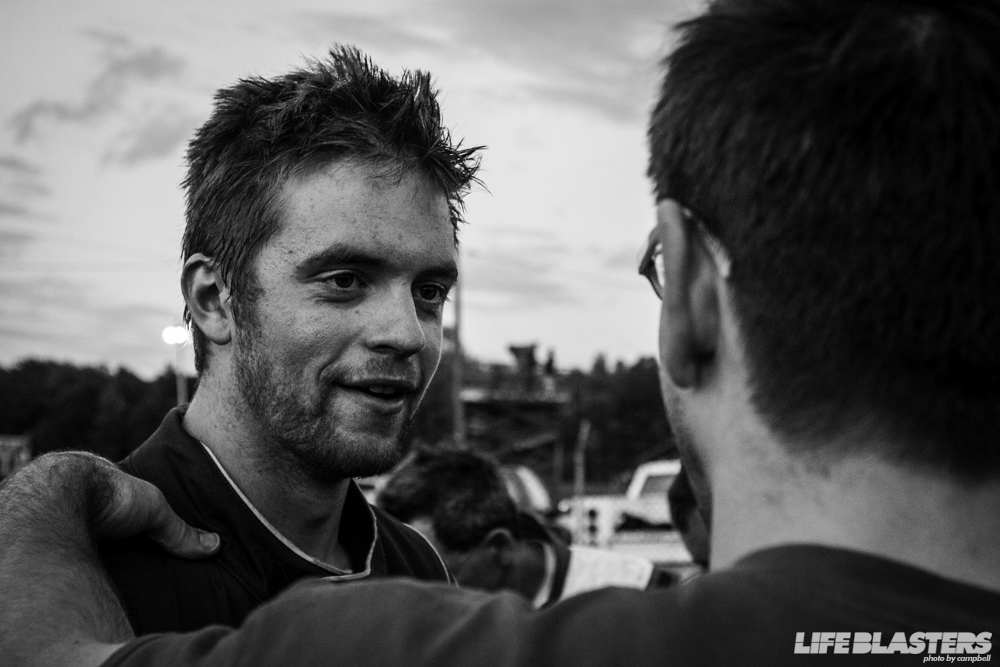 "Basically what I'm saying is that with the current rules in place, and with some added sections to prevent competitors from spending way too much on their cars, we can have a legitimate series here that isn't overwhelming on the wallet."
Hopefully that'll be the case Symencek, it's a great race to spectate and was fun to shoot.  Only time will tell the future of American Rallycross.
-Matt Campbell