The following story was originally published in 2010 on OMGDrift.com, but in retrospect its the very first Life Blasters story. Geoff and I came up with the concept and the name while we were driving through Yosemite on the way to Vegas. Covering events was one thing, but we needed an outlet to post our road trips to and from events and all the other stuff we were into. Today is the fifth anniversary of that drive so I thought it would be appropriate to post here, for the first time ever, Life Blasters Story Number 1.
-Bohan
DAY 1
Geoff from ThunderDrift came down to the Lab to help with a few last minute preparations, then we picked up our rental lenses and hit the road. Traffic on 580 was terrible like usual, but after that it was smooth sailing. We opted not to do the usual I-5 to Hwy 58 to I-15 route through Bakersfield and Barstow. Instead we took Hwy 120 through Yosemite, then Hwy 168 and Hwy 95 into Vegas from the North. It was definitely worth the extra few hours. And since Vegas is always crackin, who cares if you don't get there til 4am??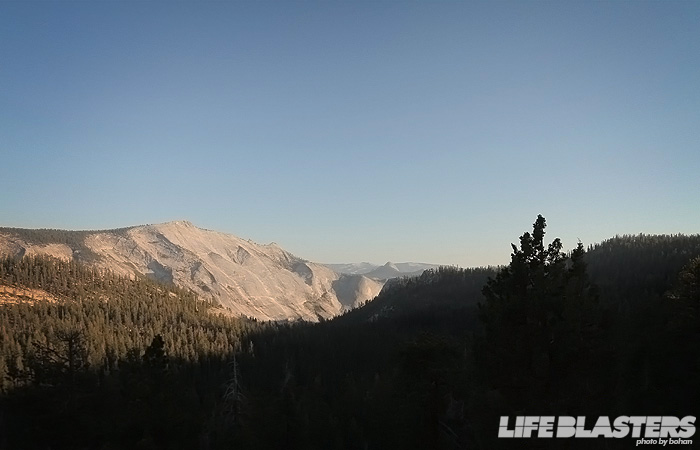 Looking South from Hwy 120 toward the more famous Yosemite Valley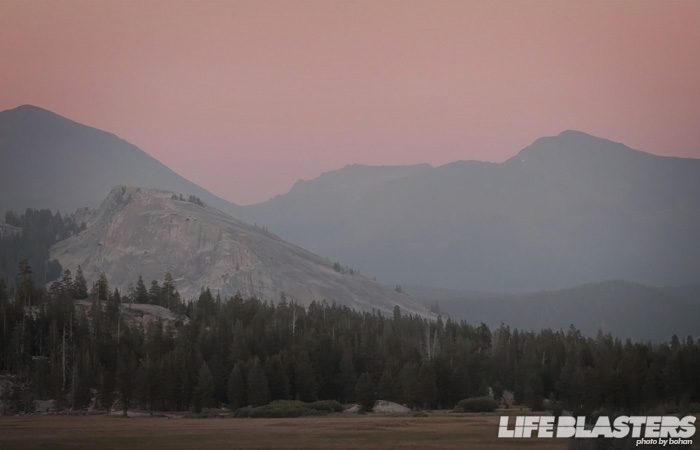 Tuolumne Meadows at dusk was pretty cool looking.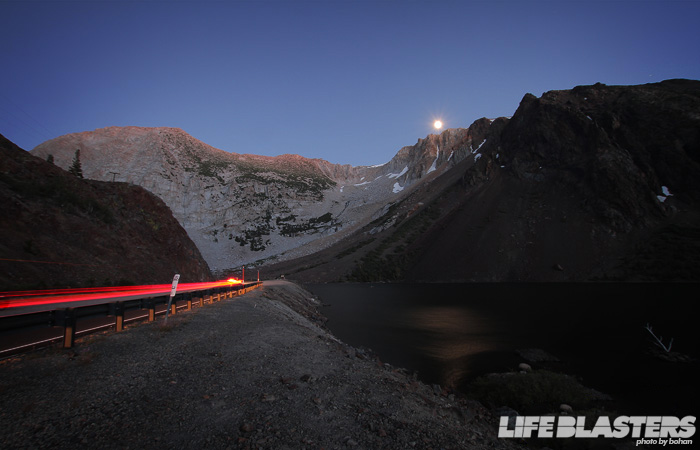 I caught a sick moonrise at Tioga Lake too!
DAY 2
Geoff and I pulled ourselves out of bed around 2pm on Friday, got lunch, and headed over to Las Vegas Motor Speedway to meet up with the rest of the crew. Drew and Ross were hella stoked to get their OMGDrift tees! Security kept hassling us for having skateboards too. I have 400 skateboards, are you kidding me?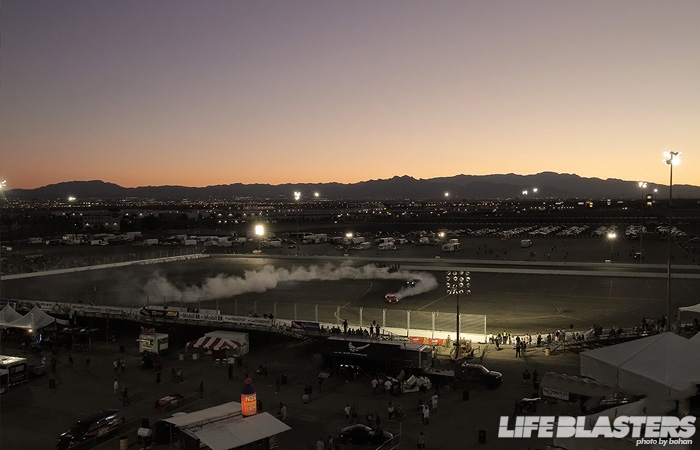 I climbed up to the top of the grandstands to get this pic. You can see everything from up there…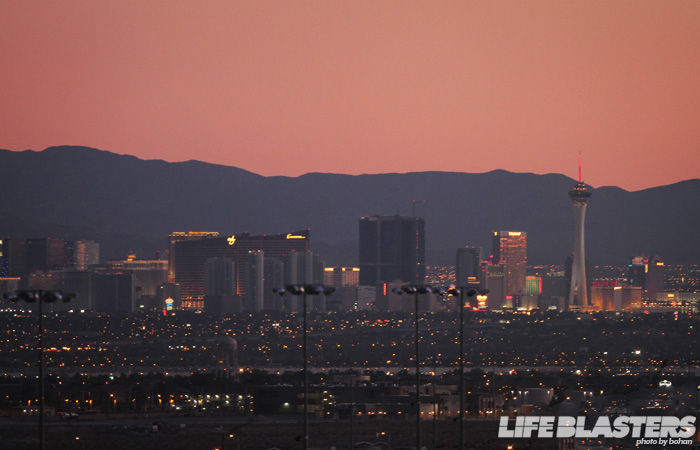 …including the Strip!
I went trackside to shoot qualifying, and the first few drivers spun and scored zeroes. Some loudmouth guy in the audience kept yelling stuff like, "MAN THESE GUYS SUCK! I COULD BE A JUDGE FOR THIS BS!" I wanted to tell him to STFU but that would have been equally inappropriate. So I just kept shooting.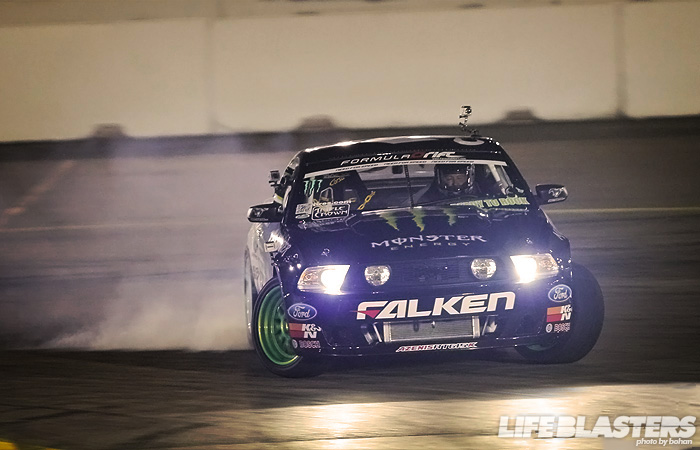 Vaughn Gittin, Jr. was drifting with his eyes closed. That's a neat trick!
After qualifying was over, Geoff and I headed back to the hotel to get cleaned up, then hit the Strip and met up with friends for some partying and gambling. We didn't go to sleep til after the sun came up!
DAY 3
2pm seems to be a good time to get out of bed in Vegas, so that's what we did again. It also minimizes one's exposure time to the blistering desert heat. Local Vegas people must think California people are wusses who can't handle the heat, but why the hell would you want to live there even if you could handle it?
Anyway, after lunch we headed back to the track again to catch the Round of 32. We picked up a bunch of water and Gatorade, but security wouldn't let us bring it in because of a contract with the vendors. They wouldn't let the Sparco booth people bring water in either. Seriously Vegas, WTF? We're not fans, we're working, and sometimes we have to spend hours at a time nowhere near the concession stands. So let us bring in some damn water!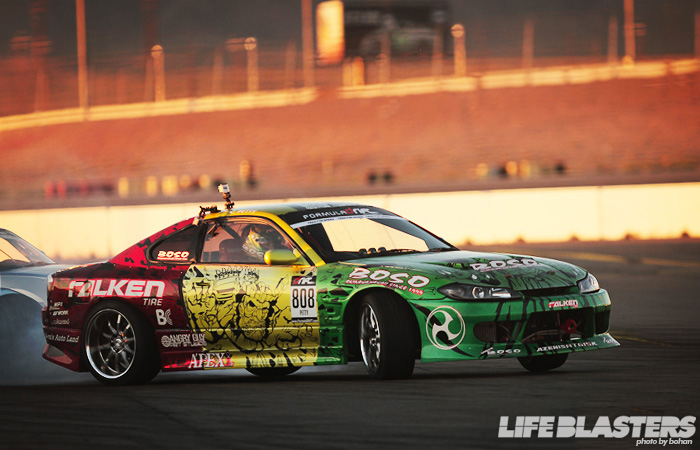 Ross Petty trying to pull away from Ryan Tuerck.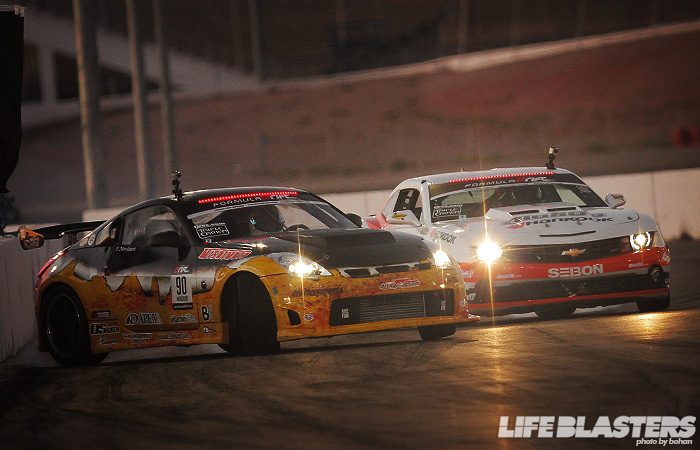 Conrad Grunewald chasing down Pat Mordaunt. Conrad had some pretty sick entries over the weekend.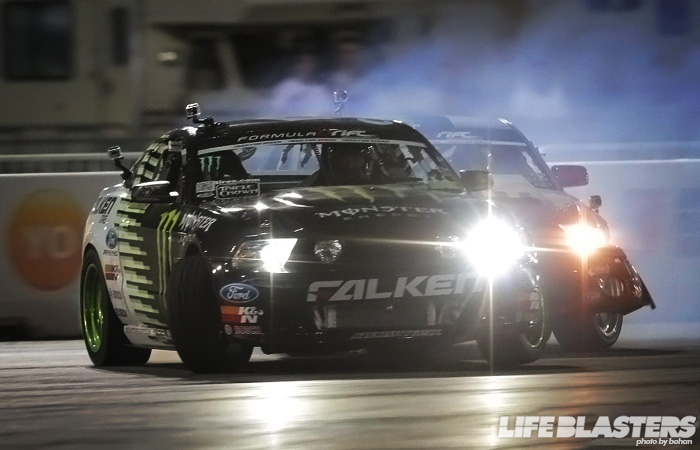 Tony Brakohiapa made his first Final Four appearance, but got a little too crazy and hit the wall behind Vaughn Gittin Jr.
Around this time, a fight broke out near the judging stand. It took security several minutes to come break it up. They were probably busy hassling people about water and skateboards again.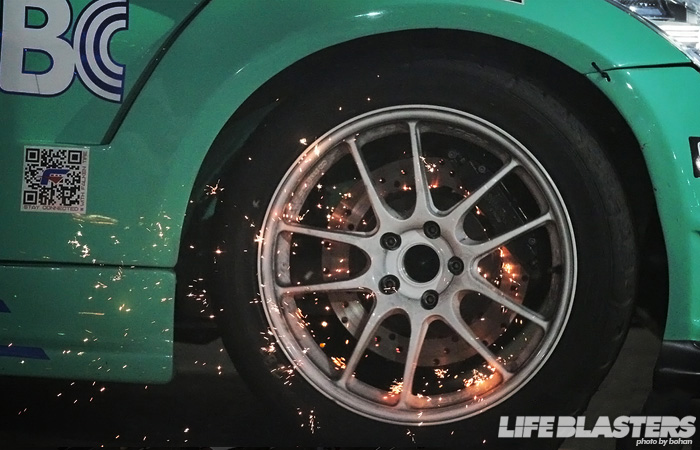 Tyler McQuarrie won by default after Daijiro Yoshihara's car broke. Tyler's brakes were making hella sparks as he did a brake stand in front of the judges! This round marked Tyler's first win of the season, but JR still has the lead!
After the event, Geoff and I got dinner and then went over to the Stratosphere to take some nighttime pics of the Strip. Who knew it would be closed at 3am? We were pretty exhausted so we just went to sleep after that.
DAY 4
We had to check out by noon, so we couldn't do the customary sleep-until-2 Vegas thing, which was probably better anyway since we had a long drive ahead of us.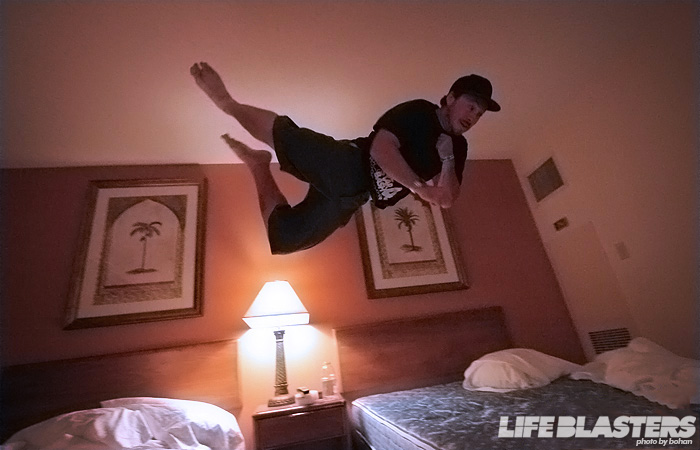 But first, Geoff wanted to do some Will Roegge-style bed jumping. After that, we checked out, got lunch, and hit the road. This time we took Hwy 160 to Pahrump and then Hwy 190 to Death Valley.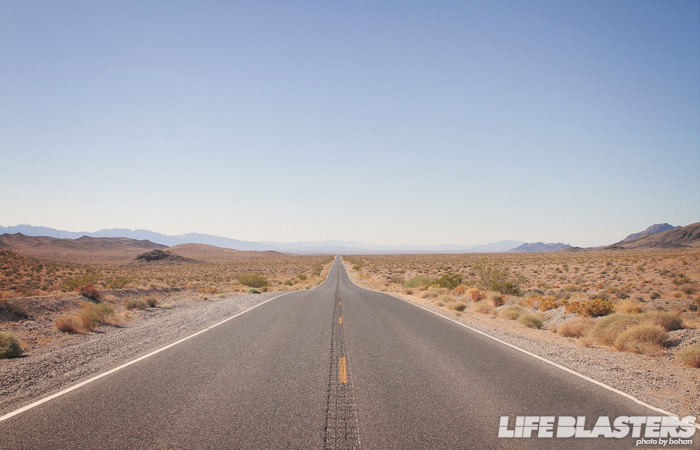 I'd always wanted to drive on those straight desert roads that go forever. I think this was in bat country.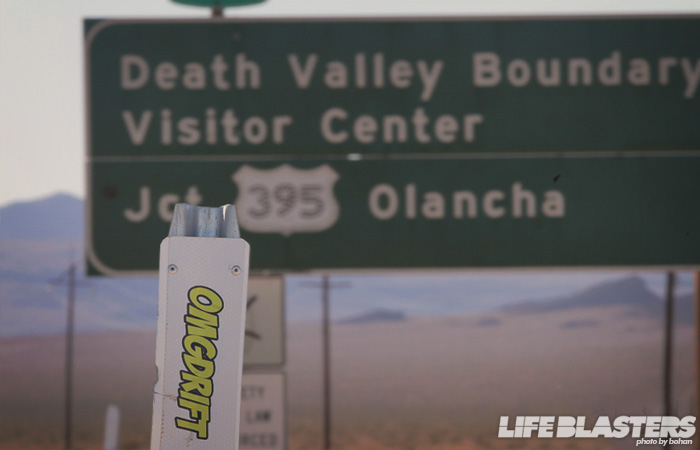 Someone slapped an OMGDrift sticker on the marker thing. I have no idea who it was.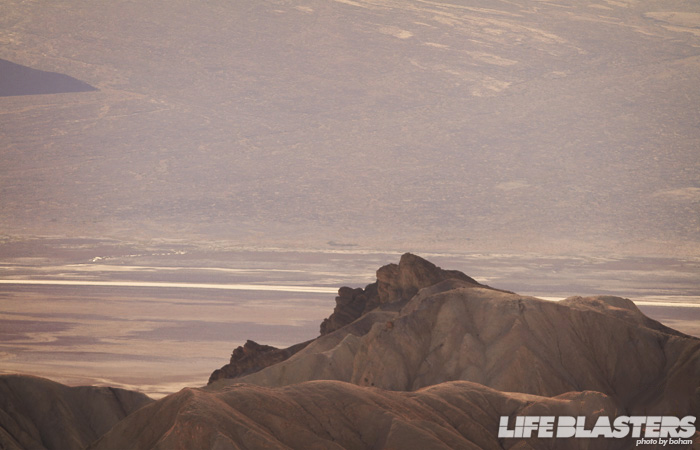 Death Valley is a pretty ridiculous place. It would be a nice place to hang out if it was about 40º cooler. I'm surprised people who go there don't just catch on fire or something.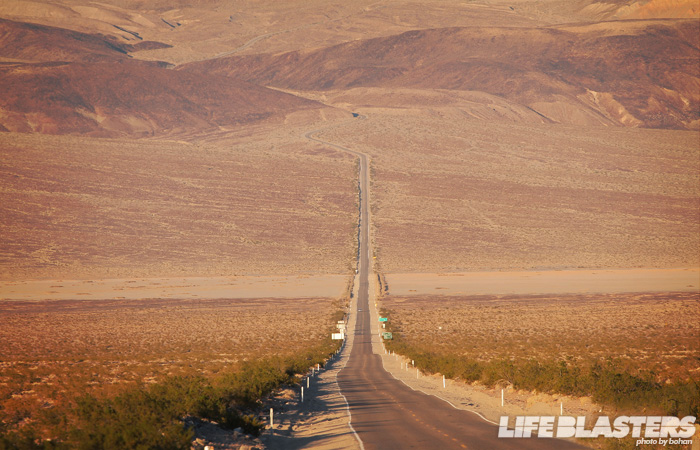 Another long straight road on the other side of Death Valley.
My battery died right after this, so I didn't get to take any more pics. That's okay though, since we were driving straight into the setting sun. We went through Yosemite again, which under a full moon is almost as entertaining as in full sunlight. We finally got back to the Bay at 4am and had some of the best sleep of our lives. Luckily Sonoma is less than an hour away from here, which is nice since it's in only two and a half weeks! See you guys there!