PROLOGUE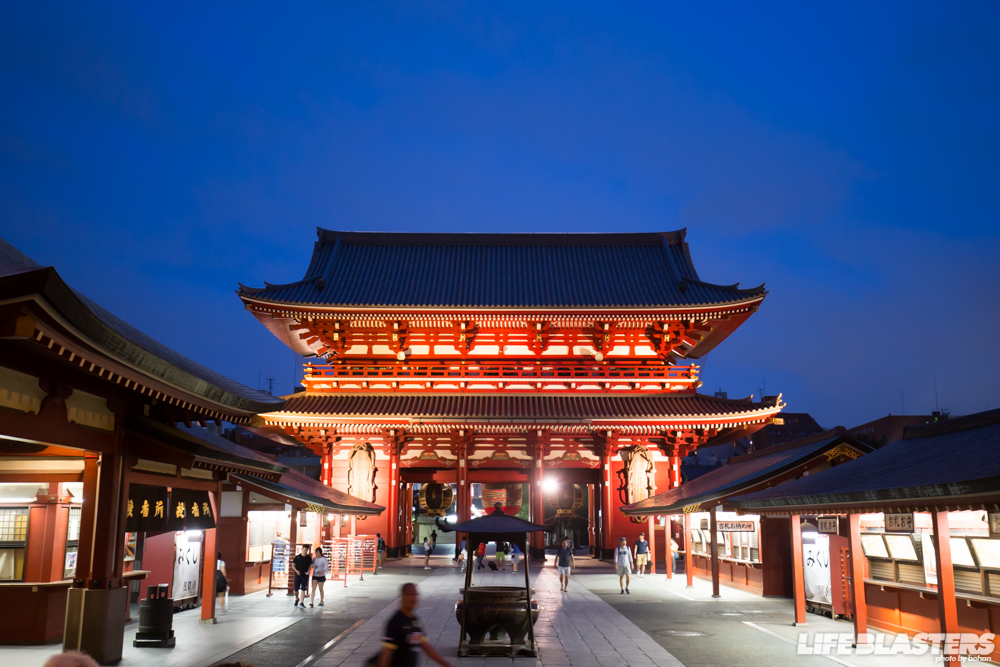 When I was in second grade, my classmates and I "wrote" books about ourselves. I use the term loosely because really we just filled out forms for each page. One of my pages was, "I want to go to Asia  because I have never been there  ."
That way of thinking is at the very root of what Life Blasters is all about, blasting head first into the unknown for no other reason than to see what's there. I couldn't have known that when I was eight years old, but that book could now be taken as an obvious sign of what was to come. Growing up near Seattle, it was a big deal when I got to visit Disneyland with my family. Southern California was so far away! I had some relatives in Montana that we'd go see every summer too. I used to go sailing around Puget Sound and both sides of Vancouver Island with my dad and grandfather, and we went to a lot of places no one else I knew had ever been. Still, even with that amount of traveling, I remember always being jealous of my classmates who got to go on vacation someplace cool. When I was 13 I flew on a plane for the first time when I went with my family to Hawaii for Christmas.

In high school I went on one school trip to the East Coast and another to San Francisco, and that second trip greatly influenced my decision to ultimately move to the Bay Area. In college I visited Mexico, which was fun since I had studied Spanish in high school, and that was the last time I added a new country to my list. Since becoming a traveling motorsports photographer, I grew my list of visited states from 12 to 40, while at the same time becoming an expert flyer. I was long past due for a trip like this.
Before we get started, here are my travel records as of June 22, 2015:
Furthest West: Mana Crack, off the west coast of Kauai, Hawaii, 159.8ºW
Furthest South: La Perouse Bay, Maui, Hawaii, 20.6ºN
Furthest East and Furthest from Home: Bellamy Lane, Kittery Point, Maine, 70.7º W, 4,306km (2,692 miles) away
Furthest North: 3rd Avenue, Anchorage, Alaska, 61.2ºN
Highest: Pikes Peak, Colorado, 4,302 meters (14,114 feet)
Lowest: Death Valley, California, -86 meters (-282 feet)
Number of States Visited: 40
Number of Countries Visited: 3
In other words, while I was fairly well traveled within the United States, I'd only ever left North America to visit Hawaii, and even then I was still in the United States, so that barely counts. I've visited British Columbia several times, Toronto and the surrounding countryside once, and Cabo San Lucas once. All of my furthest-point records were also inside the United States. I needed to go on an epic journey into the world, bad.
NEW YORK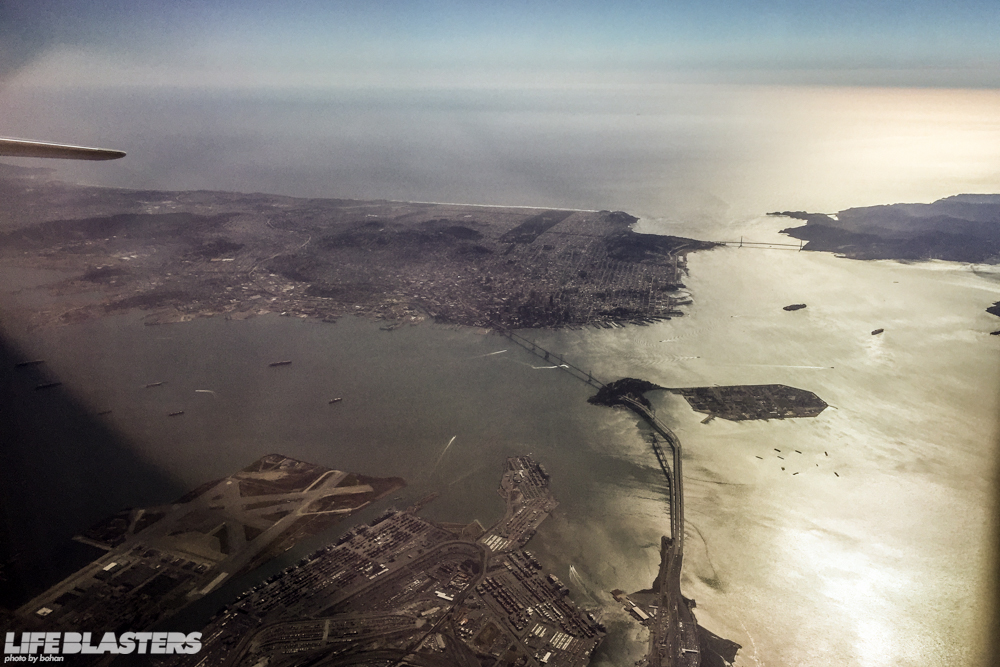 The trip started off like any other Formula D trip. I took off from San Francisco the afternoon of June 23 and headed northeast.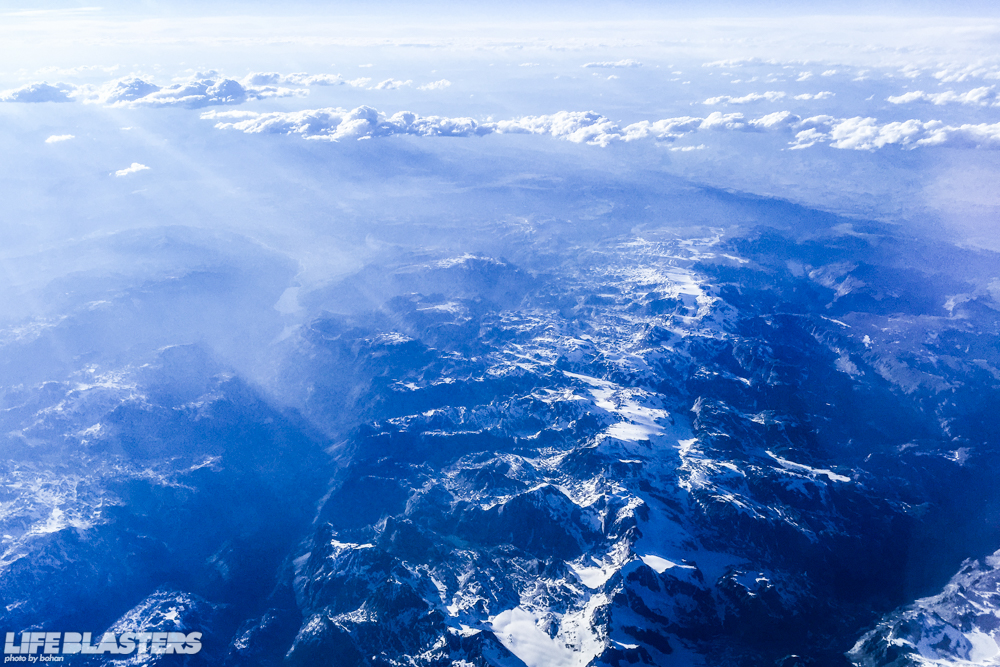 It's interesting, when you take the same flight often enough, to see all the different flight paths. I'd never flown over Idaho, Minneapolis, and Toronto on the way to New York before, but that's what we did this time, maybe because of storms.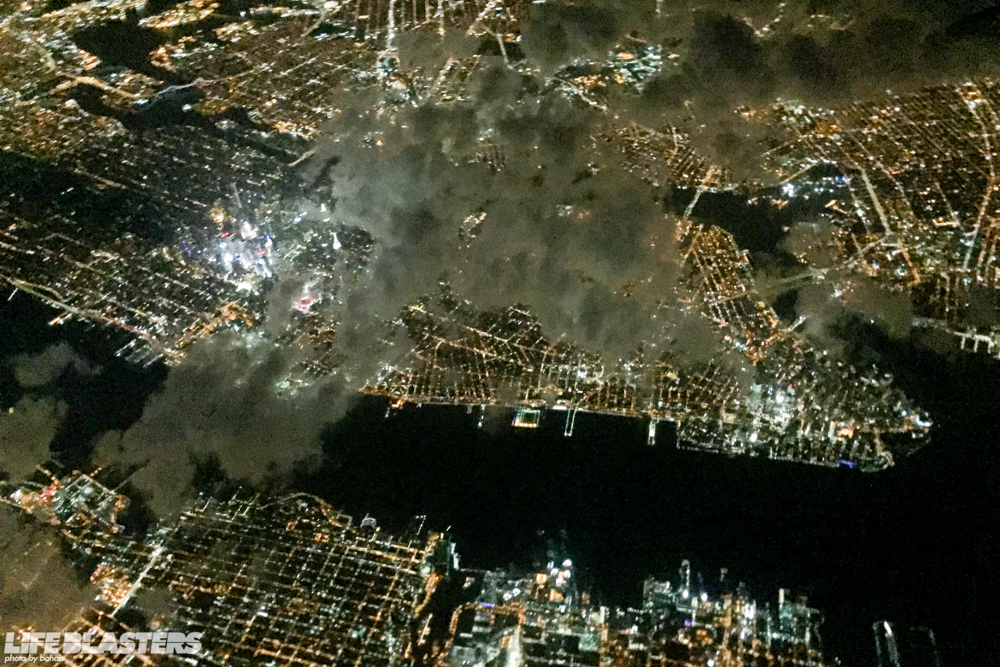 Coming across upstate New York instead of Pennsylvania gives everyone on the left side of the plane a really great view of Manhattan.  I stay at fellow Blaster Matt Campbell's house when I'm in New York, so it's always fun and convenient. He picked me up at Kennedy and we just had enough time for a quick snack before bedtime.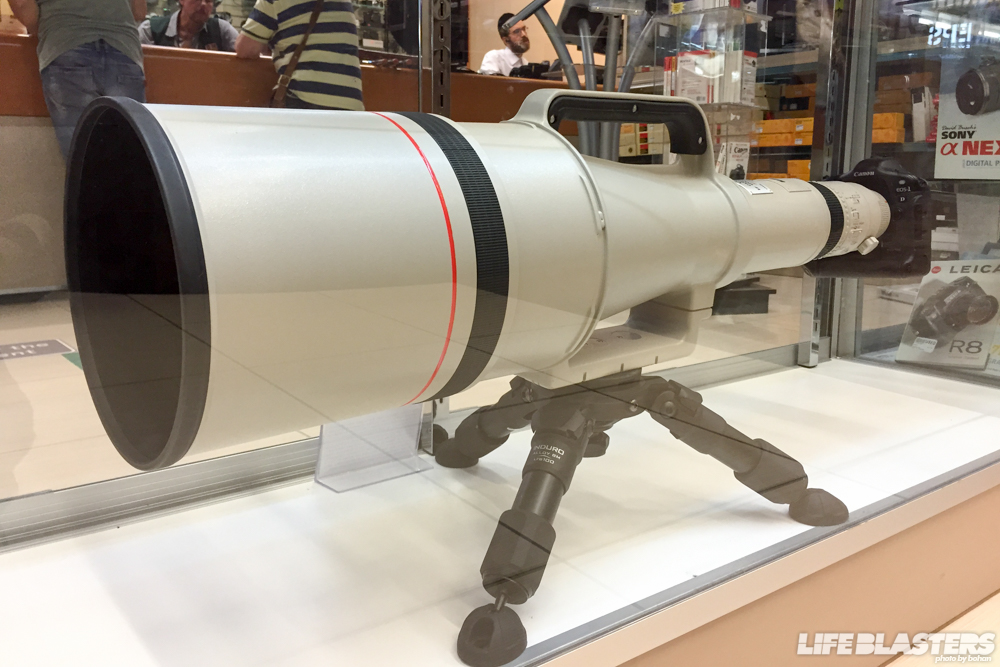 He had Wednesday off work from his other job so we rode the train into Manhattan to see what we could find. After a quick stop at B&H for some stuff I'd need later, we rode the Subway downtown for lunch. Matt had never experienced Lombardi's 110-year-old pizzeria before so that was a must-do.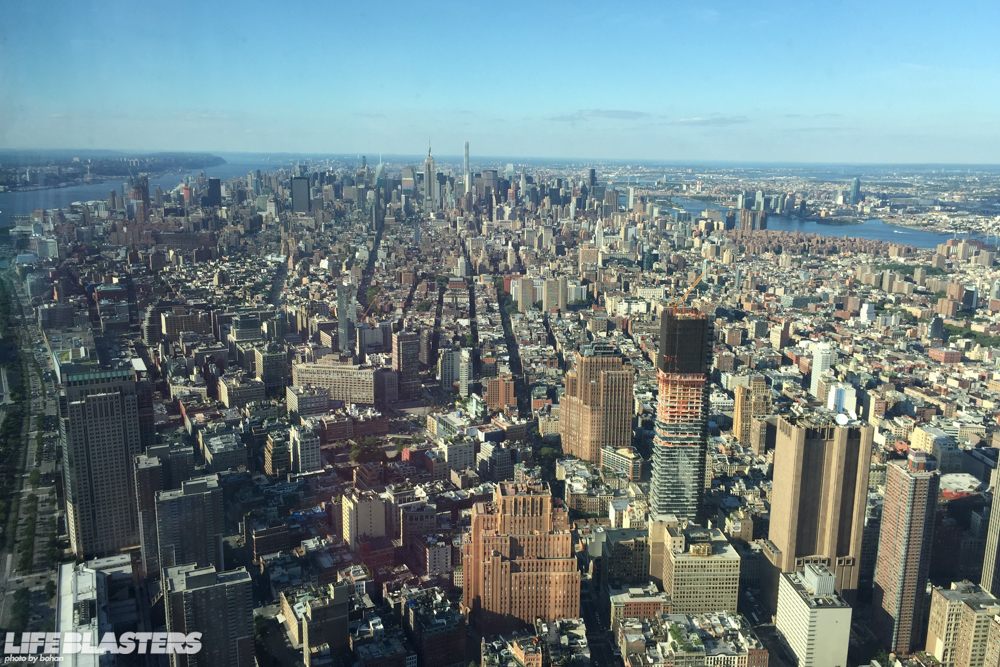 After that we walked over to the World Trade Center to check out the recently opened observatory. The view is stunning to say the least, but we were both bummed that it wasn't an exterior space like the observation decks on Rockefeller Center and the Empire State Building.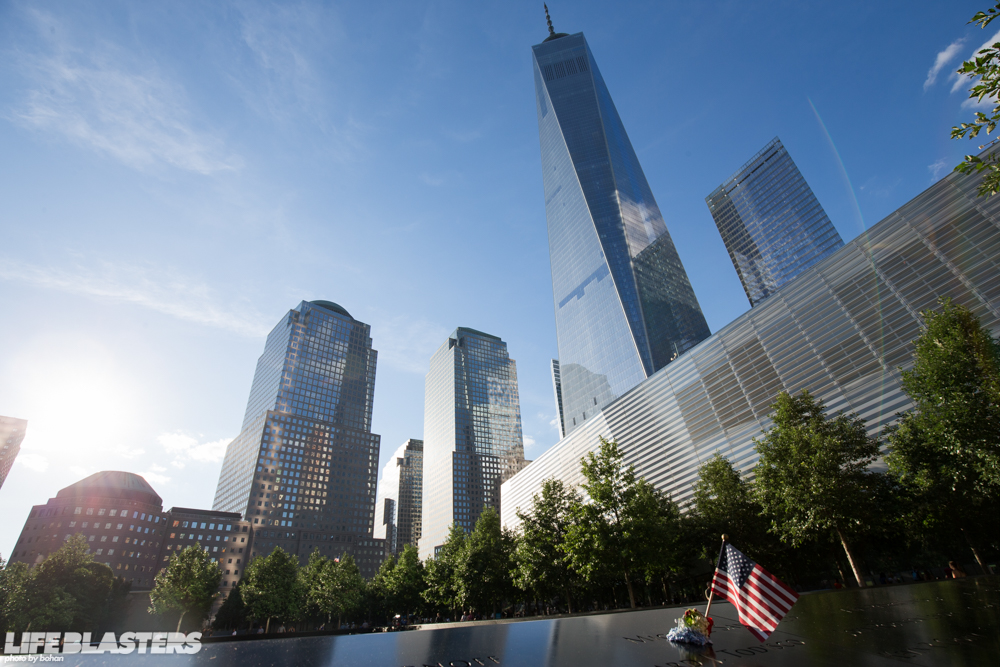 We went back down to ground level and checked out the memorial pools on the sites of the original WTC's twin towers and it was hard to try not to read all the names of the victims on the plaques that line them. Matt did spot the name of his friend's cousin though. As a New Yorker, he was much more directly affected by the attacks than I was.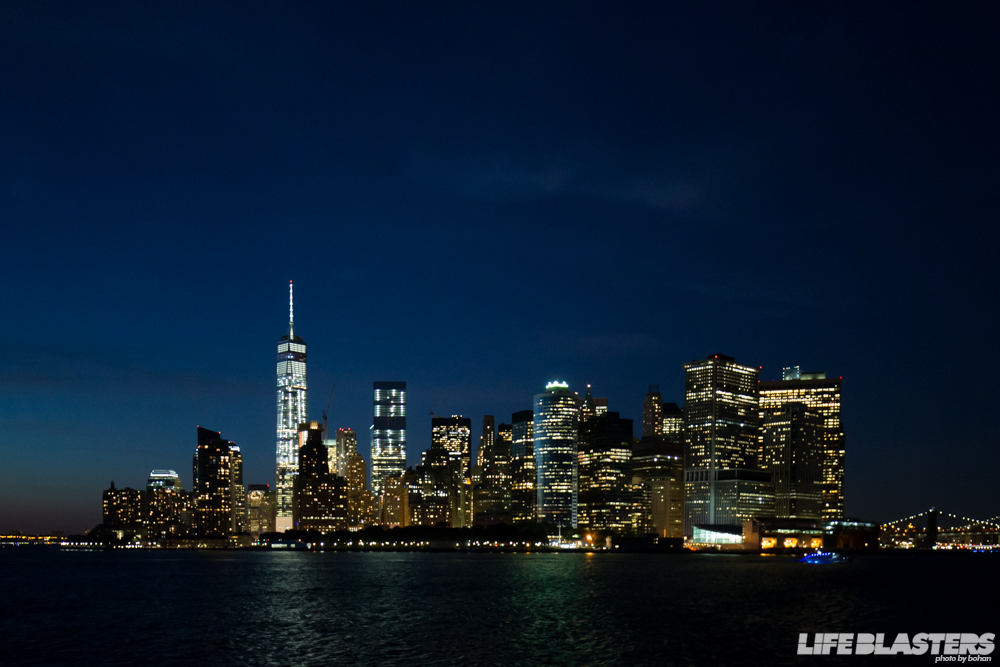 After that we rode the Staten Island Ferry out and back, another thing Matt had never done! Then it was back to Midtown for dinner and back home to get some sleep. We had to drive to Jersey the next morning.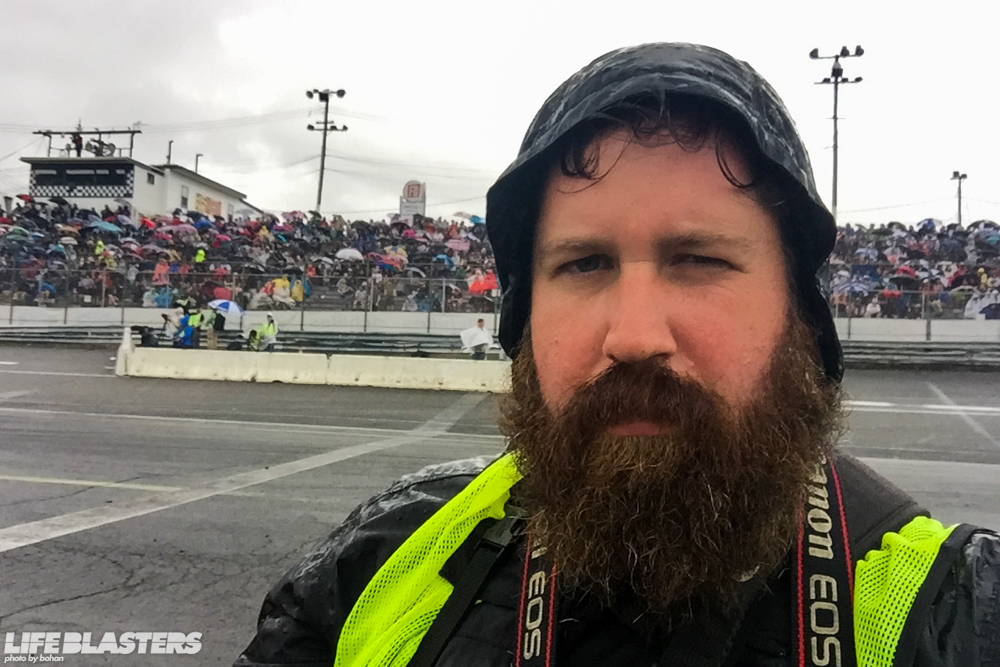 This was the 5th time I'd shot Formula D at Wall, and it's only ever gotten better. Rain played a major role in the event this year, though there was surprisingly little carnage. Fredric Aasbø won for the second year in a row, followed by Dean Kearney and Ryan Tuerck.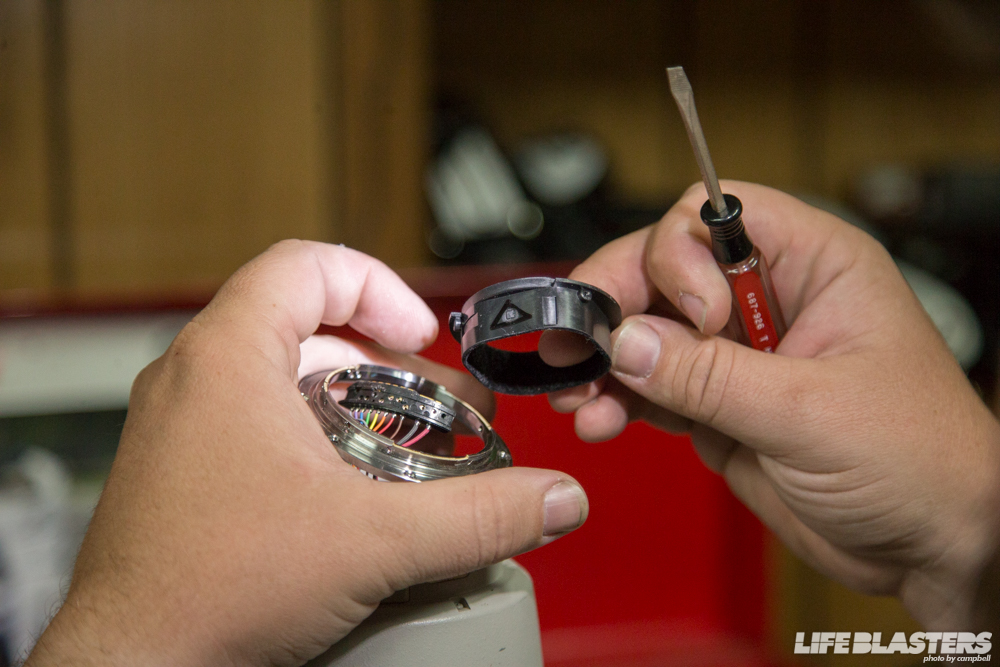 Just before the Top 16 started, I was putting my rain cover on my 400 and the monopod slipped out from under it. The whole assembly crashed to the floor, breaking the 400 off my 1DX, rendering both pieces of gear useless for the remainder of the day. Once Matt and I got back up to his house, I checked out the mounts on my other gear to see if there were any I could steal. I used the body-side mount from my 1.4x extender to fix the camera and the mount from my 135 to fix the 400. Crisis averted! I planned to look for replacement mounts further along in my trip so I could at least continue using the 135.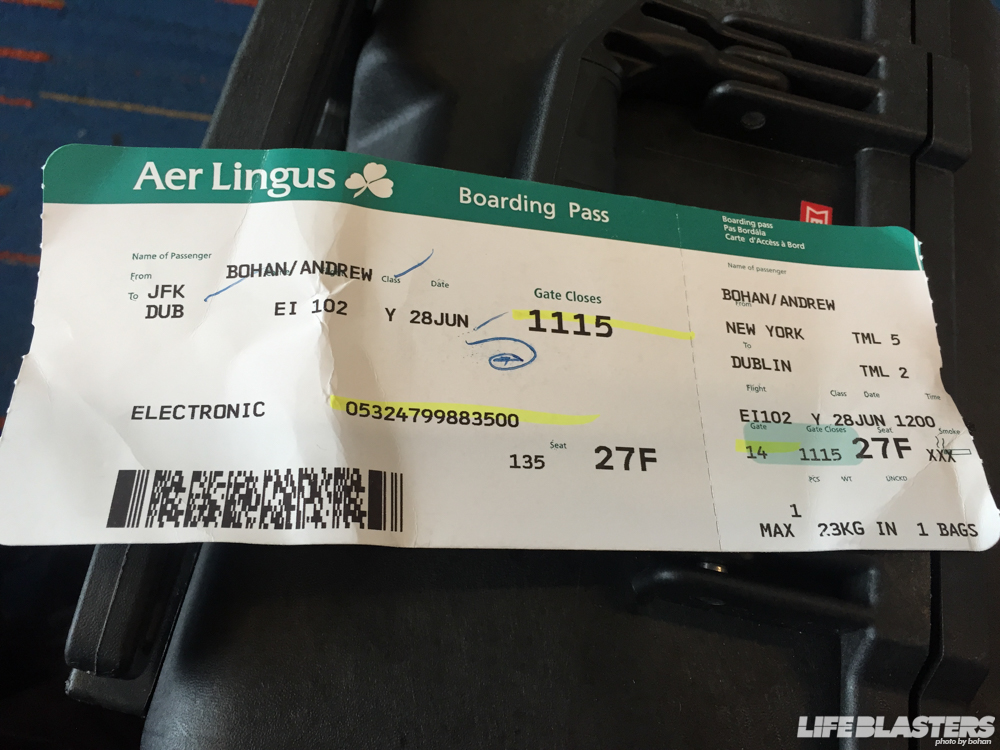 I had finally adjusted to New York time, and Matt and I got up early, had breakfast sandwiches from a deli, and he dropped me off at Kennedy for my flight to Ireland. Just my luck, the line for Aer Lingus only had one other customer in it. I got checked in and got through security and tried to let it sink in that it was actually going to happen.
I love traveling to new places and I'd wanted to go overseas as long as I could remember, but I never had the time or money to do it. I bought a ticket to Norway last year, but I had to forfeit my ticket the day before my flight and go to Seattle instead when my mom got sick. She told me she'd pay me what the ticket had cost but the medical bills piled up, leaving my dad in a financial mess for months after she died. Finally he got back on his feet and gave me the money, which I put with the money I had already set aside for this year's Norway trip, and that was enough to get me to Ireland, Norway, and Japan in a single trip.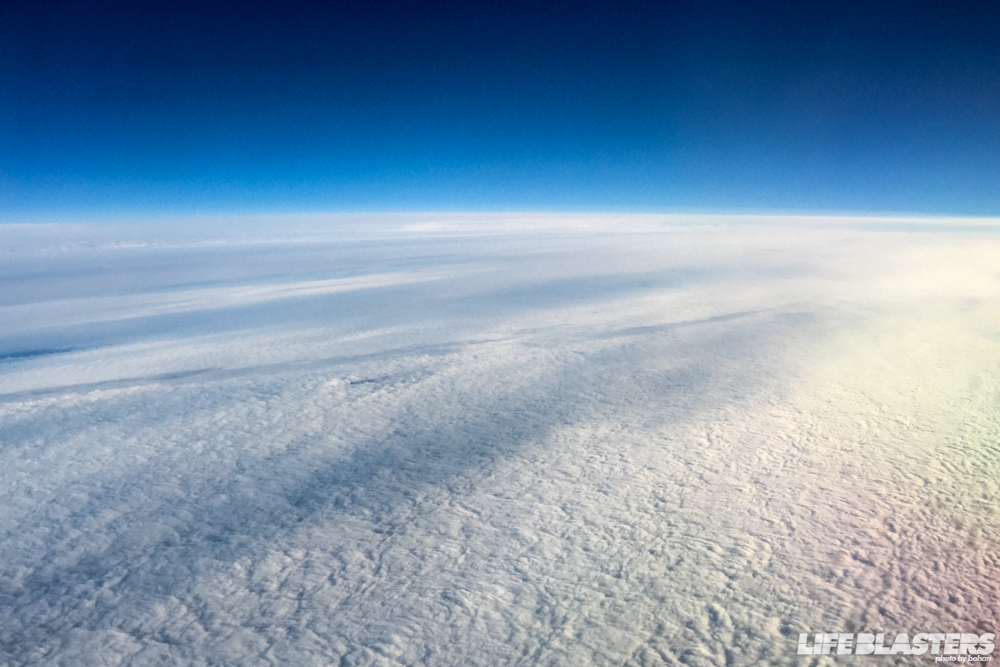 Soon enough it was time to board. I got on, found my seat, and endured six hours of some of the worst turbulence I'd been in. Still, it was interesting looking out the window and seeing things I'd never seen before. Prior to this trip, the furthest east I'd been was just past Fort McClary in Maine. We left New York to the northeast, over Boston, Nova Scotia, and Newfoundland. We were 1/3 the way through the trip before we even left North America!
Europe in general is deceptively far north when compared to the United States, with Ireland and Great Britain entirely north of the Lower 48's northern border. In fact, if Scotland was moved to the west coast of North America, it would be in Alaska!
The clouds parted a little bit, and I looked out the window and saw the Emerald Isle and all its randomly shaped fields bordered by hedges. I thought to myself that if the plane crashed here I wouldn't even care. I'd die in the land my ancestors had left 169 years earlier.
IRELAND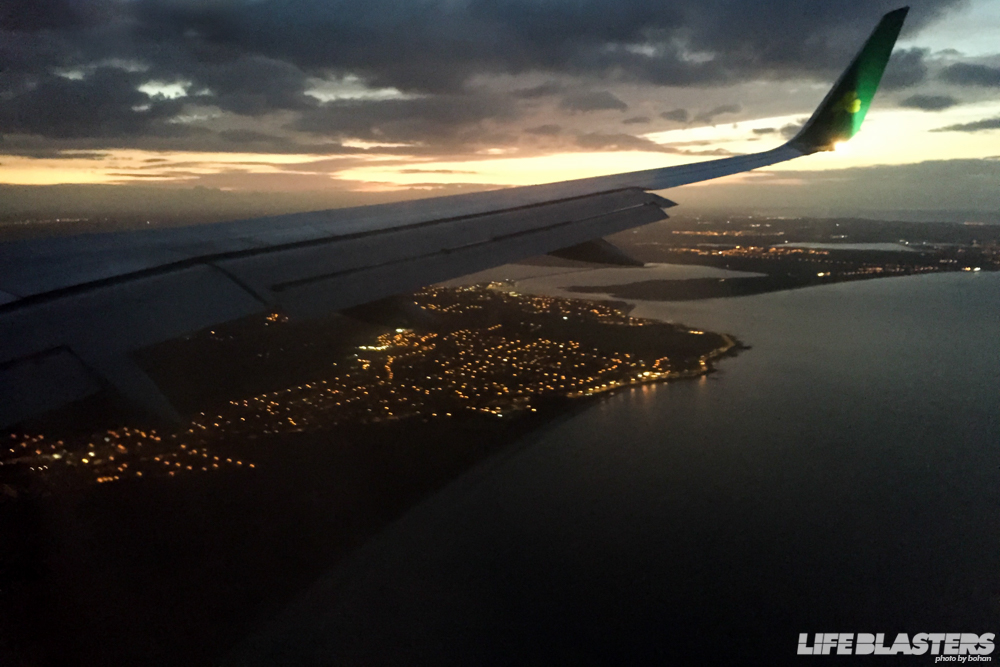 I landed in Dublin just before midnight, and there was still some color in the sky. It had been just a week since the solstice, after all, so this was one of the longest days of the year. I had arranged to stay with my friend Ronan, who I'd met while filming Luke Lonberger's Corvette build videos in 2011, but he was in England with his fiancée. That was okay though, because my other friend Darren, who I'd also met during the video shoots, was more than happy to host me. He picked me up in his JDM Altezza, which was cool since Ireland is a right hand drive country; the first one I'd visited.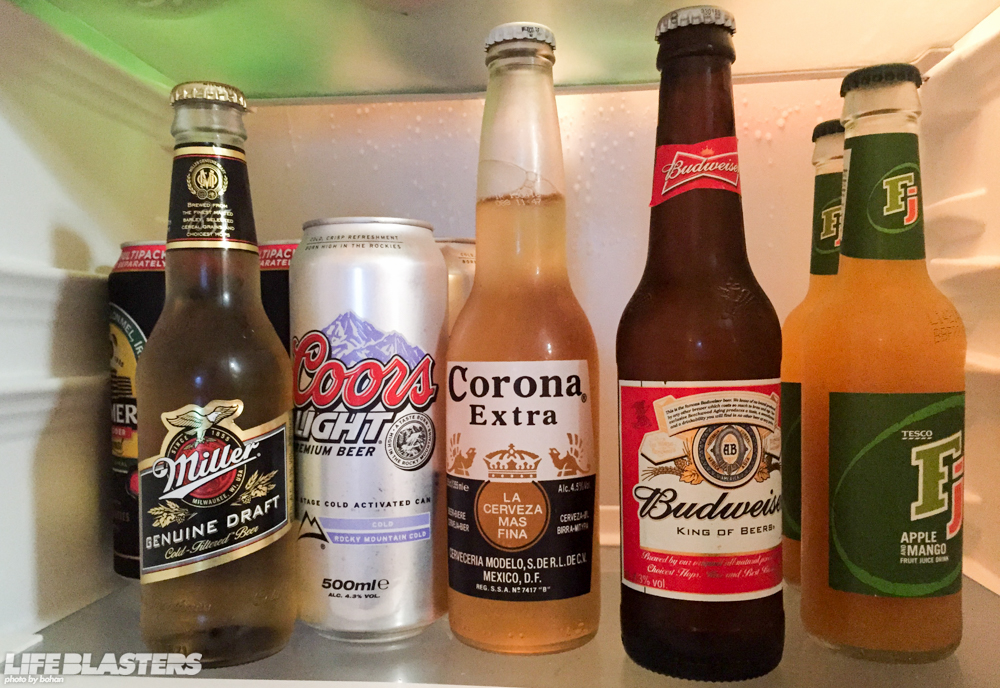 I was wide awake since it only felt like 6pm to me. I told Darren I'd need some whiskey or beer to help me sleep, and he assured me his beer fridge would have more than enough. We arrived at his house in Newbridge, unloaded the car, he introduced me to his girlfriend Laura, started baking a pizza, and then showed me the beer. Coors light, Corona, Miller Genuine Draft, and Budweiser. What? What?? Had I flown all the way across the Atlantic Ocean to drink American lagers?? Behind the beer were some cans of Bulmer's cider, an actual Irish product, so I started with that.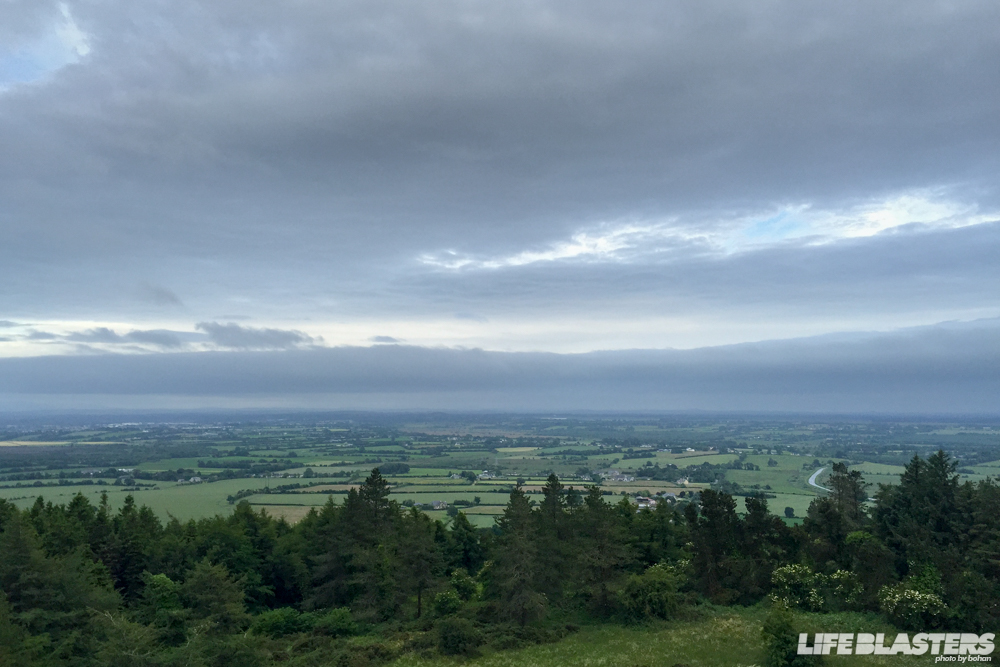 After dinner and getting settled in, it still took me until 4am to fall asleep. I woke up at 1pm on Monday and got to work editing my haul of New Jersey photos. Darren got off work and we went over to Gourmet Burger Kitchen, where we met up with Laura for dinner. After dinner, Darren took me to the hill of Allen, where there was a watchtower we could climb. The watchtower had the best view of the surrounding area.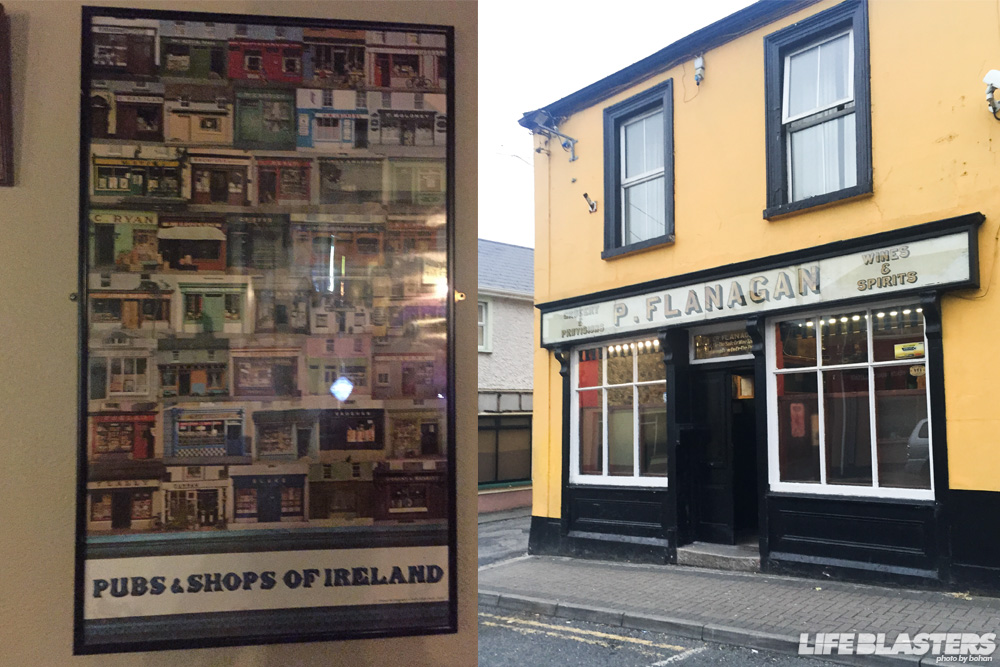 Next we went to Flanagan's back in Newbridge, my first visit to a legitimate Irish pub. Matt and I had stopped into an Irish pub in New York, where I had noted a poster showing various Irish shopfronts. I thought to myself, "a real pub in Ireland wouldn't have such a cheesy poster," but lo and behold, there was that very same poster at Flanagan's! I started with a Guinness of course, as Ronan had told me in 2011 that real draught Guinness in Ireland was way better than in the US. Now that I've had it, I definitely agree it's better. Maybe it's because it didn't travel far from the brewery or because it's ordered often enough that it doesn't sit in the lines all day. After I downed my pint, I dove into various other local draughts and bottles.
I worked until 5am and went to bed again. I made myself get up as early as I could on Tuesday so I would be able to kick my jet lag. I did some more work while Darren was at work, and then when he got home we took off for County Tipperary, home of my ancestors.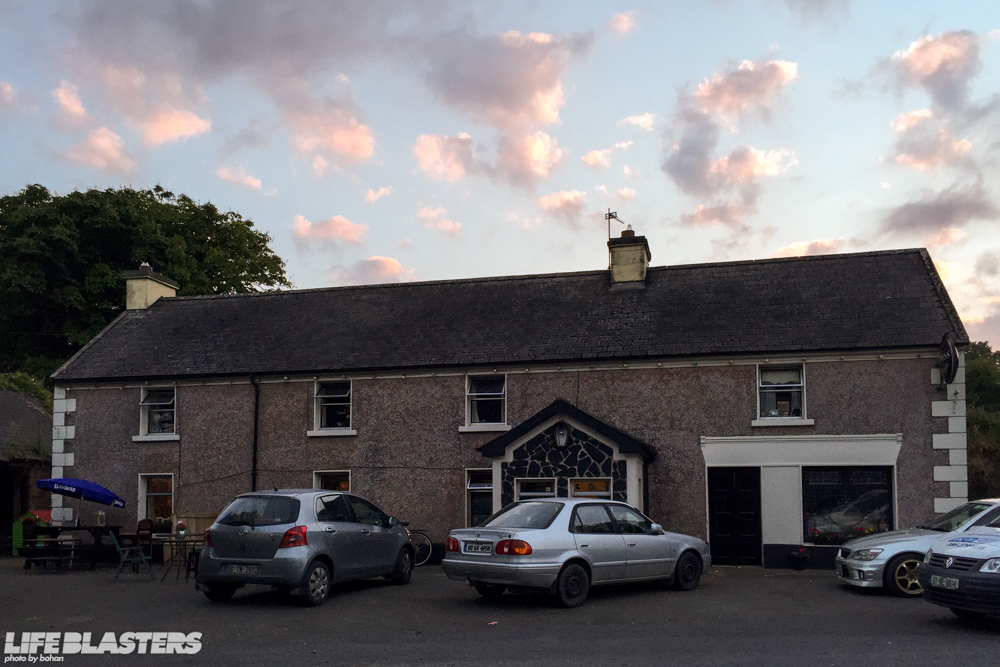 Tipperary is only two counties over from Kildare, so it wasn't too bad of a drive. Coupled with the long northerly days, we had plenty of time to navigate the narrow country lanes that led to the tiny village of Killea. Killea consists of six buildings: St. James's Church, Killea GAA club, the Devil's Bit Riding Club, Sullivan's Pub, the graveyard caretaker's house, and the Castle House, a 16th century tower converted into a modern house.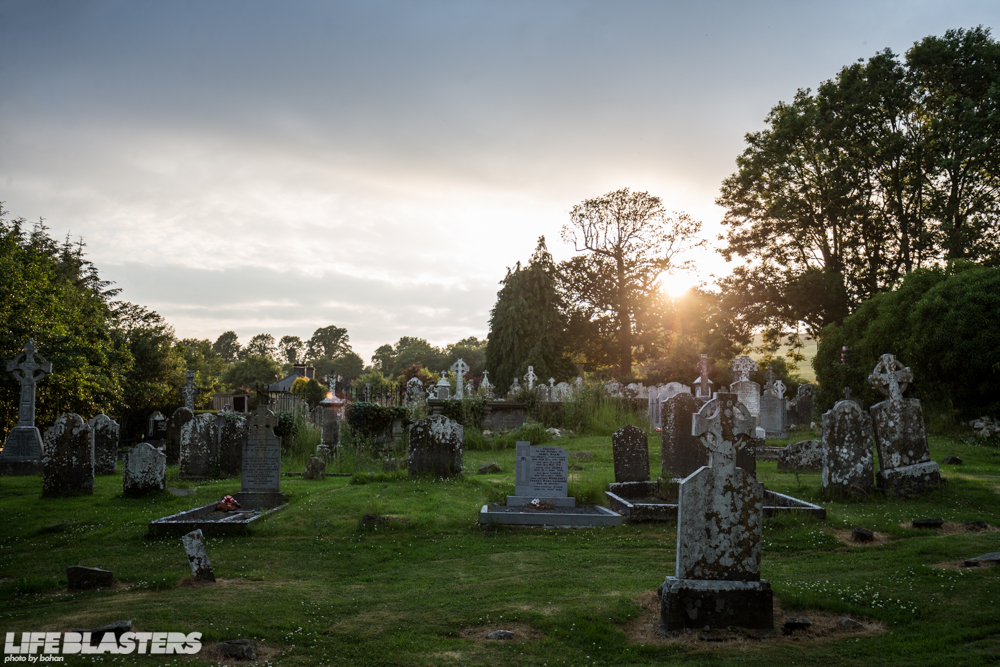 Darren spotted the graveyard at the end of the driveway that at first glance was only meant to lead to the caretaker's house, and we drove in. I'd found a map of the graveyard earlier that day and I had photos of several Bohan headstones to help aid in the search.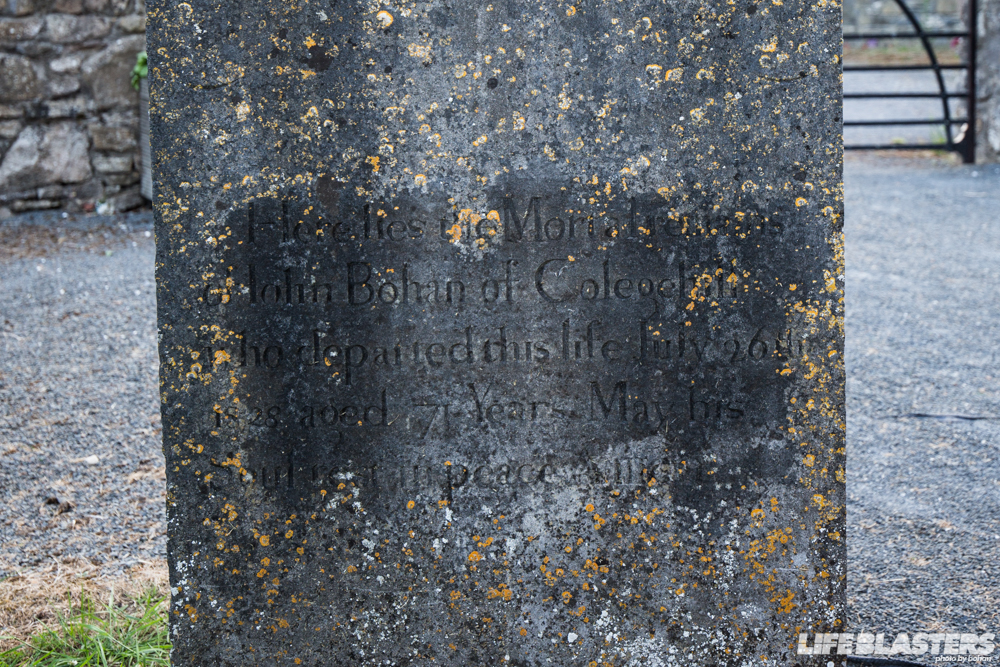 It only took a minute to find the grave of John Bohan, 1757-1828, my great grandfather's great-great grandfather. The headstone reads: "Here lies the Mortal remains of Iohn Bohan of Colegehill who departed this life July 26th, 1828 aged 71-Years. May his Soul rest in peace. Amen." John's son Michael left Ireland with his wife and nine children 1846, the second year of the potato famine. I'm descended from Michael's son Daniel, and his son John Denis was the first born in America. John begat John Arnold Bohan, followed by John Donald Bohan, my father Alan Wayne Bohan, and finally yours truly, Andrew Alan Bohan.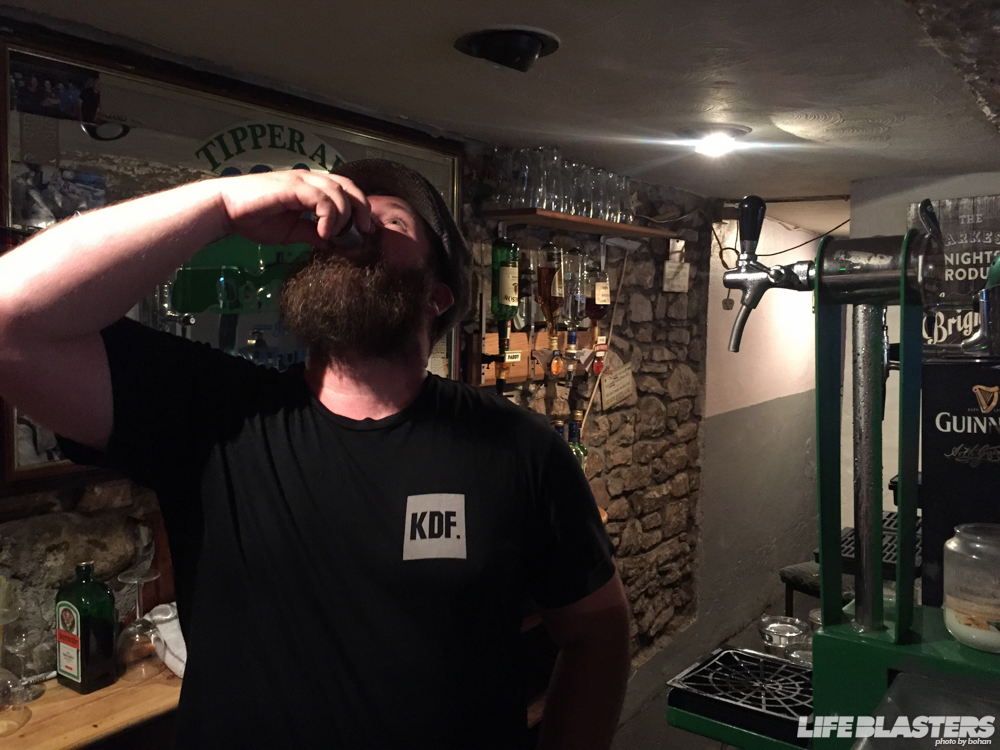 After we spent enough time at the cemetery it was time to hit the pub. Darren said this was the most Irish Irish pub he'd ever been in, with the shed door, 7-foot ceiling, and bar that was too high for the stools. We were the only people in there and the barmaid was more than happy to engage us in conversation. She was surprised I'd tracked down John's grave, and Darren was surprised she went to Newbridge to go shopping instead of going just a little bit further to Dublin. The place was so informal that she even let me go behind the bar and pour my own shot. Pretty soon a few other people came in and we told them why were in Killea. They knew some Bohans that lived down the road! Unfortunately it was time to go, so we didn't have time to track down any long lost cousins.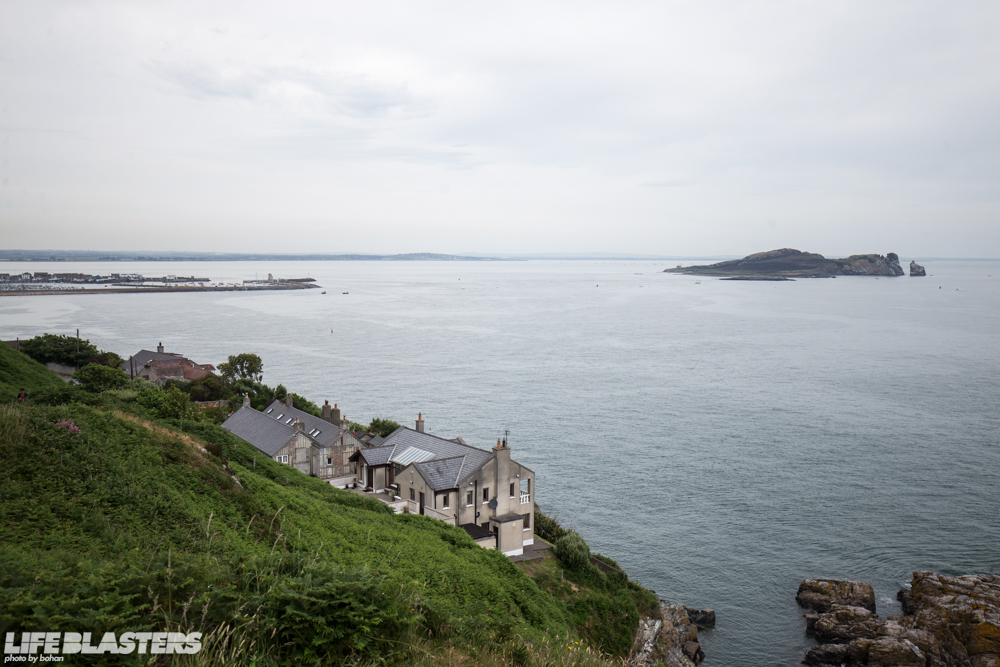 That night I just decided to stay up so I could be tired enough to sleep the next night. Laura had taken the day off to show me around Dublin, so once the morning traffic had calmed down we hit the road. I rang Canon Ireland to see if they had replacement parts for my broken gear, but they would have to order them from Japan and they'd take two weeks to arrive. So much for that! We stopped in Howth, north of the city, to take in some seascape views, and then headed into the city center.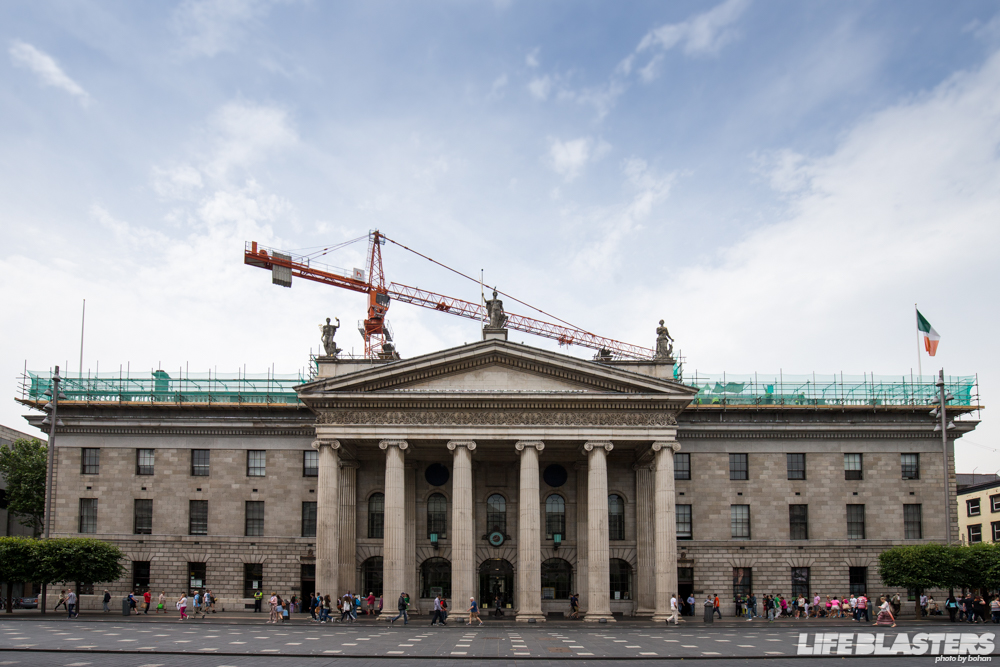 I tried to absorb as much as I could in the few hours we had at our disposal. Out of all the architecture and parks and modern shopping centers and centuries-old banks and pubs, the building that hit me the hardest was the General Post Office, where James Connoly, Patrick Pearse, and other Irish rebel leaders and their followers had set up their headquarters during the Easter Rising of 1916, where they proclaimed the Republic of Ireland to be independent of the United Kingdom. The Rising had failed, with many casualties caused by British shelling and shooting and the leaders were executed later. Those events led to the rise of Sinn Féin, the original IRA, and the emergence of new leaders like Éamon De Valera and Michael Collins, who had been present at the GPO during the Rising. The Republic finally gained full independence in 1922, though six counties in the north had elected to stay in the UK and became Northern Ireland. Knowing the history of the country, these places, and the people, it was actually pretty emotional to be there in person.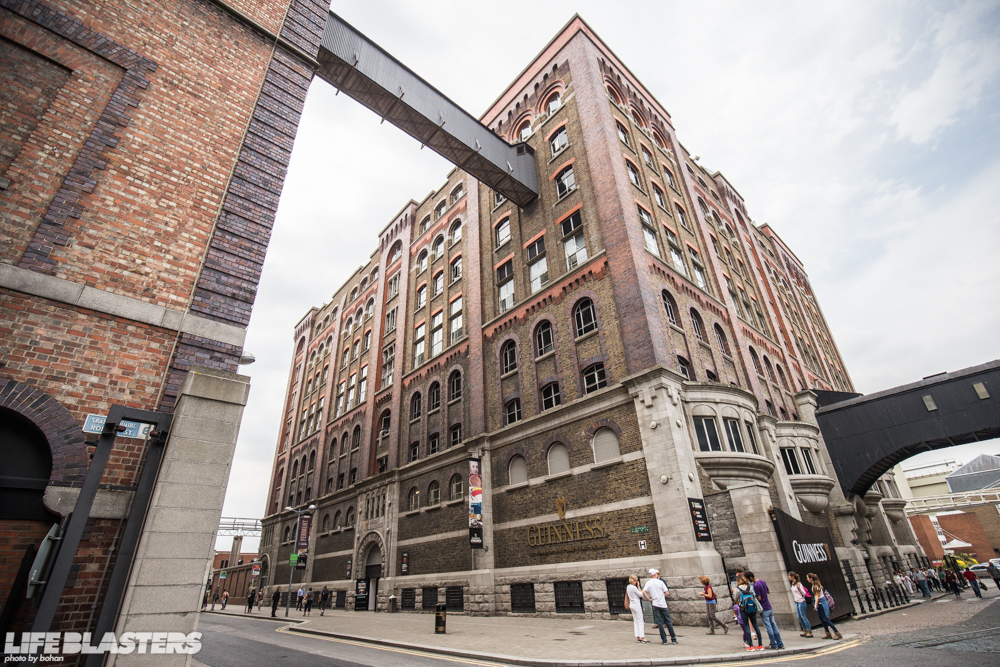 Laura and I wandered around Dublin some more and then went back to the car and drove over to St. James's Gate, where the Guinness brewery and storehouse are located. The Storehouse is more of a museum with a self-guided tour through exhibits outlining the process of making Guinness Stout, as well as some historical tidbits.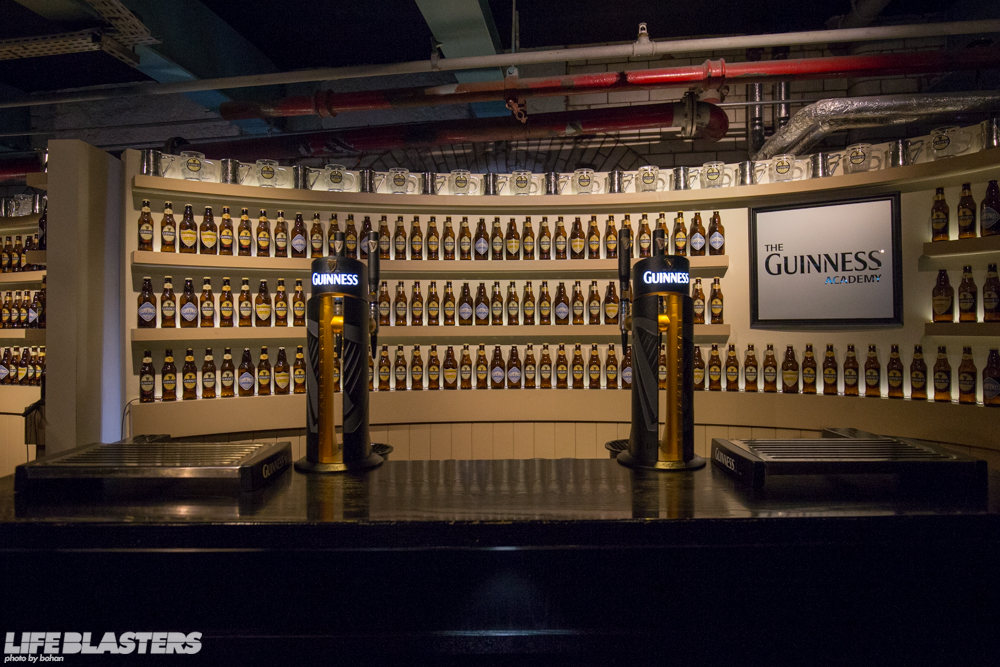 There are also gift shops and bar rooms in the Storehouse, as well as the Guinness Academy where visitors are taught how to pull a perfect pint and receive a diploma if they can do it. I got a diploma.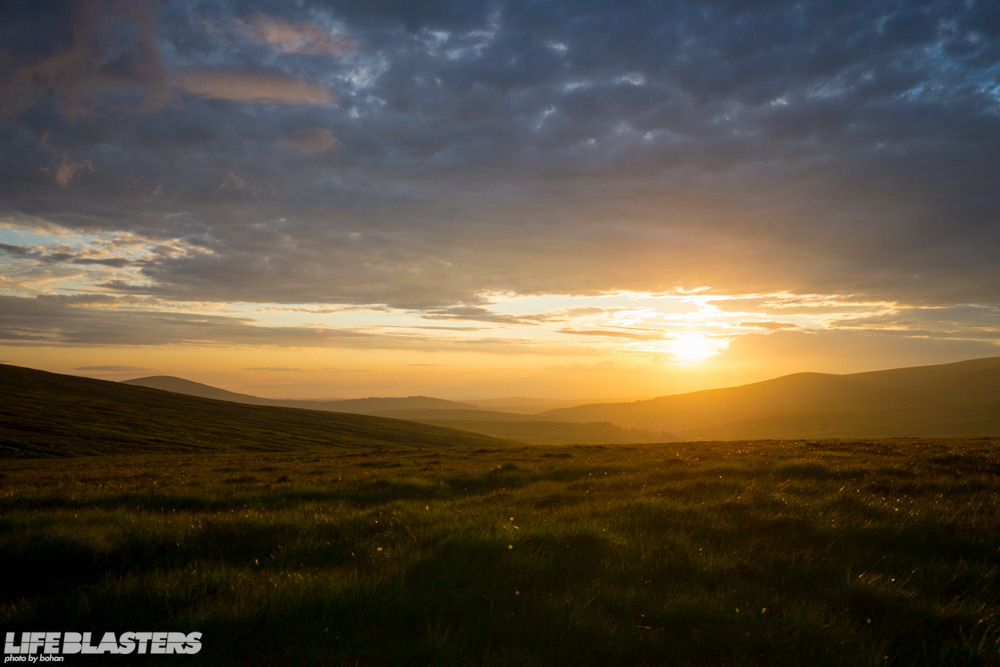 Laura had something to do so we hurried back to Newbridge. Darren wanted to show me Sally Gap, a saddle point in the hills of County Wicklow. The whole area is a treeless bog so it's not very suitable for building or farming. We pushed on a little further to Tinnehinch and then went back to Sally Gap for an awesome sunset.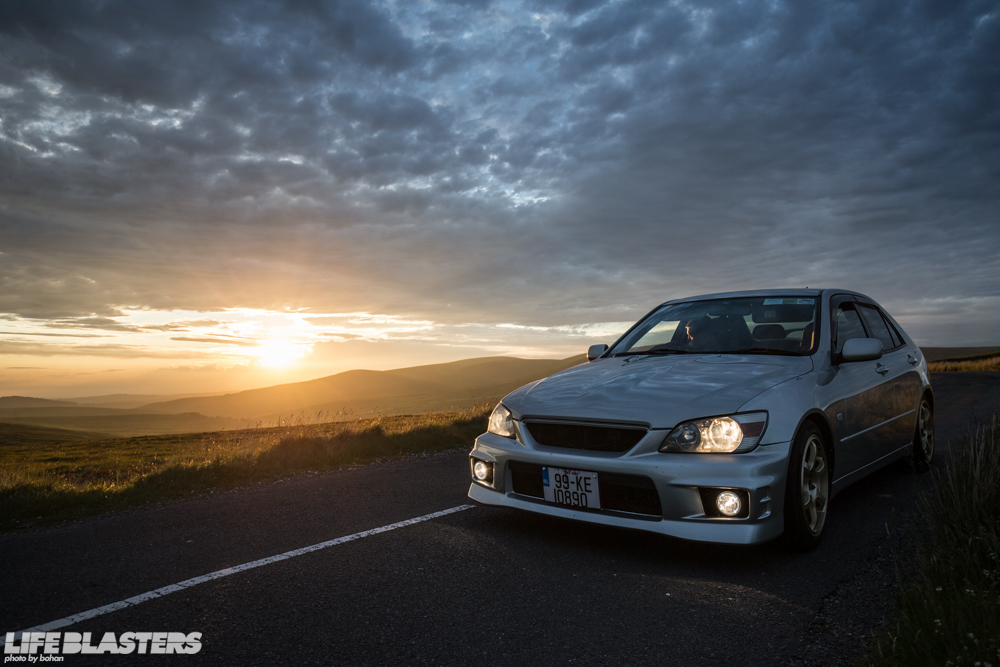 While I was trying not to sink into the bog, the light on Darren's car looked amazing so I posed it for a one-photo photoshoot.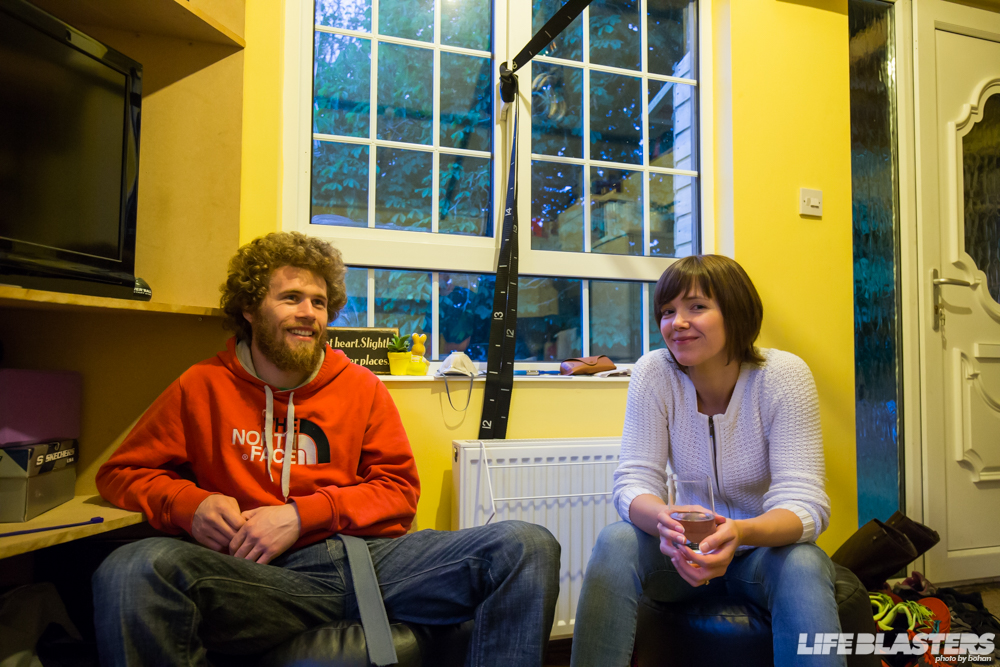 Ronan finally came back from England that evening, with his fiancée Filippa, so Darren and I came down out of the hills and headed back to Newbridge and over to their house to hang out and make plans for the rest of the week. When we got back to Darren's, I went to bed early and I never had such amazing sleep. Finally I was running on Ireland time.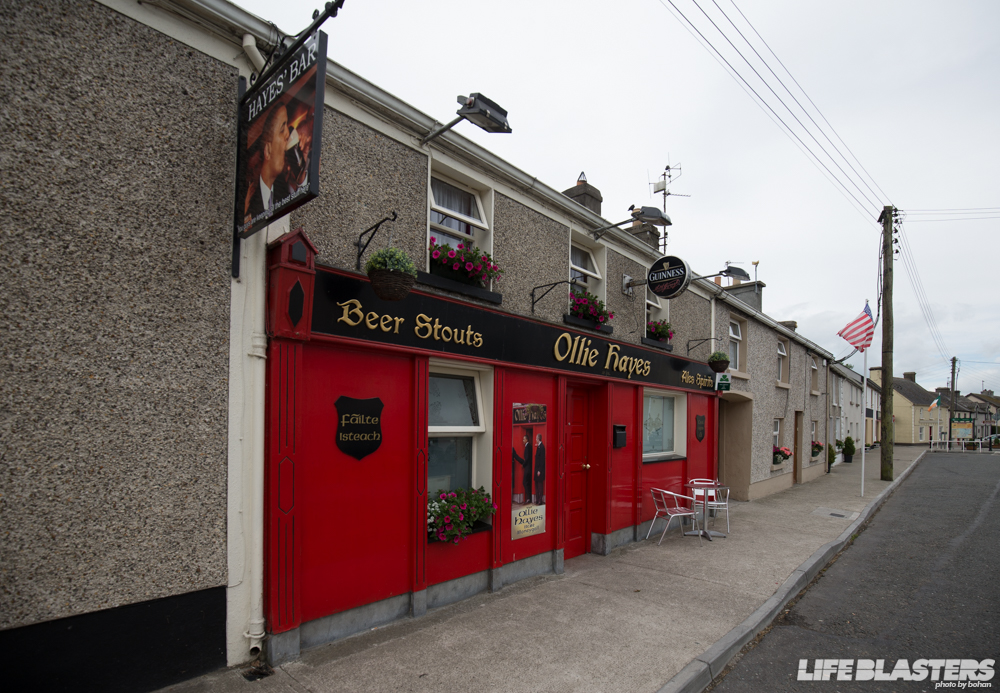 On Thursday, Ronan picked me up and we headed out west again, stopping in Moneygall, home of President Obama's Irish ancestors. The town is really taking advantage of the link, with an Obama themed service station, American flags lining the main street, and a picture of the President drinking a Guinness out front of Ollie Hayes.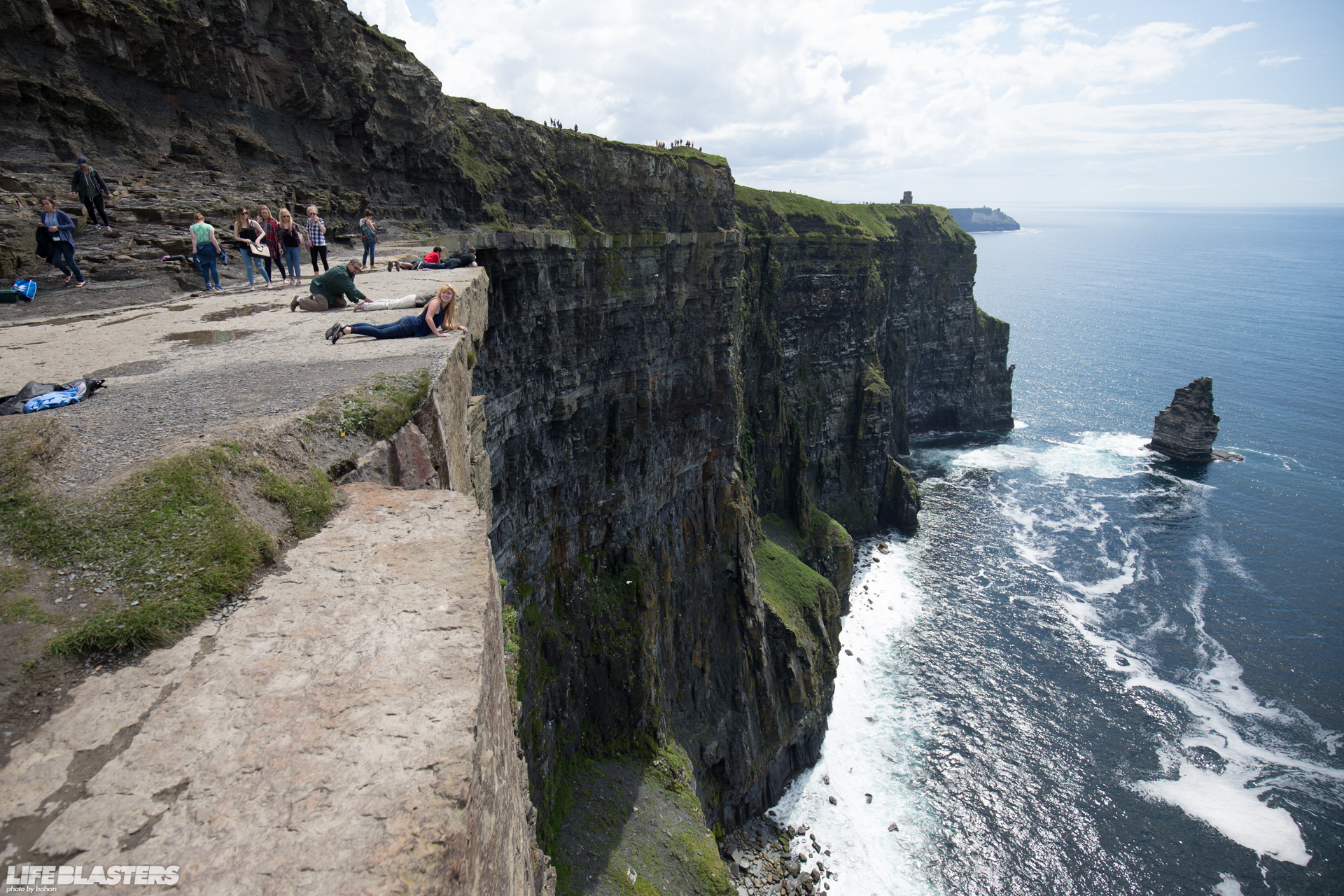 We stopped again in Ballina for a seafood lunch, and then took winding country roads from there to Lahinch and then up to the Cliffs of Moher, 700-foot cliffs dropping straight into the Atlantic Ocean.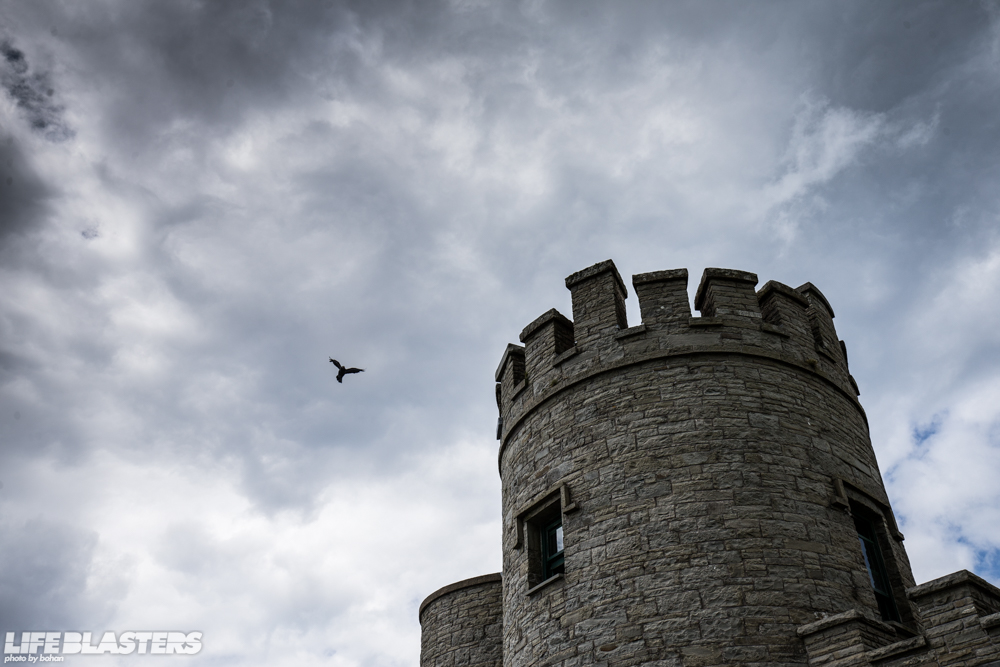 There are watchtowers built all along the cliffs. This one was built by Cornelius O'Brien in 1835 so tourists could get a better view of the area.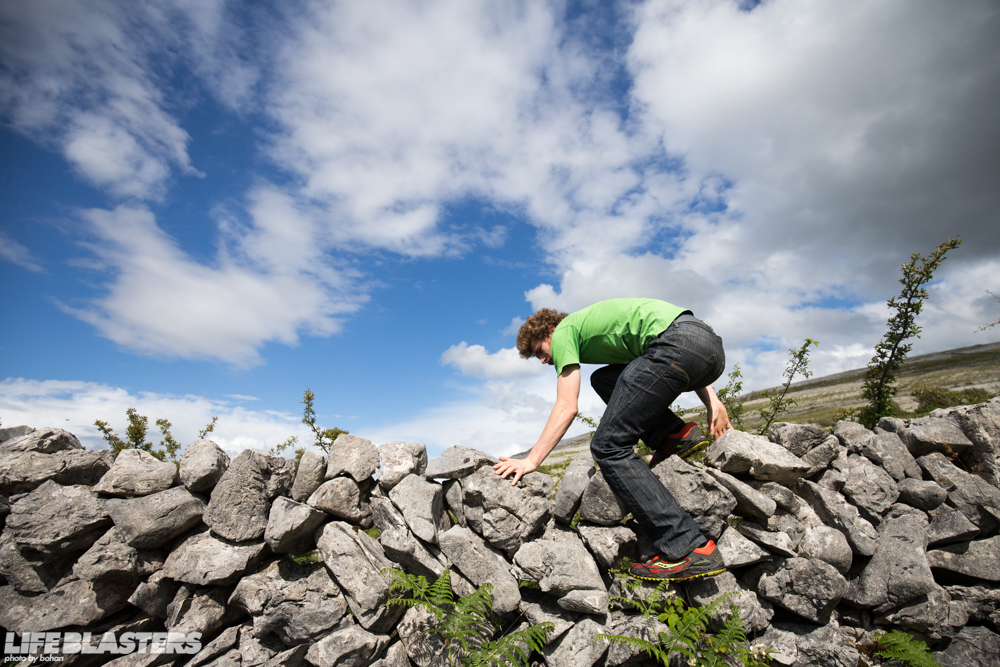 From there we drove through the Burren, covered with billions of grapefruit- to watermelon-sized stones. The first farmers in the Burren built stone walls not because they needed walls, but just as a place to put all the stones. The walls aren't even held together with any kind of mortar or plaster, which makes them a little bit unstable to climb over.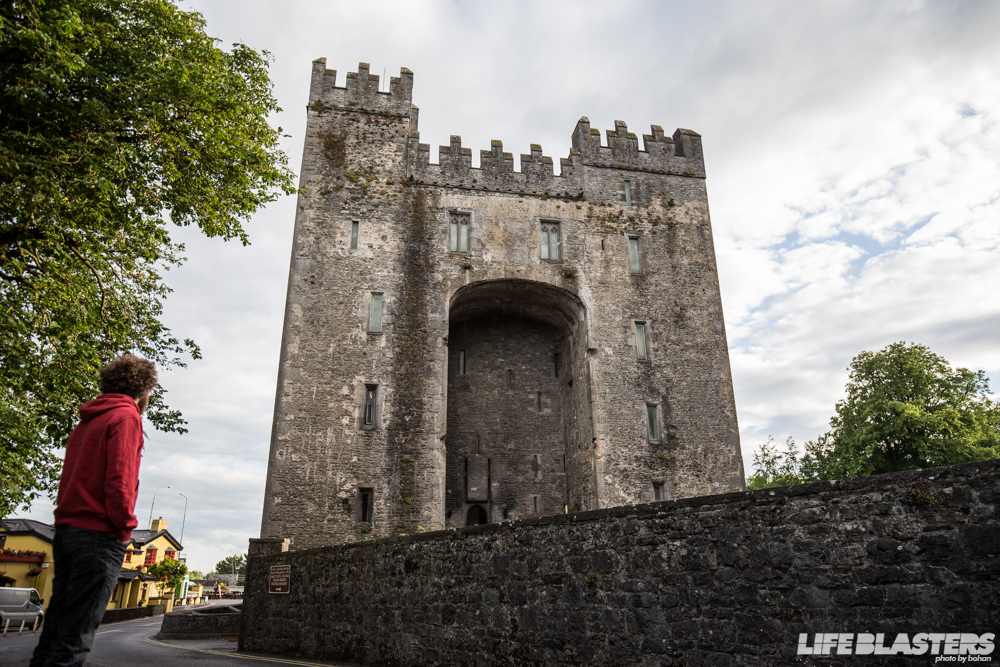 On the other side of the Burren we stopped at another pub for dinner, and just for the craic we got a Hawaiian pizza, which was actually pretty damn good. After we finished up there we drove down through Lisdoonvarna, then stopped at Bunratty Castle, one of the few castles I saw that wasn't in ruins. After that we drove through Limerick, the city that lent its name to the popular form of nonsensical, obscene poetry.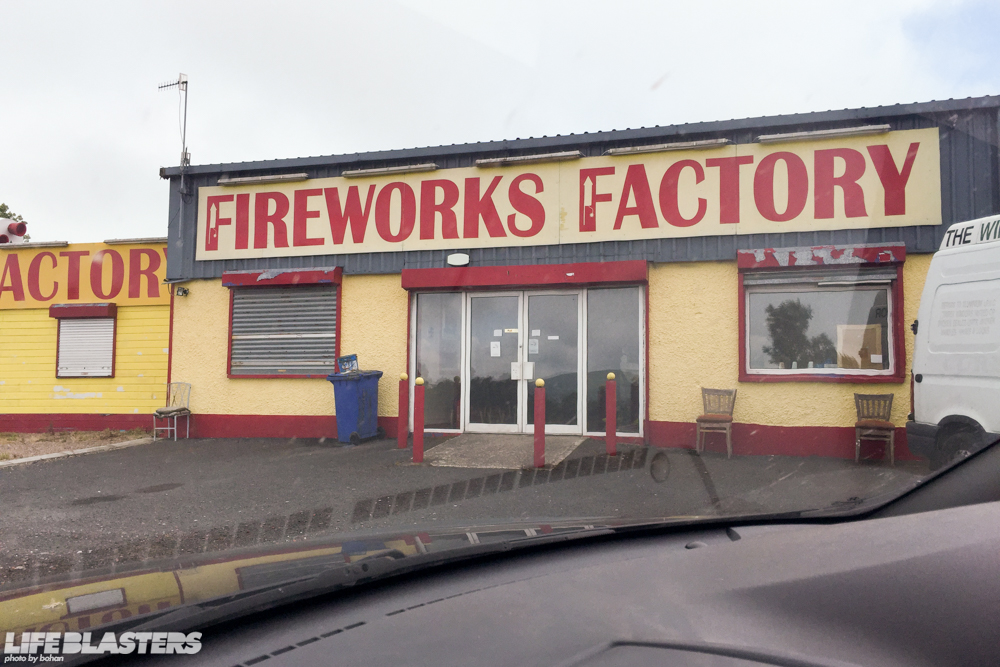 On Friday, Ronan, Darren, and I went north to check out New Grange, a 5200 year old pre-Celtic burial mound, but we missed the exit off the Motorway and decided to cross into Northern Ireland instead. Since the 4th of July was coming up, we went to get some fireworks from a sympathetic County Armagh man. I say sympathetic because fireworks are illegal in the Republic and he gave us advice on how to dodge the authorities. The Irish use fireworks on Halloween while the English use them on Guy Fawkes Day so it works out since the two holidays are less than a week apart, but buying them for American Independence day meant we were there out of season so the man was low on inventory. Still, we came away with enough contraband rockets to get us in trouble if we got caught.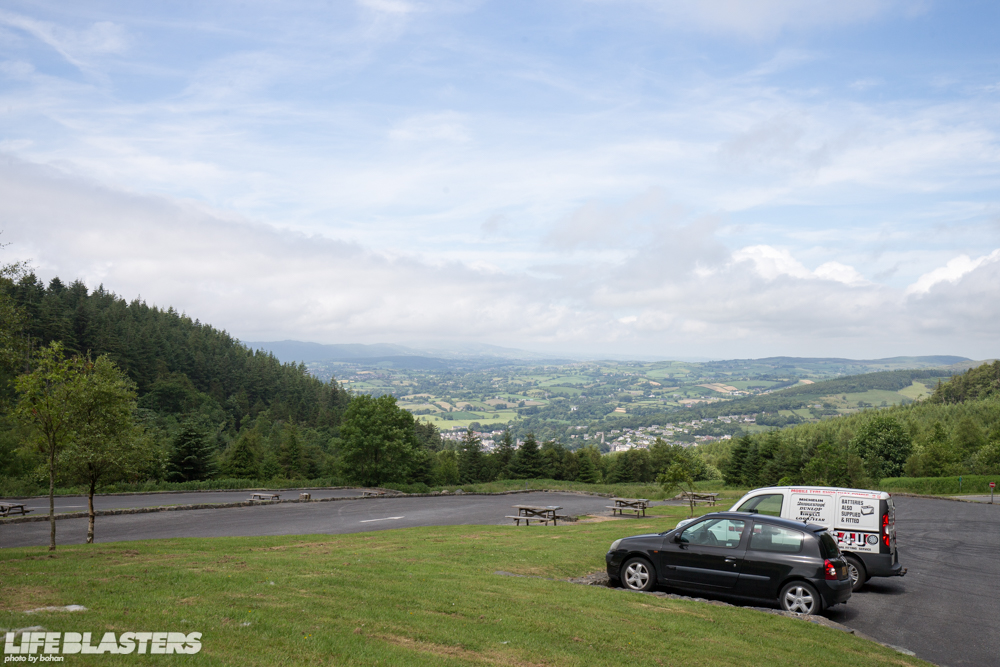 Darren is into mountain biking so we drove over to County Down where there's a hill with some downhill trails on it, and we ran into one of his friends there. We helped him move his trailer and then headed back south, as we still had enough time to visit New Grange and now it didn't look like we'd just come from the fireworks man.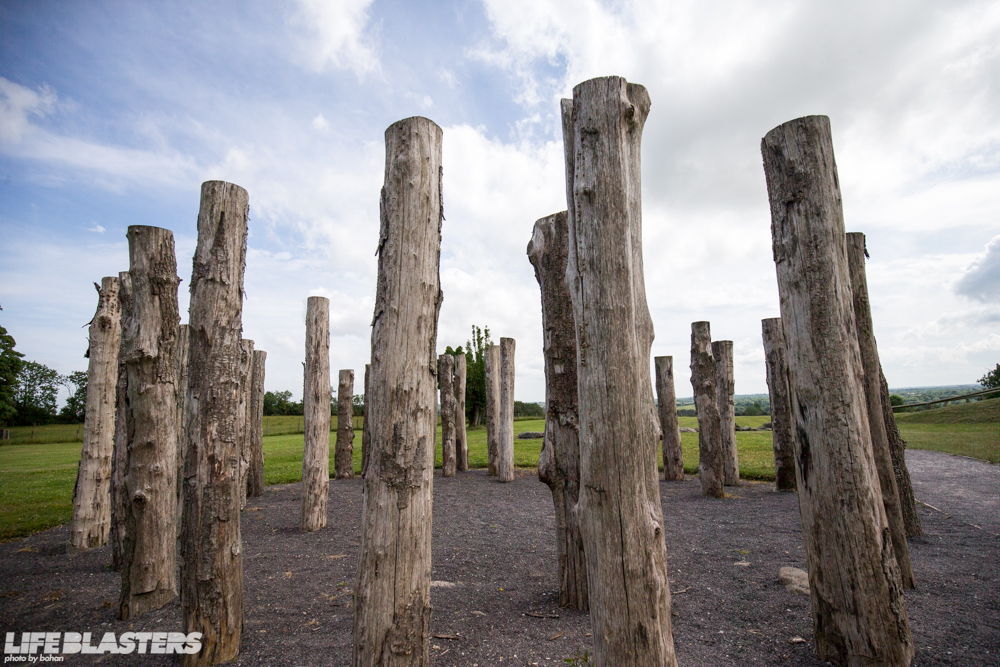 We showed up to the New Grange visitor centre way too early for the next tour bus, but there was a tour bus leaving for Knowth, another group of mounds, a little earlier, so we bought tickets for both. In the meantime we wandered around the museum they had there, with exhibits on how the people used to live thousands of years ago, what they ate, what they wore, and that sort of thing. Ronan brought up a good point: we were looking at our own history, whereas if we saw the same kind of exhibit in America, we would be looking at the history of the Native Americans. How strange it is that I live in a place that was so recently taken from other people! There's the whole White Guilt thing in America, which as far as I could tell was completely absent in Europe. White people in Europe are the native people, and that made me feel even weirder. Maybe I felt normal. It was weird to feel normal.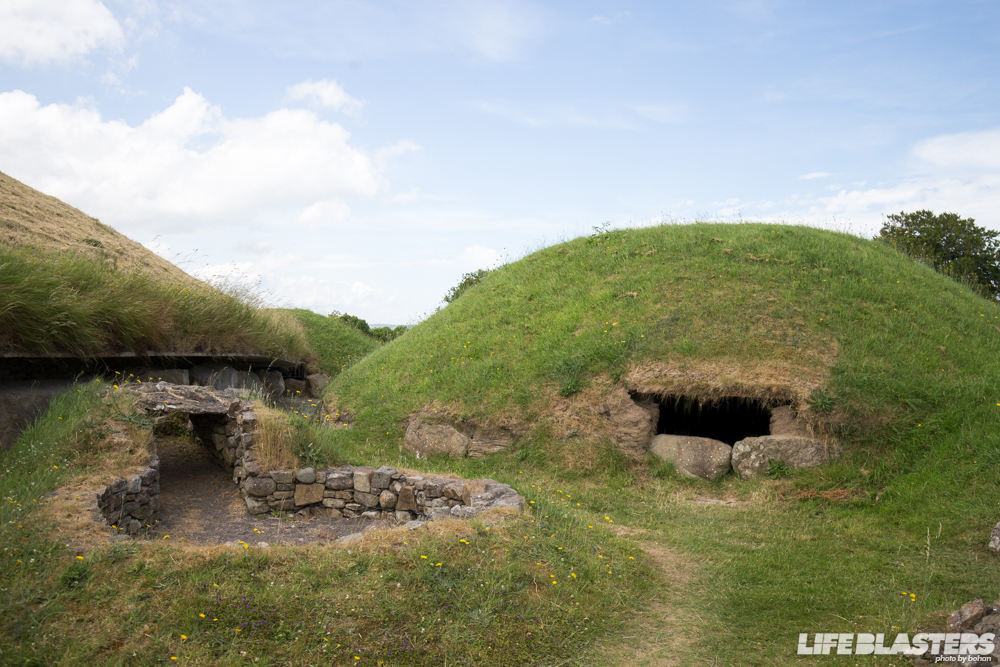 Knowth has one large central burial mound surrounded by several smaller mounds, some for burial, others for storage, and still more that were used as hiding places during Viking raids. The central mound is aligned with the fall equinox, with a vertical stone casting a shadow across the entrance on that day.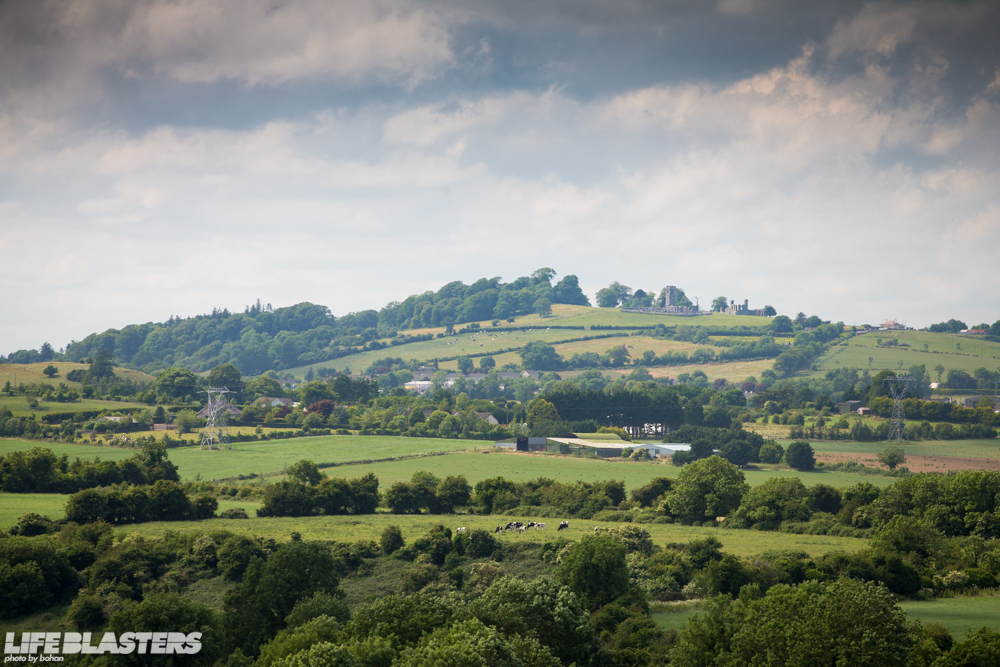 From the top of the central mound you can see the castle St. Patrick was imprisoned at for converting pagans to Christianity. On the ride back to the visitor center I was sitting in the front row, and the lady driving the bus said to me, "You look like…who's your man? The one running around with all the women. Dan Bilzerian! And I mean the part about the women as a compliment." Very well then.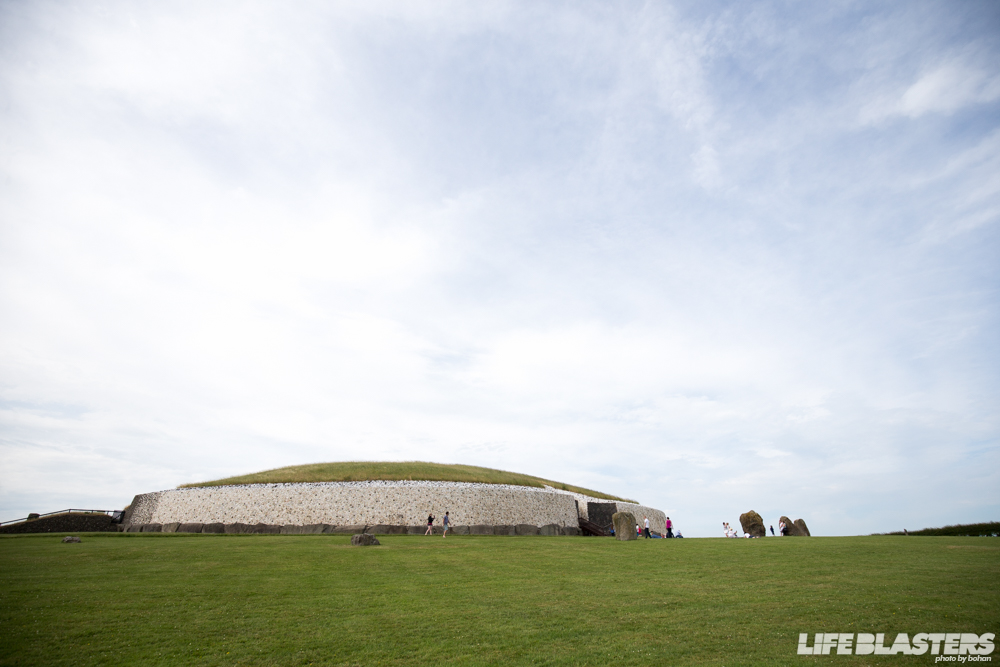 New Grange is a much bigger mound, and also aligned with the seasons. This mound has a small opening above the entrance that allows sunlight all the way into the inner chamber on the winter solstice and a few days on either side.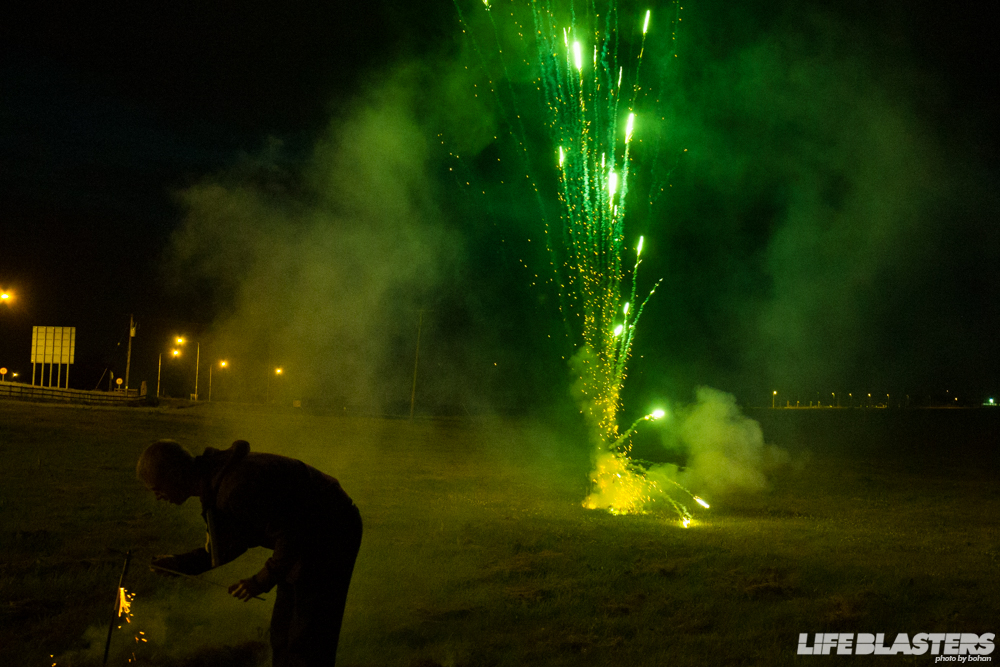 Saturday was the 4th of July. While I missed out on the festivities at home, there's no other people I'd rather celebrate independence from the British with than the Irish. After a day spent at Mondello Park, we all went back to Darren's house and had a barbeque, drinks, games, and of course our contraband fireworks.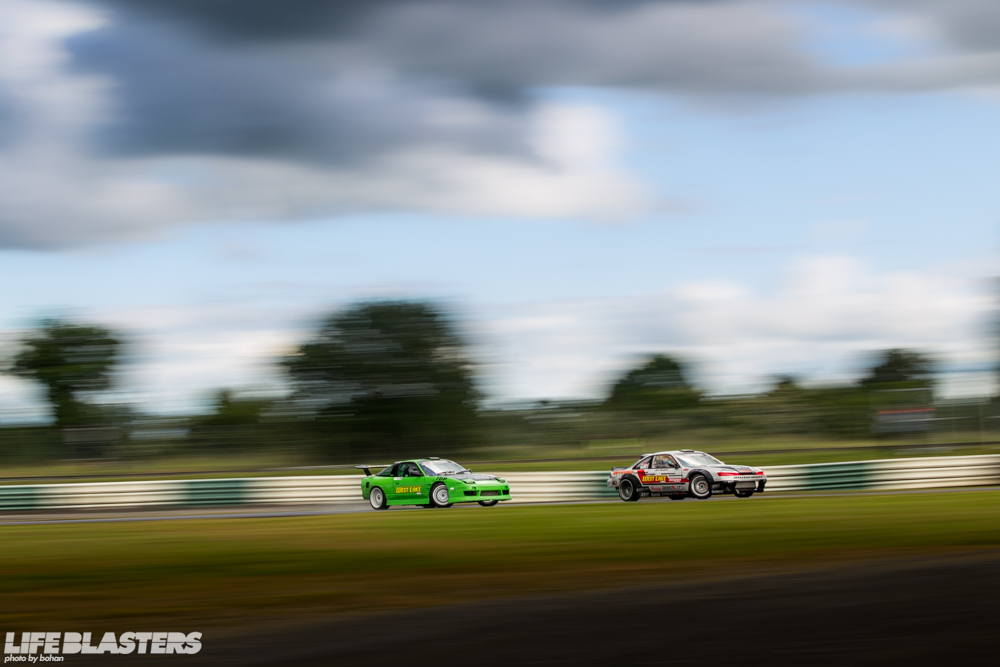 Sunday was the main event at Mondello, and it didn't disappoint. It rained and dried up four separate times, and I successfully put the rain cover on my 400 without breaking anything. I was paying extra attention to the Formula D drivers since I knew them. Robbie Nishida had car problems, Ryan Tuerck got beaten in the Top 32, Daigo Saito crashed out in the Top 4, and Ireland's own Dean Kearney landed in 3rd place. It was really incredible that the final battle was between two 15-year-olds, Jack Shanahan and Tomás Kiely.
It was my intention from the beginning to talk to people at IDC and find a ride to Norway from Ireland. I thought I'd found one but it fell through on Monday at the last minute, so I dug through the Road to Gatebil Facebook page to see who was going. I hit up Stu Whincup and he pointed me to James Gilbert of Monster Energy. I also posted on Facebook that I needed a ride, and Alok Paleri of Speedhunters saw my post and not only suggested James as well but gave him a call for me. James was to be riding on the Monster bus with some other Monster-affiliated guys. The only problem was that they were leaving that night from London, and I was still in Dublin.
I went through all my options. Alok said I could fly to Hamburg and ride the rest of the way with him if I couldn't meet up with the Monster guys. As a last resort I could just fly straight to Norway, but I'd miss going through Europe. Besides being Irish, I'm also English, German, Swedish, and Norwegian, and the Road to Gatebil would go through all of those countries plus France, Belgium, the Netherlands, and Denmark too. I thought it would be really cool to hit all my ancestors' countries in one trip.
THE ROAD TO GATEBIL
I sucked it up and bought a plane ticket to London, with an hour and a half to get to the airport. Darren was at work so I didn't get to say good-bye, and Laura was skeptical that I'd make it on time. I said good-bye to Laura as Ronan came by and picked me up and we made a mad dash up the motorway, which had surprisingly little traffic. I got to my gate right as the plane was boarding.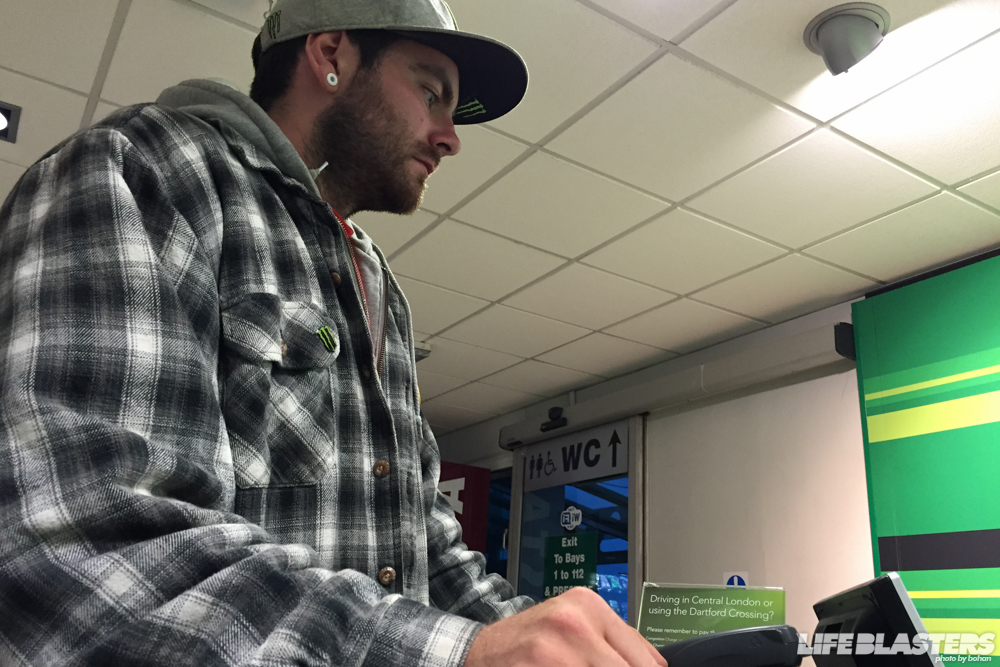 We took off and crossed the Irish Sea, Wales, and England, and as we circled around London, I crossed the Prime Meridian for the first time. I met up with Monster's Ireland marketing manager Mike Lacey at Heathrow, who was there to rent a van for the drive to Norway, but there wasn't a suitable van available. We caught an Uber ride up to Garage D where the bus and the rest of the guys were waiting. I met drifter Buttsy Butler, BMXer Harry Main, fashion model and BMXer Leebo Freeman, videographers Leo Baron and Rikki Doughty, photographer Dan Fegent, bus drivers Stu (the guy who I had messaged) and Jason, and of course James himself. Everyone got their stuff on the bus and we pulled away from Garage D right at midnight, heading south to the Chunnel.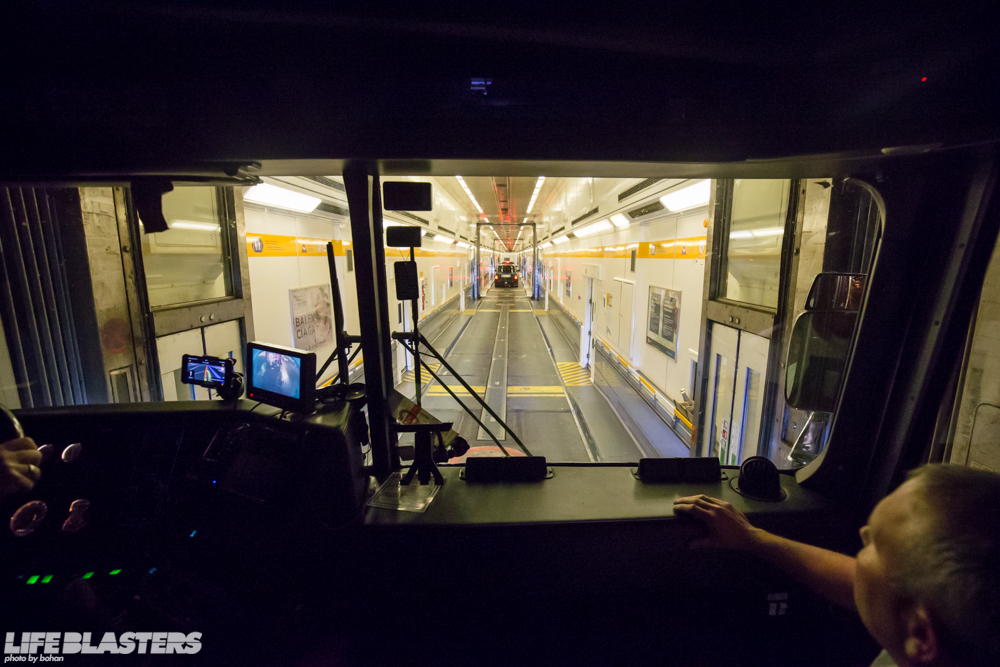 We had a 3am reservation and we got there early, so we had to hang out for a bit. Before long they called our number, and Stu expertly maneuvered the 12-meter long behemoth onto the train. Once the train was fully loaded, it left the station and took us 75 meters under the English Channel. That was my new record for lowest elevation.

We popped out in Calais, France, and Stu got the bus off the train and onto the motorway, heading east. At first it was weird to be driving on the right side of the road again, but since that's my native side I got used to it again pretty fast. We stopped to stretch out or something, and Leebo and Harry just had to pose for a photo.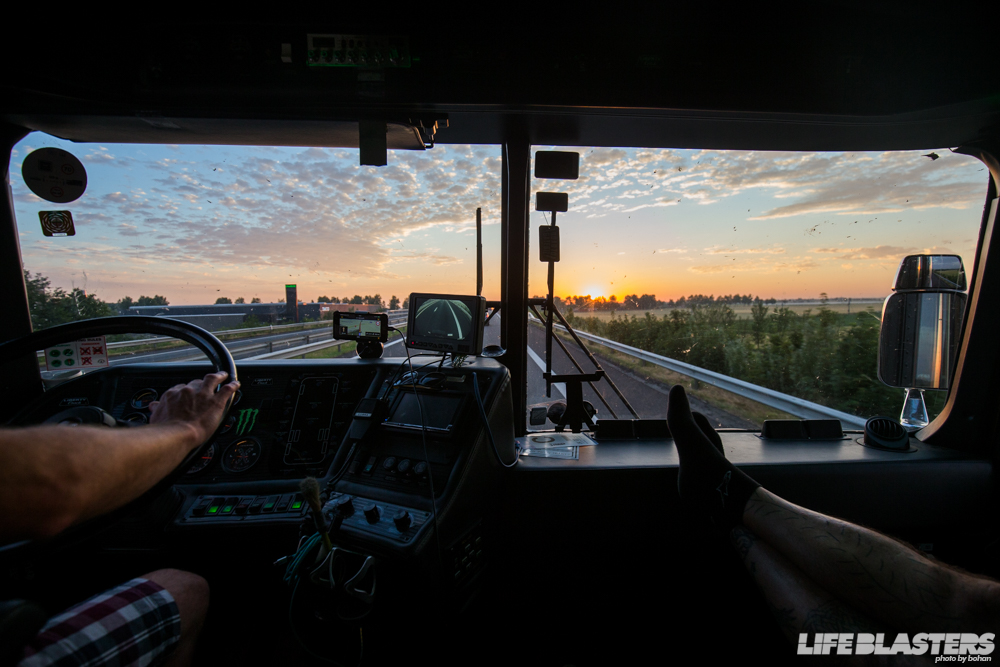 We got back on the road and crossed into Belgium for Tuesday's sunrise and I fell asleep. We passed through the Netherlands and into Germany, where we stopped for fuel. I woke up, and I had to ask what country we were in. My interaction with the convenience store cashier consisted of saying "hallo" and "danke." Once the bus was ready we pushed further into Germany, finally arriving in Hamburg that afternoon.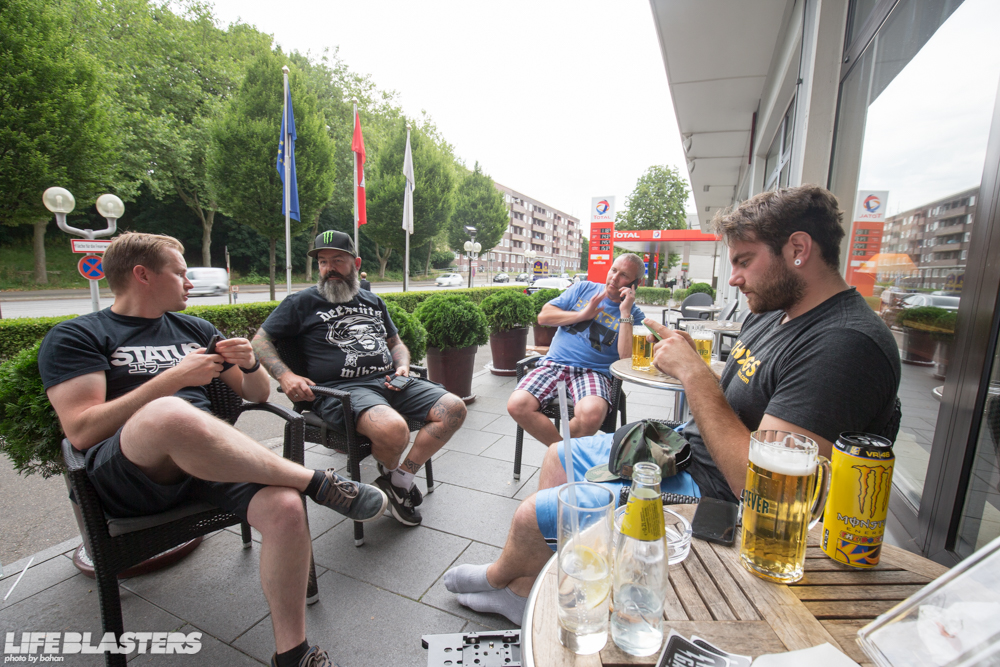 Harry and Leebo wanted to go ride their bikes so they piled into a truck with the Monster media guys and went to a skate park. The truck was beyond crowded so I stayed behind with the other guys and enjoyed some German lagers.
When the truck came back we all got in an RV and went to Cablesport out in Pinneberg, a wakeboarding park where you get pulled by a powered cable rather than a boat, where we had food and drinks waiting for us. Alok showed up there later so I finally met him in person, and I planned to ride with him the next two days. American freestyle skier Colby West also joined the group at Cablesport. He had just flown into Hamburg from Vancouver!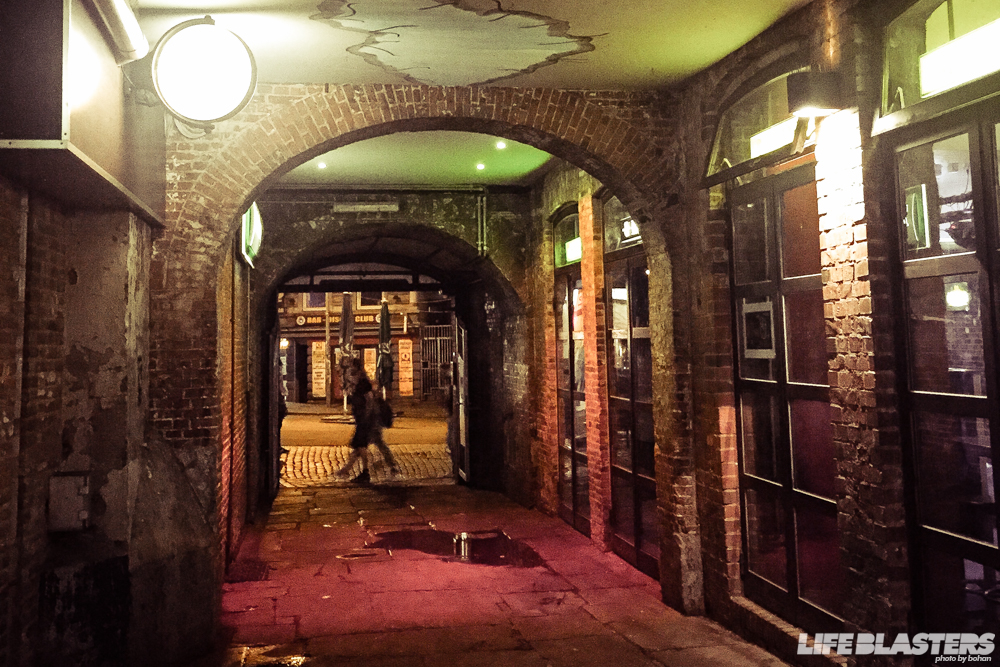 After Cablesport we went into central Hamburg for some barhopping and poked around the Reeperbahn in St. Pauli. James took us over to Herbertstraße, a one-block-long street accessible only on foot because of the barriers at each end. Besides cars, the barriers also keep prying eyes from seeing what's going on, as the entire street is lined with windows with prostitutes behind them, all doing their siren song to attract customers like they were Jason's Argonauts. We stayed on the Reeperbahn until the sun started to come up.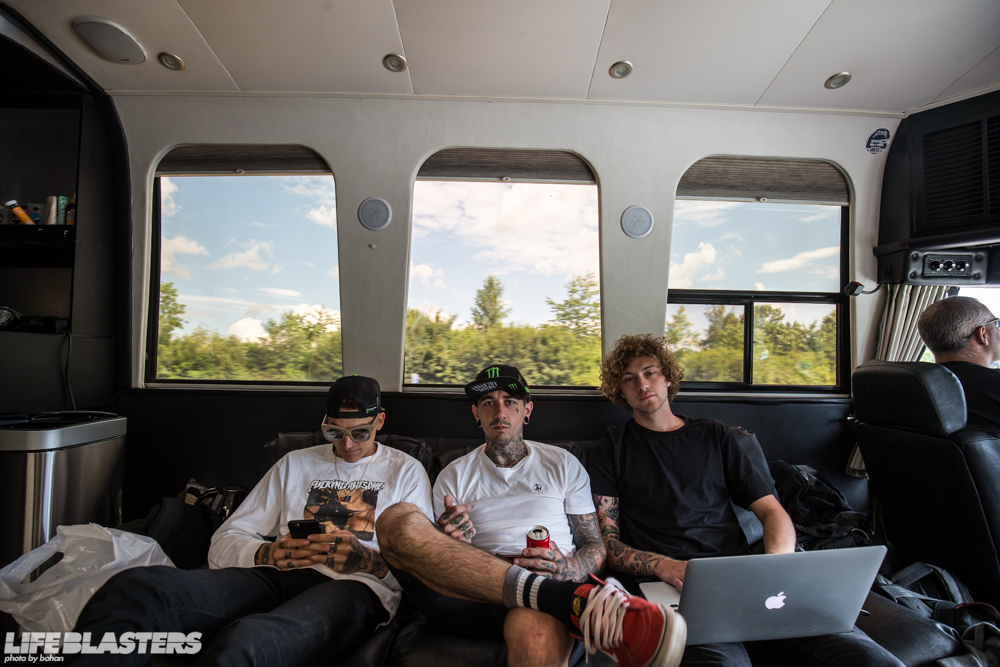 Alok had messaged me that he had some last minute meetings come up for Wednesday, so in the morning I got on the Monster bus again for a second day of stories from Buttsy, Harry, Leebo, and the other guys about all the crazy stuff they did. Stu and Jason took us through northern Germany up to Puttgarden, where we picked up enough beer to cover the entire floor of the bus. Alcohol is expensive in Scandinavia so this made sense.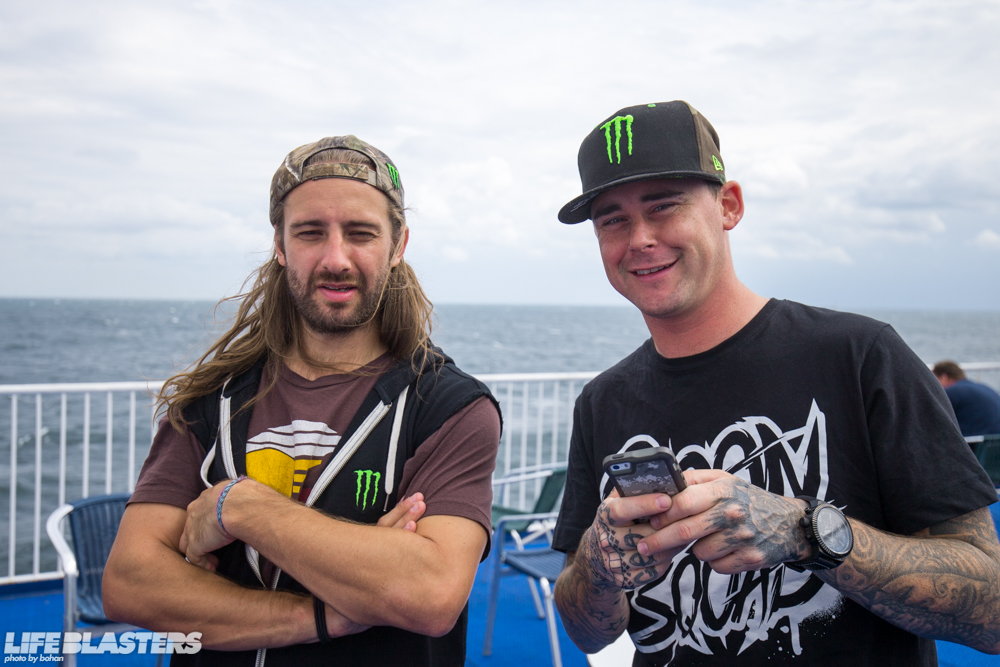 We caught the ferry from Puttgarden to the Danish town of Rødby, and then made our way toward Copenhagen and through the Drogden Tunnel under the city. The coolest thing about the tunnel is that the motorway surfaces in the middle of the Øresund and immediately rises to become the Øresund Bridge. The far end of the bridge lands in Malmo, Sweden.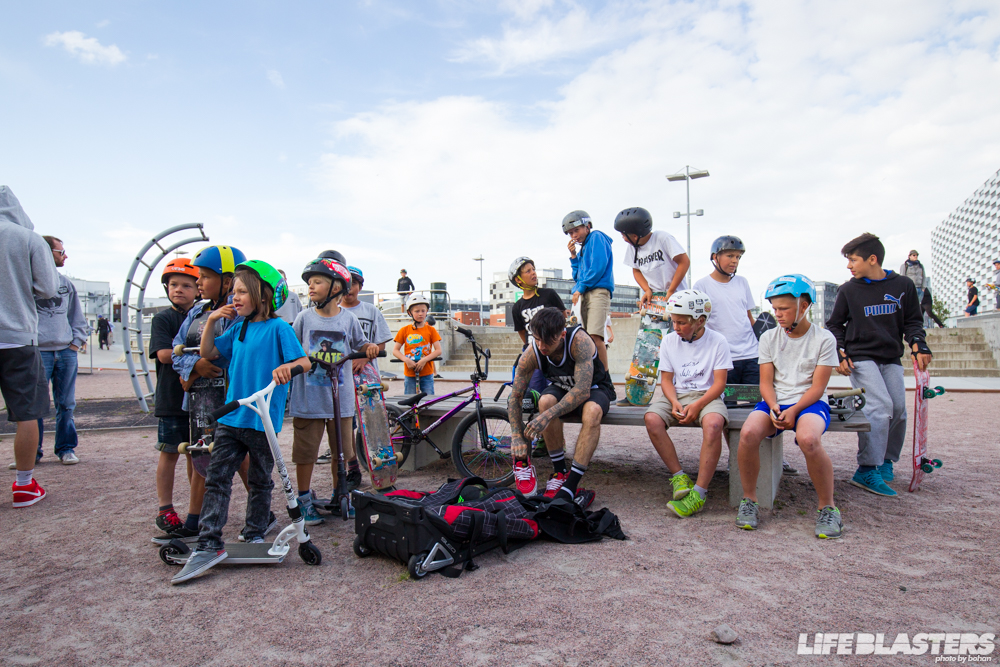 Once on land again, Stu took the bus over to a skatepark he'd found online so Harry and Leebo could get a quick session in for the Road to Gatebil video. We pulled up and Harry and Leebo got their bikes out and all kids at the park rushed over to see what was going on. Not everyone knew who Harry was but he looked the part and we did roll up in a Monster Energy bus with Rage Against the Machine blasting on the exterior speakers after all. They knew he wasn't an average BMX rider.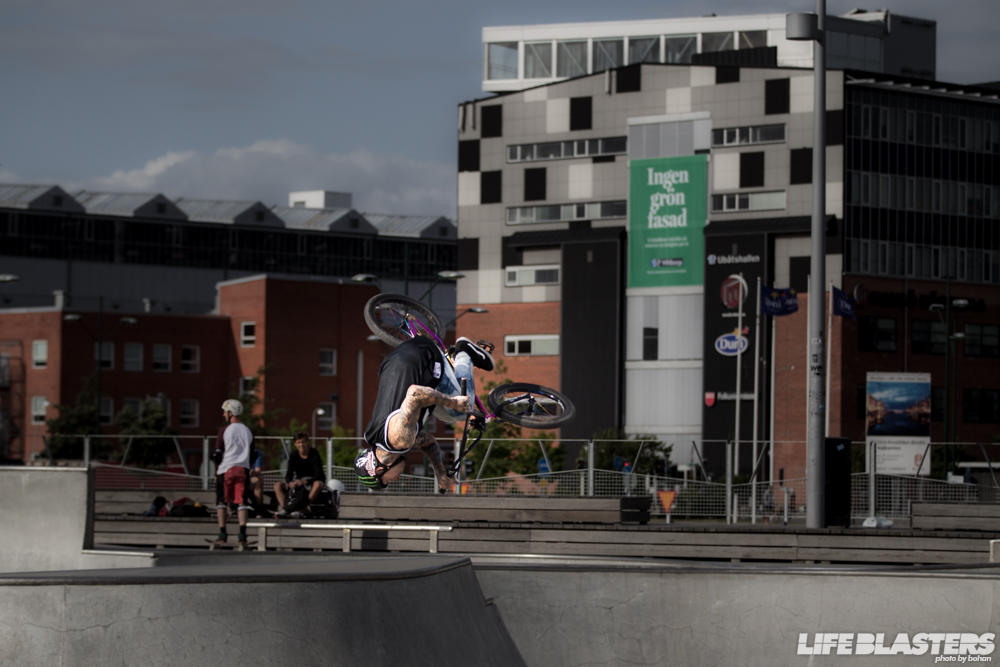 He and Leebo dropped in to learn the layout of the bowls but the guy in charge of the park told us bikes weren't allowed and the guys could only ride for five minutes. That was only enough time for a couple so-so tricks and then the guys put their bikes away and we took off. For the rest of the trip, Harry complained to Stu that he'd screwed him over by going to that unfriendly park, while Stu came back with calling Harry a former BMXer.

We got back on the road and headed north to Halmstad. We checked into a cool hotel that looked like a luxury version of the Ikea catalog. I'm actually in the planning stage of getting my bathroom remodeled, and I love Scandinavian interior design so checking out various bathrooms in Sweden and Norway was going to be a side project on this trip.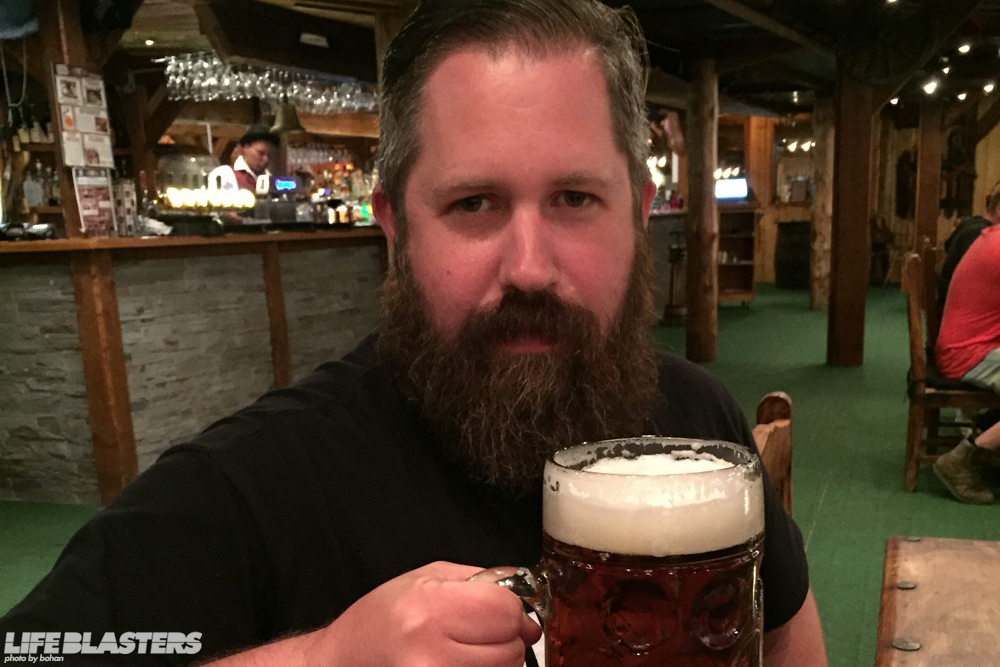 We all went out to dinner at a Wild-West-themed steakhouse, complete with American Frontier architecture and a mechanical bull. Since I live in what was once the Wild West, I had to try to look at it from the point of view of someone who lives in Europe. The Swedish waitresses could have all been supermodels and the food was great, so I wasn't complaining at all.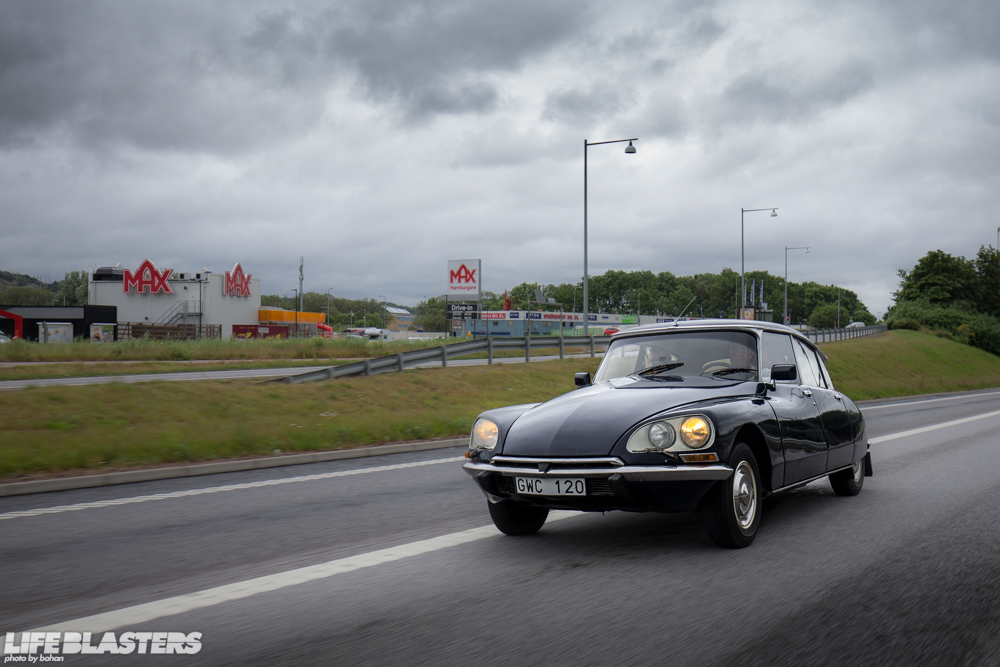 On Thursday morning, we were getting the bus loaded up and Alok showed up with his friend Marcel. Alok had finished his Wednesday meetings and they had driven all through the night to meet us in Halmstad. It worked out perfectly since Stu had picked up a friend in Halmstad and the bus was getting crowded. I hopped in with Alok and Marcel and we hit the road.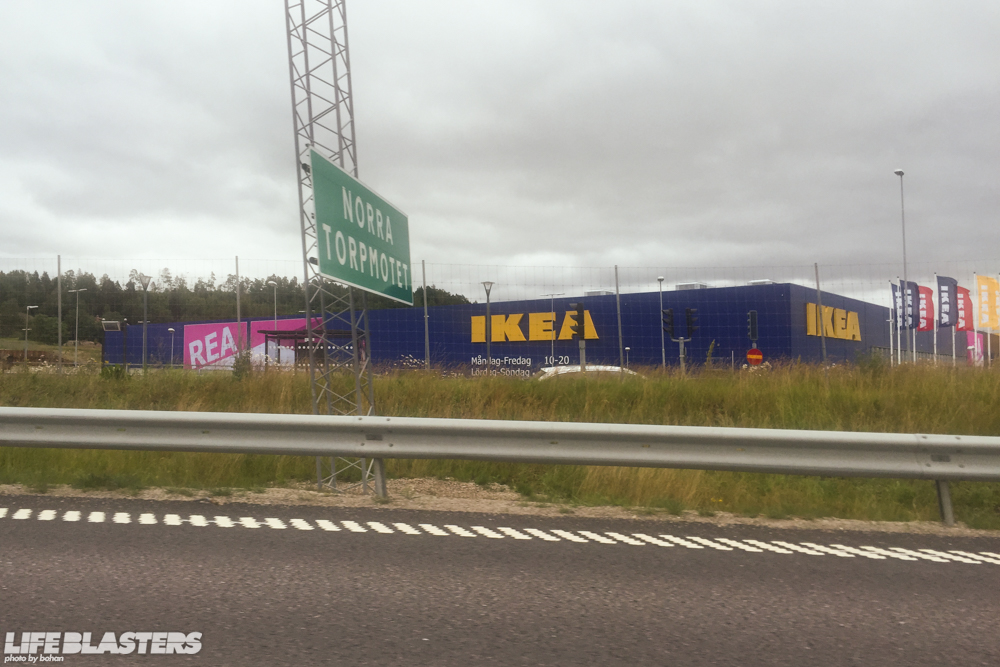 Alok drove through Sweden like it was the Autobahn, hitting 240km/h at one point, which is now the fastest I've gone in a car. We got way ahead of the Monster bus so we stopped at a gas station to fuel up and chill. I bought a moose refrigerator magnet and some snacks, and again my interaction with the convenience store cashier consisted of saying "hej" and "tack." When we got to the Norwegian border, the guy asked where we were going. Alok told him we were going to Gatebil at Rudskogen Motorsenter, and he was more than happy to let us in.
NORWAY

We showed up at Rudskogen soon enough, checked in, and got our wristbands. There wasn't much happening on Thursday besides setting up pits and teching the cars, so it was a good opportunity to wander around the paddock without pressure to be shooting on track.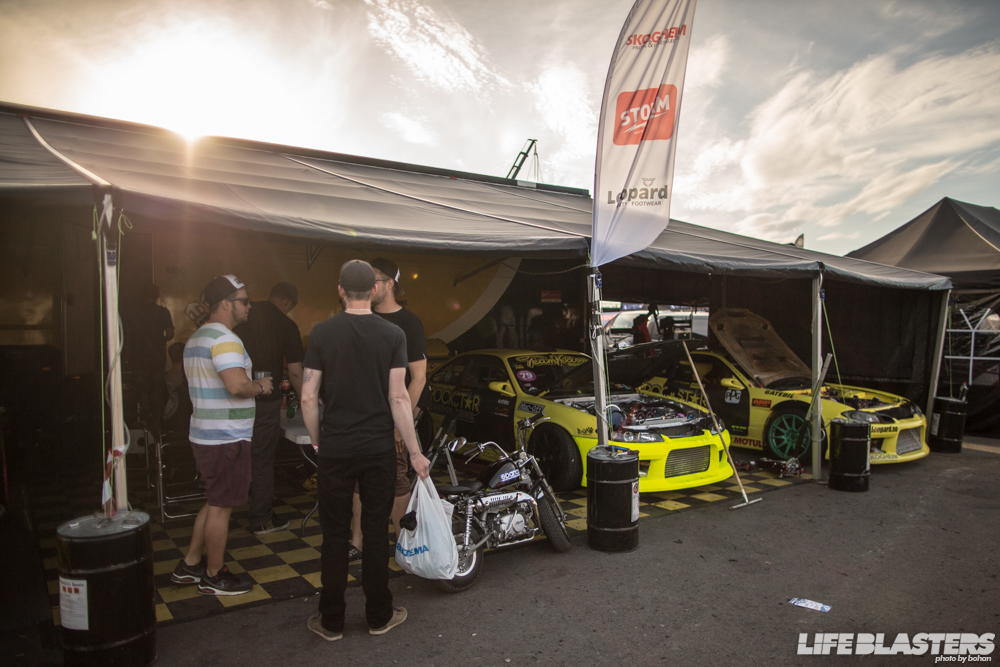 I found the Team Yellow pit and met Lars Harlem (with whom I'd be staying), the drivers Karl, Fredrik, Raymond, and Kim, their photographer Andreas, and two French guys, Tomas and Sam. Tomas said my French accent was one of the best he'd heard from an English speaker. That was shocking since I barely know any French at all!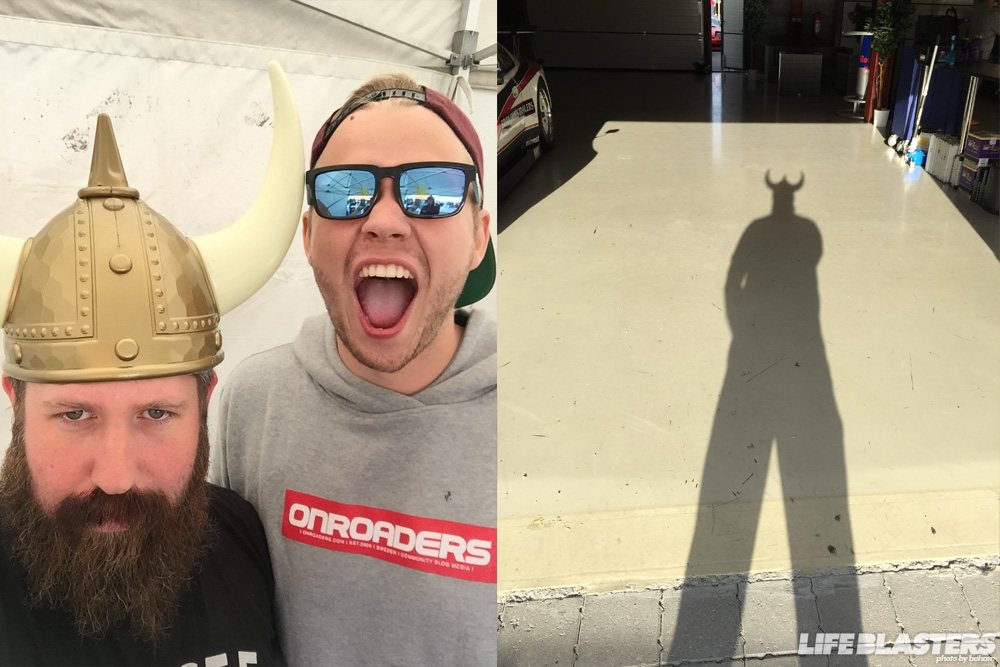 I also found American driver Kelsey Rowlings and some Norwegian friends I'd met in the US during the previous few years. Magnus gave me a plastic Viking helmet that he'd stolen from a Swede, which was super awesome. One important friend was missing though: Egil.
I'd been friends with Egil since we met at Irwindale in 2012. He invited me to visit his home in Bud, far north on the Atlantic coast, after the event. The plan was for him to drive us from Rudskogen to Bud, spend the next day sightseeing, and get me on my flight to Japan the following morning. The first segment of the flight was to be from Molde (the closest airport to Bud) to Oslo, so if Egil wasn't at Rudskogen, I either had to hope the airline would let me abandon that segment and start in Oslo, or fly to Molde just so I could fly back.
In the meantime, I had work to do. As I continued walking around the pits, some random Swedish guy said to me, "Fan du ser ju ut som Dan Bilzerian!" Not only do I apparently look like Dan Bilzerian because of my beard, but a lot of people, including Swedes, thought I was Swedish because of my beard, and would speak Swedish to me. I guess Swedes have beards but Norwegians don't.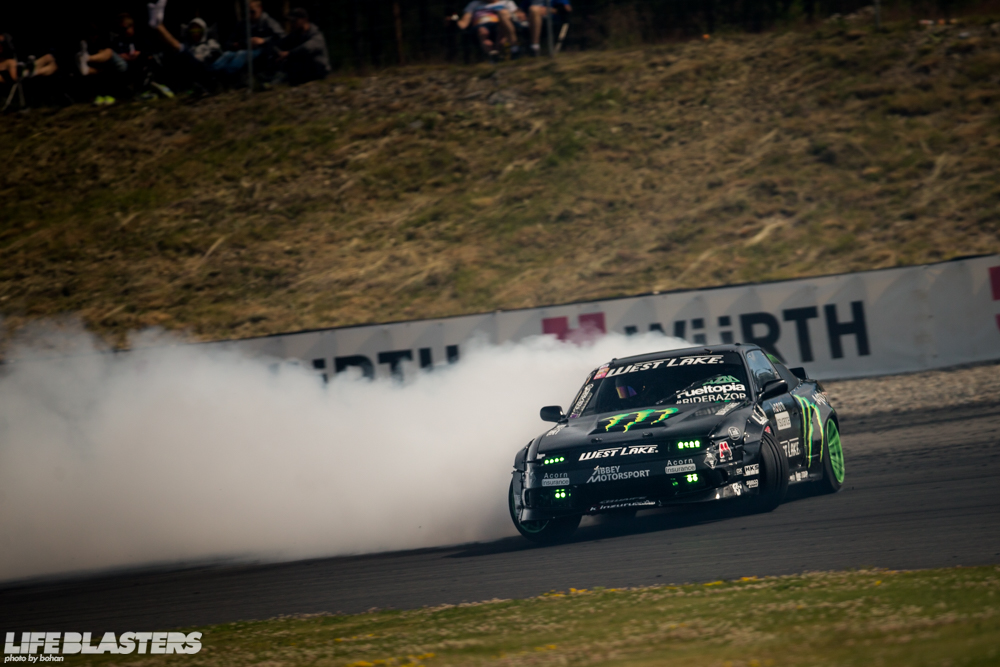 I shot all of Gatebil and it was easily one of the best track events I'd ever been to, even though the sharp rocks surrounding the track completely ruined my Nikes. While wandering around the paddock the next day, a guy asked me, "Hey, do you know who you look like?" to which I answered, "Dan Bilzerian?" "No," he replied, "you look like a young Bil Baldwin!" I couldn't win that game at all.
Despite all the fun, I was constantly trying to get ahold of Egil while simultaneously planning what I'd do if I never found him. This task was extra difficult because I was almost out of data on my international phone plan, and even though I had unlimited texting, I could never get anyone's numbers to work.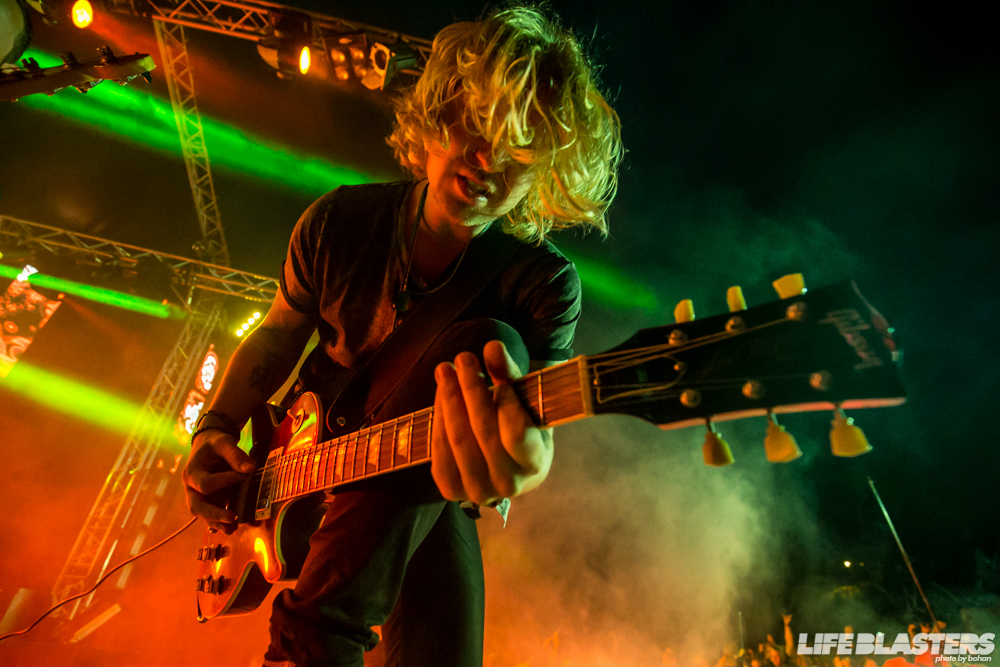 Saturday night provided some distraction in the form of a huge party out in the forest. There was a band, dancing girls, the Miss Gatebil contest, more dancing girls, and the band again. It was a proper, fully produced show. I'd never seen anything like it at a track day before.
Finally on Sunday, the third and final day of the event, I thought of messaging Wenche, Egil's significant other. It turned out Egil had been at home this whole time, perfectly safe, oblivious to the stress he was putting me though.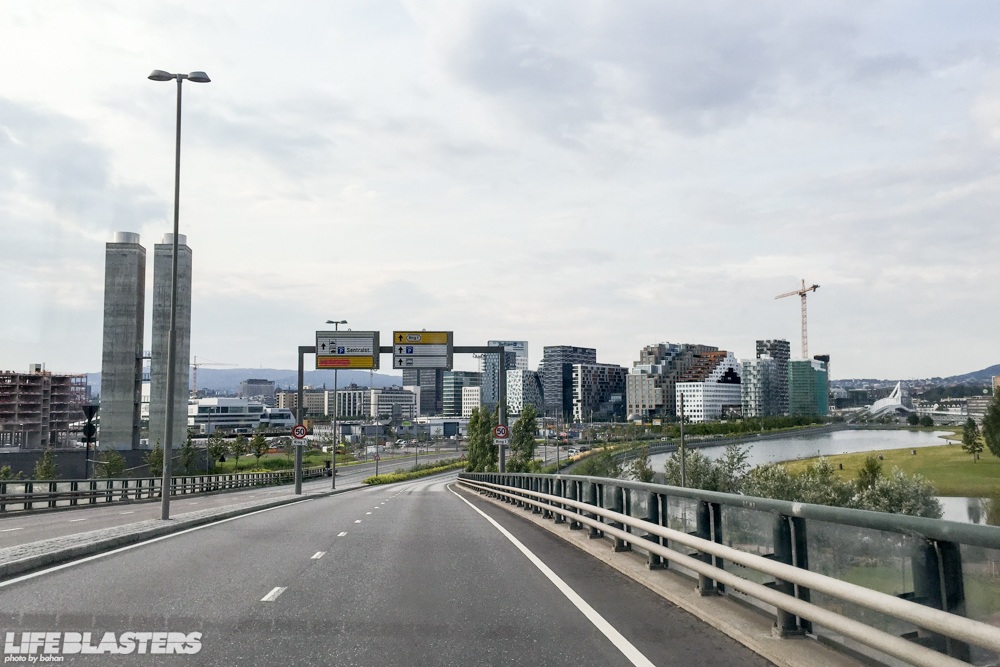 Sorry for missing my messages, texts, and phone calls, he bought me a ticket for that night from Oslo to Molde, which was actually quite a bit cheaper than the drive would have been, let alone the fact that I'd be on a one-hour flight instead of a nine-hour drive.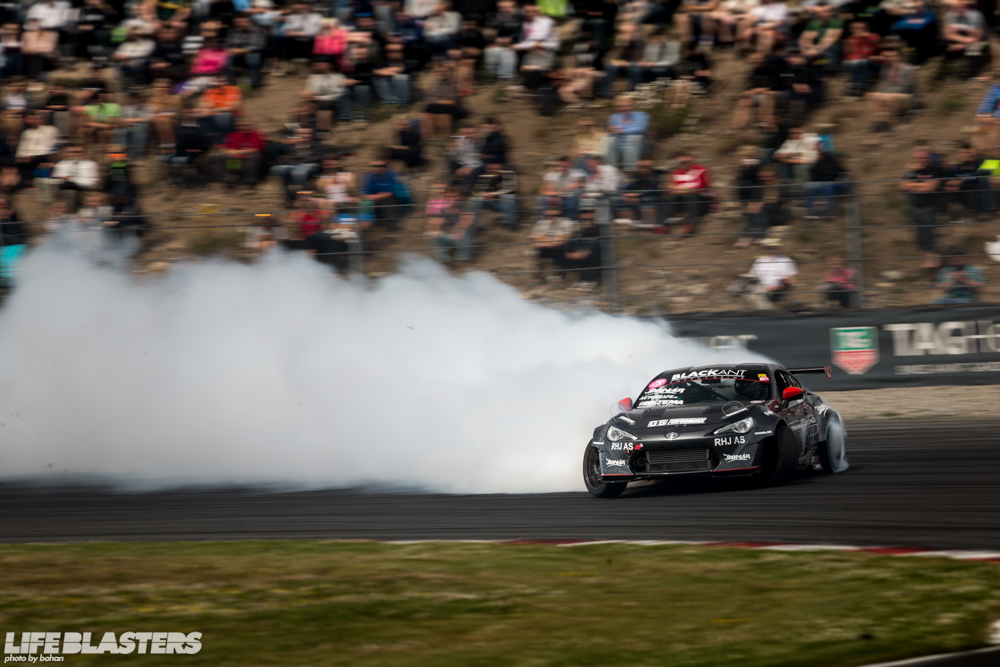 Relieved of that stress, I went back out to shoot the drifting competition, then came back, helped tear down Team Yellow's pit, and the Lars took the French guys and me to our airports, the French guys to Rygge and me to Olso Gardermoen.
I thanked Lars and we parted ways, and I ventured into the coolest looking and most automated airport I'd been to. I entered my code into a kiosk, which printed my boarding pass and baggage tag, which let me then self-check my bag into a bag drop station, from which I then scanned my own passport to get into the security line. That's where the automation stopped though, as my carryons were then sent twice through the x-ray machine and then manually inspected before being x-rayed again. Egil had bought a Fast Track pass for me, but I didn't see where that line was and it didn't say anything about on my boarding pass either. I bet looking for it would have been faster than all the inspection they were doing of my carryons.
Finally I made it to the terminal, so I quickly found a Viking ship refrigerator magnet and a place to sit down and do some computer work. I had two hours to wait, so that was plenty of time to transfer 300GB of files from my laptop to an external drive. I was running out of space very quickly, having shot eight days of drifting so far on this trip.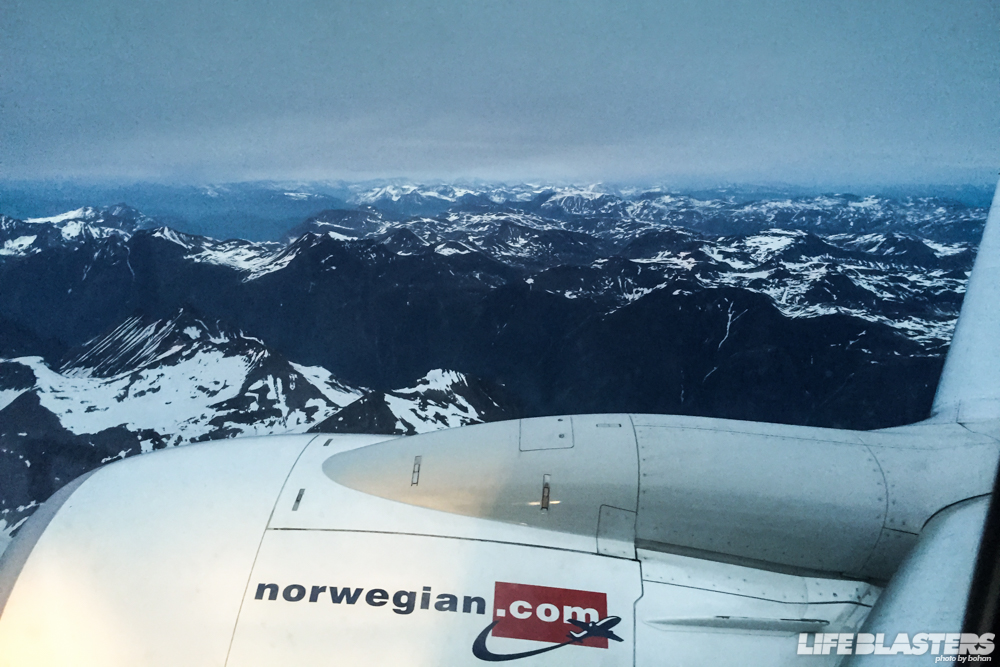 The time came and I got on my plane, and away we went, up through some puffy clouds and over wild, snowy mountains, northwest to Molde. The sun was low on the horizon and bright red at 11:45pm. I still hadn't gotten used to nights in the Norwegian summer never getting fully dark, and going this far north was only going to make it worse. After an hour, the plane descended into Fannefjord, alarmingly close to the hillside on the right, and landed at one of the smallest airports I'd ever been to. We used a jetway to board the plane in Oslo, but stairs to get off in Molde. The baggage claim was immediately inside the terminal, not a 20-minute walk through an endless maze of corridors. Egil greeted me in the tiny lobby and we walked outside where his car was parked in they tiny parking lot. It was midnight and light enough outside to not need streetlights. When we got back to his place, he opened up a stout he and a friend had made at his friend's home brewery down the street. Now that's local!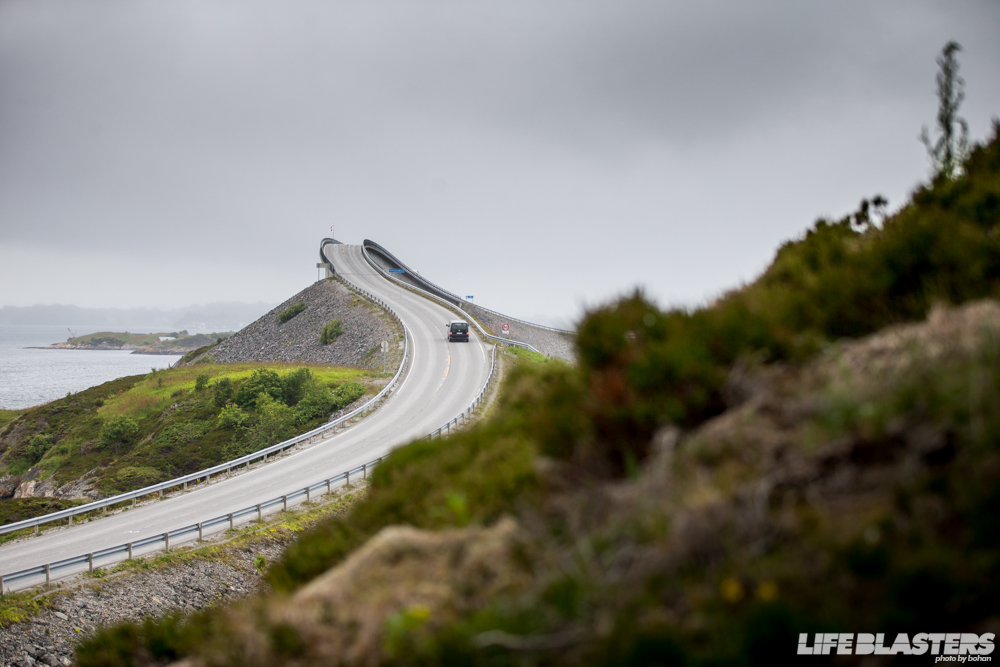 I got really used to not getting enough sleep on this trip. Six hours felt irresponsibly luxurious, so I hopped out of bed, got dressed, got Egil, and we ventured off into the foggy Norwegian summer. We took the scenic route north of Bud, meandering through villages and small towns, flanked by the ocean on one side and mountains that disappeared into the clouds on the other side. Soon we came to the stretch of County Road 64 known as Atlanterhavsveien, or the Atlantic Ocean Road. The Atlantic Road is a series of causeways, viaducts, and bridges that connect the various islands and rocks on the way from Vevang to Kårvåg, right on the edge of the ocean. The most famous of these bridges is Storseisundet Bridge, and it's been featured in countless car commercials and print ads.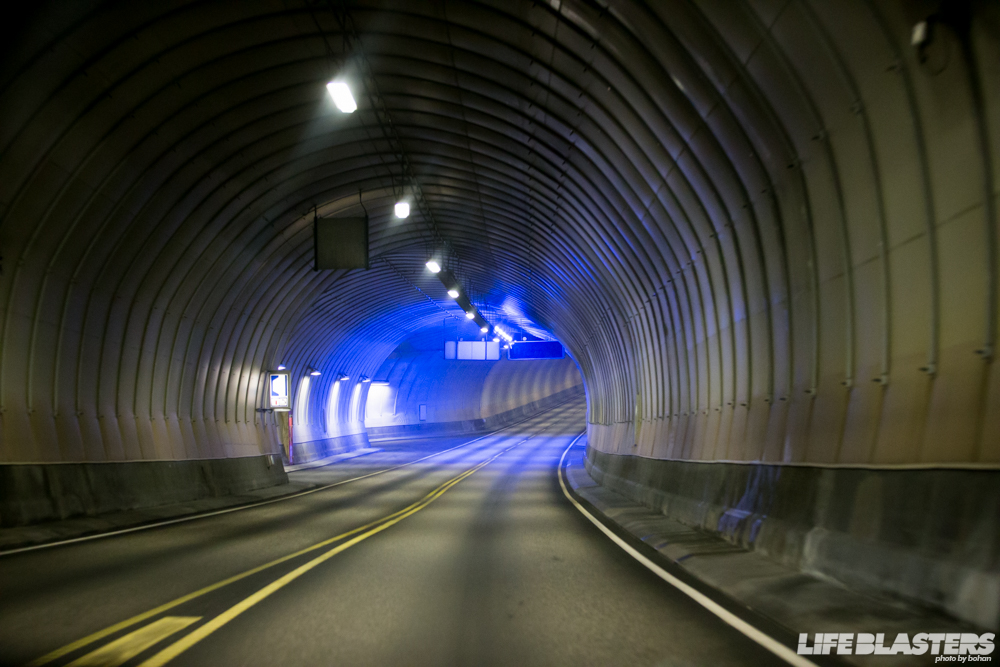 After hanging around the bridges for while, we continued up the coast, heading inland here and there, dodging inlets and hills. Just before the fishing village of Øksenvågen, County Road 64 dives into the rock face and becomes the Atlanterhavstunnelen, or Atlantic Ocean Tunnel. Pretty soon the tunnel leaves land and dives deep below the surface of the ocean. At its lowest point, I set my new depth record of 250 meters, completely shattering the record set in the Chunnel. The tunnel heads northeast, and then makes a right hand bend to head southeast, and the bend is my new northerly record of 63.1ºN.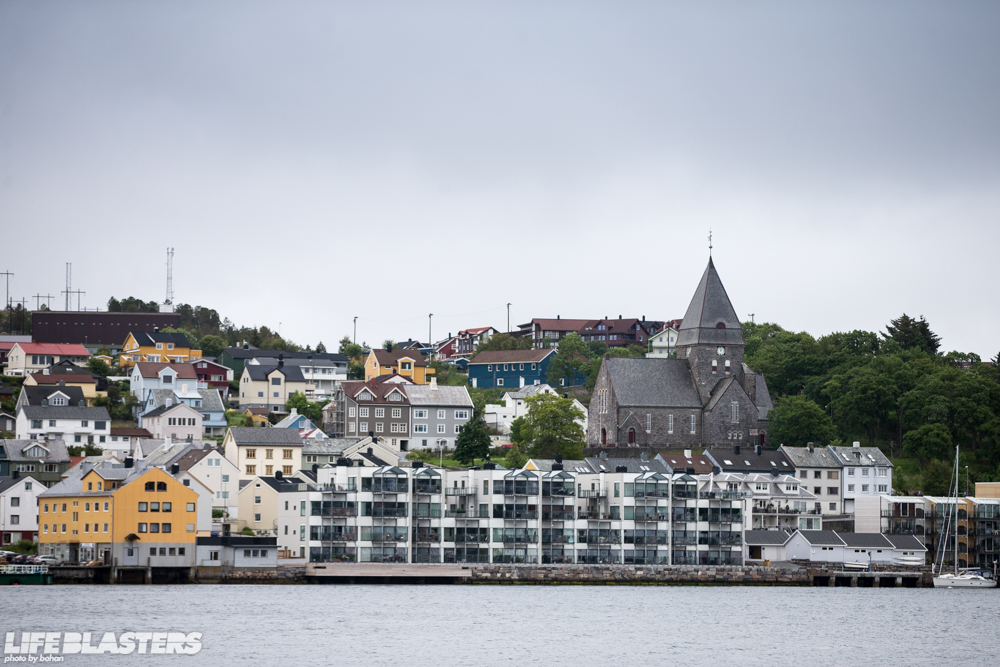 The tunnel pops back up to the surface Kristiansund, a much bigger town and cruise ship port. Egil and I had fish and chips in Kristiansund and then tried to find me some lutefisk to eat, with no success because it was out of season.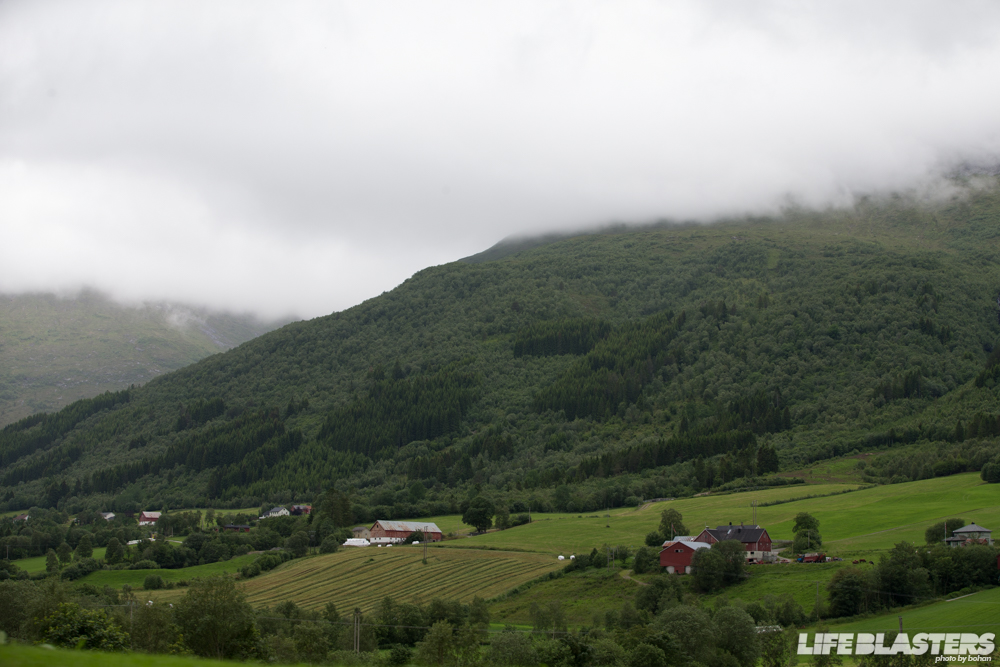 We pushed on southward, over bridges crossing fjords, through valleys and past small farming villages, before finally reaching Fannefjord and Molde. A lot of the landscapes were not that different from where I grew up in Washington.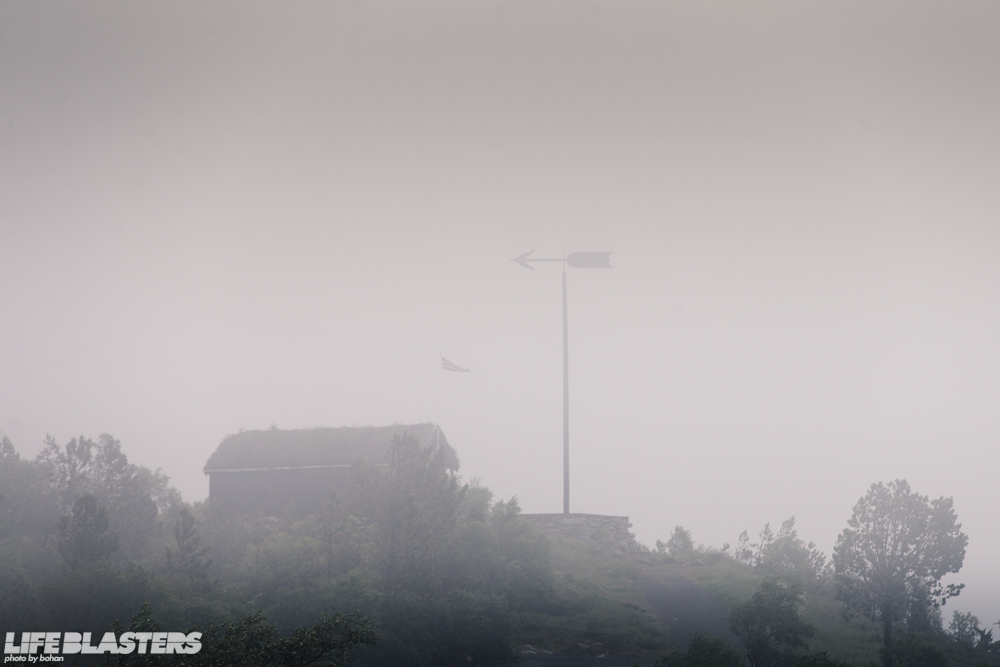 From there Egil took us to the top of a mountain where all we could see was the inside of a cloud! We headed back down, stopped at the grocery store in Bud to get beer and dinner ingredients, and then headed back to Egil's house.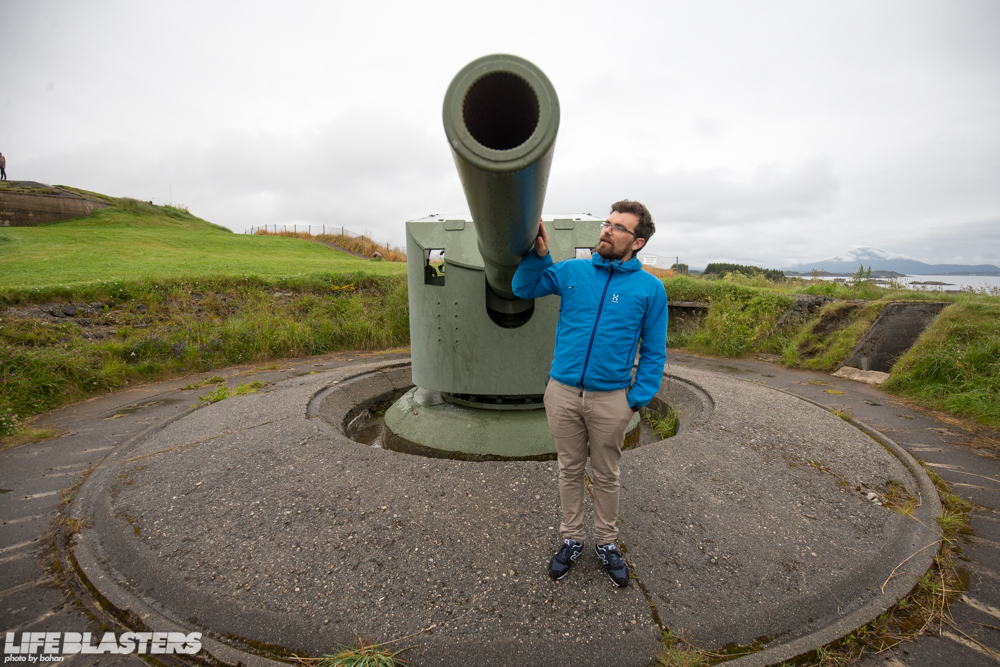 We had fish soup, drank beer, and played video games, our friend Sivert came to visit, Egil's sister and her family came to visit, and we went to explore the old German coastal defenses left over from World War 2.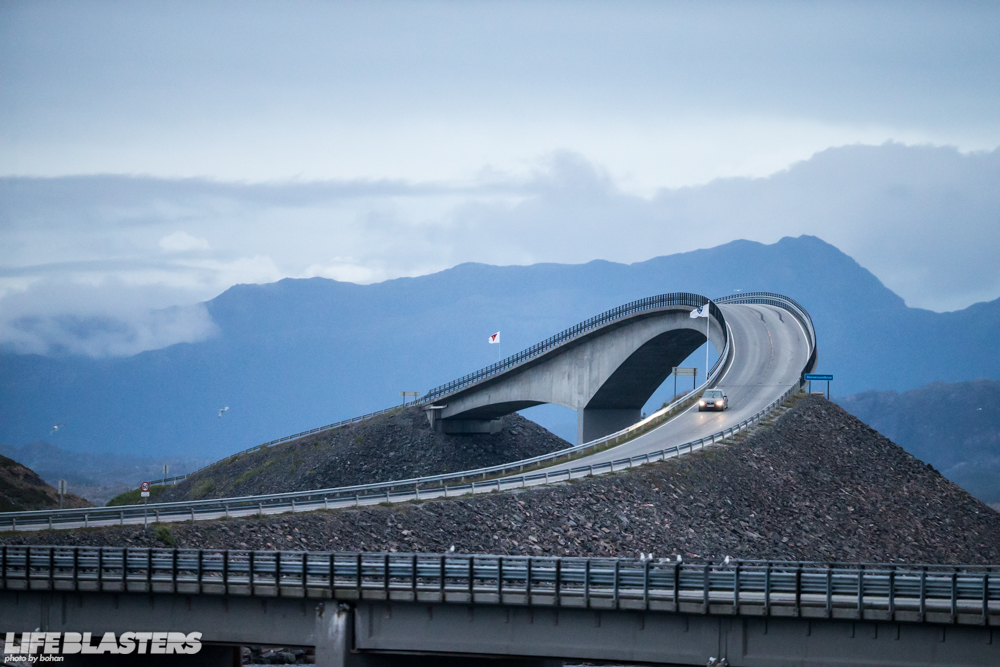 When it got a little later, we headed back out to Atlanterhavsveien to have another look. We were hoping for different clouds, and we got them. The low ambient light also made the cars' headlights stand out more.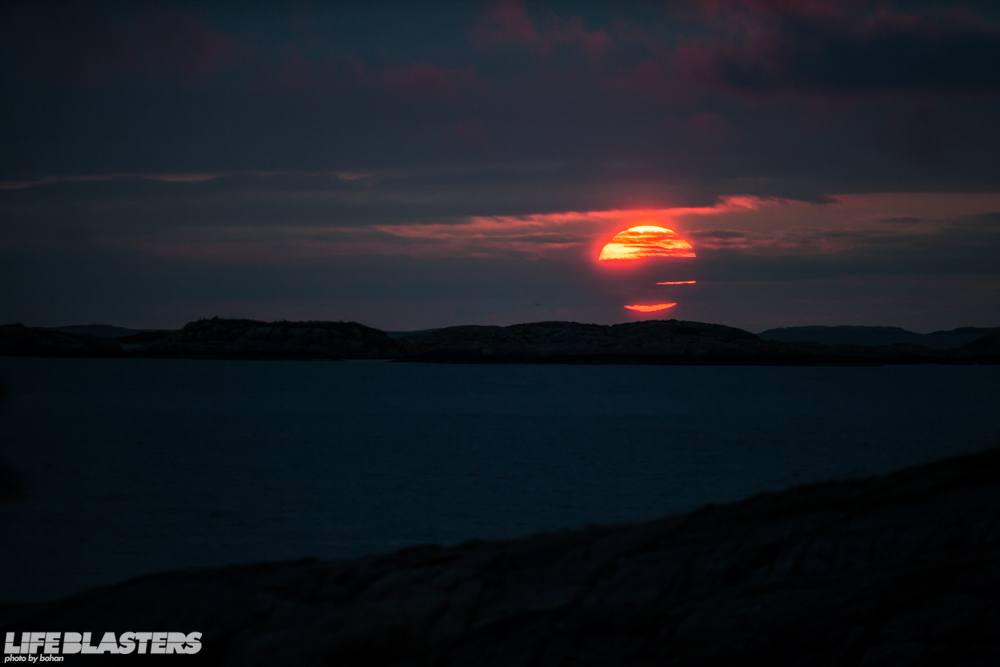 We also got an amazing sunset, just before midnight.
My flight was leaving in seven hours, so we took the fast way back to the house, went to bed, and then got up and Egil dropped me off at the airport in Molde.
HISTORY LESSON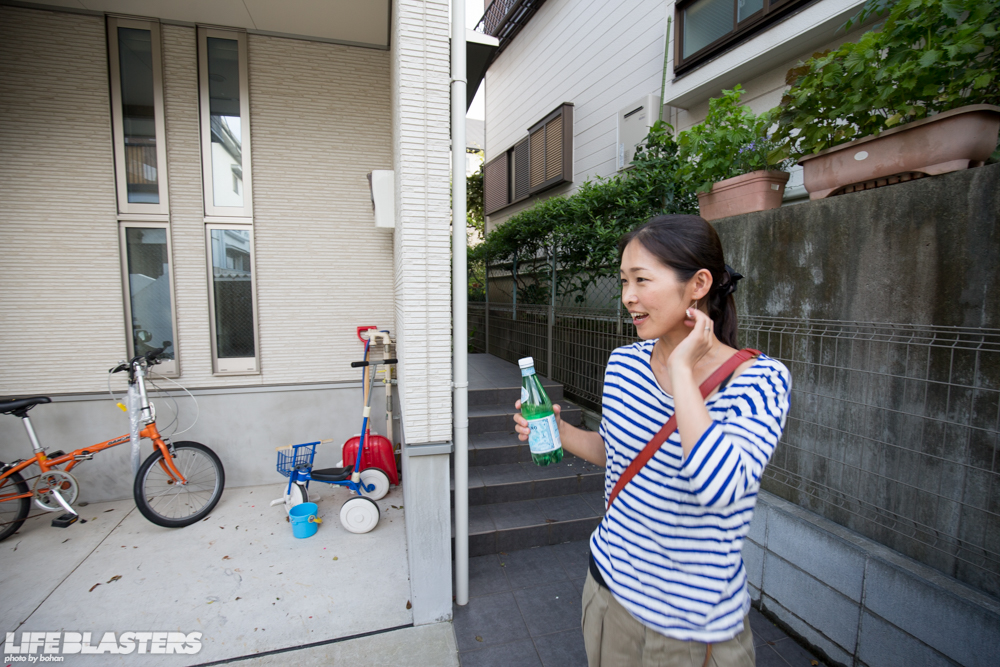 This is Nao. She's a pivotal character in the story of my life and the trajectory it's taken. We went to Central Washington University together in the 90s, and she was a catalyst in my interest in Japanese language and culture. When I started college at CWU I got assigned a Japanese roommate: Shuji. Shuji was part of a group of 60 students from Asia University participating in the Asia University America Program. I didn't know anyone else, so I hung out with Shuji and his AUAP friends all the time, and that's when I started informally learning Japanese and developing my interest in languages and linguistics. Nao wasn't part of that program, but she met some of those students and eventually met me because I was always hanging out with them. We became good friends.
Nao was the first person to tell me about drifting, saying guys would take their Levins and Silvias down to the docks in her hometown of Fukuoka, drive fast, and yank the e-brake. I thought that sounded like the stupidest thing ever, probably because I didn't really get what she was saying. But the seed was planted. When the Slide Squad issue of Super Street came out the next year, it made a little more sense to me.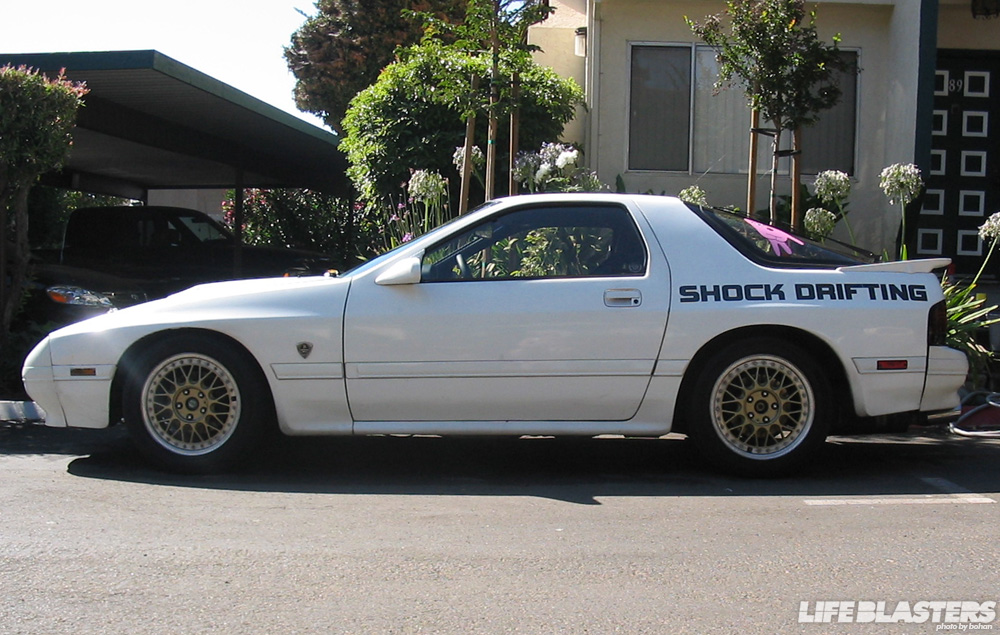 Nao is also the one who found the exchange program I used as a way to move to California. I attended Cal State Hayward and was yet again assigned a Japanese roommate, this one named Yuta. Hayward is where I made another friend, Cassie, who introduced me to Initial D. Now drifting made a lot of sense and I wanted to get into it myself. I went through a few drift cars of my own, drifting both in the mountains and at track days, before I changed my focus to drifting photography in 2007. So you see, I wouldn't be where I am now If I hadn't met Nao when I did. Life Blasters might not even exist!
My path was the opposite of most Americans I know, who got exposed to drifting first and then became interested in Japanese language and culture as a result.
Because of my experiences with Nao and my other Japanese friends, I really wanted to visit Japan. I had the usual excuses though: lack of money and time. It must not have really been a priority. Now seventeen years after Nao and I met, I was finally on my way. I boarded my flight, found my seat, and got settled in. We taxied out, the pilot hit the throttle, and then rotated. It was actually going to happen.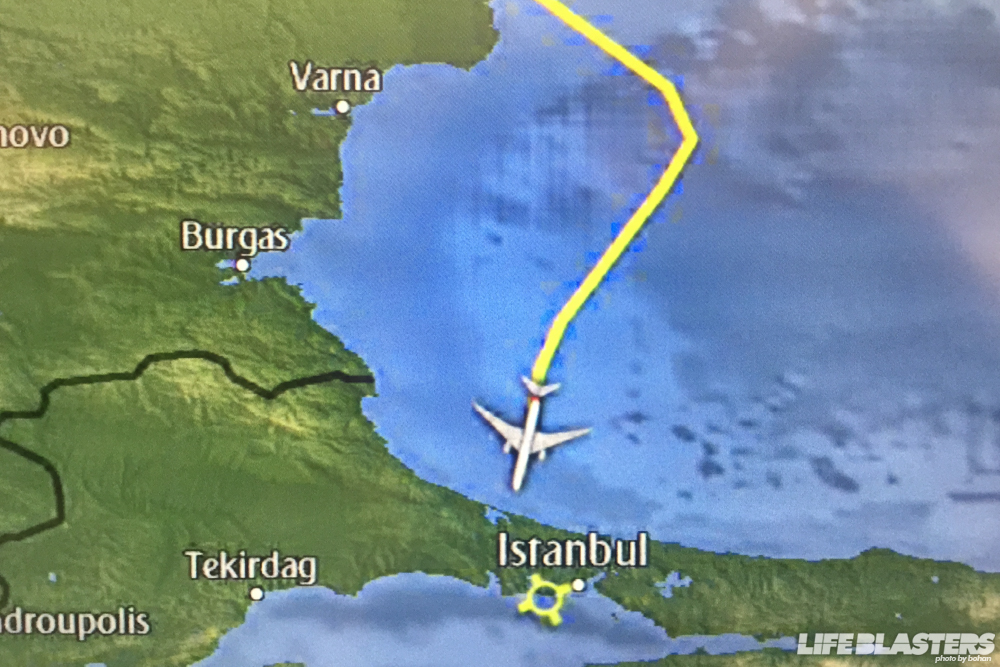 I watched the route on the screen. We left Norway and flew across southern Sweden, the Baltic Sea, Poland, Slovakia (avoiding Ukrainian airspace), Hungary, Romania, and out over the Black Sea. The pilot came on the PA and asked if there was a doctor on board. There wasn't, so we banked hard right and headed for Istanbul.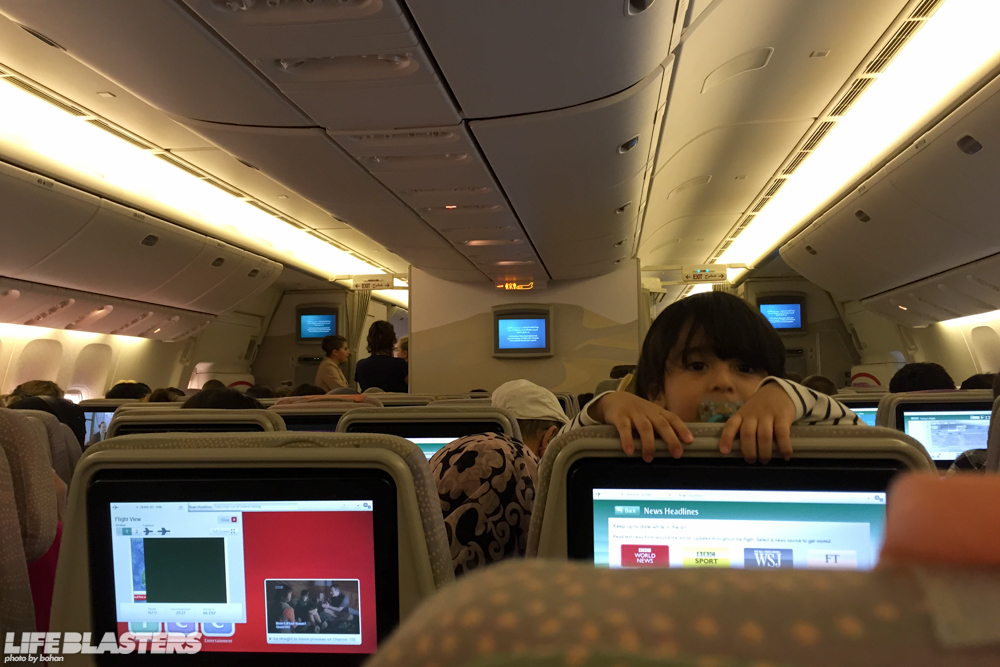 Well, that was unexpected and I hope the lady turned out to be okay, but I was excited to visit an extra place. My plan had called for visiting 13 countries on this trip, so the surprise stop in Turkey pushed the total up to 14. After an hour in Istanbul, the lady was in the hands of the local medical professionals and we were refueled and ready to head back into the skies.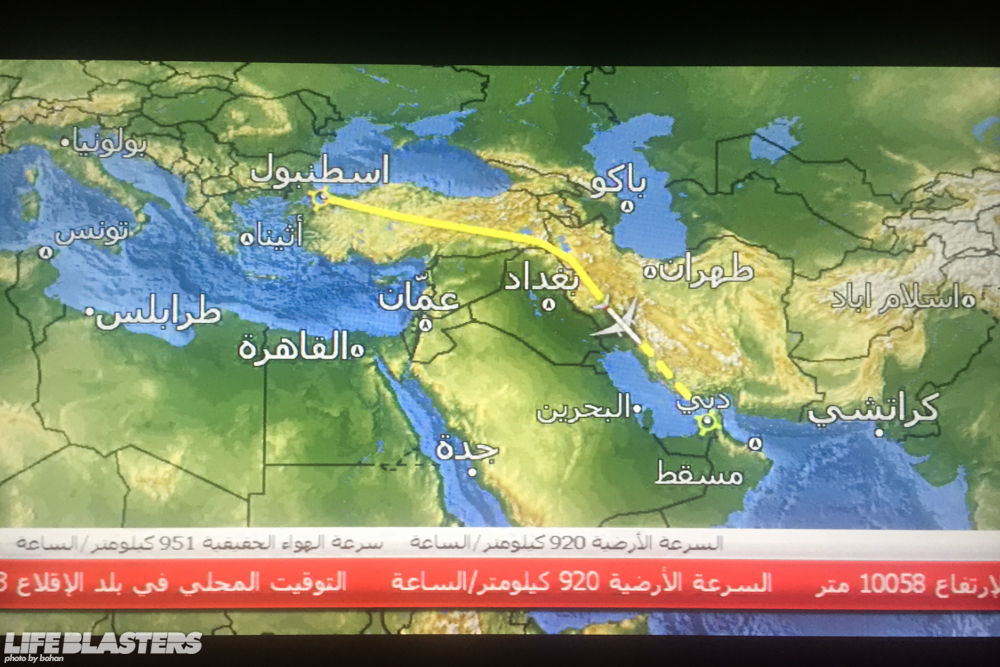 We took off at sunset and headed east across Turkey and into Iran, avoiding Iraq, and then southeast over the Persian Gulf straight for the UAE. I was scheduled to have a three-hour layover, but with the stop in Istanbul it was reduced to two. That was still plenty of time to get through security and stop at a souvenir shop before heading to my gate. Dubai is now the furthest I've been from home, and interestingly enough, the shortest way to get there from the west coast of the US is over the North Pole.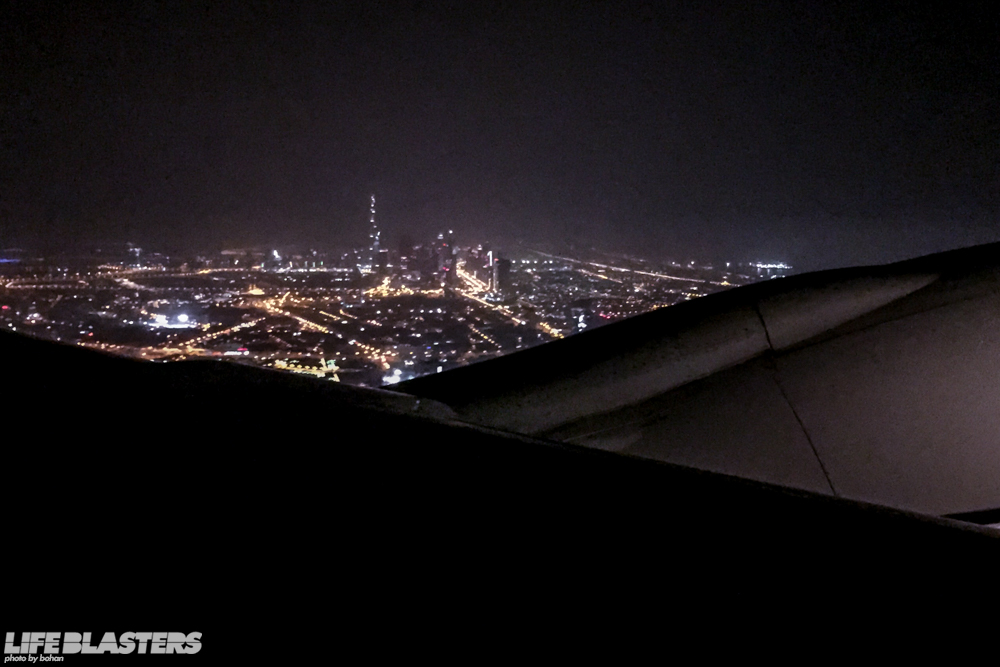 We pushed back, taxied, throttled, and rotated once last time, and I had a beautiful nighttime view of Dubai and its Burj Khalifa, the tallest building in the world. From there we flew northeast over the Gulf of Oman, Iran, and Pakistan (avoiding Afghanistan).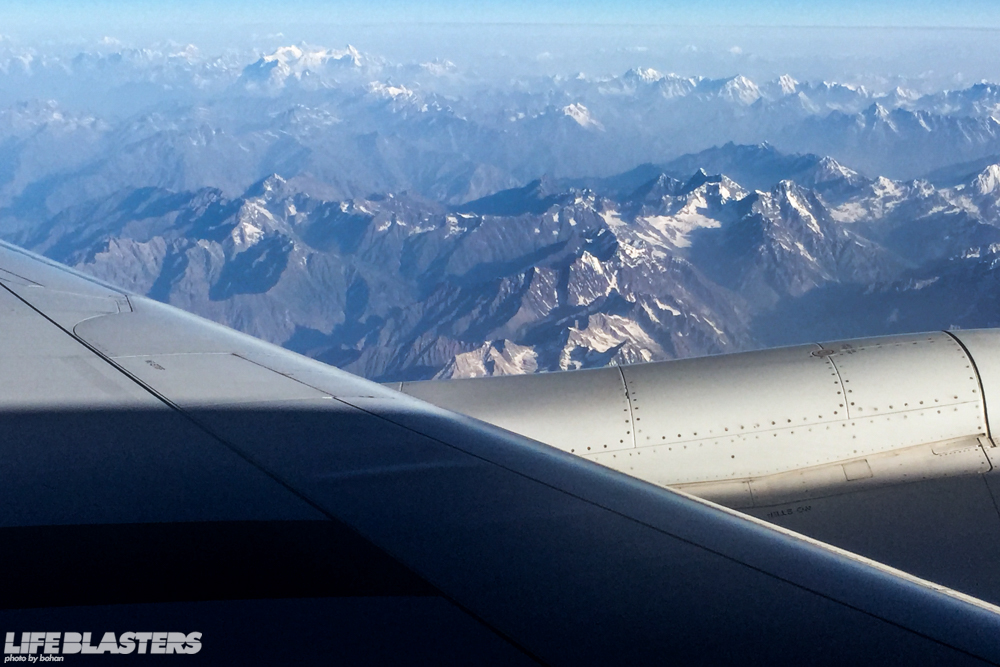 I saw the Pakistani sunrise and the Hindu Kush before we entered Chinese airspace. China seemed like it took forever to cross, and eventually we were flying a zigzag route around Beijing and Tianjin, heading out over the Bohai Sea, and crossing South Korea just below the border with North Korea.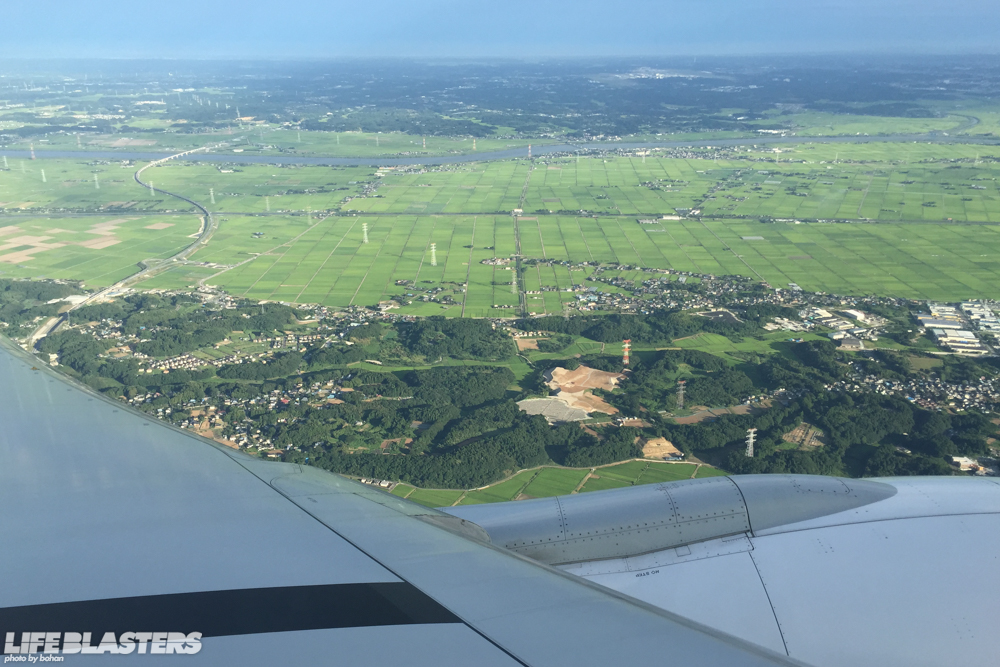 Then it was the Sea of Japan and then the Land of the Rising Sun itself. It didn't even take an hour to get across Honshu, and then we circled around to land at Narita. I was there. I had made it!
JAPAN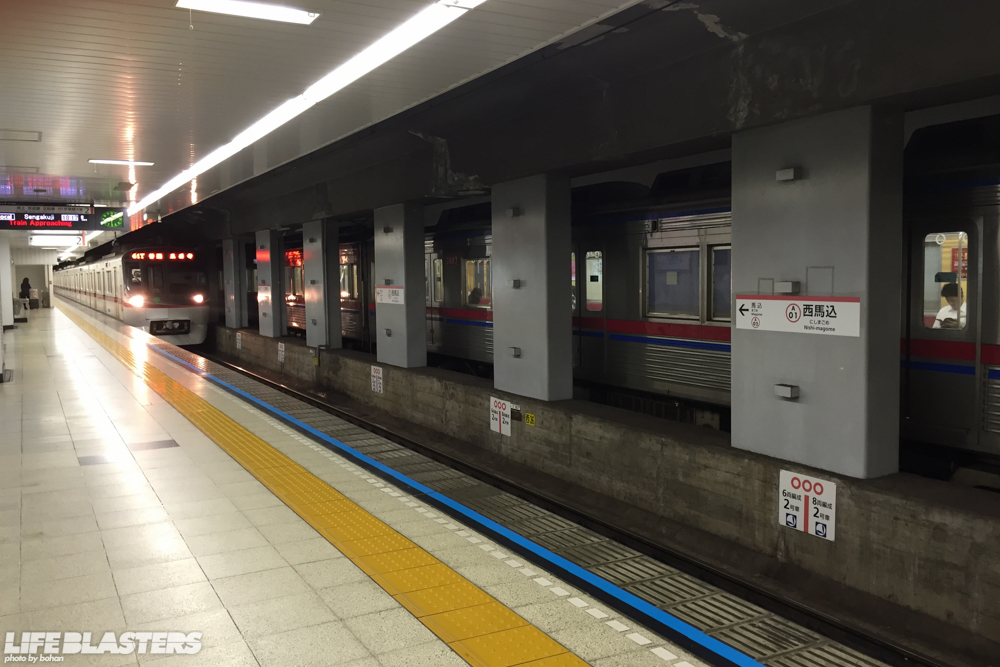 I got off the plane and mentally prepared myself to hit the humidity in the jetway. BAM! There it was, just as I expected it. Back in the terminal it was much more pleasant, and I followed the crowd to Customs. The customs agent expressed some suspicion after seeing that I'd come from Dubai, but he quickly determined that I was not a threat and let me in.
I followed the signs down to the trains and tried to buy a ticket with my credit card. Cash-only would be a recurring problem for my stay in Japan, and I would have brought way more with me if I'd known about that. I turned in my dollars and euros and got about 7,000 yen and went back to the ticket office and got my ticket to Nishi-Magome where Nao said she was going to pick me up. I had a 30-minute wait for the train, and an hour and a half of riding it, and then a quick elevator ride to the street, and I was in Tokyo.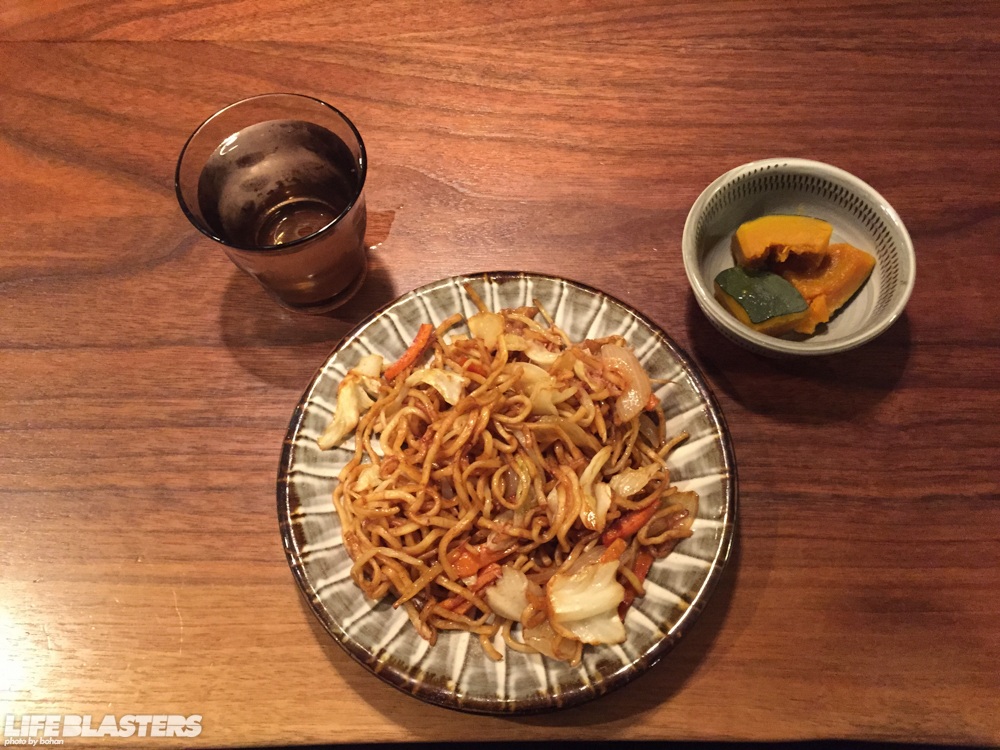 Nao was parked across the street and helped me load my stuff in her Forester, then we took off, now driving on the left side of the road again. We headed back to her house, just a few minutes away, and I met her husband Kengo and two boys Kotaro and Takuro. Nao fed me some leftover yaki soba and it was delicious. Her English was still pretty good, better than my Japanese had ever been. My Japanese had been good enough for Japanese people I'd just met to ask me if I'd been to Japan, though the last time that happened was in 2006 and it had already been declining since 2003. I was really hoping it would come back to me.
Nao and Kengo thought I would be jetlagged, as I'd just come from seven time zones to the West, but since that trip had taken me 27 hours to complete, I was actually pretty exhausted and fell asleep by 10pm, even with the humidity. I woke up at 4am and did some computer work, then got ready for a day of meeting friends. Nao dropped Kengo and the kids off and then dropped me off at the train station before going to her job as a systems engineer. I was going to Kamakura but needed to get to Kamata station first and transfer. Everything at the train station was in Kanji, organized in a-ka-sa order. I found a word ending in 田 under か. Was 蒲田 the right one? I took a chance, got on the train and made it to Kamata! Dealing with Kamata blew my mind. I never had to deal with changing train operators at a station before. The New York Subway is completely nuts, but at least it's all the same operator!

I eventually made it to Kamakura and met my friend Ayumi, a friend from my Cal State Hayward days. She showed me Kamakura no Daibutsu at Kotoku-in, which was pretty dang impressive with a height of 13.4 meters. Its face alone is taller than I am.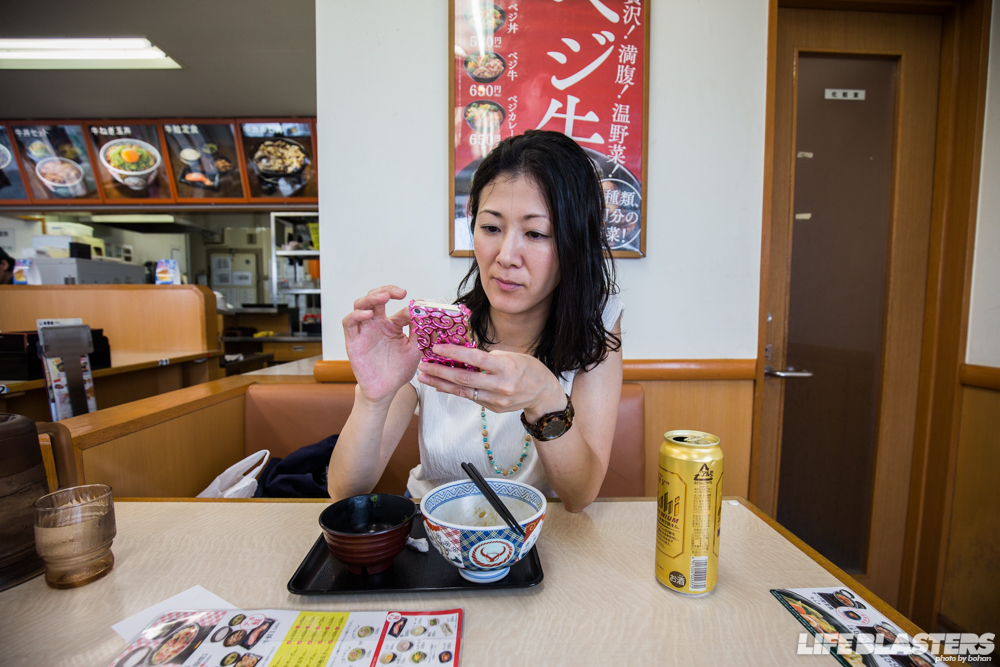 Next we rode a train to the beach right as a typhoon was making landfall. It was the Pacific Ocean, my ocean! How strange it was to be at the ocean I've always lived near but still be so far away in a foreign place. We walked a ways to this seafood restaurant that always had fresh fish literally right off the boat, but it was closed since no one was fishing because of the typhoon. It was raining pretty hard so we ducked into a Yoshinoya for some really cheap food. We headed back to the train station, said our good byes, and parted ways.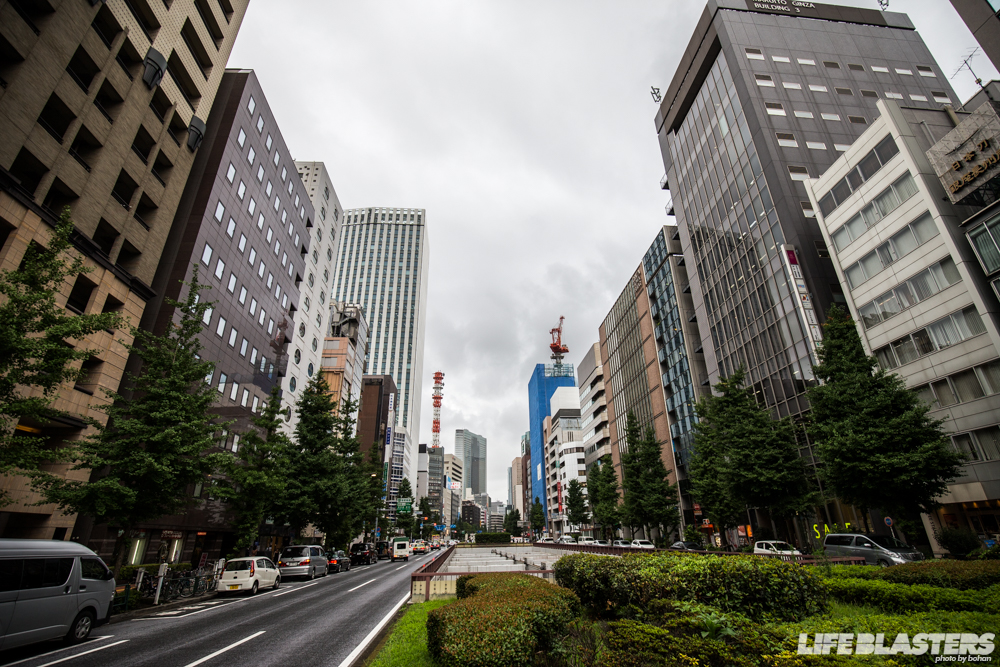 I headed back north, transferring like an expert now, and finally arriving in Ginza, one of Tokyo's main shopping districts. I was meeting my old roommate Yuta, but I was early, sick of riding the train, and running out of cash, so I decided to walk from Ginza to Tsukiji. I was pretty sleepy so I got a coffee from one of Japan's famed street vending machines, then met Yuta around the corner.

We walked to Tsukiji's world famous fish market, where the colorfully out of place Sushi Zanmai was waiting for us.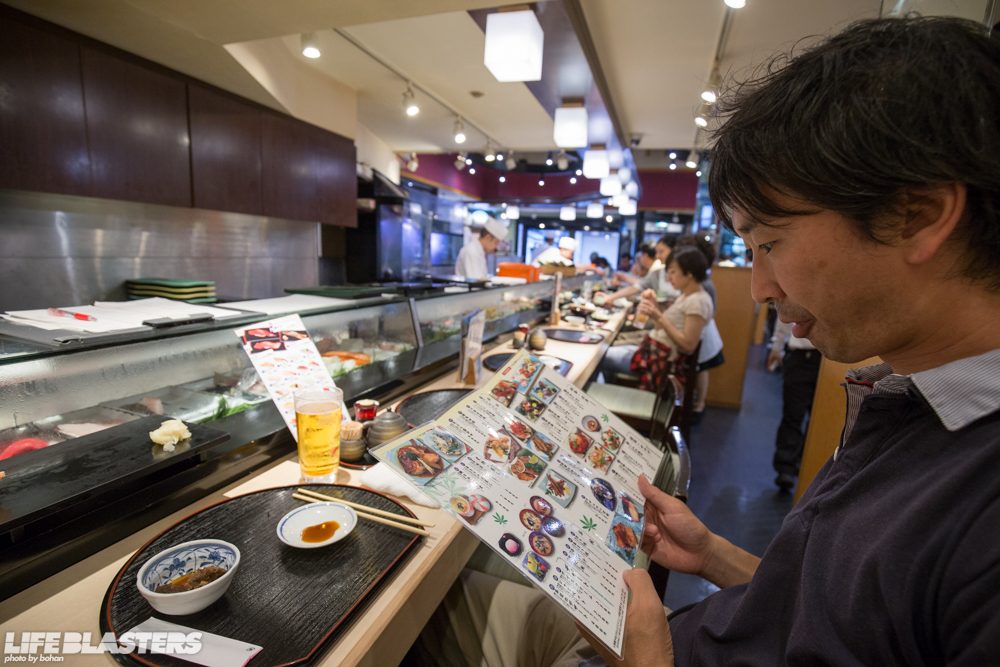 This was the best sushi I'd ever had, and that's exactly what I was hoping for. I wanted to ruin American-made Japanese food for myself.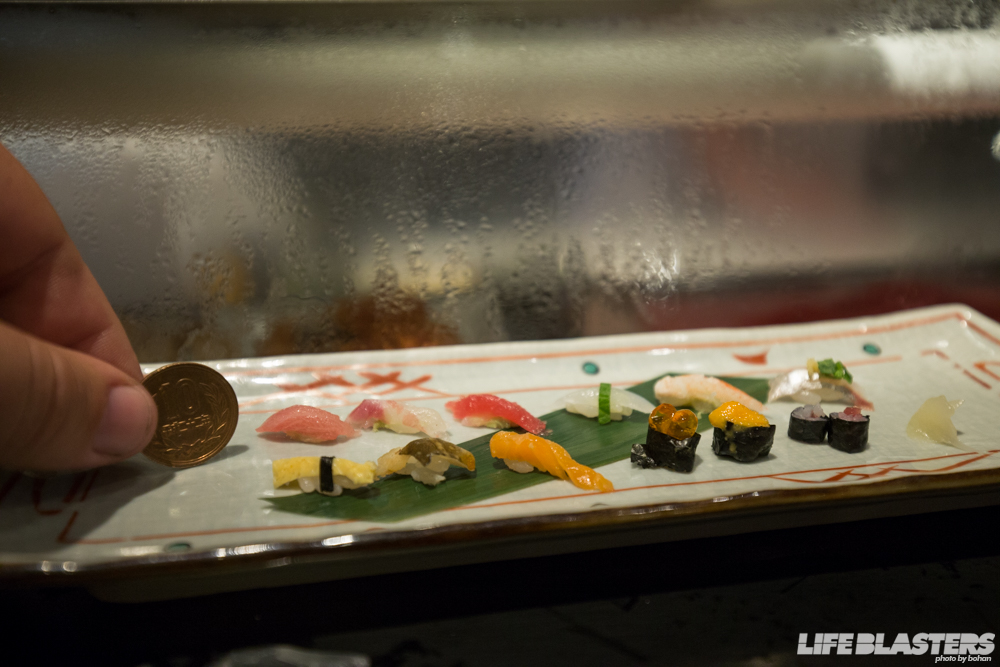 Yuta told the sushi chef I was a photographer visiting from America and that we had been college roommates, and so the chef made some tiny sushi for us, at no charge, to demonstrate his knife skills. I give him an A+.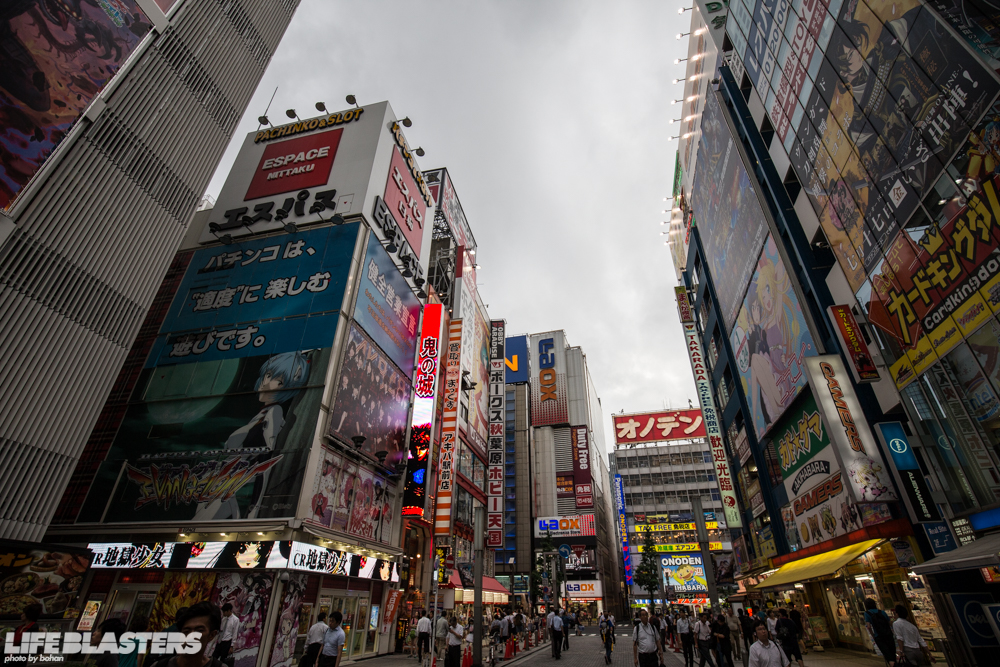 After finishing off our dinner, we rode the train to Akihabara, a strange wonderland of toys and electronics, pop culture, and girls dressed as maids. I bought my daughter Katharine a Japan-only Hello Kitty doll made from authentic kimono fabric.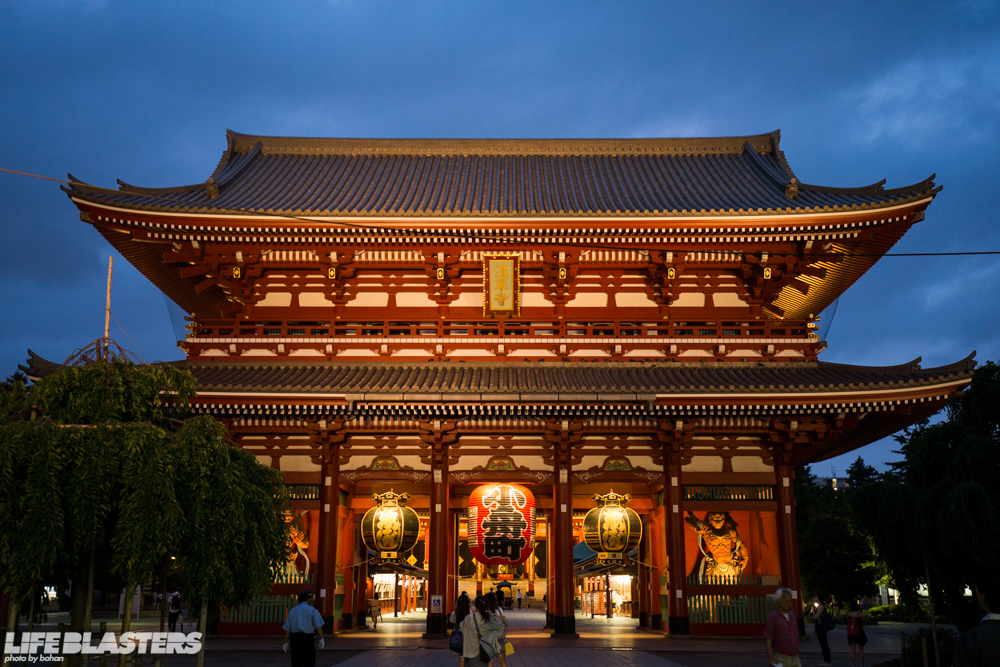 Next we rode over to Asakusa, home of Senso-Ji, Tokyo's oldest temple, completed a whopping 1,372 years ago. It was built to honor the goddess Kannon, after whom the camera manufacturer Canon was named.

We headed over to a nightlife district and found an izakaya to stop into for drinks and a late night snack. This place didn't take credit cards either. I was super low on cash by now, so Yuta had to pick up the bill. Sorry Yuta, I'll get you next time you're over here!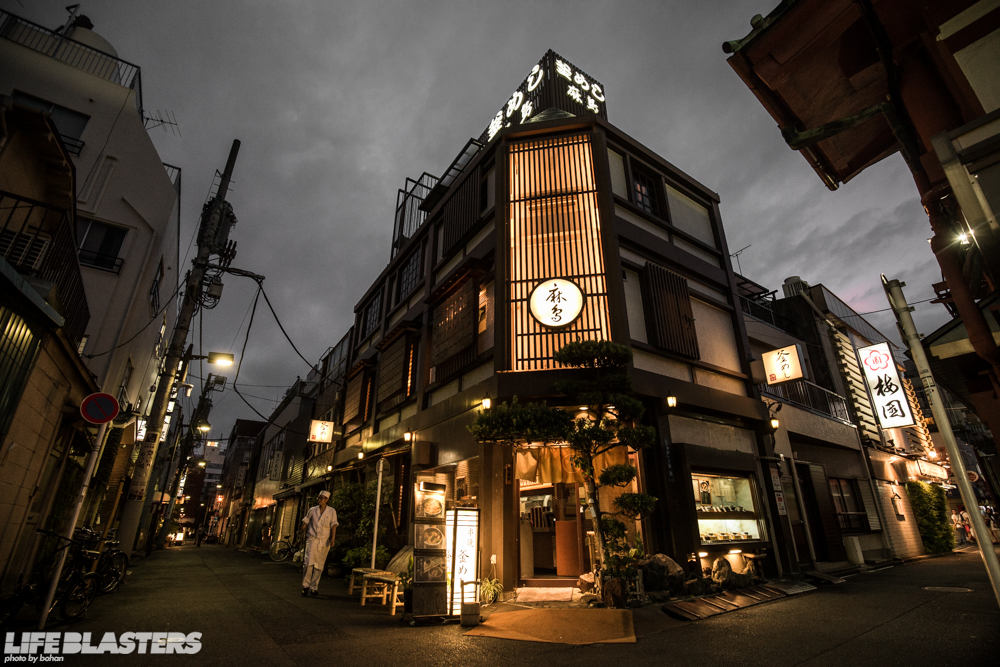 As we were walking and talking, I started thinking about all the different cultures I'd seen in the last few weeks, America, Ireland, the UK, Germany, Sweden, Norway, the UAE, and Japan. There were millions of people I'd never even heard of all going about their business, going to work in buildings of such different architectural styles, with different histories, different customs, different values, different looks. And yet they were really all doing the exact same thing: taking care of themselves and their families. Isn't that all anyone really does?
I invited Yuta to come visit anytime, and got on the train back to Nishi-Magome. I walked back to Nao's house along with what seemed like an eternal line of salarymen. When I got there I went inside and told Nao and Kengo about my day. They couldn't believe I'd gone all the way down to Kamakura and then all the way up to Asakusa. All in a day's exploring.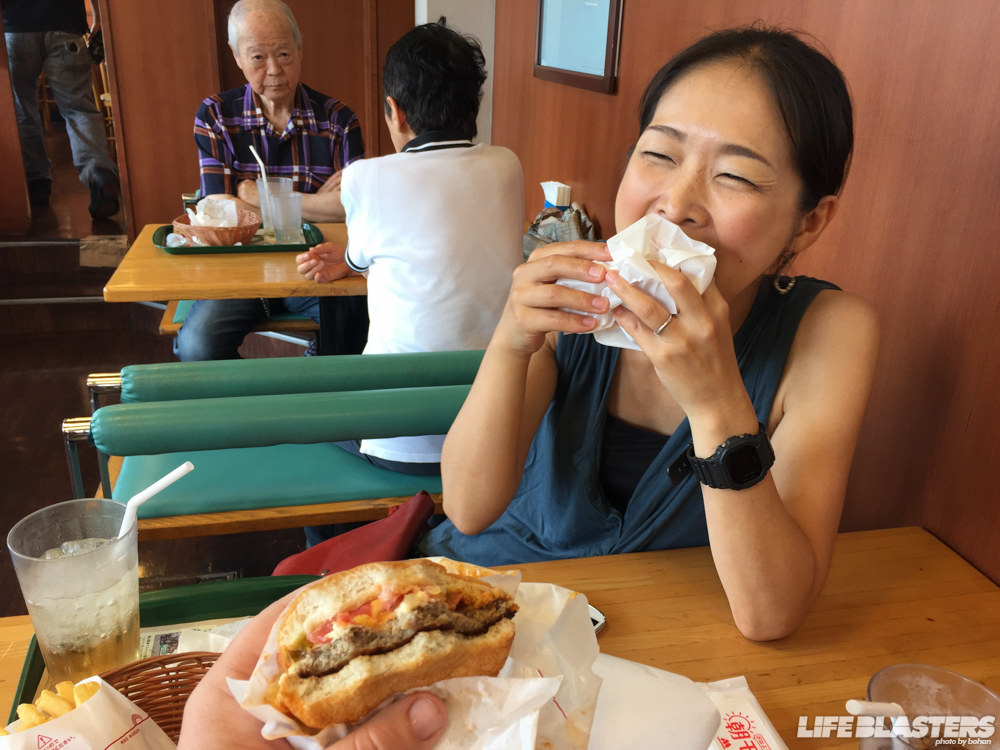 The next day, Friday, was the beginning of a three-day weekend so Nao was just working from home. I'd woken up early again but then I had a nice recovery nap. I finished some computer work and Nao finished her work so she took me to Mos Burger. She had worked at Mos Burger before coming to America for school, and when I took her to Dick's she said Mos Burger was better. Of course I never believed her, but now I got the opportunity to try it for myself. It was no contest. Dick's is still the winner.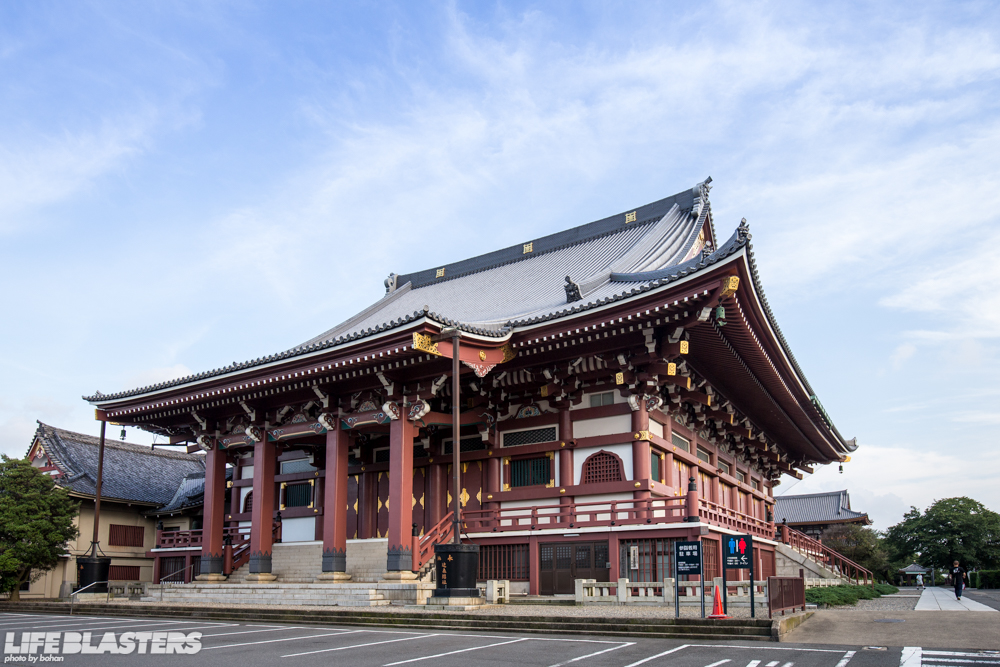 After Mos Burger we headed over to Ota's local temple, Honmon-Ji. It belongs to the Nichiren sect of Buddhism, and it's said to be built on the spot where Nichiren himself died in 1282.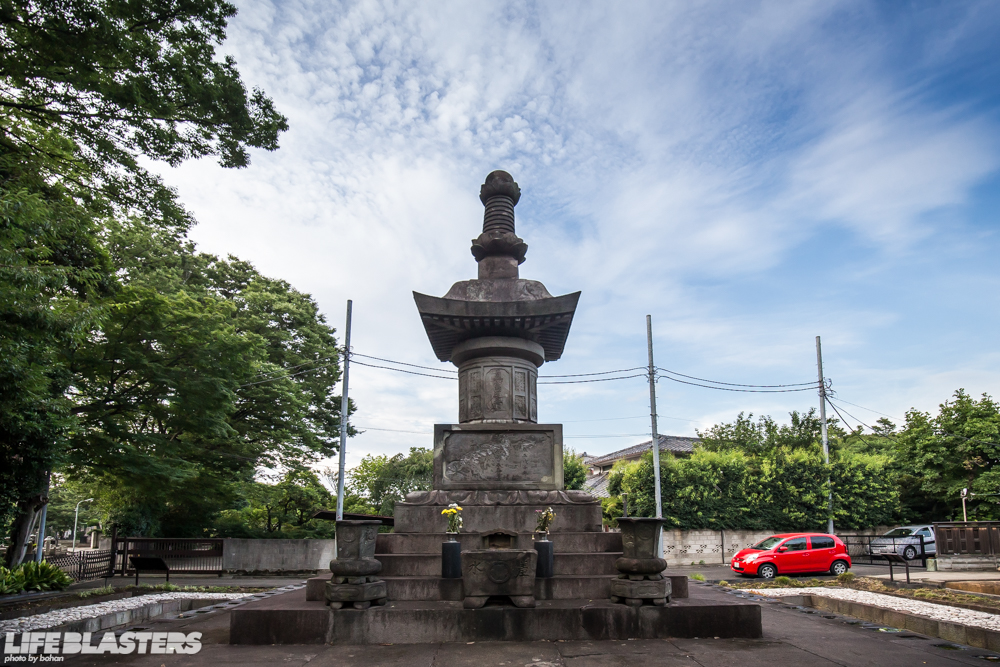 The cemetery at the temple is full of famous actors, athletes, and artists, and there are a few Tokugawa graves, all women of the Kishu Tokugawa clan.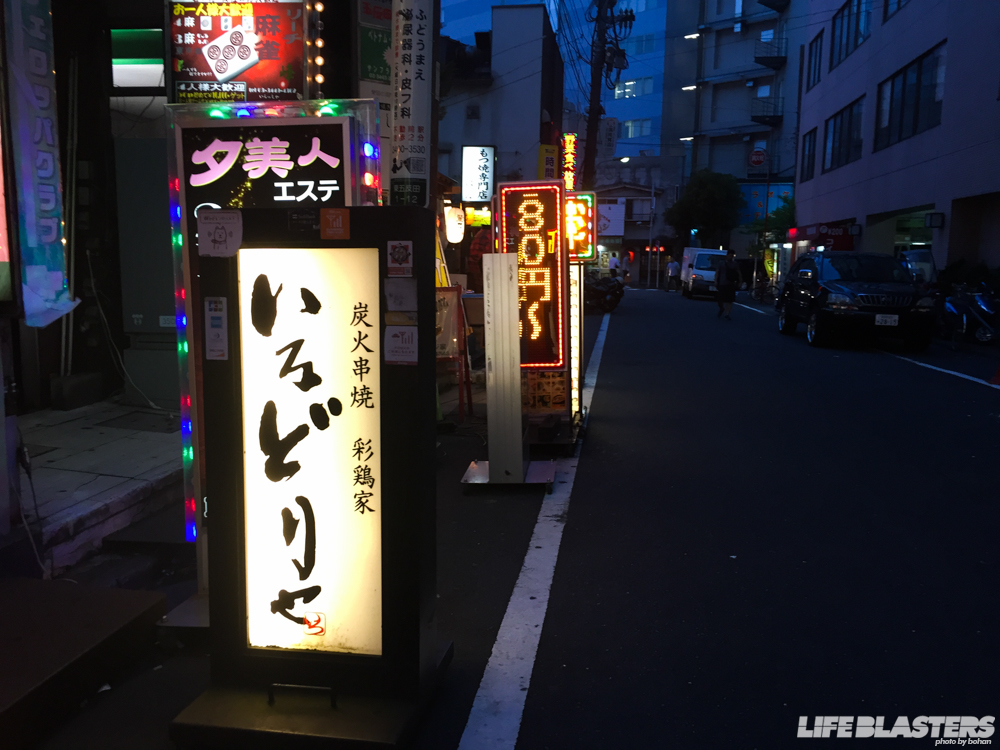 Nao dropped me off by a Super Autobacs, and I walked from there to the train station and rode over to Gotanda, where I was going to meet some other friends. I waited around there for a while and then Yoko showed up, and we went to an izakaya called Irodoriya around the corner, where we were soon joined by Saikao, Mai, and Hori.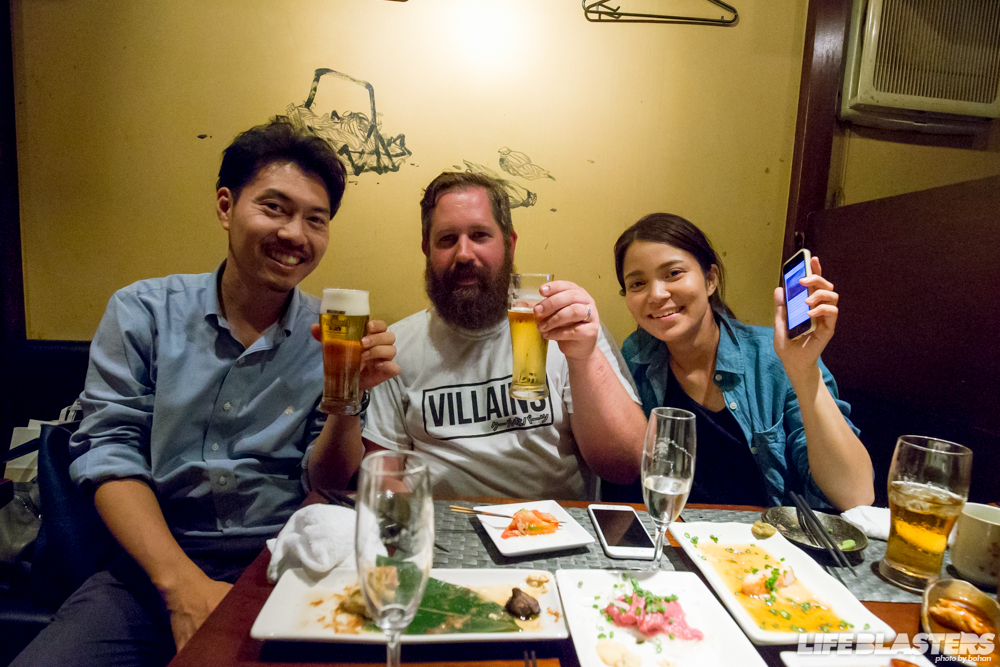 When I moved out of the dorms at CWU, I joined the Conversation Partner program so I could continue to meet new Japanese students. Conversation partners were meant to help foreign students practice and get more comfortable with English. Hori was my assigned conversation partner, and little did he know he and his friends would be helping me with my Japanese as much as I was helping them with their English. They were huge group of friends with probably 10 others that couldn't make it this night. We used to hang out all the time, watching movies, camping, swimming, playing music, and speaking each other's language.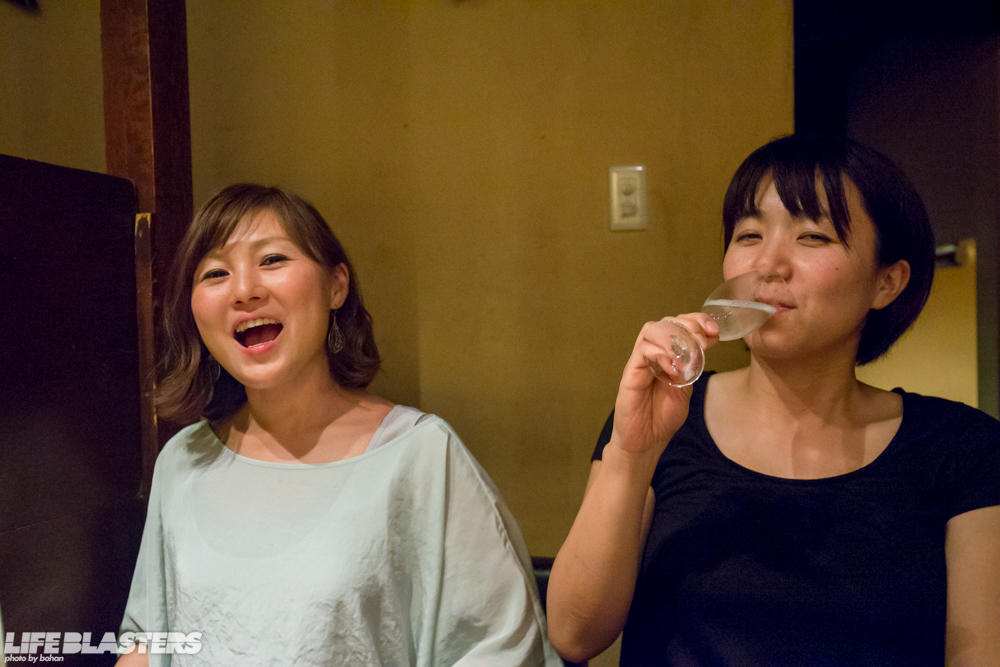 Now I was seeing them again for the first time in 15 years. Some of them were surprised I remembered so much Japanese, the rest were surprised I'd forgotten so much. We caught up on what had been going on in our lives and shared photos on our phones. Phones! Back in the early 2000s when I met these guys, the Japanese had tiny Sharp J-Phones with full color screens and cameras while Americans still had Nokia 5190s. Now everywhere I looked in Japan it was mostly iPhones. It's funny how things change.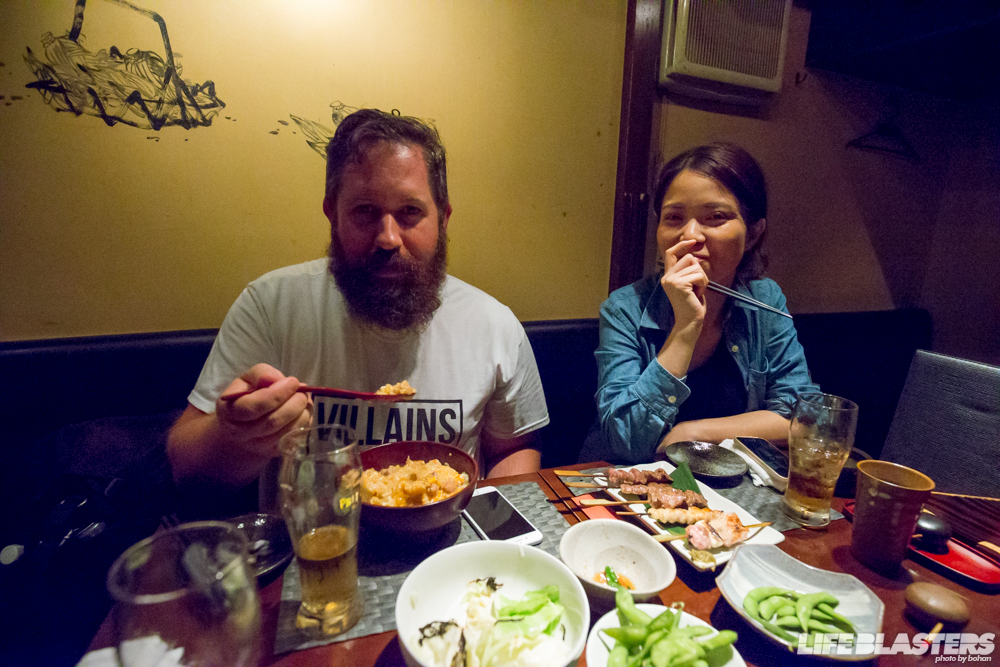 We went through a few rounds but Saikao had only been drinking juice. It turned out she's pregnant! How cool! I had the best Oyakodon I'd ever had, some really good yakitori, and for the first time ever, horse sashimi. After a few more rounds we said our good byes, and I headed back to Nishi-Magome for another walk home with the salarymen.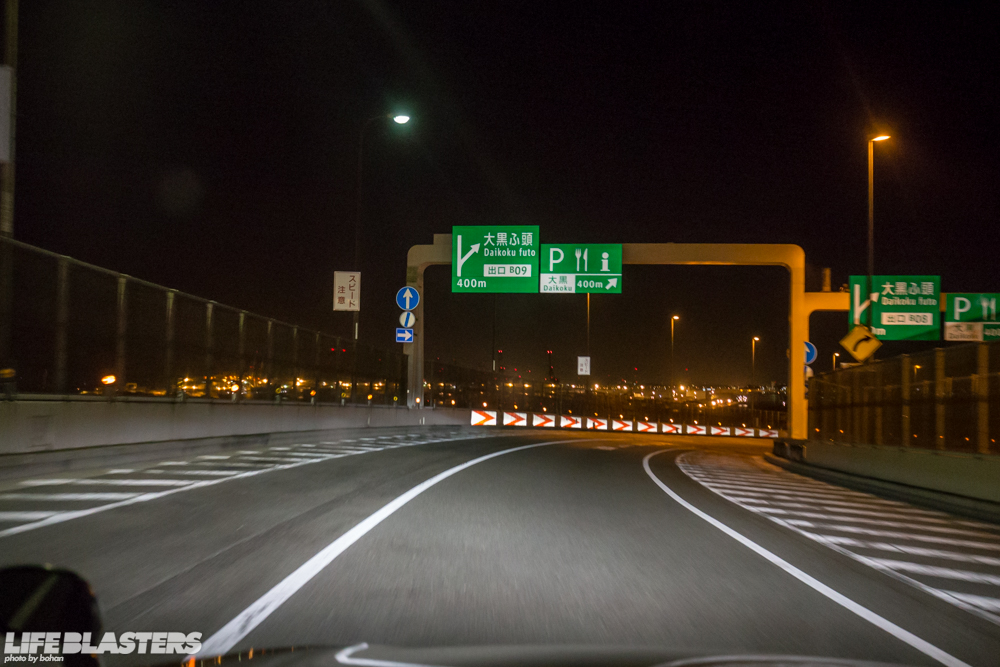 At nearly 2am I was just about ready to go to sleep when Nao came home. We'd talked about going to Daikoku that evening after I got back from Gotanda, but I came home so late I thought she'd gone to bed already. I had no idea she wasn't even home! Still thinking we were too late, I turned off my light and Nao came to my room to see if I was ready to go. Well then, I supposed I'd better get ready. We left Ota and headed over to the world-famous Shuto Kosokudoro Wangan Sen, better known in America simply as the Wangan, which runs over or under all the man-made islands in Tokyo Bay, which are connected by bridges and tunnels. The last island before reaching the mainland again in Yokohama is Daikoku Futo.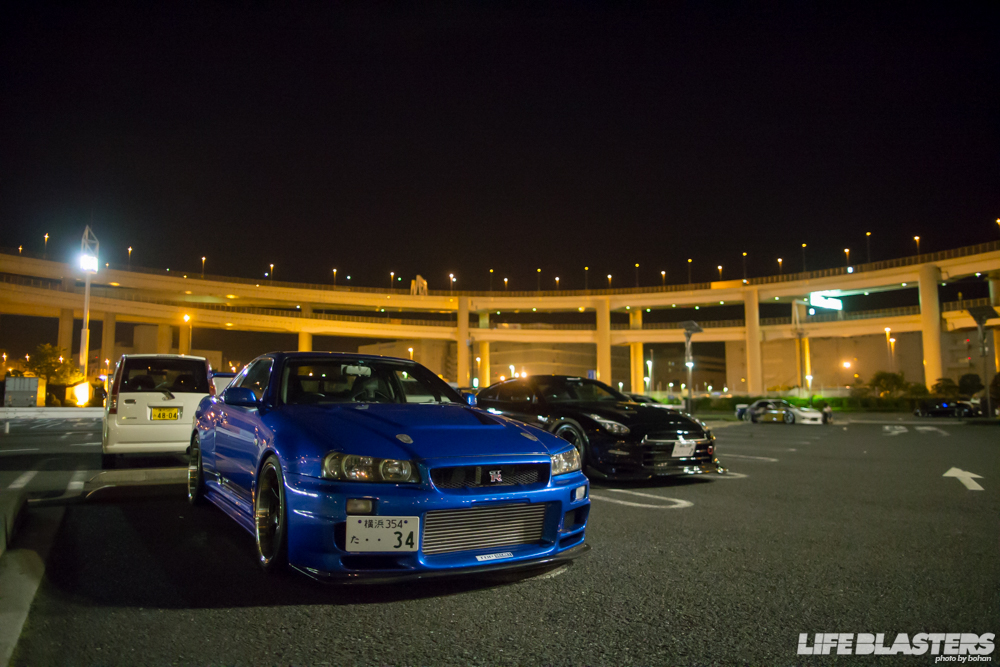 We exited and descended the iconic spiral ramp down to the ground. Even though it was late Friday night, I was trying not to have big expectations for what we'd find there. At first glance the parking area was devoid of any cool cars, but we got closer and saw a few Skylines, RX-7s, Silvias, Supras, and various VIP cars.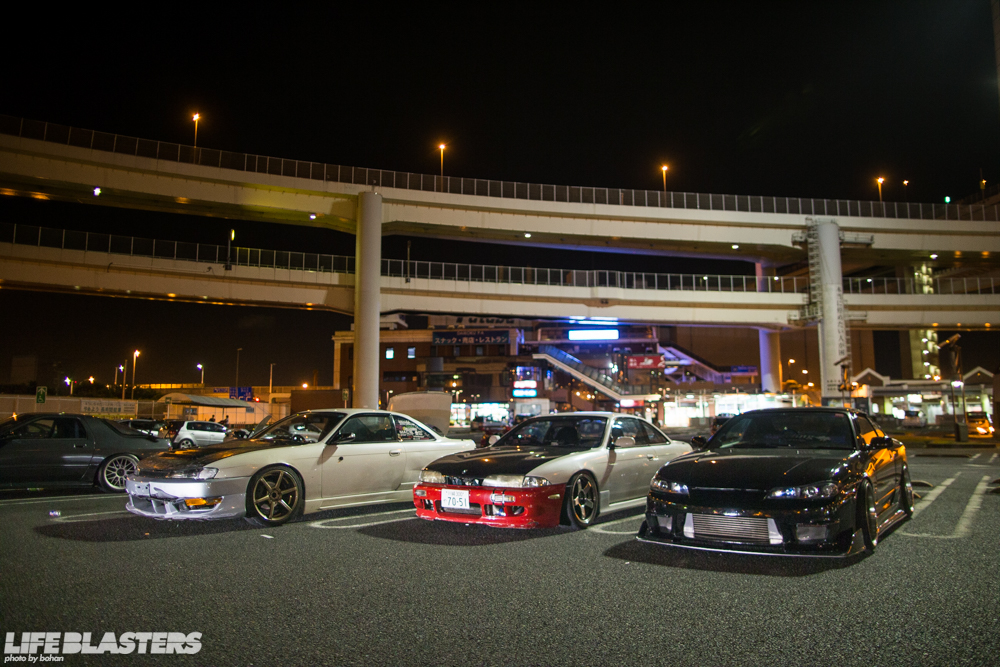 We heard some street drifting in the distance, presumably out among the warehouses and containers, and before long a pair of S15s rushed by the parking area with police in pursuit. We continued to hear blow off valves and the occasional squeal of tires, but decided not to go looking for any action.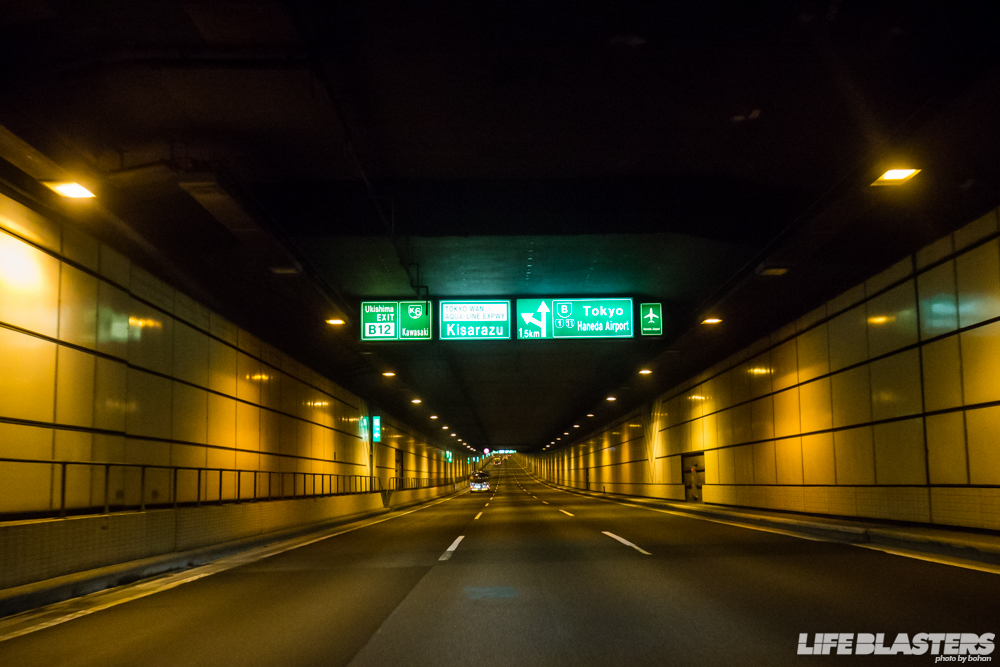 As we were heading back up the spiral ramp, we got passed by a group of VIP cars and followed them over the Yokohama Bay Bridge, where we saw a few more Skylines driving around. It was close to 4am so we decided to look for a place to see the sunrise. I figured a trip to the Land of the Rising Sun wouldn't be complete without actually seeing a rising sun! We headed back north again on the Wangan, past Daikoku, through tunnels, over bridges, under Haneda Airport, past more islands, before finally deciding on stopping at Odaiba.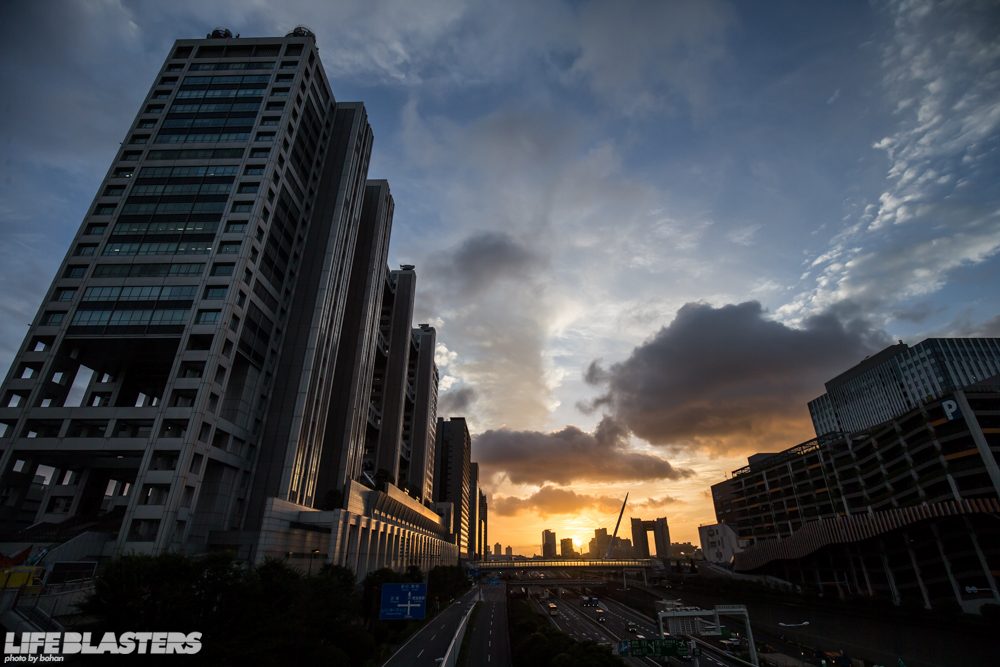 Odaiba is known locally as a place for shopping and entertainment, but to car people it's one of the courses of the D1 Grand Prix.We got there just in time, and the conditions couldn't have been any better!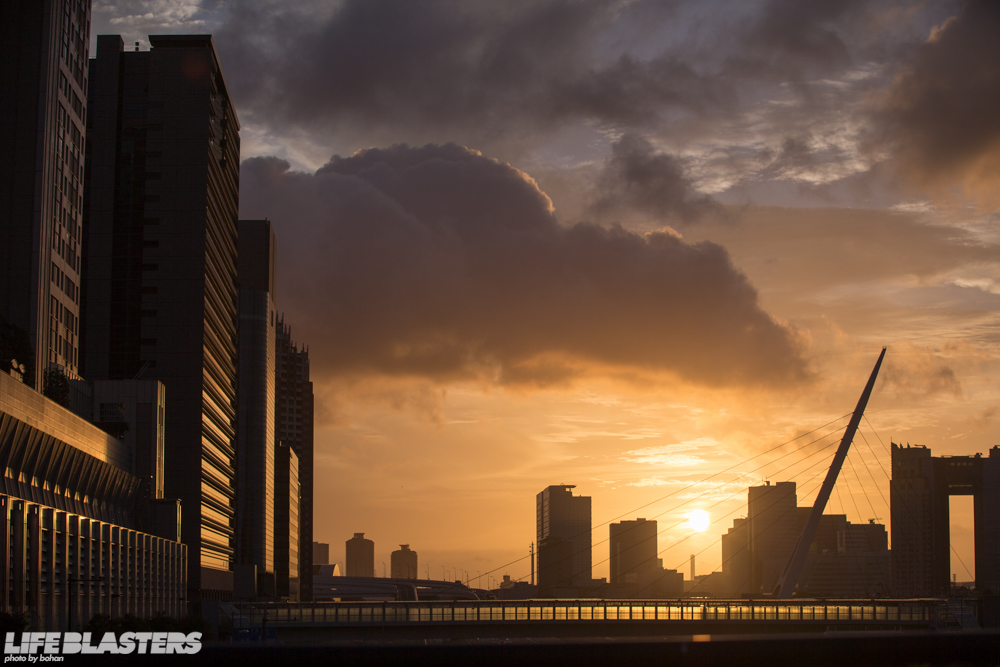 It's truly one of the best sunrises I've witnessed.
Exhausted, we headed back to the car, over the Rainbow Bridge, and back to Ota. I finally got to bed around 7 AM. So much for trying to maintain any kind of sleep schedule!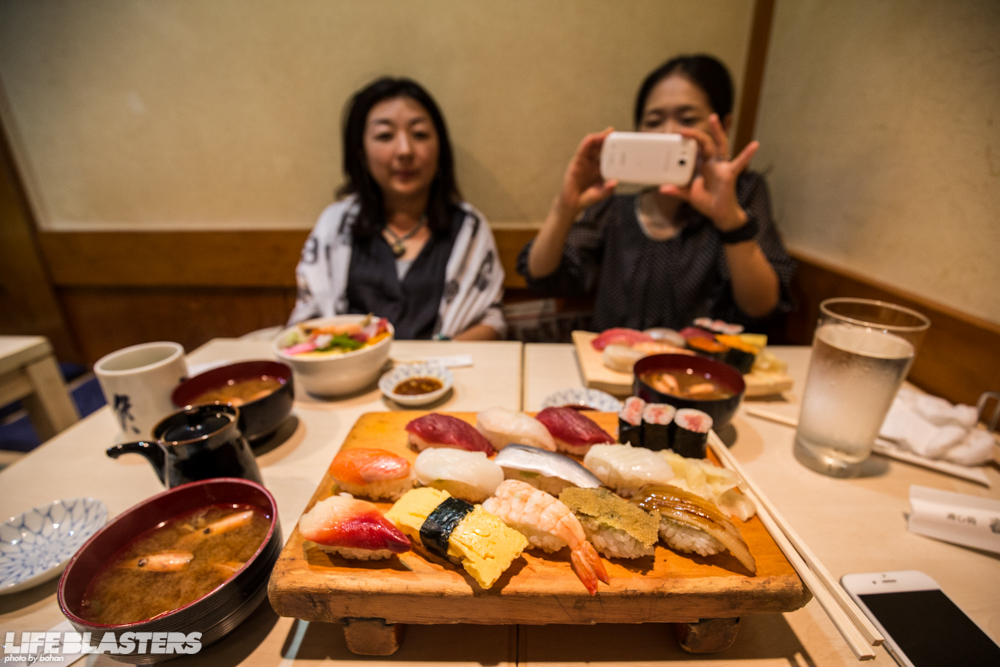 Nao got me up the next morning and we rode the train to Shibuya. There we met Aoi, another friend I'd known in Washington. She and Nao were friends, but Aoi ended up going to a different school. Still, they met up often enough, and the three of us plus my friend Zach all went on a California trip to Yosemite and San Francisco for spring break in 1999, another event that influenced my decision to move to the Bay Area.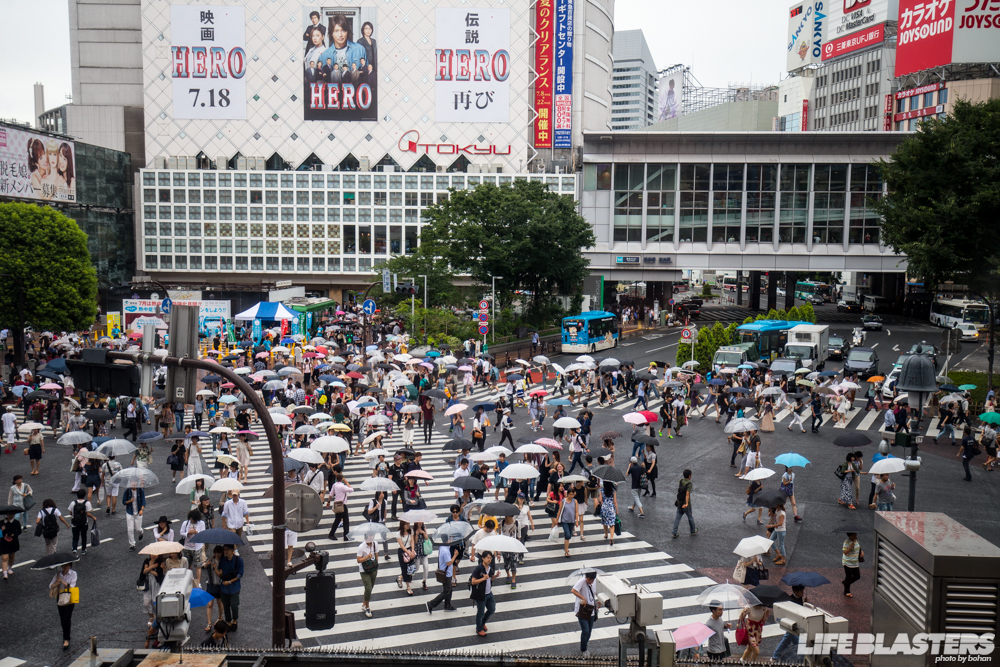 We ate at a sushi restaurant, which of course didn't accept credit cards, and then went to Starbucks where we could watch the people in Shibuya Crossing. I even noticed someone posing for one of those long exposure shots where they stand still and everyone else blurs around them.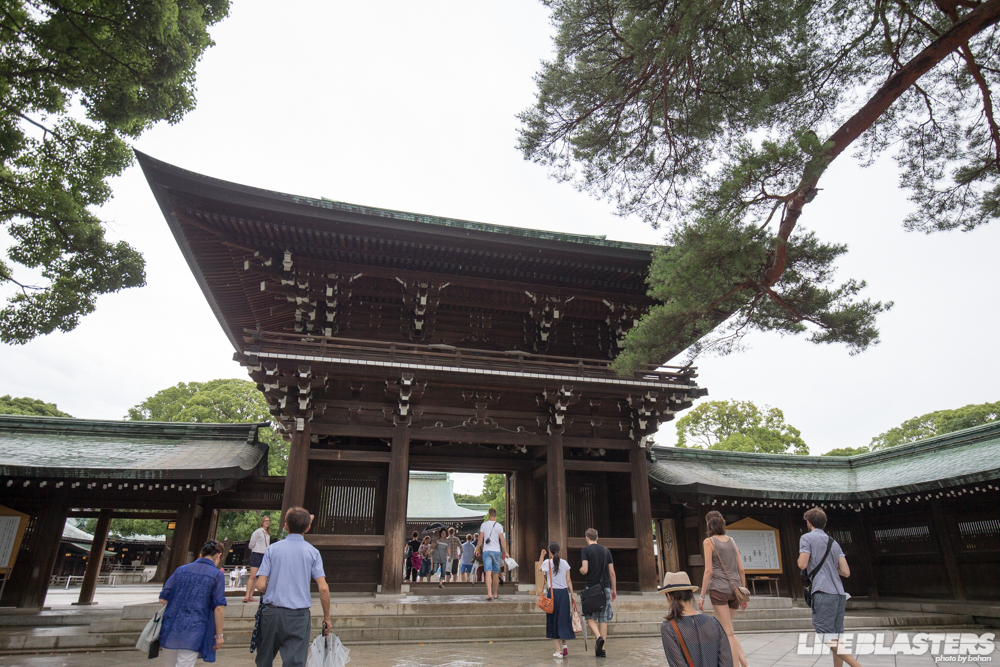 We finished up in Shibuya, then rode the train to Harajuku, where we walked over to Meijijingu and saw the temple and the grounds there. Aoi asked how my mom was doing, and I had to tell her she'd died. Nao didn't know about it either and they were both shocked and saddened by the news. We walked back to the station, said good-bye to Aoi, and then walked around Harajuku for a bit. We rode the train back to Ota, where we met Kengo and the kids for dinner at a dim sum restaurant. The beer, rice, and gyoza were good, but the shumai and hagow were pretty disappointing!
I was completely out of cash by this point, so I bought their groceries that night with my credit card and Nao paid me back with cash. The next morning we got up at 5am (remember we hadn't even gone to bed until 7am the day before?) packed everyone in the car, and headed out on the two-hour drive to Mt. Fuji.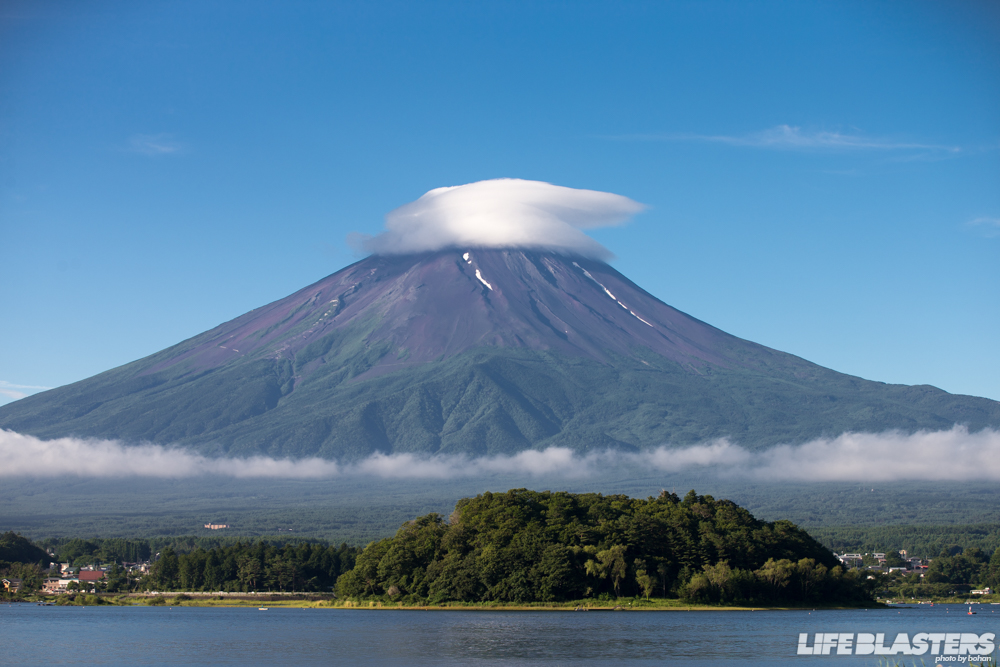 We arrived at Lake Kawaguchi and there were photographers everywhere! I'd never seen so much pro gear outside of a sporting event. We hung out for a little while, then drove over to the base of the mountain, where the tour bus station was, to get a ride up to 5th Station.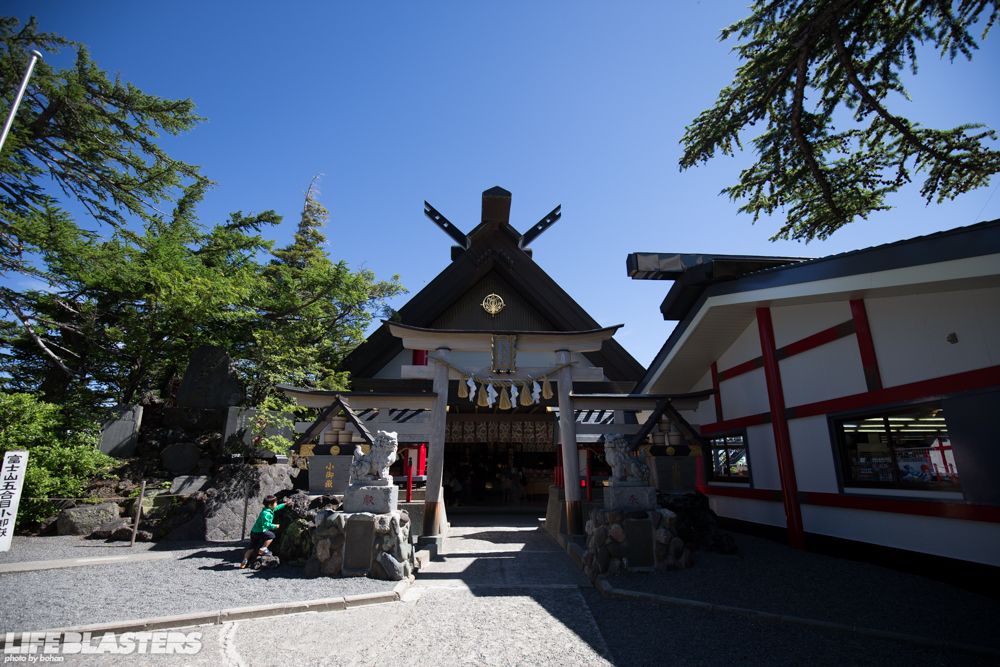 The 5th Station is the end of the road, and where many hikers start their climbs. I briefly considered attempting the summit myself but at 3,776 meters, it wouldn't have given me a new elevation record. Maybe it was for the better anyway, as I didn't have any serious hiking gear with me. Everyone else was in mountaineering boots and had trekking poles and hydration packs.
We wandered around the various shops and I got a fridge magnet for myself and a T-shirt for my dad (because there was a ¥2000 minimum for credit cards), visited the shrine, got stung by a bee, and got a snack, and we rode the bus back down to the station.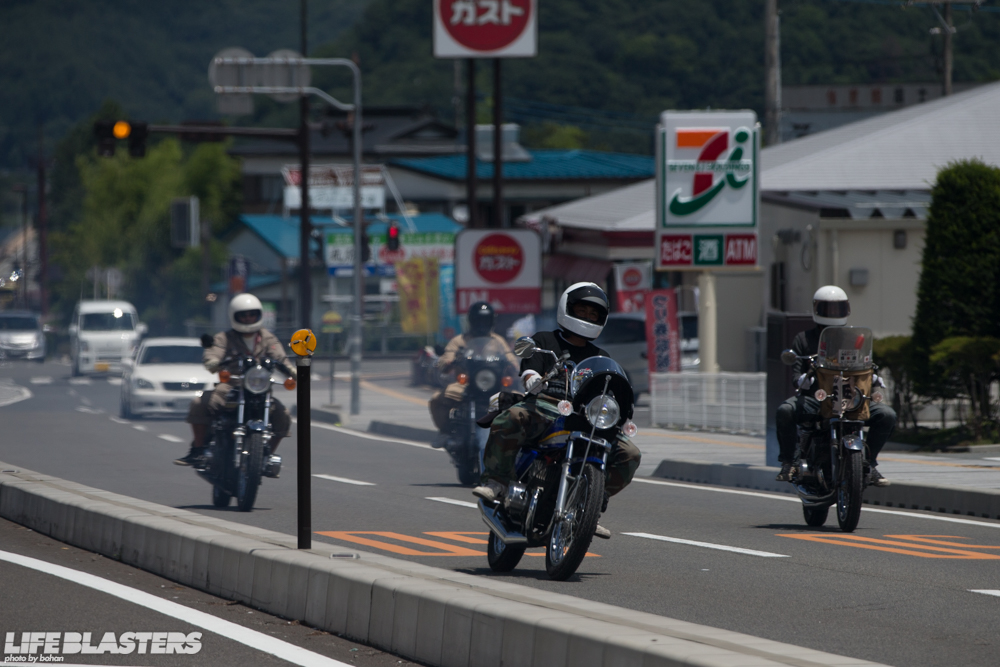 Driving back to Fujikawaguchiko, I saw tons of awesome 70s cars. Some were VIPs, others were shakotan style, others had vintage racing liveries. Mixed in with the cars were bosozoku bikers, marauding around the countryside and checking out the various tourist attractions like total badasses.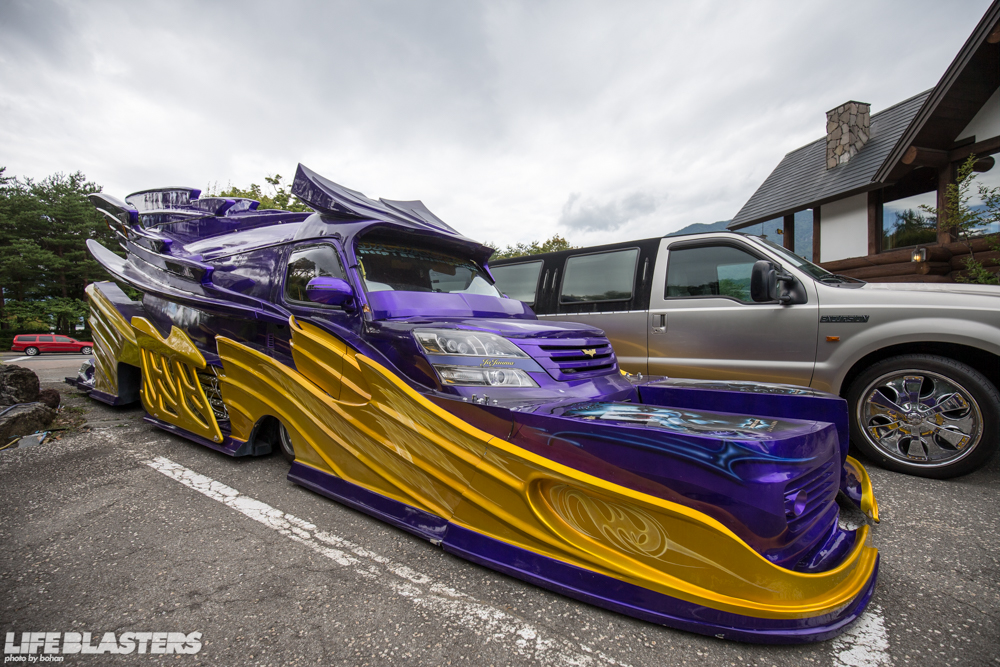 We ate at Hoto Fudo, a restaurant that served soup with hoto noodles, a regional noodle unique to this area, and then left to go see some lava caves. But first we had to stop and check out this van! The automotive scene out at Mt. Fuji was way cooler than anything I saw in Tokyo, including at Daikoku.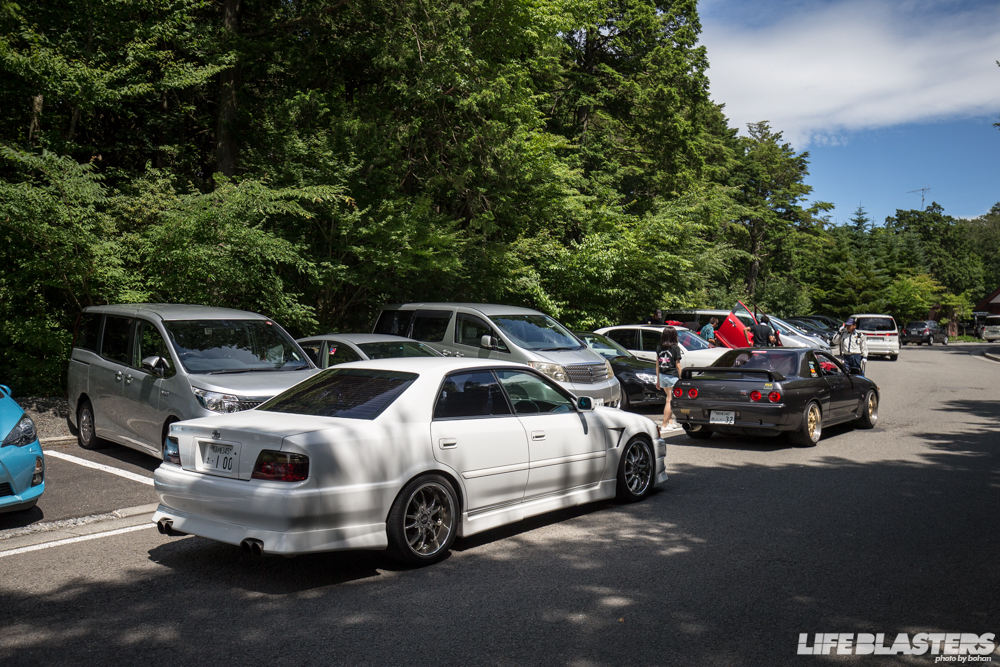 There was a long wait at the Narusawa Ice Cave, but there were cool cars in the parking lot.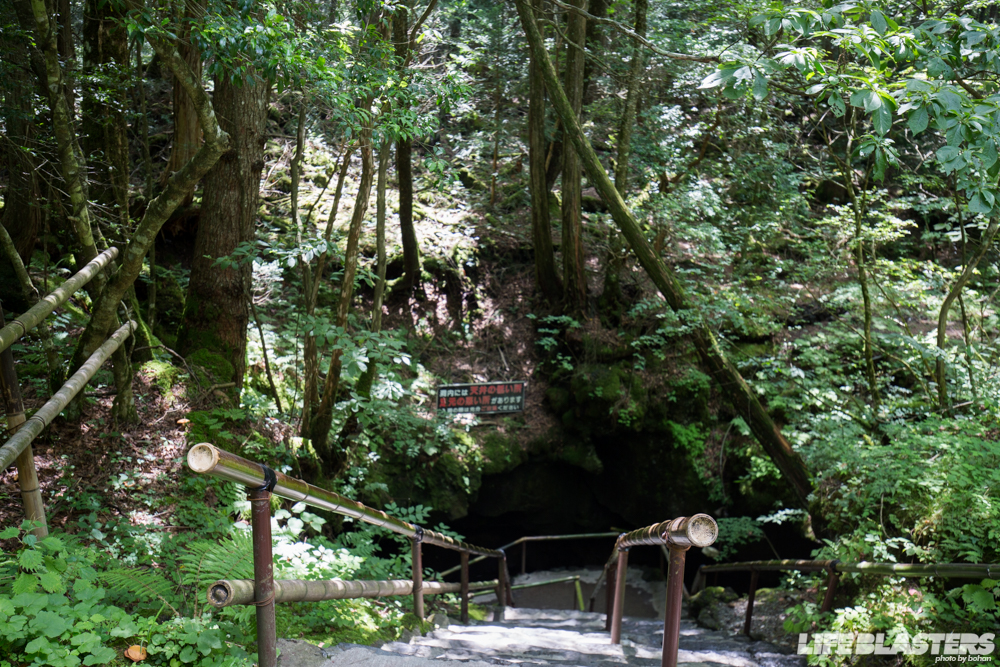 We skipped the ice cave and went to Fugaku, the Wind Cave, which wasn't too far. After a brief walk through the forest, the trail becomes stairs and descends into the cave. At one step, it was 30ºC and at the next step down it couldn't have been more than 10º. It was incredible that it got that much colder that quickly.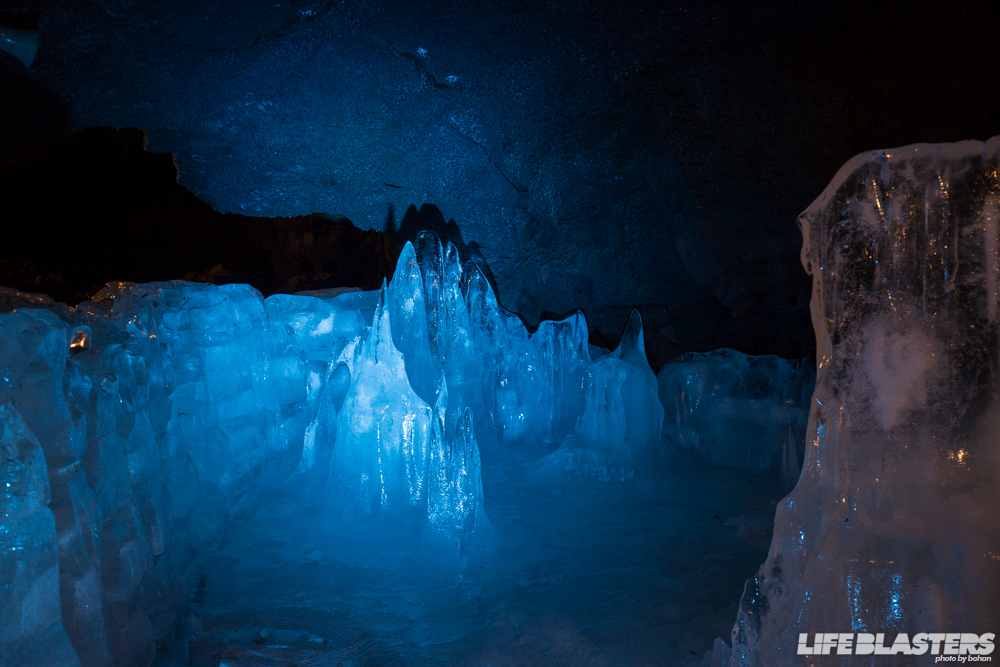 We continued descending into the darkness and finally got to the (mostly) flat cave floor. There were huge chunks of ice just chilling there, as water dripped from the ceiling.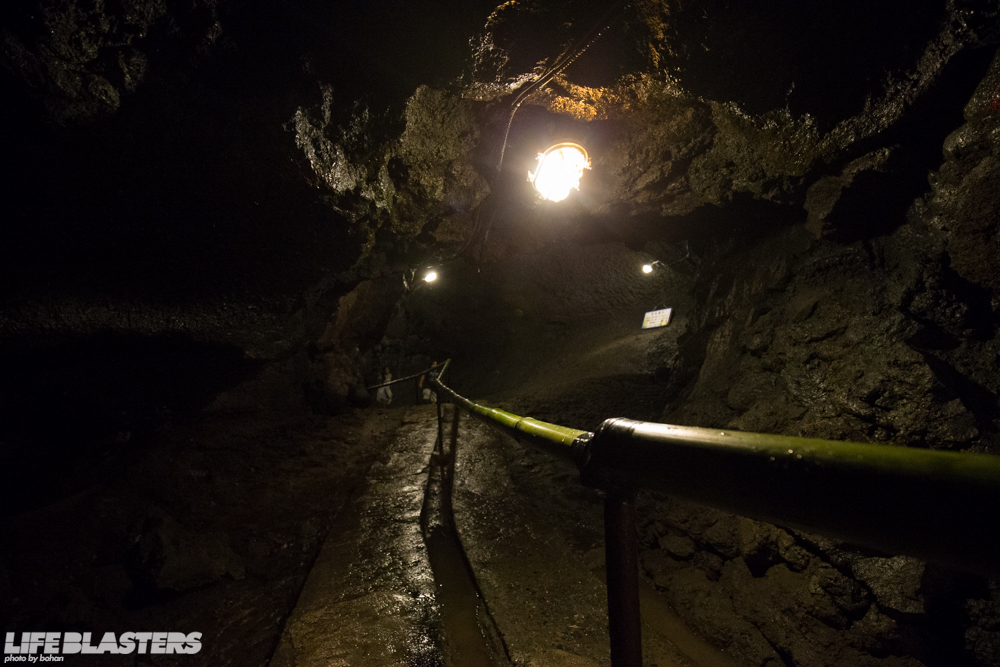 We made it to the far end and then went back. Climbing past the stair where the temperature changed from 10 to 30º was brutal. I wanted to stay in the cave forever.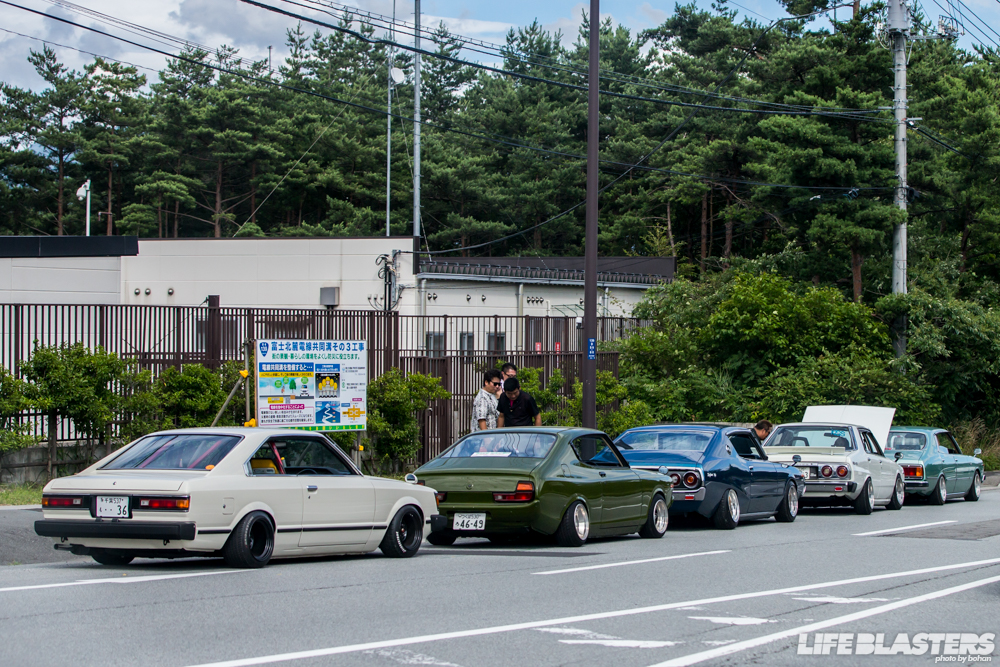 Then it was time to go home. Traffic on the highway was heavy, as this was the end of the three-day weekend. The slow driving gave me plenty of chances to see more cool cars and bikes though, so that was fine.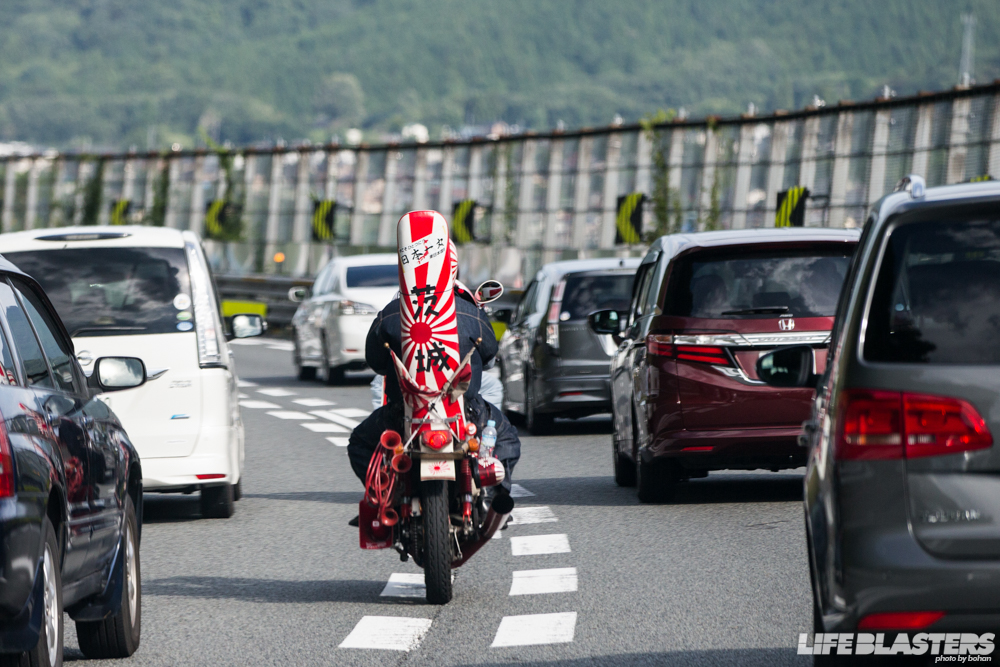 This guy takes the prize as the most bosozoku out of all the bikers I saw.
We finally made it back to Tokyo and I got my things packed, had a cold shower, and went to bed. My flight was at 12:30 the next day, so that meant showing up at the airport at 10, which meant catching the train at 8 to be safe. Nao dropped me off at Nishi-Magome on her way to work again and that was that. I was going home. It was too bad I didn't get to stay in Japan longer, but I had to get back to the US in time for Formula D Seattle. Still, I was happy to be getting away from the heat and humidity!
HOME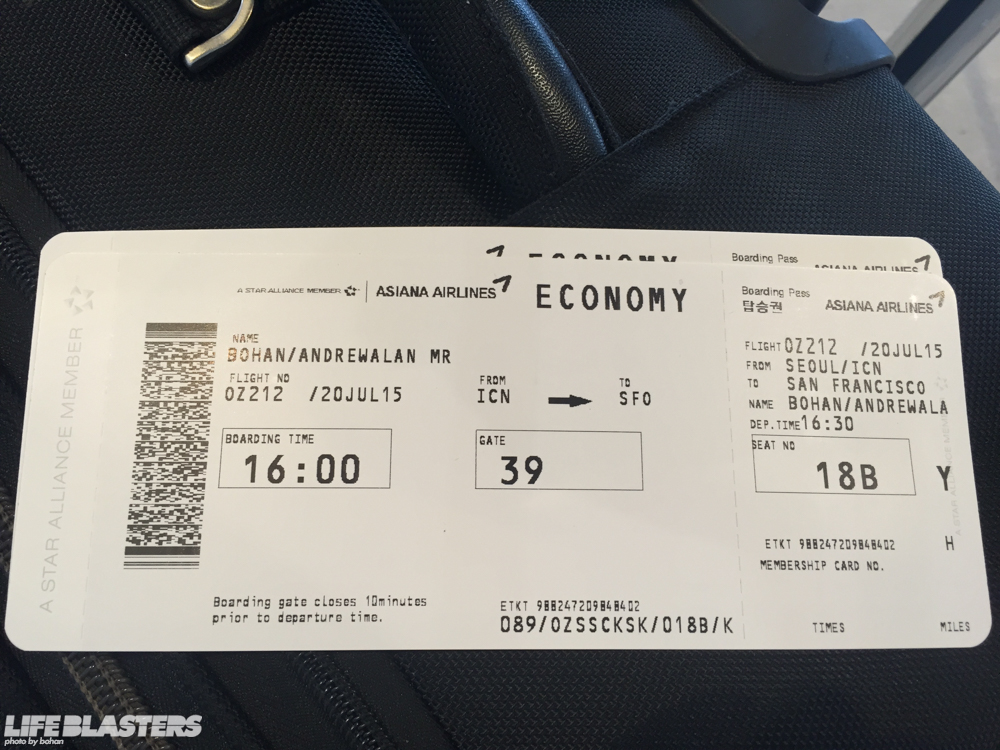 The train whizzed through the tunnels under Tokyo, then rose to the surface and continued whizzing by office buildings and apartment buildings, temples, schools, houses, then farms and farmhouses before diving underground again. I got to Narita, paid exact change to get out of the train station, didn't bother selling my last ¥2000 bill back, and headed for the check-in desk. I was second in line when it opened but my bag was too heavy, so I rearranged some things and then I was 20th in line. I finally made it through again and then got through security without issue, and then waited. I waited here, I waited there, I waited here again, and then I got on the plane, and we were off for Korea.
I fell asleep almost immediately and stayed asleep until the flight attendant woke me up to tell me to put my seat up. I hadn't even realized I was that tired! I got off, followed the crowd, half of which went to customs while the other half went through security again to get to get to the other international gates. I went through security one last time and then found a store to buy the last magnet of the trip. My exchange with the store cashier consisted of "annyeong" and "kamsahamnida." Counting these limited encounters, I spoke eight languages on this trip. I'm trying to imagine how much better it would have been if I was good at most of them.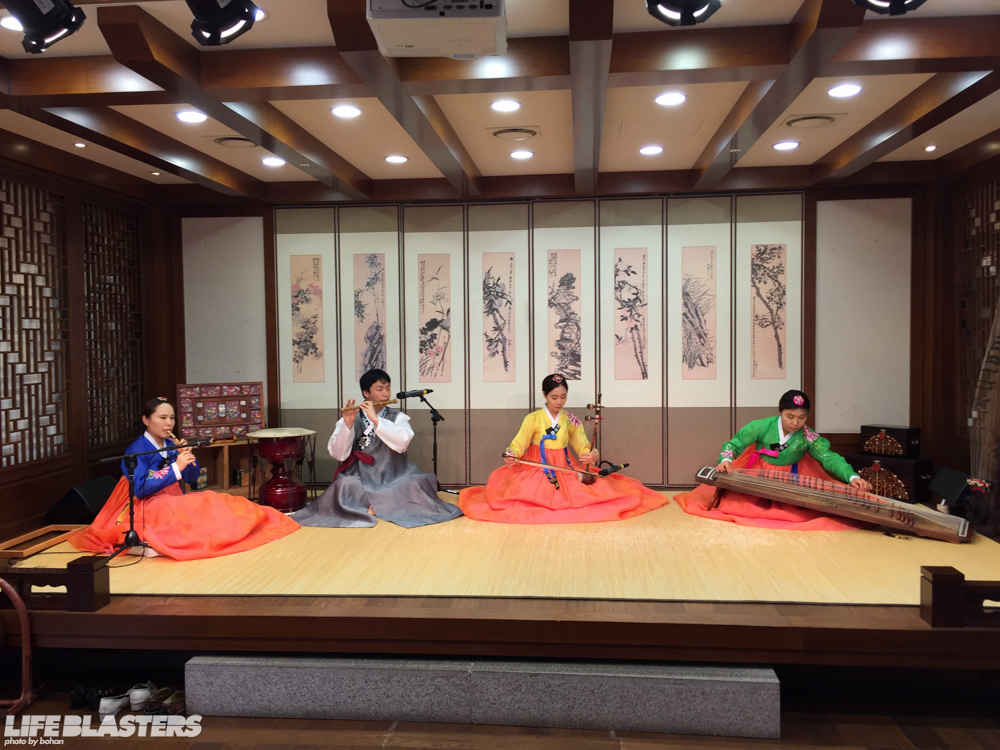 Incheon is a sleek, modern airport, rivaling Gardermoen in the looks department. I was really digging the wood floors and metal accents. The traditional Korean musicians were cool, but it only took me a second to realize they were playing Beatles covers! This shot was during "Let it Be."
Then I saw someone in a Golden State Warriors shirt. And there was someone speaking English with an American accent. Both of those things were a little shocking to encounter after being out of the US and mostly away from Americans for three weeks. I sat down, almost overwhelmed by all the amazing experiences I'd had without any time in between to process them.
It was time to board the last flight of the trip. We all got on, found our seats, and buckled up. We taxied out and the pilot hit the throttle, rotated, and we were airborne. Next stop: San Francisco.

Before this trip, the longest flight I'd been on was five and a half hours. I broke that record with the flight from New York to Dublin at six and half, and again from Dubai to Tokyo at nine and a half. This one would be ten and a half. I had a middle seat and I had no idea how I was going to survive. Luckily the guy in the aisle seat got up a lot, so I got up a lot too, if for no other reason than to break the monotony. I watched season two of Elementary as well.
I also thought. A lot. I thought about all the love I'd seen in the world. I thought about my mom, and how I wished she'd gotten to see me finally do a trip like this. I thought about what Chet and Katharine had been doing in my four week absence. I know it was hard for them but Chet knew I needed to go on this trip to refresh and reset myself. I remembered sitting in my room at Nao's house, thinking about how lonely it is that no one can remember your memories with you. I had been experiencing maximum nostalgia for the late 90s, digging up music that reminded me of my early college years. I noted how incredibly precious it is to have shared experiences with someone. When Nao and I had gotten back from our Saturday outing, I had her read the story about my mom's battle with cancer, and she told me her dad had recently died of cancer as well, and she couldn't even go to his funeral because she was pregnant with Taku. She had known my mom, and because of her experience with her dad, the story really hit home. It's a sad enough story on its own, but when someone can relate to it on that many levels, the emotion in can evoke is beyond words.
I thought about all the salarymen on the train and walking home from the station each night, and how much they were sacrificing to support their families. I thought about the hikers on Mt. Fuji, thousands of people I'd never known existed but all doing what they loved.
The little Korean girl in front of me was overtired, so her father picked her up and carried her around the plane to try to soothe her to sleep.  Small acts of love like that really started to hit me, and I saw them everywhere. The world would be an amazing place if everyone truly loved each other. I try to live a kind, fair life, but it's hard when so many people are out to take as much as they can. It puts someone like me on the defensive constantly, always skeptical, always distrusting. I'm not going to pretend to be an expert on all the places I visited but I certainly saw a lot less taking and a lot more loving where I went than I see here in the United States.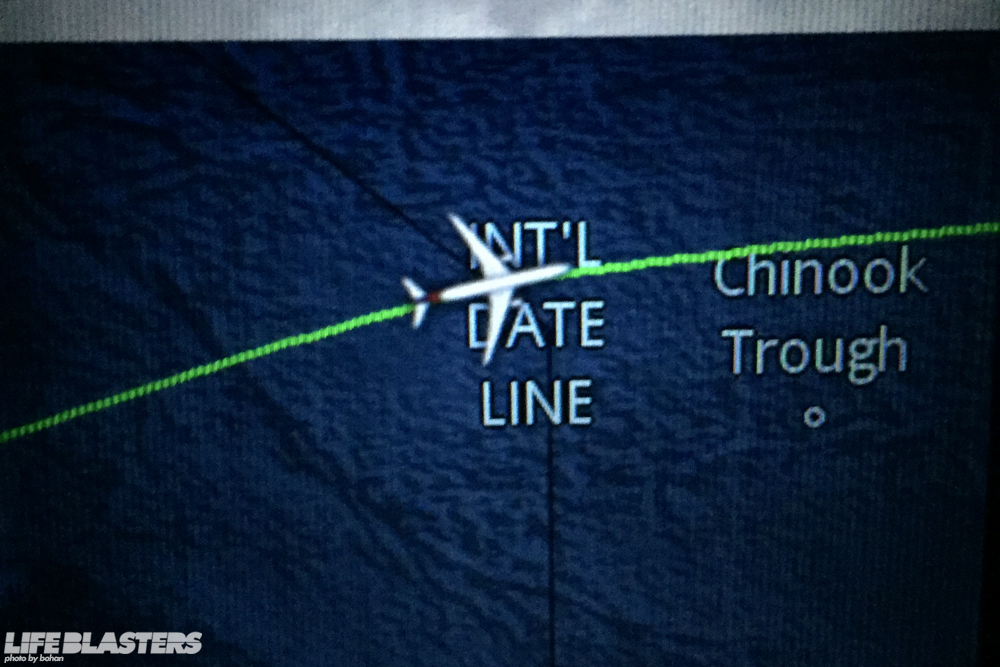 I watched the airplane icon move across the Pacific Ocean on the map for a few hours. At 1:01 Tuesday morning, we crossed the International Date Line and went back in time to 1:01 Monday morning. Not too long after that, we crossed 159.8ºW, my previous westernmost record. What was my record now? I'd still only traveled west that far; I reached that line of longitude this time by traveling east. On the other hand, I'd now crossed every line of longitude, so maybe the direction I'd gone to get there was irrelevant.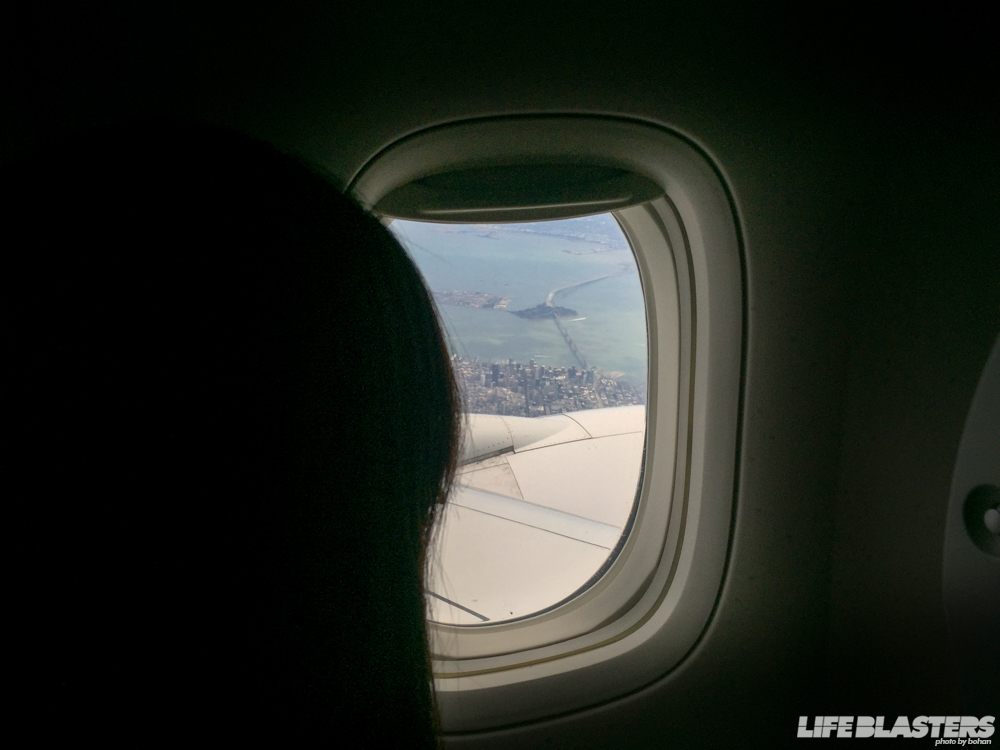 Our flight path was heading southerly, meaning we were past halfway there. I watched the icon move further and further east, curving more and more south as it went. Soon the window shades were raised. It had been getting lighter for some time. I saw the California coast. There was Marin County! The Golden Gate Bridge! San Francisco! What a fantastic approach!
The plane landed and we all got off. The customs agent looked through my passport and looked at me. My passport photo featured my pre-beard chin, which threw him for a moment, but he let me through the first checkpoint. The checked baggage took so long to get on the carousel that the line at the second checkpoint grew from one person to over a hundred and then shrunk back to two by the time I could get in it. The agent let me pass, and I made my way out to the curb. Chet pulled up, I threw my stuff in the trunk and I got in. I was exhausted.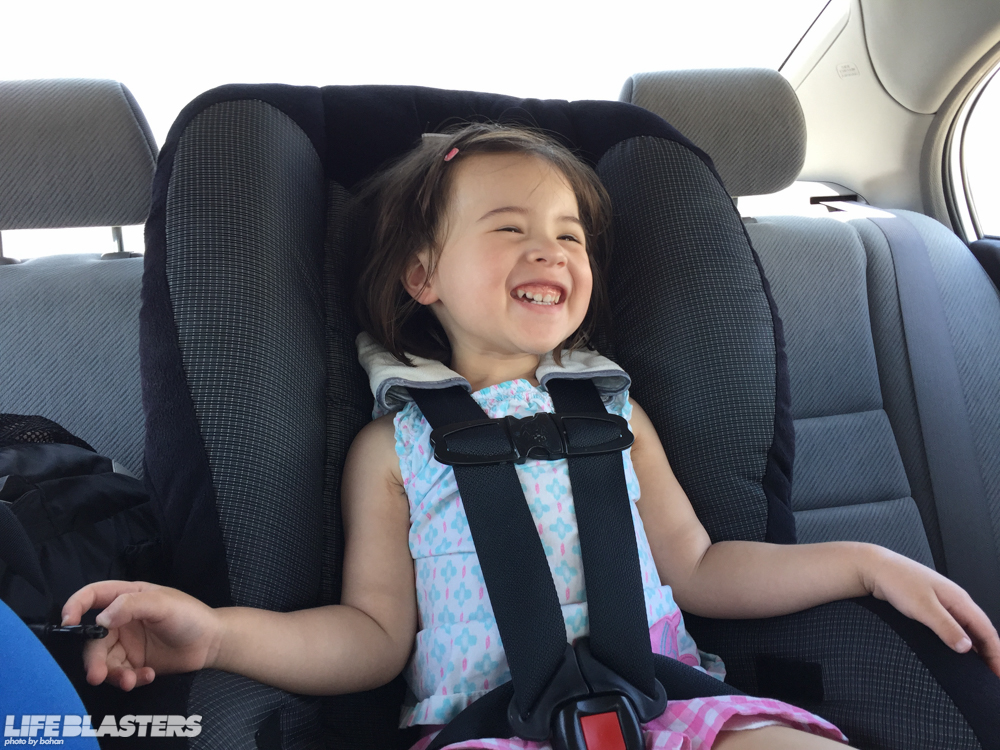 Katharine was happy to see me. It was July 20, exactly four weeks since I'd seen her, but I was finally home. The funny thing was that she just thought I'd been at the airport this whole time!
EPILOGUE
Here are the stats for this trip:
Total time: 28 days
22,387 miles by plane, 267 miles by train, 3,152 miles by automobile, and 11 miles by ship, for a total of 25,827 miles (41,565km)
43 hours spent on 10 flights, 31 hours spent waiting at 10 different airports (SFO, JFK, DUB, LHR, OSL, MOL, IST, DXB, NRT, and ICN)
8 days shooting three drift events in three different countries (USA, Ireland, and Norway)
Touched the ground in 14 countries (USA, Ireland, UK, France, Belgium, the Netherlands, Germany, Denmark, Sweden, Norway, Turkey, UAE, Japan, and South Korea) and passed every line of longitude.
27,640 photos taken (583GB)
These are my new travel records as of July 21, 2015:
Furthest West/East: All/Infinity
Furthest South: La Perouse Bay, Maui, Hawaii, 20.6ºN
Furthest North: Atlantic Ocean Tunnel, Kristiansund, Norway, 63.1ºN
Furthest from Home: Dubai, 12,948km (8,093 miles) away
Highest: Pikes Peak, Colorado, 4,302 meters (14,114 feet)
Lowest: Atlantic Ocean Tunnel, Kristiansund, Norway, -250 meters (-820 feet)
Number of States Visited: 40
Number of Countries Visited: 16
I eventually did get my camera gear fixed. The day after I got home, I drove with Chet and Katharine up to Washington for FD Seattle, and I when we got back home I had the parts waiting for me. Canon had the body mount in stock in New Jersey, but I had to order the lens mount from a shop in Montreal.
And of course I can't end this without saying thanks to everyone who made it possible!
So to my wife Chet, for understanding that I needed to do it and taking care of Katharine by herself while I was gone,
My dad, for the money my mom had promised me,
Matt, for the place to stay in New York,
Darren, Laura, and Ronan, for putting me up and showing me around Ireland,
James, Mike, Stu, and Jason, for getting me through Europe on the Monster bus, plus some beer, food, and hotel beds,
Alok, for his help coordinating with Monster and for a hell of a ride through Sweden,
Lars, for a place to stay near Rudskogen,
Egil, for showing me around the west coast of Norway,
Nao, for the room and taking me around Tokyo and Fuji,
Ayumi, Yuta, Yoko, Mai, Saikao, and Hori, for coming to hang out and catch up,
and everyone else I met along the way, thank you for making this trip incredible. You're all welcome to crash at my place anytime.
Lasting impressions are a hard thing to understand. Had I changed? How? Would it be temporary? I've been home more than a month now, and I still haven't processed it all yet. The dominant theme is still love though. Love leads to compassion and understanding, which are all things we need more of and I think I'm improved in that area. I also feel less competitive than before. It's like I've stopped seeing life as a zero-sum game, where in order for me to win you have to lose. Now I see it as something we can all win. Not just that, but I want everyone to win.
When I was planning this epic journey, I had no idea it would affect me the way it did. Of course, I thought it might affect me in some way, but I didn't try to predict in what way or even place hope in it affecting me at all. I just went out and let it happen, and the result is beautiful.
.:Bohan
email: bohan@lifeblasters.com