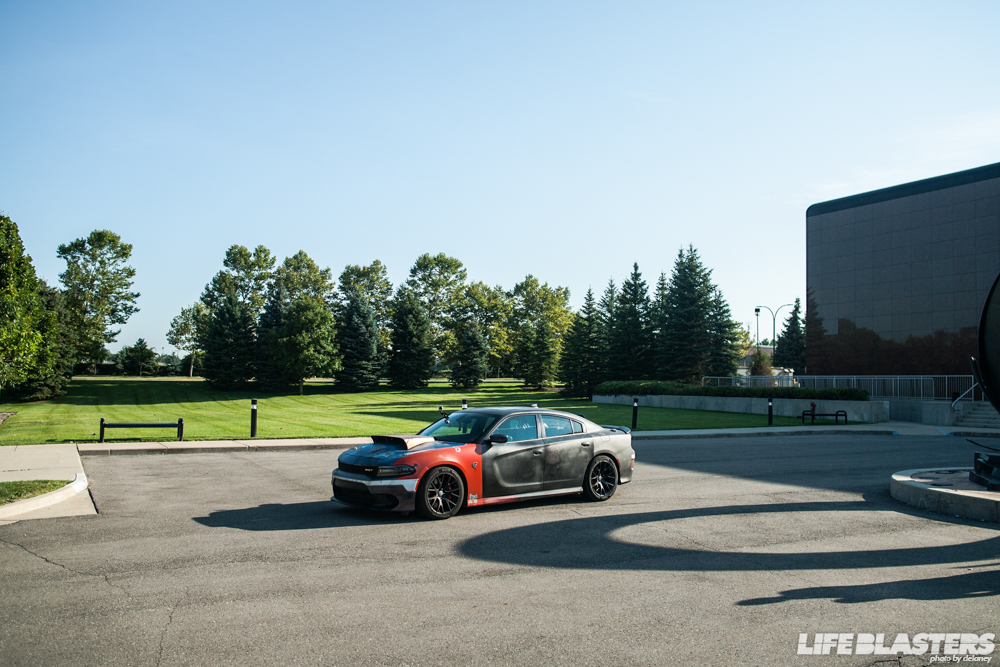 Most people know about Car Week, or have at least seen photos from it. The week before the Monterey Historic races and Pebble Beach, Carmel and Monterey are overrun with the most exotic cars in the world. McLaren P1s and LaFerraris can be seen on every block, and some the of the most desirable and priceless cars to ever cruise the streets.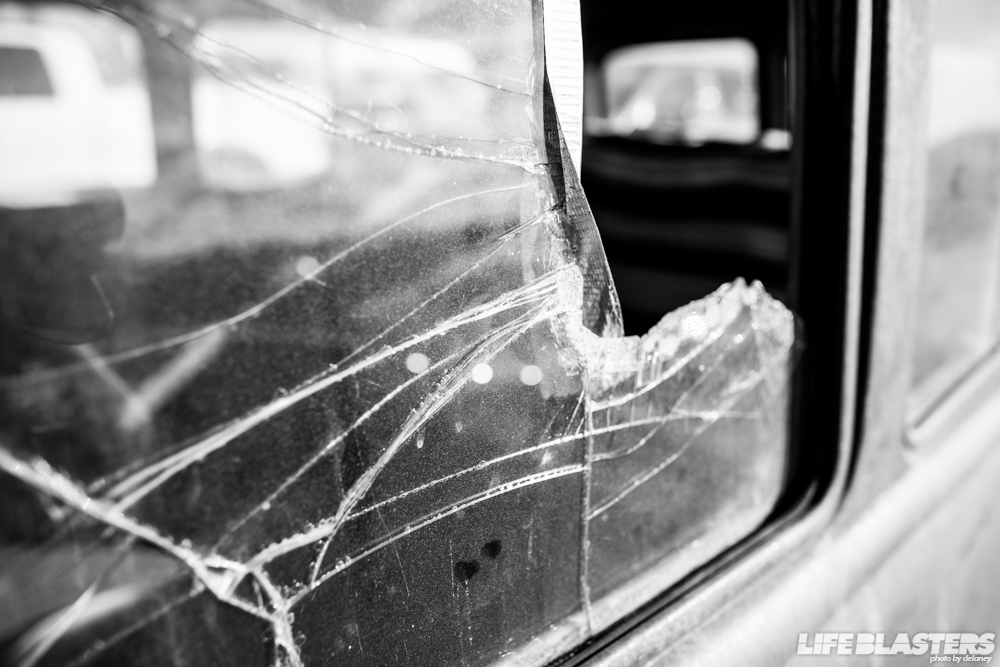 But I'm in Detroit and that's not how things work here. Don't get me wrong, I love exotics and one-off priceless Ferraris, but shoot, I'm still trying to see my first McLaren P1. But here in Detroit it's a different world. Urban decay is just a part of life, abandoned and burnt down houses line the streets, the massive four lane arterials are empty. Parts of Detroit seem like something out of a post apocalyptic movie. But, we're the Motor City, and the people here will do anything to keep that title.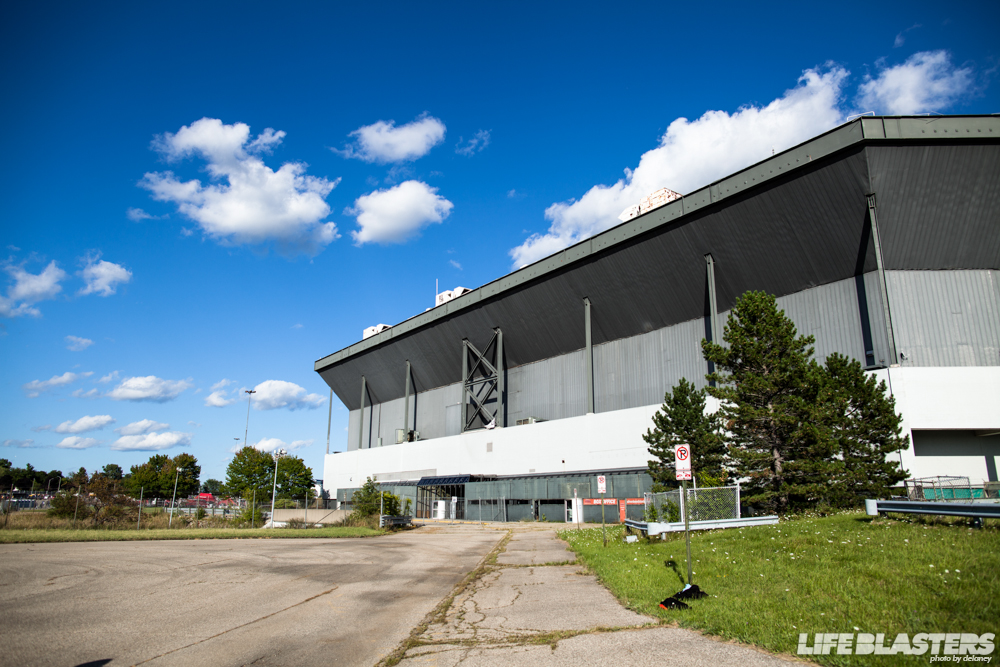 The week starts off Wednesday at the Silverdome in Pontiac. The Silverdome used to be home to both the Lions and the Pistons, as well as hosting the 1982 Super Bowl and some games for the 1994 World Cup. Now, like the city of Detroit, it just sits there rotting away as a reminder of what was back in the day.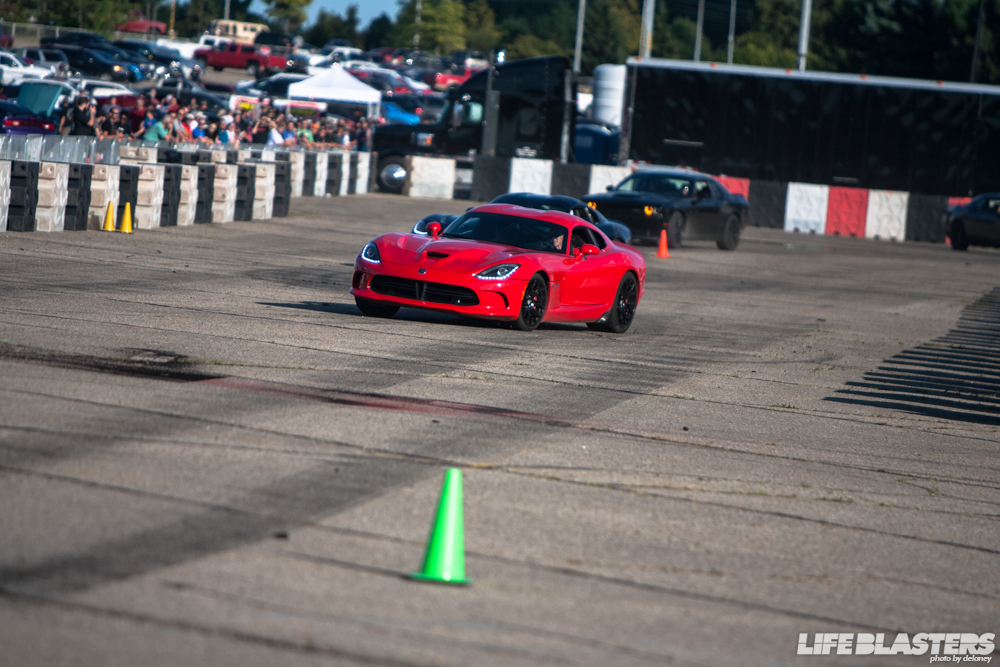 But not all bad things stay bad. With the Woodward Dream Cruising coming up in a few days, the guys from the YouTube show RoadKill decided to make a whole new event for the Dream Cruise. And Dodge, whose headquarters could almost cast a shadow over the Sliverdome's parking lot, decided they would be the ones to help out.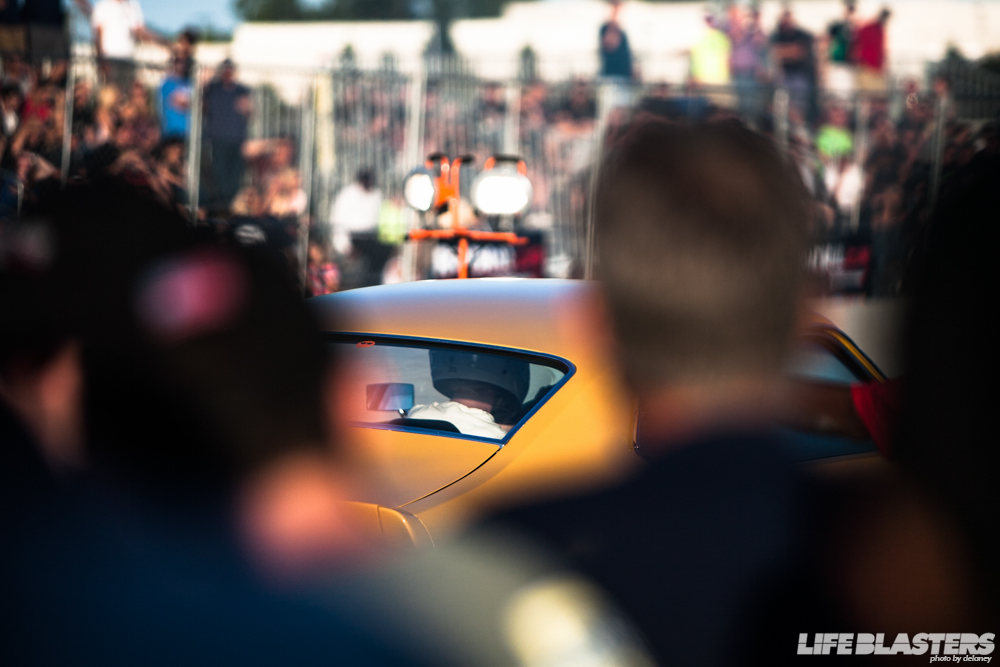 The plan was simple: set up a small dragstrip in the empty parking lot, invite anyone to race, and post it on Facebook. The first 200 people to register their car could race, albeit for a few rules: No drag slicks, the car cannot be trailered, etc. As for spectators, The first 5,000 people to sign up were able to get in, and all this for free. But the event was so popular that they didn't even scan for tickets at the event. Around 10,000 people came out for the first ever RoadKill Nights. The drags were simple, two flood lights separated the two lanes, when they went, the race was on. Nice and simple.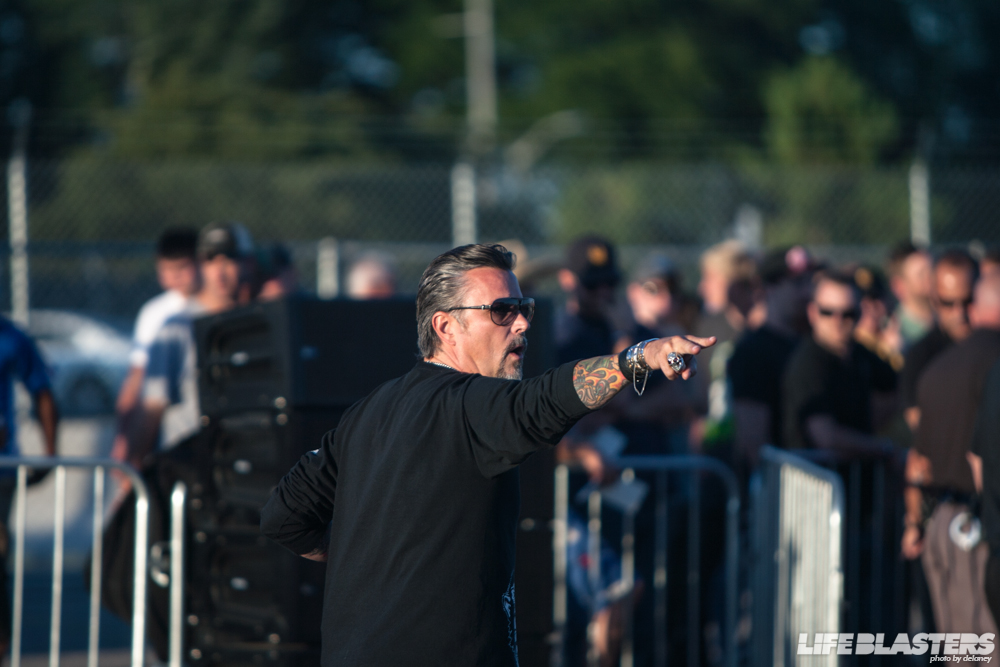 While the formula itself would've been great, there had to be a draw. RoadKill challenged Gas Monkey Garage to a good old fashioned build-off. While most of the rules were mainly just loose guidelines, the main rule was both cars needed to have Hellcat power.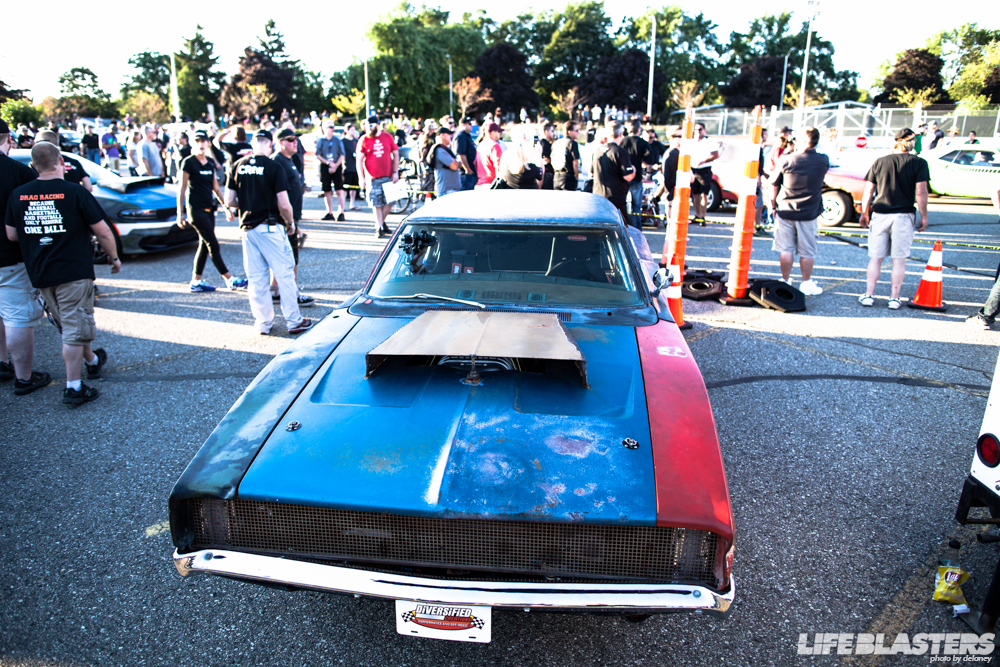 RoadKill brought their trusty General Mayhem, one of their most famous cars.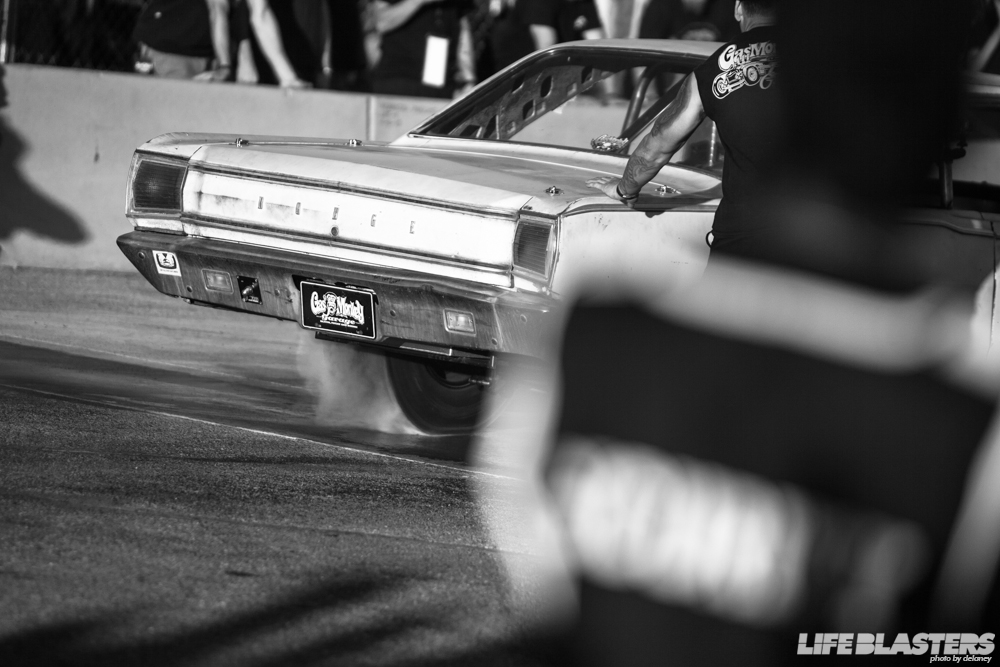 Gas Monkey brought their newly finished Dart, and I heard the name General Maintenance thrown around a few times.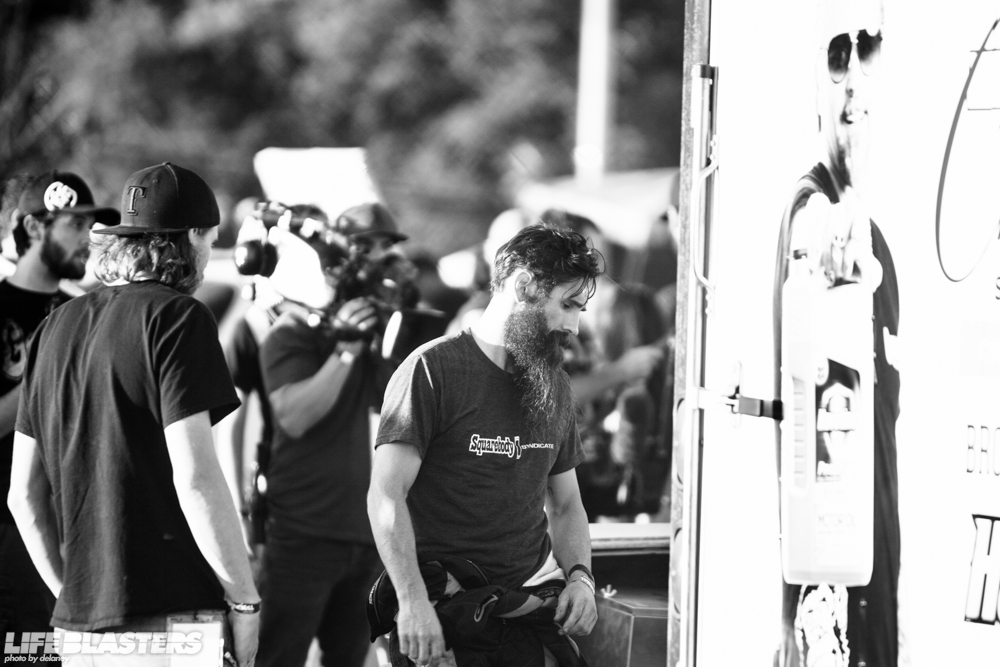 While General Mayhem sat waiting for the up coming challenge, the Gas Monkey guys were working furiously on their car. Something happened to the car after their two test passes in the daylight, and the faces on the crew didn't look too promising. Let alone Aaron, who was designated to be the driver.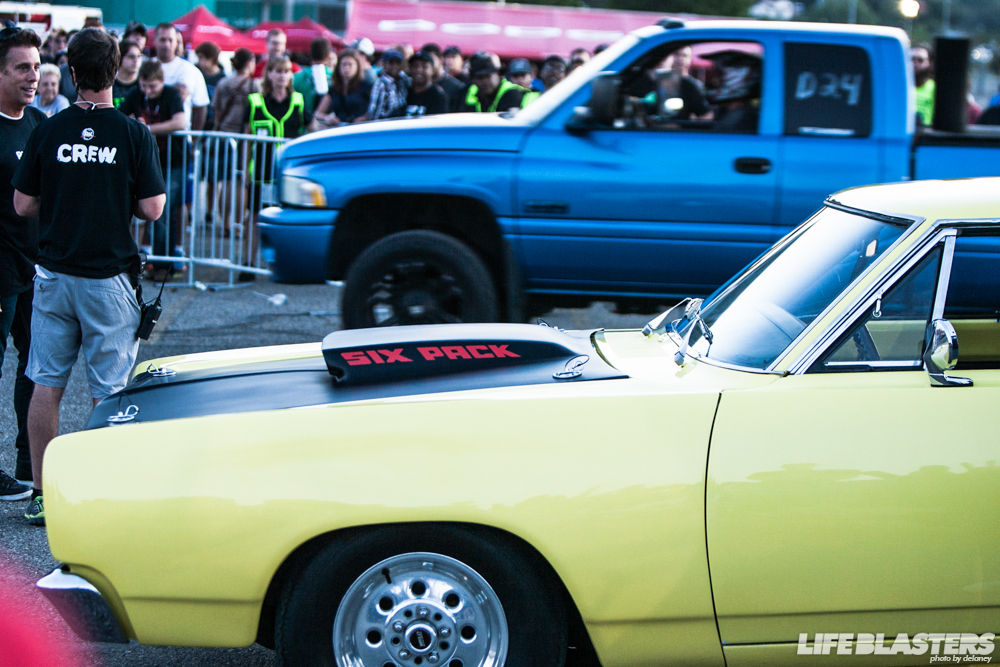 While they worked, the rest of the racing went on. After the 200 car run, the fastest six were brought out for an elimination drag. The fastest two vehicles would then battle it out for their very own Hellcat motor. That's a prize worth racing for. And the battle came down to these two, a Superbee and a Diesel Ram who seemed to be destroying anyone that got in his way.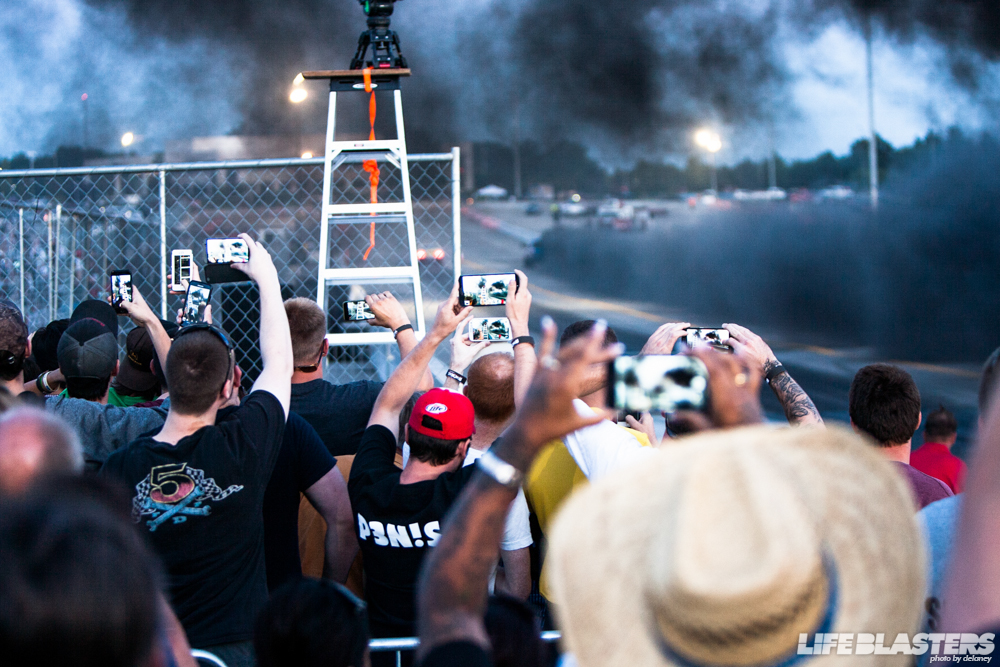 The Superbee seemed to be the underdog, but thanks to a last minute tip by his friend, he got to the line fast enough to not allow the diesel to fully spool up. The Ram covered the track in soot, but it wasn't enough to beat the Superbee. And to make it even more special, someone had tried to steal the Superbee a few days before the event.

With the grudge racing done, it was time for the main event. Gas Monkey had been working on their car for about three hours, and they didn't show up when Roadkill pulled out. So of course, the guys from RoadKill took a few pot shots at Gas Monkey while they waited.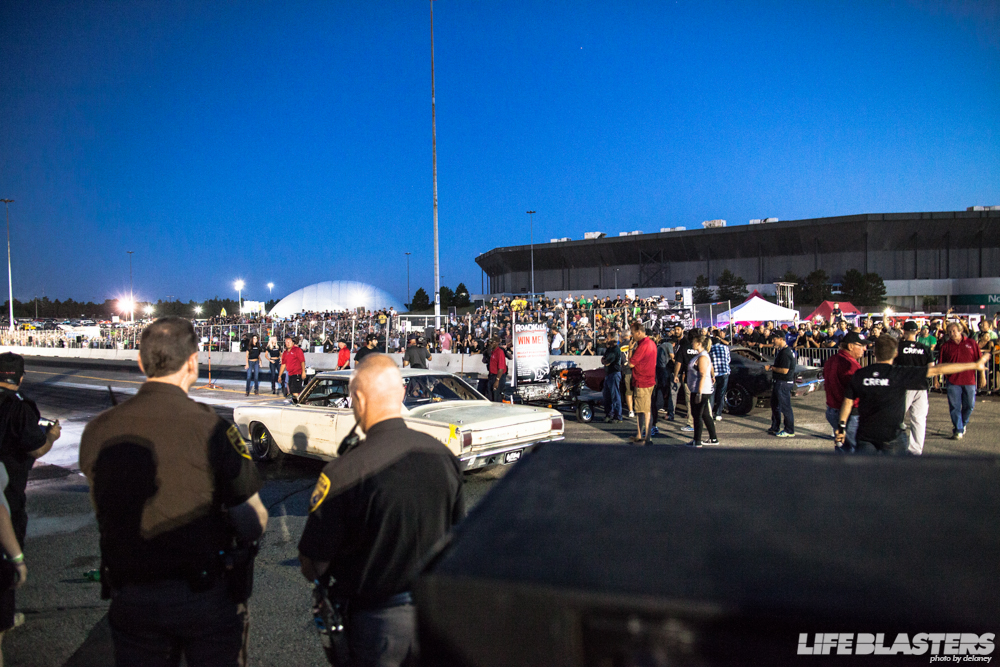 But about 10 minutes later Gas Monkey's Dart came rolling up to the line. Even though the event was put on by RoadKill it was close to 50/50 when it came to what side the 10,000+ plus fans were on. Even though it was getting late in the evening and it was a Wednesday night, no one left.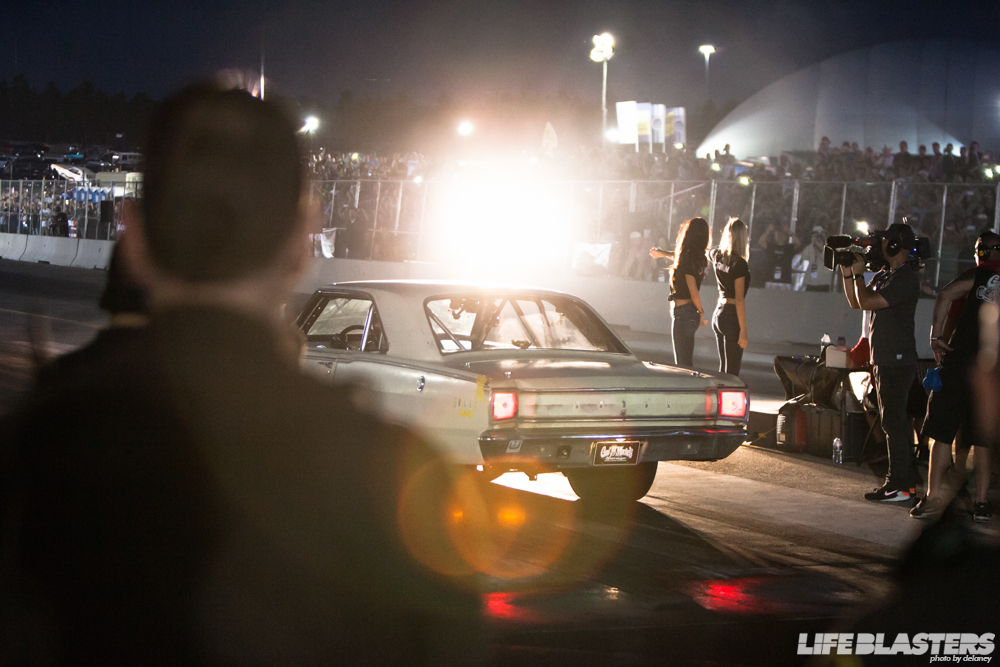 Without much more smack talking, Aaron Kaufman and David Freiburger lined up. As soon as the lights went on, the race started. There were no best out of three, or any games like that. It was one run and done.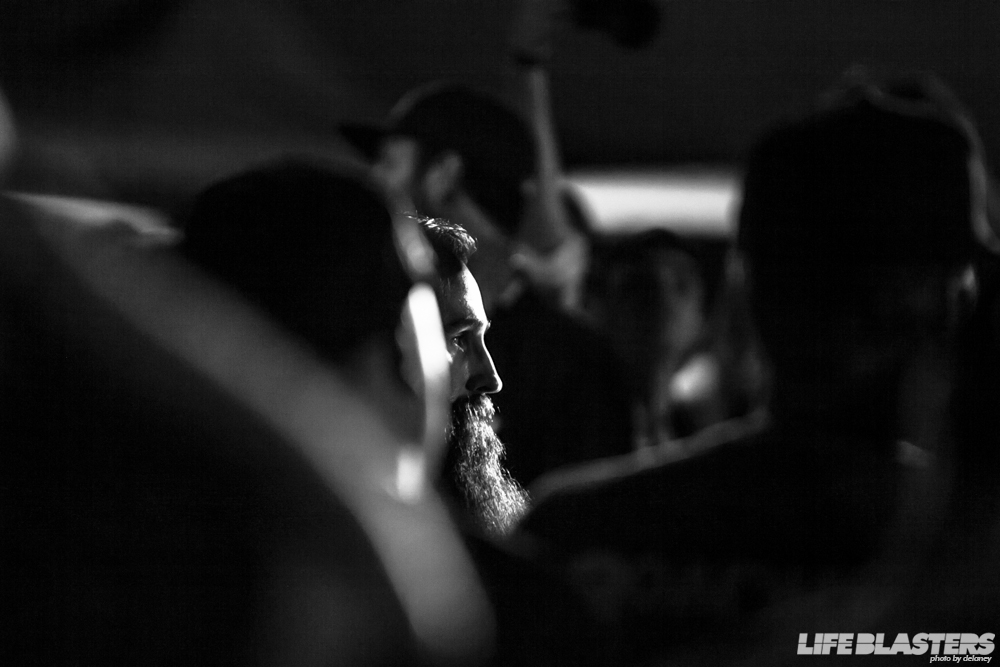 And just like that, Gas Monkey won the very first RoadKill Nights.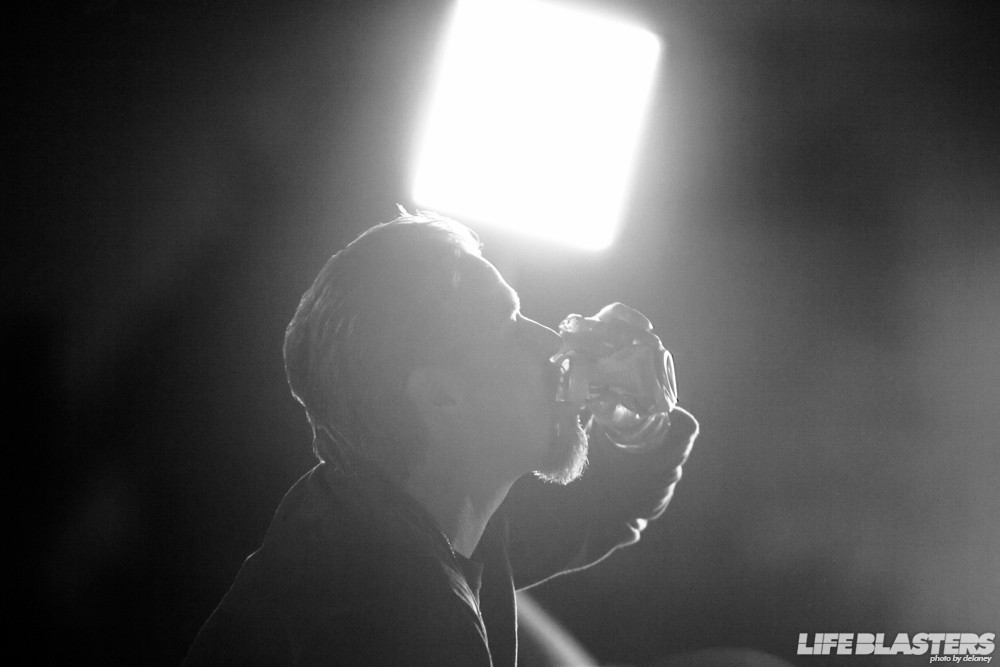 Richard Rawlings had seen, came and conquered with the help of Aaron. I thought Richard and Aaron were going to hang around and bring their car down to the Dream Cruise with RoadKill, but I saw on their Facebook page there were in Monterey the next day.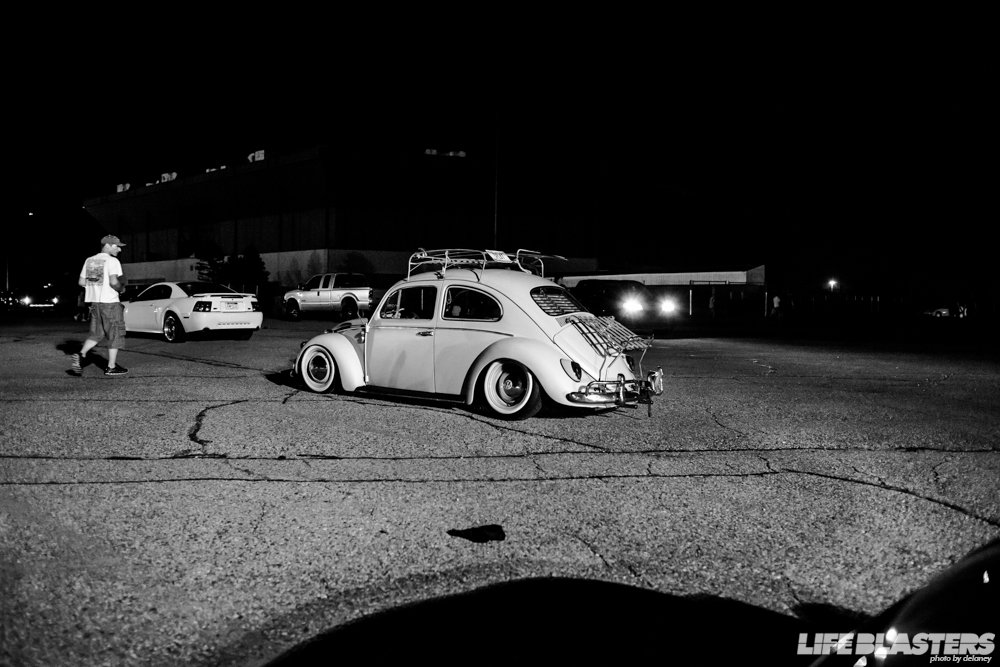 With the drag race over, it was time to head home. But not after admiring this perfect Beetle in the parking lot. It was either on purpose, or just good luck, but it just happened to be parked under a street light. Either way it looked perfect.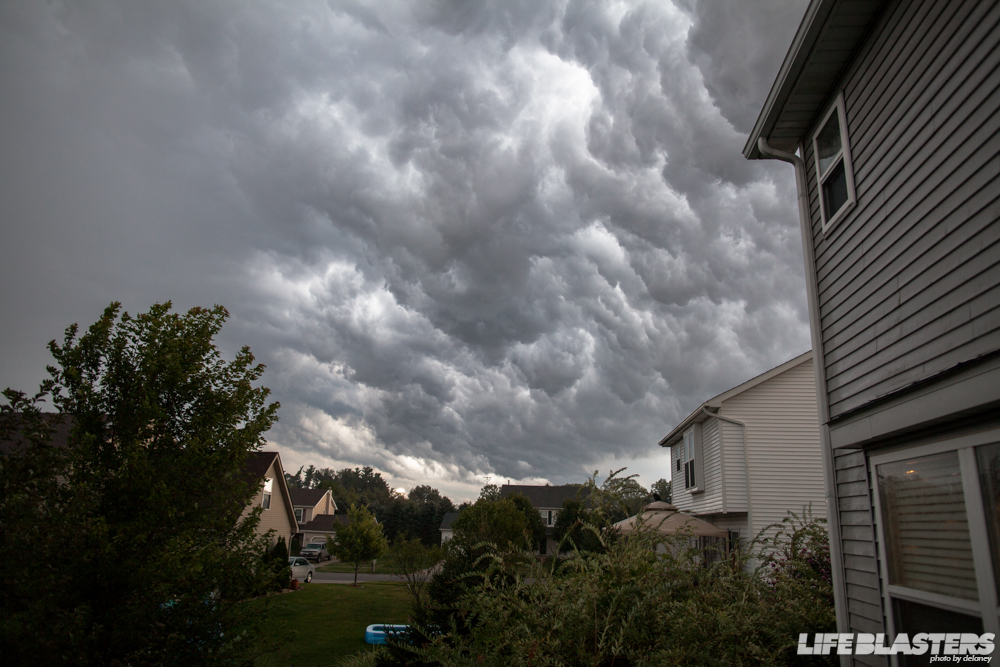 With RoadKill nights on Wednesday, there was a gap until the next big event. I planned on heading over to Woodward Avenue on Friday night to see some precruise cruising. But, good old Michigan weather made up my mind for me.

Saturday was by far the busiest day with two big events taking place. The first one being the great Woodward Dream Cruise. Simply put, it's the largest single day automotive event in the world. On Saturday Woodward Avenue is lined by over one million people and over 40,000 cars come out to cruise and park up and down the avenue.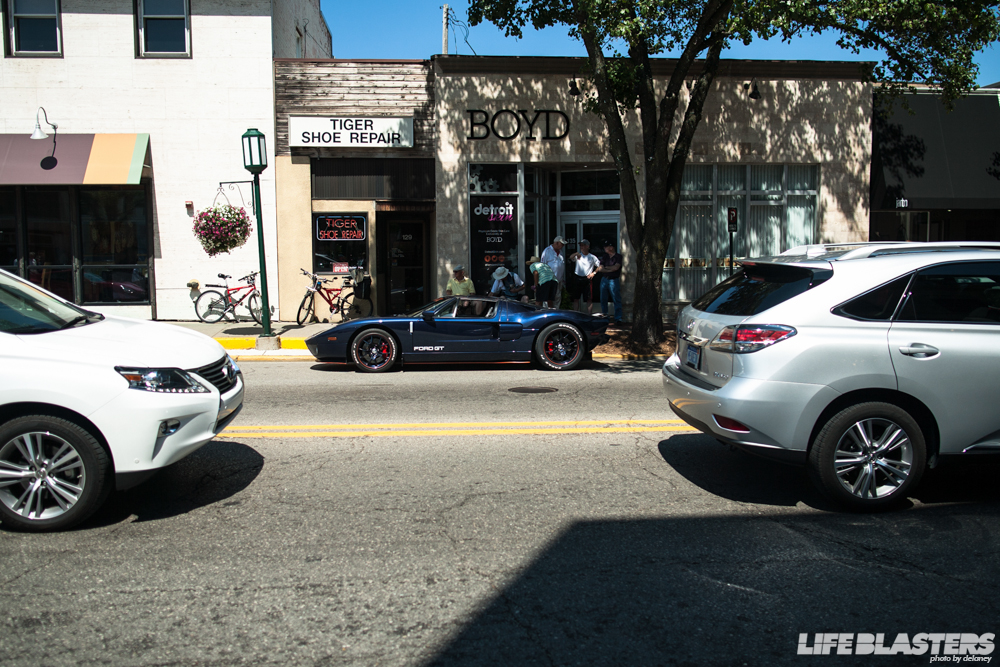 Because of the storms the day before, and because it's Michigan, the weather on Saturday was high 80s fahrenheit and also high humidity. After a blizzard, it was some of the worst weather for muscle cars. So for the short time I was there, it seemed a little light. But still epic.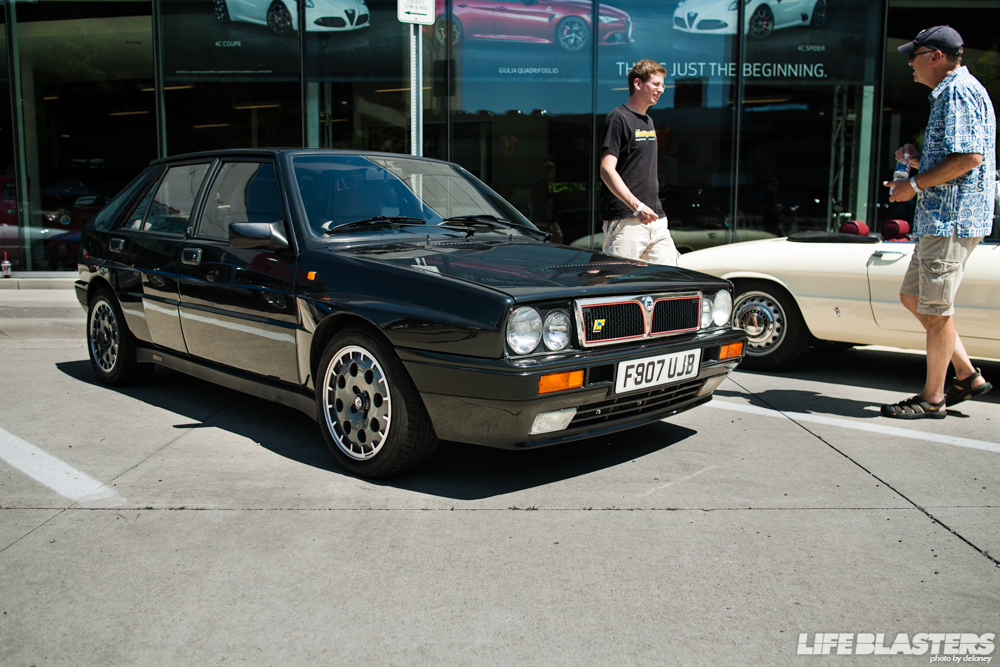 I was amazed when I saw a Lancia Delta at the NEFR event, so seeing a second one here was unreal.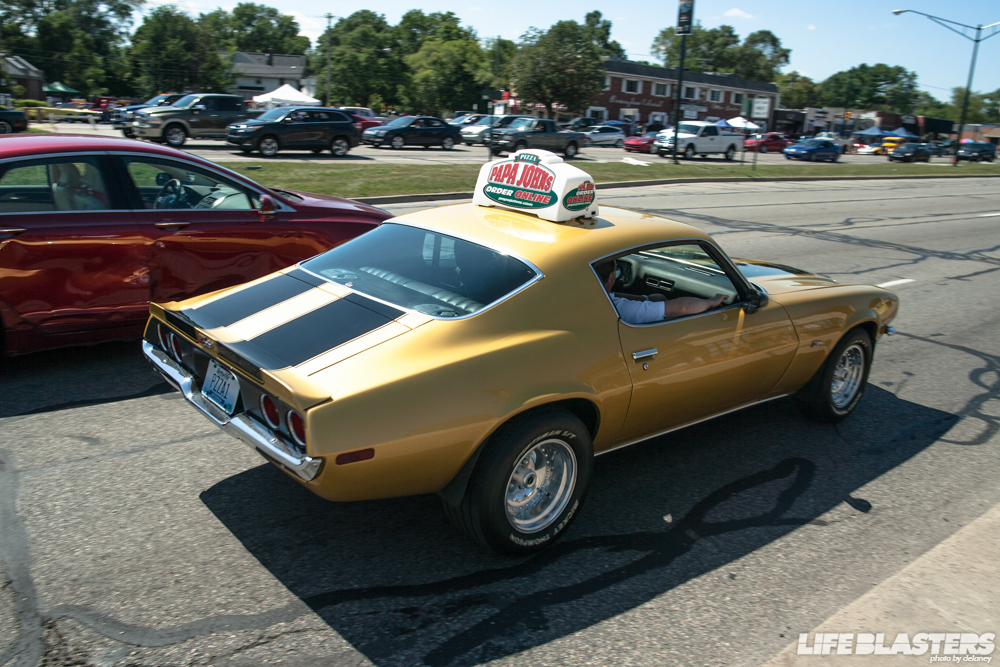 I didn't plan on using this photo, but the story behind it is so Detroit. When I first saw this I figured it was a replica from some diehard fan. But I later saw that it was in fact John Schnatter. He brought out this replica of his own car to the cruise. Pretty lame story so far, right? Well, John was down in Detroit with the car and trailer, until someone stole it. Yep, someone stole Papa John's car. But no worries, it was found a couple days later with only minor damage.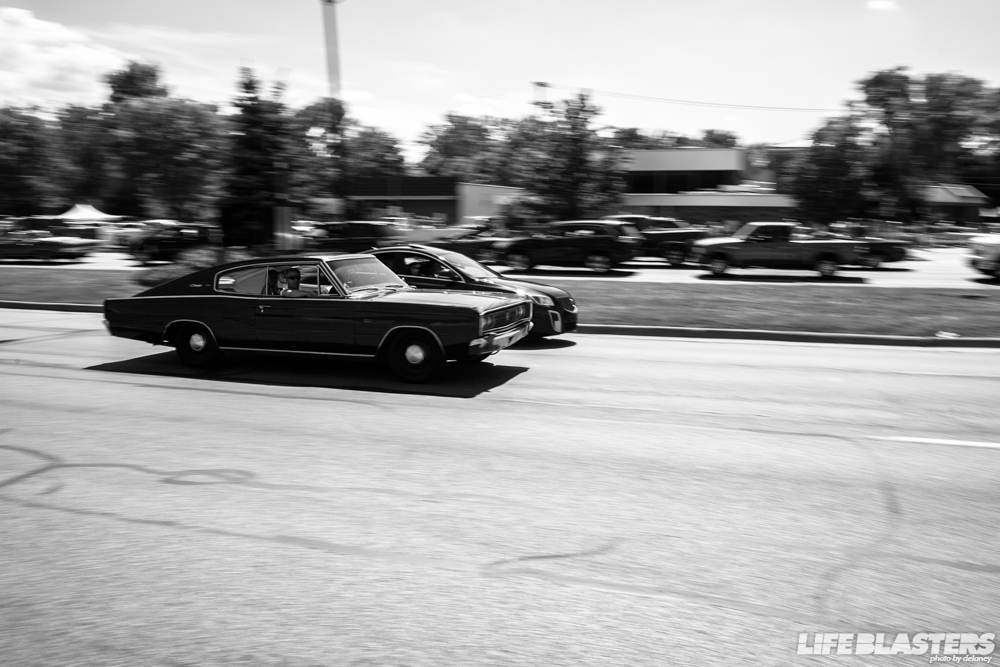 The one thing about the Dream Cruise that I don't like though, is the fact that it's impossible to see everything. It's impossible to see even 20% of it. I'm obsessed with cars, I want to see as many as I can in my life, and going to an event this size kills me because I know there are awesome cars somewhere within the 10 mile length of the cruise, but I could look all day and never fully see it. And it's also impossible to describe.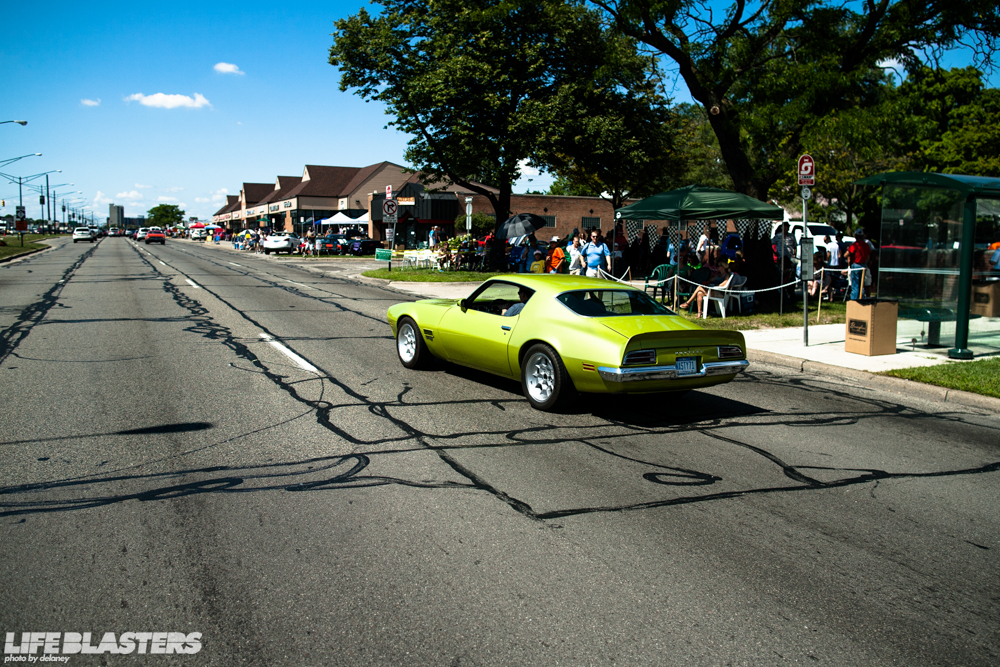 I could post 100 photos and try to describe to you what it's like, but it's not until you come here and see all the cars, all the people, hear the engines revving all over and the occasional burnout that you can truly understand what it's like. Random people come together over a car that they had growing up, or a car of a family member. It's an incredible event that truly sums up what it means to be a car person.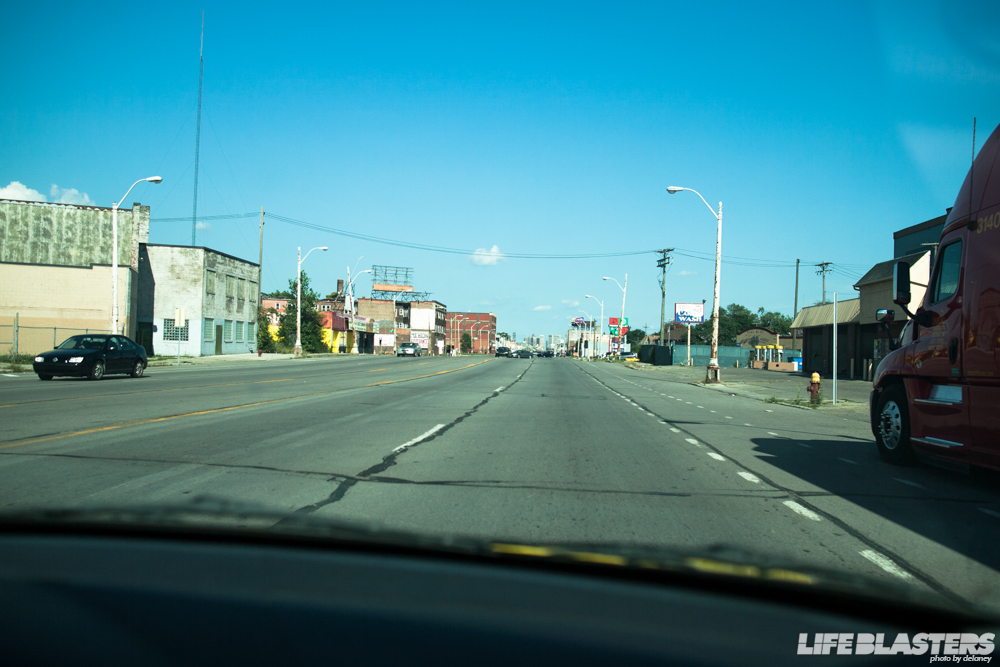 While I easily could've stayed on Woodward all day, there was another event I wanted to see. But for this one we had to venture down into the depths of Detroit. While parts of downtown Detroit are getting overhauled, the rest of the city is just as sketchy as always. Even on our trip down in broad daylight we saw two kids climbing through a window of a long closed store.

This is where we were going. Roosevelt Park, aka the old train station. The building was built in 1913 and was the tallest train station in the world. But in 1988 it was closed down, and ever since it's been standing there waiting for its next life.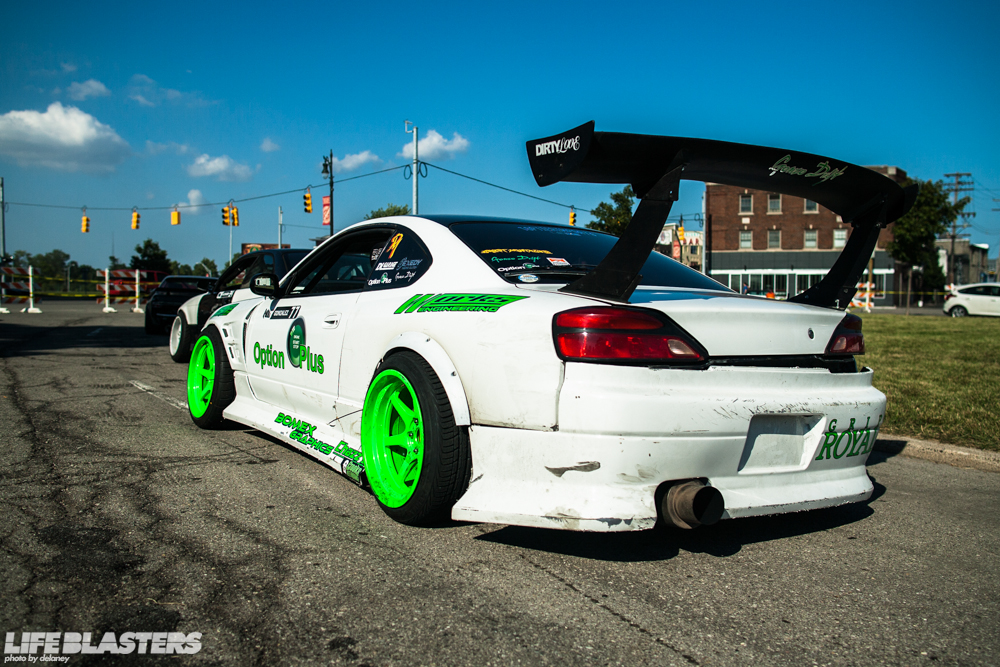 The station has hosted bicycle races, TV shows, music videos, movies, parties and probably its fair share of illegal activity too, but today it played host to the Midwest Drift Union Round Two, Streets of Detroit.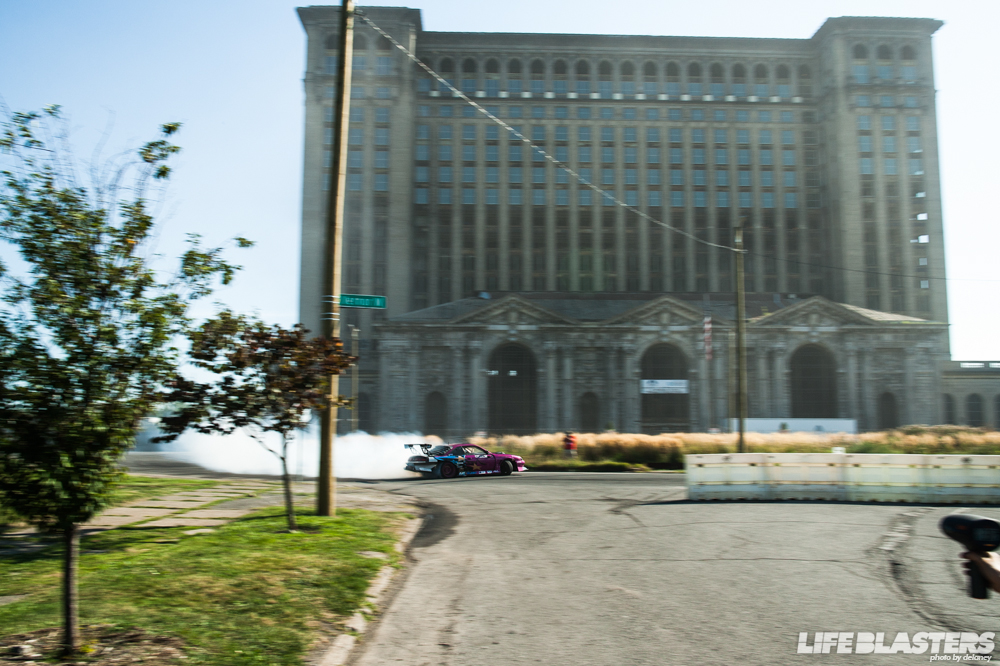 I stumbled across this event a few years ago when it was just a demo and they were testing it out, but I haven't been back since due to scheduling conflicts. I've always wanted to make it back especially because the train station makes for such an epic backdrop.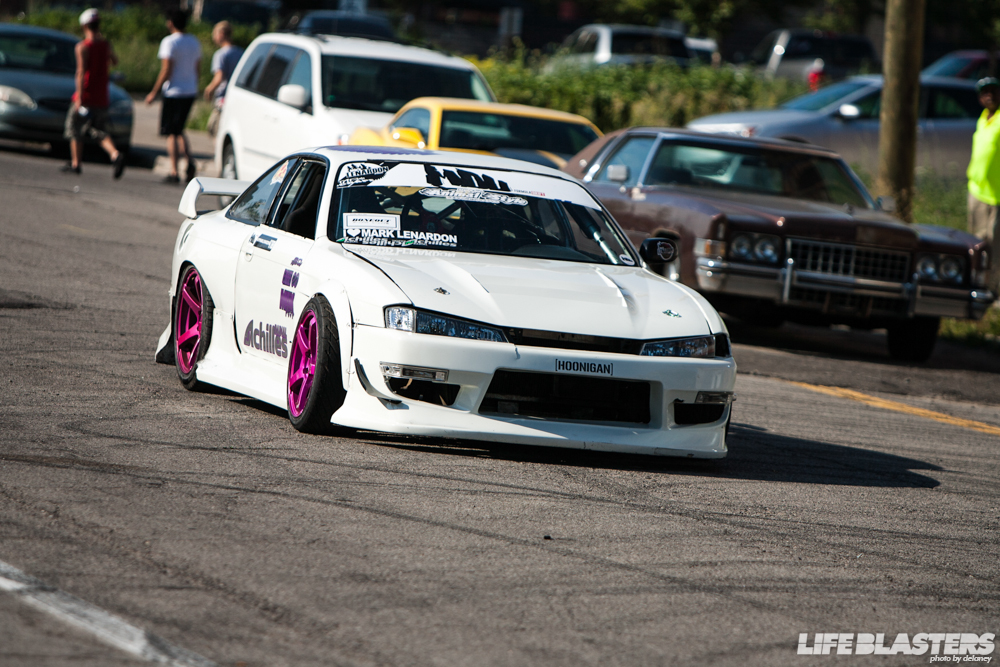 I only knew of one person competing because I always see him on a local Facebook page. But I saw this S14 with someone who looked like Geoff Stoneback driving it.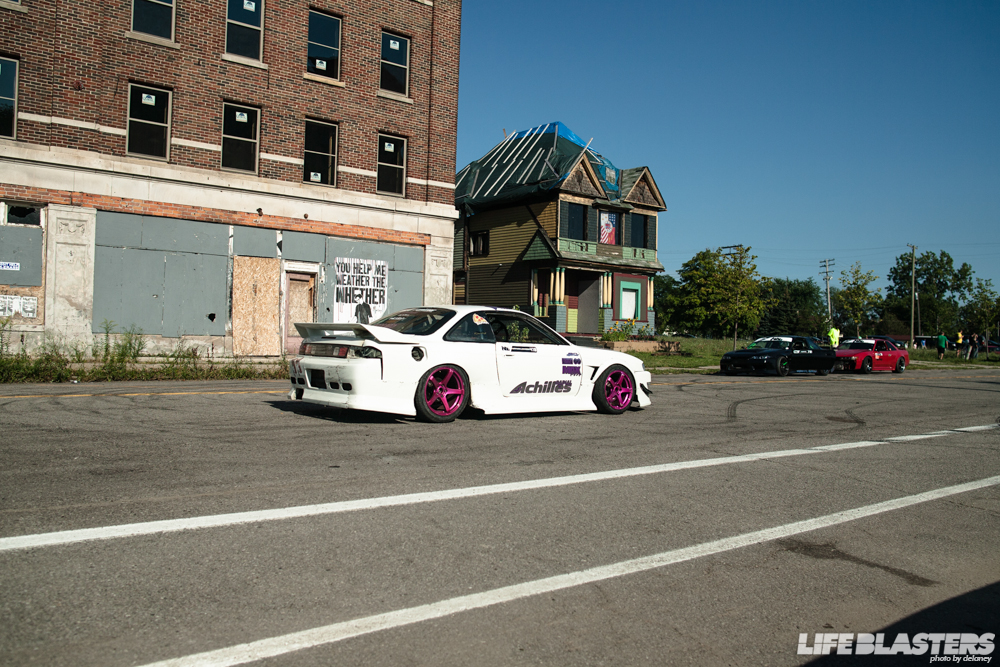 As it turns out, it was him.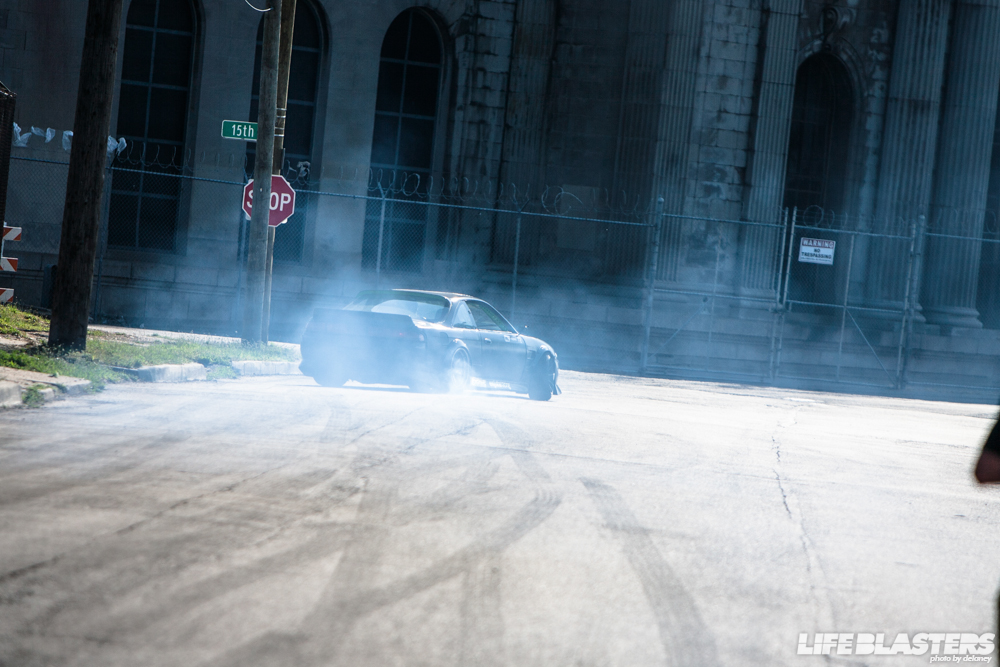 The course was pretty straightforward. The cars started down a long straightaway right up to the doorstep of the train station.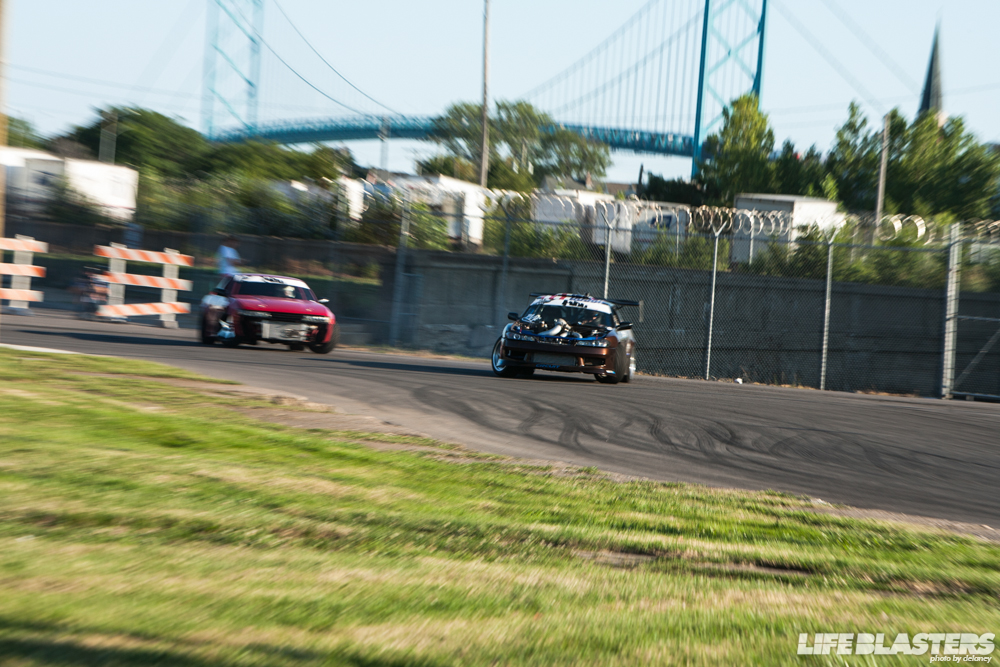 They made a right turn, which made the Ambassador Bridge the backdrop. How many events can say they have a bridge to a different country as the backdrop the their event?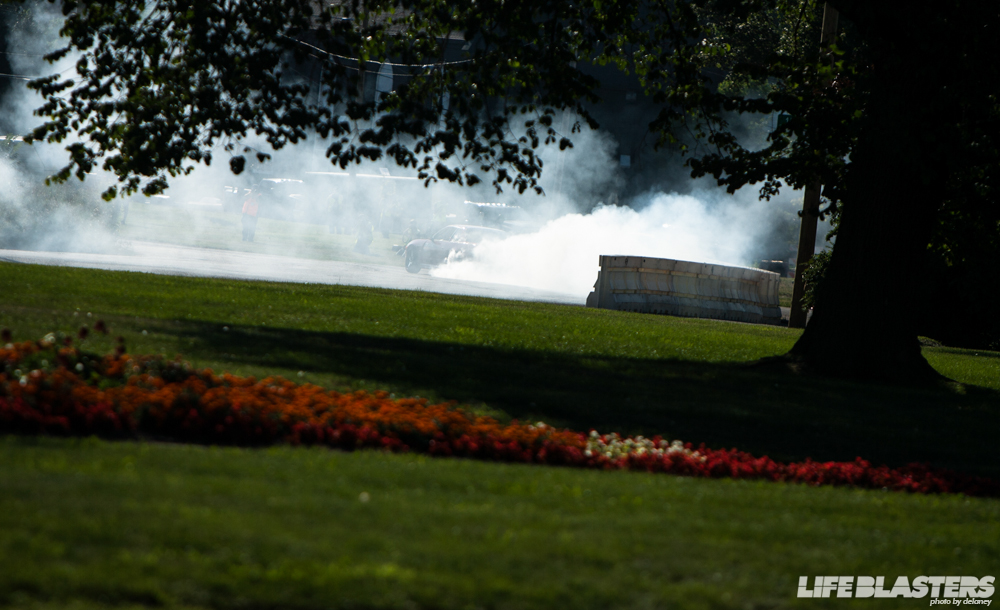 Then there was a long sweeping left hander right in front of the train station. Which is still the coolest place for a drift event.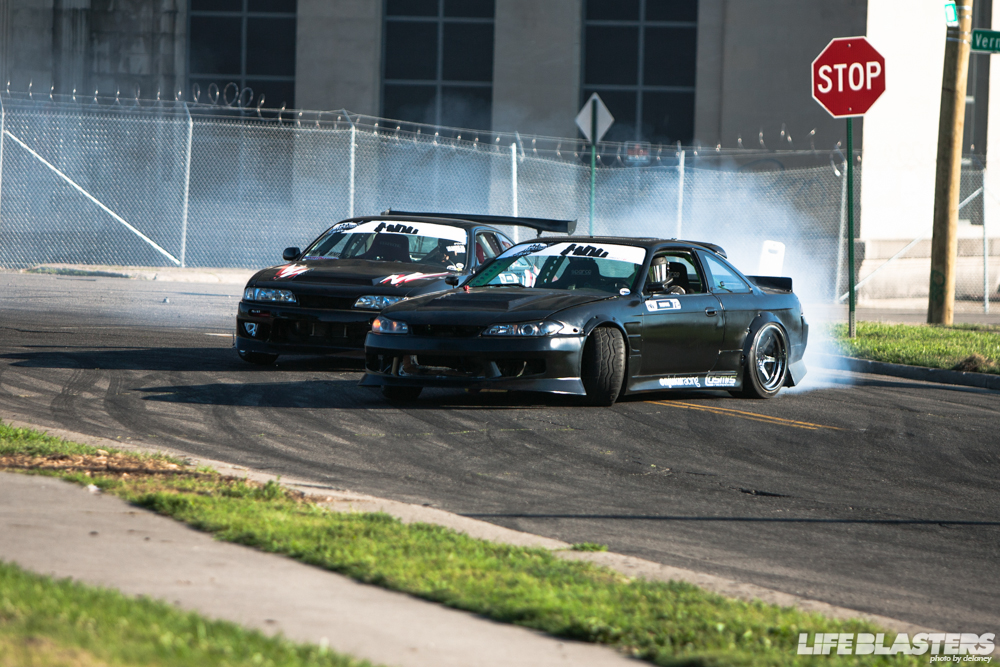 A quick and tight right hander followed the sweeper, which bunched up the cars after the higher speed sweep.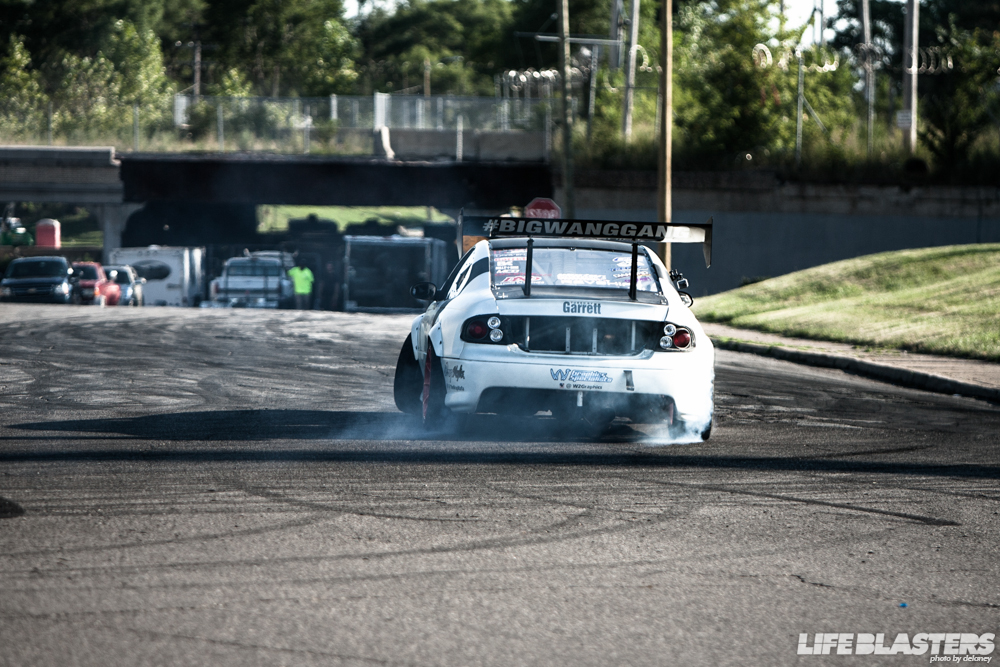 Then followed another left hairpin that ended the run.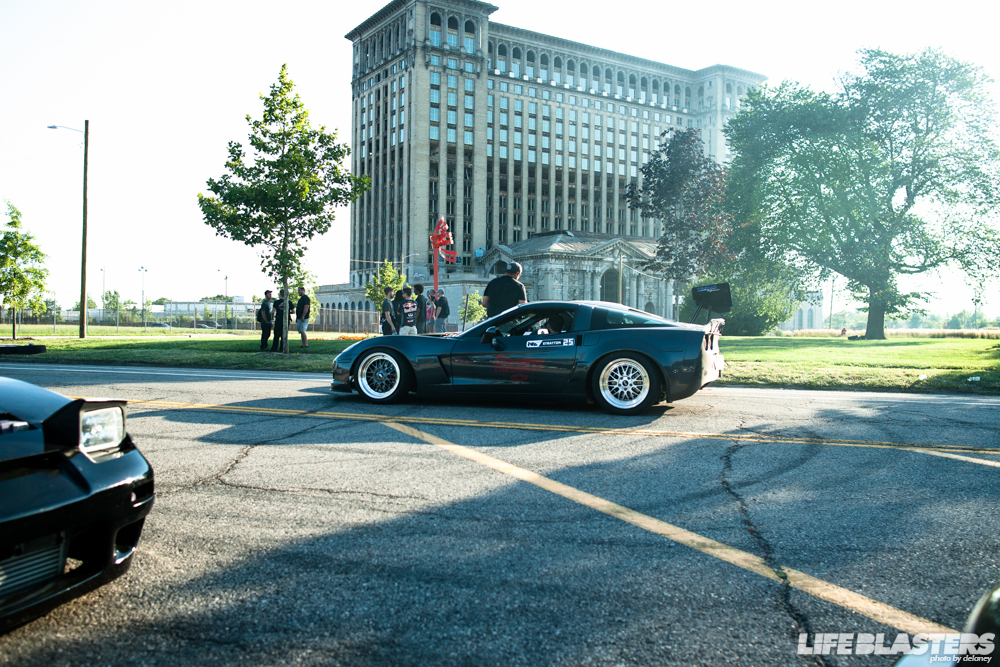 The cleanest car on hand was this Corvette. I'm so used to seeing Corvettes as track cars, seeing this one here was a little different.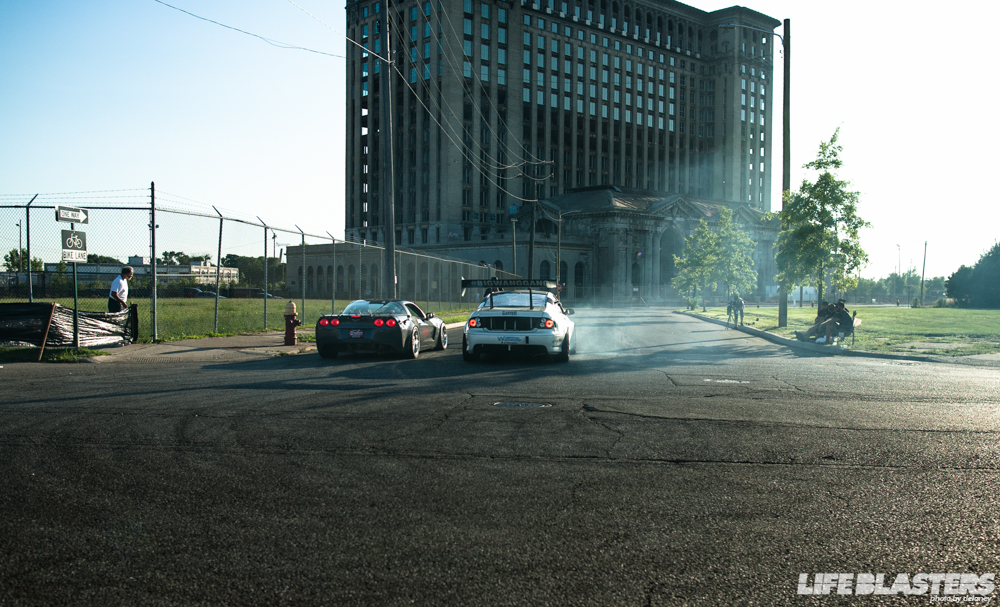 American and American/Australian power going at it in Detroit. A perfect match up.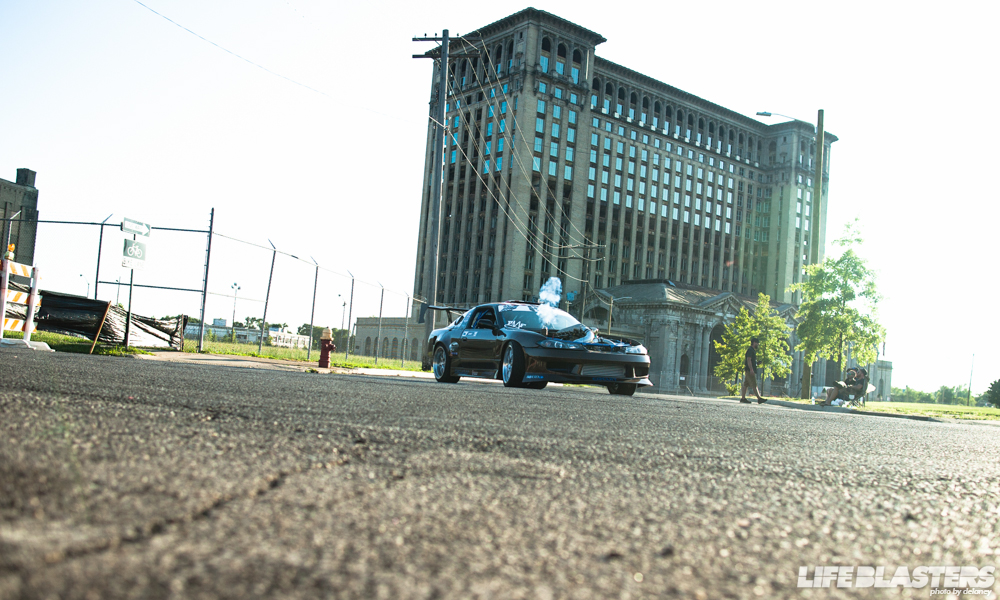 I really could not get enough of the train station and the cars. It looks so menacing, but so awesome.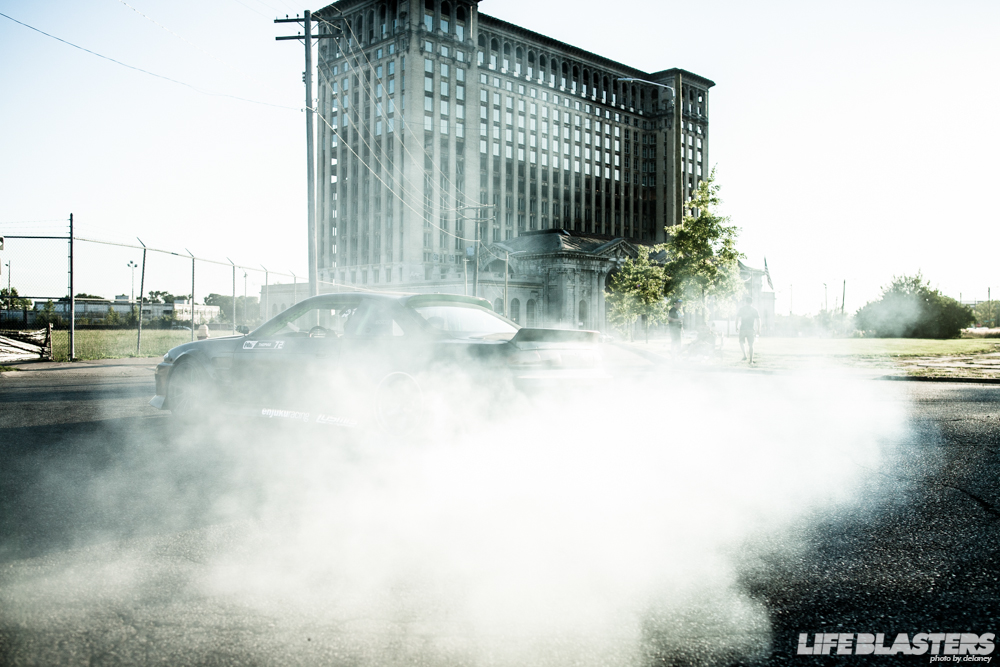 Just look at it.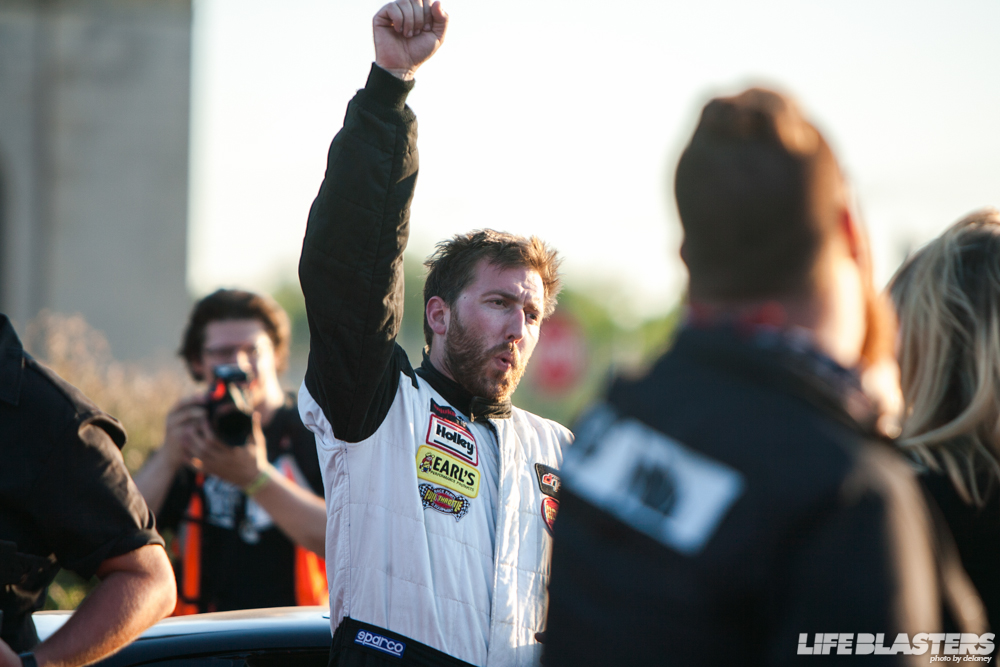 Nick Thomas, in the car above, came home in third place.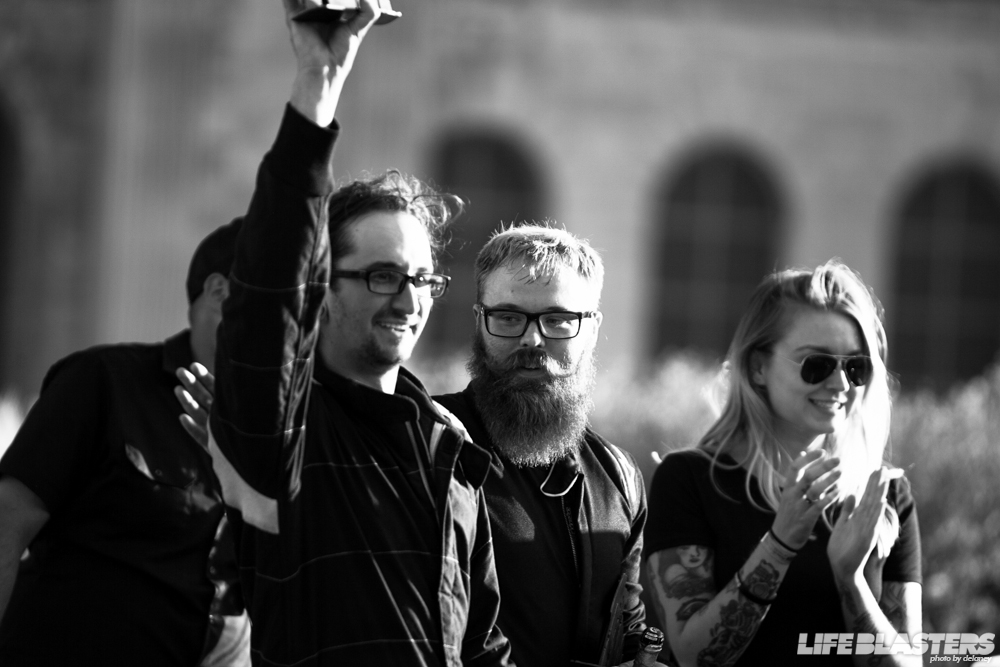 Shane Whalley, no beard, in the GTO came home in second. And Riley Sexsmith, with beard, in his Subaru Impreza left with the win.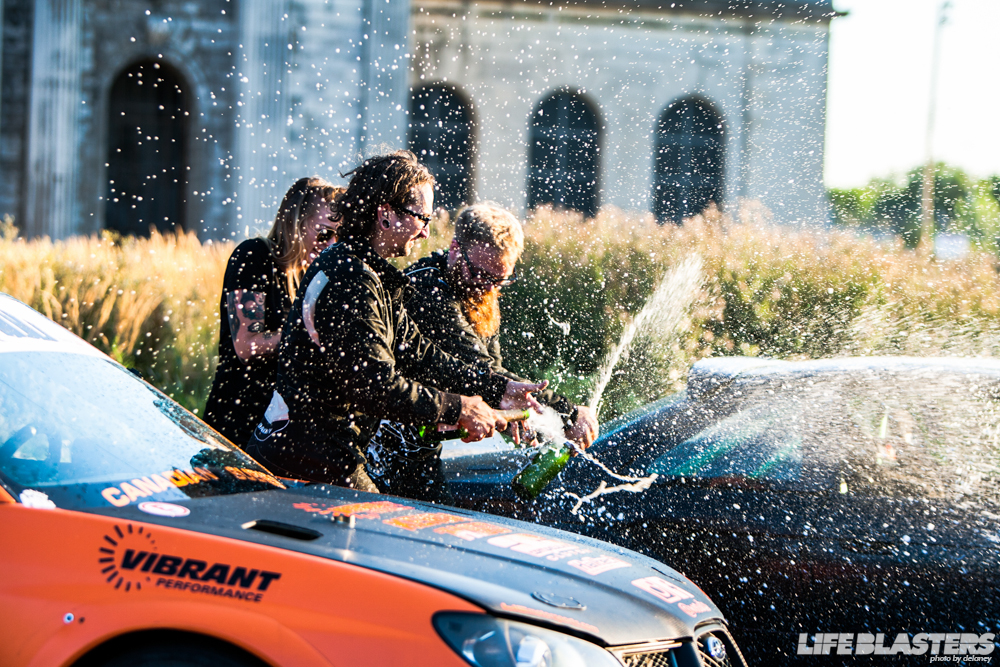 With an awesome event over, there's only two things left to do. Champagne spray….

And drive the wrong way down a street with a man in your trunk holding onto a tire.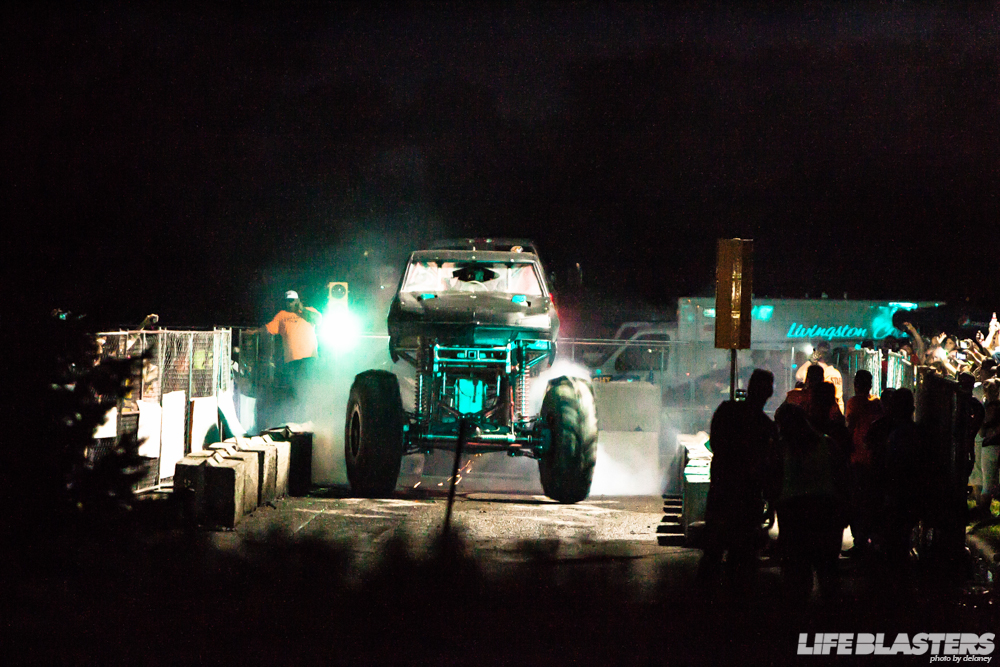 I said this was a crazy week, and it didn't end with drifting. For the most part, I live out in the country. There are a lot of trucks here, so the bar that borders my subdivision decided to have a truck pull on Saturday night. How could I miss that? We got back home pretty late, but still managed to see a little bit of the pull. I mean, how can you not love two trucks smoking their six foot tall tires?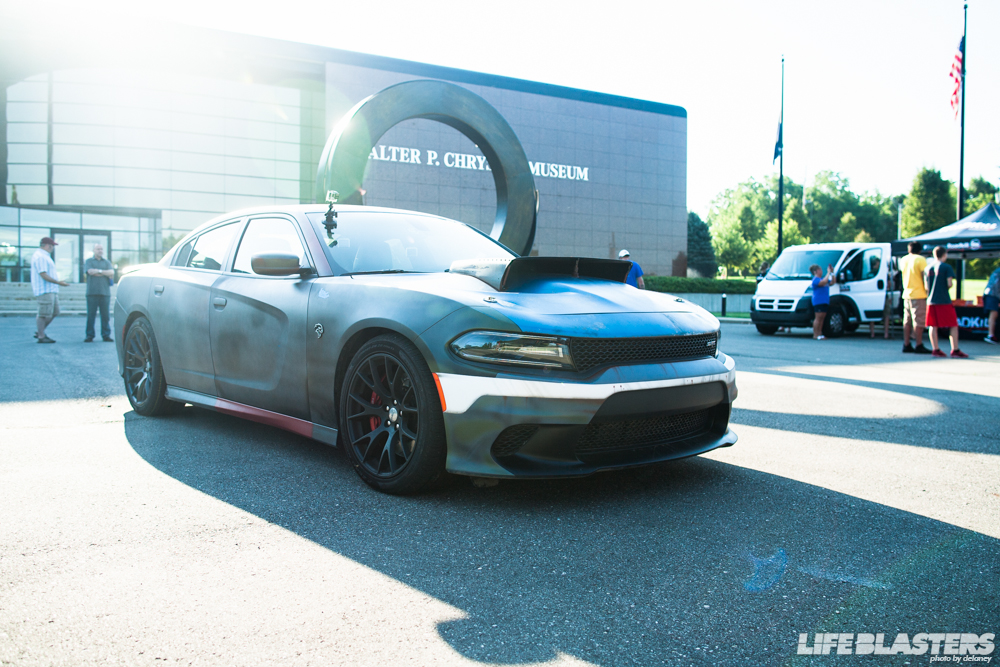 Sunday morning now, and the week is almost over. RoadKill had the RoadKill nights the Wednesday before, but they hung around for the Dream Cruise too. Sunday morning they organized a little get together in front of the closed Walter P. Chrysler museum before they set off on their road trip to Texas.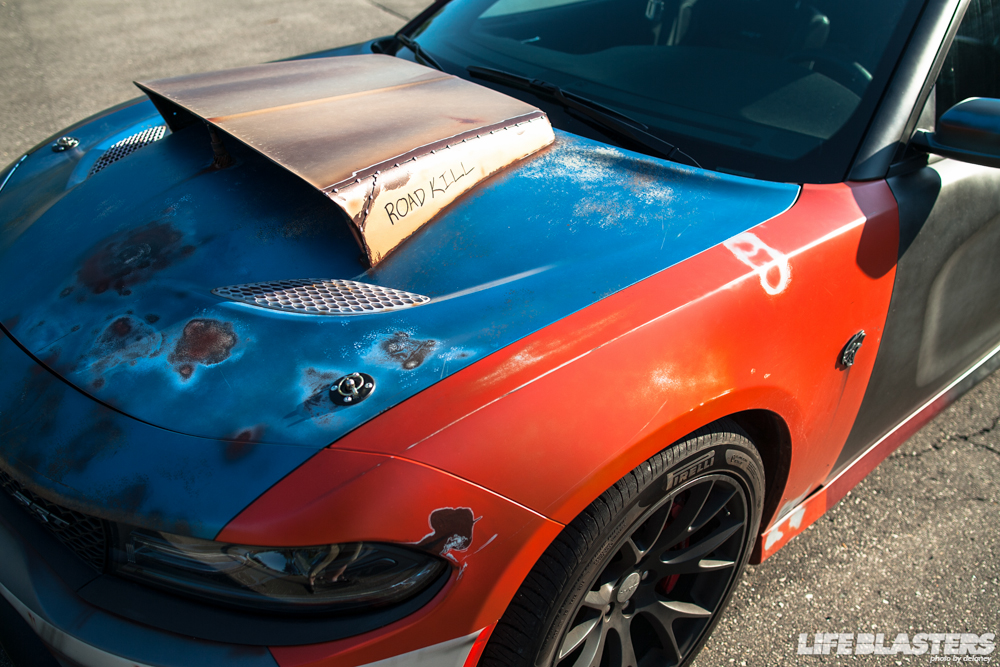 Up until that point, I had never seen an episode of their show on Youtube, but seeing the real General Mayhem and the new Hellcat version of General Mayhem, there was no way I couldn't like them.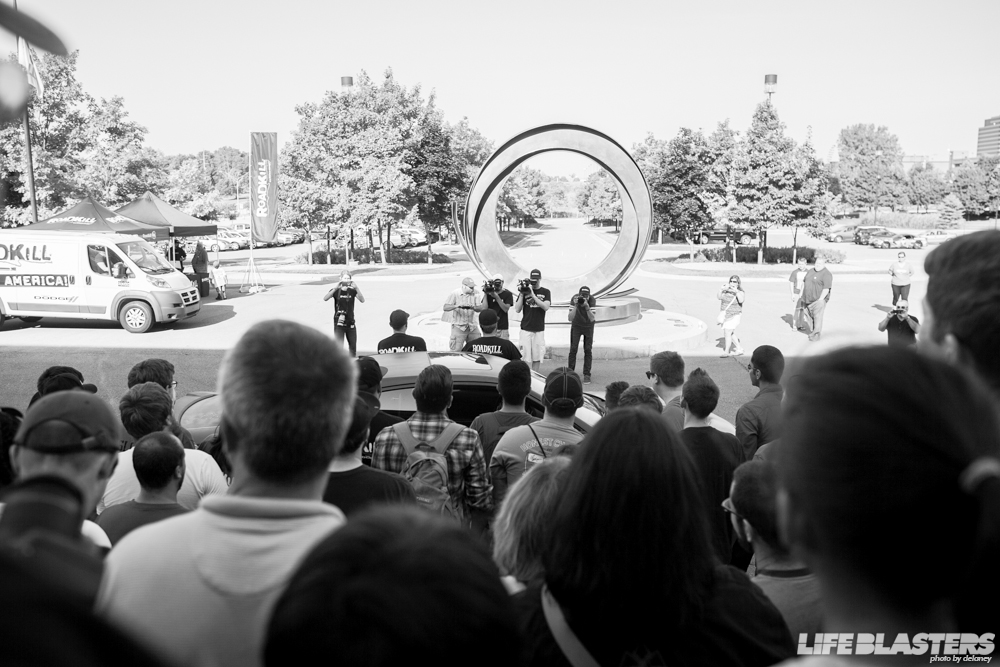 I initially thought the meet up was going to be a car show, but it was just a ton of hardy fans, and us, who came out to see them off. The coolest part was we all got to be in the background of one of their episodes!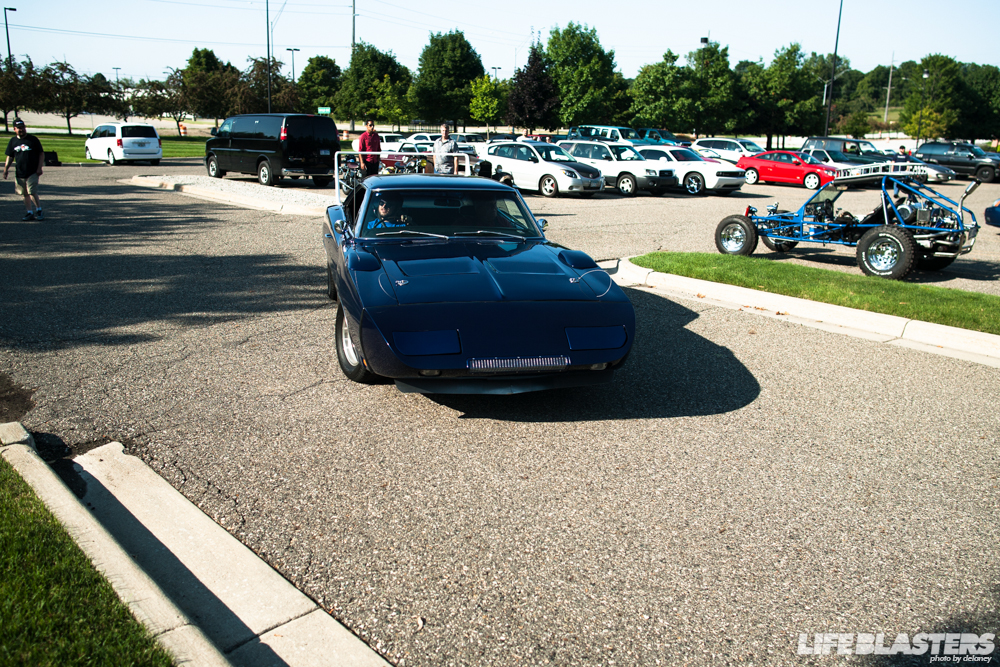 There was also this RHD Charger from Australia that showed up.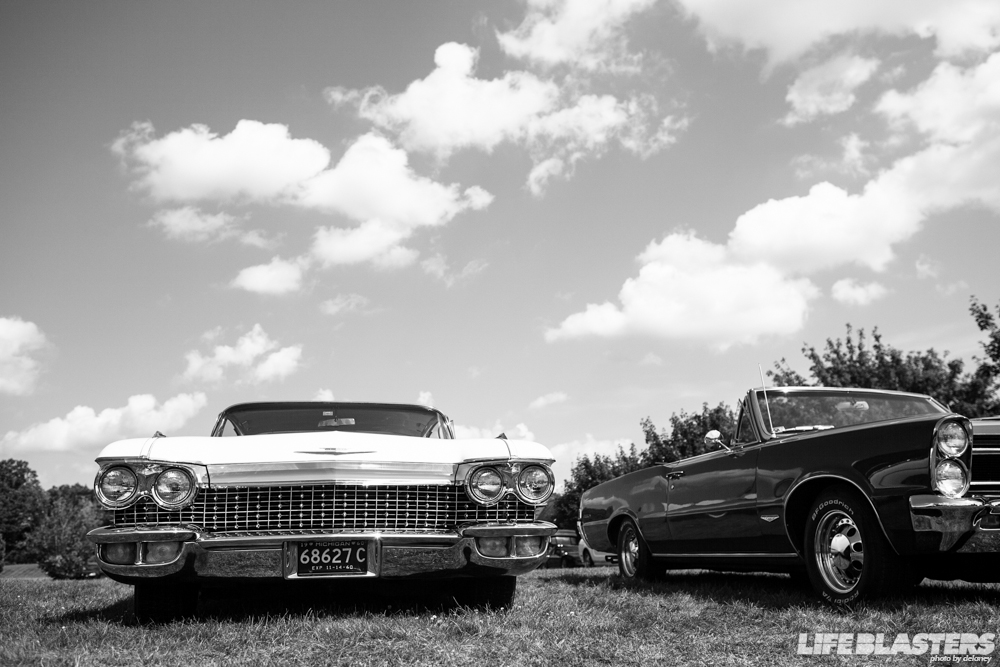 After the RoadKill crew set off, our week was almost done. We headed over to our favorite local car show at a restaurant called Baker's. According to their site, they host the largest weekly car cruise-in in the country. Again the temperatures hit the high 80s, so turnout was low, but it was the perfect way to end the week.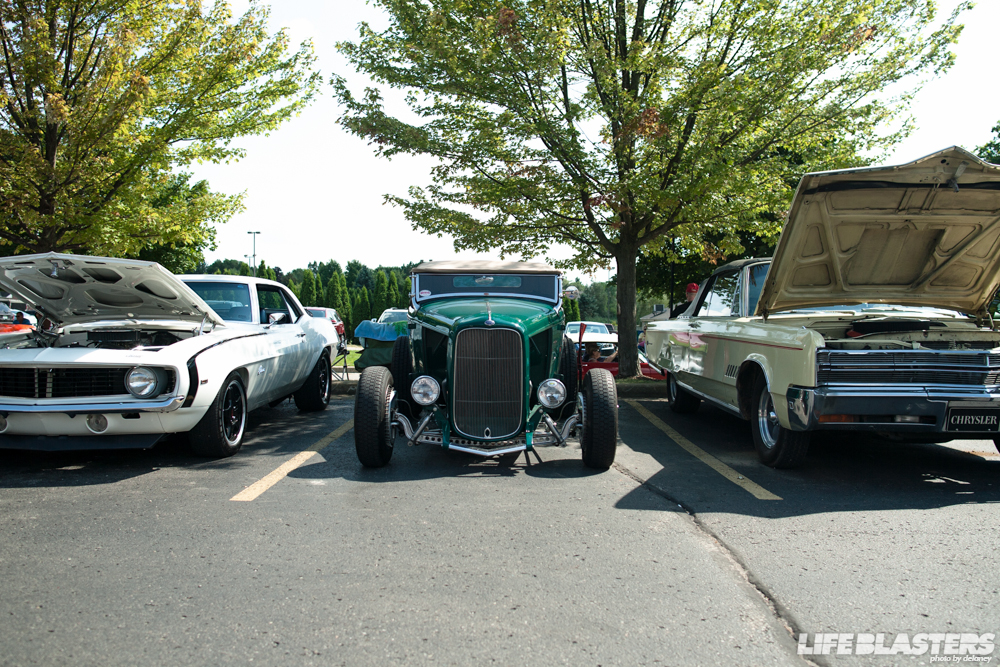 From pop up drag races, to 40,000 cars cruising, drifting in front of an abandoned train station and a get together for a Youtube show, Detroit had it all. We may have been lacking the million dollar hyper cars and the historic race cars, but that's not Detroit. Detroit is all about being rough and doing it yourself, Detroit is the muscle, Detroit is the Motor City. It's still a long road for Detroit, if the road is even still open, but weeks like these seem to give it just that extra little push it needs.
Delaney
Email: delaney@lifebalsters.com
Instagram: @lifeblasters, @ericdelaney