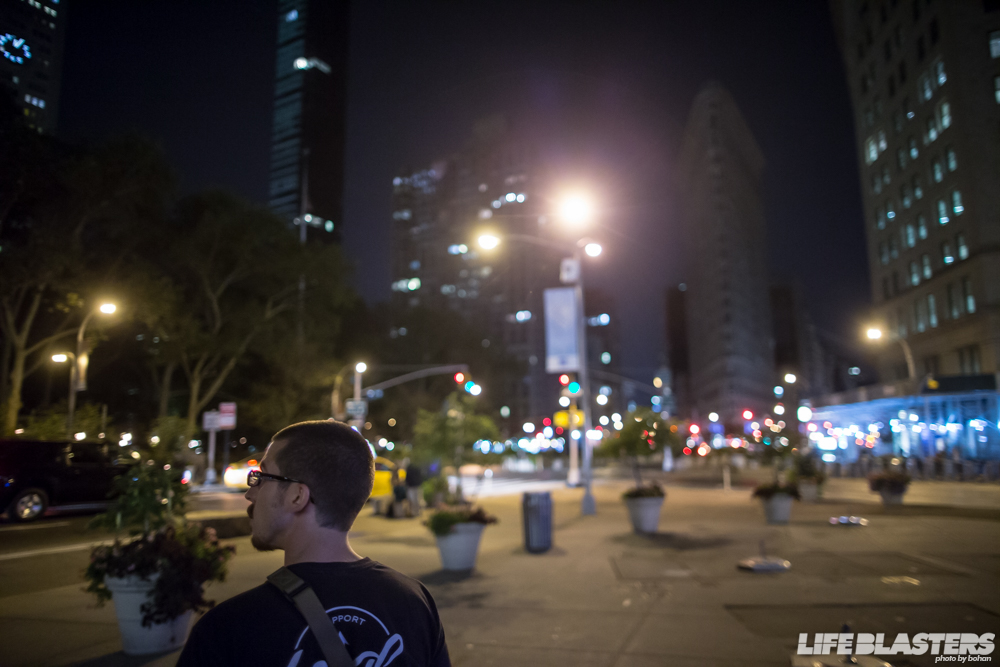 That's me in NYC on August 17th at about midnight, if I remember correctly.  What am I doing here at this time?  The answer is simple.  I have a West Coast friend who has an obsession with hitting all 50 states, needs to shoot Formula Drift in Texas, but has a few states to hit between Texas and New York.  Obviously that means he needs to fly from California to New York, to drive from New York to Texas, then fly back to California.  And that friend is the one and only Andrew Bohan.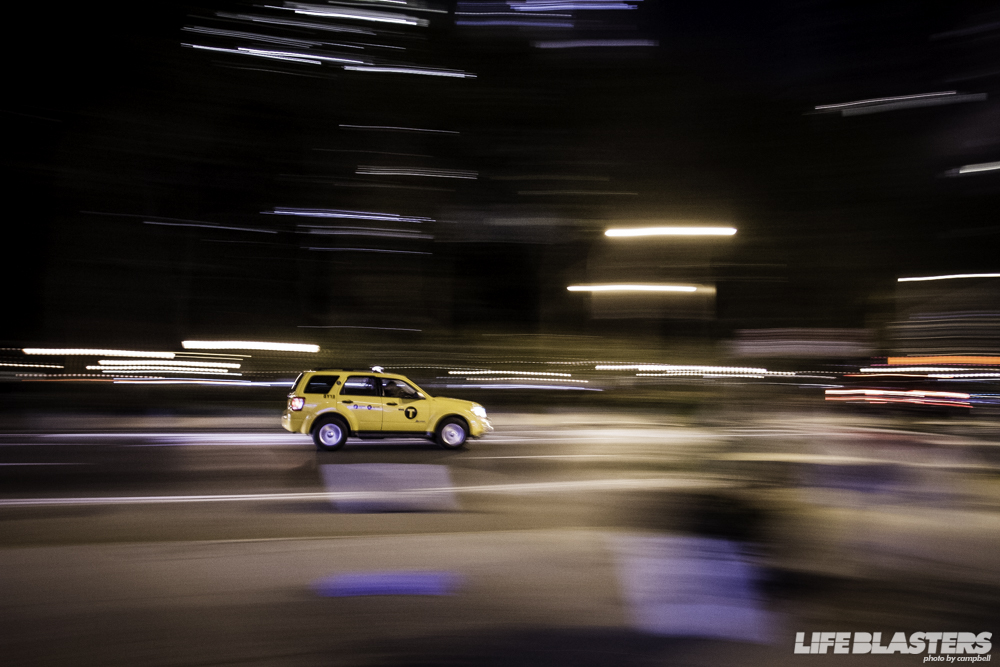 Luckily for me Bohan is quite the adventurer, if you hadn't noticed from his latest story Bohan's Epic Journey (My place was the first stop of that journey!)  And I find myself slowly working towards my own trekking goals as well.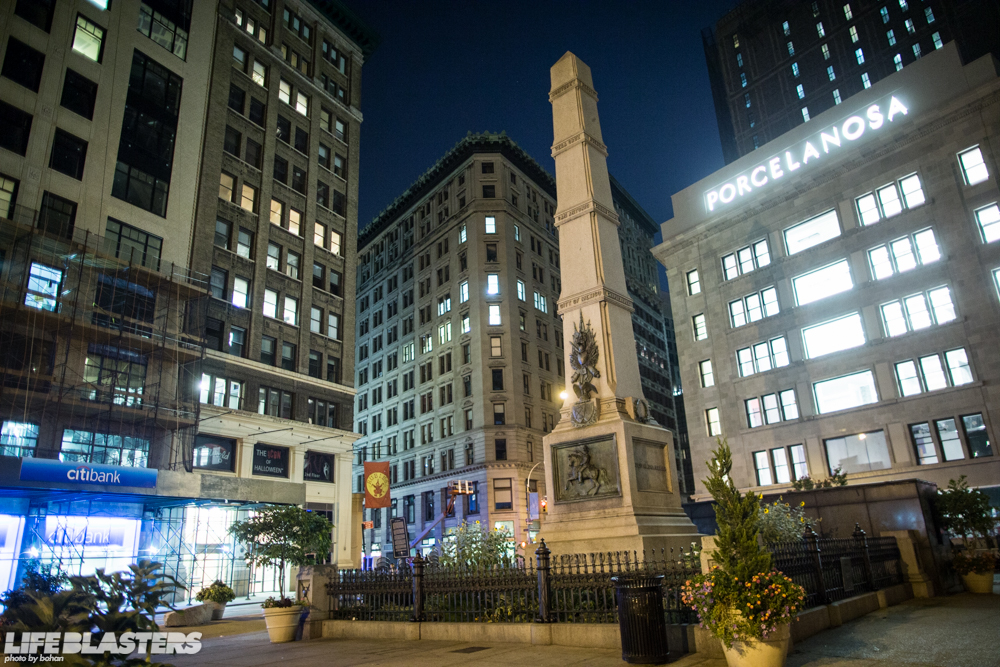 Two weeks before FD Texas I got a message, "Wanna go to FDTX?" and next thing you know it's Monday the week of and Bohan and I were standing together in NYC, again, this time visiting the 158 year old monument where Major General William Jenkins Worth was buried. Major General Worth is a guy they named a lot of places after, including Fort Worth, Texas, our destination.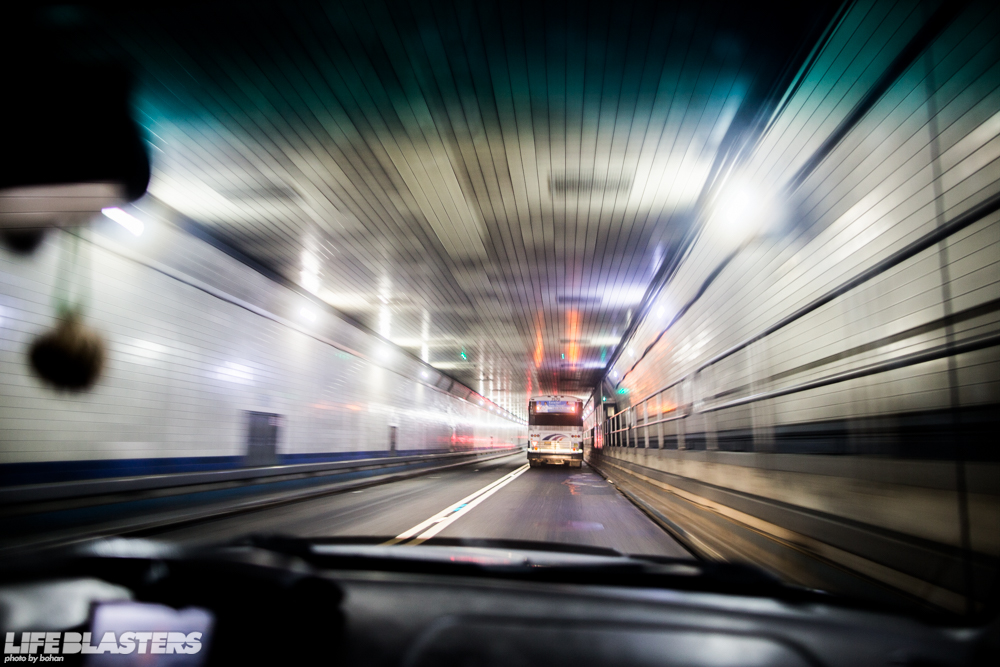 And so our trek to Texas truly began.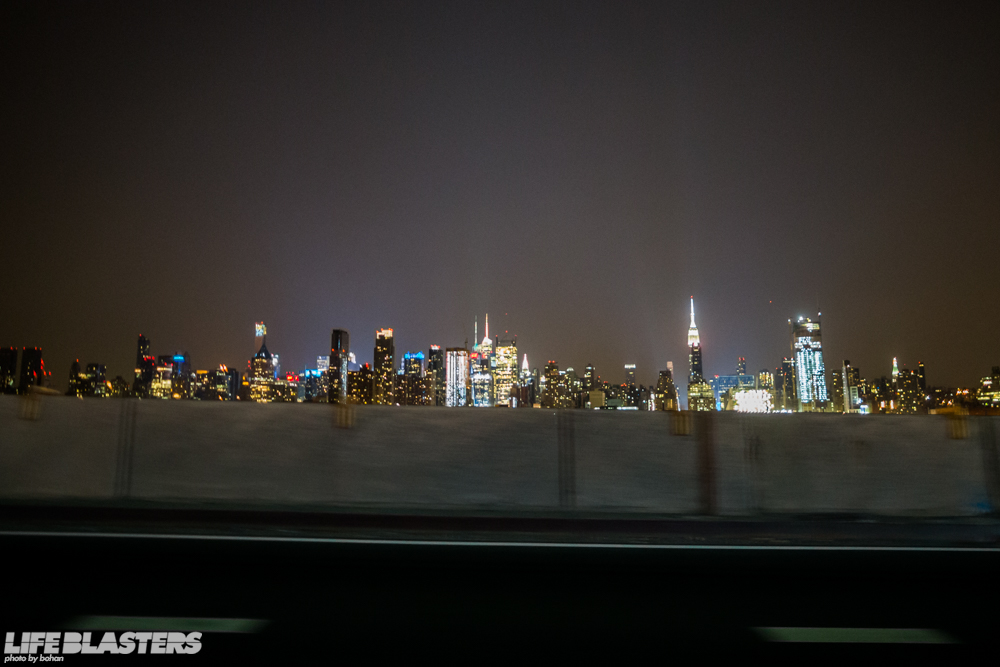 A Californian and A New Yorker headed to the South?  Wish 'em luck.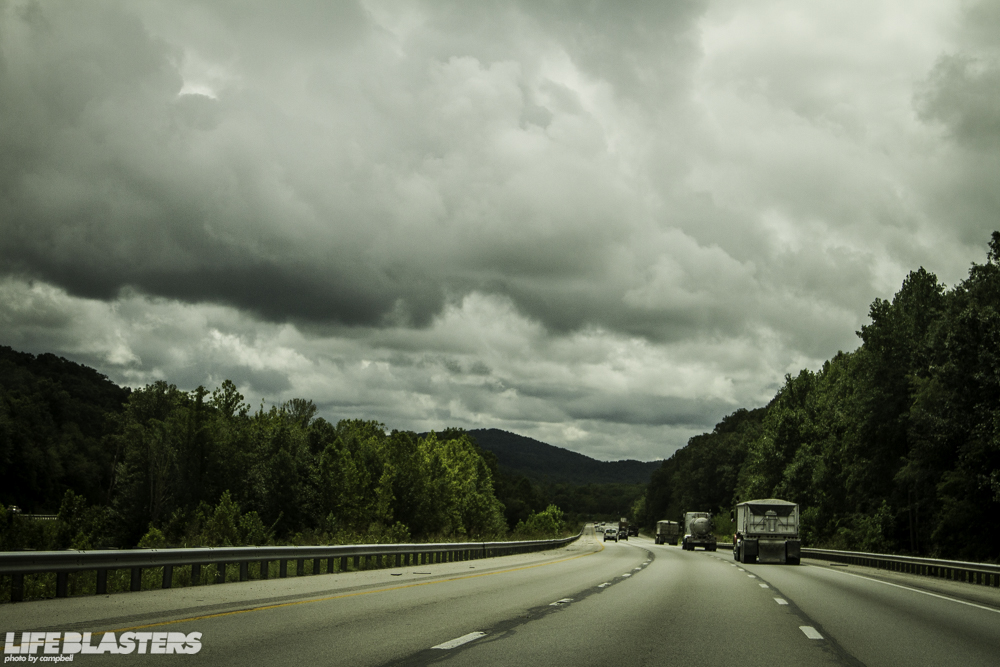 I've been on more than a few road trips with my car, but it's very rare that I have a passenger able and willing to share the responsibility of driving.  Bohan being the second person to ever do so gave me the rare opportunity to pass out and wake up confused as to what state we were in.  This might have been Pennsylvania, Maryland or the beginning of West Virginia.  I was pretty tired, but I think it was West Virginia.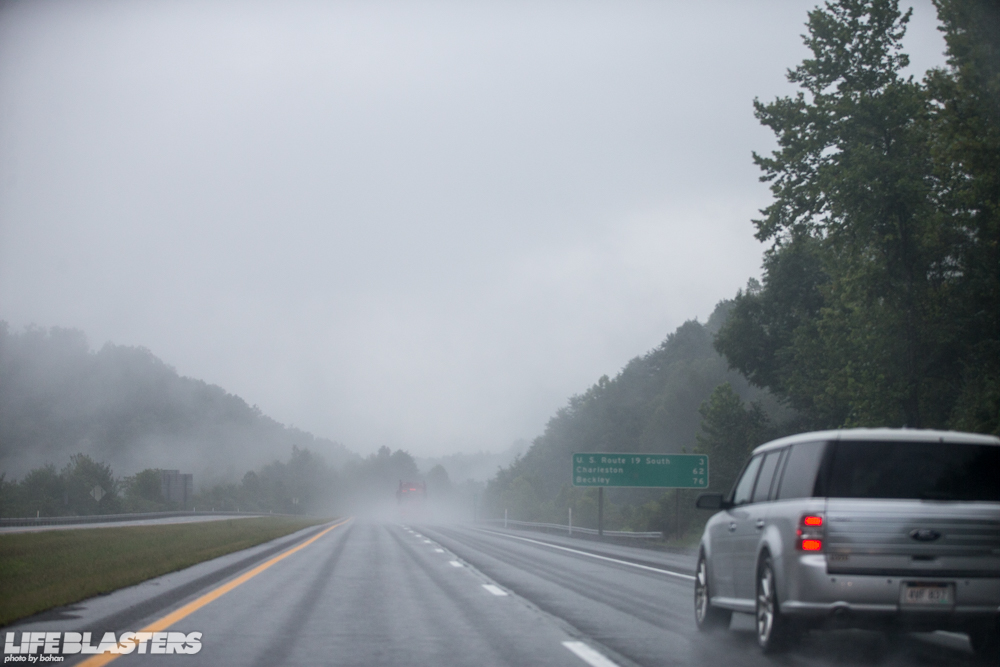 Rainy weather seems to be following Andrew everywhere but home.  He'd been able to catch rain earlier in the year at every East Coast round of FD, back on the West Coast at FD Seattle and even when he left the country at IDC and Gatebil.  Now these heavy clouds were following us to Texas.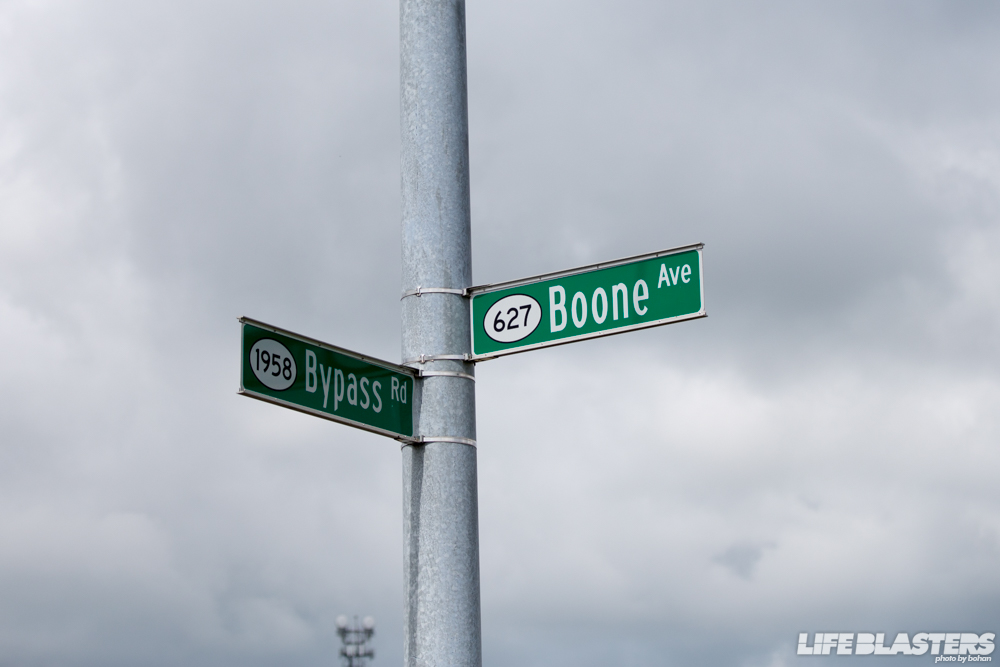 Next up on Bohan Trivia, did you know that growing up Bohan was a fan of Daniel Boone stories?  True story.  We drove past the "Daniel Boone National Forest" sign in Kentucky and I didn't understand why he was excited about it at the time.  But now we know what to get him for Christmas!  (Hint: Kentucky long rifle)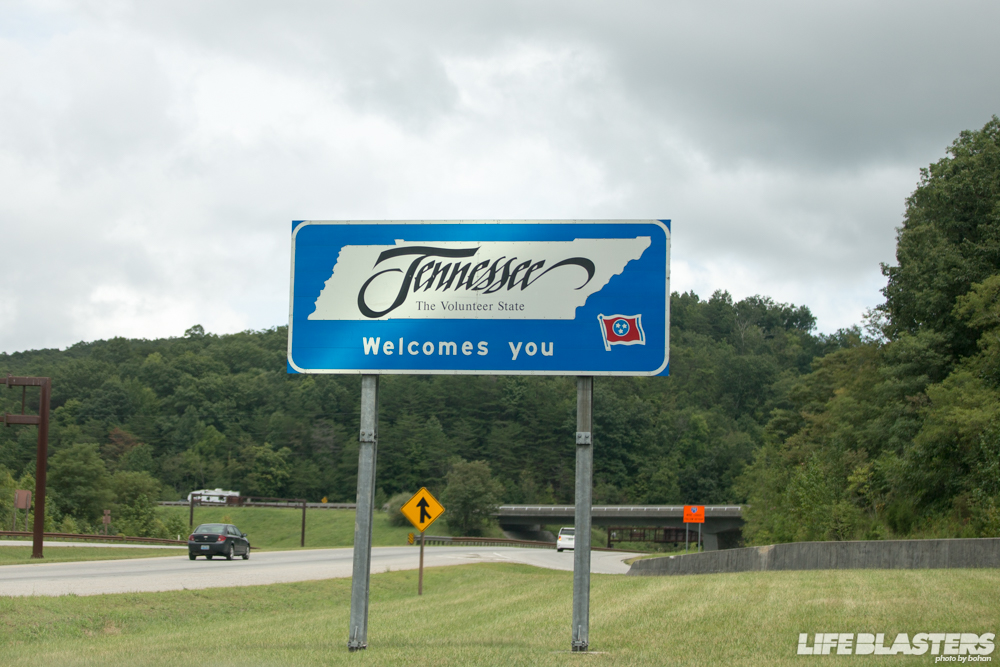 We made it to Tennessee!  The only problem now is that we might as well hit Virginia since we're close to the South West corner and we also decided to drive the Tail of the Dragon, aka US 129. Long story short, within one trip we actual drove into Tennessee five times in one day.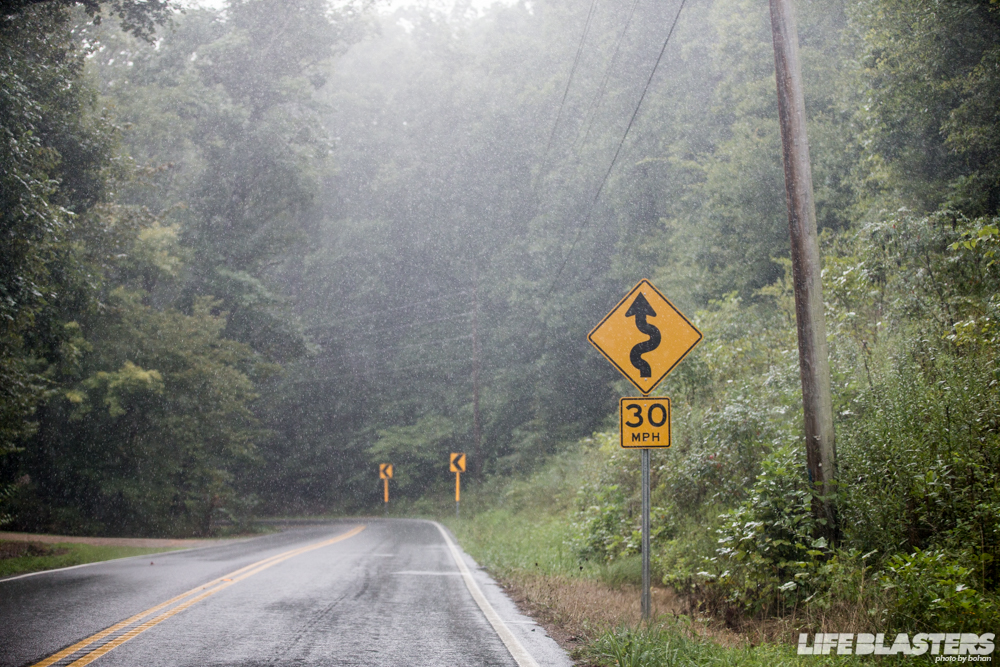 As we finally approached the beginning of The Tail of the Dragon, the rain started picking back up.  Good thing there was a gift shop nearby, that way we could actually take a break from driving and give the rain a few minutes to clear out.  But I had to admit, seeing these signs always makes me giddy inside.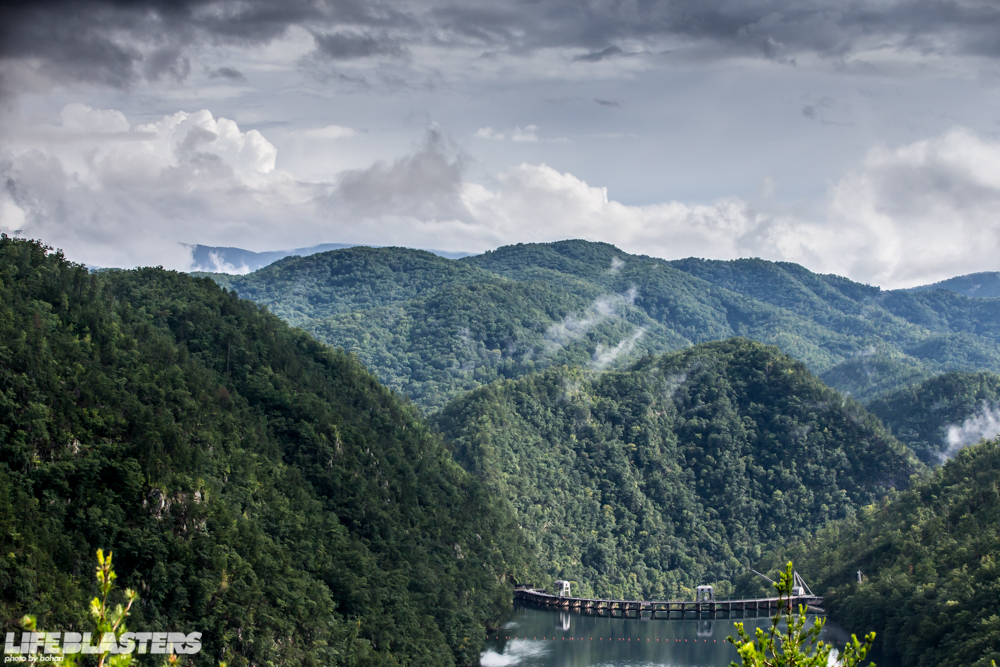 Our goal for first leg of the drive was to get to my friend's place in the Nashville area.  While looking at the map to figure out the fastest way to detour for the Dragon, Bohan decided that the fastest way was to drive the Dragon in both directions, then continue west toward Nashville.  This worked out great because now we could each get to drive on the Tail of the Dragon.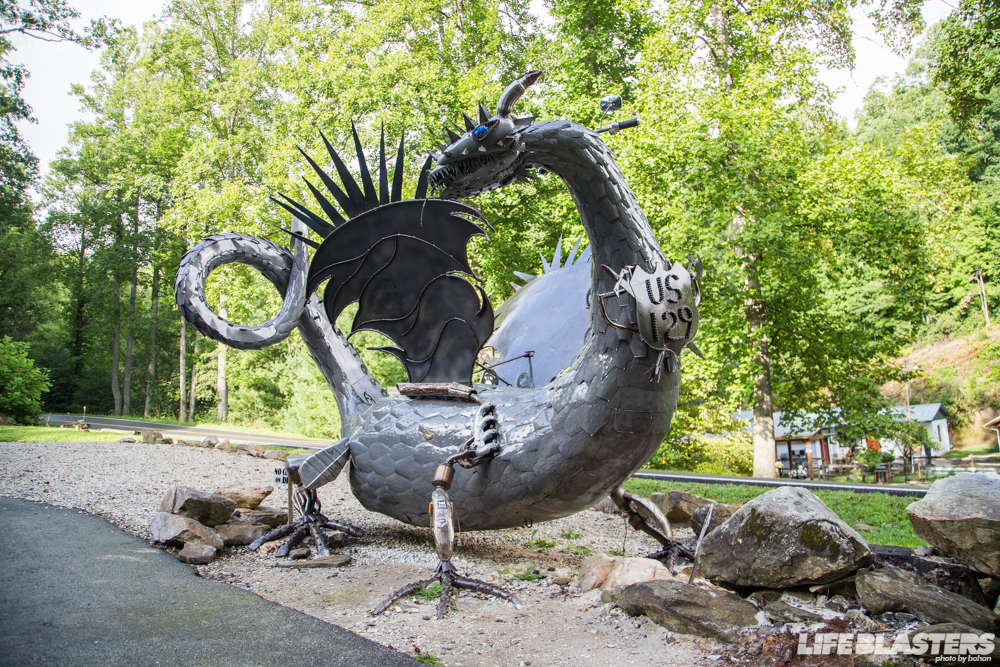 My stint of the Tail was over and my goodness was it fun.  11 miles and 318 curves ended way too soon.  I wish I lived closer or had my bike with me.  Oh well, Bohan's turn.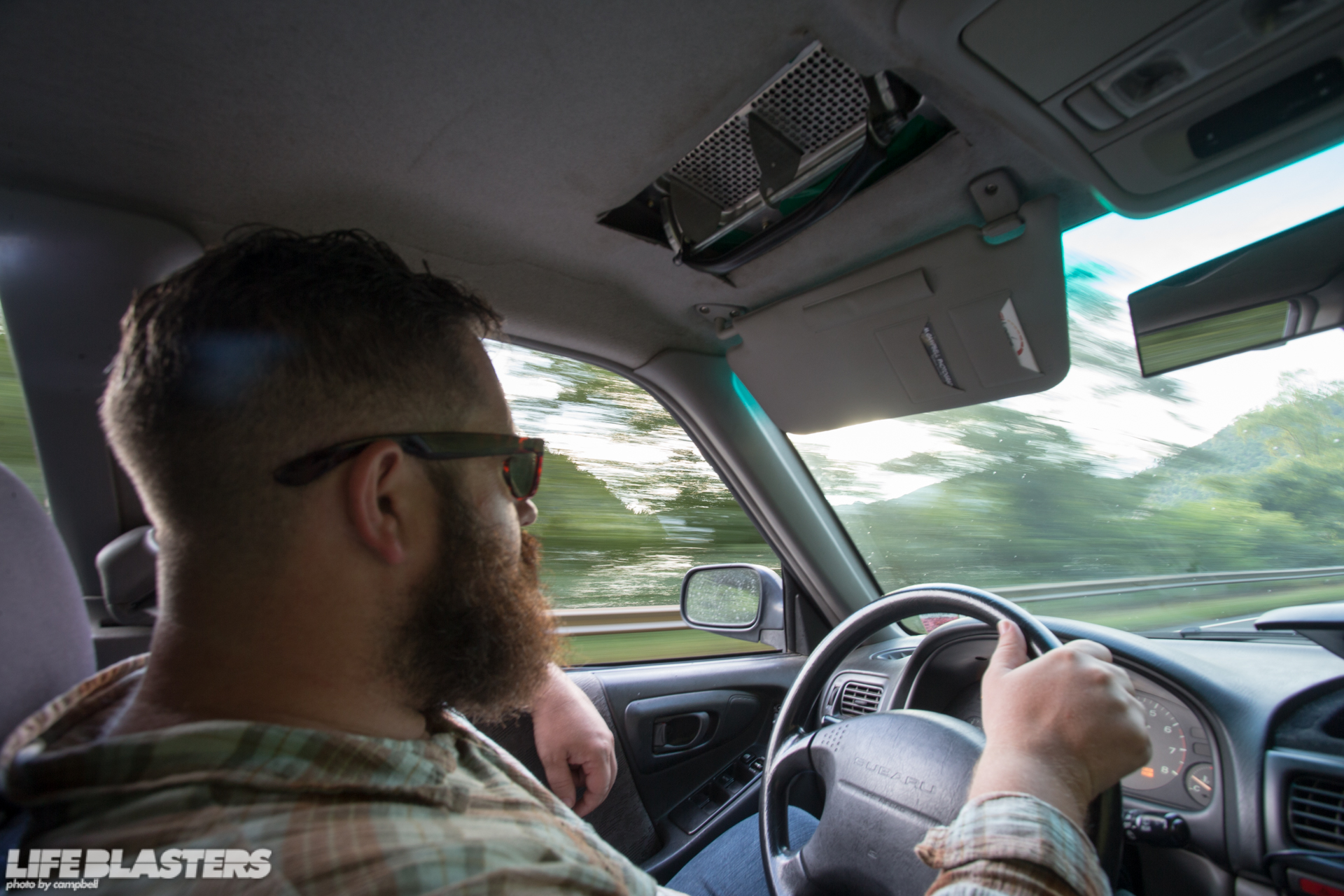 Bohan's up.  I think it's safe to say that he enjoyed the run with my car.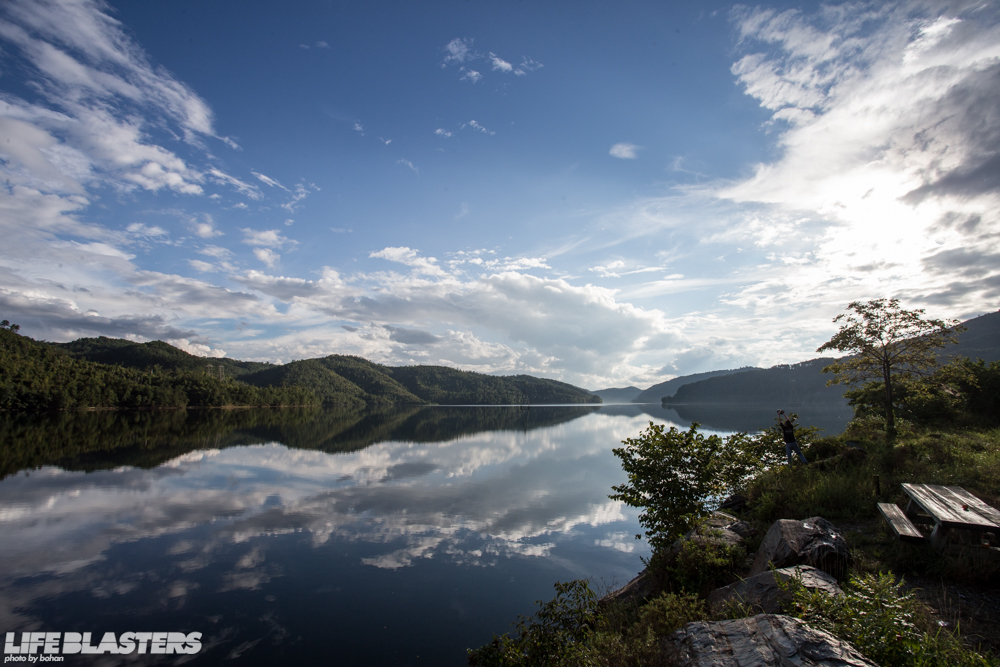 With the on and off weather there was a pretty heavy fog over the Little Tennessee River when we first got back.  Still a great view, but even better when it cleared up.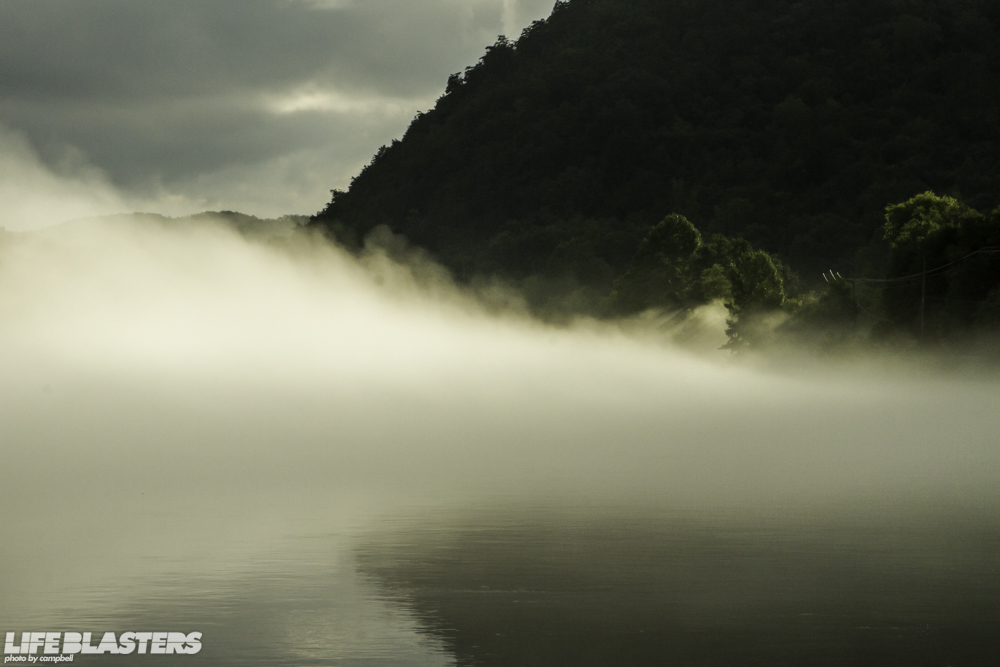 Only moments later the fog rolled back in and our window for that beautiful reflection on the river was gone.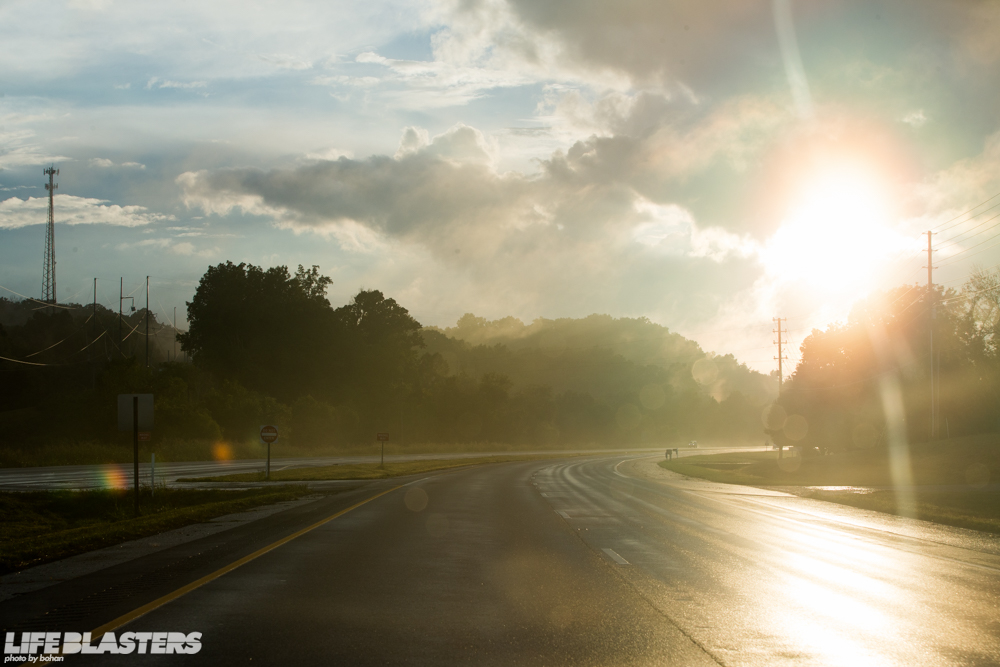 With about 1,200 miles behind us and the sun setting yet again, it's time to get back on track.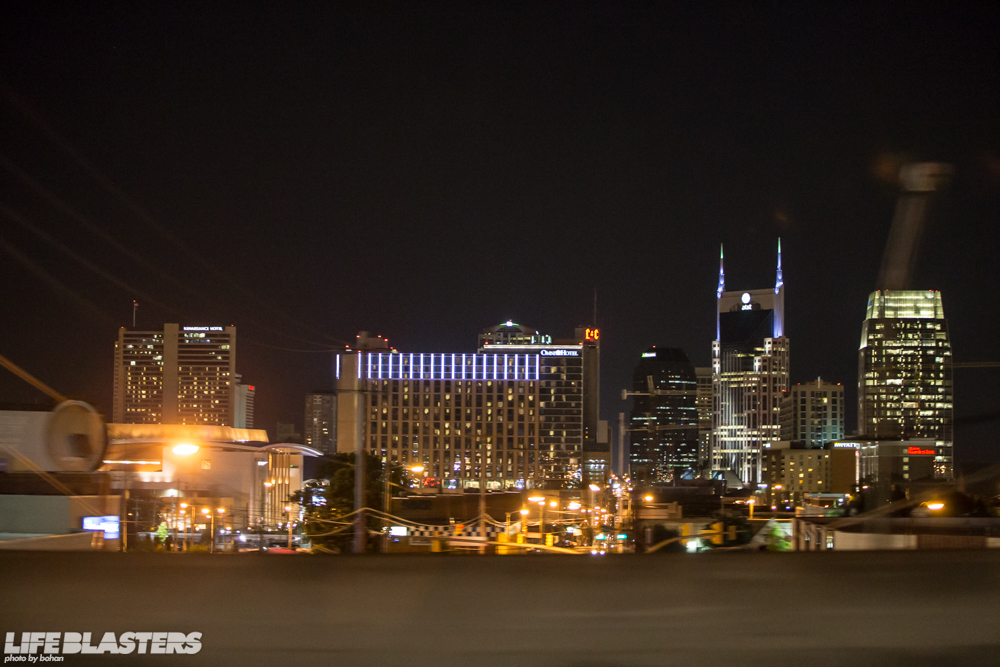 We quickly passed through Nashville and arrived at my friend Ashtin's place for some much needed sleep after about 24 hours worth of driving.

August 19th, the 5th anniversary of Life Blasters.  Five years ago, on this day, Geoff and Bohan were driving through Yosemite for FD Vegas when they came up with the concept for Life Blasters. Now I was with Bohan in Tennessee doing a shoot with my friend Ashtin before his 43rd Formula Drift event.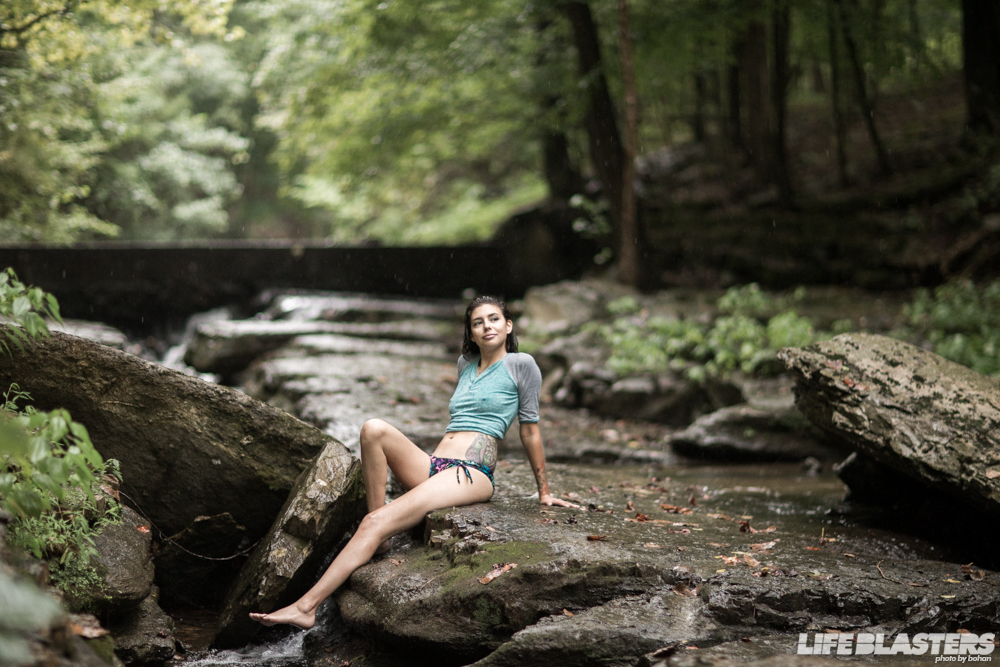 By the way, this is the wonderful and sassy Ashtin Marie.  On the daily she works her 9-5er just like everyone else, but on her free time she's starting to dabble in the world of modeling.  You take a beautiful gal in the middle of beautiful Tennessee, and two traveling photographers, you end up with a photo shoot.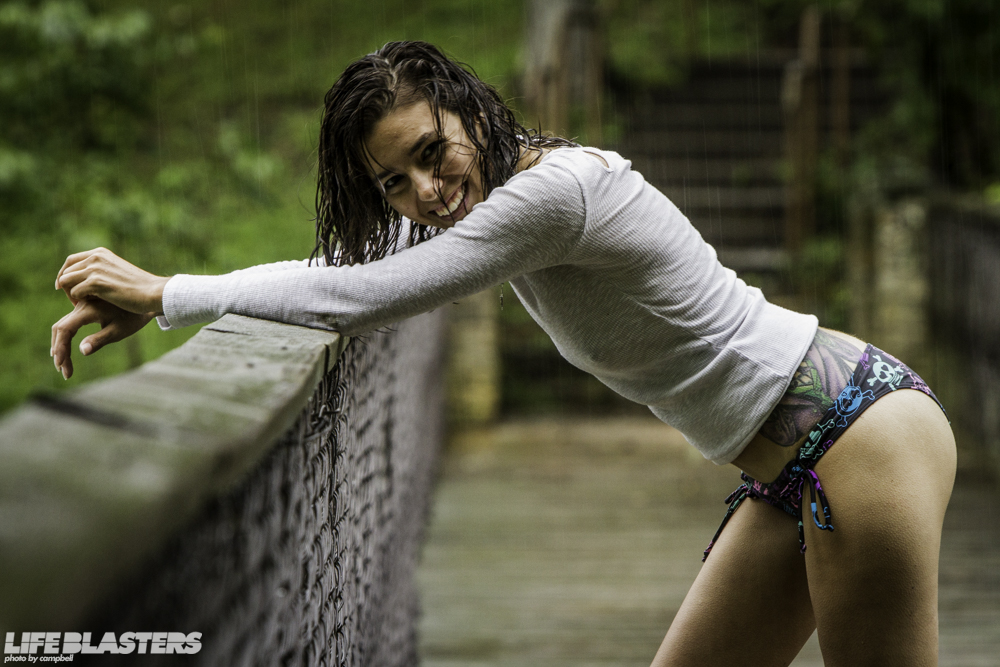 Even with limited time, we made the most out of it shooting at Montgomery Bell State Park.  Even knowing the chances are rain were high, Ashtin was game to shoot, so we had a blast.  You can check out her Facebook page, Ashtin Marie Modeling.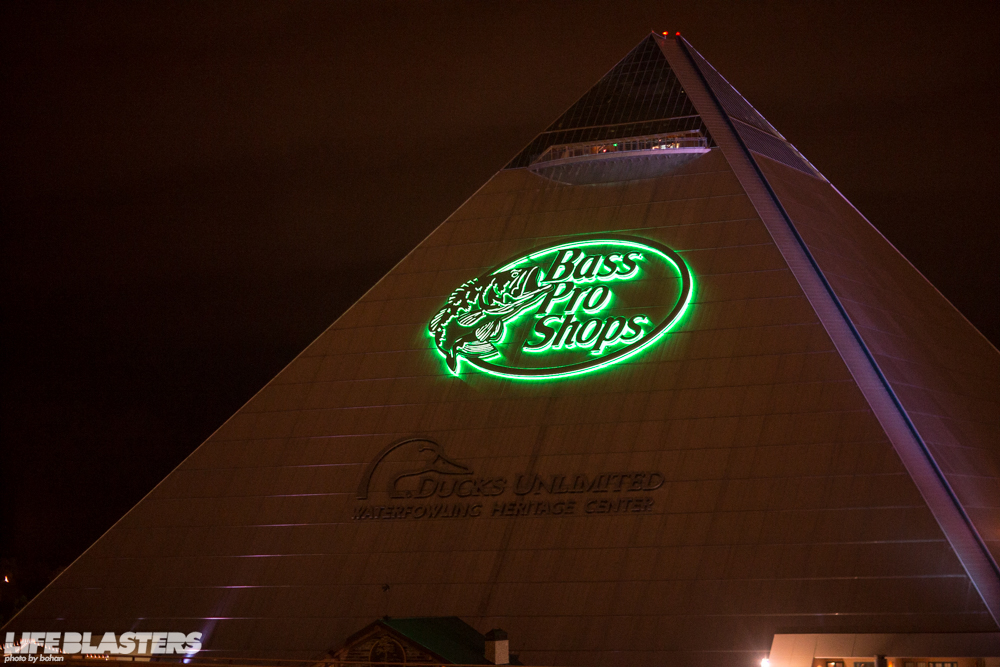 After dinner at O'Charley's, and a piece of amazing, FREE caramel pie, we headed toward Memphis quick detour in Mississippi.  Bohan Fun Fact:  Did you know that Memphis, Tennessee was named after Memphis, Egypt?  I didn't know either.  That's why this Bass Pro Shop is shaped like a pyramid.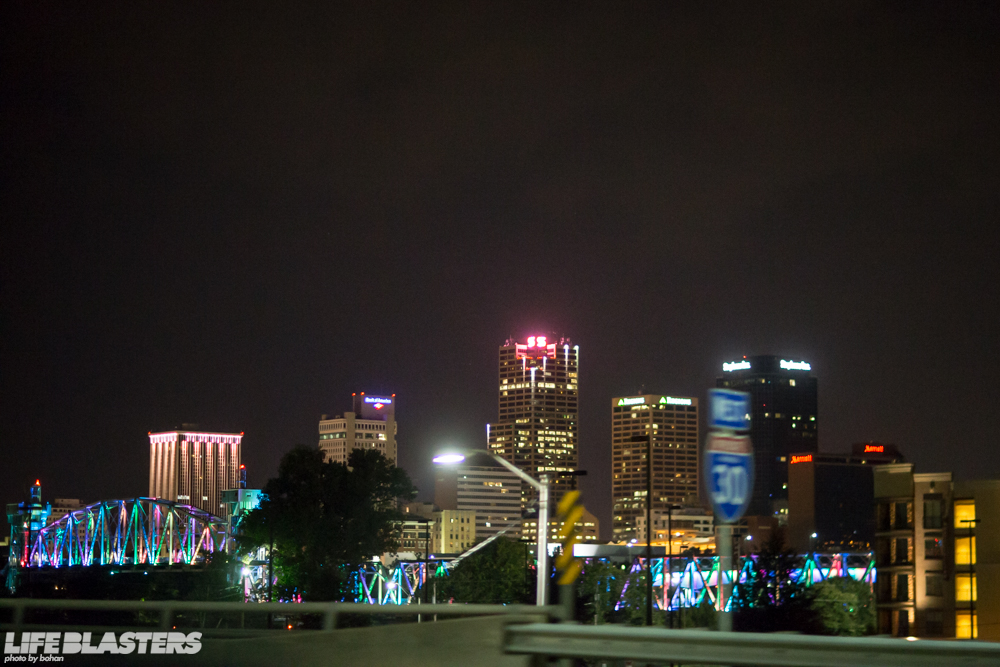 Quickly passing through the capital, Little Rock, Arkansas was pretty cool but short lived.  We've got a schedule to keep, we need to get to Texas Motor Speedway by 11am and we still have a little over 400 miles to go and hit Louisiana on the way.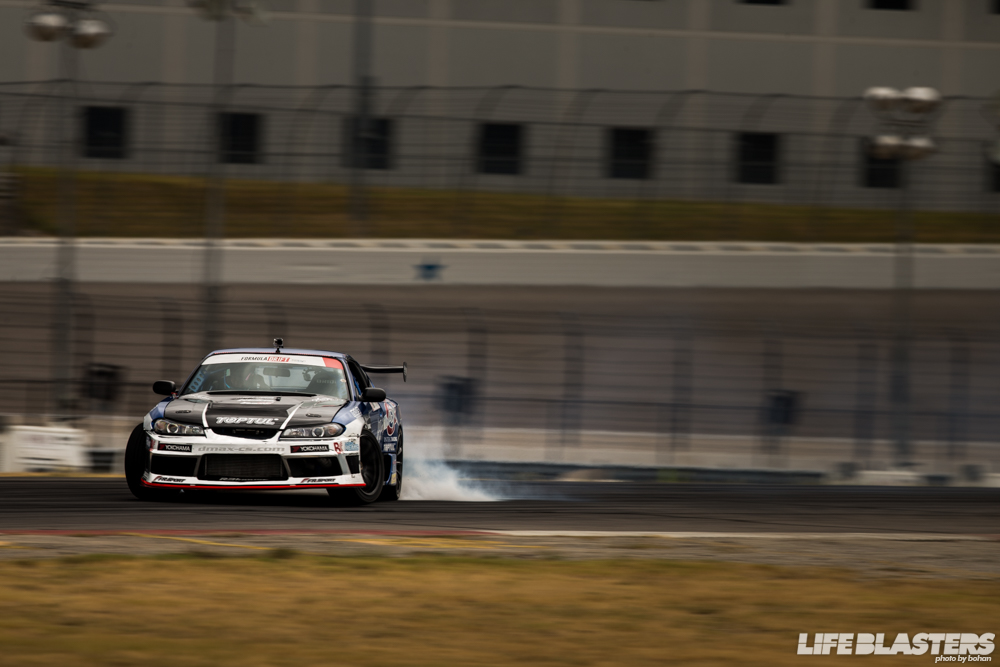 Well, it took this long just to get to Texas.  We drove all night, got to the track at about 10:30am on Thursday August 20th, and for the next three days we'd be standing out in a field, shooting a group of badasses shredding tires.  Like Japanese driver, Masahi Yokoi.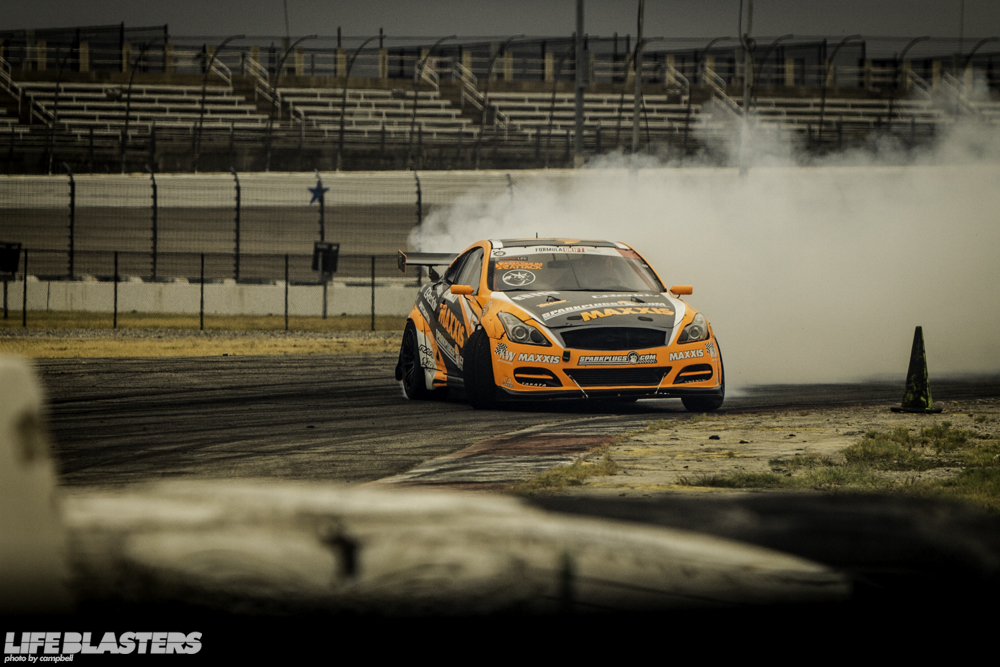 Unfortunately for me, I missed out on a lot of the first day's worth of shooting due to moisture in my lenses after shooting with Ashtin in the rain.  Silly me, I forgot to let all my gear air out and it was trapped in my camera bag between Nashville and Fort Worth.  This was the only successful photo I was able to take with my 70-200 right out of the bag before it was completely fogged up.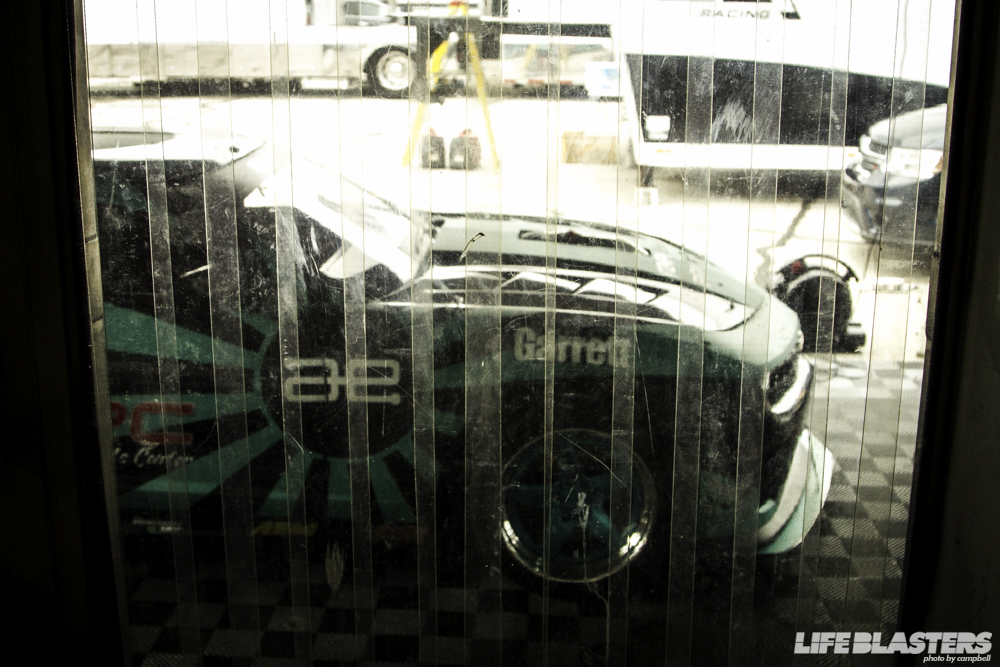 Before I even had time to consider being bummed and try to figure out how to take care of my lenses, I had friends helping me take care of the issue.  So I'd like to thank Andrew for helping me clean all the crap that ended up collecting on my sensor and mirror.  David Karey, for being my personal MacGyver and using a broken ziptie to pull back the grip on my lens that exposed the holes where the water had originally came in, so now it can air out.  And Conrad Grunewald for letting me keep my gear laid out in his office with A/C so it could all air out faster and not in a dirty/dusty environment.  I really appreciate the help, guys.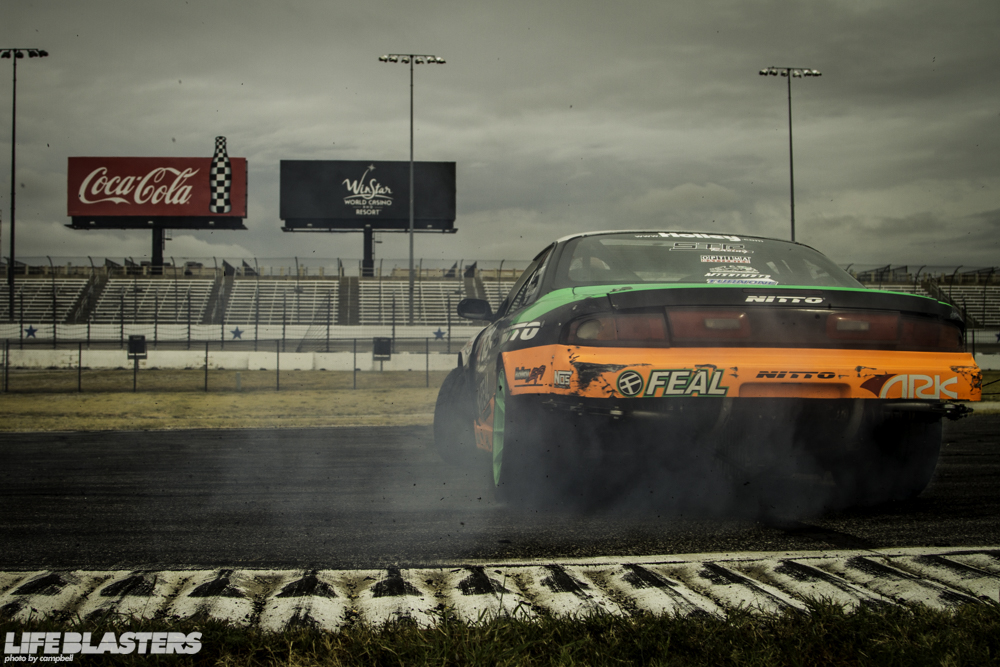 Luckily, my shorter range lenses didn't suffer as bad as my telephoto.  And even with limited areas to shoot on the track on day one, there was still plenty to shoot from the grid.  The skid pad area is always fun when drivers notice you in the same spot.  They do seem to try to help with getting a good shot.  Thanks Odi Bakchis!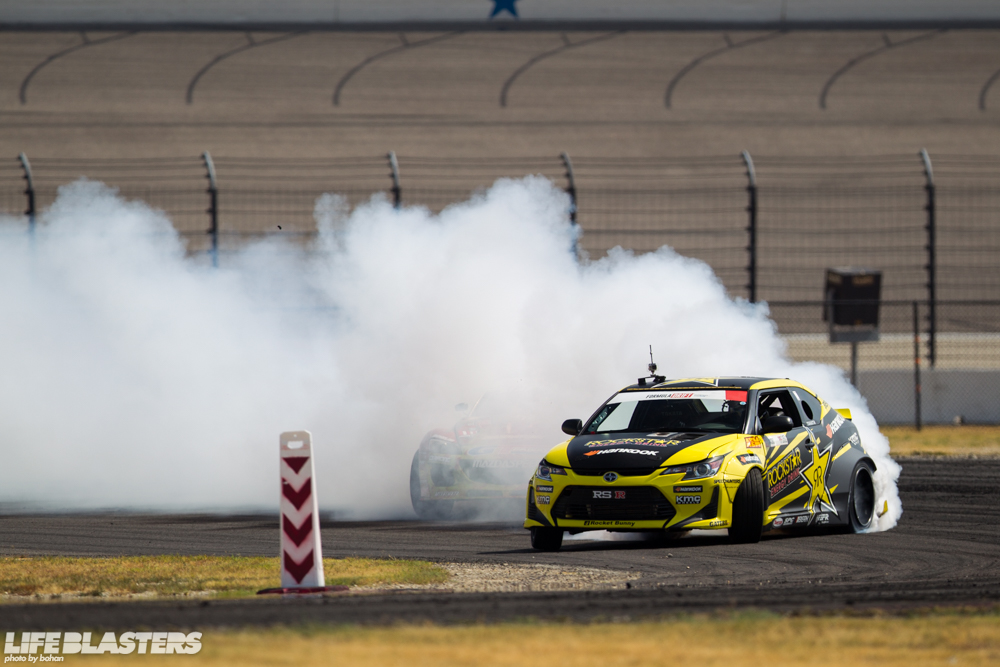 Friday, day two of FDTX. Media areas were finally set up.  Lenses were clear/dry and good to go and surprisingly it wasn't as gloomy as the day before but still not has hot as expected.  Time to kill some tires.

One of the more popular media spots was right in front of the the judges area.  Directly across from the start where you can get this great angle of the first clipping point.  Definitely spent a good amount of time shooting from here.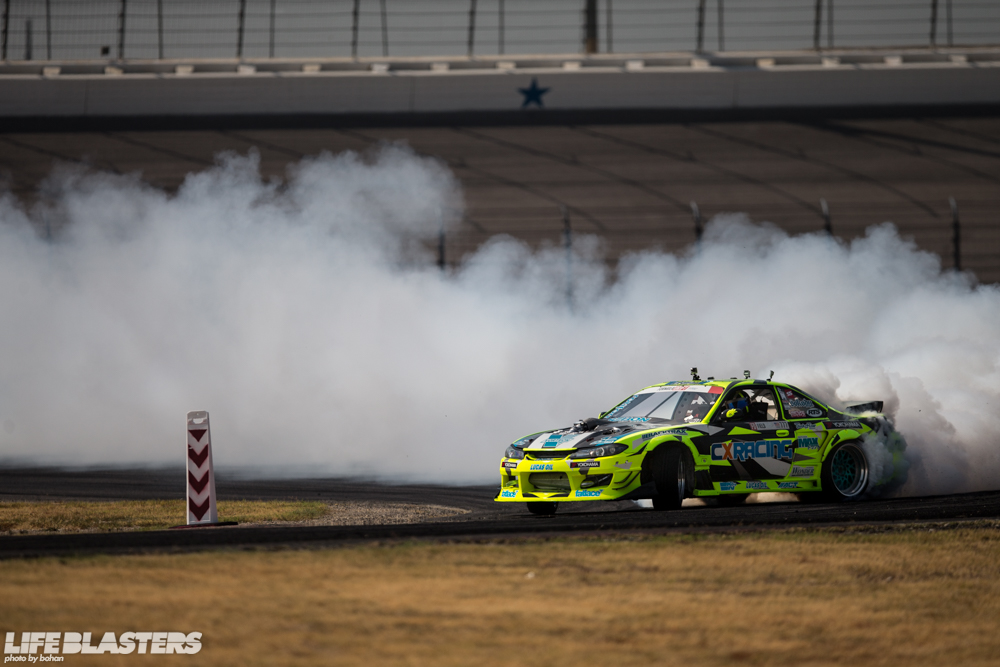 Still practicing and guys like Matt Field were just non-stop killing it.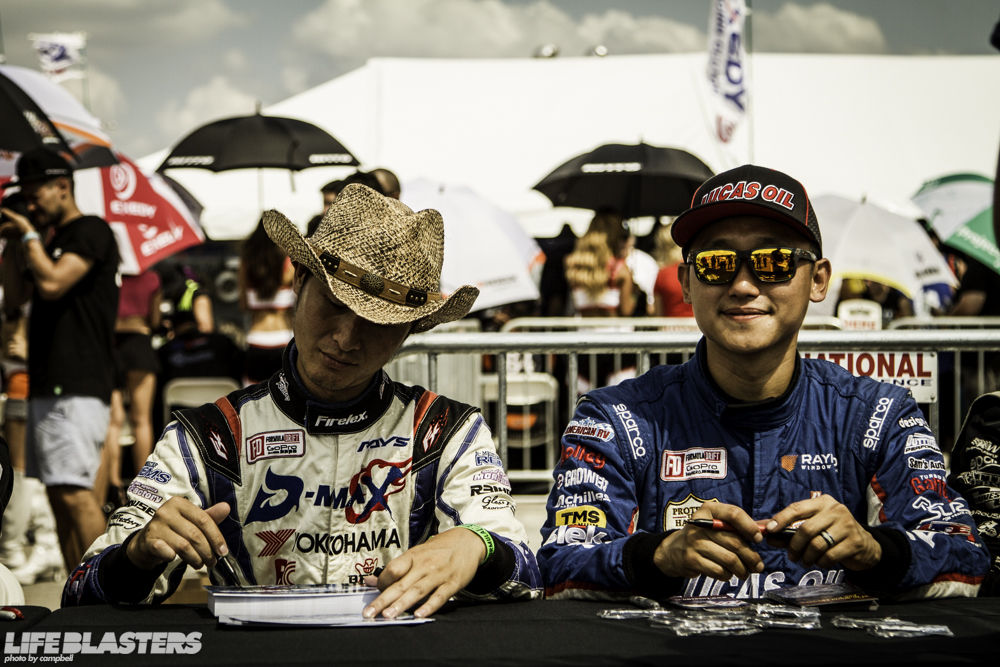 I need to take a moment to mention this moment during the event.  Everyone was setting up for the autograph session, tables were set up, drivers were getting to their seats, crews were getting all types of swag together, media had their cameras set up and waiting for the line of fans to be let through.  When all of a sudden…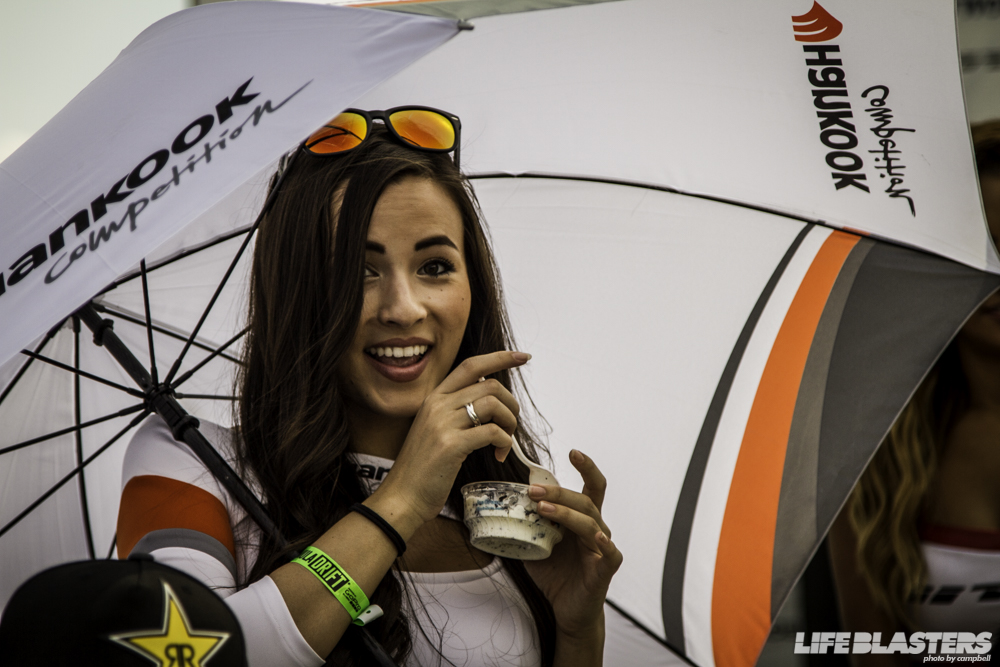 I heared one media guy say to another "Yo! The models are eating ice cream!"  Which sounds kind of like a silly thing to point out at first, but when you think about it, have you ever seen a model at an event ever eat anything?  Maybe have water or something but never snacking.  It's actually kind of rare.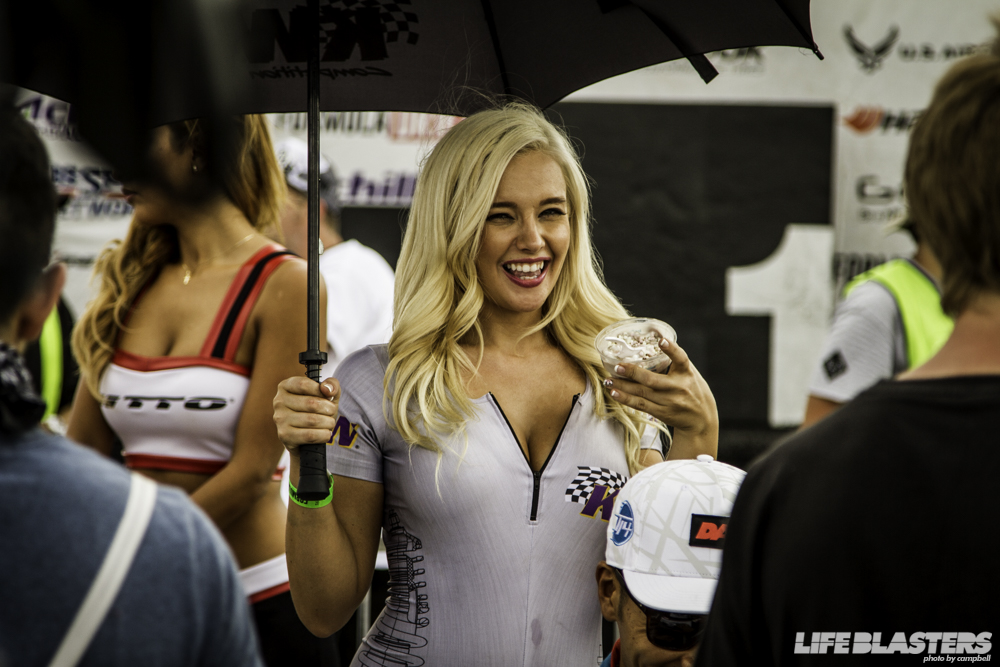 They weren't expecting to suddenly hear the shutters of multiple cameras going off like crazy at the same time, but they were good sports about it.  And in fall fairness, it was over 100 degrees out.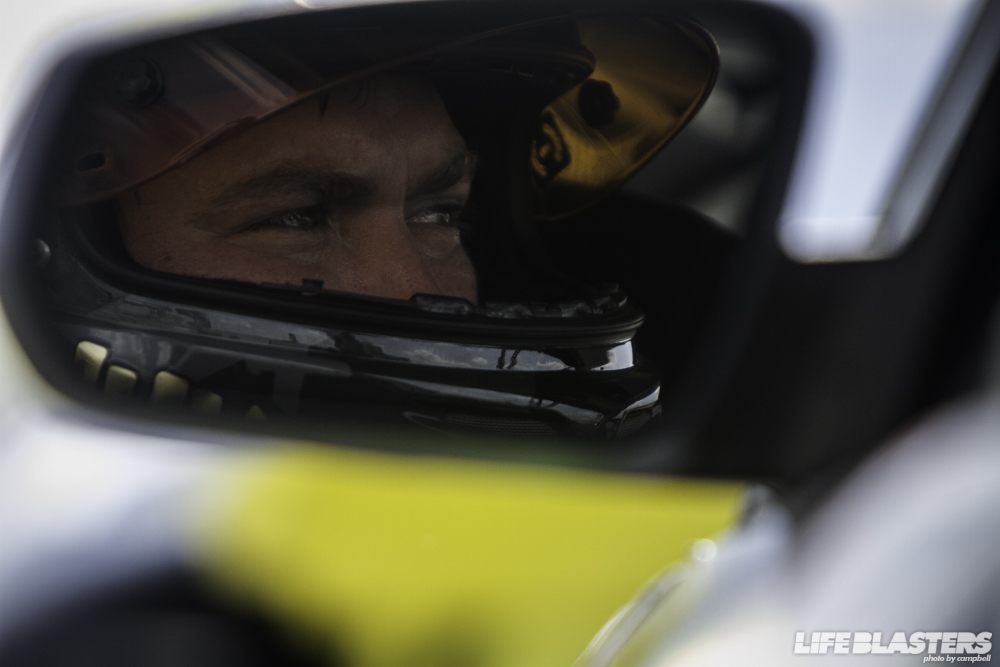 Practice is good for things like discovering issues with the car before game time.  A lot of teams found that because of the high Texas heat, keeping things as simple as fluids was a big problem.  Unfortunately for Vaughn Gittin Jr. the heat got the better of his car on Saturday.  He later mentions in an interview that he felt some kind of fuel issue but it was intermittent and he was able to just deal with it at the moment.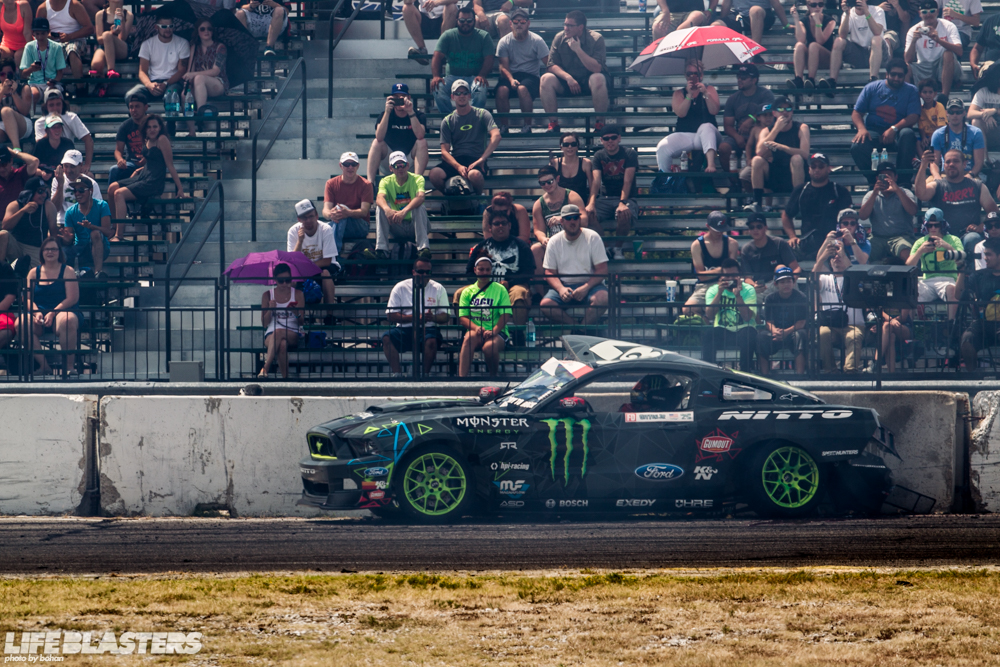 During a practice run with Pat Goodin, transitioning between clipping points two and three, there seemed to be bit of a hiccup with the fuel resulting in the car straightening out toward the k-wall.  Fortunately Gittin was able to act fast and rotate the car just in time to keep it from hitting the wall dead on.  Thanks to his skills behind the wheel, as well as the skills of the team that built this car, he was able to climb out and walk away from such a hard hit.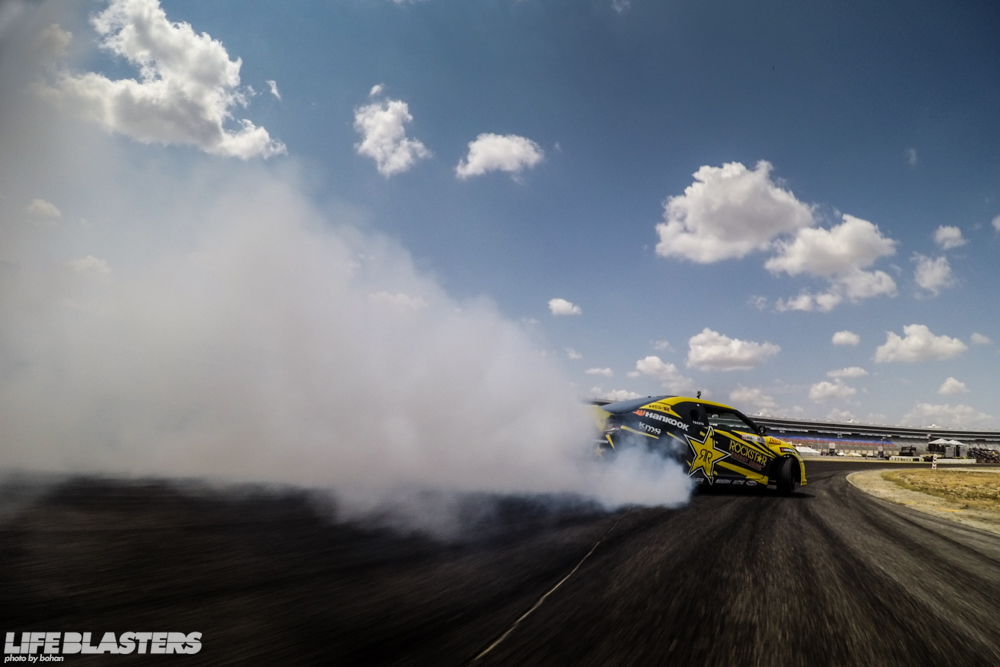 As usual, thanks to Bohan, he shows me awesome photos like this and then I find myself looking up new gear to buy for myself.  Good influence or bad?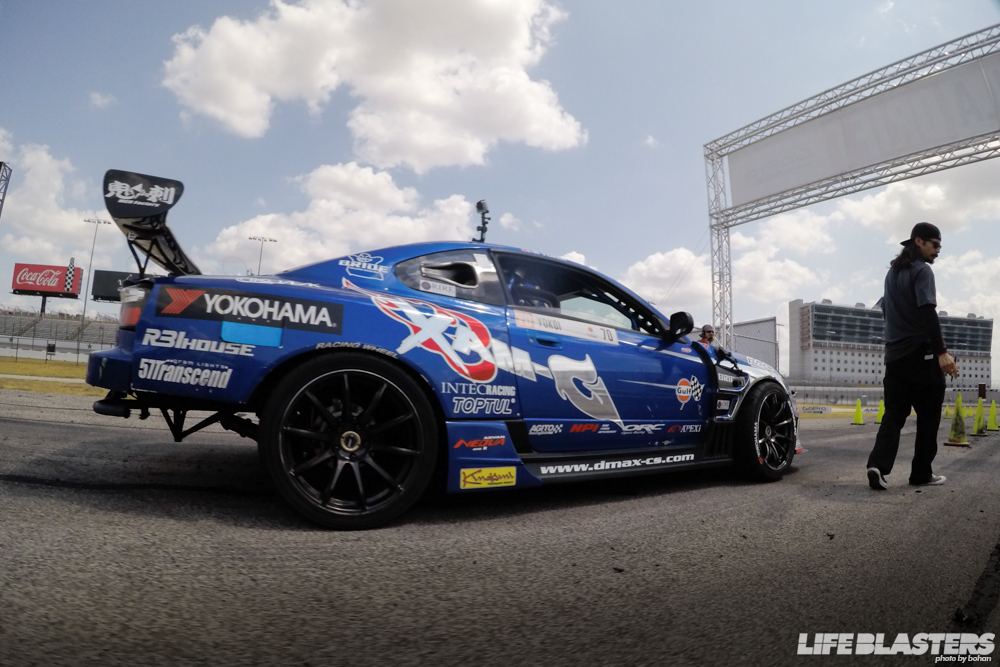 I remember going to car shows and meets years ago and all the 240 guys would be dreaming about cars like S15 Silvias.  But since I've been shooting bigger drift events nowadays, they don't feel as uncommon as they did years ago.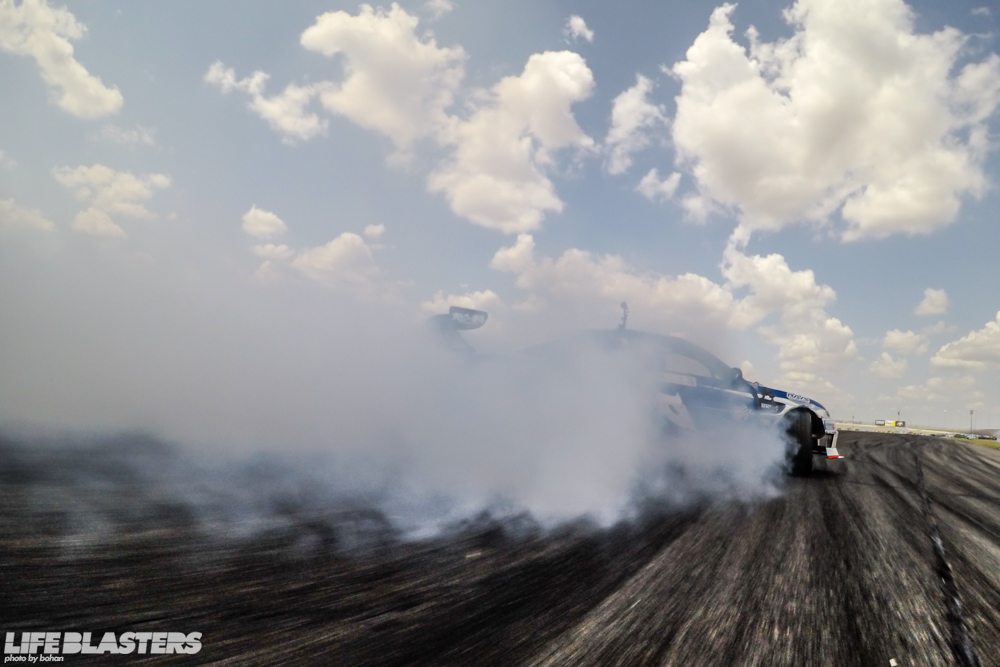 This particular S15, piloted by Yokoi, seemed to be throwing down pretty solid practice runs the past couple days.  Someone was looking for their place on the podium.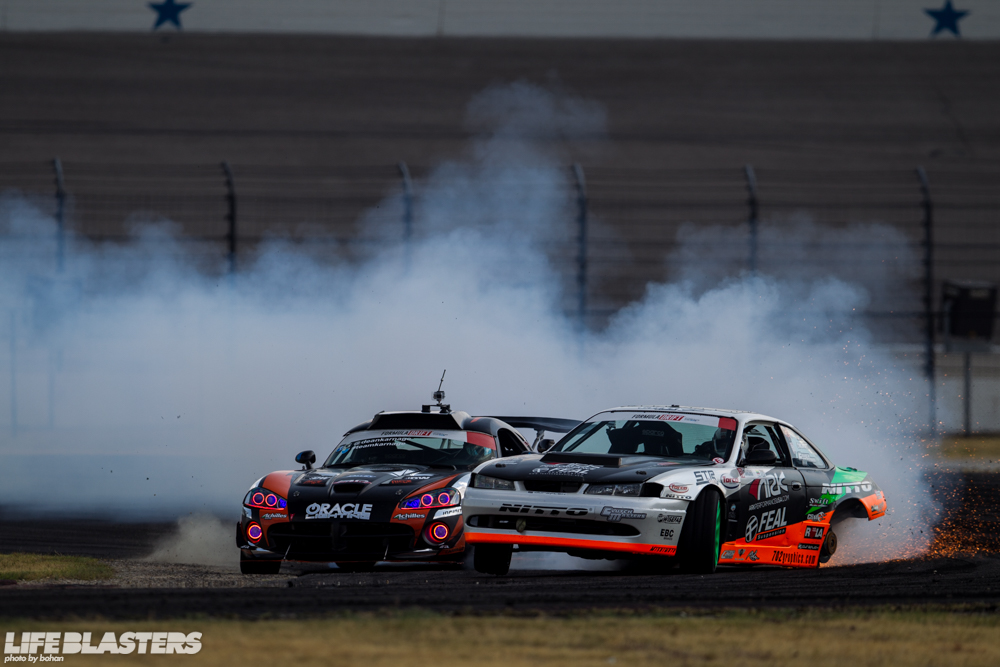 With only 110 points available at Irwindale, Bakchis was officially eliminated from contention for the title when the studs on his S14 sheared off and left him three wheel drifting.  Not for nothing, he seemed to hold his angle pretty wheel, but unlike rally, how many wheels you have throughout your run does matter.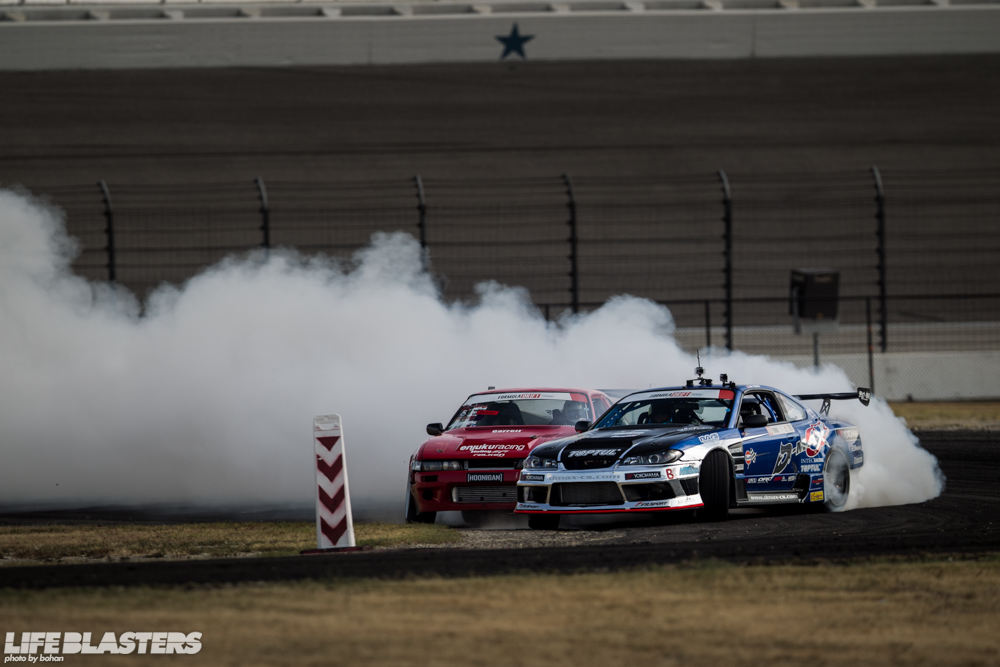 Closing in on the Top 16 and we'd see Yokoi for sure.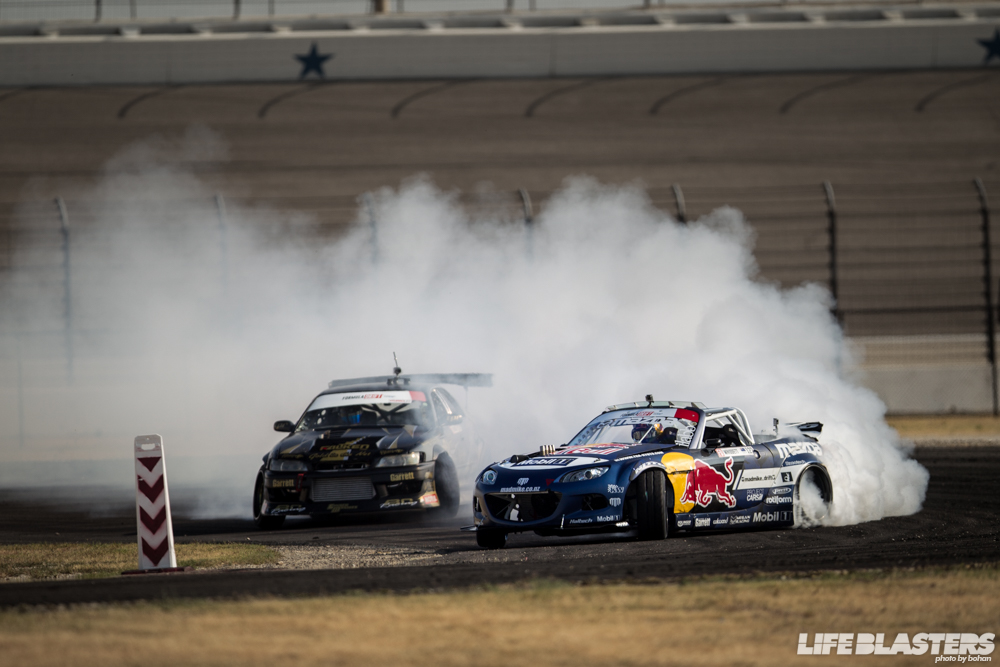 This event actually happen to be my first time being able to watch Mad Mike Whiddett tear it up in his four rotor twin turbo Miata.  The guy is an animal and did his best to take out Mats Baribeau for a spot in that Top 16 as well.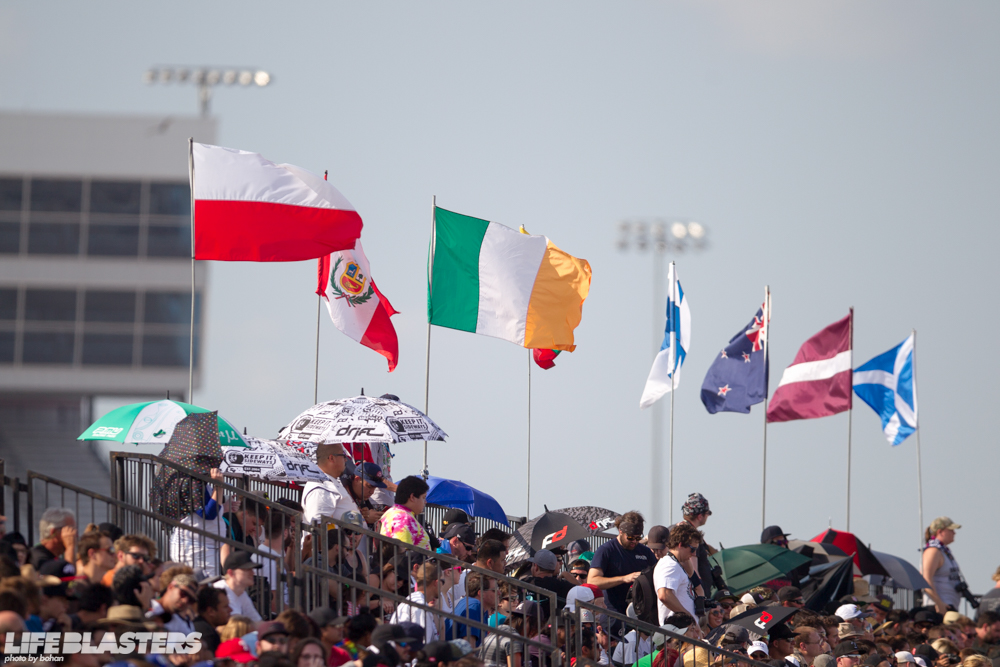 Other than Formula Drift, the biggest events I've shot are a handful of Rally America events and Global Rally Cross once.  But I don't think I have ever see as many countries represented at one event as I have at FD.  Some of those flags I wasn't even familiar with at all, to be completely honest.  And we've got a Scotsman in Pro2.  Go Andrew Grey!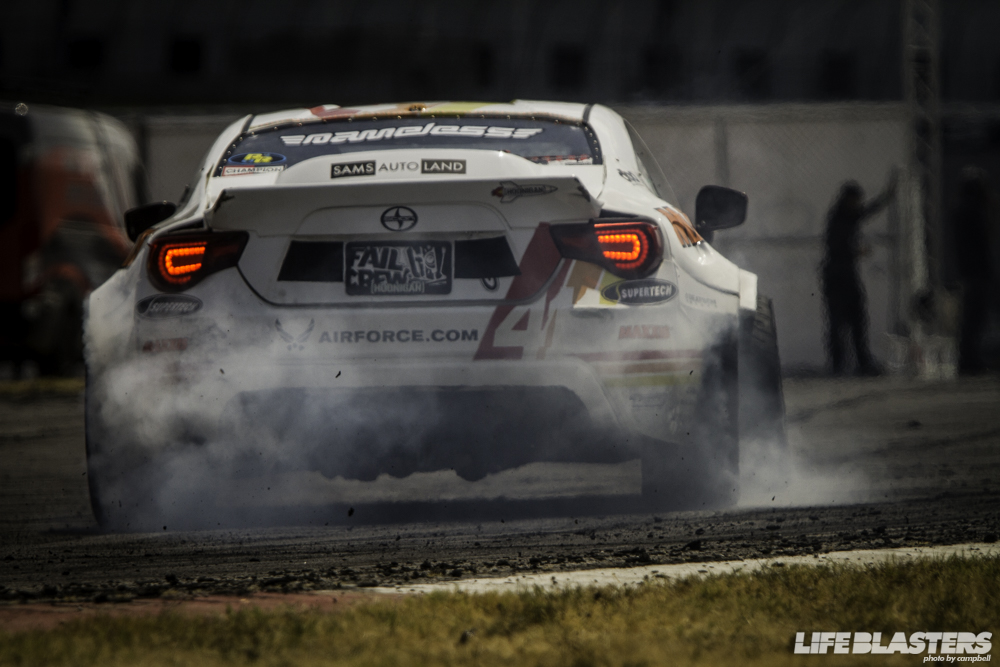 Enough chit chat, we've got some drifting to get back to.  It was almost 7pm and nearly 100 degrees out here.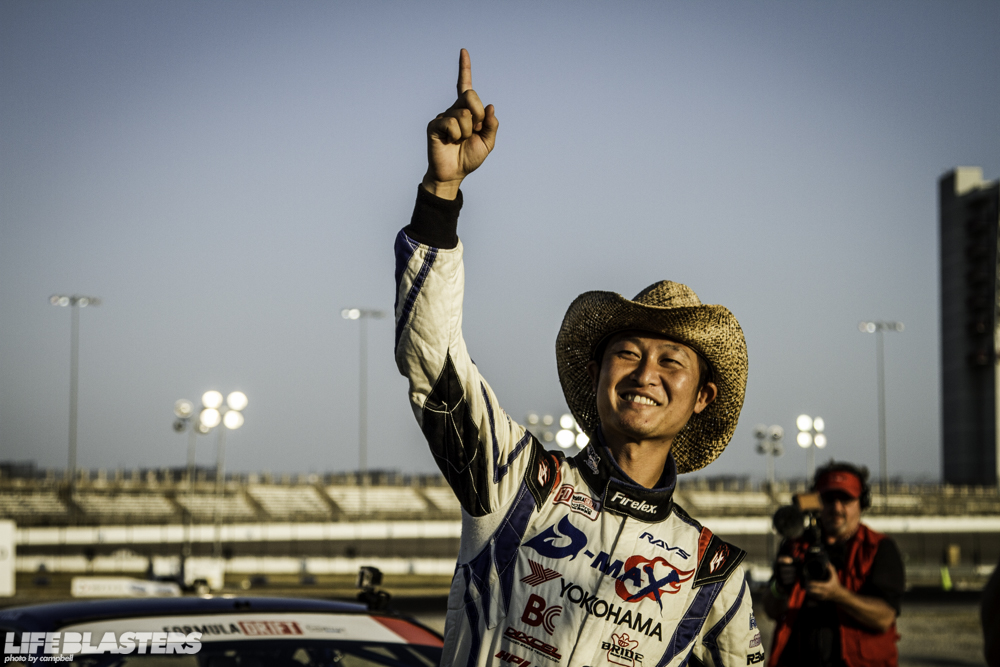 Naturally we were in Texas and you need at least one guy wearing a cowboy hat.  Here in Texas they call him Masashi "The Japanese Cowboy" Yokoi.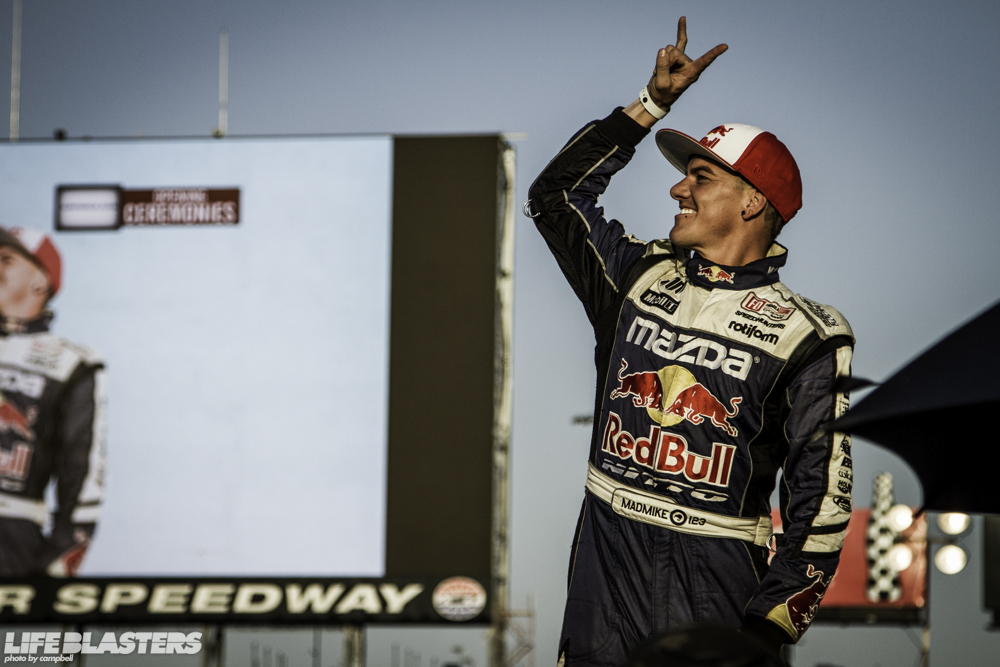 I've mentioned earlier that this was the first time I'd seen Mad Mike Whiddett in the flesh and I knew he was one of the more popular drivers.  But it didn't really hit me until his introduction. The crowd cheered so loud and really blew up when he ran up to the fence throwing free swag.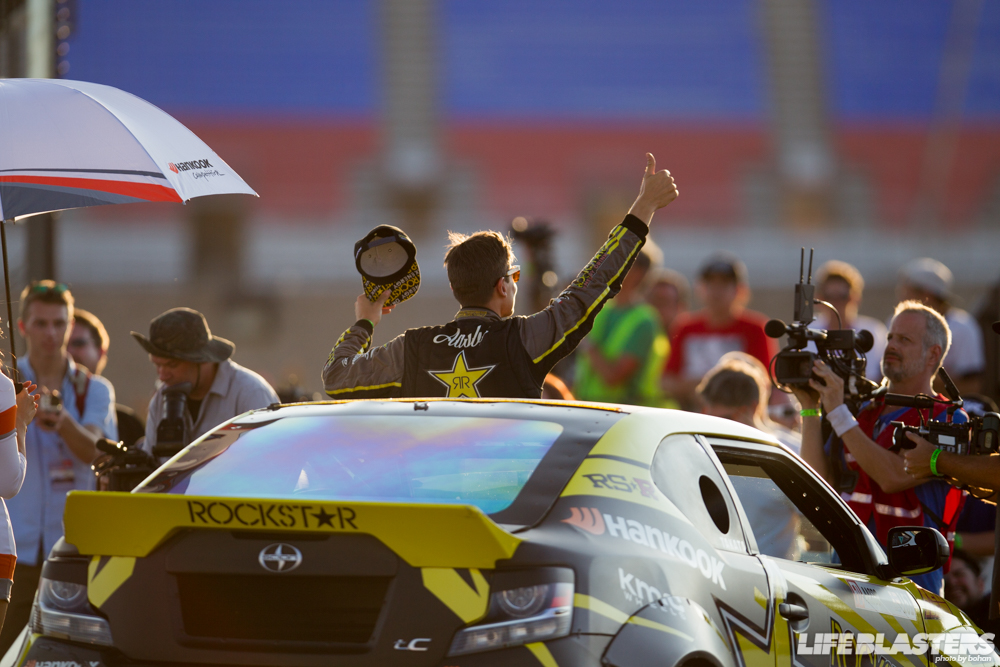 Aasbø, the man to watch out for, is almost guaranteed to win the Formula D championship this year. After his win at Long Beach I thought there would be no looking back, but a pair of early exits in Atlanta and Orlando cast some serious doubt on his chances.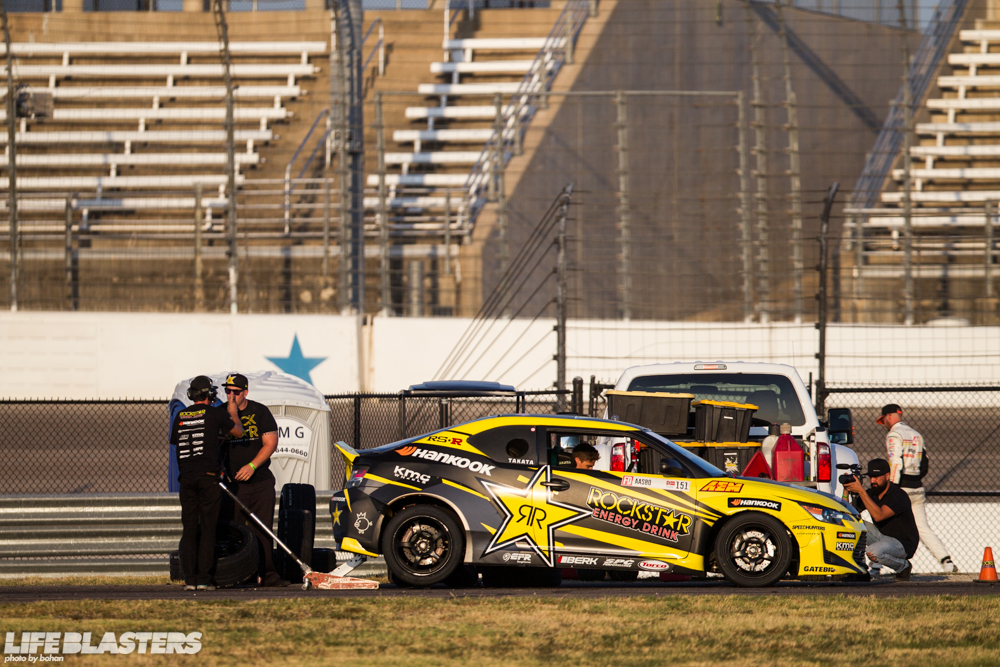 Odi Bakchis took over the lead after those two rounds, followed by Ryan Tuerck after Jersey, even though Aasbø won that round. Aasbø made it two in a row in Seattle, finally retaking the lead, not by just a few points, but by a whopping 76 points thanks to the other front runners going out early.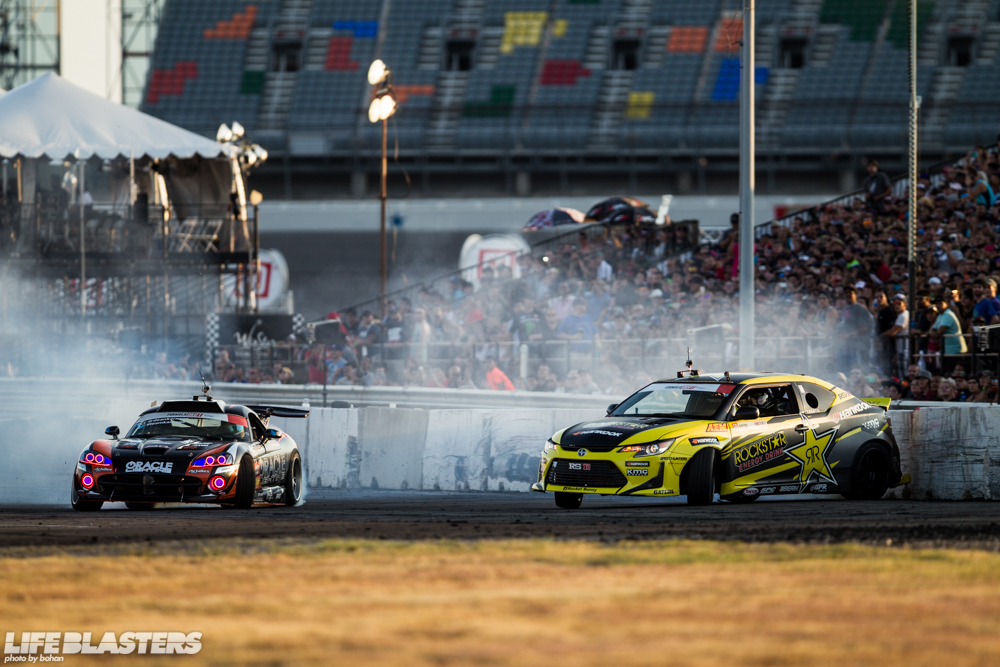 Fighting his way to the top, Aasbø took out Kyle Mohan and Dean Kearney, making his way to face Daigo Saito in the Top 8.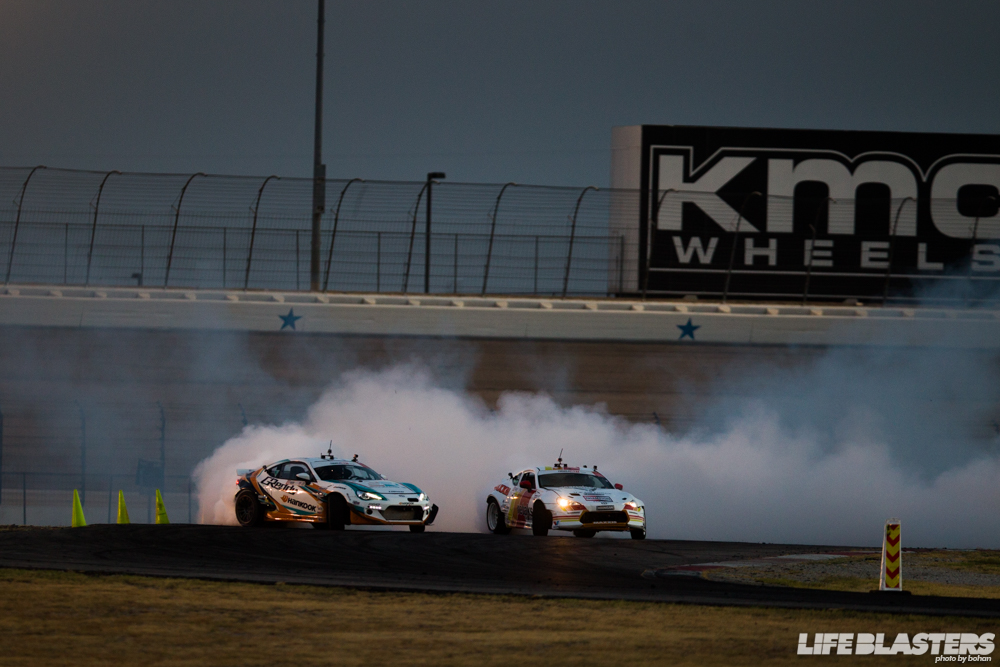 If you've read previous articles of mine, I'm sure I've mentioned that I'm a big Toyota fan.  So you can imagine that I'm a little biased when I see drivers like Ken Gushi and Ryan Tuerck in both of their 2JZ powered FR-Ss.  For me seeing the two of them running head to head, the Toyota Fanboy in me comes out.  And of course the anti-lag on Tuerck's car is just extra badass.  Well done, Nameless.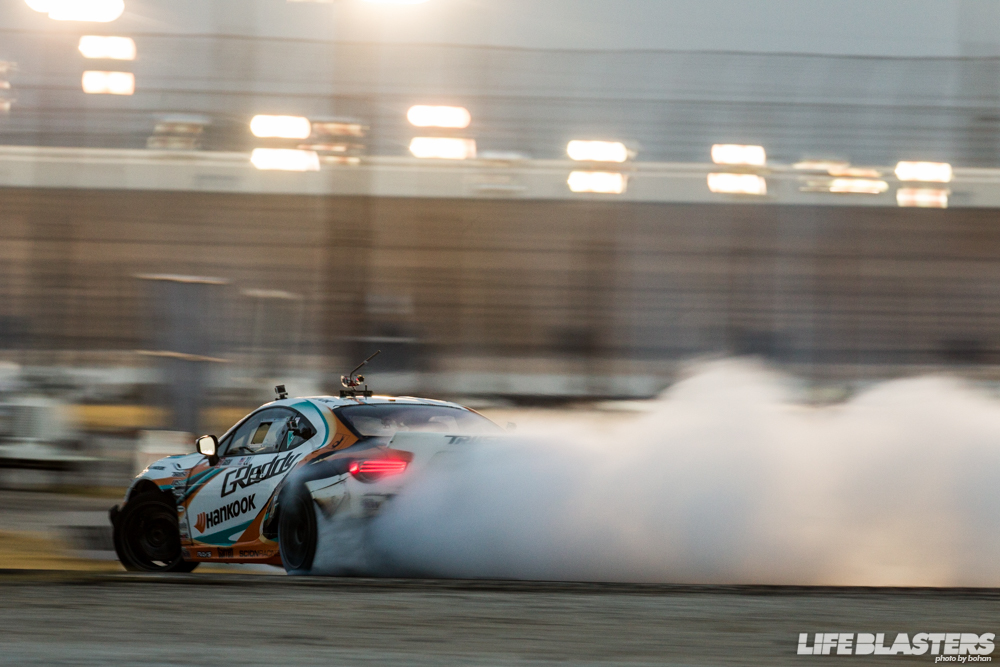 Unfortunately for Tuerck, his anti-lag was no match for Gushi, and Gushi would go up against Kenny Moen in the Top 8.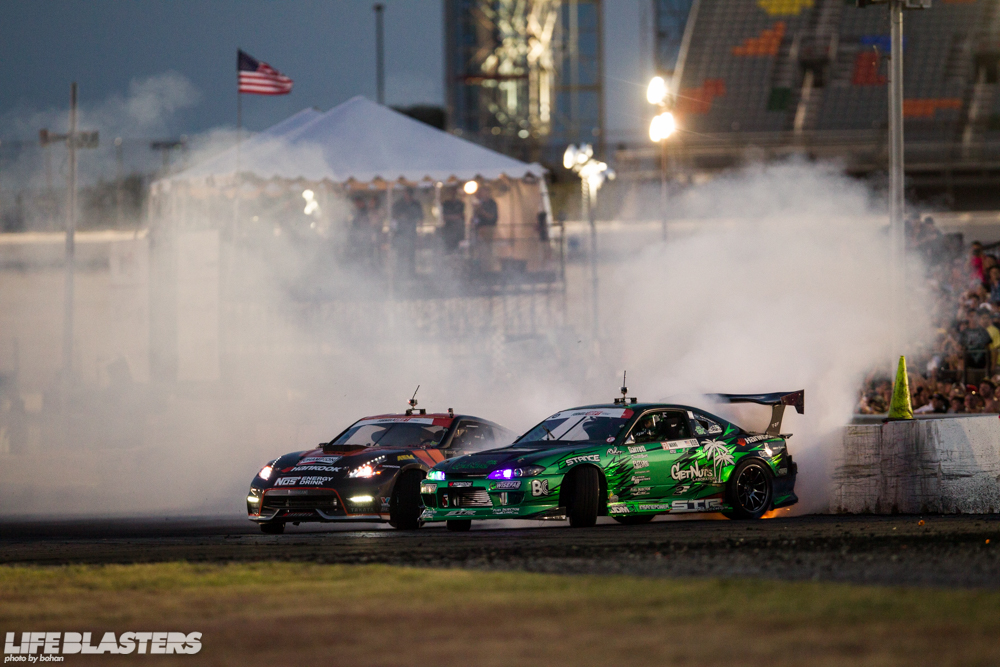 Now Tuerck seems to have the biggest fireball show thanks to his anti-lag, but Forrest Wang just so happened to be joining in on the fun for the final day of drifting.  Mind you this wasn't planned.  Long story short, his engine was shot and they had found a replacement engine the night before and essentially dropped in a pretty serious drag engine and went drifting with it.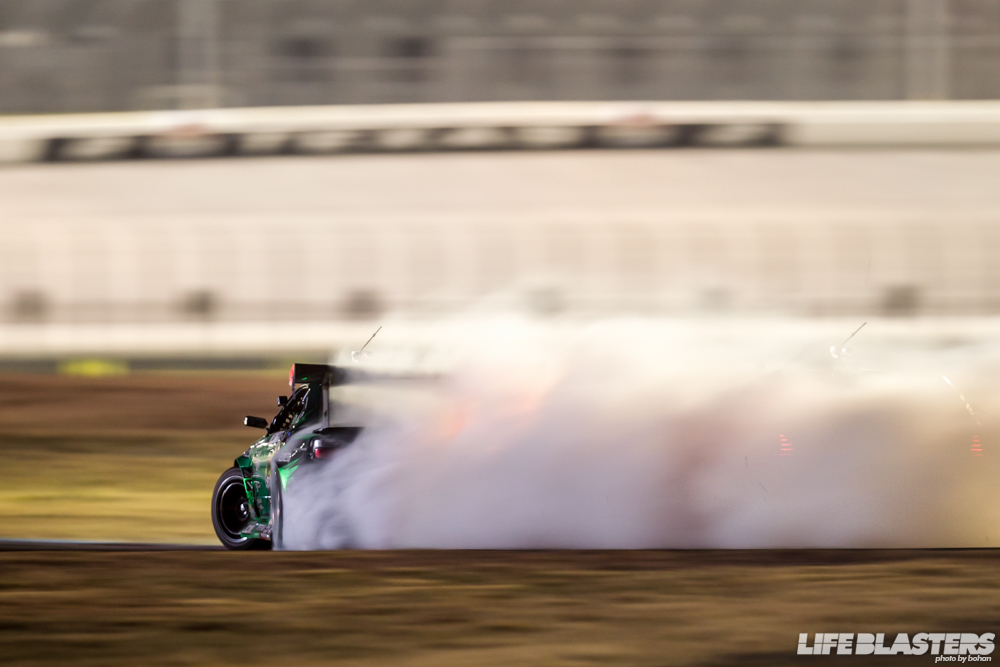 Would Wang have been able to hold off Chris Forsberg with his original engine?  Who knows?  But that Top 8 spot ended up in the hands of Forsberg.

Alec Hohnadell would be making his way to the Top 8 as well.  Having defeated Charles Ng and avenging his Get Nuts Lab teammate Wang, Hohnadell would be have to take on "The Force" Forsberg.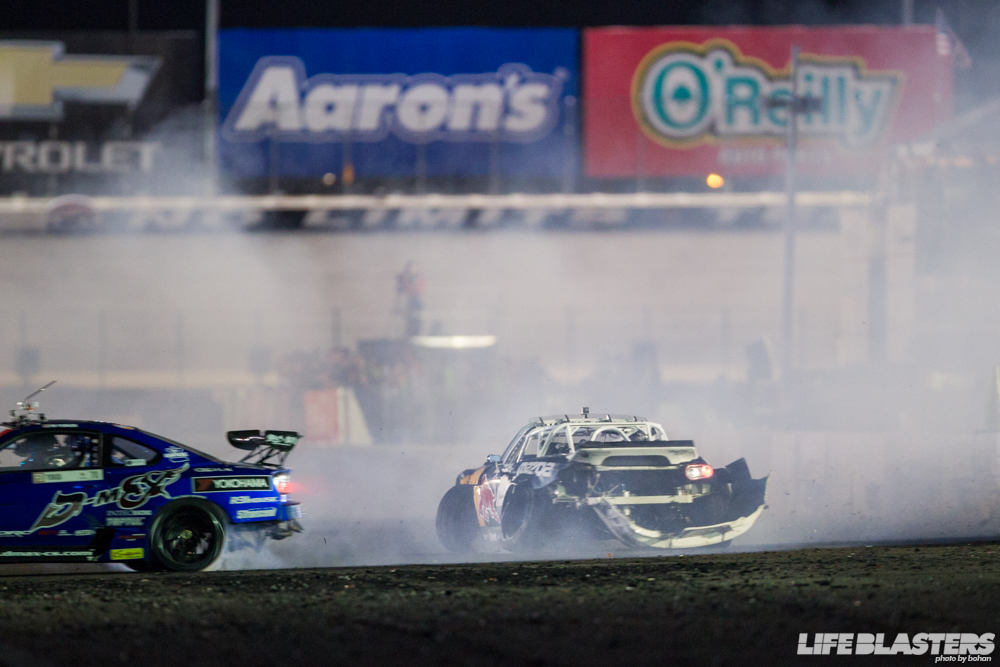 Things were really looking good for Mad Mike right up until he had to chase Yokoi, for the second time, on their final battle, making pretty hard contact with that k-wall at the outside of clip 3.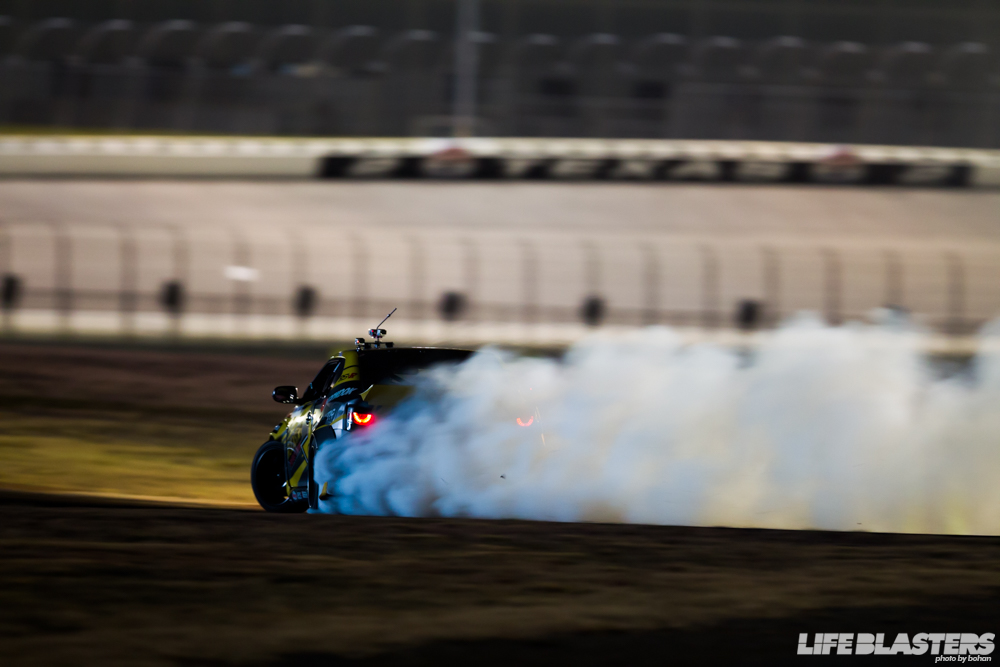 Aasbø got knocked out in the Top 8 by Daigo Saito, but still managed to widen the gap even further. He now has a comfortable 80-point lead over Ken Gushi, with Tuerck sitting another 16 points back, followed by Chris Forsberg with a 97 point deficit, and Bakchis a whopping 116 points behind the lead.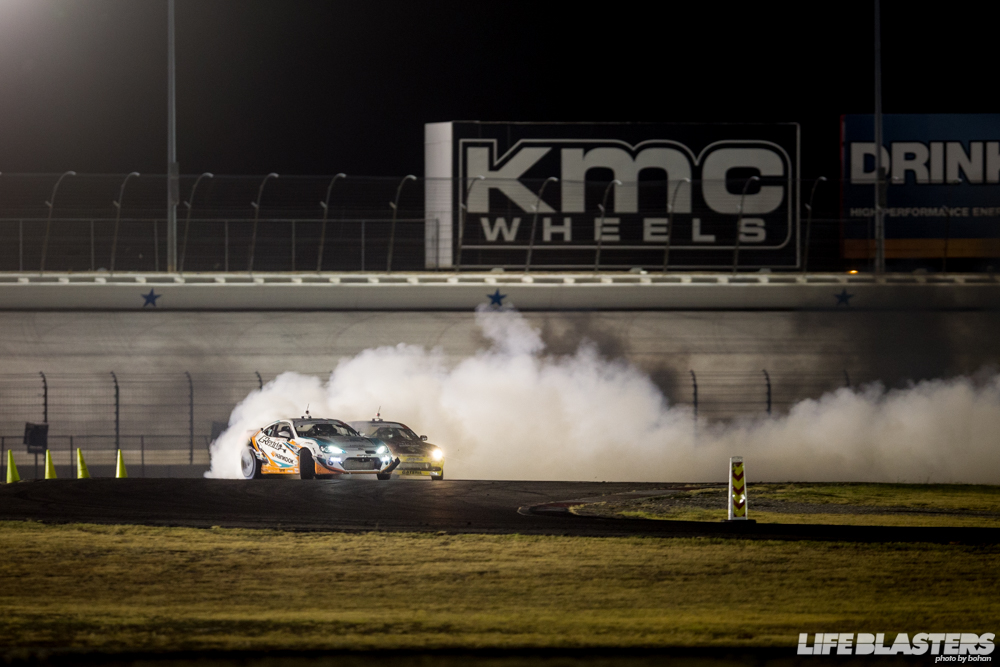 Let's crunch some numbers. If Gushi has a perfect 110-point round at Irwindale, Aasbø will need 31 points to win his first ever championship. He can get that just by winning his Top 32 battle, regardless of his qualifying position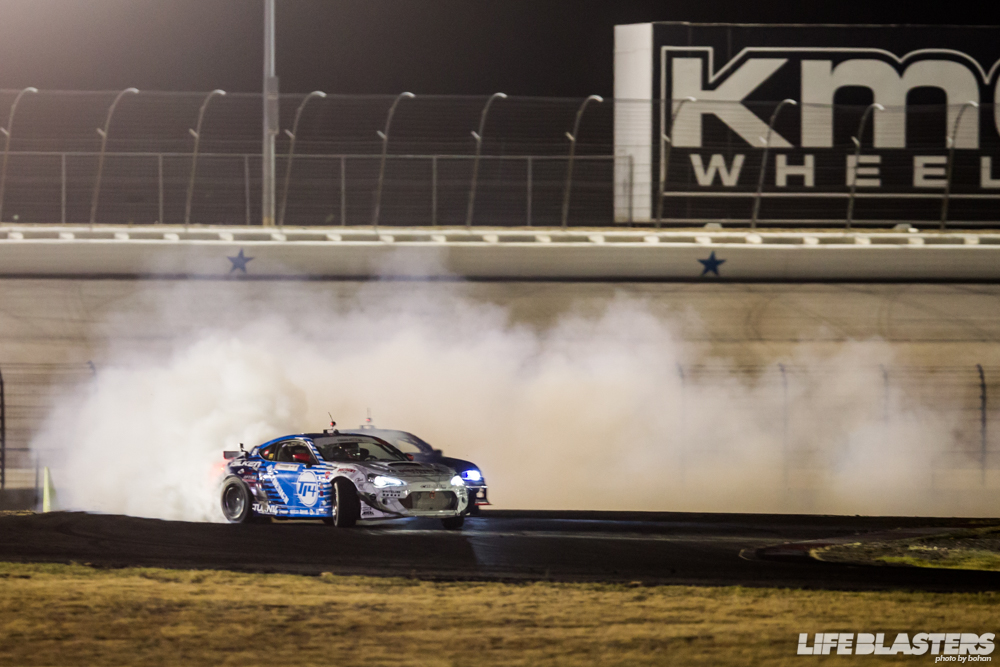 For those who don't know, when it comes time for the judges to pick which driver will advance, they choose Driver A, B, or they decide "ONE MORE TIME" and those drivers will have to do two more runs against each other.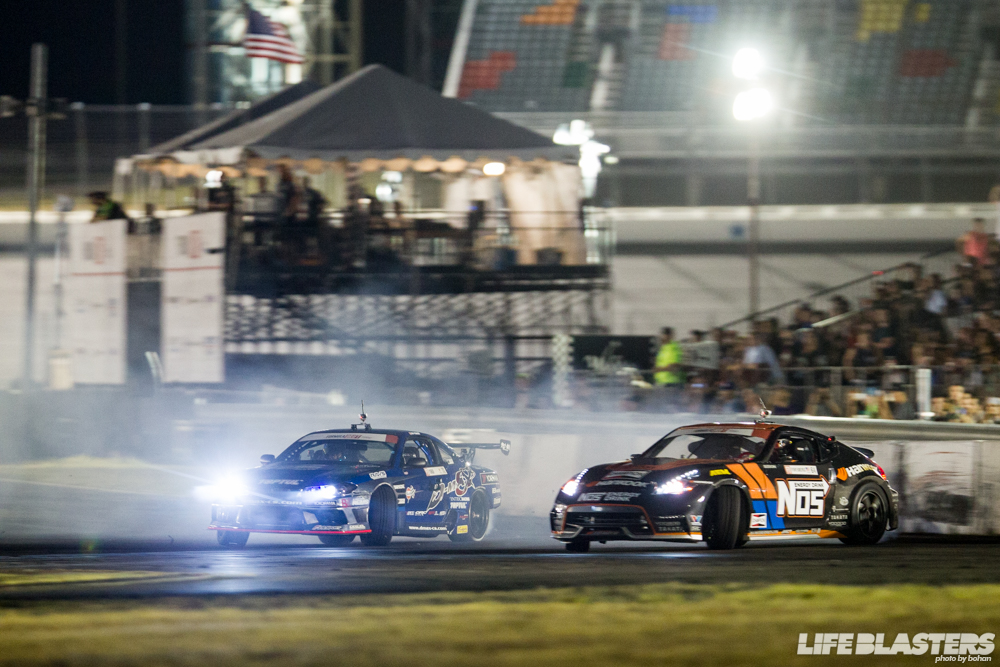 If Tuerck or Forsberg has a perfect round, Aasbø would only need to qualify and then lose his first battle.  Of course, it's not likely that Aasbø will have that poor of a performance, so the margin of victory will probably be substantial. Bohan said he hasn't seen this kind of dominance since Gittin won the championship in 2010, 63.5 points ahead of Tanner Foust.  But for now, ONE MORE TIME!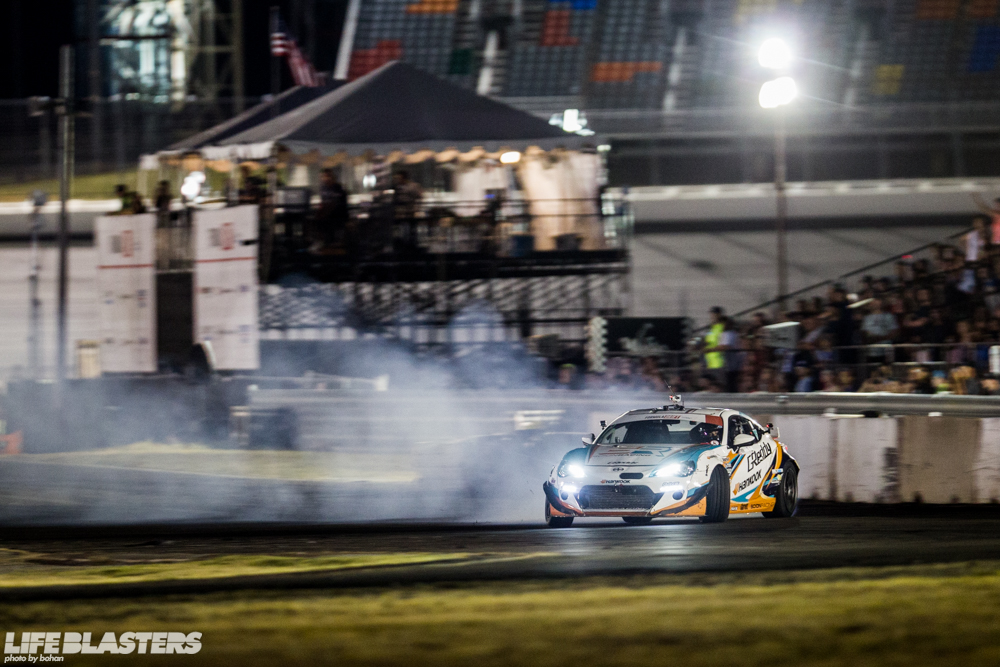 Forsberg was out, leaving Yokoi to prep and check his car before heading to the final battle.  Meanwhile Gushi and Saito were going at it and neither driver was letting up, so much in fact "ONE MORE TIME" two times.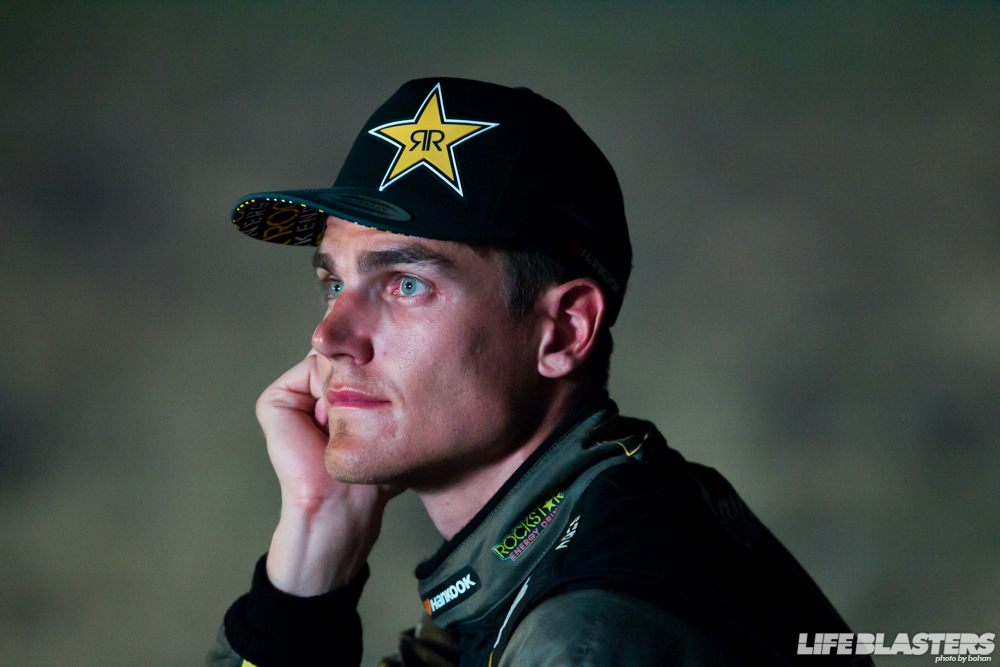 Now if you look out toward the far left of the track, you will find a group of photographers and Aasbø just hanging out in the middle of the darkest section of the speedway.  If you listen you will hear their cries with every "One More Time" called.  It was definitely cool having Aasbø hanging out and BS-ing with us.  There was a point where he had realized that the camaraderie between media is much like that between drivers.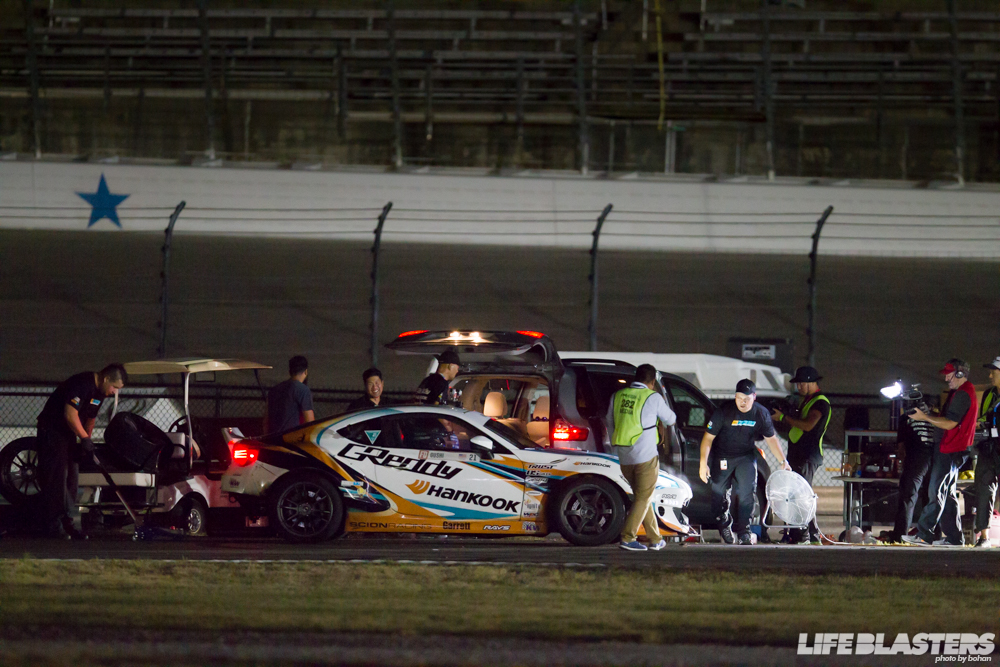 Six runs in a row, the podium ceremony was supposed to be more than an hour ago, it was still almost 90 degrees at night, Gushi was in for tires and a quick check over the car and then he'd be back out against Yokoi for that 1st place spot on the podium.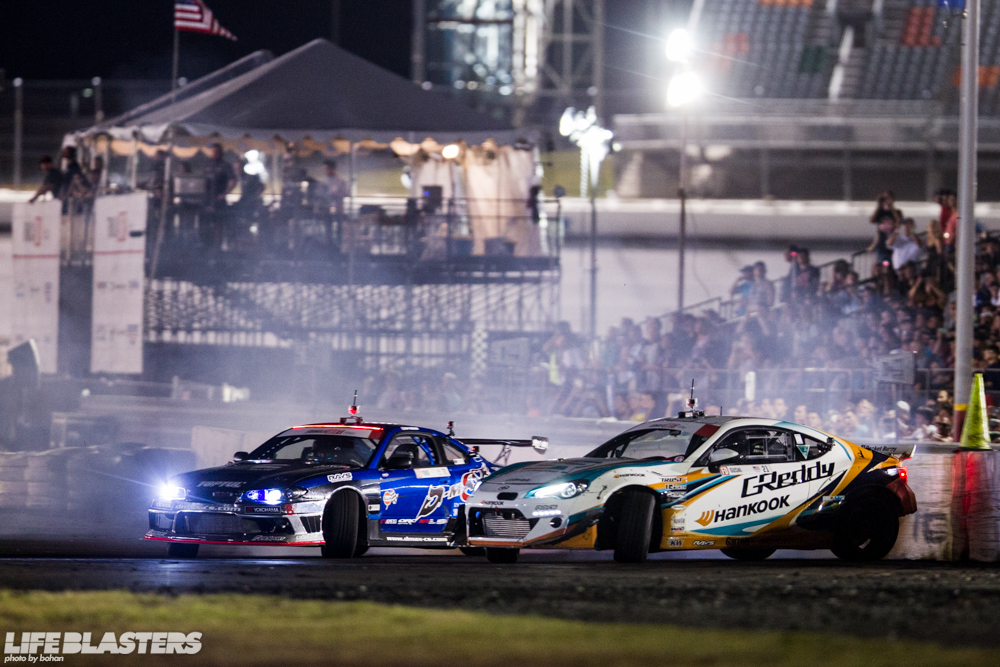 After the first run the judges were saying it wasn't Gushi's strongest run of the night, but a solid run nonetheless.  Yokoi wasn't far behind, and just needed to really kill it on his lead run.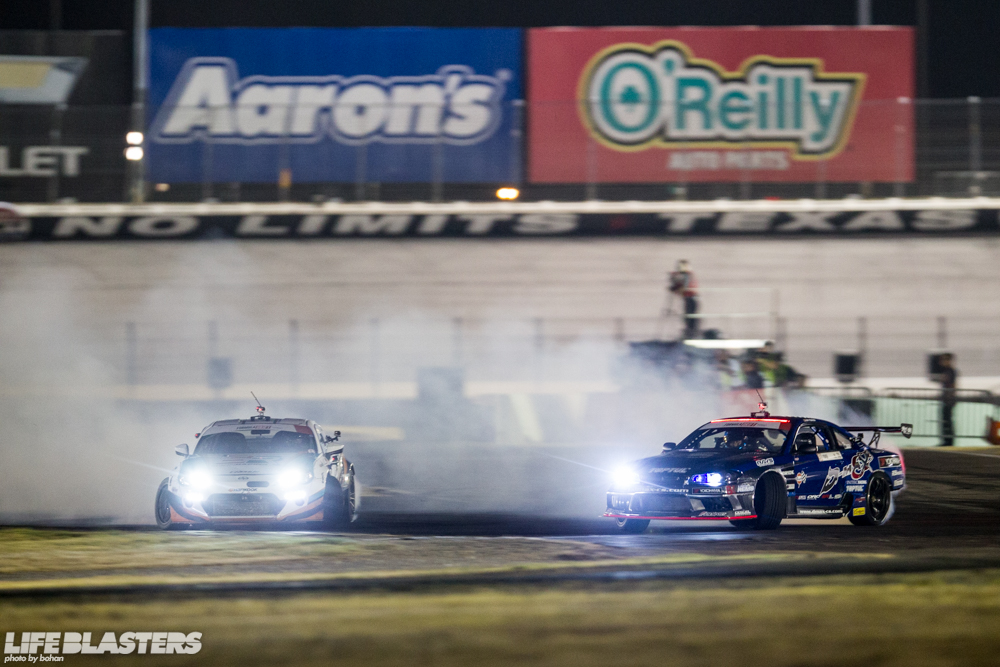 It was the final run and Yokoi was on it.  He was tight on the clipping points and against the k-wall, but despite his constant smoke screen, Gushi was doing his best to keep that gap as close as possible.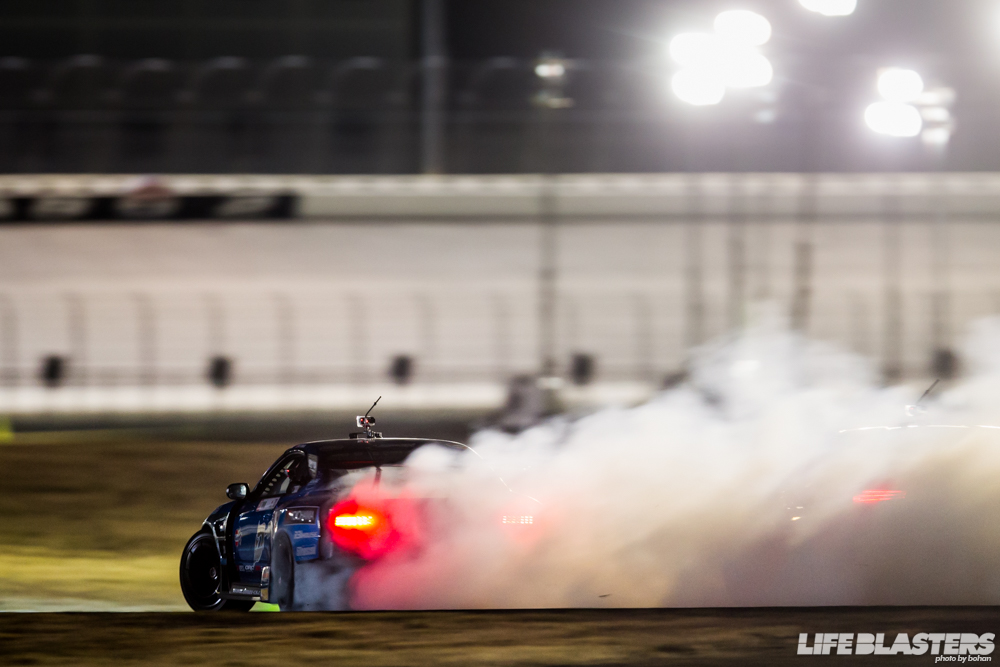 Yokoi was going to take the win with his 2JZ powered S15.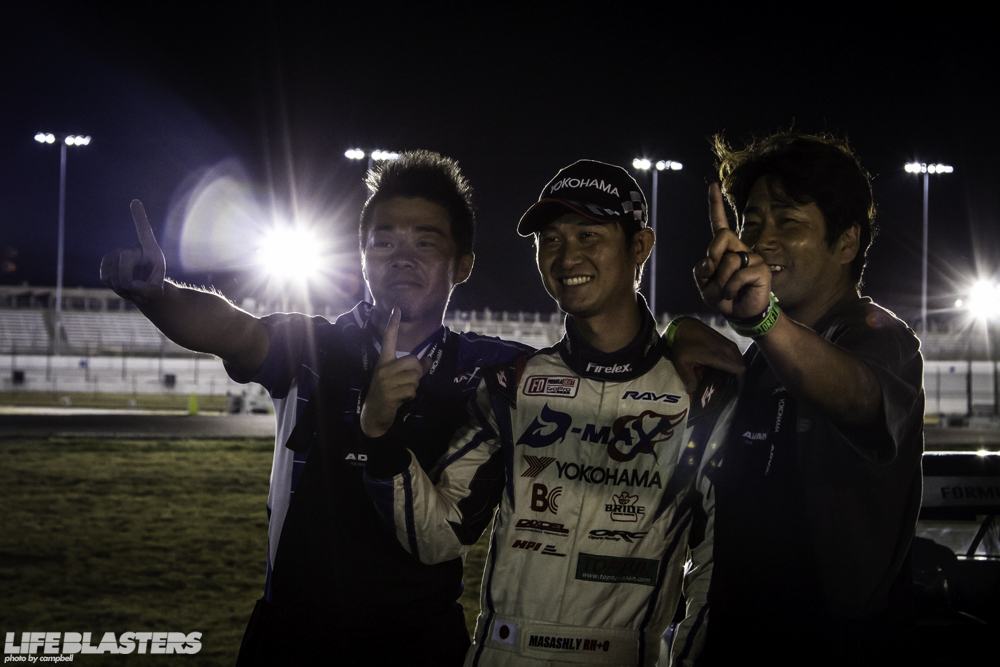 Left speechless, Yokoi was quickly joined by some of his crew to help him celebrate their first FD win.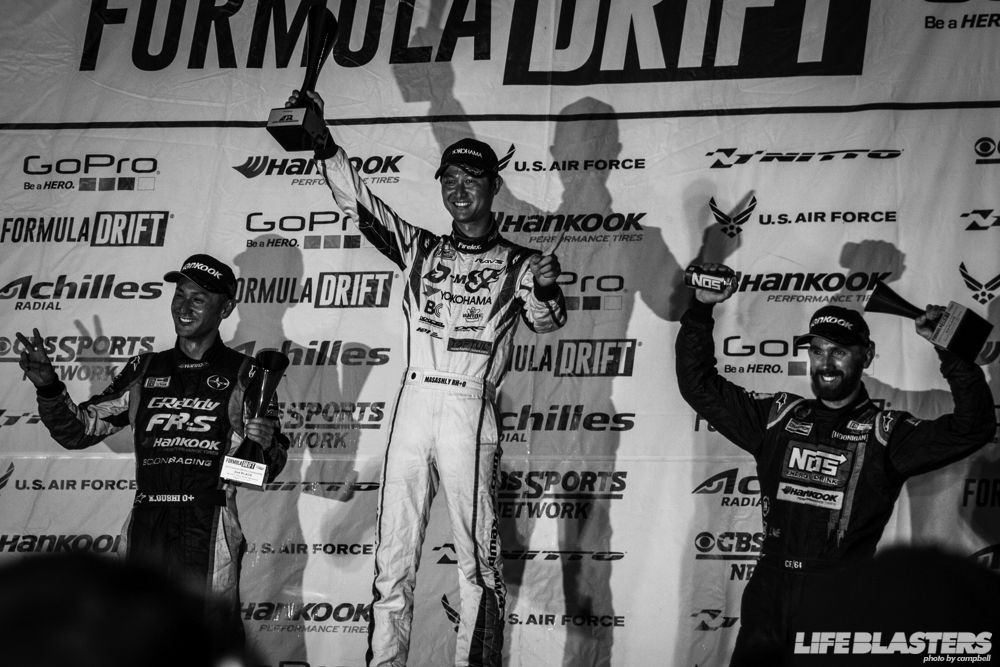 Rookie Masashi Yokoi has been working hard on his craft and here in Texas it finally paid off.  It had been a long three days of drifting in near 100 degree heat and even an extended event with all of the One More Time runs.  Surprisingly enough, even the large crowd of fans never seemed to die down, no matter how hot and no matter how much longer the event lasted, these Texas fans really stuck with it till the end.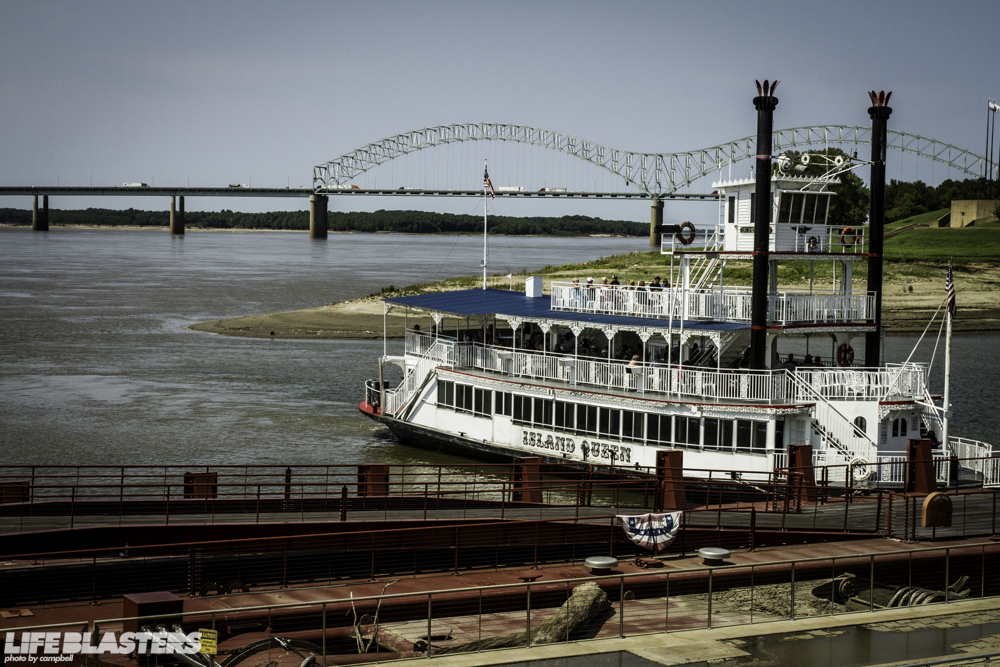 Like all things, they must come to an end.  But with each ending adventure, begins a new one.  Texas is now officially the furthest I have ever driven, but the way there I had Bohan as a co-driver and we made good time.  After the event, I dropped Bohan off at Love Field and he was on his flight back to California, leaving me to drive about 1,600 miles back to Long Island on my own.  First stop, Memphis, Tennessee.  I've always wanted to see the Mississippi River as a kid, but always thought it was just so far away from home.  And here I am.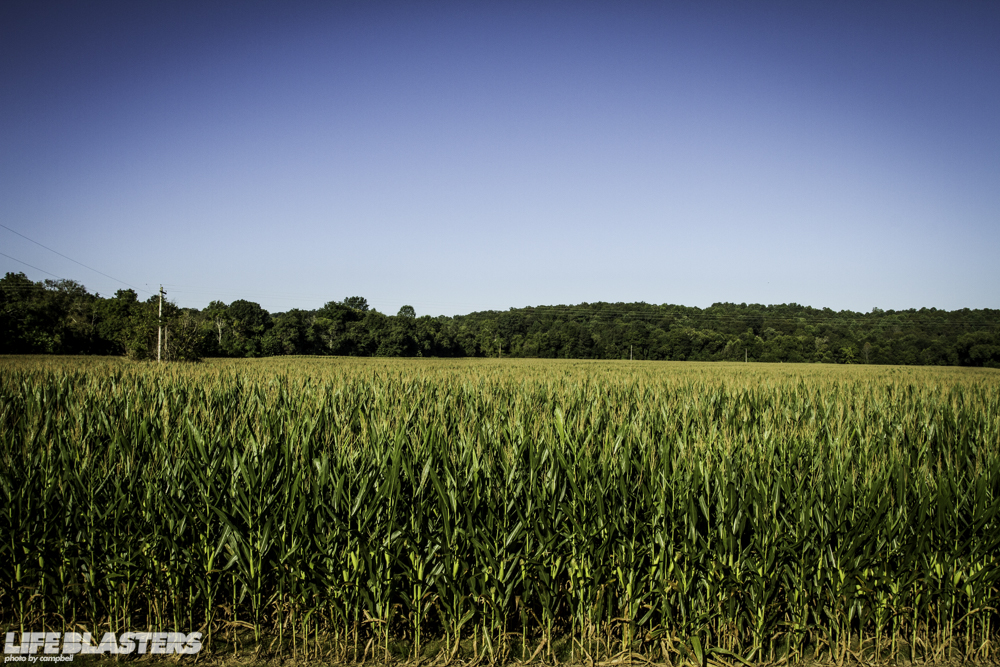 Next up I headed back to Ashtin's place in Tennessee for dinner at a Mexican joint, crashed for the night and headed right back out.  I had to take this corn field photo in Dickson before I really hit the road.  We have corn fields on Long Island too, but they're just not this impressive.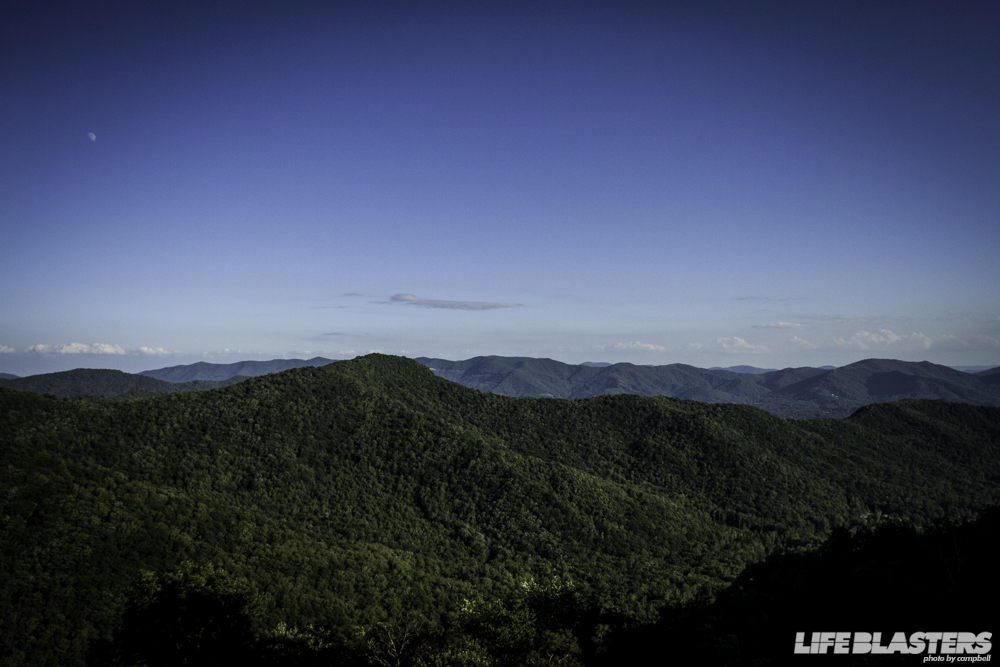 A few years back a close friend of mine left Long Island in hopes for that "Greener Grass" and it looks like he actually found it here in Ashville, North Carolina.  He and his wife were more than happy to have me since we hadn't seen each other since their wedding.  Home cooked meals, hanging out and bullshitting like old times.  And the scenery was just unbelievable, Jim took me up part of the Blue Ridge Parkway so I could get a better look over the Bee Tree Gap to the Great Craggy Mountains.  This is his backyard and why he left Long Island; I don't blame him at all.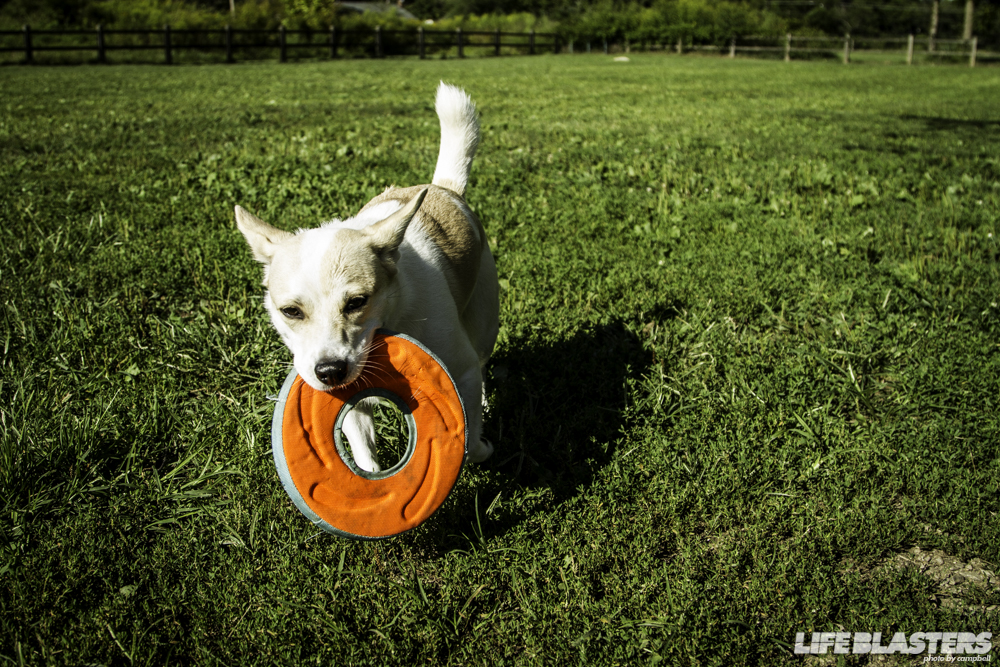 I even got to meet their four legged furry baby.  Her name is Piper and this small pup is a riot.  Just don't play chase with her, she's clever and faster than one might think.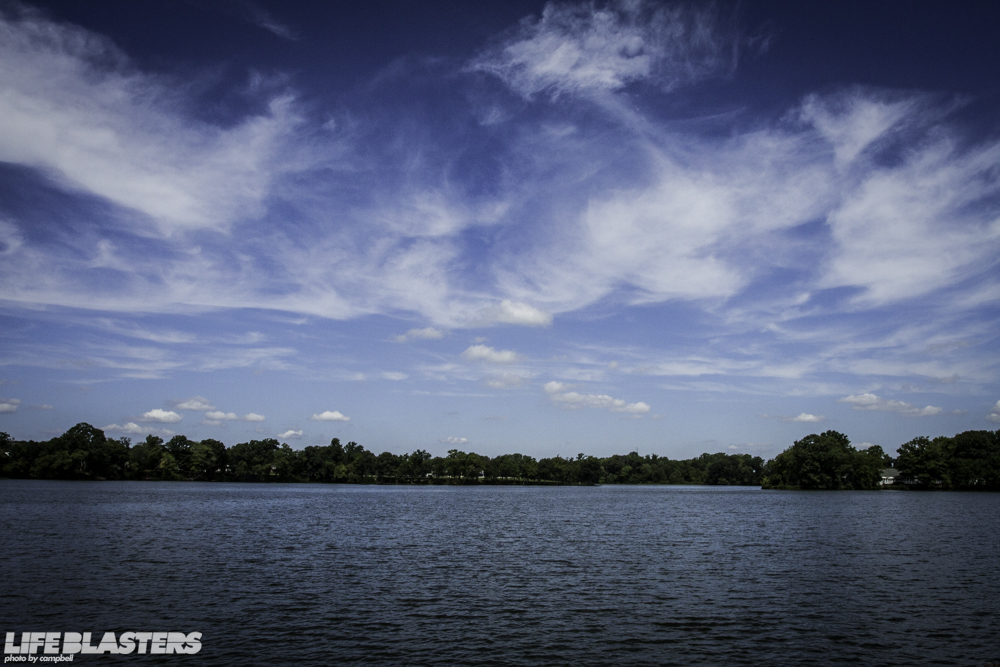 This is Silver Lake in Dover, Delaware.  I Stopped to see another old friend from back in the day.  Imagine this, my friend Kate used to drift an S13 coupe and now she's a police officer.  I wonder if she's a little biased when she pulls people over with badass cars.  Maybe let them off with a warning?  She was working nights at the time, so I stayed at her place and actually got to see her for breakfast when she got home from her shift at 7am.  Even tried scrapple for the first time, if you Wiki it, it says that it's a "mush of pork scraps and trimmings".  If you ask Kate's boyfriend, Doug, he says "It's basically a pork version of a chicken nugget, only better." and yes, it was pretty damn good.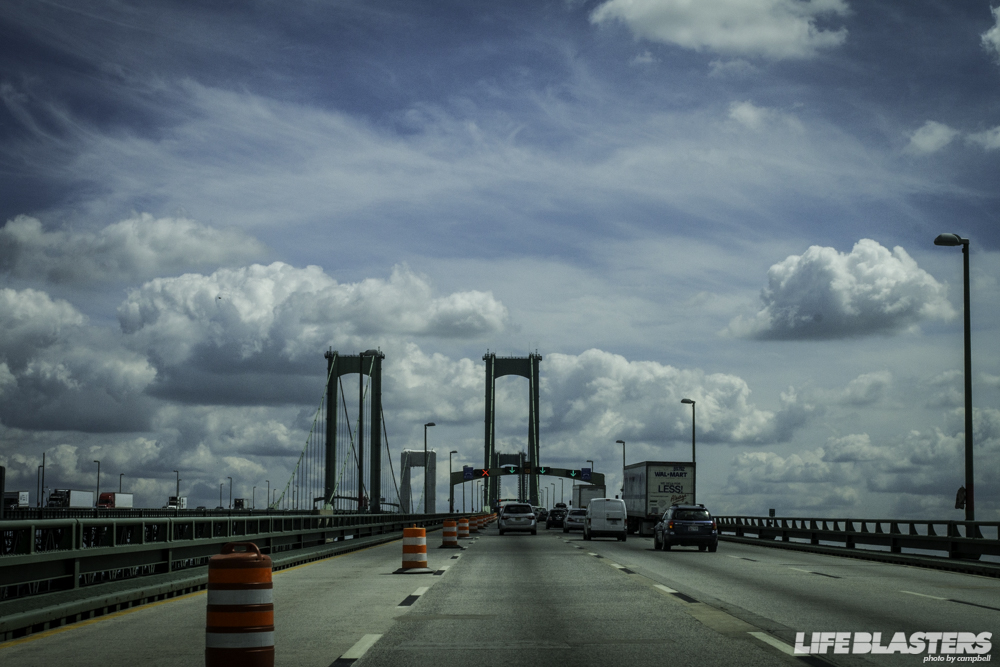 The good ol' Throgs Neck Bridge, connecting Queens to the Bronx.  From here on out, I'dseen it all and just wanted to get home.  It's been a long trip, 4,168 miles to be exact and ever single mile was worth it.  New experiences, new places, new friends, old friends, new stories and memories.  And to the few of you who thought my car wouldn't make it, HA!  The only part of my car that was an issue was my starter.  And that didn't shit the bed until three days after I got back home.  Where to next?
-Matt Campbell