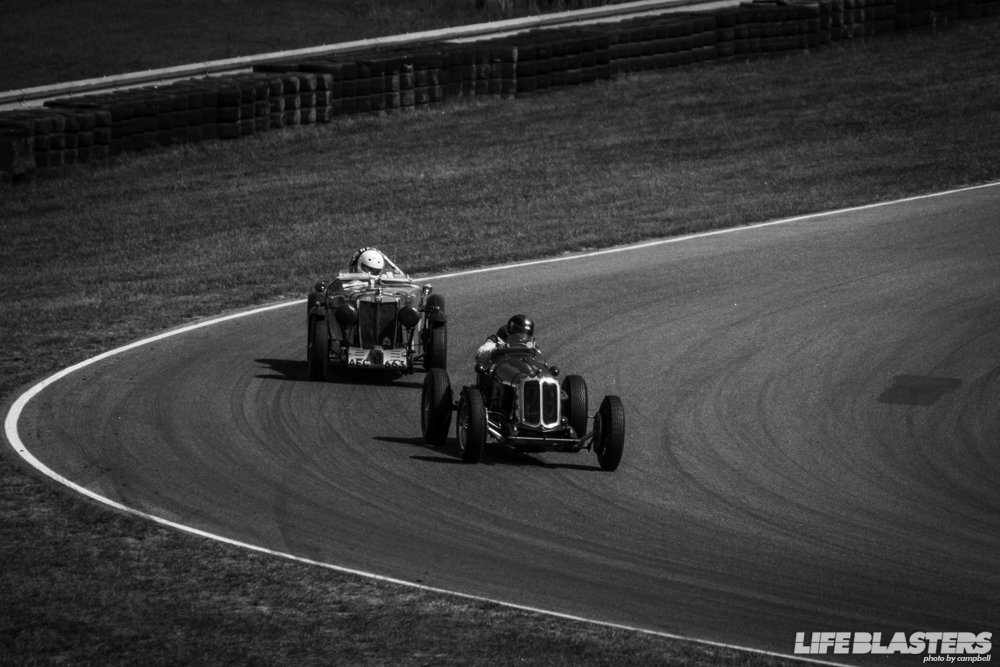 After my two week adventure to Texas, for Formula Drift with Bohan, I had another event lined up that I've been waiting to get to.  Just a few hours northwest in Connecticut during the first weekend of September is when you'll find Lime Rock Park flooded with historic cars as old as 1920, running up into the 1980s.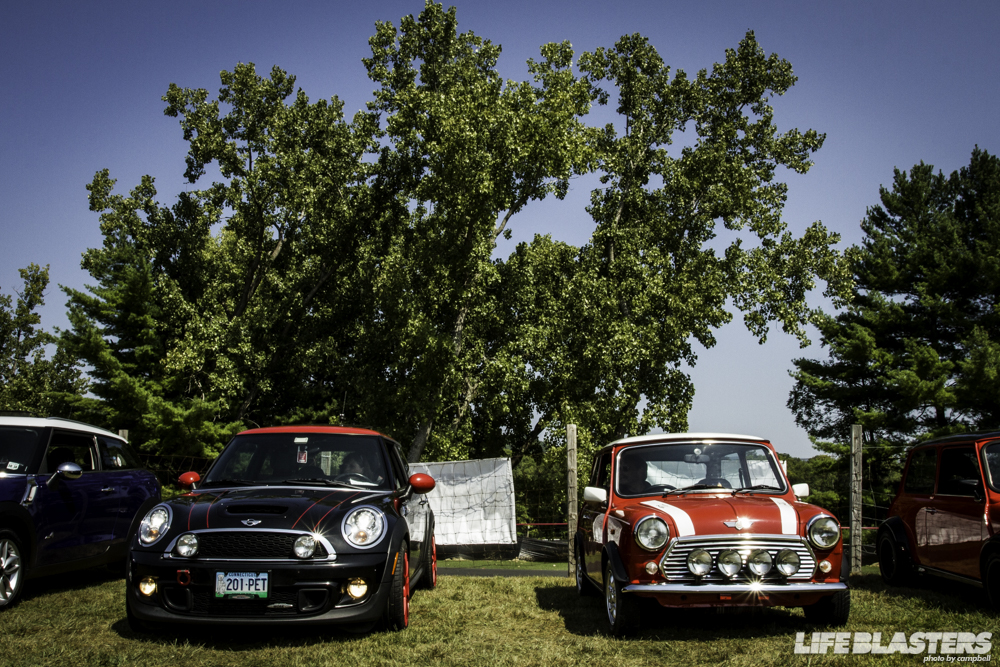 This was my second time attending the event and just like last year I ran into a couple of my favorite Connecticut natives, Jim and Lee Sohl.  Some couples have "His & Hers" embroidered bath robes and towels, but that's not the case here.  Lee has her beautiful 2011 John Cooper Works Mini, while Jim sports his vintage Mini Cooper.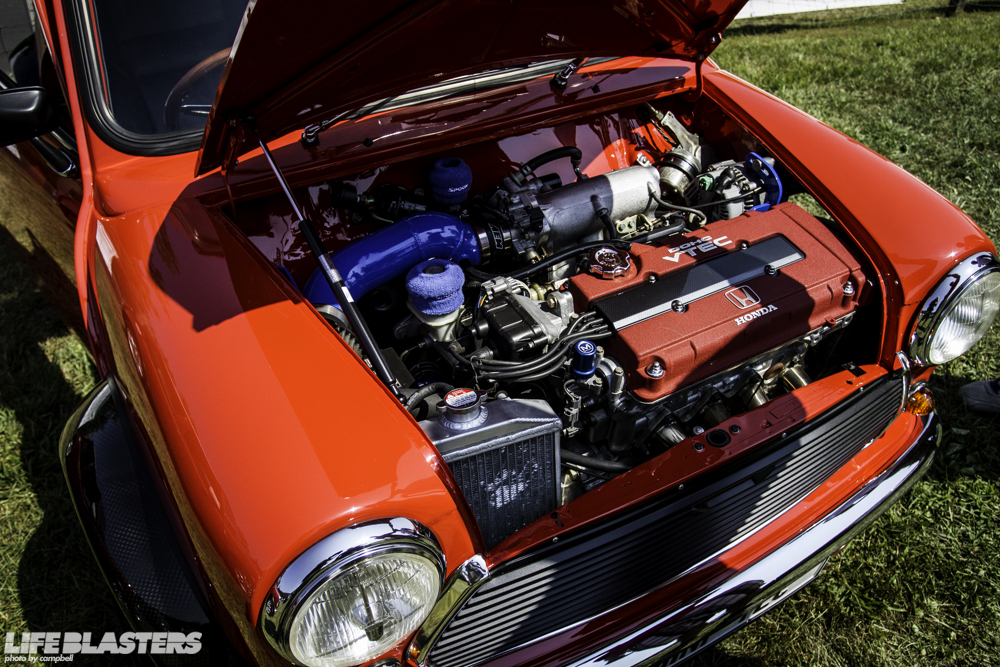 Jim, knowing how I appreciate pretty much anything custom, fast, and out of the ordinary, made it a point to show me his friend's B16 swapped Mini.  This is one serious Mini, along with this powerful VTEC engine, it's been fitted with larger Super Trax wheels and Wilwood brakes, and plenty of carbon fiber goodies.  Not to mention, it was one of the cleanest swaps I had ever seen personally and a really tight fit.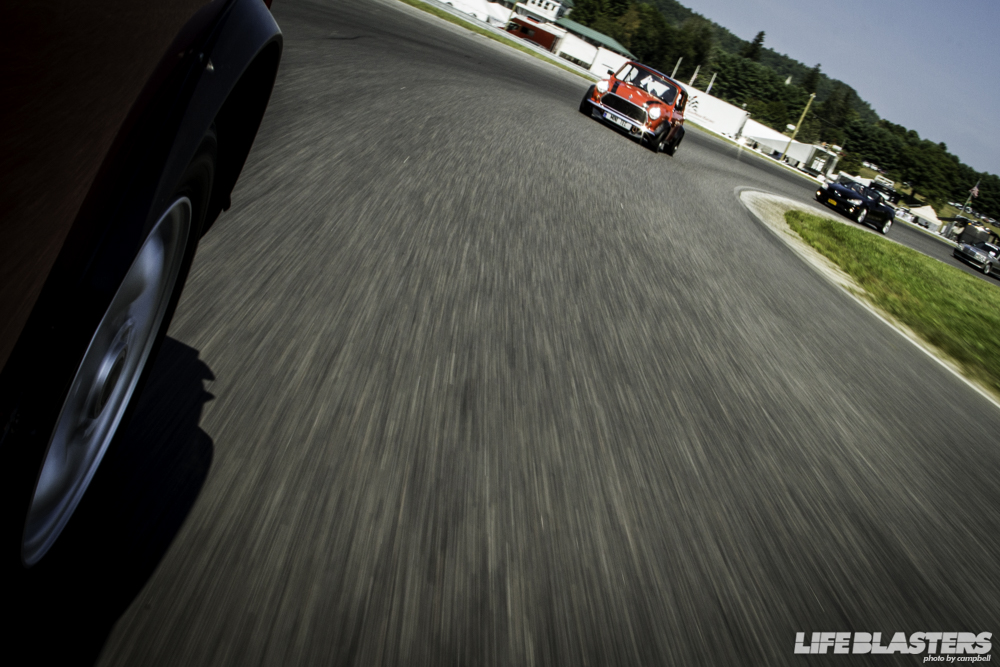 Also like last year, I had arrived at the track just in time to hitch a ride when the Mini crew got to take a parade lap around the track.  This time around I got to ride shotgun with Jim in his O.G. Mini. It was my first time actually riding in a right hand drive car, so shooting out of the left side felt a little unnatural.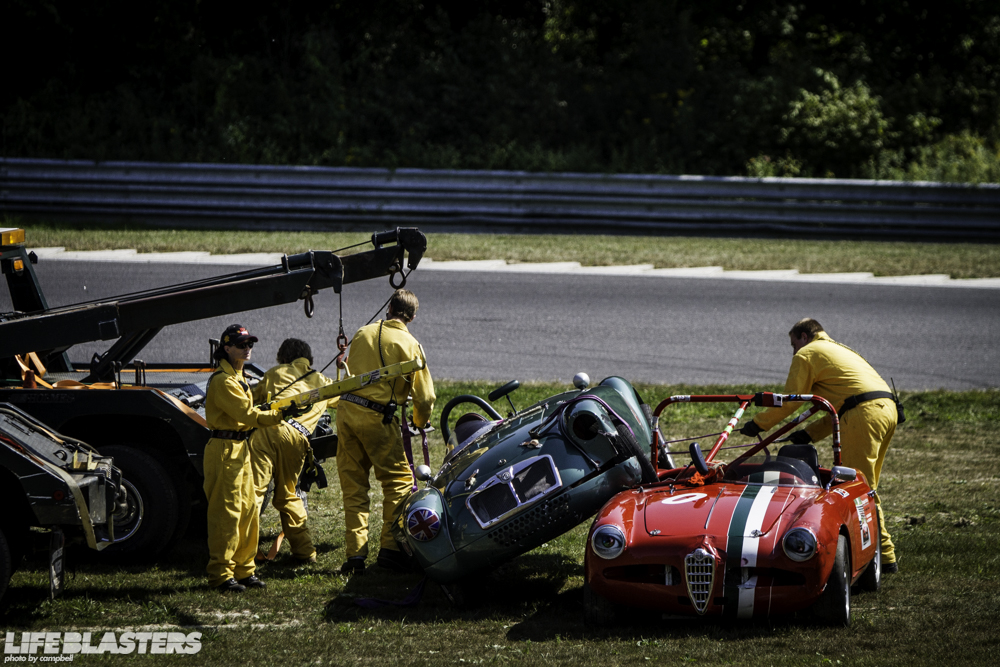 After our parade lap, the Sohls and I decided to grab some lunch.  Halfway through we heard the crowd behind us all start to shout, and not the good kind either.  So it seemed that the driver of the '59 MGA might have come in a bit hot into Turn 3 and found himself putting two wheels on top of a '59 Alfa Romeo.  Luckily, by the time I had run over, I saw both drivers walking away from the mishap unscathed.  It's always a relief when these things happen and the only worry is body damage to the vehicles.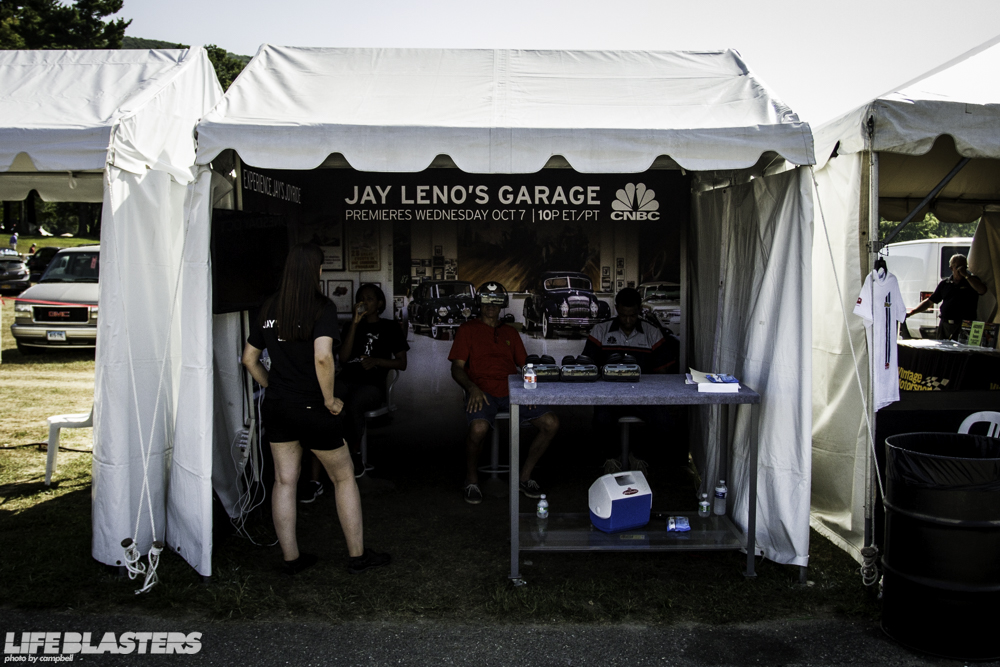 Before the Sohls took off for the day, they said I just had to to try the "Jay Leno's Garage: Virtual Tour".  I don't want to spoil anything but I have to say it was pretty neat "going for a cruise" with Mr. Leno, but he did get a little close to the 18 wheeler.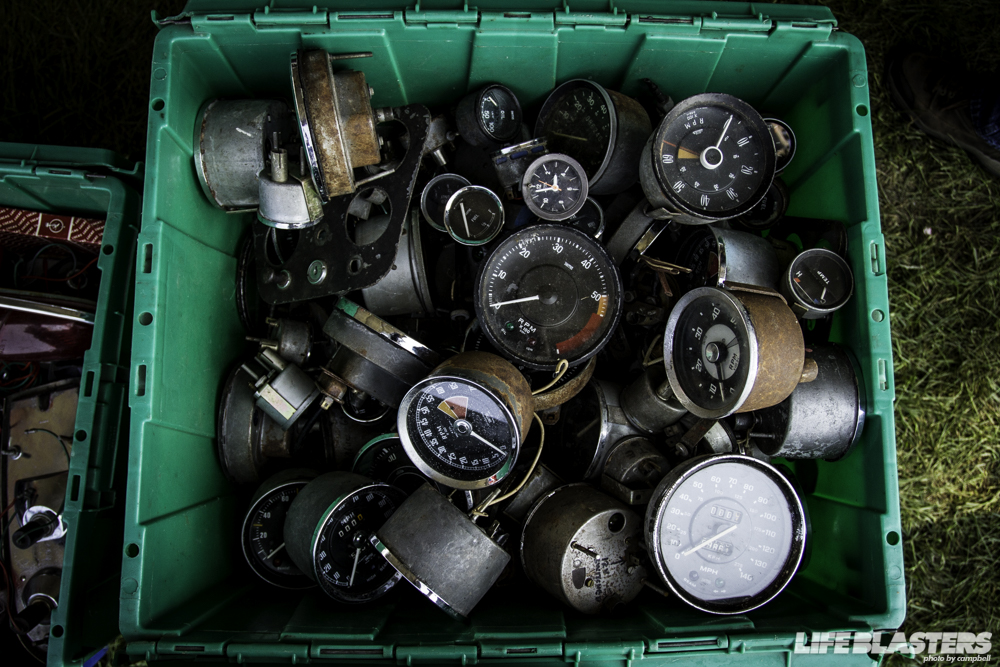 The availability of old goodies for purchase is always a weak spot of mine.  I have no reason for gauges for an old car I don't own, but I still looked for one to buy.  Down by the paddock you'll always find people with big collections of vintage car parts for sale.  You never know though, you might find that one odd ball part you've given up on.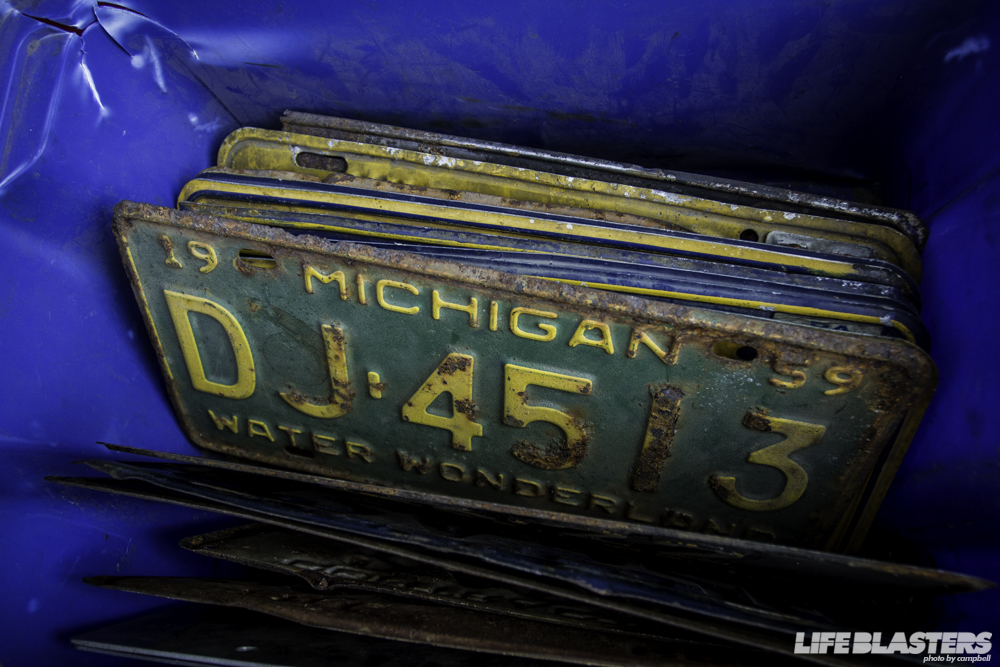 At the very least I was able to convince myself to buy an old license plate.  They didn't have any New York plates, but they did have this one Michigan plate.  For those who do know, Michigan is my "Home away from home" and all the friends and family I've made there somehow revolve around cars and motorsports, go figure.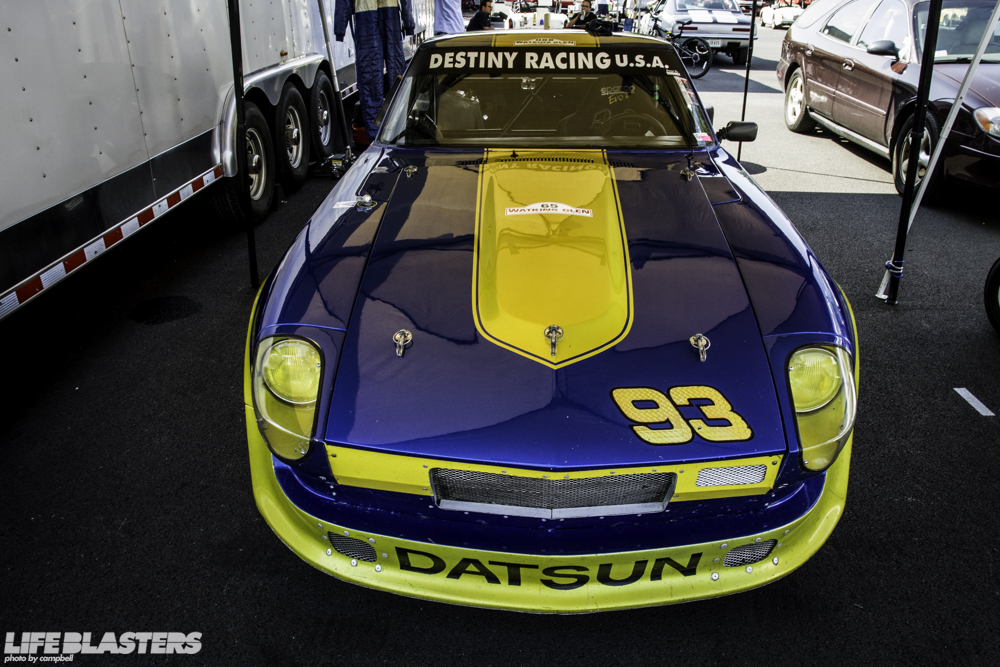 1972 Datsun 240Z.  The second I saw this car, I was really hoping I didn't miss their run.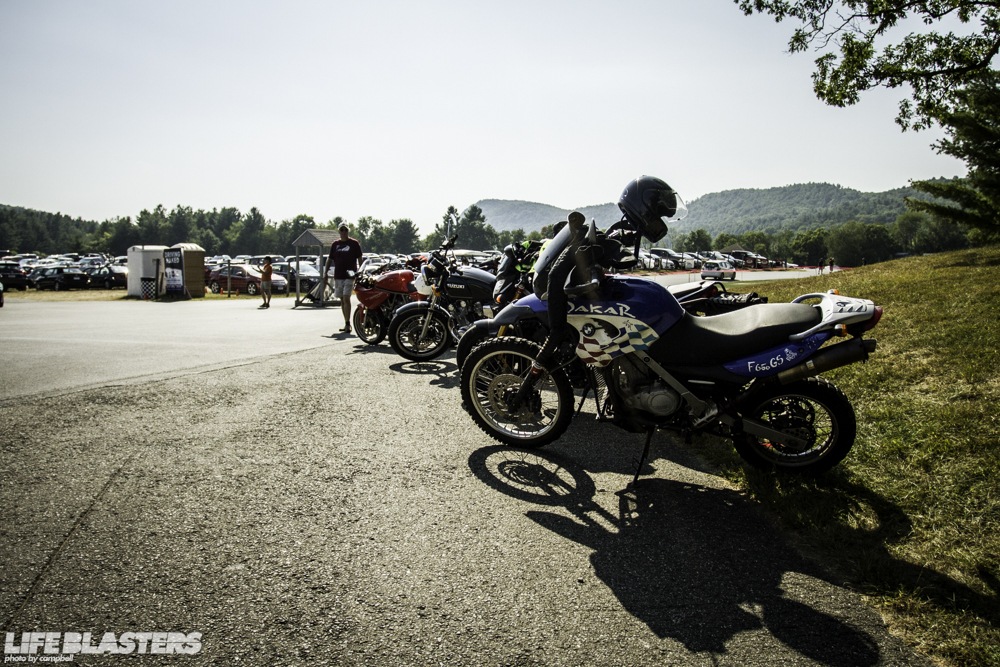 Seeing the motorcycle line up always makes me want to get my damn bike together and ride.  Or just sell it and find a beautiful BMW F650GS Dakar like this.  Maybe next year I'll come to this event on a motorcycle.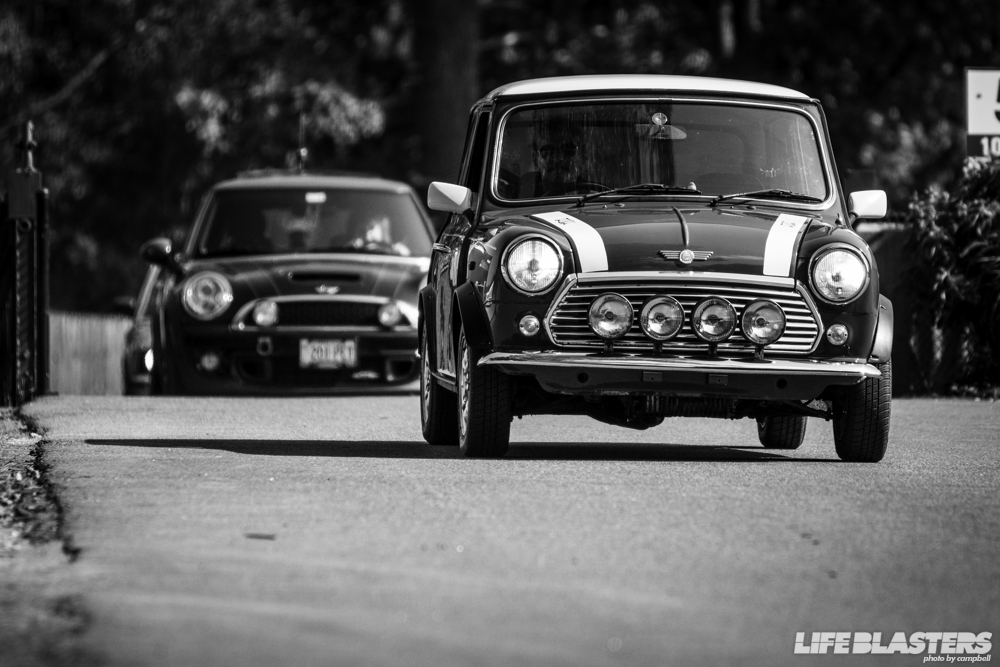 Jim and Lee decided it was finally time to head out, so I ran over to one of my favorite little spots to catch them driving through.  But now back to the track.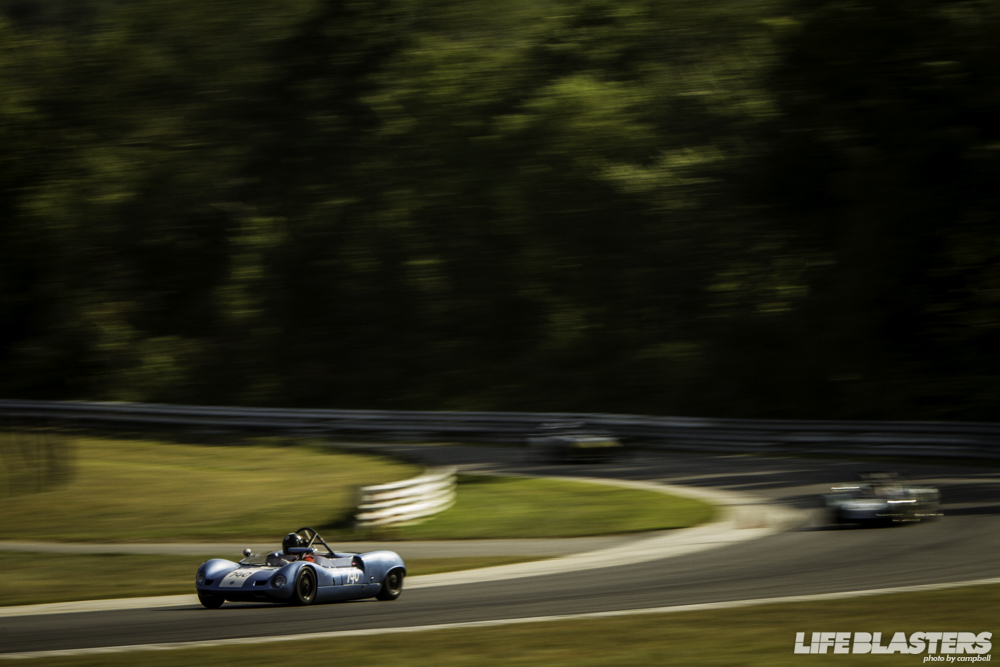 Now, I'm no car guru like Bohan and Delaney, so I'm sure when they see this '65 Elva MK7S it won't be that big of a deal for them.  But when I saw this rip around the track and heard it fly through turn 6, toward the bridge, my jaw dropped.  The Elva seemed so well planted and fun throughout the track.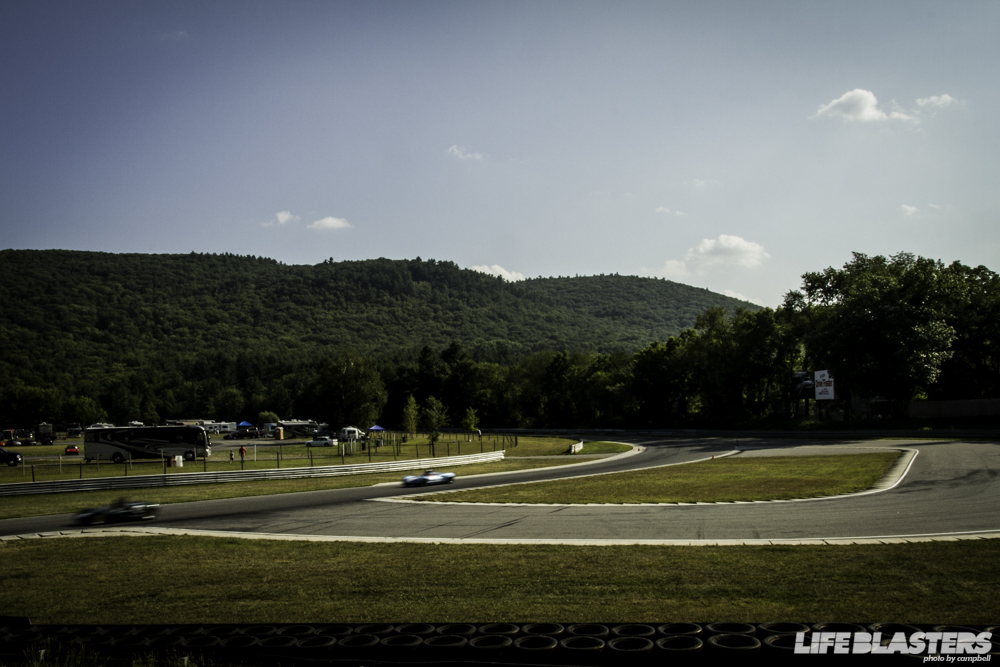 I haven't been to too many tracks, but Lime Rock Park is currently my #1 favorite.  I do believe a lot of that has to do with the surrounding area.  I really enjoy being further away from larger cities.  You can leave the track in just about any direction and the scenery is beautiful.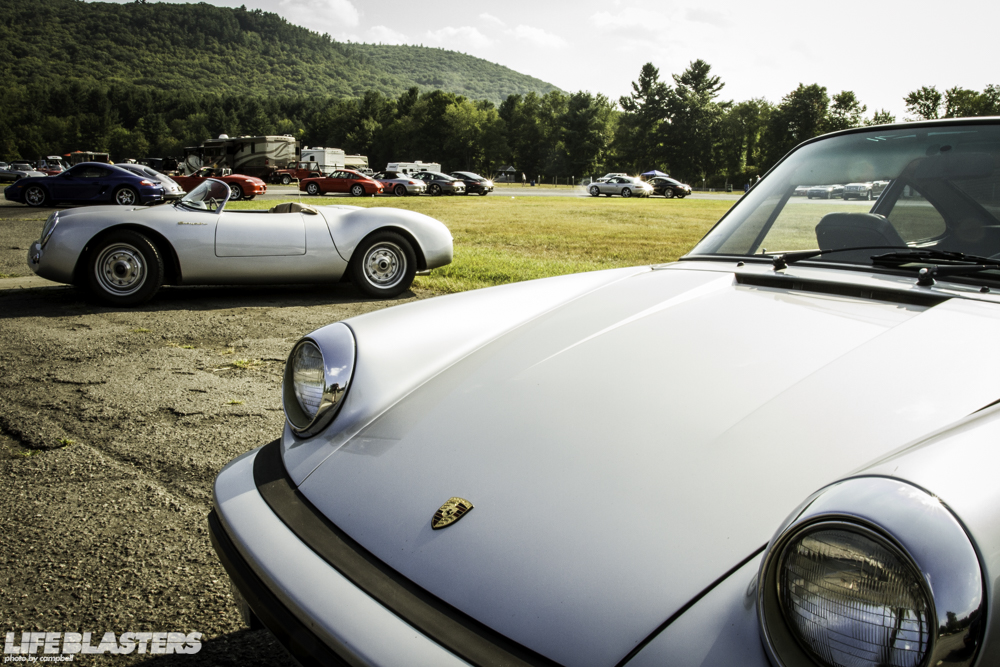 Speaking of beautiful, the skid pad is usually reserved for Porsche drivers of all generations.  An all time favorite car of mine has always been the Porsche 550 Spyder.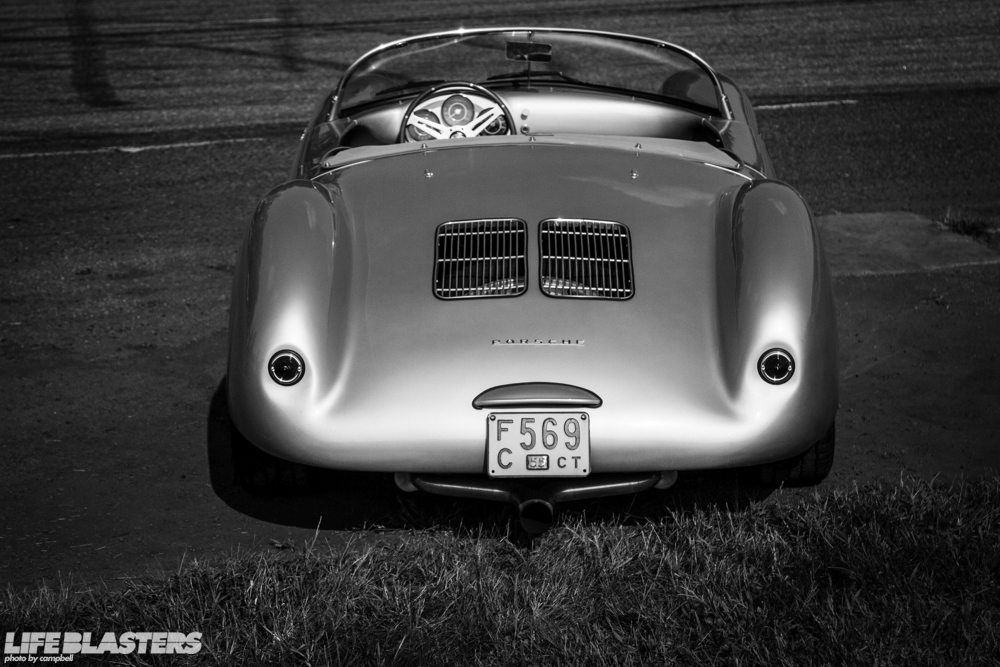 There are kit cars out there of this old 1950s race car and it's not easy for an untrained eye to be able to tell them apart.  Unfortunately I am one of the untrained and couldn't tell you if this car was a legit 550 or not.  Either way, this car sure was gorgeous.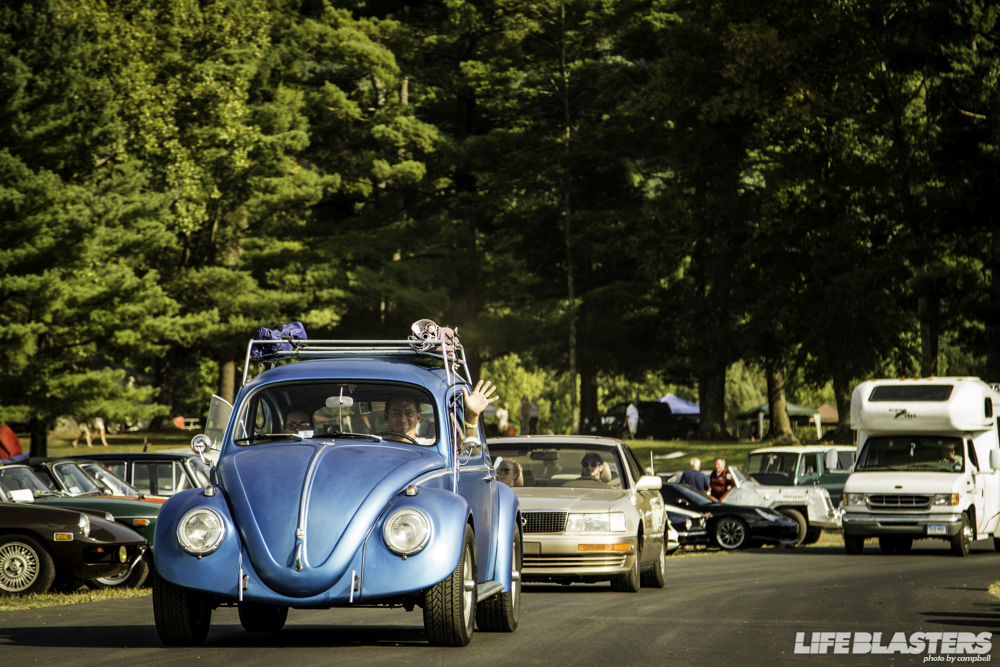 It will probably always be funny to me how happy people are to have their photo taken when they see a larger camera pointed in their direction.  Years ago, this wouldn't have happened with my old point and shoot.  Granted, this fellow was at a race track and driving a pretty clean VW Beetle.  He might be an exception.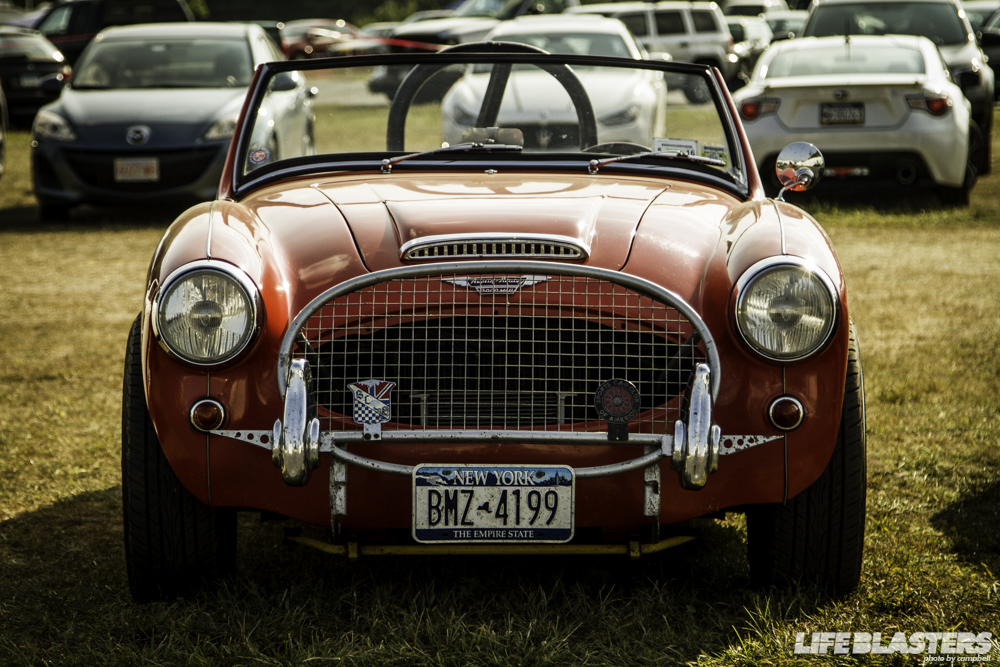 For some reason this particular Austin Healey 3000 MkII caught my eye over other Austins in the lot.  If I had to guess, I think what attracted me to it is the roll bar and the fact that the original grill had been replaced with this larger, beefier, extended, external grill.  I could imagine this ol' Brit entering some historic stage rally events.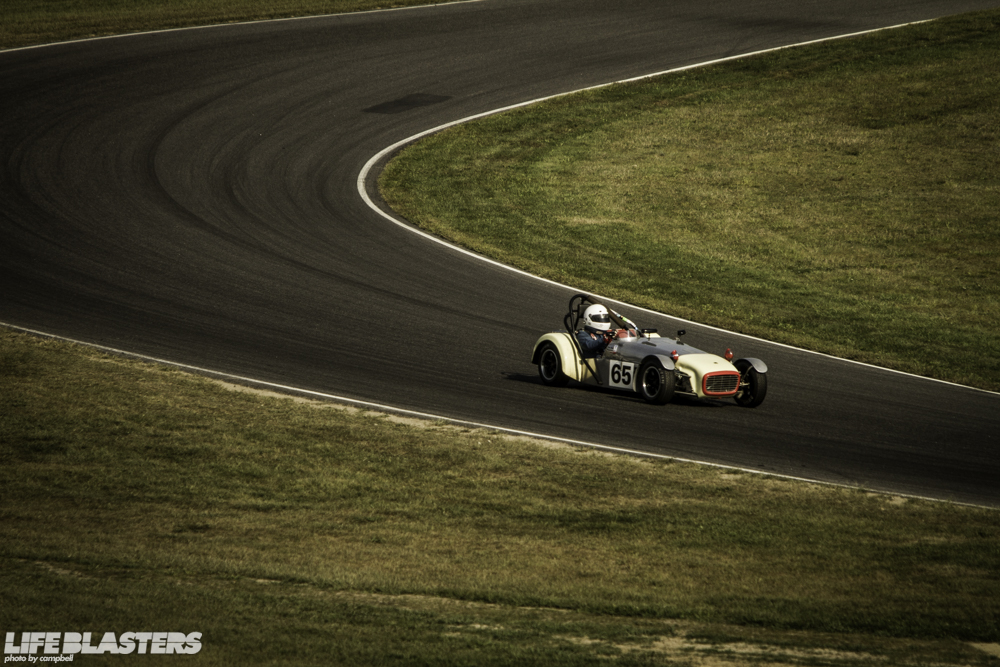 Last call for Group 6, "Sportsman's Choice…" as this '61 Lotus 7 took full advantage of the open tarmac through Turn 3.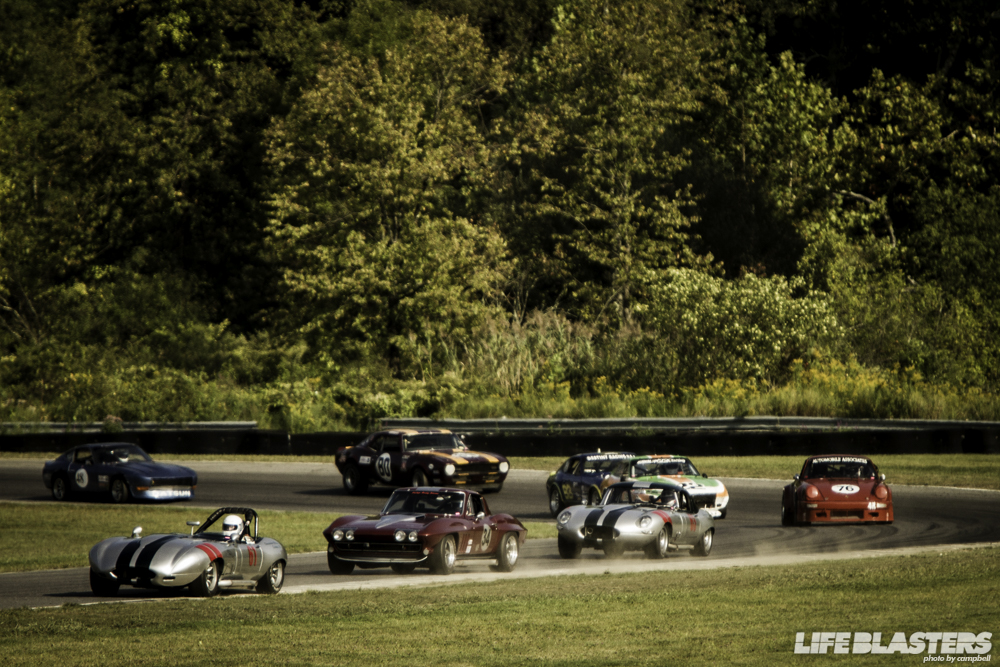 One of the groups I was hoping to catch was group 7, "Big-Bore production Sports & GT cars." These cars ranged from 1964 to 1982 and my goodness the sound was incredible.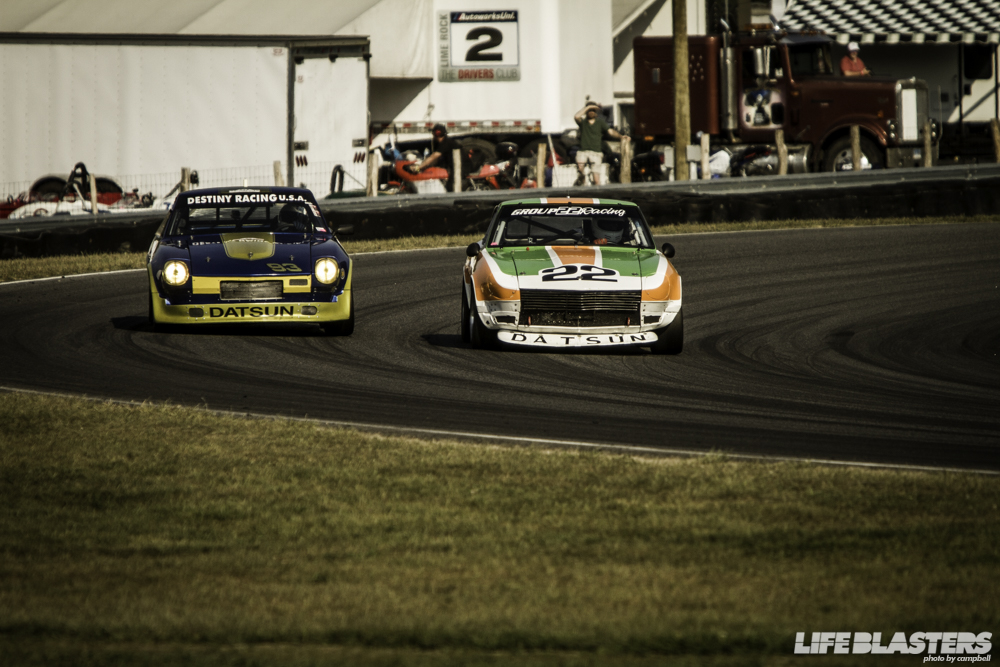 Anyone remember the '72 240Z I mentioned earlier?  Lucky for me I had the chance to watch that driver play "Cat & Mouse" with a fellow 240Z driver.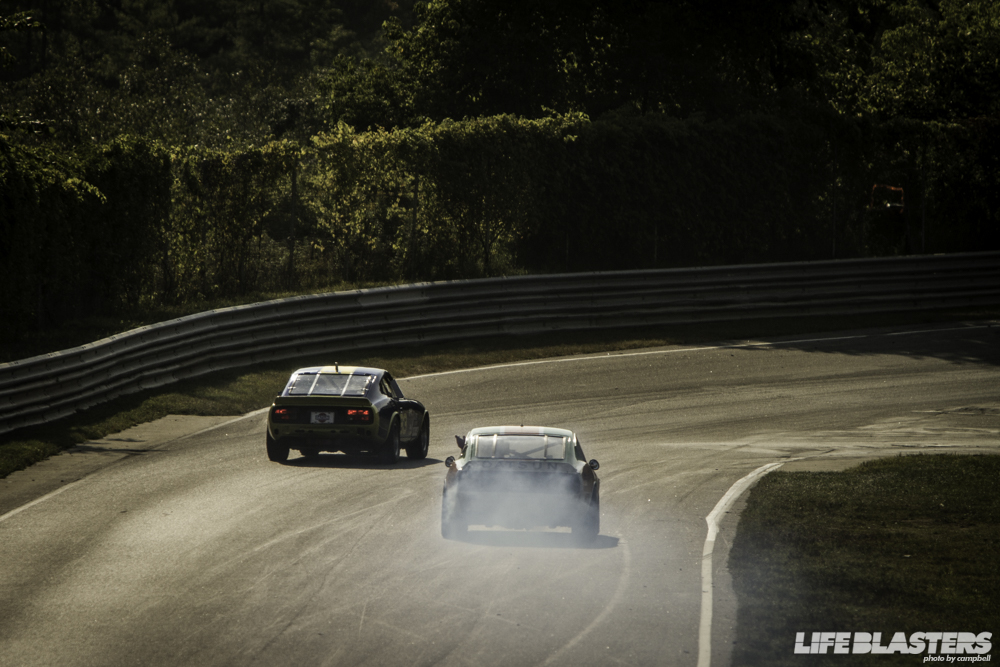 After a number of laps though, smoke started pouring out from the #22 Datsun.  From here on out the plan appeared to be "give point bys and limp back to the paddock"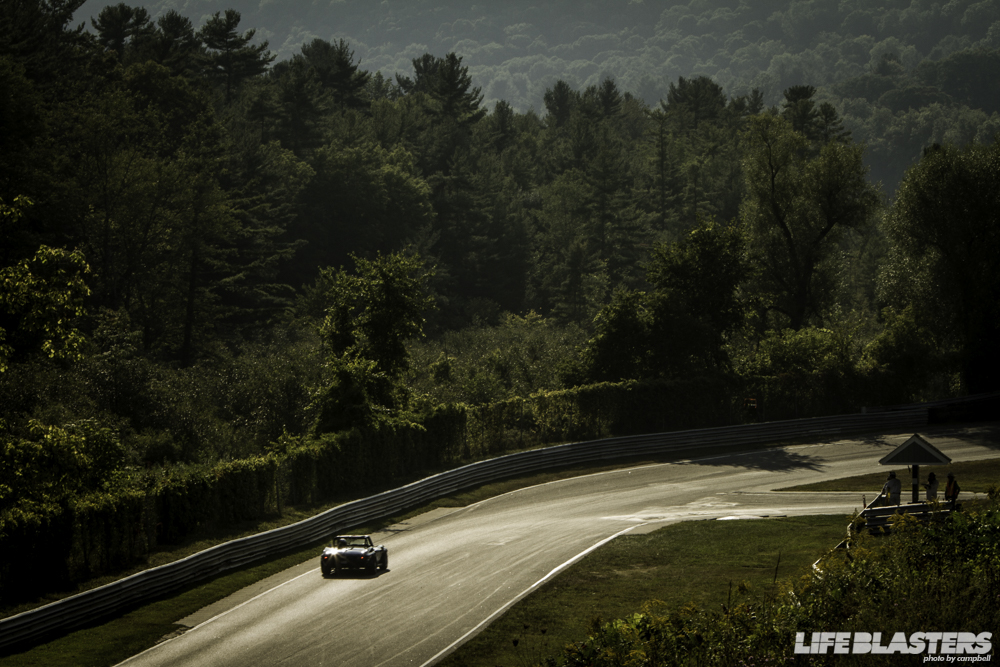 Again, another reason I really enjoy tracks like Lime Rock.  Being able watch a '66 Vette dive into a corner and the opposite side of the fence isn't just a tarmac parking lot with light posts and cars.  Just race cars, the track, and the beautiful northern Connecticut forest.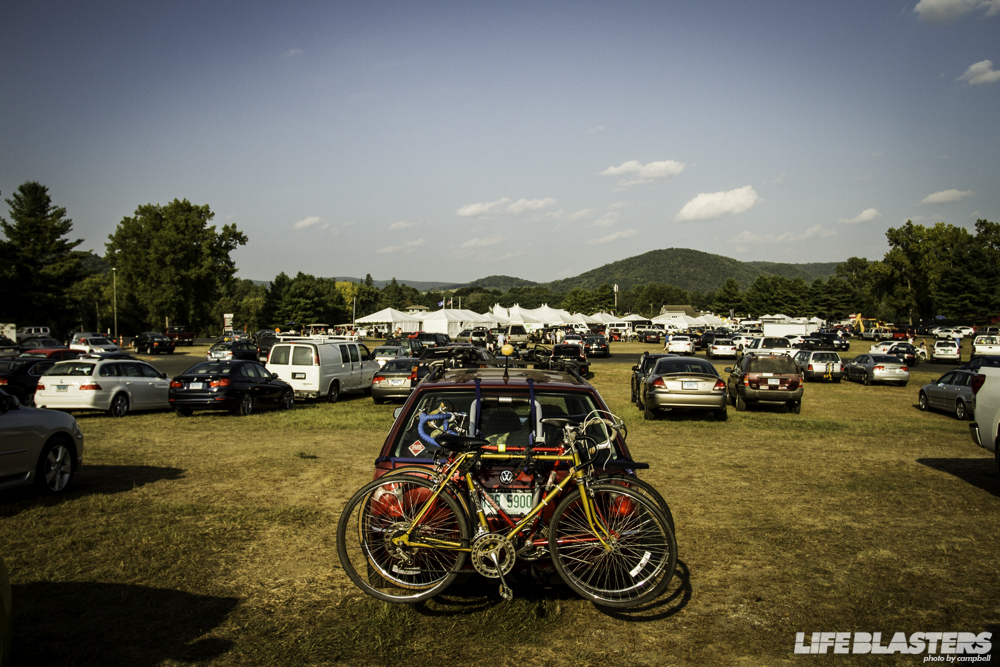 On my way out, I even happened to come across a couple vintage bicycles.  The Atlantic and Ross bikes on this Volkswagen even fit the historic theme of the event.  Lucky for me the owner was nowhere in site, otherwise I would have asked if they were for sale.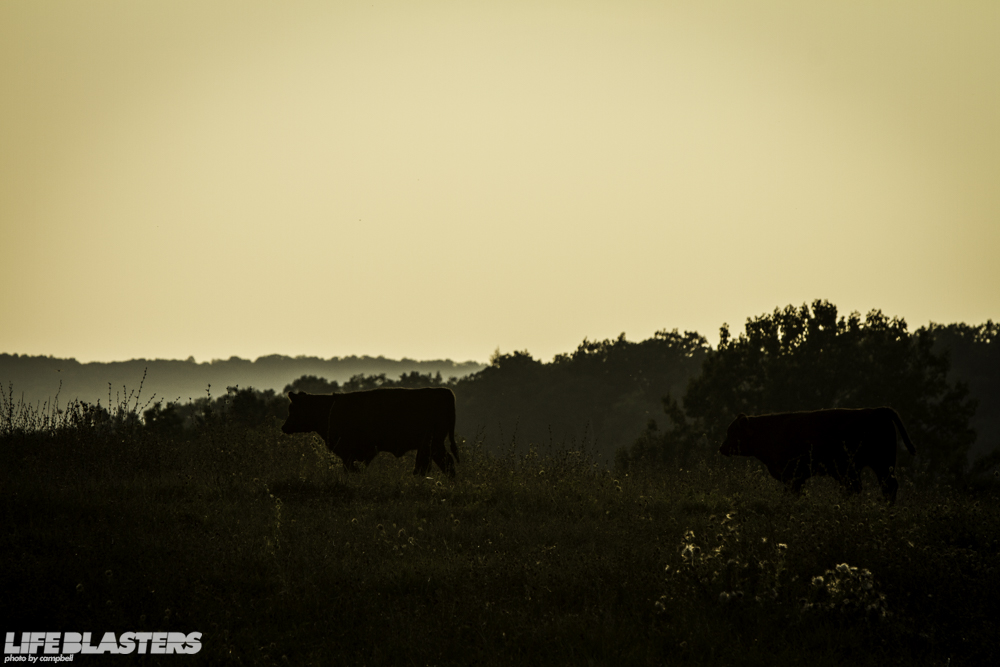 Maybe it's a photographer thing, but I don't know too many people that will pull over randomly throughout a trip just for the sake of taking photos.  There's a random list of things I need to get photos of and oddly enough, heading home that day, I was finally able to cross "Cows in a field" off my list.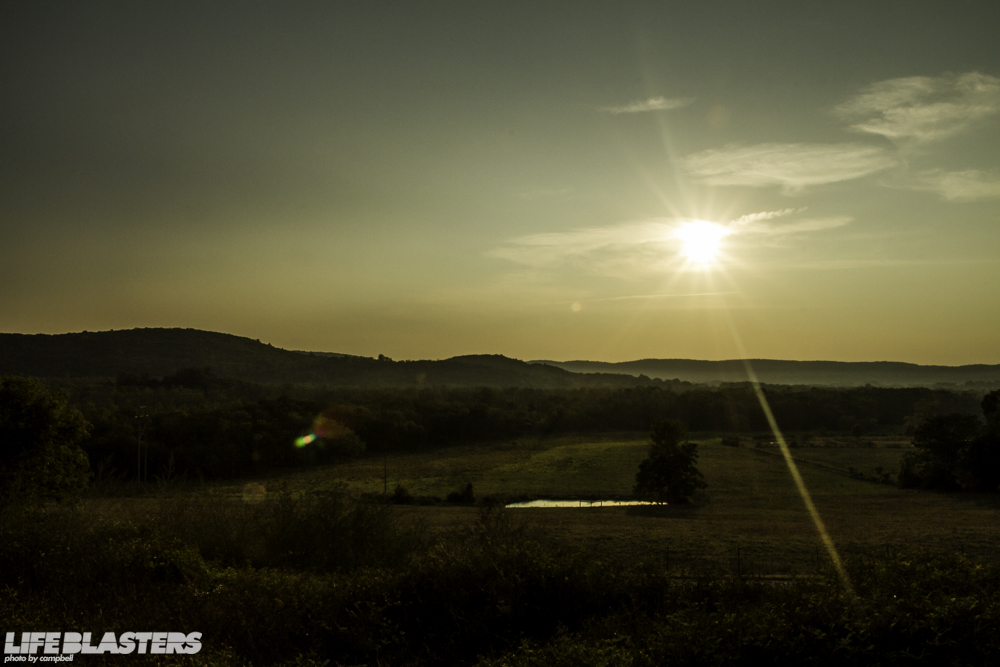 Like most of my trips though, I must get back to Long Island.  It's been good Connecticut.  If I don't come back soon, I'll at least be back next year for Historic Festival 34.
-Matt Campbell