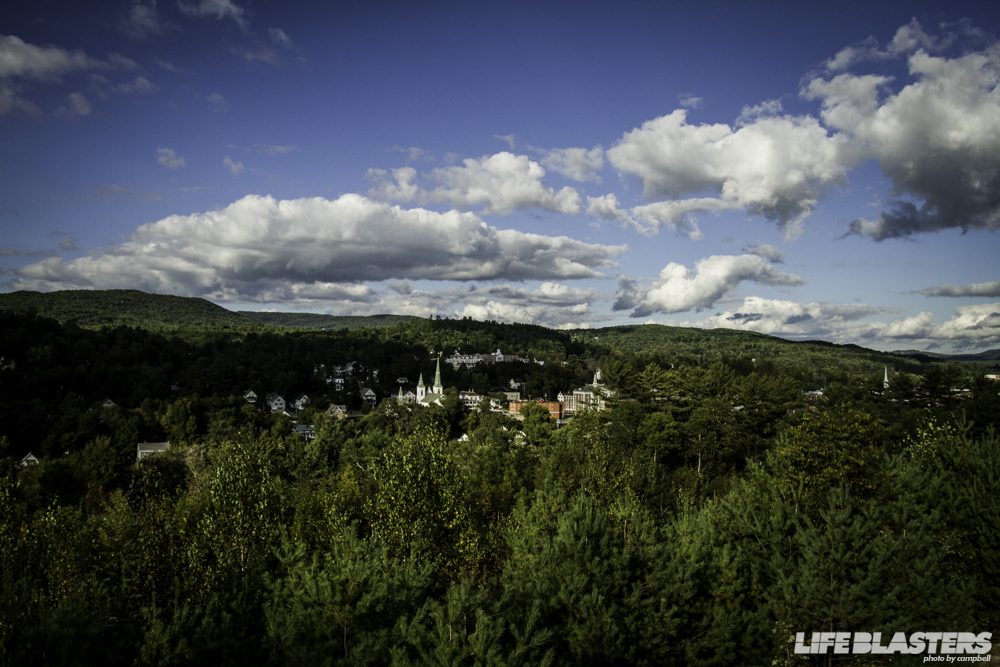 Back in September I found myself on the road again.  This time I was headed up to New Hampshire, specifically to Team O'Neil Rally School for the SCCA's 2nd Rally Sprint.  About 6, almost 7 hours and the final stop?  A parking lot in Littleton, NH where early tech was supposed to take place, the night before, but there were no rally cars in sight.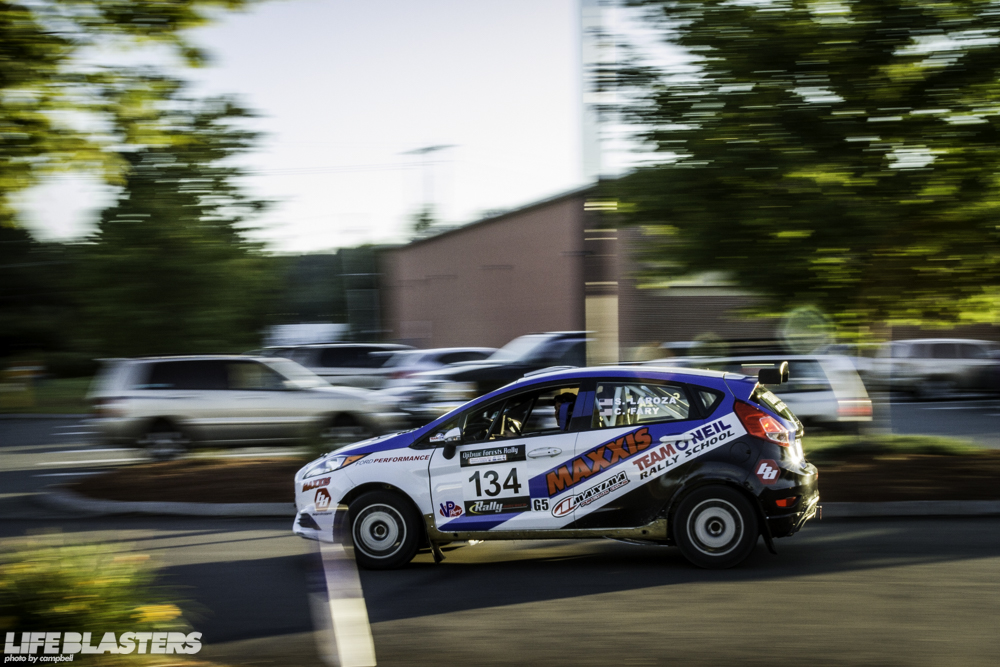 Naturally I went into the store for a snack, after my drive, and came out to the sudden appearance of rally cars.  As well as very confused locals driving through the lot with their heads on a swivel and jaws on the ground.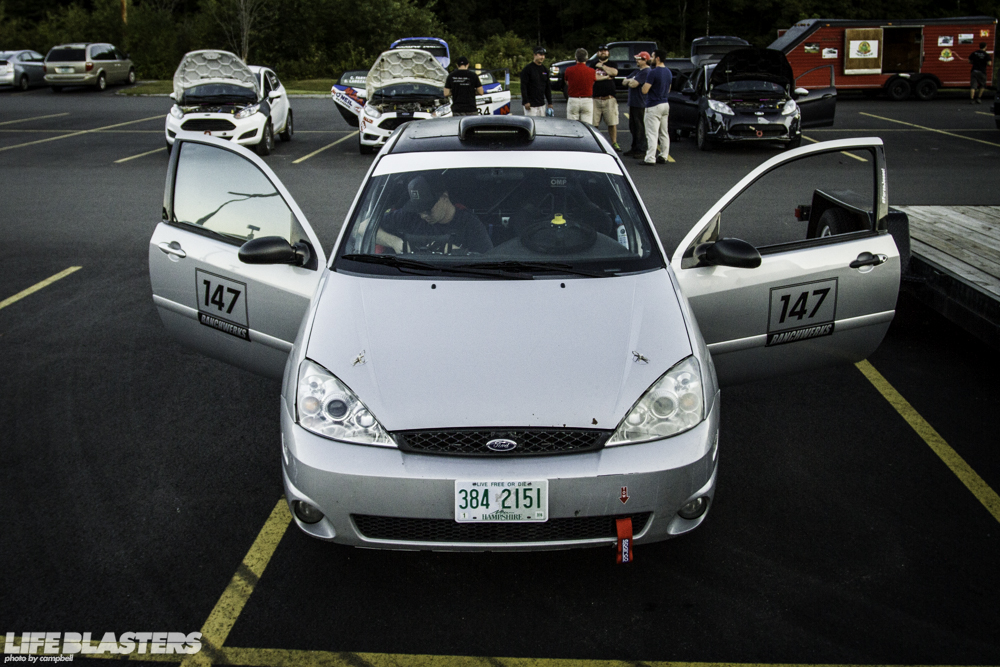 Team O'Neil had their cars in for early tech, but I couldn't help but notice this little Focus was pretty clean and had a fresh looking cage.  As it turns out, driver Brendan Tuttle had informed me it that outside of his local rallycross events, this would be his first stage event with the silver hatchback.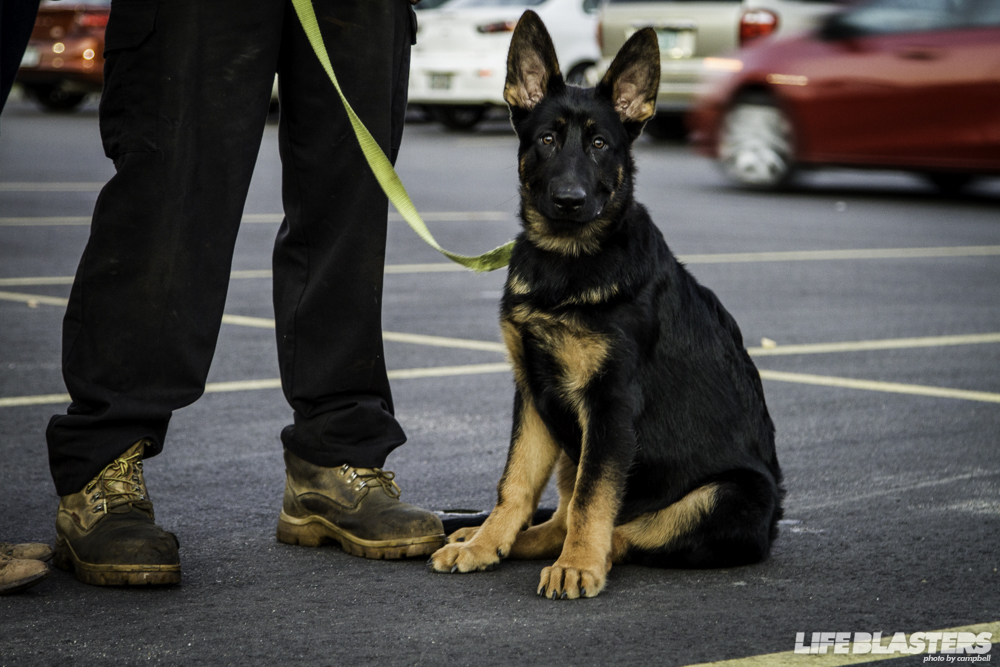 I almost had a run in with rally security too.  Luckily I know Scott Beliveau, so I got a pass.  Truthfully, this pup was super friendly.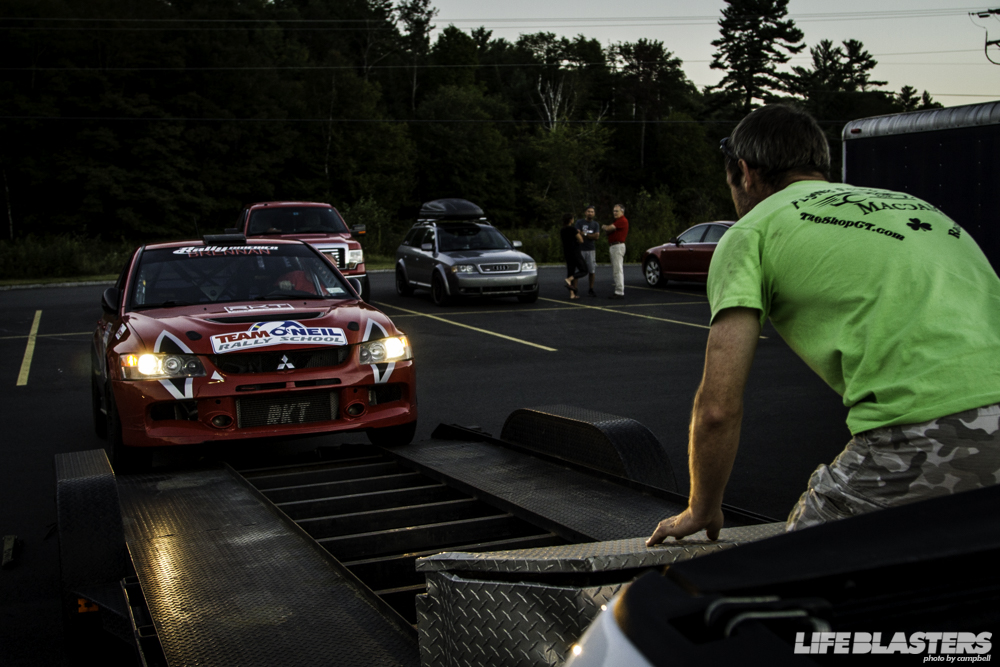 At this point I had been up for about for about 10 hours and needed to get some food.  After driver Paddy Brennan and co-driver Brian McNamara packed up their Evo and I met up with them and driver Maciej Przybysz (aka Matt) for dinner.  Then to the hotel for some much needed sleep, Saturday there will be plenty of running around in the woods going on.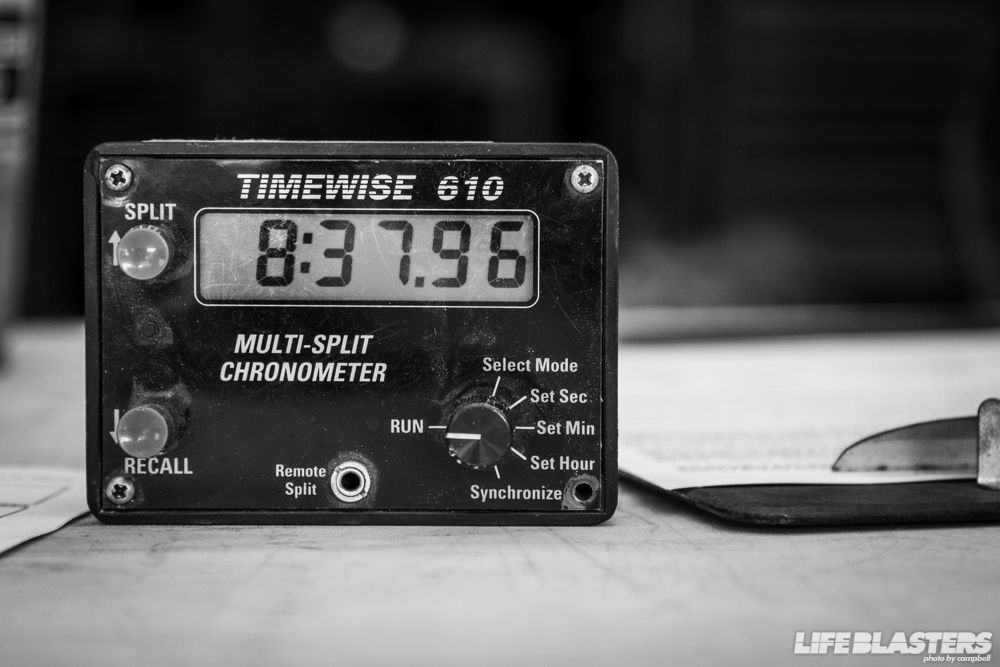 Most co-drivers will probably recognize this before most drivers.  Speaking of time in about 22 minutes and 4 seconds, from here, Mr. Wyatt Knox himself was about to show up to take me around the grounds to shoot the event.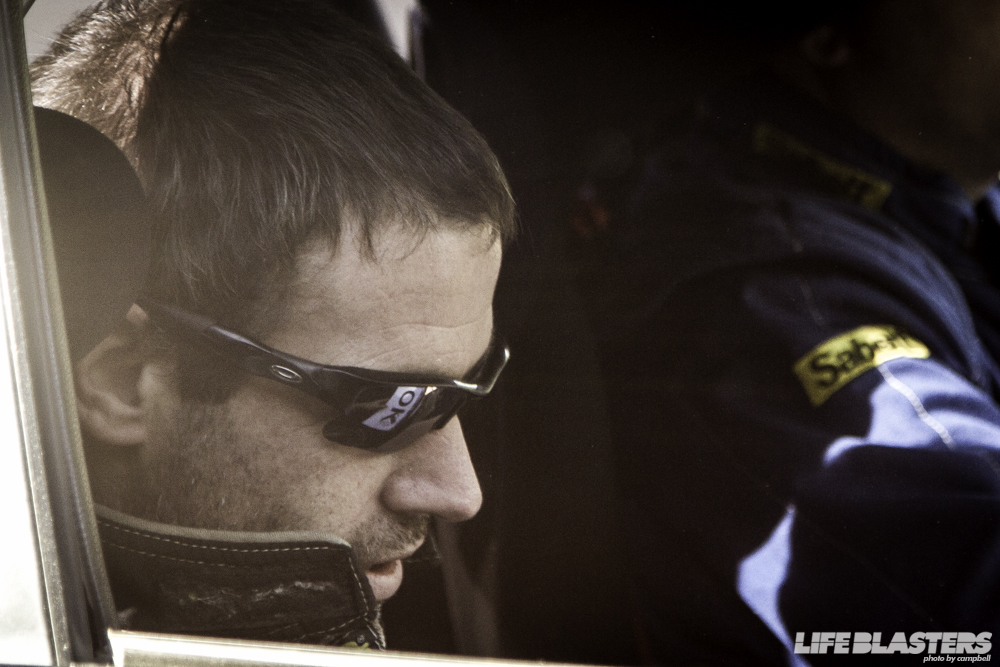 McNamara was just getting his notes in order before stage one's recce.  The good thing about rally sprints vs. stage rally is that competitors can get through recce and racing all within a single day.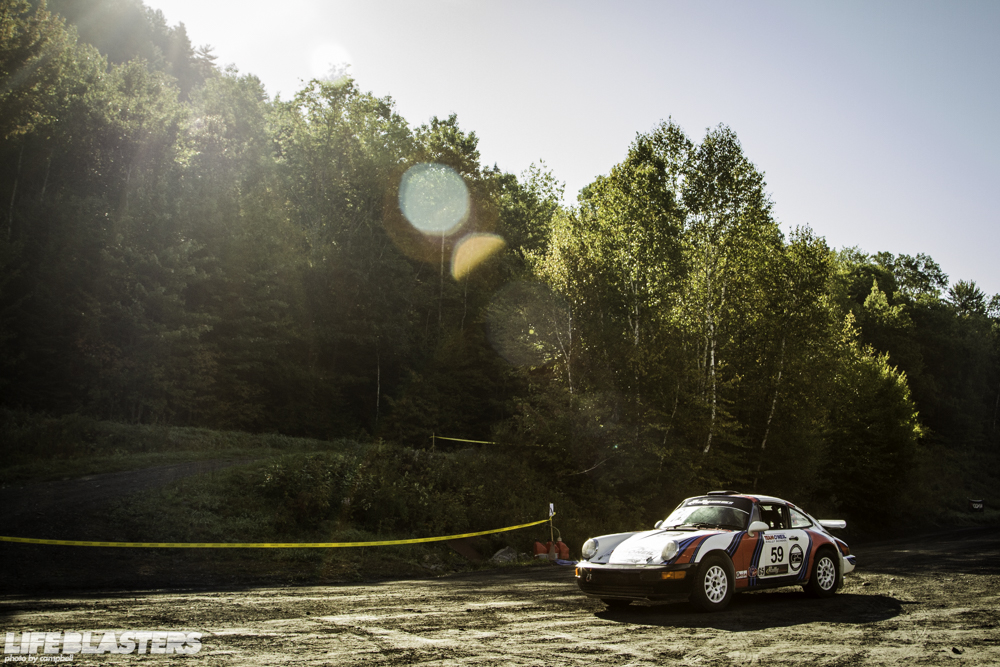 1991 Porsche 911.  Easily a crowd favorite, piloted by Marc Feinstein and Meghan Mayo.  If you ever considered building a RWD rally car, this car would help you make that decision.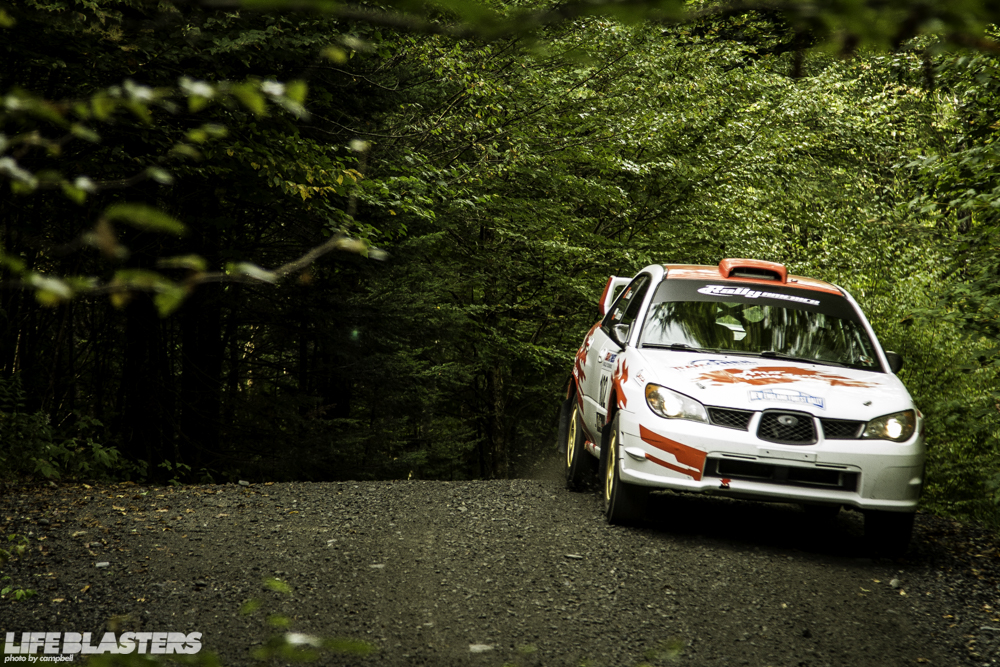 Anyone remember Arek Bialobrzeski?  Big crash at American Rallycross, front end destroyed and went on fire?  Well, he was able to rebuild the front end in time for the New England Forest Rally and as well as the rally sprint.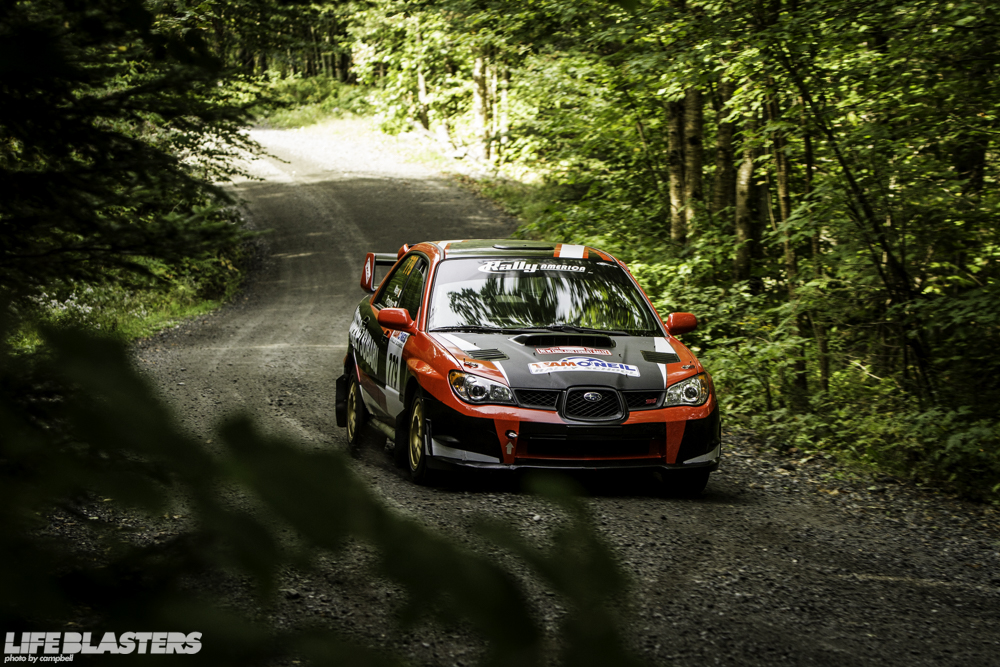 Then we have Matt Przybysz in his '06 STI.  The first time I had a chance to see Matt drive was back in 2009 at Rally New York, the last time was another event that same year.  So it was six years since and he was still one of the cleanest/smoothest drivers out there.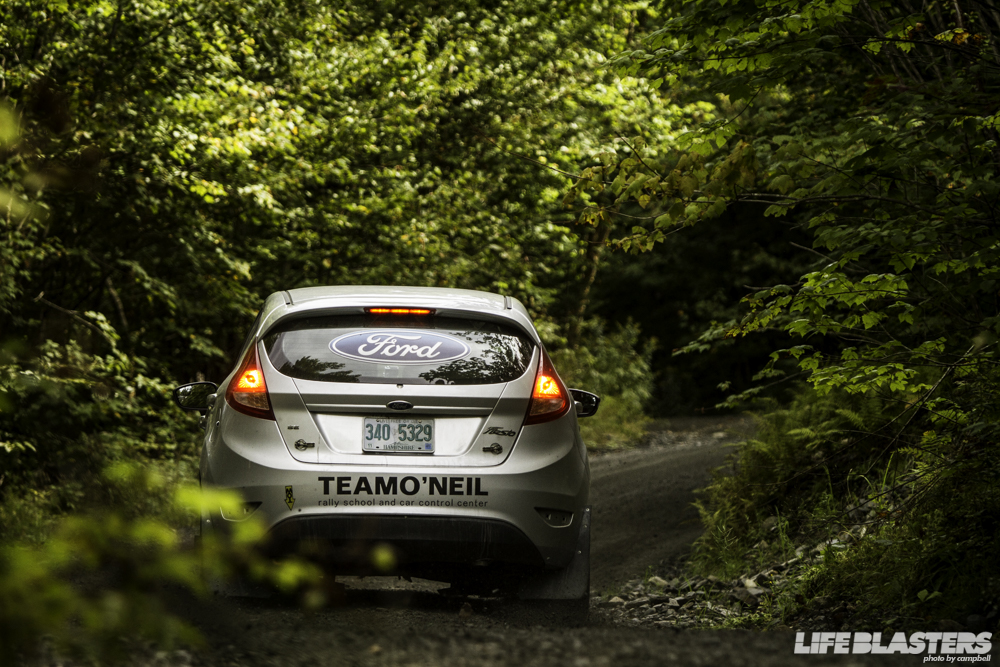 Naturally, this event having been held on the Team O'Neil training grounds, there were a few Team O'Neil built Fiestas running the course.  Maybe we can get a large Life Blasters sticker on one of those and see how a crew of photographers do on stage.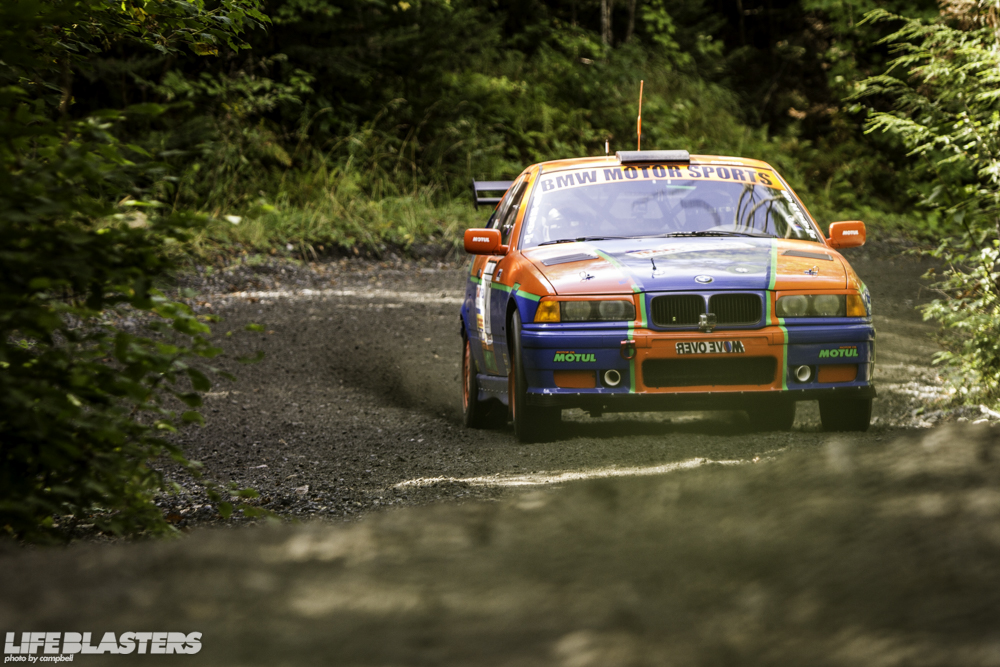 Finishing up stage one of three, with the Jonas Racing's father-daughter team.  Those two seem to have their hearts set on BMW rally cars and no one is complaining.  I do believe this particular car of theirs is for sale too.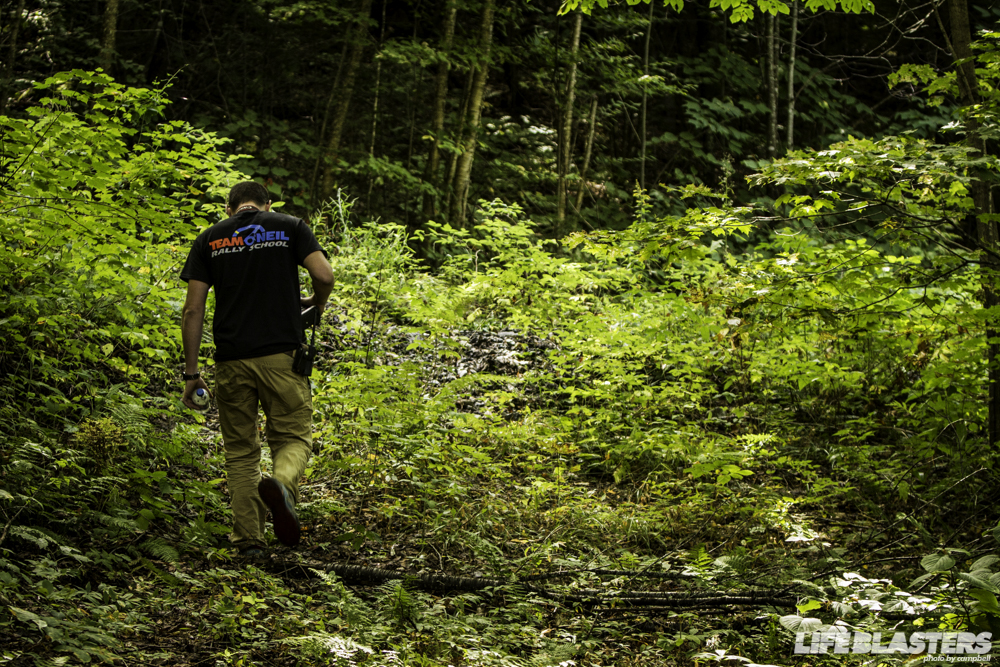 Before this event I had met Wyatt Knox once before, chatted briefly about rally cars at Wicked Big Meet a year or so ago.  I spent an entire day hiking and shooting rally cars with him and if I had to describe him in one word, it would be "Outdoorsman."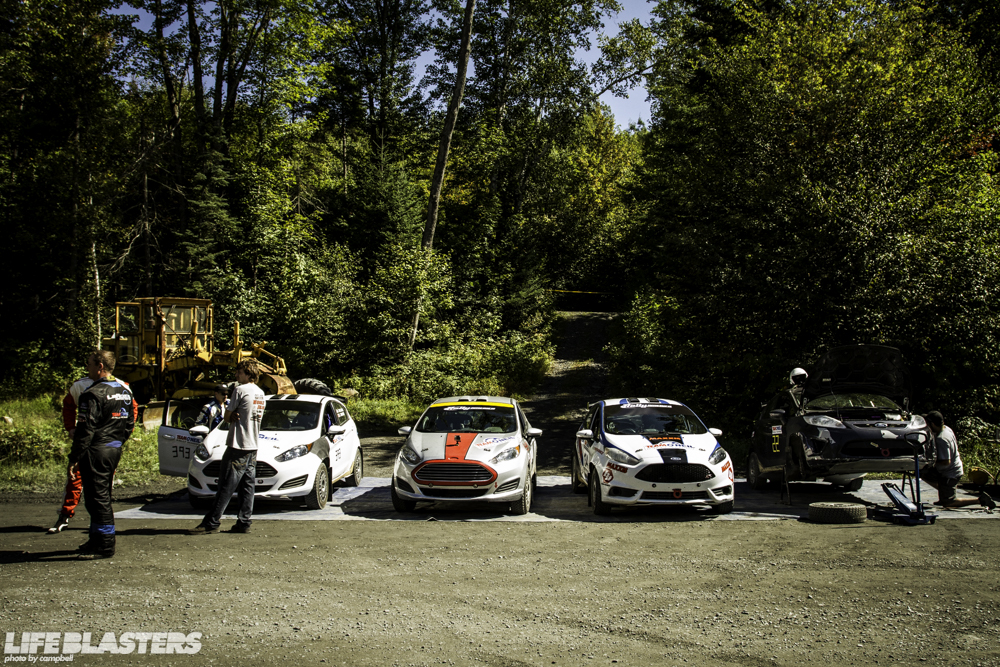 Wyatt and I had decided to head back and take a break before the next two stages.  All that really meant was take a couple photos and eat while teams were in service and start recce for stage two.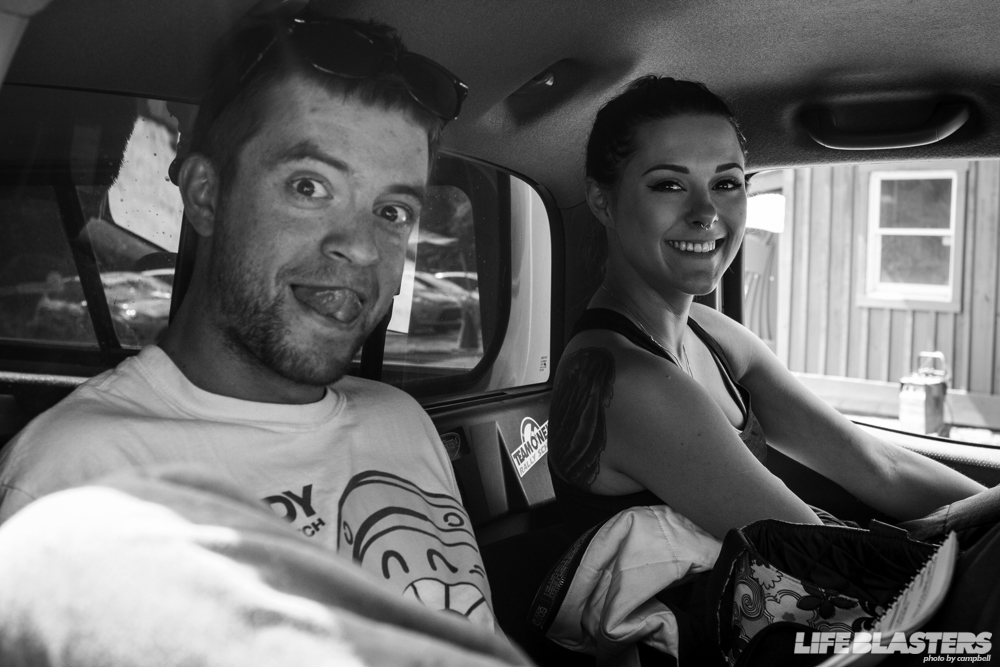 There's a familiar face, the one and only Ryan Symancek.  A man who's talents seem to constantly swap back and forth between the driver and co-driver seat.  That time around Symancek was co-driving for Kristina Pacheco, who was be behind the wheel of Ryan Wilcox's Subaru OBSTI, running number 666.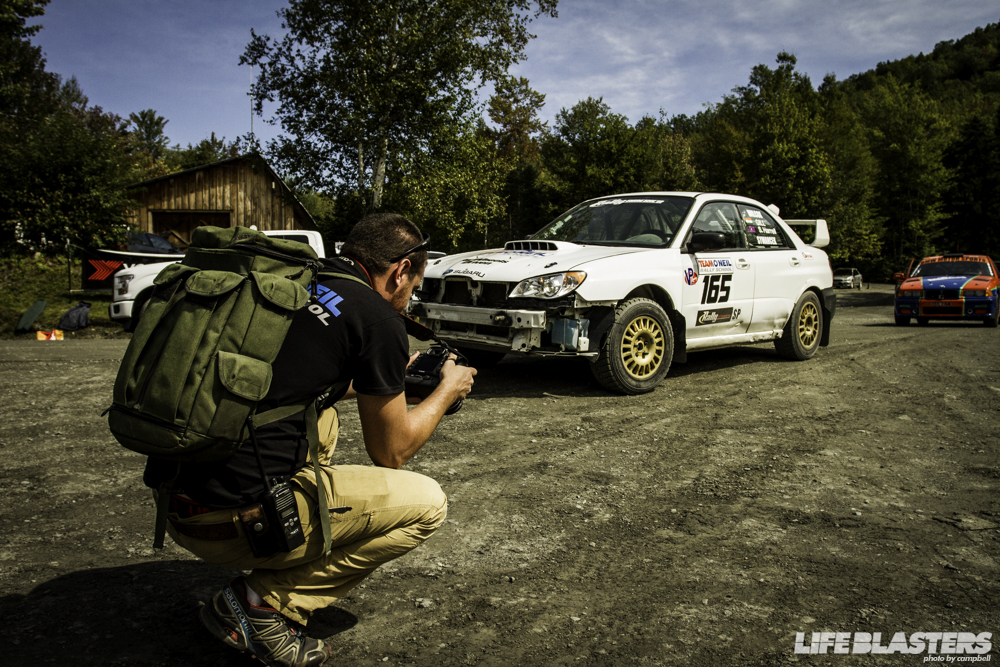 Where did that leave Ryan Wilcox?  Borrowing Gary Gill's "Hawkeye" STI.  Who was co-driving?  That's right, Ryan Symancek had found himself navigating two cars at the same event.  It was definitely a busy day for Symancek, but when I had a chance to ask him about it he seemed more than enthusiastic about it.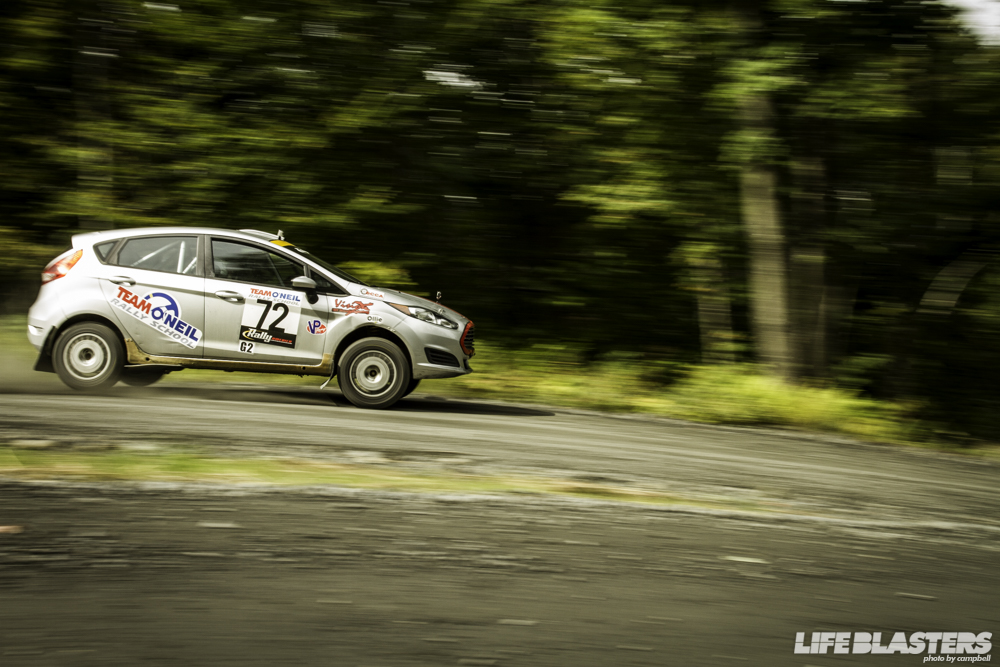 Shooting at a facility that has its own stage roads and its own rally cars, that you can rent, made it very difficult not to imagine maxing out a credit card or two.  With drivers as talented as Keanna Erickson-Chang throwing those hatchbacks around really didn't help either.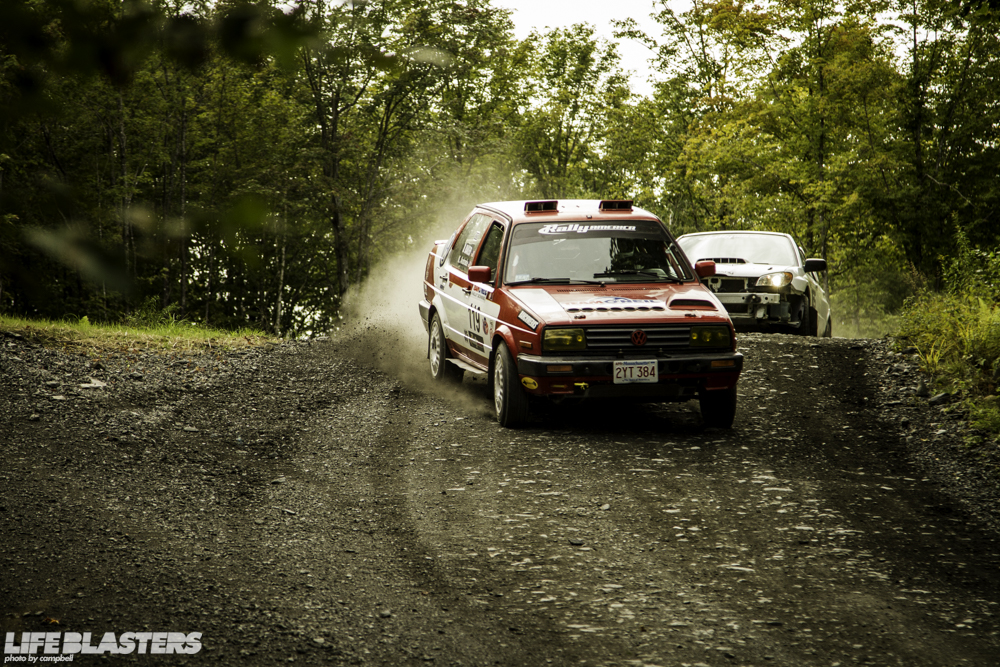 Drivers catching other drivers isn't an uncommon thing.  But it's always unfortunate when the leading team just can't see or hear those who end up on their tail.  Wilcox ended up catching Kevin Andrade, and laying on the horn just didn't seem to get Andrade's attention quick enough.  Don't worry, it wasn't intentional.  I did see Andrade apologize on Facebook for not noticing and moving over sooner.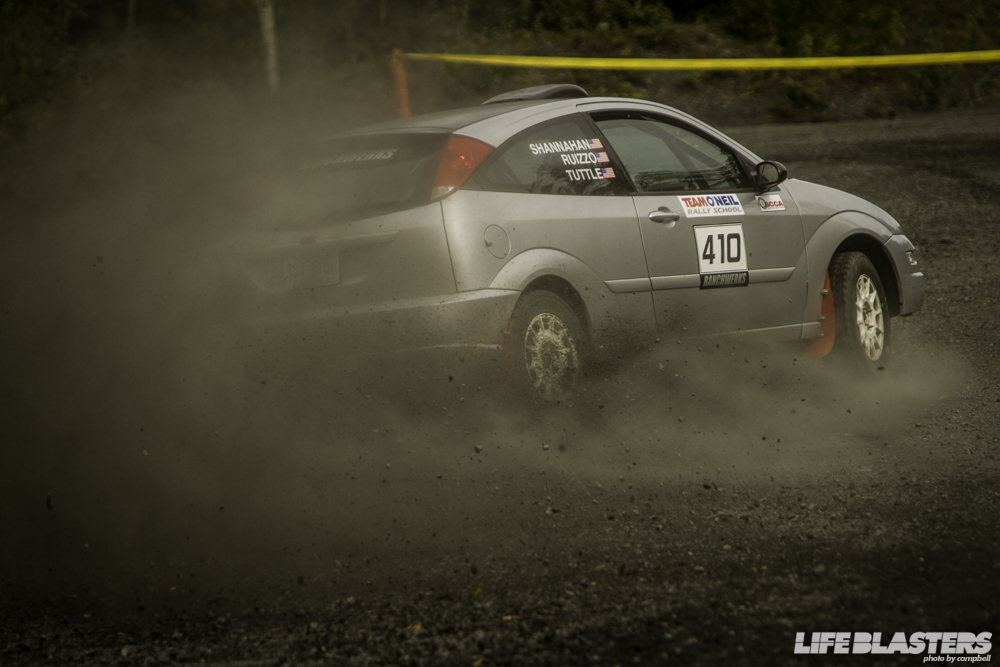 Most people don't seem to realize that FWD in rally can still be fun and awesome.  Eric Ruizzo seemed to be out to prove the non-believers wrong.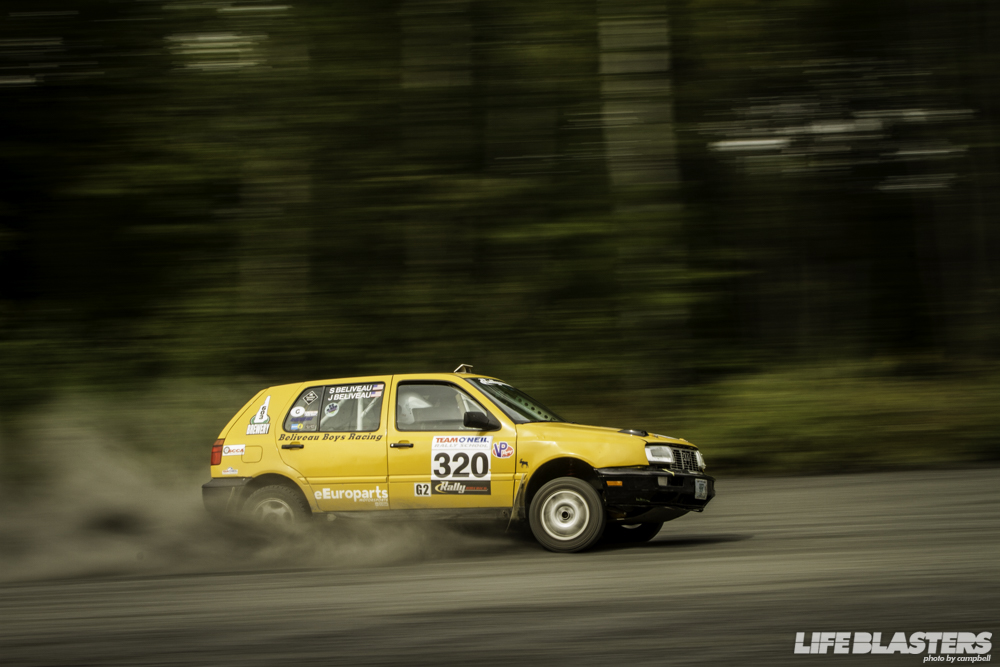 Looks like them Beliveau boys are at it again.  Another FWD contender keeping the All Wheel Drivers on their toes.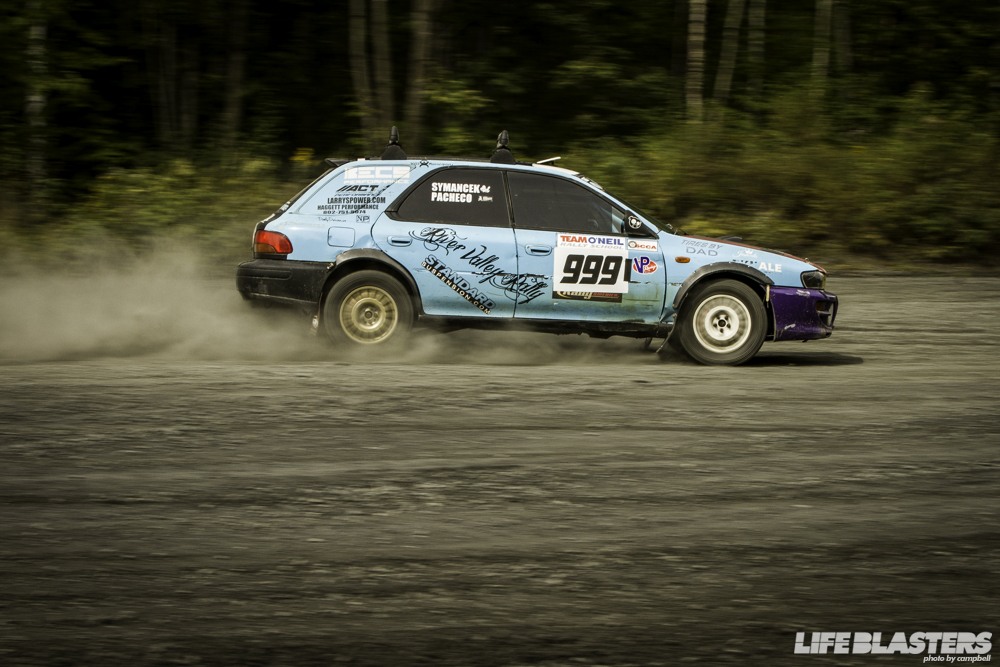 Now let's see if I can keep this all straight.  Wilcox was driving Gill's car with Symancek co-driving.  Pacheco was driving Wilcox's car with Symancek co-driving.  But when running numbers 999, it was Robert Werk driving Wilcox's car with Erin Kelly co-driving.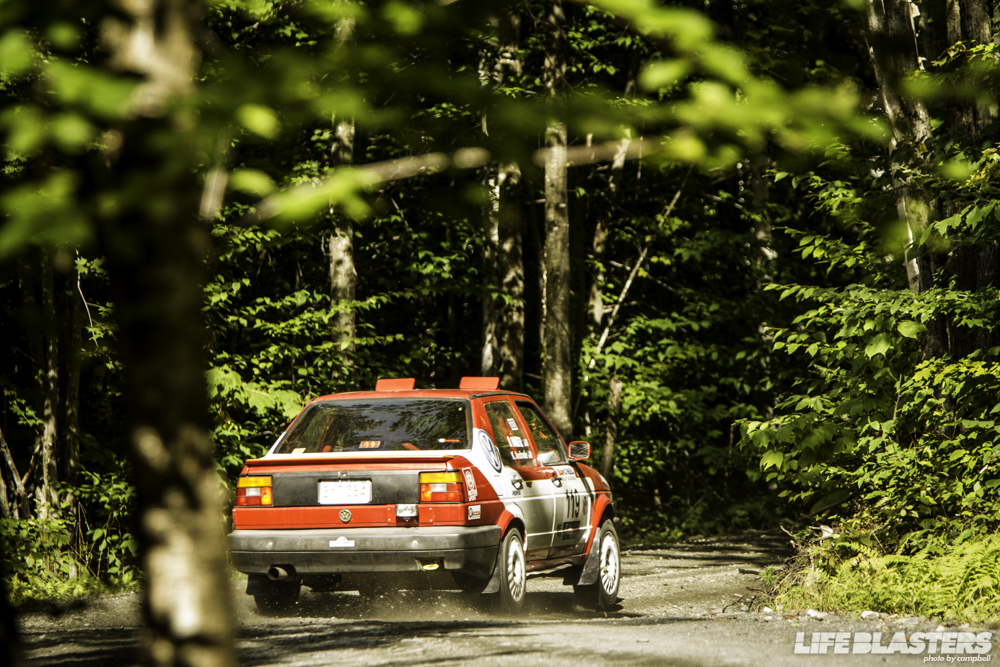 We've finally made it to the final stage of the event and Wyatt had a great spot lined up for us to shoot.  A great line of site of cars coming in through the woods, buzzing by hard on the brakes and disappearing around the bend.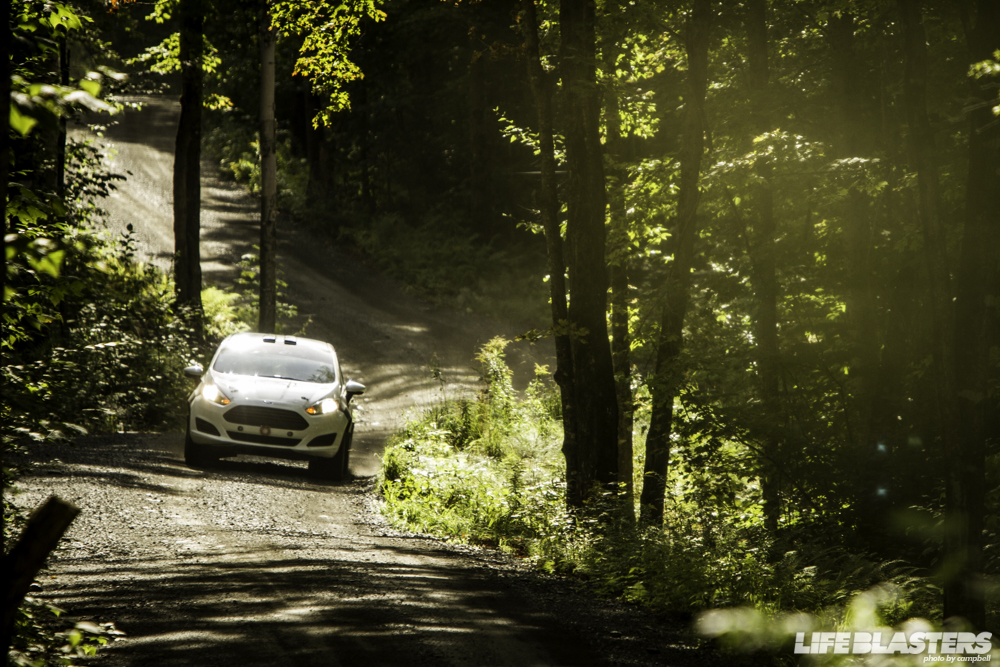 New Hampshire definitely has some of the most beautiful scenery I've seen.  Having been able to just enjoy the woods and take a few photos of rally cars really made for a day.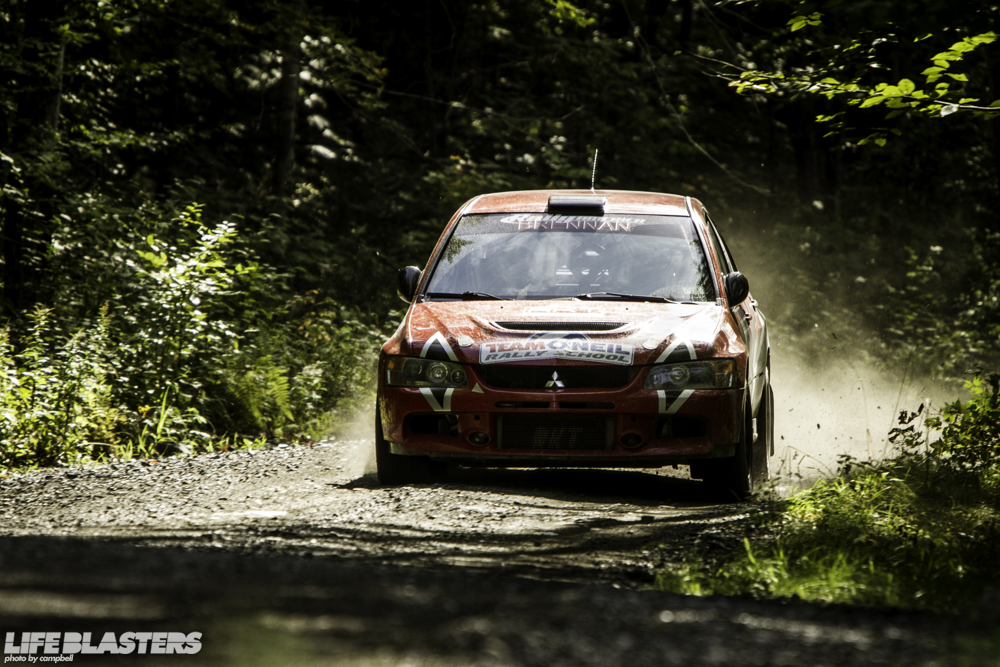 Brennan and McNamara seemed to be on it all day.  As it turned out, they were one of the very few running the event with years of experience.  Either way, they seemed to be enjoying the hell out of the Team O'Neil roads.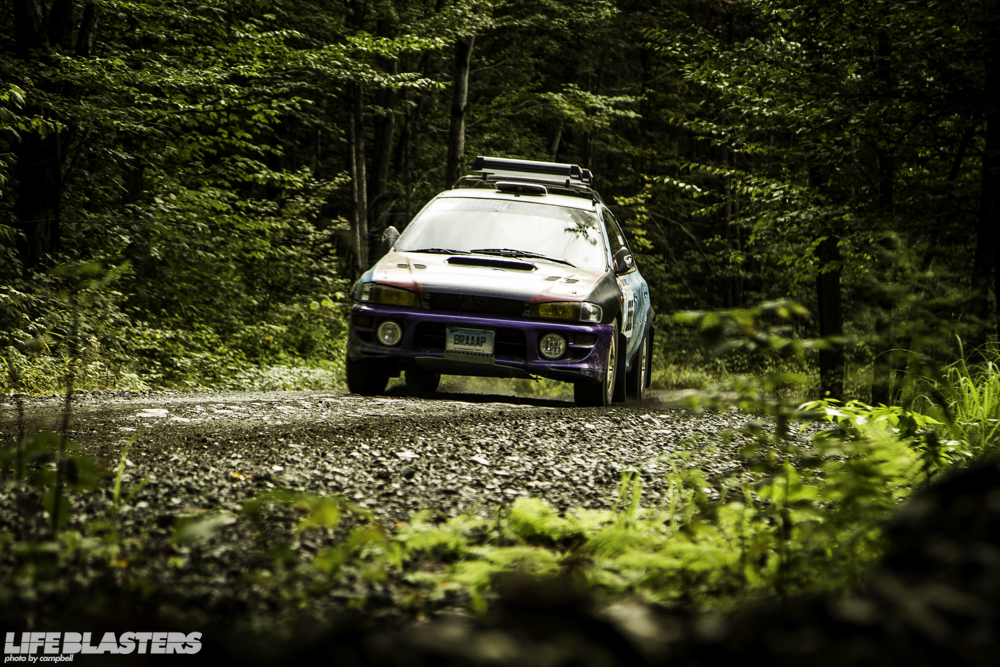 999 turned back to 666 and we found Pacheco and Symancek coming through for their final stage.  Second, final stage for Symancek with the whole "Double Co-driving".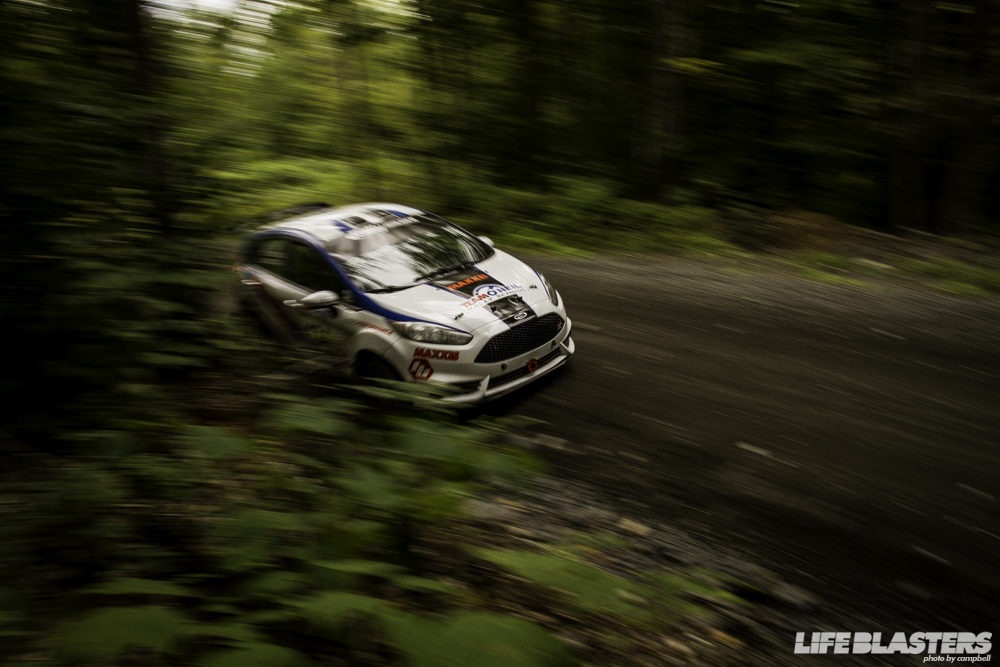 Somehow it seemed like shooting one day of a rally sprint required much more hiking than a full weekend of stage rally.  Granted, you do get off your feet between driving from stage to stage throughout an entire county shooting stage rally.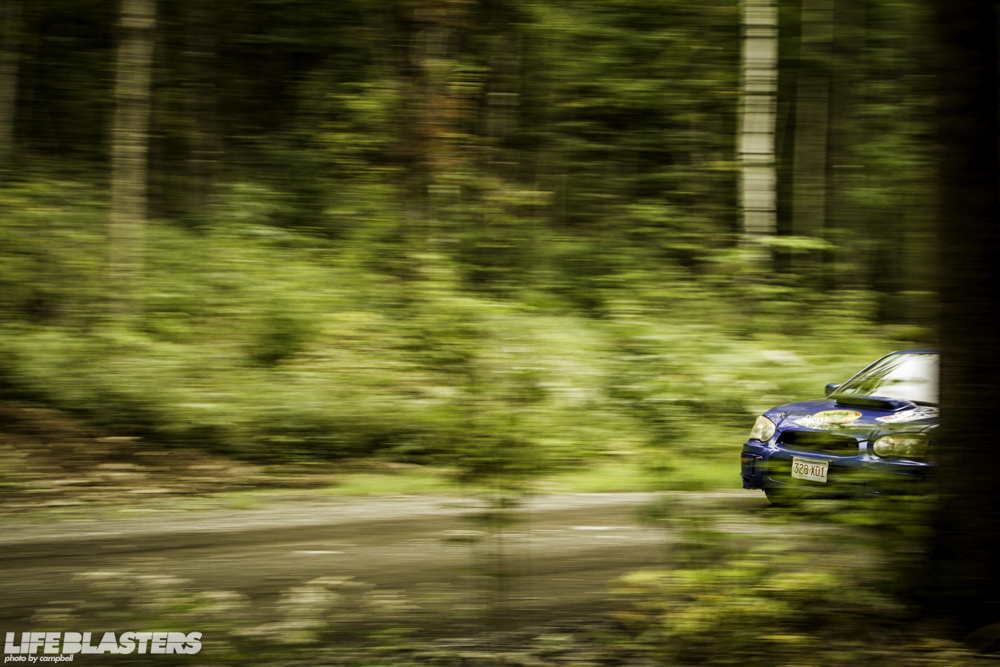 Now if there was any single car that really kept us on our toes, it was Emmanuel Cecchet and Dan Downey in their extremely quiet STI.  Most cars you would hear coming from a mile away, but not the blue Frog Racing Subaru.  If you blinked, there was a chance you'd miss them, this car was definitely the most ninja of the line-up.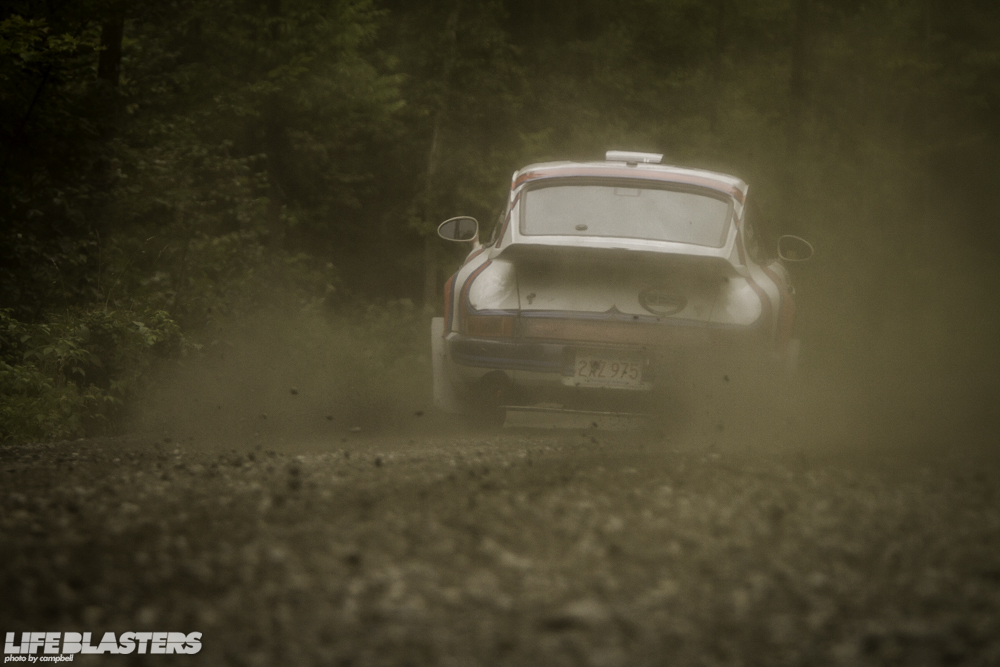 Tired and dirty, Wyatt and I found our way to our last turn where we were able to catch the Porsche's final pass.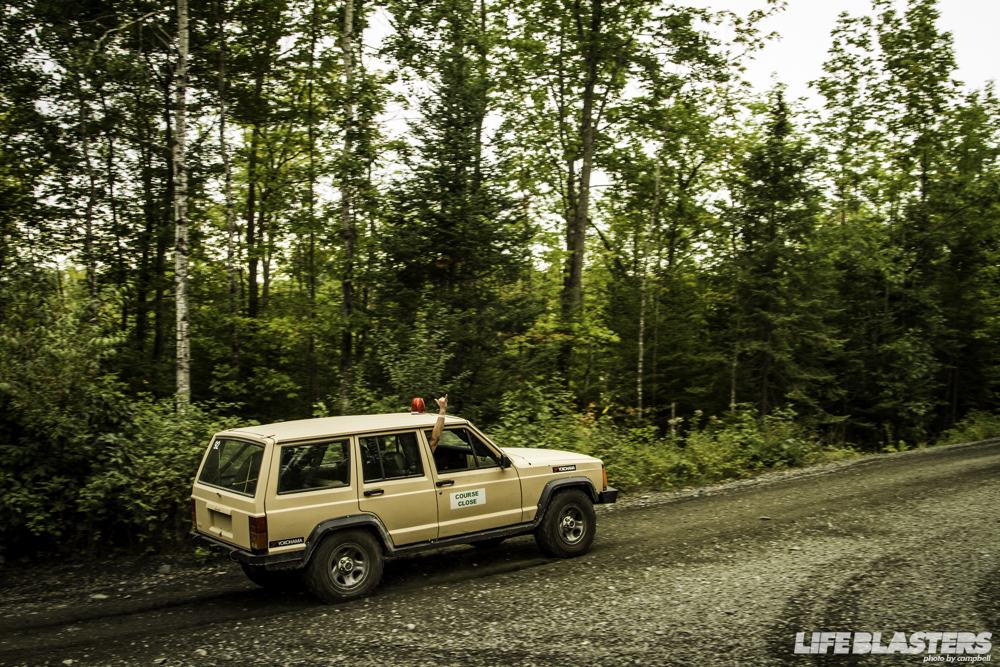 Naturally sweep had their fun through the stages and we were finally free to go too.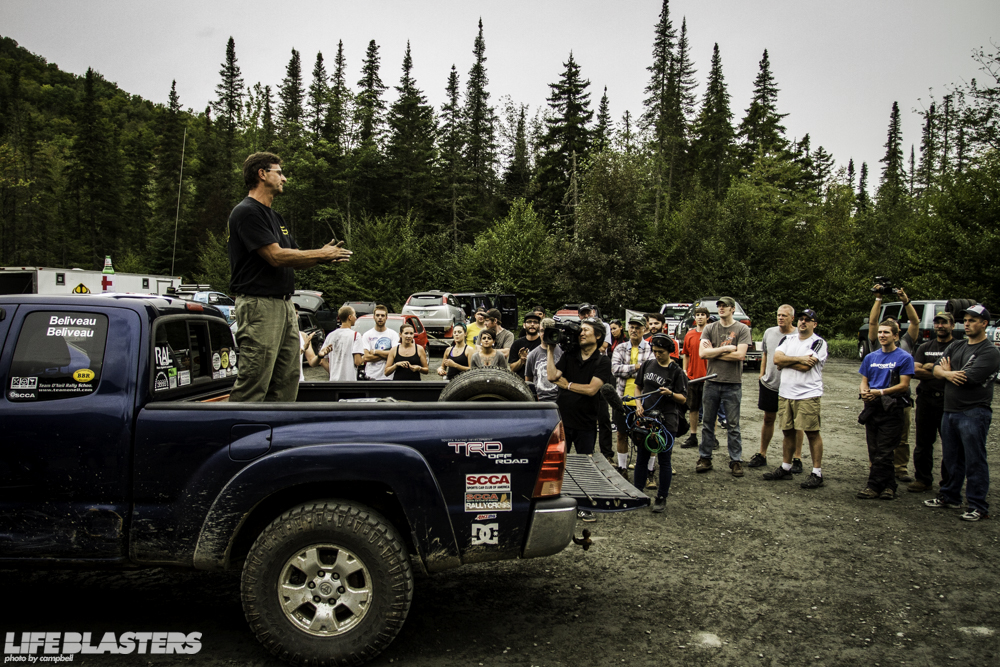 It doesn't get any more grass roots than this: competitors, crew, family and friends, running their own event and announcing their own awards out of the back of a pickup.  Congrats to all who placed and kudos for no offs for anyone!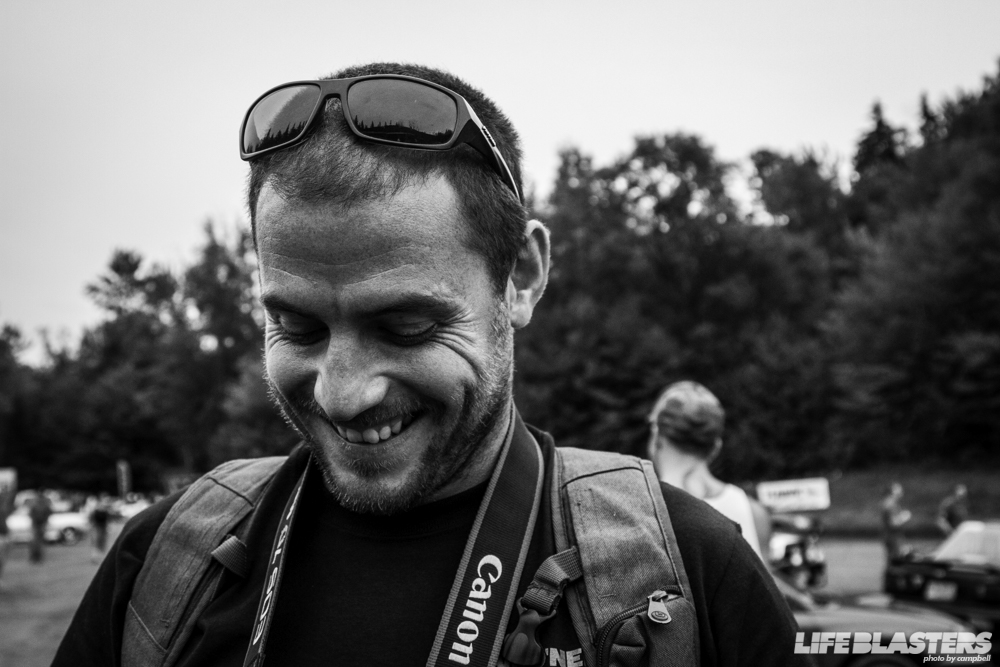 Special thanks to Wyatt Knox for being a Life Blasters fan, reaching out and inviting me to this event.  He made a great tour guide and now friend, hopefully I'll be able to make it back up to the rally school again, sooner than later, to shoot around some more.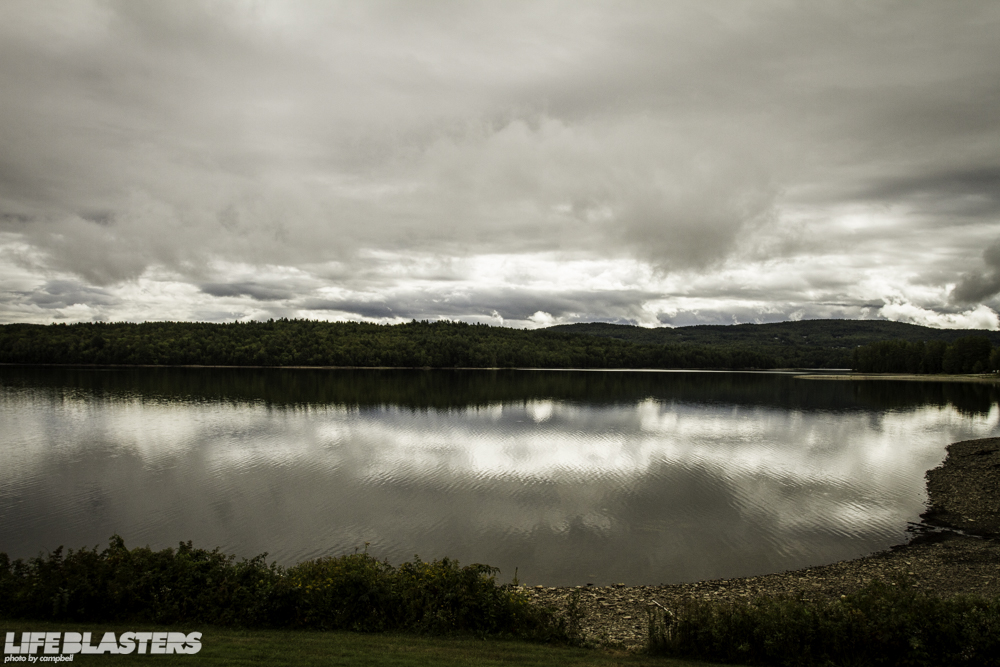 So ends another event and it was about that time…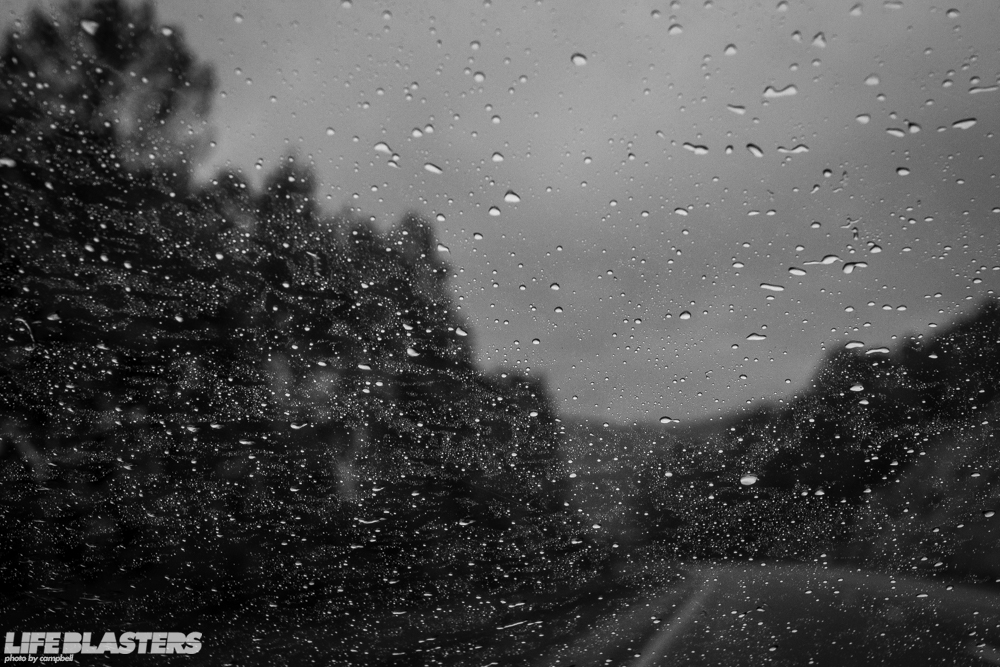 Open roads and rainy weather have always been a favorite of mine.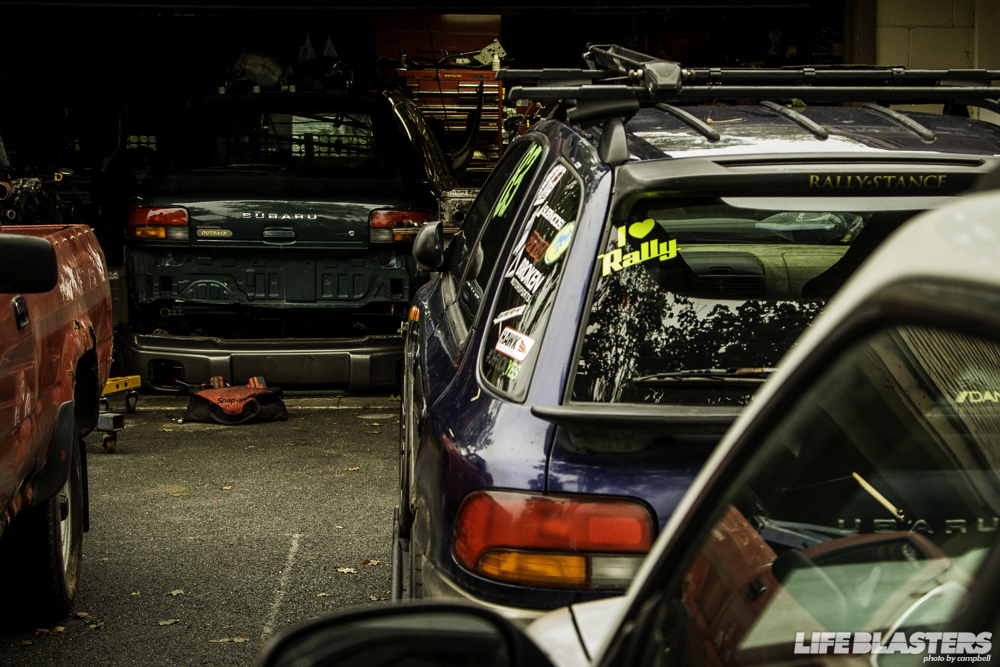 But before I got back to Long Island, I had to make a quick stop in Mass at the Nemesis Photo HQ to see a man about some parts.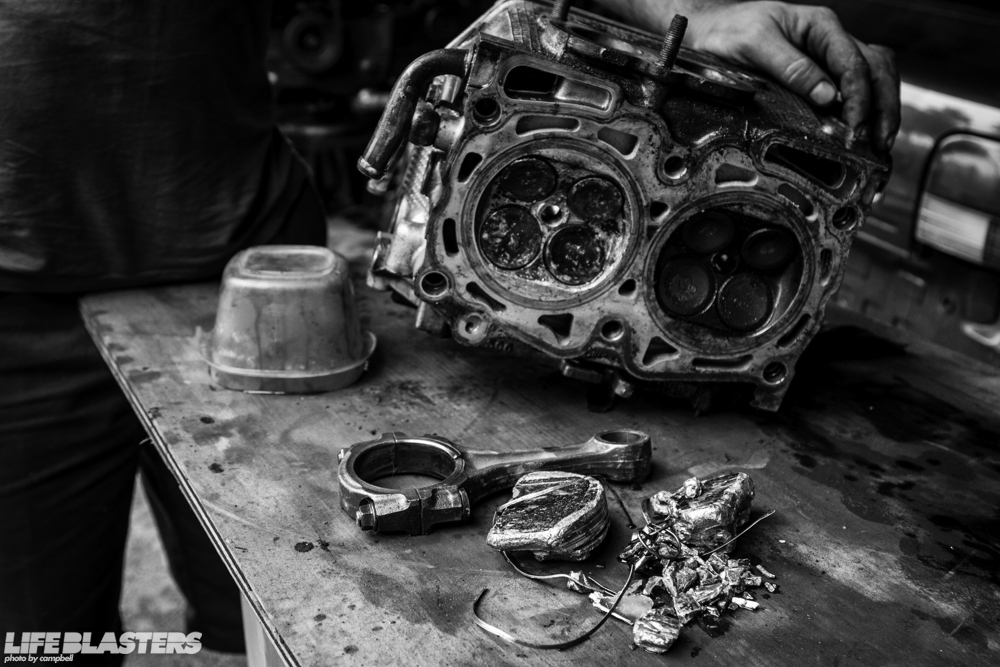 That man being photographer friend, Ian Pouliot.  He is a man of many skills, he's a photographer, snowboard instructor, mechanic, husband and father.  The latest of skills added to his list was "Destroyer of Boxers" which he just had to show off.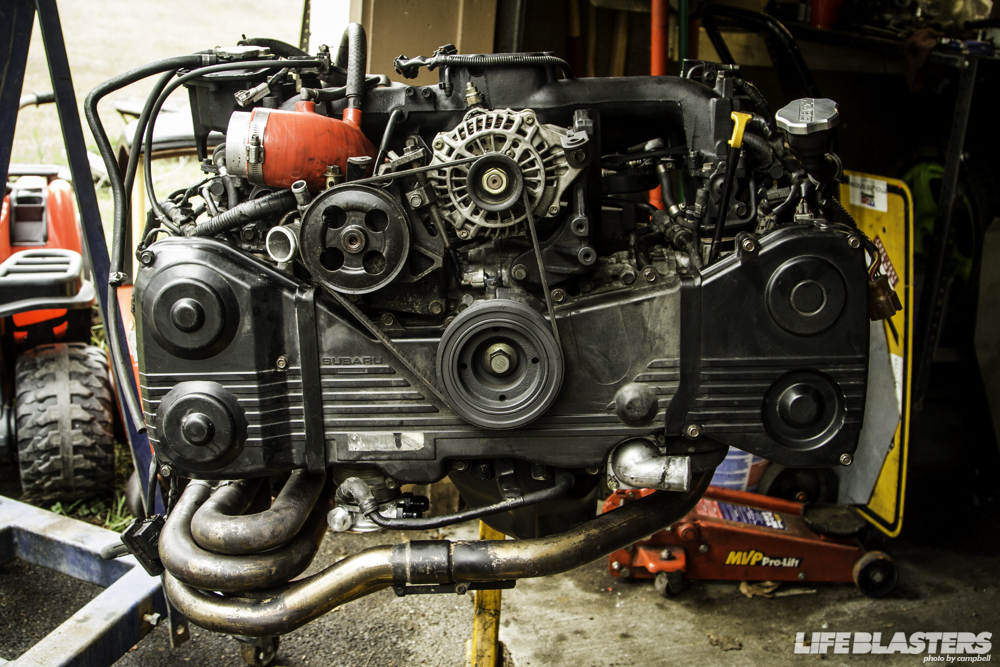 Don't you worry Subieheads, that flat four might have been fried, but he was already working on his JDM replacement for it.  After a few hours at Pouliot's I really need to head home, at a reasonable hour, for my "9-5er" the following day.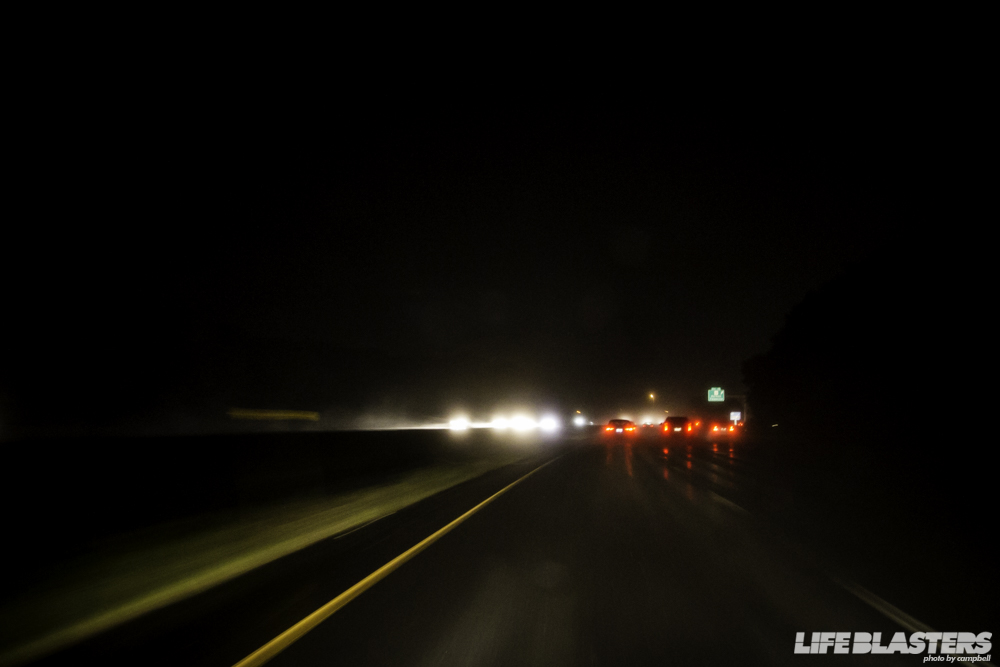 Hopefully with events like Rally Sprint and American Rallycross slowly coming to be, we can finally start getting more interest into the world of rally in the U.S.  They might not be full stage rally, but for those out there looking to race a budget it just might finally be a way to get their foot in the door.  I for one definitely can't wait to see what the SCCA does next about Rally Sprint.
-Matt Campbell