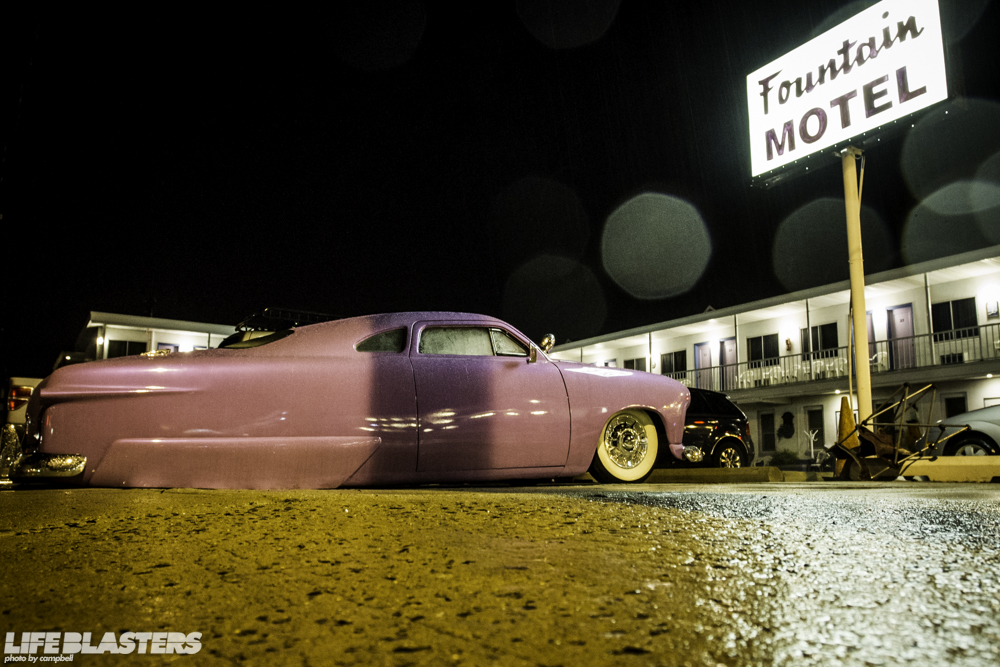 We're finally approaching the winter season and that usually means less car events.  Luckily for me one day fellow Blaster Eric Delaney messaged me about this east coast event called "The Race of Gentlemen", a.k.a. T.R.O.G, in Wildwood, NJ.  Without hesitation I found the event website, watched a short video on the event and once I saw it was basically an event where old school American hotrods and motorcycles drag race on the beach, I ordered my ticket.  Fast foward to October 9th and six hours worth of traffic and stormy weather and I found myself pulling up the to the Fountain Motel.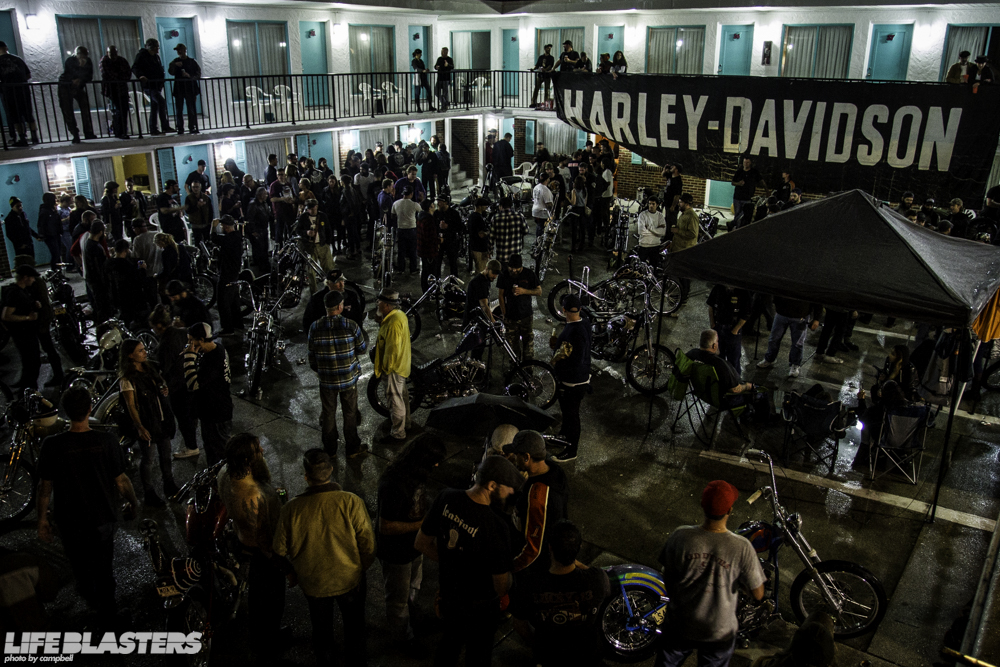 There is always the part of me that wants to complain about the traffic, but then I find my way to my destination and it immediately pays off.  After checking into the Motel, the women at the front desk suggested I head up the block to the Surf Comber Motel for a Harley-Davidson meet that was going on.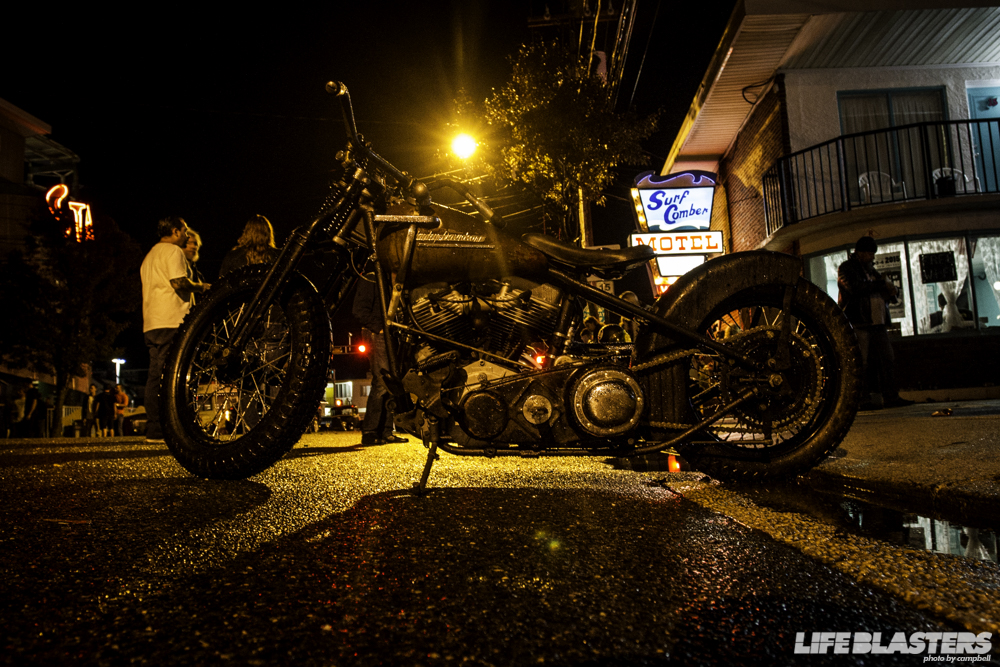 My motorcycle knowledge has always been limited and I've never found myself looking at Harley's in awe before.  But that night having been surrounded by so many old school Harley's whether stock or modified, original and rusty or restored and looking brand new, I definitely grew a big time appreciation for Harley-Davidson motorbikes.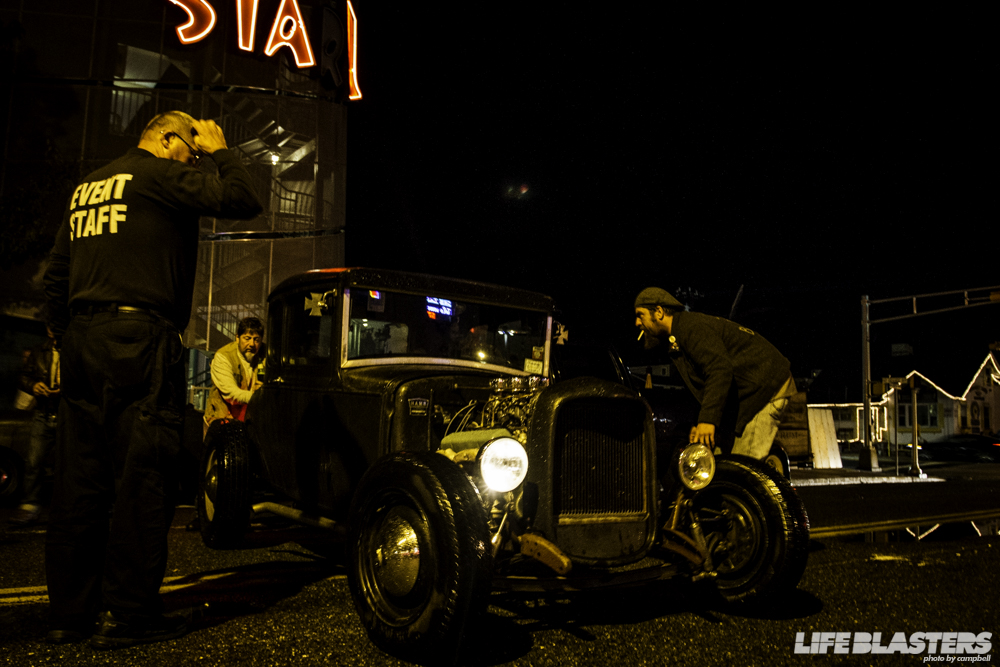 The weekend before was when T.R.O.G. was originally supposed to take place, but that was also the weekend of Hurricane Joaquin.  With heavy rain and winds over 100mph headed up from N. Carolina towards New Jersey it only made sense that the event organizers decided to post pone the event to the following weekend.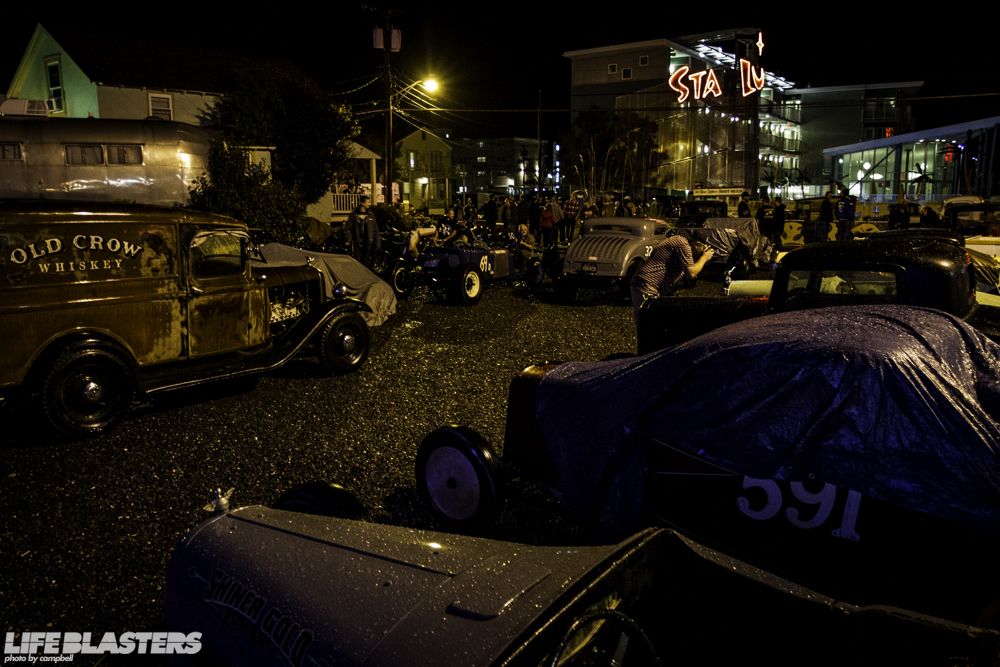 Thankfully Hurricane Joaquin took a turn out toward the ocean sparing Wildwood  and only leaving behind rain for the following weekend.  But not enough rain to stop competitors from pouring in from all over the country, and outside of the country for that matter.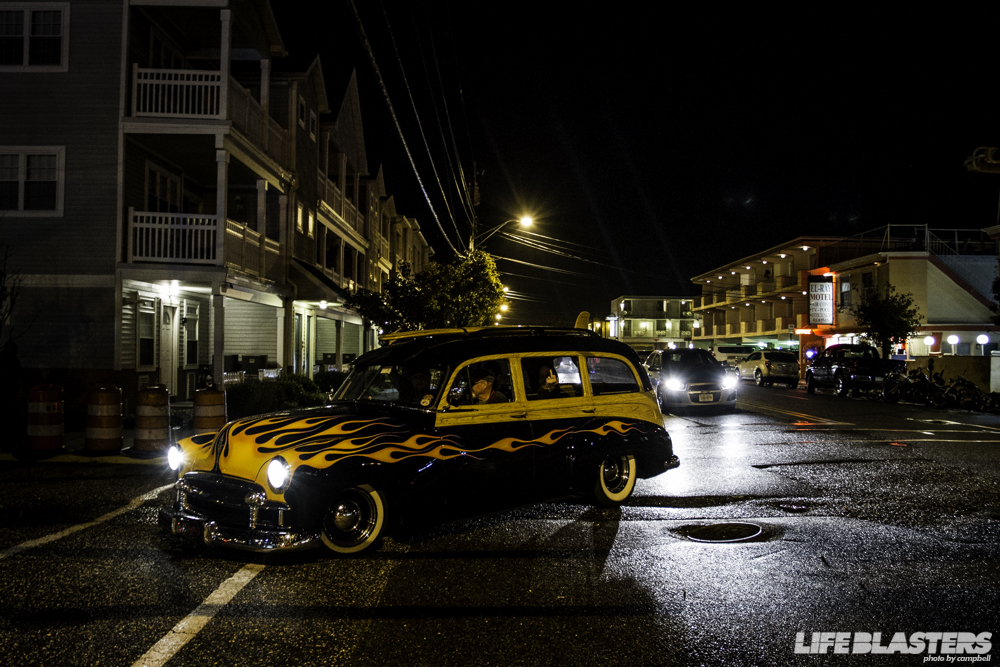 That night was the first time since I moved back from Michigan that I've been able to see so many beautiful classics in one area no matter the weather.  Speaking of class, late night petrol heads seem to bring along that ol' rocker, "I ain't care!" mentality.  I just had to take this photo and the passenger and I shared a laugh.  East Coast Bash comes to mind.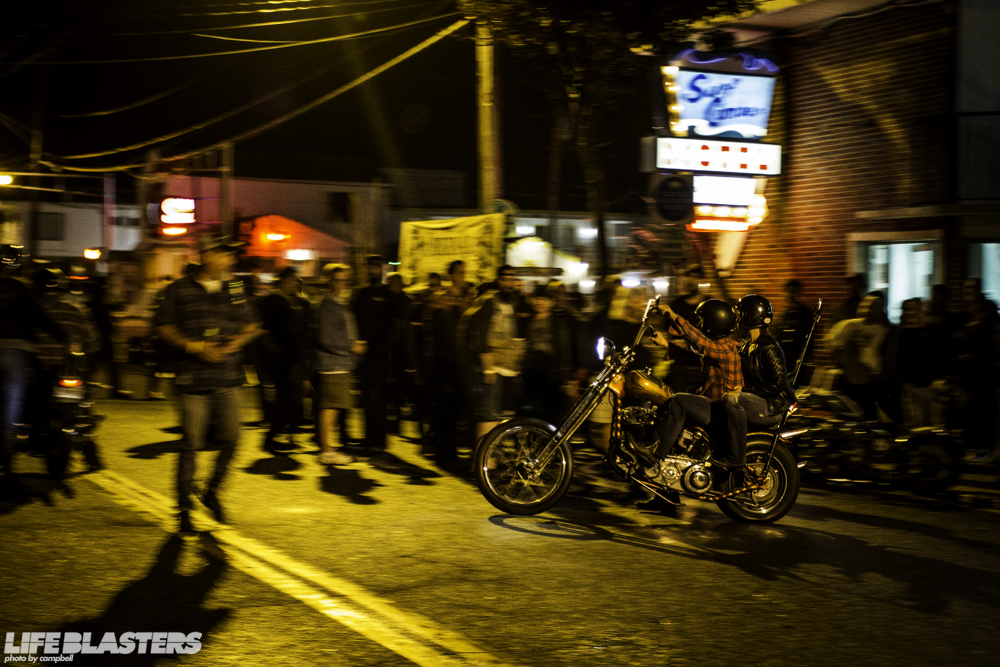 While checking out the cars and bikes on the block, I heard some cheering back over at the Harley meet and naturally had to head back over to see what all the ruckus was about.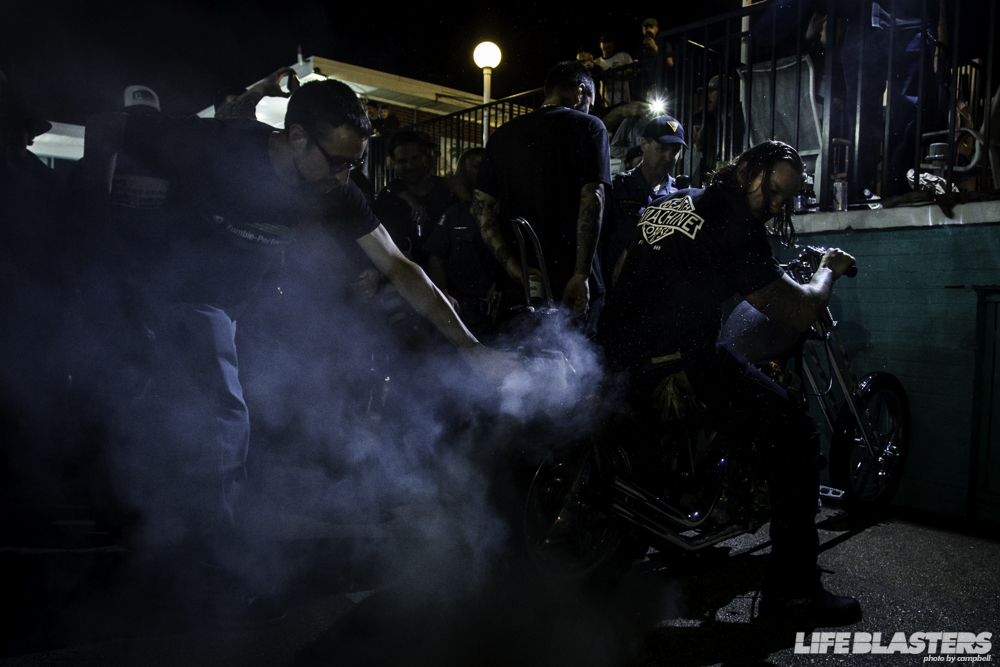 I was glad I did because an unofficial burnout contest was underway.  Tires have too much grip?  Pour some beer on it.  And yes, that was actually a police officer standing next to the Pennsylvania biker trying to tell people "No burnouts".  I personally wouldn't have had the balls to just shake my head at a cop and do a burnout anyway while he was standing right there.  Level: Badass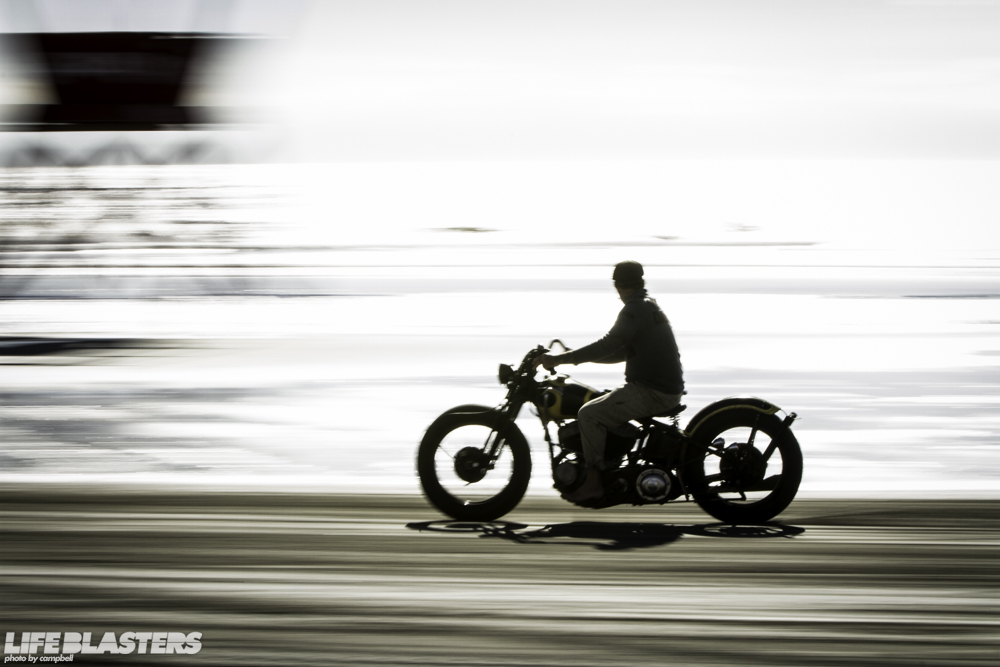 The following morning was day one of racing.  One thing I didn't expect to see was a barefoot man riding a 1938 Harley UL Flathead.  Yet, first thing that morning I saw Meldon V.R. Stultz III, of Stultz & Green Productions, doing prep work on the course and flying back and forth on the beach doing just that.  Thanks for that Mr. Stultz.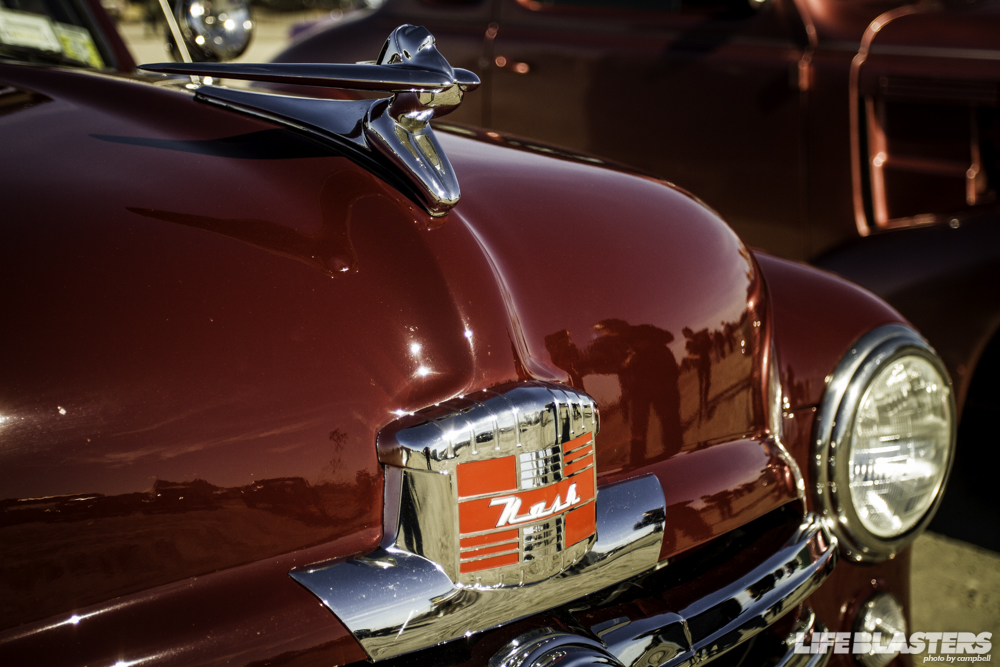 What really makes The Race of Gentlemen special is that it really does a great job of of showcasing "yesterday's" car culture.  Today we see all the flashy new cars and trends and automotive technology has gone through the roof.  Even classic car shows today you'll find gorgeously rebuilt machines that look as if they were recently brought forward in time.  T.R.O.G. on the other hand seems to be more about the old time petrol head racing lifestyle.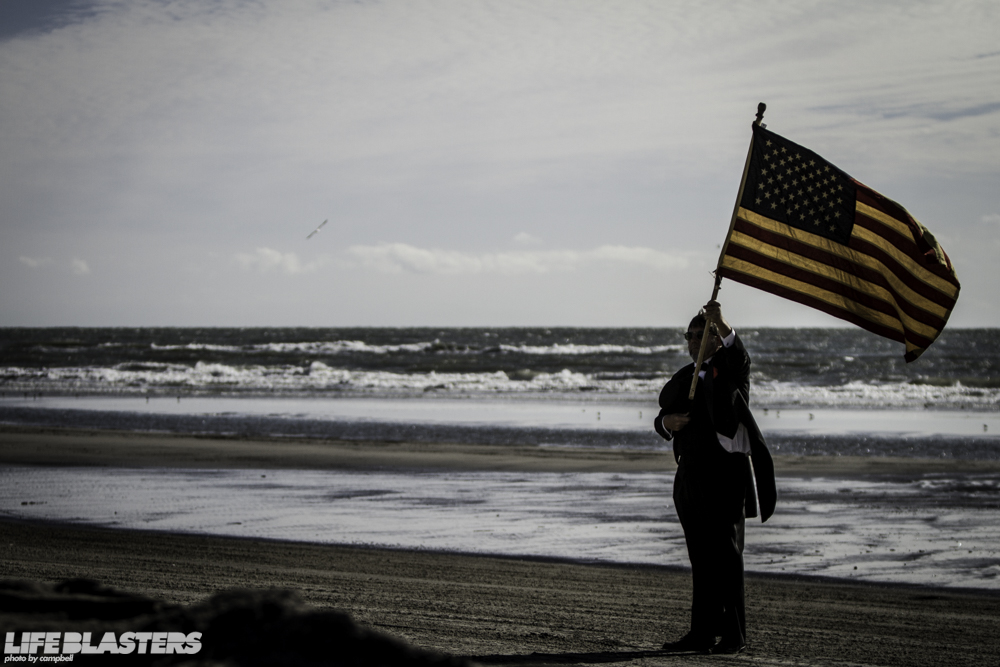 Even the entire T.R.O.G. crew is dressed in era appropriate clothing.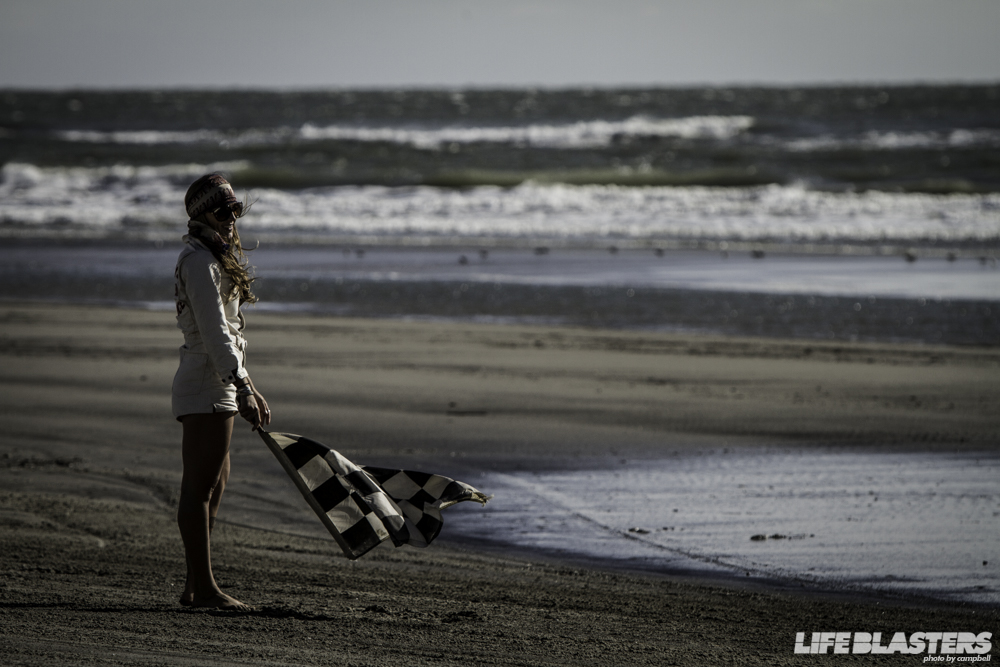 Today's "Flag girls" don't even compare.  If my memory serves me correctly her name was Sara.  Kudos to Sara for being out on the cold beach all day flagging every single race, beginning to end.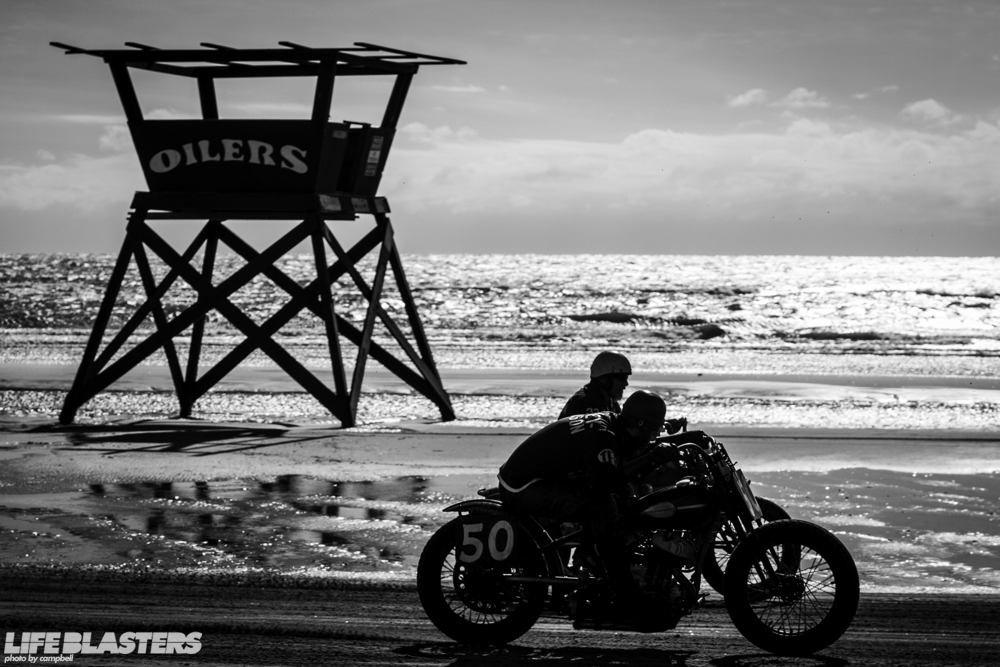 If there was one single group to thank for an event like this, it's the Oiler's Car Club.  Since 2012 they've been doing the best they can to really give the event the feel of what it was like back in the 1940's when the beach was really the only place to push your car, or motorbike, to the limit.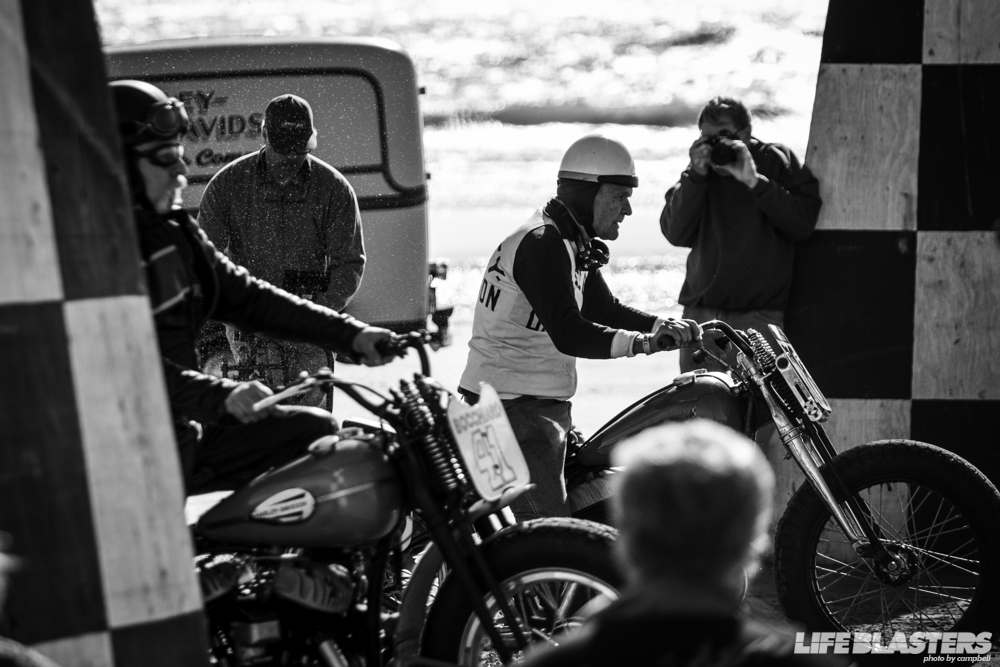 What's always great is that the age range is extremely wide.  I've heard people say things like "You'll never believe it!  I saw an old guy driving a bugeye WRX, that's so weird!"  But have you ever seen an "old guy" racing his old 1940's motorbike on the beach?  The life of a petrol head has no age limit.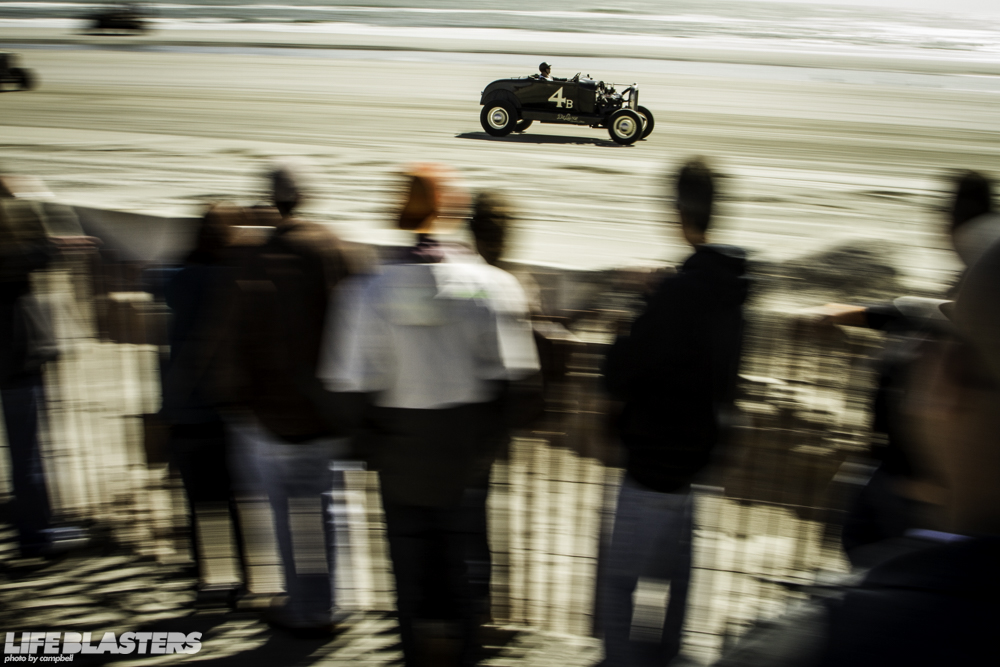 There needs to be something said about the speed of these old cars.  I can't tell you the exact speeds they were hitting, but at first it didn't sound like it would be all that exciting.  Especially after shooting events like rally and drifting, how could that 1928 Ford A Roadster 4-Banger be that fast?  But when racers are neck and neck, or pull off a better start in the loose sand, you will most definitely find yourself on edge till they cross the finish.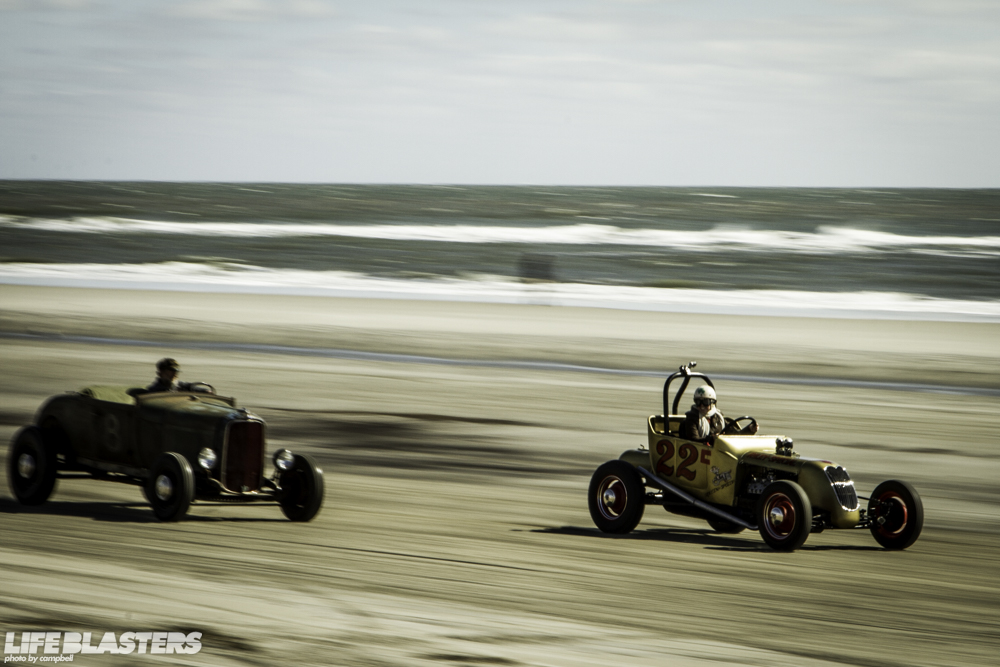 What was also interesting about the difference in speed, was the fact that racers like Erin Evernham were able to look over and smile at the crowd before crossing the finish.  Couldn't blame her though, just look at that '23 Model T Roadster.  Bright yellow with a V8 ripping the beach, who wouldn't be smiling?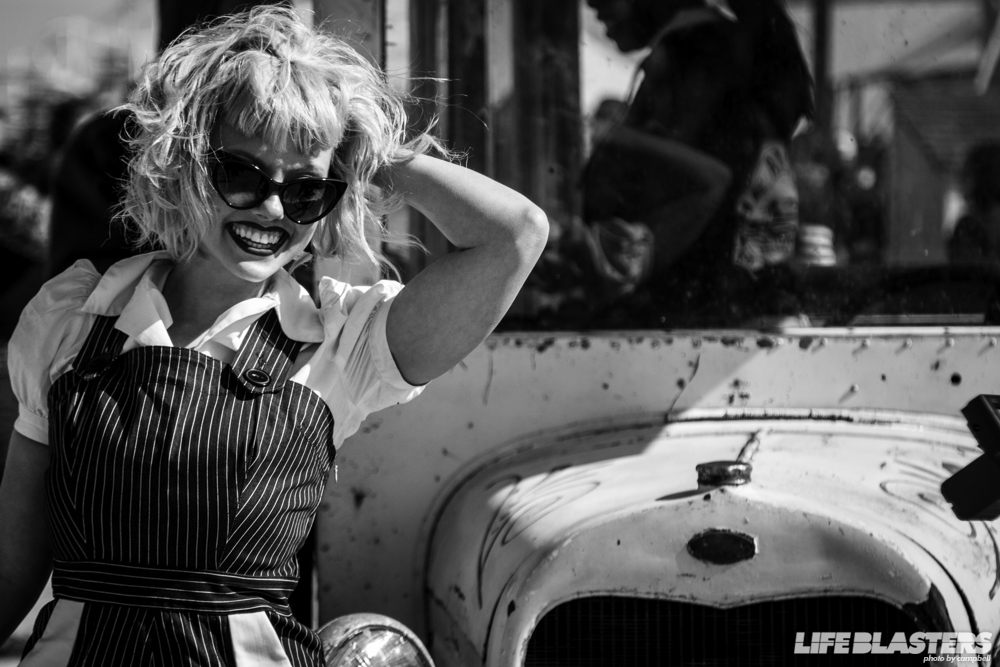 Further from the shore, and sounds of pre-war racing machines, there was still other fun to be had.  You could find yourself one of the many Rootbeer gals and take selfies with them.  Fun and definitely not camera shy.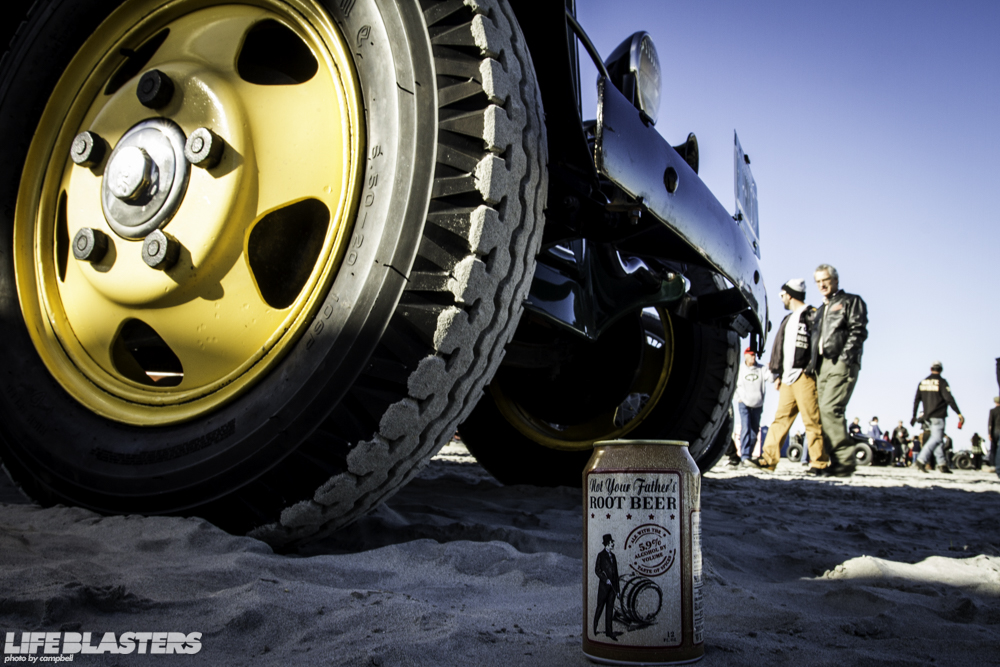 And not just any rootbeer, Not Your Father's Root Beer.  I feel the need to throw this out there, I'm a big fan of rootbeer.  I don't drink soda too often but if I do it's rootbeer.  I've tried this alcoholic root beer and the taste is pretty damn spot on.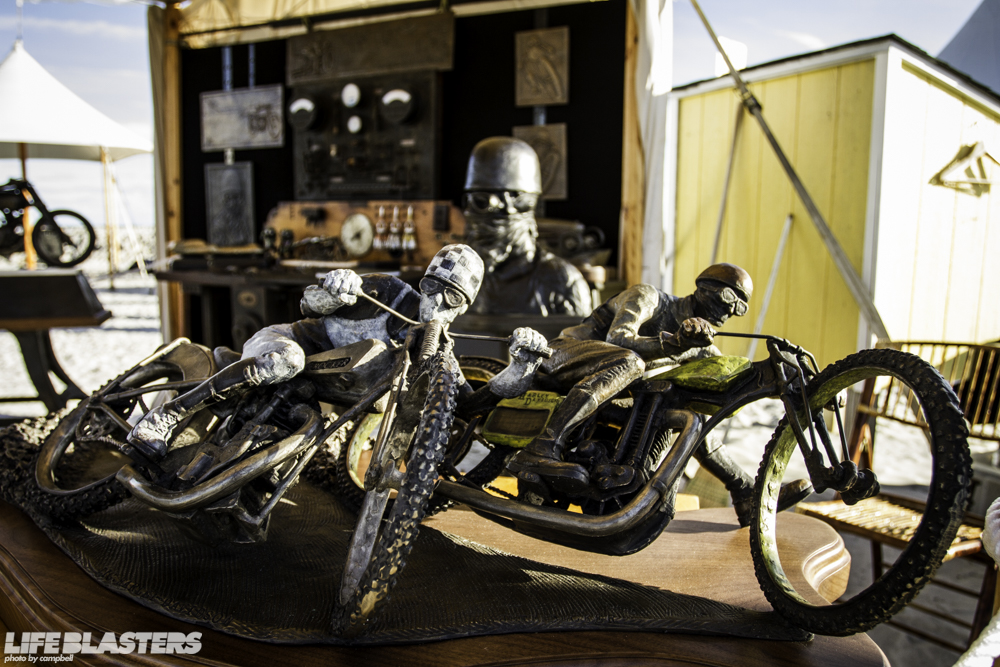 Every corner you could possible turn there was something cool and old school to check out.  Like this old Harley-Davidson sculpture of two racers really cutting it close.  The sculpture alone shows how different things were 70 years ago.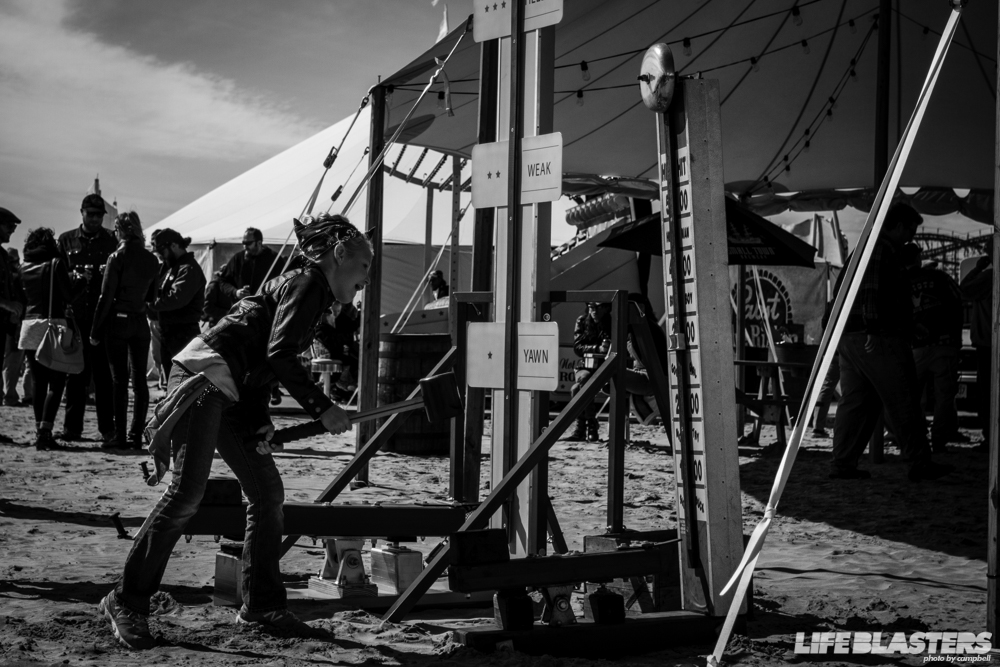 Nothing says "Old carnival fun" like the good ol' Strongman Game.  Timeless and always a great way to smack talk with your buddies.  This little girl hit the bell after a few tries and walked away like a damn boss.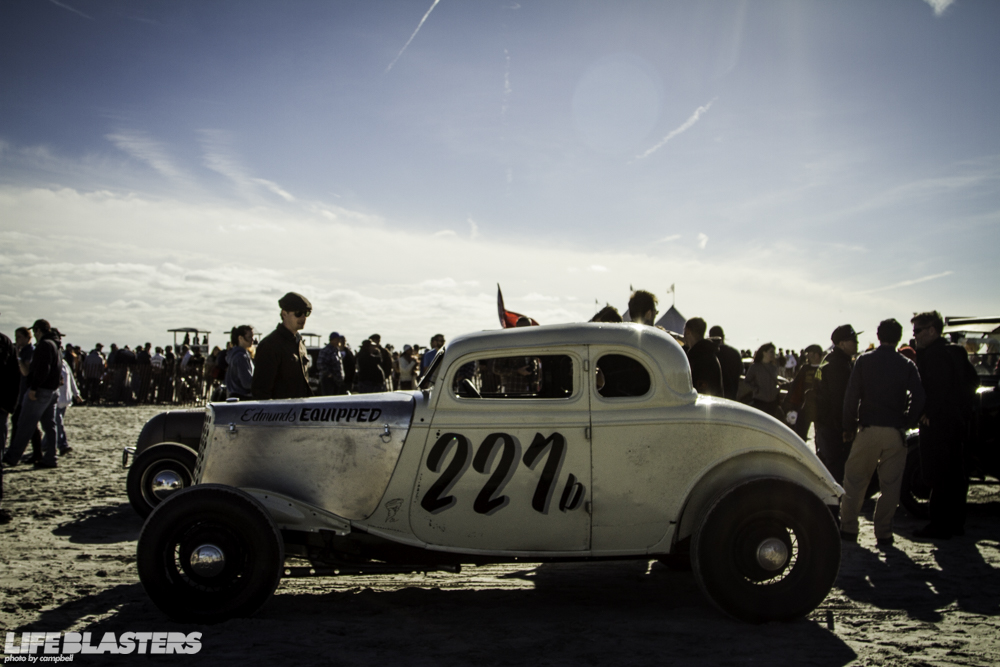 Half way through the day they opened up the paddock to the spectators, giving everyone a chance to check out the cars and motorbikes and meet racers.  Unfortunately I didn't get to meet the couple that belongs to this '34 Ford Coupe V8.  Photo friend Ian Poulot told me to look out for the white Ford sporting #227b.  He had mentioned that his friend Miss Naomi Lynn, of Bombshells for Boobies, was going to be at the event with her man, and driver of this Ford, Josh Fredette.  At least I found their car and took some photos.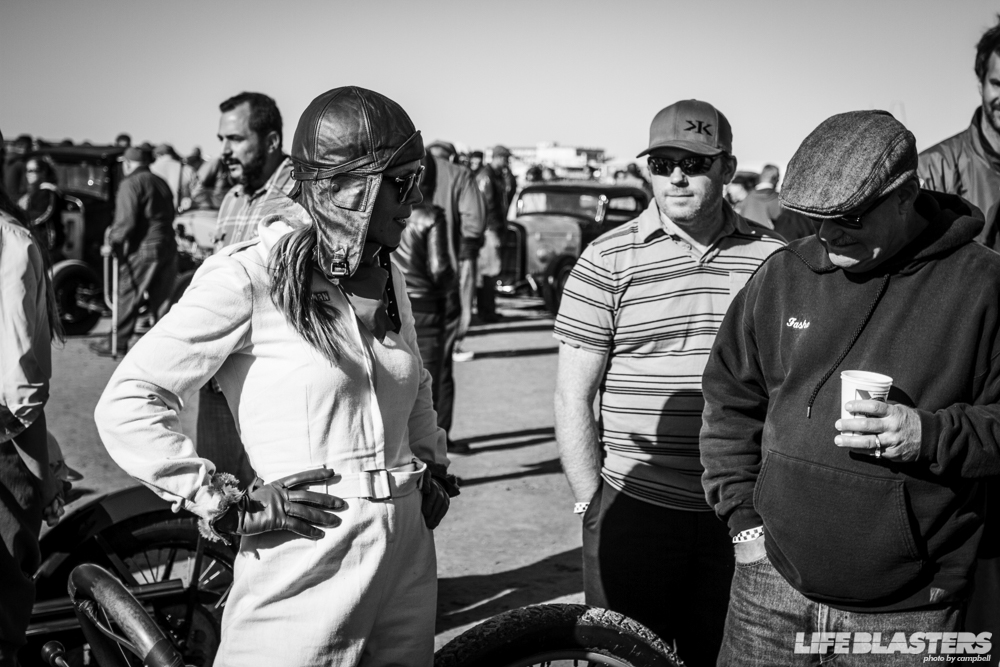 I was lucky enough to be at T. R. O. G. the year that Jessi Combs was invited to race for Craftsman in a 1913 Ford Speedster Twin-T 4-Banger.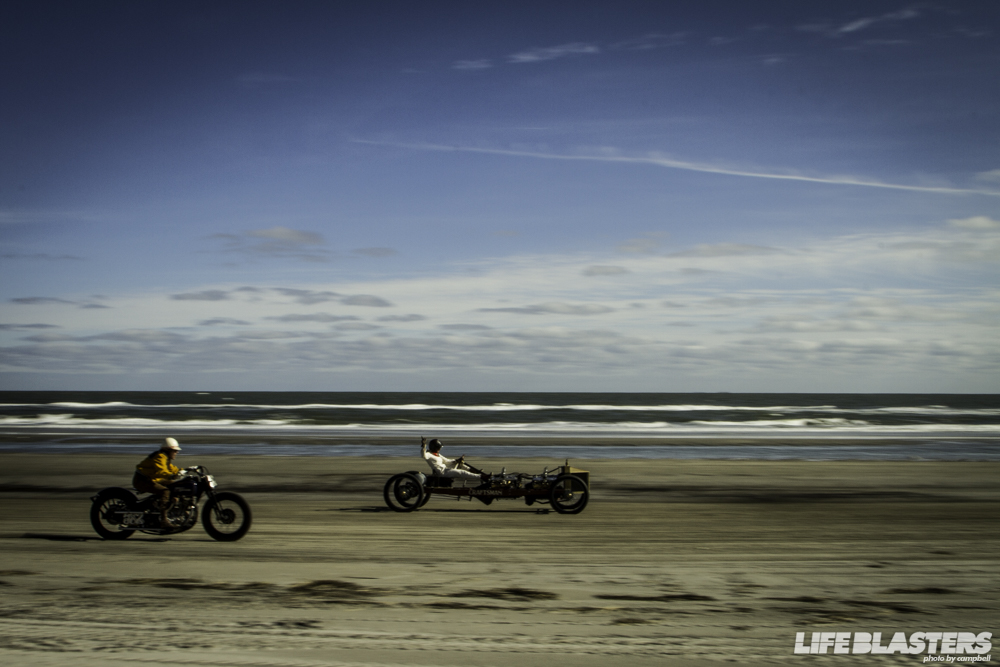 Which, by the way, was a pretty unique and badass twin engine T.  They don't call her the "The Fastest Woman on 4 Wheels" for nothing.  Granted I'm sure this was a lot slower than her 440.4 mph Land Speed record.  But she still seemed to be having a blast at this moment running against Brittney Olsen.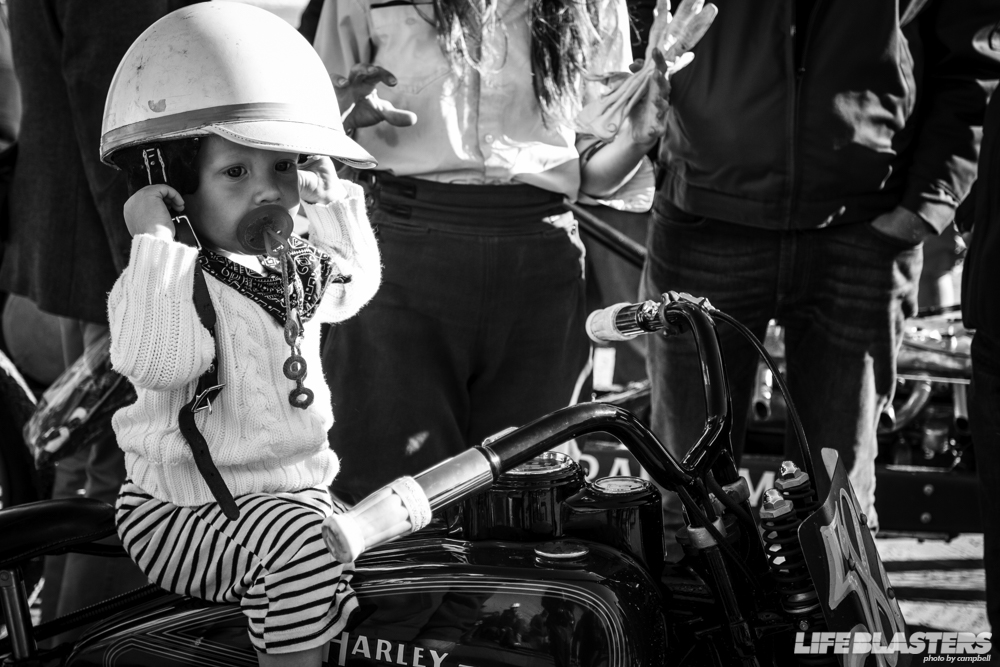 Speaking of Olsen, one of the baddest chicks on two wheels.  If she wasn't racing she was hanging out with her kid.  I'd say parenting done right.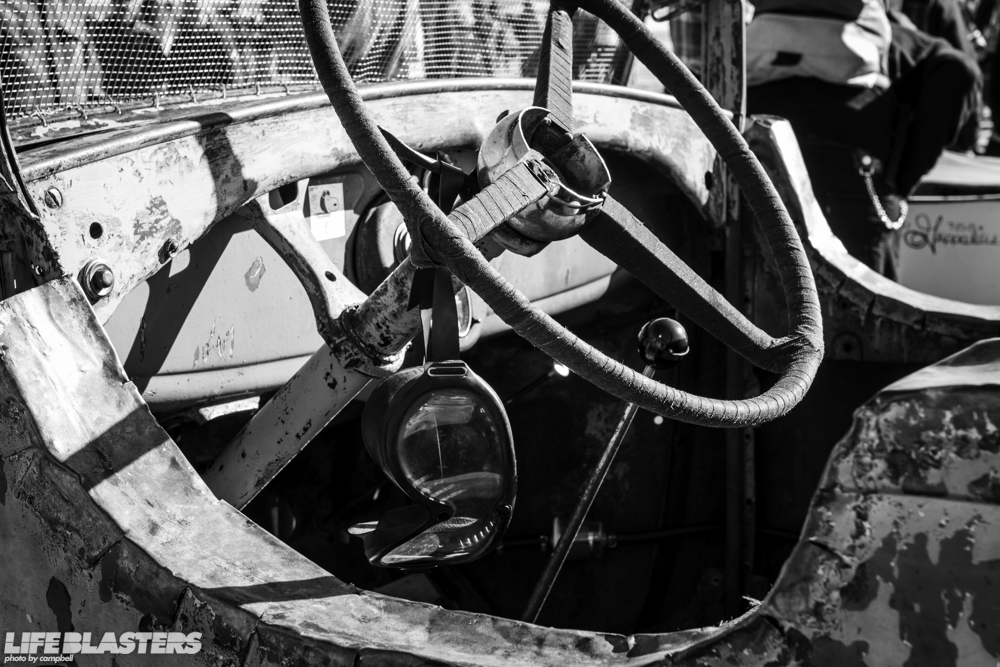 No comfy adjustable seats, no fancy wood or leather trim, no radio, just the bare essentials.  Just a beat up, raw speed machine.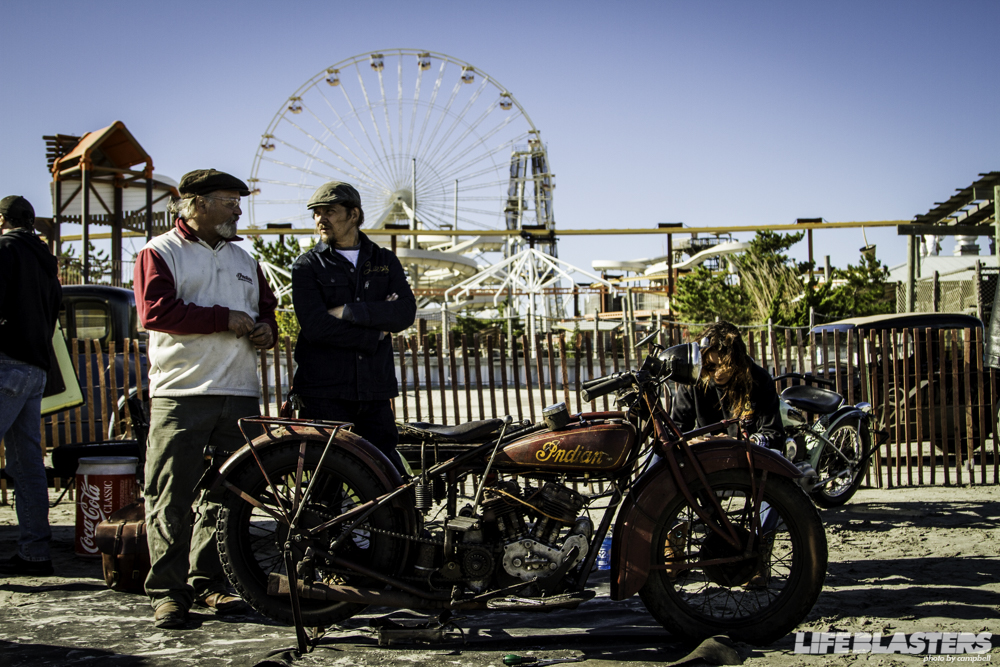 After about an hour of cruising through the paddock, officials started shouting for everyone to head back to the designated spectating area.  At the same time racers were headed back to their rides to get ready to run the second half of the day.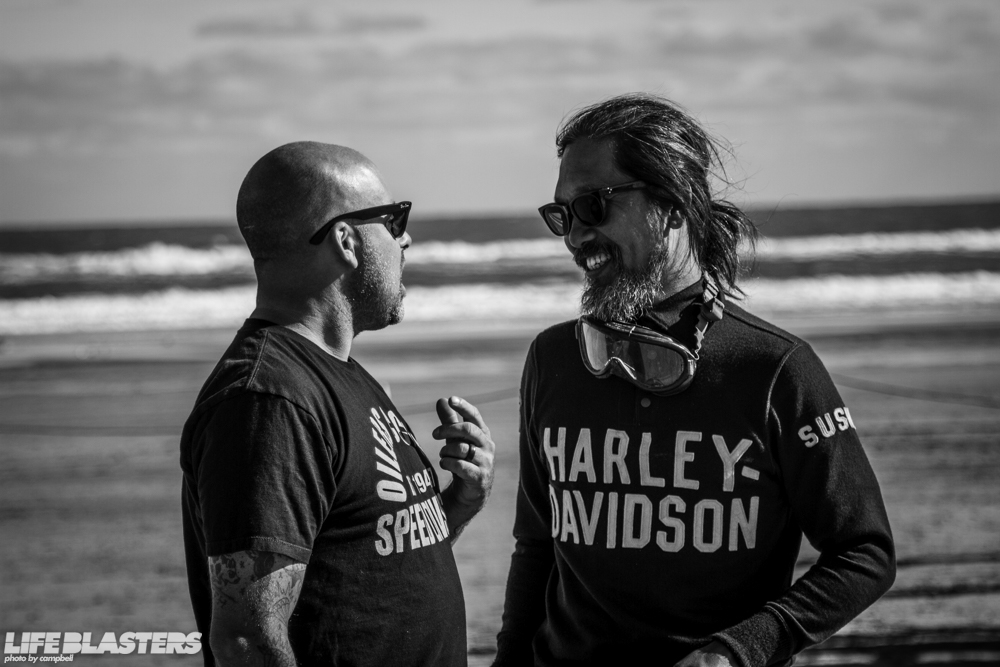 There was a point where the announcer was talking about how far racers have traveled to compete at this event.  First mentioning New York, then Connecticut, Pennsylvania.  Then goes further, North Carolina, Georgia, Michigan, Colorado.  Hits the west coast with Washington and California.  Then the rare few came from places like Canada, Switzerland and Japan.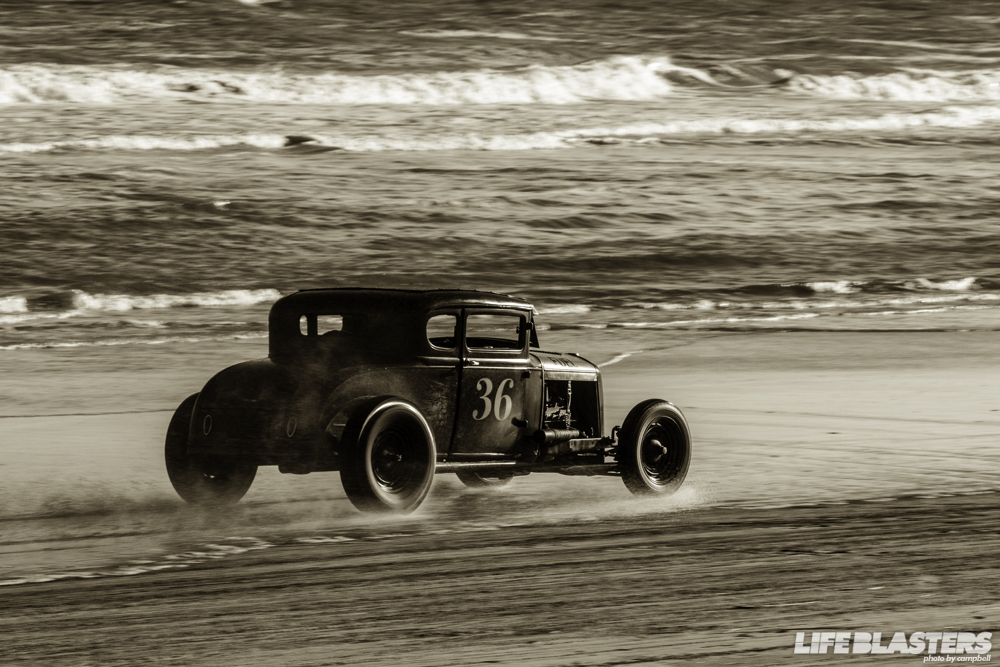 Unfortunately it didn't take long for the shore line to start taking over the course.  At first it only made the return trip to the start line a little squirrely, but within minutes the race had to be ended earlier than scheduled.  Fortunately some of the racers didn't mind running through the water just the hell of pleasing the spectators.

After a quick hike back to the hotel to upload photos and get lunch, I grabbed my gear and made my way back down for the big bonfire.  This was easily the best bonfire I've been to.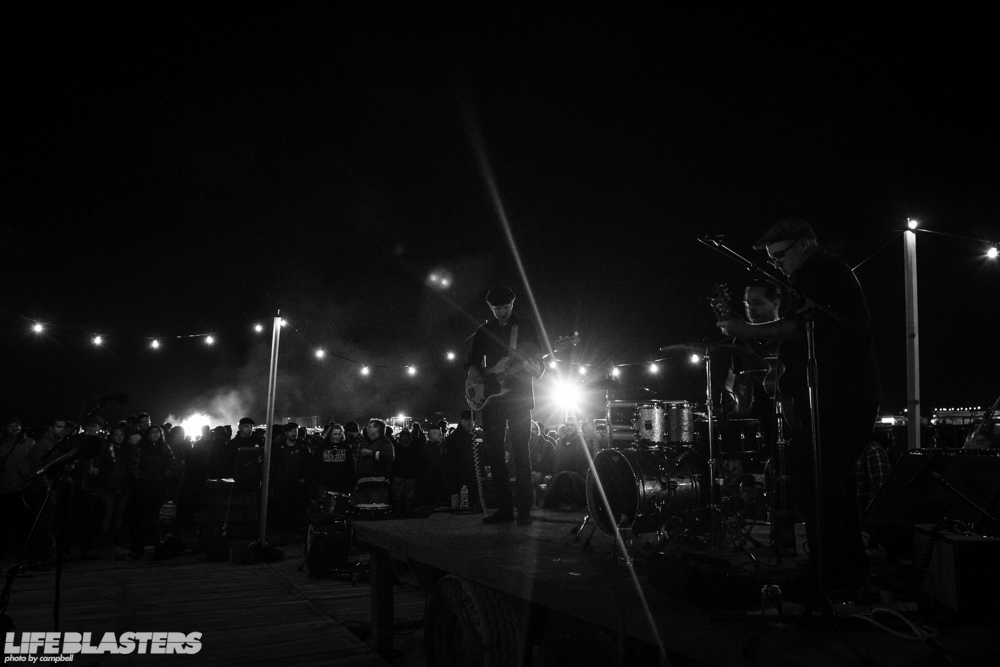 In the usual Race of Gentlemen fashion all of the bands playing had that same old time rocker feel.  This band specifically being "The Black Flamingos".  Does anyone else remember when the Need For Speed series tried their first attempt to online racing?  It was called Need For Speed: Motor City Online.  I was a beta tester and got to try to help develop the game.  Imagine NFS with the same idea of TROG.  All old school muscle cars, all set back in the 50's and older and this band reminded me of all the great music from that game.  It was a shame that game never took off.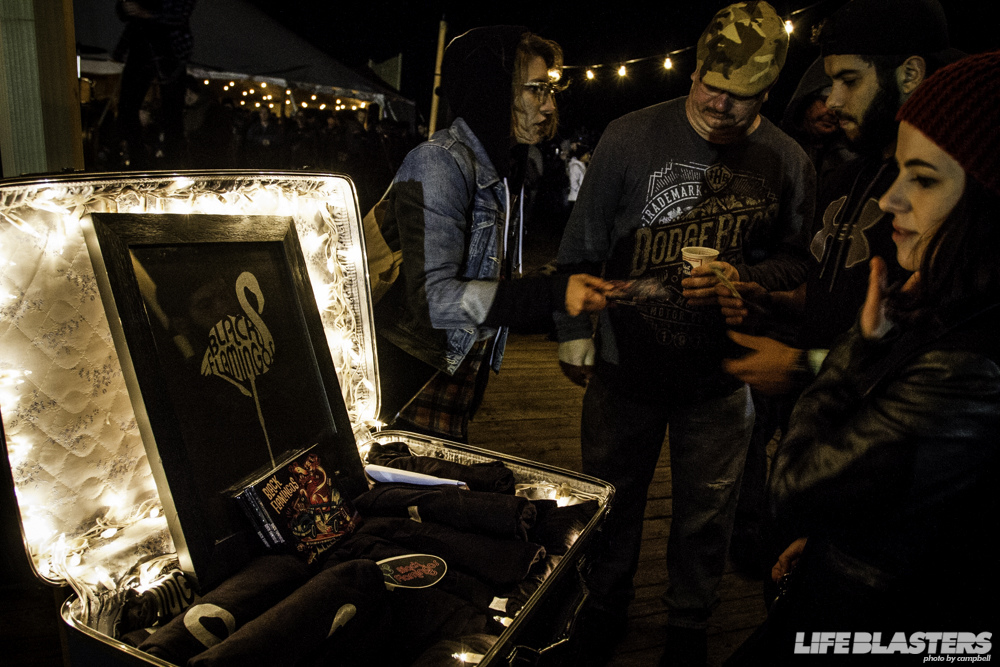 Their music was so nostalgic for me, because of the NFS game not my age, that I had to show my support for the band.  At only $5 a CD it was hard not to hand over the cash.  But if anyone remembers my trip to The Mt. Washington Hill Climb, I'll get to drive four hours home and not listen to the CD.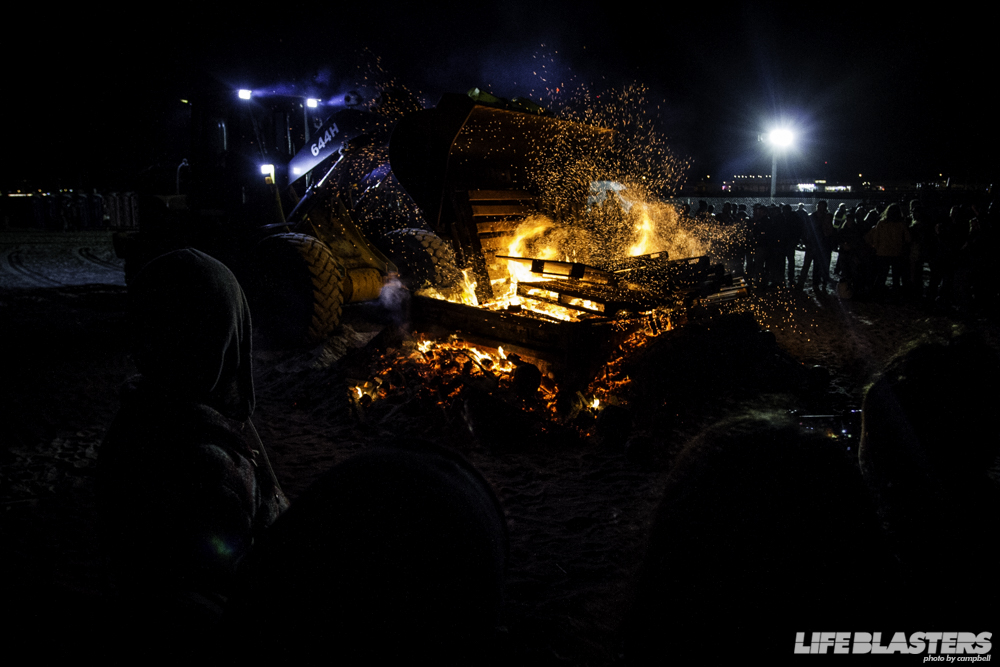 Of all the people there I ended up chatting with an older couple that just so happened to originally be from Westchester, NY.  They were telling me all about how Wildwood used to be their "Go To" vacation spot and how one of their kids ended up having their wedding there.  And from the sounds of it, during the summer there's a lot of different events to check out day to day.  But TROG is basically Wildwood's final event before shutting down for the colder seasons.  Fun fact:  They also informed me that, because the population of Wildwood is so small, there isn't much need for all the traffic lights and stop signs during the "Off season".  So starting in October the lights end up just flashing red and select STOP signs are actually on hinges and folded up.  "Watch, when you leave here tomorrow you'll spot one of those stop signs!"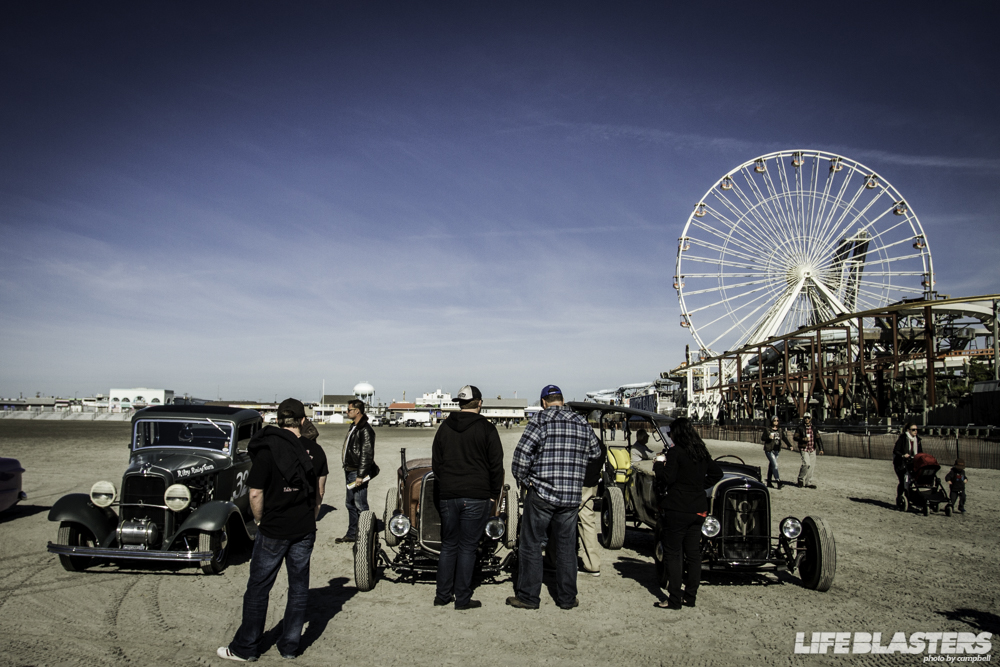 Bonfires and bands went on for hours, but I still had to head home the following day for work the next.  So I called it a night, got up early and took a few photos before to hitting the road.  But it was very difficult to tear myself away from all the amazing cars.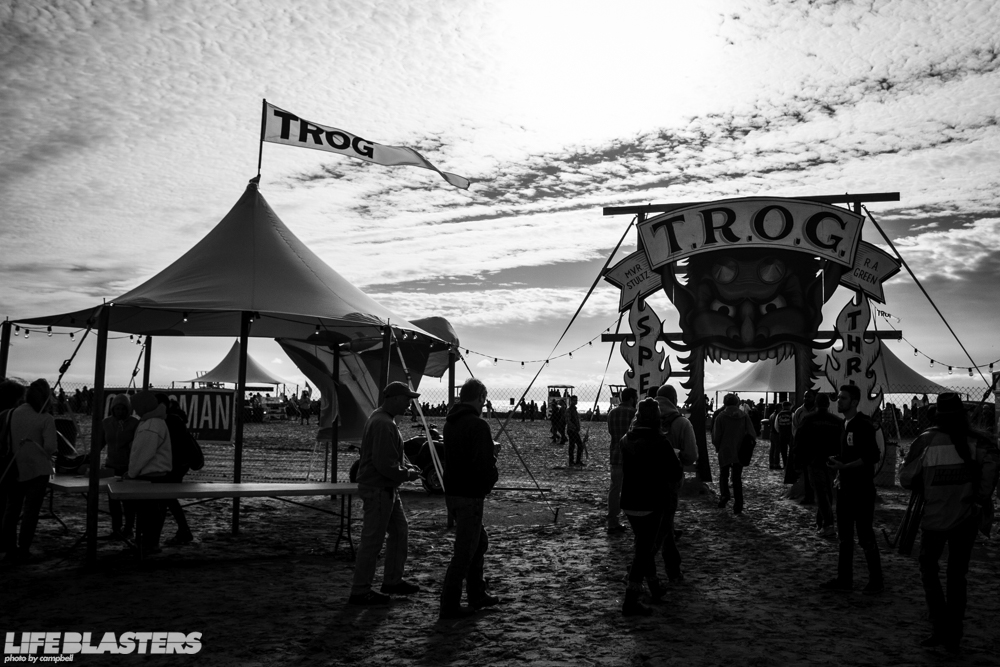 The Race of Gentlemen was definitely a different experience and a lot of fun.  This might turn into an annual thing for me now.  TROG, you will see me again.  Now to get the film developed from my AE-1 and see how those turned out.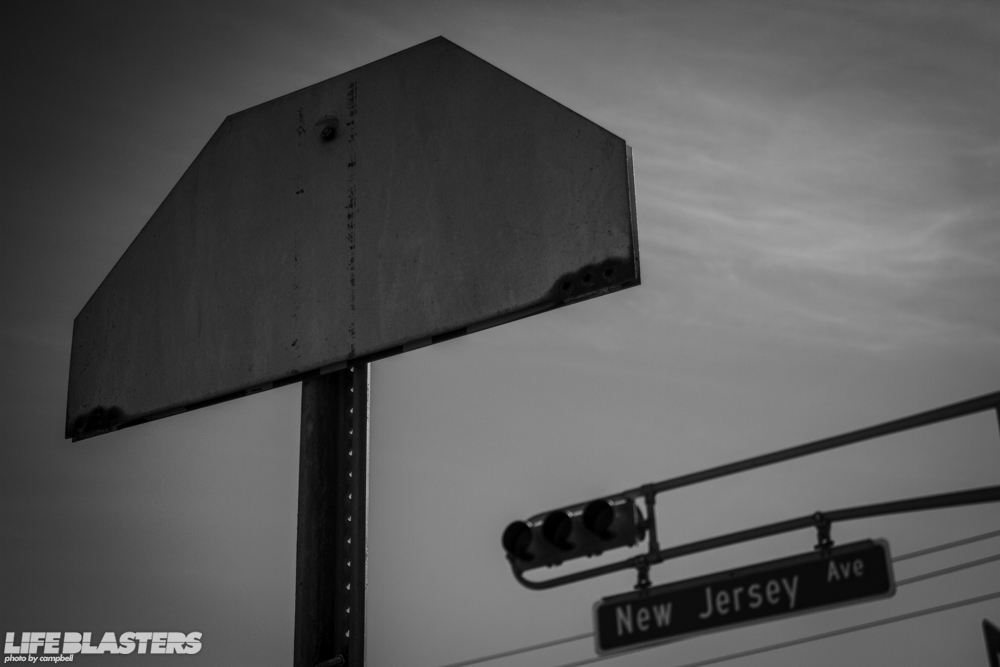 And wouldn't you know it, I did end up finding one of those hinged STOP signs.
-Matt Campbell