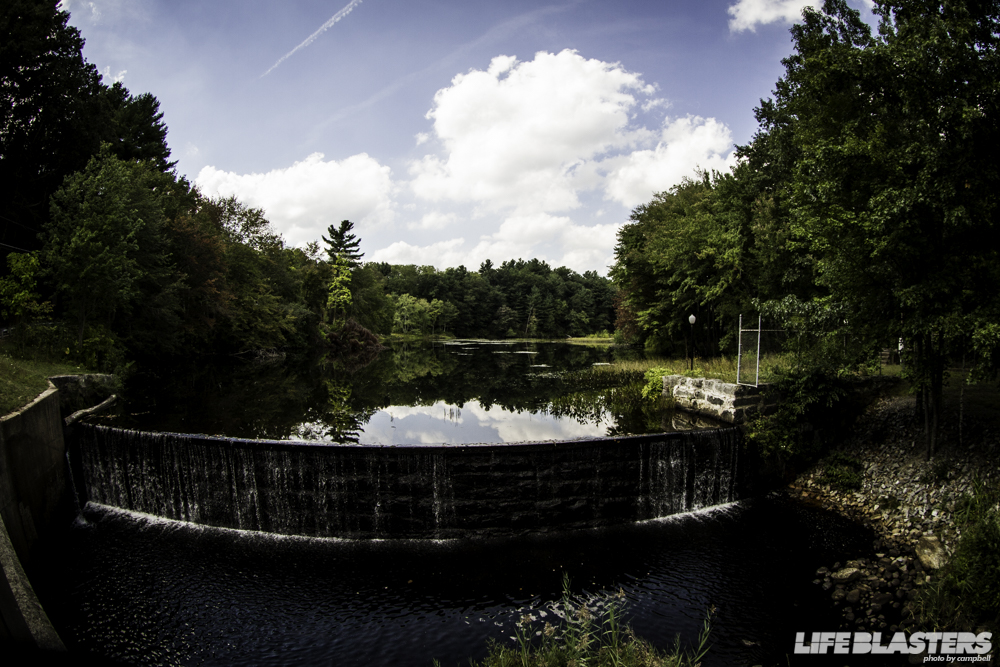 Photography and motorsports have brought me to a handful of places throughout the country and has introduced me to plenty of new people.  Back in 2014 I went up to Connecticut for a rally friend's BBQ where I made a new friend, Erin Kelly.  Later on I learned that Erin's brother, Jay Kelly, owns a skateboard company called American Nomad Skateboards.  So back in September of 2015 I went up to Connecticut, picked up Erin, and drove over to Jay's place for the American Nomad Annual Skate BBQ.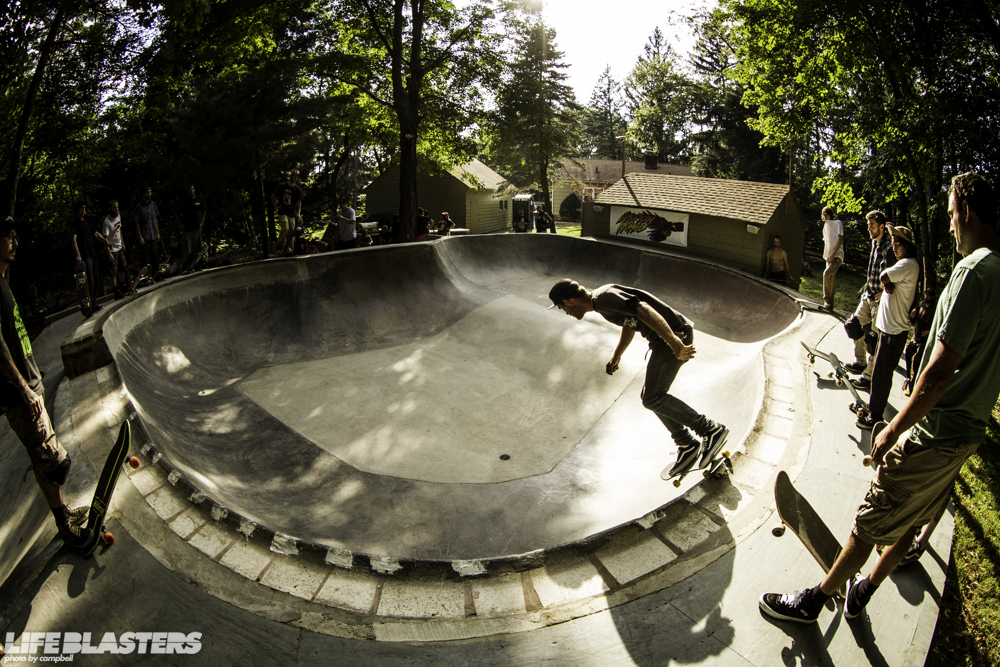 Showing up to the American Nomad HQ was great, just instant sensory overload.  Music blaring, grill fired up and just seeing a mini concrete park in someone's backyard, with a group of skaters cheering each other on, made this an entire new world for me.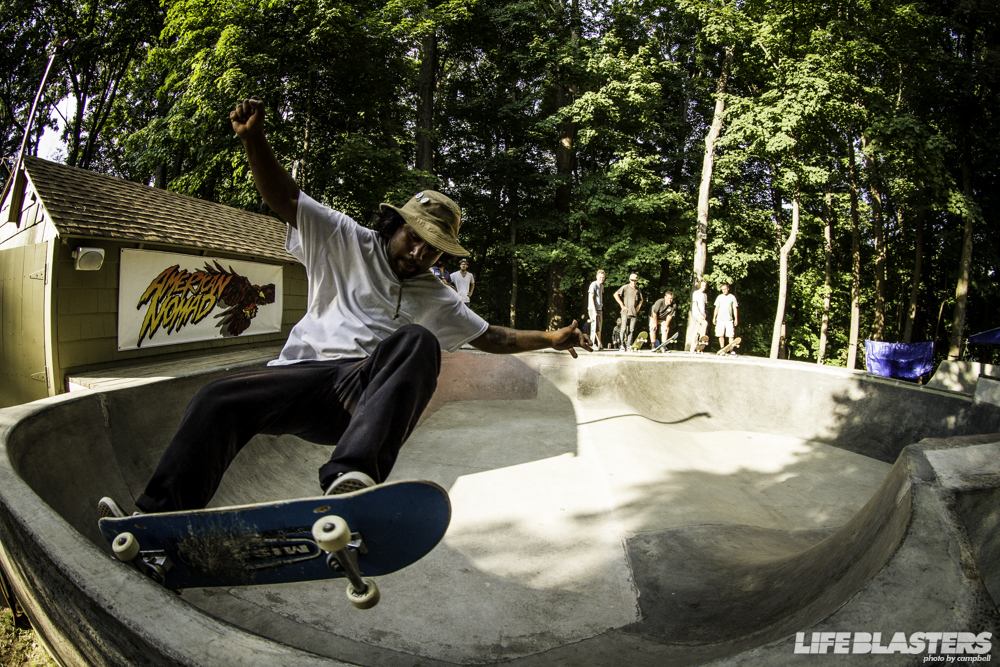 At first it was a little strange showing up to an event and only knowing one person in a 10 mile radius.  But once the camera came out, it was like any other event.  Shoot and move, shoot and move.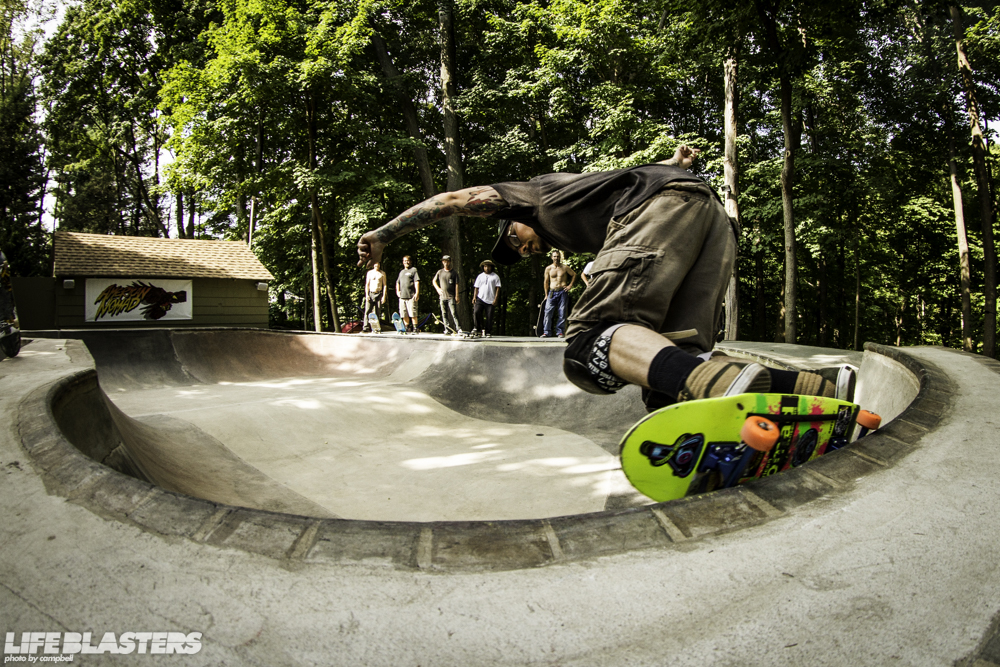 One of the few skaters I had a chance to chat with was American Nomad's Cam Taylor.  Within a few minutes of sitting next to each other, it was quickly determined by others that we were long lost twins.  It was probably due to the glasses and similar facial hair.  If I had more tattoos I could probably convince people that this was actually me in the photo, but that's just not the case.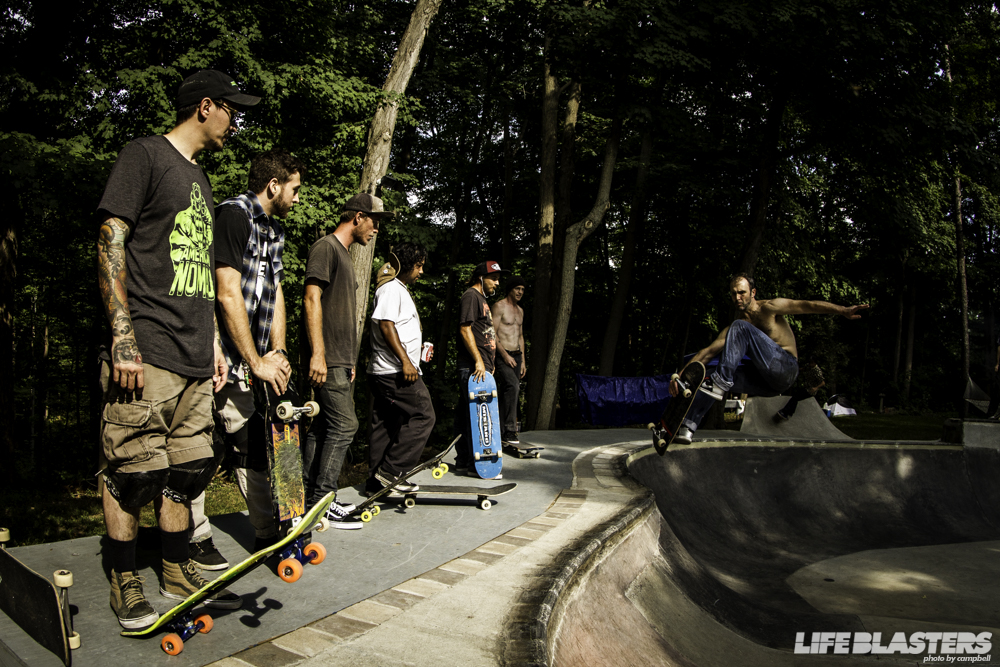 Now this guy has to be mentioned.  I'm bummed I didn't catch his name, but out of all the everyone he was the first of the group, at least since I showed up, that was going for air.  Time after time he would biff the landing but he was very determined.  When he finally aced the landing everyone lost it for a moment.  Not long after I heard someone give him credit for it and he responded with "Hey man, I'm 40 and still going!"  and to think of all the people out there that are younger and complain about getting older.  Kudos to this guy!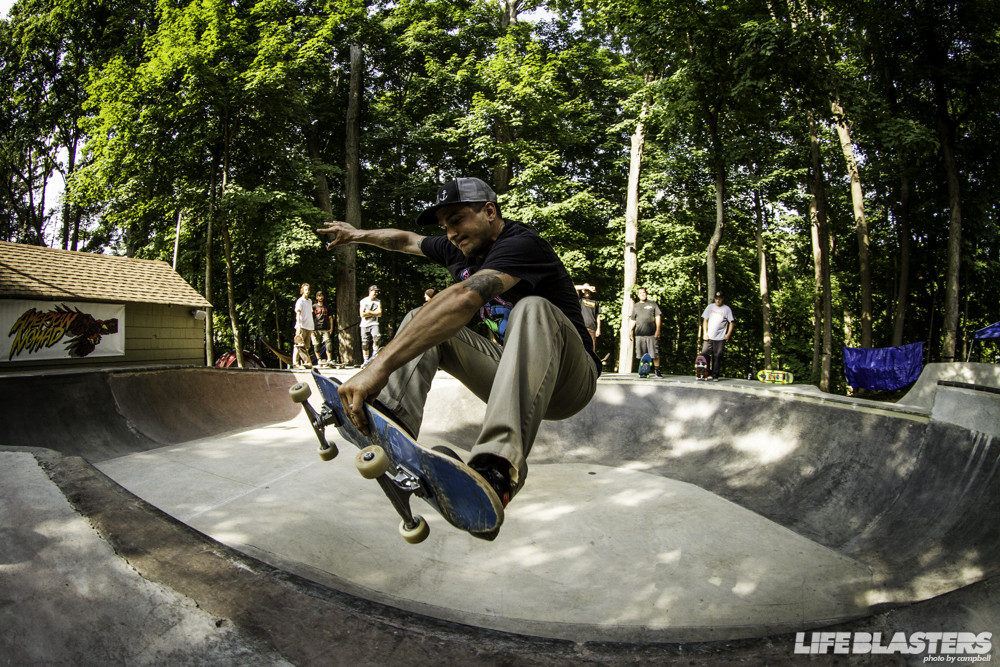 Naturally that excitement was contagious and we started seeing more air.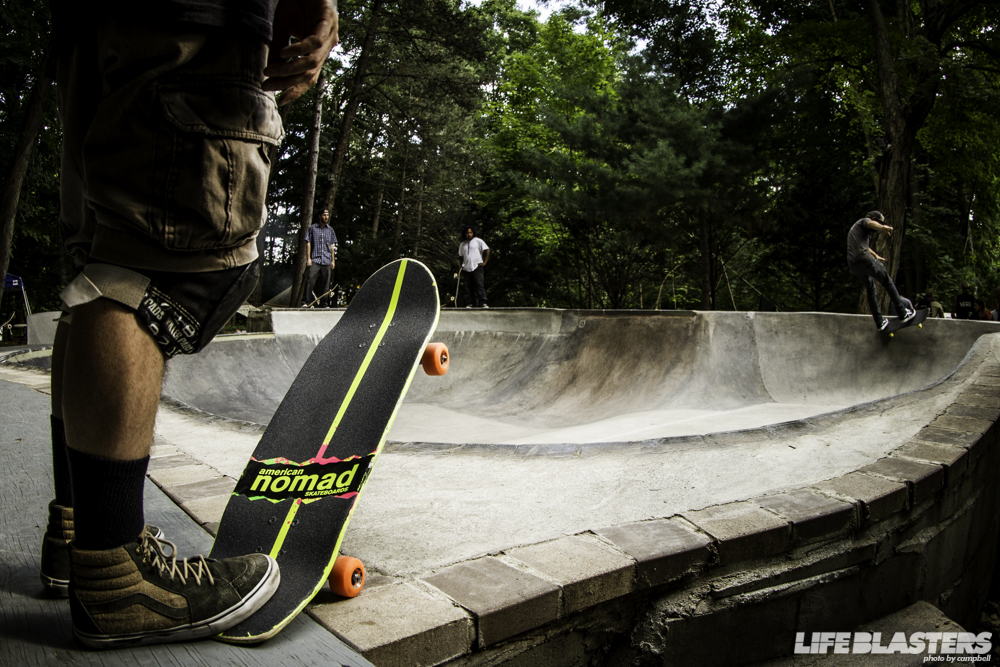 I've never been a great skater myself, but I did spend a few years downhill longboarding and tech sliding.  After seeing Cam tear it up on his American Nomad "Awesome" deck I immediately looked up the specs and 9.5″ wide wouldn't be bad for a slide board.  Not to mention my old slide deck is cracked.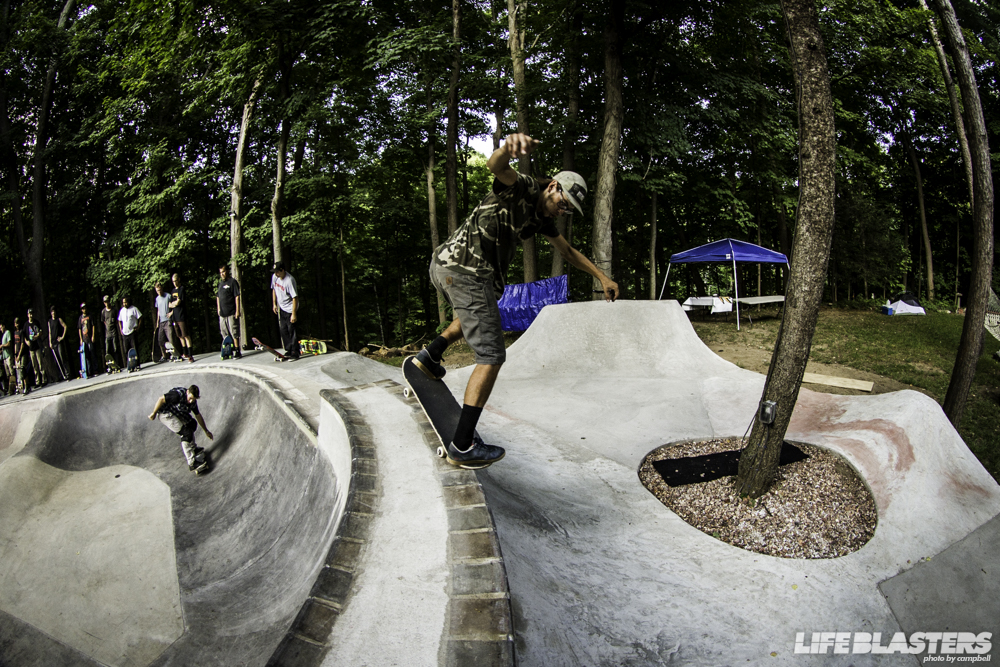 I was so fixated on the bowl that I completely forgot there were actually a few other features right behind me.  That was until I was reminded by the sound of someone grinding right up and landing directly behind the ledge I was shooting from.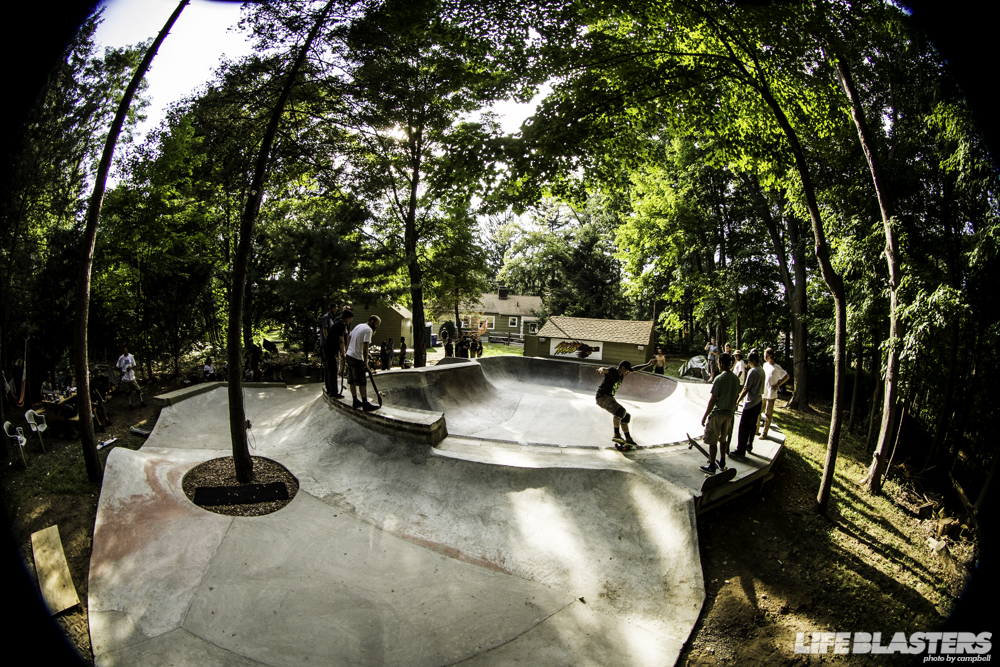 Jay's backyard was very impressive.  He's not too close to his neighbors and he's close enough to a busy road that disturbing anyone is virtually impossible.  So I would imagine the decision to start building was a no brainer for Jay.  So far this is what his four year project looks like.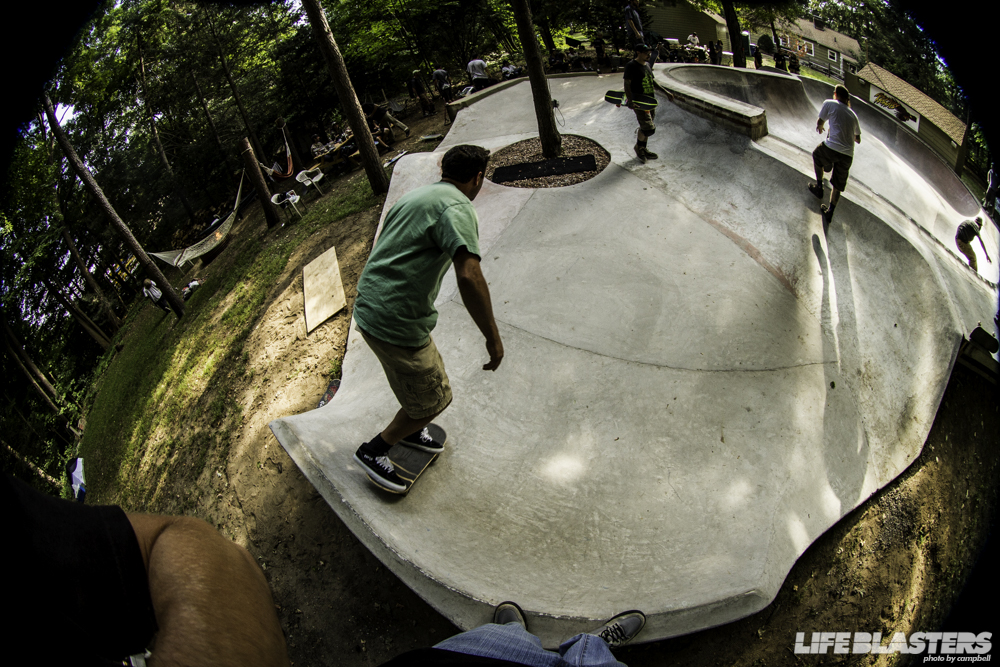 Before the event I had a chat with Master Blaster Bohan, and the second I told him "I'm shooting a skate event!"  he replied with "You might want to rent a fisheye!"  I had never used a fisheye lens before so it was a challenge, but definitely worth it.  Without it, I wouldn't have been able to show off when someone did a kick turn right under my feet.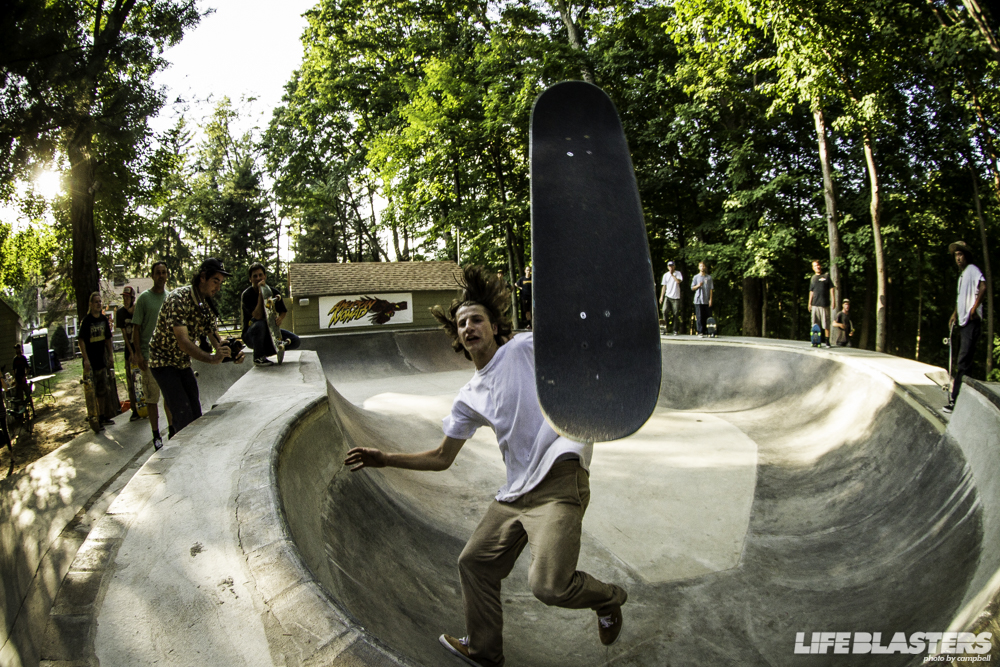 Hours into the day I finally had my first close call.  Somehow I was more nervous about getting hit with someone's board over the usual threat, race cars.  I remember seeing this board coming at me and this guy yelling "SORRY MAN!" before his feet even hit the ground.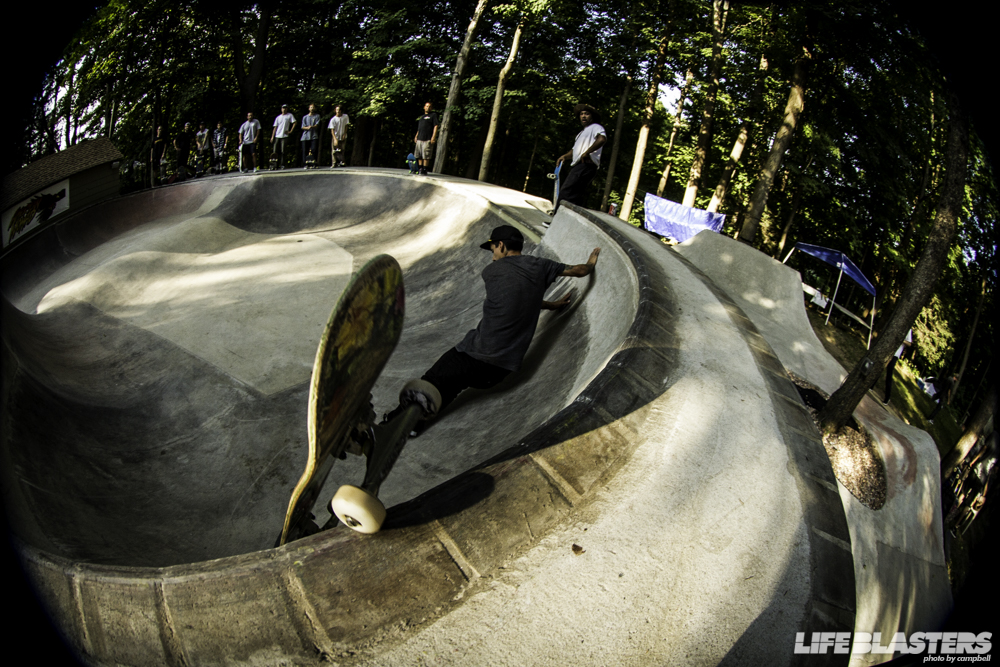 Immediately after the first close call, a failed board slide also made it's way in my direction.  For whatever reason I became a magnet for a few runs and decided it was time for a break.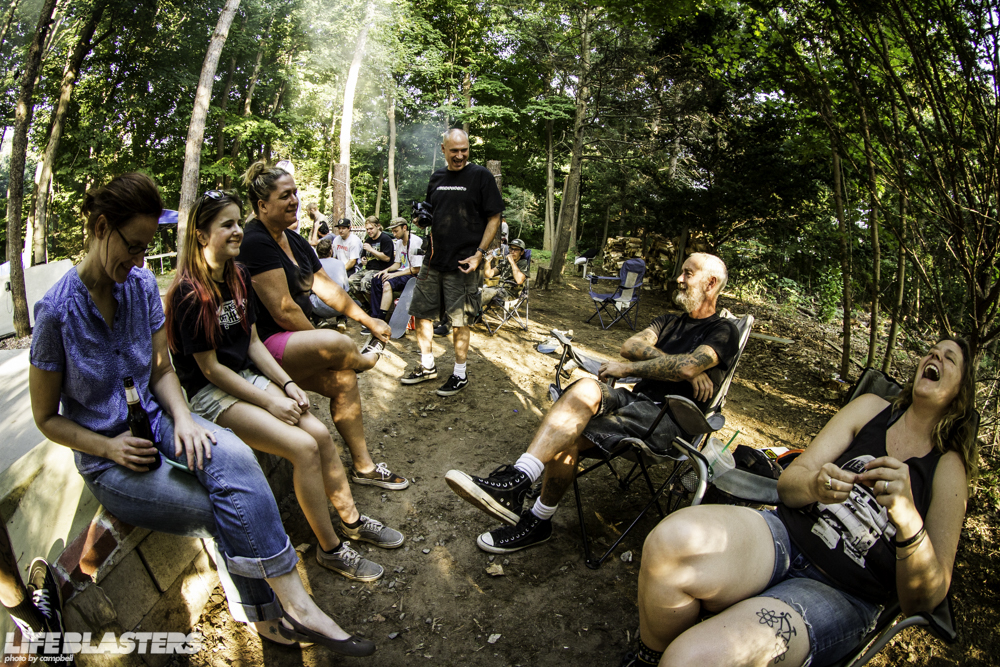 The bearded man sitting on the right was Mr. Bill Danworth himself, Jay Kelly's business partner as well as the face of American Nomad.  Having been in the scene since the mid 70's, back in Detroit, Danforth has skated with some of history's best.  During in the late 80's he was even on Tony Alva's skate team.  The man is now into his 50's and still making it happen.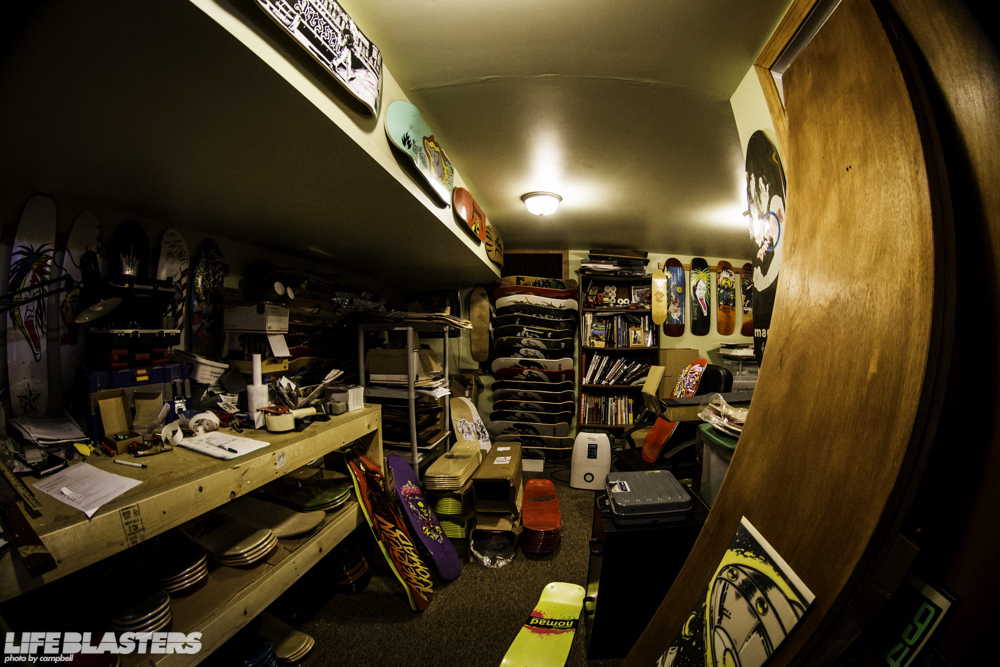 I later had a chance at a sneak peek of the secret lair that is the American Nomad studio.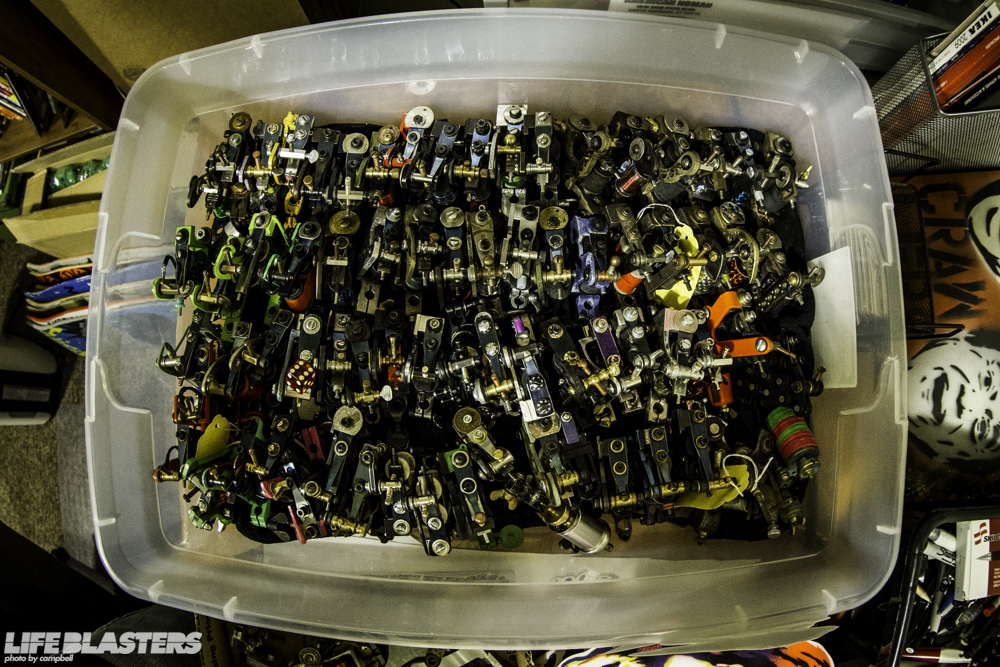 Another thing I learned about Jay Kelly is that he's also a tattoo artist and owns a shop in West Hartford, Connecticut called Shamrock Tattoo Company.  Another thing I learned was that he also builds custom tattoo guns.  What else do you do Jay?!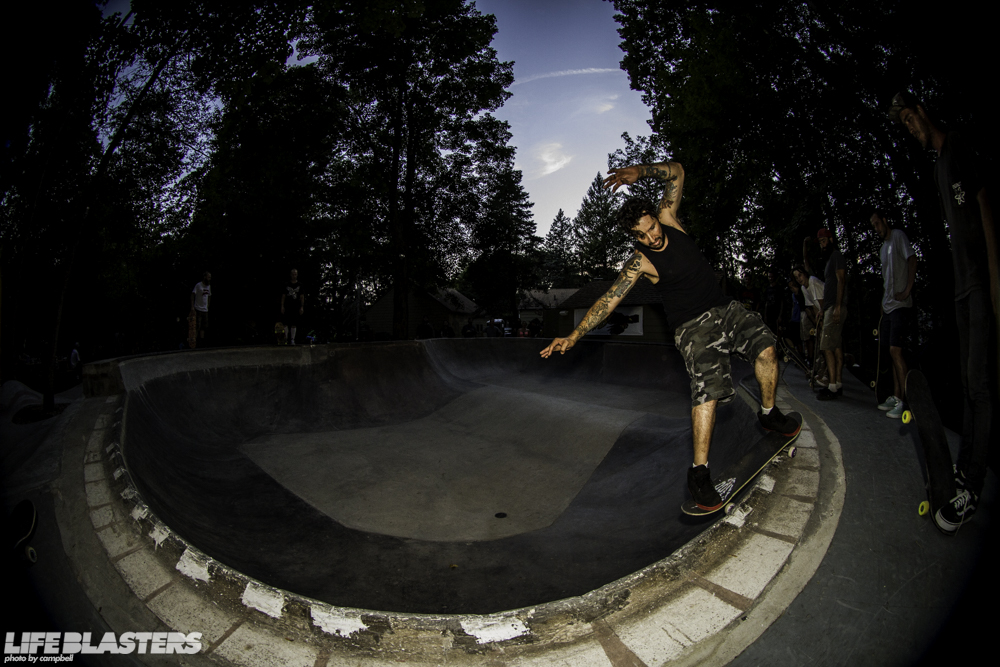 After the quick tour, we came back out and lost the beautiful sunlight we had coming through the trees.  Luckily skaters were still coming in from all over, like Tato Feliciano who seemed to get on board just in time for the night sessions.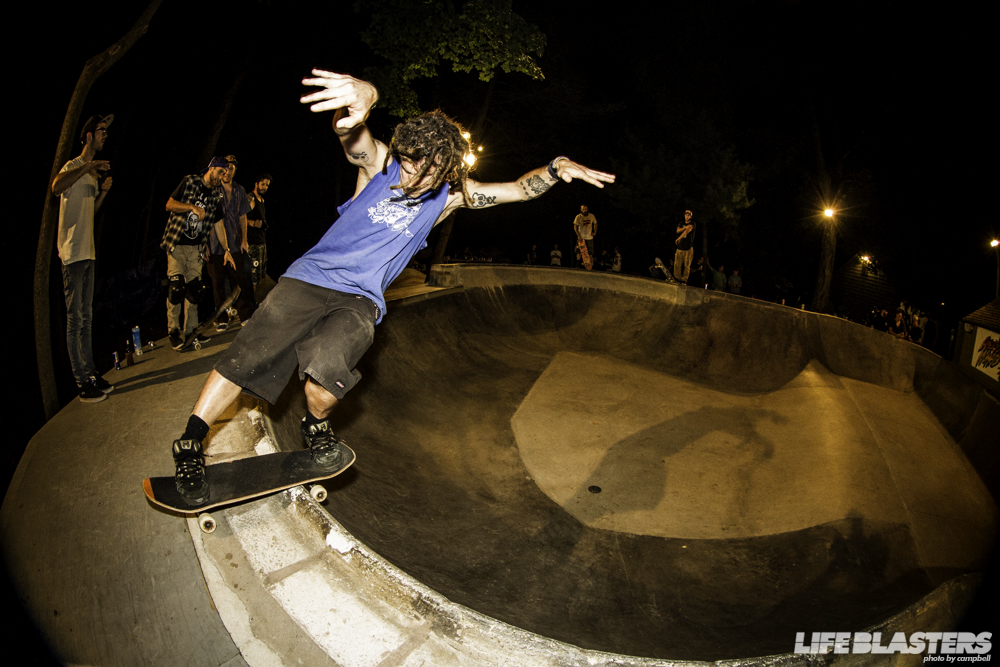 As far as my skate trick knowledge, I haven't gotten too far past Tony Hawk's Pro Skater 2.  But I do believe Bohan called this one "The Thriller"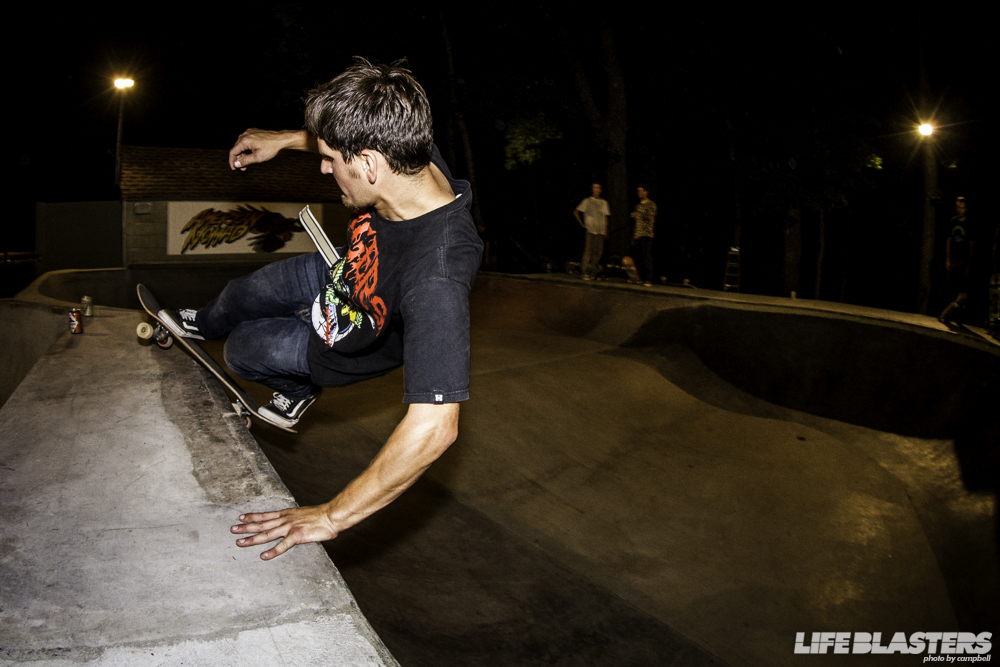 Hours and hours of shooting these guys and it's crazy to think they just couldn't stop.  There wasn't a single moment throughout the entire day where the bowl was empty.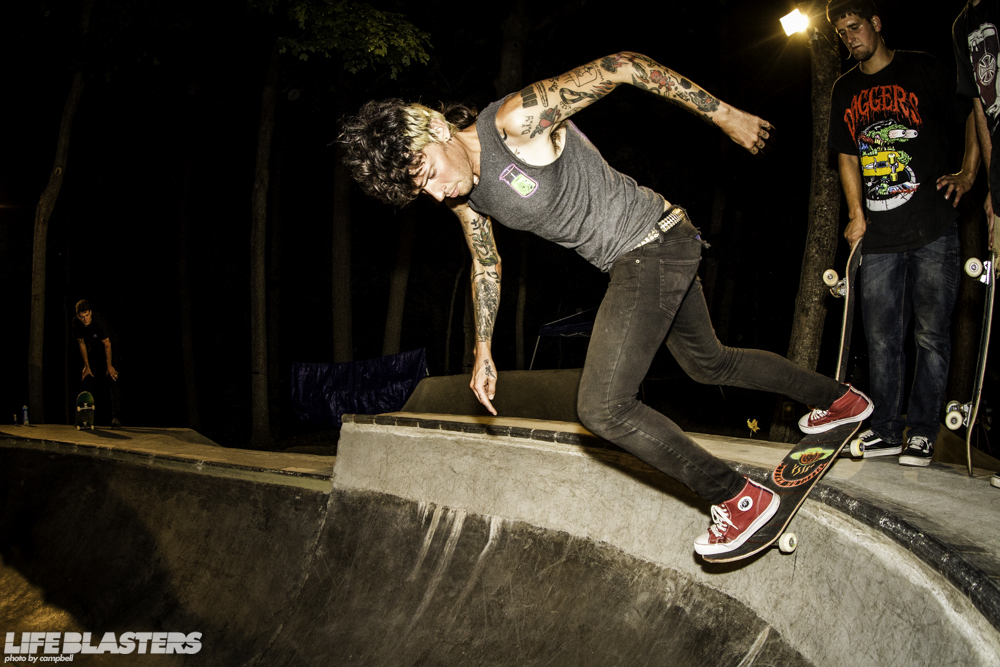 Earlier in the day I was chatting with Brit Keller, of Speedlab Wheels, and she had mentioned that the entire weekend, the American Nomad BBQ was basically a revolving door for skaters.  Skaters like, Colorado native, Greg Harbour who showed up and dropped right in almost immediately.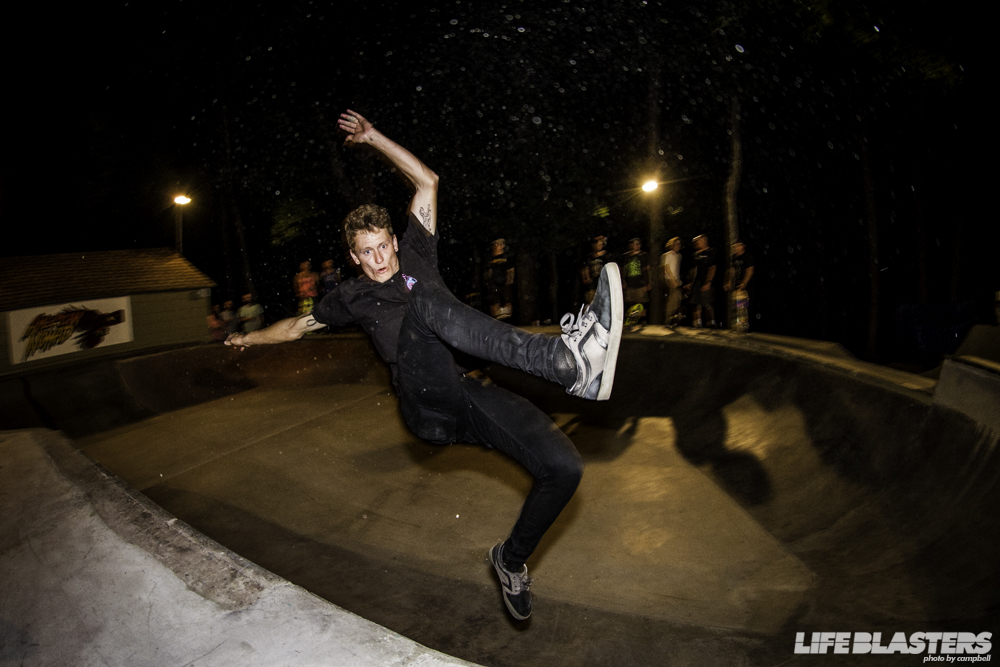 Jay's BBQ was such an event and seems to attract people from all over. Casey Meyer made the trip from the opposite side of the country, California.  Despite this photo, Casey is a great skater.  But even the pros bail from time to time.  I did happen to run into this video of him on YouTube though, in case anyone needs any convincing SOTW: Casey Meyer.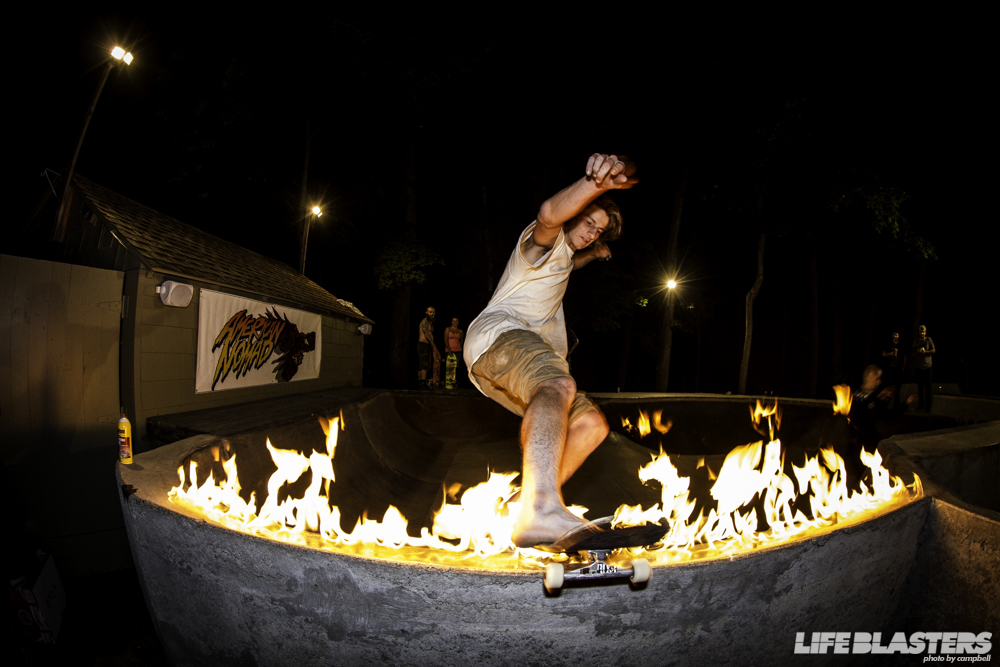 I had finally decided to pack up my gear and head out when suddenly, I noticed Jay walk by with some kind of lighter fluid and a lighter.  I had a pretty good idea what he was up to, but had to investigate, so I grabbed my camera and followed along.  Some folks can say they've walked on hot coals, barefoot.  I have a feeling that even less can say they have stalled on a fiery pool ledge, barefoot.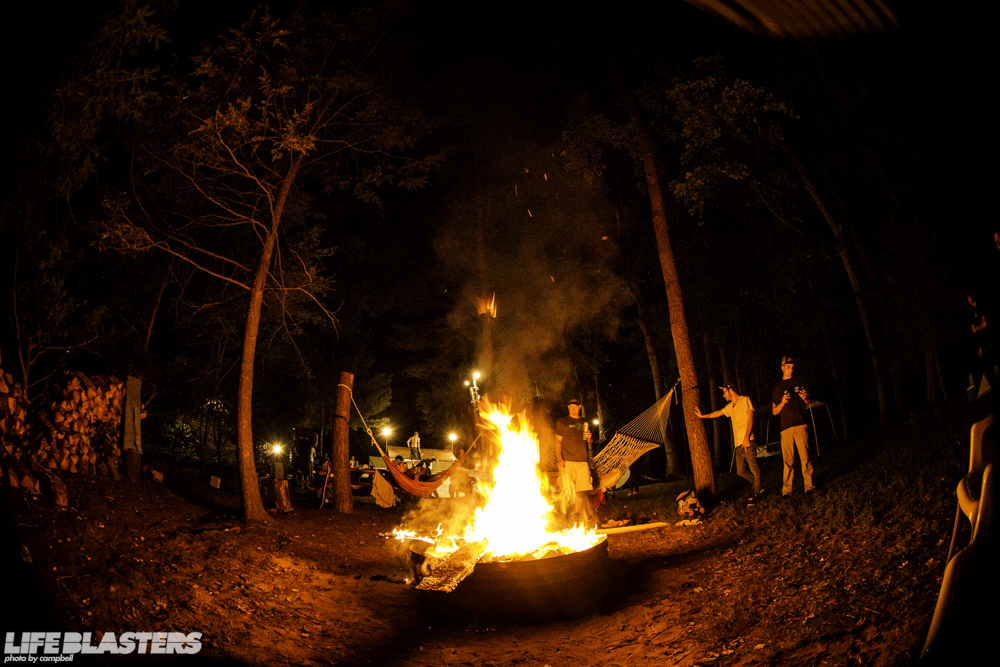 There was really no better way to end the day of shooting than just hanging out with friends and sharing stories around a bonfire.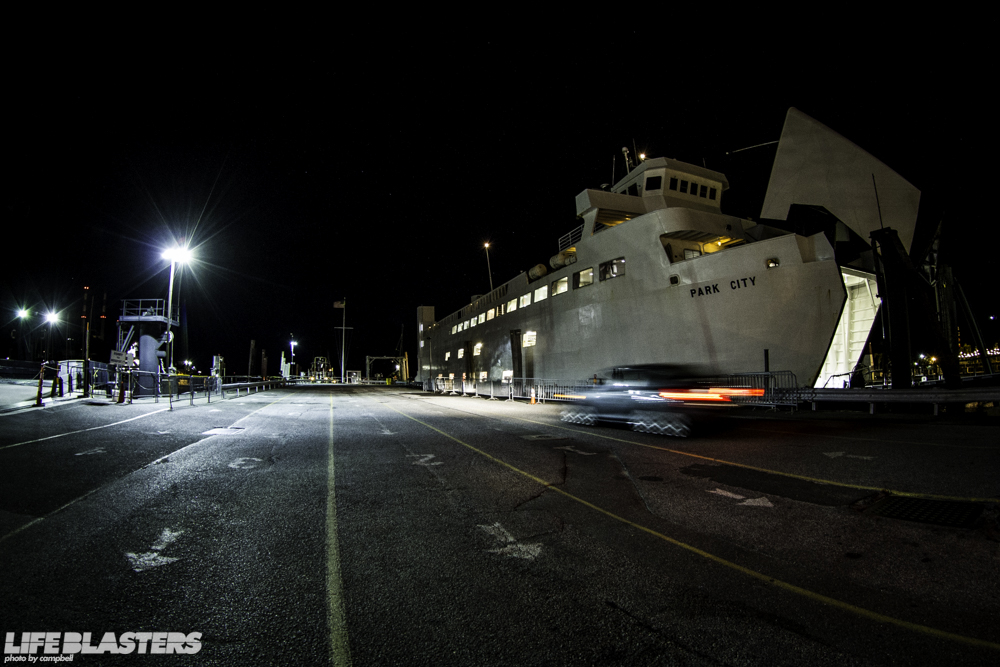 And just like that, a couple hundred miles and a ferry ride later I was back on Long Island and already dreaming about next year's BBQ.  Thanks for having me American Nomad, it was definitely a fun time.