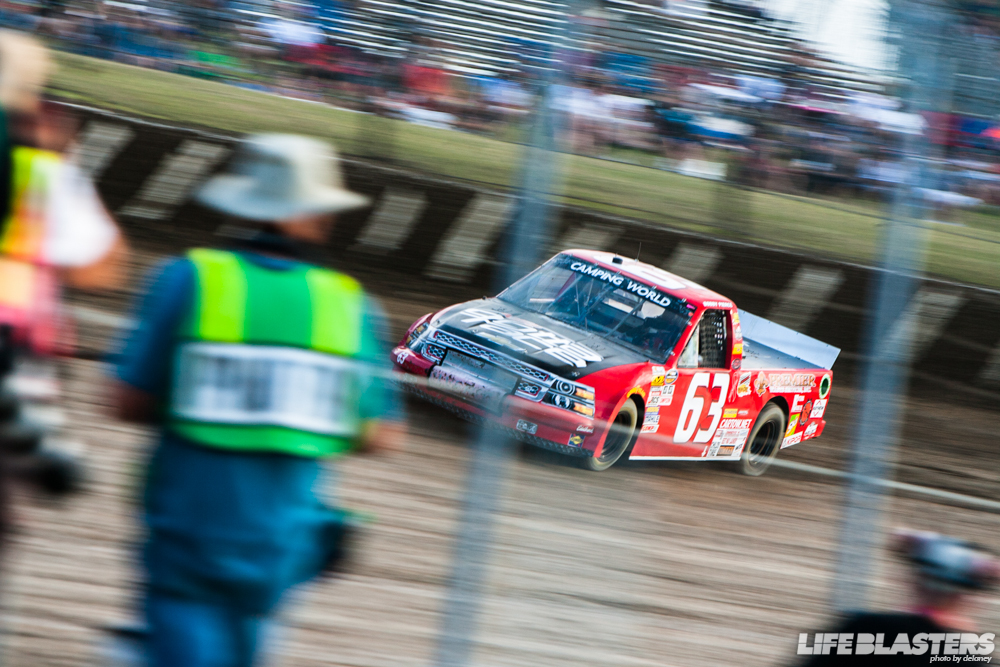 I've wanted to do this story for awhile now, but never felt comfortable enough to do it. And there's two reasons for that. One, it's NASCAR. I know NASCAR doesn't always get the best reputation with people because it's boring or too repetitive. Another reason was because I've always gone as a spectator so my photos were always from far away and through fences. But luckily this year NASCAR was cool enough to grant me a media pass. Wednesday night dirt track racing at Eldora? My kind of night.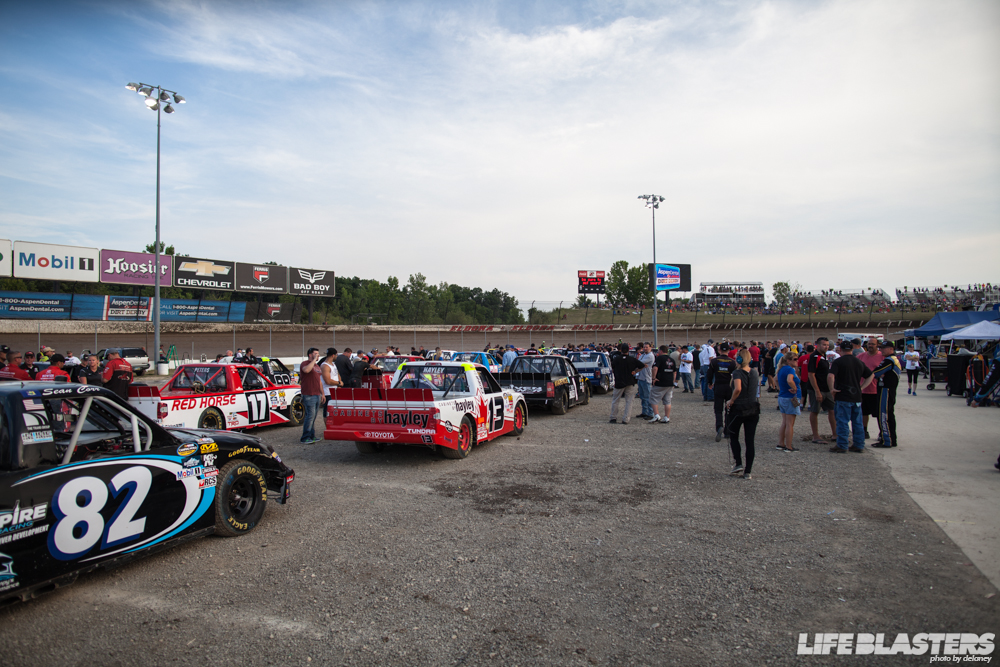 I follow the Sprint Cup Series pretty close, and even a little of the Nationwide Series, but the Camping World Truck Series is a bit out of my radar. When I got to the track I headed right to the infield, and realized I had almost no idea who anyone was. This race used to be called he Mudsummer Classic, but as the story goes, baseball fans confused Mudsummer and Midsummer. If you're traveling to the middle of nowhere Ohio on a Wednesday night thinking it's the Midsummer Classic, I don't think that's NASCAR's problem. But that's just me.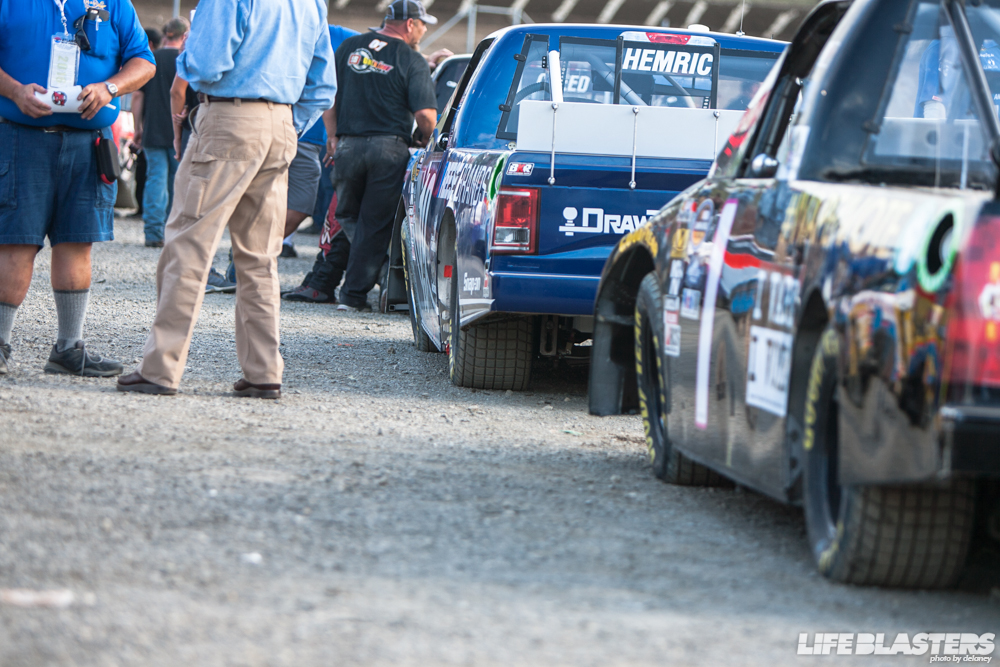 But I was curious about the tires the trucks ran. Obviously they weren't running slicks since this was a dirt track, so the trucks ran tires that looked like something you'd see on a sprint car. Also, check out the crazy positive camber on the front tires.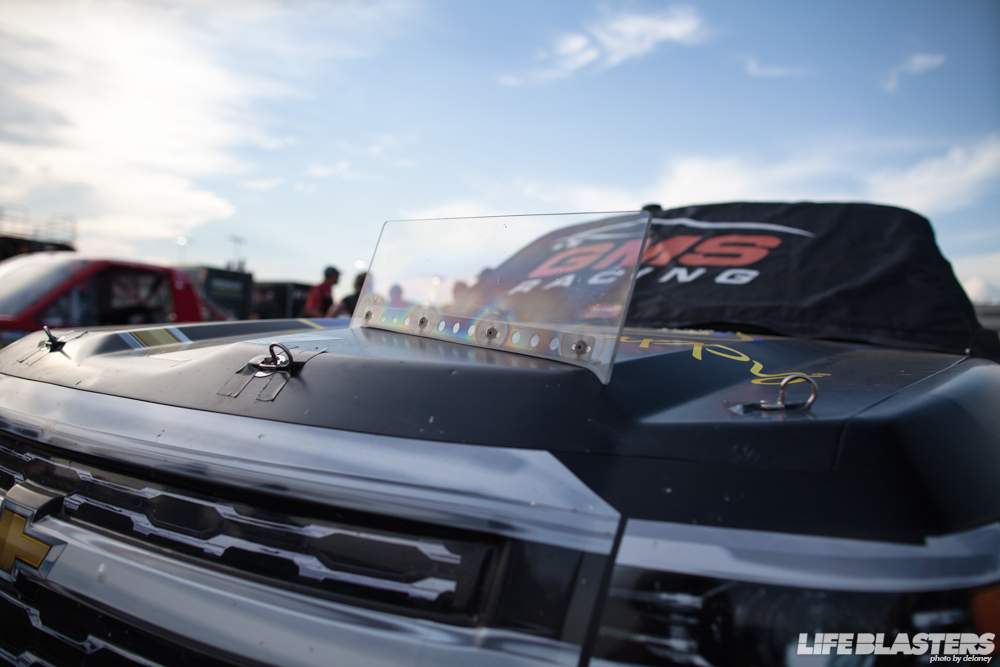 Some trucks run a little plexiglass shield to try to keep the window as clean as possible while out on the track with 32 other trucks.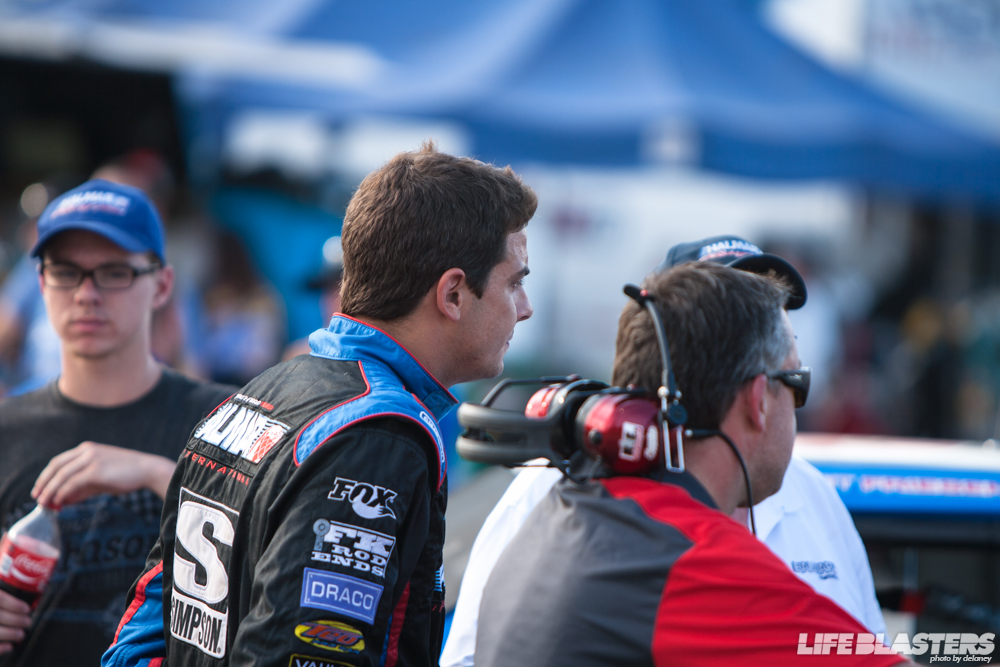 I saw one of the photographers hanging around this guy and taking photos. I felt so out of the loop because I had no idea who he was.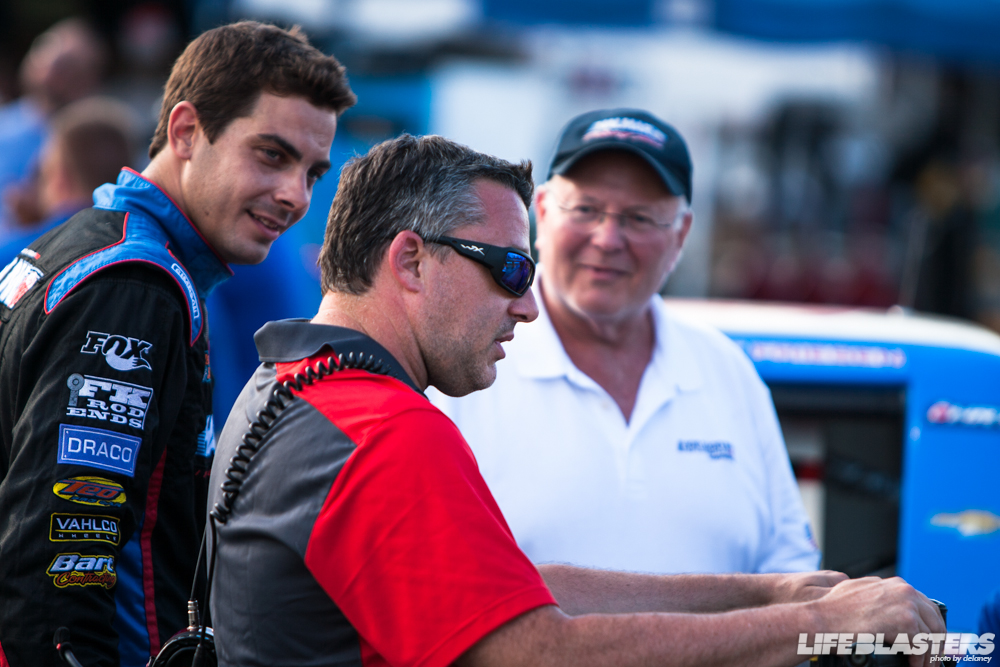 Then I realized it was Tony Stewart she was taking photos of. He owns Eldora Speedway and is one of the reasons the NASCAR Trucks race here today.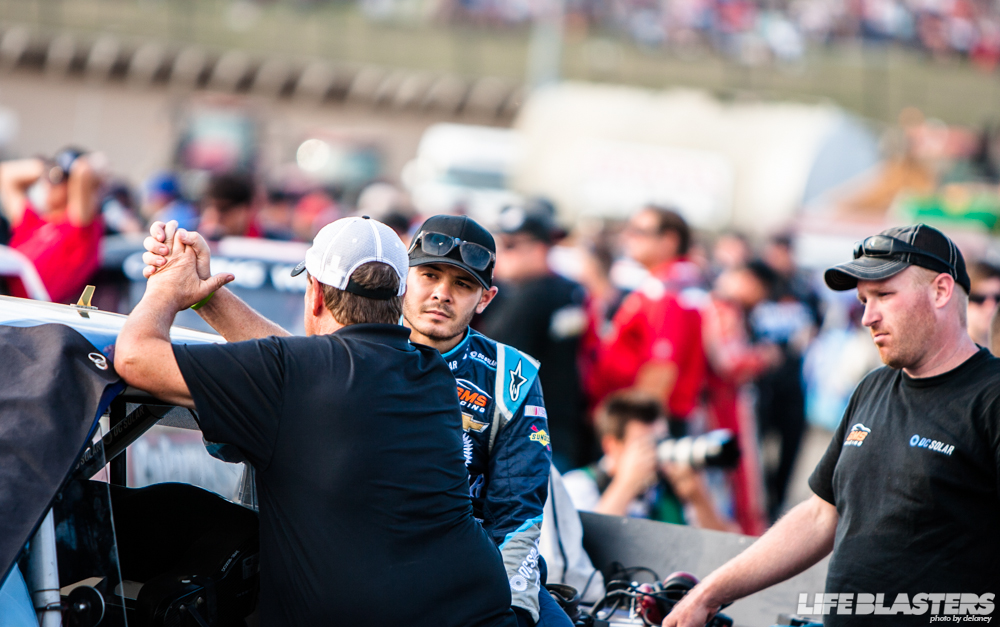 I was more excited to see Kyle Larson though. I've been a fan of his since he made it up to the Sprint Cup Series, so seeing him race here was awesome.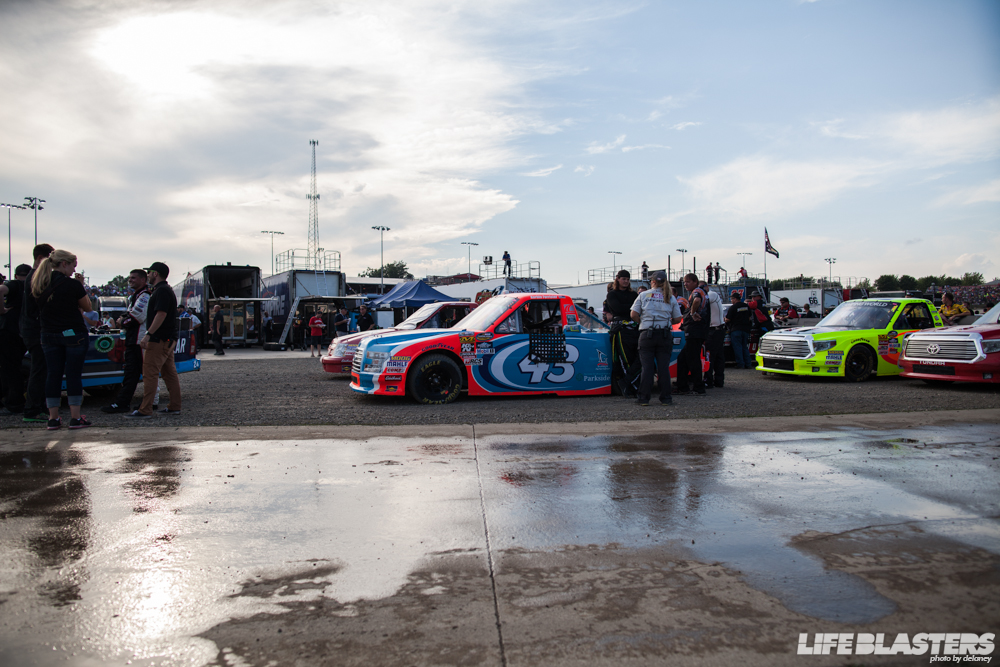 Only 32 trucks are allowed to start the actual race, so there are qualifying heats before the race starts.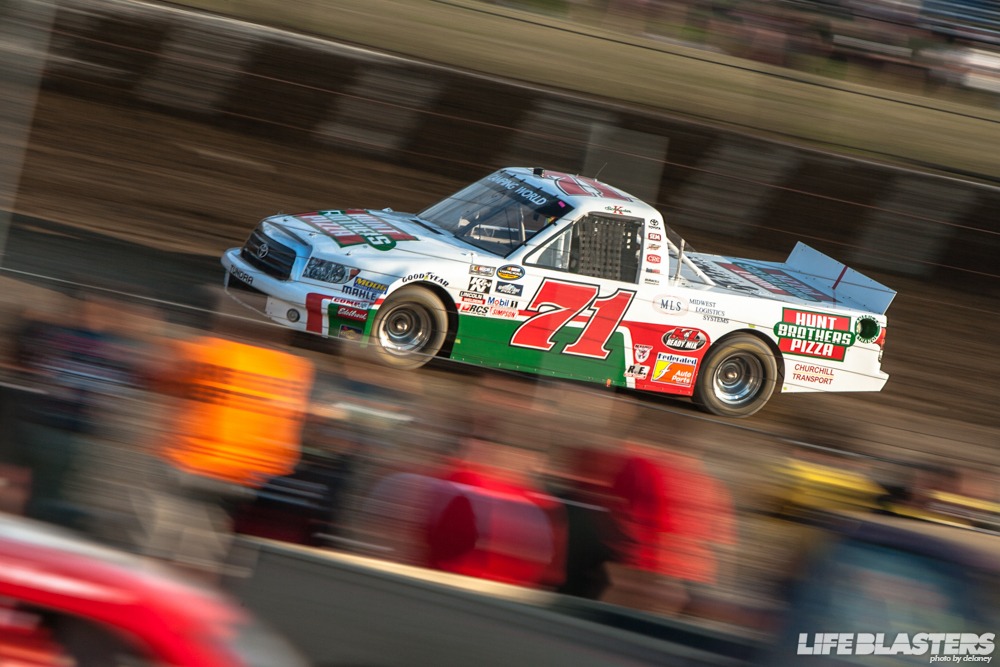 There were only about five trucks in each of the qualifying races, but I quickly learned how loud the infield was.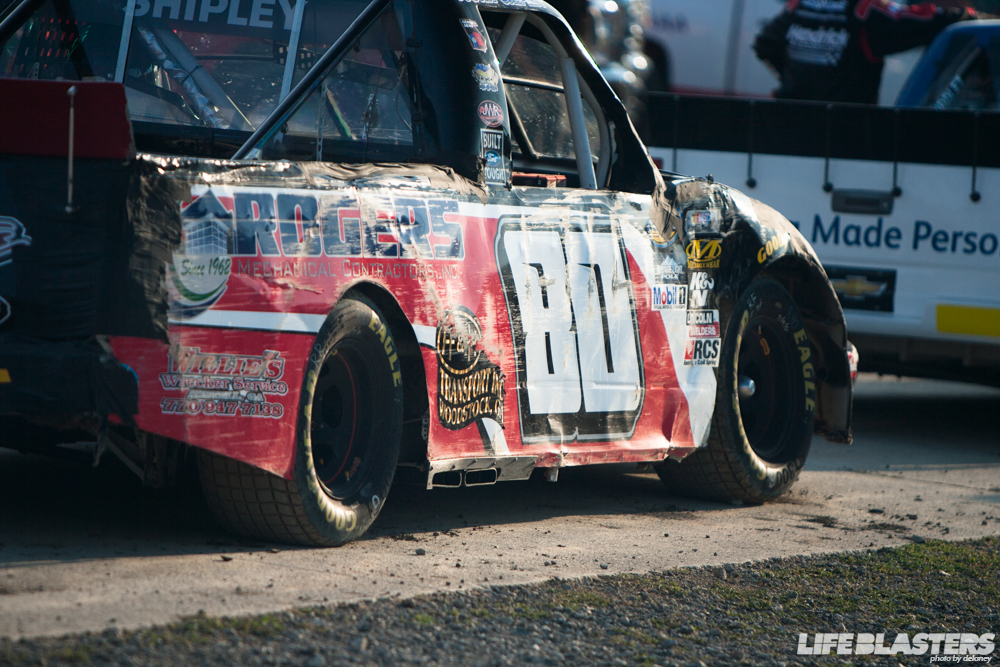 I'm not sure how this goes, but I'm guessing some teams bring out their most beat up truck to run. This truck was in line for the qualifying race and it was already beat. It really doesn't matter since Eldora isn't really an aero heavy track.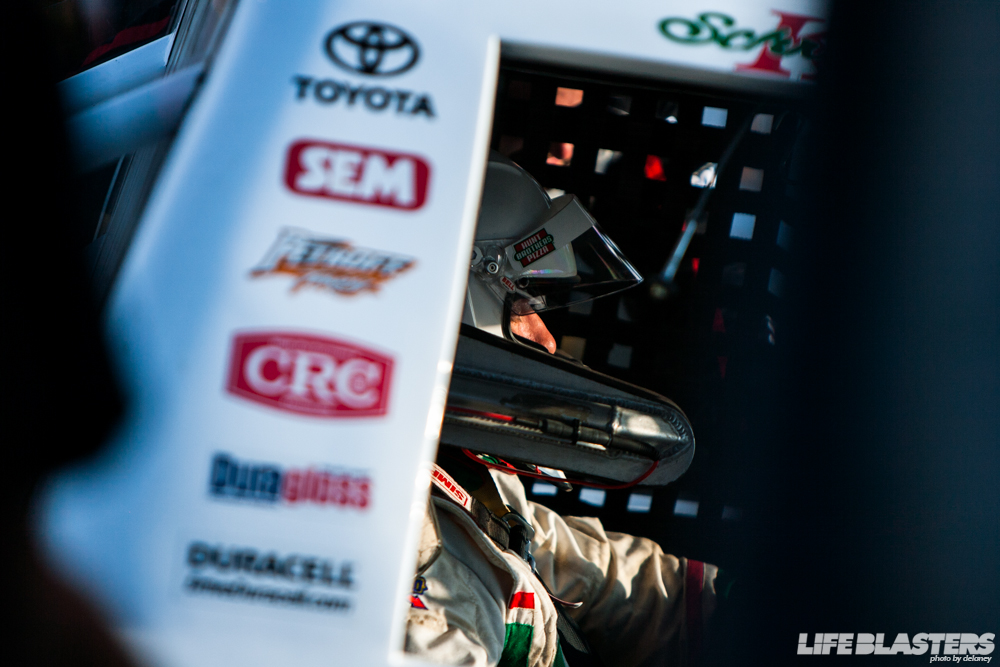 It was cool to see Kyle, but seeing Kenny Schrader was awesome too. He is one of the old school NASCAR racers that is still out racing.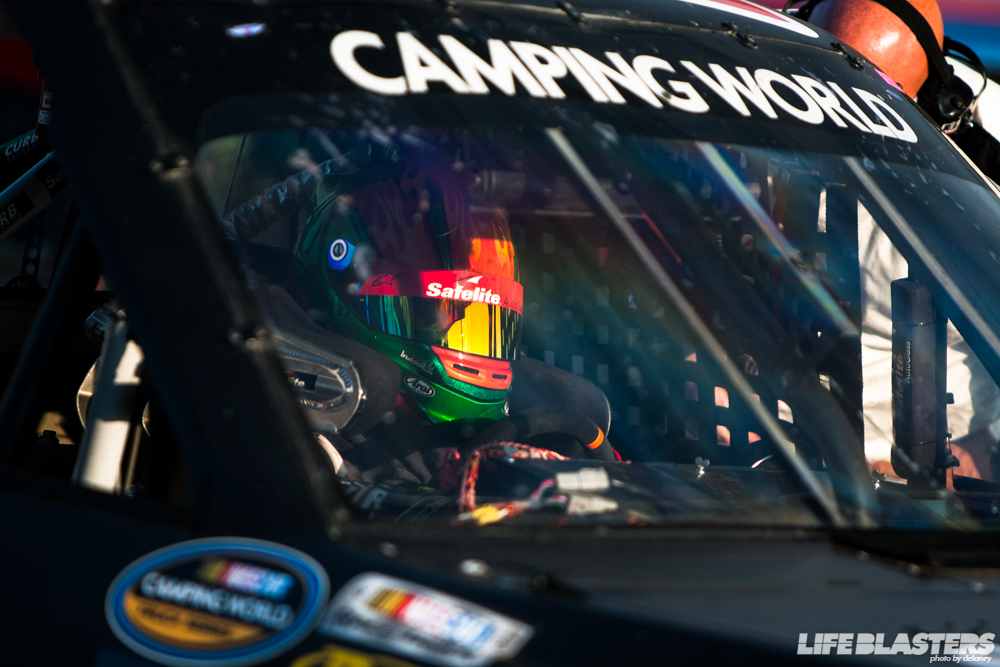 Another driver I was excited to see was Rico Abreu.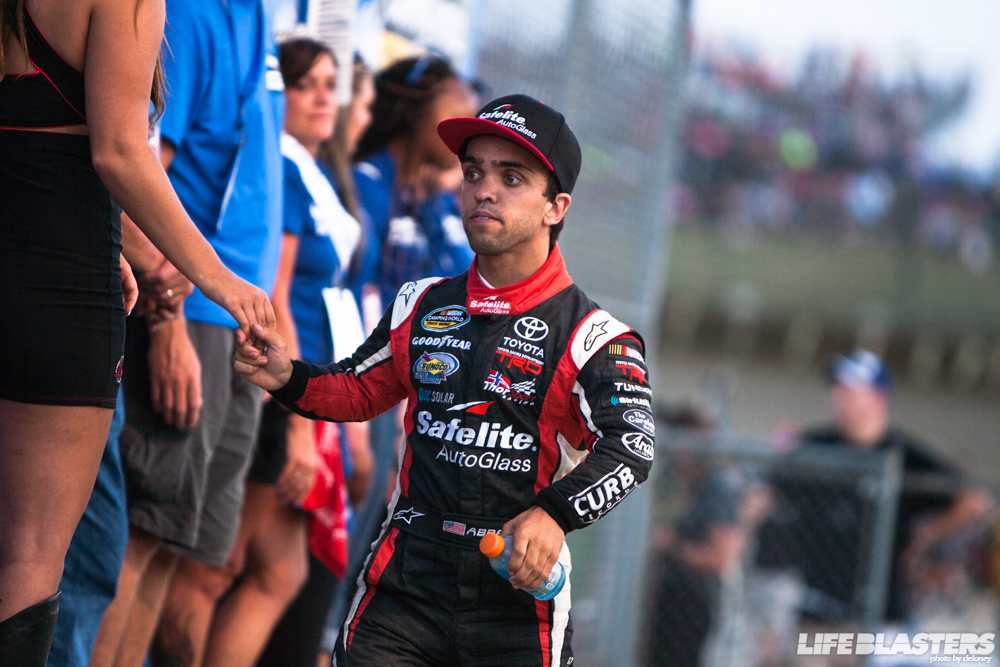 Rico is 4'4″, but that doesn't stop him. He's been moving through the racing ranks and is currently in his first year in the Truck Series.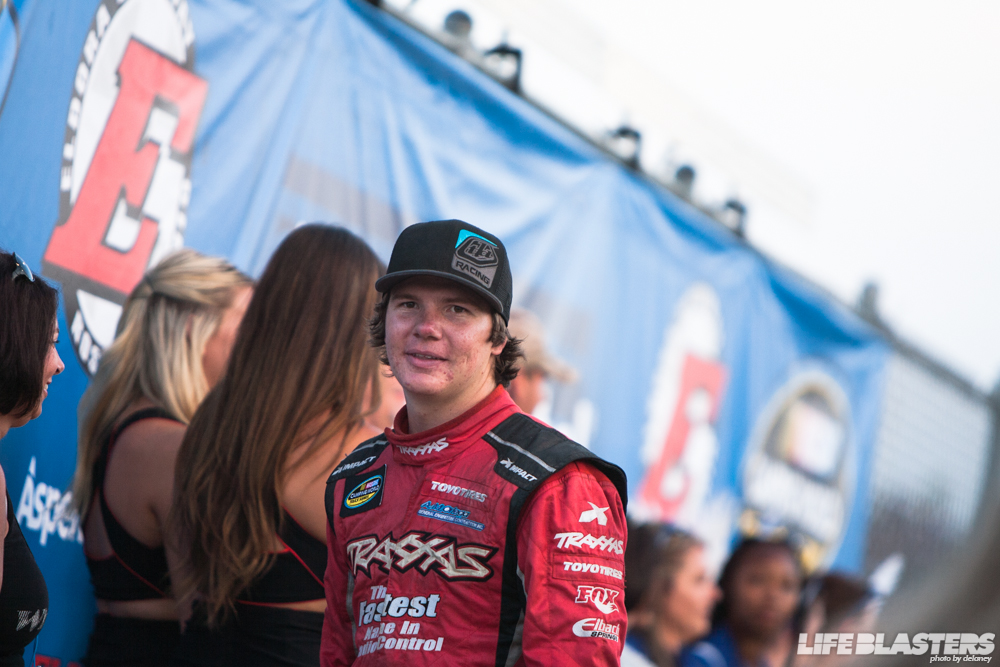 I'm 25, but I felt old watching the driver introductions. It's incredible to see the age of the drivers, like Sheldon Creed here. He's 18.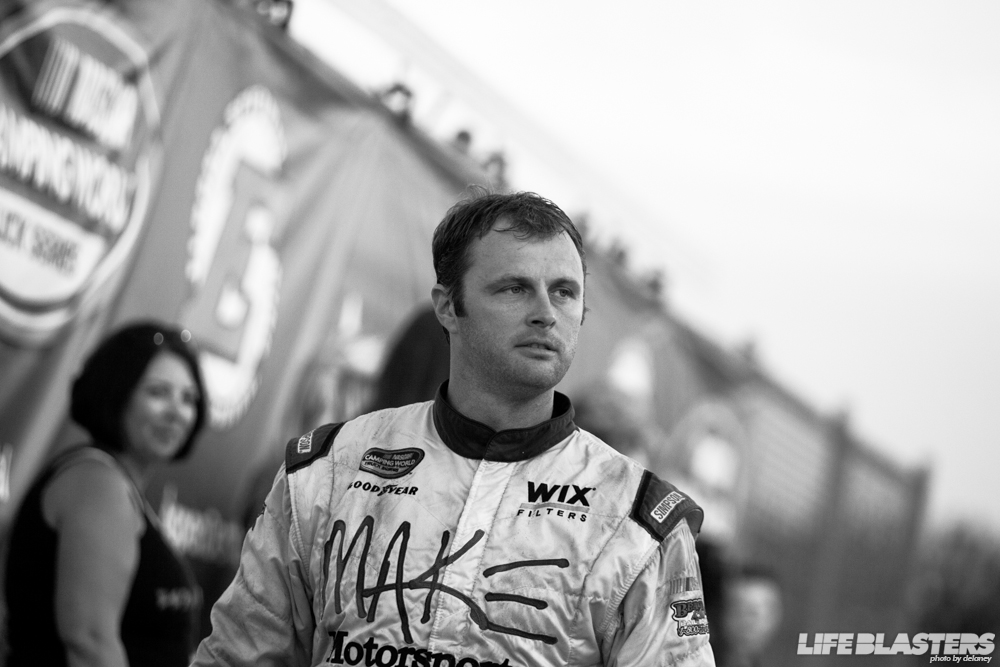 Another name that was a throwback for me was Travis Kvapil.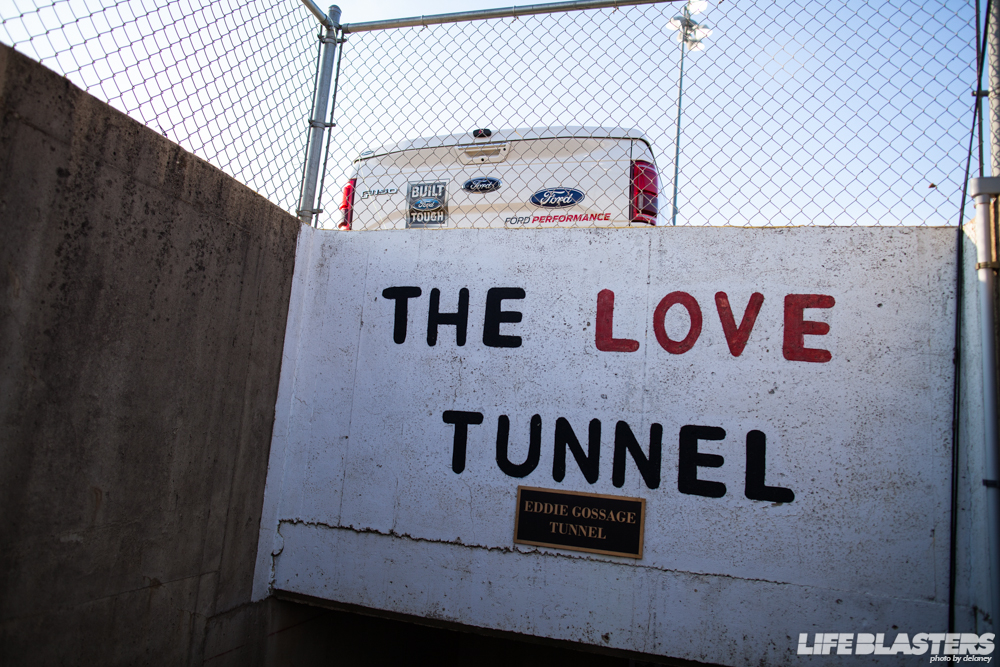 Before the race started I had to go get some food. Including the famous Eldora Pizza Burger. Just come to Eldora and try one.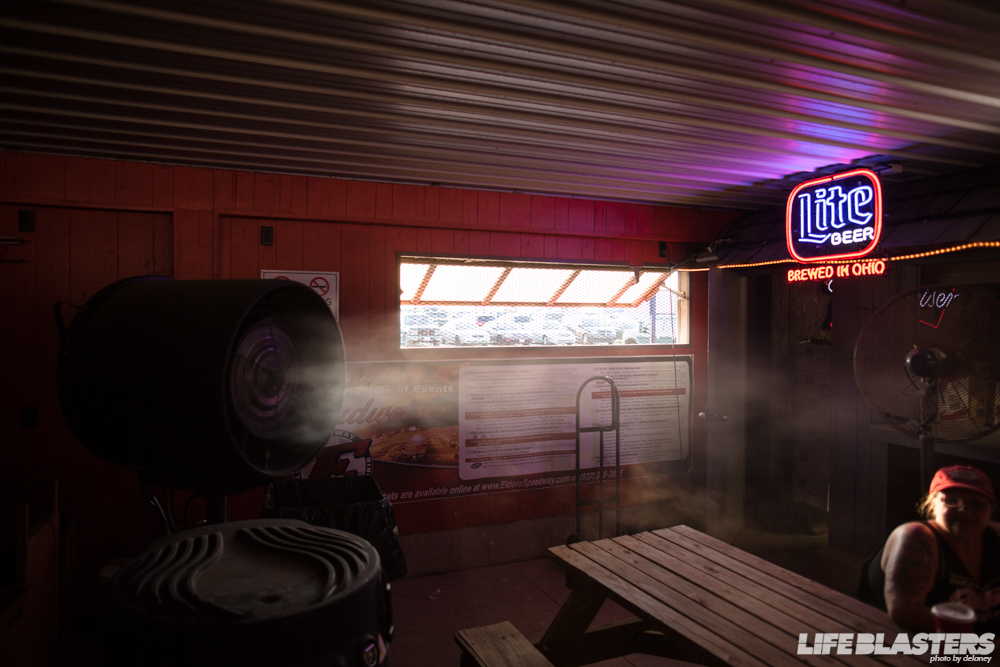 A lot of the US has been going through a pretty big heat wave, so the Eldora crew set up these fans that blew water. It felt so good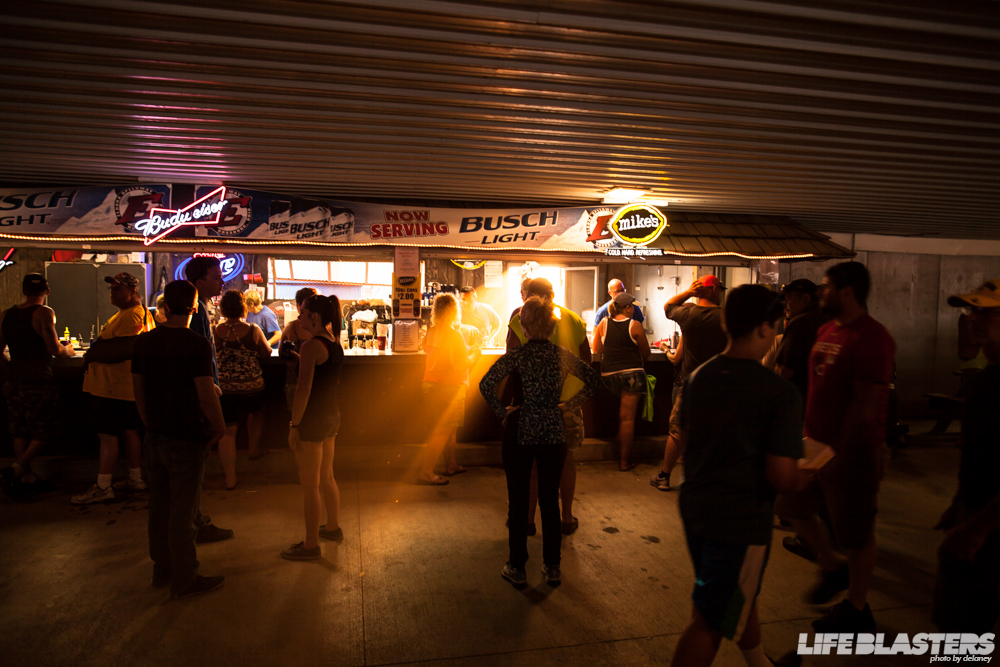 People also needed to stay hydrated. So of course being a NASCAR race, the people followed the light to the beer tent.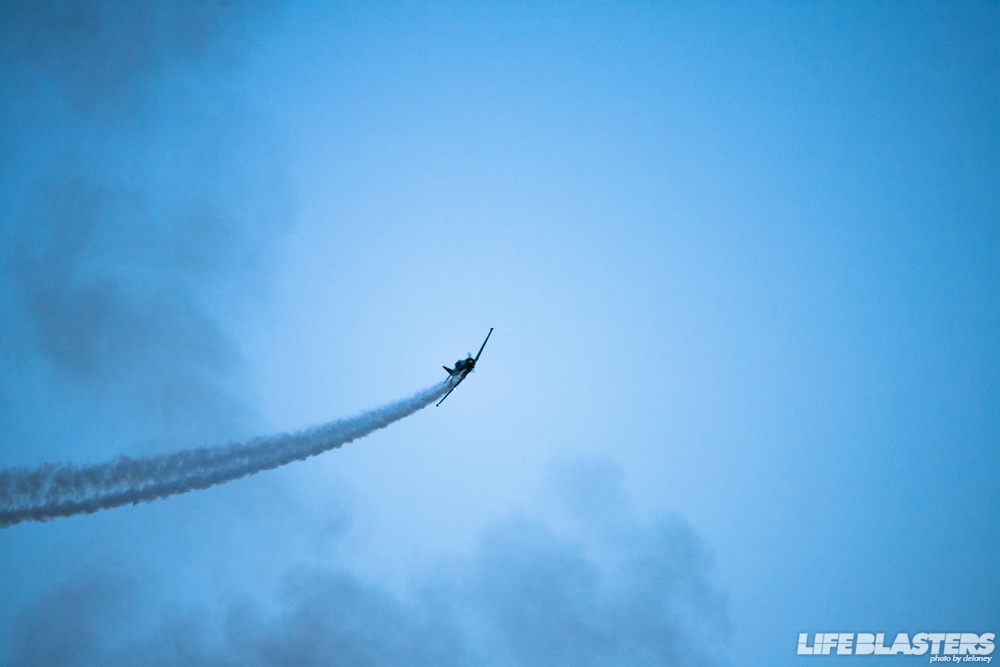 Then it was time for the race.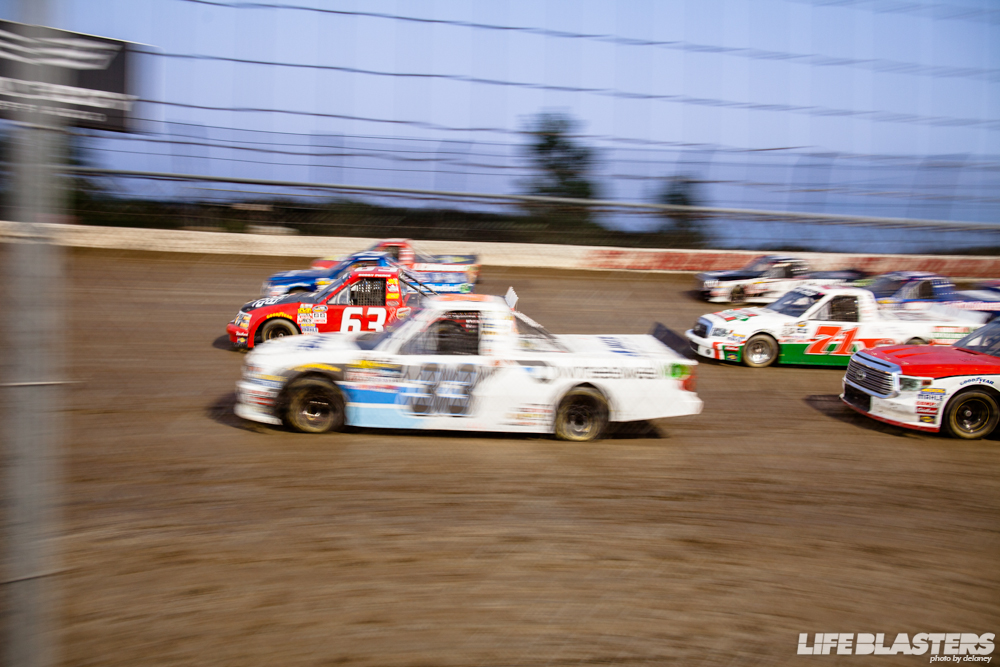 The Indy 500 has their three wide start, but Eldora has their four wide salute to the crowd.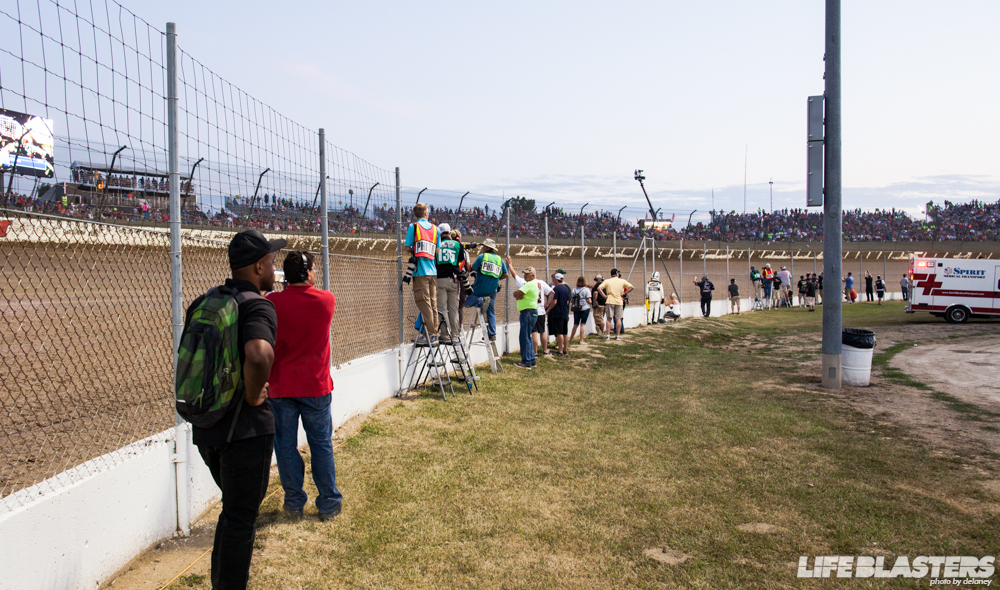 I learned pretty quickly that stepladders are a big plus when shooting at Eldora since all the cutouts are at the top of the fence.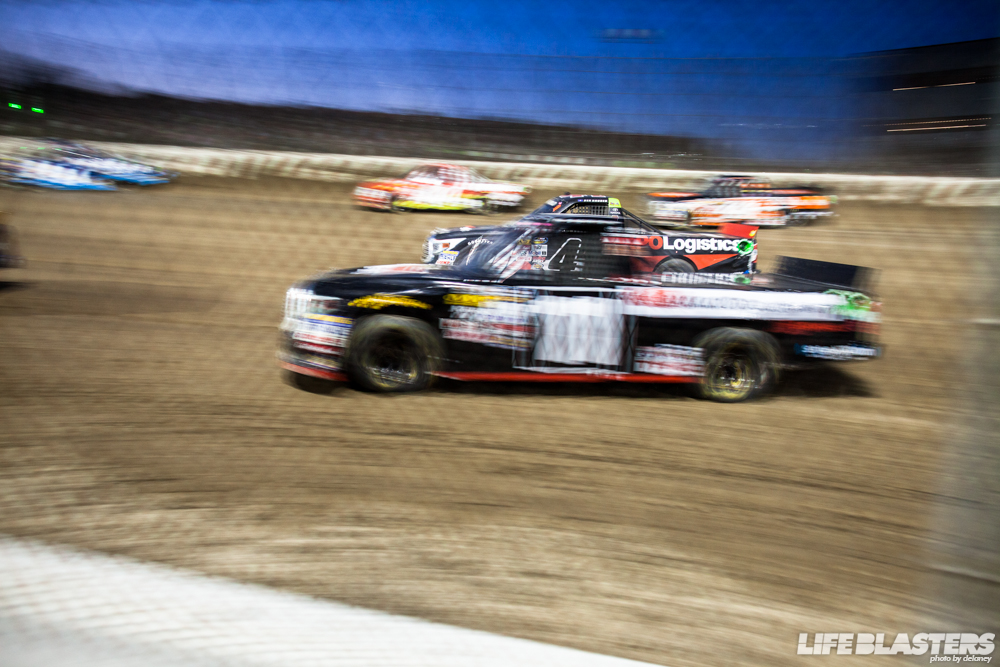 But whatever, this is Life Blasters, we do things differently.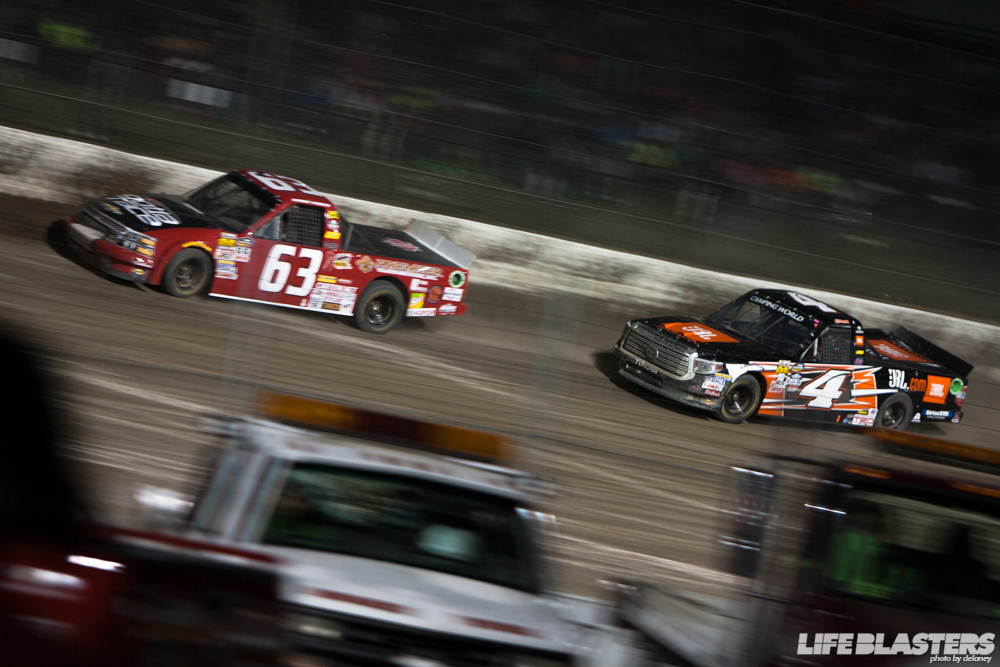 I realize that NASCAR at an oval is one of the hardest things to shoot because it really is the same thing photo after photo. But it was awesome to be there with Life Blasters because it gave me a chance to enjoy the race from the infield. I spent a good chunk of the race just standing there taking it all in.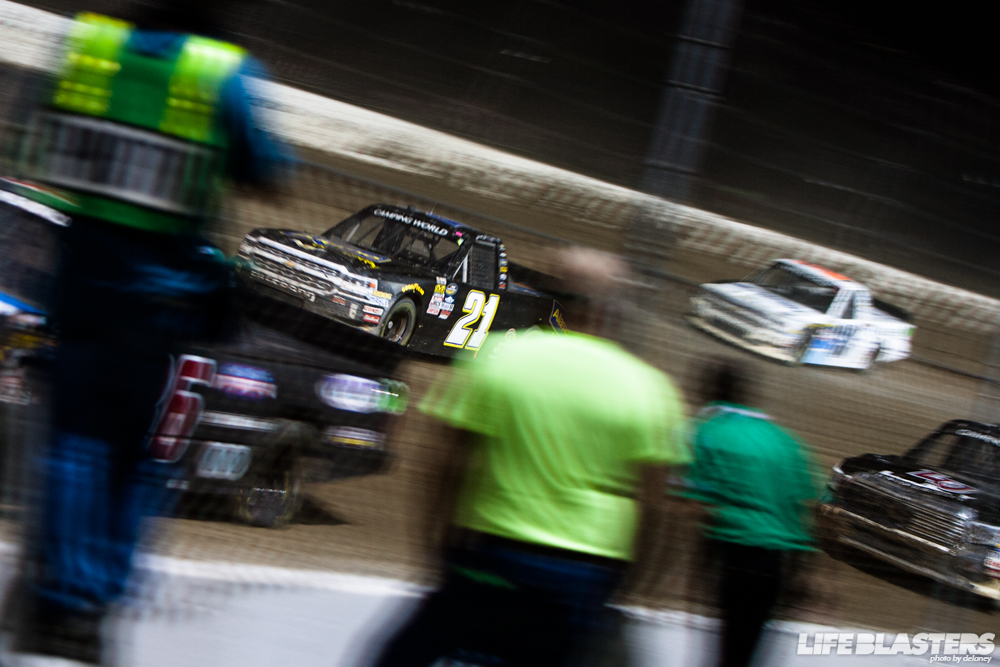 This was my third year and it still makes me smile. I'm not even ashamed, there was one point near the beginning of the race when I started smiling uncontrollably. I probably looked like a madman.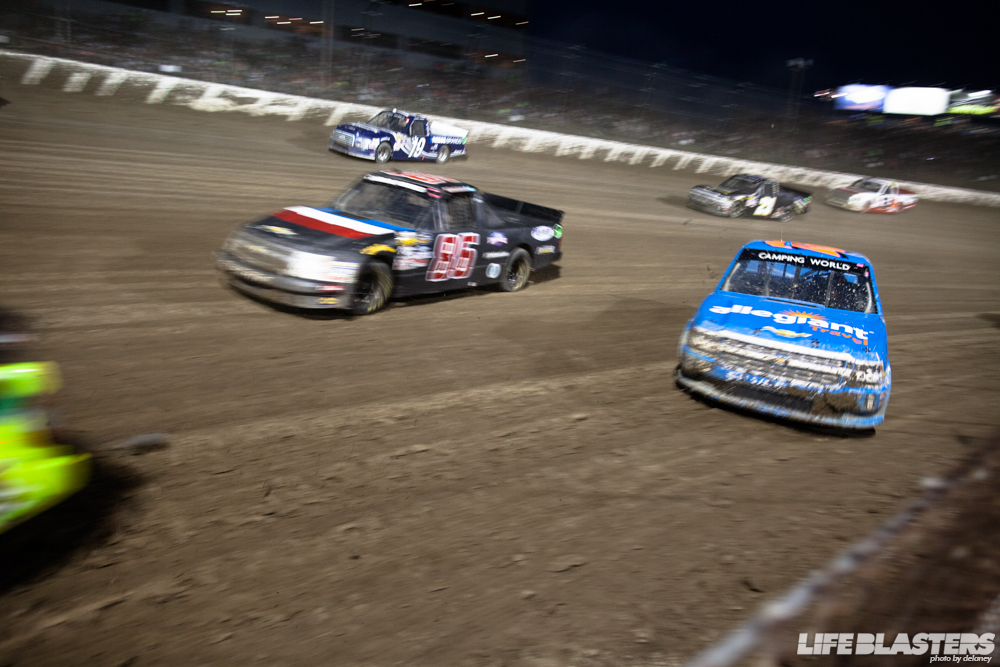 It seemed like a lot of the photographers never left their spot, but I was wandering all around seeing as much as I could. In Turns 3 and 4 I found some empty stepladders so I climbed up and started shooting.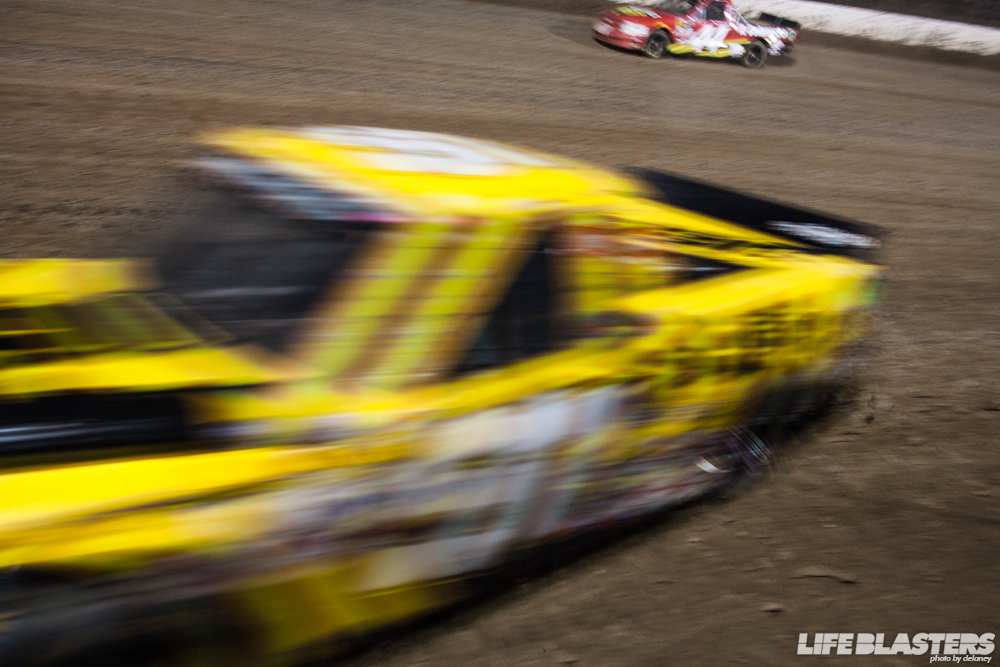 Then I realized just how close some of the trucks came to the inside wall. This was with a 24mm lens. It felt like rally, but faster and louder.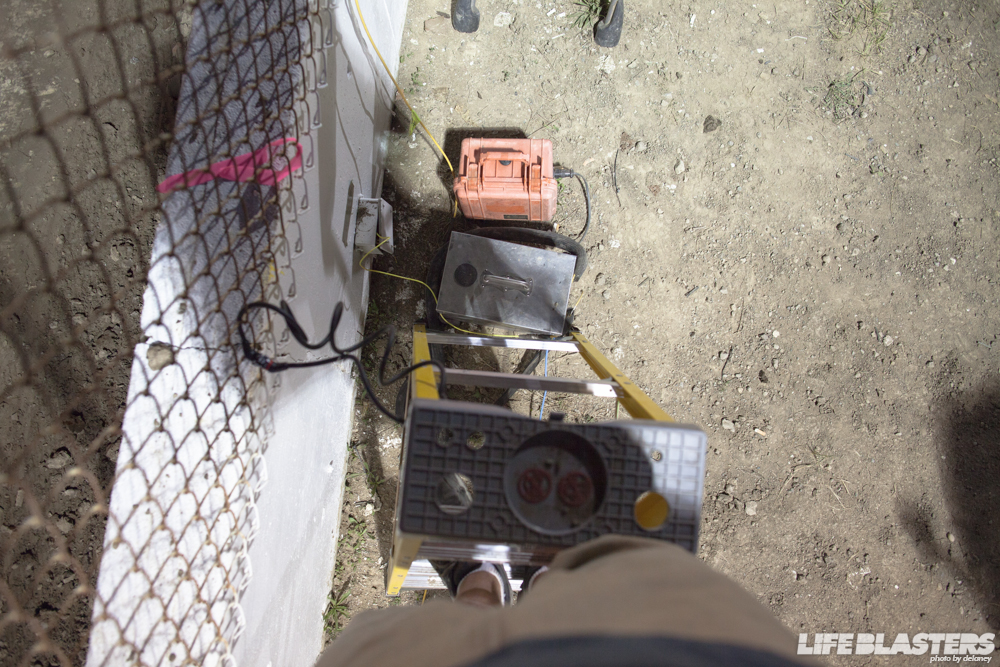 It was also weird shooting down on the trucks on a wobbly ladder on dirt.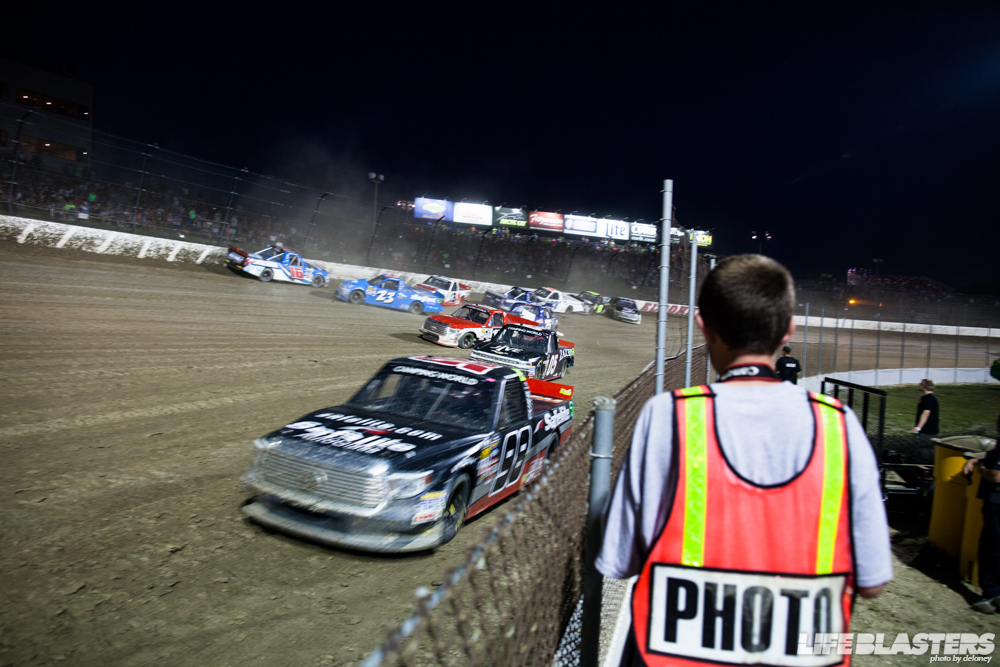 Eldora is interesting because it's dirt. Most of these drivers grew up on dirt tracks, so they all had their way of racing. So trucks would run against the wall, some ran the very bottom, and others ran anywhere in between. The top of the track started building up with dirt so it became pretty bouncy, which caused a bit of a problem.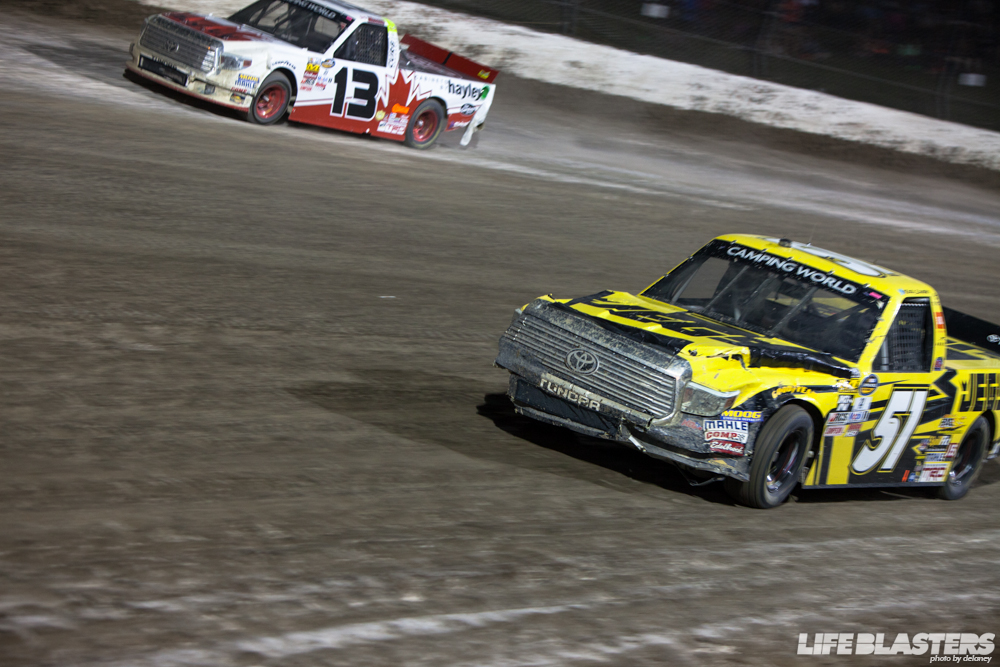 Doesn't need to be pretty, just needs to run.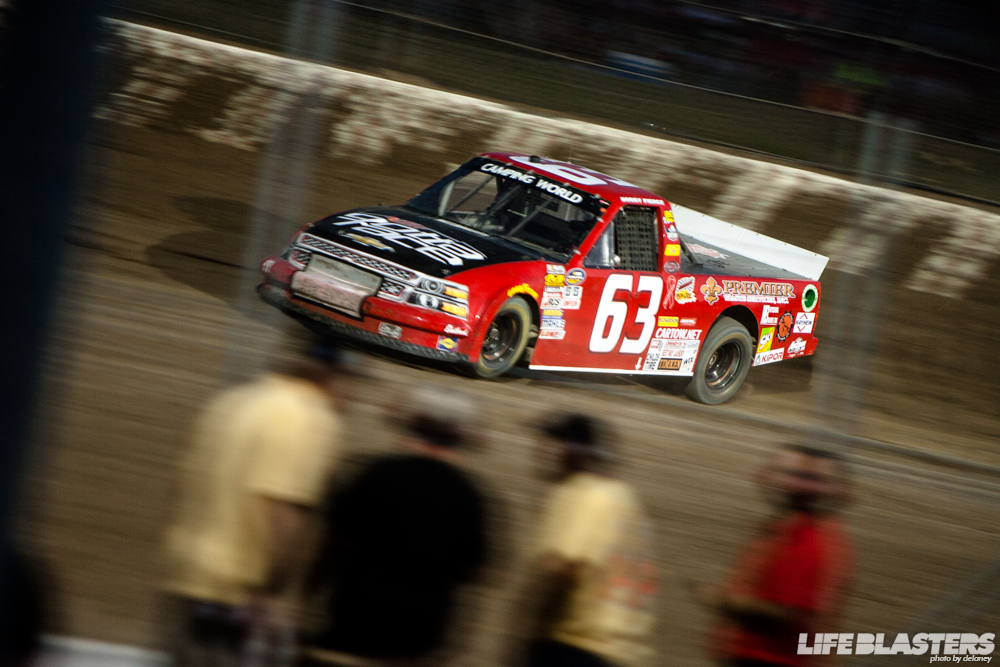 I loved watching the trucks bounce over the track. Check out the flex in the rear and how the front tire is off the ground. Sideways, tire off the ground and crazy rear flex. This race is one everyone should see.

The tires also ran incredibly low pressure to help with the ruts and clumps all over the track.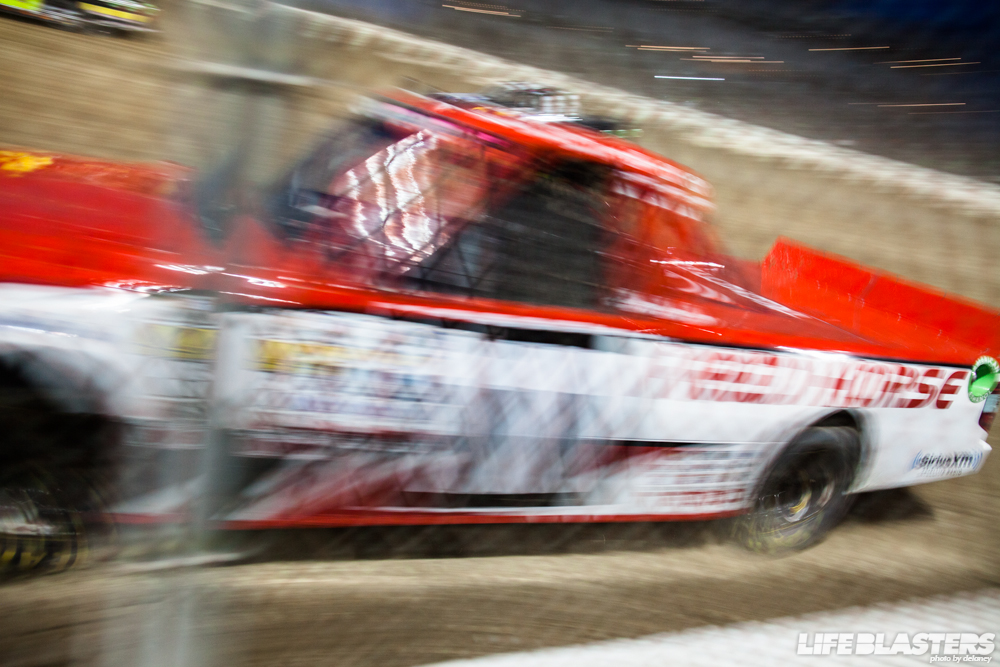 I'm still not over how close we really were.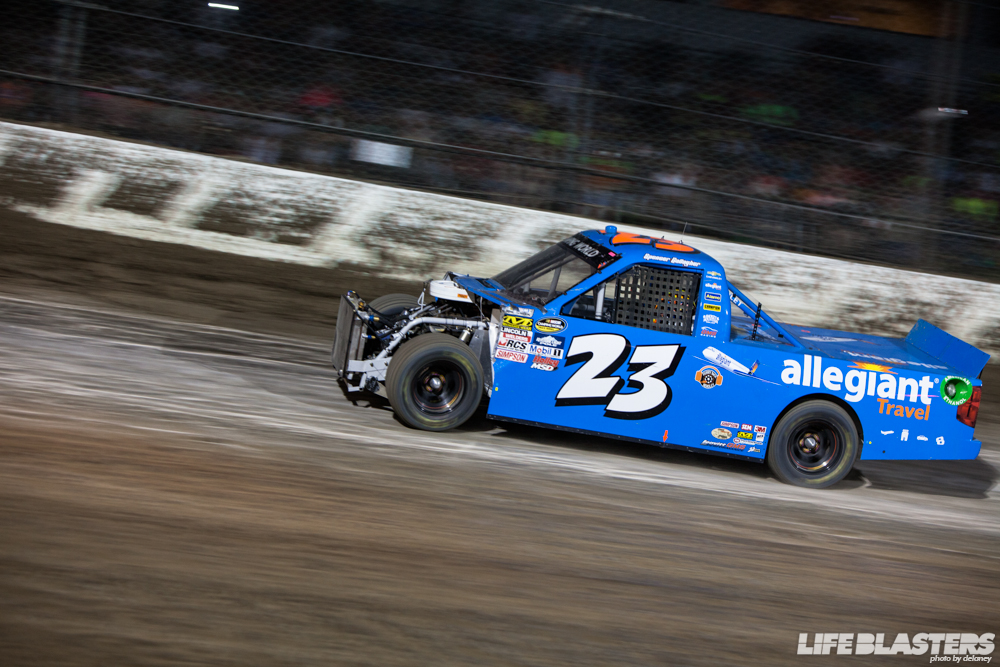 A little bit of dirt in the engine bay can't be too bad, right?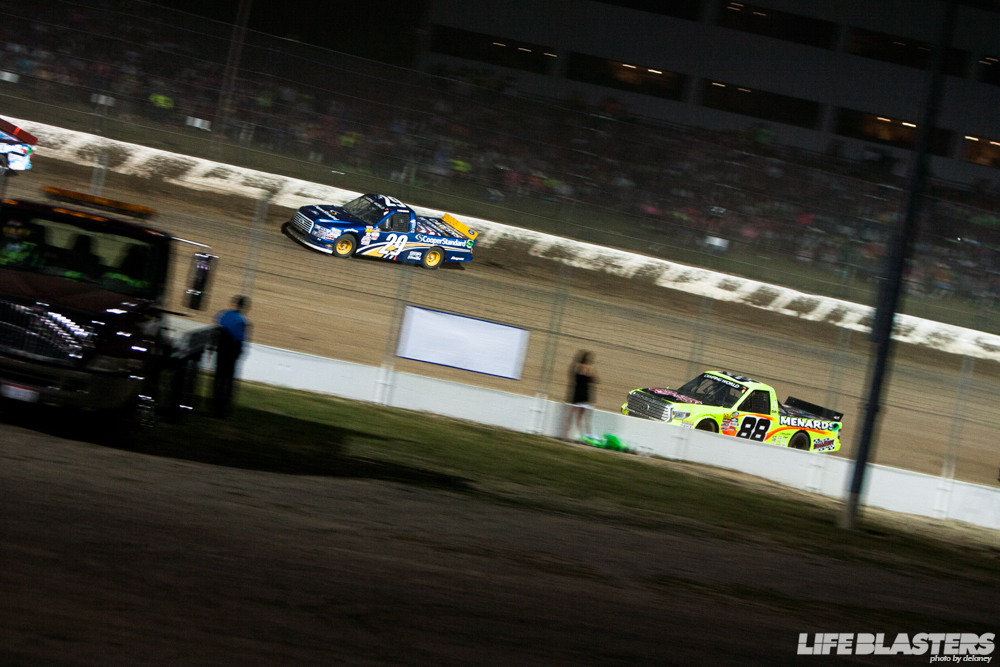 This is what I was saying when I said people had their way of driving a dirt track. This a battle for position on both extreme ends of the track.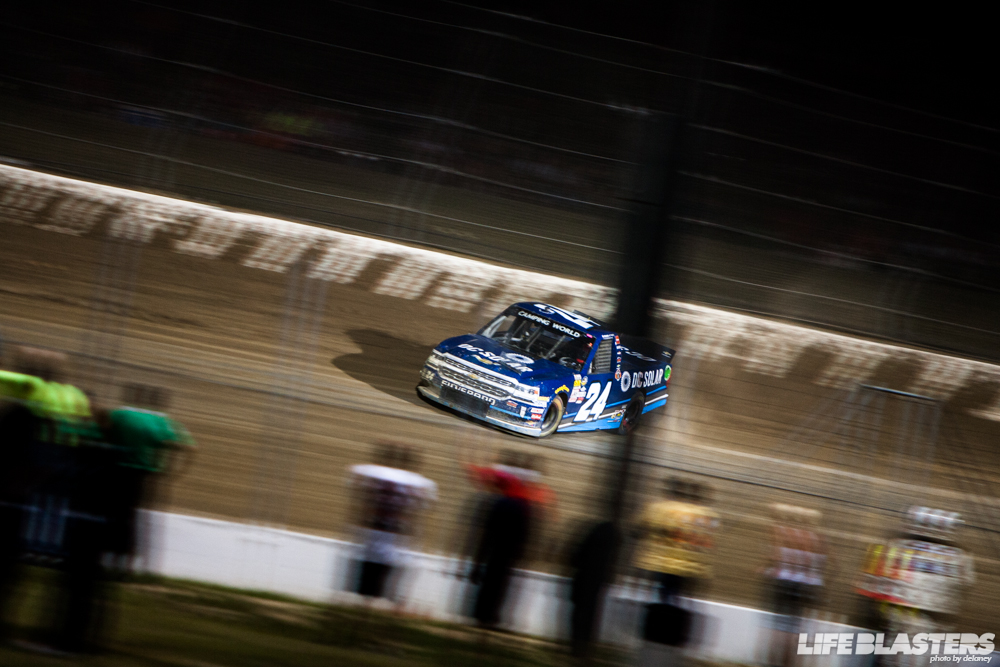 Kyle Larson was really hanging it out there.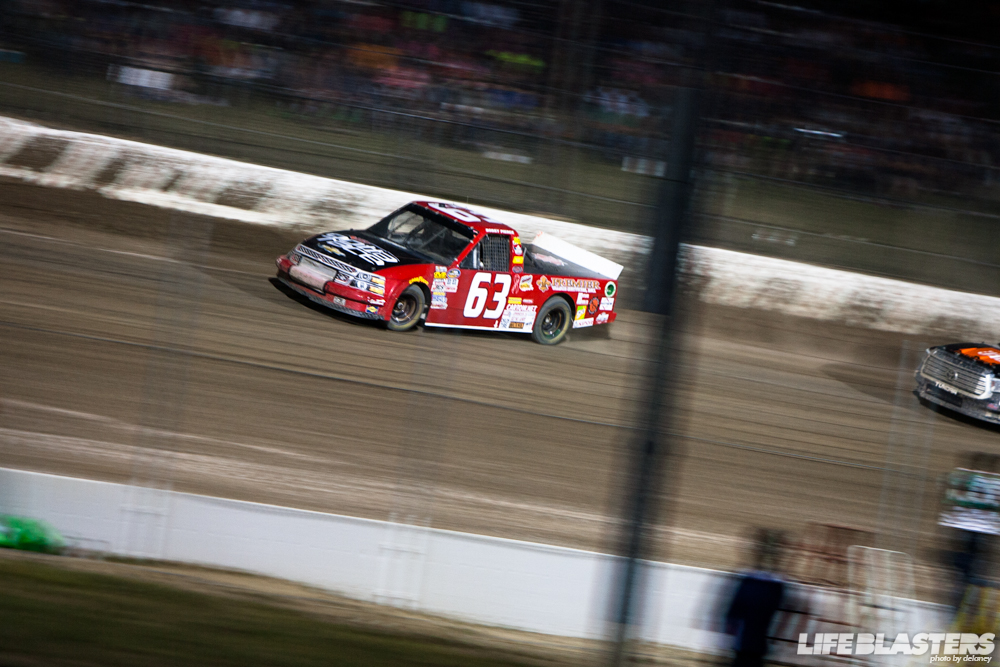 This is Bobby Pierce and he really put on a show during this race. This was his seventh start in the Truck Series, but he took off from the rest of the field. I spent a little bit of the race next to his pit stall and it was awesome watching his crew watch him lap after lap. Unfortunately he had a flat tire that caused him to drop back and finish 25th.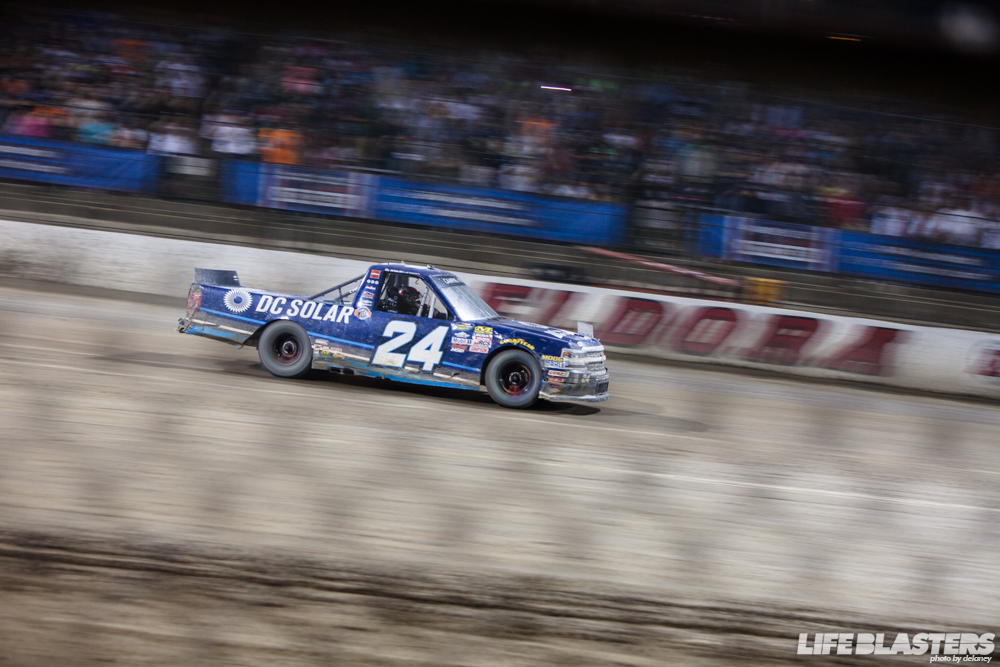 Which gave the lead, and eventual win, to Kyle Larson, who lost the lead to Bobby when he too lost a tire and spun. Somehow Kyle managed to fight back and pass almost the entire field and make back a few laps on the leader.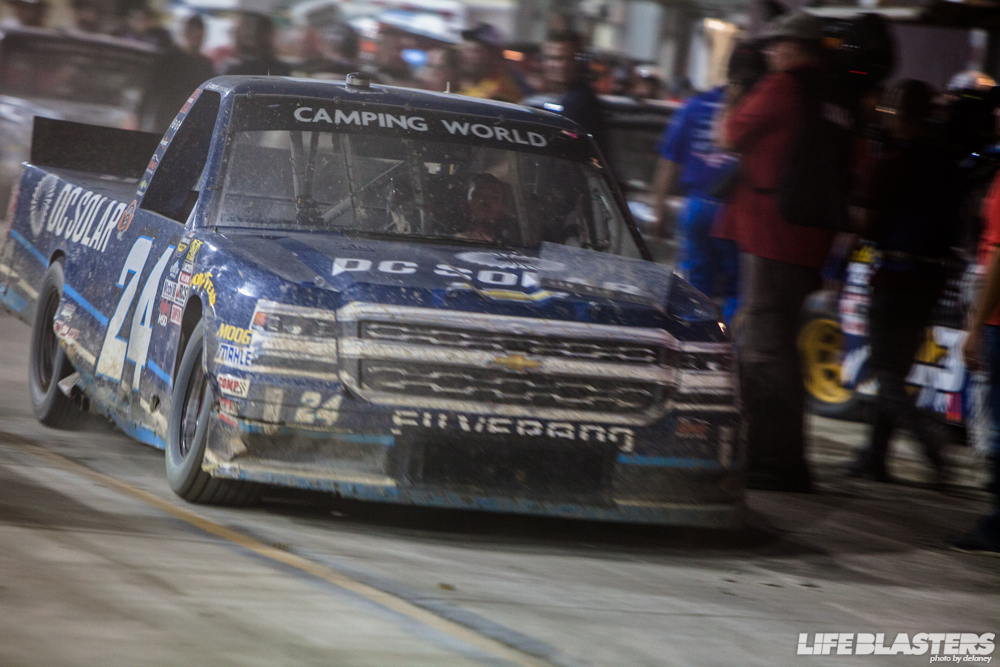 This photo shows just how much dirt and banging goes down in one race.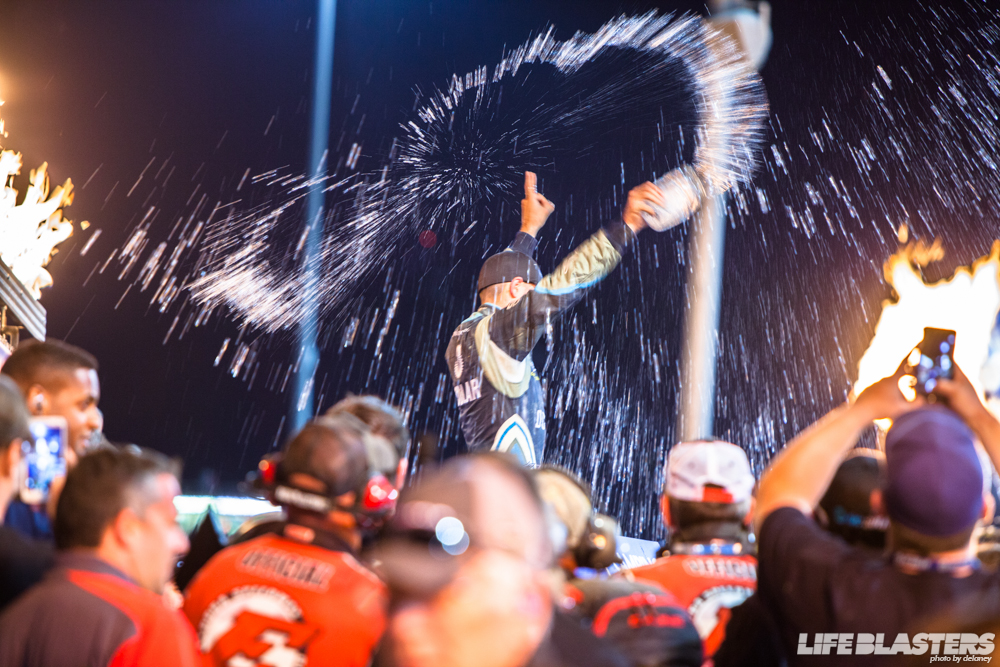 Kyle made three starts at Eldora, but this was his first win. And it was awesome.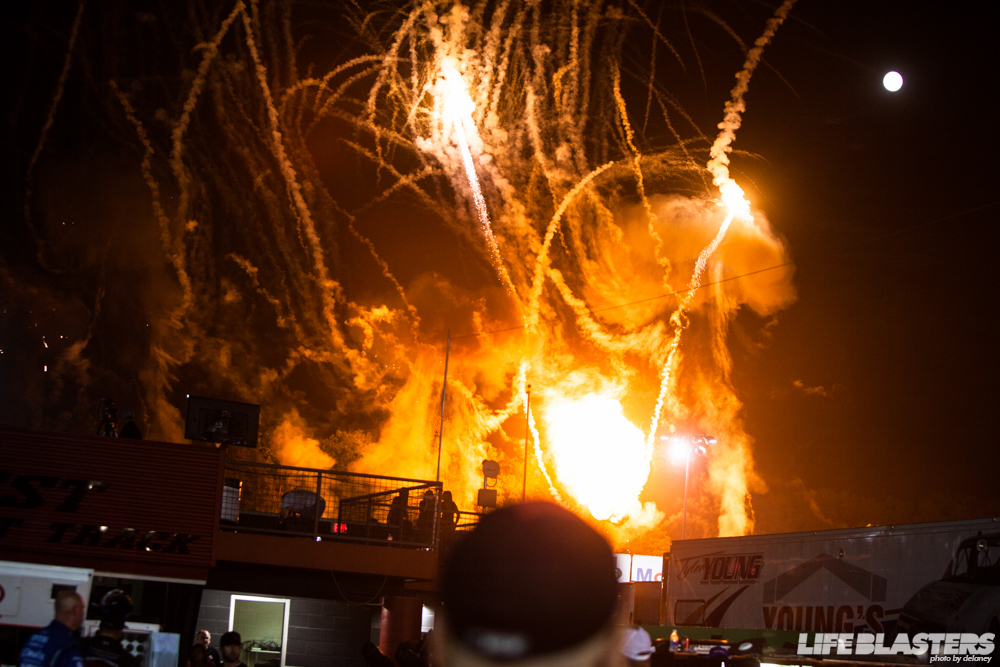 You can't have a NASCAR race without fireworks and pyrotechnics.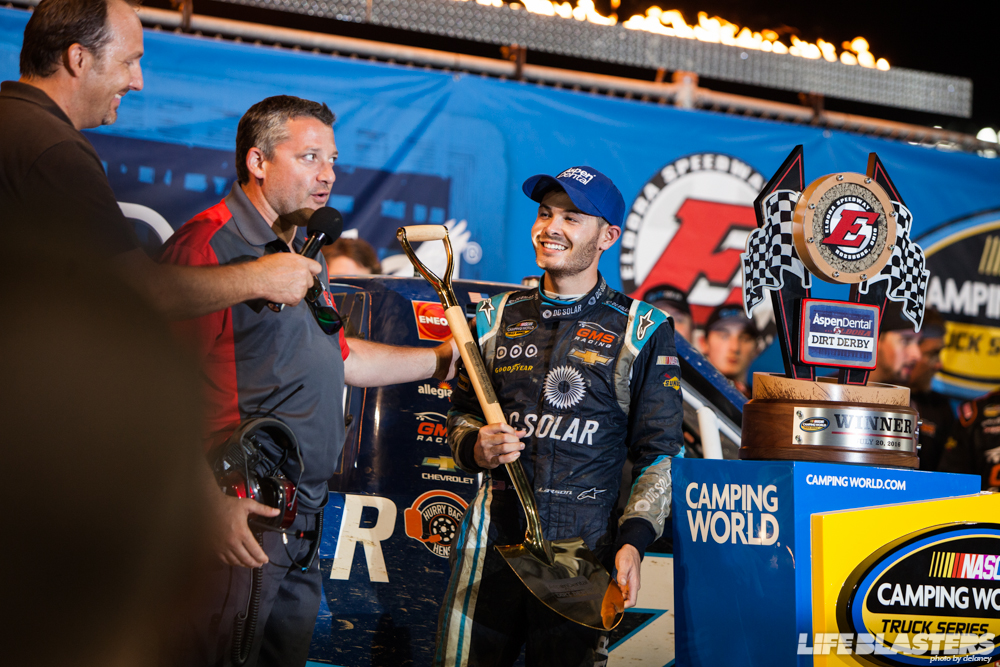 Tony came out to give Kyle the golden shovel. One past NASCAR Sprint Cup Champion and I see no reason why Kyle won't be a champion too.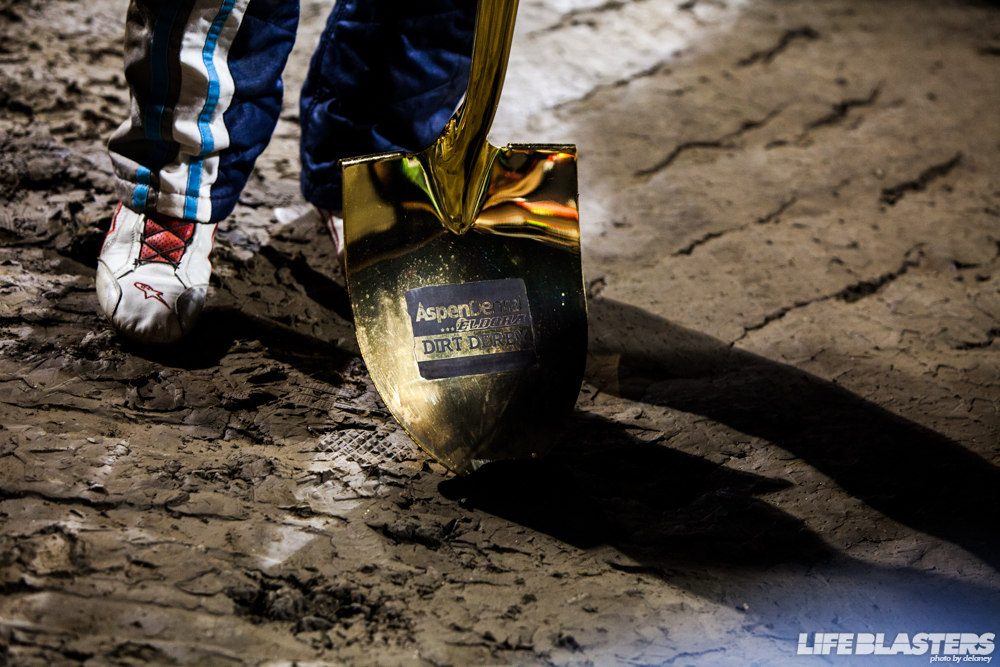 The tradition for the winner at Eldora is they get their golden shovel, and dig up the track.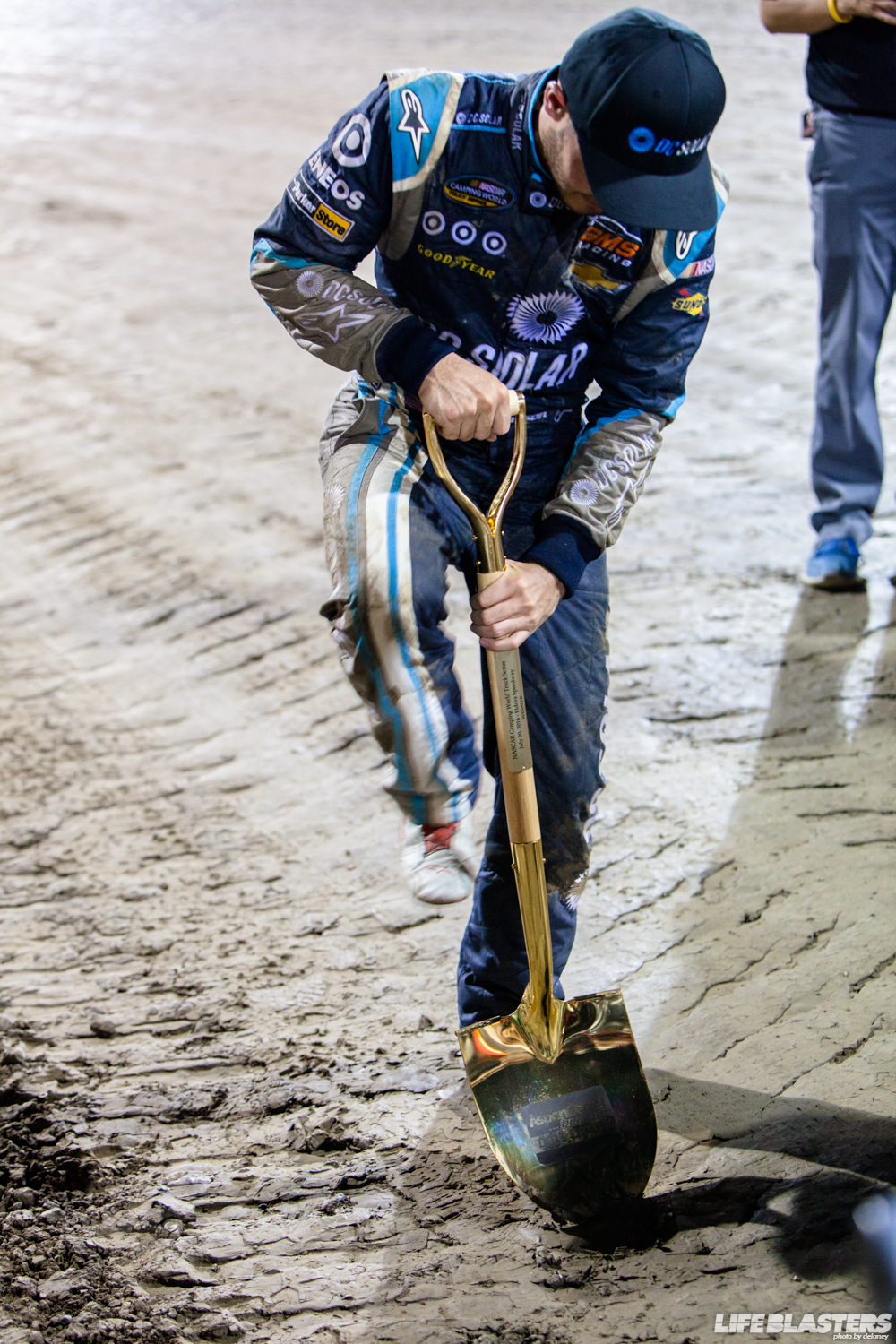 The golden shovel isn't the sturdiest thing of all time, but it's the tradition that counts.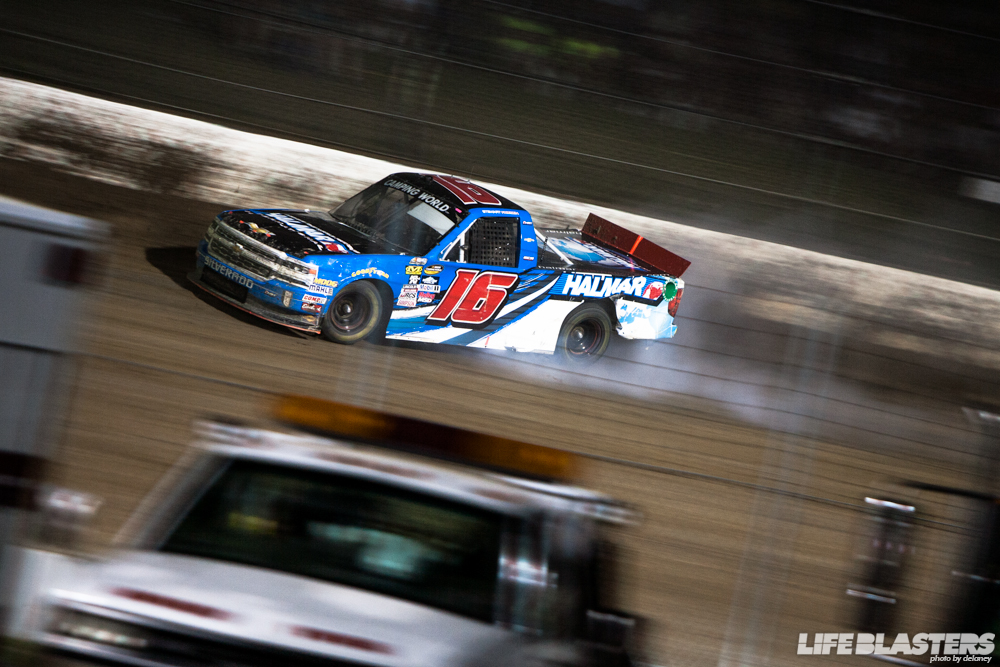 Eldora is a track that NASCAR naysayers should experience at least once. It's unlike any other race, seven wide, sideways racing and a lot of beating and banging. I haven't been to every race in America, but this ranks up near the top for coolest race in the United States.
Delaney
Email: delaney@lifebalsters.com
Instagram: @lifeblasters, @ericdelaney