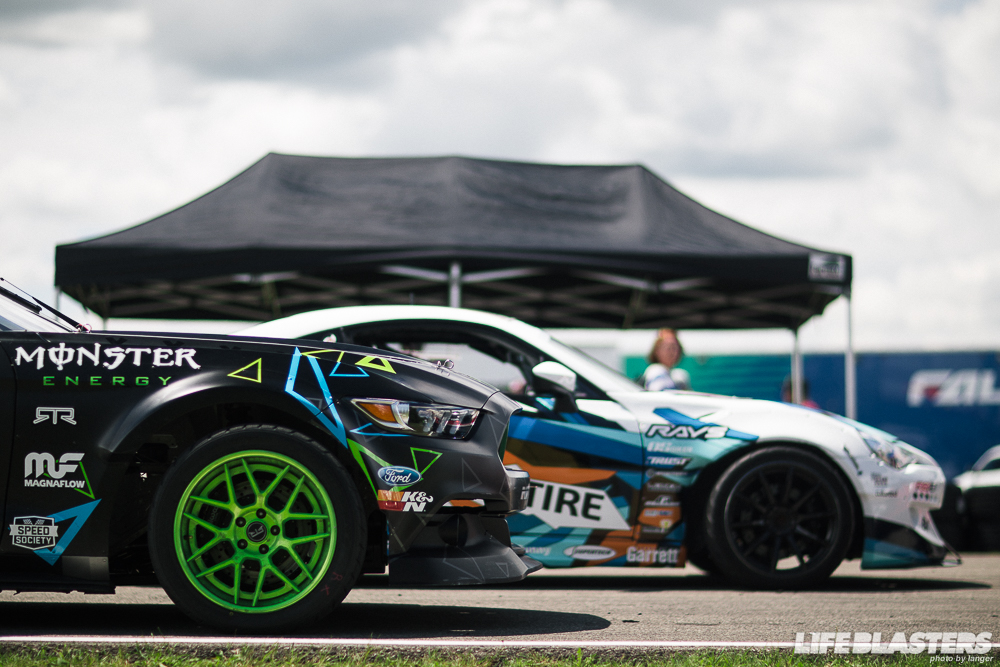 It's always exciting to shoot at a new track, and double exciting when the new track is in a different country. Triple exciting when you get to go there with friends from far-off places. Marcel was in North America for Pikes Peak and decided to stay for FD as well, so after a drive through the desert and brief stay in California, we flew to New York to meet up with Matt. Matt loves driving, and he had just gotten his new Subaru Crosstrek outfitted for road trips, so we all piled in and set sail for Montréal.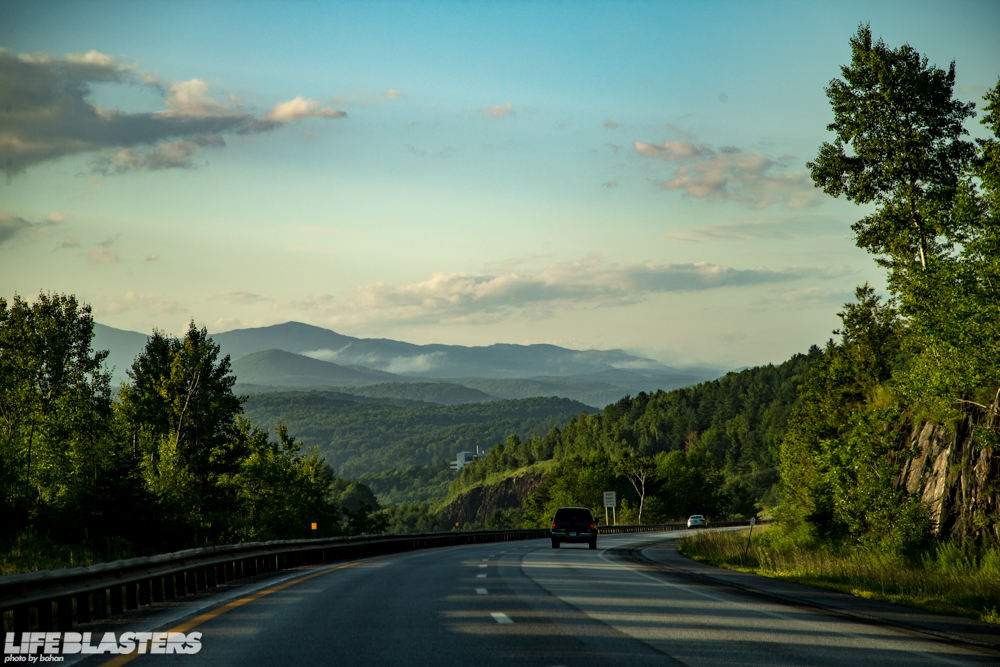 But first we had to zig zag through New England so Marcel could collect new states.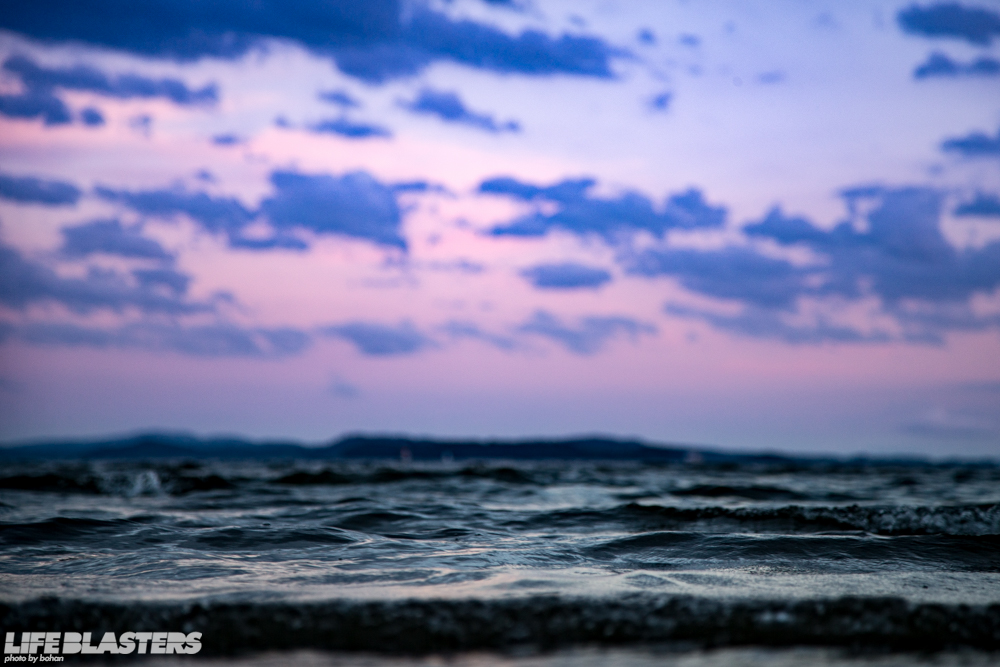 We stopped in Burlington, Vermont, and tried to find Bernie Sanders's house, but we failed at that mission. Still, Burlington seemed to be a pretty cool little town, in summer anyway. We were running out of time, so we pushed on toward Montréal. We got delayed at the border crossing. A guy from California, a guy from New York, and a guy from Germany all entering Canada together with tonnes of camera gear must have thrown up some red flags, but they ultimately let us in. Whew!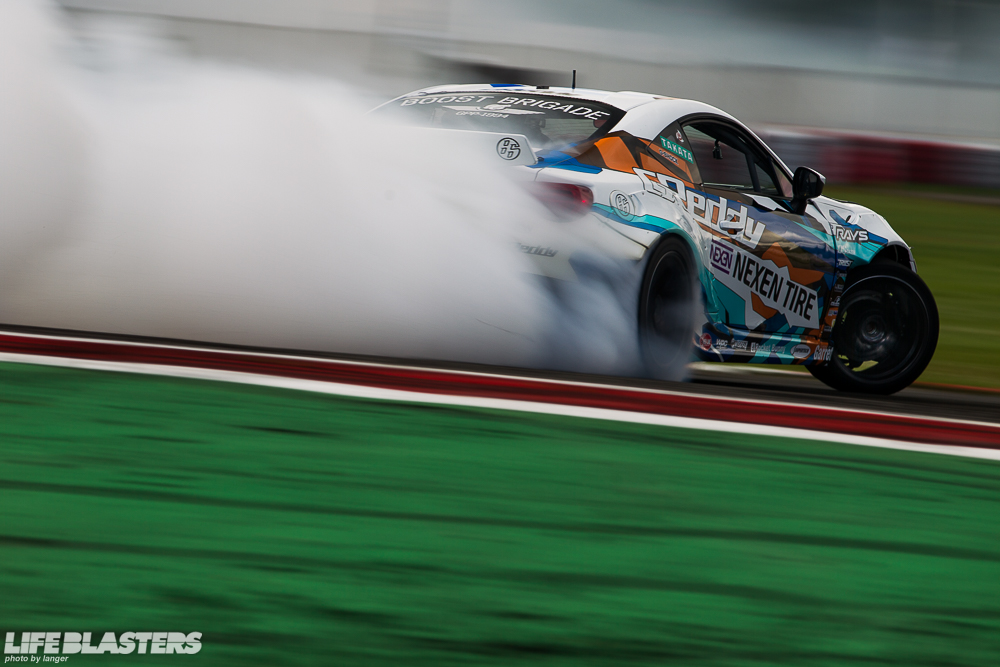 After the media meeting the next morning, we hit the track to try to find all the angles.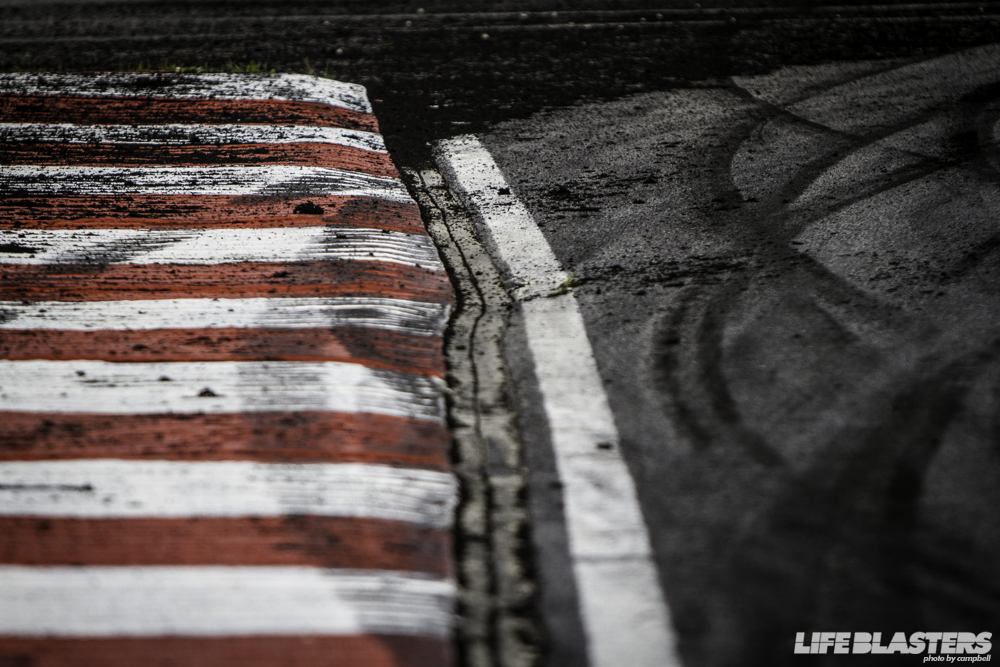 Autodrome St-Eustache is an interesting track. It's an oval, but it's flat. And the two turns are different radii. And the infield section is cool.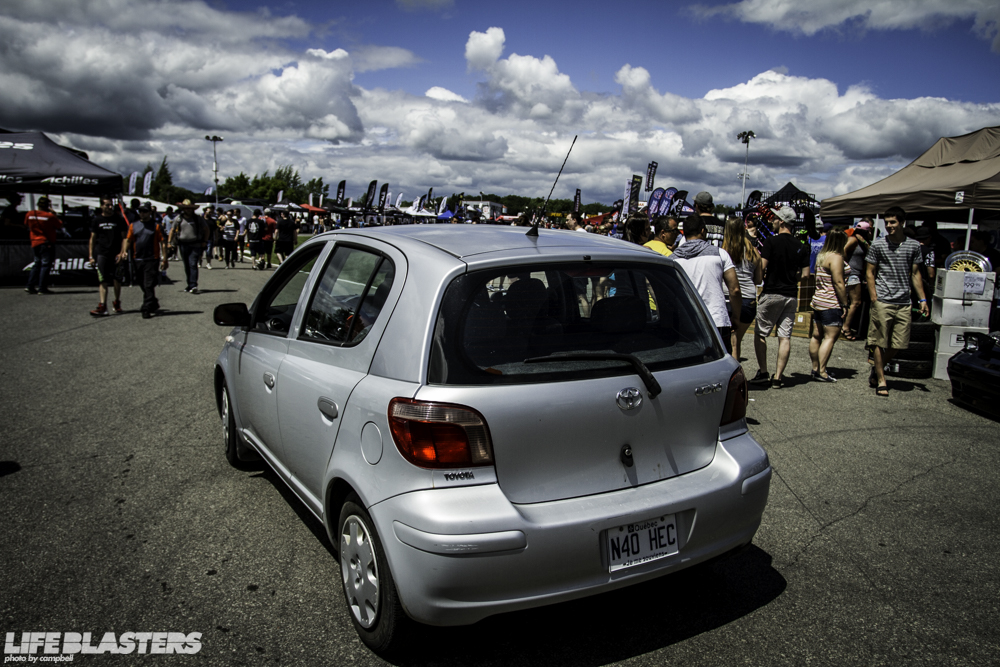 And the outfield section that leaves the narrow end of the oval and comes back to form the FD starting line is super cool, but it was used as the paddock for this particular event.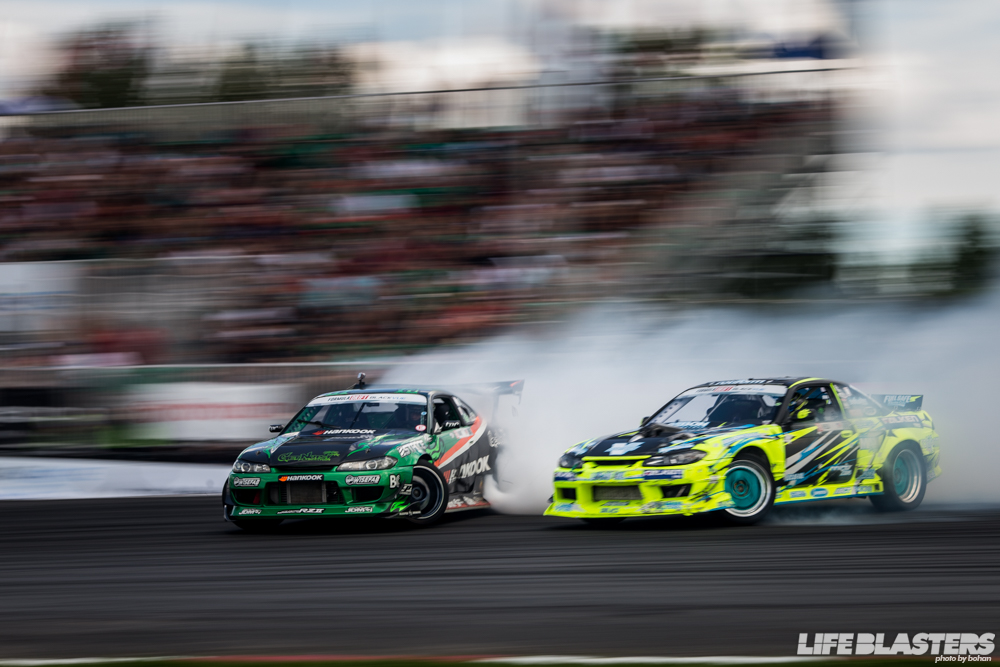 That was fine though, as the oval and infield made a good course and that's where all the spectator seating was anyway.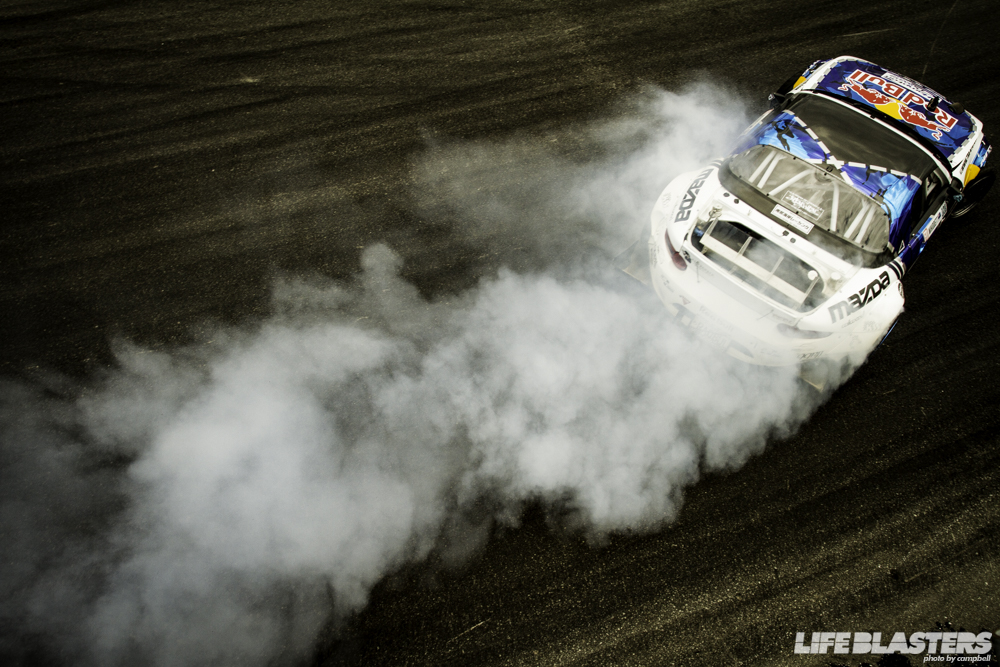 After a few hours of practice it was time for qualifying.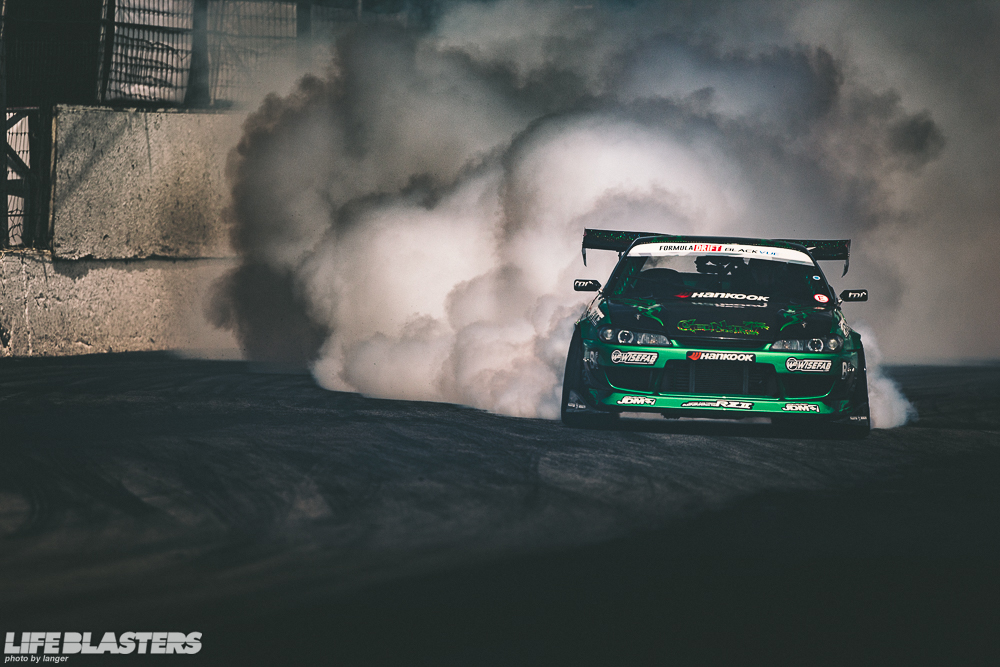 Wang, Tuerck, Pawlak, DeNofa, and Aasbø took the top five spots, and all got bye runs because there weren't enough drivers.

Aasbø recognized Marcel from Gatebil on Ice earlier this year. It's pretty cool to keep bumping into the same people all over the world.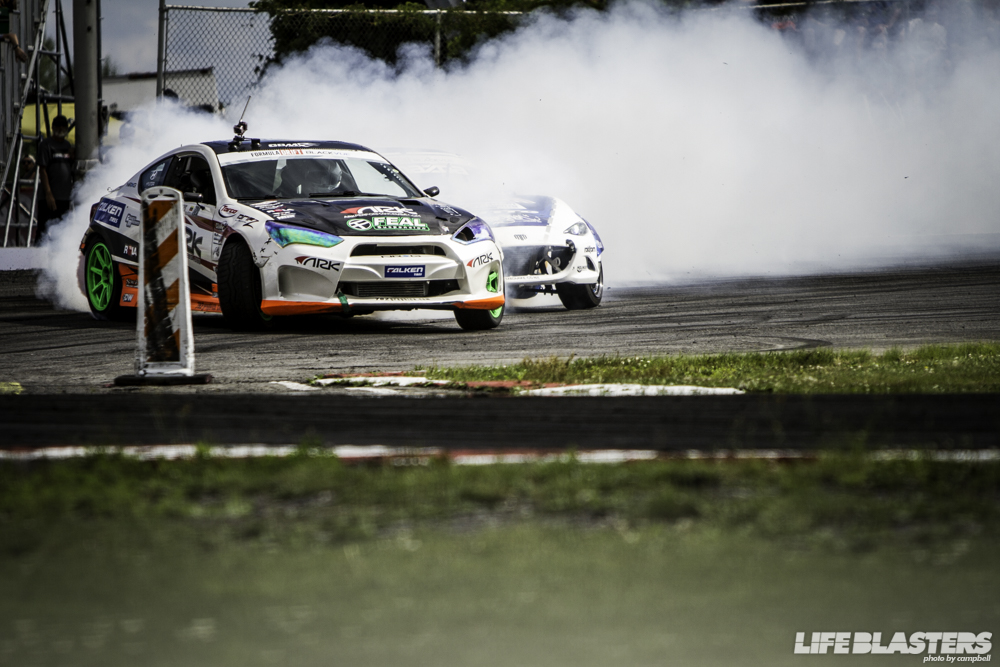 We were excited for Saturday's tandem battles. The first battle was Odi Bakchis vs Mad Mike Whiddett. Mad Mike can't catch a break.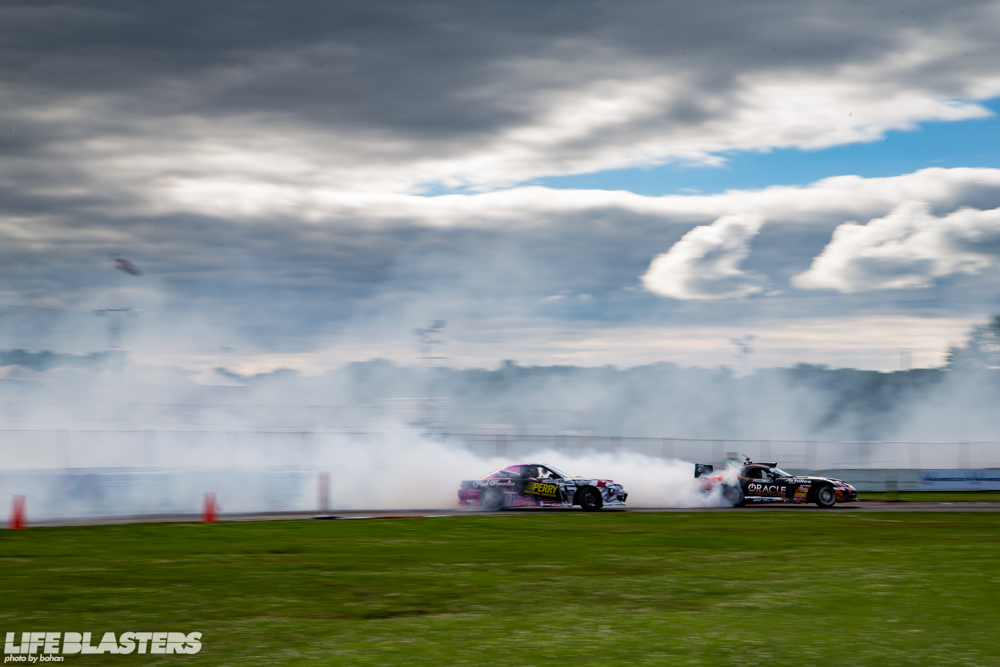 The Top 32 flew by because of all the bye runs, and the big drama was in the battle between hometown hero Marc Landreville and interloper Dean Kearney. Landreville jumped the start three times in a row, which resulted in a technical zero for his lead run. All Kearney need to win after that was a nice, conservative lead run. He got the win amidst the most booing I've ever heard in the ten years I've been shooting FD.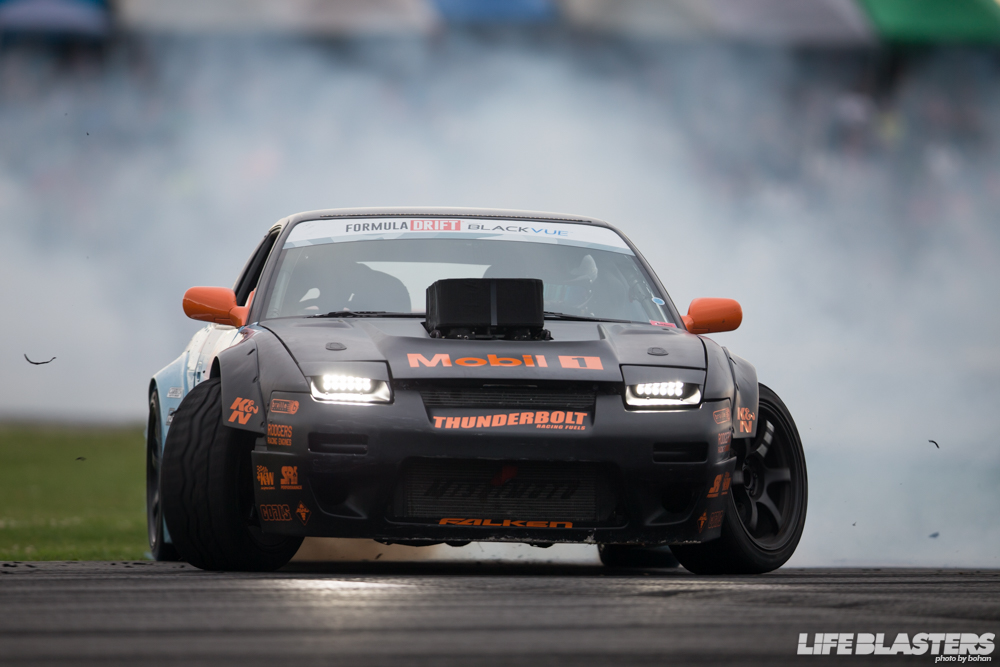 We ended up with a more or less predictable Top 16. In a big upset, Matt Coffman took out Chelsea DeNofa. "But Chelsea's car was broken!" you might say, "That's not a real upset! It was just a bye run!" But a running car is a big part of competitive driving. Coffman's car worked better than DeNofa's. End of story.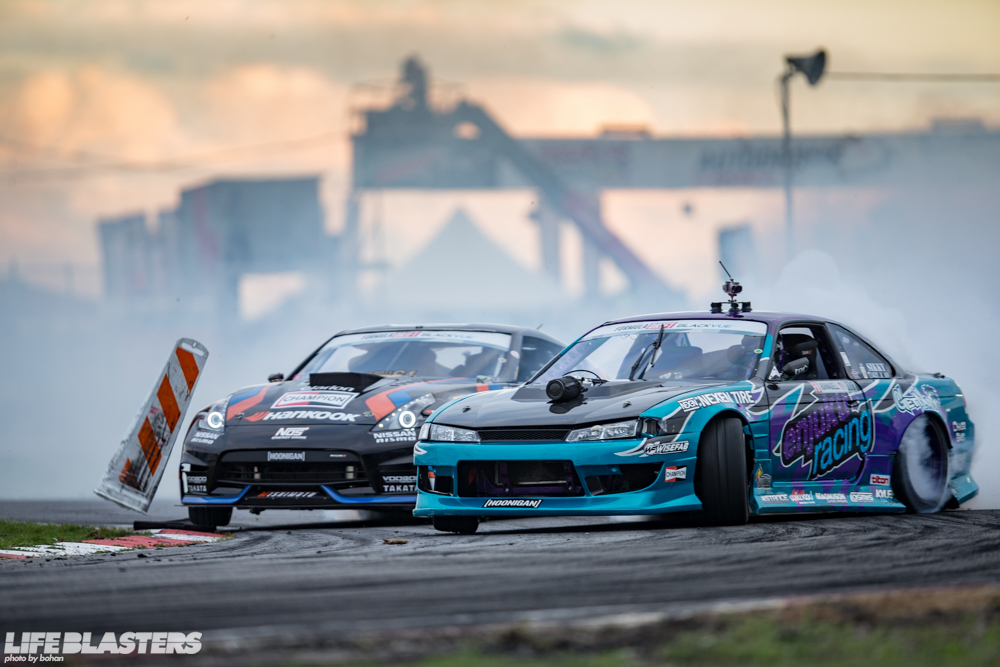 Wang, Bakchis, and Aasbø made it through unscathed, while Gushi, Pawlak, and Kearney got scathed by Tuerck, Gittin, and Yoshihara respectively. After taking out his old teammate Jhonnattan Castro in the Top 32, Chris Forsberg took care of Wang's teammate Alec Hohnadell in the Top 16.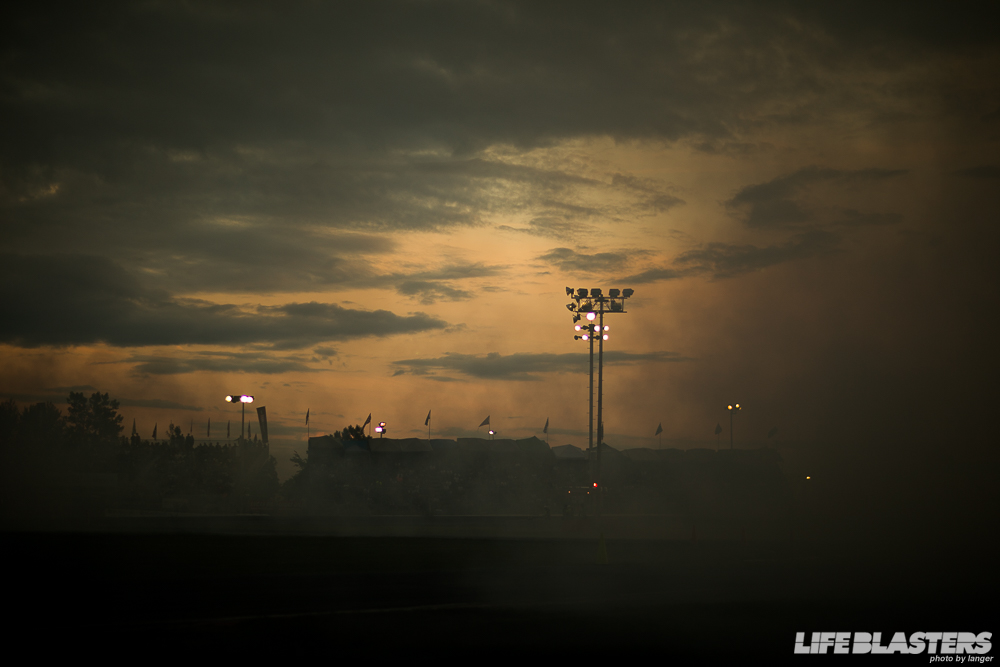 The stage was set for the Great 8.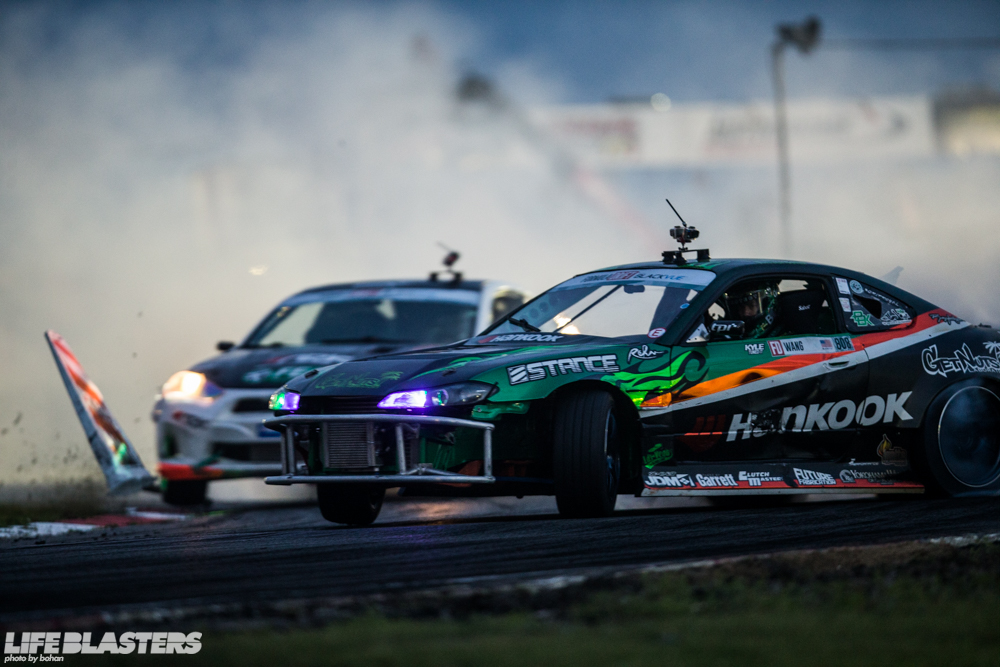 Odi Bakchis showed that he's still a major force by ending Wang's run at the podium.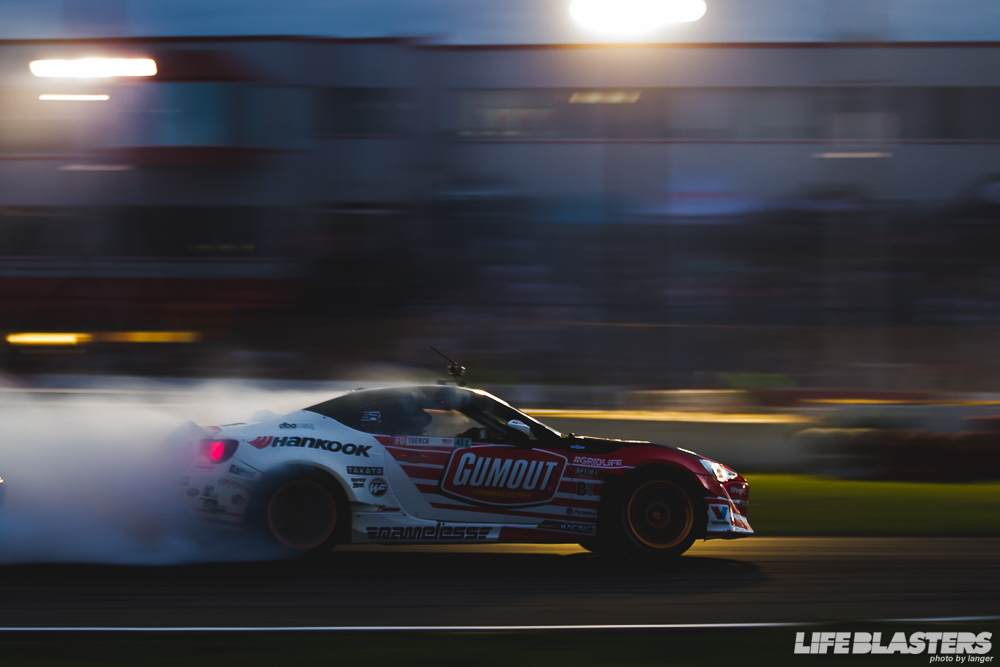 Forsberg upset Tuerck.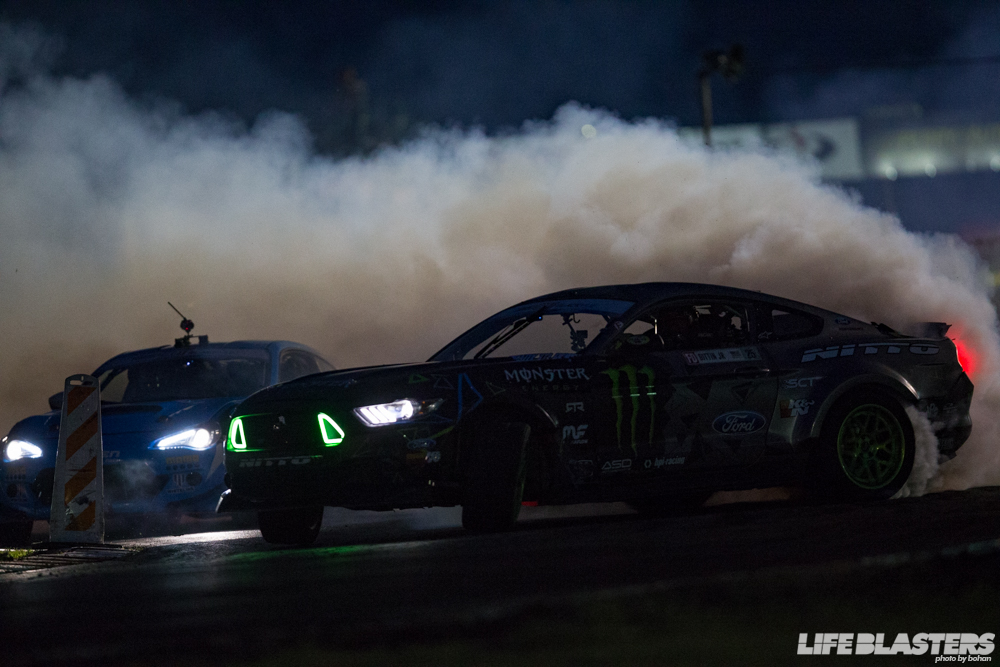 Gittin upset Yoshihara.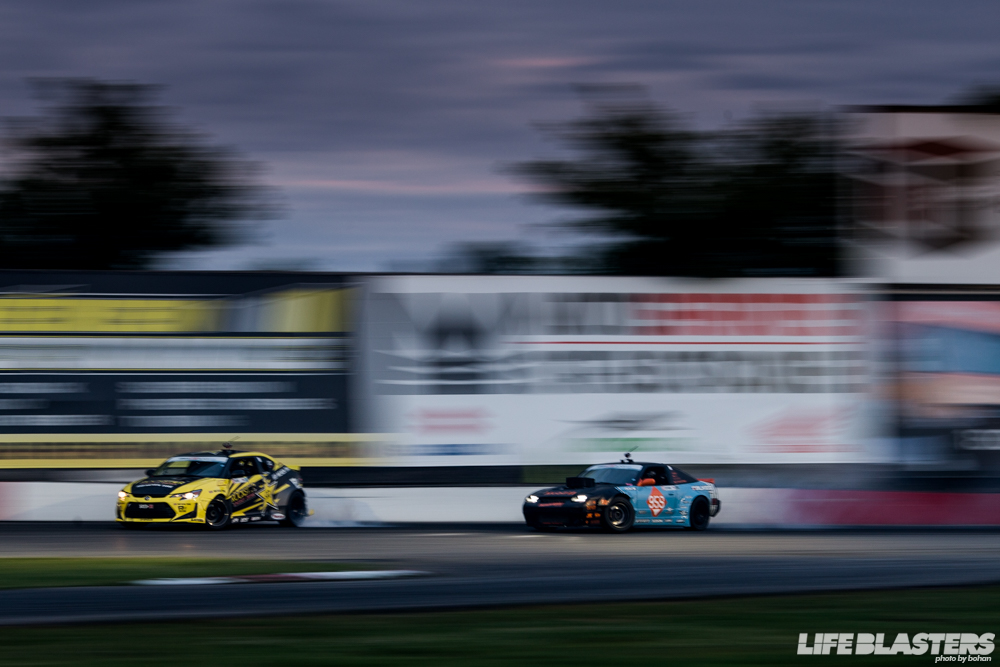 Actually, the only non-upset result of the Great 8 was when Coffman's luck ran out against the defending champion. So, the Final Four consisted of the 2009/2014 champion, the 2010 champion, the 2015 champion, and Odi Bakchis, who is trying like hell to get his first championship.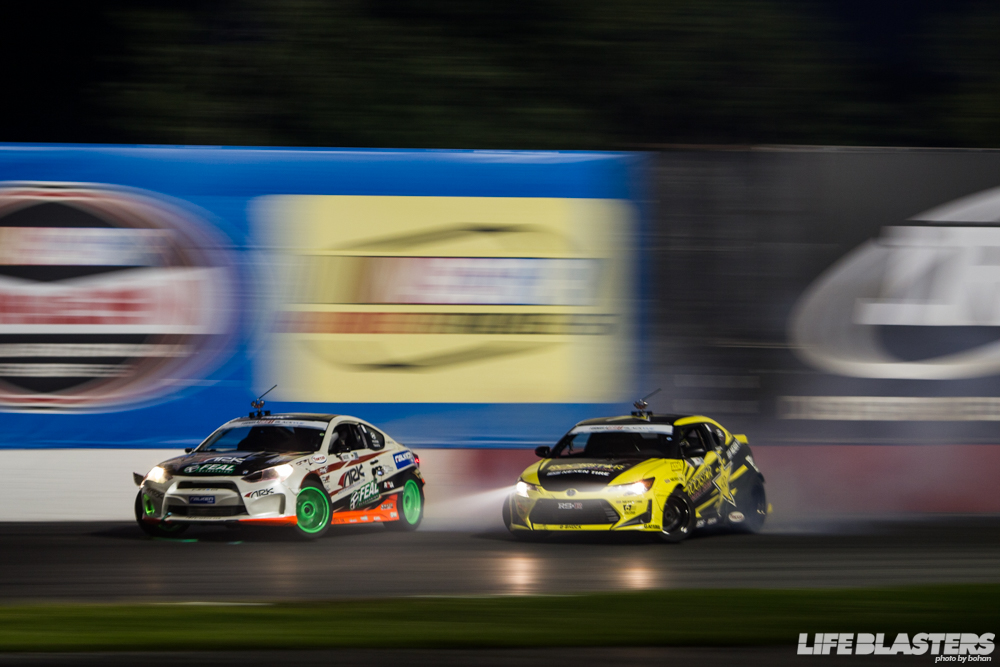 First up were Bakchis and Aasbø. Because of their qualifying positions, both drivers were guaranteed a podium finish.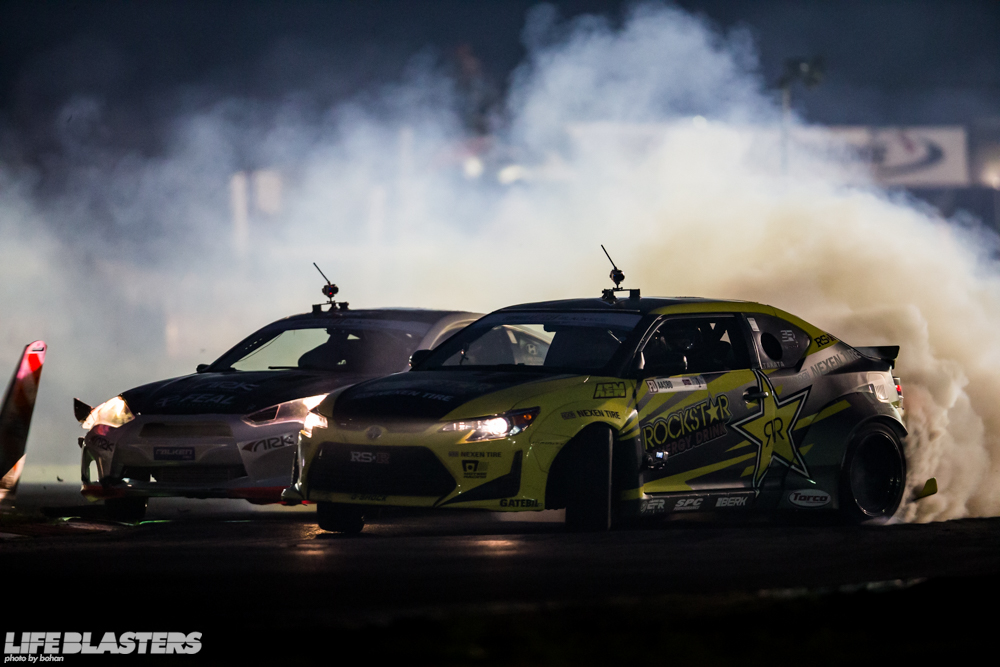 Aasbø edged himself into the win, and Bakchis landed in third place.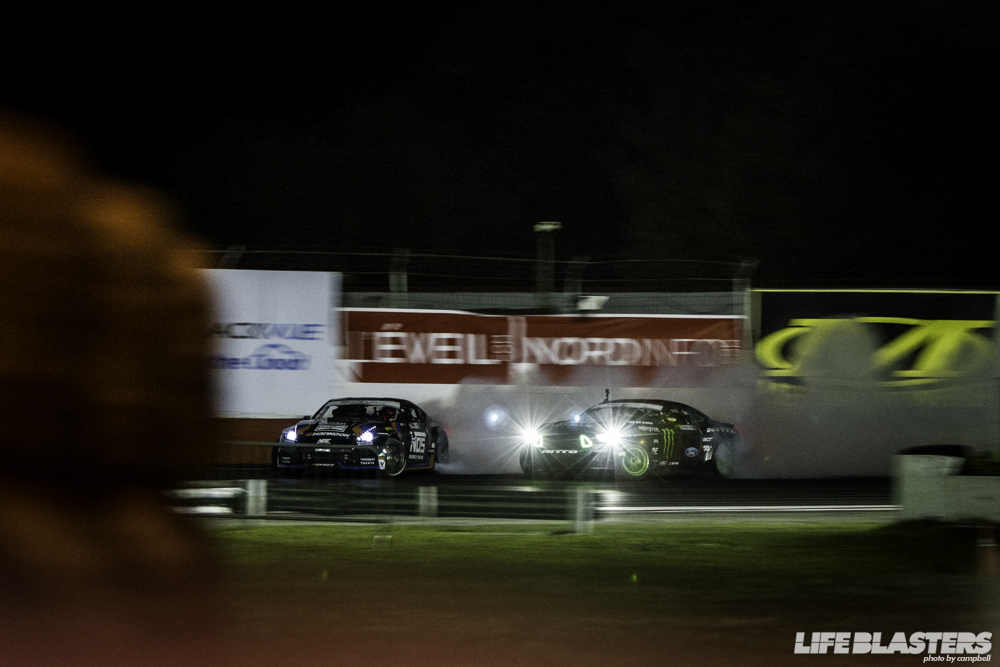 On the other side of the bracket, Forsberg and Gittin squared off. With Bakchis already in third, it was do or die for this pair. Forsberg pulled it off and sent the Mustang driver packing.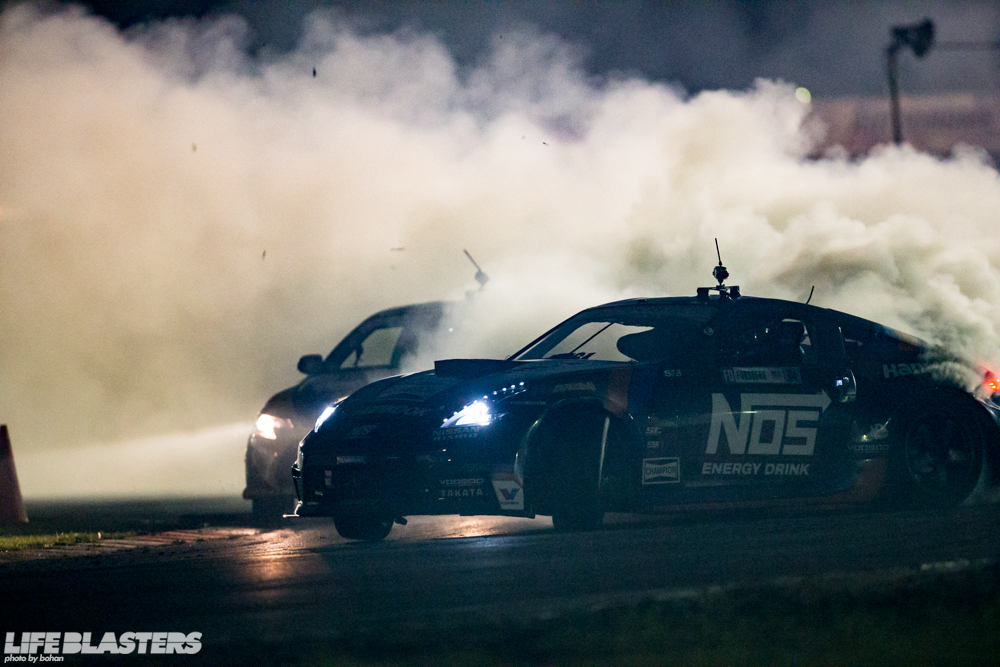 Then, the moment we'd all been waiting for. In this round's Final Battle, Aasbø and Forsberg got the chance to perpetuate their rivalry. "He's our Kyptonite," Forsberg has said on a few occasions, alluding to the fact that Aasbø usually comes out on top. Out of eight times meeting in battle, Aasbø had won six times.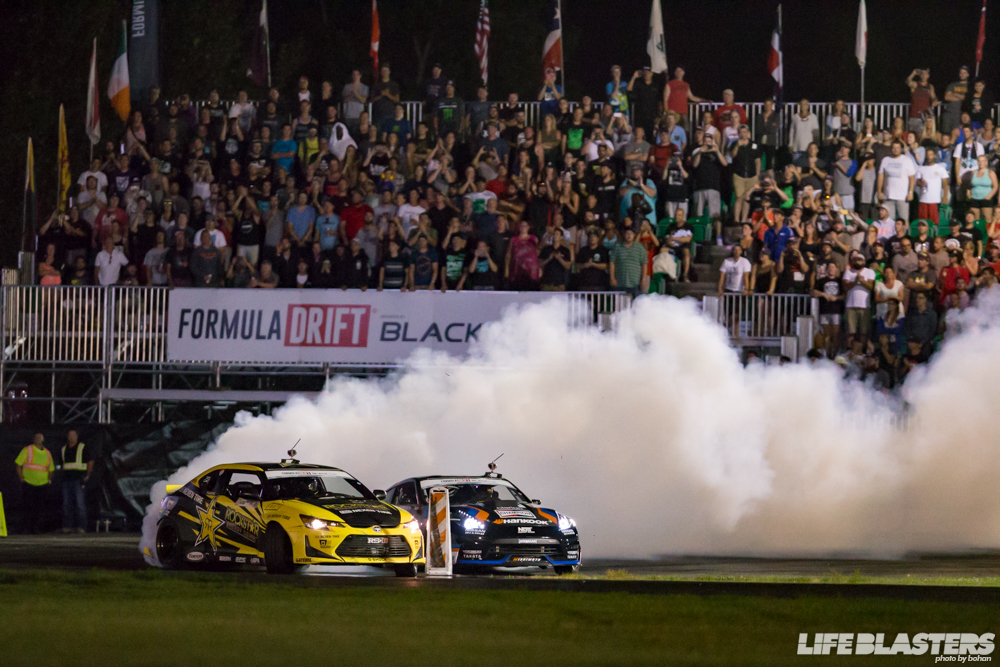 Make that seven out of nine now.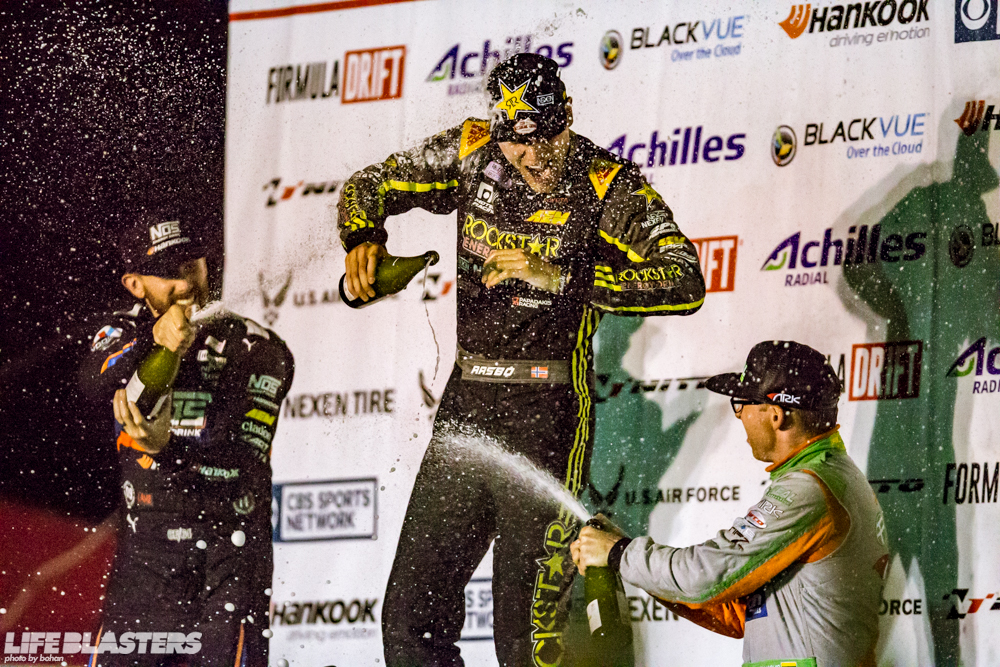 Fredric Aasbø picked up his second win of the season, bringing him up to only three points behind Gittin. Forsberg is in third place, 30 points back.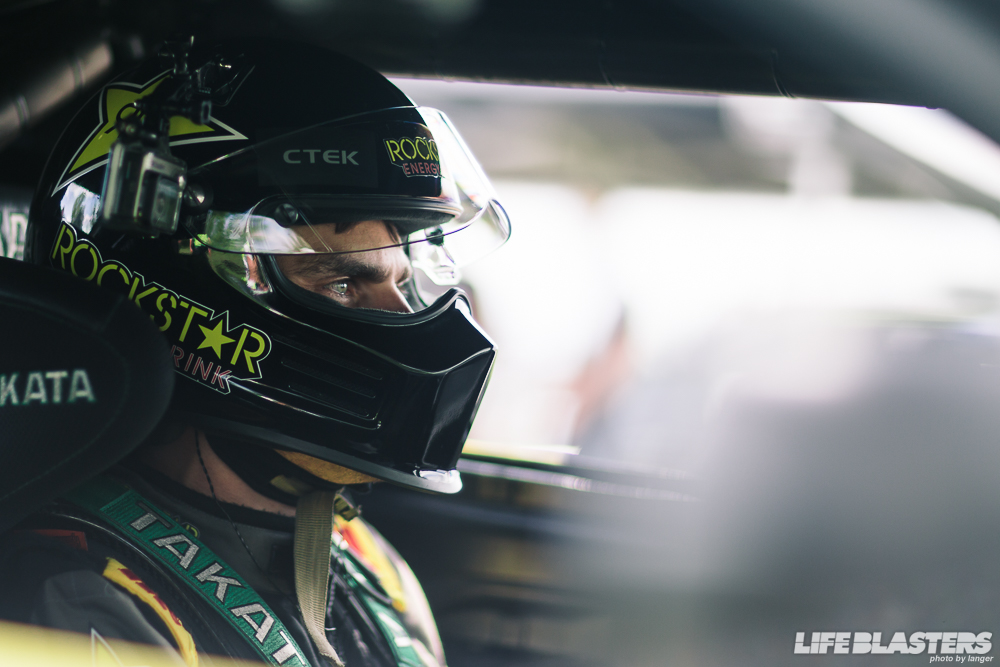 Evegreen is next, where Gittin, Forsberg, and Aasbø have all done very well. Let's see how tight a championship race can actually get.
.:Bohan
Photos by Langer, Campbell, and Bohan