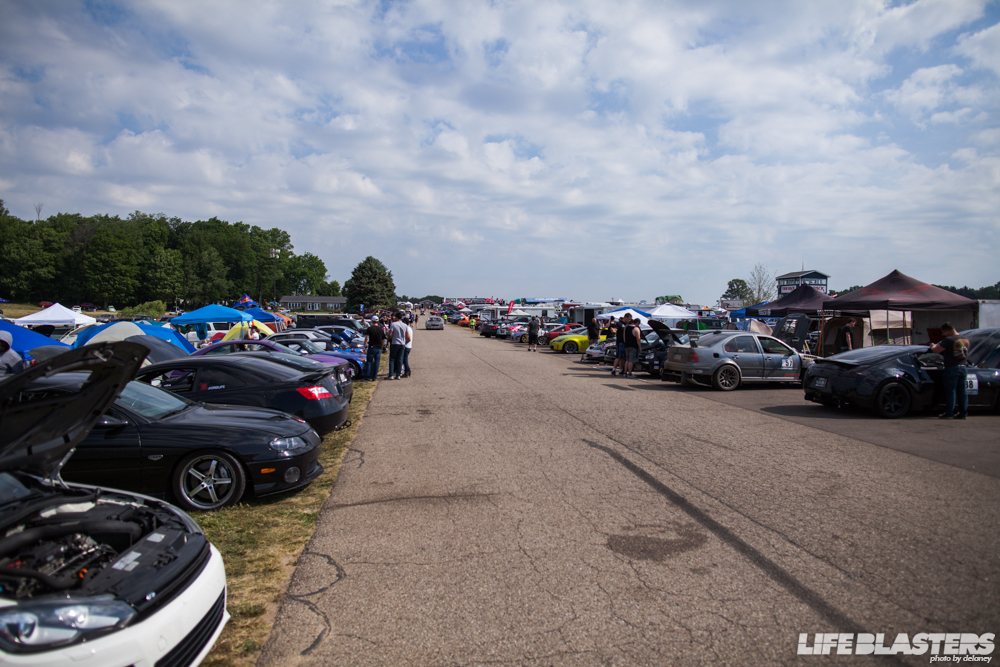 What happens when you mix race cars, drift cars, music and a few thousand people? Simple, Gridlife.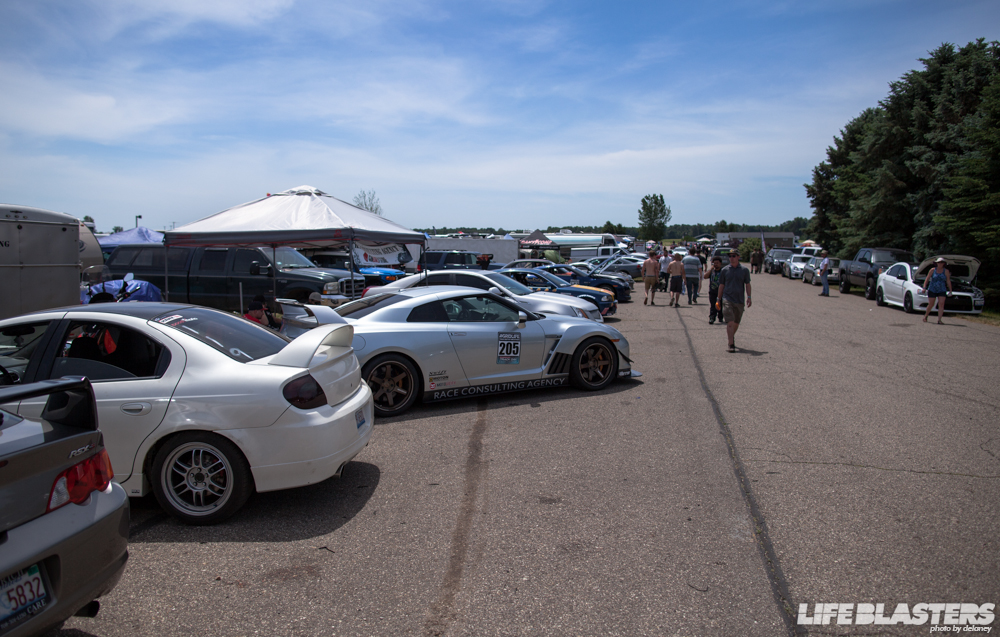 This is the fourth year of Gridlife, and it has grown immensely in those four years. They said in the media meeting that they're getting close to the capacity of the track. I don't imagine that the people who built Gingerman ever dreamed of having such a massive event at their track, but they sure welcome it with open arms.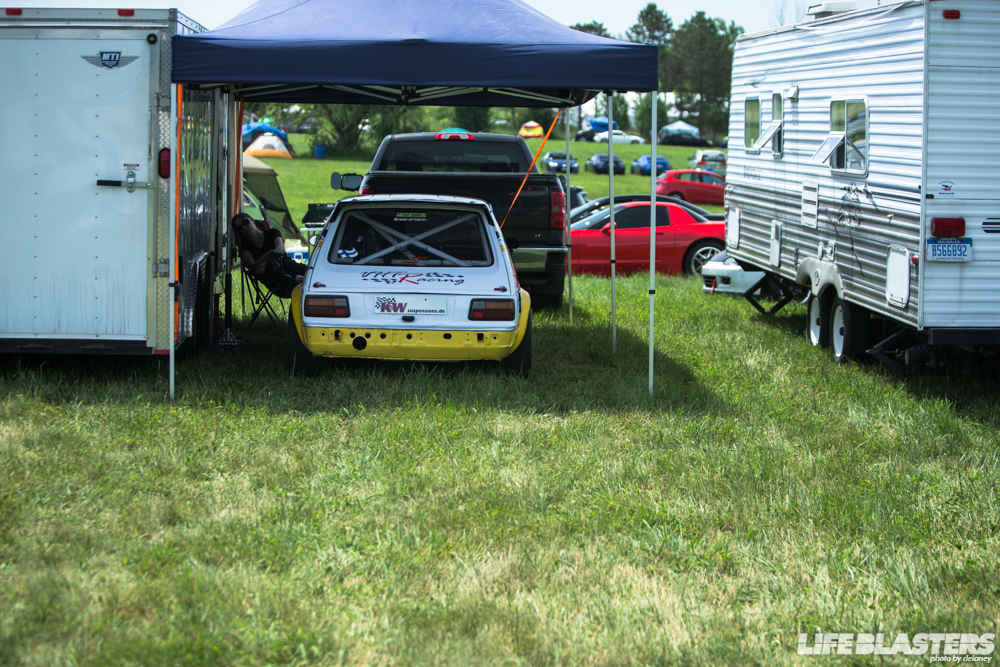 Gridlife takes almost every type of track event, and then mixes it into one event. Much like Gatebil, just without the 1000 horsepower cars. So far.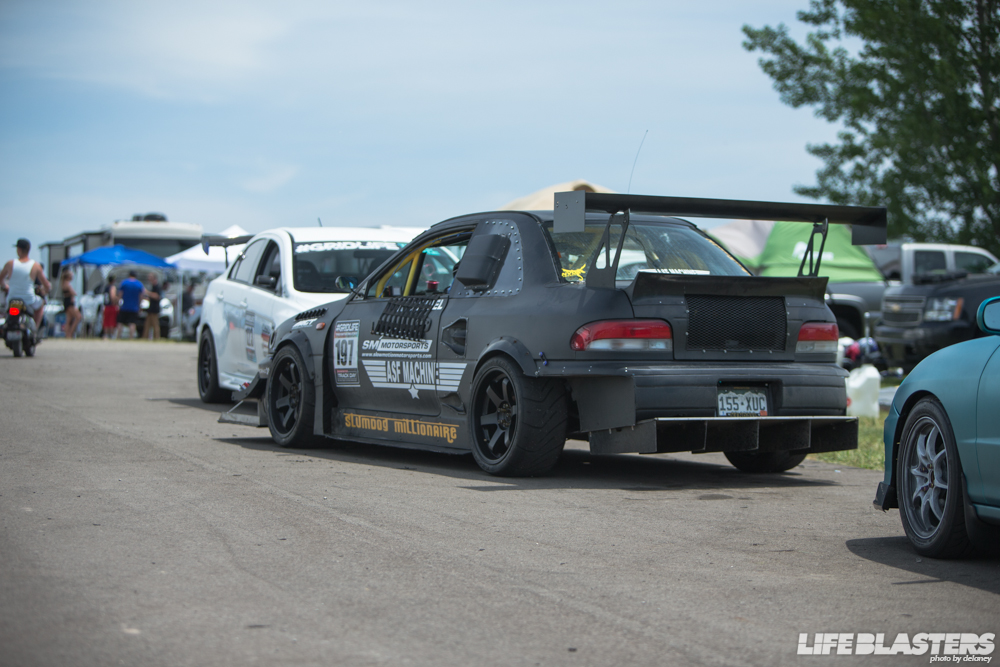 There's no doubt the main draw was the drift cars and drivers that came out. But the Time Attack cars are the coolest. I've always seen photos of the World Time Attack cars and the cars that tackle Pikes Peak, but I don't see too many high downforce race cars in person. Luckily Gridlife brings out some of the fastest cars around.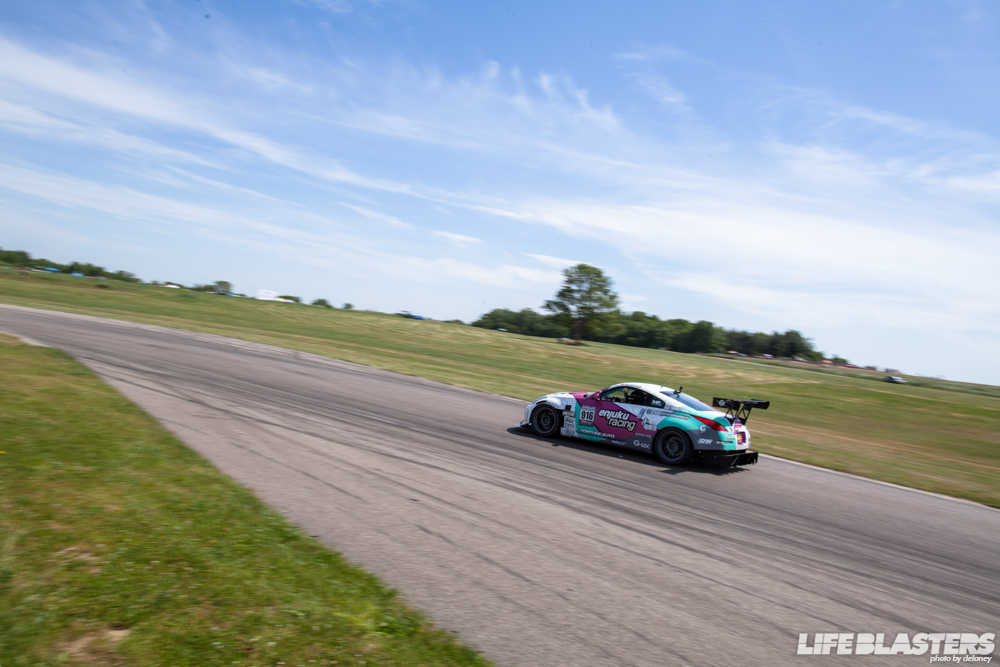 The Time Attack cars are separated into different classes to avoid having the faster cars mixed up with the beginners. They are serious about their lap times here.

Most of the fast laps were set Saturday morning while the track was still cool and the temperatures were around 70 degrees Fahrenheit. The rest of the weekend would be in the mid to high 80s. Miserable, but the cars made it worth it.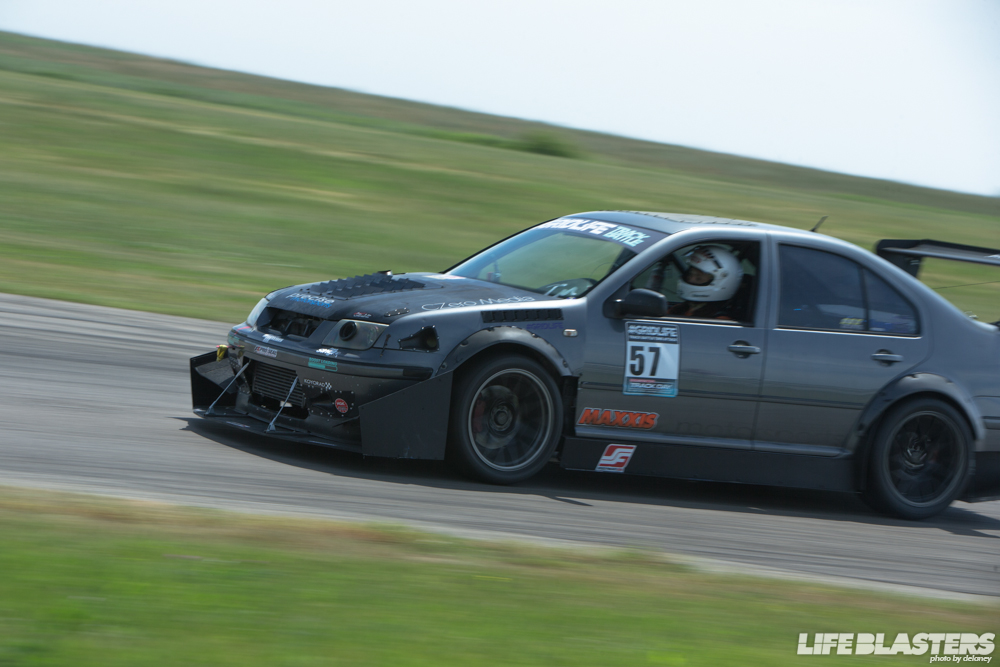 I know a lot of places have strict rules on what can and cannot drive on the road. This car has been spotted out and about here in Michigan. You have to love that.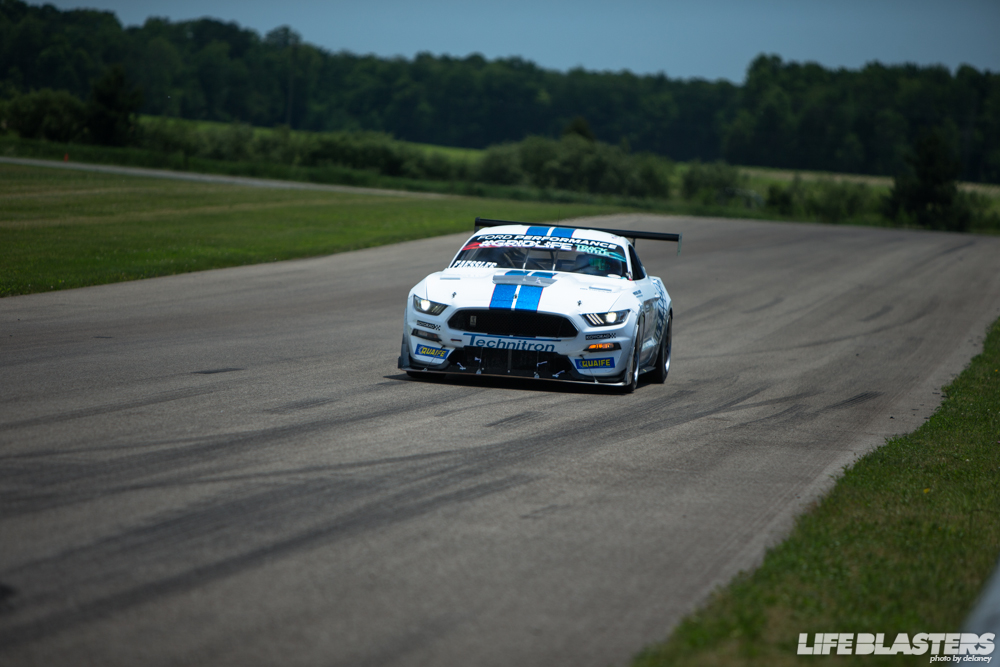 I drove past this Mustang when I first got to the track and I couldn't believe how serious the set up was. It looked more like a Trans Am Series car. The Time Attack competition has been getting more and more serious.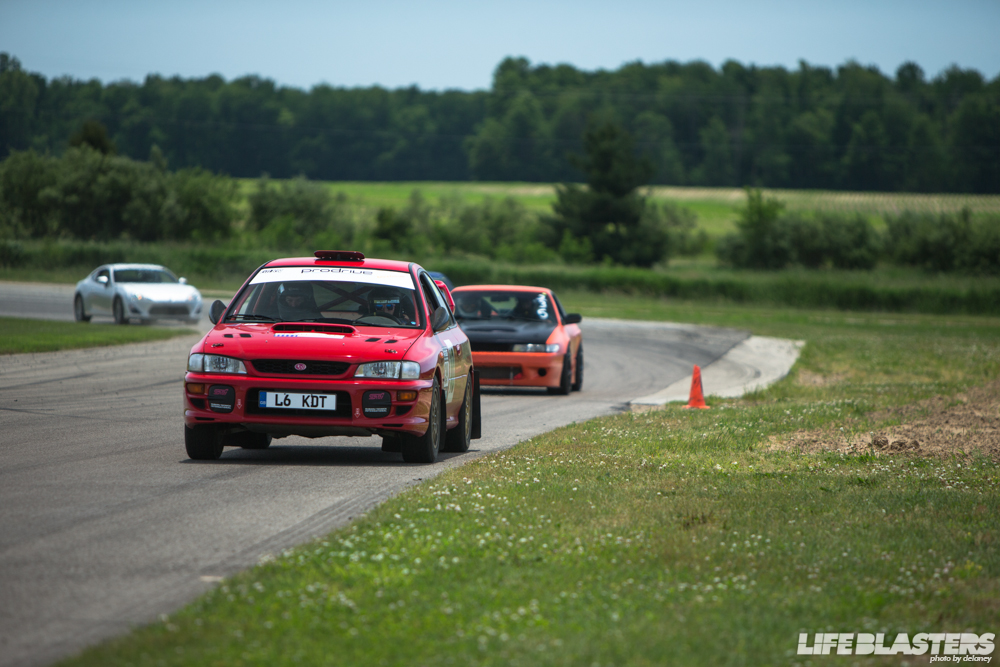 As with any event that has multiple classes running throughout the day, the schedule got offtrack pretty quick. So I really wasn't sure who was running when, even with the announcers talking all day. I don't know if this was HPDE, the high performance driver eduction, or one of the lower classes of Time Attack. But I love how just these two cars show the wide range of cars that were at Gridlife. A legitimate Prodrive WRX and a tastefully modified S13 and an FRS on track together.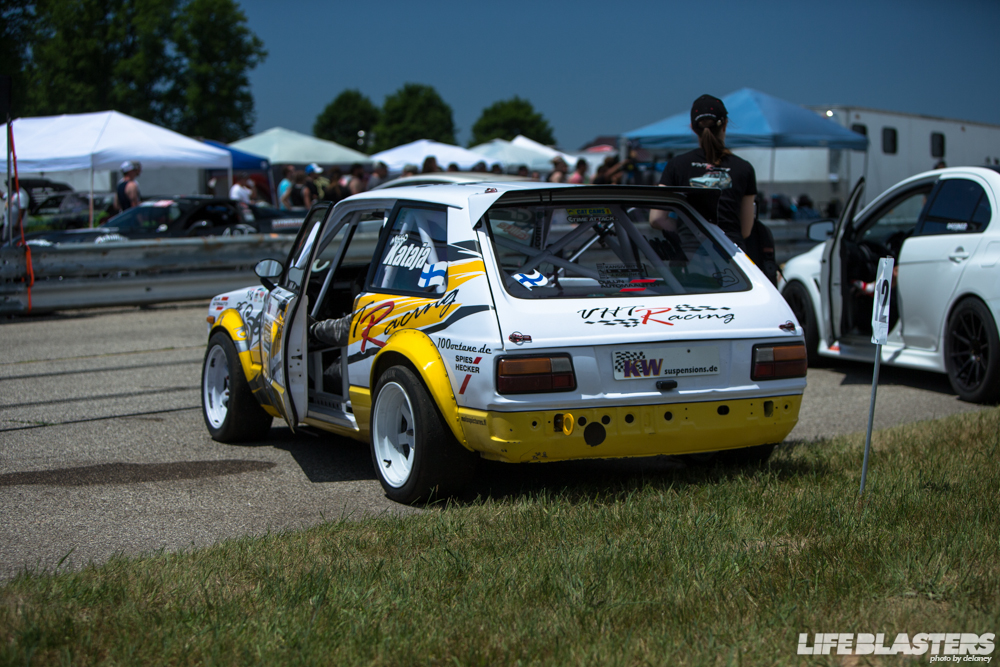 While one group was out on track, the next group was already lined up on grid. Each class ran for about 10 minutes. (CHECK BOOK!!!!!) This Starlet looked like to me something you'd see at Gatebil. The graphics and the just the overall look of the car. The driver's from Finland, that probably helped the feel a little bit.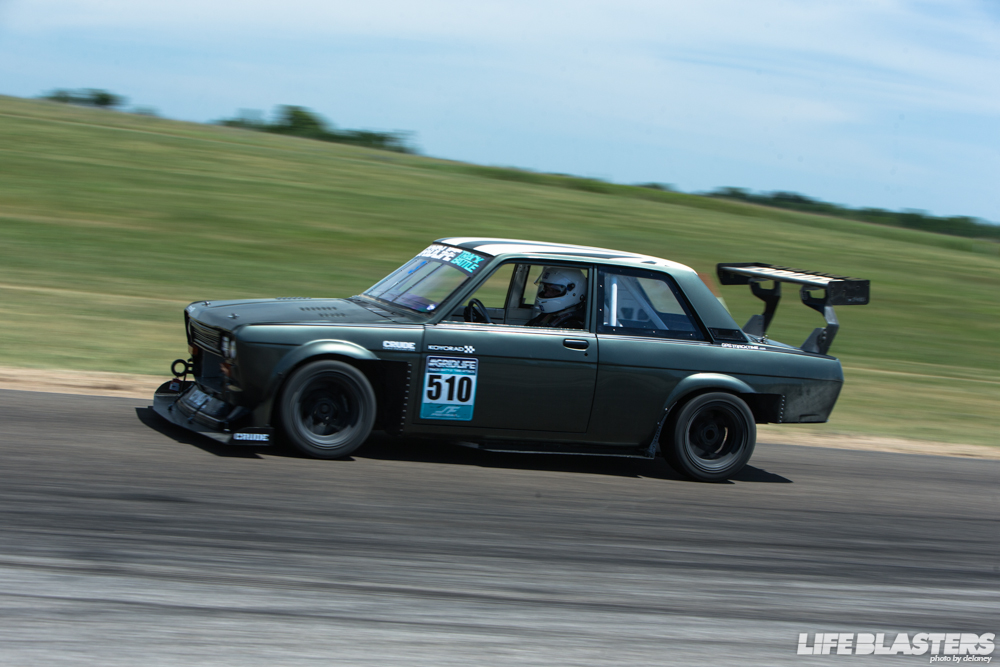 One of the coolest cars though was this Datsun 510. Ever since we bought our 510 last year, I've became more and more fond of the old 510s. This car really turned heads when it showed up last year with it's GM Ecotec engine. And it was still turning heads this year. And went 4 seconds faster than last year. This 510 also made it on the Gridlife program and a T shirt!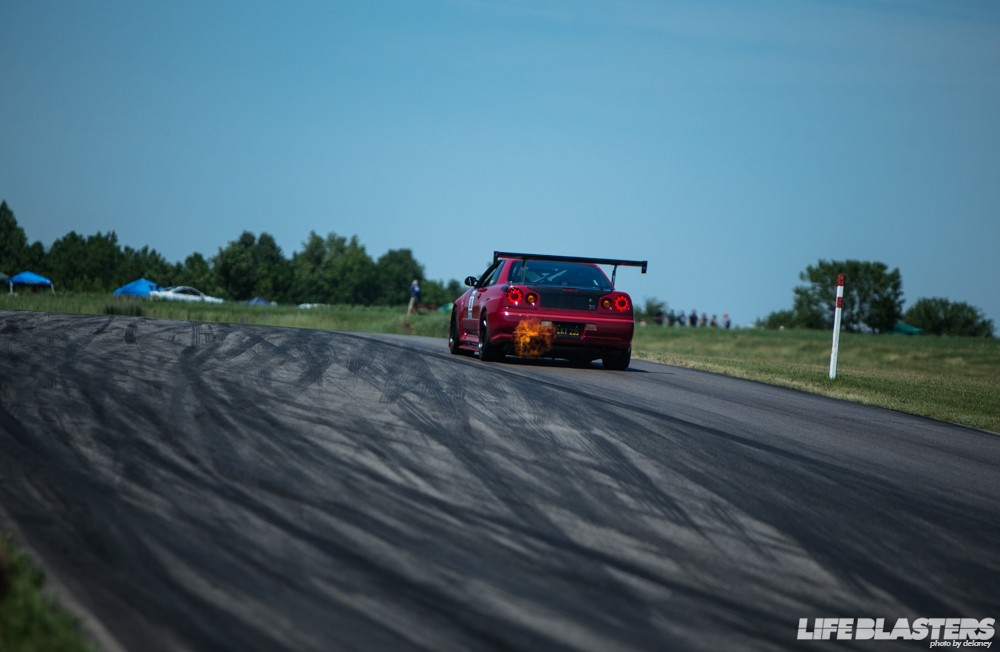 Let's talk about turning heads for a second though. The famous R34 GTR, the car that pretty much everyone has, at least once, dreamed of owning, and the car that's popularity blew up because of video games. We had a real treat when someone brought out their R34 to run. And run it did, shooting a huge fireball every time it down shifted.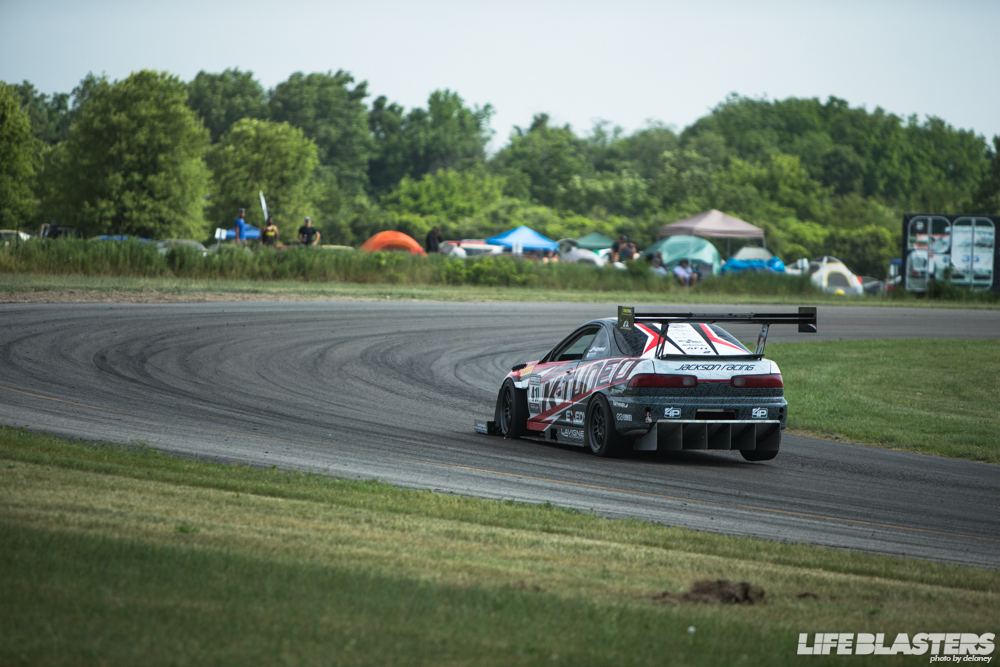 This Integra set a record for the fastest production based car at Gingerman raceway. Not too bad for a FWD Honda. And doing all that while hitting that three wheel motion.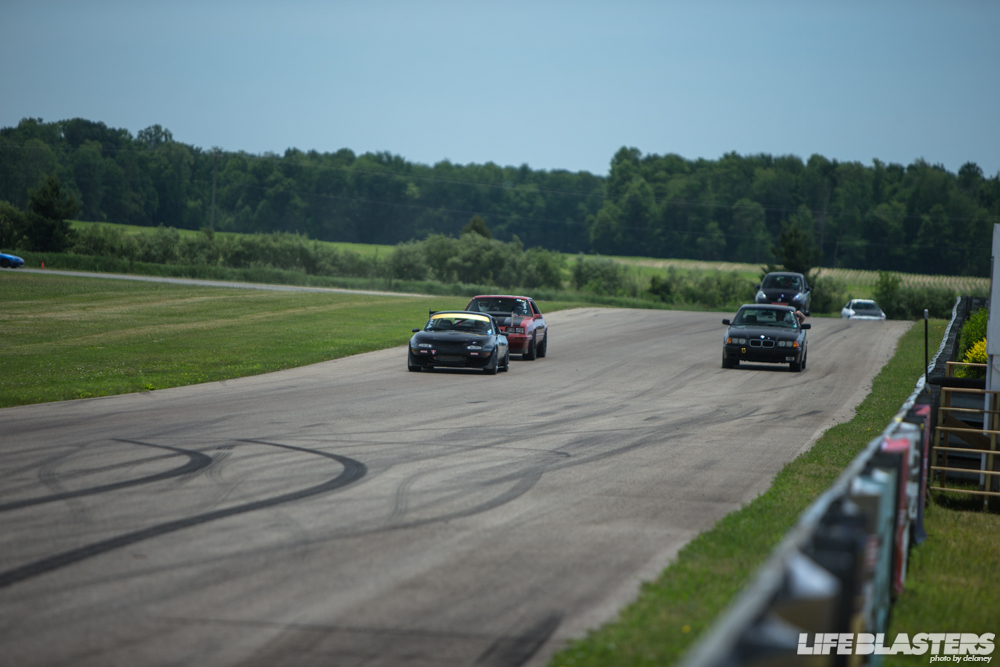 I just couldn't get over the wild mix of cars- Miata, Foxbody, 3 Series and Fit. You don't need an all out race car to have fun. Especially at Gridlife.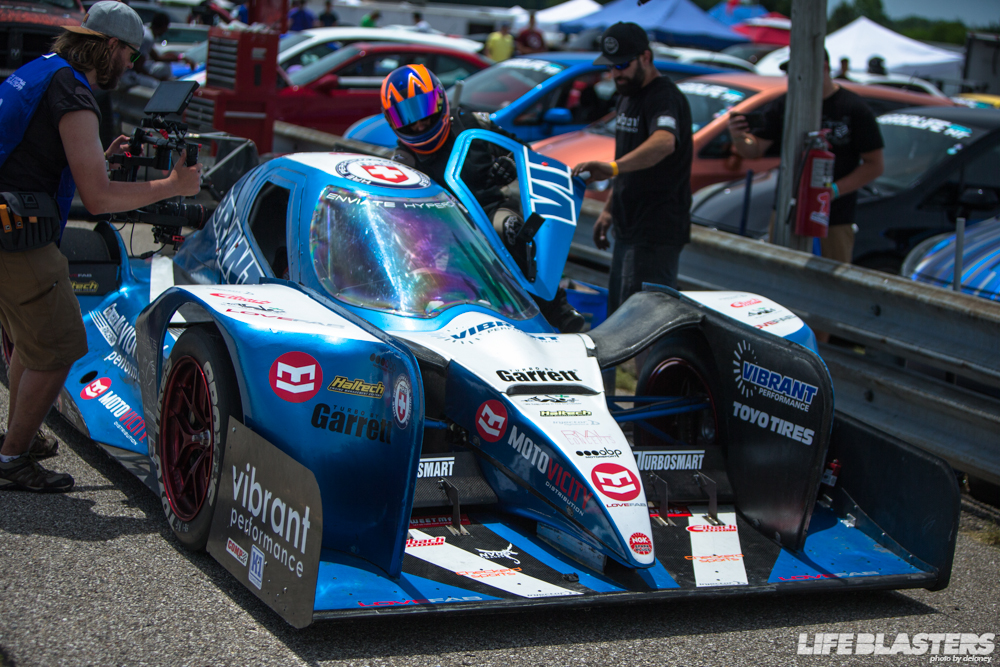 But it doesn't hurt.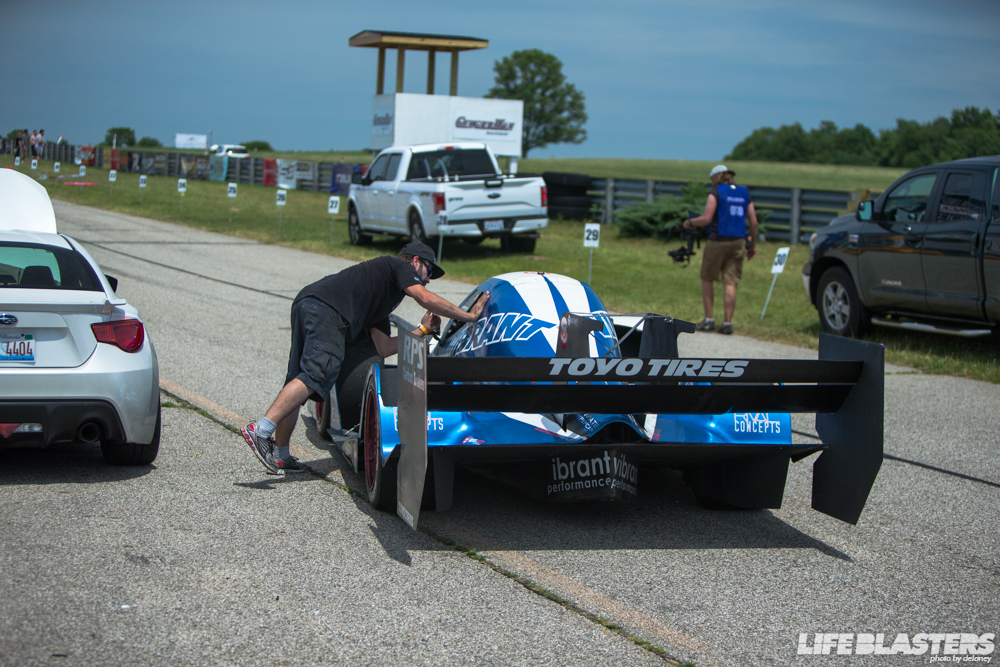 This is the Enviate Hypercar built by LoveFab. I'm sure some people have heard of LoveFab, they have a pretty solid background with NSX's, and the have attempted Pikes Peaks a few times. And this is their most recent attempt built for this years running.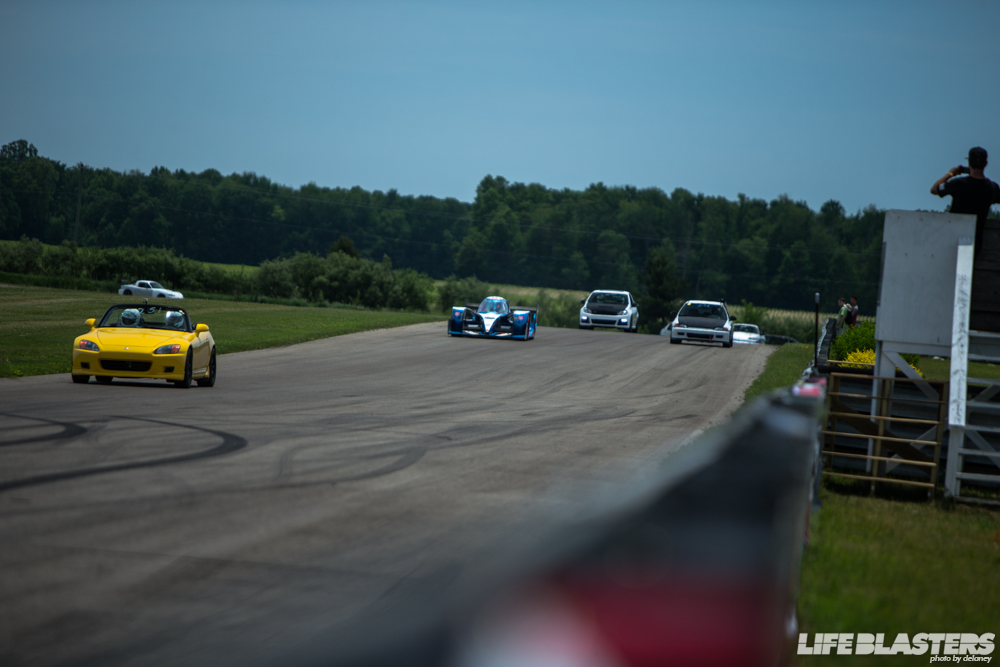 Powered by a twin turbo LS and weighing only 1,800lbs, this is a serious car. With an amazing amount of downforce, this car will be a threat at Pikes Peak. LoveFab is located in Michigan, so Gingerman is their testing grounds, which is why it was no surprise to see them out for a little bit on Saturday.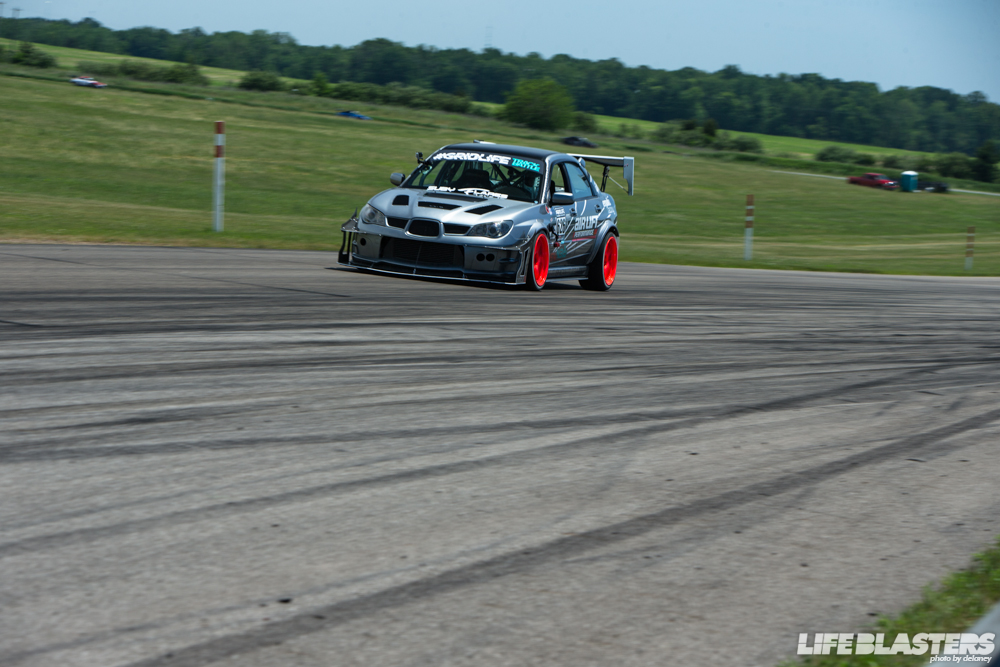 There needs to be more Time Attack events in the States, these high downforce cars are just so awesome to see.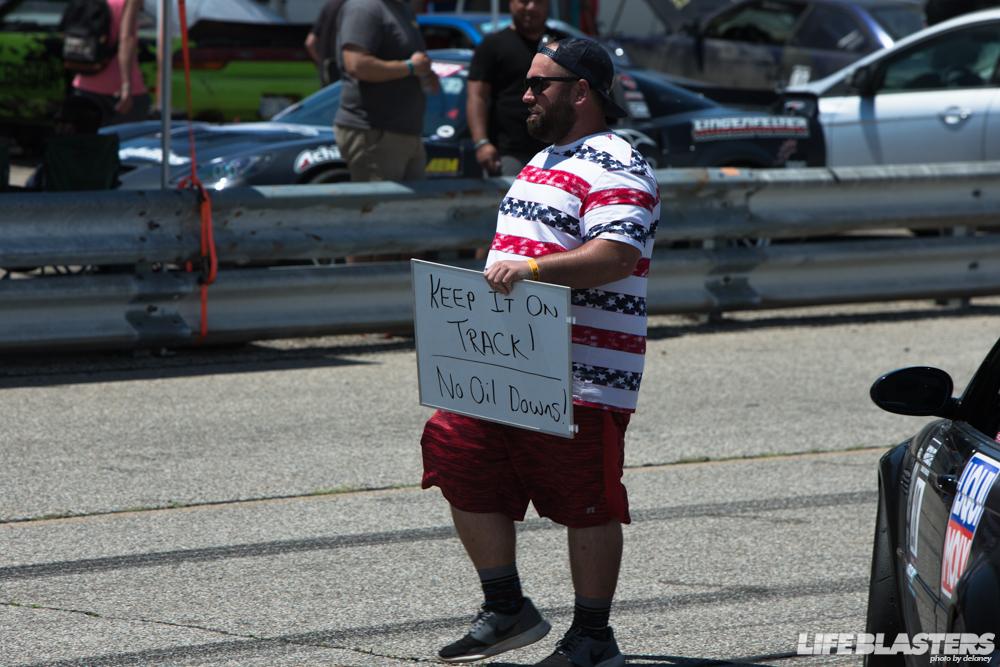 At one point, a BMW dumped oil all over the track and delayed everything by about 20 minutes. So later in the day this guy walked down the starting grid. Gridlife is serious, but also super laid-back. A perfect atmosphere.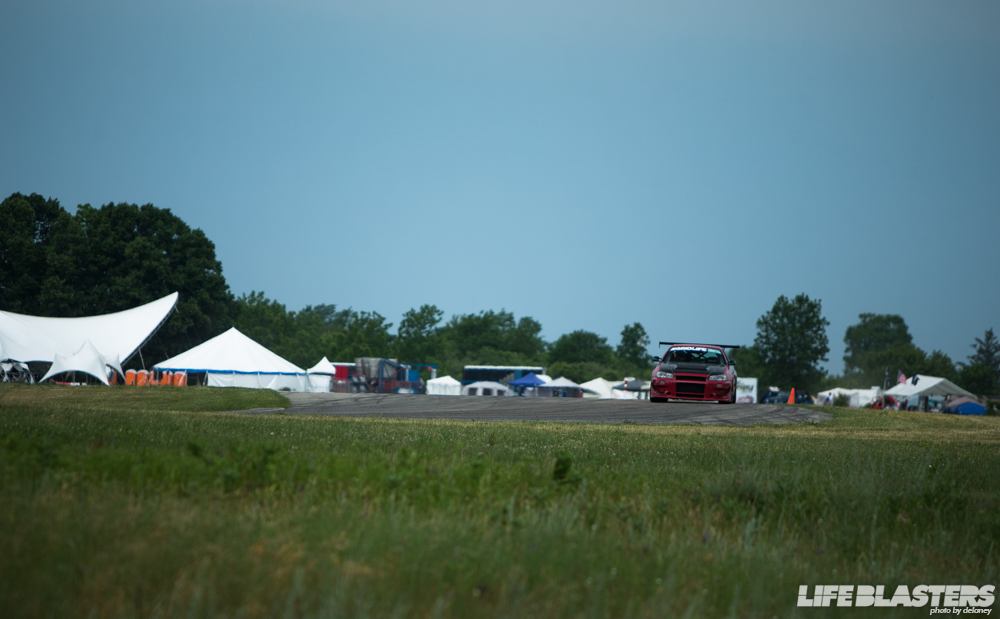 I usually like to think I'm over the whole Skyline craze, but man it's awesome to see an R34 out on track.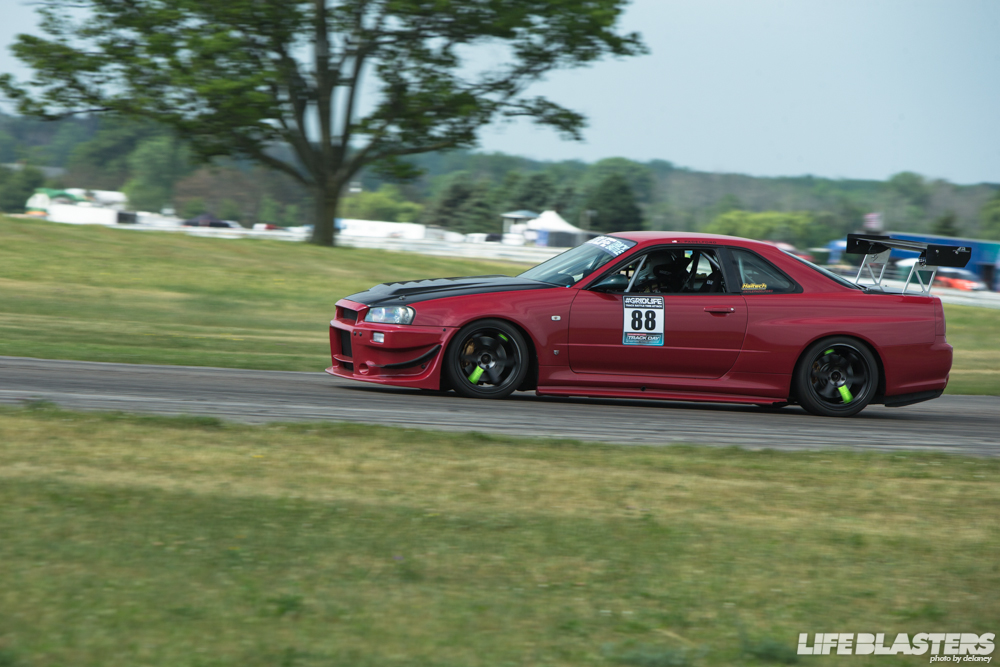 I'm just glad he was out running it. Good on you!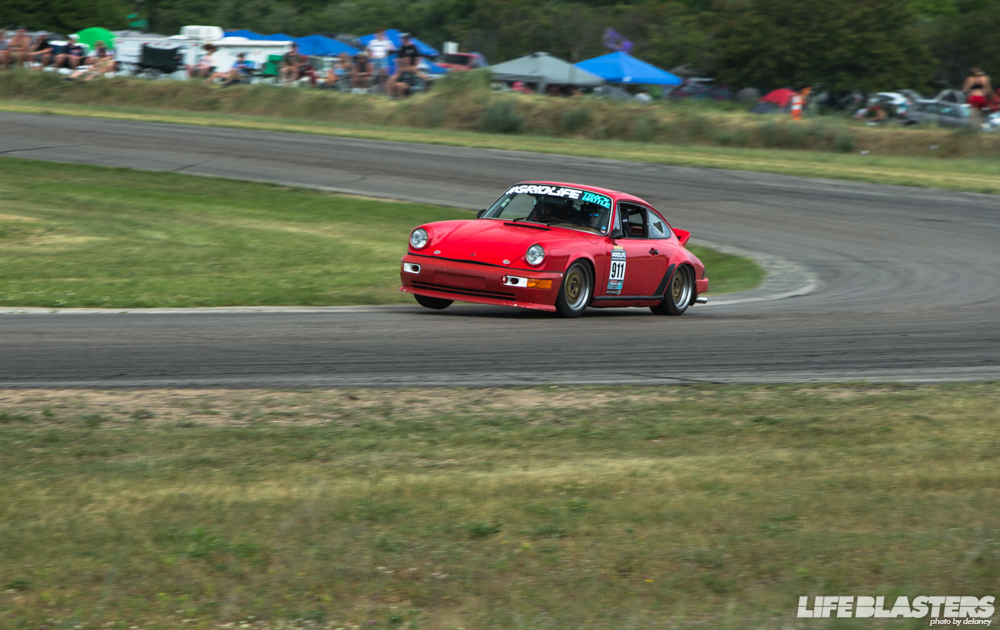 A lot of people were out pushing their cars, a Porsche being a tripod around a corner? That's Gridlife.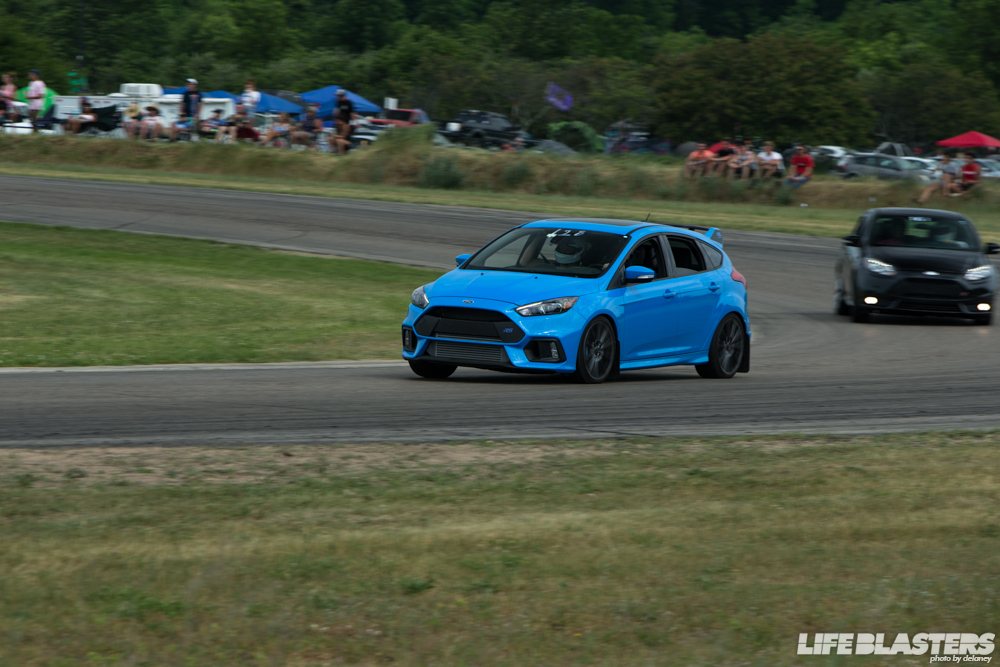 Another cool thing was the driver instructor laps. They usually ran in-between the Time Attack cars and drifters. They had about a 20 minute window to get out on track with an instructor and run some laps. It wasn't the most exciting time, but the fact that people could get out on track during the event was pretty cool.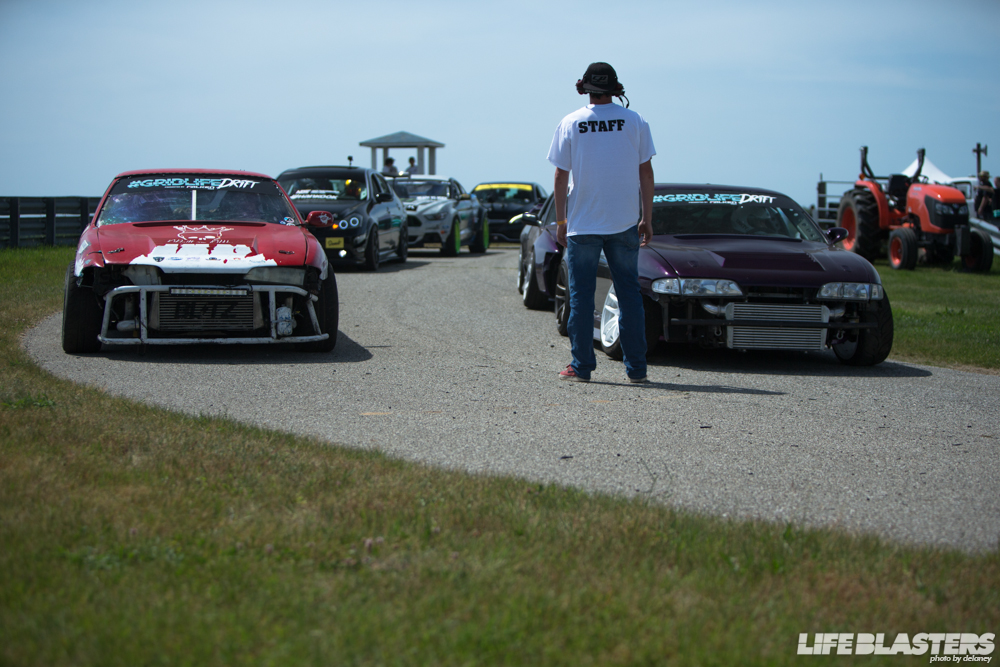 All that was one part of the event, but the biggest draw was easily the drifting.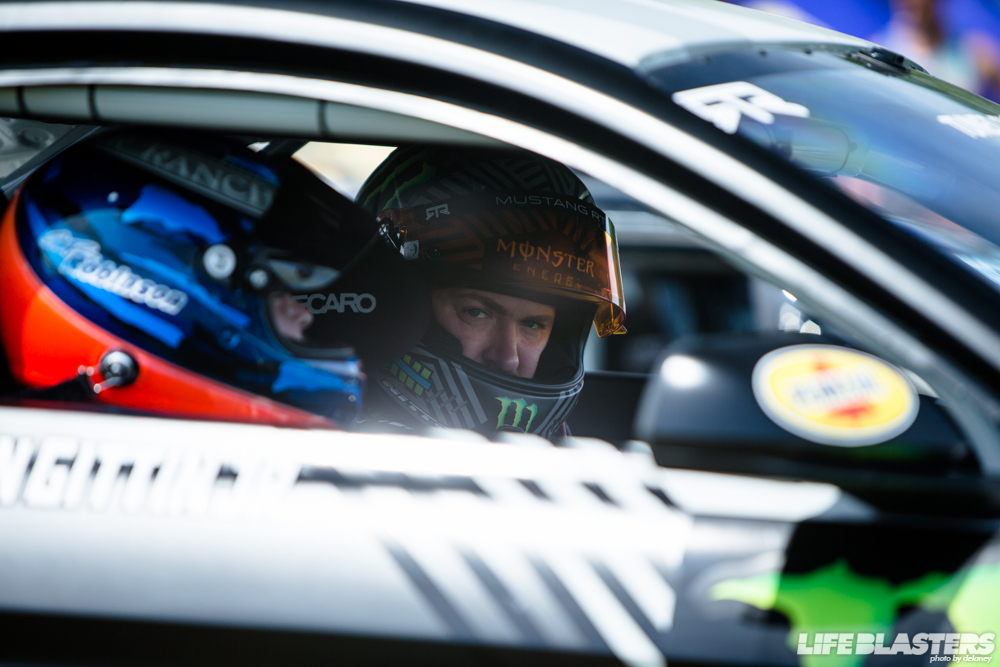 And the roster this year was insane. Vaughn Gittin Jr.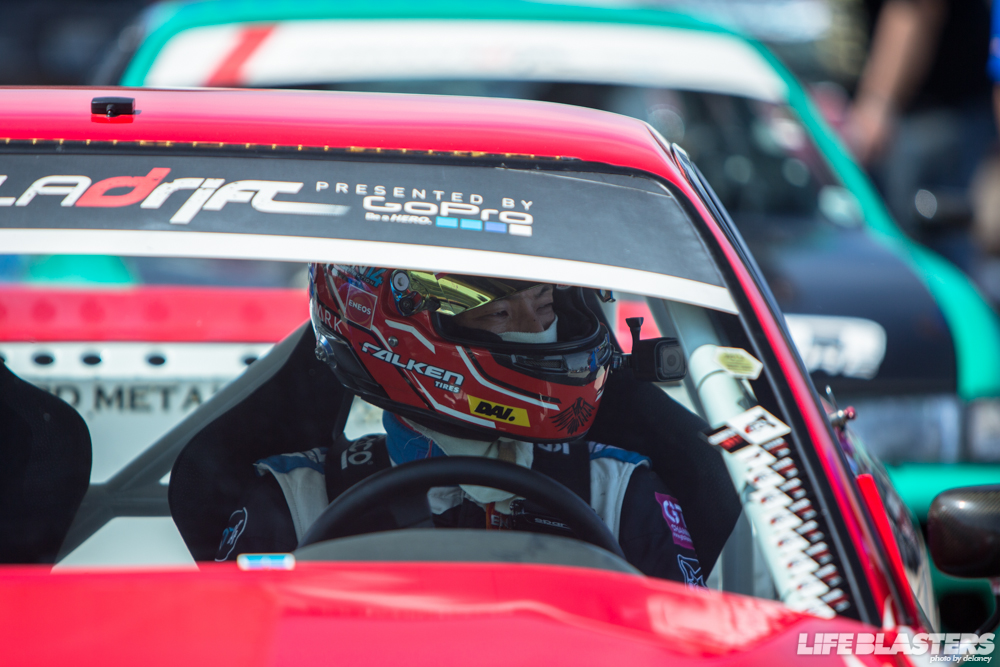 Dai Yoshihara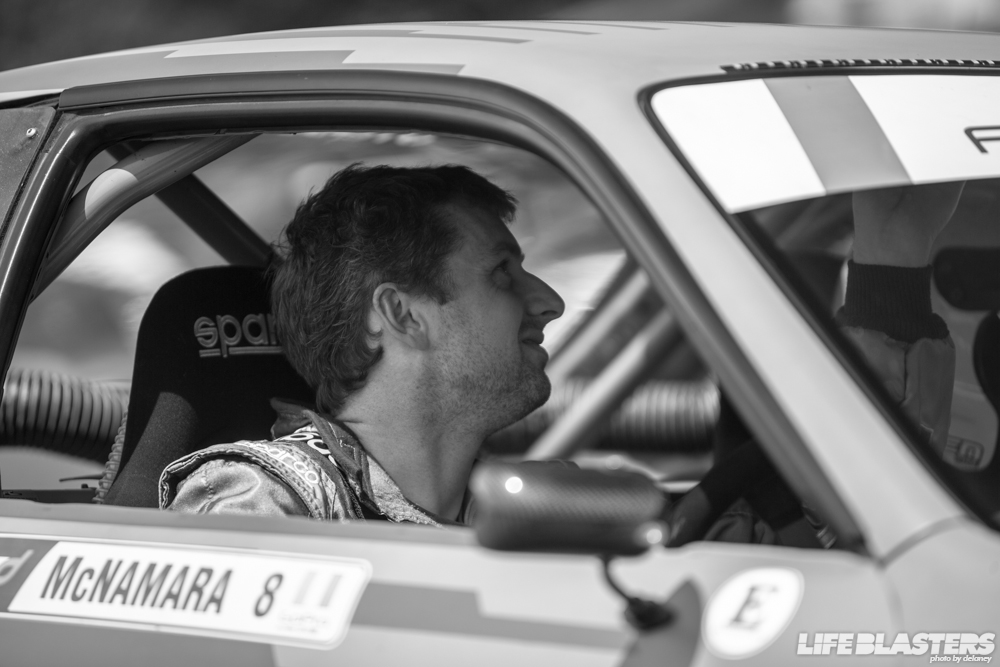 D-Mac.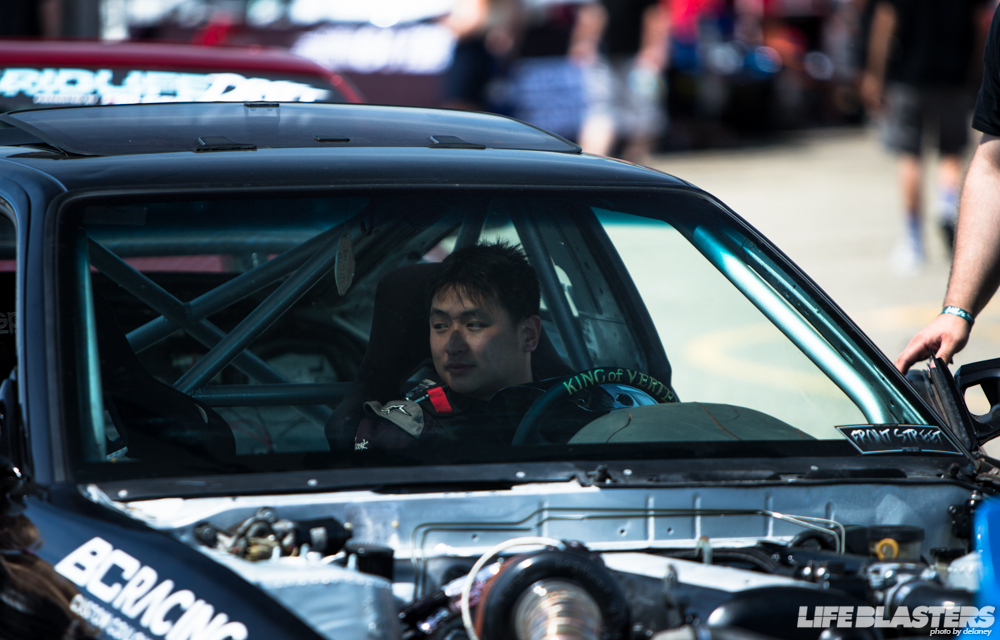 Geoff Stoneback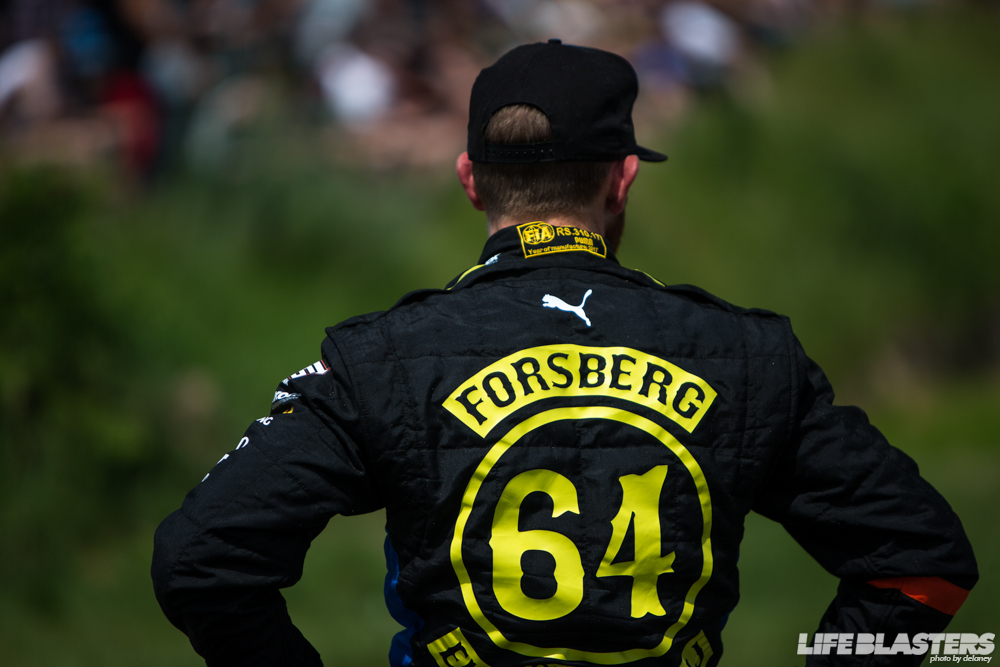 Chris Forsberg.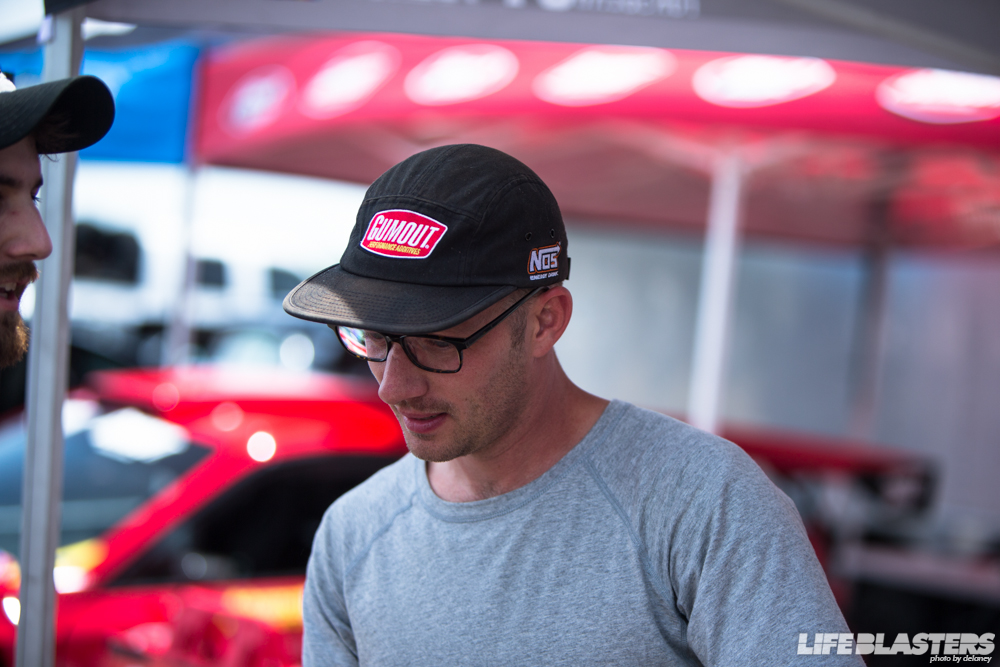 Ryan Tuerck.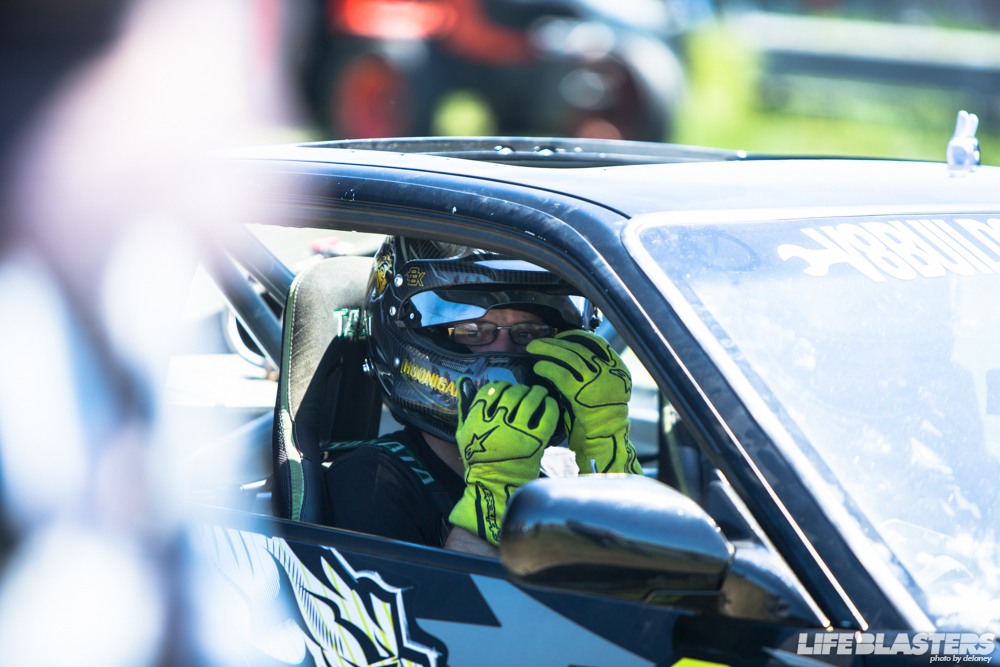 Chris Layer AKA: Rob Parsons.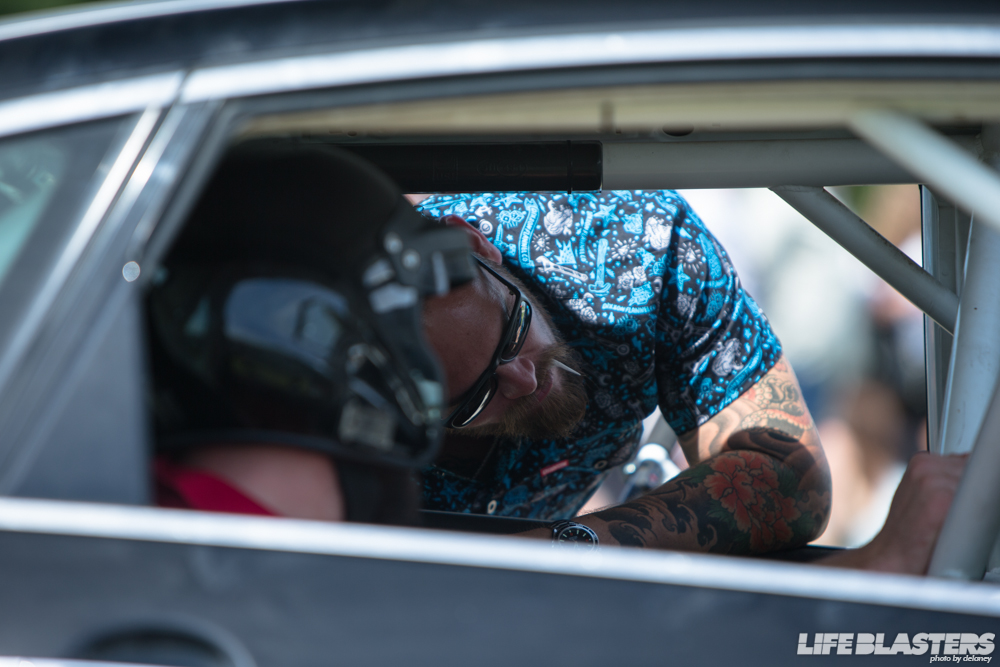 Jarod Deanda, Odi Bakchis, JTP and Sam Nalven and Paco Ibarra from Maximun Driftcast. That's a pretty solid line up.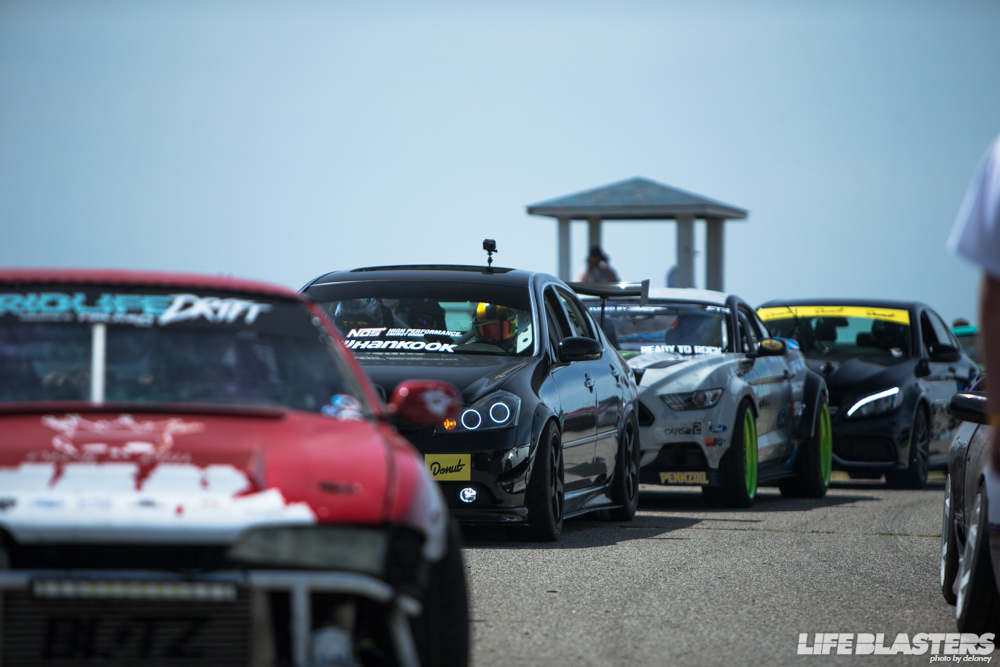 Gittin had his promo Mustang, Forsberg was in his four door Infinity, Tuerck had his insane Ferrari powered GT86. Dai, Odi, JTP and D-Mac were in Falken cars.

And it wasn't just that group though, some of the most well known teams from the Midwest came out too. Risky Devil, Team Proceed, Dirty Love and Dark Squad were some of the cars that came out this year, look at how long that line is!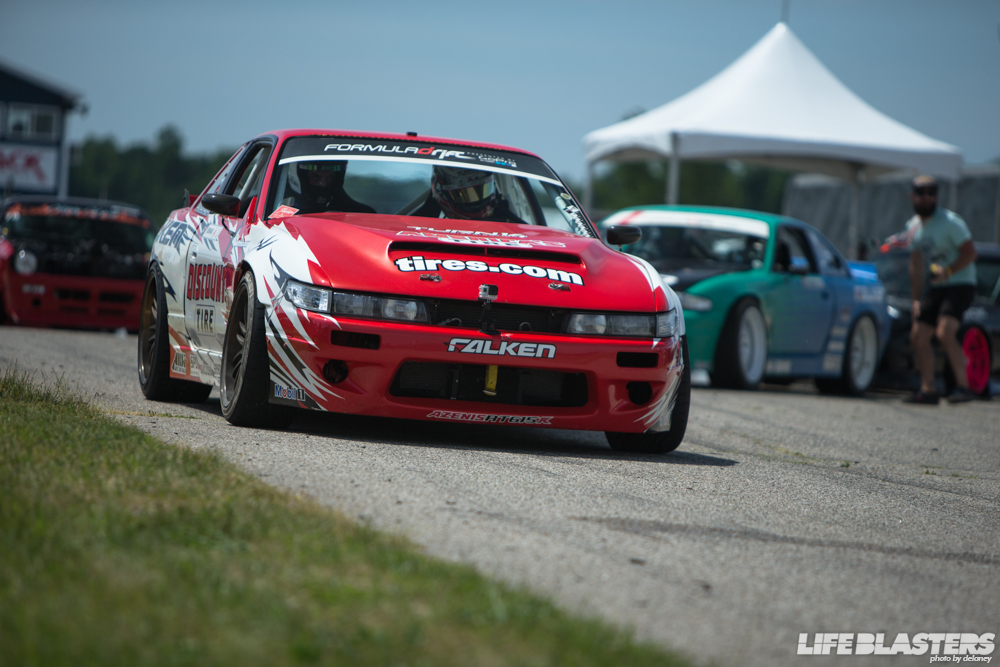 Seeing Dai's 2011 Formula D Championship winning car in person was pretty awesome.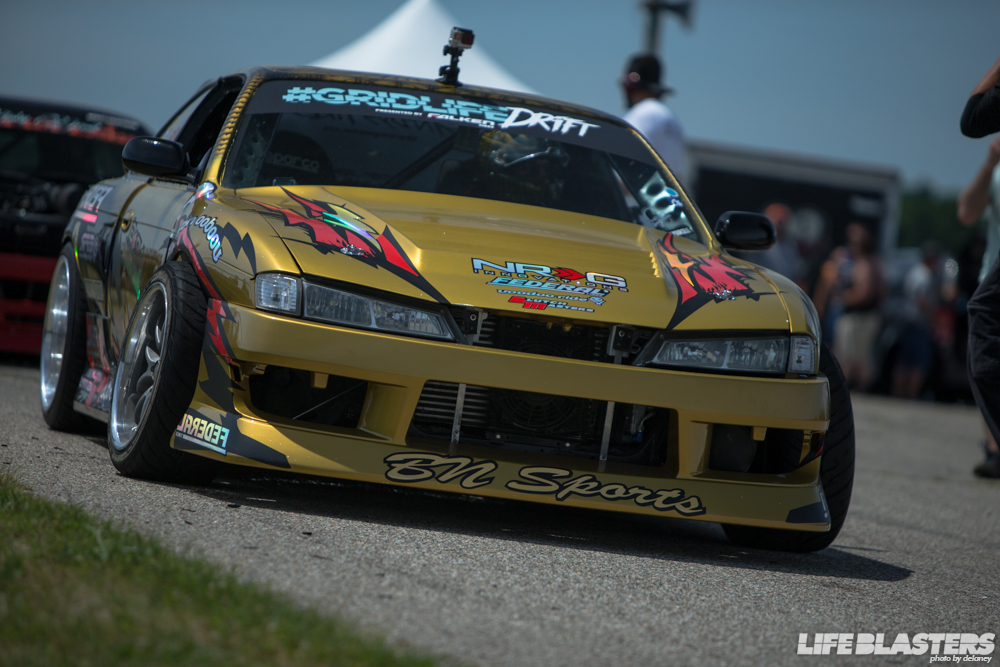 And there was one name I didn't mention, and that was Ryan Litteral. Of all the drivers that came out, I think Ryan was by far the most exciting. Gingerman Raceway has a long front straight that goes into a pretty sharp left hander. I think Ryan tried to pull a reverse entry into that corner every time over the course of the weekend. A lot of people did.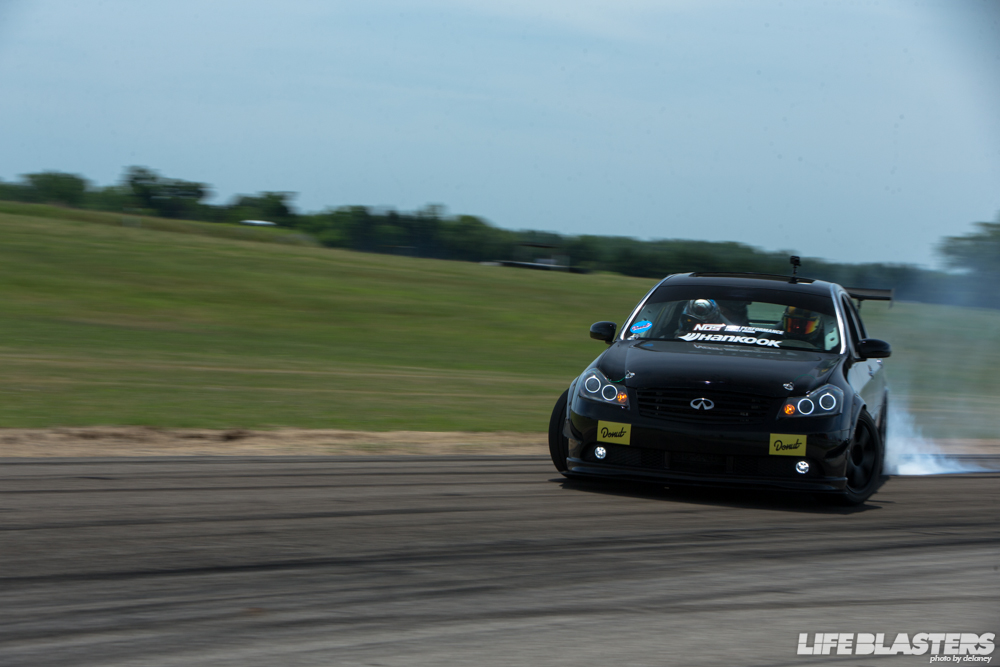 Gingerman's first turn is almost a perfect turn for drifting. I don't think there was a single driver that didn't enjoy a good initiation into it.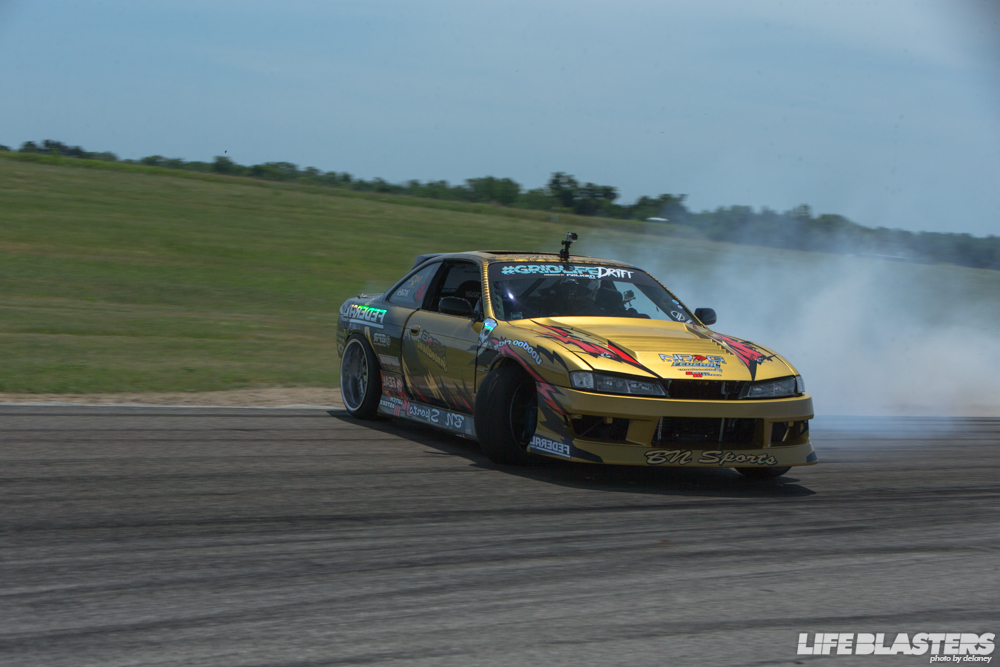 I know Ryan was having a good time.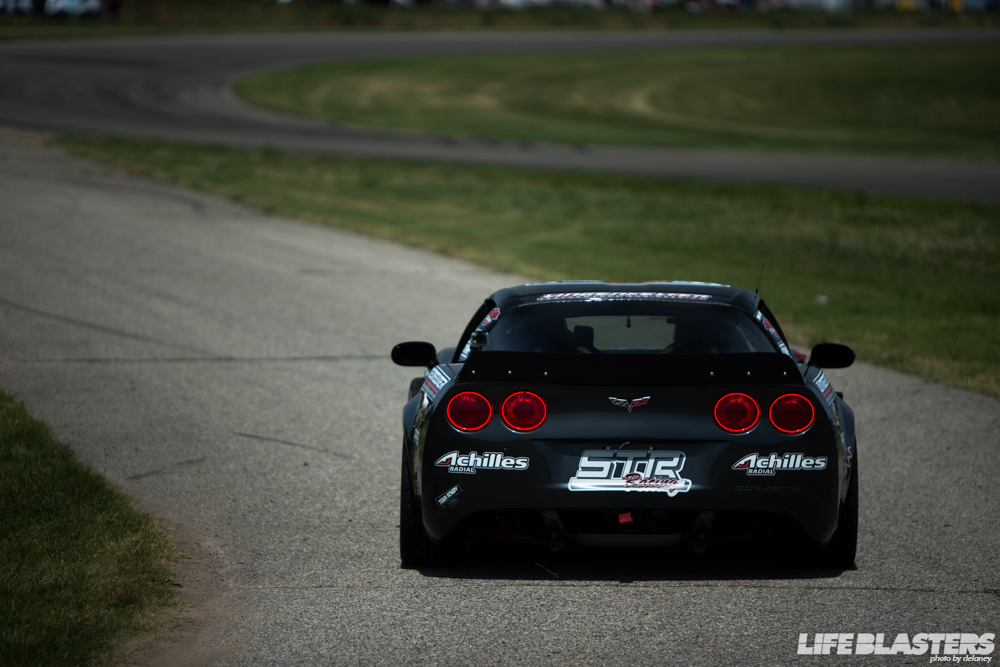 Dirk Stratton from the FD Pro 2 series was out in his Corvette. By far the smokiest car at the track.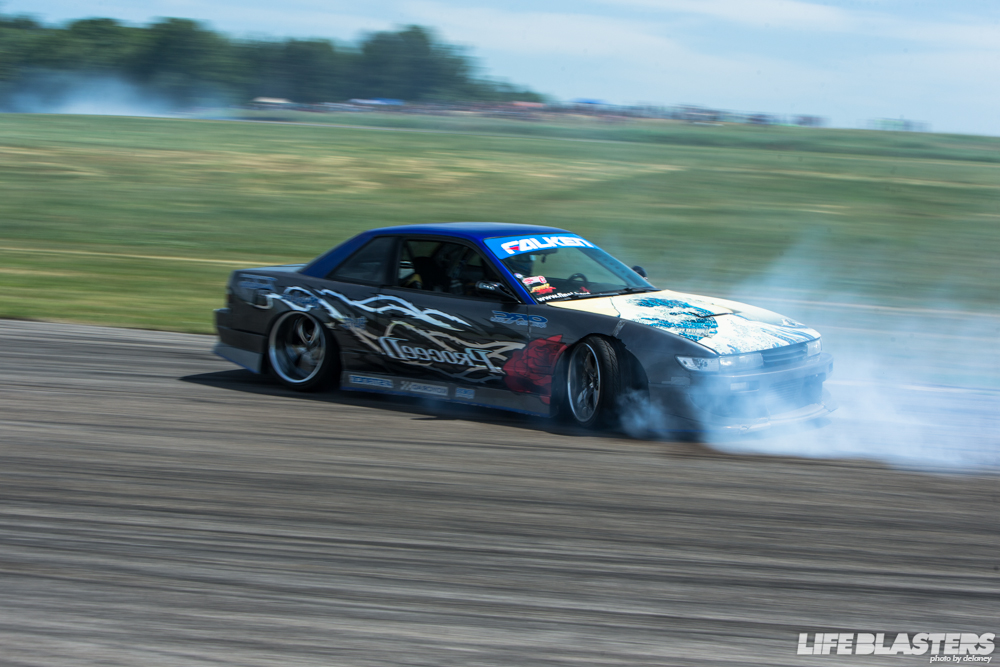 Everyone went all out at the first turn at least once.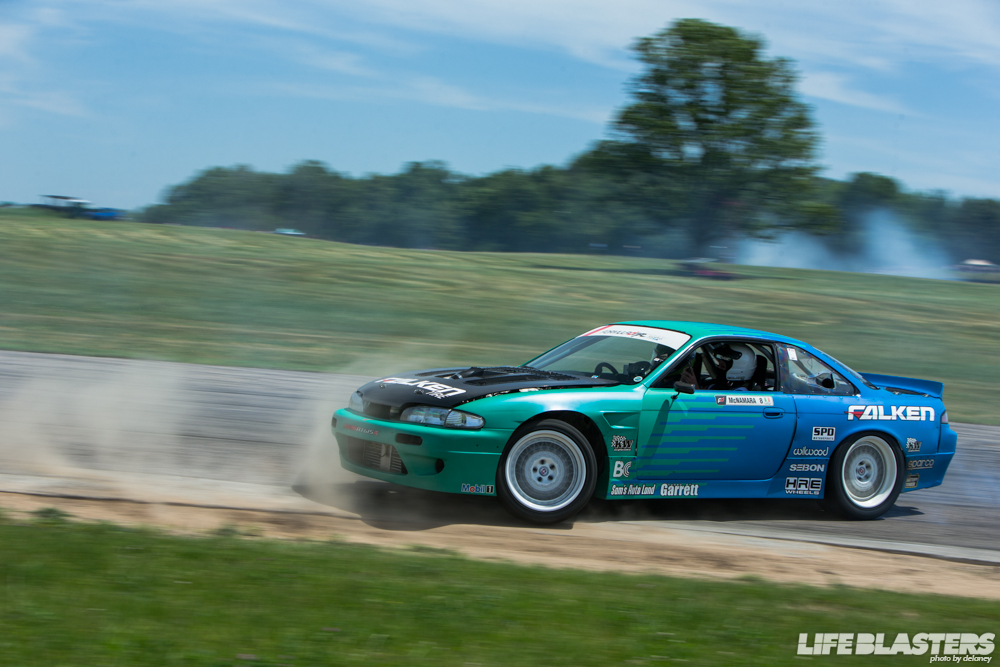 It kind of felt like a historic drift event mixed in with everything else going on.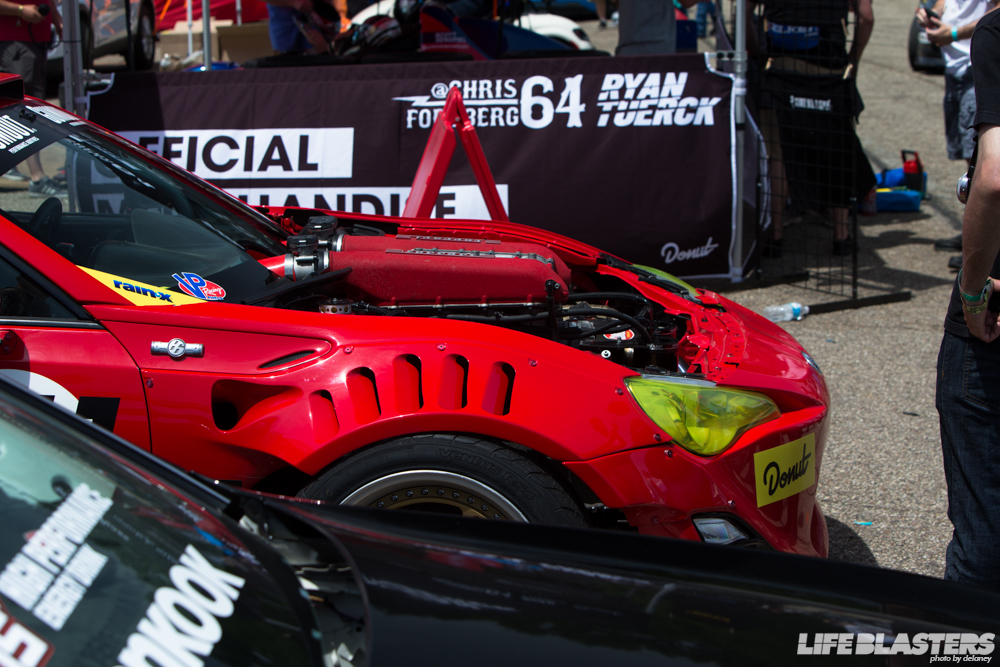 Seeing this car up close is just insane. I love completely random swaps.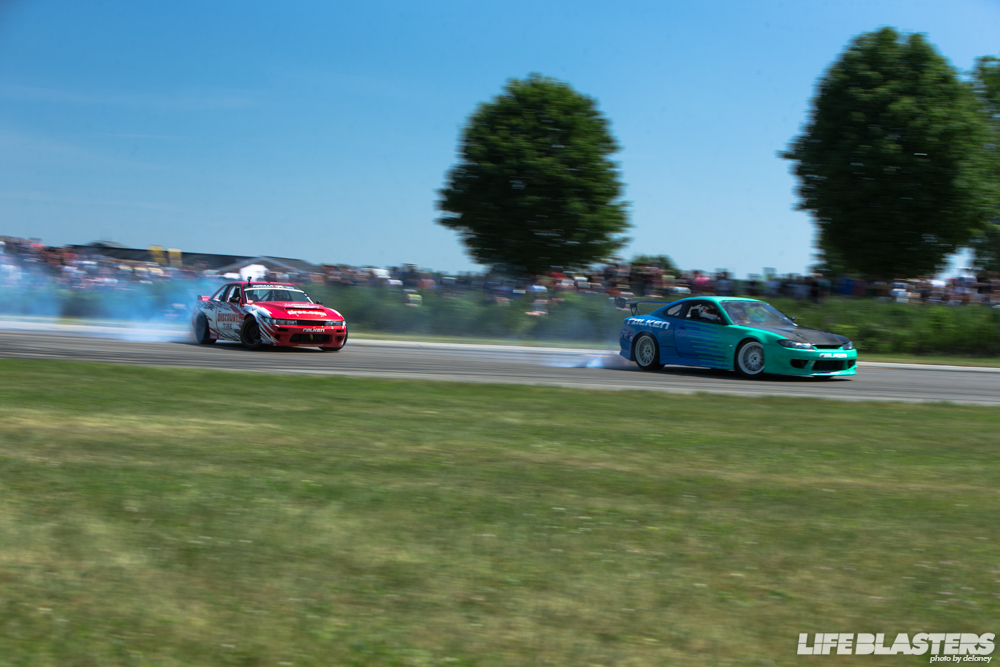 Falken went all out bringing five cars out.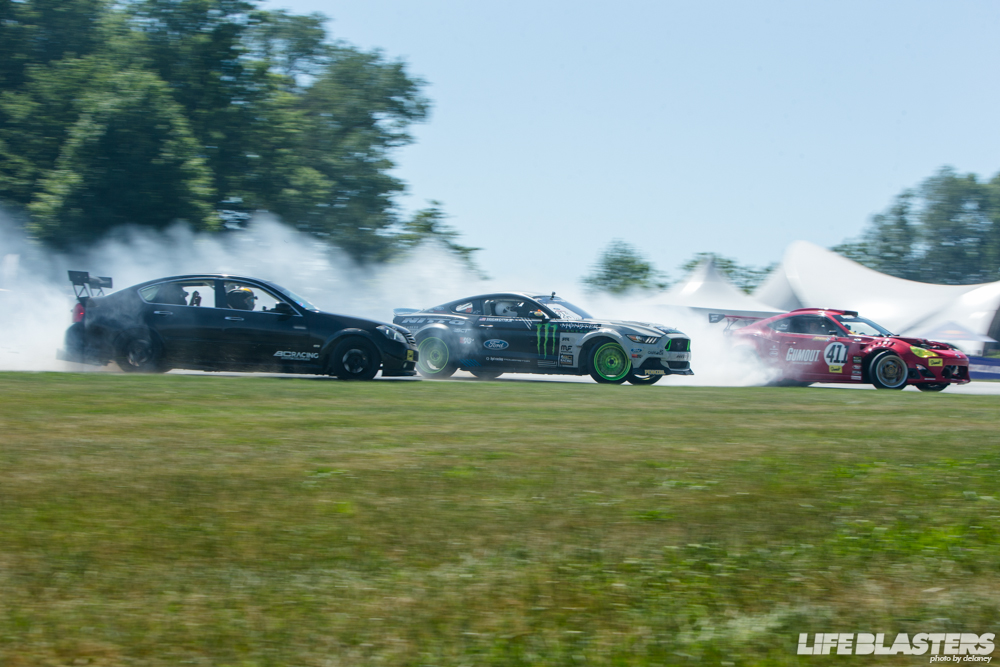 Between the Falken squad the Drift Alliance, this was one of the bet drift events of the year. And drifting was only part of the event! Gridlife is awesome.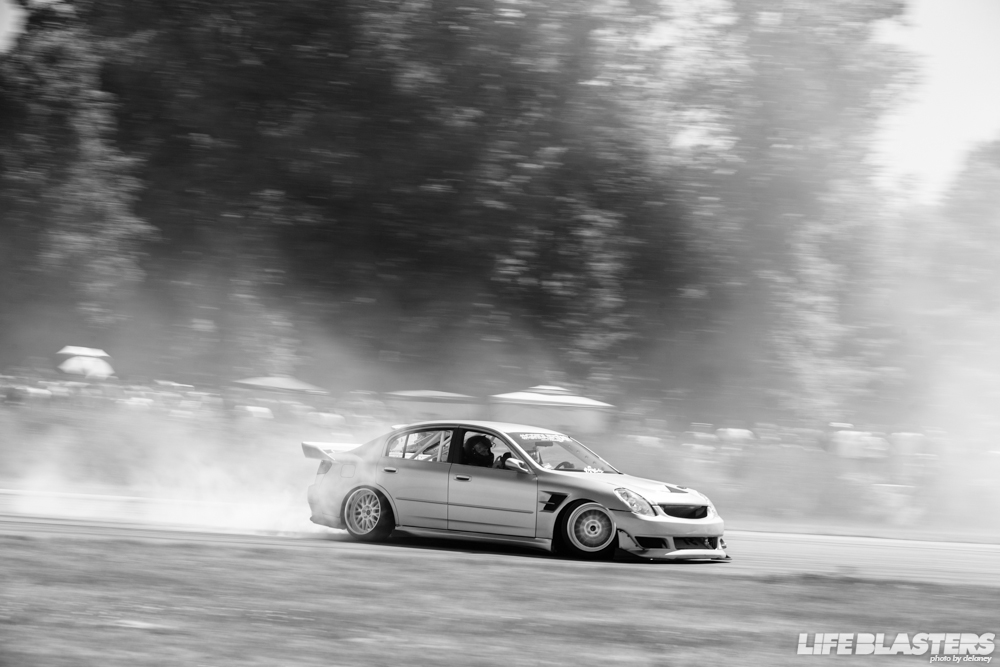 Like I said earlier, the big names weren't the only ones there. Drivers from all over the Midwest came out. And they all drove at the same time. It was cool seeing all the pro guys out there with all the local guys too.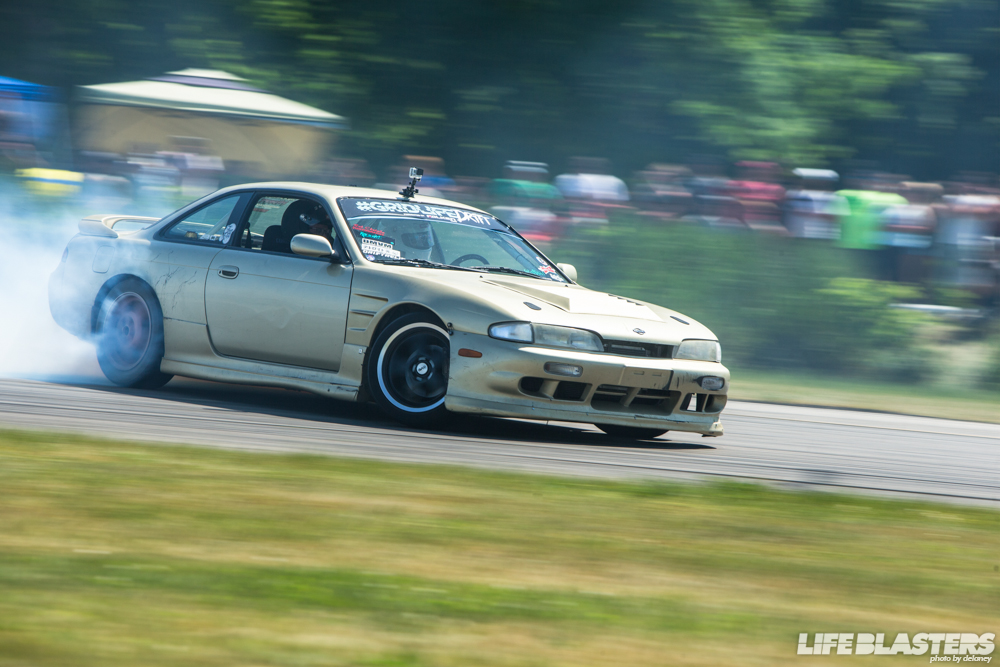 I absolutely loved this S14 too. The style is just so perfect to me. Basic and clean.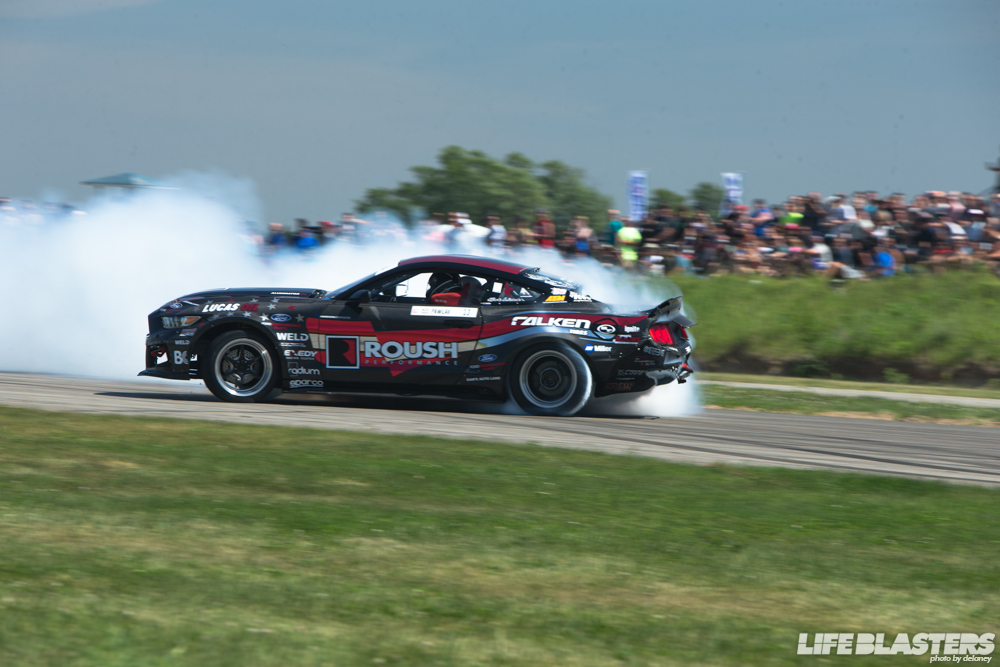 Gittin was doing some 360 entries earlier in the day, which reminds me, Matt Powers showed up too at some point. JTP wanted in on the fun too.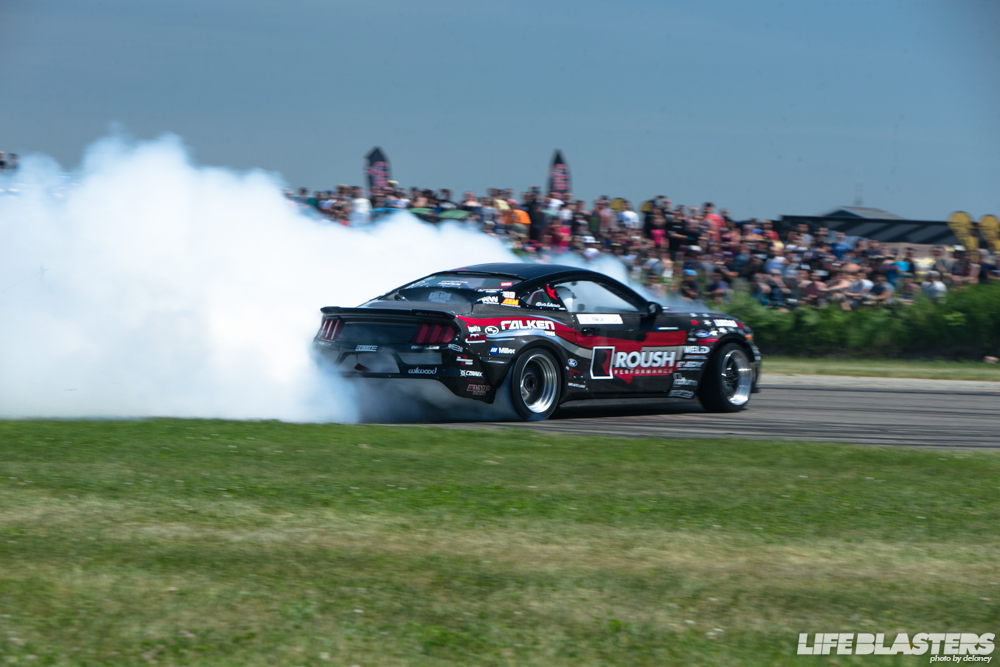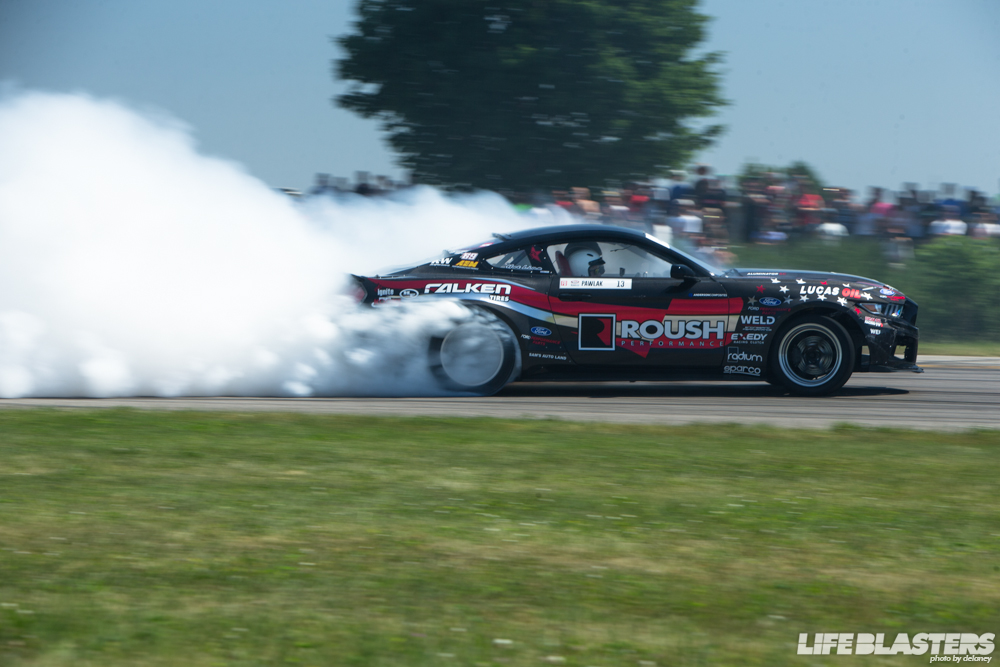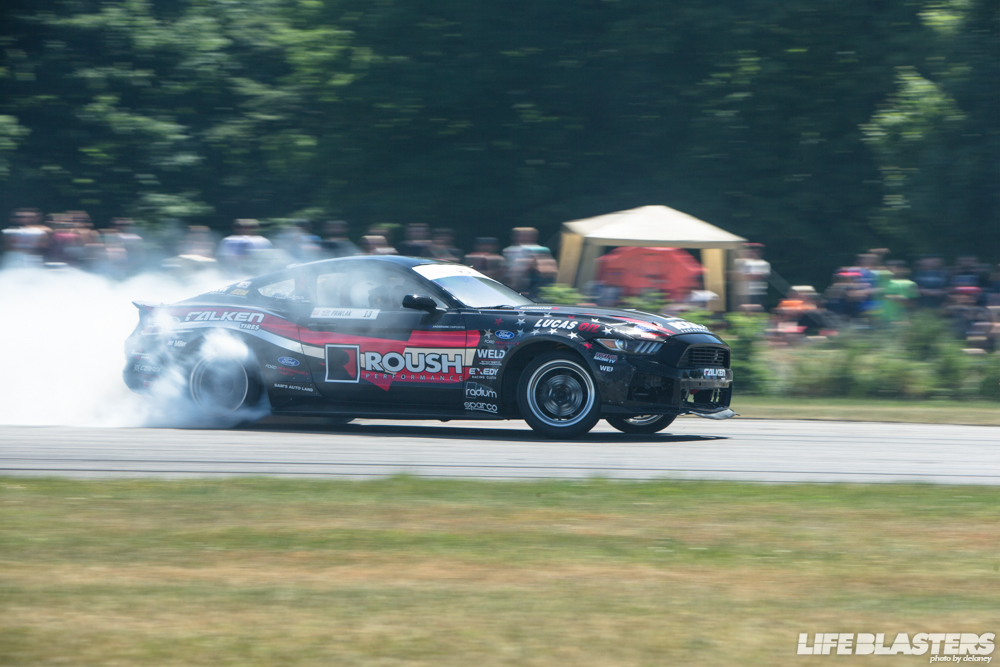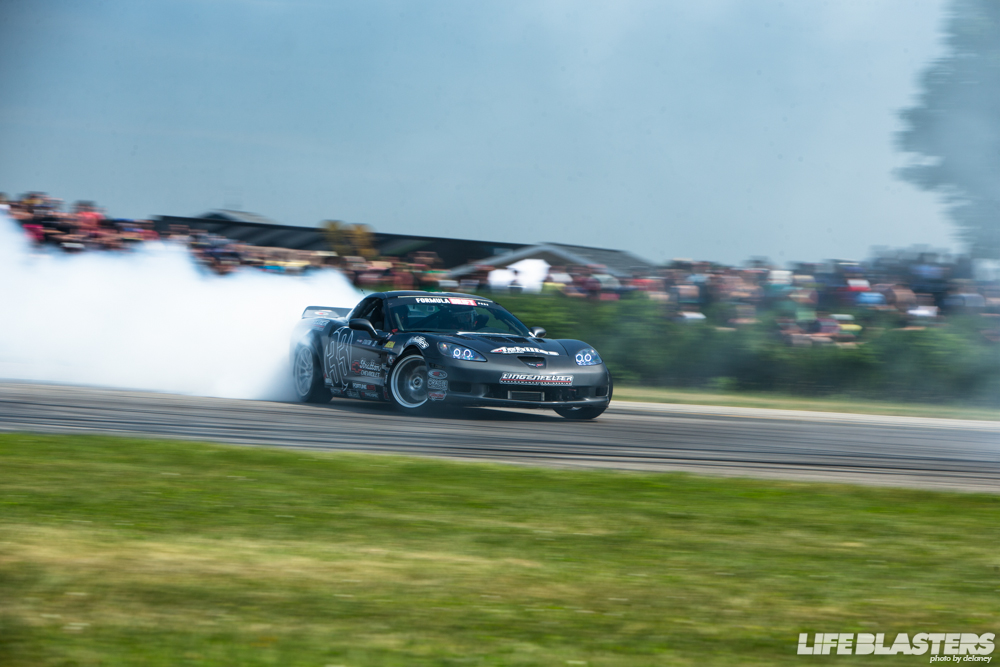 Dirk was out there smoking out the rest of the track. He and Ryan were both just letting it all hang out every run.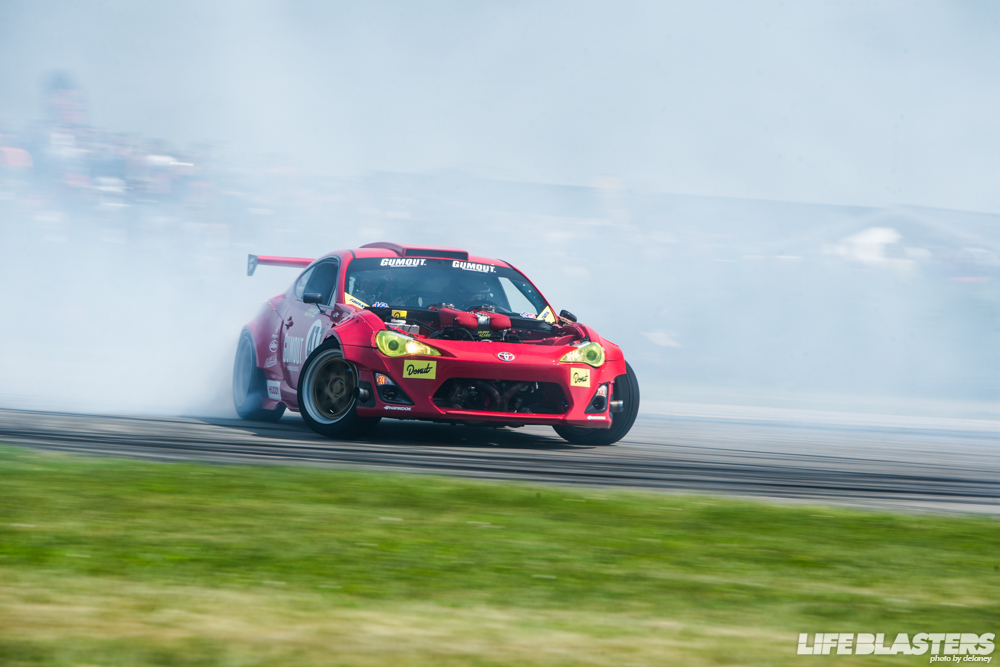 The way the drift session worked, all the cars lined up at the last turn, then once they let them go, it was pretty much just a free for all. 15 minutes of straight drifting.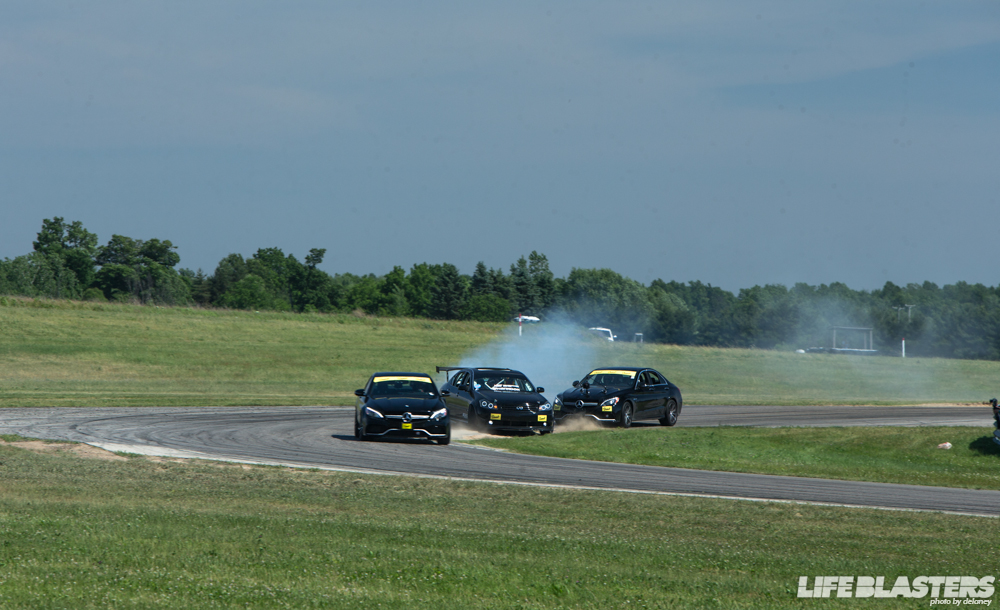 Donut Media came out hard with two Mercedes. One with a front mounted camera and one with a rear. I cannot wait to see their footage.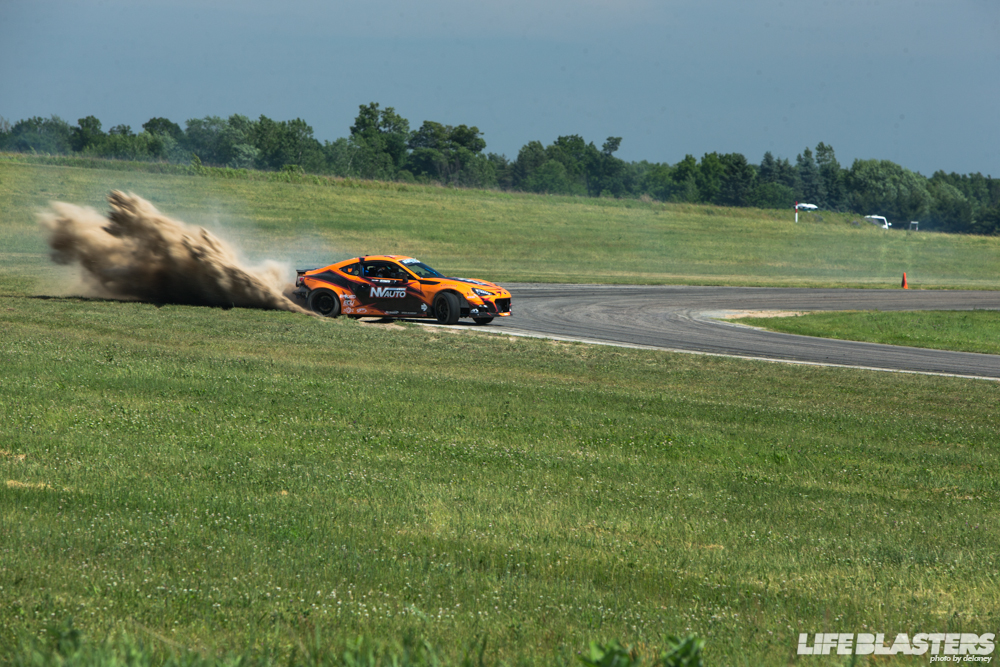 Turn one. All out.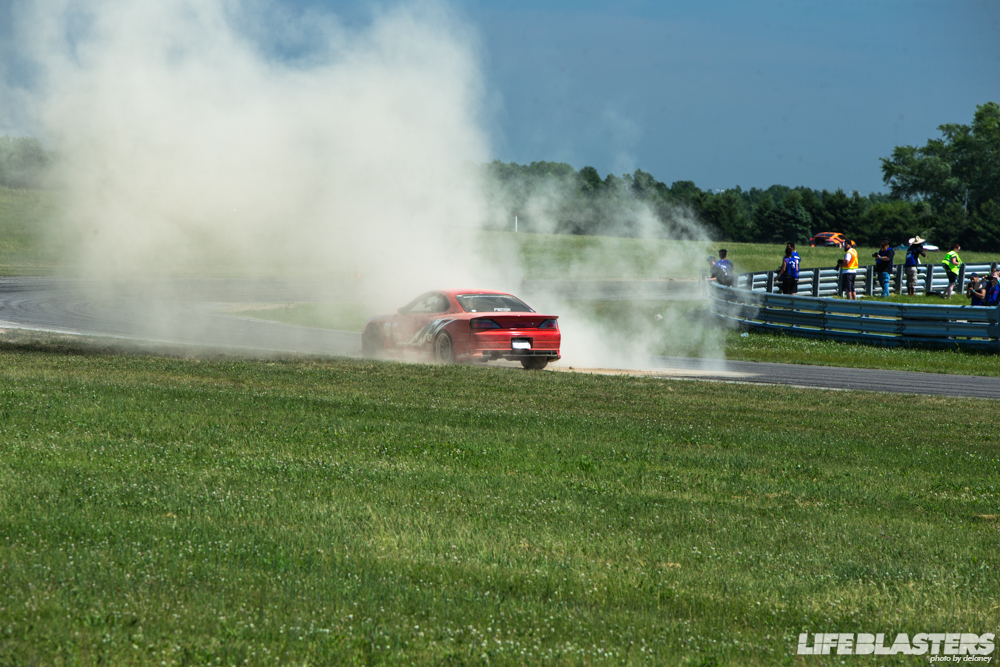 Again.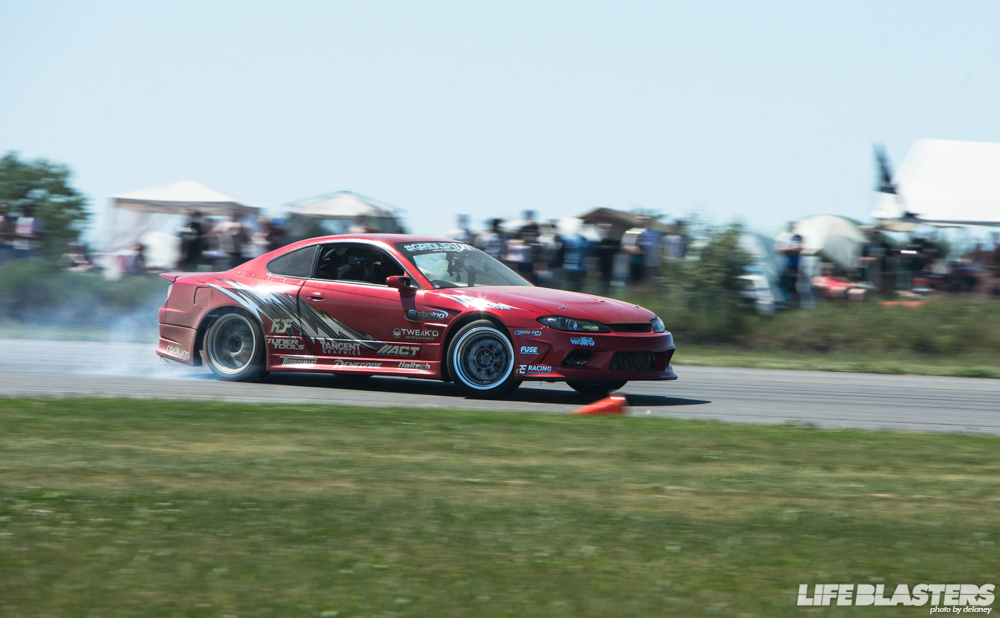 But then you straighten up and keep going to try it again.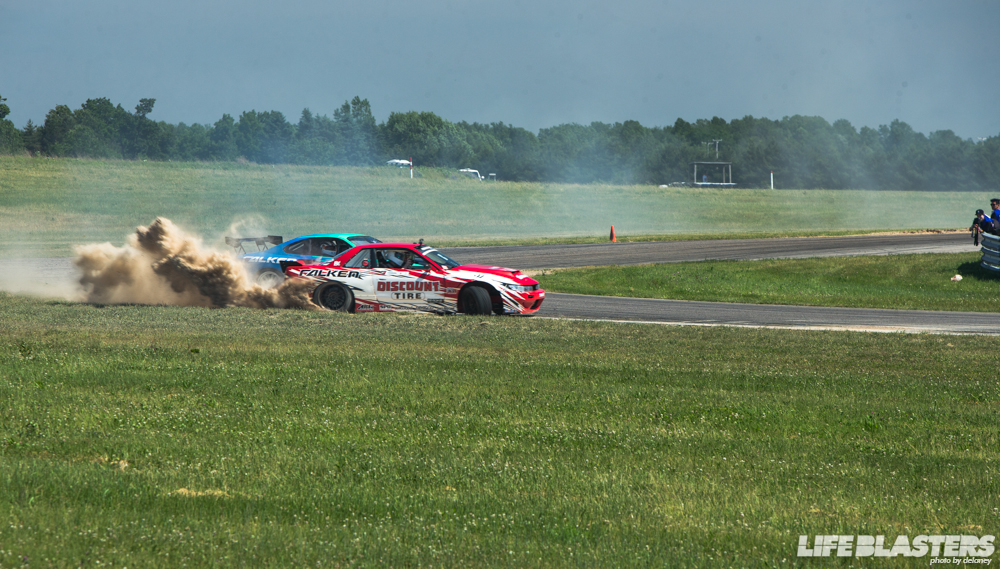 One of the things I love most in drifting is the dirt drop. Tire smoke is cool, but dirt is cooler. Must be my rally side.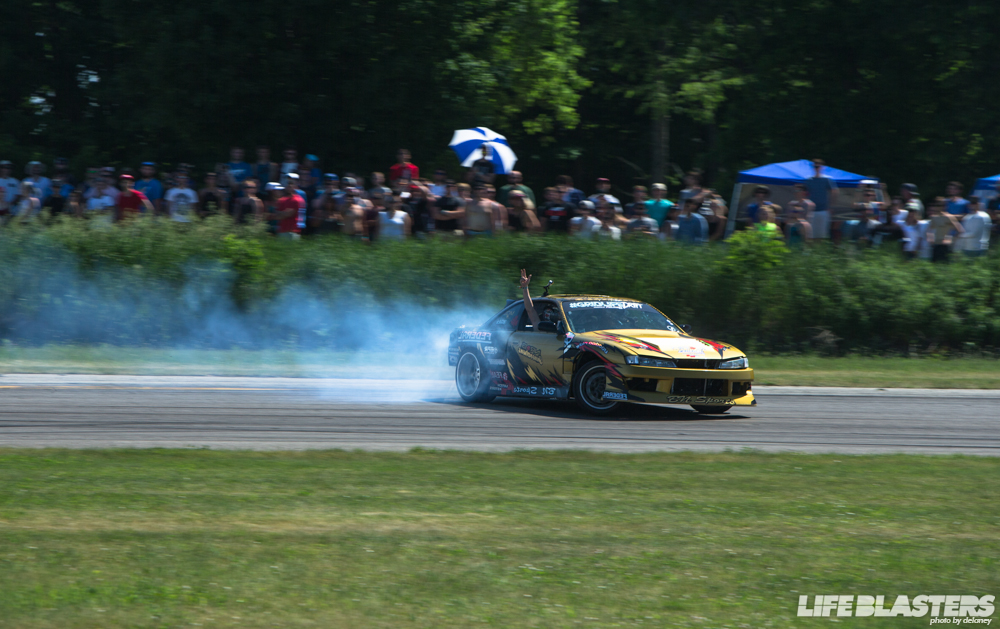 I could've gone for a ride along, but I only had shorts, it was hot. Whoever rode with Ryan had a ball. Case in point.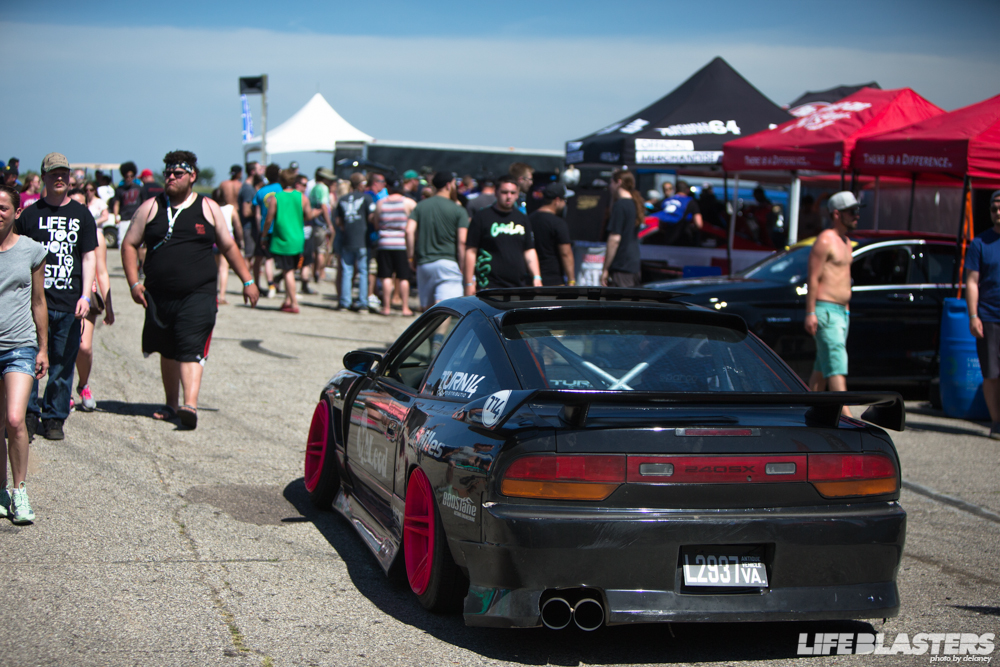 I heard people call Gridlife Coachella with cars and the American Gatebil. I think both are pretty spot on. There was something like 4000 people here, which made driving in the paddock a mess.

I thought it would be cool to shoot down the front straight and catch the initiation into turn one. But it was hit and miss.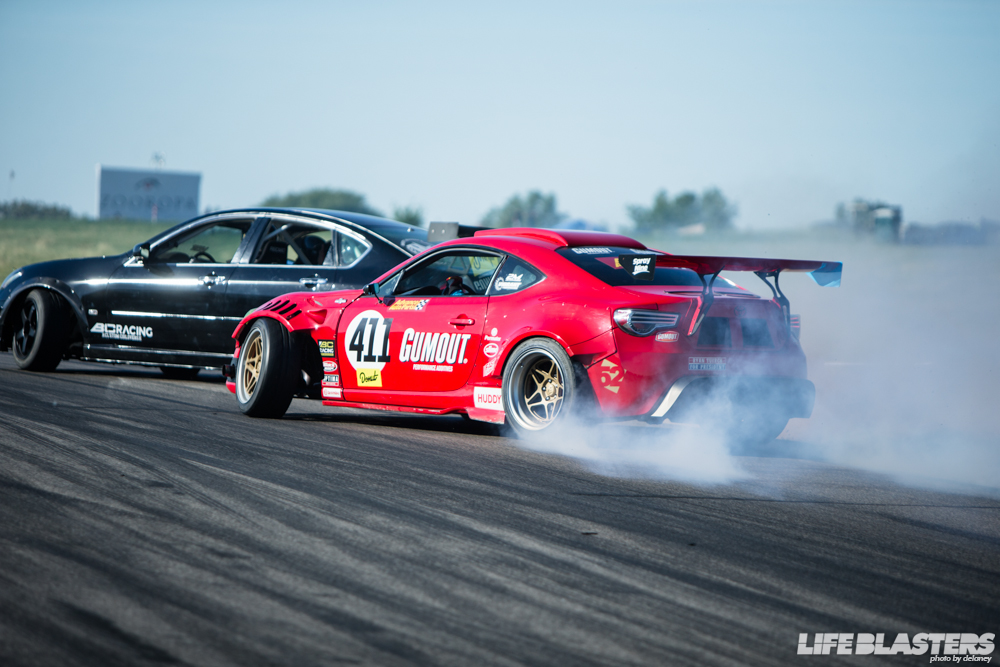 I also love when the rear wheels are locked up. It looks so weird but so cool.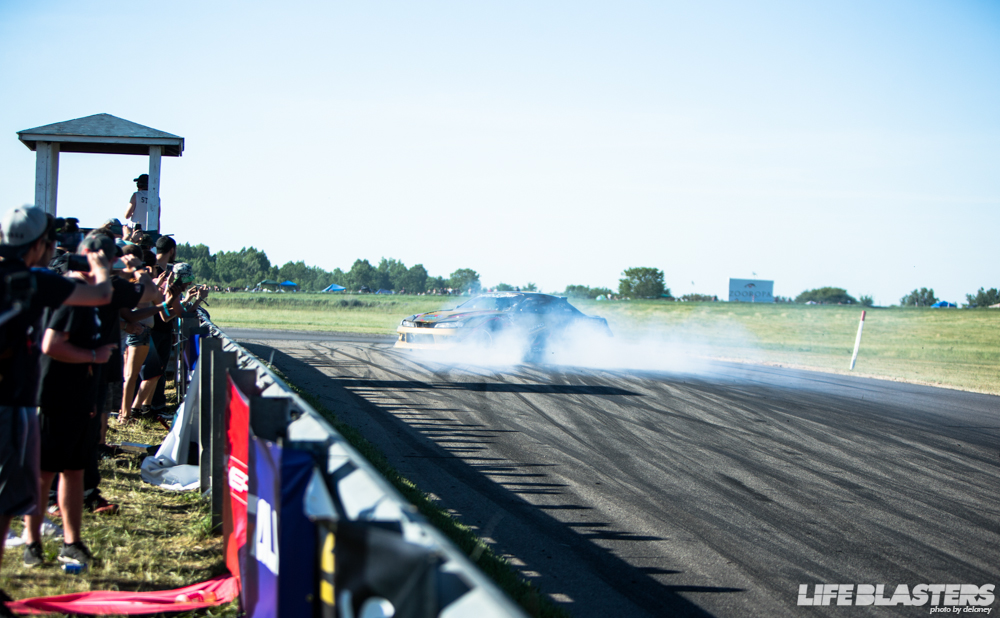 Guess who.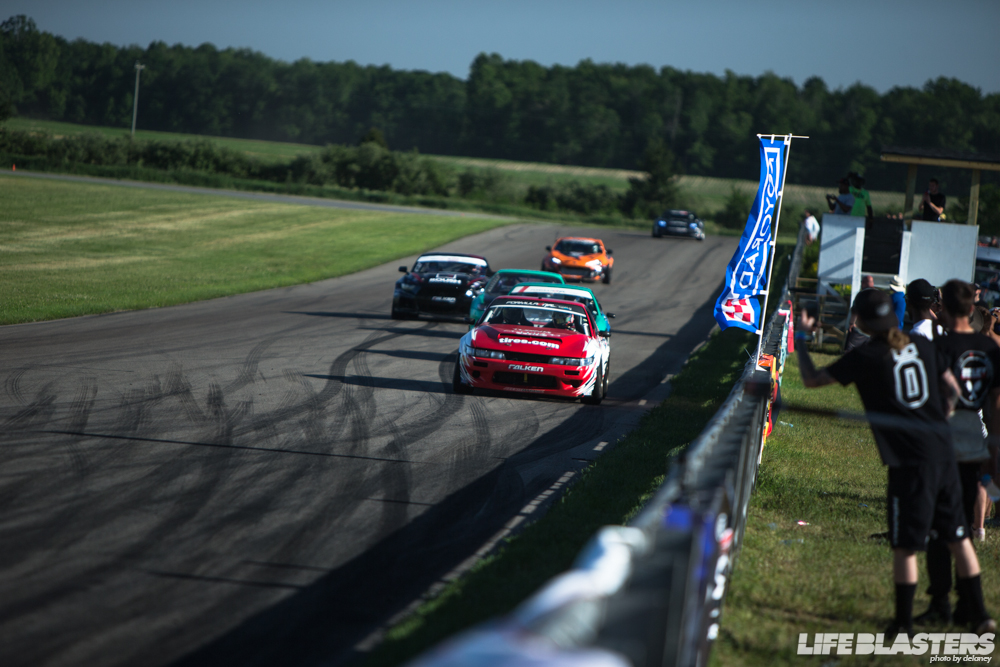 All the Falken cars together looked so cool. This was JTP's actually comp car, it still had a sticker from Wall.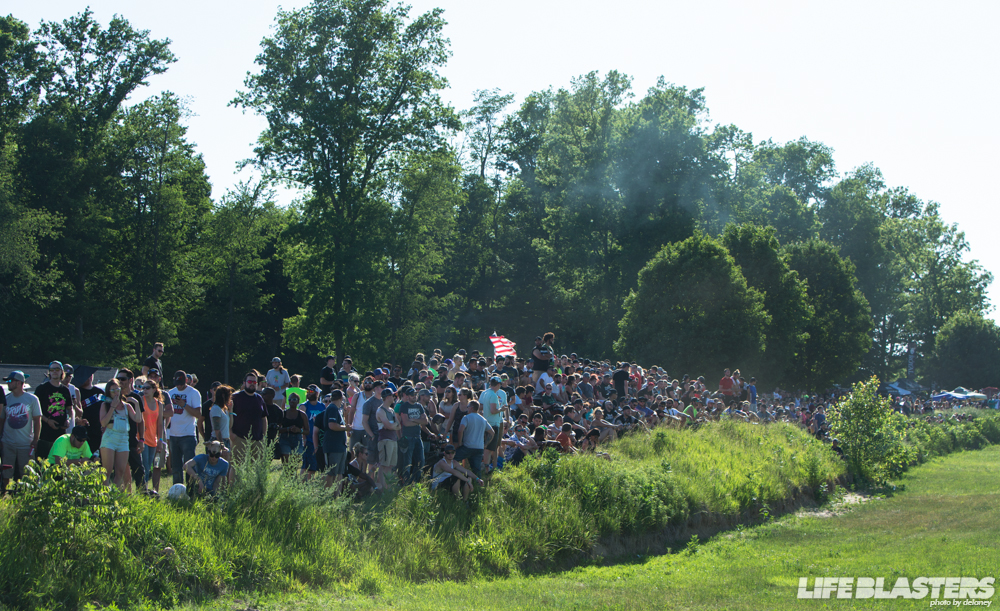 The best time to wander the paddock or get food is when the drift cars were out. Everyone found a spot to watch.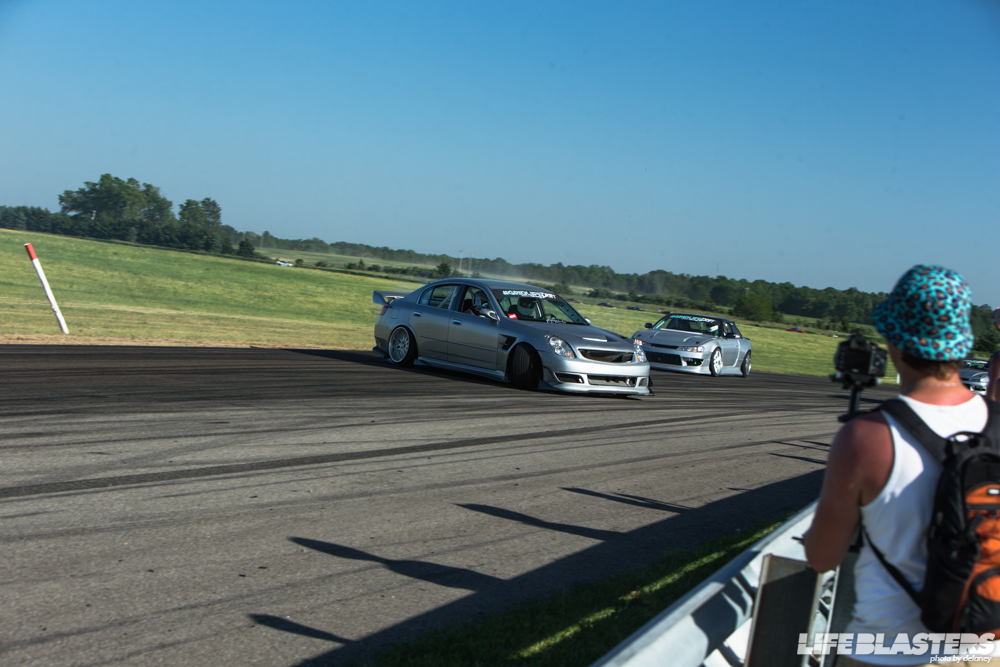 Alex Docken went for a big entry too.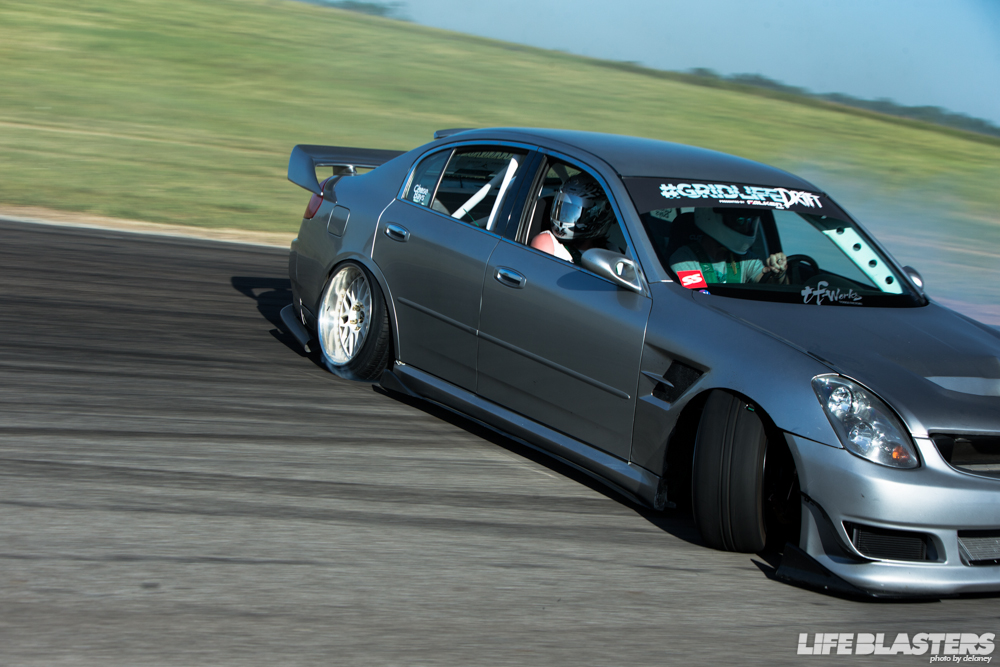 He spun, but look at that angle! I was hoping he'd make it.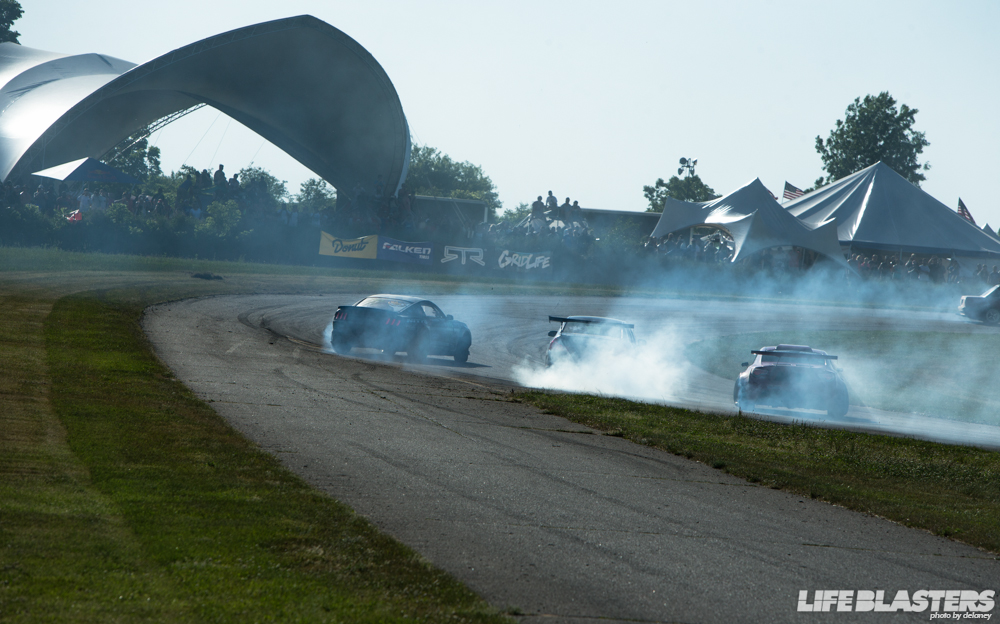 I didn't get to see any of the performers. But the tent was cool.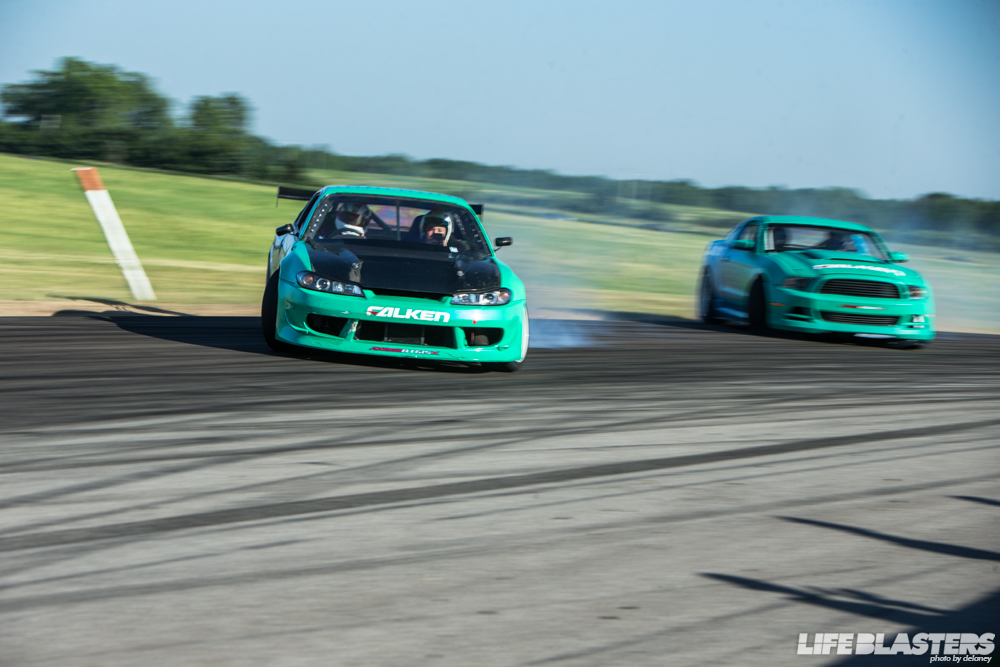 Falken colors always look good.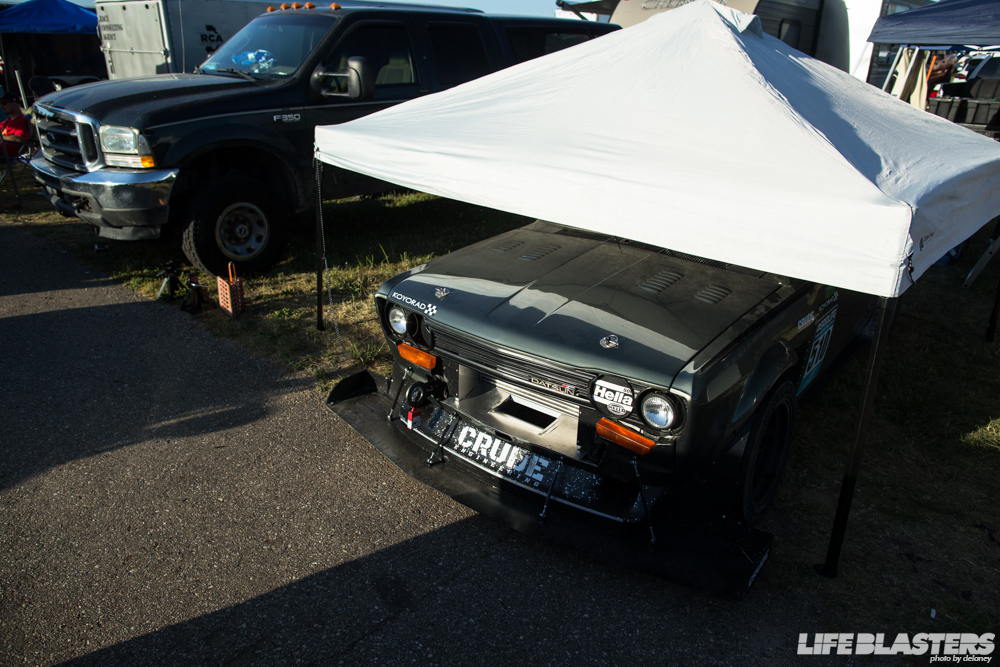 At this point it was close to 8pm and after being outside all day in the high 80s I was ready to head out. But then I heard there was one more drift session. I couldn't leave.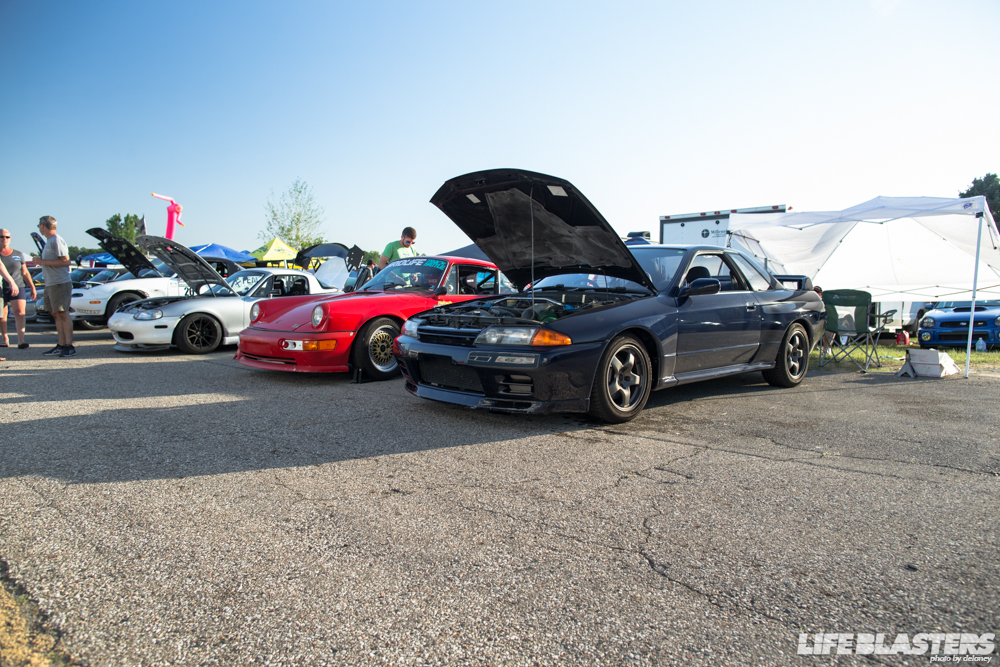 I wondered around the paddock for one last time for the day to check out all the cool cars.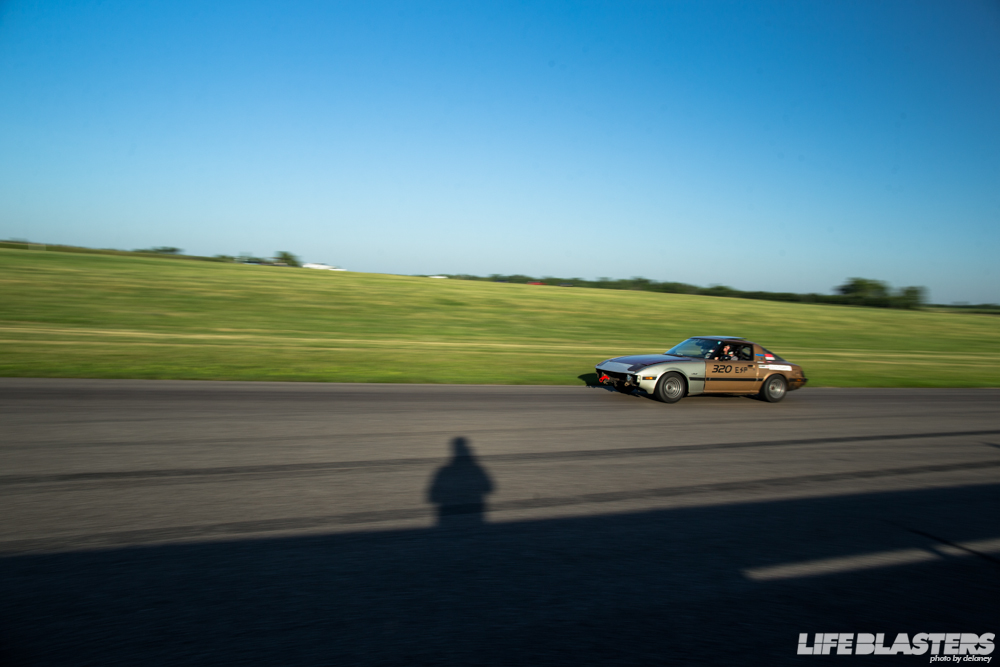 The final time attack cars and driver instructor cars were getting off the track while the sun was slowly setting.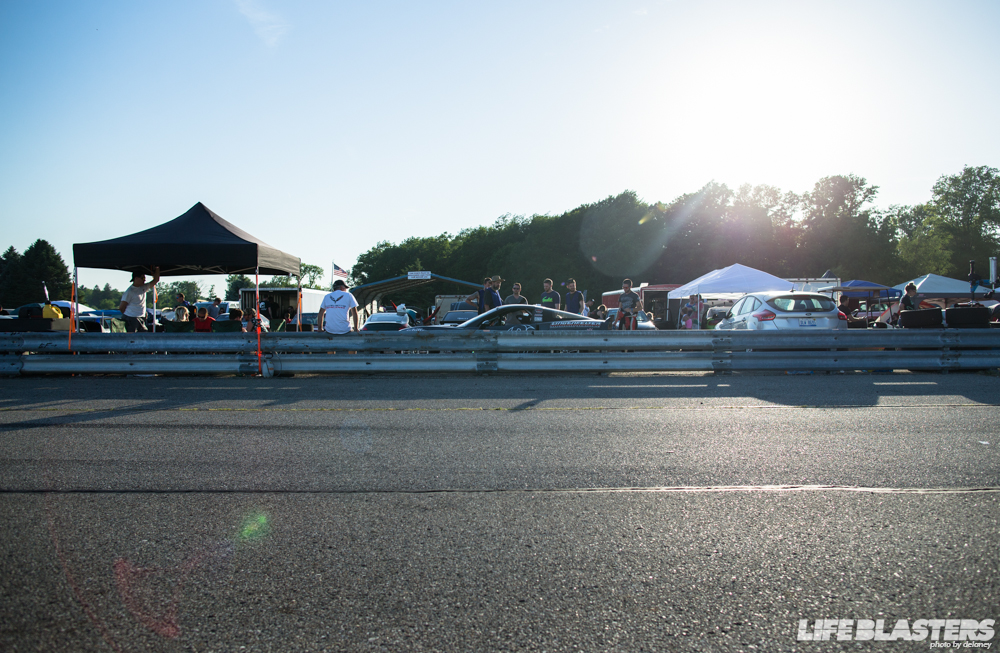 And all the drift cars were getting ready for one last run for the day.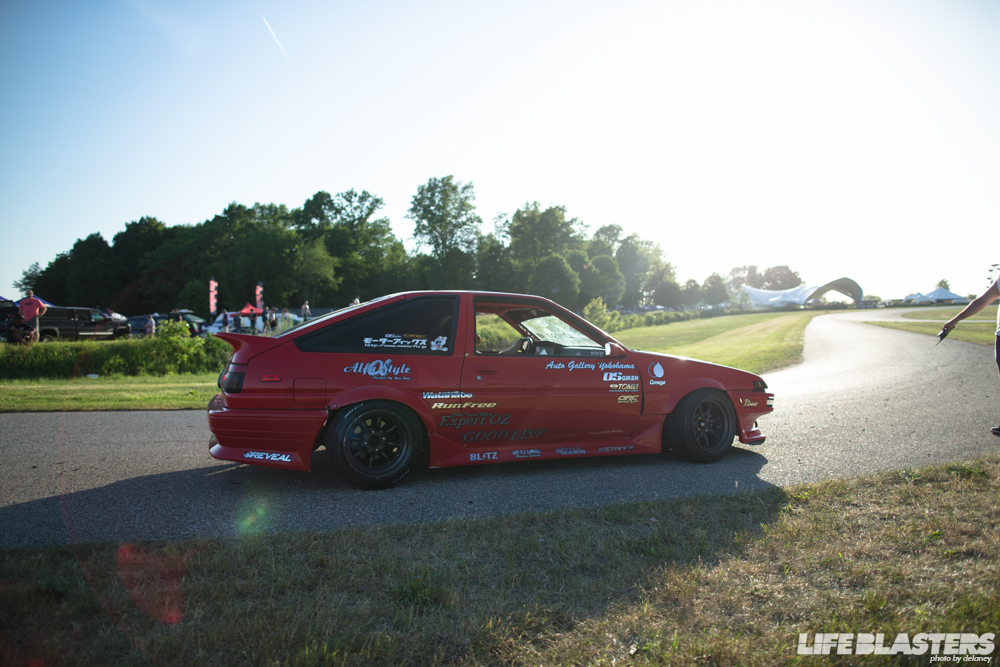 With all the V8 swaps and 2JZ swaps, it was cool seeing Ryan's Beam's powered 86. I'm pretty sure he was one of the few people that went out at the start, and stayed out the entire time.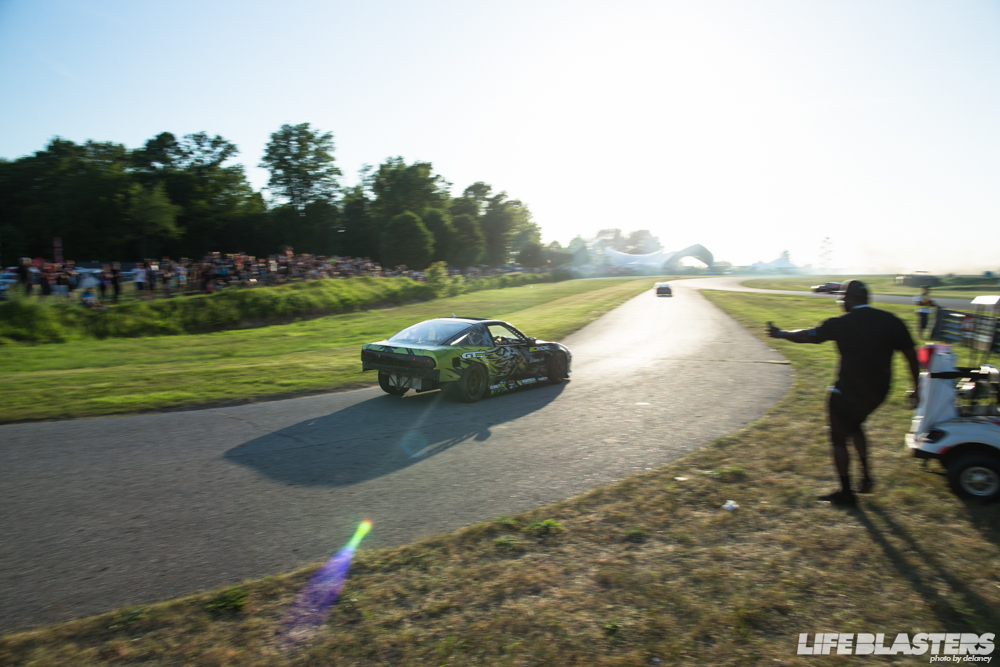 Along with Rob, Hert was here too, but without his RX7. Sadly his RX7 wasn't ready and didn't make it out, so he was just there doing what he does best.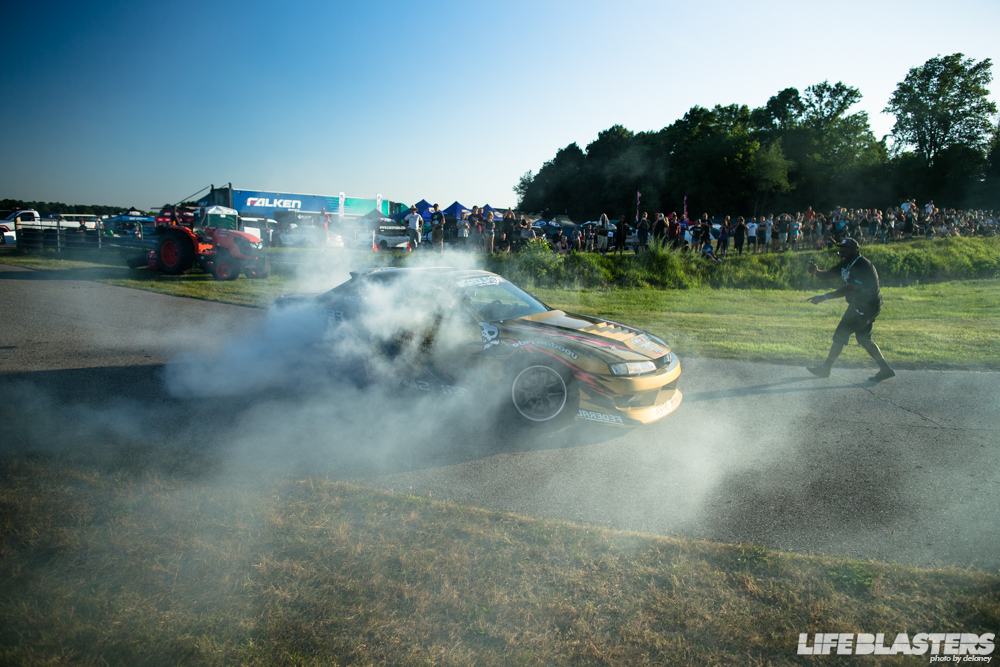 Making people do burnouts.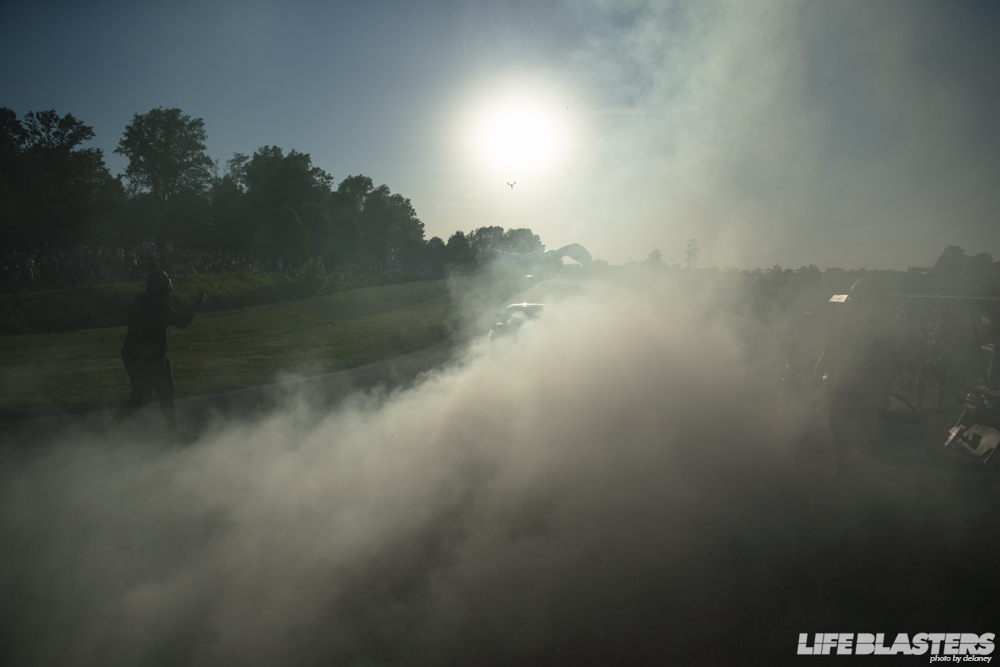 Once again, Ryan Litteral was more than happy to do a quick sitter. You have to warm the tires up, right?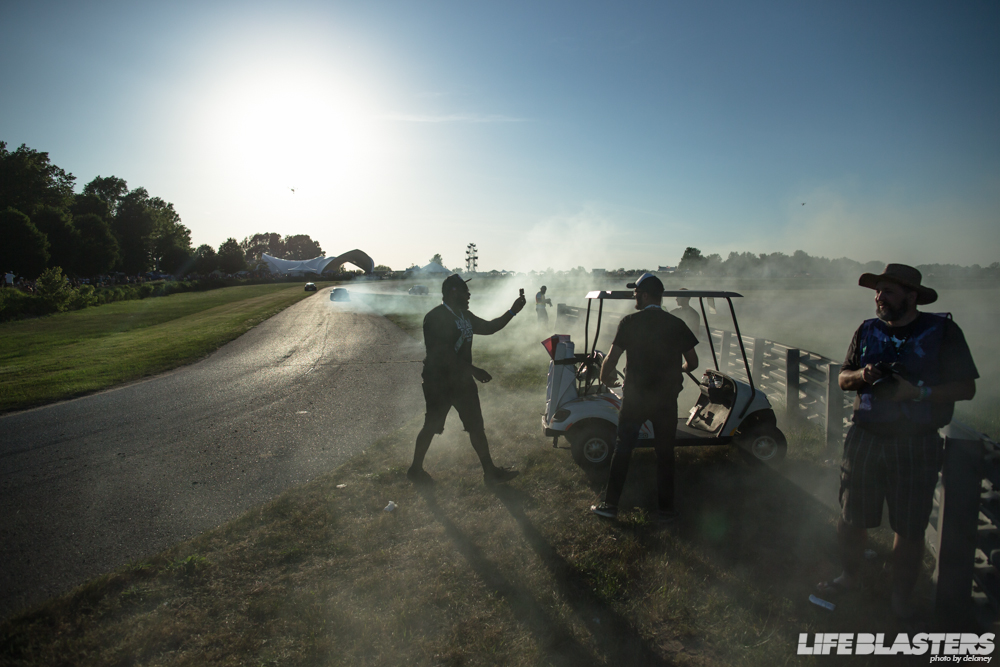 I'm sure it'll show up on the Unprofessionals.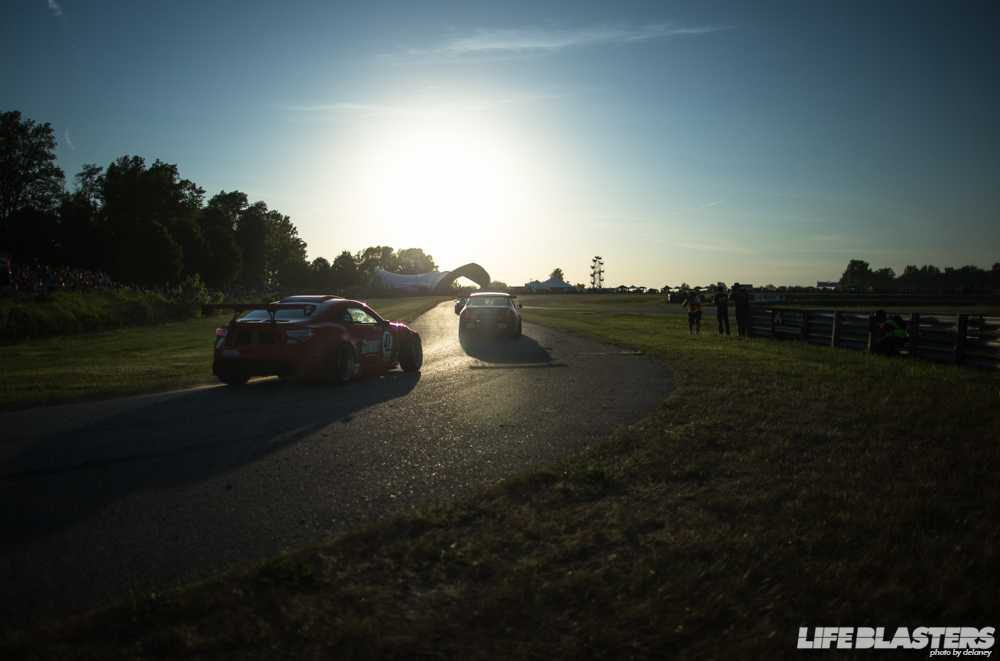 With the sun getting lower it was going to be one good looking final session.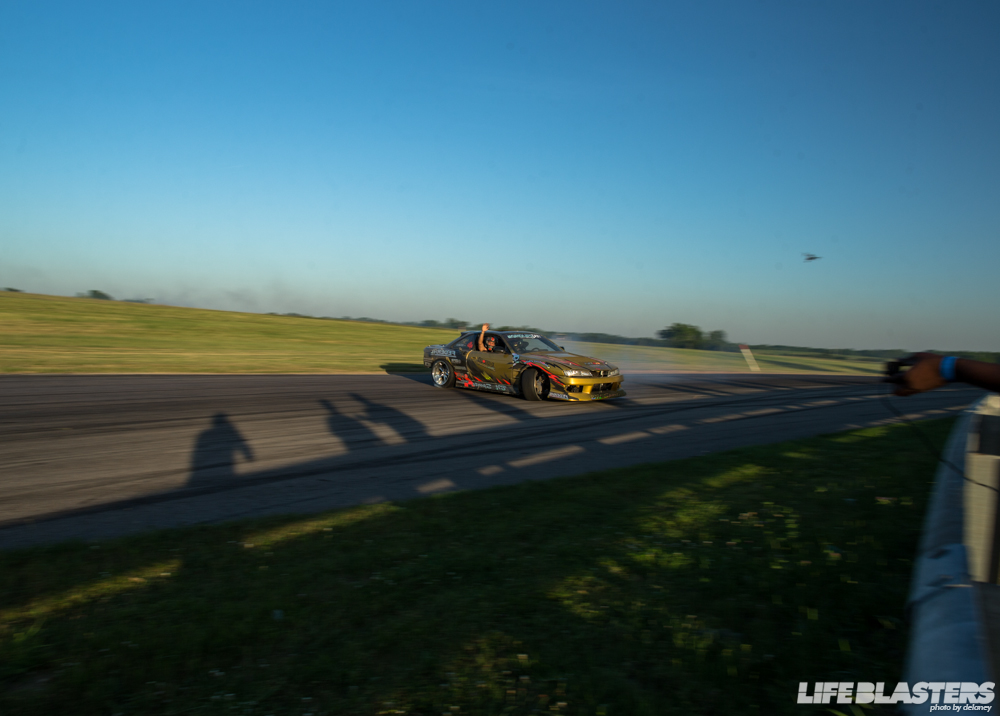 And no better time to pull off an amazing reverse entry.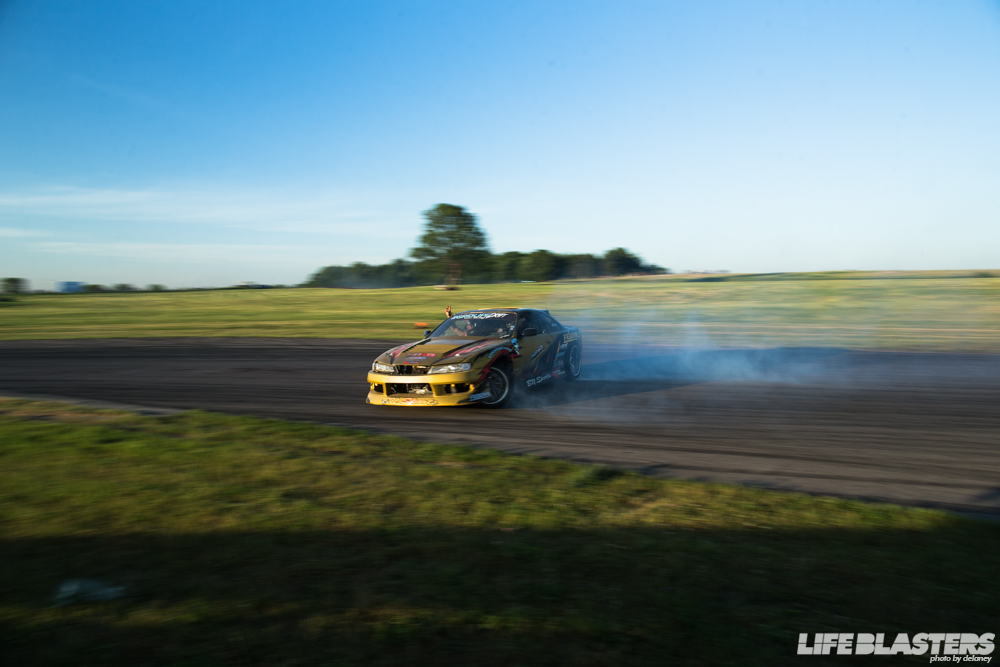 Perfect way to end the day.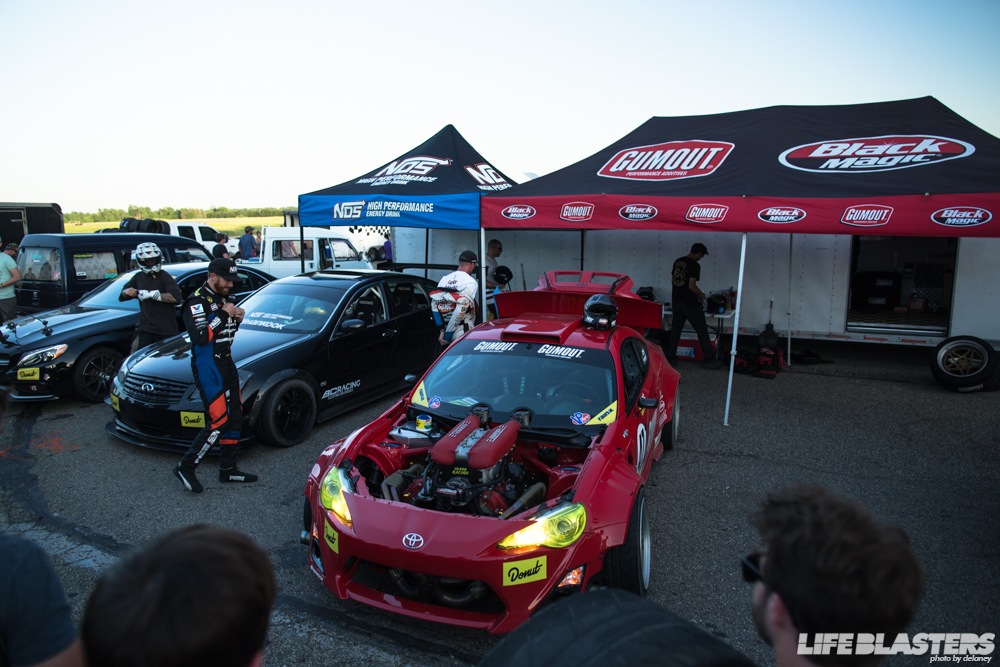 I think Ryan and Chris were having a great time.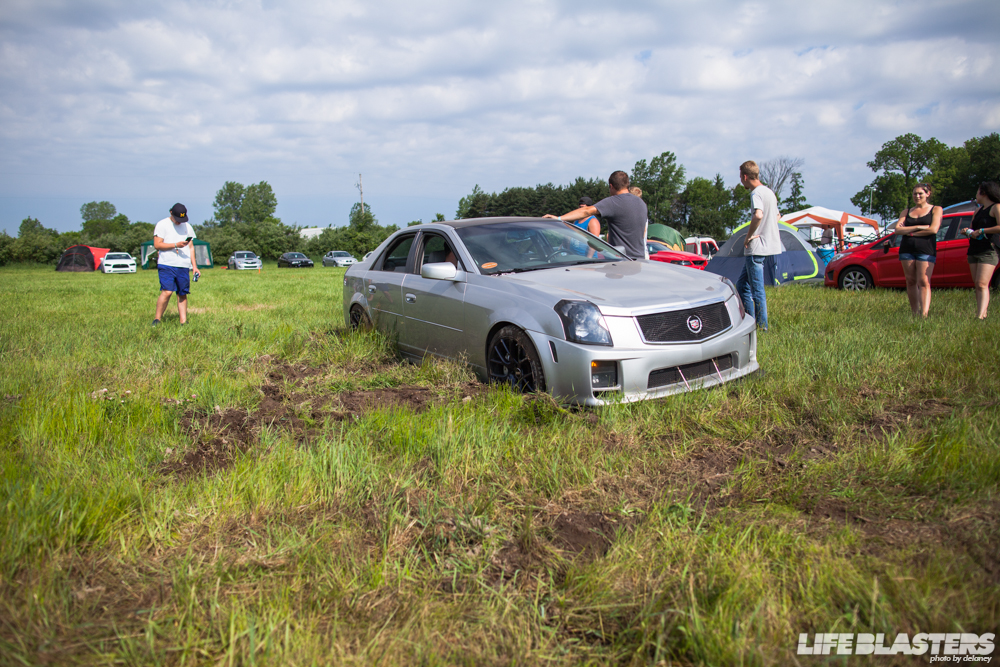 Sunday started off interesting, with a CTS-V Cadillac stuck in some mud in the parking area. A Subaru came out more than willing to help, but the guy in the Cadillac was so deep in the mud he couldn't get to a hook and he was a little hesitant to just hook it up anywhere so he waited for a support truck. Good call.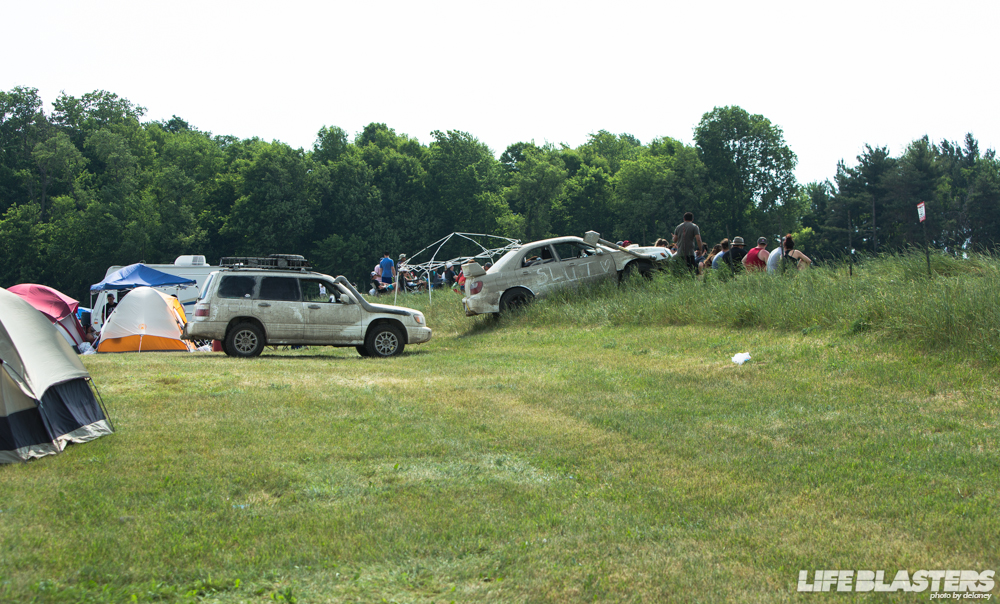 I didn't wonder around the camp grounds too much, but on the way out to turn three I came across these two lifted Subarus.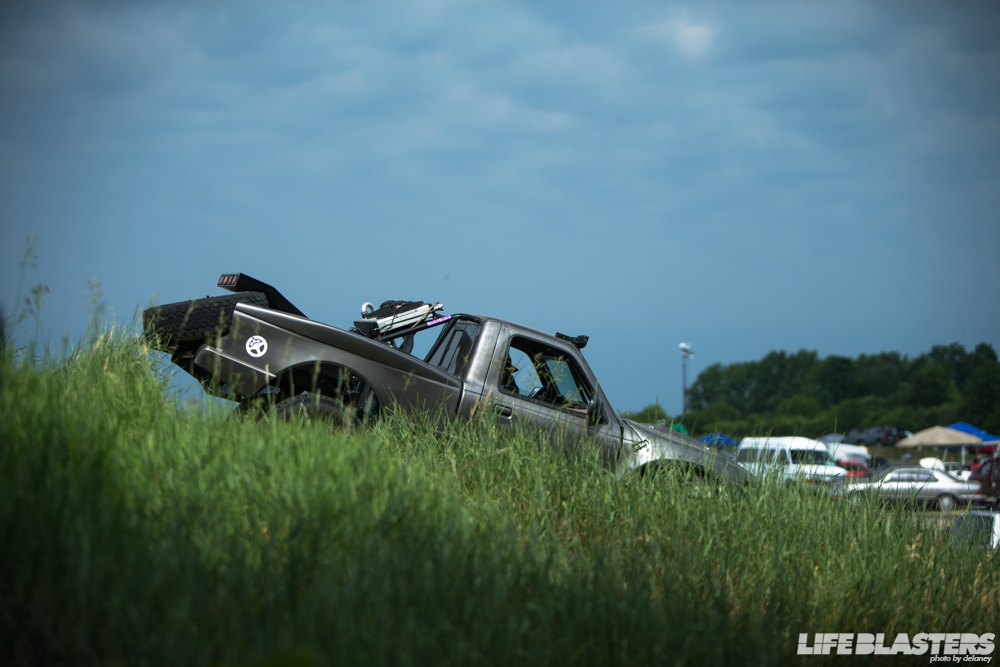 And a prerunner.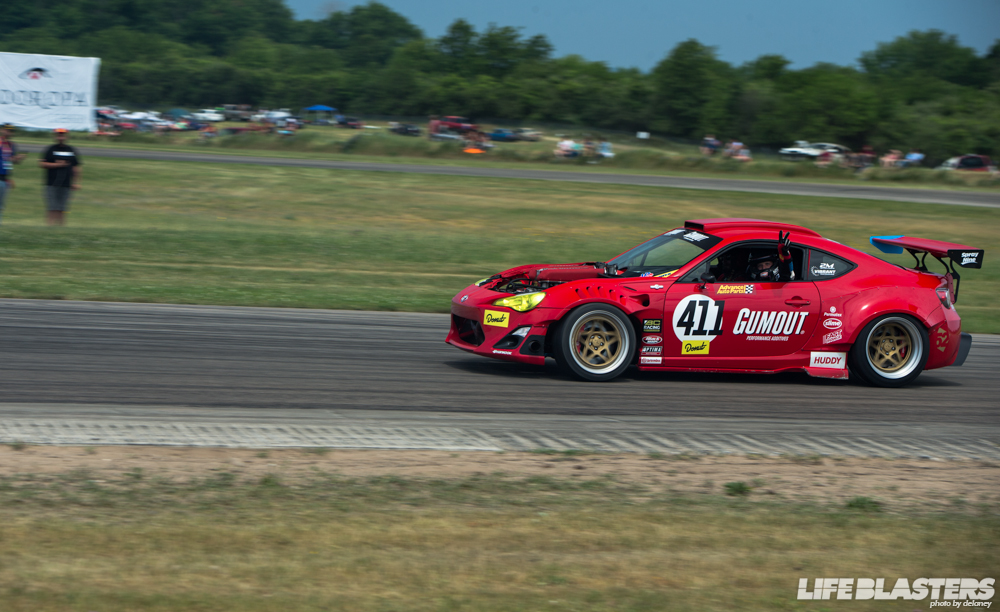 This is Ryan's third year here I believe, so he's a big fan and probably a big reason Gridlife has taken off so much.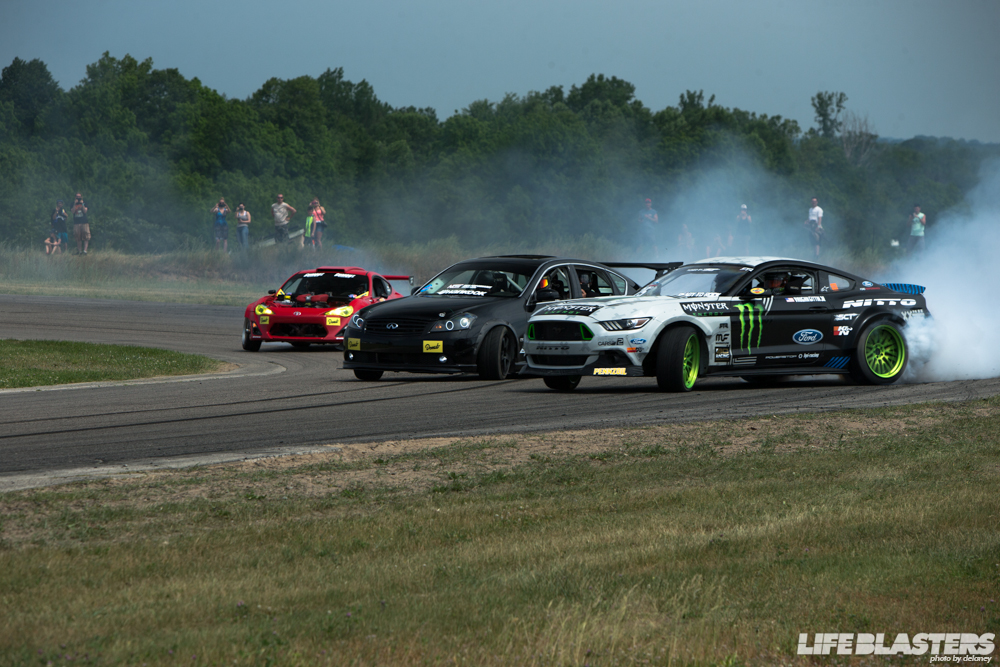 All the events ended around four or five, but I had a two hour drive home, so I hung around for one more drift session before calling it quits. It's always cool to see the Drift Alliance guys all stacked up.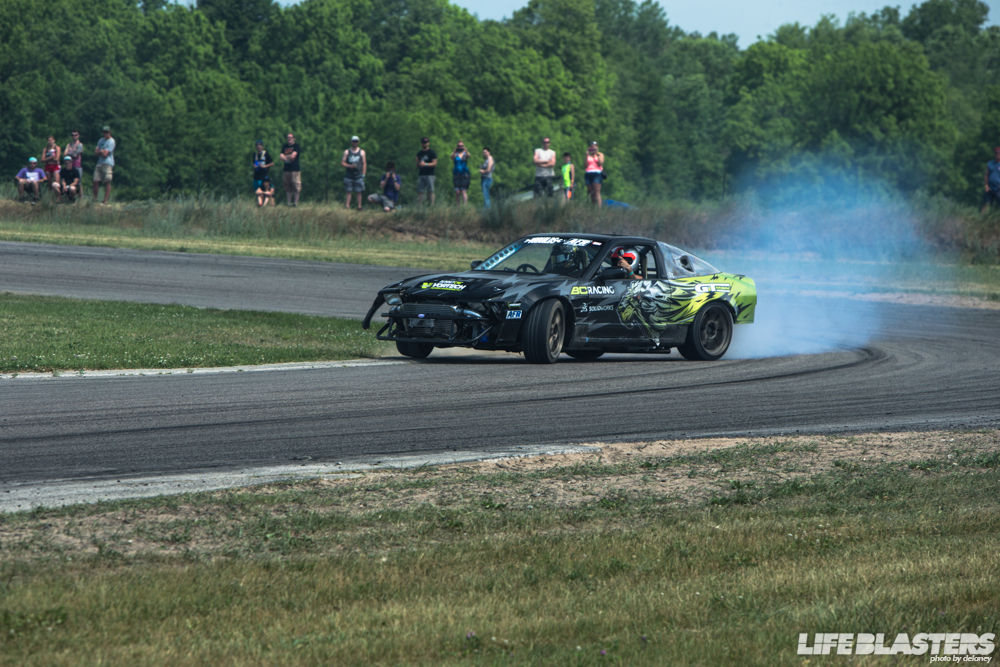 I think Rob started the weekend off with a front bumper, but Sunday morning his car was looking a little rough. Still gonna send it.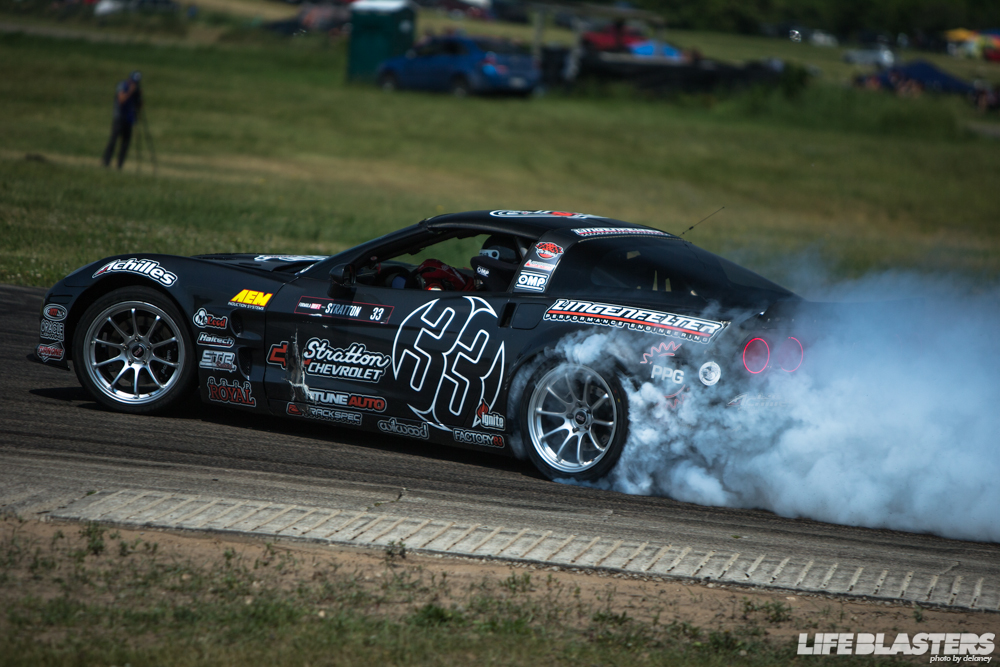 I don't know what Dirk does, but the amount of smoke he makes is incredible.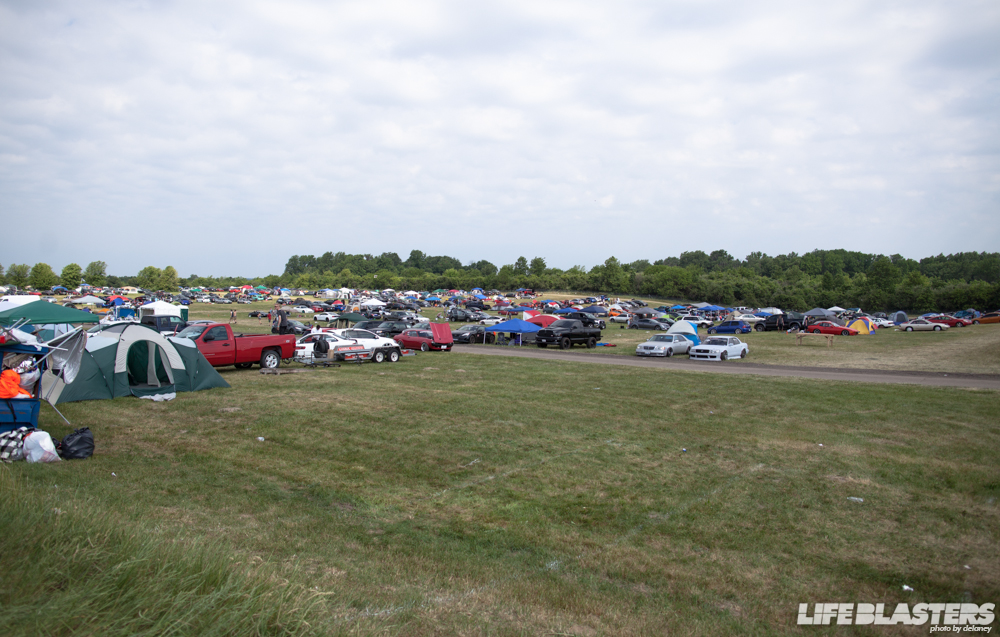 This was the largest Gridlife yet, and this is the campground early Sunday afternoon. This same time on Saturday, this whole area was packed with cars, tents and people.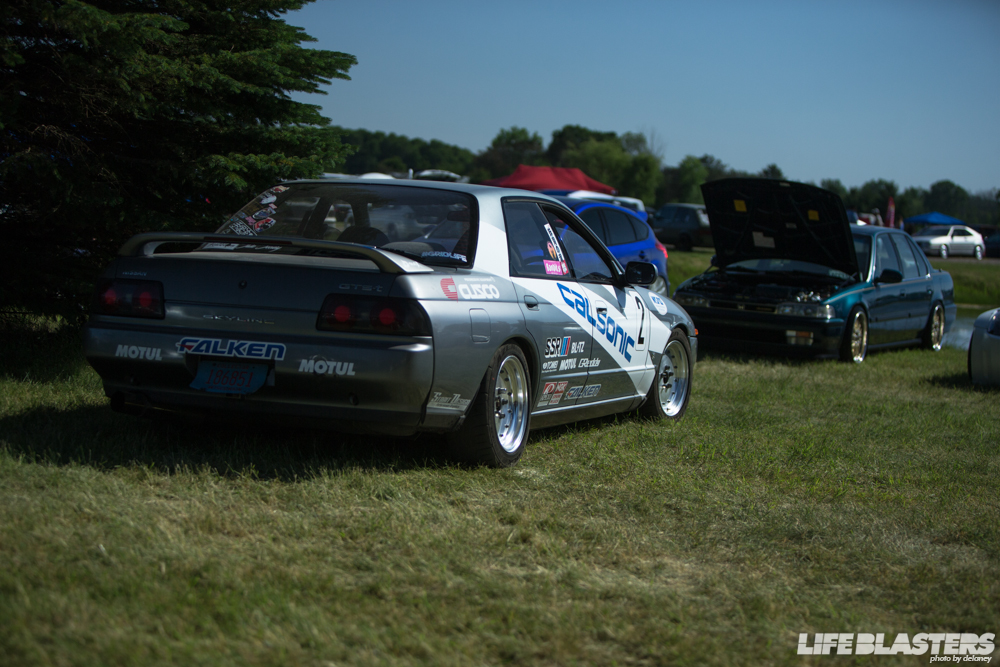 There was also a car show, but I didn't really spend too much time there. I had to see this Skyline though.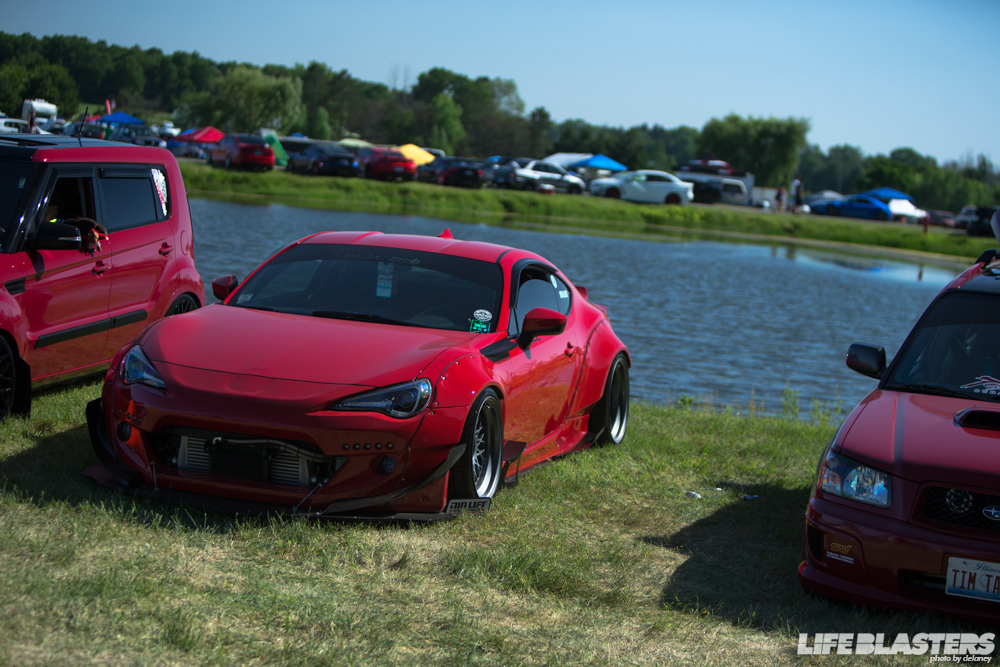 This FRS caught my eye too. So clean.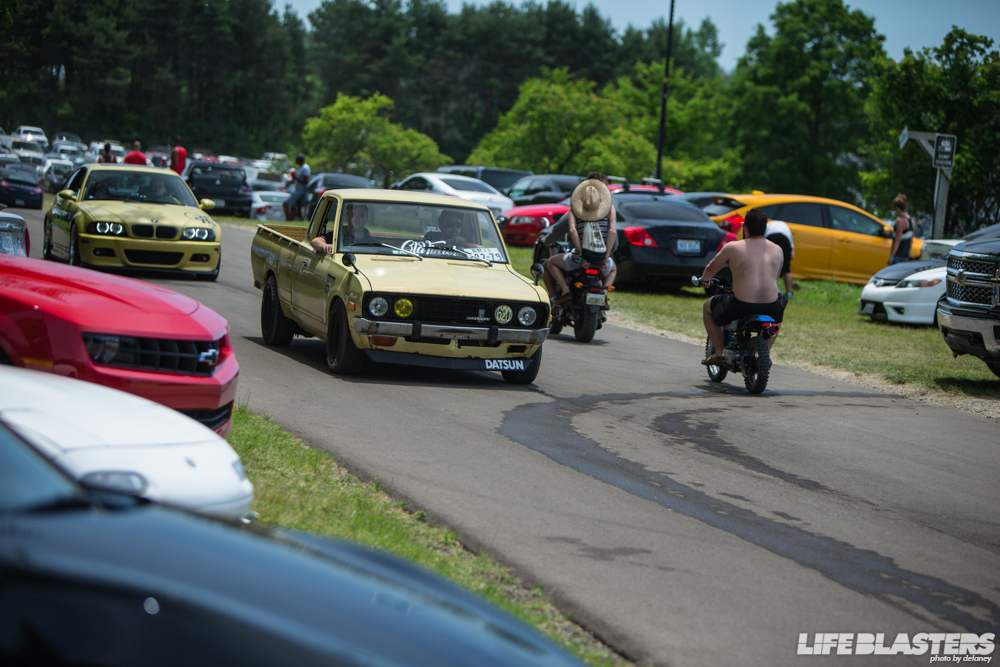 The coolest car all weekend though had to be this Datsun 620. Ever since we got the 510, I've wanted a 620. They have so much character.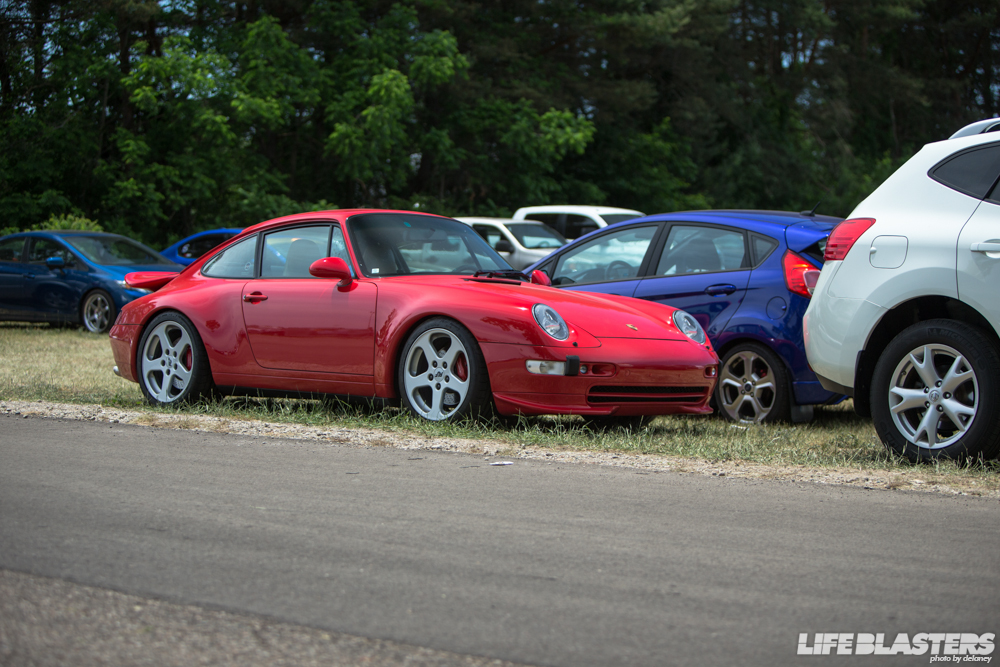 I also kept seeing this Porsche in the general parking lot. I couldn't help but notice the Ruf wheels, so I had to make a little trip over to it.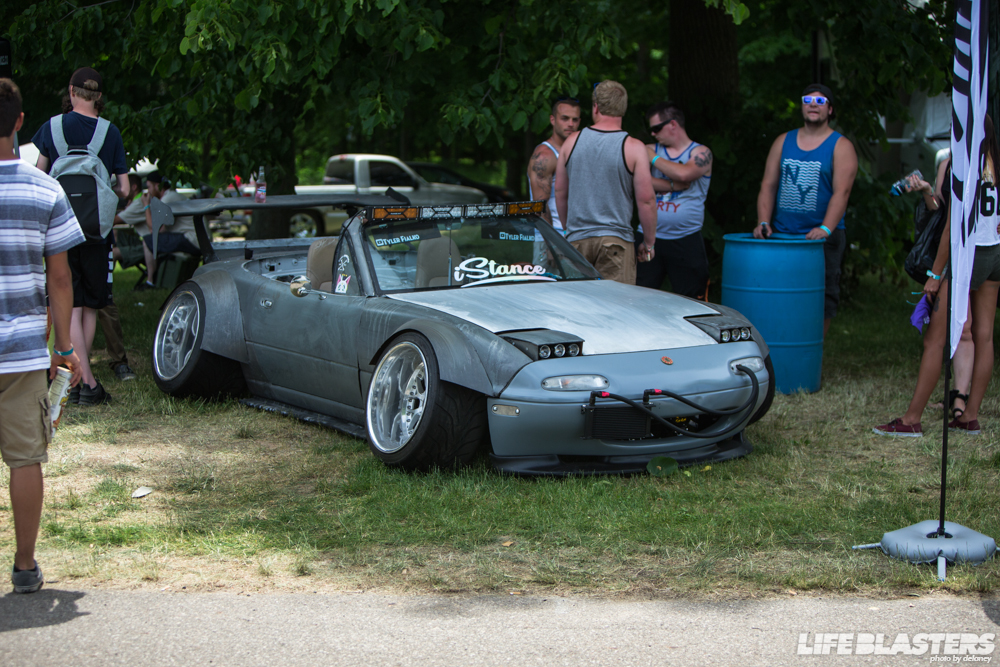 iStance had Tyler Fialko's insane Miata at their booth. Love it or hate it, it was cool to see in person.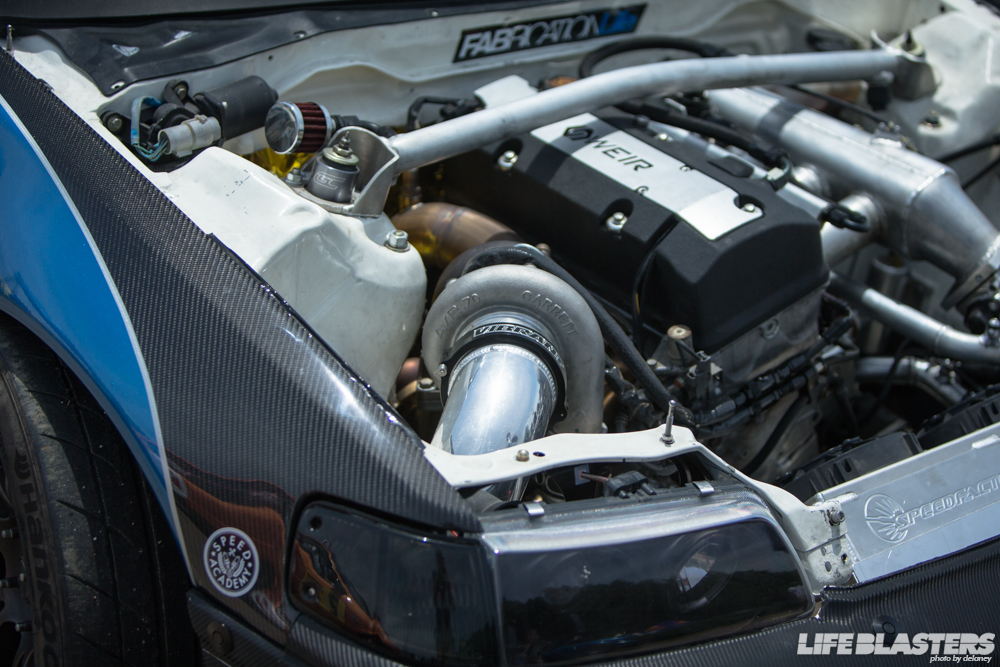 How to make a Time Attack car? A lot of downforce and a big turbo.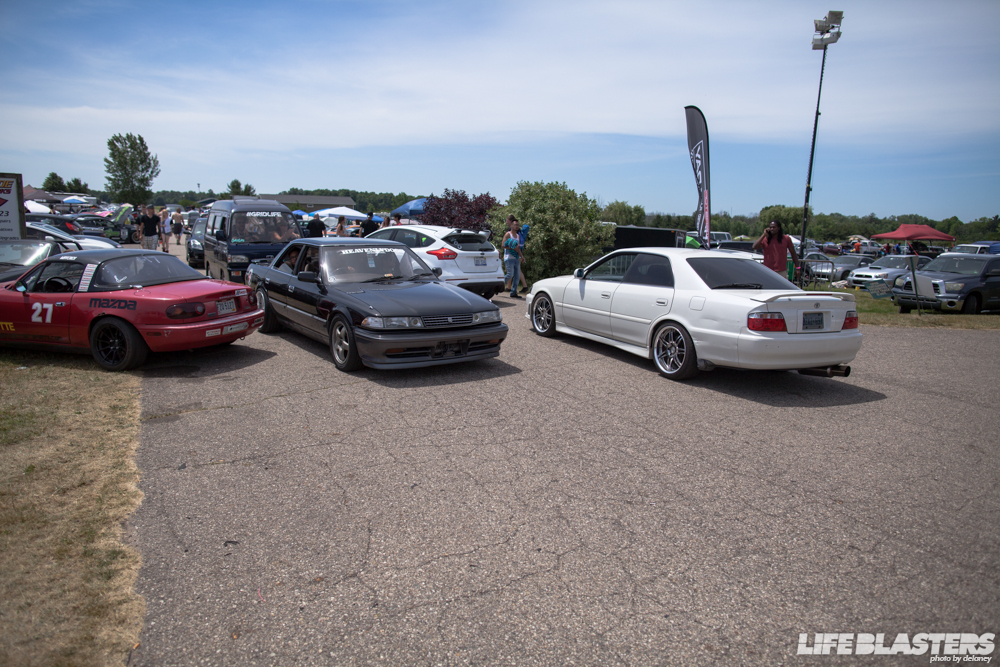 With a lot of the classic Japanese cars hitting the 25 year old limit, a lot of them are starting to show up here in the U.S. Pretty cool seeing a Toyota Chaser and a Toyota Mark II side by side. And right behind the Mark II in the little Honda Kei Van is Mr. Gridlife himself, Mr. Chris Stewart. He has given us an amazing event and I hope it continues to grow. But I cannot imagine what it must take to keep it running smoothly all weekend.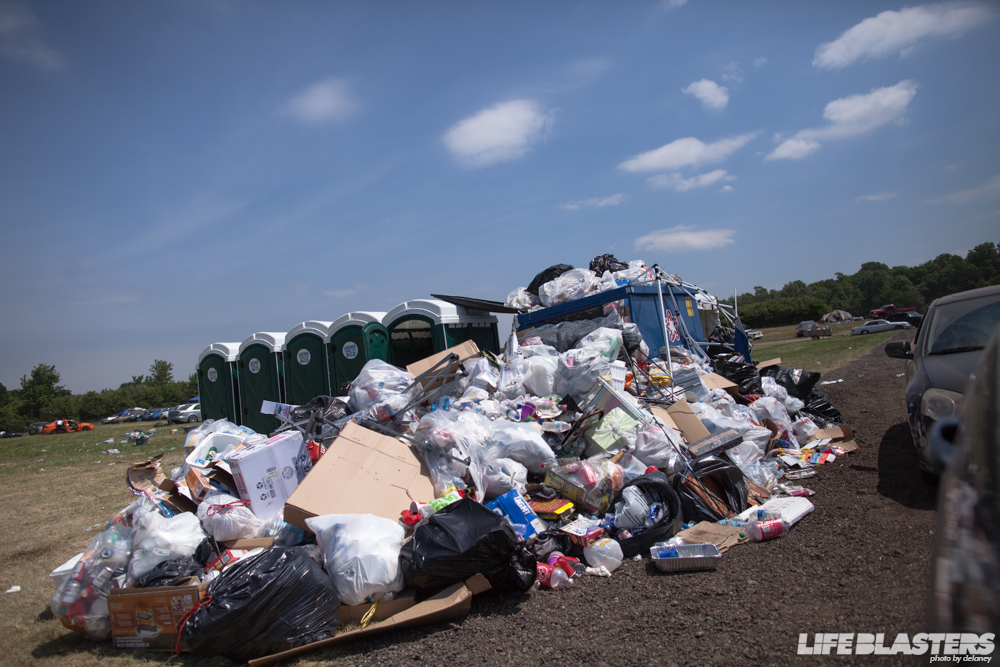 There were a lot of people here.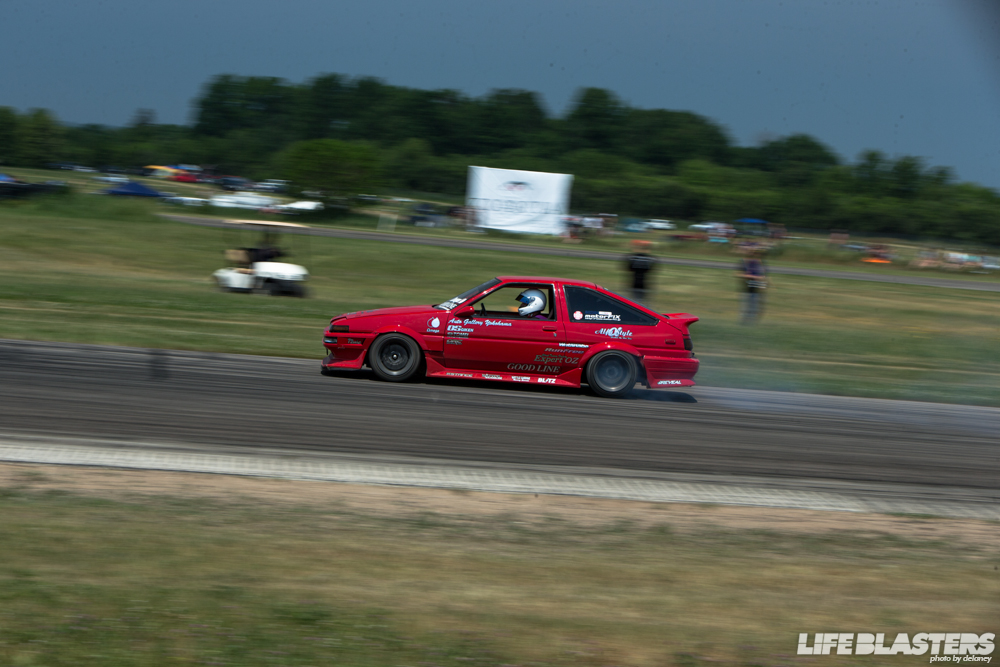 Gridlife is insane. Music, racing, Time Attack, car shows, drifting and driving instructors! So much packed into three days and and it's only growing bigger. If the trend continues, next year is going to be absolutely mental! Maybe Gingerman should carve a small rally stage and introduce rally next year. If you've always wanted to go to Gatebil but can't afford a plane ticket, get yourself to South Haven Michigan next year Gridlife 2018. Or head down to Atlanta in August for Gridlife South.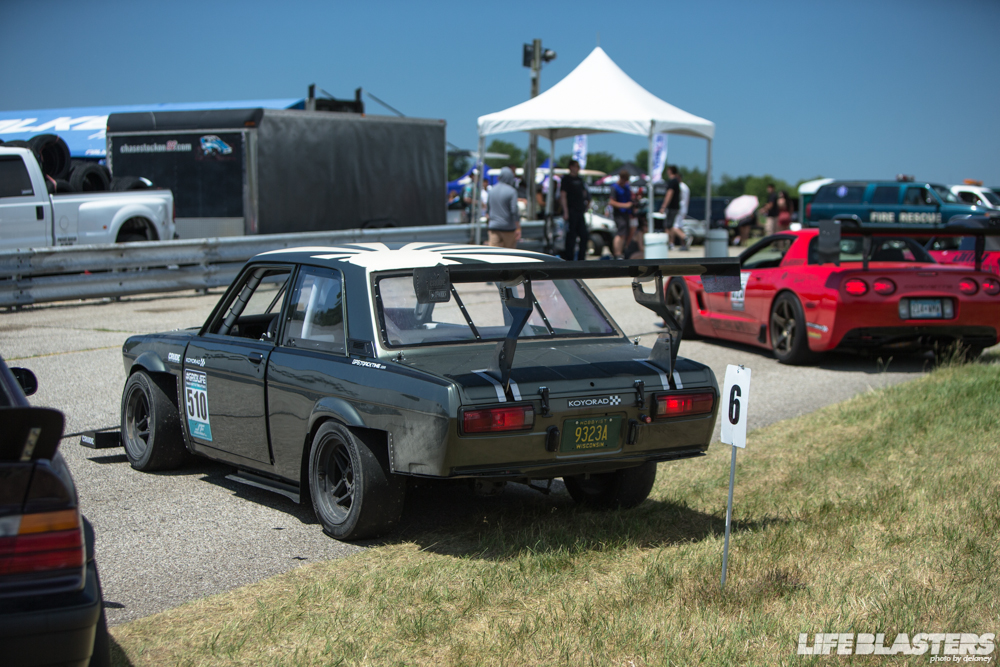 But we're the original.
Delaney
Email: delaney@lifebalsters.com
Instagram: @lifeblasters, @ericdelaney