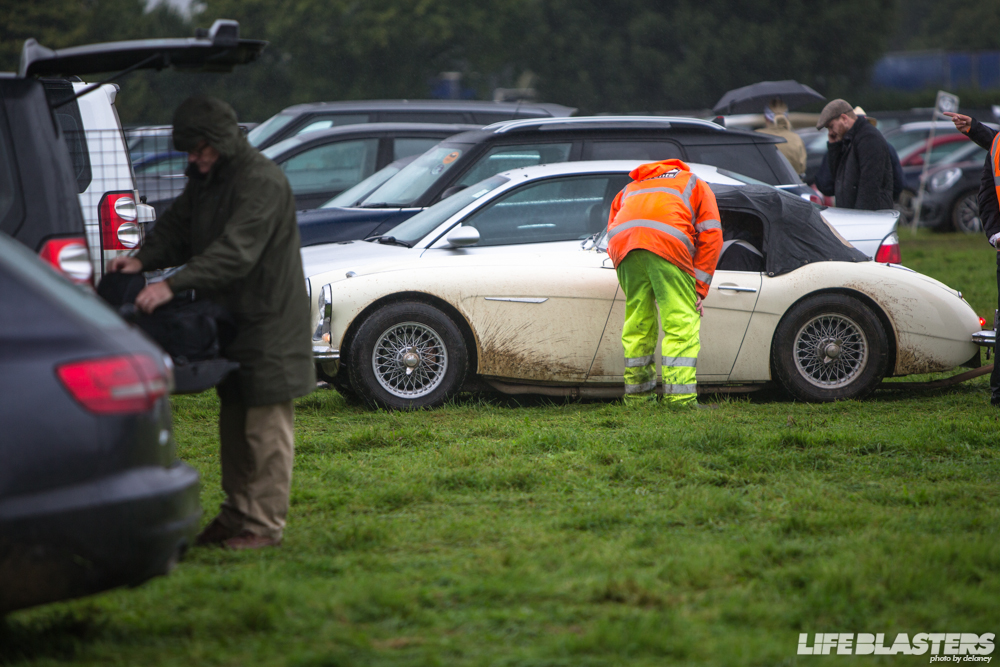 After attending the Goodwood Festival of Speed last year, my dad and I were determined to visit the Goodwood Revival. Little did we know, just one year after the Festival we'd be back in Chichester. We arrived in England on Friday and headed to the track. So just armed with one camera my 70-200mm lens, I set out to do a quick scan of the parking lot.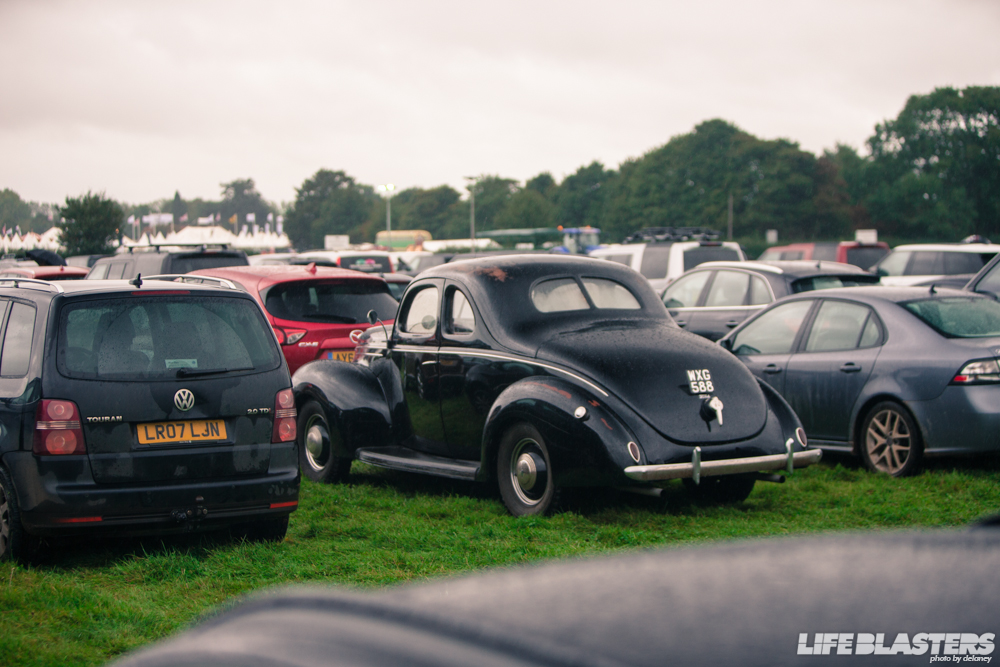 And of course, it was rainy, cold and muddy. So I assumed that there would be a few cars here and there but overall not too many.

As I crossed from row to row, I started to second guess myself. I started seeing more and more cars in the muddy lot. Almost as if it was just another summer day. They didn't seem to care about the rain.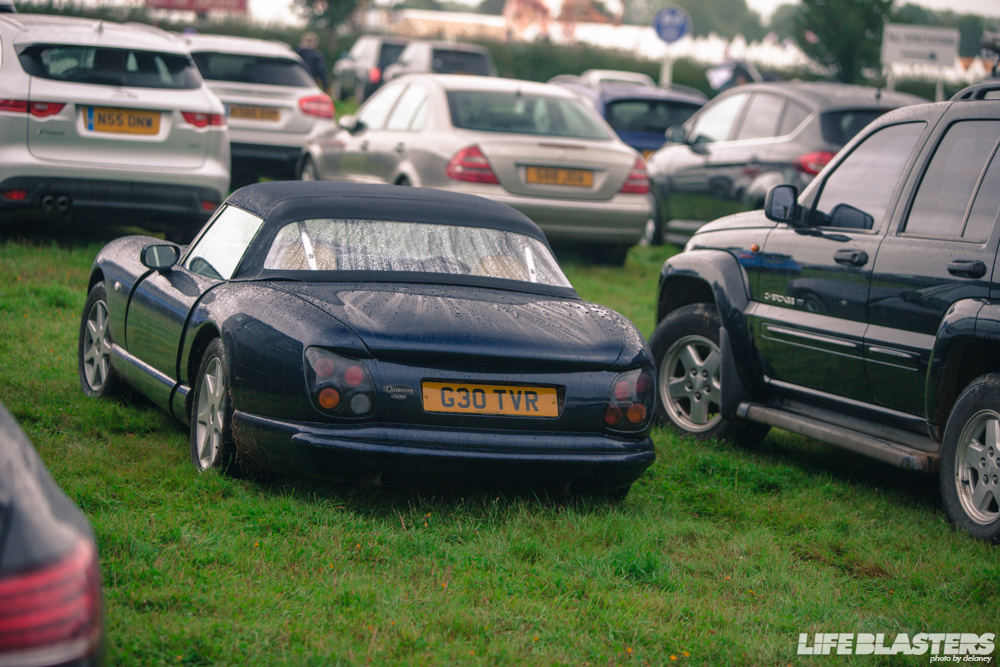 All the car shows here are usually cancelled or incredibly small due to rain. But not Goodwood.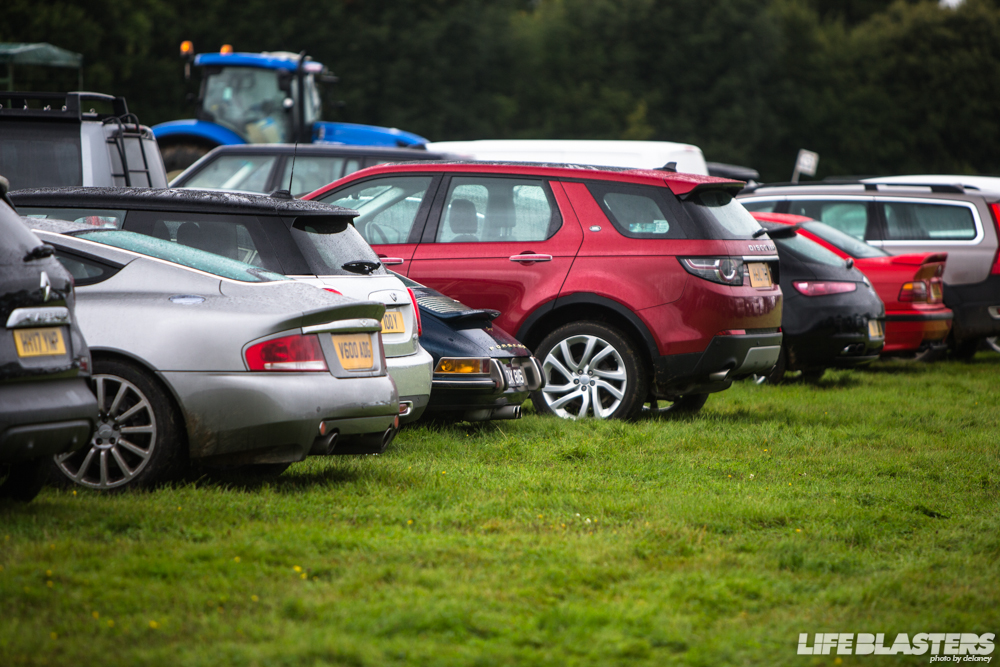 Like here, I saw this Porsche and didn't even notice the Vanquish.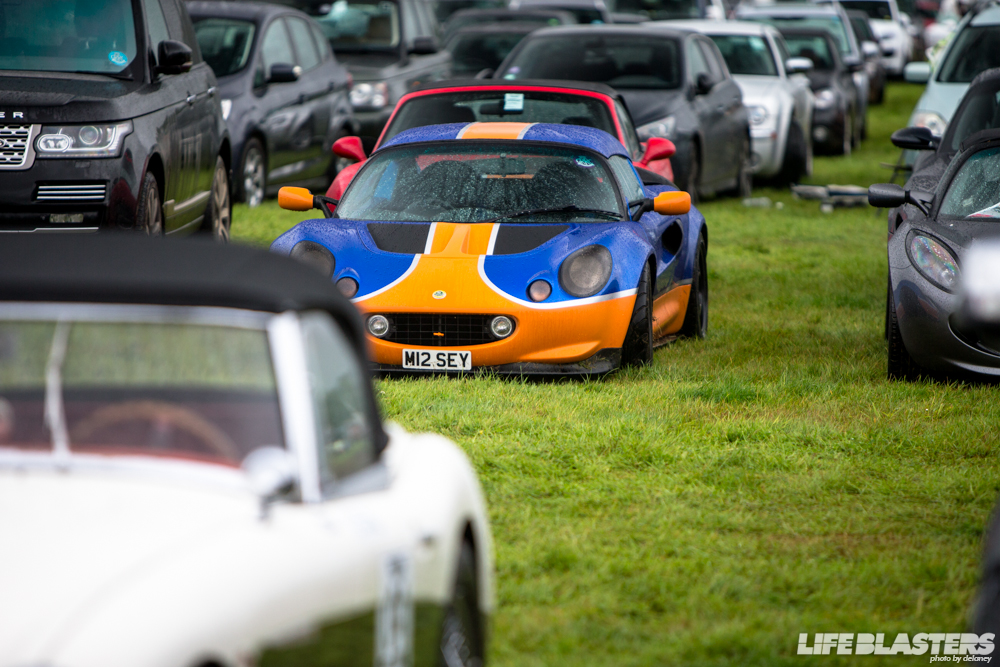 I need a first gen Lotus Elise.

The closer to the entrance we got the more cars we saw. Like this Bentley. I'm sure whoever left their umbrella regretted it.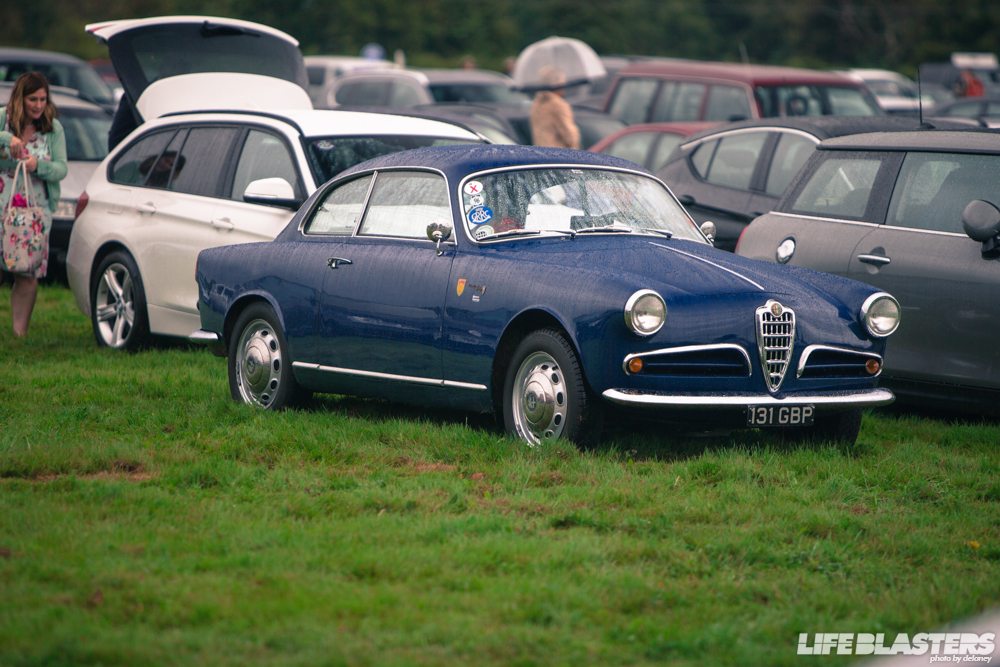 This is my kind of parking lot.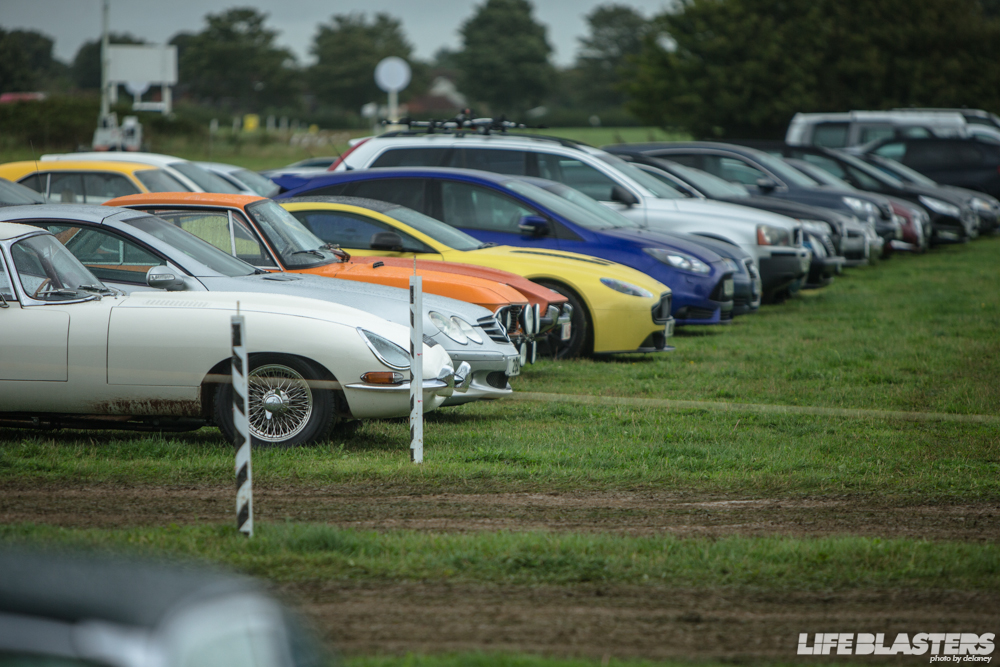 The parking lot was amazing, but what I saw next was incredible.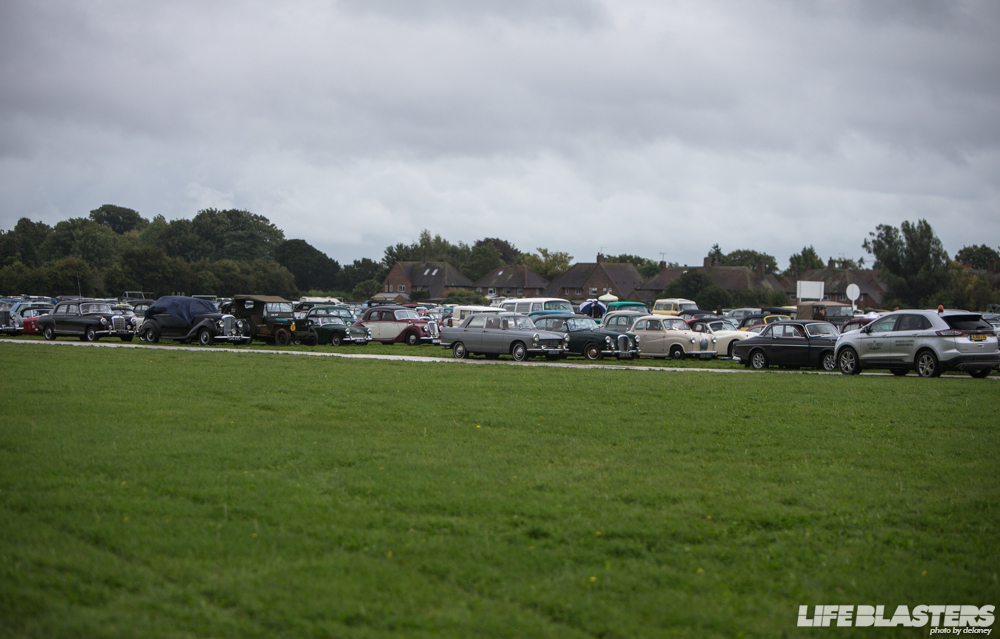 Rows and rows of classic cars. This is the Goodwood Over the Road Car Show.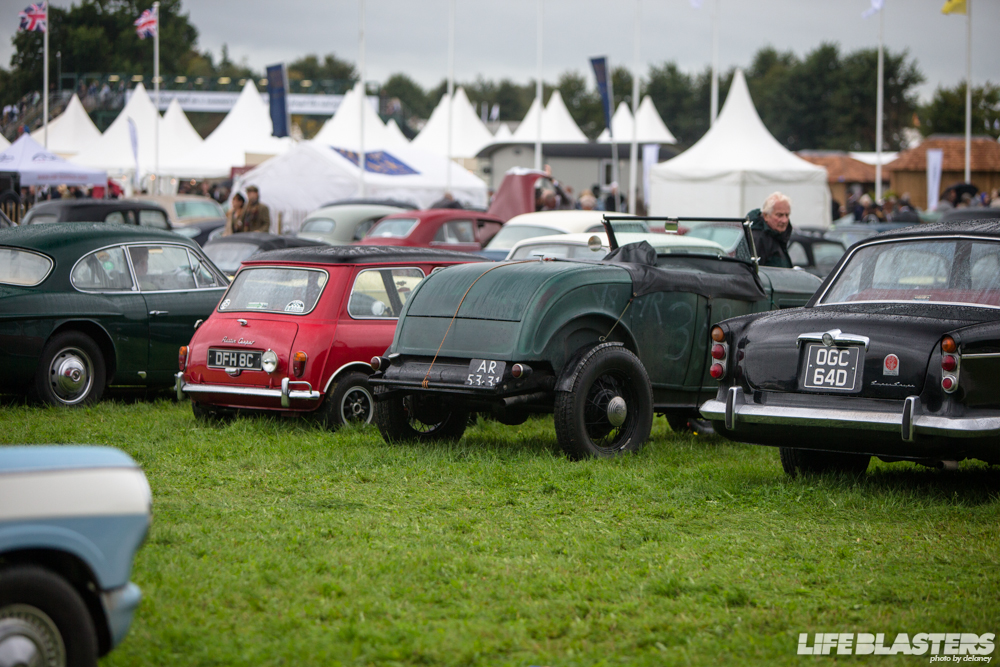 This was probably one of the best car shows I have ever seen, and it was in the rain.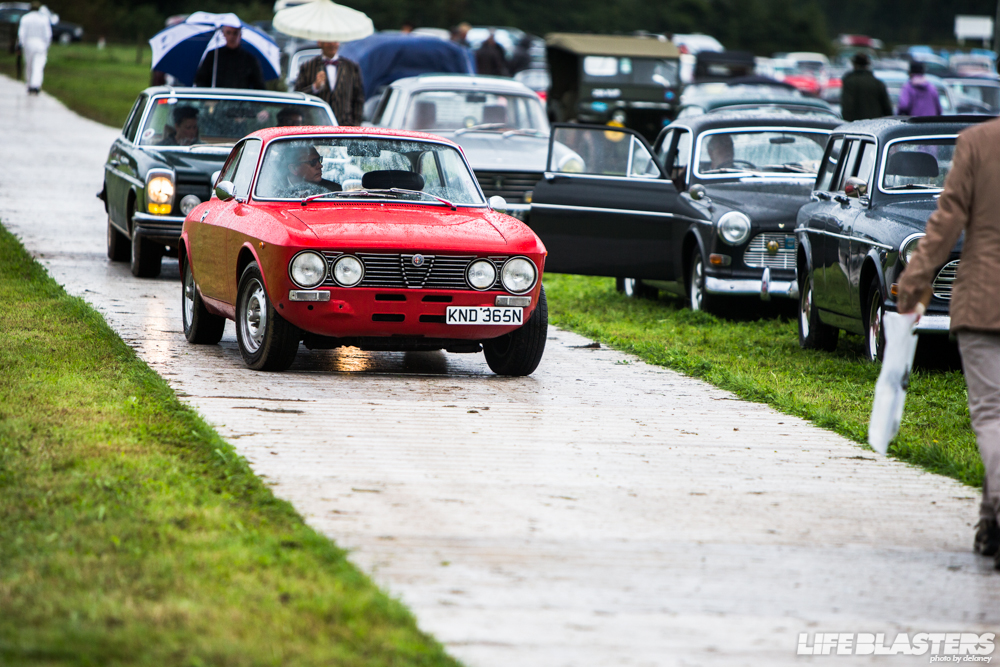 You see, the people that attend the Goodwood Revival are not normal people. These people bring out their cars in the rain and mud. They dress up in period correct clothing and trudge through the mud and rain just for the spirit of Goodwood.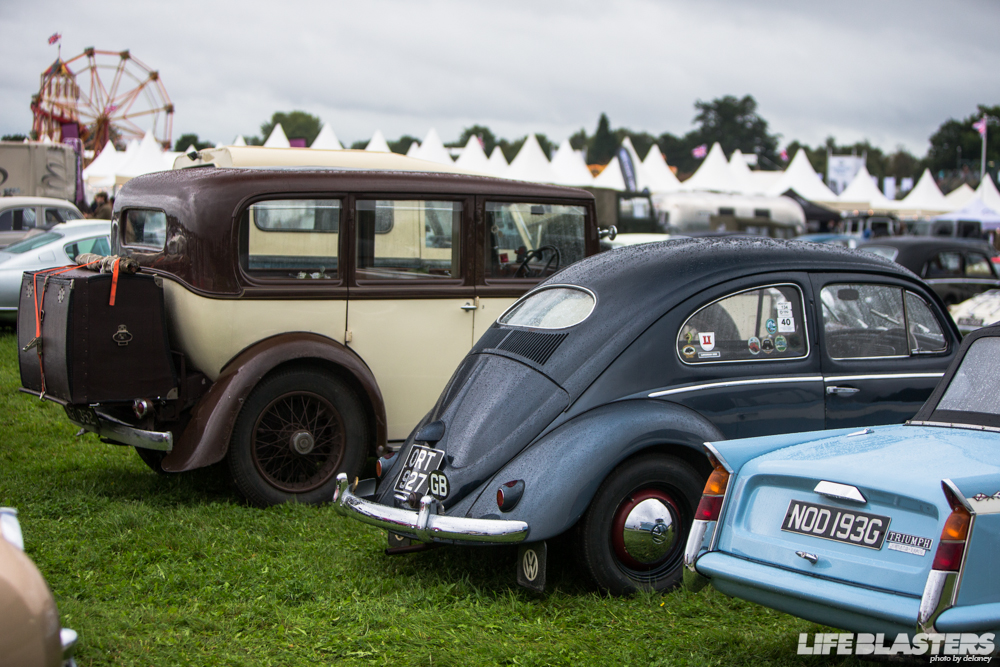 The spread of cars is what blew me away the most. There was everything but mostly cars from the '20s up until the '60s, the eras that the Revival is based around. But other cars were included too.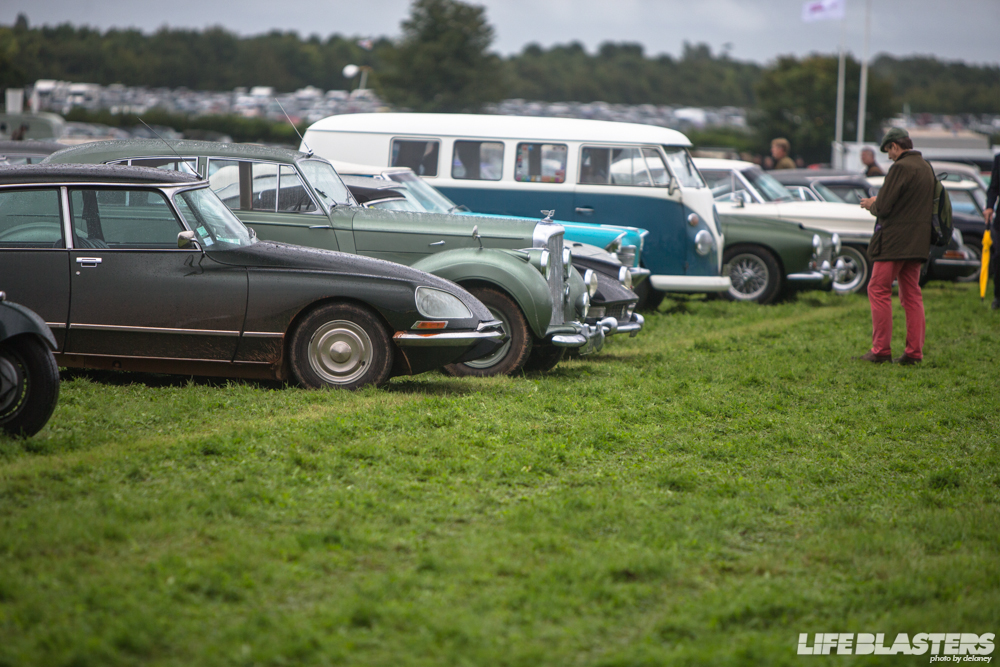 I had to shoot every French car I saw.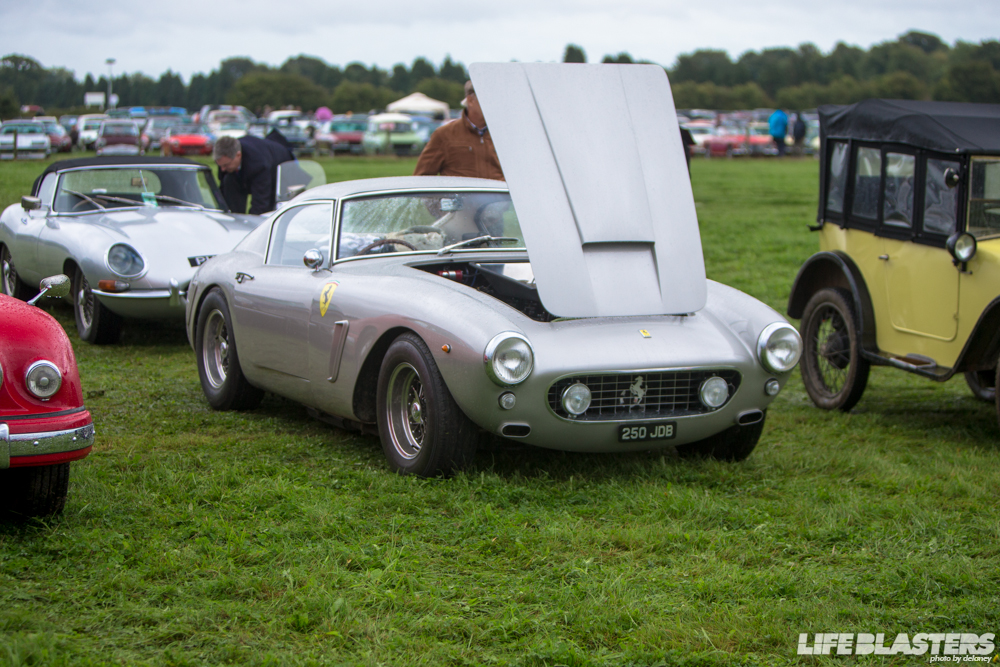 This 250 GT SWB Berlinetta was a huge surprise to see. Especially because these cars go for something between 7 and 10 million, and here it is in the rain and mud.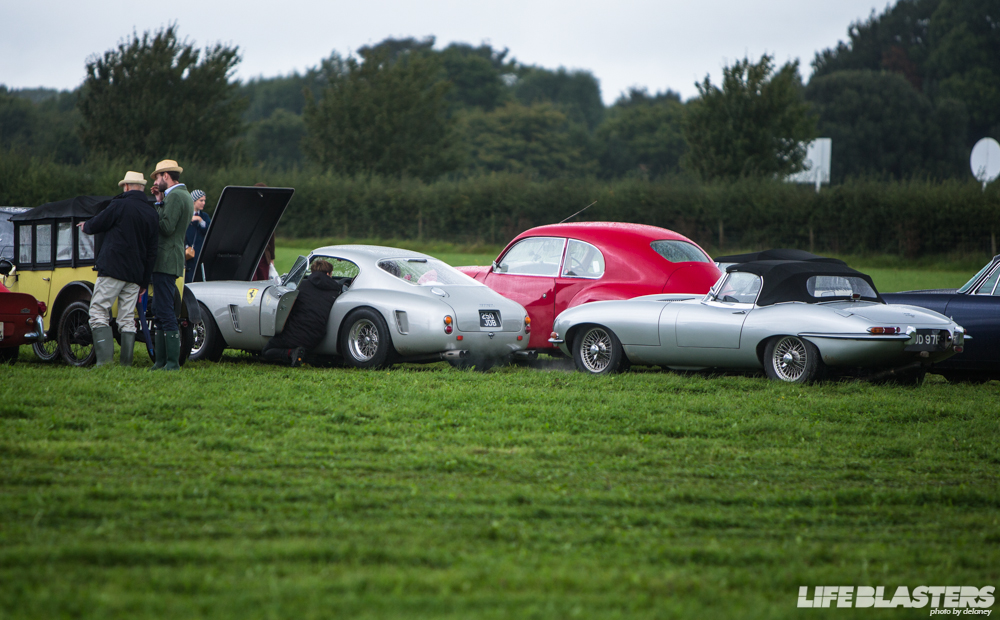 And it ran! So cool to hear it.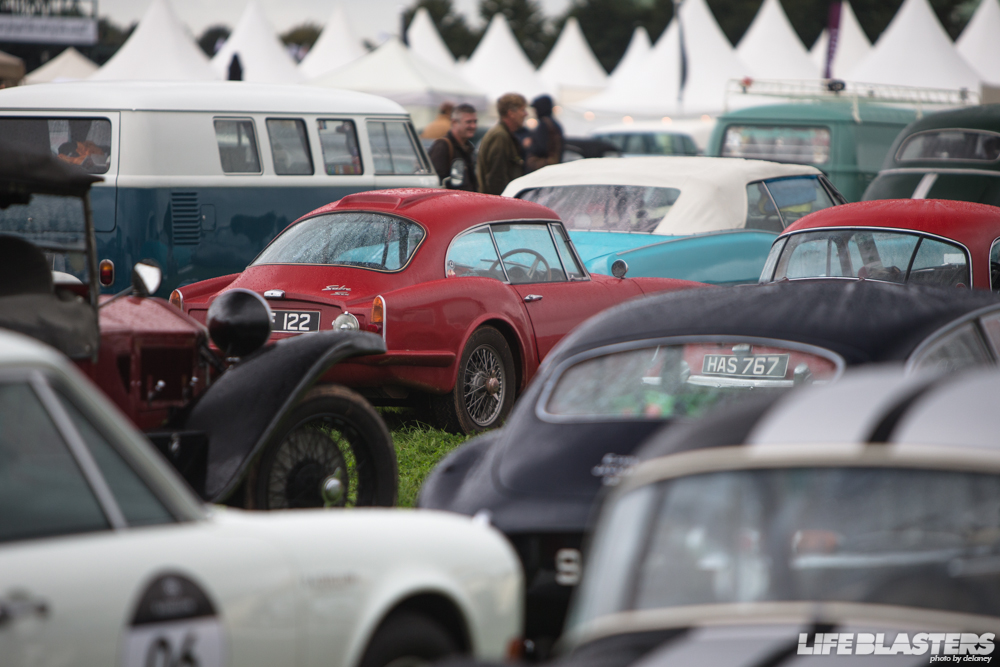 And this interesting little car is a Reliant Sabre. Honestly, I'd never heard of this car until I Googled it about 20 minutes ago. And I'm writing this a week after the event.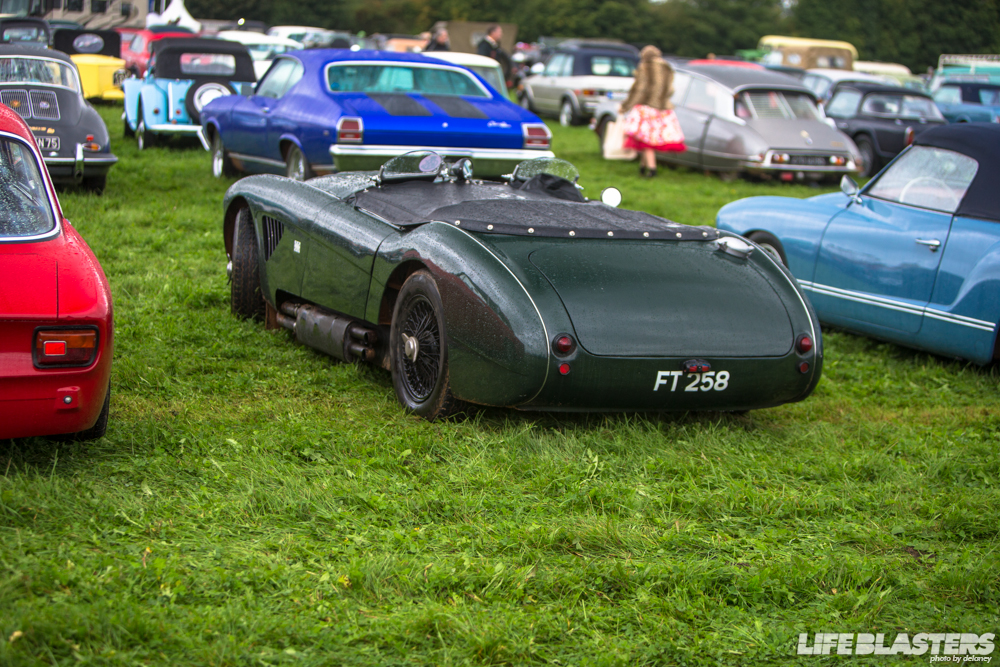 And this beauty of an Austin Healey almost stole the parking lot show for me, but the real winner is later.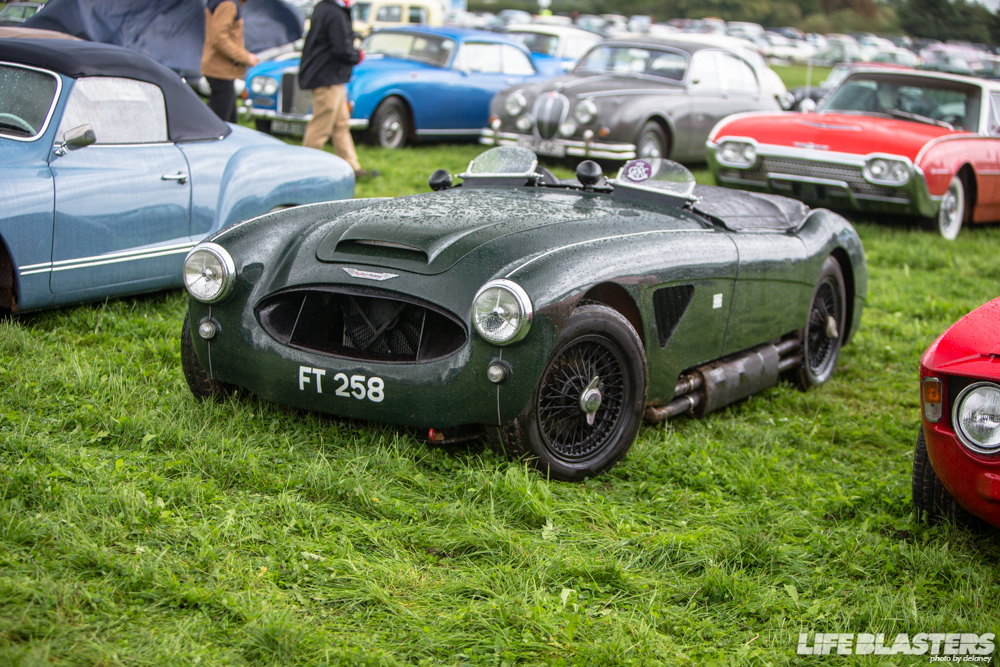 But I mean, look at this thing!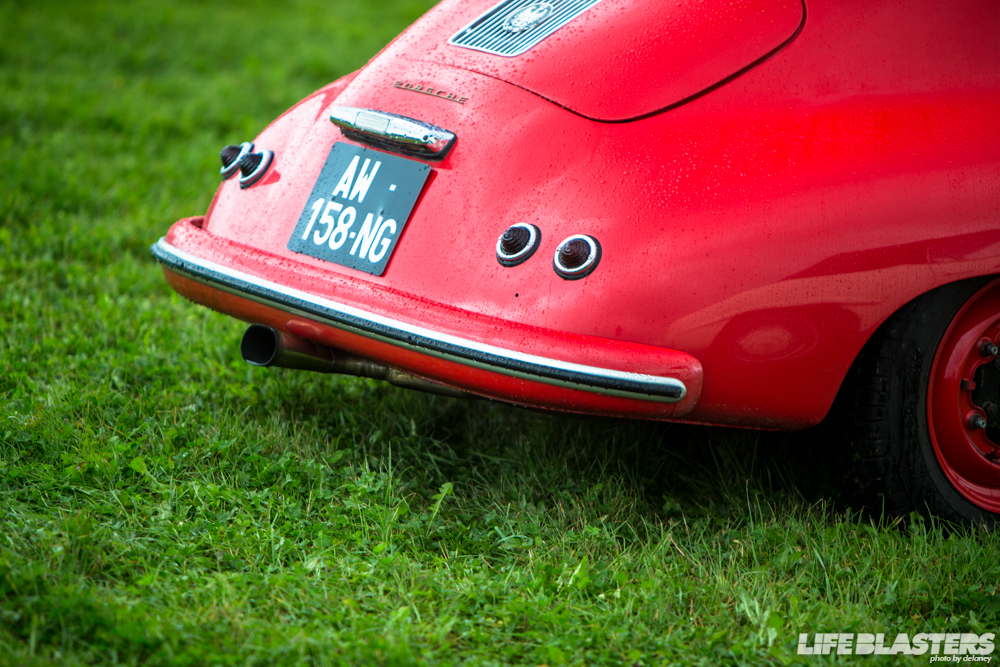 The Porsche came in second for "Life Blasters Best Car". Totally a legit thing by the way.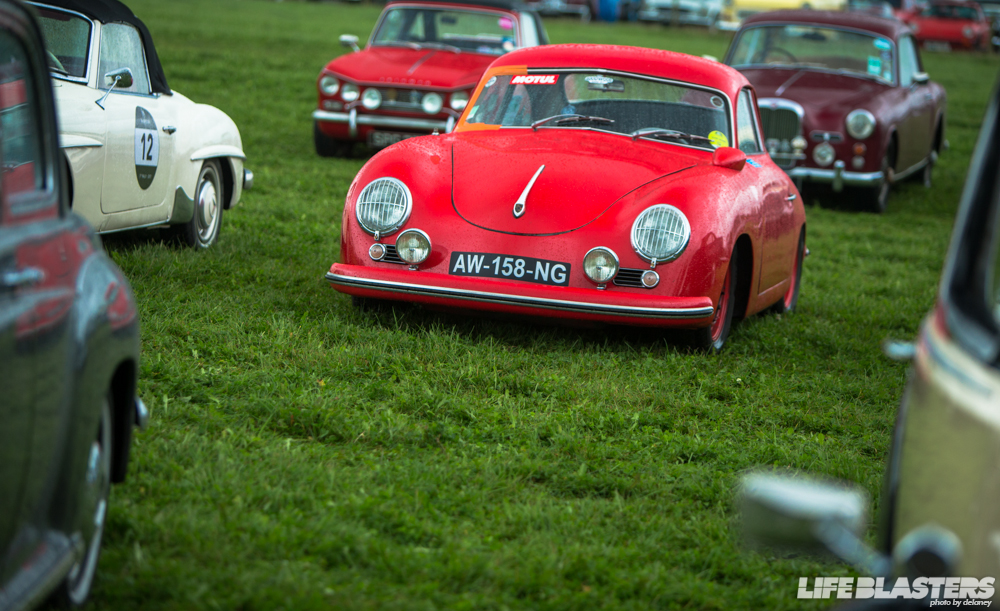 Note the rain guard on the right side. Leaks water, but still brings it out for Goodwood.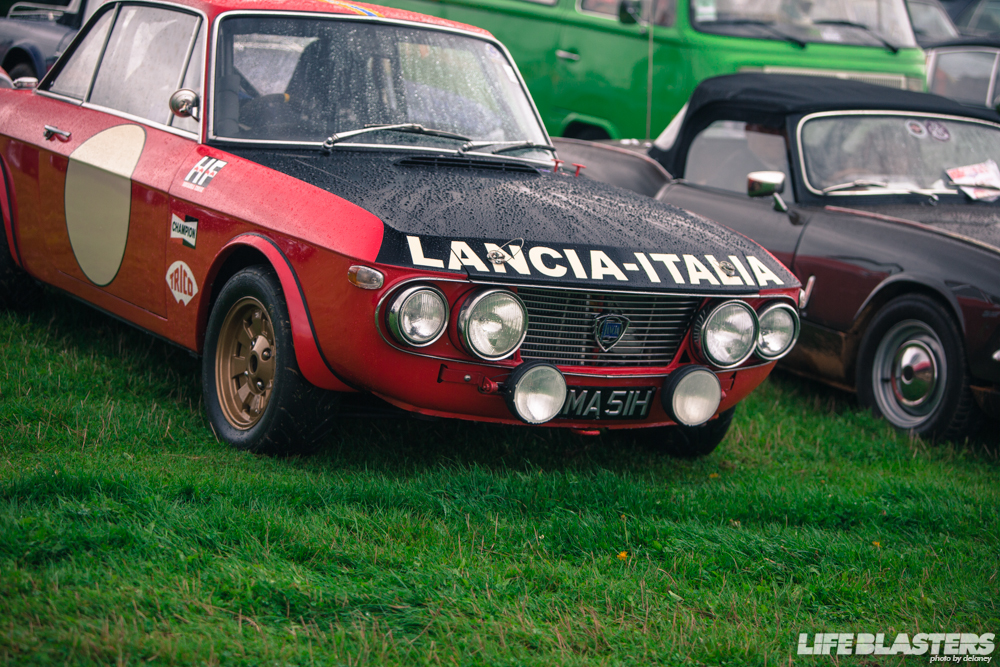 Along with French cars, I always have to stop and admire the Lancias.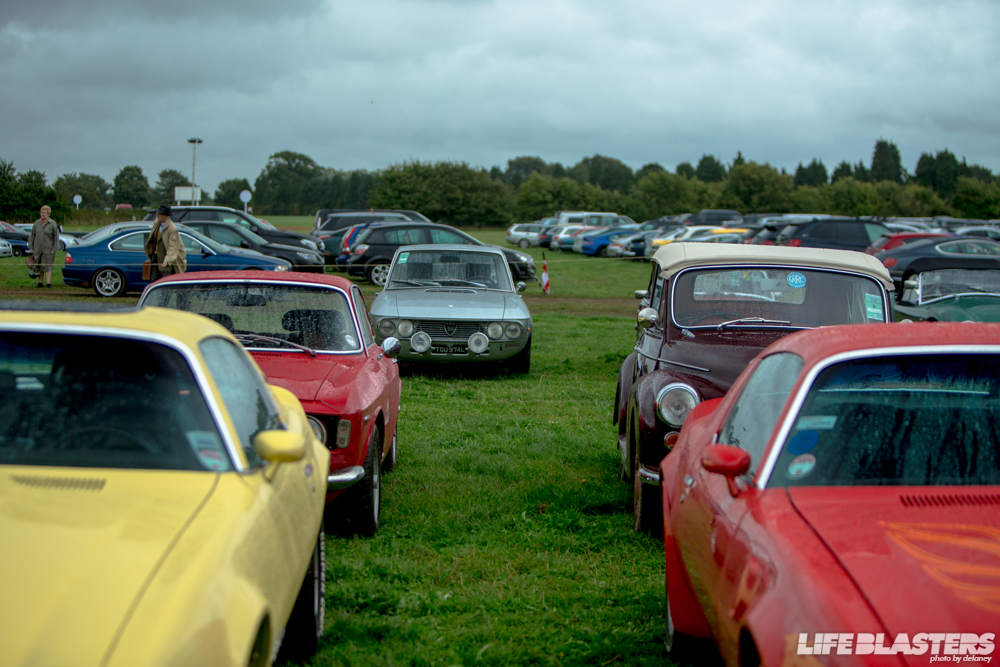 Goodwood, where there's two of everything.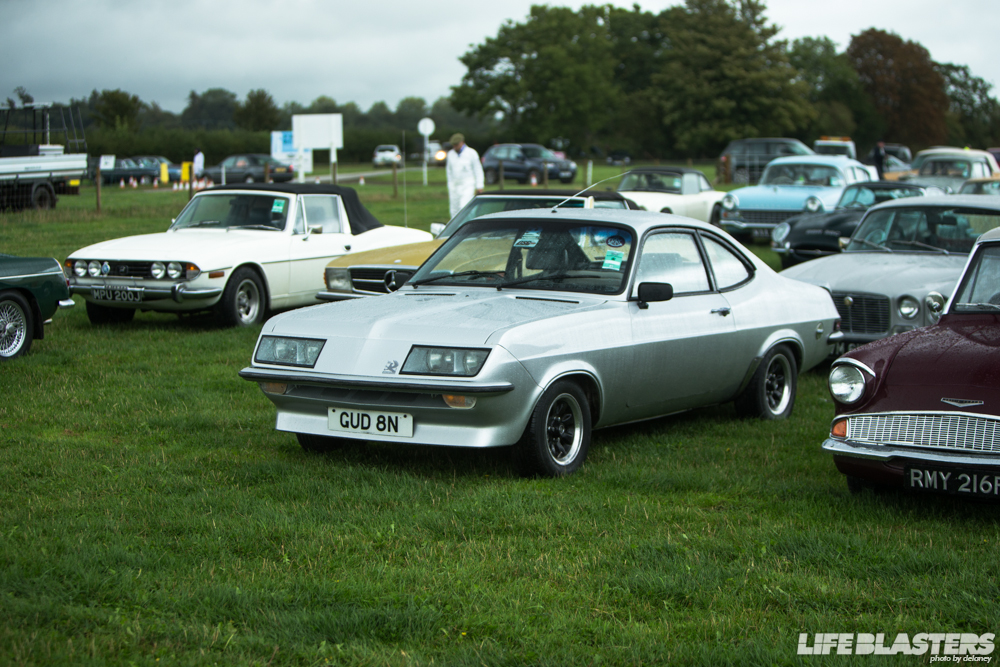 Aside from this, the Vauxhall Droopsnoot. Based on a Vauxhall Firenza, the droopsnoot was an attempt at adding something more exciting to the rather boring line of cars Vauxhall had been turning out. But the fuel crisis and production line problems cut the 30,000 planned cars down to just 204. Another car that fell to bad luck.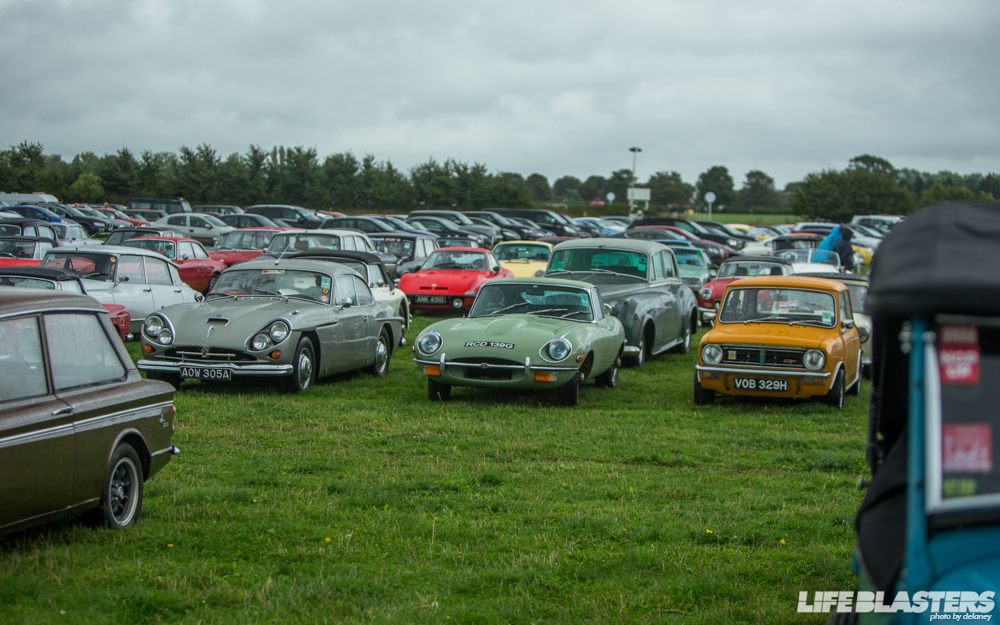 Just look at this spread. It felt like it was never ending. I can't imagine what this show must be when the weather cooperates.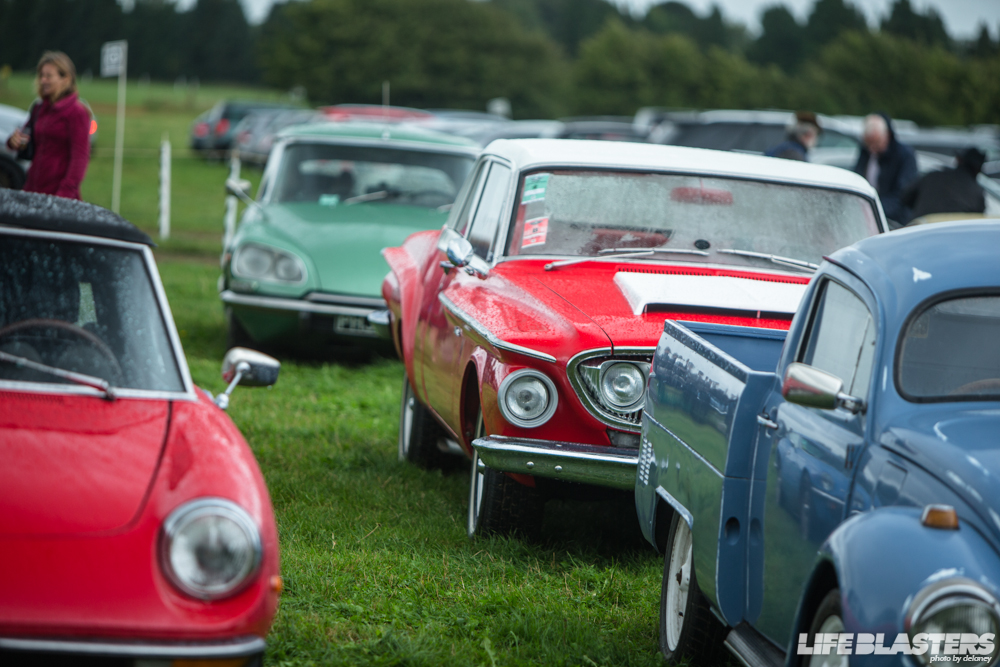 While most of the cars were English and French, a few American cars showed up.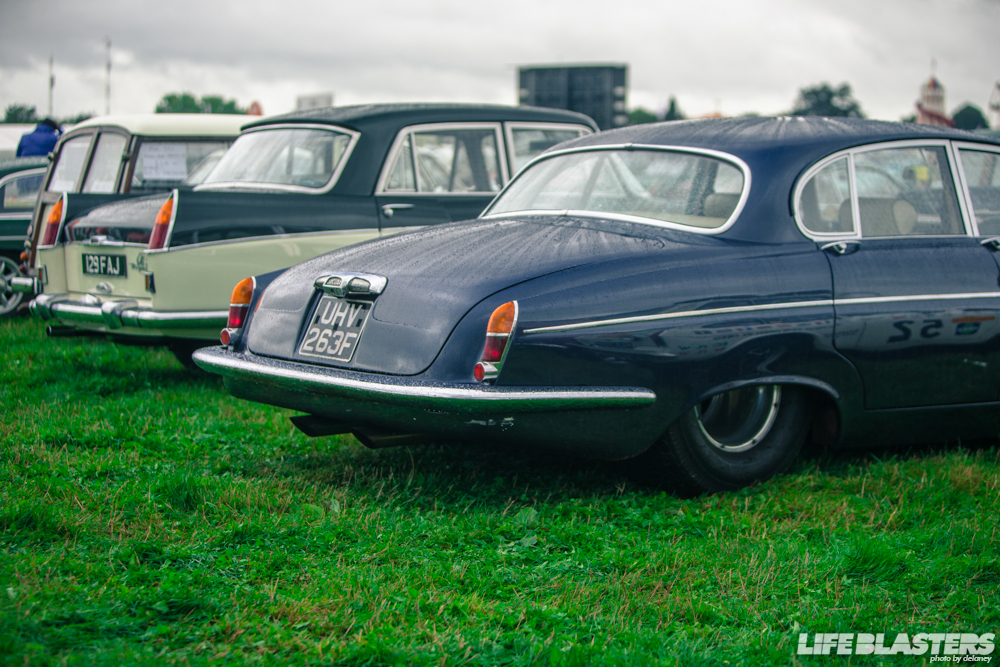 This Jaguar Mk.10 was just as surprising as the Polara above. The massive tires out back hinted that this wasn't a normal Jaaaaaag.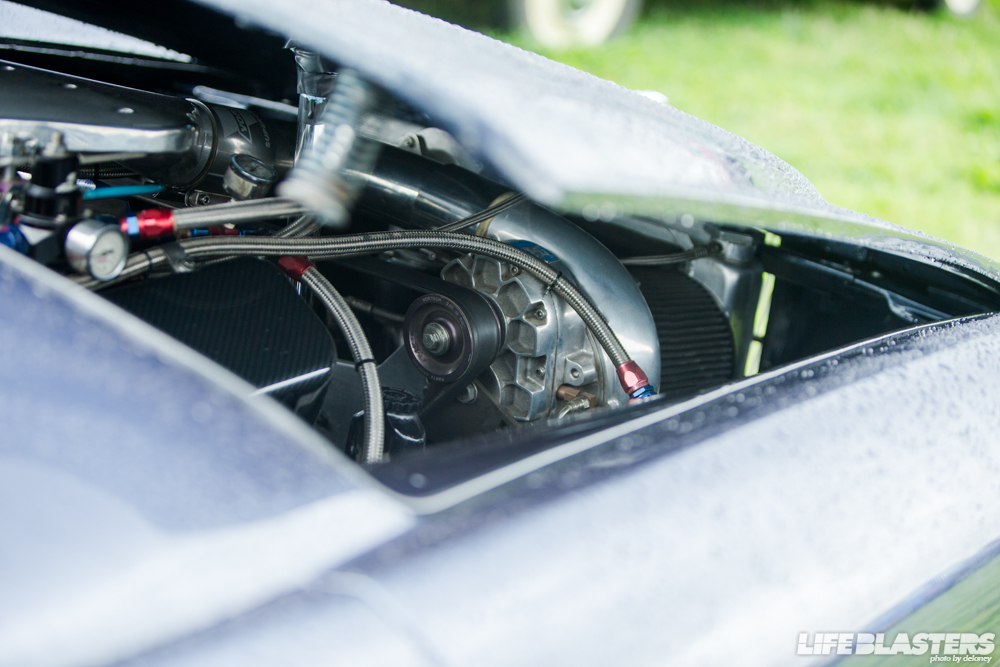 And it wasn't. One website says this has a twin supercharged V8 with nitrous. The paper inside said it was dyno'd around 1100hp.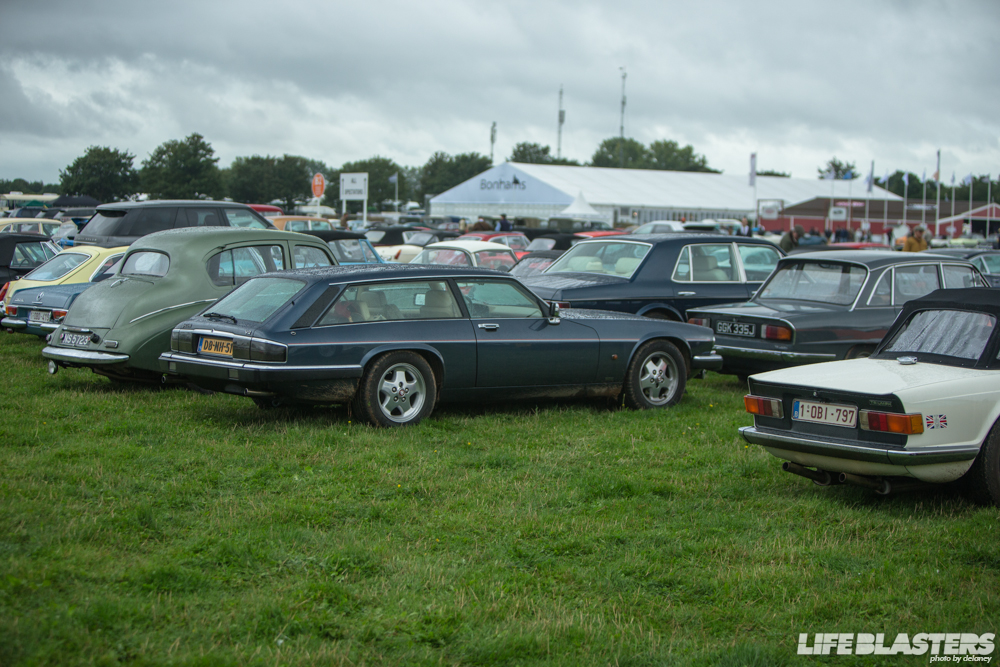 Down the row was this Jaguar XJS, or shooting brake, the Lynx Eventer. A company that made Jaguar C and D type replicas called Lynx Engineering and decided to take the new Jaguar XJS and make it into a wagon. They only made about 67 Eventers, this is what you see in just the parking lot of Goodwood.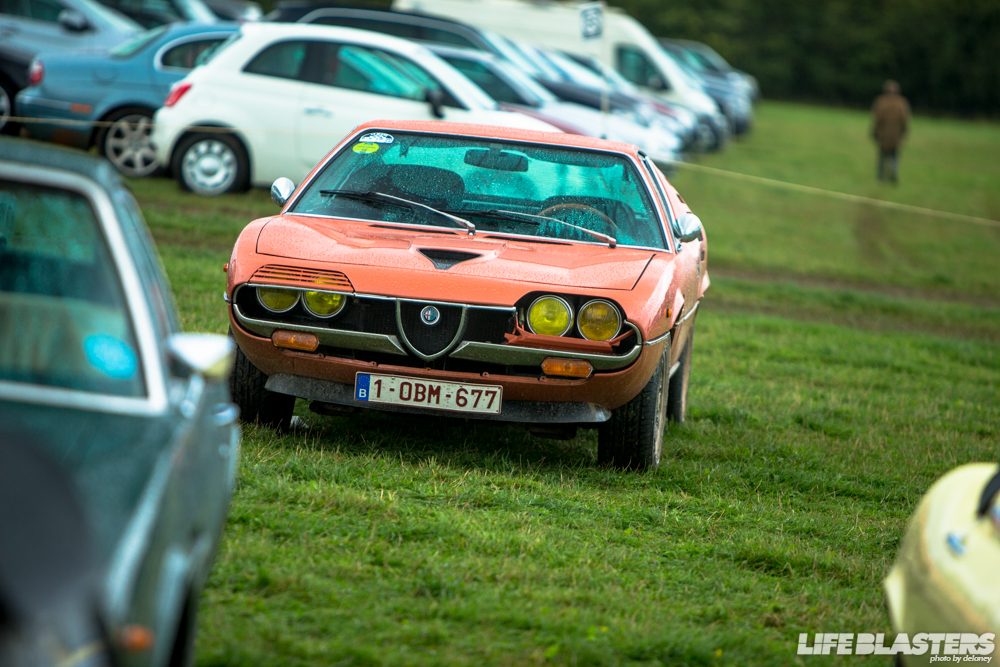 A winking Alfa Romeo Montreal just seemed normal after awhile.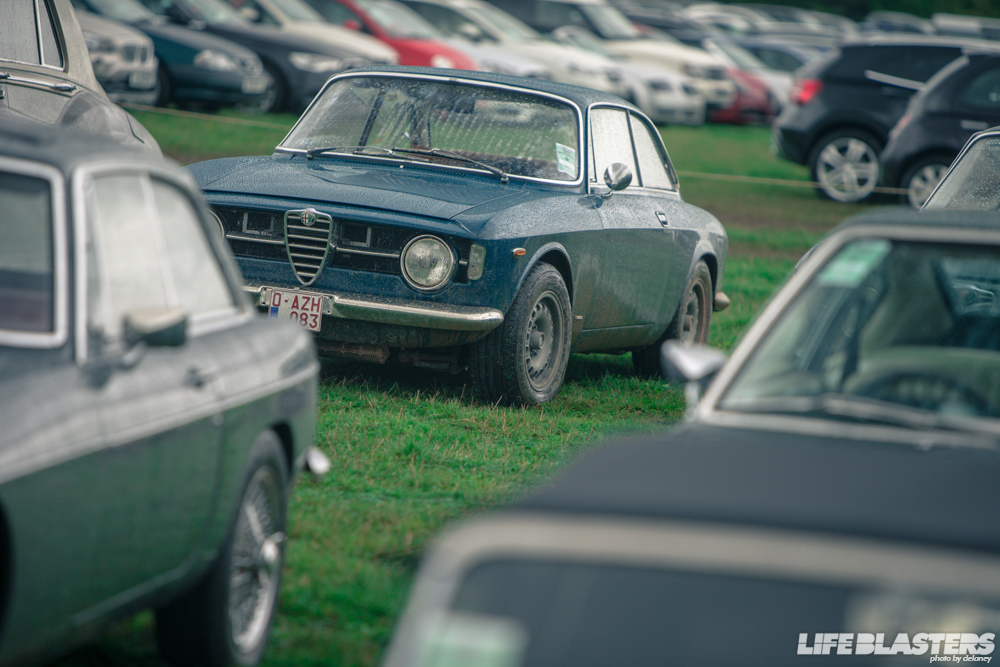 Just how the cars should be, used and muddy.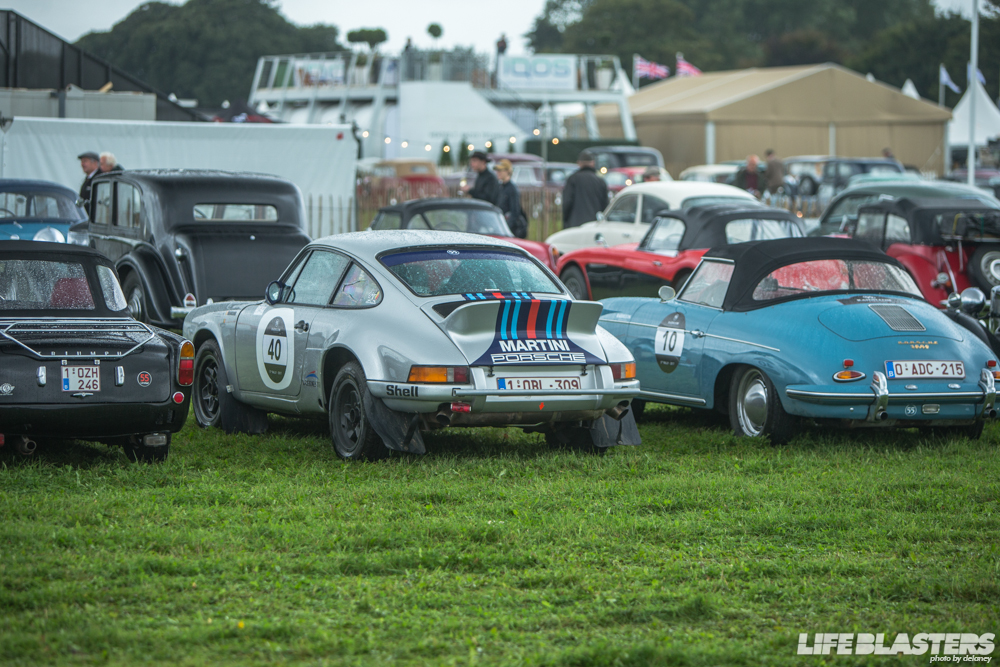 Just a lifted Martini Porsche.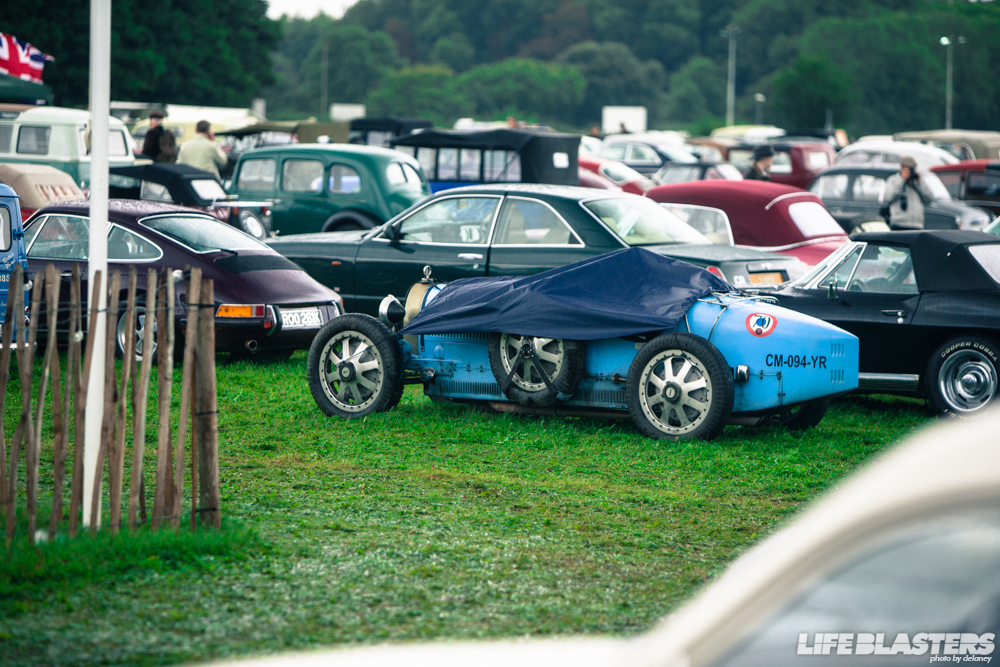 I never know when I see a Bugatti if it's real or not. But knowing it's Goodwood, I'm assuming it's real. Or at least a replica made with original parts.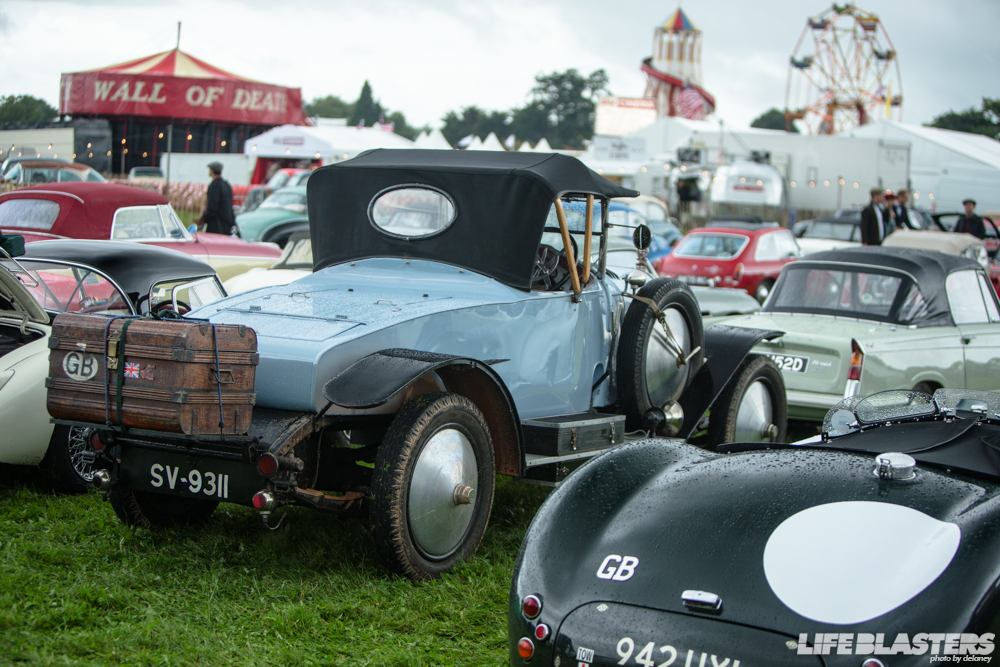 And I don't even know what this is, but the wheels are awesome.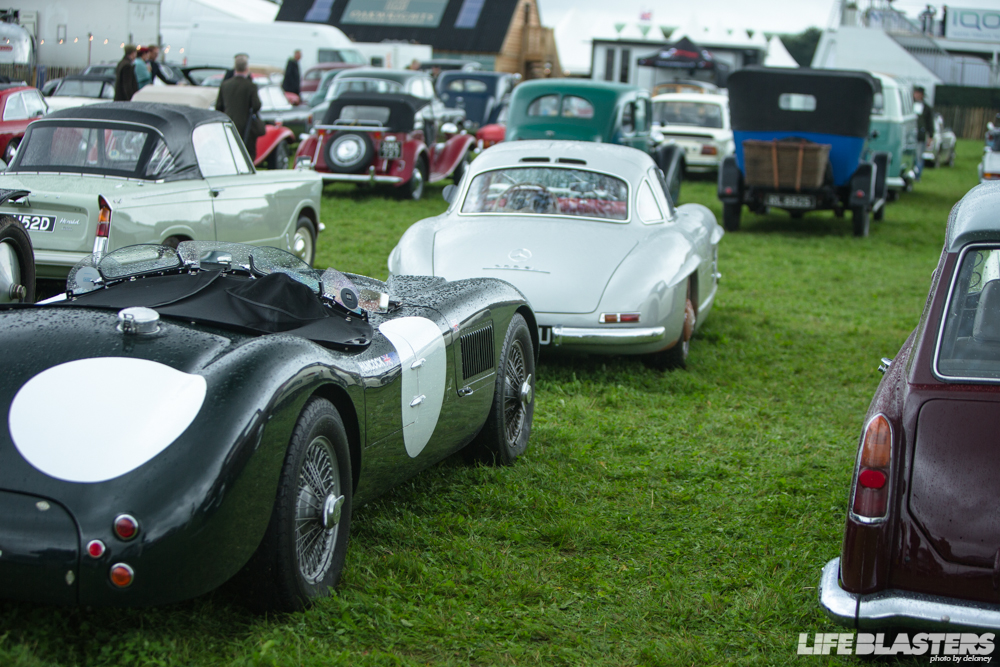 As with the Bugatti, is this a real C Type or a faithful replica? At this point I'm thinking this is a replica, but still a stunning car.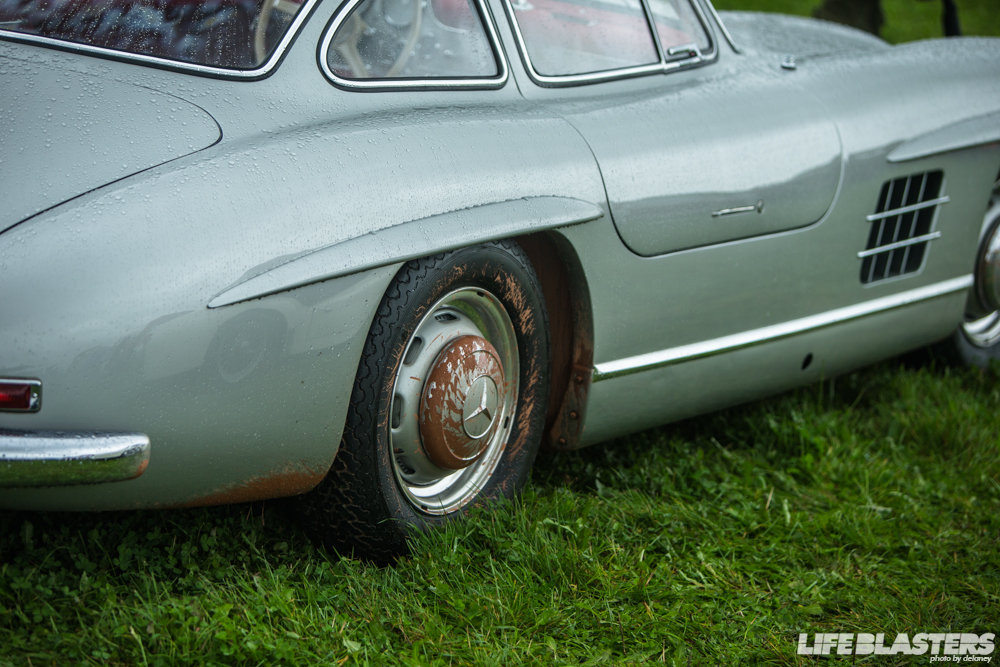 Million dollar car with a muddy wheels? Normal at Goodwood.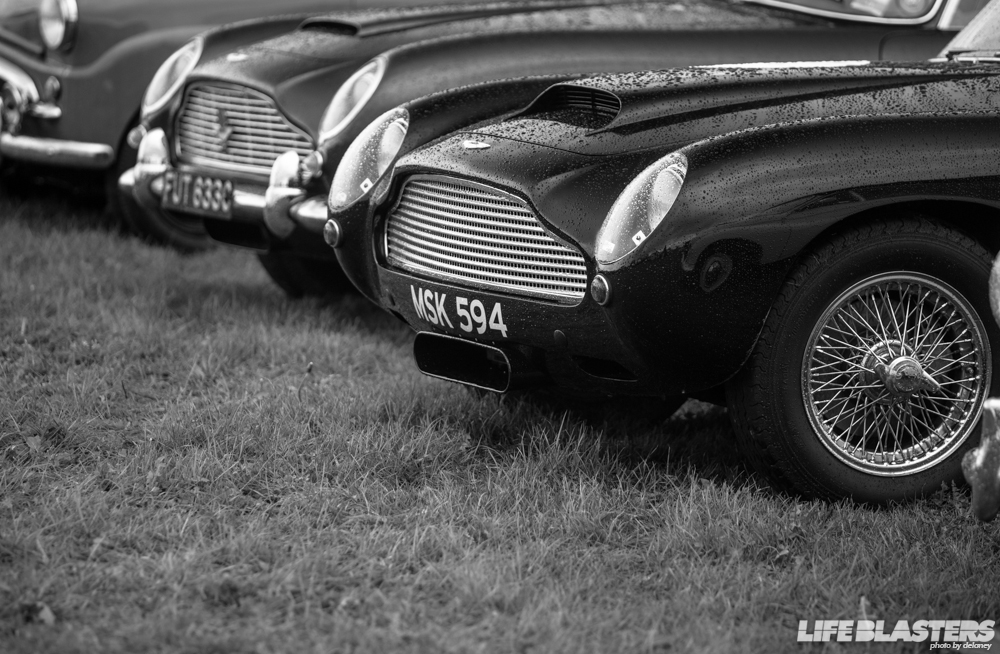 Every car from the '60s and '70s looks better without front bumpers.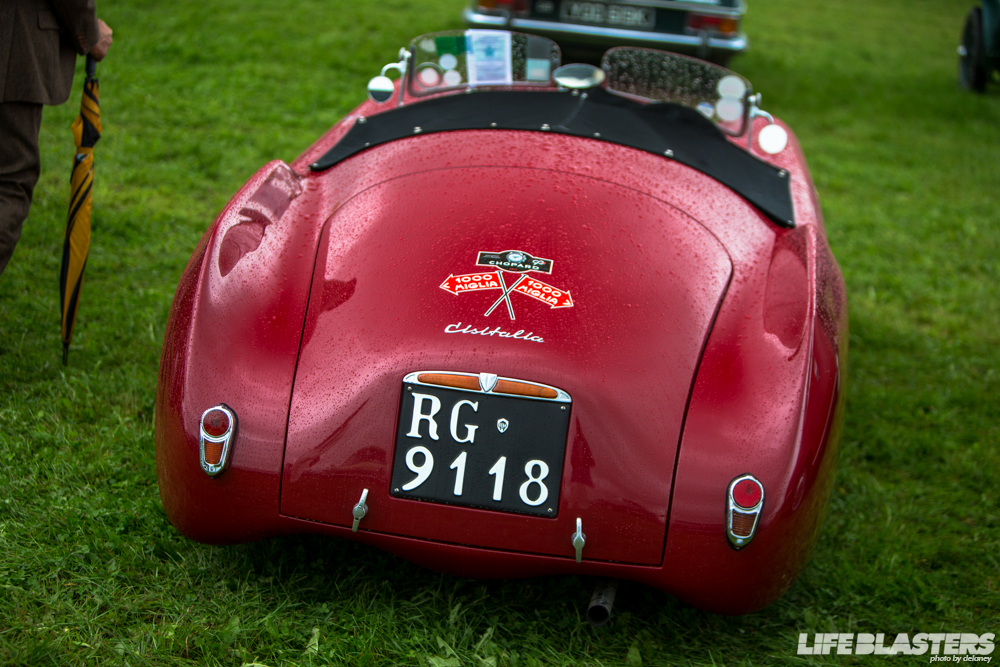 This little thing is a Cisitalia 202 SM Spider Nuvolari. The story of the 202 SM Spider goes, Tazio Nuvolari, one of the best drivers ever, wanted to race in the 1947 Millie Miglia, so Cisitalia put him in a 202. The car lacked the power of its competitors, but Nuvolari decided to try it anyway. After a 30 minute repair job mid race, Nuvolari came back to finish in second. From then on, all the 202s were named after Nuvolari, only 28 were ever built.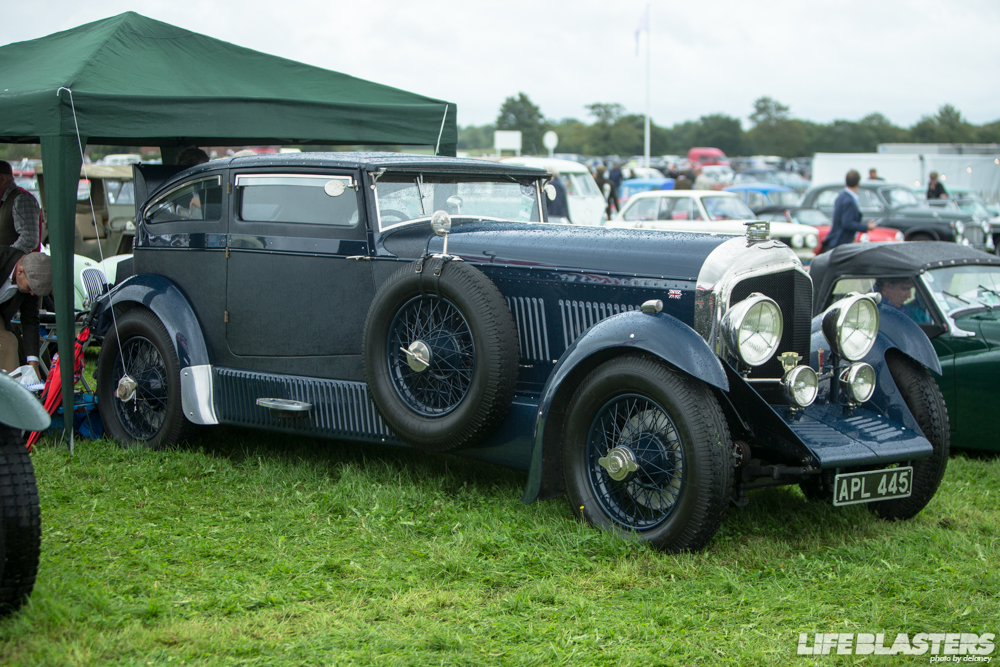 And another car that has a cool story is this Bentley "Blue Train". This is a replica of a car that supposedly raced the famous Le Train Blue that ran from Côte d'Azure to Calais, a roughly 745 mile trip. Woolf Barnato, who was Bentley's chairman and winner of Le Mans in '28 and '29 said he could go faster than the Blue Train. Barnato beat the train and won the bet, but the story of the car is still a little muddy. This body style, done by Gurney Nutting, was delivered to Barnato after he beat the train. But this Gurney Nutting style is still known as the Bentley "Blue Train".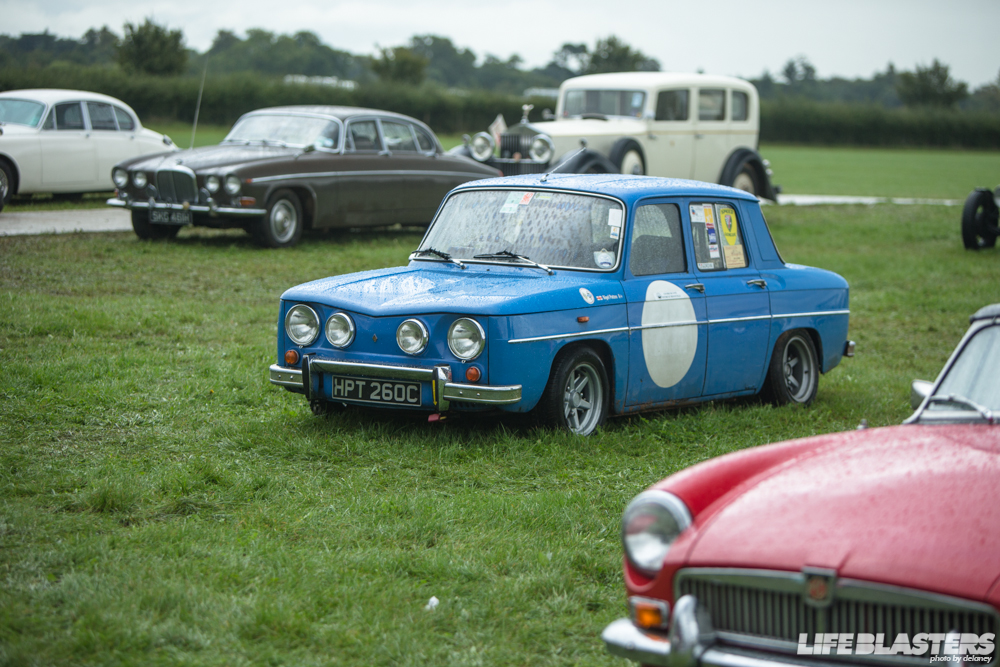 After spending the day trying to take in everything the Revival itself has to offer, we exited back out past the car show. Much later in the day and after much, much more rain, the show was slightly smaller than earlier. But this Renault Gordini was cool.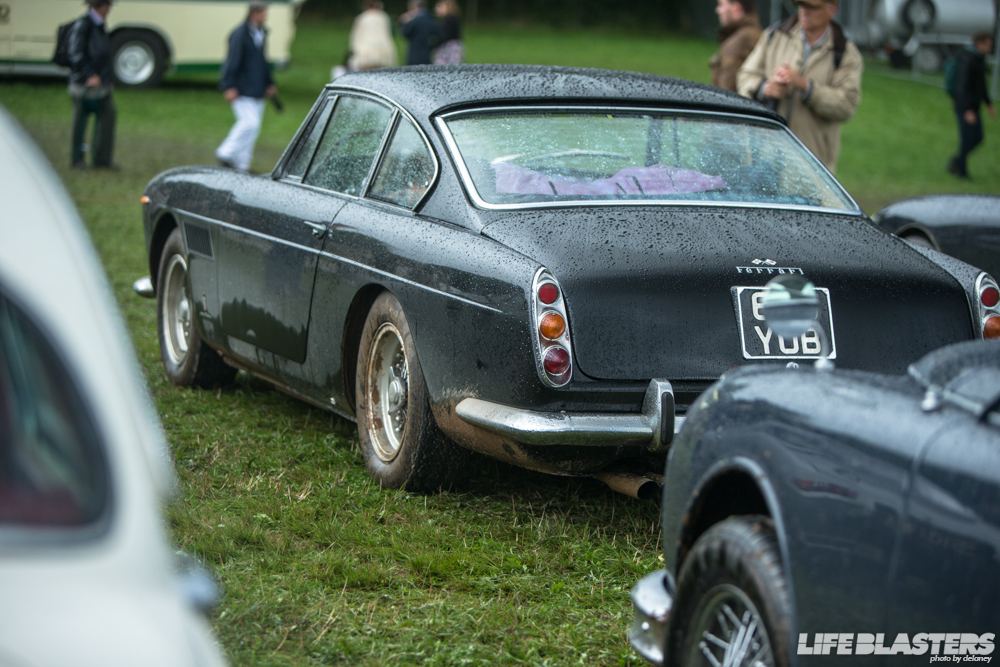 Just another muddy Ferrari.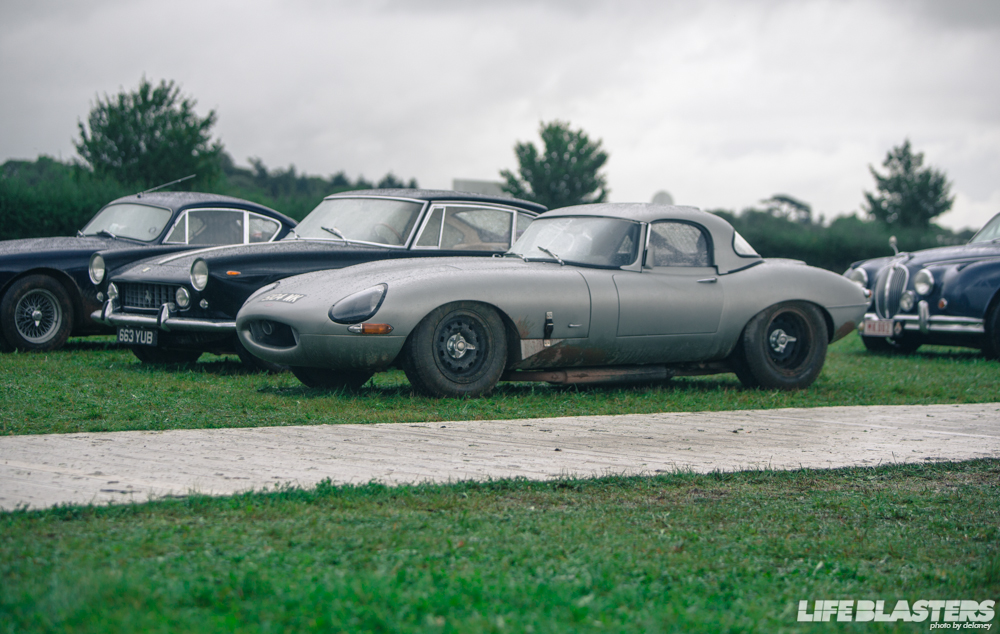 And that's when I saw it, the most beautiful car of the whole weekend. A Jaguar Lightweight Coupe.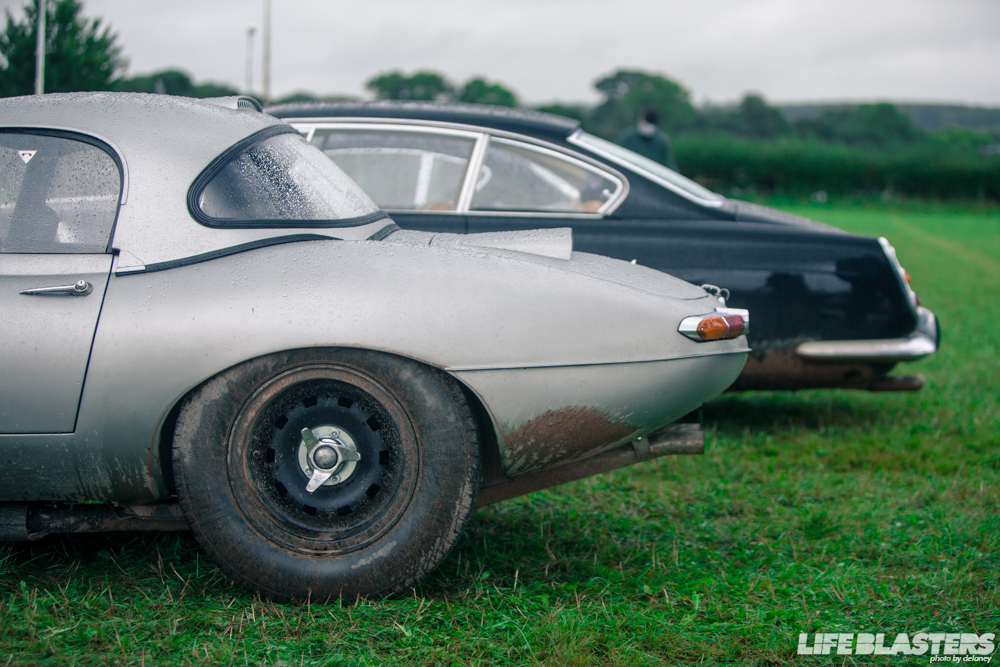 Like the Jaguar C Type, the Lightweight is a popular car to recreate, so I have no idea if it's real or not. But I don't care, I've never seen a car that looked so good and stopped so many people in their tracks. And the fact that it was muddy and wet just proves how dedicated people at Goodwood are.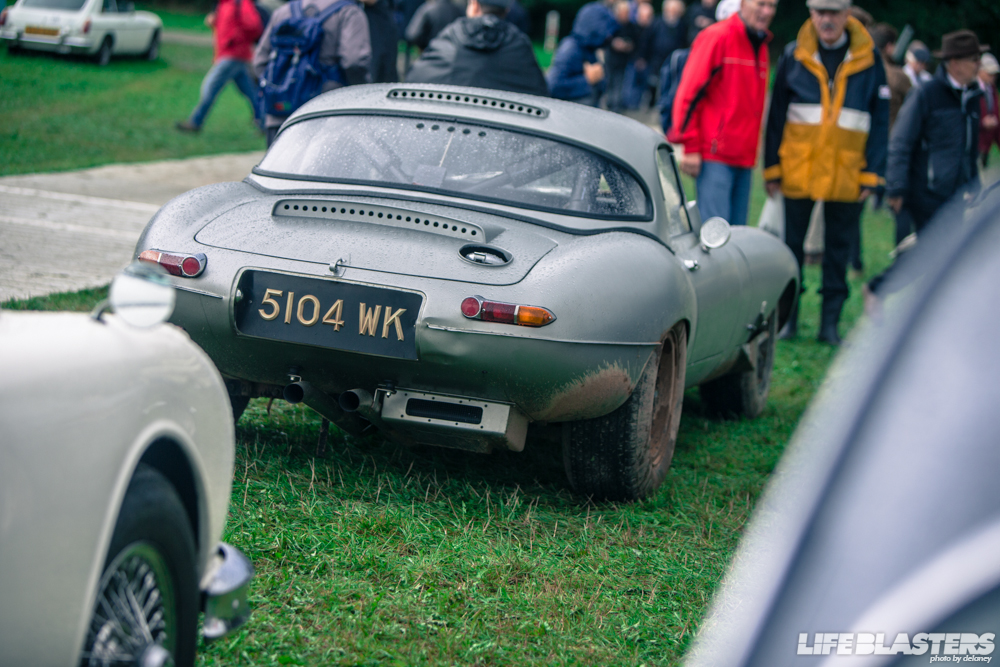 I could've walked around that car all day.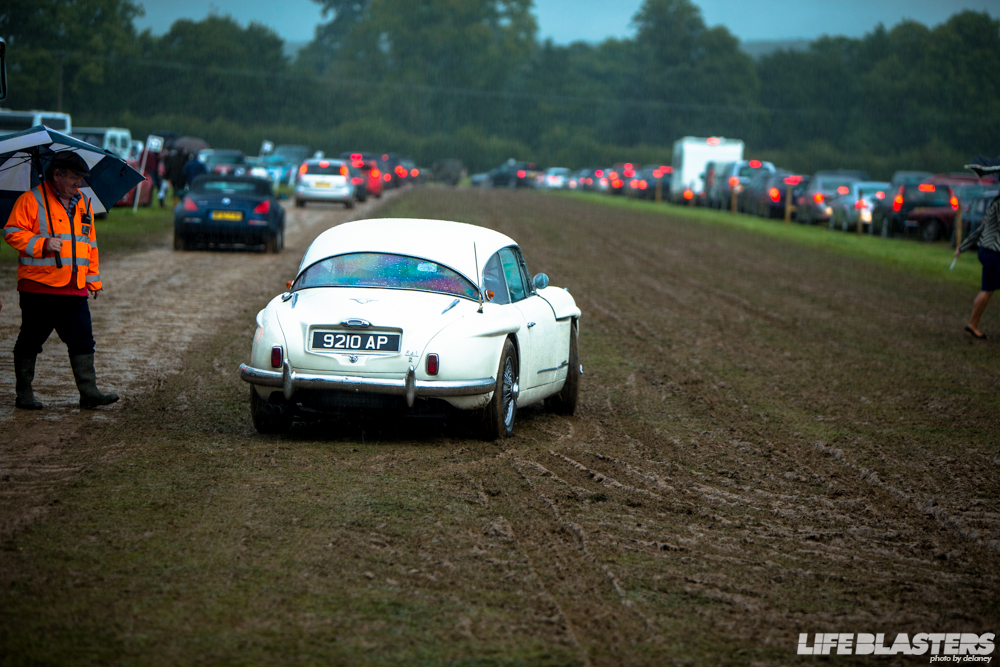 But we had been up for around 30 hours at this time so we were ready to head back to our Airbnb. This was just the parking lot and the car show outside of the Revival, so you can imagine what happens once you cross into the event itself. That story will come later.
Delaney
Email: delaney@lifebalsters.com
Instagram: @lifeblasters, @ericdelaney