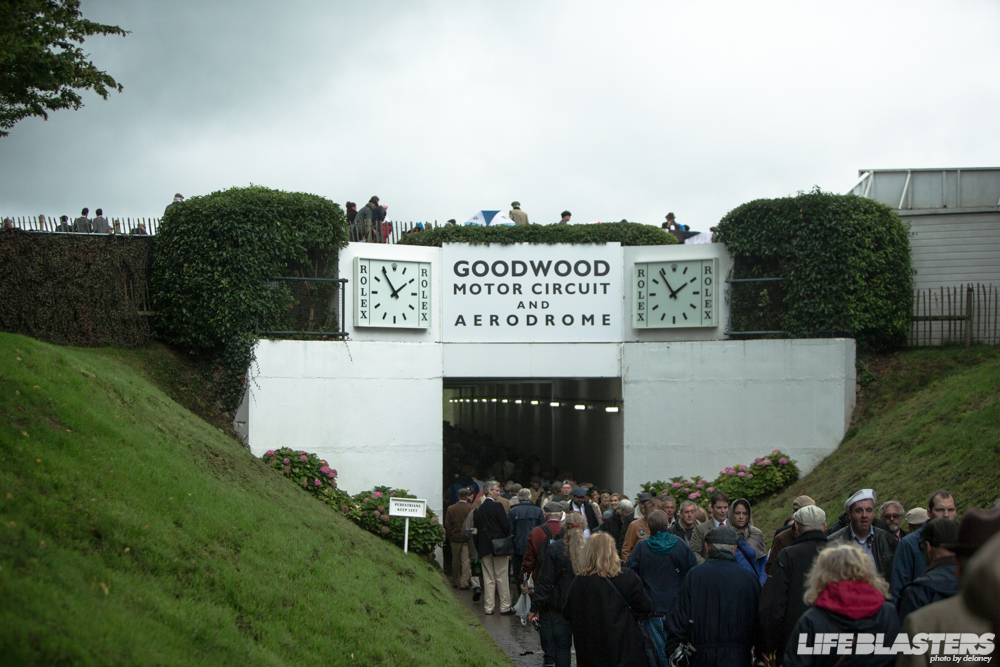 Goodwood. It's one of those places that evokes dreams of race cars and exotics racing up a hill, or people dressed in period clothing watching some of the best historic racing anywhere in the world.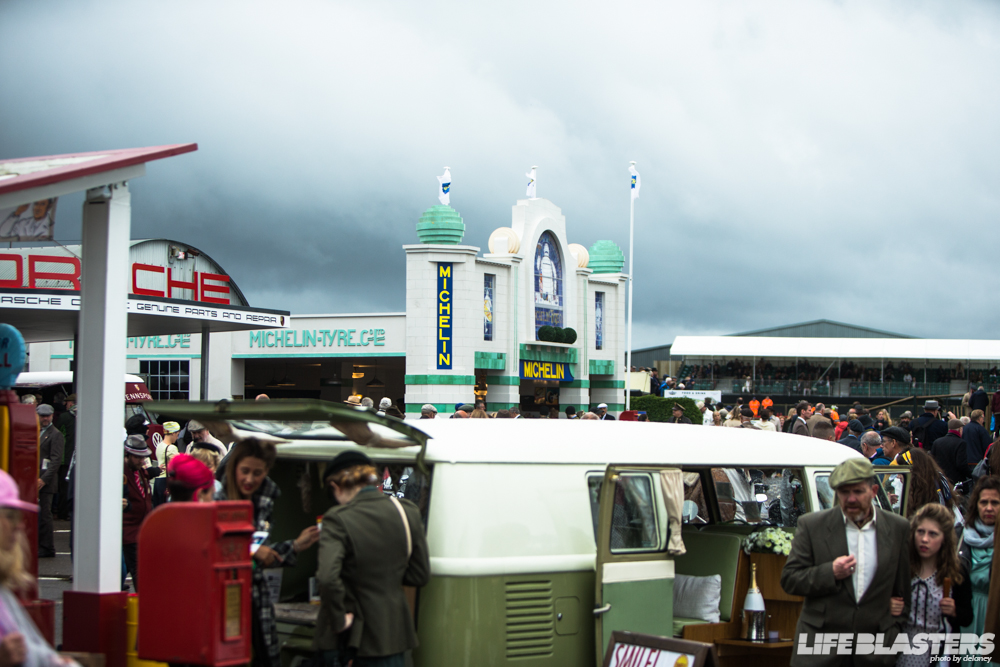 When we were at The Goodwood Festival of Speed in 2016, we kept hearing that we needed to experience the Goodwood Revival. A quick history on the Revival: The Goodwood Circuit was opened in 1948 and was comprised of the perimeter of an airfield used by the Royal Air Force in World War II. Formula One raced a non point race at Goodwood, it hosted the famous 9 hour race in 1952, 53 and 55 as well as Tourist Trophy races from 1958 to 1964. The track was closed in 1966 because the owners didn't want to add chicanes to the track to slow down the ever quickening cars.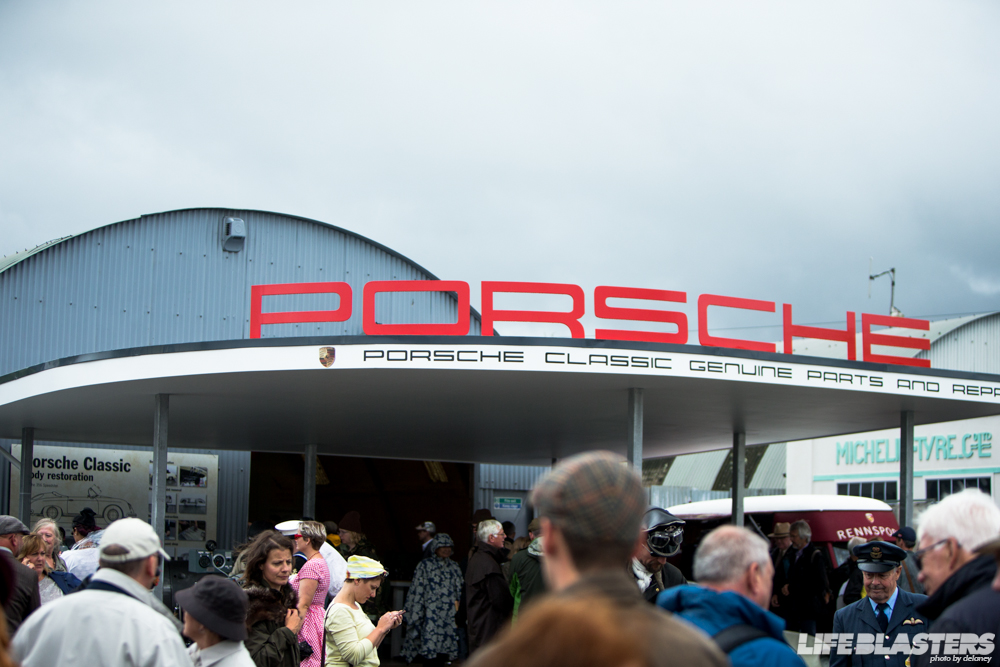 That leads us to today. In 1998 the first Goodwood Revival was held to bring back the glory days of the 1950s and '60s. The cars that race are from 1930s to the 1960s, and the racing is incredible. Since the track hasn't changed since 1966, it's almost as if you have gone back in time. There's even a small town constructed with period correct buildings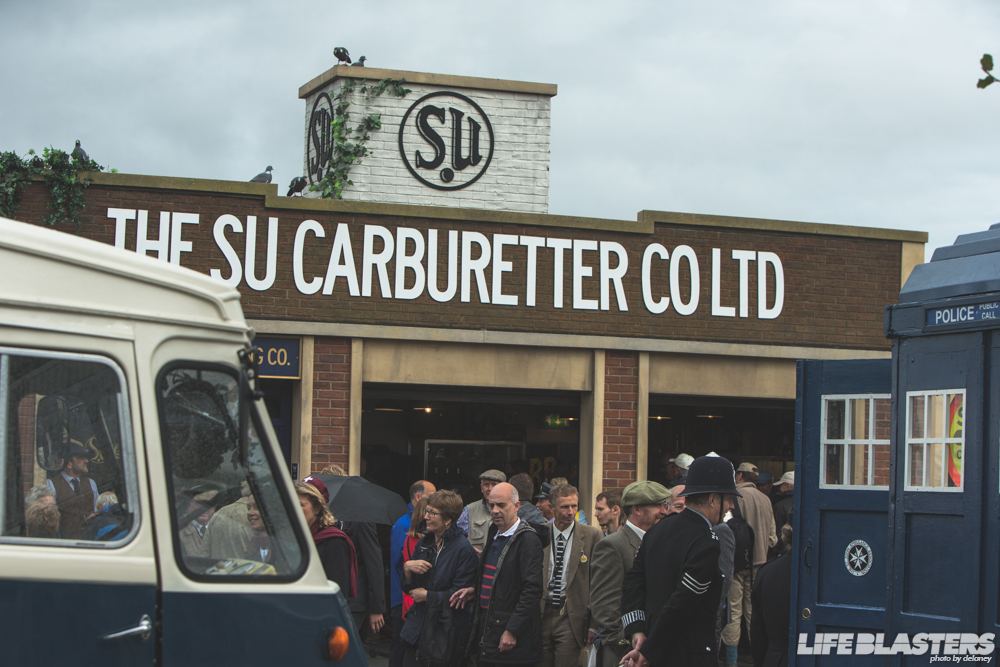 Which is also why this little part of Southern England turns into a melting pot of the first half of the 20th century. There's no real dress code, but it's somewhat of an unwritten rule to dress in some period clothing. Even the town of Chichester just outside the track looks like you've stepped back into the '40s, '50s or the '60s.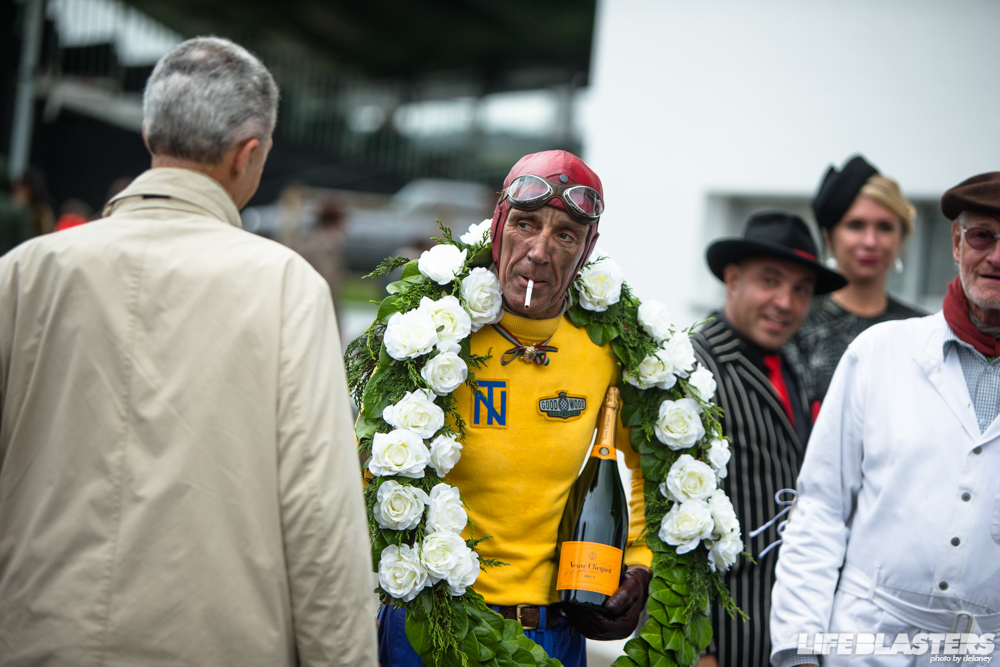 Goodwood can put some period movies to shame, the quality and detail that people put into their outfits is insane. Especially when you realize it's all for a race. Like Tazio Nuvolari here, there's a good chance he walked around like this all weekend. Unless Al Capone took care of him.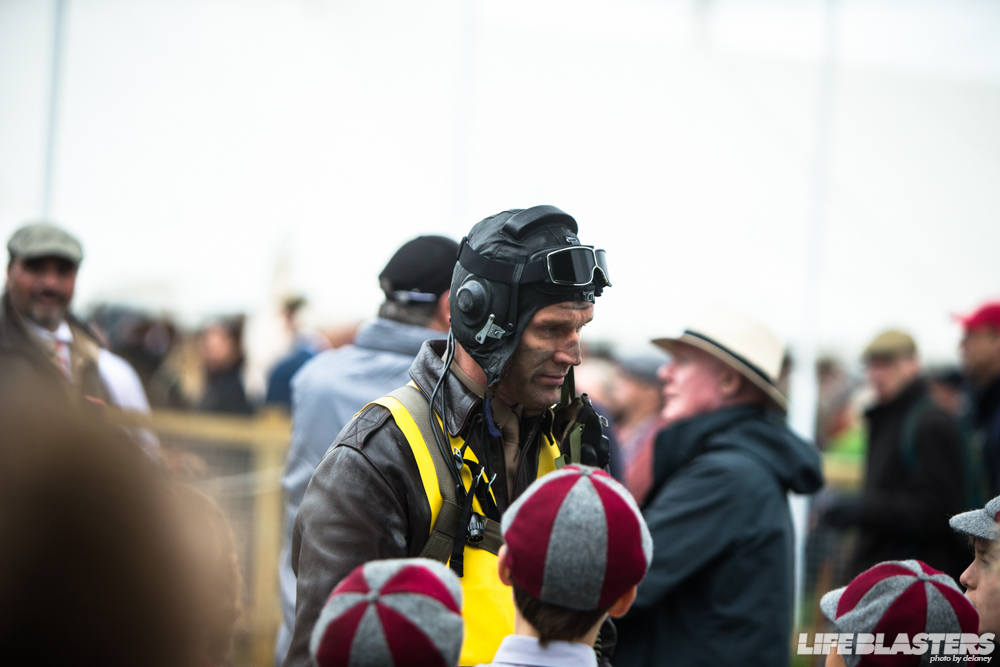 Since Goodwood was originally an airfield, it was only right to see a pilot.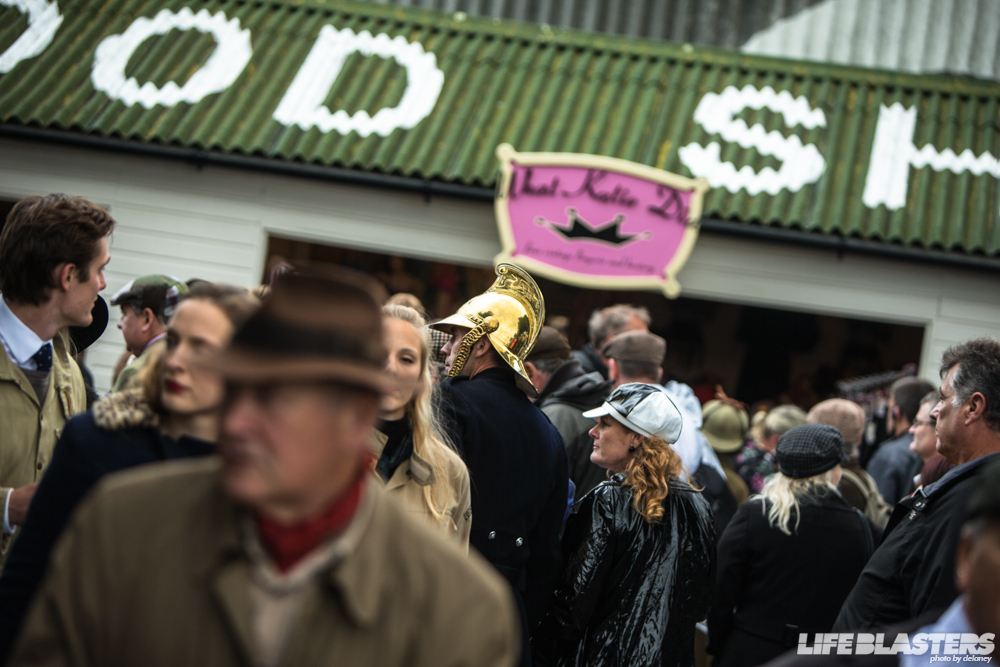 This Merryweather helmet from the 19th century, that was used up until World War II, added to the wild mix of outfits.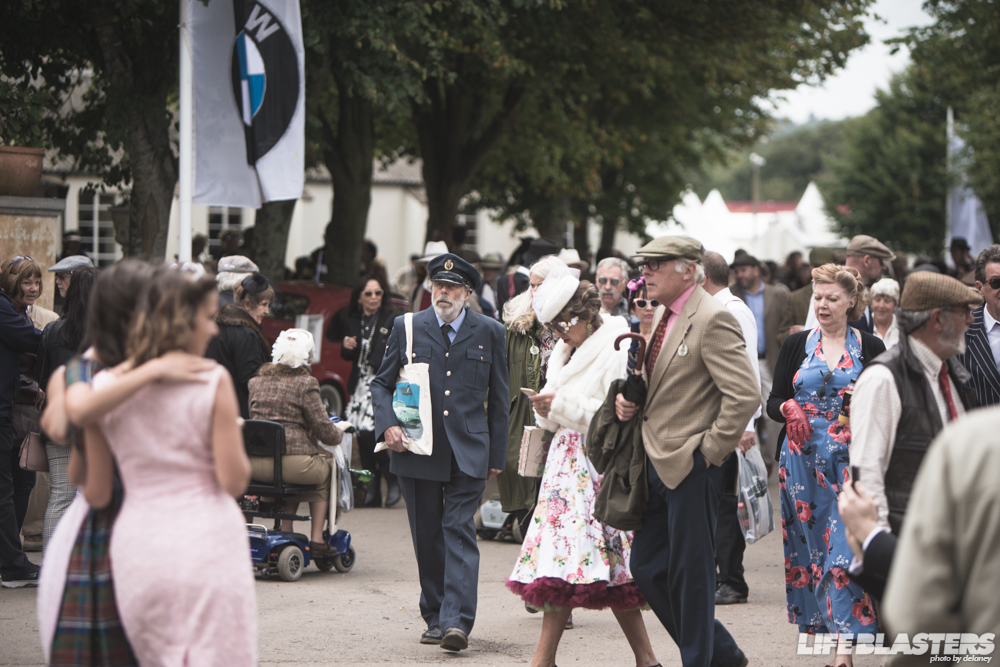 It's an insane mishmash of patterns, colors, styles and eras mixed into one area, all set with the sound of race cars in the background.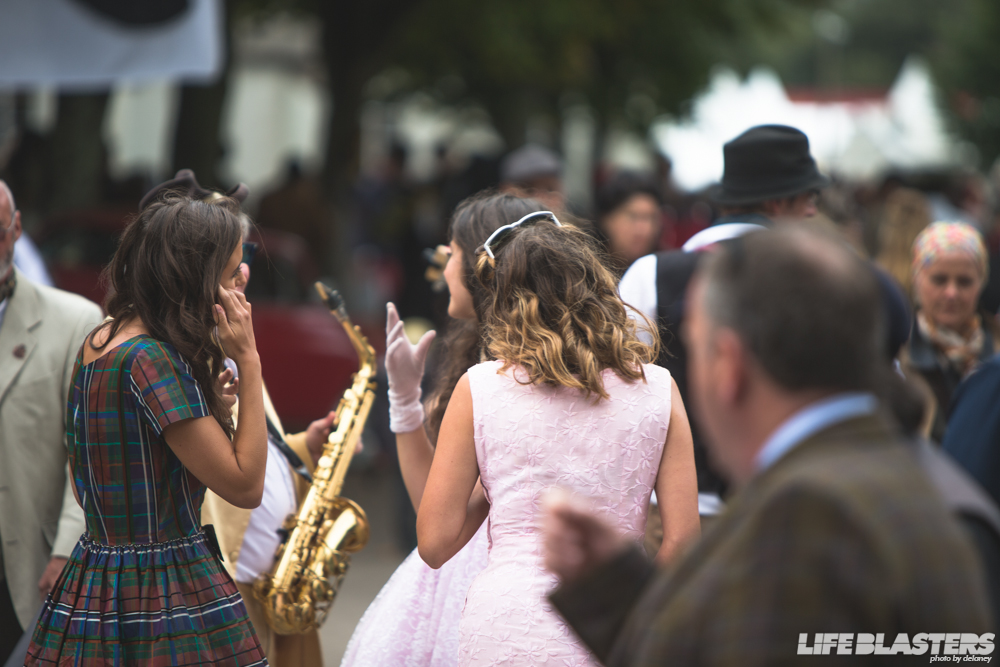 Not to mention all the swing music you could want.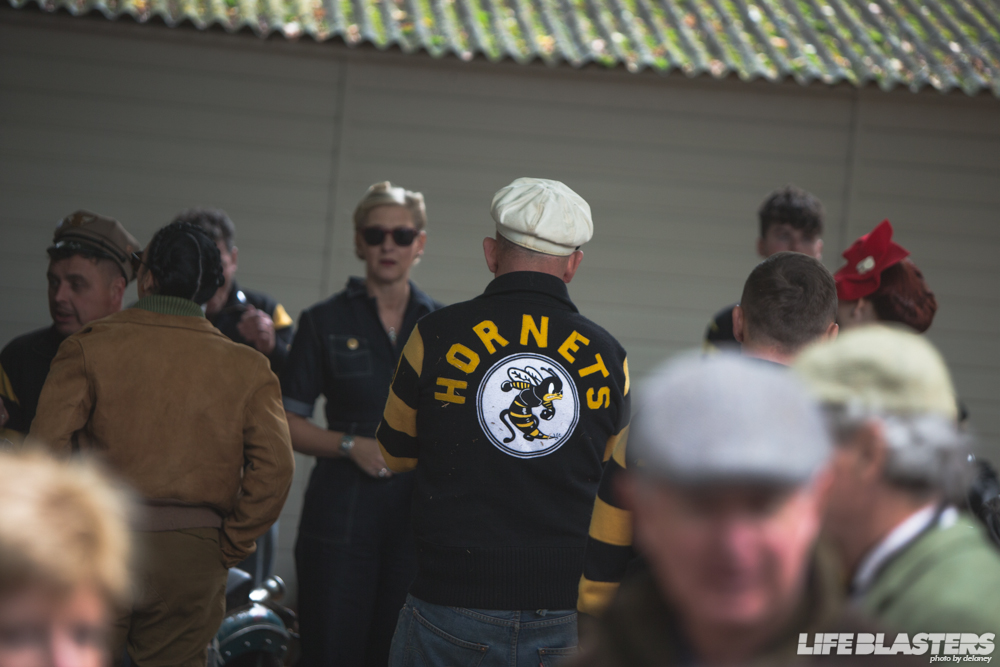 What's the 1950s without a motorcycle gang?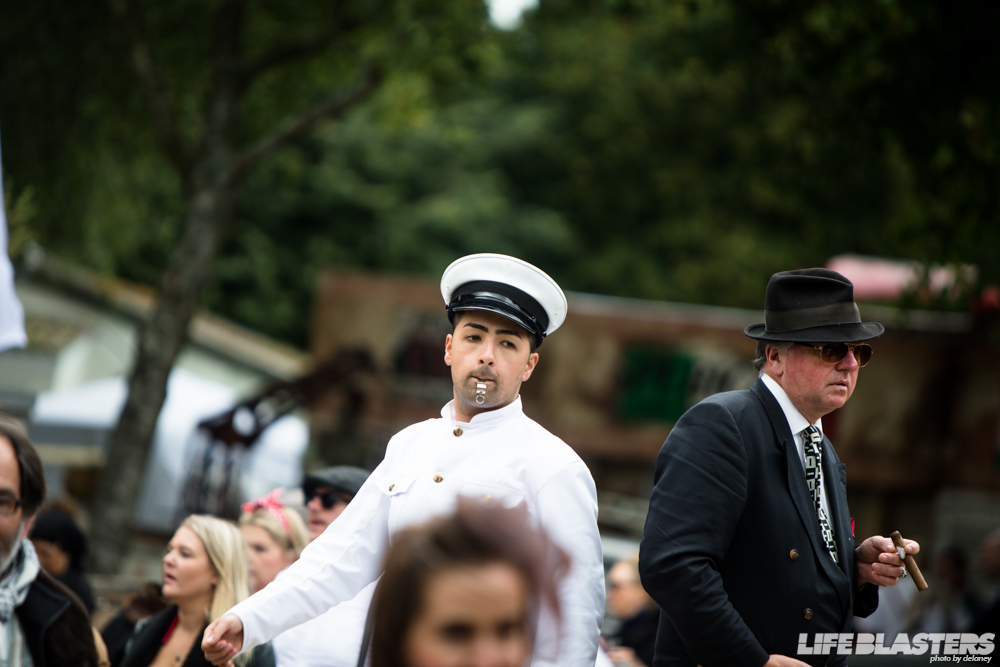 The 2017 Goodwood Revival celebrated the Fiat 500, so there was a little Italian themed area set up, complete with a traffic cop. He was pretty serious throughout the weekend, but you don't kick the Mafia off your stand.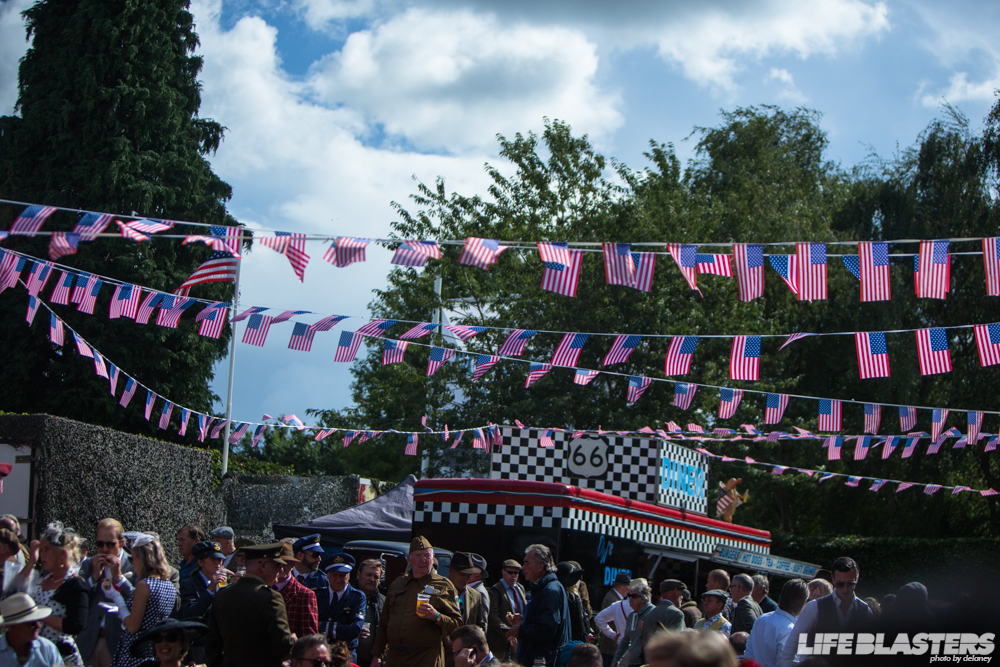 It was pretty nice to come across this little themed section of the track.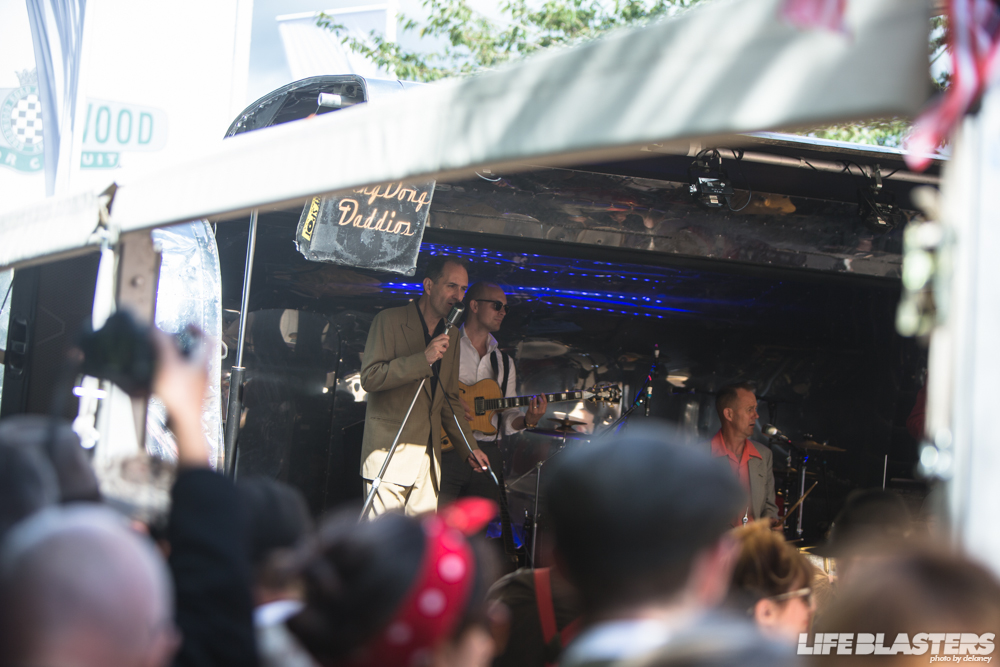 With proper rock and roll.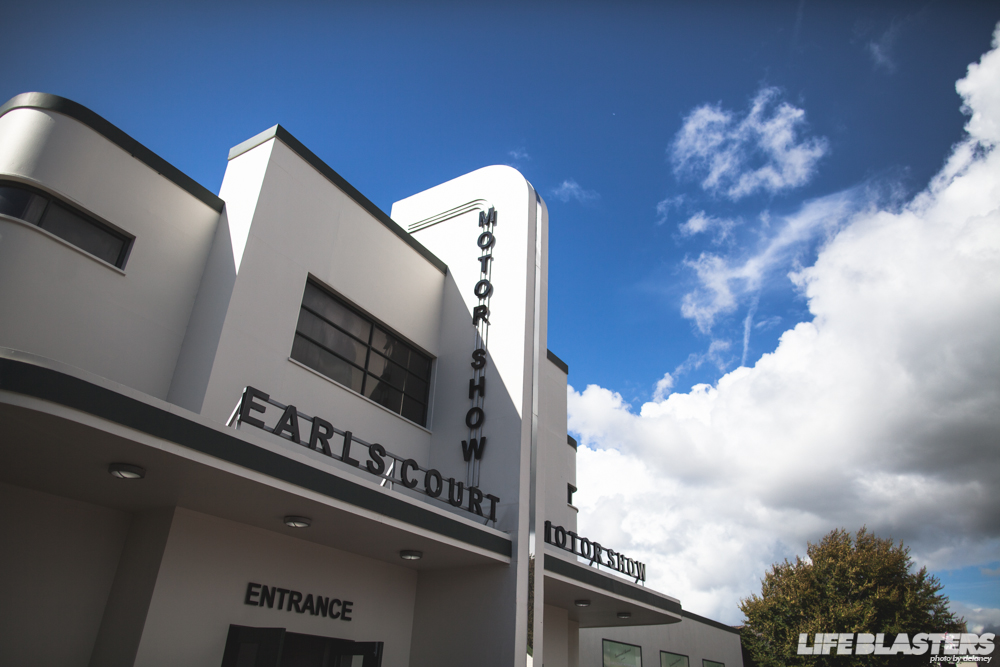 While the Revival is all about historic racing, there was actually one big new car debut.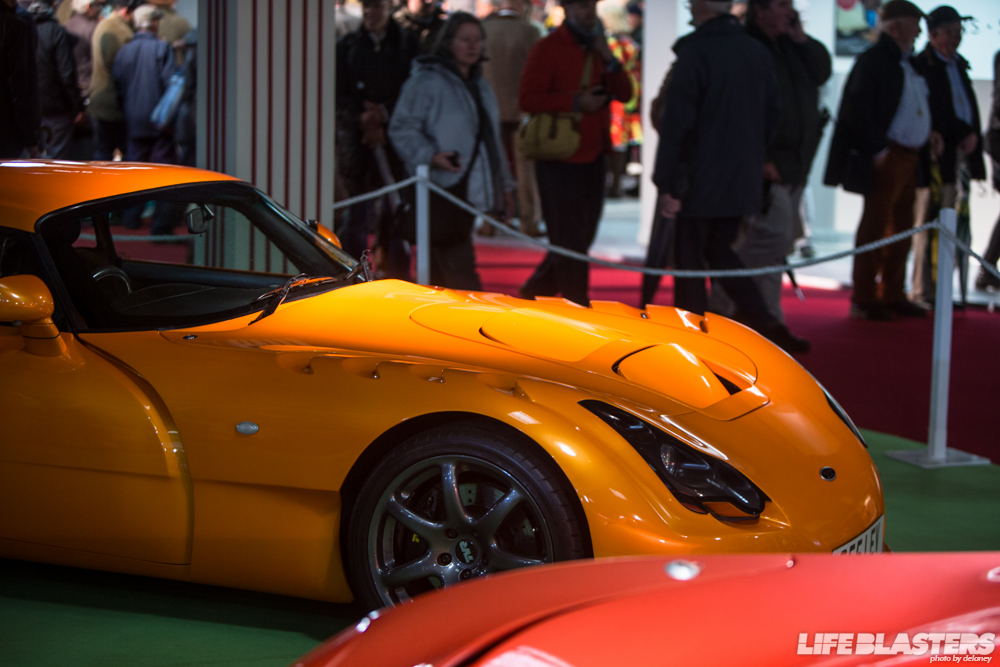 In the Earls Court Motor Show, TVR was ready to release their first car since 2006.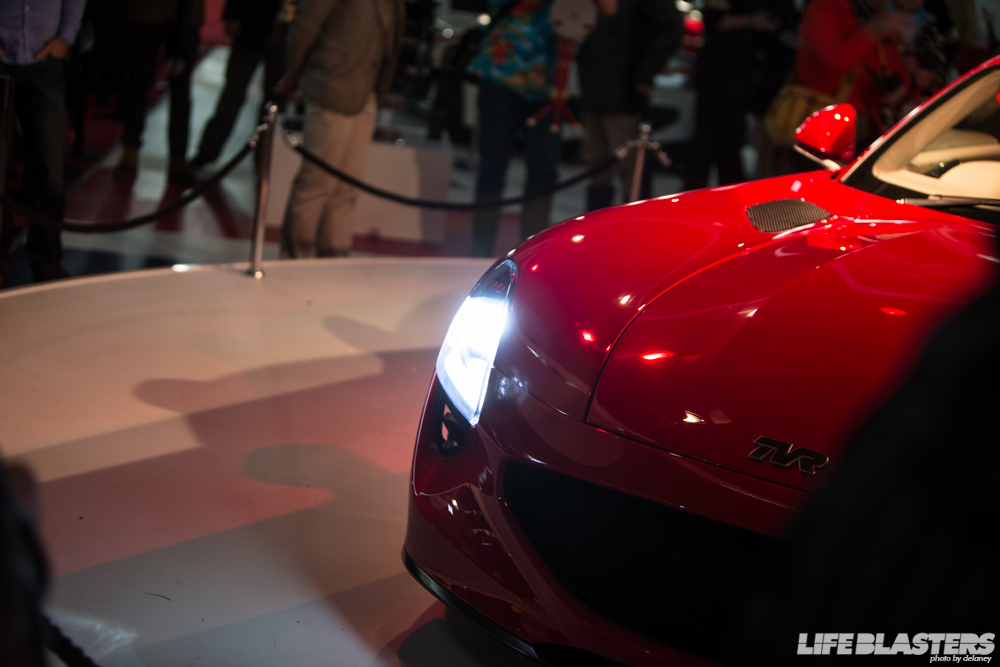 The TVR Griffith was debuted on their 70th Anniversary and is the start to a whole new lease on life for the over the top British manufacturer.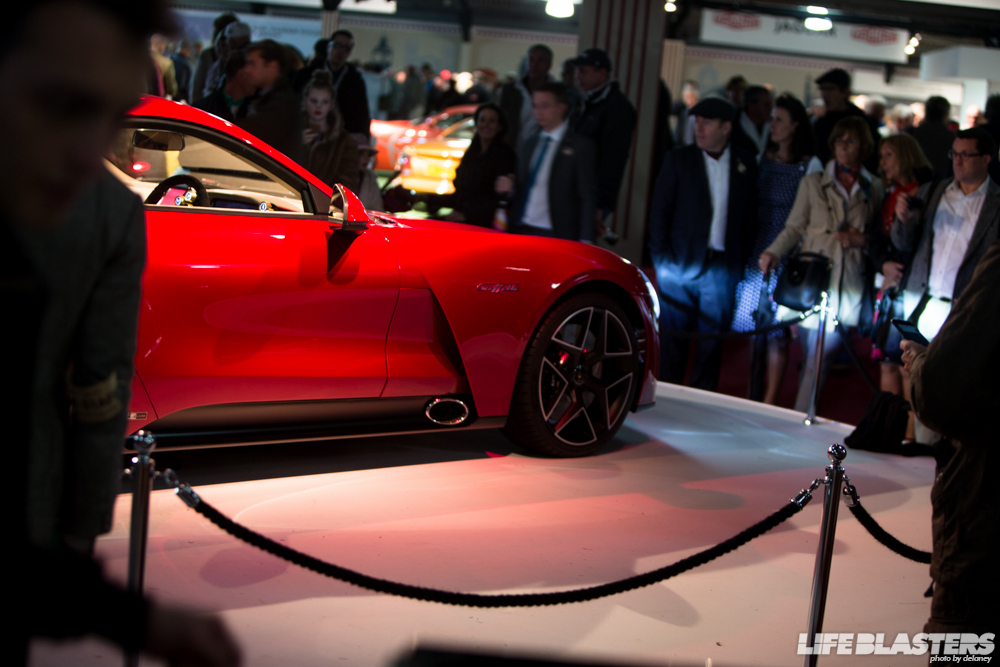 I've been a TVR fan for as long as I can remember, so to be able to see this in person was a huge delight.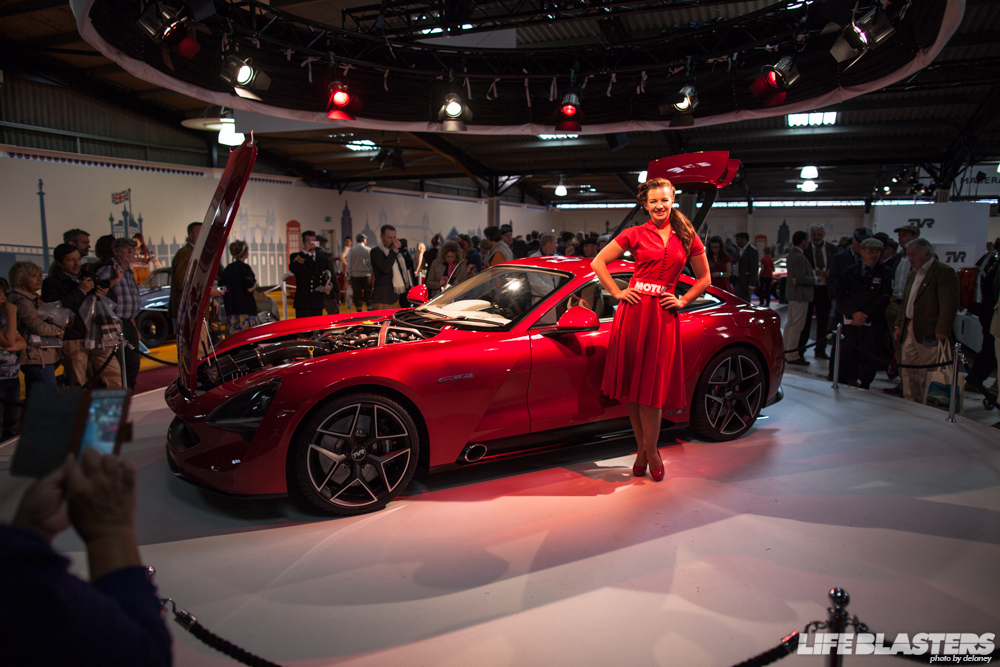 And I was just plain happy to see that TVR is back.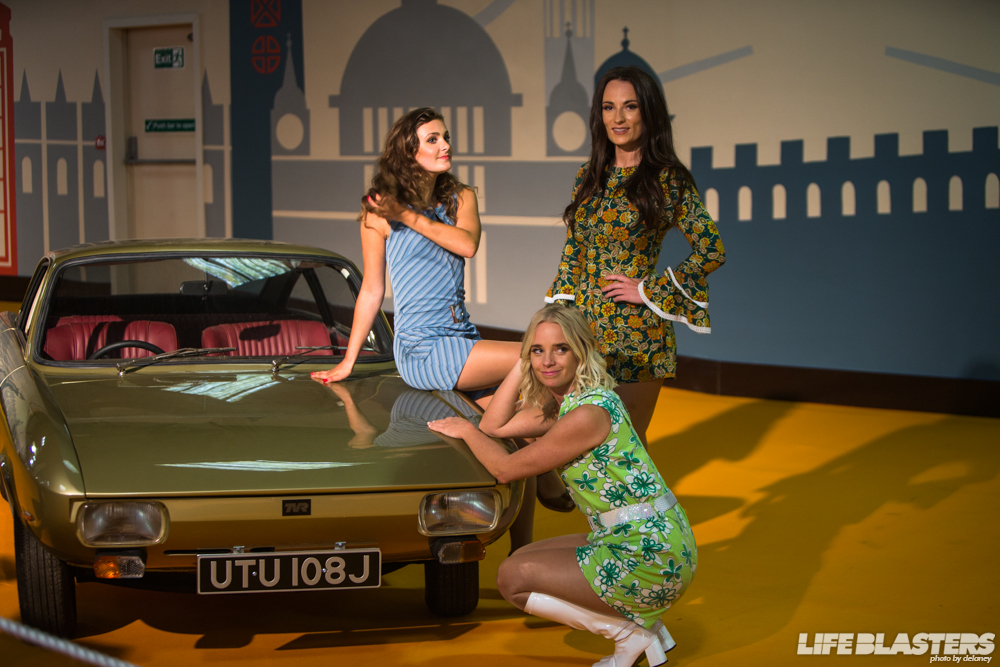 If this doesn't sum up the Revival in one photo, I don't know what does.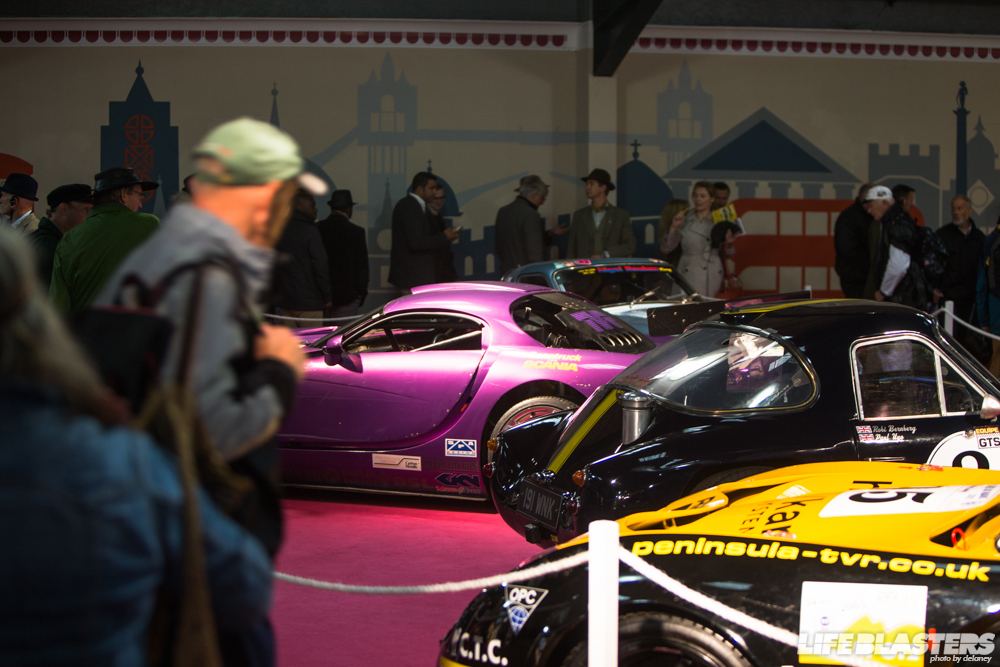 But then, from across the room I spotted something I thought I'd never see.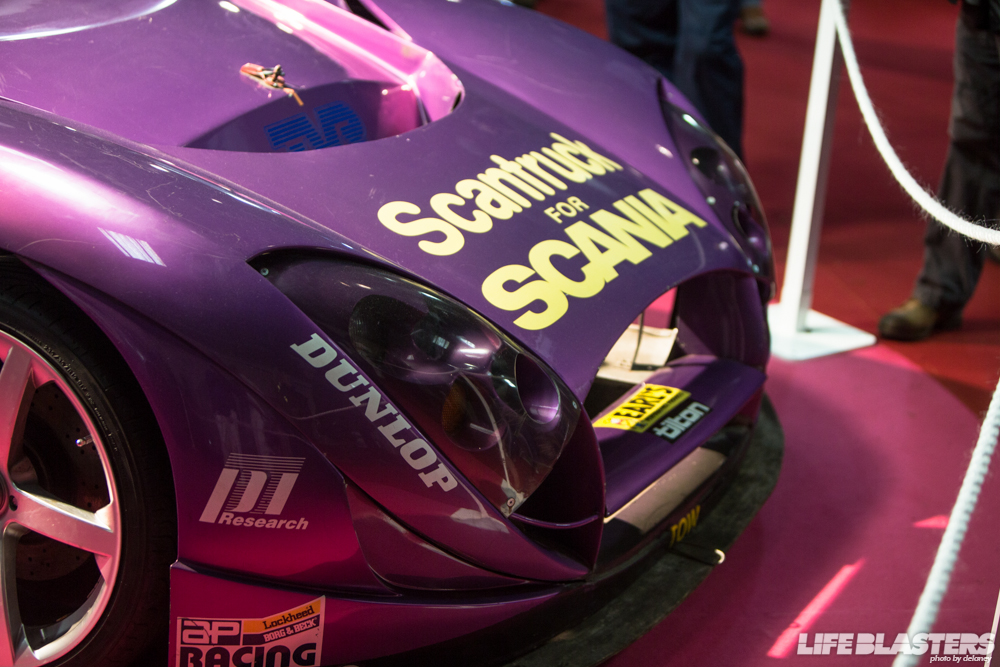 Way back, like 1998 or so, I bought a 1:18 scale Hot Wheels car just because I thought it looked cool. A seven year old me was fascinated by the sharp edges and purple paint. Reading about the 7.7 liter V12 and the near 1000 horsepower (remember, this is way before the Veyron,) blew my mind.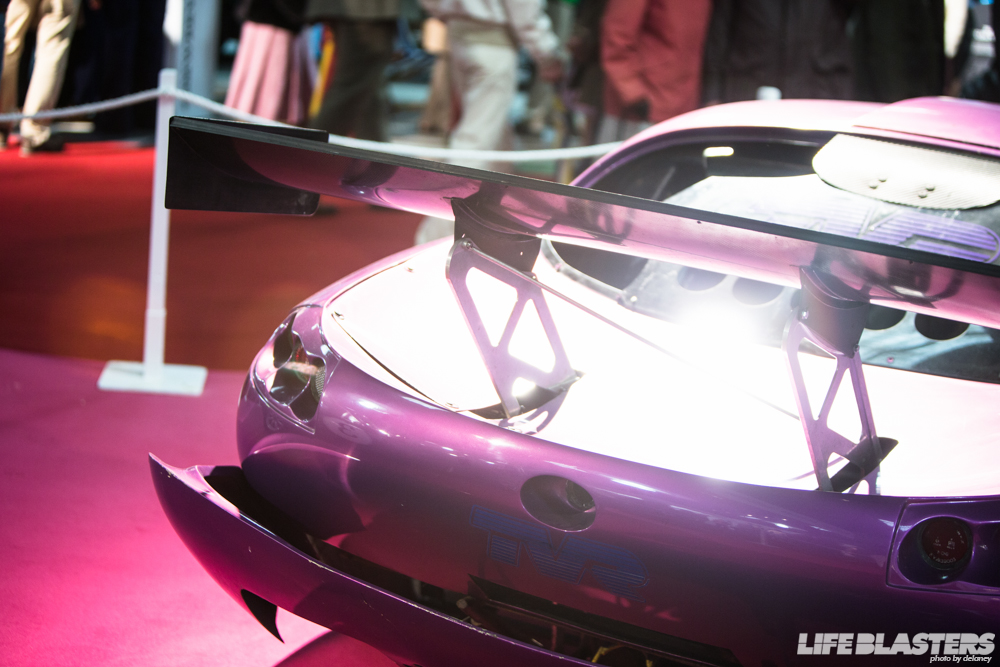 And that model was of the TVR Speed 12. The car was built to compete with the McLaren F1 and to race at Le Mans. Unfortunately it never happened, although it did manage to race in the FIA GT Championship. The car eventually was unable to race due to changes in regulations, but a street car version was still in the works, the Cerbera Speed 12.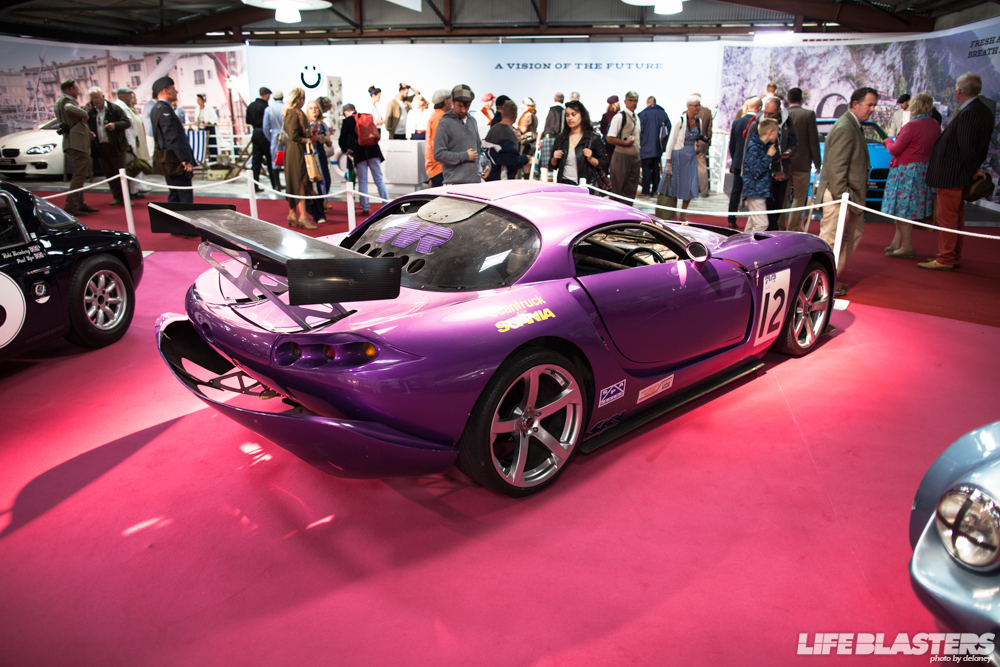 But the street Cerbera didn't have the edges, the big rear scoop, or the crazy four pod headlights. The original Speed 12 just kind of disappeared. There's photos of Speed 12 shells just sitting in fields and left behind. I honestly never thought I'd see a real Speed 12 in person. This could be the only pre-Cebera Speed 12 still left, so seeing this was like seeing a unicorn. I cannot put into words just how amazed I was to see it. The Porsche 917k at the Rev's Institute was a high point, but this was at a totally different level. Honestly, I'm still in awe.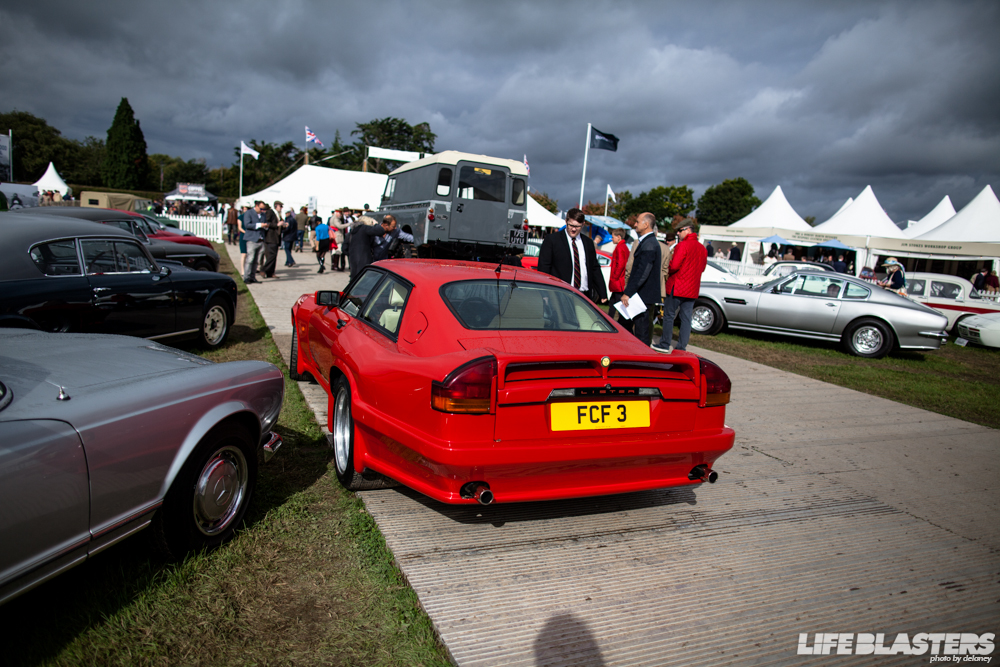 Bonhams was on hand to auction some pretty incredible cars, but what else would you expect from Goodwood?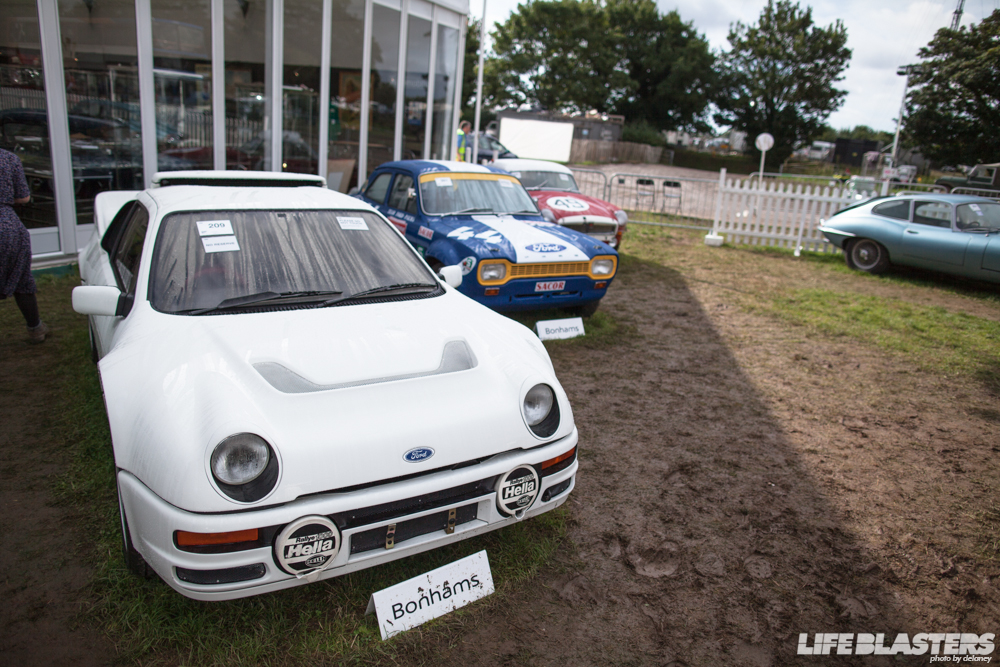 I think I saw about 10 RS200s in 2017. I didn't think that would ever happen.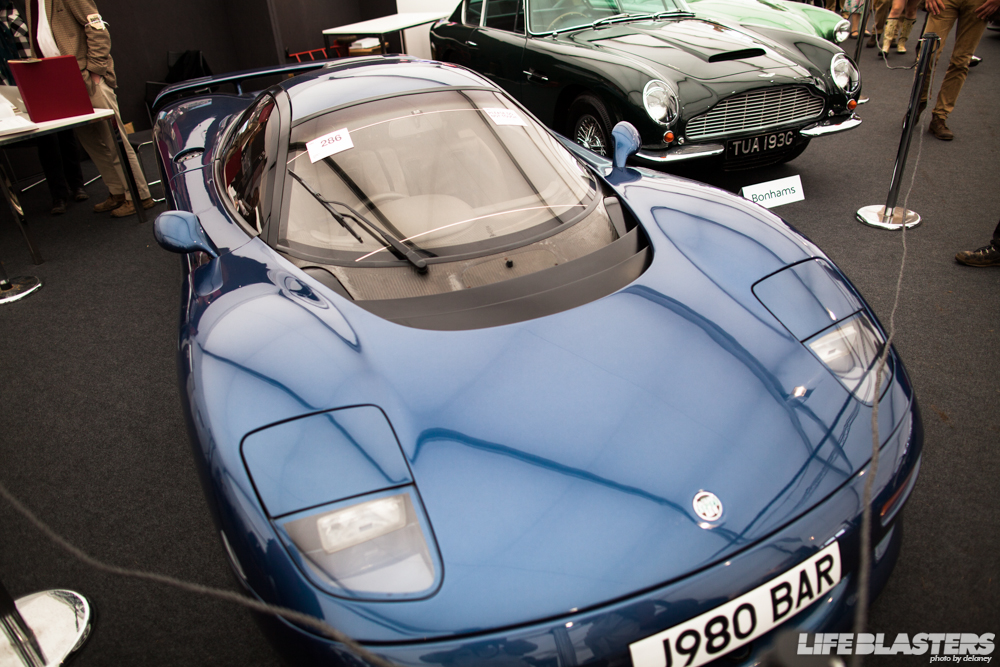 Another car that I was excited to see was the Jaguar XJR 15, basically it is the Le Man winning XJR 9 underneath. It's a typical Aston Martin super car, low numbers, high horsepower, beautiful shape and a big engine.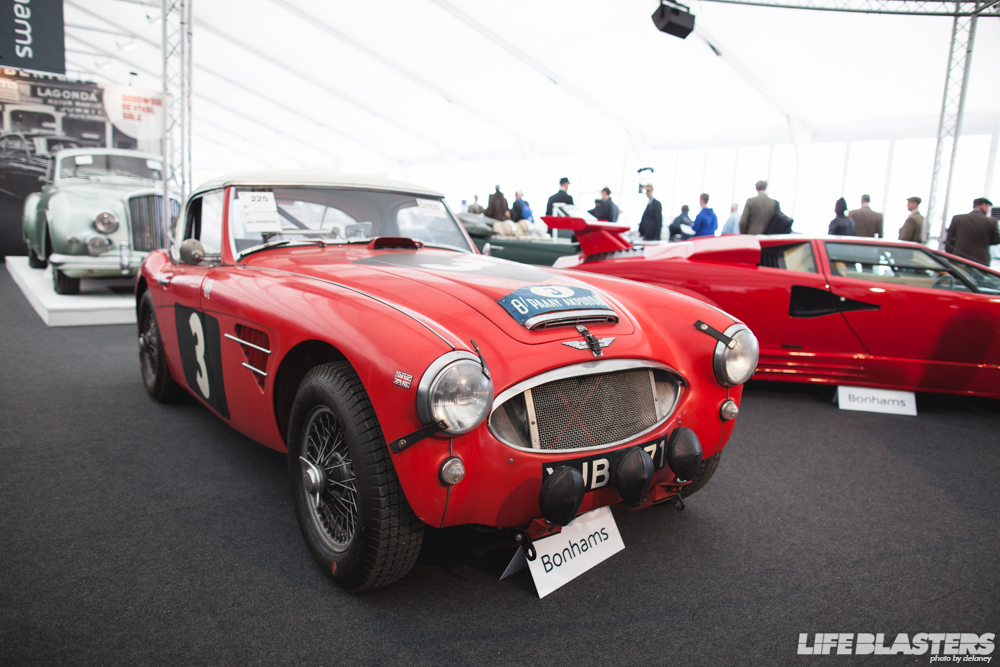 Austin Healeys have always looked good, but in rally trim their appeal is undeniable.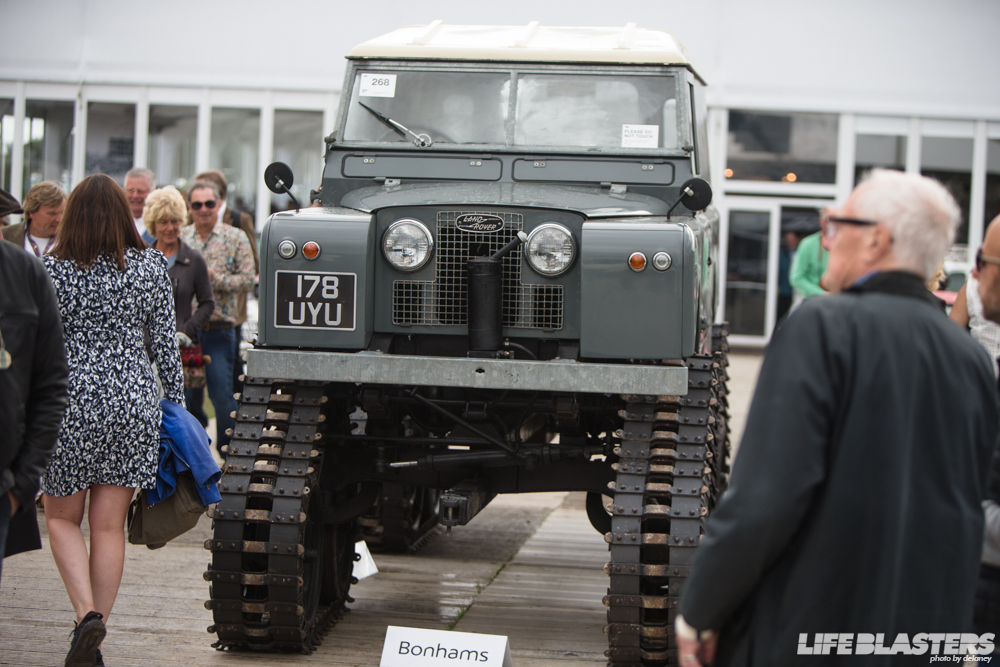 This was just too cool to pass up.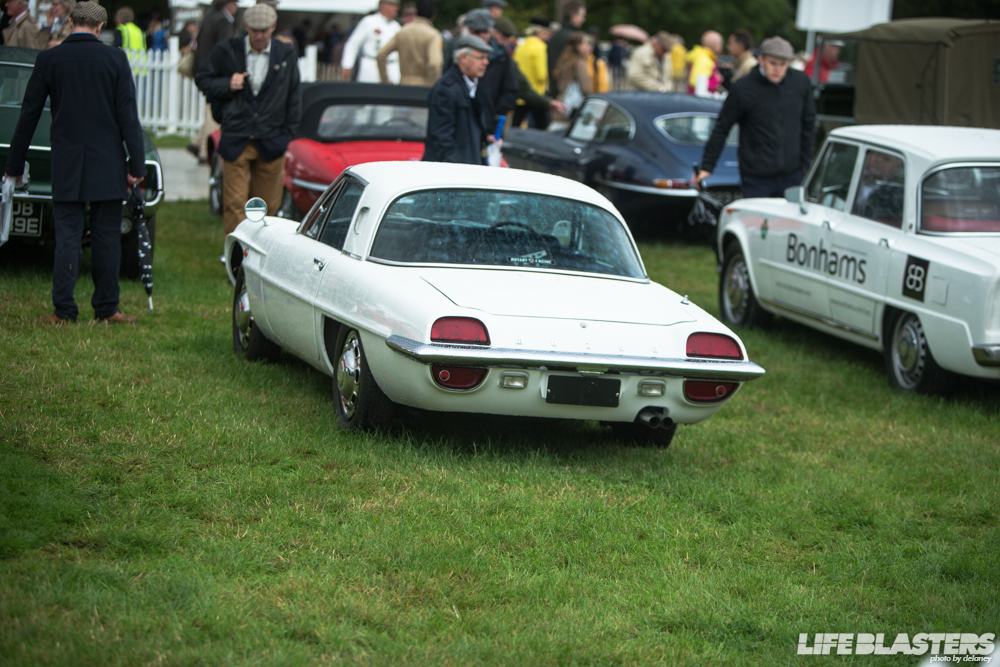 Same with this, you can never pass on the opportunity to shoot a Cosmo!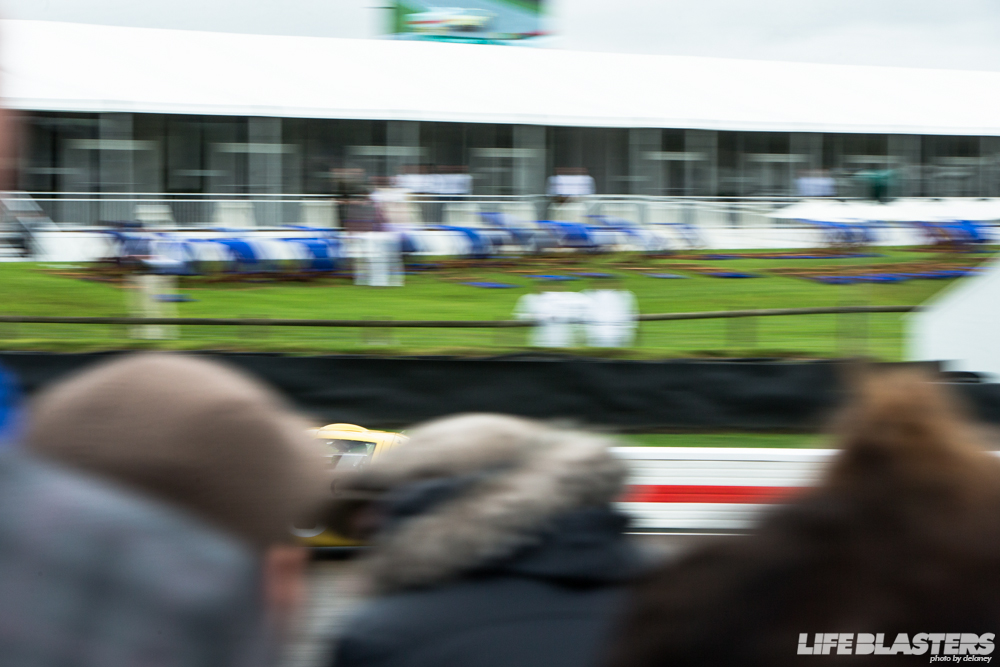 With all the other things at the Revival covered, time to get to the real deal, the race cars. After the weekend was over I was surprised at how very few photos I took of actual racing. I still took a lot, but compared to other races it was almost nothing. That shows just how mind blowing the Revival is. Like the Festival of Speed, everywhere you look, everywhere you go, there's something else to look at or watch. If there were ever a perfect synonym for the world overwhelming, it would be Goodwood.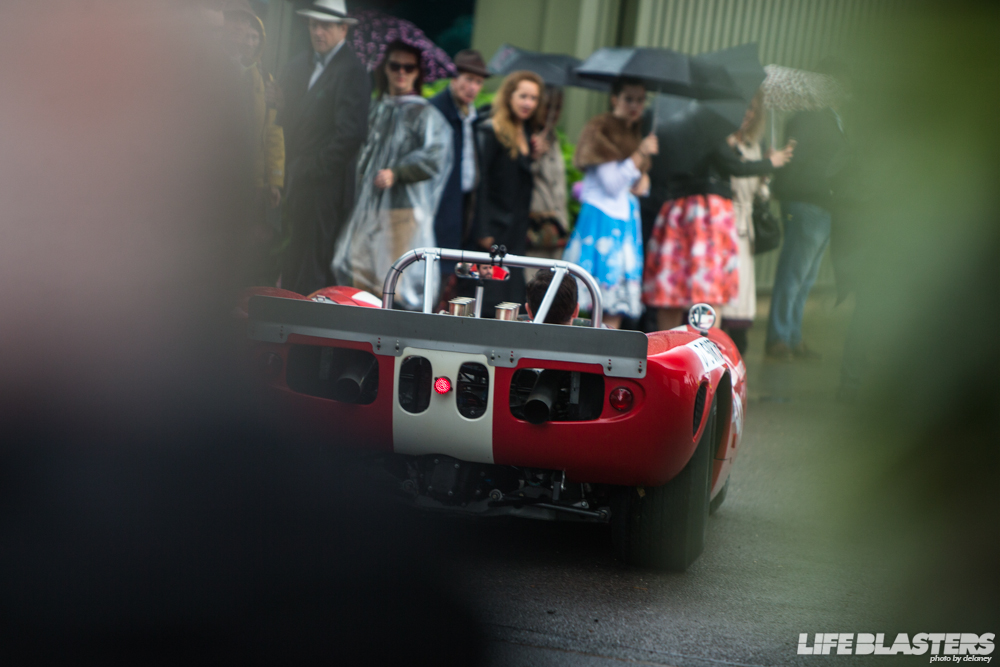 The main paddock was closed off to the general admittance, you had to have an additional pass and be dressed in proper period apparel. We didn't know about the pass so we couldn't get in, but we were dressed proper. Me, and about 15 other people, were dressed as Steve McQueen from the movie Le Mans. It was a perfect fit for me since his name in the movie was Micheal Delaney, and my name is Eric Delaney.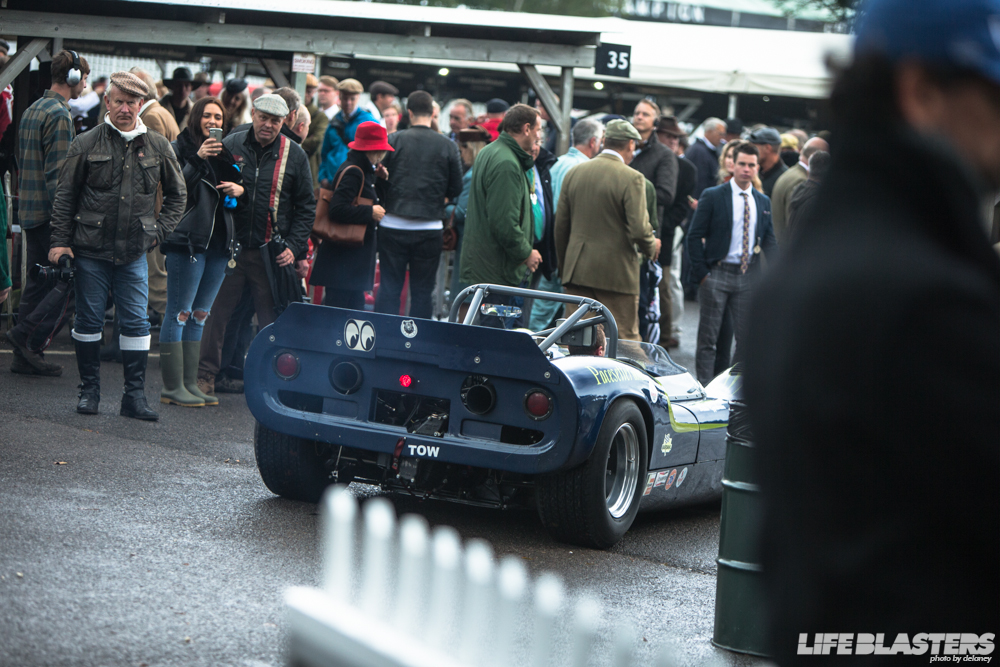 While the open wheel cars and the GT cars were awesome, I thought that the Can Am cars were the best. A series that had a couple of rules, the most famous of course was- there are no rules. These cars were from the earlier stages of the Can Am series, but nonetheless awesome.

At the Goodwood Festival earlier in the year, the main focus was on Ferrari's 70th anniversary. So naturally the Revival was also filled to the brim with vintage Ferraris.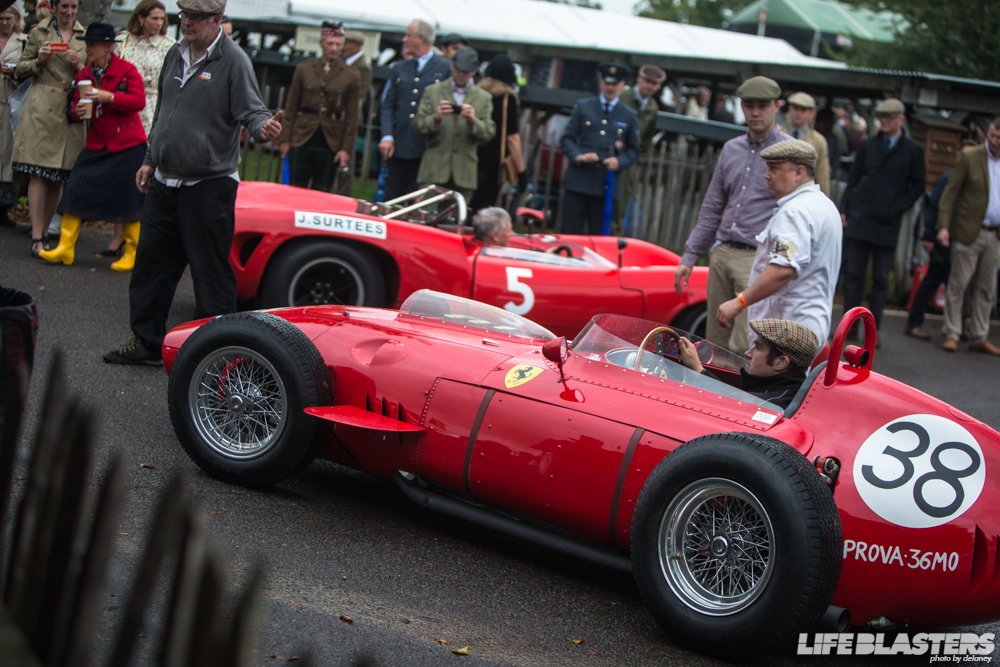 An Ex John Surtees Lola and a Ferrari 246 (I think,) just moving about in the rain. That's one of the things that I love about Goodwood, even rain doesn't slow anyone down.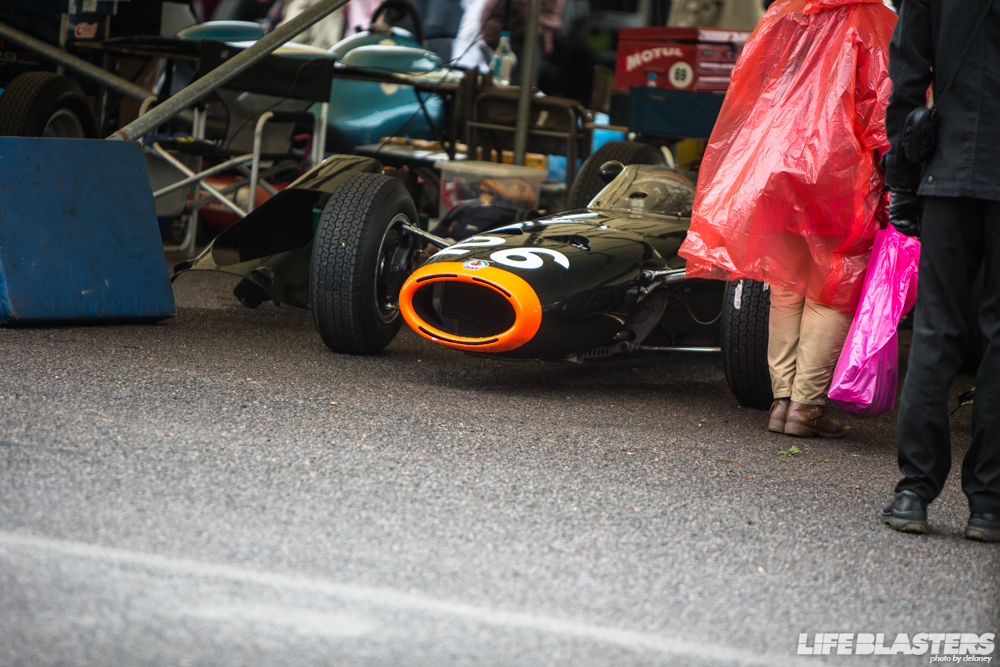 The Grand Prix cars of the '60s and early '70s are probably some of the most fascinating race cars in my opinion. No aero, anything from V8s to V12s, treaded tires and no safety on the car or around the tracks. And the drivers pushed these things beyond their limits. What a sight that must have been.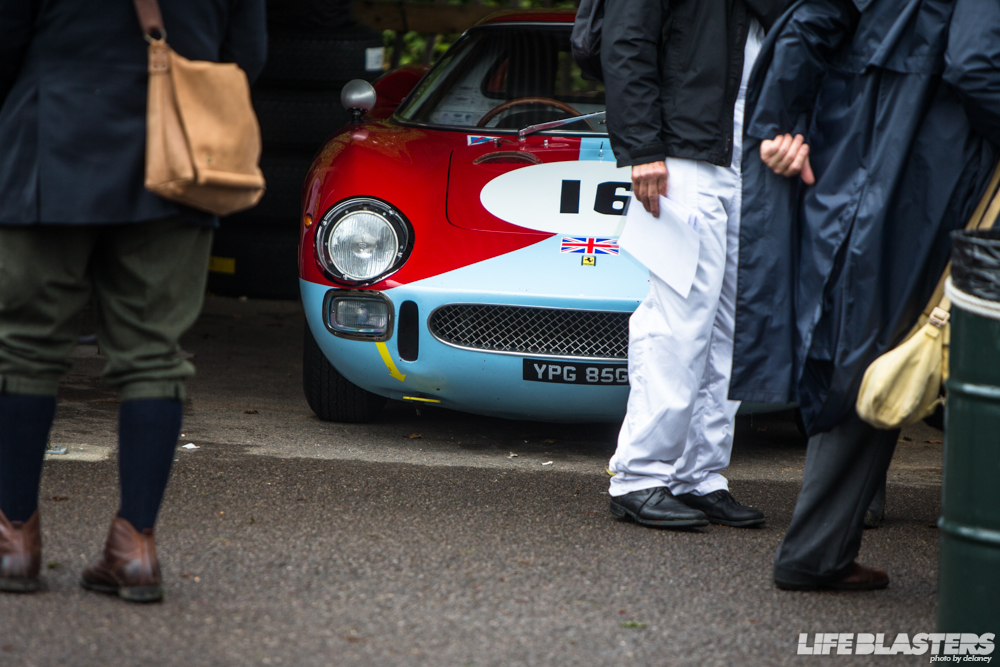 Back to Ferrari though.

I'm not a Ferrari expert, but I do recall seeing 330 GTOs going for somewhere around 30 million. And here she sits, ready to race.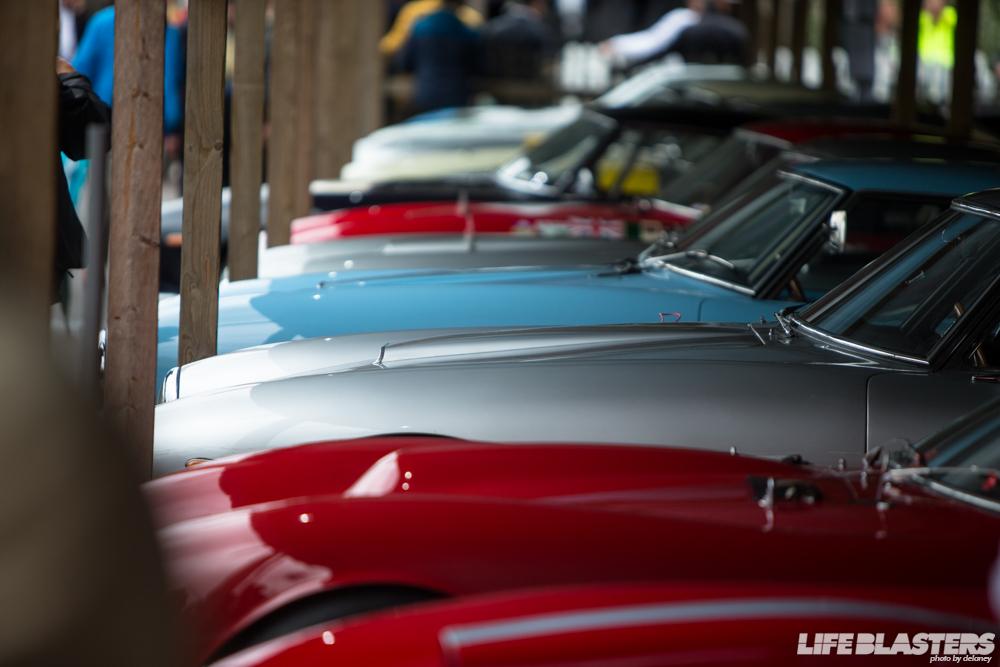 How about this for a price tag. Roughly eight to ten Ferraris ranging from the 330, to a 250 GTO and a few 250 Short Wheel Base cars. Let's say the SWBs go for 5 million each, the 330 is 20 million and the GTO is another 20. There was close to, if not over 100 million dollars in just this one row alone in the paddock. And they were all there to race wheel to wheel, in the rain. That's how you do it.

The Revival is only three days, so there's pretty much racing all day, all three days. So it's pretty easy to miss out on certain races if you're walking around the paddock or outside the track.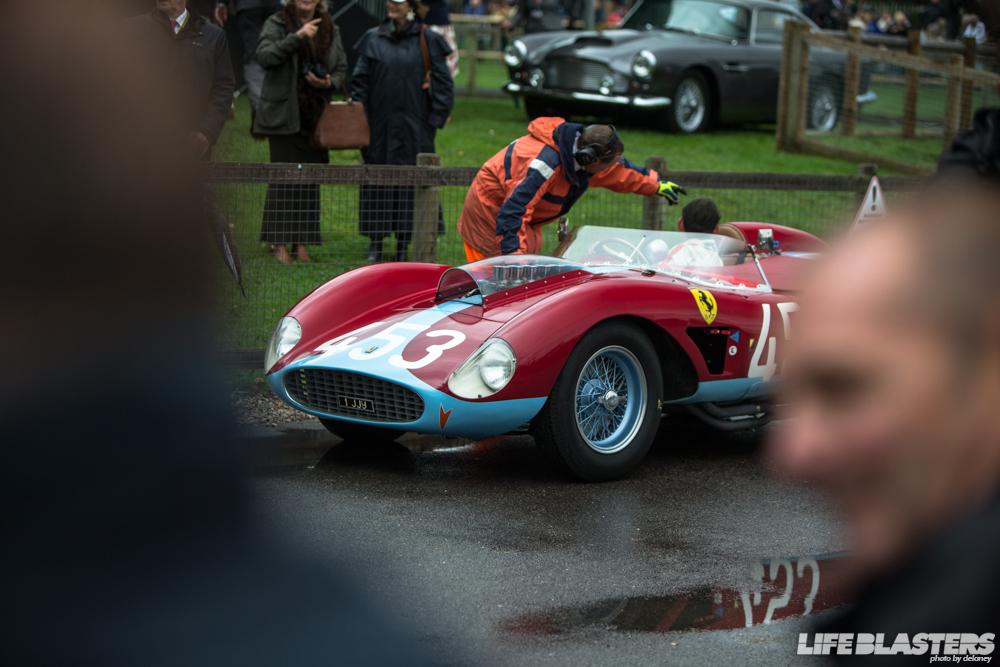 More Ferrari. This time a 500 TRC.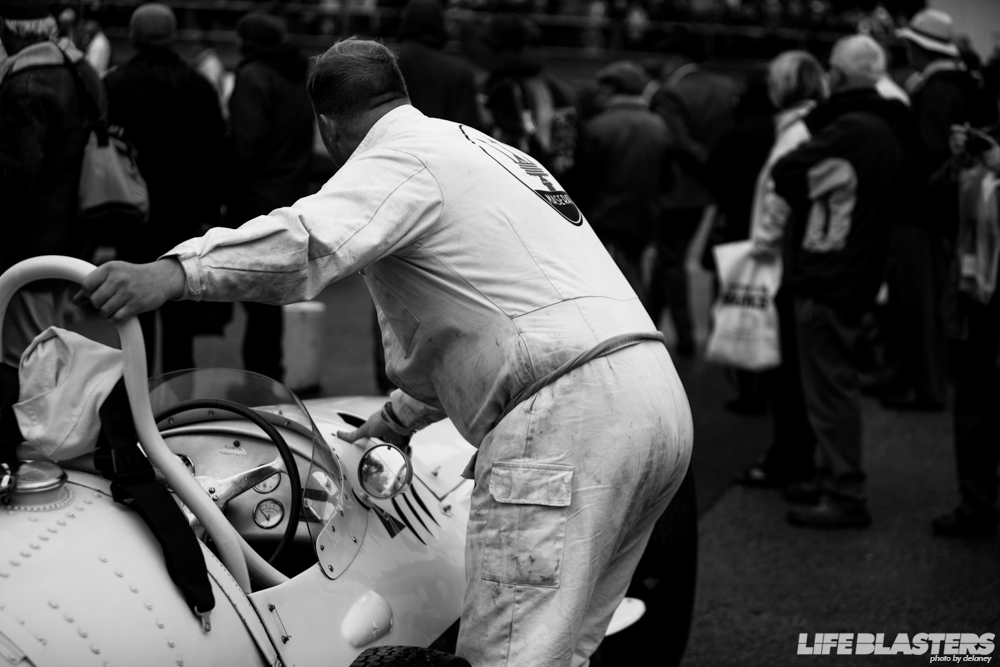 I just couldn't get over the period correctness.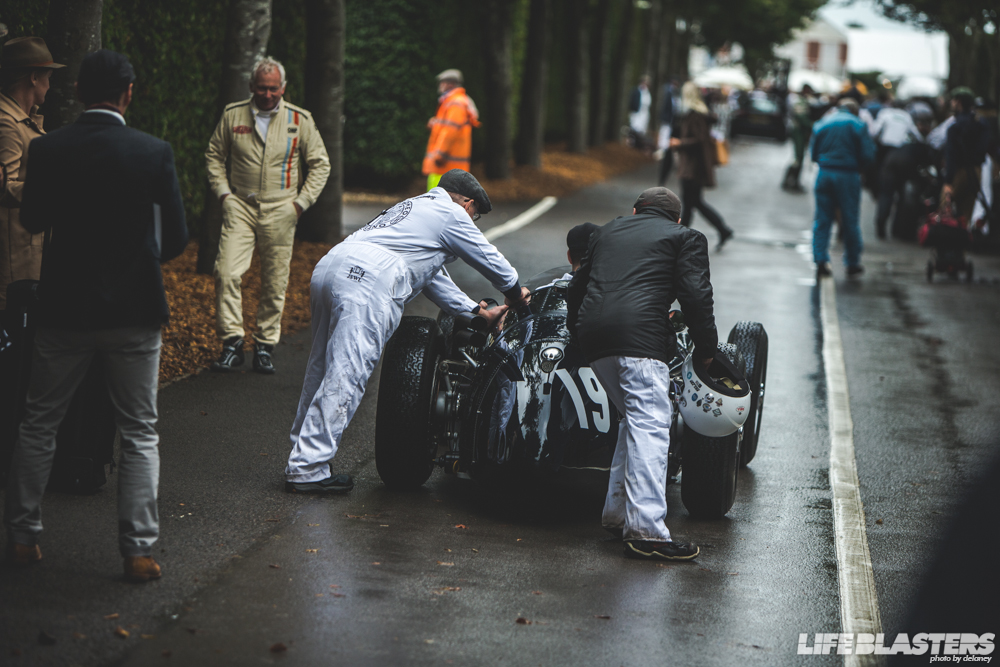 Being surrounded by all these historic race cars all day is just an incredible experience.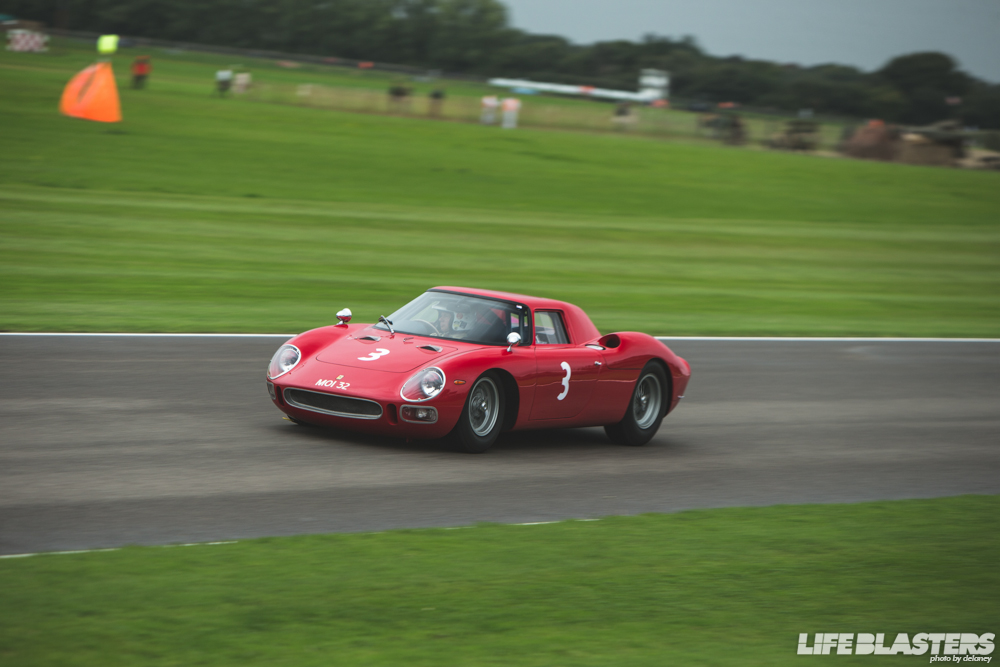 And now for some actual racing, or practice actually.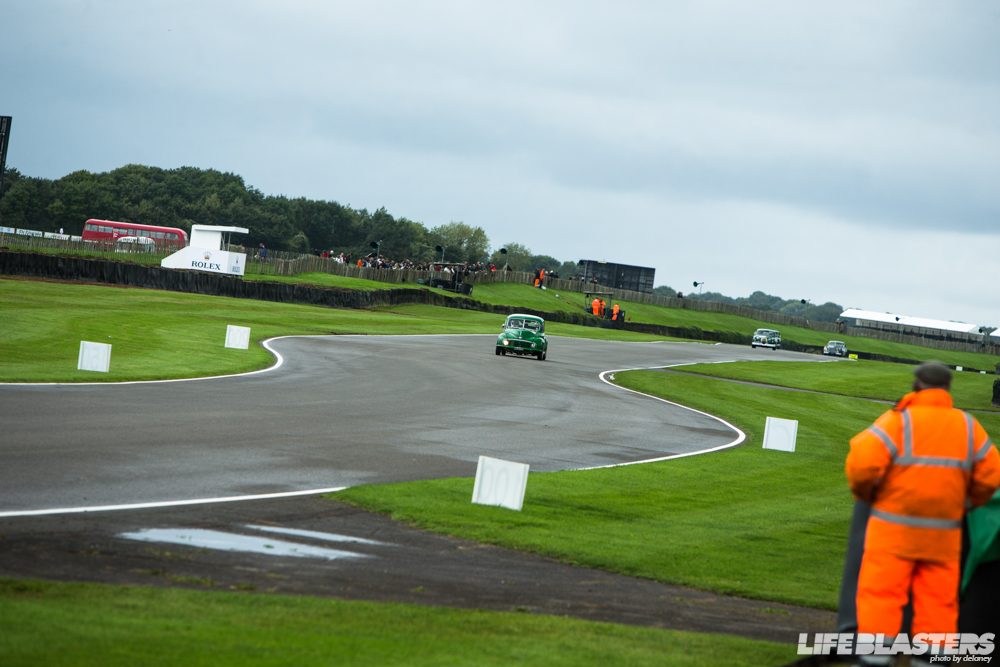 This was practice for the St Mary's Trophy, which had an impressive mix of cars. From big Jaguars to little Austins, it was crazy to see how competitive it was.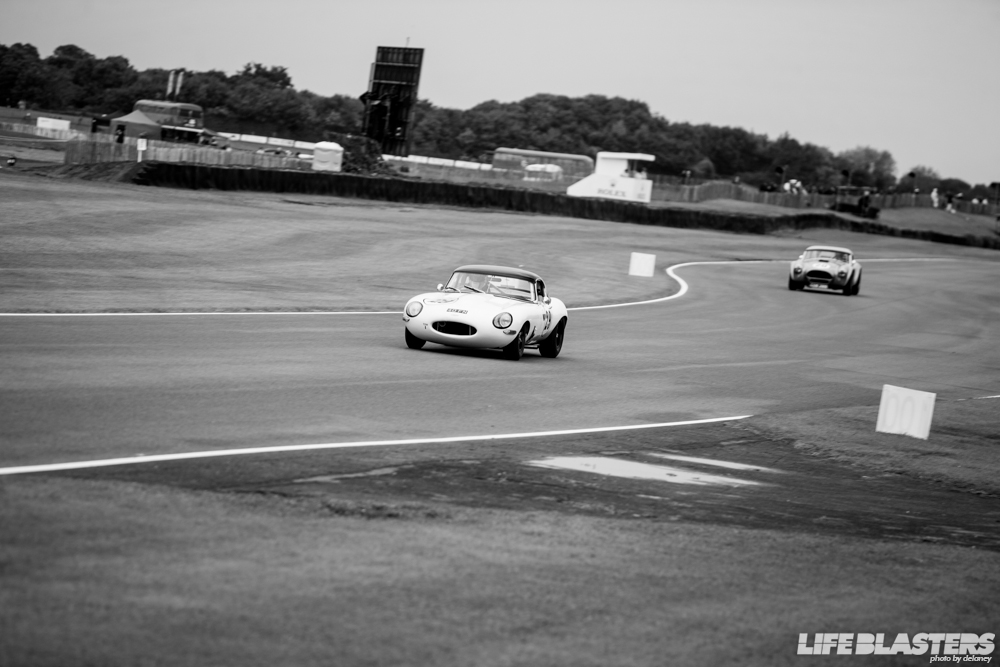 But the big race of the weekend is always the RAC TT, or Royal Automobile Club Tourist Trophy. This is where all the big GT cars were. Jaguar E-Types, Cobras, Ferraris, Corvettes and a Bizzarrini.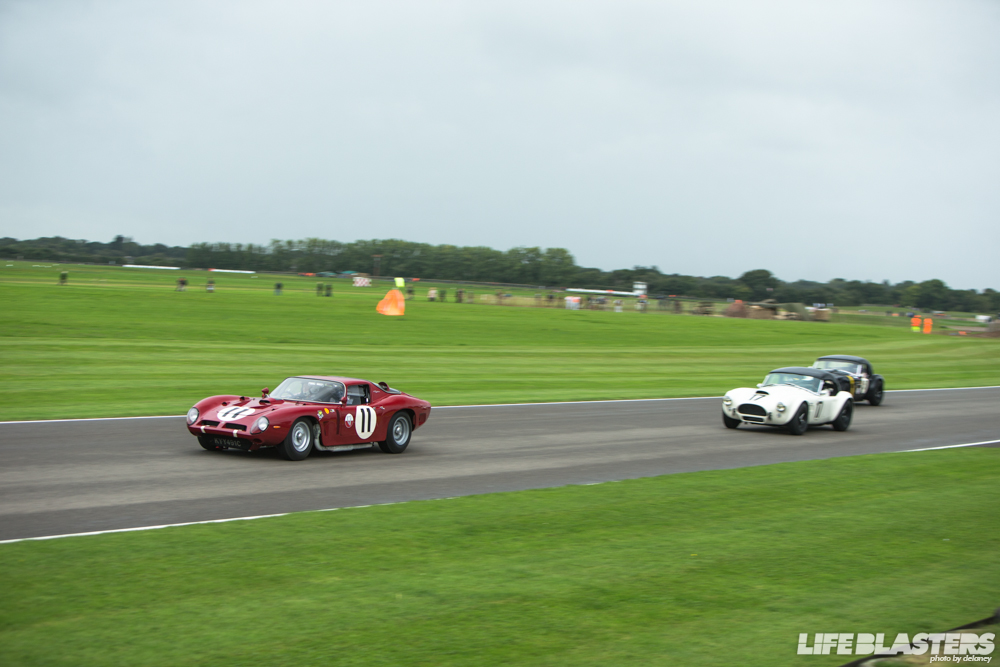 We pretty much just stood in one spot during practice for two reasons. It was our first day and we flew in on the same day, so we were running on 20+ hours awake. And two, it was raining, sleeting and heavy winds all at once.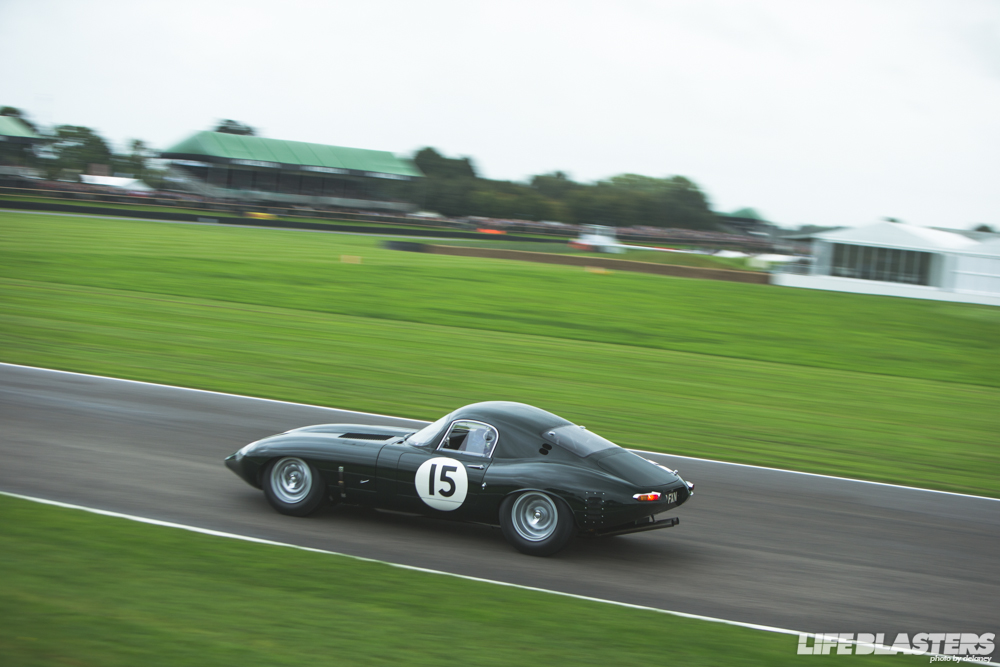 The Jaguar E-Type has always being an incredible looking car, but this, the low drag coupe is simply perfection.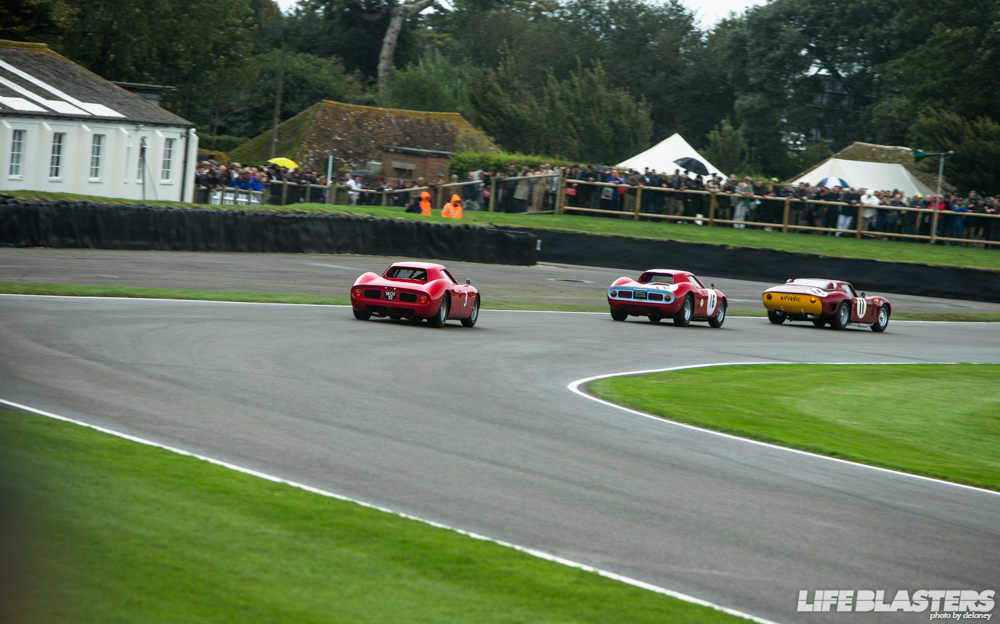 Two Ferrari 250LMs and a Bizzarrini GT 5300. I love Goodwood.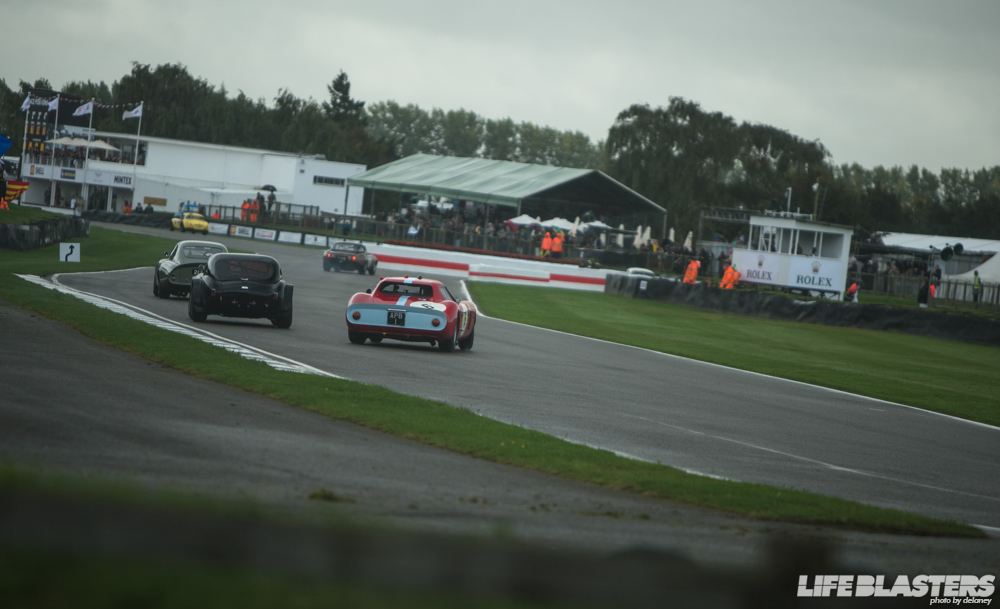 This car made some big news later in the weekend. It's a Ferrari 250 GTO/64. This is one of those cars were it's history alone is incredible. Graham Hill and Innes Ireland raced this car, it raced at Le Mans, Spa and Reims. This car is usually quoted as being anything between 40 and 50 million dollars. So what happened this weekend? During qualifying the driver tried to avoid another Ferrari, 20 million dollars, spun out and backed it into a wall. I've heard that the body isn't original, it's a rebuild used for racing, but the the underpinnings are original. Either way, this is how the car was driven all weekend up to the crash. a 40 million dollar drift.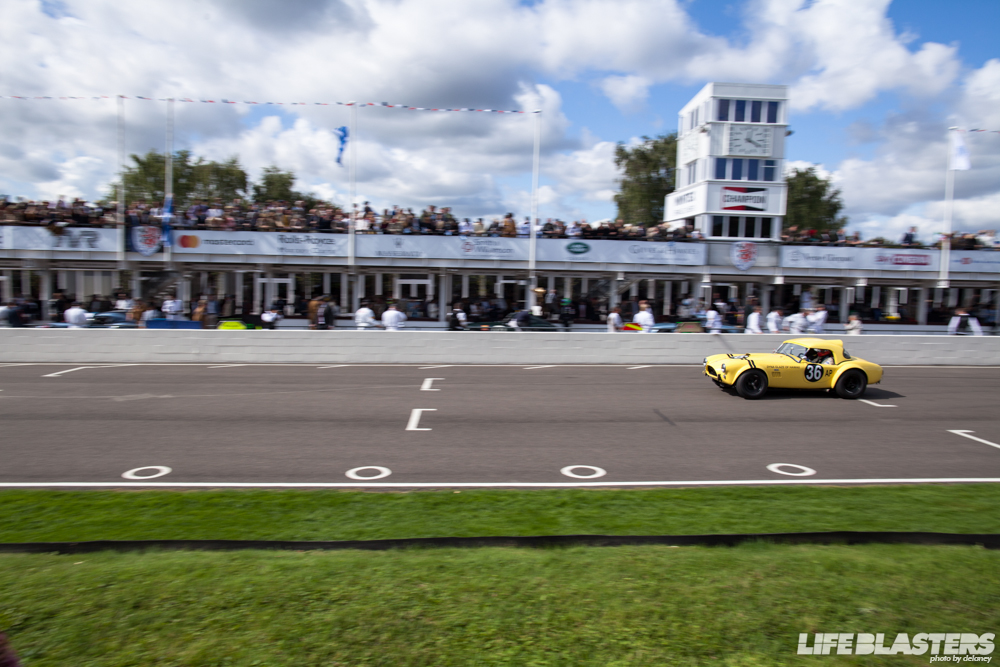 So, Saturday ended up being a bit of a fluke. We bought our tickets ahead of time, but a little late and the weekend packages were all sold out. So instead we could only buy Friday and Sunday tickets. But, when leaving the track Friday night, we ran across a group of four people outside the Goodwood Hotel who just wanted a ride to the train station in Chichester. After trying for two hours to get a ride, they somehow crammed all four of themselves in the rear seat of our rental and we set off to the train station. In return for the ride, one guy gave us three Saturday tickets. I wish I could find the guy or his wife again. If anyone knows a Rettenmaier or someone related to the Rettenmaier family that was at Goodwood I'd love to know. His wife is Iranian and Swedish if that helps.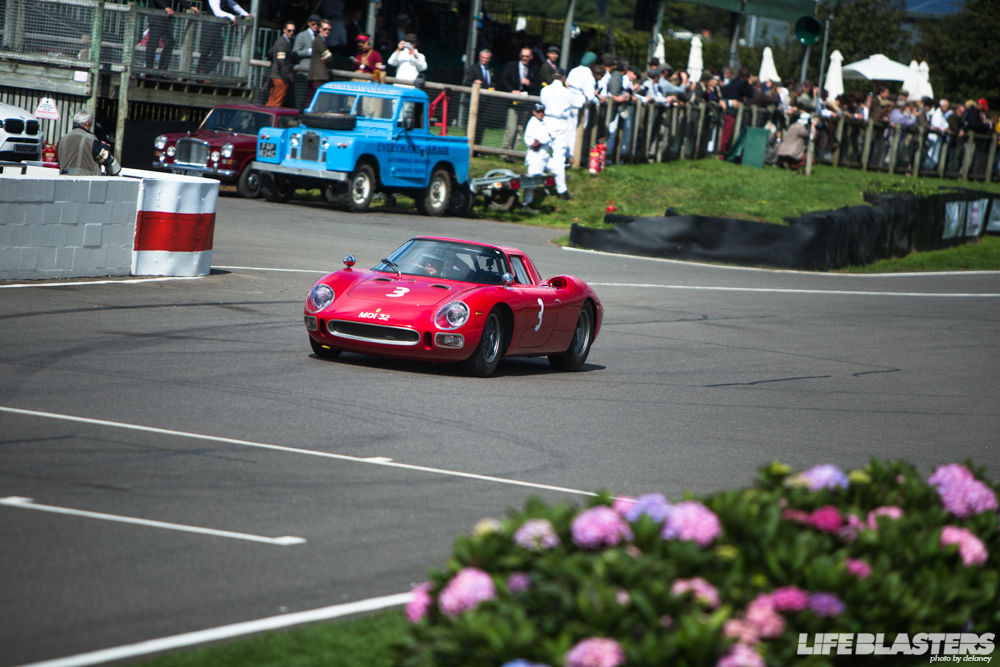 Saturday entirely consisted of group races. Again, I really didn't see quite as much of the dedicated races as I'd like because I spent most of the time wandering around the parking and circuit. But the sun was out! Just for the morning however.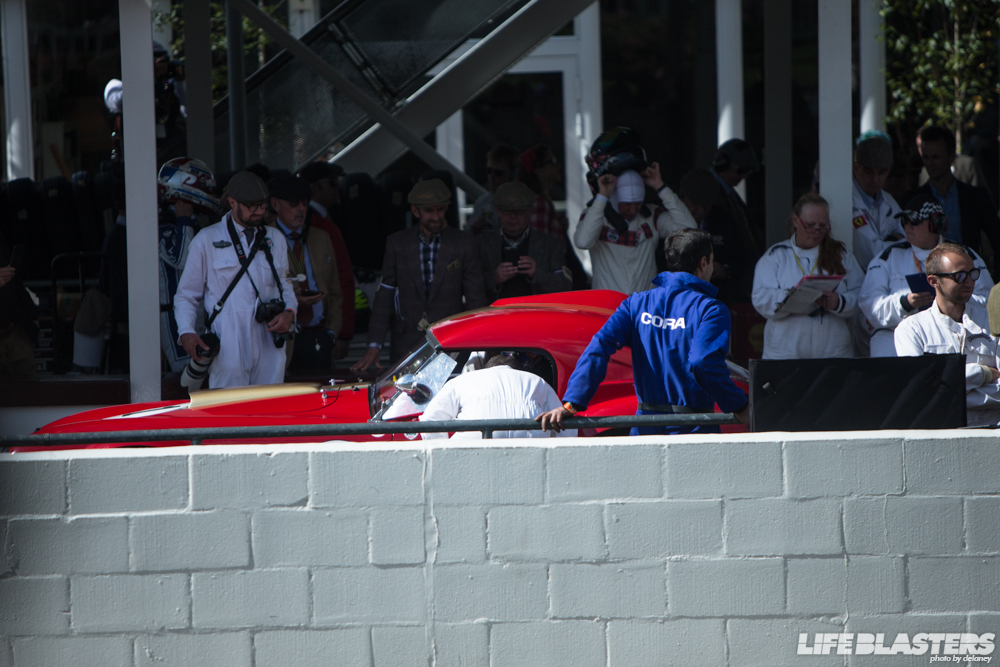 This was practice for the RAC TT, which is an hour long and includes one driver change. Look up the highlights on Youtube and watch how they thrash these cars around.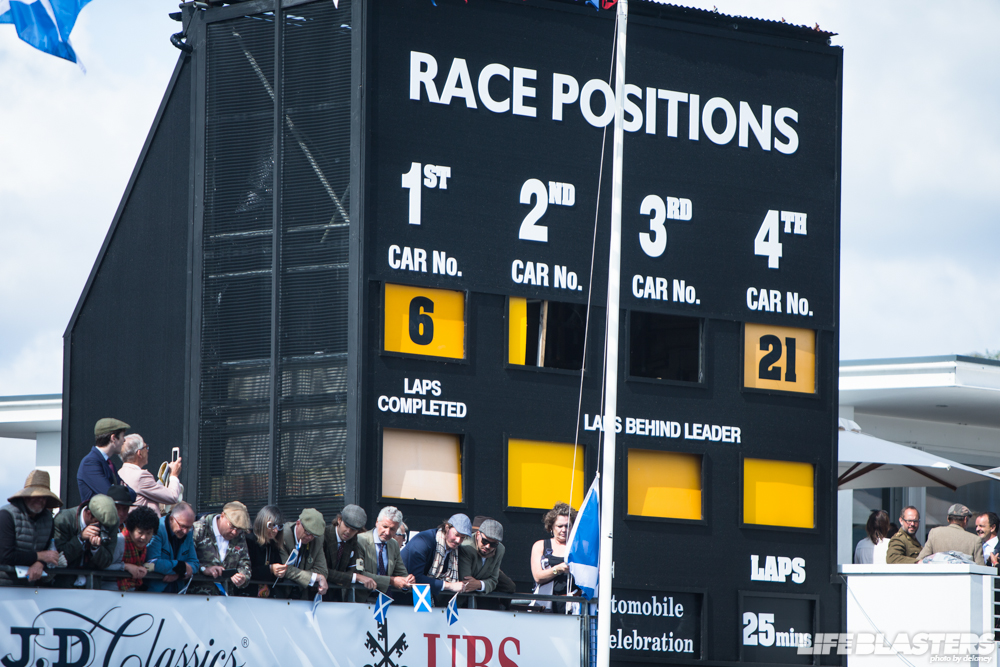 Goodwood is all original, including the manual lap and position board. There's a man behind that board changing it now.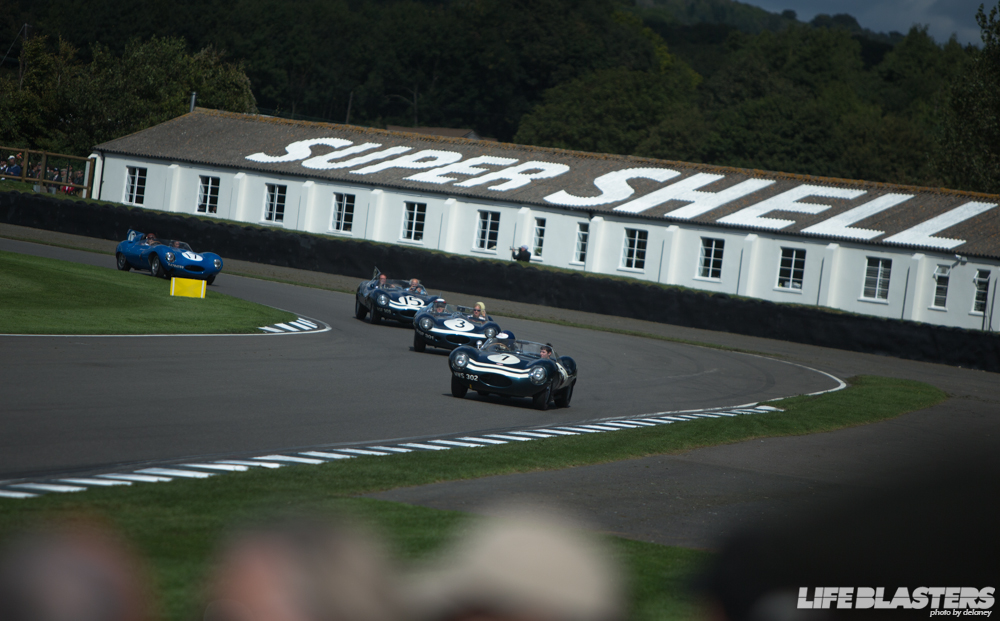 Every year the Revival celebrates a certain driver, or team. This year's focus was Ecurie Ecosse, which is French for Scottish Stable. Ecurie is a Scottish racing team that is most remembered for winning the 1956 and 1957 24 Hours of Le Mans. Numbers 3, 15 and 17 here in the photo made up the podium of the 1957 Le Mans race. I'm biased in two ways because I love Scotland and the Jaguar D Type is one of the most beautiful cars ever created.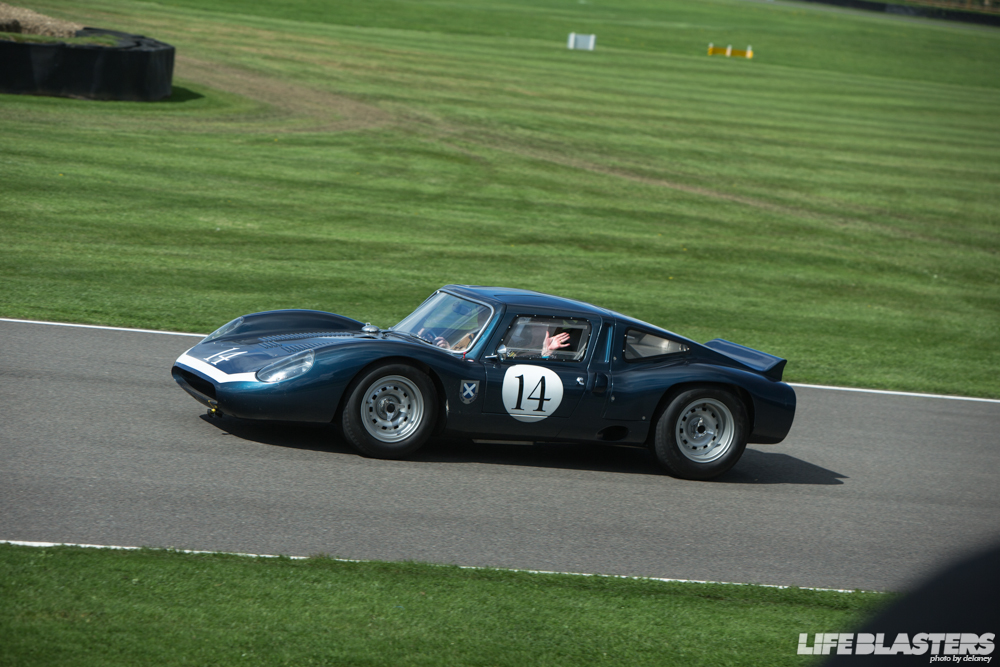 I had never heard of this before, the Ecurie Ecosse Tojeiro, and it is another gorgeous example of what the Ecurie Ecosse raced. This car was built to help Ecurie make a return to Le Mans, but unfortunately a Le Mans victory did not happen. The car did however go on to win at Brands Hatch and Silverstone. It also predated the Lola Mk5 and GT40 as one of the first mi-engine cars to race at Le Mans.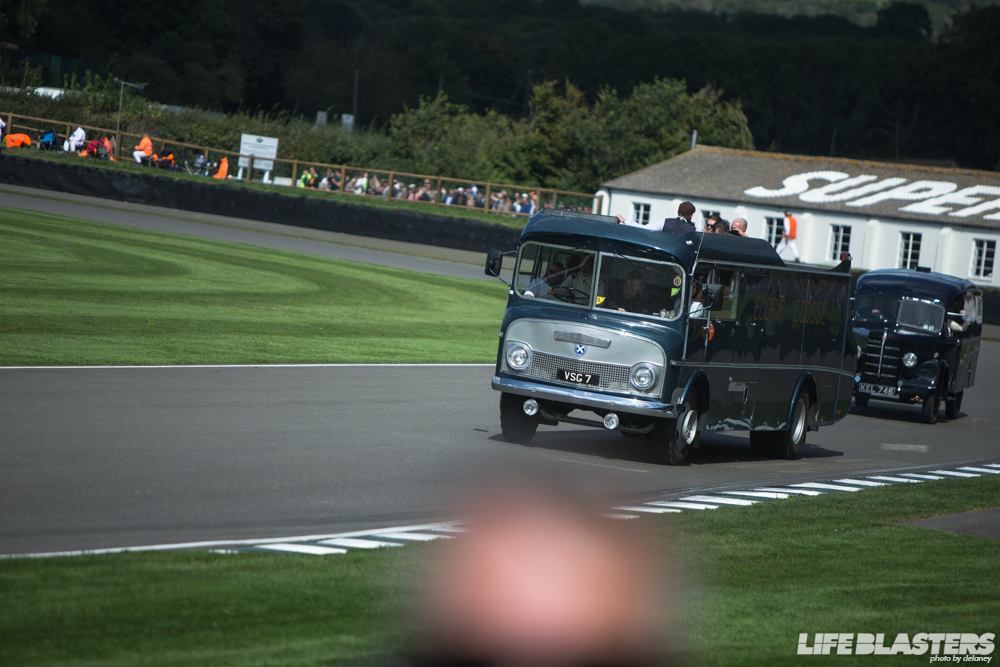 Another big surprise was the Ecurie Ecosse transporter. It set the record for the most expensive historical commercial vehicle ever sold, that was back in 2013, for roughly 2 million dollars. It was also cool because Dario Franchitti was driving it.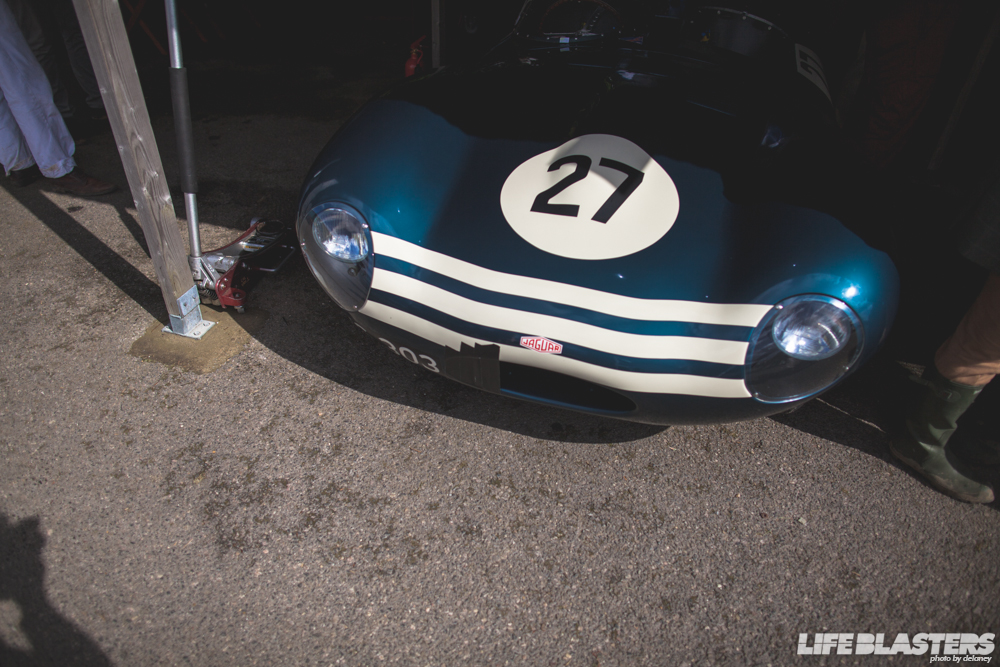 I wish I remember the full story to the stripes, other than differentiating the cars.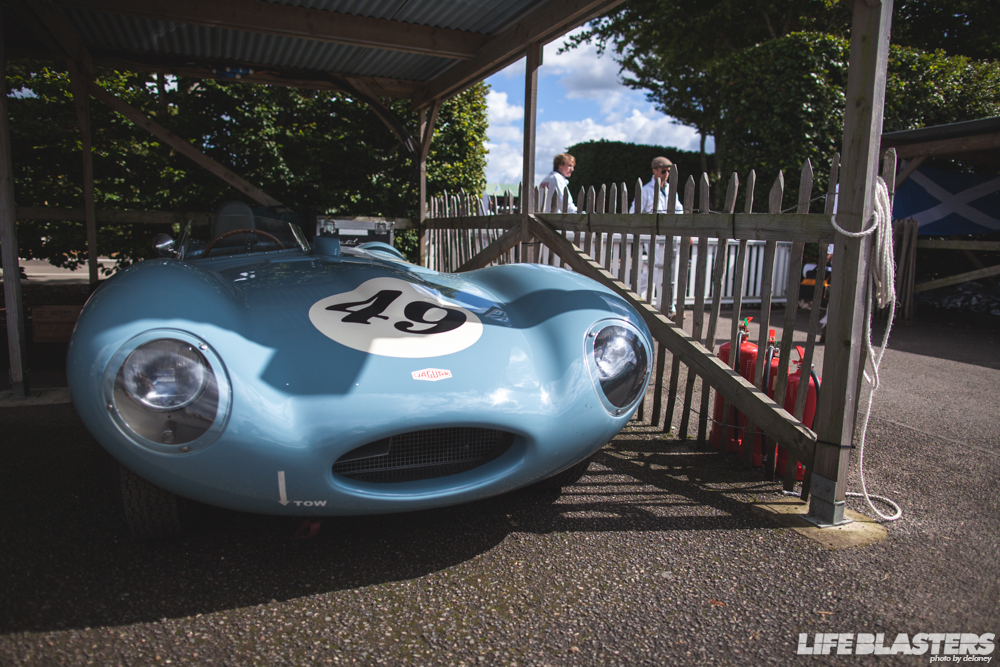 But I mean look at this car, gorgeous.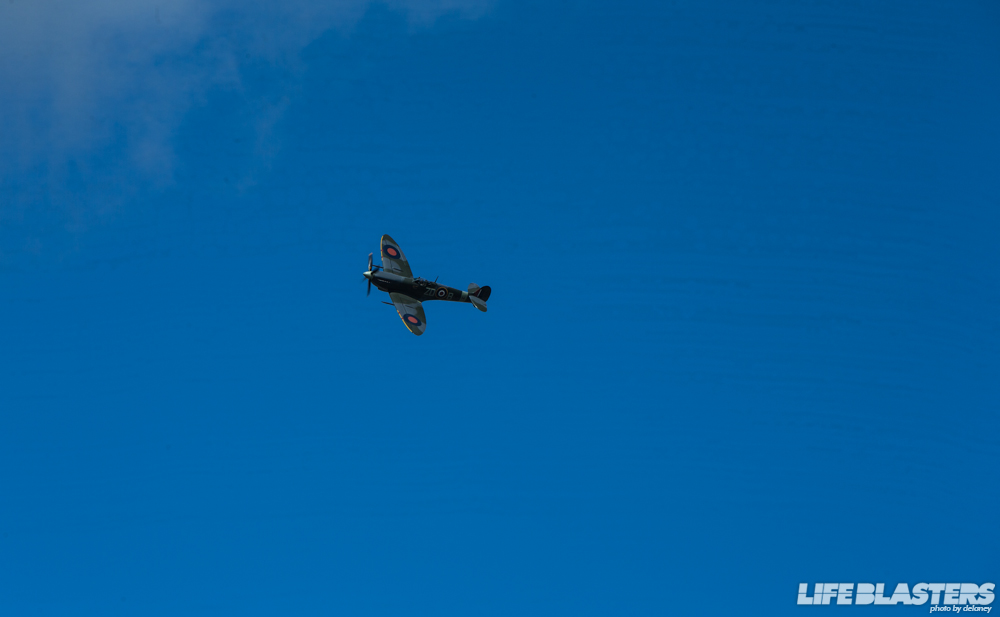 Since Goodwood was an airbase, you have to have a mini airshow too. It consisted of five planes flying circles around the track. Including of course a Spitfire.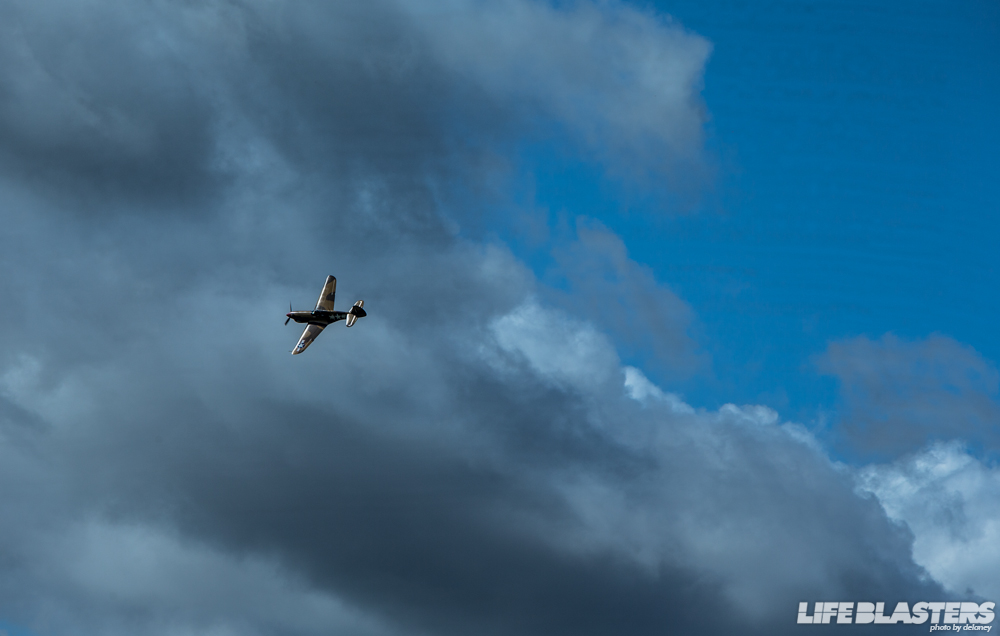 A P40.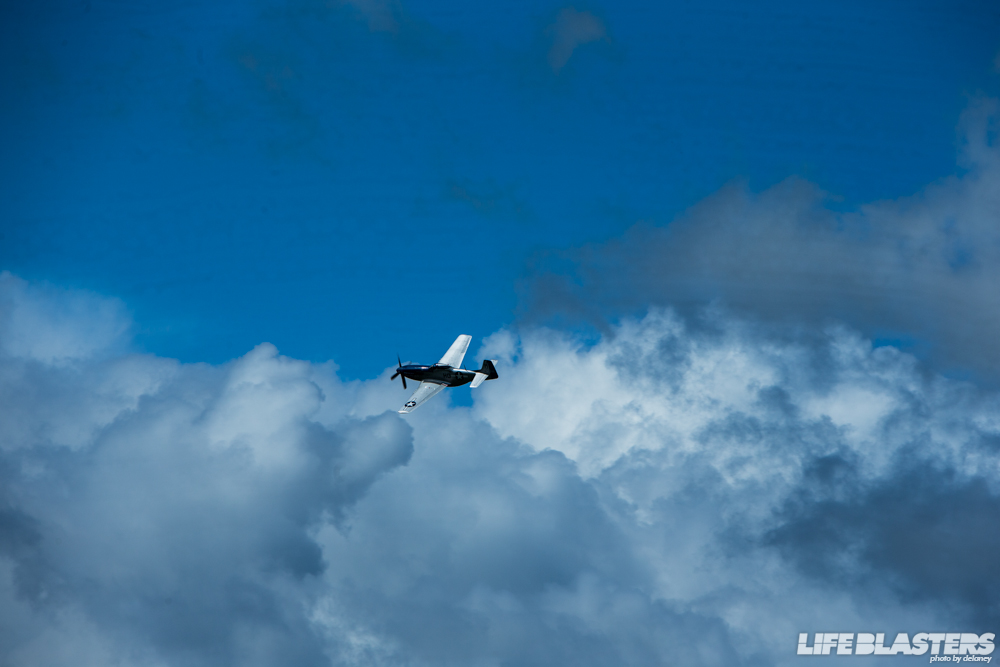 A P51 Mustang.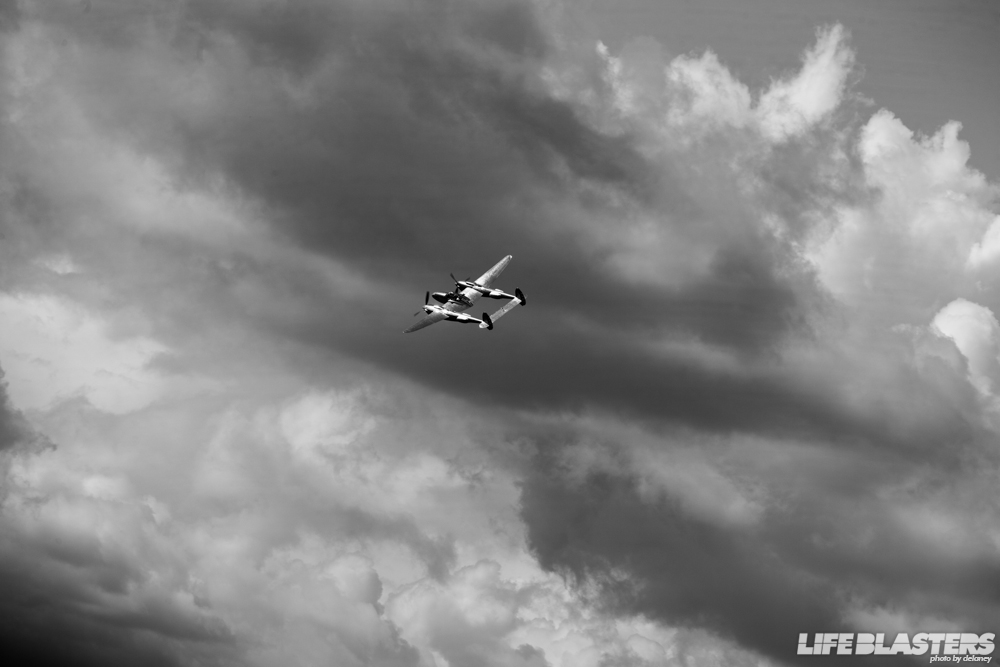 A P38 Lightning.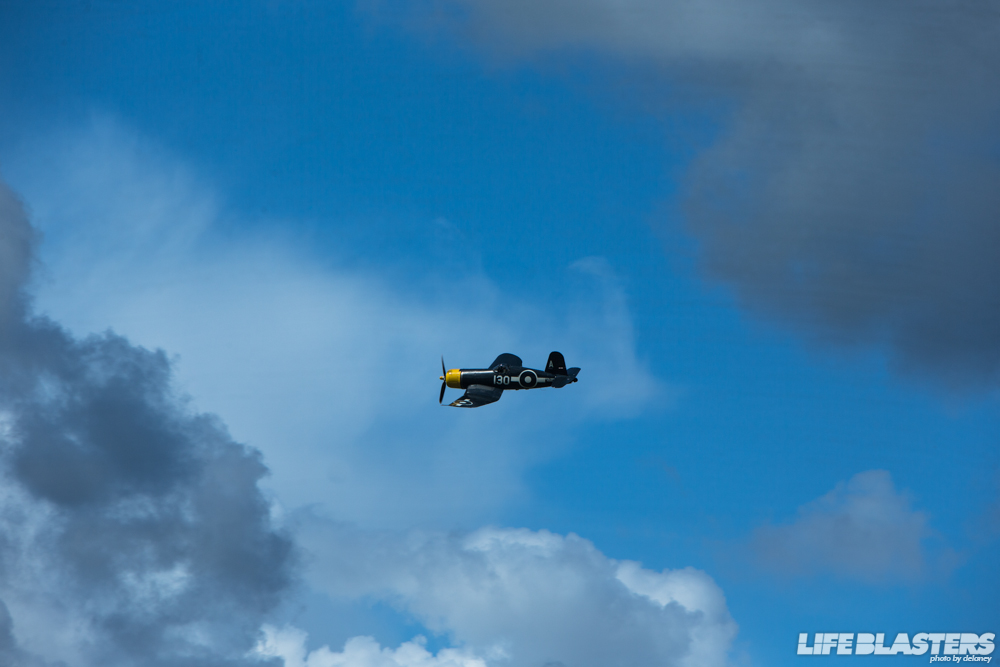 And an F4U Corsair. Cool story about the Corsair since we're in England. The Corsair was used by the British in the Fleet Air Arm, which was the carrier based arm of the Royal Navy. These planes saw action in Europe, namely the sinking of the Tirpitz in Norway. As well as heavy use in the Pacific theater where the FAA mostly fought to keep the kamikaze pilots and airstrips out of action. This plane currently has FAA markings, but originally flew for the Marine Air Wing in World War II. And if you ever wondered why the wings dip down then back up. The propeller is 13 feet in diameter, so to keep the prop off the ground when landing the landing gear had to be tall. But that made them very unstable, so the wings were modified to bring the landing gear down to shorten their length. Nerd talk over.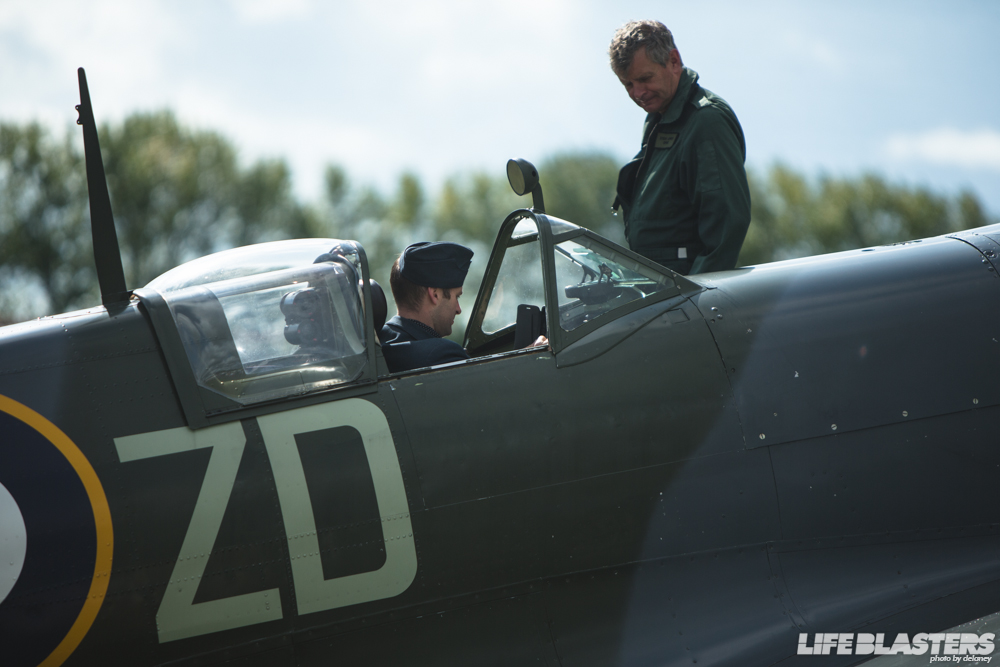 Almost a week after this trip while still in England I found at a small book store a book about the Flying Tigers, a volunteer American fighter group that fought for China before America actually entered the war. The book was published in 1944 too, so it's awesome. This got me obsessed with World War II fighter and bomber pilot stories. I've probably now read eight books about them sinceA .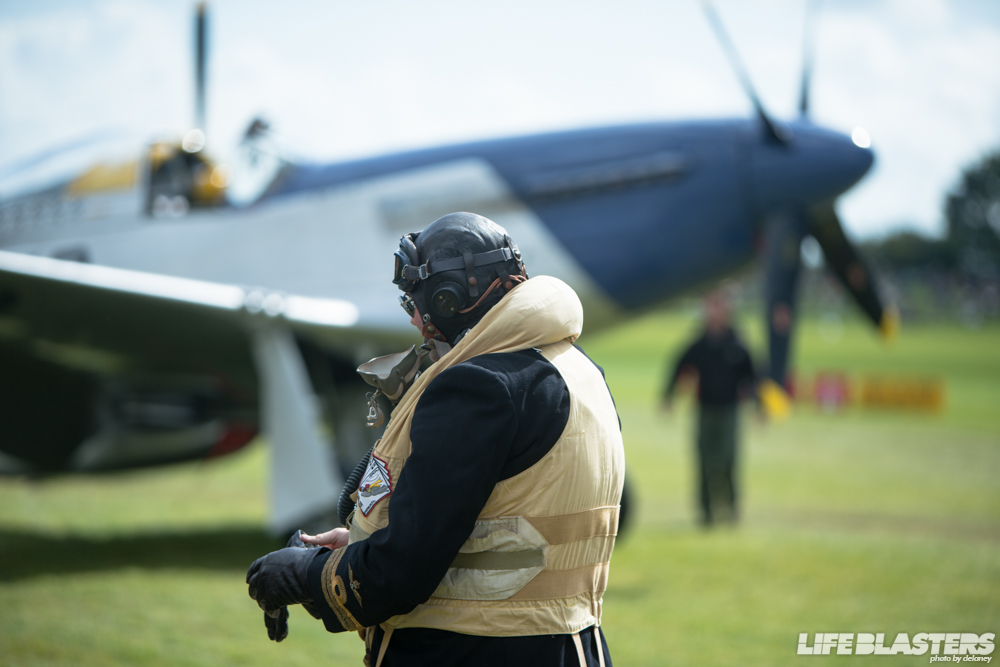 So little did I know how cool it was seeing this whole set up.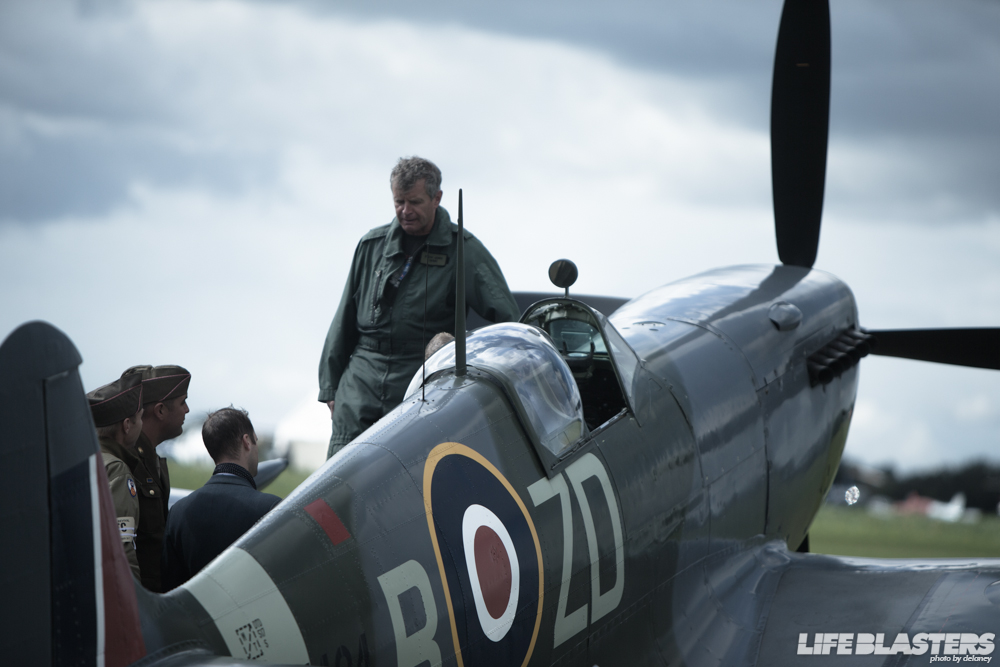 But even without reading the books, it was still awesome to see.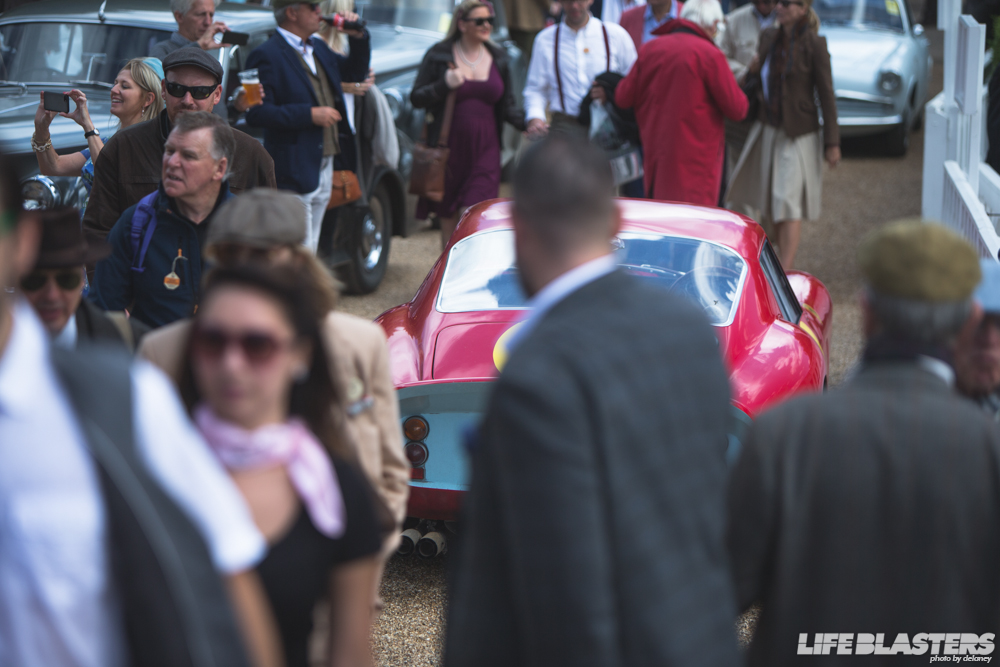 Everywhere you looked there was something cool.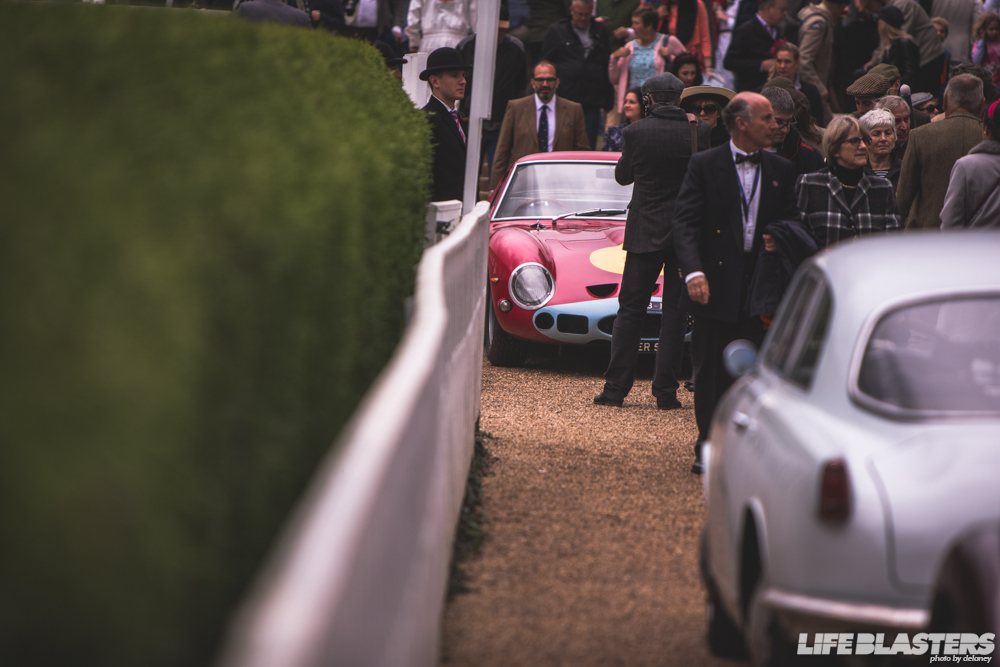 A 30 million dollar car just sitting in the crowd.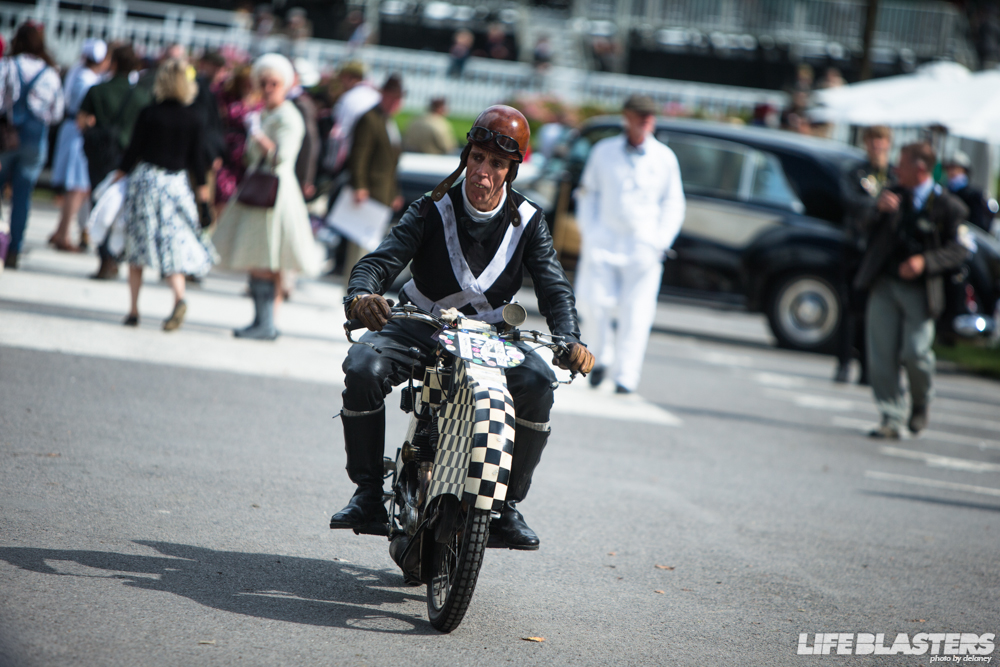 This is a replica of George Shuttleworth's Speed Demon. Never heard of him? That's because it's a movie from 1935. This guy looks just like him too.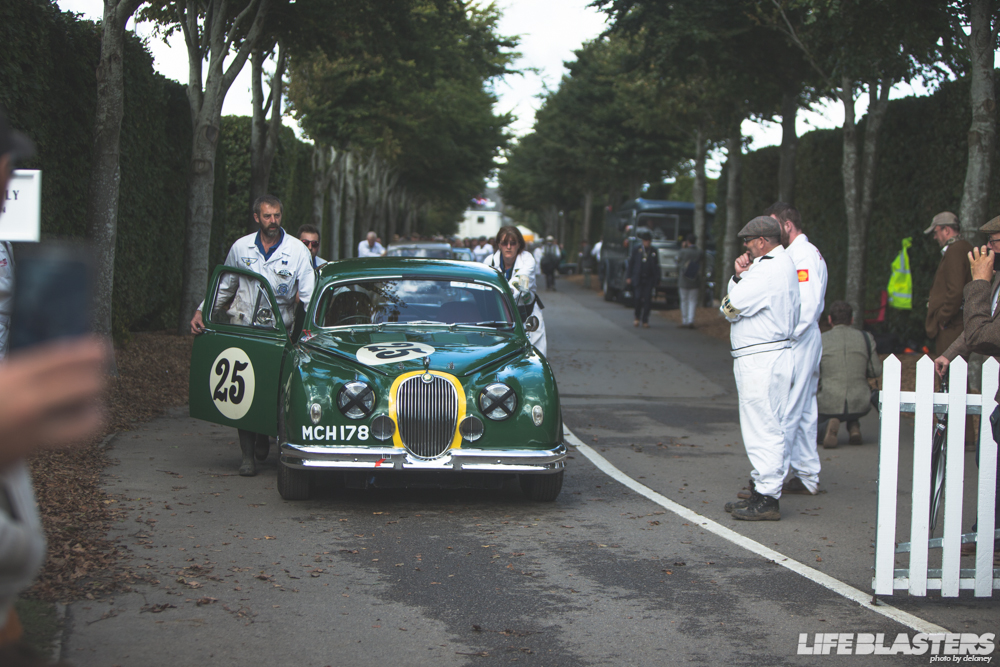 Back to the racing.

While the RAC TT was the main draw, the St Mary's Trophy didn't disappoint either. An Austin A30 verses a 1959 Thunderbird.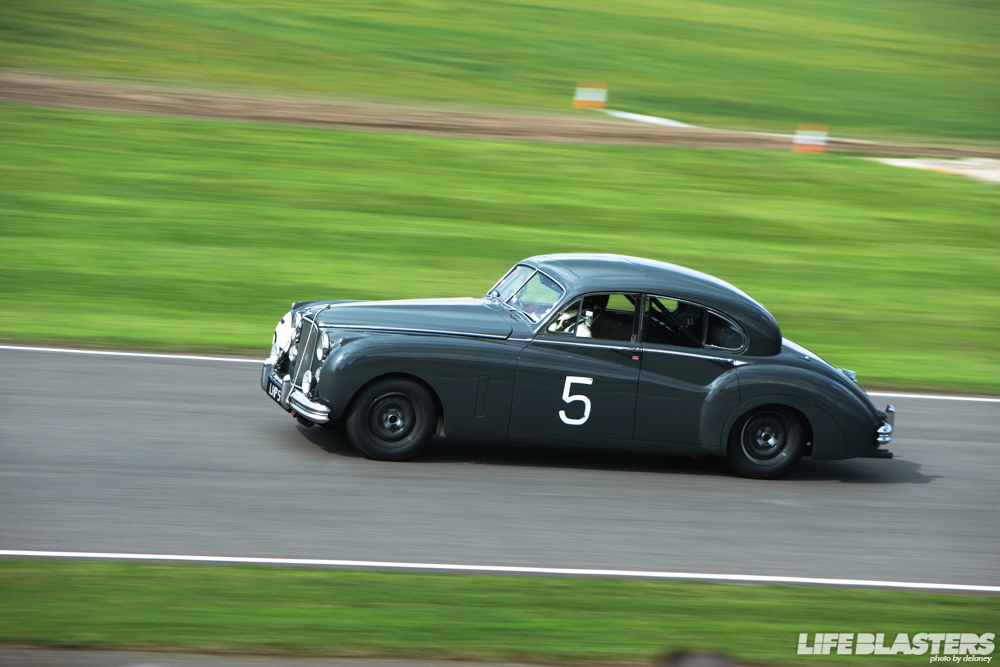 At first I thought this was a Bentley, turns out it's a Jaguar MK VII. Just goes to show anything can be a race car.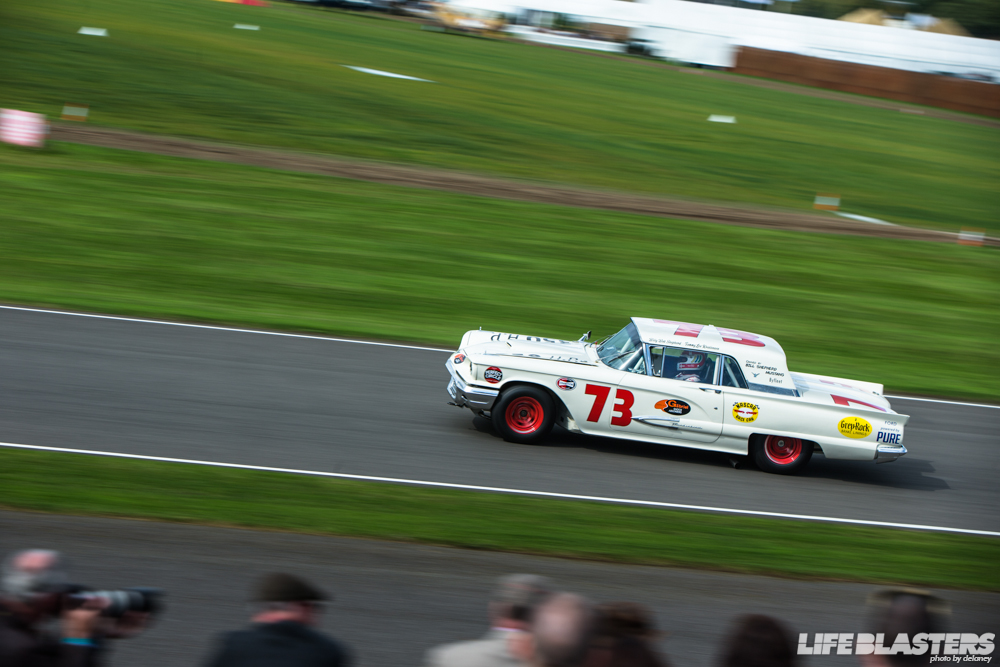 Goodwood has always attracted all of the top drivers. How could you pass you up the opportunity to race classic cars as hard as you can? Tom Kristensen was behind the wheel of the Thunderbird. Mr. Le Mans thundering around Goodwood in a Thunderbird. Seeing this boat slide around the corners was always entertaining, unfortunately the Thunderbird was black flagged from third place because the exhaust was hanging.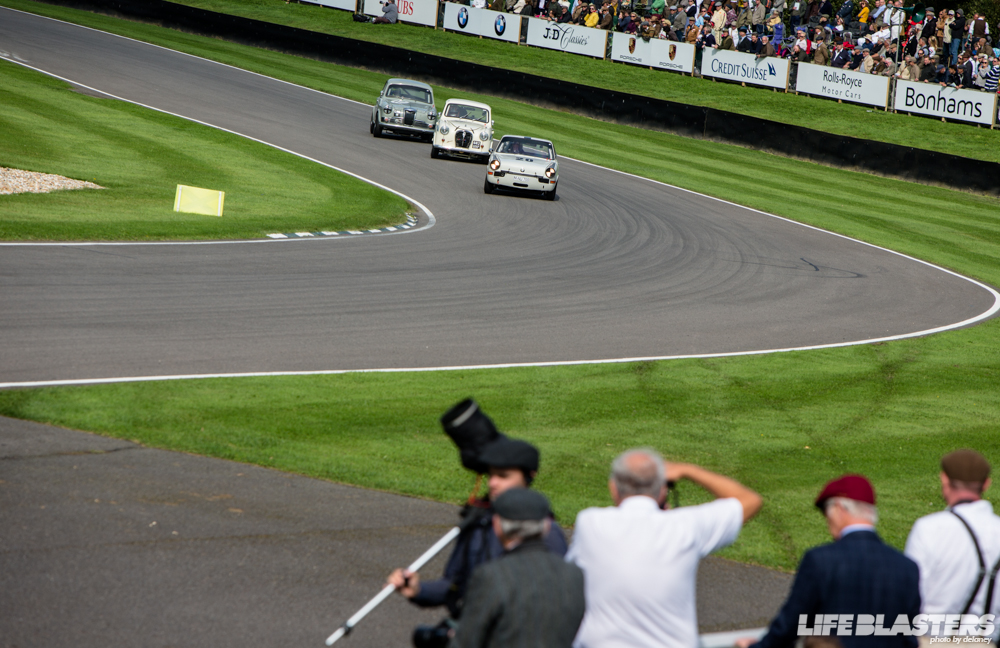 I cannot stress how real the racing at the Revival is.

Then there was the Richmond Trophy. Front engined open wheel cars from 1954 to 1960.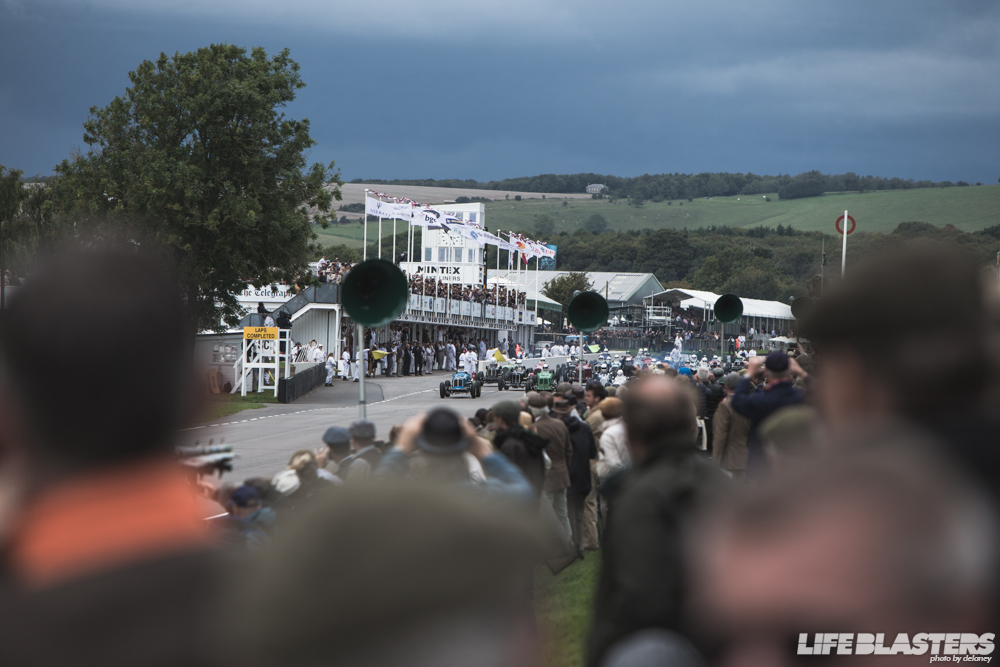 The noise. It's impossible to describe.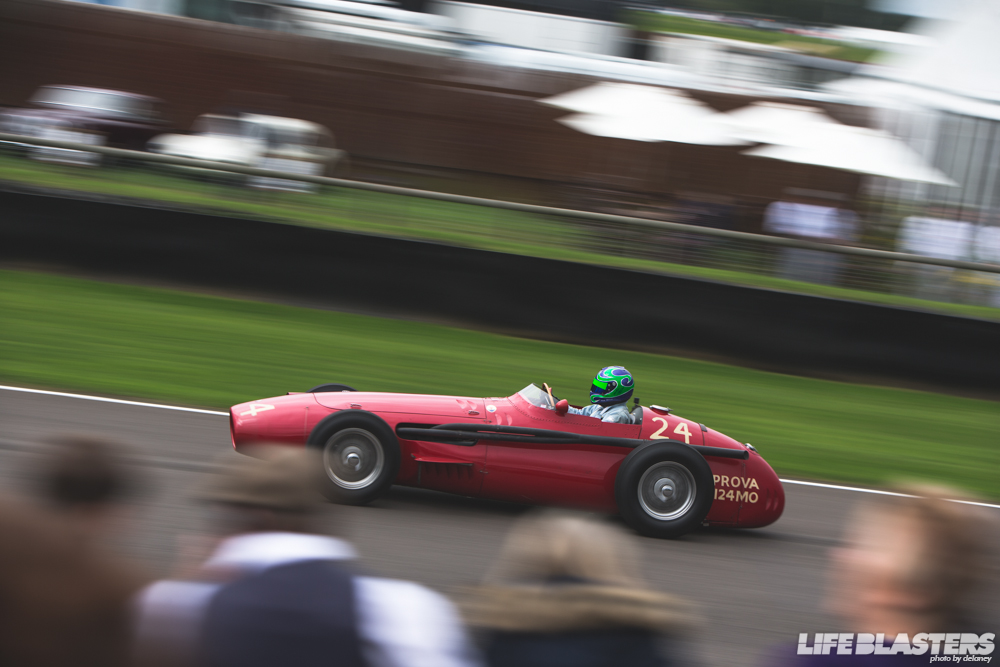 Imagine the noise coming out of that pipe at full chat.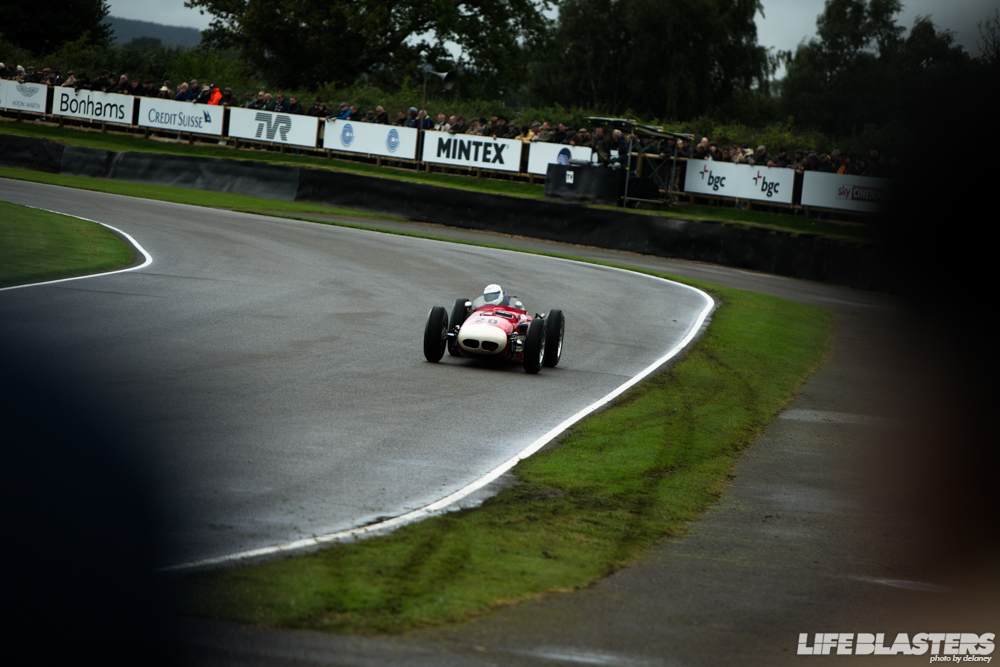 It was cool seeing some front engine Indy 500 cars there too.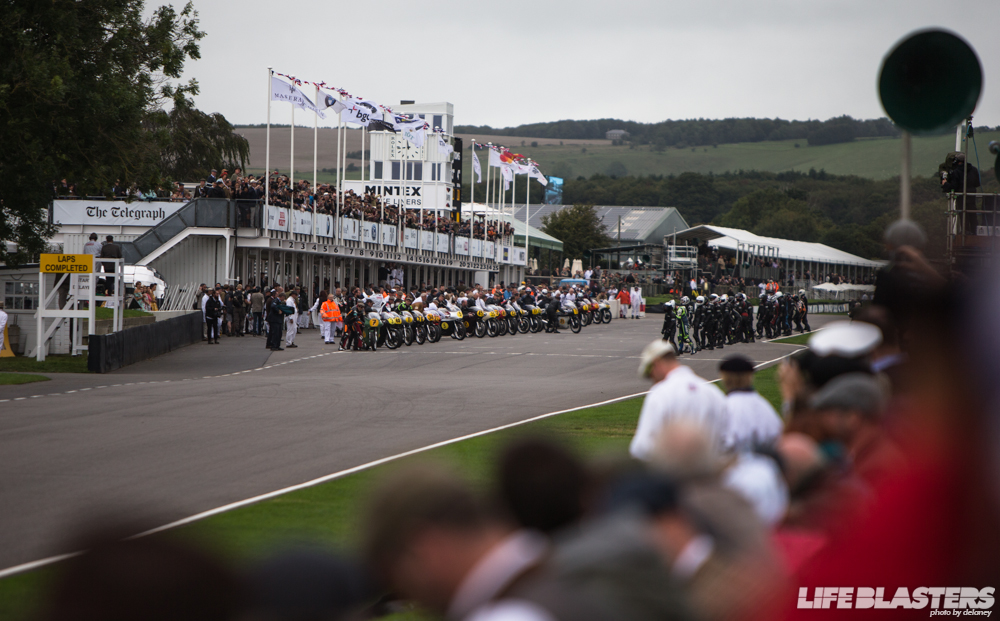 The Barry Sheene Memorial Trophy followed. Sheene was an incredible motorcycle racer from England, so it's only natural to name the race after him. Berry used to race at Goodwood before he passed in 2003, he always made sure to put on a show.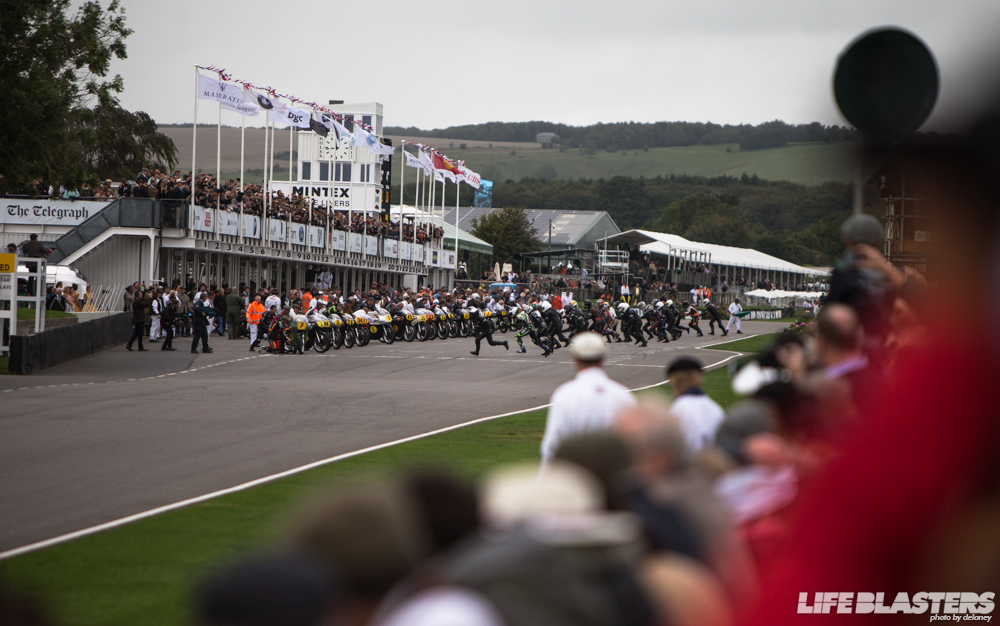 And they do a Le Mans start too.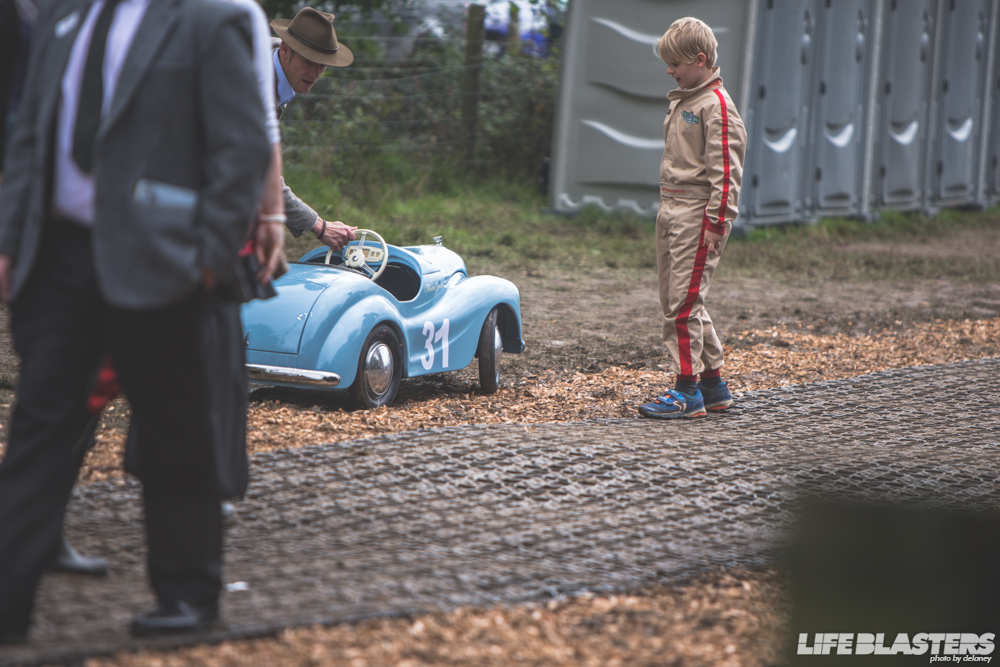 Even kids get to race at the Revival. The Settrington Cup takes place on the front straight where kids get their pedal cars, here an Austin J40, and race down through a chicane.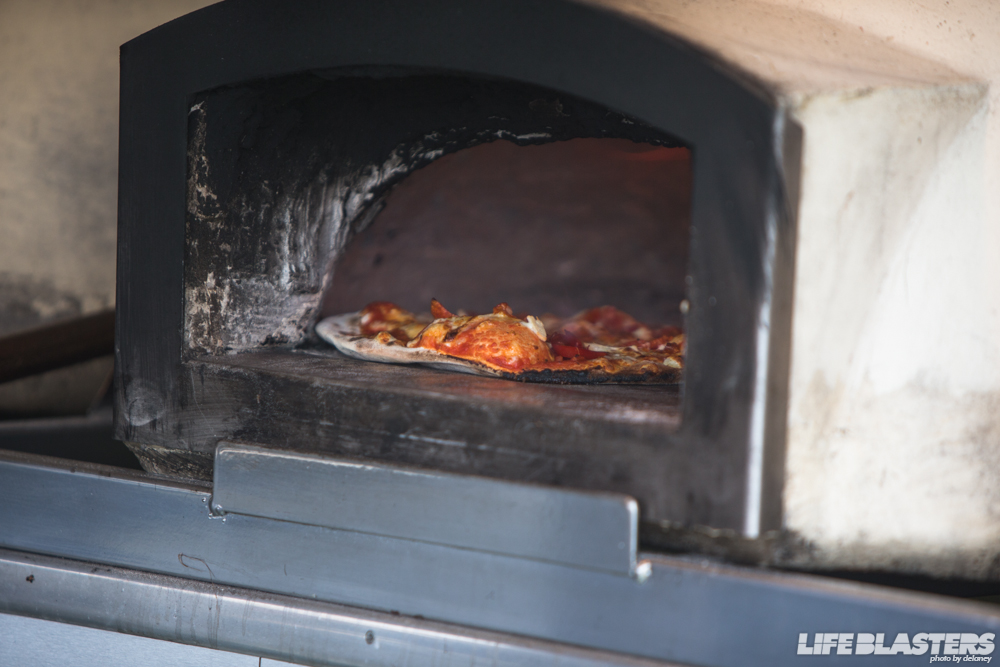 I don't remember the name of this pizza place, well pizza truck, but it is by far the best pizza I've ever had.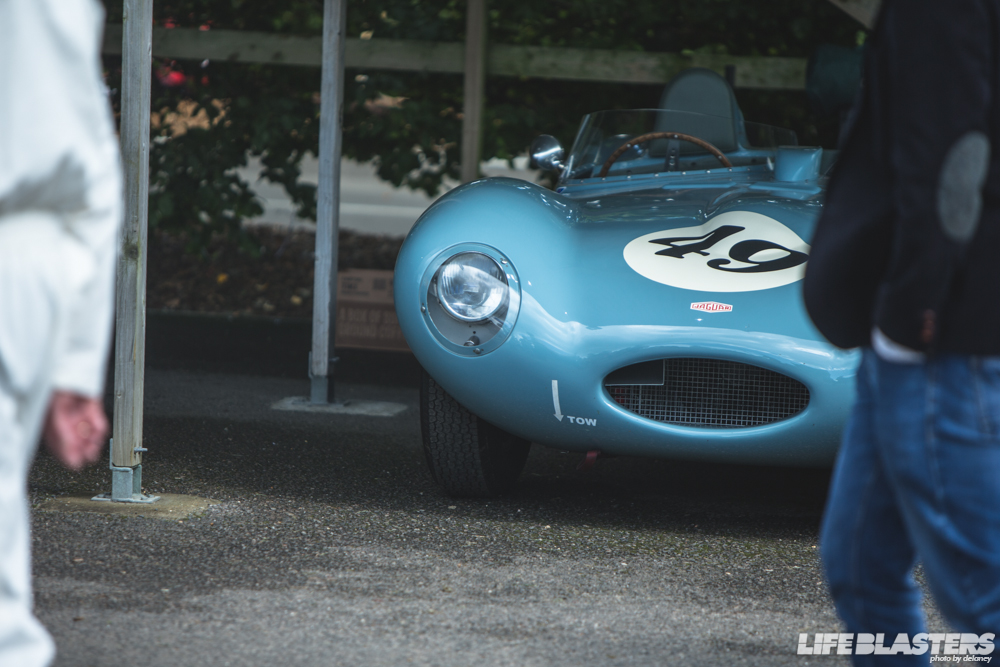 The Goodwood Revival is an incredible experience. The noise, the smells and the visuals. All of the different eras that overlap make it an almost unreal experience. Being able to see so many incredible historic race cars up close and driving flat out is awesome. I could easily spend all of my time at Goodwood, between the Festival of Speed and the Revival.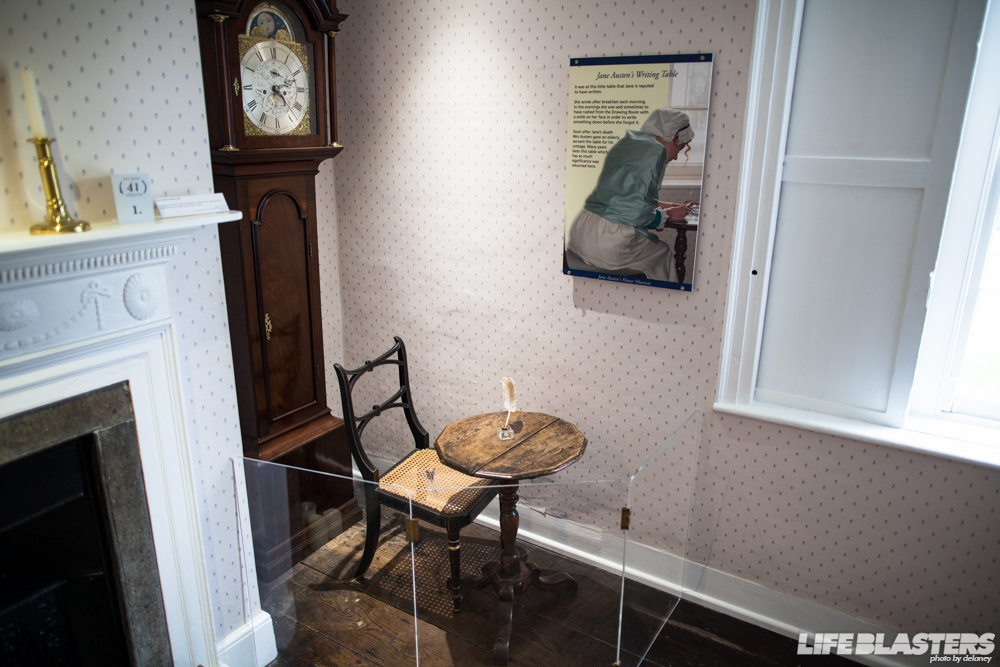 We had to leave early on Sunday because our surprise free Saturday tickets threw our schedule off a little. Ever heard of Jane Austen? This is where she possibly wrote some of here best works. We left Goodwood for the Jane Austen House. Not as cool, but history is cool.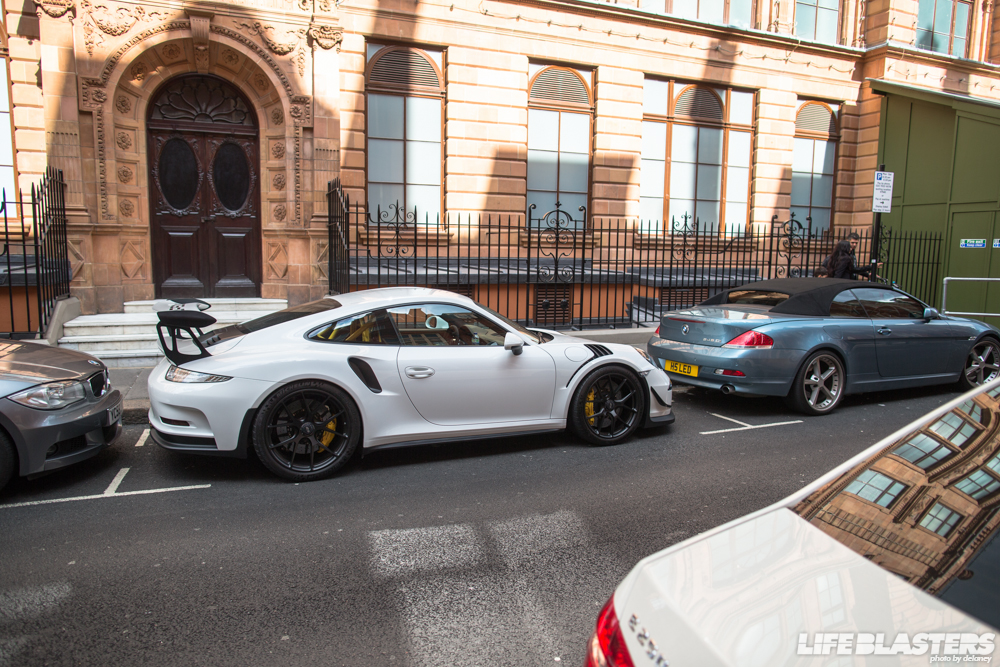 And I have to have one London photo. Here's a GT3 RS outside Harrods.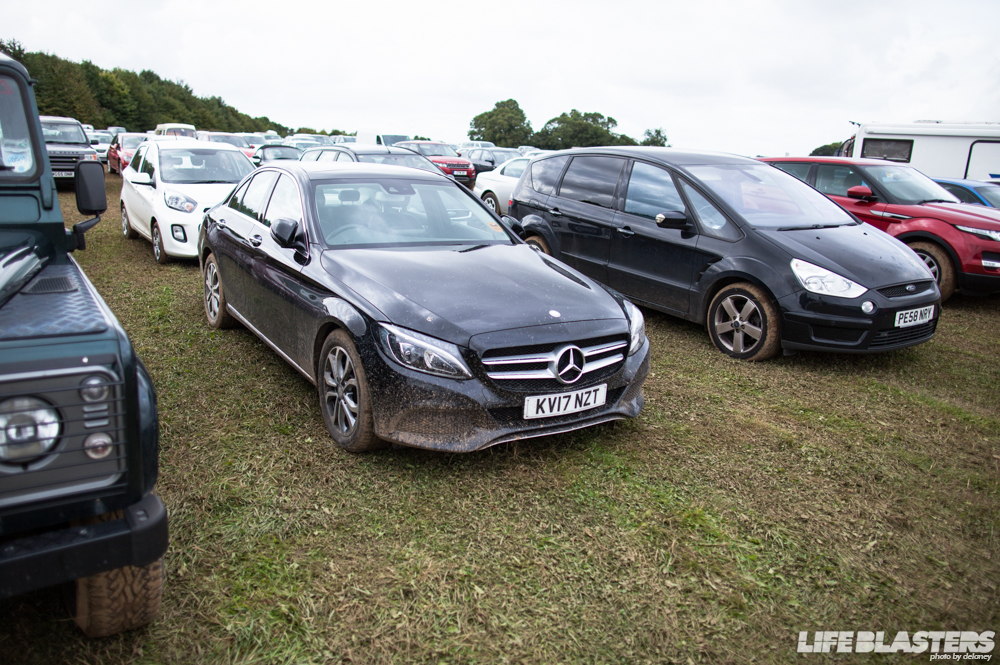 A shout out to our rental car. The mud shows how much rain fell over the three days. We, and who knows how many others, got stuck. All a part of the fun.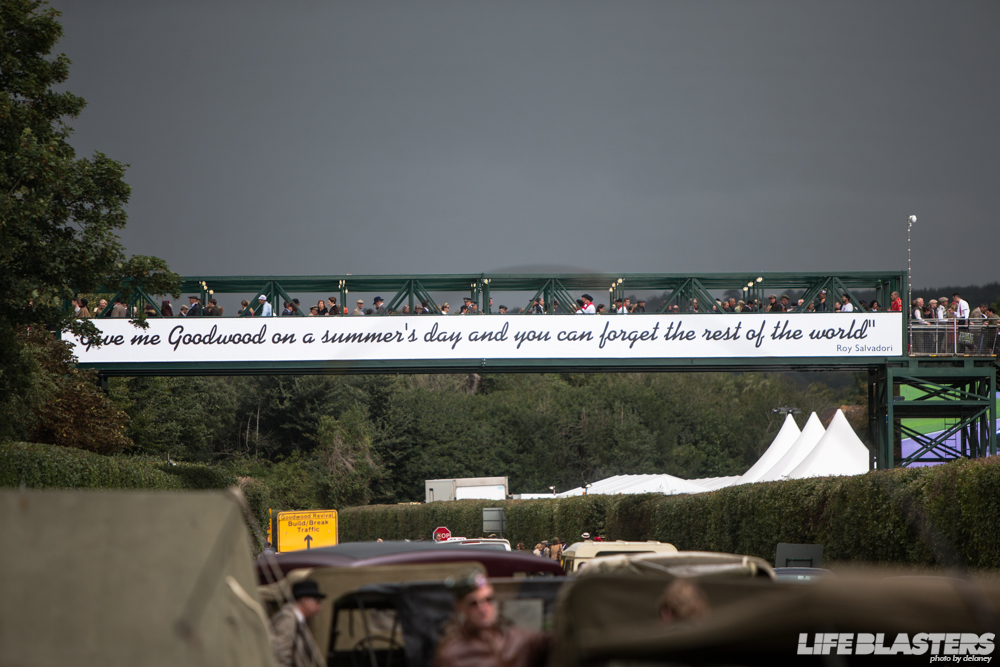 Truer words have never been spoken.
Delaney
Email: delaney@lifebalsters.com
Instagram: @lifeblasters, @ericdelaney